Today's customers are smart.
A simple google search can show them the full picture of any bank's customer service.
Also, the modern era has brought digital banking to the masses: customers now use smartphones to do most of their banking needs.
They can take out a quick loan, pay for various services, transfer funds, manage their credit cards, and so much more through mobile applications.
All the internet access and digitalization have resulted in tough competition, and only the best can thrive.
Today more than ever, banks and financial institutions need to focus on modern, customer-centric services that address all the pain points of customers.
For bankers, this means turning to the best CRM software.
That's why we've formulated this banking CRM software guide to help you choose the best. In this blog post, we will explain:
What CRM in banking is.
The features of a banking CRM software.
The types of CRM in the banking industry.
How to choose the best banking CRM software.
The 5 best banking CRM software.
Let's dive right in!
What Is CRM in Banking?
A banking Customer Relationship Management (CRM) software helps banks implement customer-centric strategies to launch value-added marketing campaigns, enhance sales, and offer exceptional customer support.
In addition, a banking CRM software can help banks set up a customer-centric business model, personalize communications, improve digital engagements, iron out inter-departmental communications, and even boost a banking agent's efficiency.
We wrote this blog to help your bank understand why CRM software can be of tremendous aid in business growth and customer retention.
First, we'll tell you about the key features of banking CRM software.
The Top Features of CRM for Banks
CRM solutions provide accurate sales leads, and do it very efficiently, so your sales reps don't have to waste time prospecting and shooting in the dark.
These leads can be used as triggers in an organization's database systems (CRMs) to create personalized customer interactions.
However, that's the most commonly mentioned feature of CRMs. Let's look at some of the more unique features that CRM software can offer to banking professionals.
Customer-Focused Business Model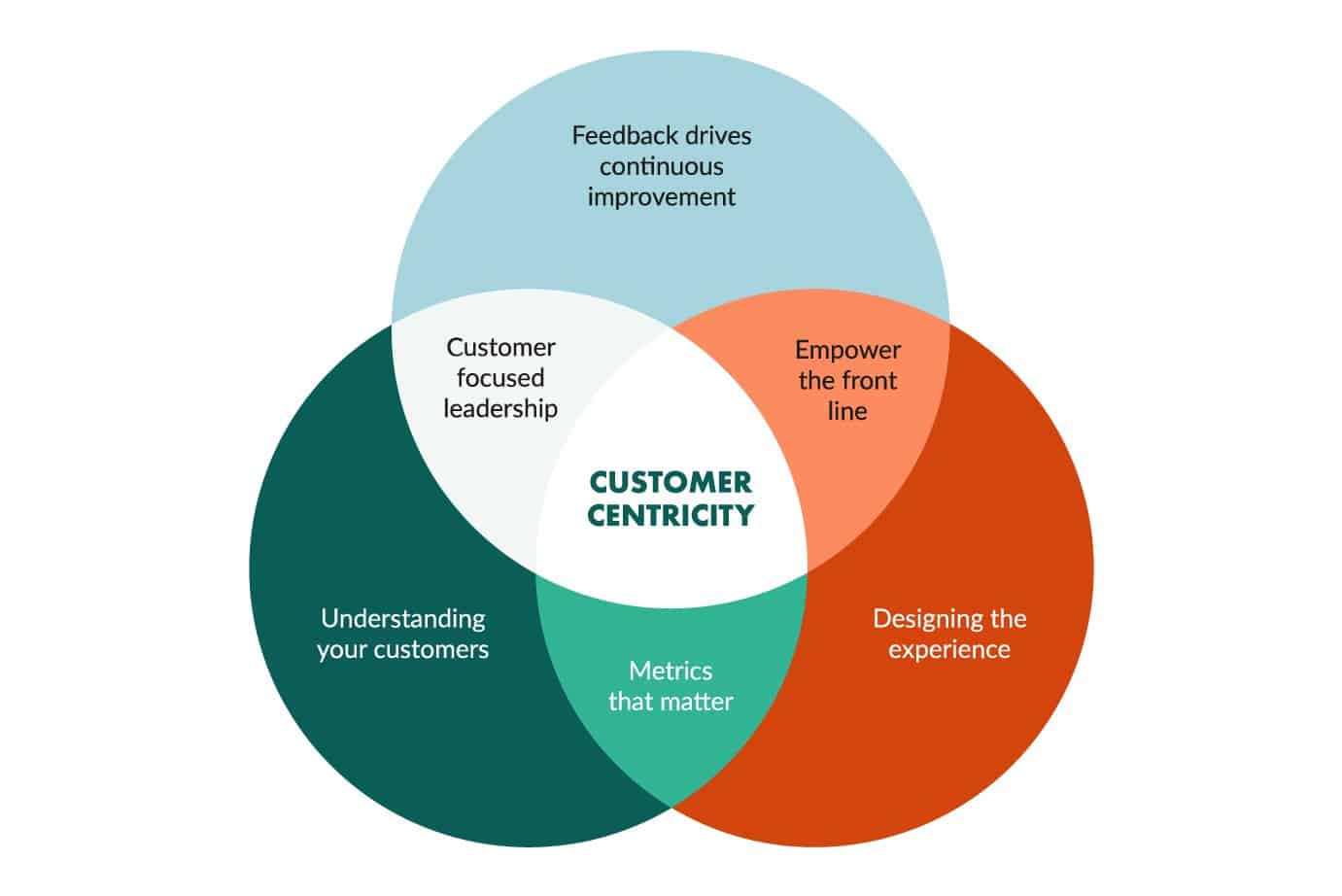 There's a common saying: Customers are kings (or queens).
It's true.
In today's world, customers have dozens of banks to choose from, all vying to offer the best financial services. If you want to stand apart, you must offer unparalleled customer service.
With a banking customer relationship management system, you get a 360-degree view of each customer: their personal details, social status, credit score, purchase patterns, transaction history – the list goes on.
Customer Touchpoints History
A banking CRM software records all customer interactions you have with each customer, from the moment they visit your website, enter your bank branch, or sign up for a mortgage service.
You'll know it all.
With this information, you can offer perfectly-timed financial services when your customers need them.
Lead Management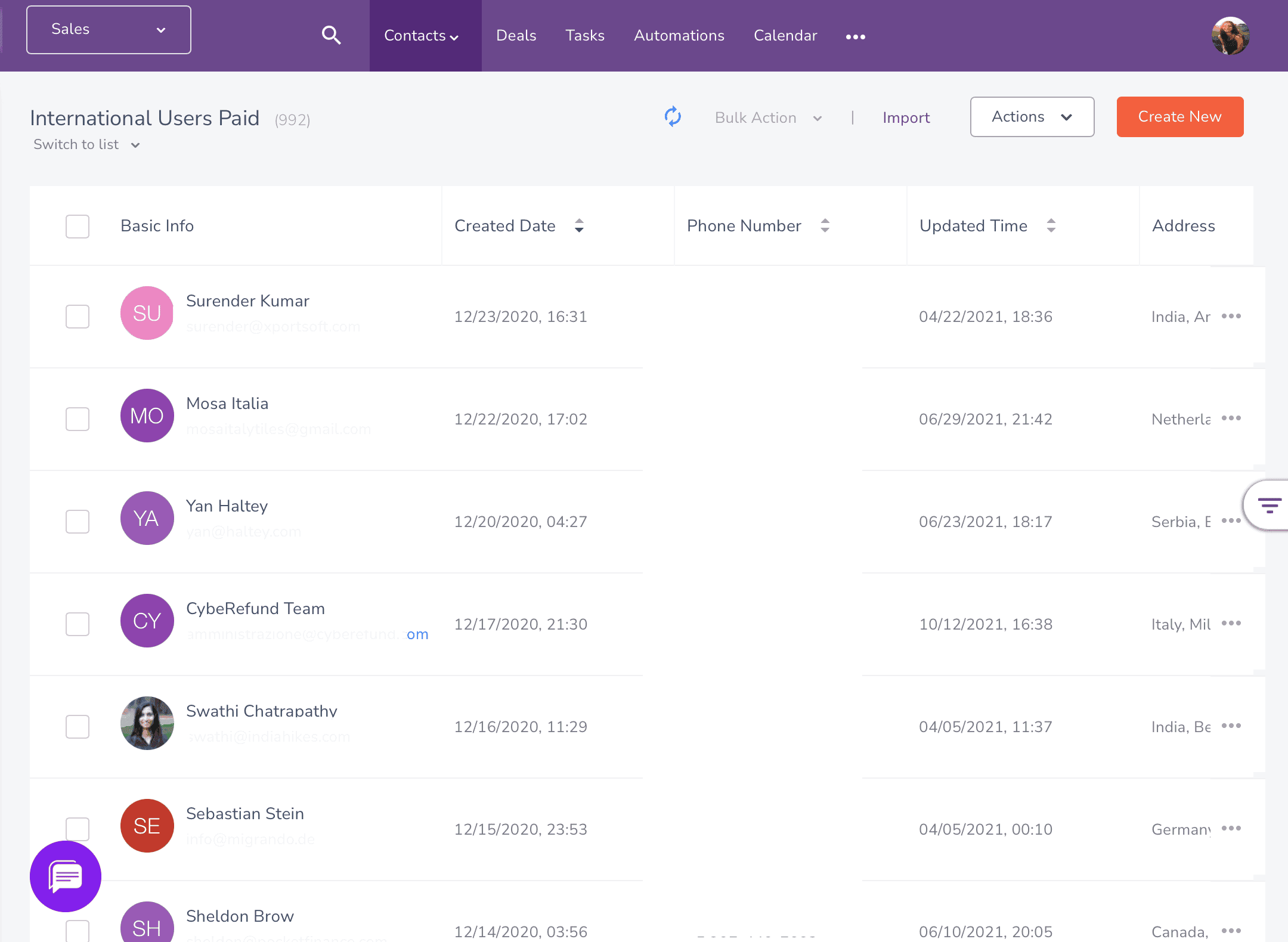 A banking CRM system is the best way to capture and manage leads, nurture them, and convert them to happy customers.
Let's say Christmas is approaching, and your customers are looking to take out a loan to fund their holidays and shopping. You can swoop in at the perfect time and send them quality content on how to take out a loan.
Or send them resources on how to manage their budget efficiently.
This enhances customer satisfaction, and ultimately boosts sales.
Forecasting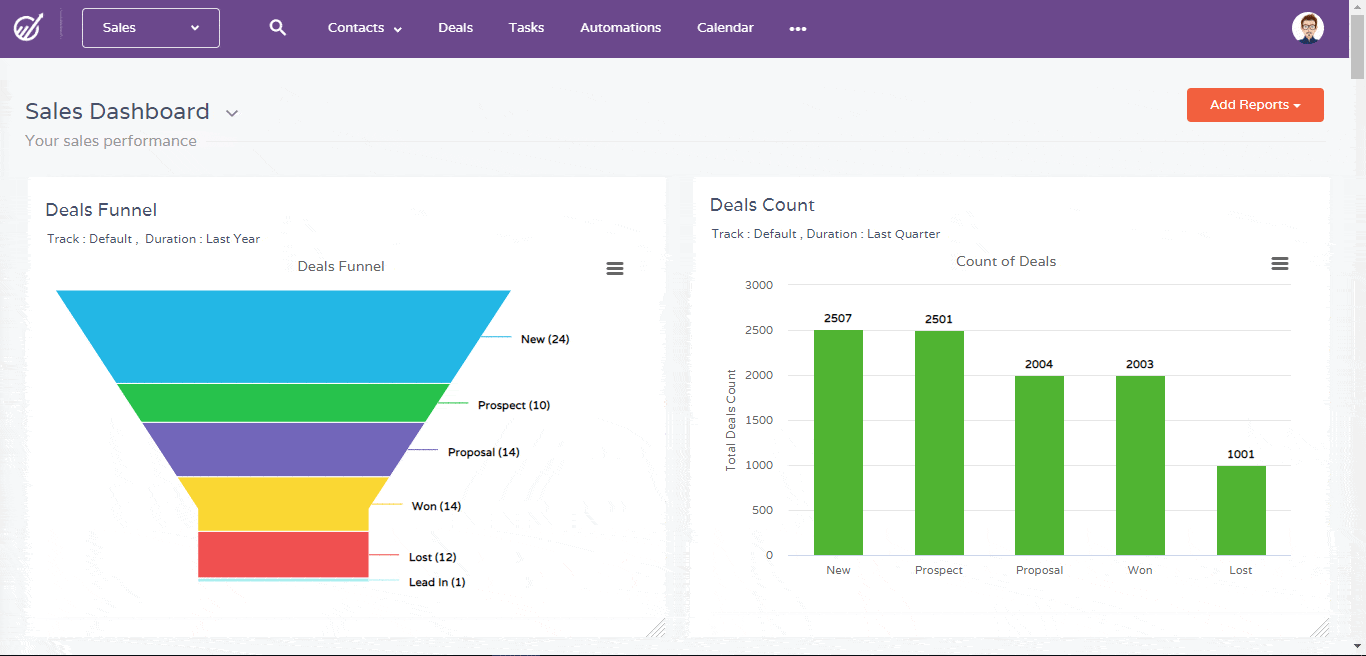 With a CRM software, you don't have to take shots in the dark anymore. A banking CRM software can accurately model what your customers may need months, years, or even decades down the line based on past and current customer data.
You can also launch marketing campaigns and see how people respond to your content.
Most CRM platforms have detailed reports, letting you see click and conversion rates.
With the data offered by a banking CRM software, you will be able to measure and predict your revenues for any period.
Enhanced Security and Productivity
All-in-One CRM software are selling like hotcakes these days.
Instead of having dozens of software to manage marketing, sales, ticketing, social media, and transactions, companies are using integrated banking CRM software that do it all.
Financial information is sensitive, and customers expect no less other than to handle their valuable data with care. With a single platform, you don't have to worry about cross-platform compatibility, encrypted data transfer, etc.
How do you assess the performance of your employees?
With a banking CRM software, you can easily measure and record each interaction between employees and clients. You can also set up universal rules and goals that can be understood and followed by each employee, thus boosting productivity for the whole marketing and sales team.
The Different Types of CRM in the Banking Industry
Different banks need different requirements. This is why software firms have designed different types of banking CRM systems to help banks with various needs offer exceptional customer experiences.
That said, these are the three most prominent types of banking CRM software.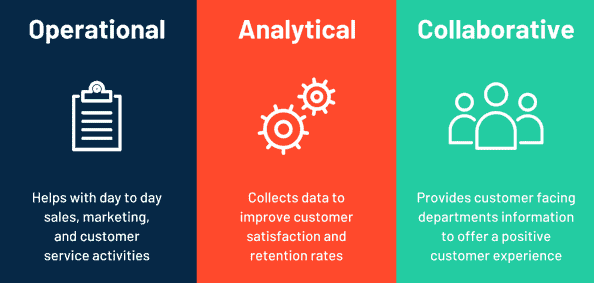 Operational CRM
This is the most common type of CRM software, and offers marketing, customer service, and facilitates business processes.
Let's dig deeper.
With marketing automation, you can figure out the best ways to promote and sell your financial services.
Operational CRMs do this exhaustively: offer tools to design, launch, and measure marketing campaigns through various means. These can include emails, social media, phone, and web pages.
Service automation, as the name suggests, lets you offer a quality customer experience and build strong customer relationships with your clients. You can quickly solve customer queries, offer a robust financial knowledge base, and keep records of everything.
Lastly, sales automation makes it possible to streamline the sales process by offering deal pipelines, lead management, sales forecasts, contact management, and so much more — making operational CRM an indispensable choice for sales teams.
Analytical CRM
Sometimes, banks need to analyze raw data and extract valuable patterns that can be used for marketing, sales, and even customer support.
Enter analytical CRMs.
These CRMs have the tools needed to analyze data, complement decision-making, specify milestones and goals to follow, and even assess campaign efficiencies. These power-packed insights let banks offer better services for their clients.
Strategic CRM
Also known as collaborative banking CRM software, these platforms are great for large banks with multiple departments that need efficient cross-communication systems. Collaborative CRMs unite multiple teams and help them work in unison to solve problems.
This, in turn, translates to better customer service.
Also read: Banking CRM — Top 6 Features to Get More Out of Your Clients
How Do You Choose the Best CRM Software for Your Bank?
The right banking CRM software can do wonders for your business. But you know that already, don't you?
So, let's talk about the key features that a great CRM for banking should have.
Automation
This is a no-brainer. Tools like canned responses, autoresponders, workflows, automated reporting, schedulers, and many other tools can make life easier for your employees.
Choose a software that offers the right tools to automate your business tasks. These tools include autoresponders, social media management, email scheduling, automated reporting, workflow builders, and more.
Scalability
Imagine buying a banking CRM software and replacing it within a year because the CRM doesn't fit your growing business anymore. You would have to spend a lot of money and time on migration, onboarding, and training.
This is why you need a banking CRM software that grows as your banking needs grow. A SaaS (Software-as-a-Service) CRM platform is the best choice in this regard.
Security
Security is one of the most important aspects of the financial services industry.
A great banking customer relationship management solution offers two things:
A way for employees to access information anywhere, anytime
Protection of potentially sensitive financial information
This is why you need a CRM that offers secured access to team members while preventing unauthorized exploitation.
Security is important in the banking sector — and a banking CRM software offers protection for sensitive financial information while also preventing unauthorized access.
Analytics
Rows after rows of data are pretty useless unless you can do something with it. This is why a good banking CRM software has powerful analytics, sometimes even artificial intelligence, to extract functional patterns and metrics.
You can then use these forecasts to make informed decisions, employ changes, and resolve issues. You can also figure out what your customer needs, and offer services accordingly.
Read also: Types of Customer Services & What Suits Your Small Business Best
Our Shortlist: The Top 5 Banking CRM Software
Any CRM software can work well for the financial services industry because CRM tools are often designed with customer data security and customer retention in mind.
Here's our list of the best CRM tools you can find today. Of these, EngageBay offers the highest value for money, and HubSpot offers the widest range of advanced features for large organizations.
That said, we have not listed these CRM solutions in any particular order.
1. EngageBay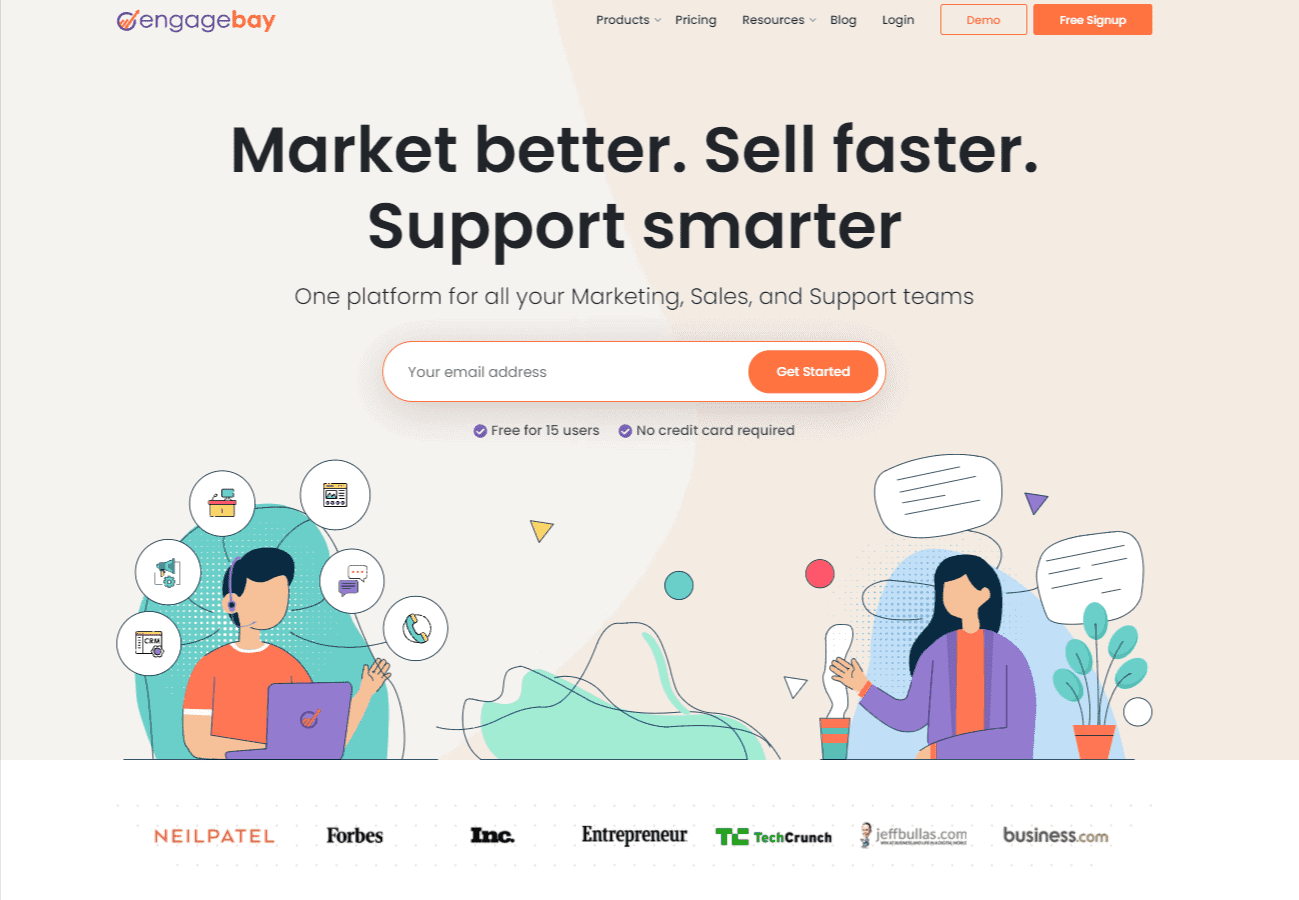 Our first pick on this list is EngageBay.
For banks and financial institutions just starting out, EngageBay is the best CRM software as it offers a comprehensive all-in-one CRM solution at an affordable price.
With its drag-and-drop landing page and form builder, you can create visually stunning pages. You can also A/B test them to perfection.
Customers have their own preferences when it comes to communication channels. That's why with EngageBay, your company becomes 'omnipresent' as customers can reach you through email, phone, SMS, live chat, social media, and even web forms. And you, the bank, can view and respond to these queries from a single platform. You can also create customer profiles and customer personas.
You can also offer exceptional customer service through its Service Bay; you have access to autoresponders, canned responses, support groups, help desk, customer service tickets, and much more. This makes EngageBay one of the best CRM software for banks.
EngageBay also offers powerful customer service, marketing, and sales dashboards to gauge your sales productivity, marketing strategy, and customer engagement metrics.
EngageBay also offers dozens of powerful integrations, including JustCall, Stripe, Zapier, Shopify, and Quickbooks.
EngageBay is one of the best banking CRM software for smaller banks and financial institutions. It is designed from the ground up with affordability in mind.
EngageBay Pricing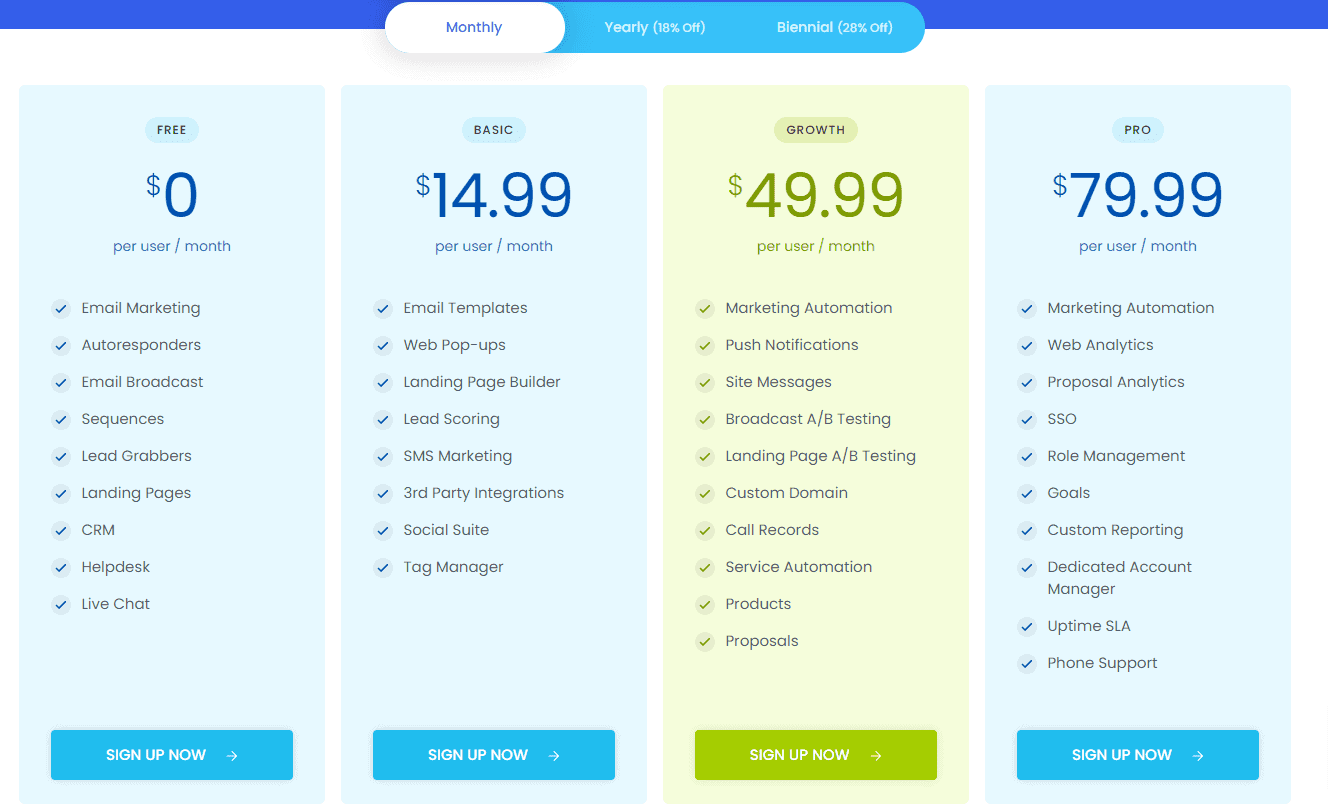 Free All-in-One plan: Unlike other platforms, EngageBay's free plan is forever free and is power-packed with features every bank or financial institution needs. To name a few:
1,000 branded emails per month
500 contacts
Predictive lead scoring
Live Chat
Email template builder
Help Desk
Email broadcast
CRM
Landing pages
Autoresponders
Deals
500 MB storage
Contacts and companies
Gmail and Outlook integration
All-in-One Basic Suite: This plan costs $14.99 a month and offers:
3,000 branded emails per month
1,000 contacts
All Free plan features
360-degree customer view
Custom deal milestones
Desktop notifications
1 GB of cloud storage
Ticket macros
Conversational inbox
SMS support
Email and chat support
Web pop-ups.
All-in-One Growth Suite: This plan starts at $49.99 a month and offers:
25,000 branded emails
50,000 contacts
All Basic plan features
Marketing automation
Triggers
Web rules
Free onboarding sessions
Landing page A/B testing
Timezone-based email delivery
All-in-One Pro Suite: This advanced plan starts at $79.99 a month and offers advanced tools like:
50,000 branded emails
unlimited contacts
All Growth plan features
Role management
Custom reporting
Account-based marketing
APIs
You also get a 20% discount on annual subscriptions and a 40% discount on biennial subscriptions.
Who's it for
For budding banking institutions and financial startups that need a highly affordable yet scalable and comprehensive solution.
2. HubSpot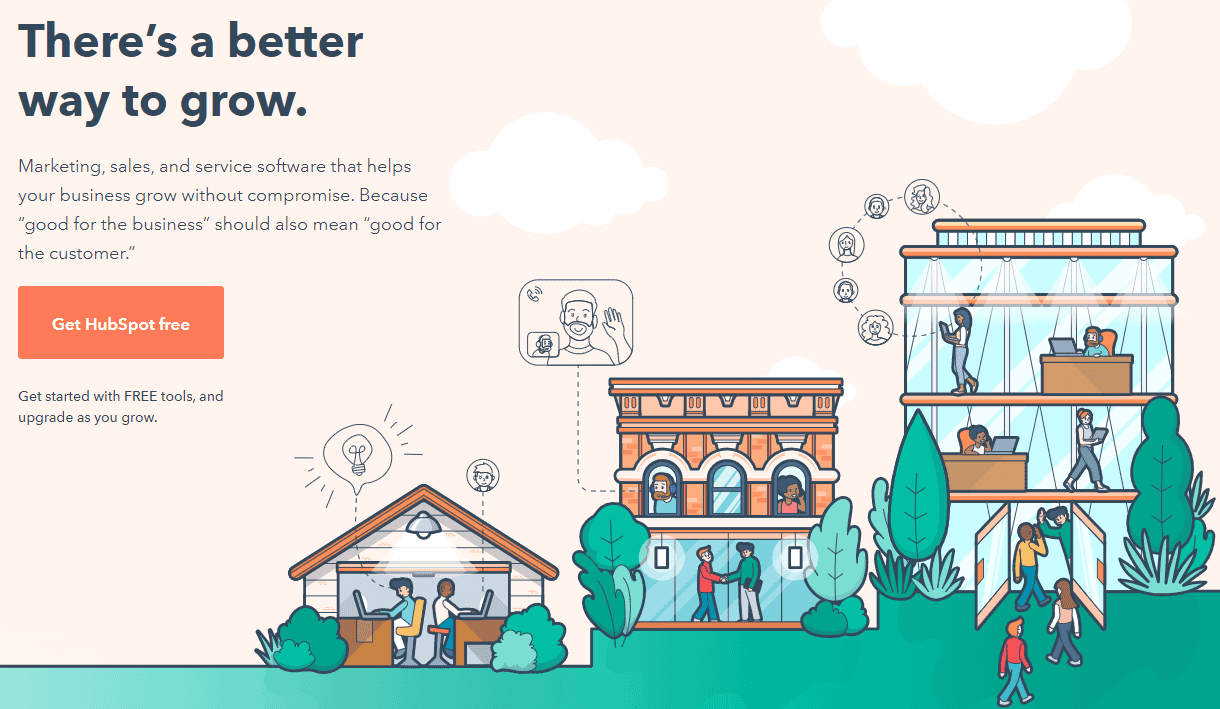 HubSpot is among the most popular banking CRM systems on the open market, with a plethora of tools for banks of all kinds.
Like EngageBay, HubSpot's core CRM tool is free to use.
People don't buy banking services overnight. This is why HubSpot offers drip campaigns to nurture leads over a longer period. It also provides a complete and comprehensive view of your customer lifecycle, helping you understand them better.
You can also dish out quality content using HubSpot's on-the-go content optimization tool, which provides live ideas and SEO optimization tools.
HubSpot's suite of tools also lets you create incredible landing pages, A/B test your pages, segment your customers, and then send personalized content for maximum conversion rates and customer retention. You also get multichannel marketing campaigns, contract management, and workflow automation.
HubSpot Pricing
HubSpot is one of the most expensive banking CRM solutions. This is the pricing breakdown for their bundled CRM suite:
Starter Growth Suite: This plan starts at $50 a month when paid annually and offers 1,000 contacts, two paid users, email marketing, ad management, canned scripts, conversational inbox, and live chat.
Professional Growth Suite: The Professional plan starts at $1,780 per month (when paid annually) and provides campaign management, A/B testing, calls-to-action, custom reporting, 1:1 technical support.
Enterprise Growth Suite: Pricing for this advanced plan starts at a humongous $4,000 per month and includes predictive lead scoring, events API, webhooks, conversation intelligence, NPS surveys, and revenue tracking.
Who's it for
Large banking corporations that need exhaustive and advanced banking CRM solutions.
Uncover the landscape of HubSpot competitors with our comprehensive guide. Get detailed insights on pros, cons, and pricing.
3. Keap (Infusionsoft)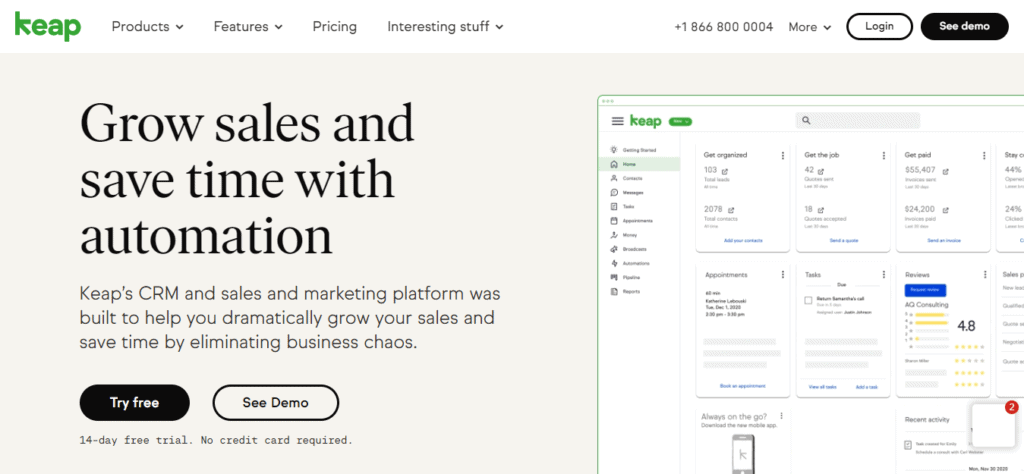 Keap is another great banking CRM software.
Formerly known as Infusionsoft, this platform offers various tools to capture leads, segment your customers, organize lists, and launch powerful campaigns.
You can let your customers schedule an appointment using Keap's advanced calendar feature.
Generate invoices and EMI billings, integrate payment gateways, and receive payments through Keap's CRM. Everything gets logged into the CRM so that you can revisit the conversations anytime you want. This improves your sales productivity and enhances opportunity management.
With iOS and Android applications, your on-field agents can access all the tools on the go.
Keap Pricing
Lite plan: This banking CRM software plan starts at $79 per month and offers tasks, forms, contact management, tags, contact lists, appointments, and so much more. You can store 500 contacts for one user.
Pro plan: The Pro plan starts at $159 per month for 500 contacts and adds A/B email testing, invoices, automated text messaging, recurring payments, and subscription management.
Max plan: The Max plan costs $199 per month for 500 contacts and offers Shopify integration, custom user roles, pipeline automation, one-click upsell and cross-sell, and analytics. For 10,000 contacts, you'll have to pay $399 a month.
These prices mentioned above are for one user. You can increase the number of users by paying an additional $30 per user.
Who's it for
Medium-sized banks and other financial services.
4. ActiveCampaign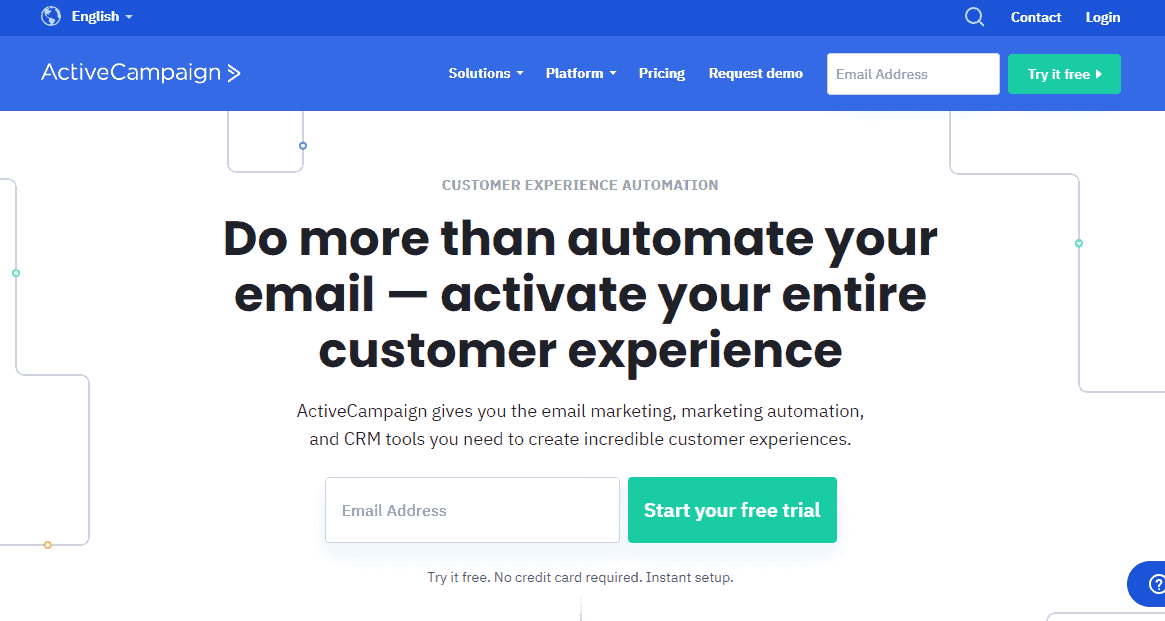 ActiveCampaign is another great retail banking CRM software with a myriad of tools for marketing, customer service, and sales.
With tools like autoresponders, goal tracking, and multichannel marketing broadcasts, you can automate various email and marketing tasks.
You can even integrate and sync Google and Outlook calendars. Banking customers come from various backgrounds and need various services.
With ActiveCampaign's advanced CRM segmentation, you can segregate your contacts based on demographics, customer behavior, previous transactions, and so much more.
ActiveCampaign has machine learning, too. Tools like split automation, conditional content, and predictive sending use machine learning to offer results that are traditionally not possible.
ActiveCampaign Pricing
Lite plan: This plan starts at $9 per month for 500 contacts and offers you basic features, including autoresponders, social media tools, automation, contacts importing, and segmentation.
Plus plan: This plan starts at $49 per month for 500 contacts and adds features like lead scoring, conditional content, SMS marketing, database sync, subscription forms, and task reporting.
Professional plan: This plan starts at $129 per month for 500 contacts and offers predictive sending, win probability, split automation, customer attribution, and unlimited one-on-one training.
Enterprise plan: The Enterprise plan at $229 a month for 500 contacts and adds advanced features like custom reporting, premium phone support, social data enrichment, custom URL, uptime SLA, and customized branding within applications. For 10,000 contacts, you have to pay $399 a month.
Who's it for
Medium and large institutions looking for robust features and multi-channel marketing.
Also read: 6 Steps to Create Your CRM Strategy (+How to Track It)
5. Pipedrive

Founded in 2010, Pipedrive is yet another awesome marketing and sales automation software for banks.
You get unique features, like the AI sales assistant, which offers suggestions on improving your automation. It also offers reports, graphs, sales performances tips, and sends out periodic notifications about these. For sales organizations, this is a game-changing tool.
With tools like group email sending, email templates, analytics tracking, and email marketing, you can enhance your marketing campaign performance.
Pipedrive also lets you gather detailed data about your clients, help you identify priority leads, and various marketing tools to target these leads.
Pipedrive Pricing
Pipedrive offers four different plans:
Essential Growth plan: This plan starts at $12.50 and offers deal management, customizable pipelines, custom fields, deal rotting, and contacts map.
Advanced Growth plan: This plan costs $24.90 per month per user and offers a basic meeting scheduler, file attachments, customizable signatures, OneDrive integration, product catalog, and two-way email sync.
Professional Growth plan: This popular plan costs $49.90 per month for each user. You get access to group emailing, eSignatures, caller, custom reports, team management, and team goals.
Enterprise Growth plan: Costs $99 per user per month and includes advanced features including unlimited advanced user permissions, SSO login, 2FA, unlimited visual dashboards, and 100 workflow automation.
Who's it for
Small banks looking for simple CRM systems.
Also read: Banking CRM Guide — Why Financial Institutions Need It Now
Conclusion
You're a small bank or financial institution, and you want to compete with the big guys.
More and more banks are adopting all-in-one CRM solutions to serve their customers better. You can do this too.
But your budget is limited. And it's hard to find affordable banking CRM software that does everything you need it to do.
That's why we created EngageBay — an all-in-one CRM solution for banks like yours! It covers all your marketing, sales, and customer service needs in one place.
With EngageBay, you can spend less time on tedious tasks and more time doing what matters most — serving customers better than ever before!
With our banking CRM software, you'll be able to manage your entire business from one place – including marketing campaigns, sales pipelines, customer service tickets — everything!
You don't have to spend thousands of dollars on expensive software every month when there's EngageBay — the best CRM solution for small and growing banks.
Interested? Sign up now for the free version and see what the buzz is all about!
Ready to skyrocket your travel agency's growth? Uncover the top CRM software solutions in our detailed guide!