The financial services industry banks on healthy client-advisor relationships.
This is a people-driven sector where client data security is paramount.
CRM is essential in banking, portfolio planning, and other financial services.
CRM refers to Customer Relationship Management.
Sometimes the acronym refers to a general CRM policy, but more often it refers to CRM software.
Let's take a look at what exactly financial services CRM is and why finance businesses need it now more than ever.
What Is CRM in Financial Planning?
CRM in financial planning helps independent financial advisors and companies manage their client relationships as best as possible.
A CRM software can streamline and optimize the flow of information from various channels, including social media, calls, emails, SMS, and others.
A study revealed that 74% of businesses have better customer relationships when they use a CRM software.
EngageBay's CRM for financial advisors can help find new clients, resolve customer issues quickly, and enhance business.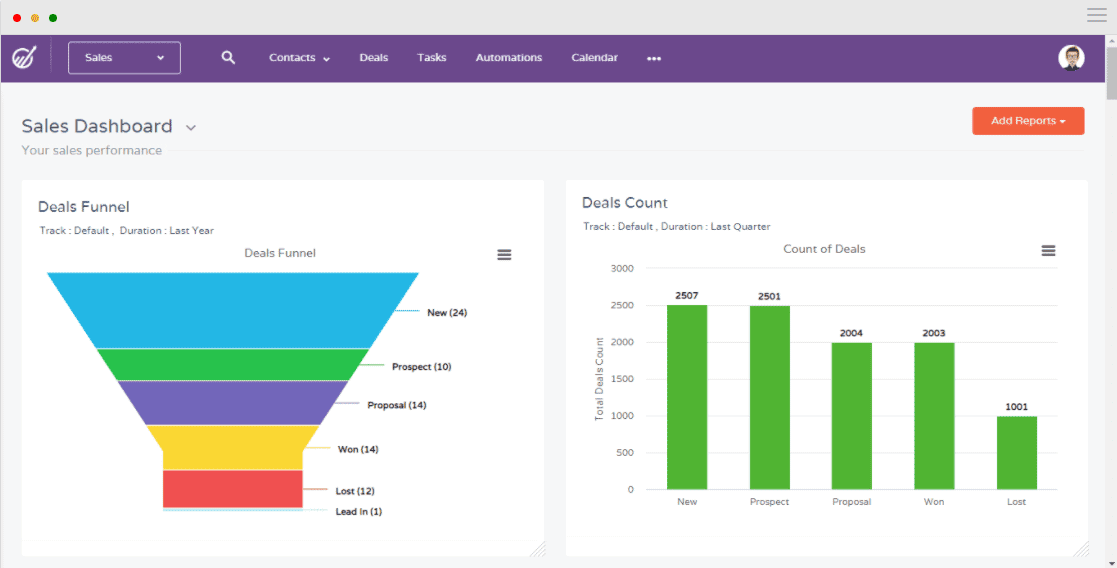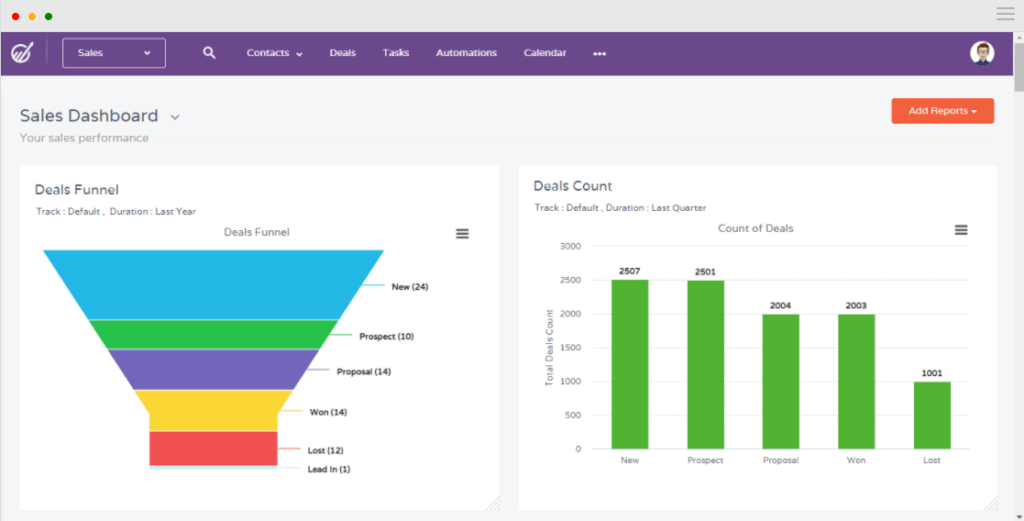 Why Do Financial Advisors Need CRM?
To begin with, every financial company needs to meet its customer's expectations.
From providing the best client service to offering personalized financial advice, there's great responsibility involved.
Without the aid of the latest technology tools, even the most skilled financial advisors can fall short.
Financial services CRM software help with information sorting with the assistance of artificial intelligence (AI), and this makes work reliable and efficient.
In other words, it allows you to be customer-centric and provide solutions that are best applicable to them.
77% of customers surveyed are willing to stay with a financial firm for a more extended period if they feel valued.
These are the same customers who would recommend your service to their families and colleagues.
With customers' expectations only increasing, small businesses risk losing out to those with a competitive edge.
And nothing can add a competitive edge like a strong CRM system.
What Are the Benefits of a Financial CRM Software?
Here's how an all-in-one CRM software can transform your financial advisory firm:
Efficient Lead Management
A CRM solution for financial advisors can track all interactions from multiple networking channels.
It can also keep an eye on your potential clients and how they behave online, what kind of financial solutions they're looking for, etc.
It can identify and prioritize your leads based on their response to your reach-out and many other factors.
You can create or customize these factors or conditions as you go along.
This way, a CRM software ensures that you contact the hot leads at the right time with the right message.
The right message is targeted, personalized for the potential customer.
Human intelligence can fail at identifying the right person to sell a product or service to, but the AI-backed CRM system hits the bull's eye every time.
It doesn't let any leads fall through the crack.
EngageBay lead management system automates the entire sales lead capturing process.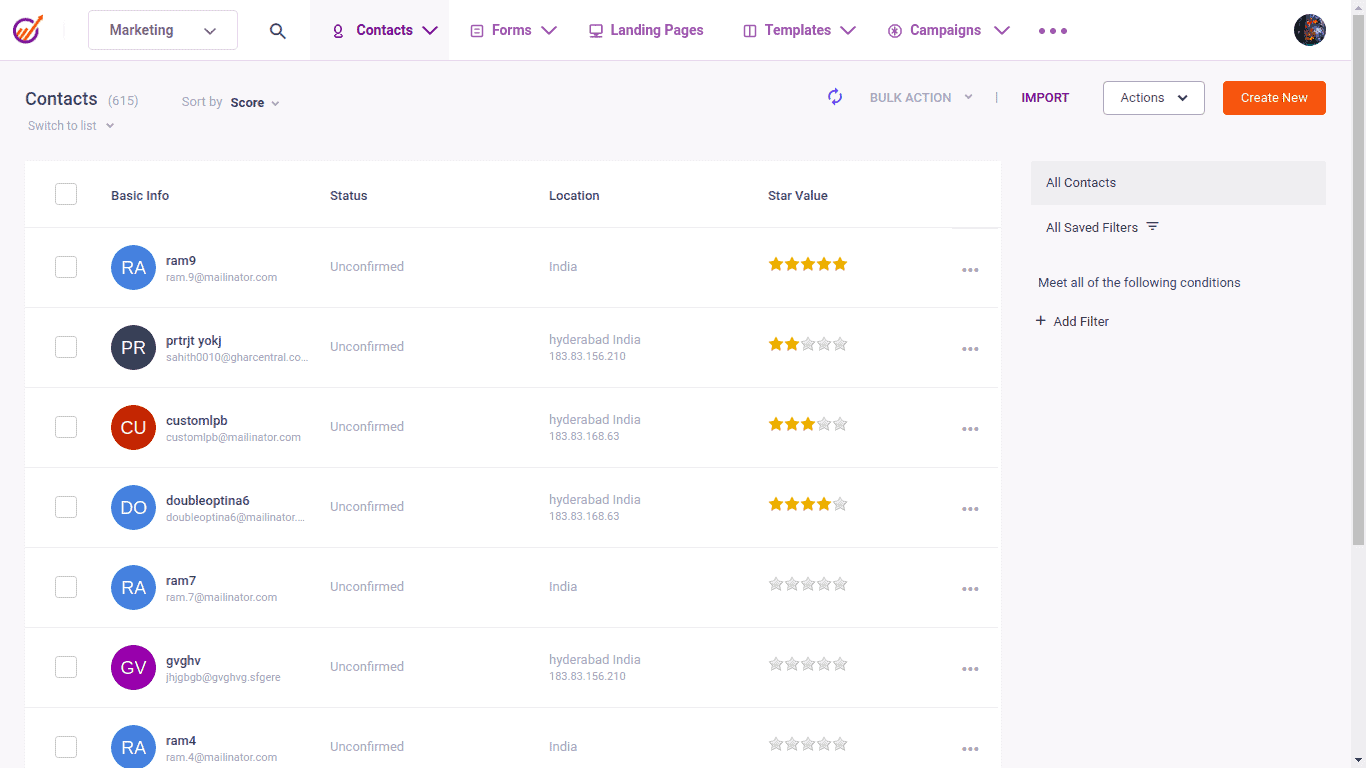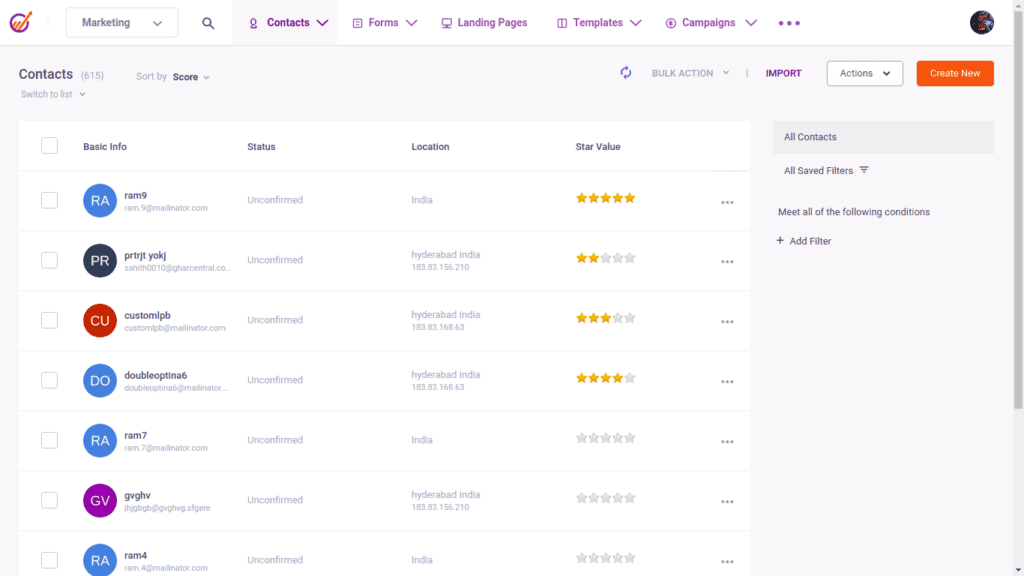 Smarter Marketing, More Sales
CRM aligns your marketing and sales team to help capture leads and close deals faster.
It gives you complete visibility into every department's activities to ensure that each financial advisor is on track.
Furthermore, CRM software for financial advisors enables you to run different marketing campaigns effectively.
It includes SMS marketing, email marketing, and much more.
You can pre-schedule all your campaigns and run them without any disruption.
What's more, salespeople get notified every time a new lead is captured!
EngageBay offers a comprehensive set of sales tools that help with closing deals efficiently.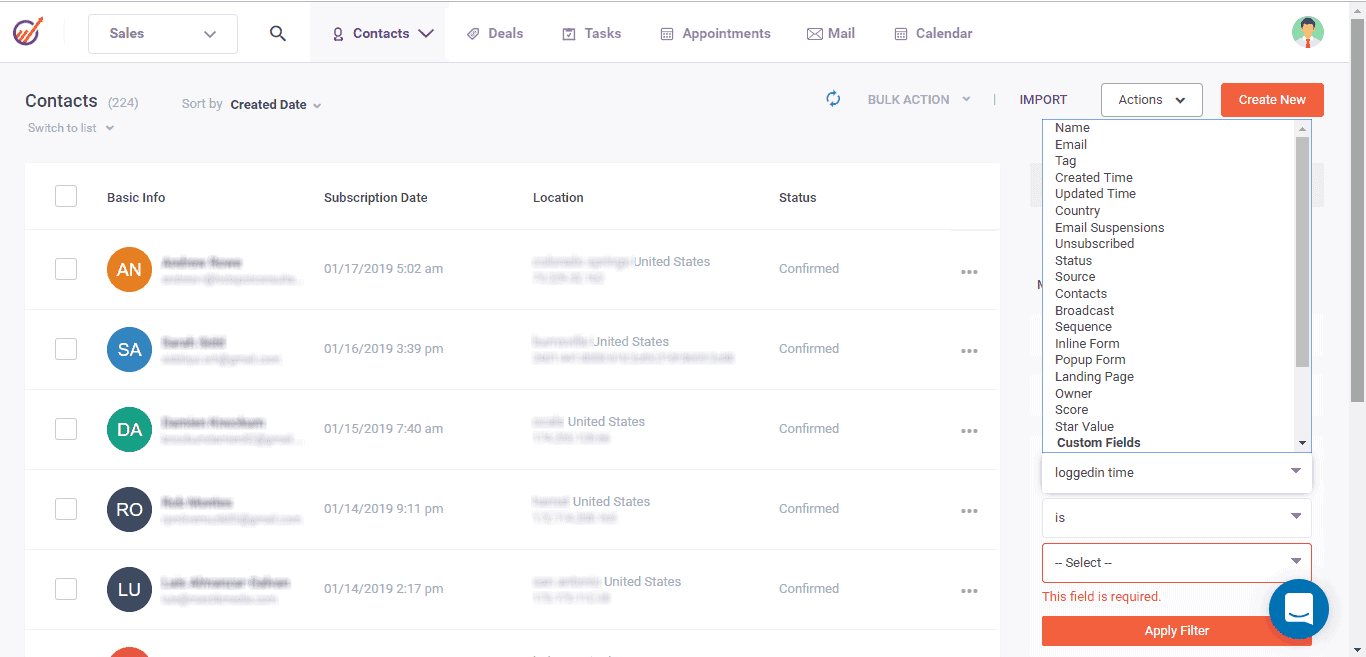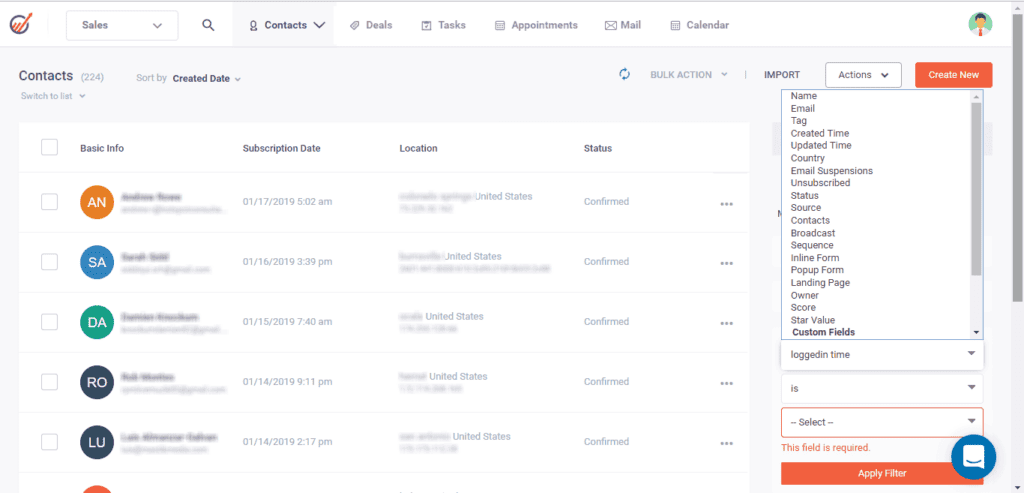 Deep Business Insights
Financial CRM platforms capture a large amount of data and analyze it to provide information about your most sold services, best performing financial advisors, and more.
A CRM solution also gives you insights into the successes and mishaps of past sales tasks.
Leveraging this data helps you make smart decisions and benefit your existing clients while attracting new ones.
Better Customer Experience
Customer experience is the key differentiator for every firm.
Building trust in the financial services company will help you attract more clients.
A CRM software for financial advisors is designed to improve client relationships with personalized solutions.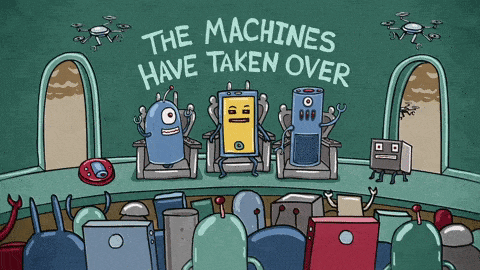 Key Features of Financial CRM Software
Here are some of the financial CRM features that help you grow your investment business.
Workflow Automation
Automating your workflow helps clear up time from repetitive tasks such as data entry and allows advisors to focus more on strategizing.
Financial advisors can spend more time on how to expand their network and foster better relationships with their clients.
Workflow automation streamlines various processes, including capturing lead information, onboarding a new client, sending out email follow-ups, assisting in the sales process, and much more.
Scheduling and Calendar
The best CRM software for financial services will provide a smart tool for time management.
It can help you schedule events during your calls.
In fact, the CRM system will also send out automatic reminders for all your upcoming calls or appointments.
These reminders come with all the necessary info about the client.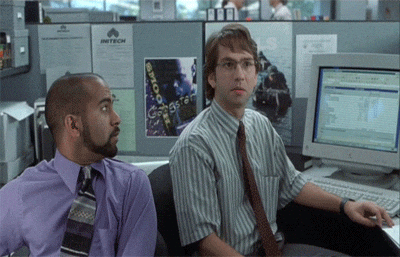 Document Management
A financial CRM software keeps all your documents well organized.
The CRM tool ensures that all your files — whether paperwork or media files — are easily discoverable.
You can even add notes, labels, or tags to them for easy retrieval.
In fact, many CRM solutions give you the option to run a keyword search to find a document.
Most importantly, it promotes collaboration where you can restrict access based on individual roles.
Reporting and Analytics
Finance CRM software is so popular because of its ability to track and analyze your overall performance.
In the world of financial services, it's crucial to understand data and identify patterns, numbers, and more.
These insights help your sales team in converting more leads and stay on top of their game with maximum efficiency.
The best CRM software for financial advisors will allow you to produce custom reports as per your requirements.
Built-in Calling
While using CRM tools, financial advisors don't have to juggle between phone and laptop.
Financial service CRM solutions like EngageBay allow you to call your customer directly from the software.
At the same time, it displays all previous communication and information about the customer on a single screen.
The integrated auto-dialer helps with call recording and connecting the call with the right sales representatives.
Read also: Marketing Automation For Financial Advisors: Beyond the Basics
How to Choose the Right CRM for Your Financial business?
There are plenty of options out there, as the CRM software industry is growing rapidly.
Here are some of the factors to look into while selecting the right CRM solution for your finance business.
Easy to Use
The whole purpose of using a CRM is to make your life as a financial advisor easy.
Choose a CRM software that has easy navigation and offers a customizable dashboard so that you can keep a tab of things more important to you.
Having an intuitive and user-friendly interface is really important.
Keep Your Customer Data Safe and Secure
A CRM software acts as a database where all information about your customer is stored.
It's essential that it comes with a strong security level that keeps your data from falling into the wrong hands.
Choose the one that is certified with the best measures and allows you to sell without having to worry about the data leak.
Scalability
Get a CRM solution that helps you accommodate more users and marketing contacts as your business starts to expand.
Also, integration can help with expanding its functionalities as and when required.
Automation
82% of companies use CRM software for sales automation.
Choose a CRM system that provides automation for various aspects of your business, including marketing, sales, and customer service.
All three departments are interlinked to provide a superior customer experience.
A CRM should help create transparency and sync all information into a single view.
5 Best CRM for Financial Advisors
It's time to look at the top CRM software for financial advisors.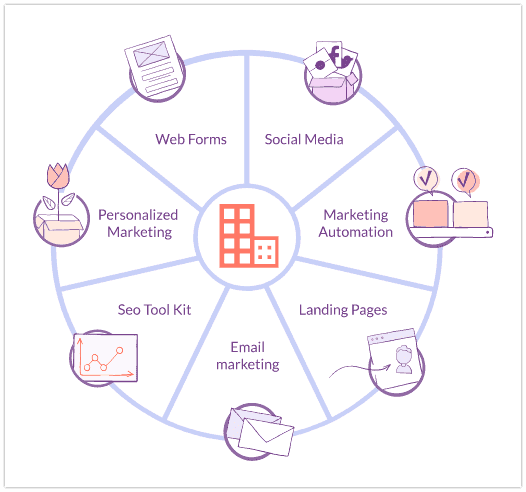 The first on our list is our very own EngageBay's Sales CRM — which is free for up to 15 users.
It also offers a full-fledged automation tool for both small and large financial firms where you can sync all the three departments — marketing, sales, and customer support.
From automated email marketing campaigns to contact management and lead generation, it takes care of all the important business tasks.
Besides, it is quite popular for its rich set of in-built email templates that help generate more leads.
Do you want to see EngageBay in action? Here is a full product demo:
Pros
Reliable and active support via email and online chat

Automatically create tasks and assign them to all your financial advisors

Call broadcast pertaining to a selected list of contacts for time-saving

Appointment scheduling and sending out automated reminders and follow-ups
Cons
Less number of integrations
Pricing
EngageBay offers a free CRM tool for financial advisors, making it a perfect choice for an independent financial planner or a small firm.
In case you need a full-fledged marketing automation functionality, you can use it for $8.99 per user per month for up to 15,000 contacts.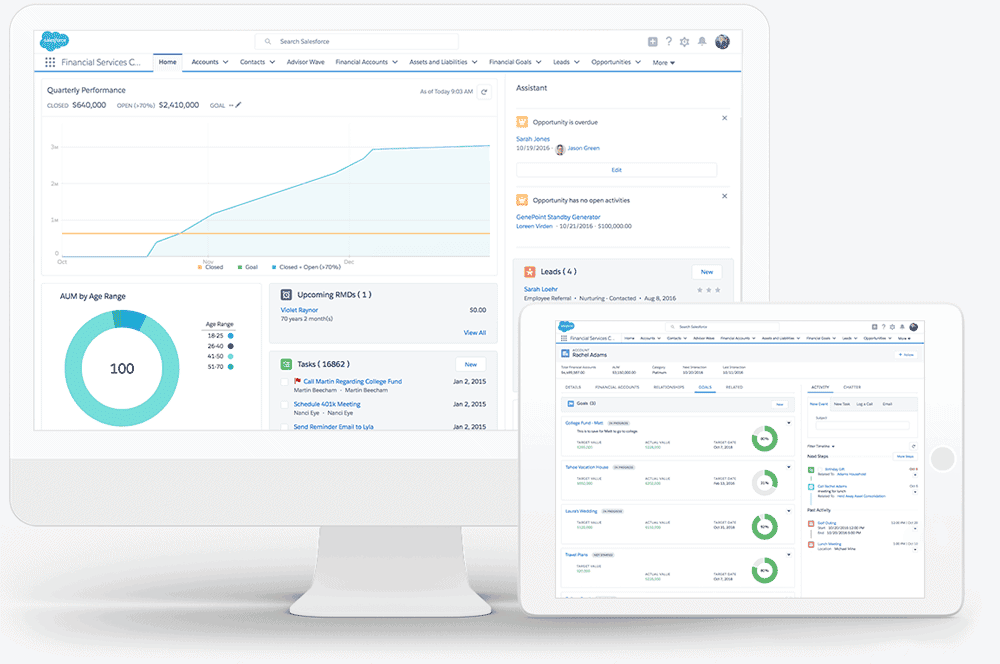 Salesforce offers a financial service CRM that enables you to create personalized experiences for your customers, thereby building trust and loyalty.
Its end-to-end platform provides integrated marketing, sales, and service solutions.
Besides, it streamlines all channels of communication to ensure every advisor is on the same page.
Some of its other capabilities include reporting and analytics to keep track of your agent's performance and allowing them to call a client directly from the browser.
Pros
Offers cloud-based, AI-driven CRM that helps with the next best actions

Prioritizes your lead and notifies your team immediately

Provides omnichannel integration across social, web, email, and more
Cons
Lacks integration, so once you start expanding, you don't get the option to integrate with other applications

No free CRM like EngageBay
Pricing
Salesforce CRM offers four plans, including Essential ($25 per user per month), Professional ($75 per user per month), Enterprise ($150 per user per month), and Unlimited ($300 per user per month).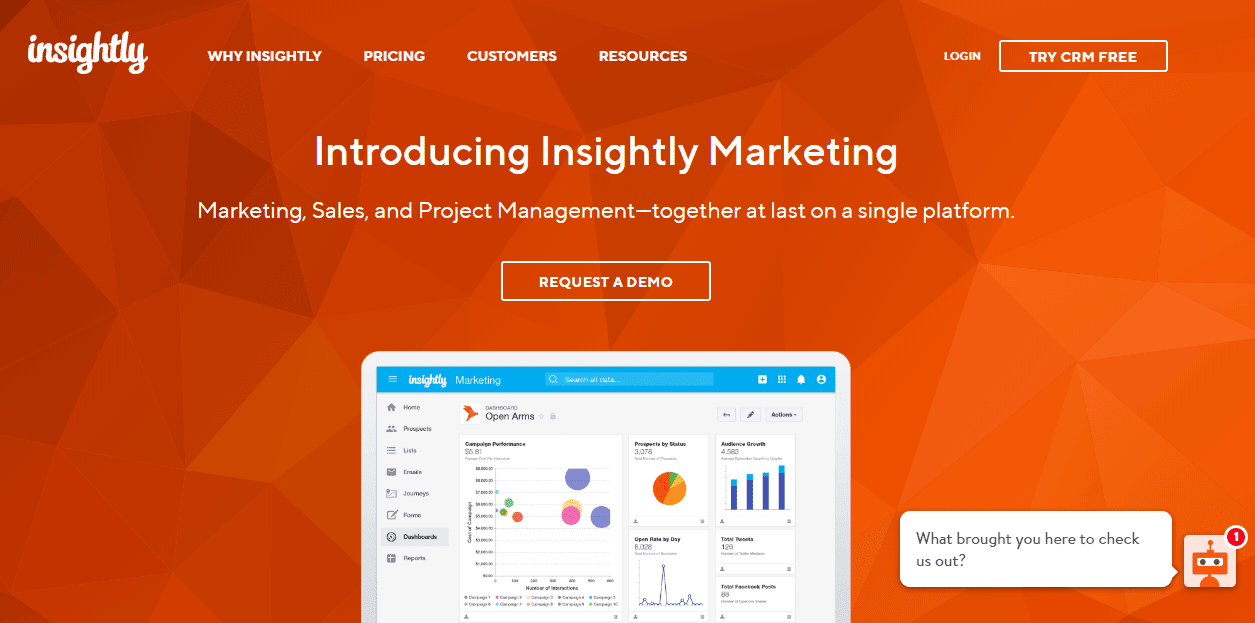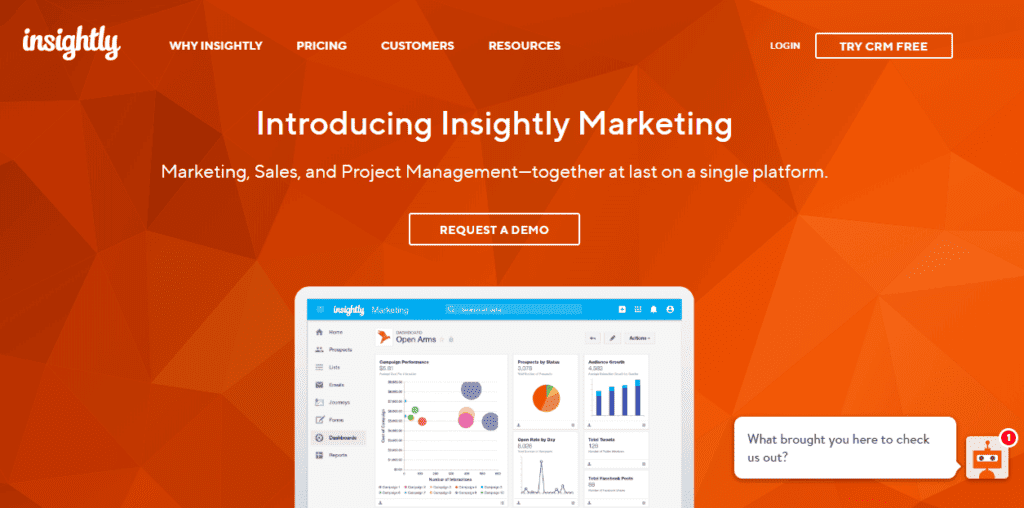 Insightly is popular for its robust CRM that comes equipped with powerful features.
Some of these include lead scoring (nothing but prioritizing your lead), workflow automation (to help free up extra time), bulk email campaigns, and much more.
It aims to help build meaningful relationships with your clients by giving full visibility into your prospect's behavioral activity.
What's more, it aligns your teams and helps get rid of silos, closing deals faster.
Pros
Easy to invite and add new users & customize features

Has a user-friendly and intuitive interface

Its mobile app is compatible with iPhone, iPad, Amazon Kindle HD, and more
Cons
No dedicated CRM for financial advisors

Some users consider it expensive for its level of functionality
Pricing
Insightly CRM is free for two users with 200 MBs of storage, 2,500 records, and 10 customer fields.
It also comes with free support limited to email.
Otherwise, it has three pricing plans: Plus (available for $29/user/month), Professional (available for $49/user/month), and Enterprise (available for $99/user/month).
The Plus package includes a 100,000 records limit, 1 GB storage, and integration with email systems like MailChimp.
Read also: Top 10 Financial Advisor CRM Tools For Perfect Client Management


Pipedrive is one of the easiest-to-use sales management tools that give you full control over your activities.
More than 95,000 companies have used Pipedrive, with 1M tasks automated each week.
From getting hot leads straight into your pipeline to tracking communication across all channels and automating workflow, Pipedrive CRM offers a large set of features.
This cloud CRM solution can be accessed from your mobile device with an internet connection.
Pros
Sync all your activities with Google Calendar

Customize activity types to meet your needs

Automatically creates recurring tasks and assign them to the right advisor
Cons
Dedicated CRM for financial advisors is missing

No call support even for its most expensive paid plans
Pricing
Pipedrive CRM basic plan is for $12.50 per user per month, offering contact management and customizable pipelines.
It has three more paid plans: Advanced ($24.9 per user per month), Professional ($49.90 per user per month), and Enterprise ($99.0 per user per month).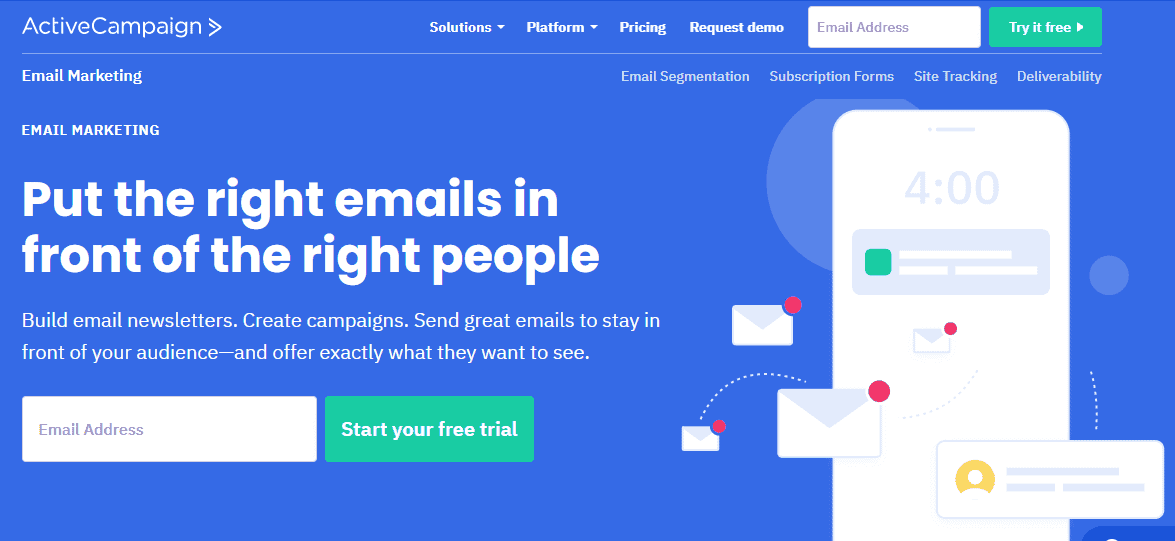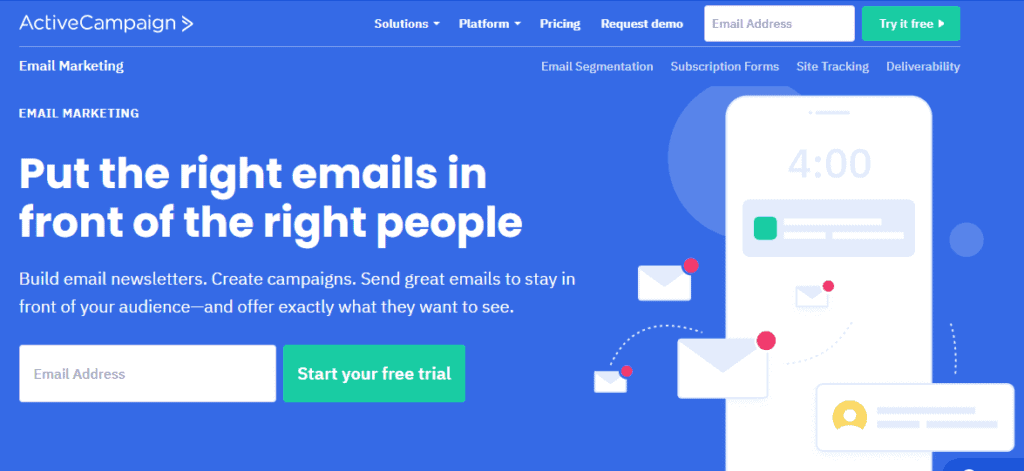 ActiveCampaign CRM comes equipped with dozens of professionally designed email templates to help capture more leads.
You can start sending email campaigns with just a few clicks.
This financial planning CRM helps create and manage tasks, make calls directly from the software, and update deals while on the field.
It ensures that you stay on top of your pipeline and don't let any leads pass through the crack.
Pros
Connects directly with your Gmail, Outlook, or another email provider

Has more than 850+ integrations in total

Provides auto-responder options
Cons
The dashboard looks busy; the interface can be improved

Can be on the pricier side — not for small financial firms
Pricing
ActiveCampaign has four paid plans.
The basic plan 'Lite' starts from $9 per month for 500 contacts.
This is followed by the Plus Plan — available for $49 per month.
The Professional Plan costs $129 per month, and the Enterprise plan $229 a month.
Wrap Up
A powerful CRM software for financial advisors can help enhance productivity.
It can do this because it integrates various platforms and channels to store and track client data, including client information, behavior, and possible future plans.
The software also helps streamline all the work between a financial firm's different teams, with easy coordination from within one dashboard.
It can help you call, email, text, and schedule appointments with clients without having to use four different applications.
Most importantly, with efficient and personalized customer service, it can boost your business in no time.