For any financial advisor, the biggest challenge is to attract and retain clients.
It largely depends on how effectively you can foster relationships with your clients.
It requires constant nurturing of leads and maintaining communication to gain your client's touch.
Using a financial advisor CRM tool, you can store all your contact information in a single database.
It automatically updates your data and streamlines the process of follow-ups and reminders.
Whether you are planning to install a CRM for the first time or re-evaluate your existing one, here's a list of the top ten financial CRM that you can consider using.
Understanding the Need for Financial CRM Software
CRM software, in general, provides various tools on a single platform, helping make communication between businesses and customers more efficient.
Those are data-driven and provide real-time information about your clients, forecast revenue, and detect areas of improvement.
A financial advisor can personalize all interactions and run targeted campaigns to further strengthen their client-advisor relationship.
Clients are more likely to stay loyal if they feel valued.
For small businesses looking to scale up their operations, adopting a financial advisor CRM is crucial to attracting new clients, retaining existing clients, and boosting credibility.
Read also: CRM For Financial Advisors: A Complete Guide For Finance Businesses
10 of the Best Financial Advisor CRM Tools For Client Management
Now, let us look at some of the best financial advisor CRM software for your business.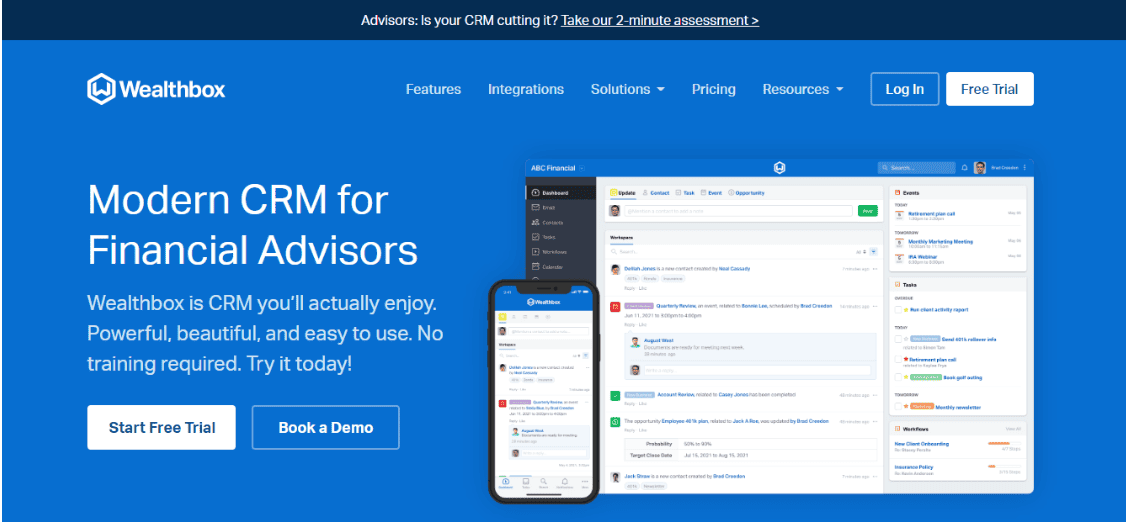 Wealthbox is a modern CRM platform for financial advisors that connects finance professionals with colleagues, clients, and prospects using omnichannel communication.
It boasts a range of features that helps teams manage client relationships better and increase productivity.
Features
Contact Record Page:

This tool records relevant client information, including previous conversations, documents, and financial information.

Custom Fields:

Depending upon your business requirements, Wealthbox lets you create custom fields to add data for your clients.

Social Feeds:

It helps you monitor the activities of your clients and prospects on social networks relevant to finance.

Graphical Views: This helps you view opportunities by users and pipeline stages to understand team performance.
Pricing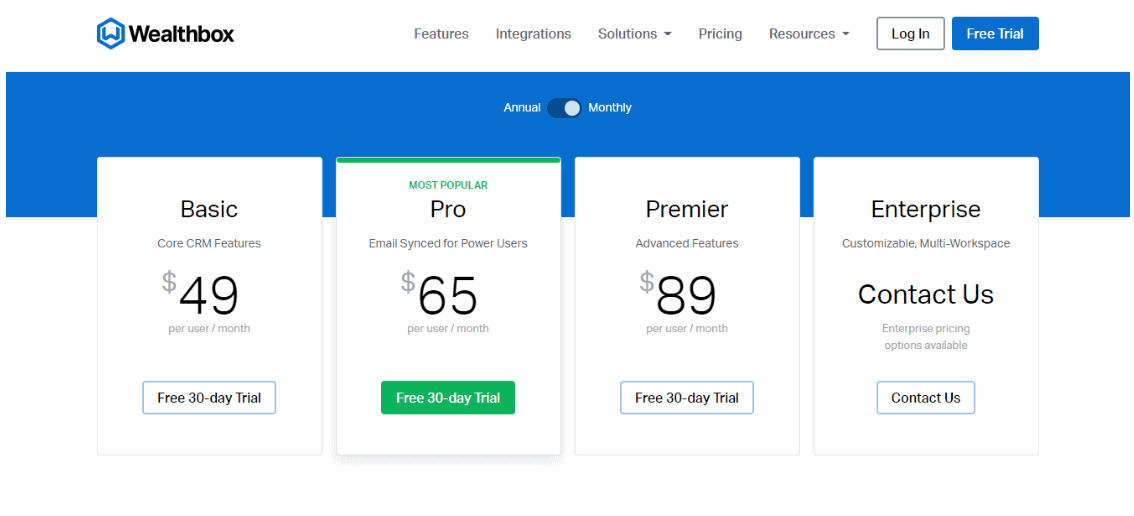 Wealthbox offers four plan categories, Basic, Pro, Premier, and Enterprise. All the plans come with a 30-day free trial.
The Basic Plan starts at $49 per user per month. It includes tools such as customizable groups, contact segmentation tags, contact and household management, task management, and opportunity management.
The Pro Plan is the most popular, starting at $65 per user per month. Some of its features include a workspace account switcher, Wealthbox mail, workflow milestones, email tracking, built-in email templates, and a customer support help desk.
Under the Premier Plan, users can get additional tools like live help, data migration assistance, a knowledge base, a video tutorial library, and a Chrome extension for $89 per user per month.
For large businesses, the Enterprise Plan works best. Here, you can avail of up to 20 GB of file storage, API access, two-factor authentication, enterprise SSO, and a dedicated account manager. To purchase the plan, teams can contact Wealthbox directly.
Pros

One of the best features of Wealthbox is that it helps users customize the layout and offers multiple options to help them track client progress easily.
Cons

At times, it can take longer for Wealthbox's customer support to respond to their client's queries, forcing them to wait for an email reply to get their issues resolved.
Read also: 9 Best CRM Tools for Architecture Firms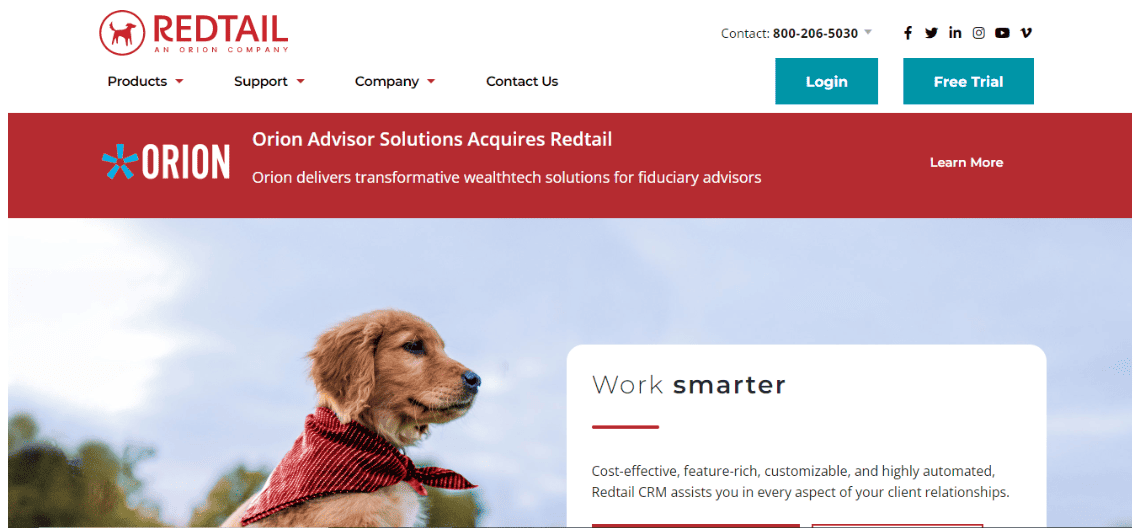 Redtail is another financial advisor CRM that is suited for small and growing businesses.
It is one of the first cloud-based financial advisor CRM and has integrations with various financial planning applications, including eMoney, Moneytree, Voyant, WealthAccess, PlanFacts, and so on.
Features
Workflow:

Using this feature, tasks are automatically assigned to the available team members. You can also get real-time updates on the status of each project.

Reporting:

It helps you create financial reports using built-in templates as well as customizable ones, as per your needs.

Seminars:

It helps you identify the right prospects and track call and email campaigns for each contact.

Mobile App: The mobile app helps you access the CRM dashboard and stay connected to your clients anywhere, anytime.
Pricing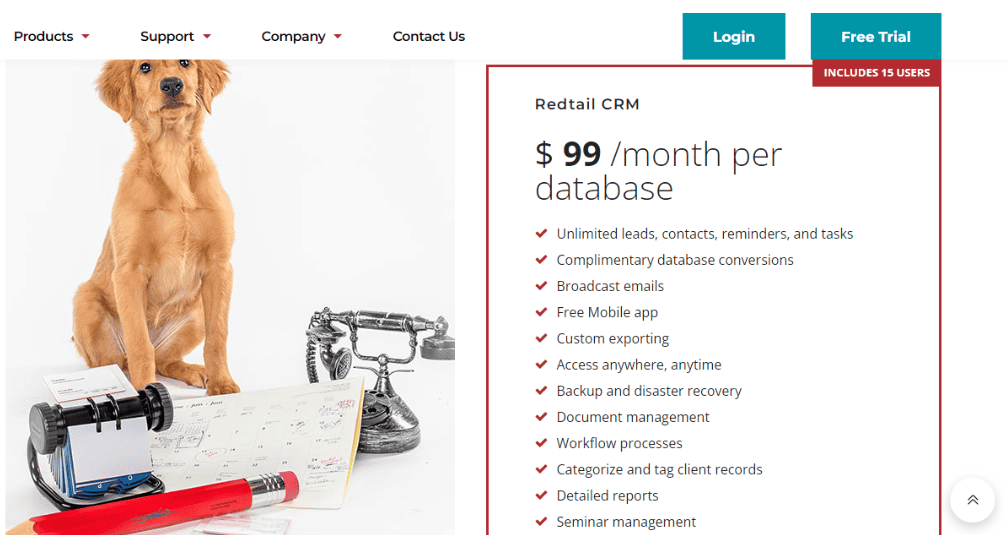 Redtail offers a single pricing plan for its financial advisor CRM platform.
The plan starts from $99 per month and includes up to 15 users.
Some of its key features are an unlimited number of leads, contacts, and tasks, database conversions, broadcast email, free mobile app, document management, workflow processes, seminar management, tag management, detailed report generation, and more.
Pros

Redtail's biggest advantage is that it can easily integrate various software. Moreover, it can help users easily build complex workflows, assisting businesses to avoid missing opportunities and follow enterprises thoroughly.
Cons

For those new to CRM, Redtail can seem difficult to set up, particularly the workflow.
Read also: 7 Kickass Bank Marketing Ideas You Can Steal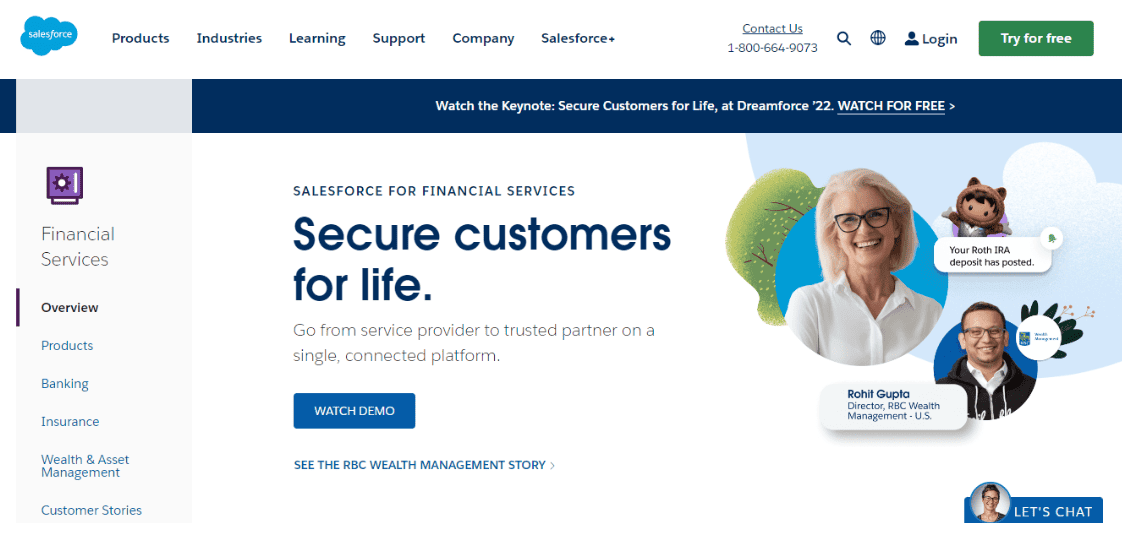 Salesforce's financial advisor CRM, known as Financial Services Cloud, provides a range of tools depending upon which industry you are in. Be it banking, insurance, or wealth and asset management, Salesforce meets all your needs.
Features
Contact Management:

Helps maintain a centralized customer database by automatically migrating data from other platforms and updating them.

Omnichannel Marketing:

You can reach customers on multiple platforms, including email, phone calls, and social media, from a single dashboard.

CRM Analytics:

It provides teams with intelligent, AI-powered predictions, helping them act on opportunities faster.

Automated Underwriting: This

helps insurance agents streamline the underwriting process and unlock valuable insights about their clients.
Pricing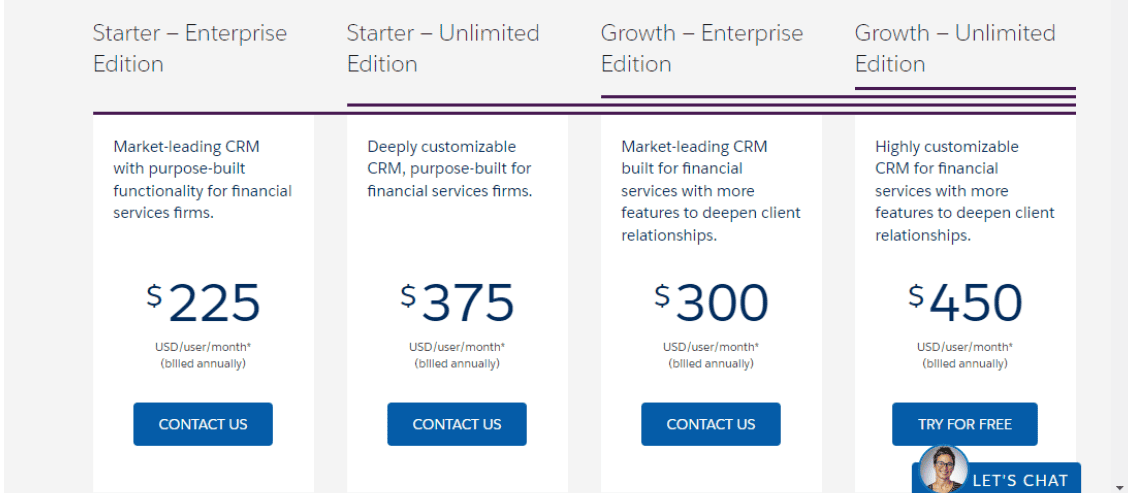 Salesforce has four plans: Starter-Enterprise Edition, Started-Unlimited Edition, Growth-Enterprise Edition, and Growth-Unlimited Edition.
The Starter-Enterprise Edition starts at $225 per user per month and boasts Sales Cloud and Service Cloud Functionality, document tracking and approvals, and client financial profiling.
With the Started-Unlimited Edition, you can avail of additional features, such as a full sandbox and relationship builder, at $375 per user per month.
For businesses looking to improve client relationships, the Growth-Enterprise Edition Plan works best. It starts at $300 per user per month and has tools such as compliant data sharing, industry-specific business processes and capabilities, a data processing engine, mortgage business APIs, client segmentation, and branch and practice management.
If you want a customizable CRM platform, the Growth-Unlimited Edition is ideal for you. The plan starts at $450 per user per month and includes key features, including interest tags, need-based referrals, sales engagement, built-in email templates, etc.
Pros

Salesforce Financial Service Cloud has a simple and user-friendly interface, making it convenient for those new to CRM software.
Cons

One of the drawbacks of the Financial Services Cloud is its mobile app, which can sometimes be slow.
Read also: Top 9 Salesforce Competitors And Alternatives [Comparison Tables]

Freshworks' CRM for Finance is called Freshsales.
Freshsales helps you convert your sales emails into leads, chronicles your previous engagements with them, and highlights relevant details about your clients.
Features
Data Integration:

Given that financial advisors work with financial software all the time, Freshsales helps migrate all the data on the CRM platform so that they don't have to switch between platforms.

Pipeline Tracking:

Freshsales helps you track your customers' journey at different stages, including applying for loans, investments, or the status of deposits.

Performance Tracking:

It helps you generate standard or customized reports based on various financial metrics of your business, such as the total value of deposits, sources of deposits, loans sanctioned in different time periods, and so on.

Quick Turnarounds:

Freshsales is integrated with support software that helps teams generate and track the status of customer tickets related to the issuance of credit or debit cards, applying for loans, opening a bank account, and so on.
Pricing
Freshsales offers four pricing plans, Free, Growth, Pro, and Enterprise.
The Free Plan is a forever-free plan for individuals and small teams. It has features such as contact and account management, 24*5 support, a mobile app, and built-in chat, email, and phone.
Under the Growth Plan, you can get additional tools, such as a visual sales pipeline, AI-powered contact scoring, sales sequencing, and WhatsApp Business integration, at $12.39 per user per month.
The Pro Plan is Freshsales's most popular and costs $34.71 per user per month. Here, you can avail of multiple sales pipelines, time-based workflows, AI-powered sales insights, and deal management.
For those looking for advanced features, the Enterprise Plan works best. It is priced at $61.99 per user per month and includes custom modules, AI-based forecasting insights, audit logs, and a dedicated account manager.
Pros

Freshsales helps financial teams shorten their sales cycle by helping them quickly understand which prospects will become customers and which won't. This helps them determine their next course of action and execute the right sales tactics.
Cons

A drawback of Freshsales is its slow customer service, as users received late responses to their queries.
Read also: 5 Freshworks Alternatives for Great Customer Support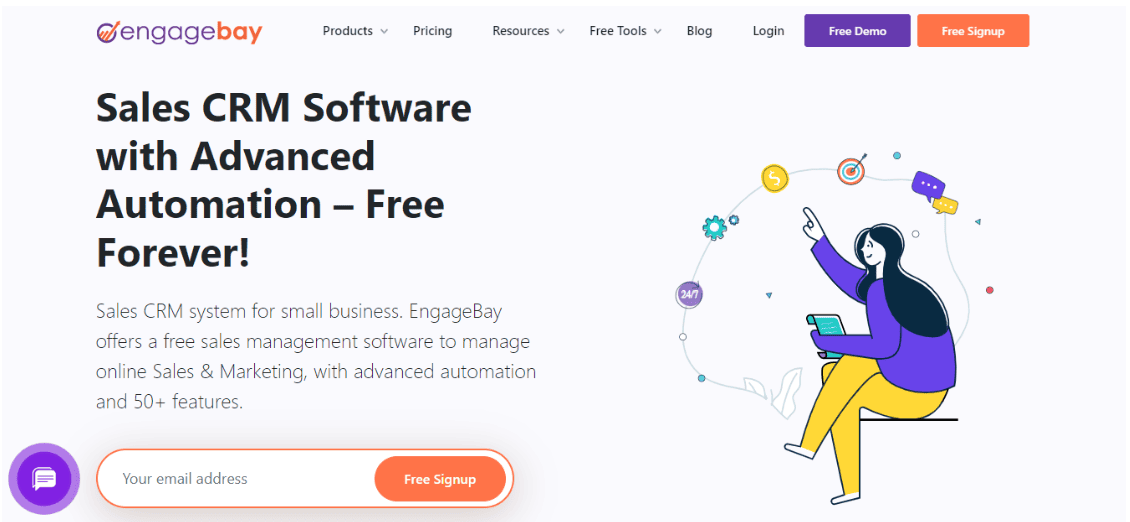 EngageBay is an all-in-one CRM platform with all the features needed for your financial advisory business to function smoothly.
It has a rich set of in-built email templates that can be customized, which is useful in lead generation.
Both small and large financial firms alike can use EngageBay and sync all their three departments – marketing, sales, and customer support.
Here's a video testimonial from Lauraine, the Founder-Director of a financial firm, who recommends EngageBay as the best solution for small business owners.
Features
Contact Management:

It provides a complete record of all the conversations you have had with your leads. Further, it automatically removes or updates relevant information about your prospects in the database.

Project Management:

The project management feature helps you create tasks, assign them, filter tasks according to priority, and add notes to share with your team.

Appointment Scheduling:

With EngageBay, you can schedule appointments and get automated reminders to your Google Calendar and Office365.

Live Chat: The free live chat software helps you resolve client queries at once, anywhere, and anytime.
Pricing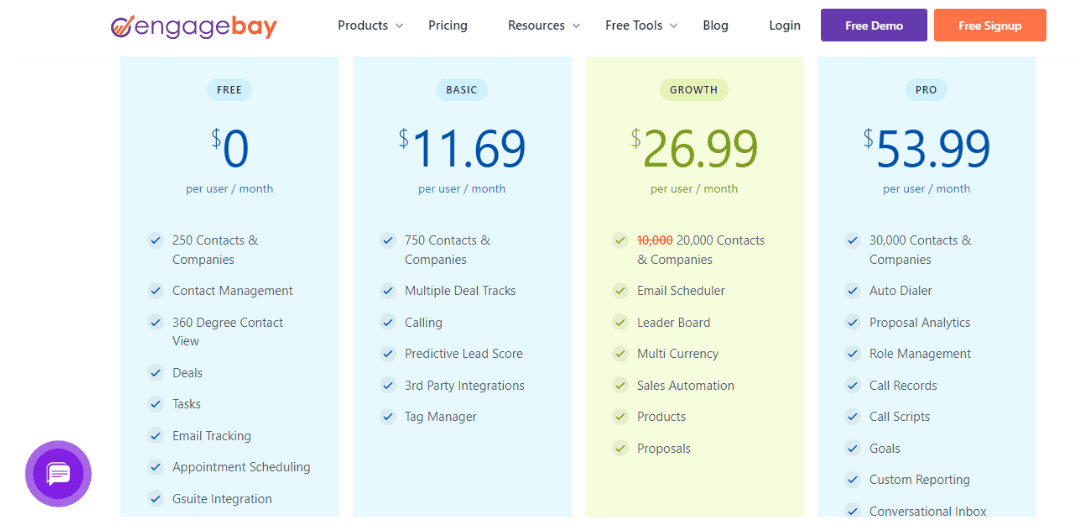 EngageBay's Sales CRM has four pricing plans, Free, Basic, Growth, and Pro.
The Free Plan offers up to 250 contacts, 360-degree customer view, deal tracking, task management, appointment scheduling, email tracking, and GSuite integration.
Under the Basic Plan, you can avail of up to 750 contacts, multiple deal tracking, predictive lead scoring, and tag management. It costs $11.69 per user per month.
The most popular plan, Growth Plan, is priced at $26.99 per user per month. The plan includes additional features like email scheduling, sales automation, up to 20,000 contacts, and multi-currency payment.
With the Pro Plan, you can get additional tools like custom reporting, conversational inbox, role management, proposal analytics, and auto-dialing at $53.99 per user per month. It provides up to 30,000 contacts.
Pros

EngageBay has a straightforward and user-friendly interface, making it easy for new users to get acquainted with CRM software.
Cons

Despite its benefits, EngageBay's navigation can be a bit challenging sometimes, owing to multiple features on a single platform.
Read also: The Top 8 EngageBay Alternatives [Features, Pricing, Reviews]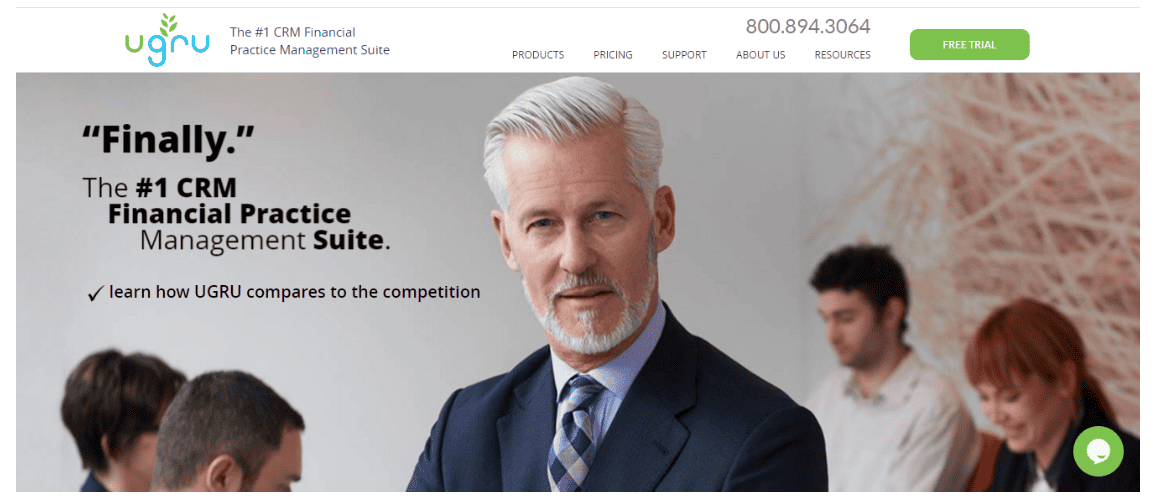 UGRU is an award-winning CRM platform dedicated solely to financial advisory services.
Be it small, medium-sized, or large businesses, UGRU works best for everyone.
It is a full-featured financial CRM that comes integrated with sales force automation, including sales forecasting, contact management, and sales pipeline management.
Features
Task Management:

It helps you assign tasks to your teammates, filter them according to priority, and track their progress.

Data Management:

Ensures that data is not duplicated, is accurate and up to date, and imports data from different databases.

Sales Forecasting:

Based on current performance, the tool helps forecast sales in the upcoming financial period, enabling you to design sales and marketing strategies accordingly.

Accounting:

UGRU's integration with QuickBooks helps create financial statements, such as ledgers, accounts payable and receivable, and invoices, from UGRU's dashboard itself.
Pricing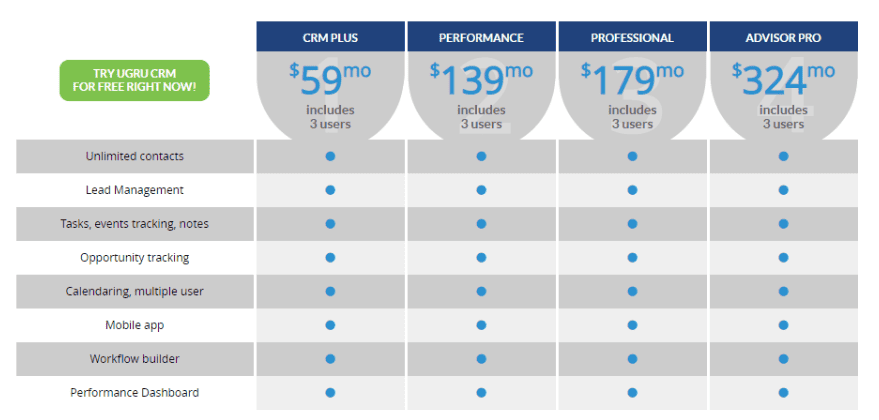 UGRU offers four plan categories, CRM Plus, Performance, Professional, and Advisor Pro.
The CRM Plus Plan costs $59 per month and includes up to three users. It includes unlimited contacts, lead management, opportunity tracking, a mobile app, and a performance dashboard as some of its key features.
The Performance Plan starts at $139 per month and has additional tools like mass email, client portal, bulk mail merge, and doc management and storage.
Under the Professional Plan, you can get marketing automation, lead capturing, website visitor tracking, workflow automation, and bookkeeping at $179 per month.
With the Advisor Pro Plan, users get financial planning, marketing collateral, invoicing, and statement builder as additional features, at $324 per month.
Pros

UGRU helps financial advisors collect and store information relevant to their clients. Moreover, you can easily track follow-up calls and appointments and monitor previous conversations on a single platform.
Cons

Due to its complex features, UGRU can be difficult for some users to navigate.
Read also: 25 Genius Insurance Marketing Ideas You Haven't Tried Yet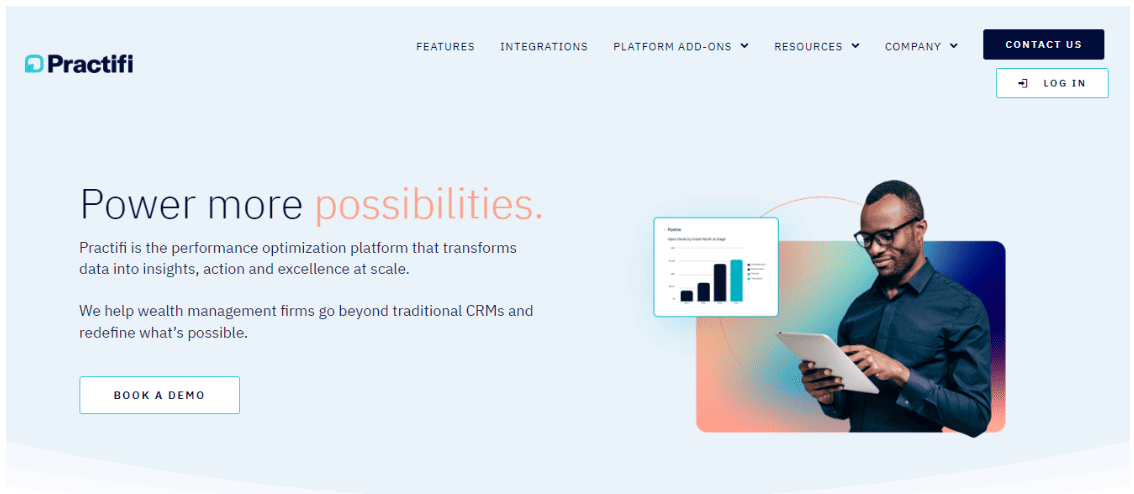 Practifi is a performance optimization CRM that helps users gain valuable insights into data related to wealth management.
It centralized all data sources to generate insights and forecast numbers to help predict your business growth.
Features
Smart Automation:

It helps you automatically schedule and manage dates, processes, and marketing on a single platform.

Analytics and Reporting:

The tool helps generate customized reports regarding team performance and various other important metrics.

Enterprise Workflow Engine:

In-built workflow templates allow you to assign tasks more efficiently and streamline them.

Centers of Influence:

It helps you segment and manage referral sources or links efficiently and in greater detail.
Pricing
Practifi offers bespoke solutions with custom pricing. Contact their sales team to request a quote.
Pros

Practifi has a user-friendly and simple interface, making it easy to set up.
Cons

Practifi does not have a mass or bulk emailing feature and is unable to extract data for report creation, making it difficult for users to get the information they need quickly.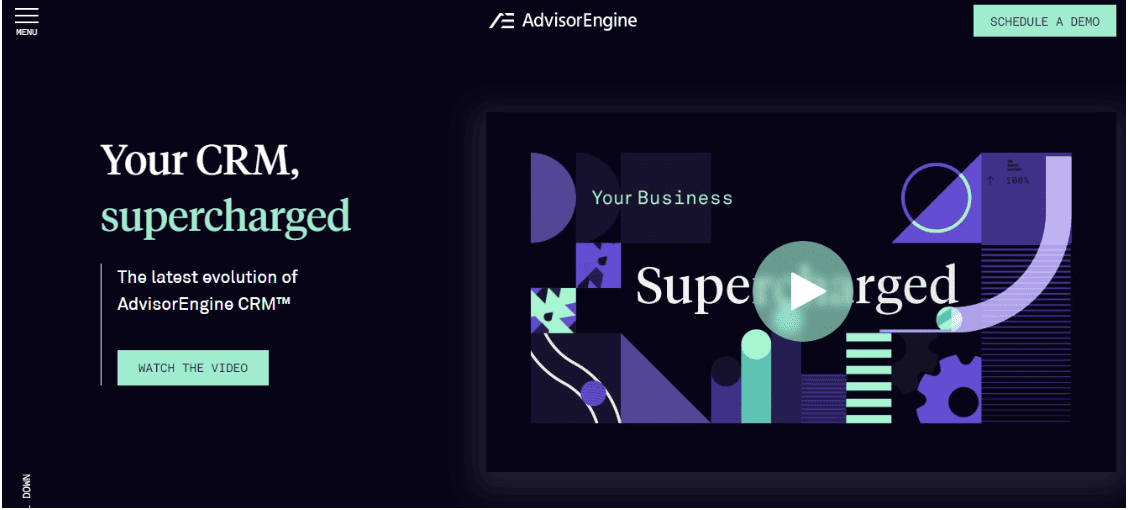 Junxure, also known as AdvisorEngine CRM, provides data-driven insights that help improve client relationships.
Features
Practice Management:

It helps you automate your workflows and digitize all your work, making it efficient and increasing your productivity.

Visualization:

This allows you to visualize performance according to different metrics, helping drive results across the company.

Infrastructure:

It allows you to store unlimited amounts of data at no additional cost.

Contact Management:

The tool enables recording relevant customer data and storing conversations and documents important to your clients.
Pricing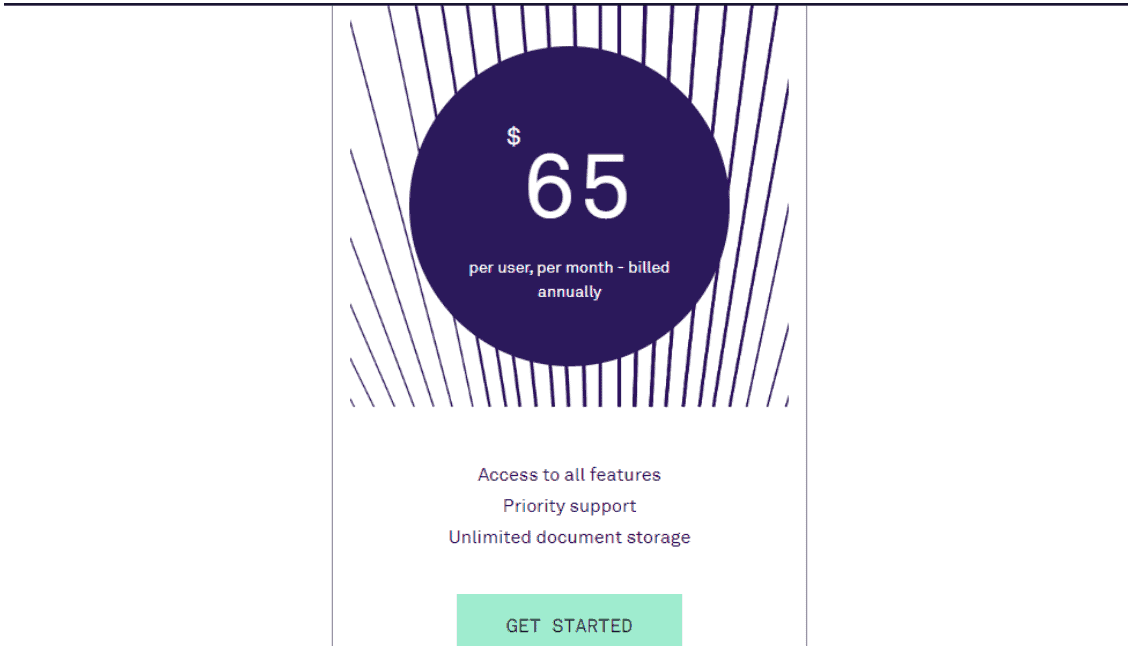 Junxure has a single pricing plan, starting at $65 per user per month. It boasts features such as practice management, contact management, data visualization, administrative tools, infrastructure, unlimited document storage, and priority support.
Pros

Junxure is known for its flexible dashboard, numerous add-ins, and highly customizable workflows.
Cons

Due to the many features available, the platform can sometimes be difficult to navigate.
Read also: HubSpot Pricing and Comparison with Affordable Alternatives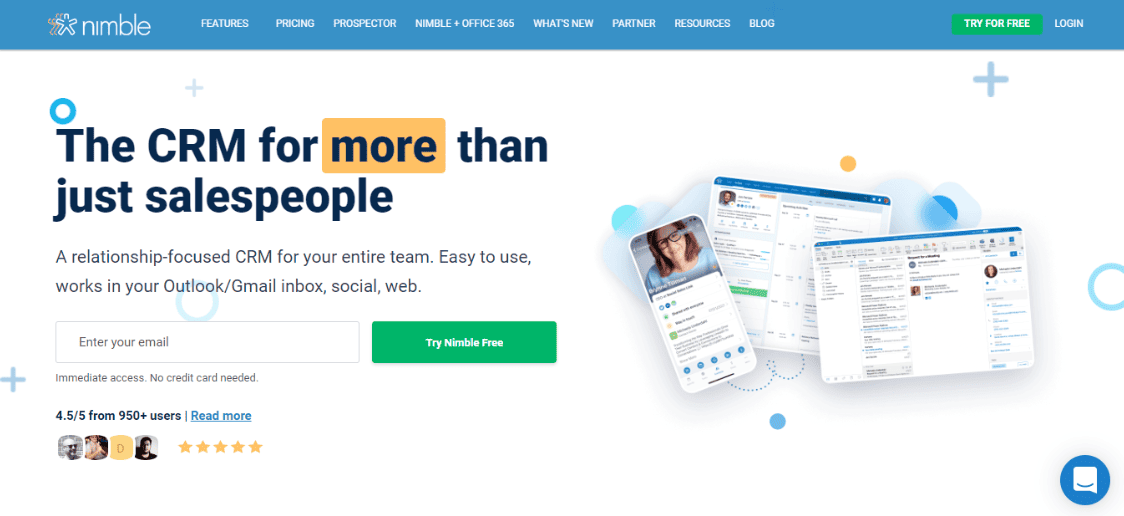 If you are looking for a financial advisor CRM platform that works both with Gmail and Outlook, Nimble is your best bet.
Features
Seamless Integration:

Nimble works within any platform, be it Gmail, Outlook, or LinkedIn, helping you source the right prospects for your business.

Contact Unification:

It helps you unify client data from over 160+ platforms, including HubSpot, Twitter, Facebook, Instagram, and so on.

Activity Tracking:

This allows you to track and schedule activities across the different teams in your company.

Group Emails: Using this tool, you can send bulk emails to clients by choosing from a wide range of built-in email templates.
Pricing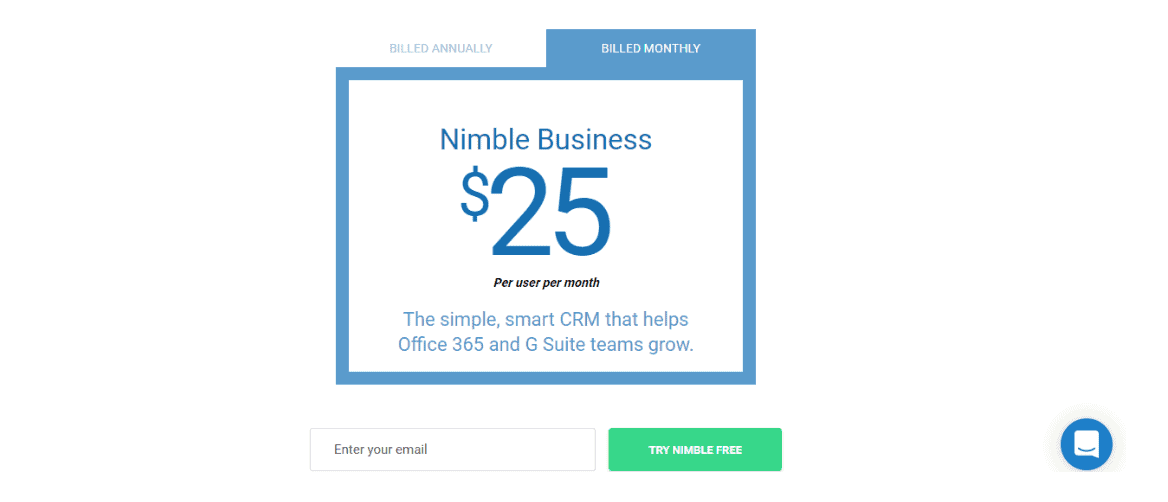 Nimble has a single plan known as Nimble Business. It costs $25 per user per month and comes with features like contact management, calendar sync, saved search segments, email signature capture, email tracking, free onboarding assistance, and so on.
Pros

Nimble is preferred by users due to its seamless integration with multiple social media platforms, email platforms, and websites.
Cons

At times, the interface can be confusing and difficult to navigate.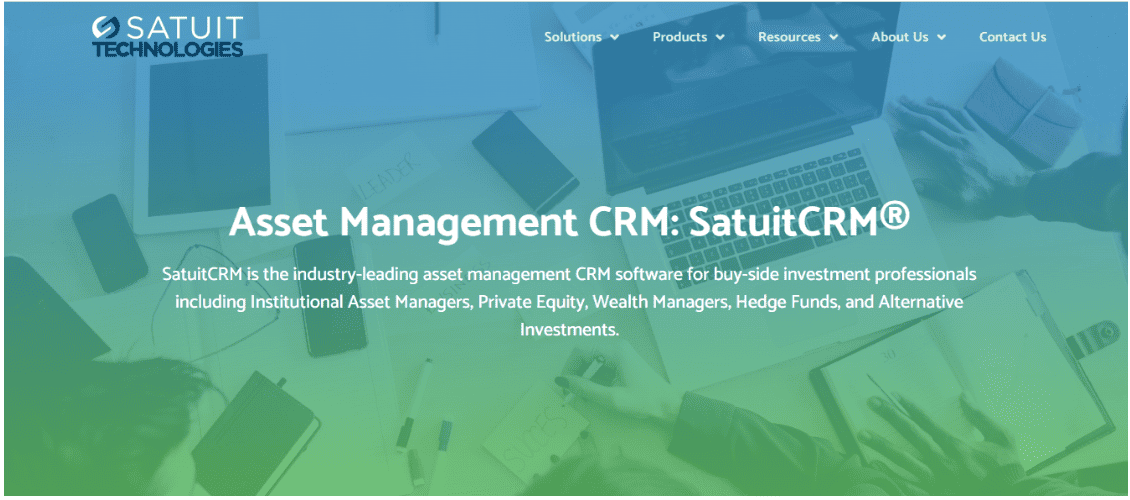 SatuitCRM is a financial advisor CRM designed especially for investment professionals.
Features
Manage Complex Relationships:

This feature allows you to track emails, phone calls, meetings, presentations, and investor reports, all on a single platform. Further, the graphical interface helps it easy to find the engagement level of investors with your business.

Legal and Compliance Workflow:

It helps you manage all documentation and communication regarding legal and compliance on a single dashboard.

Business Development:

The tool helps your sales teams track the status of proposals and the updates to your existing accounts, identify new opportunities, and get real-time alerts for any past activities.

Integration: SatuitCRM is integrated with known portfolio accounting, billing, and client reporting systems, along with Outlook365, Gmail, and DocuSign.
Pricing
SatuitCRM offers bespoke solutions with custom pricing. Contact their sales team to get a quote.
Pros

SatuitCRM is preferred by financial advisory companies owing to its simple and intuitive interface. Further, its customer support is efficient and quick to respond.
Cons

Some users have said that SatuitCRM should introduce more features in lead management to help identify and qualify the right prospects.
👉Uncover the secrets of successful travel agencies with our comprehensive guide to the best CRM software solutions! 🎯
Wrap Up
All in all, financial advisor CRM software is essential to streamline your workflow and make communication efficient.
It enables forecast revenue and developing strategies that help you deliver customer-centric solutions to maximize the value of clients' assets.
Be it a small business or a large enterprise, it makes sense to invest in a good financial advisor CRM platform.
Zapier mentioned EngageBay as one of the best freemium CRM tools out there … take a look?
If you know other CRM software that should have been mentioned in this list, let us know in the comments 👇