eCommerce AI chatbots are powerful solutions for enhancing engagement between businesses and customers. They are well-designed software programs with sophisticated features that help online merchants carry out several business operations on autopilot.
From resolving customer issues to driving sales, eCommerce chatbots provide a vast array of opportunities that enable you to meet customer expectations and create pleasant shopping experiences.
In this article, we share the benefits and use cases of AI-powered chatbots in eCommerce. You'll also find 10 eCommerce AI chatbots and their unique features, pricing, and pros and cons.
What Are eCommerce AI Chatbots, and Why Do You Need Them?
eCommerce AI chatbots are software tools that act like customer support agents to engage with website visitors and answer their queries. Online merchants use chatbots to facilitate customer engagement as shoppers interact with your web store.
According to Outgrow, 36% of companies turn to the chatbot market to improve lead generation. Even more, business leaders claim that, on average, chatbots can increase sales by 62%. Since chatbots use AI to simulate human-like conversations, they're essential for creating delightful customer experiences.
The three major types of chatbots are as follows.
Simple chatbots: They're based on predefined rules, options, and conditions – however, they lack flexibility.
Smart chatbots: Their interactions are more flexible, as they use natural language processing (NLP) and machine learning to provide contextual responses.
Hybrid chatbots: They're a combination of both smart and simple chatbots.
Here are some reasons why businesses need chatbots:
Chatbots provide 24/7 customer support
They deliver relevant responses to simple or common queries, thus enabling your support agents to focus on more complex tasks
They facilitate sales and customer engagement
Chatbots provide multilingual support to customers across different locations
They're ideal for handling mundane, time-consuming, and repetitive tasks
Chatbots use helpful suggestions and product recommendations to provide pleasant customer experiences
eCommerce Chatbot Use Cases
You can use eCommerce AI chatbots to streamline some of your sales, marketing, and service operations. A few of the popular use cases are as follows.
Resolve customer complaints
Chatbots offer 24-hour support and are designed to deliver quick responses to customers' queries. It acts as a self-service option and allows service teams to simplify their workflows by providing answers and solutions to simple (or common) issues, and frequently asked questions.
Automate sales and marketing operations
Chatbots can be trained on comprehensive data to understand your brand values, style, tone, products, and offers. This will help your sales and marketing teams run personalized and targeted campaigns to build brand awareness and facilitate sales.
Your chatbot can engage customers at different stages of the buyer's journey to promote special offers and increase conversions.
Processes, orders, and bookings
eCommerce chatbots can use your brand products to create product categories and menus for shoppers looking to purchase a product – it can tell a customer when a product is out of stock.
Moreover, hotel owners can also integrate AI-powered technology with a hotel reservation system to enhance the booking process. – it uses this system to confirm the date, table, and room availability.
Collect customer data
Chatbots enable you to collect first-party customer data and feedback using surveys, quizzes, feedback forms, or polls. It collates users' inputs and generates valuable insights to help you monitor how customers interact with your brand.
Promote customer engagement
Chatbots provide quick and concise responses to users' queries, so your customers don't have to wait for hours or days to get an answer to an urgent issue. They use natural language processing (NLP) and machine learning to create seamless conversations.
Using predefined triggers, they can generate appropriate and timely responses.
Read also: 12 Incredible Benefits of Chatbots & How to Get Them All
10 eCommerce AI Chatbots For Awesome Engagement
Several tools and programs are designed to improve customer engagement through enhanced conversations. Although they have great chatbot features, they support unique functionalities that make them well-suited for businesses of different sizes and types.
Here are some of the popular eCommerce AI chatbots for your online store:
1. Intercom

Intercom chatbot is an advanced chatbot that lets you create custom bots without touching a single line of code. It uses your customer information and preset rules or conditions to facilitate customer engagement and enhance support.
The custom bots support features that help your sales team start real-time conversations with leads to increase conversions.
Key Features
Omnichannel platform
Multilingual support
Prebuilt customizable templates and workflows
Visual automation builder
Integrations with tools like Salesforce, Instagram, HubSpot, WhatsApp, etc.
Pricing
Starter: $74/month
Pro: Custom
Premium: custom

Pros
It is user-friendly and intuitive
It supports more advanced features for creating custom bots
It has robust analytics for providing valuable data and insights into customer interactions
Cons
It may not be an affordable option for smaller e-commerce sites
Customer support needs improvement
2. Tidio

Tidio is a web-based chat platform designed for automating sales and service operations to help you create enhanced customer experiences. It uses customer details to deliver personalized messages, recommend complementary products, create special offers, and reduce cart abandonment rates by offering discounts on specific items.
Tidio enables you to streamline your workflow with plug-and-play chatbot automation, and with predefined triggers, you can initiate conversations when visitors take specific actions on your site.
Key Features
Customizable chatbot template
Multichannel platform
Visual chat builder
Post communication survey
Analytics and Reporting
Multi-language chatbot
Pricing
Pros
It is easy to use and requires no coding experience
It supports seamless and quick integrations with third-party platforms
It supports a free plan with basic features
Cons
It doesn't offer omnichannel support
It has limited customization options
The analytics feature needs improvement
3. Zendesk

Zendesk is a customer service platform built with advanced capabilities for enhancing communication between your team and customers. It uses artificial intelligence and sophisticated automated workflows to detect customer intent, fill knowledge gaps, solve issues, and suggest appropriate responses.
Acting as a self-service option, Zendesk gathers customer information to provide contextual answers to frequently asked questions about your brand, thus empowering your support agents and improving your customer satisfaction.
Key Features
Multilingual support
Macro suggestions
Built-in automated workflows
Prebuilt analytics dashboard
Integrations with Shopify, Mailchimp, Square, Survey Monkey, Telegram Channel, etc.
Pricing
Support Team: $19/month
Support Professional: $55/month
Support Enterprise: $115/month

Pros
The pricing is flexible and suitable for smaller teams
It has great customization options
It provides mobile support
It has great analytics and reporting functionalities
Cons
It Is not intuitive
It is a bit complex and has a steep learning curve
4. Birdeye

Birdeye is an all-in-one customer service platform that supports features for improving real-time customer interactions. Its chatbot feature, Webchat, facilitates user engagement by responding to queries, booking appointments, and resolving customer issues.
It uses AI capabilities to empower your support team by providing 24-hour support and assisting customers with less complex issues.
Key Features
Reporting and analytics
Smart inbox
Responsive templates
Instant notifications
Rule-based auto-replies
Pricing
Standard: $299/month
Professional: $399/month
Premium: custom
Pros
It provides mobile access and review monitoring
It provides quick and easy integration with supported apps
It supports real-time analytics and reporting features
Cons
Customer support needs improvement
It is not an affordable option for smaller businesses
The user interface needs improvement
It doesn't have a free version
5. Smartsupp

Smartsupp is an online shopping assistant that combines chat and video features to improve customer conversation. Its AI-powered chatbot helps you improve customer engagement by delivering rapid responses to customer queries.
Smartsupp also allows you to automate your sales and customer care processes by using user data to provide personalized shopping guides, promote special offers, and upsell complementary products. It also simplifies your workflow by checking order statuses, answering frequently asked questions, and providing 24-hour support.
Key Features
Multilingual support
Advanced customization features
Visual notifications
Responsive designs
Basic statistics
Integrations with WordPress, Shopify, Magento, PrestaShop, OpenCart, Webnode, etc.
Pricing
Free: $0
Standard: $19.5/month
Pro: $48/month
Ultimate: custom

Pros
It has great customization options
The platform is intuitive and easy to use
It has great customer support
It supports easy and quick integrations with third-party apps
Cons
Reports and insights need improvement
The mobile app needs improvement
There are a few problems with file uploads
6. Chatbot

Chatbot is an all-in-one customer service platform that helps you engage prospects and customers with conversational chatbots. It empowers your sales, marketing, and support teams to boost conversions and personalize customer experiences across multiple channels.
Chatbot helps your team achieve better results with less effort by simulating human-like conversations and providing answers with instant messages.
Key Features
Ready-to-use customizable templates
No-code visual builder
Insights and reports
Custom segments
Customizable Chat Widget
Integrations with Slack, Facebook Messenger, FreshDesk, WordPress, Shopify, etc.
Pricing
Starter: $52/month
Team: $142/month
Business: $424/month
Enterprise: Custom

Pros
It supports seamless integrations with third-party apps
It has a user-friendly interface
It also has ready-made customizable templates
Great customer support
Cons
The chatbot preview isn't consistent across all platforms
It can be a bit pricey for small businesses and startups
7. Drift

Drift is an AI-powered platform designed to facilitate personalized customer experiences by integrating chat, email, and video. The chatbot is built on a conversational AI model that processes, understands, and responds to customer inquiries naturally.
Like other conversational AI models, Drift has partnered with OpenAI to combine GPT capabilities with your existing workflows to provide relevant, dynamic, and personalized responses to complex conversations, regardless of the intent.
Key Features
Multilingual capabilities
Customizable chat templates
Real-time reports and insights
Integrations with Clearbit, Salesforce, Marketo, Databox, 6Sense, Google Analytics, etc.
Pricing
Premium: $2,500/month
Advanced: Custom
Enterprise: Custom

Pros
It is intuitive and easy to use
It supports advanced features for lead generation and nurturing
Cons
It is not an affordable option for smaller businesses
The reporting features are a bit complex
The chatbot builder needs improvement
8. Landbot

Landbot is a no-code chatbot builder. It is an intuitive platform that enables you to engage your visitors, capture attention in real time, and build stronger relationships with its conversational chatbots.
The customer experience tool combines a no-code visual builder with responsive templates to help you create automated workflows, with preset conditions for building and launching your chatbot. This allows you to design bots for your website and other platforms like WhatsApp and Facebook Messenger.
Key Features
Visual drag and drop builder
Custom templates
Analytics & Reporting
Dynamic data
Integrations with Mailchimp, Slack, Airtable, Stripe, HubSpot, Webflow, Shopify, etc.
Pricing
Sandbox: $0
Starter: $32/month
Pro: $85/month
Business: $319/month
Pros
It is simple and easy to use
The interface is user-friendly and intuitive
It has a variety of beautiful conversational designs and customizable workflows
Cons
It is not an affordable option for small businesses or startups
Customer support needs improvement
It doesn't support multi-language
9. Userlike

Userlike is a live chat software that uses AI automation and well-suited chatbot features to engage customers, generate leads, and increase service efficiency. It simplifies your workflow by creating a centralized knowledge base you can use to improve your chat, create contact forms, or answer frequently asked questions.
Userlike is a multichannel platform that uses machine learning to understand customer intent and deliver appropriate and relevant responses.
Key Features
Smart FAQ
Contact form suggestions
Multichannel support
Multi-language support
Pricing
Free: $0
Team: $90/month
Corporate: $290/month
Flex: custom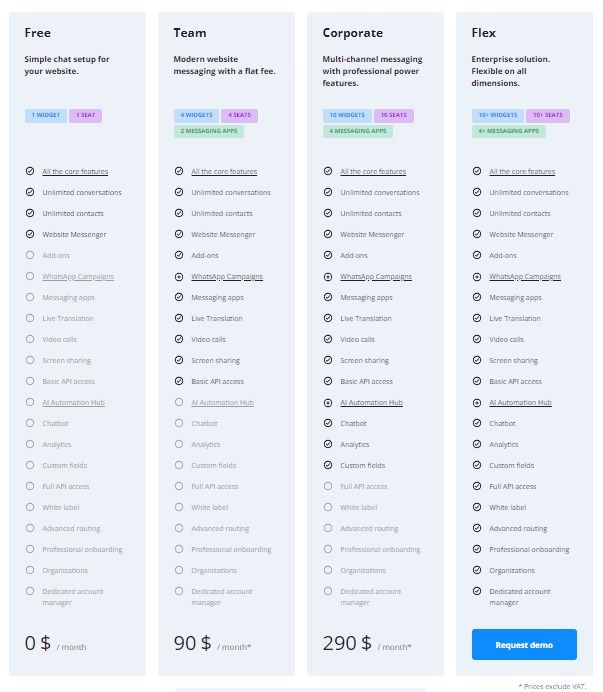 Pros
The interface is intuitive and user-friendly
It has great customer support
It supports quick and seamless integrations with third-party applications
It supports multiple messaging channels like WhatsApp and Facebook Messenger
Cons
The setup can be a bit complex
The pricing is steep
10. Botsify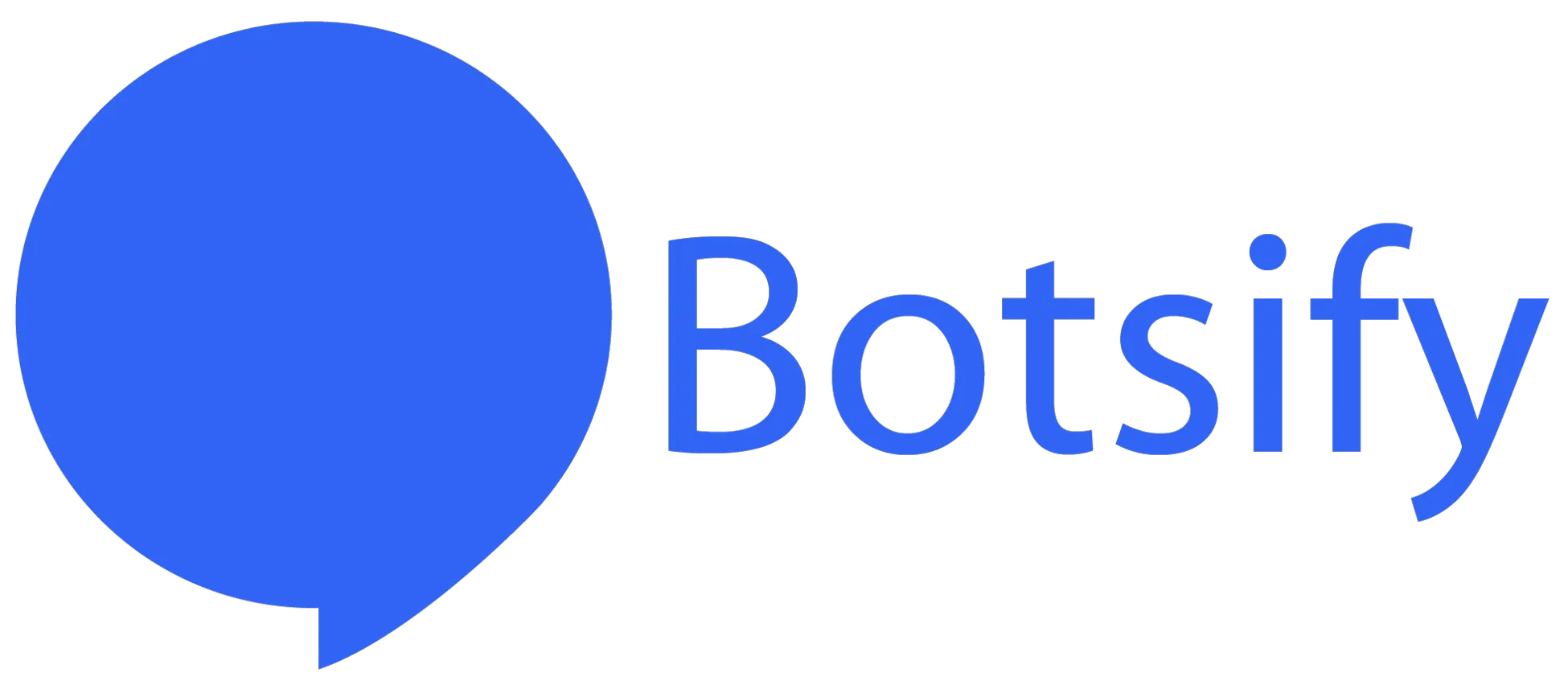 Botsify is a chatbot automation platform that facilitates friendly conversations and provides quick responses to customer inquiries. It empowers your support team to provide 24-hour support using an automated chatbot across several platforms like your website, Telegram, WhatsApp, Facebook Messenger, and Instagram.
Botsify also supports chat features for your sales team by using conversational forms to capture quality leads, increase conversions, and improve overall customer experience.
Key Features
Conversational forms
Multi-language support
Omnichannel platform
Integrations with WordPress, Shopify, WooCommerce, Slack, etc.
Pricing
Basic: $49/month
Professional: $149/month
Enterprise: Custom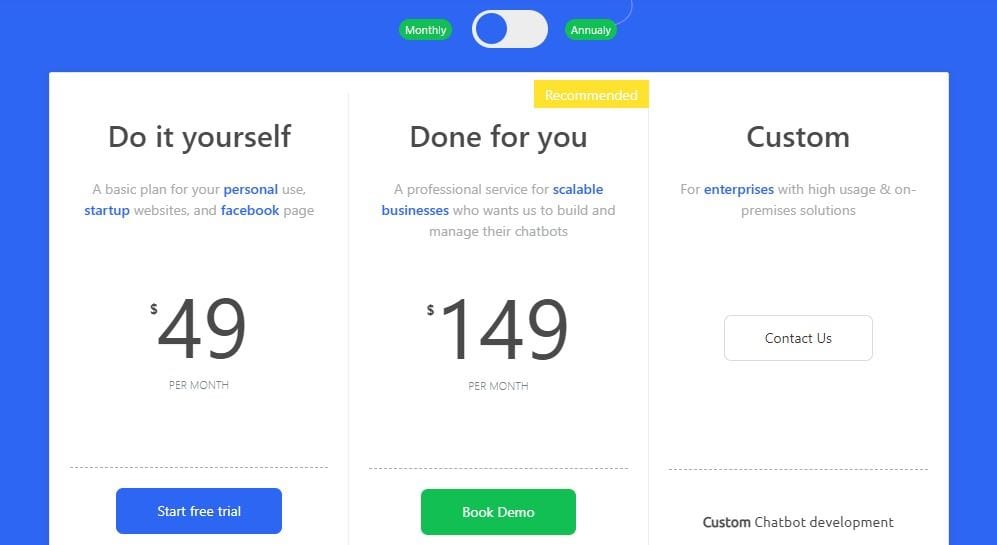 Pros
Botsify works across several channels like Facebook Messenger, WhatsApp, Instagram, and Telegram
It supports responsive templates for several industries
It is an affordable option for small and mid-sized businesses
it has a great customer support team
Cons
It doesn't have a built-in analytics feature
The user interface needs improvement
It has a steep learning curve
Read also: 6 Ways AI is Changing Self Customer Service For Good
Good Examples of eCommerce AI Chatbots
AI chatbots have several use cases in eCommerce, and reports from Invesp reveal that more than 67% of consumers worldwide have used a chatbot for customer support in the past year. And currently, more businesses are adopting its use for several purposes.
Here are some AI chatbot examples from successful eCommerce brands:
1. Lego
Lego uses a Facebook Messenger chatbot, Ralph, to create pleasant shopping experiences by helping customers find their desired products and appropriate gift recommendations. The chatbot uses simple questions and prompts to understand customers' preferences, suggest relevant gift ideas, and direct them to the shopping cart where they can complete the purchase.

James Poulter, Senior Manager, Digital Consumer Engagement, at the LEGO Group, in a statement, explained the need for using chatbots:
"We are continuously searching for new and fun ways to engage with our consumers and shoppers. Chat Bots are increasingly being used by brands to engage with consumers in the digital space… We wanted to create a fun and easy tool to overcome a common challenge for shoppers – help them navigate through the vast LEGO portfolio and chose the perfect gift!"
2. Gymshark
Gymshark has a website chatbot that facilitates customer engagement and provides post-purchase information like order status, shipping updates, delivery details, and returns. It also offers a help center for fixing issues you may likely encounter.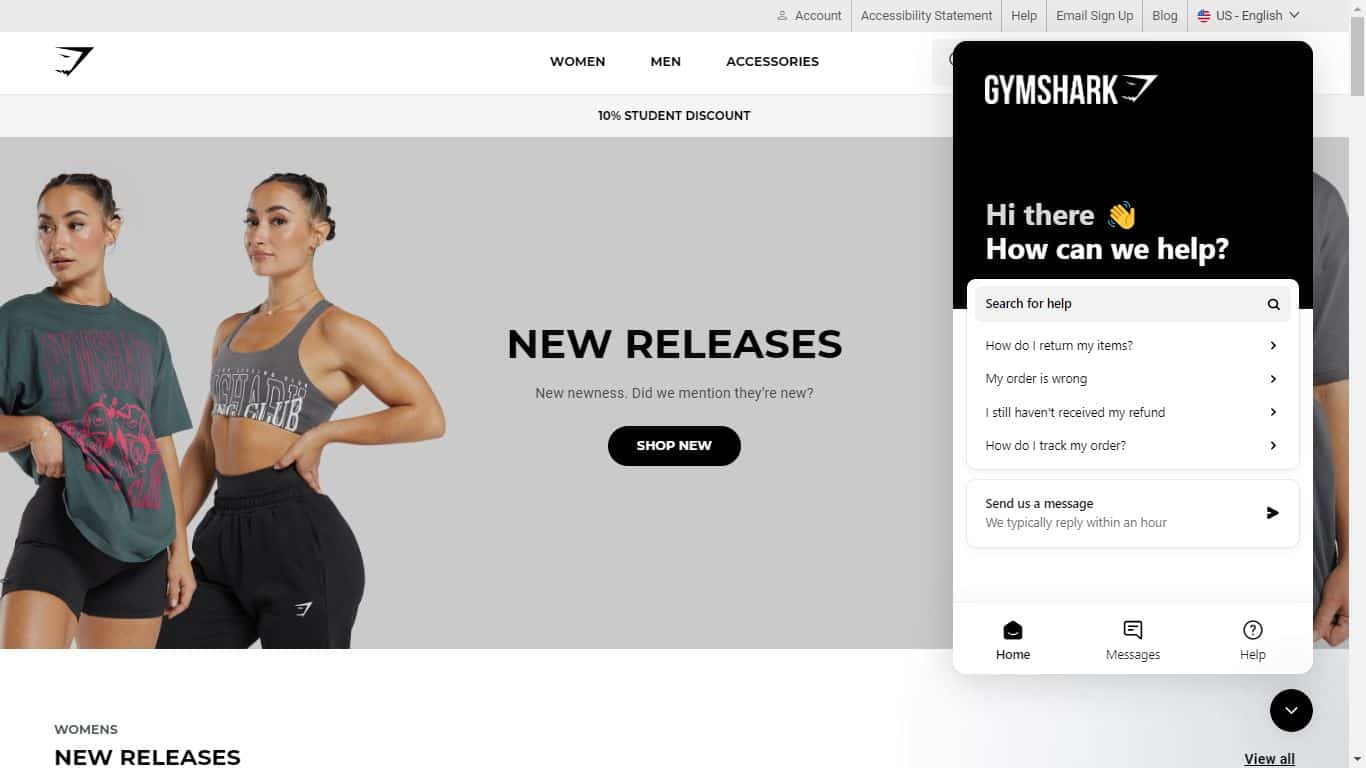 3. Tangerine
Tangerine uses a simple (rule-based) chatbot to provide relevant responses to frequently asked questions about its products and services. It provides an option to send a message and a list of possible queries a customer might ask.
This generates more follow-up answers and suggestions to funnel the customer down to the right information they need. The responses are either in English or French.
Read also: Witty Names To Steal For Your Chatbot
Wrap Up
Integrating chatbots with your eCommerce platform can enhance your business processes, as it enables your sales, marketing, and service teams to generate qualified leads, collect customer data, process orders, and resolve customer complaints.
Whether using a website, mobile app, or messaging software, chatbots allow you to delight your customers with unparalleled experiences, thus enabling long-lasting relationships.
There are several chatbots with unique functionalities. However, your choice depends on your business goals, needs, and objectives. It also depends on your eCommerce platform, as it can only function with tools that offer seamless integrations for extended capabilities.
Managing your online store and customer communication can be challenging, but with a well-suited chat tool, you can automate your workflows to eliminate time-consuming and repetitive tasks.