The goal is simple – customer loyalty.

In this digital world, loyalty is difficult to come by. A good CRM platform is one of the main factors that help eCommerce businesses to succeed. So, it is important to choose a CRM platform that works best in catering to your business needs.

Maintaining a perfect customer relationship is crucial. This is not something that could be managed by manpower. You need machine power and that's your Customer Relationship Management (CRM) tool.

Now, what role does a CRM tool play in the eCommerce world? Well, a CRM tool helps you store, access, analyze and use customer data toward building your business. It also helps you enhance customer interactions.

However, there are many CRM tools out there claiming to be the best, so how do you choose the one that suits you the best?
We have done the groundwork; in this article, you will find all the information to help you choose the eCommerce CRM platform that suits your business the best.
1. Salesforce Commerce Cloud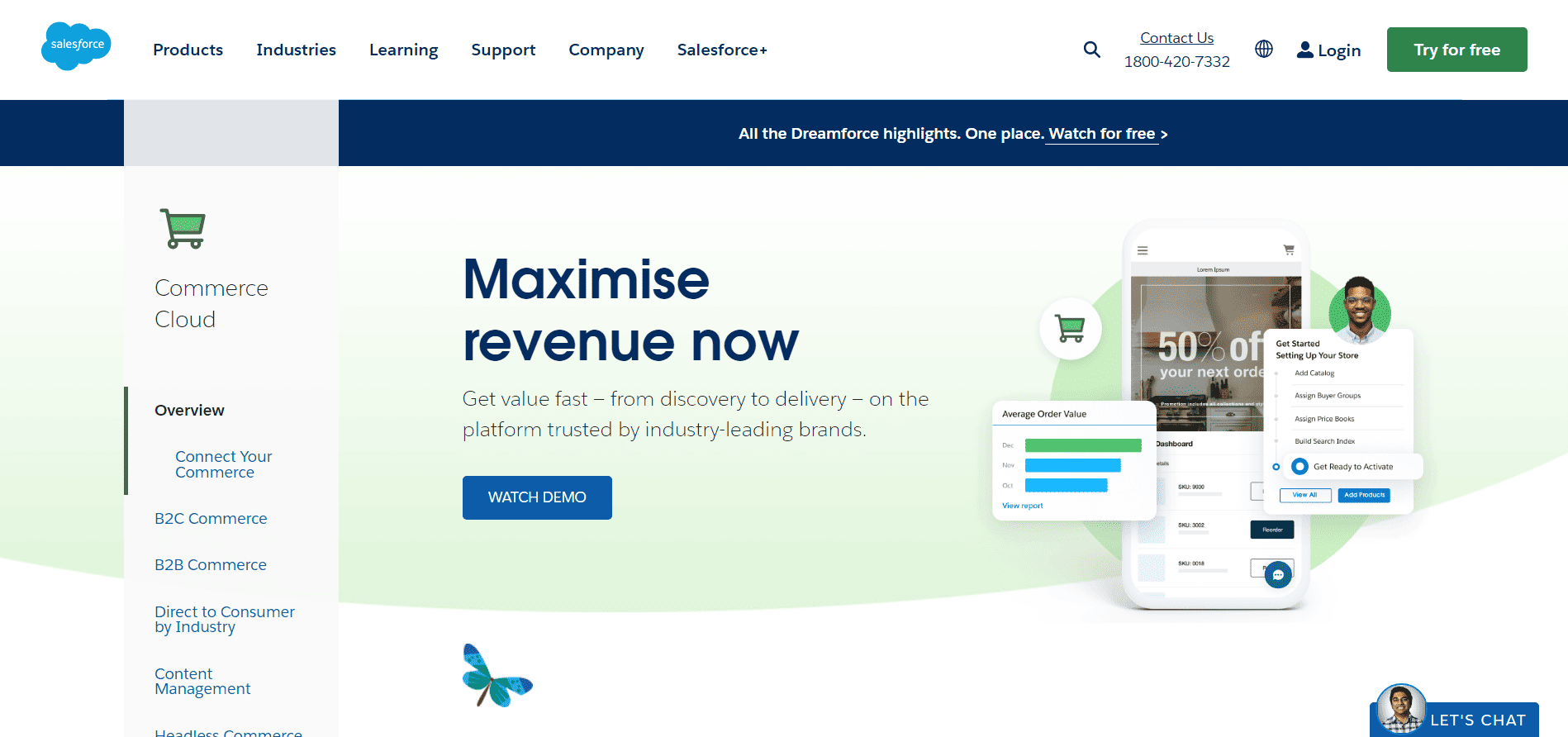 Salesforce has one of the most efficient tools called Salesforce Commerce Cloud to drive sales in the eCommerce business. The platform allows you to view activity history, phone call logs, meetings, and links to social media sites like LinkedIn and Twitter.
With Salesforce Commerce Cloud, eCommerce businesses are guaranteed to build lasting relationships with customers through scaled, personalized outreach, while aligning with sales and service.

Top Features
Here are the best features of Salesforce Commerce Cloud for eCommerce users.
Customized journeys
When it comes to eCommerce, every customer engagement varies. Salesforce Commerce Cloud not only allows you to personalize email campaigns and landing pages but also launch campaigns faster.
The platform makes it possible for users to build and launch innovative campaigns based on consumer behavior, channel, and location without any technical support.
The AI-powered product recommendation feature is another showstopper – this helps in attracting more shoppers, building customer loyalty, and increasing conversion rates.

B2B marketing analytics
It's all about ROI. Salesforce commerce cloud gives you insights and analytics that help you analyze the key drivers of your marketing initiatives.
This is crucial as marketing significantly impacts ROI.
The easy-to-use features tailor-made for B2B customers provide real-time customer data empowering the sales team thereby maximizing online growth.

Prospect engagement
The platform offers a full view of the prospective customers to the users and ensures all the demands are met at the right time.
Integrated tech stack
Surveys, webinars, video conferences – there are various segments through which you can reach out to your (prospective) customers.
Pricing
Salesforce Commerce Cloud offers a couple of options (as you can see below) for pricing based on the requirement. The platform helps in unifying the customer experience across all channels with cloud-based commerce solutions.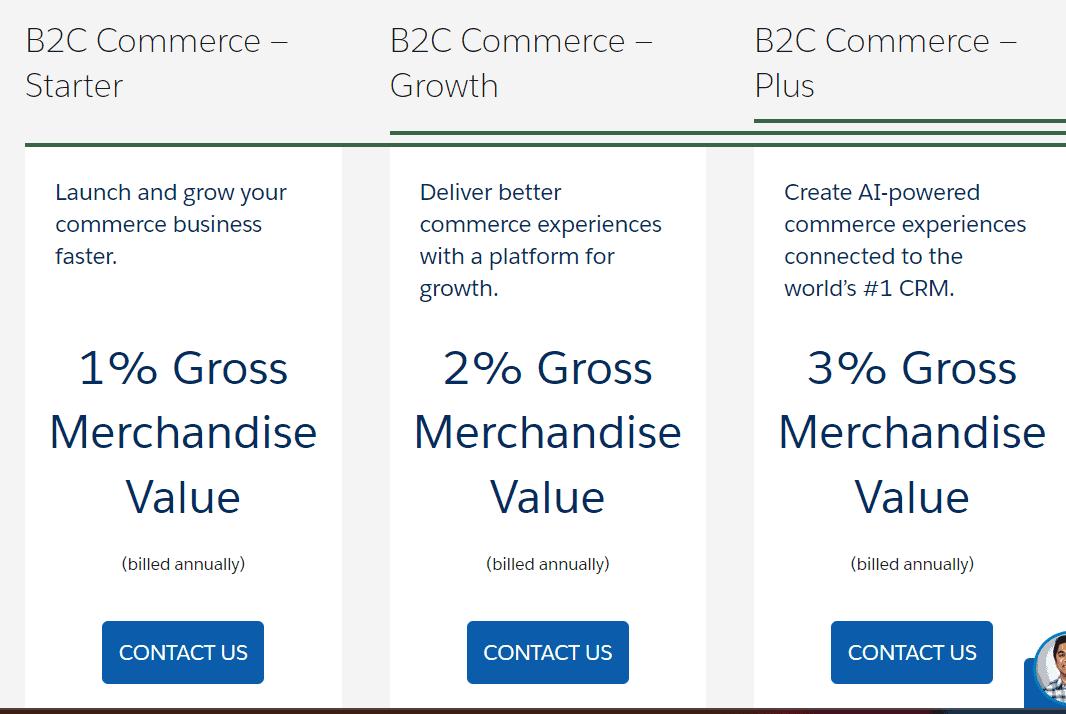 G2 Rating
4.2 out of 5
2023 Guide to Email Marketing for eCommerce
2. Pipedrive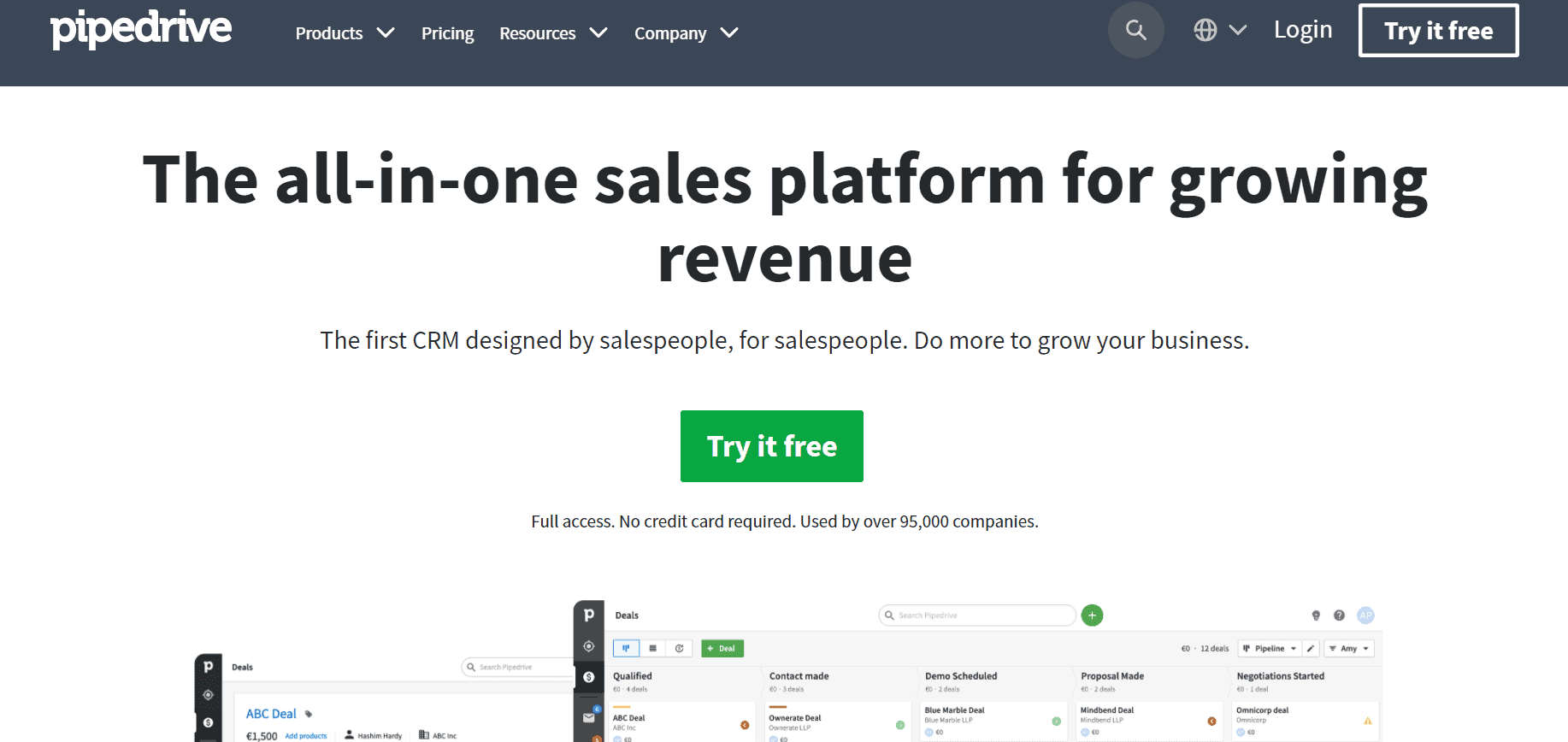 Pipedrive is a well-recognized, top-rated CRM tool that received a plethora of awards lauding its performance.
Visual sales pipeline, customized pipeline, activity reminders, segment leads, revenue forecasting… the platform comes with many important features that are developed to boost eCommerce business making Pipedrive a trusted platform for more than 1,00,000 companies across 179 countries.
Top Features
Here are the best features of Pipedrive for eCommerce users.
Manage leads
Create a sales pipeline at your convenience. Extract data in a matter of seconds to prioritize processes and make better decisions.

Email builder and segmentation
Reach the right audience with the right message at the right time. And Pipedrive's intuitive drag-and-drop editor and templates make it possible to drive dominant marketing campaigns.

Insights and reports
Pipedrive allows you to monitor the metrics that are relevant to your business. This tool tracks deals and makes revenue forecasts.

Pricing
Pipedrive has three different packages starting from $11.90/month.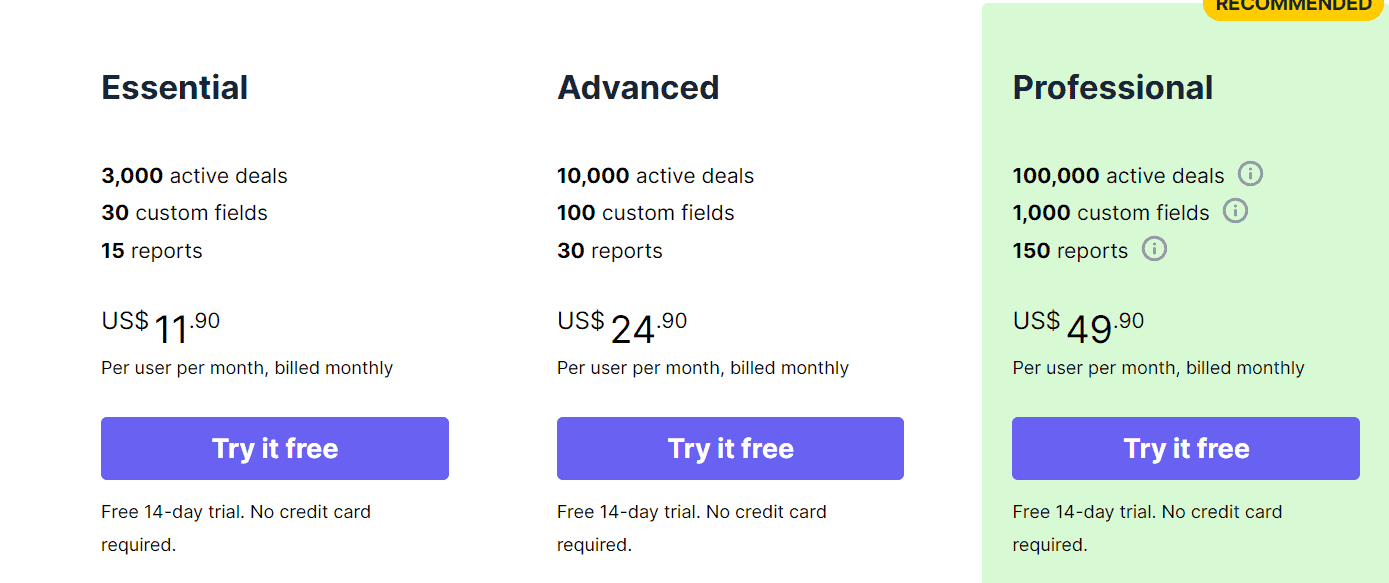 G2 Rating
4.2 out of 5
Find the Perfect B2B Ecommerce Platform for Your Needs
3. HubSpot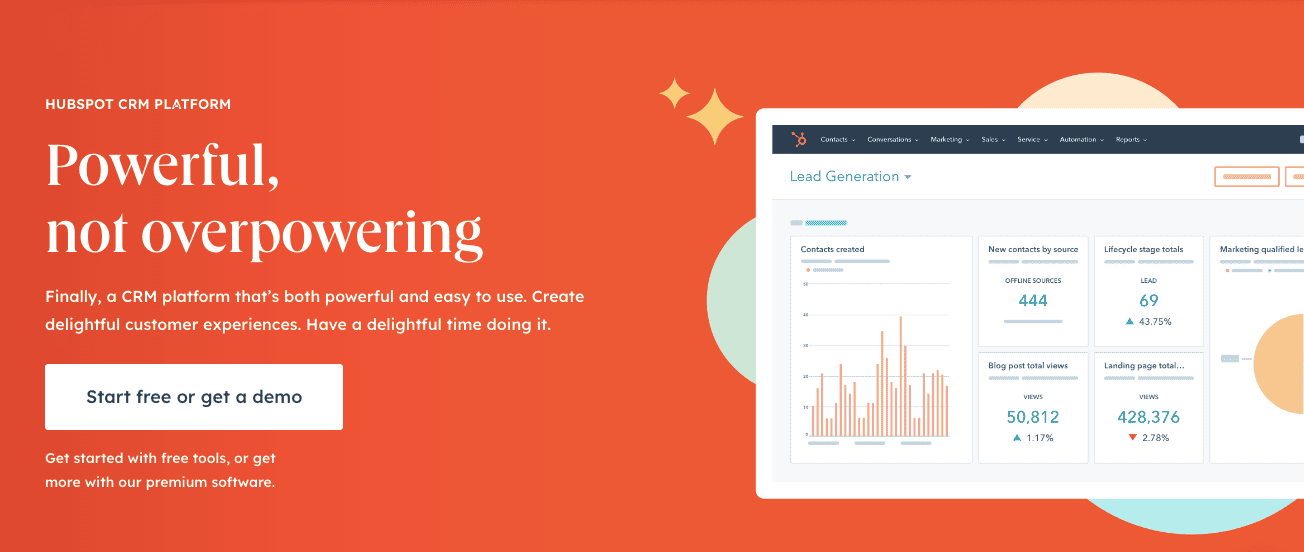 Hubspot is one of the most popular CRM tools that offers a feature-rich service for a business of any size. The platform helps you create workflows for individual contacts – you can use this to find new leads, turn leads into sales, and send personalized communications.
Talking about communication, one of the great features of HubSpot is automated marketing campaigns – this ensures you send the right email to the right customer at the right time.
There is more – HubSpot directly integrates with leading eCommerce platforms like Shopify, BigCommerce, and WooCommerce.
It is with this brilliant feature that you can upsell and abandoned-cart-nurturing to improve eCommerce revenue.
There are more than 1,58,000 customers in over 120 countries growing their businesses with HubSpot.
Read also: eCommerce Email Platform Integration — The Top Tools To Try
Top Features

Here are the best features of HubSpot for eCommerce users.
Email templates
HubSpot provides email templates that can be shared with your entire team to use. These templates are proven to drive sales and attract the attention of the receiver.
Email tracking
Our job doesn't end by sending an email. It is important to know how the customer receives it, when was the email opened, and for how long? All this information is crucial to provide better customer service and HubSpot provides the information.

Sales automation
Communication is paramount in sales. Automating this aspect and sharing personalized emails with the customers goes a long way. Sometimes, one nudge at the right time is all it takes for the customer to make a choice in our favor in the eCommerce world.
Call tracking
HubSpot platform has a feature that allows you to record the calls and log them into the system. This information helps the entire team to understand what works and what doesn't.
Pricing
HubSpot has three different pricing packages starting from $45/month.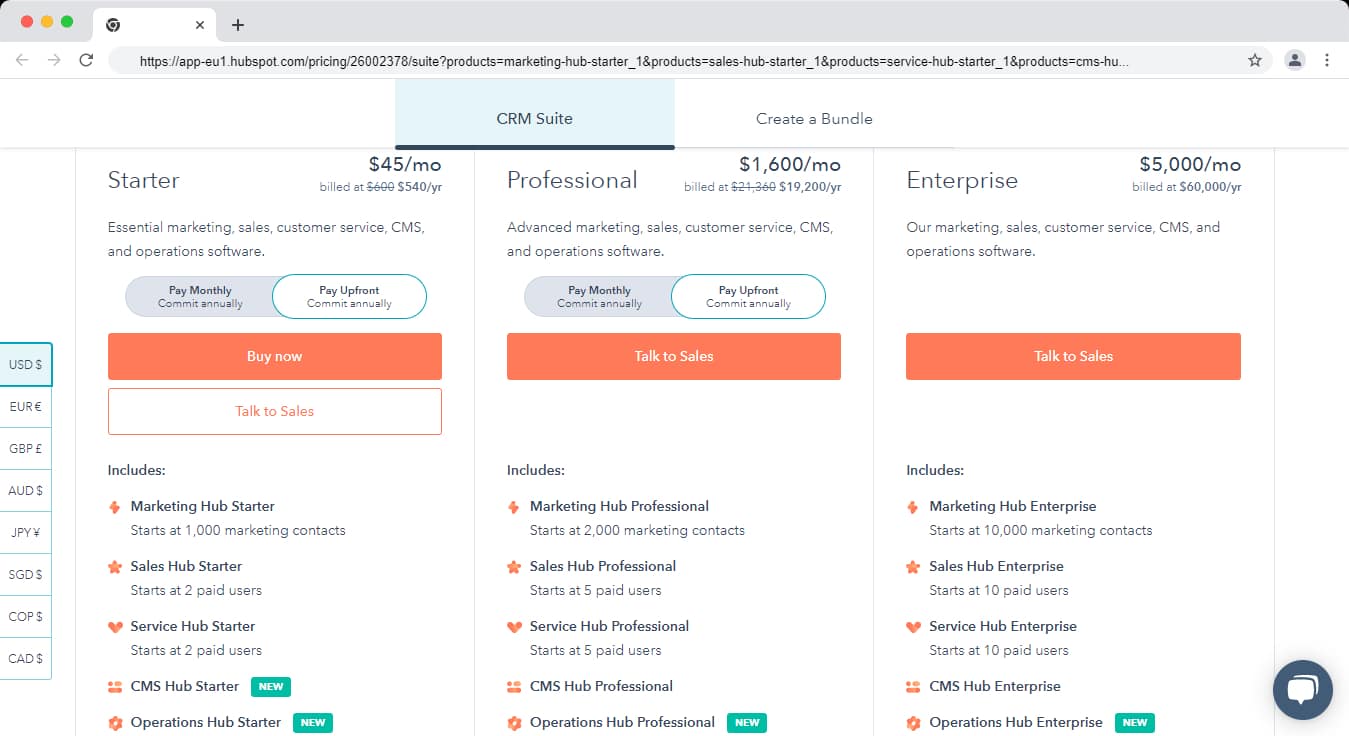 G2 Rating
4.4 out of 5
Predictive Analytics for eCommerce Emails: Beginner's Guide
EngageBay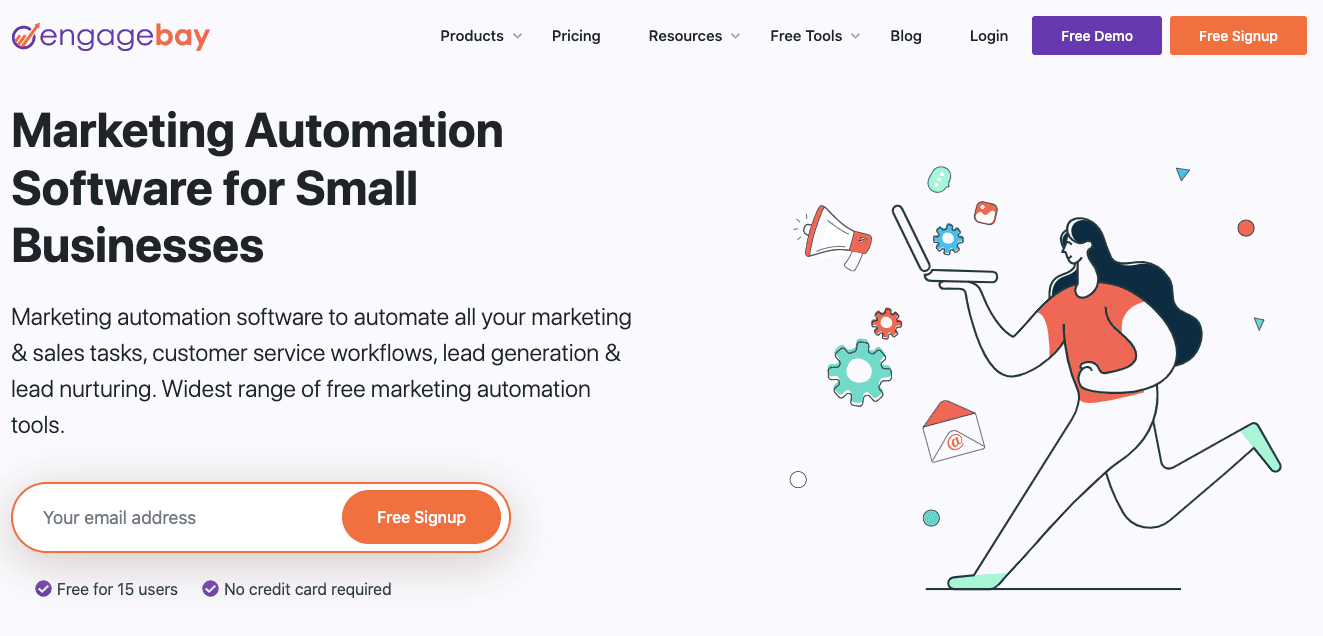 EngageBay is an integrated marketing, sales, support, and CRM solution catering to small & midsize organizations.
EngageBay recently launched an eCommerce Marketing Automation tool that retargets abandoned cart users, shares welcome emailers, and transactional emailers, split-tests your email marketing campaigns, and builds lists effectively.
Top Features
Here are the best features of EngageBay for eCommerce users.
Contact management
EngageBay successfully manages all the contacts by offering a personalized approach. This helps in matching the right customer with the right product.
The smart customer segmentation feature helps in setting up rules to automatically segment customers based on their purchasing patterns.
Marketing automation
EngageBay's marketing automation software automates all the marketing and sales tasks, service workflows, lead generation, and lead nurturing. Predictive lead scoring ensures the sales team spends time only on pursuing hot leads.
Integration
EngageBay's integration with Shopify benefits both parties involved in the integration. This integration makes it possible for the customers to experience the optimal checkout process.
Smart email marketing
By utilizing this email marketing feature you can target the customers who have abandoned their shopping carts by sending welcome and transactional emails.
By using EngageBay's merge tags with a contact's name, company location, interests, and more eCommerce businesses can share personalized communications with customers.
Pricing



EngageBay has curated packages for companies of every size.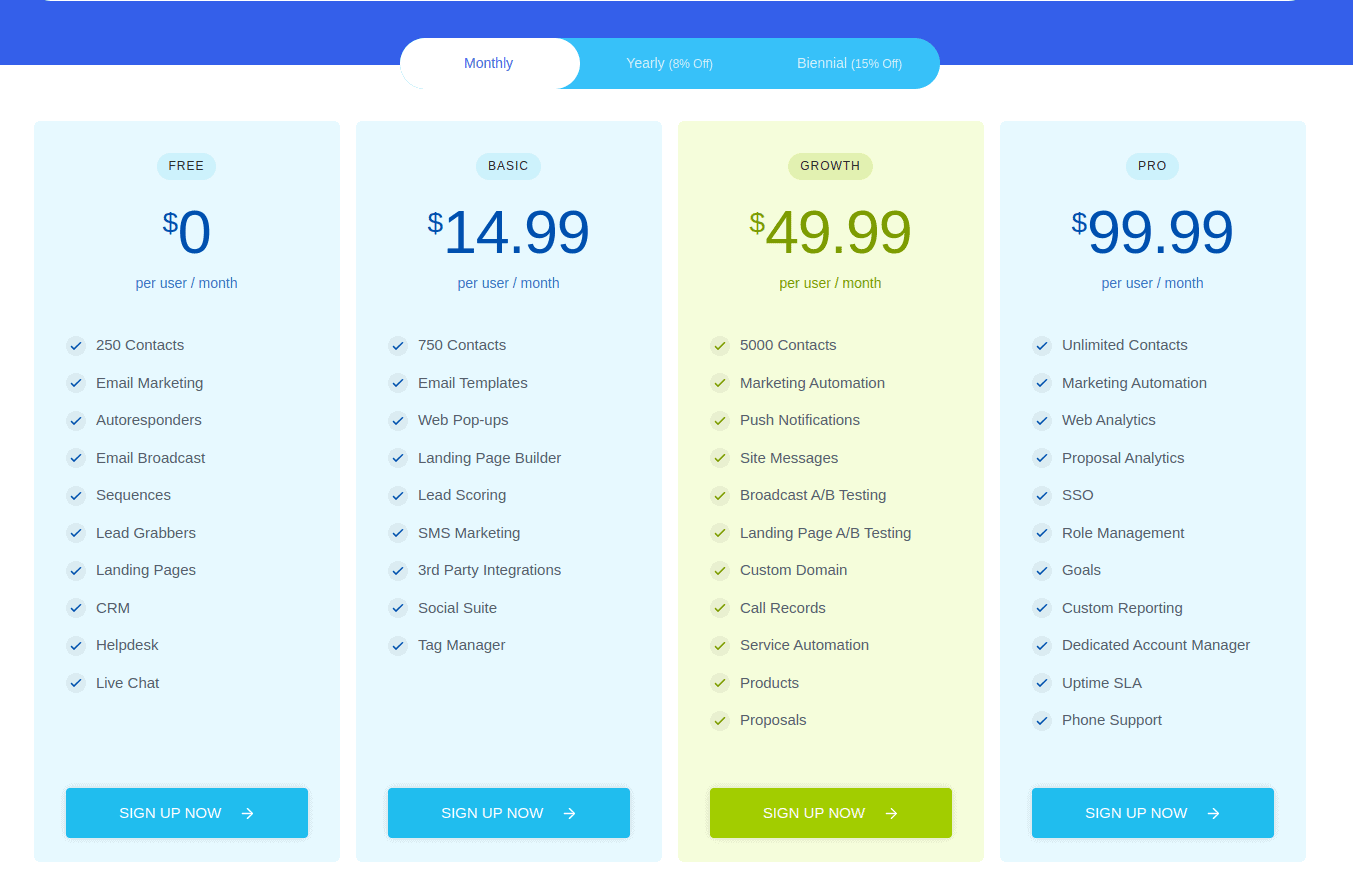 G2 Rating
4.6 out of 5
eCommerce Email Automation: Practical Email Flows + Expert Opinions
Zoho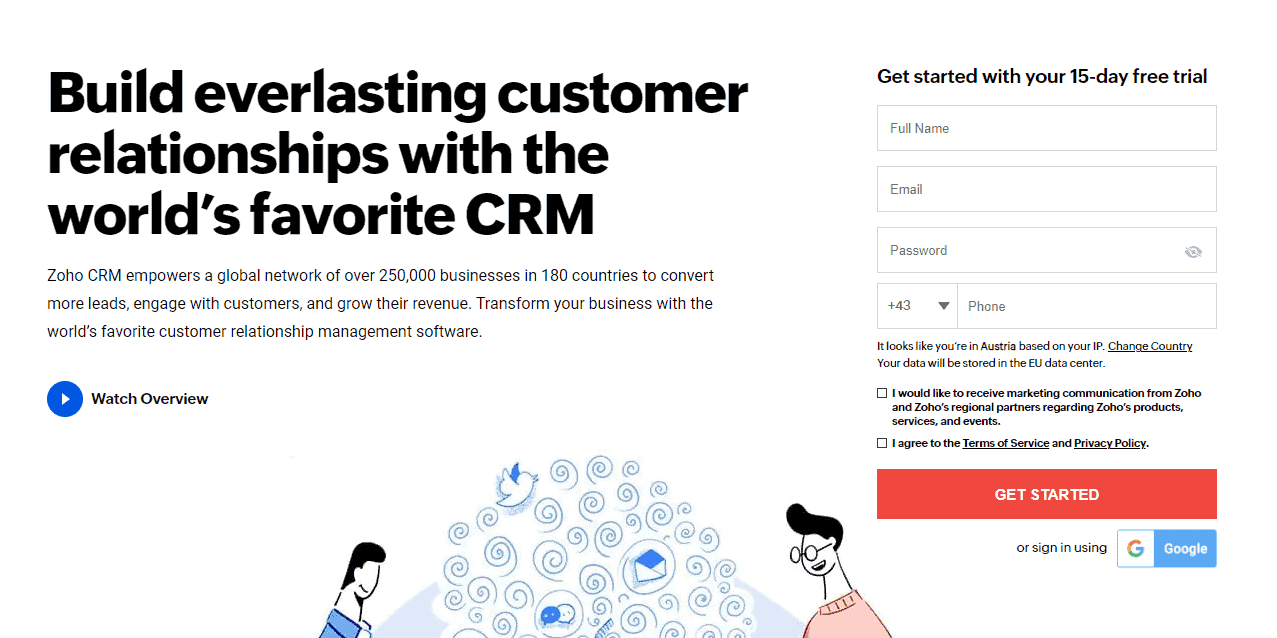 Zoho is a great bet for small and medium-sized businesses. It is a comprehensive CRM software that offers tools designed for online selling too.
Zoho is also fairly easy to use — it has customizable templates, a responsive store builder, and more.
Explore the most potent HubSpot competitors in our insightful blog post. Understand their strengths, weaknesses, and pricing. Dive in today!
Top Features
Here are the best features of Zoho for eCommerce users.
Build your store
Zoho comes with features that allow you to build a professional online store without spending a bomb. All you have to do is pick a template, drag and drop layouts, buy a domain and launch your brand.
Manage store operations
The next step is managing store operations without any glitches. Zoho makes it happen with just one program; this one program takes care of keeping track of your inventory, timely order fulfillment, online payments, and tracking deliveries.
Market your store
Now, it is time to attract and retain customers. Zoho commerce helps you convert website visitors, encourages repeat purchasing, and makes a note of recovering lost sales.
Integrations
With Zoho, it is easy to integrate with some of the top entities in the market like FedEx, Stripe, PayPal, Google Analytics, and more.
Templates
In the business of commerce, the key to success is to bring life to business. Responsive eCommerce templates help you achieve this with minimal effort.
Pricing
Zoho pricing starts from $12 and it has four different packages to cater to your needs.

G2 Rating
4.4 out of 5
Read also: eCommerce Support Technologies To Help Build Your Moat
Freshworks CRM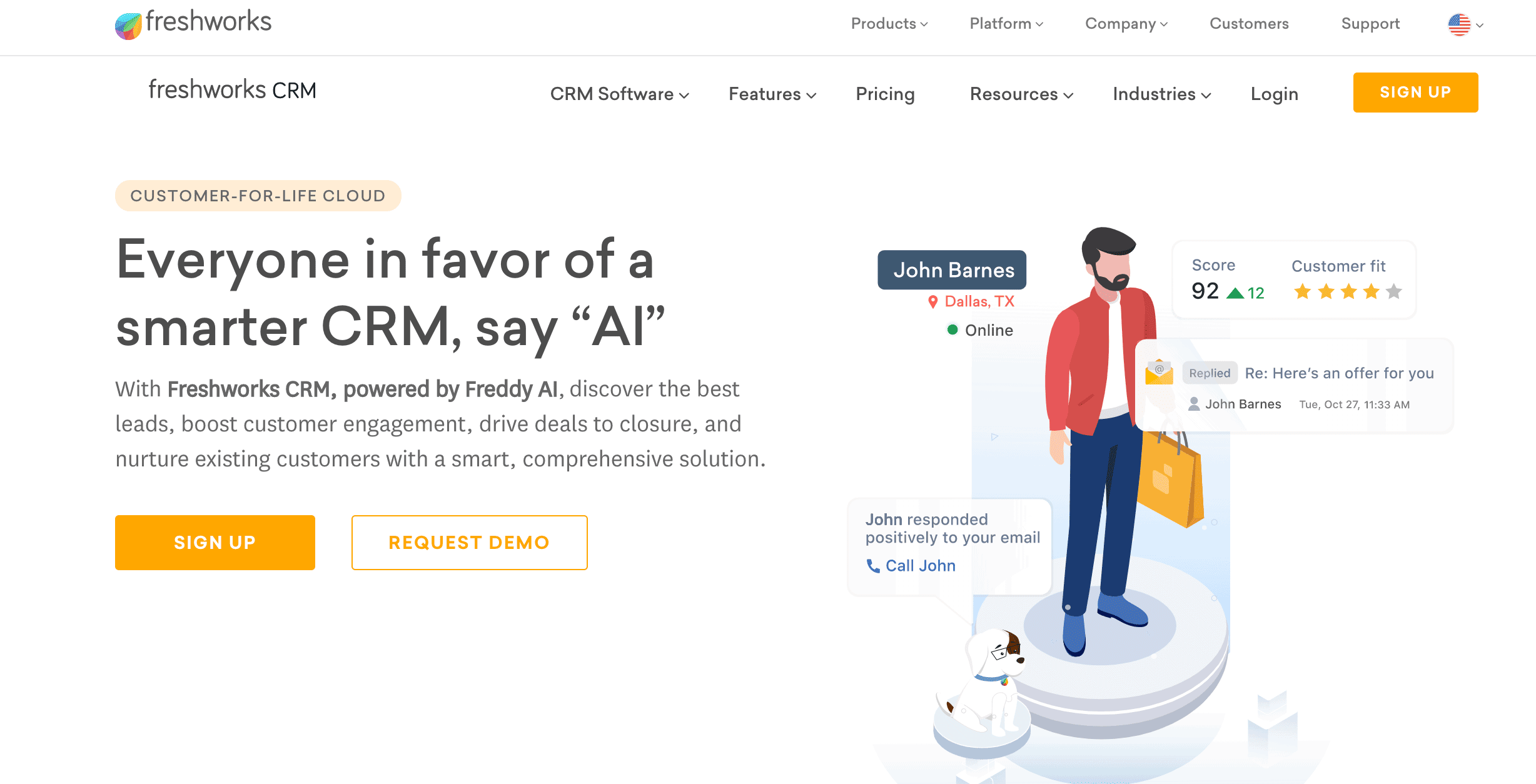 Freshworks has a specific tool curated exclusively to run a successful eCommerce store. It is a powerful platform that helps in growing your eCommerce store with tailored engagement for every contact.
Top Features
Here are the best features of Freshworks for eCommerce users.
Engagement through real-time channels
Stay connected with your customers through various channels such as email, SMS, WhatsApp, Instagram, Line, Facebook Messenger, and more.
Personalized customer communication
This platform allows you to gain a deeper insight into your customers by providing all the data points on one platform.
Automation
Automate your campaigns and ensure personalized journeys for your contacts. Email campaigns, WhatsApp campaigns, SMS campaigns, transactional campaigns… everything can be automated on the Freshworks CRM.
Reports and analysis
It's not just about innumerable marketing efforts, you have to keep changing the strategy – improving your game to maintain customer loyalty. Freshworks platform helps you achieve this by keeping track of marketing performance.
Integrations
The platform allows you to connect with the tools of your choice and gets the work done faster.
Pricing
Freshworks starts at $29.

G2 Ratings
4.5 out of 5
25 Top eCommerce Marketing Tools Sure to Boost Sales in 2023
Microsoft Dynamics 365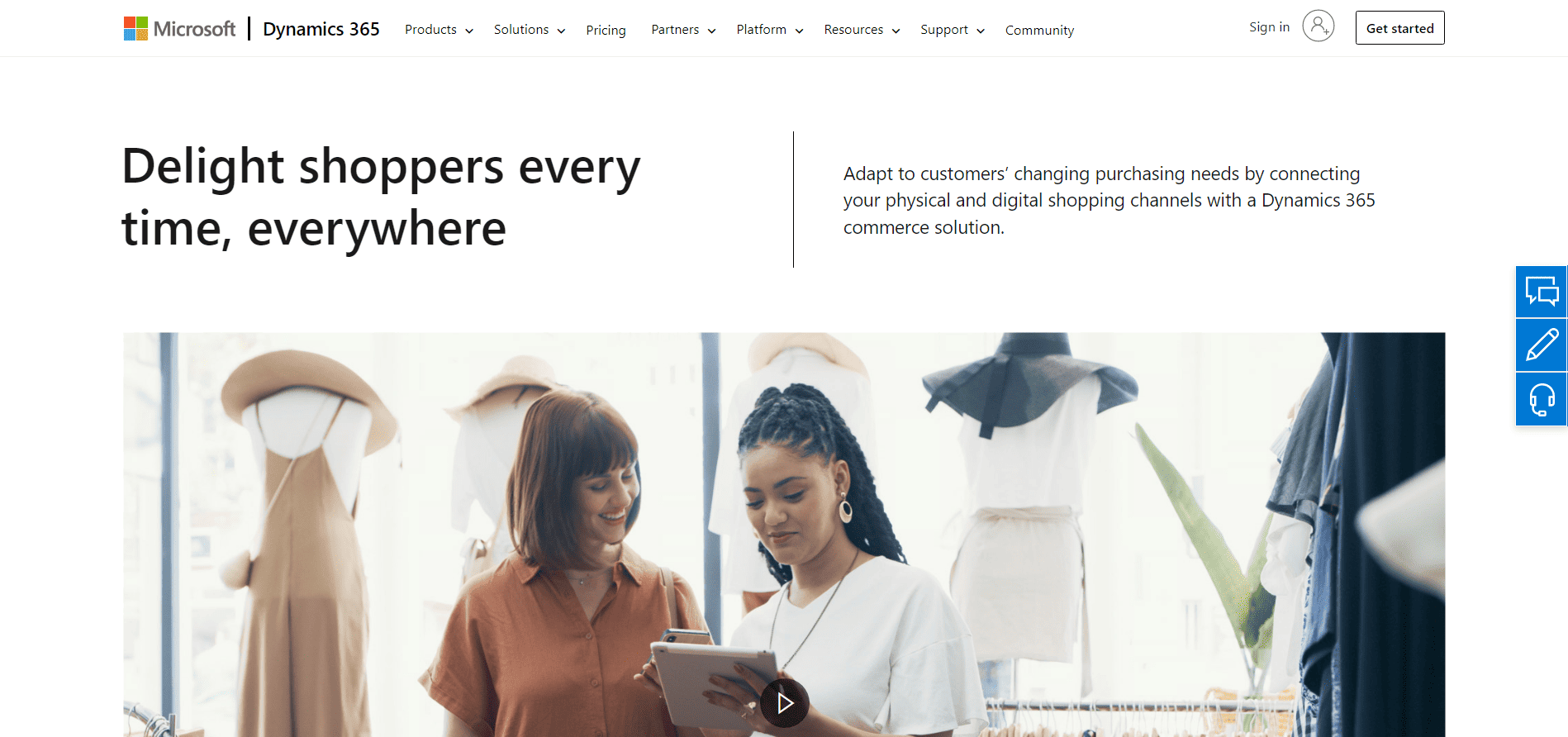 Microsoft Dynamics 365 offers to deliver "unified, personalized, and seamless buying experiences for customers and partners".
The platform acknowledges the importance of engaging across both traditional and emerging channels. It makes it easier for you to engage your customers in a consistent and seamless manner.
Read also: 8 Free eCommerce Website Builders For Every New E-Preneur
Top Features
Here are the best features of Microsoft Dynamics 365 for eCommerce users.
Omnichannel engagement
This feature helps in achieving seamless customer engagement. With Microsoft Dynamics 365 you can connect digital, in-store, and back-office operations on a unified commerce platform.
Customer loyalty and rich personalization
Not every customer needs the same product. The way to enhance customer experience is by offering tailored product selections – Microsoft Dynamics 365 does exactly that.
Streamlined digital commerce
We all know the importance of landing pages and this platform helps build one by drag-and-dropping the content. How cool is that!
AI-driven intelligent commerce
Upselling and cross-selling are tricky businesses. But this platform's AI-based recommendations pop up without any human intervention.
Connected customer journeys
With Dynamics 365 marketing, it becomes very easy to orchestrate personalized multi-channel journeys.
Headless, scalable API-first solution
Adapt to current and emerging trends by using the platform's AI-driven headless commerce engine.
Pricing
Microsoft Dynamics 365 starts at $180 a month.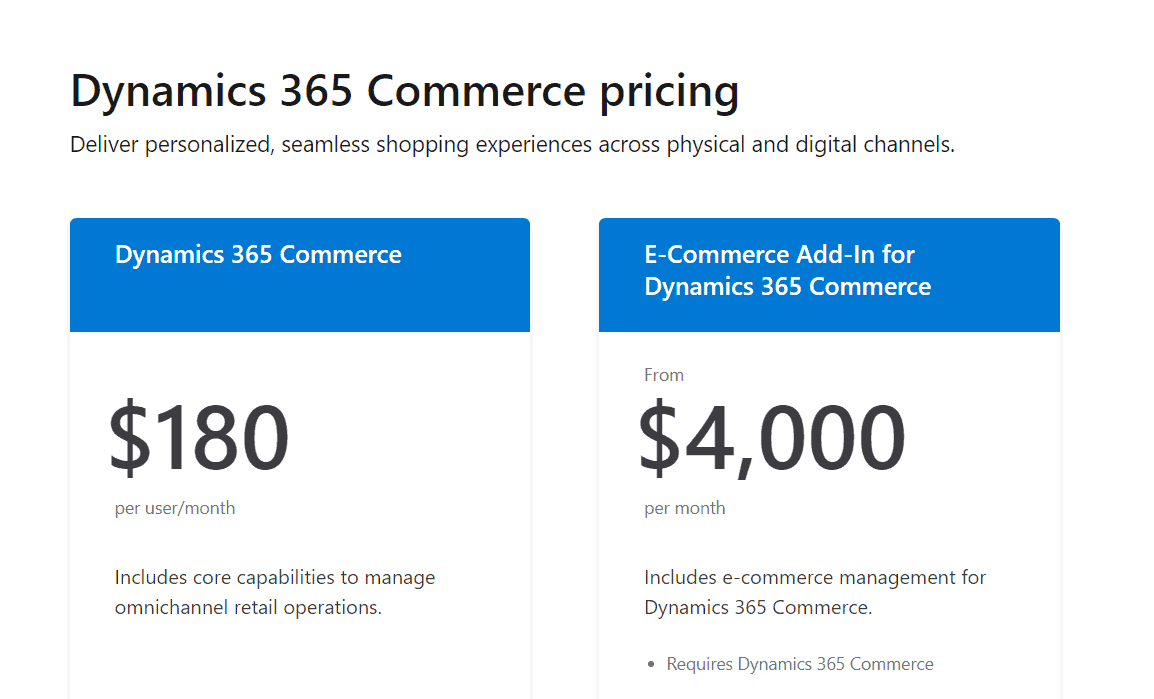 G2 Rating
3.8 out of 5
👉Harness the power of CRM for your ecommerce business – explore our comprehensive guide now! 🌟
Conclusion
We hope this article was of help to you in your research, but if we missed out on some CRM tool that's great for eCommerce users, let us know in the comments and we'll feature it too!
It's hard to pick one, but most of these tools do offer some form of a free trial or version. Use them and figure out which tool fits your eCommerce needs best.
For marketing automation of your eCommerce business, we suggest EngageBay. Thousands of small business owners are loving it, and you might too 🙂
👉Discover the most effective and powerful CMS platforms for ecommerce in our detailed article! 📈