If you're like most marketers and salespeople, you're probably constantly working to stay on top of your endless pile of emails.
According to data from HubSpot, a salesperson will write so many emails that the task comprises a good chunk of an average day, 21 percent.
You put a lot of consideration into the headline of your new emails.
After all, you want to make the best possible impression on your audience.
Then you have to focus on the body of the new email, which contains your important message.
As you go further and further down the email, you likely spend less time.
Yes, there's your signoff, such as "thanks," "regards," or "cheers."
Then you just hit send, right? Okay, you proofread a time or two and then hit send.
Not so fast. Your email signature design deserves some attention, too.
It turns out that having a great new email signature can be a smart means of marketing your company without doing much of anything.
And what's more, making a new email signature is easy and fun too.
First, though, you have to make sure you have a working email signature format.
Not sure where to begin with your new email signature? No problem.
In this article, we'll delve deep into the topic.
That includes how to make your own free new email signature template and some great email signature examples.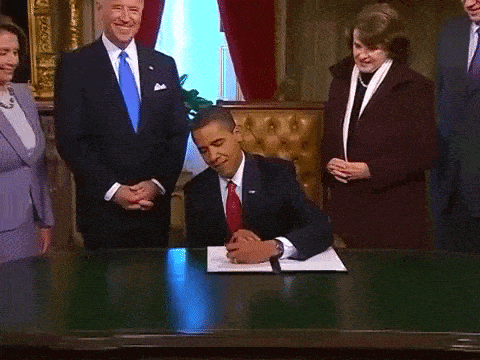 What Is an Email Signature?
Okay, so what exactly is your email signature? That's a good question.
This signature appears after your signoff at the very end of your email.
So, what to include in it?
An email signature typically includes the following elements:
Your full name, including your surname
The name of the company you work for
Your job title
Your other contact information, like an email address and a phone number
A link to your company's website
Social media profiles (as applicable)
A disclaimer, such as a privacy policy
Let's unpack each of the elements of an email signature a little more, shall we?
Name
First, there's your name. Including this in your personalized email signature is a given.
Yes, you'll introduce yourself in the email, but you need more.
According to email signature generator company Exclaimer, a good chunk of people (30 percent) don't put their full name in their formal email signature.
This just looks unprofessional. It's also a mistake that's easily avoided.
Company Name
Next, there's your company name. The email recipient can figure out the name of the company you're working for pretty easily, sure.
It's in your email address and the body of the email, after all. Still, a professional email signature needs the name of your company.
You should even include a company logo with it.
Job Title
Your job title should also appear in your free email signature. If you're a salesperson or a marketer, make sure the reader knows it.
Contact Information
After that, you want to add your contact information. This includes your phone number and your email. Yes, it seems a little redundant to have your email address in your email signature.
Couldn't the lead or customer just click "reply" to write you back? Yes, but then they'd have to scroll all the way back to the top of your email.
By including your email address in the email signature, the lead/customer can click that and write you back quickly.
There's another useful reason for sharing your email address in your free email signature. If you use Microsoft Outlook, emails look a little different.
They don't show email to recipients, only display names. That means the lead/customer might not even know your email.
Company Website
Don't forget to link to your company website in your email signature. We'll talk more about this later, but this is one key way to earn effortless traffic to your website.
Social Media Links
The same applies to social media channels. If your company has a presence across several social media platforms, include buttons for each of them.
Double-check all the links work before you send your emails to customers and leads.
Disclaimer
Last but certainly not least, you need a disclaimer.
These may cover regulatory or regional legal requirements, employer's liability, negligent misstatements, computer virus transmission liability, breach of confidentiality, and more.
In short, you're covering your own butt with disclaimers like these.
Why Are Email Signatures Important for Successful Email Marketing?
Now that you know a little more about email signature examples, you may wonder how they can further your email marketing goals.
There are many ways this happens, and we'll explain them all now.
Web Traffic
In the last section, we touched on one simple way a good business email signature can boost your email marketing success: by giving your site free traffic.
Imagine this scenario. You're reaching out to a lead or customer for the first time via email. The recipient opens your message.
They even scroll through all the way to the bottom.
They liked your email, but they're not sure if they're interested yet. Before they decide whether to respond to the email or send it to the trash, they'll do some research on you.
This often starts by looking up your company.
Instead of them having to search for your company, your website link is right there in front of them mentioned in your free email signature template.
It can also be prefixed with a call to action such as 'Visit Us'. They can click it and learn about you right away.
This scenario is a win-win. You get more traffic to your site and the lead gets the information they want.
Why do we keep referring to this traffic as free? You're not paying for it, not really.
Yes, there are the costs of using your email service, but you were going to pay for that anyway.
There's no paying for ads with this method, which makes it especially useful for small businesses or startups on a budget.
Of course, for this to work, you have to send emails often. If you only reach out to two or five people a day, the traffic numbers won't measure up to much.
Social Traffic
Another means of using a signature for successful email marketing? By generating social traffic.
We touched on this in the last section as well. The concept's much the same as inserting your website URL to your email signature template.
By including social sharing buttons in the online signature as well, your readers will click them.
This can benefit you in several ways. For starters, you build your social media audience, earning more followers.
These new followers will then hopefully engage with the content you post, such as blog content.
By clicking the blog links and other links in your email signature template, they'll get redirected to your site.
Not only do you earn more traffic then, but you could get more opt-ins as well. That leads to more potential customers.
Content Marketing
Did you write an exemplary piece of content that you want the world to know about? Try slipping a link to it in your email signature.
This link should not overwrite the links to your website or social media feeds in your email signature.
Instead, you want to give the content its own fresh link. Write a CTA (call to action) to draw attention to your content.
Then sit back and watch as the page views for the article climb thanks to your simple promotional effort via your email signature.
Company Education
We already shared an example of how you can educate your audience with your email signature.
Providing a link to your site in the email signature takes out the effort on the part of the lead. They don't have to pull up their search engine of choice and do some digging.
Your site link is right there in your email signature for them to click.
On your site, they can educate themselves about your company history, your branding, and your products and services.
The lead can then decide if they're interested and want to opt-in.
Trust Fostering
Has your company done something cool lately? Maybe you had a great user rating or received an award. Perhaps you have a glowing testimonial you want to showcase.
Try adding some (not all) these accolades to your email signature.
The above are all forms of social proof. If you want to convert leads to customers, social proof is one awesome way you can do so.
When your leads read your email and see you come highly-recommended, that increases their trust in you.
By fostering that trust through engagement and nurturing, you can convert them to customers.
Lead Generation and Conversion
Speaking of conversions, email signatures, in general, can help you increase your conversion rates.
You can also generate more leads with simple email signatures. How?
By providing a call to action in your email signatures asking the reader to download a list or resource, connect on social media, or even opt into a newsletter.
You then have the contact details of the lead and can get to work on beginning the conversion process.
How to Make a Professional Email Signature
The above benefits speak for themselves. Now that you're well aware you need a professional email signature, how do you go about making one?
There are a number of email signature generator software out there, but our suggestion is to craft one of your own.
Here's is a video which explains about how to create a professional email signature for free:
Here are some other steps and advice to follow.
Don't Exceed Four Lines
You may have a handful of elements to include in your professional email signature, but extending it beyond four lines is a bit much.
Also, the length of each email signature line is important.
Never do this.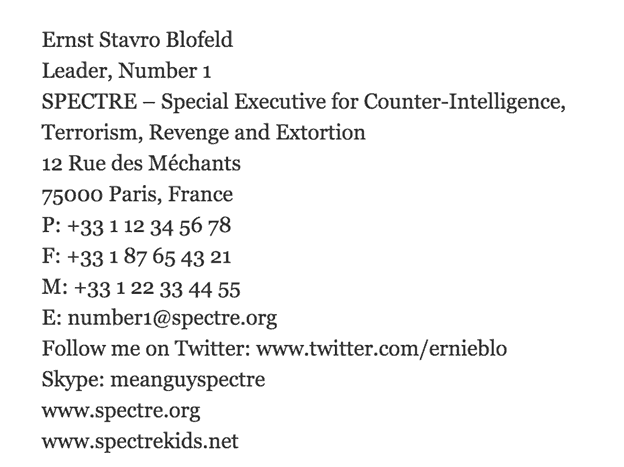 Image courtesy of Yesware
Use an Image
Your email signature is as much visual as text-based, so don't forget that.
Yes, sure, you could insert a generic image you paid for off a photo site in your email signature if you wanted.
That doesn't really make the impact you're hoping for, though.
What kind of image should you use, then? What about one of yourself? Yes, a nice picture of your face. This makes your professional email signature stand out.
Also, you can foster that sense of trust you want with your would-be customers. They see your face and know they're communicating with a real person, not some bot account.
That can go a long way towards getting you a response to your email.
Add a Logo
We mentioned this before, but we want to reiterate it again. Your company has a logo, right? Then make sure you include it in your email signature!
Not only does this add some much-needed color to all those lines of text, but it injects some professionalism to your email signature as well.
Don't Forget Mobile Optimization
You need a proper email signature that looks good for phone users, tablet users, and laptop users.
That means ensuring you optimize your email signature. If a user with a phone reads your email, the email signature shouldn't look pinched, squished, or cut-off.
Images shouldn't stack on top of one another in an awkward heap.
As you know, most people who read emails will do so on their phones.
Triple-check your emails look good no matter the device your audience uses.
Sample Email Signatures
We've talked a lot about what good email signatures should and shouldn't include, but what does it all look like when it's put together?
Here are some great examples of email signatures.
Event Promotions Signature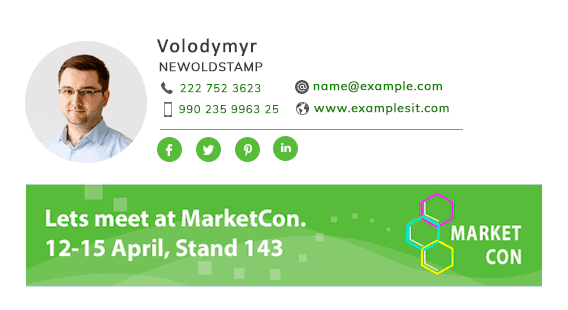 Image courtesy of NEWOLDSTAMP
The only ding we can give this email signature is for lacking the person's full name. Otherwise, it's pretty much perfect, except for the fact that it's a template and doesn't have real contact information.
It's colorful, with that bright green scheme seen throughout, even in some text. The social sharing buttons are green as well, an interesting choice.
You can see this Volodymyr because he included a clear image of himself. There's also a nice CTA at the bottom, the "Let's meet at MarketCon" graphic.
Since this event lasts just three days, obviously, once MarketCon ends, we're sure Volodymyr would change the email signature to something else.
Still, if you're trying to promote a limited-time event, try using this as an email signature template.
Awards Signature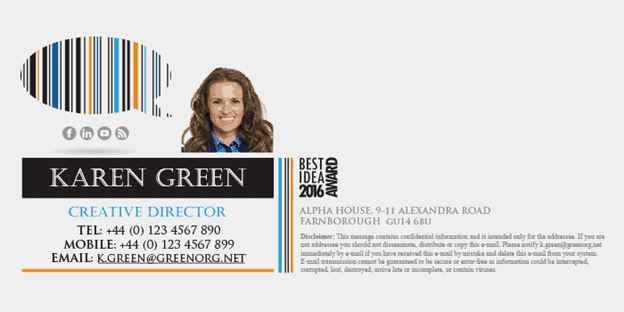 Image courtesy of Exclaimer
Although there's a lot of whitespace in this email signature template if you want to add an awards nod, here's a great example of doing so.
We like the simple but effective colors as well. The bright blue, aqua blue, black, and orange all play off each other well.
Each color gets a small feature in the email signature template, be that text or just lines separating elements.
You can also see a disclaimer in use here. This one protects Karen Green and her company (provided she doesn't run her own business under her name) from confidentiality issues.
Simple but Clean Design Email Signature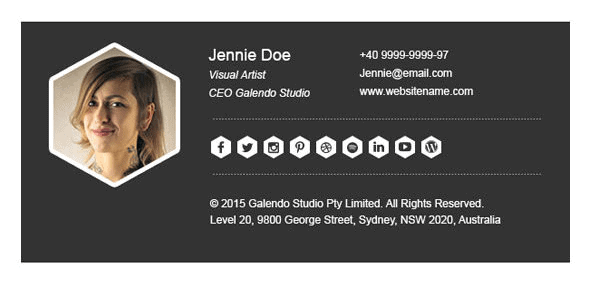 Image courtesy of Envato Tuts+
You don't always need white background for your email signature template. This one might be a template, but it sure looks clean, right?
Considering this person is a visual artist, you expect a higher-caliber design for their email signature template. You certainly get it.
The grayish/black background doesn't hurt to look at, nor does the white text. That's important since you don't want to give your readers a headache as they navigate your email signature.
Instead, the background color looks clean and stark.
There are three lines of text, and the way they're divided makes great use of space. We also like the image in that it has a hexagon frame.
Circles are much more common, so again, this email signature template stands out for the right reasons.
Our only critique? Cut down on the social sharing icons.
Off-the-Wall Signature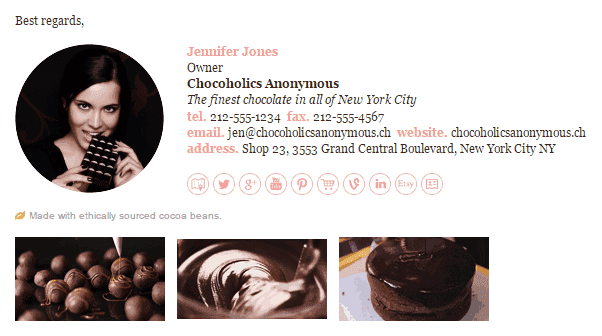 Image courtesy of Criminally Prolific
We decided to end on a unique note. The above example animates. You can see it do so here.
That it animates is odd enough in itself, but there's plenty going on here. There's a lot we like in this example and a few things we don't.
Let's start with the good, shall we? Jennifer Jones's image of herself really makes an impact. She's eating chocolate, which already gets your stomach grumbling.
Combine that with the GIFs at the bottom and there's pretty much no way you won't want chocolate by the time you're done reading the email.
Chocolate kind of sells itself, that's true. However, in a crowded market like New York, you have to work really hard to differentiate yourself. That's what Jones does with her email signature.
Now, let's talk about the bad because it does exist. First, her email signature template has way too much information.
Remember, you want to stick to about four lines max. This has seven (eight if we include the social sharing buttons).
That's excessive. Jones could condense things by including her title on the same line as her name. She could also get rid of the fax number (who faxes anymore?) and the address. It's helpful but not necessary.
The social sharing buttons are also a mess. There's just way too many of them. While it's good Jones has a strong social media presence, she doesn't need to showcase every last account she has. Just a few will do.
If you find yourself in such a dilemma, stick to the bigger social media sites like Twitter, Facebook, Pinterest, and LinkedIn.
Conclusion
A good email signature template can help your business in many ways. You can generate leads, promote content, convert customers, and boost site traffic. Yes, all of this is possible.
If you want to create the best email signature you can use an email signature generator software or do it by yourself, with the tips and the email signature examples we shared in this article, the sky's now the limit.