For small and high-end businesses, having an eCommerce portal is the primary step to setting up a business. With many online options available to build your website today, it might seem overwhelming to choose the right website builder suiting your needs.
Being picky and choosing the right website builder is crucial, as you cannot be careless with a platform representing your brand and identity.
We have combed the internet and tried these website builders for ourselves to present the best eCommerce website builders in the market today. With this curated list, we have also gathered vital info, such as the pricing, pros and cons, and which tool is best for what, to help you make the right choice.
Without further ado, let's get building!
But first,
Choosing the Right eCommerce Website Builder
Before we get into the juicy part, you must know the aspects you need to look out for before choosing the right eCommerce website builder to set up your business.
Various factors go into this concept, but here is a summary of the essential elements you should consider.
#1. Ease of use
Whether you are an expert or a beginner, the ease of design and usage is an integral part of the whole eCommerce website builder equation.
The easier the platform is to use and understand, the faster you can have it running and fit your preferences.
Although the complexity of the platform may vary depending upon factors such as the size of your inventory and your economic needs, having a relatively easy-to-use and customizable website should be considered above all.
#2. Features (Sales and design)
Your store's appearance and design will be a resounding factor in how well it performs sales and revenue-wise. For this reason, ensure all the essential features that you require to help you set up your online store are covered by the platform.
Ensure all the customizations you require are fitted into the plan you choose, and most of all, the sales features are enveloped within the program (free or paid).
Our advice would be to make a checklist of the features you will require, shortlist the platforms with these features, and move forward.
#3. Pricing
Pring is another essential factor, especially if you are a small business on a tight budget. Each builder has a particular set of plans and features unlocked with these plans.
Make sure you consider these features carefully before you splurge on them.
In our article, we have covered both the free plan and paid plans in each of these website builders to make a choice easier for you.
Read also: eCommerce Metrics Made Easy: How to Measure Success and Drive Growth
#4. Account management
The more extensive the inventory, the bigger the responsibility. Ensure the platform you choose has sufficient account management features to help you seamlessly manage your inventory and account.
Lookout for features such as stock management, invoice generator, etc., that are helpful in this aspect.
#5. Payment Gateway and Transaction Fees
Most businesses often overlook payment gateways. If you are going to upscale and sell globally, ensure that suitable payment gateways and currencies are covered with the eCommerce builder of your choosing.
Similarly, most site builders charge a transaction fee per sale, especially if they are free. Ensure that this fee is something you can afford and does not lead to an immediate loss on your end.
eCommerce Email Marketing Simplified: 15 Examples + Tips
8 Best Free eCommerce Website Builders
Our guide to the best eCommerce website builders is categorized according to various needs and industries, the range of customization, and the money factor.
Let us take a closer look.
#1.

WooCommerce –

Most Ideal for Beginners and WordPress Users
Woocommerce is a plugin that is available on WordPress. It is a free, open-source plugin that is easy to use and has features that set it apart from other eCommerce website builders.
The ease of usage and the n number of features available within the plugin makes it one of the best eCommerce website builders in the market.
The process is simply starting with WordPress, finding the WooCommerce plugin, activating, and Voila! Your eCommerce shop is ready!
Let us take a closer look at the many features it has to offer.
Why is it on our list?
For a newbie starting your own online store can be daunting. With WooCommerce, this task is a breeze.
If you are familiar with WordPress, using WooCommerce will be a cakewalk as all the settings and features can be accessed and configured from the WordPress dashboard.
Apart from this, there is a helpful guide section that details the step-by-step process of setting up our online store, from setting up your tax, marketing tools, and personalization.
These two significant points make it a handy website builder for rookies and experts alike, which is why it is at the top of our list.
Features that stand out
The Woocommerce interface is easy to use once you familiarize yourself with WordPress.
Here is a summary of the most stand-alone features that make it unique:
There are more than 1,000 website templates ready to use from the WordPress gallery, which you can customize your style.
You can find more themes with a third-party plugin such as Theme forest or any other plugin compatible with WooCommerce.
Another notable feature is that WooCommerce is compatible with many 'free' third-party extensions, which different levels up the customization game. These plugins can be found in the WooCommerce Marketplace.
Your store can be easily integrated with the likes of Facebook or Amazon, and WooCommerce allows multi-channel Selling of your products.
Pricing
WooCommerce is free for the basic features and for WordPress users. The free plan is exceptional for small business owners, with many core functionalities available.
However, if you are an entrepreneur with a well-to-do business, third-party plugins, domain names, and hosting are available, which can be additionally built on top of the WooCommerce base available to strengthen your website building.
On average, building a website with a unique domain name and features with WooCommerce will cost around $17.
Rating
With a free plan and the robust website-building features available, WooCommerce tops our list as one of the best eCommerce website builders in the market.
Moreover, Woocommerce is SEO-friendly, thus making it an ideal choice for startups, as the products will get higher rankings on search engines when the right keywords are used.
What makes it unique is the set of third-party plugins that can be easily plugged in to customize and optimize the online shop more and more to your perfection and taste.
WooCommerce is excellent for businesses and individuals who wish to build a highly tailored website that reflects their brand to the T.
🏅 G2 rating: 4.4/5
Heads-up: EngageBay Integrates With WooCommerce
#2.

Square Online –

Best Free Plan
Square online is the perfect platform that is both easy on your pockets and provides good templates to establish your online store. With a flexible design and an unlimited product listing, Square online offers an excellent start to an online store for those on a budget crunch and just starting out.
The free plan includes many features and a minimal and straightforward design interface.
Why is it on our list?
Starting from scratch with the square online website builder, you can start with the free plan.
If you have a large Instagram following and wish to integrate your online store with Instagram, Square online enables that. There are also facilities to sync with other square features, which extend the functionality of the website-building process.
Of course, the free plan is limited, but you can build a unique website from the get-go within the limited resources available.
Features that stand out
Regarding design flexibility, certain features stood out for us, even though it is a free package.
Here is a look at the features that attracted us:
Easy-to-use design interface. Equipped with numerous eCommerce website templates as a starting point, the website builder is pretty easy and quick to use
SEO and marketing tools are available on the free plan and can be utilized to the maximum to help strengthen your online store.
The website also allows users to access other Square plugins and products, which makes the whole website creation process optimized and efficient.
As a bonus feature, a revenue and cost calculation is built into the design that helps you analyze your profit margins.
Pricing
While the free plan is reasonably all-encompassing with everything you need to build an essential, simple website, a premium plan unlocks many more features that can help you build a professionally designed online store.
Starting with a professional package priced at $16 per month to a more advanced performance plan at $29 per month and a premium plan priced at a heft $79 per month, each plan unlocks a wide range of features to utilize.
Some of these features include – an invoice generator plugin, an email generator for abandoned carts, and specialized revenue tracking that will help manage your online store once it is up and running.
Rating
This eCommerce website builder has a lot to offer for a free plan.
With an unlimited inventory, this website is an excellent start for those just entering the eCommerce pool.
Although the building of the website is free, there is a 1.9% transaction fee per purchase, slightly higher than other competitor websites.
Moreover, certain essential features, such as the invoice generator, are only available with a paid package.
Square Online is a tremendous free eCommerce website for beginners to start from scratch. It provides a solid platform with an easy-to-use and straightforward interface to get started with.
🏅 G2 Rating: 4.3/5
Read also: eCommerce Email Platform Integration — The Top Tools To Try
#3.

Wix –

Best for broad-spectrum users
Wix is a well-known and the most preferred eCommerce website builder, and rightfully so. It has one of the most straightforward procedures to build an online store from scratch.
It takes just a couple of hours to have a whole online shop up and running!
With a 14-day trial period, you can have a website running and test all the features and create a solid foundation for the real deal.
It is also used by users across the various facets of the eCommerce industry, thus making it an overall industry favorite.
Why is it on our list?
The simplicity of the design, which is a clearcut drag and drops way of building your website (and professionally so!), makes it a breeze to work on.
While several features are available on big names such as Shopify and Big commerce, a few sales-related parts still need to be added to the Wix site builder.
But, as a small or medium-sized business, you will have everything you will need to professionally set up and run an eCommerce extension of your brand without much hassle with Wix.
Wix and its extensive Wix app market have constantly improved features to give you the overall holistic eCommerce website experience.
For instance, order fulfillment and revenue management are updated constantly with new elements, as are the templates and payment gateways.
Features that stand out
Yes, Wix is one of the best eCommerce website builders in the market right now. But what makes it so unique?
Here are features worth mentioning 👇🏻
With a unique set of 71 design templates to choose from, more than 800 free themes, and unlimited options to custom these templates, your website will look like no other.

The easy user interface is designed for beginners.

The simple and clear-cut process to set up your website is unparalleled in the eCommerce website builder world.

Wix also offers SEO and CRM features that automagically enable you to boost sales and extend your eCommerce capabilities through their website builder.

There is also an advanced inbuilt editor for mobile-optimized view, making your eCommerce website comprehensive on all levels.
Pricing
For starters, The Wix free plan and the 14-day trial plan are all-encompassing with all the tools you will need to build a professionally designed eCommerce website.
However, if you want an advanced set of features and more tools, there are plans ranging from $23 per month to $500 per month, fitting all your website building needs.
There is also a 14-day trial period for all premium plans, which you can test and see if it works.
Rating
As with everything yin and yang, Wix also has downsides.
Even though it offers a wide range of features and the website building is as easy as it gets, once you set your template and your store is live, you cannot change it.
Another point to mention is that, as of today, there needs to be a setting to integrate with other platforms and sales channels. Thus, making it difficult for multi-channel selling/marketing.
Overlooking these few-minute downsides, Wix is a great platform that provides a solid ground to build a professionally built website suiting your preference right away!
Also, the many inbuilt SEO and Sales tools help strengthen our marketing game and help in boosting sales exponentially.
In a nutshell, Wix provides eCommerce website building at its best at a reasonable price across all spectrums of the eCommerce industry.
🏅 G2 rating: 4.2/5
Read also: 17 Fresh eCommerce Marketing Ideas for 2023
#4.

Shopify –

Best Sales-oriented Features
Shopify is a household name in the eCommerce website builder industry.
Shopify is a widely used eCommerce website builder that has been around for quite some time. How comprehensive the website builder makes it so popular with small companies and big names alike.
Everything you need to build a website and run an online business from the bottom is available and addressed on this platform.
Why is it on our list?
Shopify is a household name in the eCommerce website builder industry.
Shopify is a widely used eCommerce website builder that has been around for quite some time. How comprehensive the website builder makes it so popular with small companies and big names alike.
Everything you need to build a website and run an online business from the bottom is available and addressed on this platform.
Features that stand out
Yes, design templates are essential, but Shopify has gone a step further and introduced sales features that are equally(or more) important than the looks of an online store.
To summarize, here is a list of features that make Shopify a comprehensive eCommerce website builder:
First is the simple user interface, a common theme in most popular eCommerce website builders. Most sales and nonsales operations are easily accessible and just a click away.

Many free and paid themes are available that are ready to use and highly customizable (although the process is slightly complex).

Shopify's sales features are genuinely one of a kind. From Shopify POS, inventory management, revenue tracking, improved functionality, etc., their robust sales features make it easier to grow your business from nothing.

There is also a specialized Shopify App store with third-party apps and plugins that can optimize your online store design and functionality.

Regarding accounting and money management, Shopify offers assistance in invoice generation, tax calculation, etc., which are very useful in setting profit margins.
Pricing
Shopify has a 14-day free trial period with no card details required. After this trial period, you must choose a plan to use Shopify full-fledged.
The free trial allows you to test and try all the features.
Starting at a basic Shopify plan at $29 per month, the premium and advanced Shopify plans increased to $299 and upwards, depending on your needs and expertise.
Rating
With sales features and an integrated toolset, Shopify is ideal for a business to set up and run an online store through one channel.
On the whole, Shopify is an all-rounder in all significant aspects of running an eCommerce website.
Concerning starting a business online and scaling it as you grow, Shopify would be the ideal choice.
The downside is the comparatively pricey packages that are high on the pocket.
Another point is that the SEO and marketing tools are still primitive and must be updated to the latest trends.
Overall, Shopify is one of the best eCommerce website builders in the market and is preferred by most businesses, irrespective of their size or industry.
🏅 G2 rating: 4.4/5
Convert Shopify data into campaign gems with EngageBay
#5.

Weebly –

Best for Startups
Weebly is a simple and minimalistic platform best suited for startups and small businesses.
It is an excellent platform for those looking to start small with a tight budget for online expansion.
The key advantages of Weebly are its ease of use, cost-effectiveness, and comparatively low website maintenance.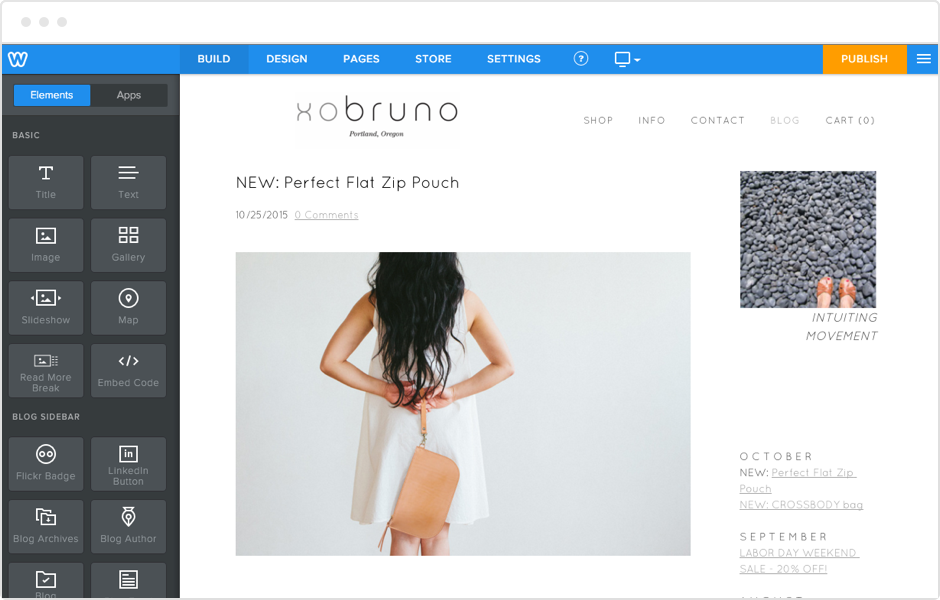 Why is it on our list?
Weebly is most preferred by newbies and beginners in the field as it takes hardly a few minutes to familiarize yourself with the platform's architecture.
With basic or zero technical knowledge, you can create and get the website running without any hitches.
Moreover, the free plan covers almost every feature you need to create a primary online store.
Features that stand out
Here are the features that make Weebly a preferred choice for startups:
The design interface is easy to use compared to other eCommerce website builders. All you need to do is drag and drop items on a chosen template to build your website.

Weebly has about 40 free attractive themes and different premium themes that you can choose from. If you need to customize these themes further, you can use a simple HTML or CSS script to do the job.

The free or basic plan covers basic features such as a listing of products, various payment gateways, and shopping cart management.

More advanced features such as stock management, shipping charges, calculators, and coupon codes are covered in the premium plan.
Pricing
Weebly offers one of the most affordable plans in the eCommerce website builder industry.
From the basic free plan starting at $0 to a performance plan priced at $26 per month, the features offered are cost-effective and efficient if you are on a budget crunch.
Rating
We recommend Weebly for small businesses and startups that require the basic functionality of a website builder and do not require advanced features.
Although it lacks many of the features most website builders have, it covers the basics and is highly affordable for what it has to offer.
Consider Weebly if you want to start your online business small and without much of an investment, both time- and resource-wise.
🏅 G2 rating: 4.2/5
The 5 Best eCommerce Platforms for Startups
#6.

Magento (Adobe Commerce) –

Best for large-scale businesses
Magento has been unbeatable for years in terms of scalability and large-scale management.
It is an advanced eCommerce platform that has a world with big names such as Nike and Samsung and can handle a large inventory with the most state-of-the-art features.
The cutting-edge software and technology used in Magento can handle hundreds, if not thousands, of transactions per minute.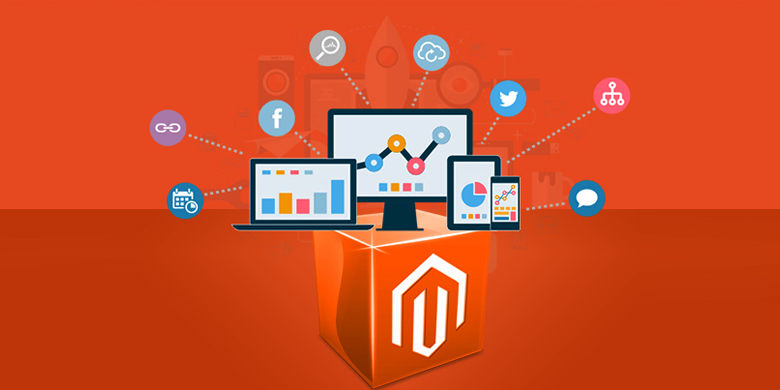 Why is it on our list?
With grand ambitions and an extensive inventory comes the liability for investing and handling the capacity at which your store operates.
With Magento's advanced technological configuration, intelligence services, and numerous third-party integration, thus ambition becomes more than true.
Although Magento requires an expert developer to help you develop and run your site, it is worth every effort and penny.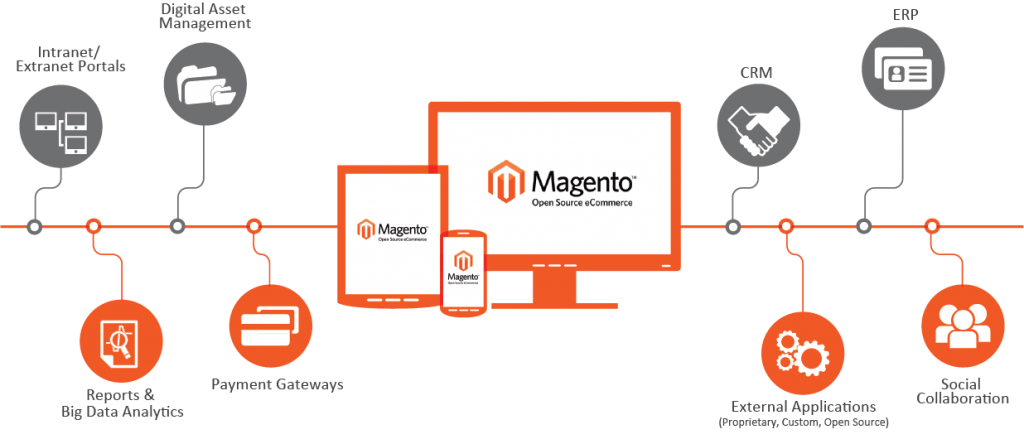 Features that stand out
Magento has unique features that make it an industry-special eCommerce website builder.
Here is a list of the most essential features:
You can control multiple stores and channels from a single dashboard

The design templates are 100% customizable

You can create unique customer groups and target them differently

Related products are also displayed along with the main product images

Assistance is provided to generate multiple invoices at once

Various currencies and transactions are supported worldwide.

It is SEO friendly and offers Google sitemaps songs with meta information.

Account management-wise, tax sales, and product reports are provided with total sales invoices.
And many, many more!
Pricing
There is no fixed plan for Magento as such. The price varies according to different factors as it requires a professional developer and host to help you set up.
There is a Magento enterprise plan starting at $22,000 for the whole package, and this does not include hosting and running expenses.
Running Expenses include inventory management, website development and maintenance, graphic design and implementation, domain and hosting, SEO, etc., additional costs.
In a nutshell, many third-party agencies and developers charge different rates for different features of running the website through Magento.
Rating
Magento is an excellent website builder that covers everything you need to run and handle a large inventory smoothly.
The only thing to consider is how much you are willing to invest and how you will manage your resources.
If you have a clear-cut (and hefty budget) game plan and are willing to splurge on your eCommerce website, then Magento is the way to go.
🏅 G2 rating: 4.0/5
25 eCommerce Tools to Boost Sales in 2023
#7. Big Commerce – Big on Multichannel Commerce
When scaling your business, multi-channel and cross-networking are essential parts of the process.
Most eCommerce has a primitive approach to this, which is why BigCommerce is an industry leader.
Used by household brands such as Hush Puppies, Toyota, Skullcandy, etc., BigCommerce helps scale your business across various channels and can handle the load.
Why is it on our list?
BigCommerce relies on global expansion and the ability to transact across multiple channels.
What makes it unique and efficient is that there is no need to depend on third-party apps or plugins for any additional features, as Bigcomemrce has all the tools you will need to build a full-fledged eCommerce website.
The support team of BigCommerce also provides unparalleled support in every aspect.
Features that stand out
BigCommerce has numerous features that are unique to its name. Here are some of the most prominent features:
For extensive inventory management, bulk pricing is an essential and practical feature that BigCommerce has introduced

With each product, there are product ratings, reviews, and videos provided, which make it easier on both ends

Customer groups are also offered to deliver a customized shopping experience

The support team provides assistance in the form of advice from industry experts and 24/7 issue assistance

There are also community forums and tutorials to help you get started.
Pricing
There are four pricing packages provided with varying degrees of features. The basic plan starts at $29.95 per month, and a pro plan starts at $299.95 monthly.
A more advanced enterprise plan is customizable to your needs and requires you to contact them directly for a tailored quote.
Rating
Due to its comprehensive inventory management tools, BigCommerce is ideal for extensive inventory and scalability.
For an easy way to start and have your store running, BigCommerce may be different from the one you will need as the design and setting can be pretty complicated and require an expert on board.
For the pricing plans offered and features provided, BigCommerce is ideal for businesses that are already well-established and looking to expand globally.
🏅 G2 rating: 4.2/5
BigCommerce vs Magento: Features and Pricing Compared
#8. Big Cartel – For Your Creative Bug
Are you a creative brand wishing to extend your creativity to your online shop?
Big Cartel might be the exact website builder for you.
Big Cartel was initially meant for designers and artists; hence, the templates are innovative and highly stylized, which is a rarity among most website builders.
Why is it on our list?
Big Cartel's website builder is focused on small creative businesses such as artists, jewelry sellers, T-shirt sellers, and merchandise sellers.
Big Cartel is a great way to start your online venture if you are a small business fitting this category.
Features
Big Cartel makes website design easy with an easy user interface right off-the-bat and highly customizable and creative design templates.
This website builder is also integrated with the likes of Paypal and Stripe for an easy payment gateway for all your products, and for your benefit, you do not have to pay any transaction fees whatsoever.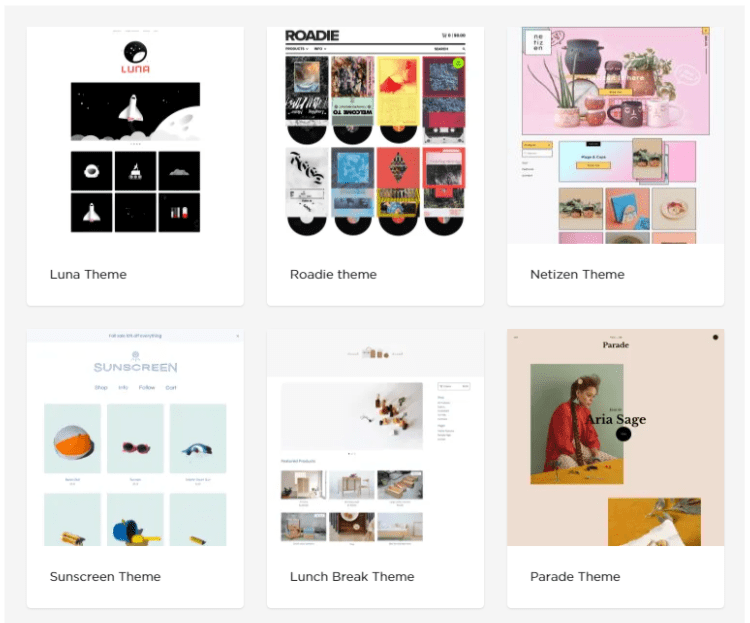 Pricing
You can get started with a free account where up to 5 products can be listed initially.
For up to 50 products, the pricing is $9.99 per month.
To enlist up to 500 products, you will need to pay $19.99 per month.
With a paid package, you can display up to five images per product listed, while in the free plan, only an image is allowed.
The free plan should fit your needs if you are just starting out.
Rating
BigCartel is the best for building a unique startup store for an artsy and creative business.
The best part? Big Cartel does not take a commission from the products you sell.
The only major drawback of Big Cartel is the interface which is only meant for a small inventory. This could be better for a large-scale business with more than a hundred products to be posted.
In contrast to some of the big names in the website builder world, Big Cartel is smaller and a tad bit more challenging to use. To edit some of the templates to fit your creative needs, you might need to code them. Which is different from the ideal website-building scenario a beginner might be looking for.
Another point to consider is since Big Cartel is mainly focused on small creative brands, enlisting a higher price range of our products might not be suitable.
Big Cartel is ideal for creative, small businesses just starting their venture.
🏅 G2 rating: 4.2/5
Ecommerce Automation: How To Automate Your Ecommerce Business
Parting Words
Yes, choosing the right eCommerce builder can be tricky and quite arduous.
But it is an important decision that would significantly impact your sales and business.
While we have covered the points you should consider, you should also be aware of your business's functionality and future before you choose the eCommerce business fitting your current needs.
As with any fruitful result, this also requires a good amount of investment financially and time-wise.
We hope this guide steers you in the right direction and helps you build the eCommerce shop of your dreams!
Here is another tip: try EngageBay's marketing tools to help you on your eCommerce journey.
Sign up for a free demo and see what our experts say!
Boost your ecommerce success with the ultimate CMS recommendations – dive into our in-depth guide today!