As a small business owner just starting out, you obviously have planned out your email marketing well, you want to write emails that wow your prospects and customers alike, right? The problem becomes figuring out just where to start.
You look around at emails from some of the biggest names in marketing and you're definitely impressed. Then you sit down and try to replicate what you learned, but it doesn't come out the same way at all.
Don't you wish there was a great software for newsletters, a  template for designing successful emails that will be opened and read by your audience? What if we told you there was?
You've probably seen such templates yourself, but you've held off because you don't have a lot of money to spend on them. That's no issue here. Let's look at some of the best newsletter templates examples. These are online templates and different from print newsletter templates. All the email newsletter ideas and free newsletter templates we're sharing are absolutely free. You can use them, tweak them, and reuse them to your heart's content. That's why we think they're the best newsletters around.
Let's get started!
7 Free Newsletter Templates and Examples
1. Business Newsletter
2. Visual Newsletter
3. Newspaper Newsletter
4. App Launch Newsletter
5. The Welcome Newsletter
6. New Products Newsletter
7. Seasonal Newsletter
1. Business Newsletter
If you're trying to write a professional business newsletter, did you know you can spruce it up with a template in a program you probably use? We're talking about Microsoft Word, of course.
So how to make newsletter template in Microsoft word, next time you open the word-processing program, don't just go straight to starting a new document. Poke around a bit. If you go to make a newsletter, one of the most winning business newsletter templates you can find in MSword is the Arc design.
Here it is in action.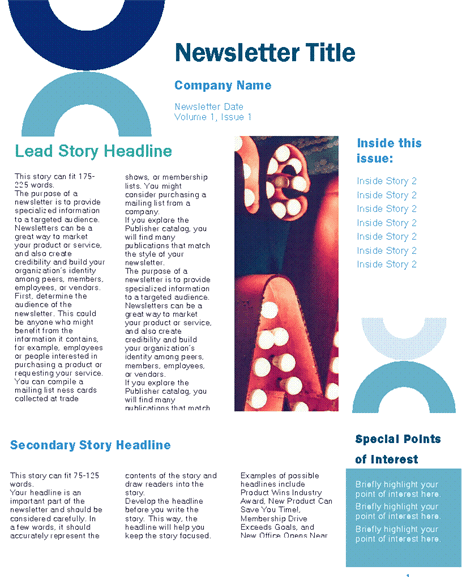 According to Microsoft, the Arc design can be used for a simple newsletter format of four pages. It's got sweeping half-circles throughout in two hues that tie to a central theme. With room for your own lead image (albeit not a huge one), this is a good template for a small business or a startup. It looks super professional yet doesn't cost you a cent. How about that! You can easily design the best email newsletters quickly and efficiently now.
2. Visual Newsletter
With more than 13,000 downloads as of this writing, the Classy theme from Cakemail is a winner if you want to send a visual newsletter.

As the above screencap shows you, you have many chances to showcase a variety of images in your newsletter. If you're rolling out a new product and you want to display it from all angles, the Classy newsletter template would be a fantastic choice.
Not only that, but again, this is a very professional-looking theme. The stark, single-color background lets your product images shine, which is what you want if you're debuting something new. All this is free, so you certainly cannot go wrong.
3. Newspaper Newsletter
Extra, extra, read all about it! While you certainly don't have to format your email newsletters like a newspaper front page anymore, there's something old-timey and charming about doing so. A format like this goes back to the old-school days of email newsletters when it really was like taking a print newsletter and sending it via email.
If you're looking for a free news bulletin email template, we like Canva's.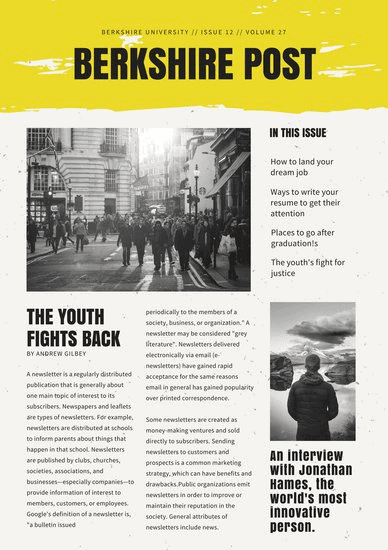 It's colorful, it's bold, and it's a touch grungy (as Canva itself says). In short, it's tough to miss the glaring headline with its yellow base. The background of the newsletter has speckles of black so it's not pure black on white.
If you do format your emails like a true newsletter, you can still do that here by typing the name of your newsletter, the issue, and the volume. You can then add images to your articles as you see fit. Make sure the image you choose for your main story really grabs attention.
Today, it's always important to stand out from the pack, and sometimes going back to the way things were done in the old days is one such way to be unique. Sending an email newsletter like this would definitely pique the interest of your leads and customers. Why not give it a try yourself?
4. App Launch Newsletter
Your company just created its first app. Congratulations! You don't want to use any ol' email newsletter template to inform people of the good news, right? Of course not. You want to ensure your email will shine.
With the Launch.It template, again from Cakemail, you'll create all the hype you want to surround your upcoming app.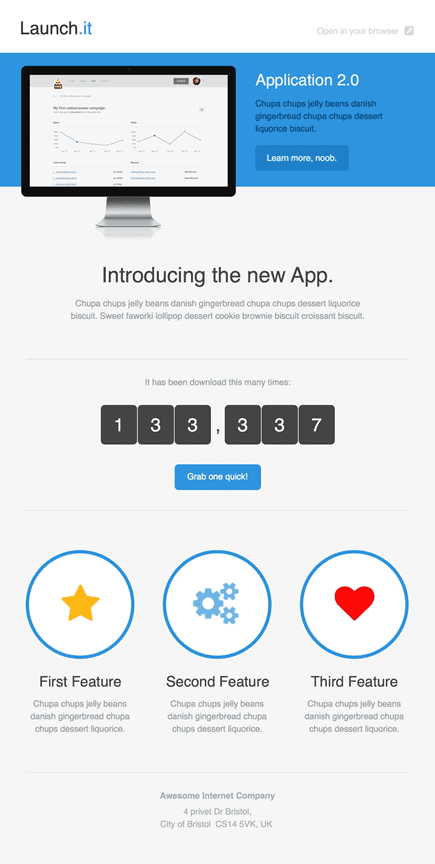 This template is chock-full of handy features. There's a CTA button at the top. You can redirect the customer to read more about the app or even give them a download link right off the bat.
The computer screen image, also at the top, can be reconfigured to show a screenshot of your app. It'll capture people's attention right away. You also get a download tracker, which is sure to incentivize those who are on the fence about downloading.
Another way to incentivize reluctant customers is with your list of features. This template lets you showcase three of your best ones. You can even add little icon images that illustrate each feature.
You get all this for free. If you put a lot of time and money into the development of your app, you'll appreciate a crisp, clean-looking email template like this one. It only looks expensive.
5. The Welcome Newsletter
If you recently got a lot of subscribers to your email list or just opened the doors to your startup, then sending out a welcome email is a great idea. In this newsletter, you want to introduce yourself. Explain what your company is, who works there, and what your goals are. What you will see next is a great business newsletter example.
For such a newsletter, the Cakemail template Introductions is an aptly-named, suitable choice.

It's a simple yet colorful template. With a plain white background, the company logo of yours that you can add will really stand out. You can then adjust the copy underneath so it's more fitted to your company and its voice.
There's a colorful CTA button that you can also customize. Perhaps you keep it as a link to your website or you make it a link to a pricing page if you're feeling bold.
After that, there's room for all the relevant information you'd want to include in a welcome email, such as background about your company, your core values, and your staff (with pictures). This an incredibly good-looking and highly functional template, especially considering it doesn't cost anything to use.
6. New Products Newsletter
As your company progresses and you continue rolling out products, you'll need to showcase them. Whether this is a big sale or a debut of a slew of products at once, Mailify's Newvog template will make your products look fantastic.

Mailify has free trials, so not all the templates are free forever, but Newvog is one you can enjoy with your free membership.
This template has everything you need to put your products in the best light. If you have new arrivals, you can use the first part of the template as is. Otherwise, you can tweak it to reflect the tone of your sale.
You can also showcase images and the price points for your biggest sellers or most steeply-discounted items. Our favorite part of this template is that each product in the email newsletter content has its own CTA button. Your customers can shop right from the email, making it much easier for them to check out.
If you want to boost your sales, send out an email with a template like this. We think your customers will be in the mood to buy.
7. Seasonal Newsletter
While the bulk of the holidays are behind us, there are still plenty more to come. From Labor Day to Halloween, Thanksgiving, or Christmas the next three months present you with plenty of opportunities to reach out to your core audience with some holiday greetings (and maybe deals).
This holiday-centric free template from Benchmark is perfect for the Easter holiday.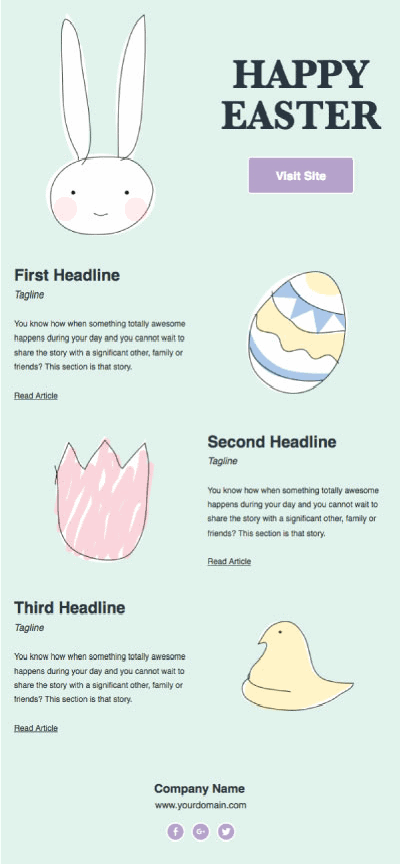 Not only can you wish your readers some Easter greetings, but they'll be sure to enjoy the delicate pastel colors and cute illustrations of bunnies, chicks, and painted eggs.
With several headlines to choose from, you can highlight the biggest stories related to your company in April or even the prior month. While this template isn't as much about sales and deals, it'll certainly put a smile on any recipient's face.
We couldn't help but include this Christmas template from Cakemail as well.

The only downside to seasonal emails is that they tend to be a lot less customizable than the other templates, but that's because customization isn't really necessary. If you changed the red and green color scheme of the Christmas email, it wouldn't be very Christmassy anymore. Using a darker background for the Easter template would be too harsh.
Changing the images or illustrations is a good way to make these templates more your own. This way, you're not sending out the same holiday greetings as your competition.
Newsletter Email Design Tips to Boost Clicks
With the above newsletters examples guiding you, here are our top email template design tips for getting more clicks:
Choose the template for the job: This might seem obvious, but if it's not a holiday, then refrain from using the holiday template. If you're sending a newsletter to your email audience, then that's the only time you want to pull out an email newsletter template.
Focus on your CTA: Your CTA is what will really convince a lead or customer to take action. If you don't design this well, then it often doesn't matter how nice an email looks, it won't deliver the results you need. You want your CTA above the fold. Actionable language works over vague language every time. When it comes to choosing a CTA color, go for something bold and vivid, but not so much that it's blinding.
Watch your fonts: Once you figure out the world of pretty fonts, sometimes it gets a little too tempting to add as many as possible into your email. This can be a mistake. Not every computer or mobile device supports all the fonts you use. They could look like a garbled mess to your audience. Besides that, some fonts aren't super easy to read. Considering you want your emails skimmable, this hurts you.
Add branding: You may use a template any other marketer could, but that doesn't mean you can't make it your own. By branding your emails, there's no doubt about the authenticity or legitimacy of each message you send.
Test, test, test: From the fonts to the CTA to even the template you select, you must A/B test everything before sending the email out. The results you get from split testing then let you tweak your emails for the highest open and click-through rates.
Conclusion
Email newsletters are an integral part of your marketing campaign. If you're a startup or small business with few funds to spare, the thought of paying for an easy email newsletter template can be daunting.
The above seven high-quality templates all look totally professional and are designed to serve different purposes. Whether you want to introduce yourself, roll out new products, offer some holiday greetings, or keep your readers up-to-date on the progress of your company, you can with any of these templates. You can even drive up newsletter engagement.
What are you waiting for? It's time to start creating your dream emails!
>>EngageBay's email autoresponder engage your customers, anytime
>>EngageBay's RSS-Feed-to-Email feature ensure continuous blog visibility