For loan officers and mortgage lenders, client management can be a real pain.
From capturing leads and convincing people to take out a mortgage for their houses, to closing deals and tracking customer updates, mortgage firms go through dozens of processes. 
If you own a mortgage firm, you know all this. You might be spending time and resources searching for leads with no way to know if your efforts are paying off. 
The solution: Mortgage CRM. 
According to a report by Buyerzone, 91% of companies with more than 11 employees use CRM tools. 
If you're among those already using a CRM software, you already know the myriad benefits that come with it. Head straight to the '5 Best' section and read about the CRM software you need to consider in 2021 for your mortgage firm.
If you're not yet using a CRM software, here's why you need to start right away.
What is Mortgage CRM?
A mortgage Customer Relationship Management (CRM) software offers both lenders and brokers a way to automate time-consuming and tedious tasks. 
These include keeping track of clients, following up on realtors and partners, and establishing communication with leads and prospects. 
With a mortgage CRM software, you don't have to record and organize everything in spreadsheets and physical systems manually. 
The CRM software does all the mundane tasks, paving the way for better lead capturing, enhanced sales workflows, and exceptional customer service. 
For your clients, deciding to take a mortgage can be a major decision. They need to feel confident that their brokers offer the best service and expertise. 
With a mortgage planner CRM software, you can equip your team with the tools required to put their minds at ease. 
In essence, a mortgage CRM software offers tools for contact management — the lifeline of any mortgage broker. 
Why Do You Need a Mortgage CRM for Your Business?
CRM for mortgage brokers includes event notifications, loan pipeline management, workflow automation, and referral management. 
Additionally, all the client information is stored in a central database, helping brokers and loan officers access vital information efficiently. 
Many mortgage CRMs integrate seamlessly with your LOS (Loan Origination System) — making it a worthwhile investment. 
Let's discuss the features that make CRM for mortgages a must-have for you.
Mortgage CRM: Key Features
Event notifications: Automate event notifications and calendar alerts so that you don't miss important appointments. Many mortgage software offer two-way calendar sync. 
Loan Pipeline management: Track loan status, streamline the loan process, and get detailed loan reports using visualized pipeline management. Keep an eye on your leads as they move further down the funnel, prioritize hot leads, and close deals quickly. 
Workflow automation: Get more work done in less time with CRM automation specifically designed for loan establishments, intermediaries, and real estate brokers. Let the CRM software do the daunting and repetitive tasks for you. 
Moreover, LOS integration makes the workflows even more powerful. 
For example, you can set up triggers to automatically send relatable content about the importance of insurance coverage to clients when they sign up for a mortgage. This way, you can focus your time and energy on more important and fruitful tasks. 
Referral management: Word-of-mouth is vital for any business but is more so for the loan and mortgage industry. Using the tools offered in a mortgage broker CRM software, you can launch drip campaigns easily and gather more referrals. 
Many CRM software let you communicate easily with clients and referral partners.
The Five Best Mortgage CRM Software
Let's discuss the top mortgage CRM software and their features.
1. EngageBay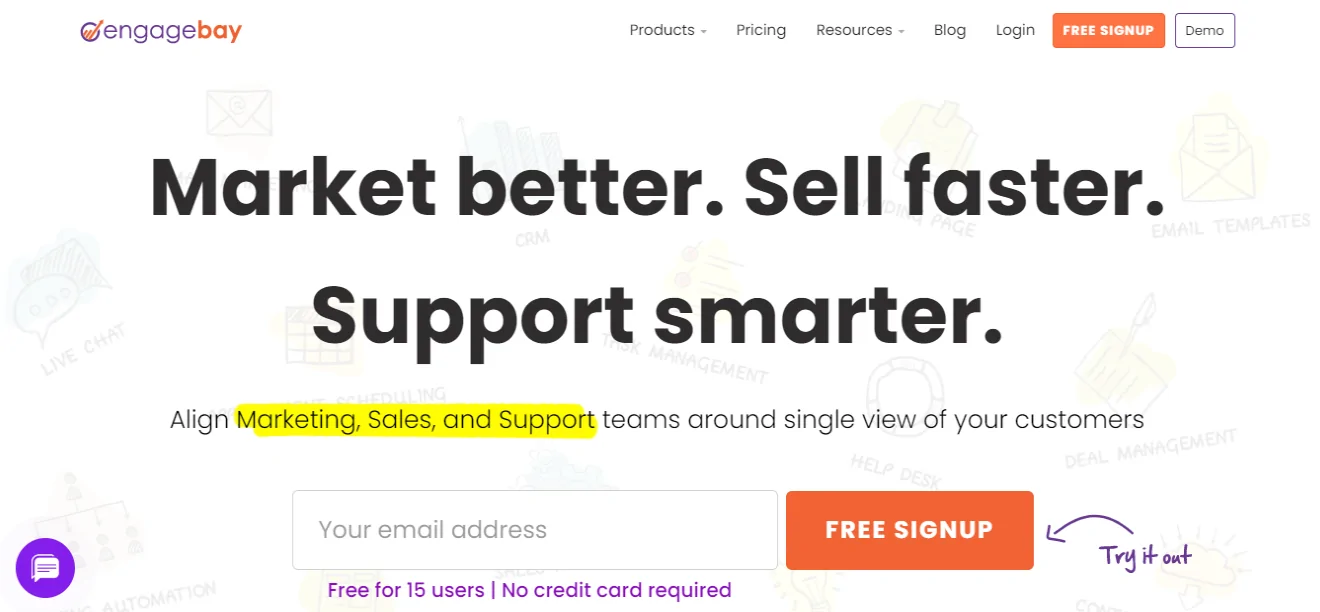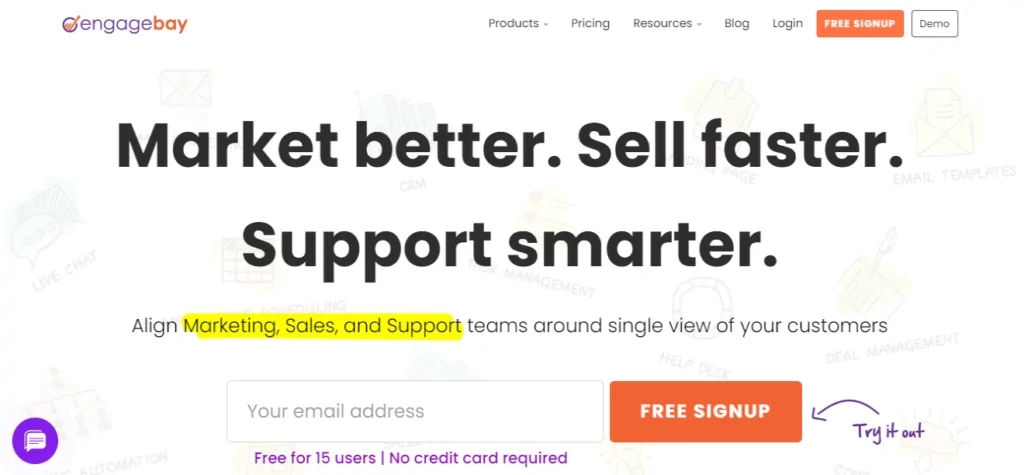 The first CRM software for mortgage brokers on our list is EngageBay.
EngageBay is an all-in-one marketing, sales, and service automation software, with free mortgage CRM. It is the perfect comprehensive solution for mortgage lenders and loan officers, with tools to facilitate every aspect of their work. 
Customers these days don't stick to one channel of communication. When you use EngageBay for your mortgage firm, you can communicate with existing and potential customers over email, telephone, SMS, and Live Chat — all from one dashboard.
With EngageBay's drag-and-drop builder, mortgage firms can build stunning landing pages. To get the most engagement, use the A/B testing feature and filter out the less effective versions of each element.
Additionally, agents and companies can close more deals with predictive lead scoring, lead prioritization, automated marketing and sales workflows, and visual deals pipelines. 
Loan officers and brokers are constantly on the move. 
This means they need a solution that is portable and can be accessed remotely. With EngageBay as a cloud-based software, users can access it from anywhere (with a good internet connection, of course). 
Field agents can also take advantage of EngageBay's iOS and Android apps while on the move. 
Finally, customer service is at the crux of any mortgage lending business.
With EngageBay's Service Bay, lenders can quickly issue tickets, prioritize them, assign them to agents, and resolve them. They can also take advantage of autoresponders, canned responses, and AI-based chatbots to automatically answer common queries. 
Interestingly, 48% of young consumers (between the ages of 18 and 24) report that artificial intelligence makes the customer support experience better. 
Pricing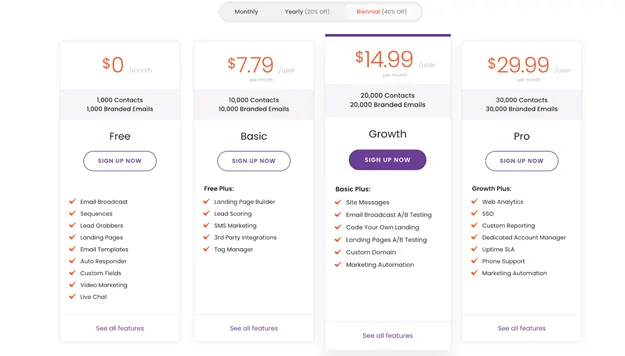 Hands down, EngageBay is the most affordable software on this list. EngageBay's pricing is four-tiered and offers a perfectly tailored plan for mortgage lenders of all sizes. 
Free All-in-One Suite

: This plan is

free forever for up to 15 users

and offers contact management, email tracking and marketing campaigns, landing pages, CRM automation features, and calendar integrations. Plus, you get access to Help Desk, Live Chat, and autoresponders, with 1,000 branded emails a month.

All-in-One Basic Suite

: This plan starts at

$14.99 per month and includes 1 GB of cloud storage, conversational inbox, canned responses, email templates, predictive lead scoring, SMS marketing, 3,000 branded emails a month, web popups, and a lot more. 
All-in-One Growth Suite

: This plan costs

$49.99 a month and allows 50,000 contacts, with 25,000 branded emails a month. It features marketing automation, push notifications, custom domain for your business, and A/B testing of landing pages and email broadcasts. 
All-in-One Pro Suite

: This suite costs

$79.99 a month

and adds advanced features like web analytics, dedicated account manager, custom reporting for all aspects of your business, phone support, uptime SLA, role management, and much more.
EngageBay's paid plans get a 20% discount on annual subscriptions and an awesome 40% discount on biennial subscriptions. 
2. HubSpot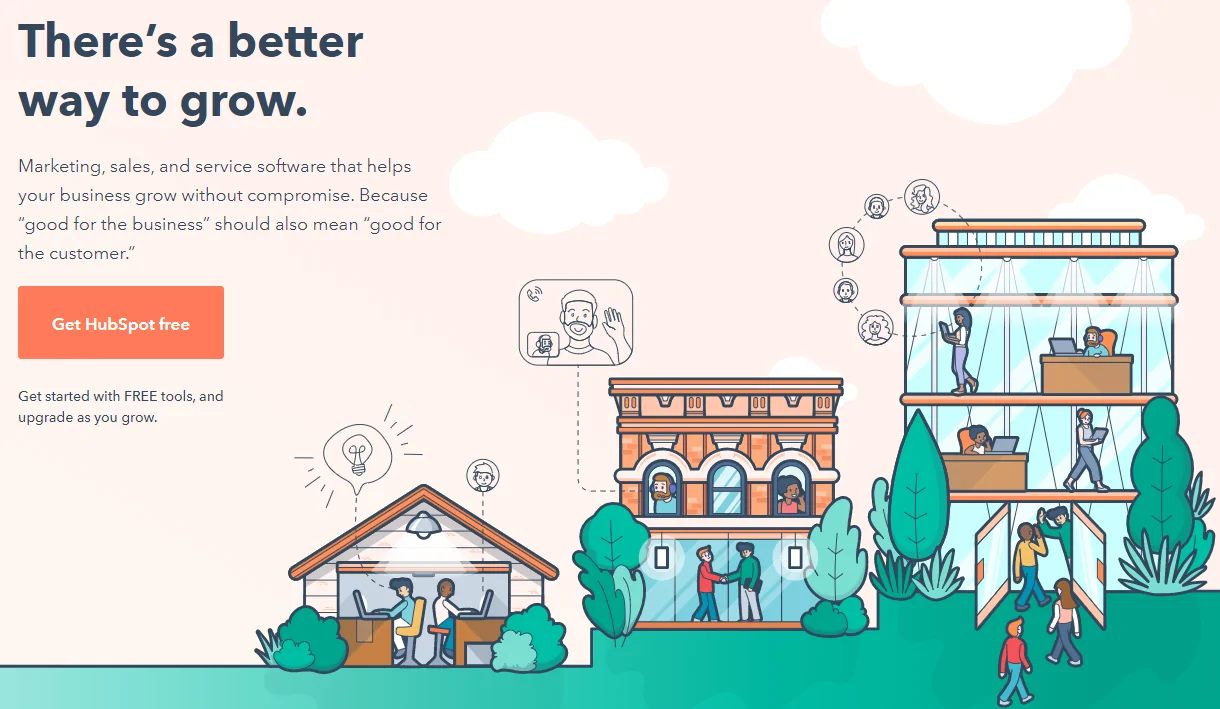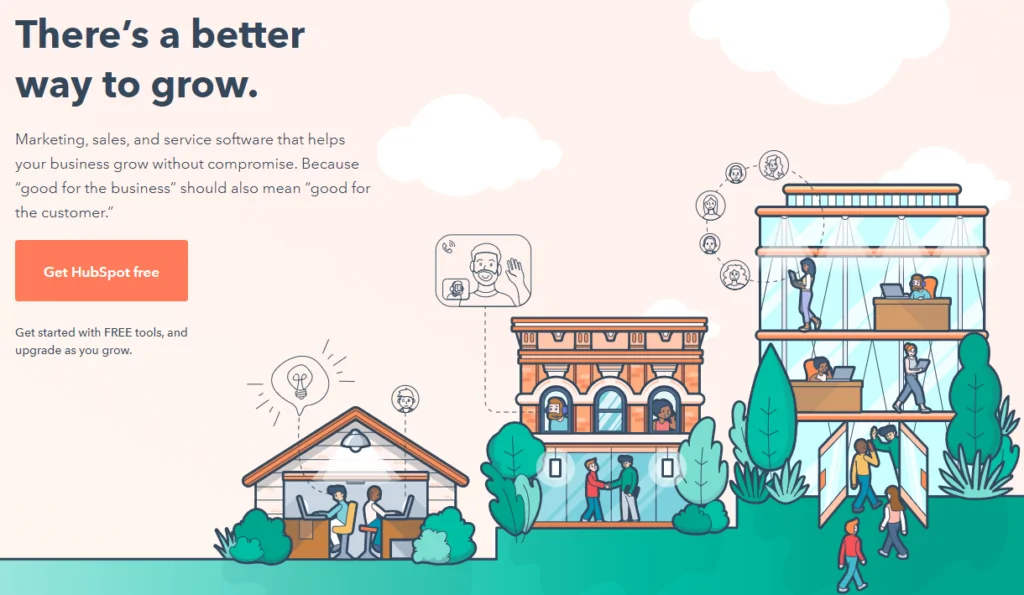 HubSpot is a great mortgage CRM software with a wide range of tools for lenders and mortgage firms. 
It lets you forecast sales, quantify and visualize performance, nurture your leads effectively, launch drip marketing campaigns to attract customers, and A/B test your CTAs to maximize clickthroughs. 
Mortgage companies can offer excellent customer service through HubSpot's Service Hub. Lenders can issue tickets, track and prioritize them, and assign them to agents based on relatability. 
With the landing page and form builder, users can create cool landing pages and email forms. Once traffic starts flowing in, lenders can use actionable data using HubSpot's intelligent analytics to tweak pages, reduce bounce rates, and enhance conversions. 
Brokers and agents can get a comprehensive understanding of their customer's journey through HubSpot's 360-degree customer view.
HubSpot's on-the-go content optimization is another great tool as it offers live tips and ideas during content creation. This can significantly boost content quality and SEO ranking.
Pricing
Interestingly, HubSpot has great features but they're not for the budget-minded. Let's look at the pricing for their bundled plans: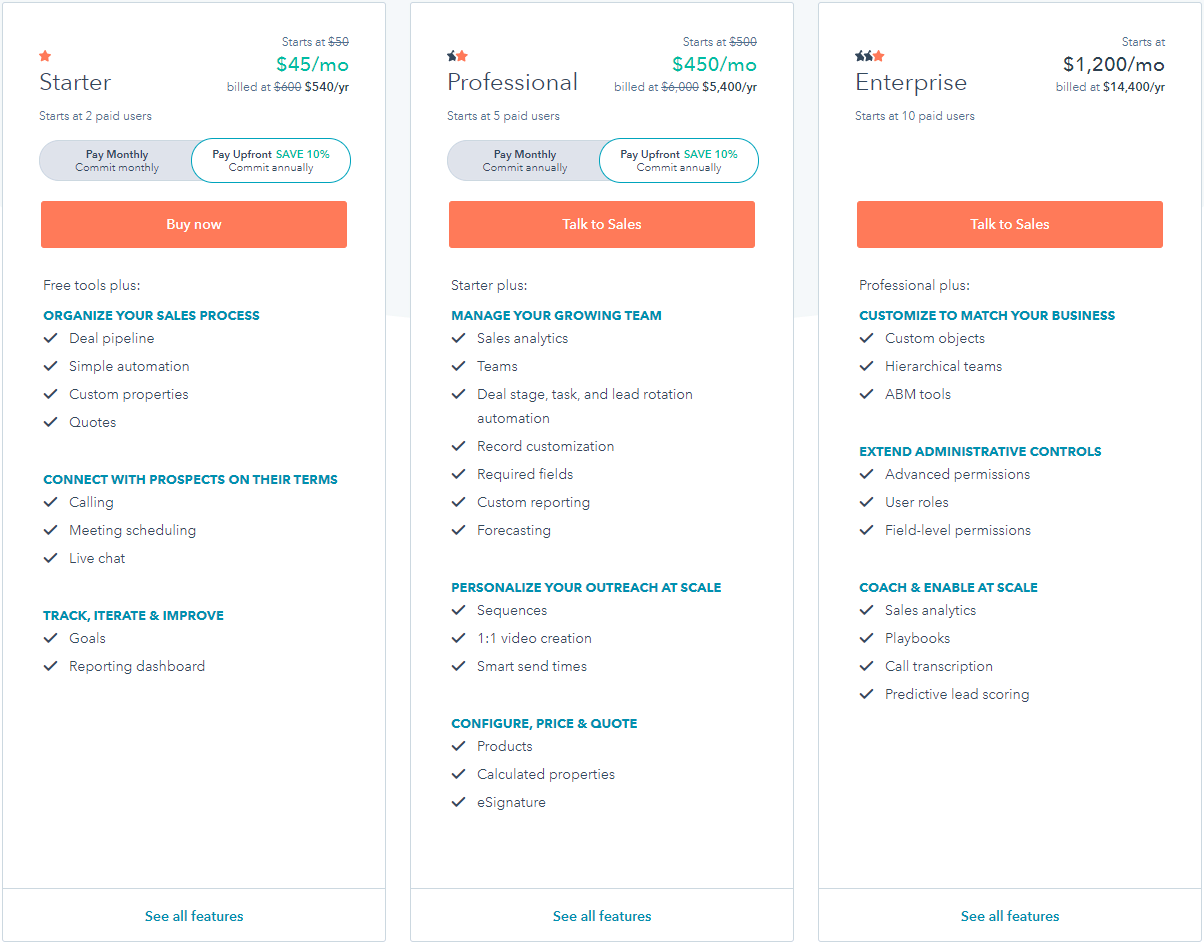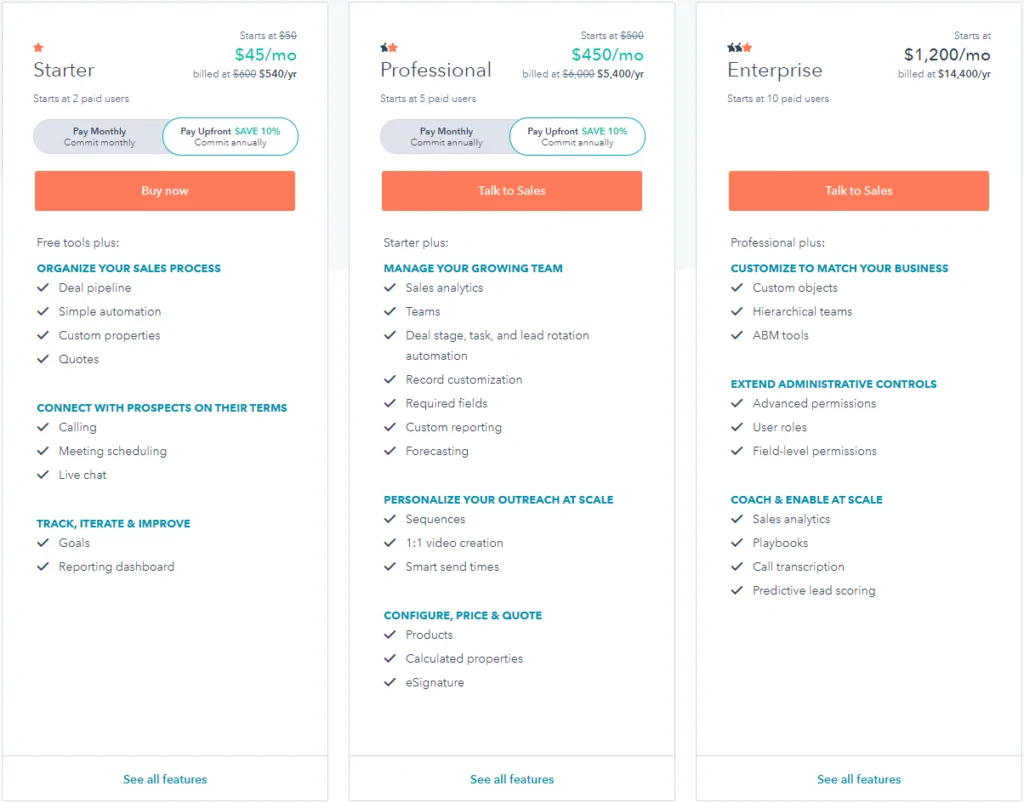 Starter Growth Suite

: This plan starts at

$50

per month and includes deal pipelines, canned scripts, email marketing, and mobile forms. 

Professional Growth Suite

: This plan starts at

$1,343

a month and offers salesforce integration, A/B testing, campaign reporting, and web analytics.  

Enterprise Growth Suite

: Pricing starts at a whopping

$4,200

and includes advanced features like single sign-on, webhooks, call transcripts, predictive lead scoring, and conversational routing. 
3. Keap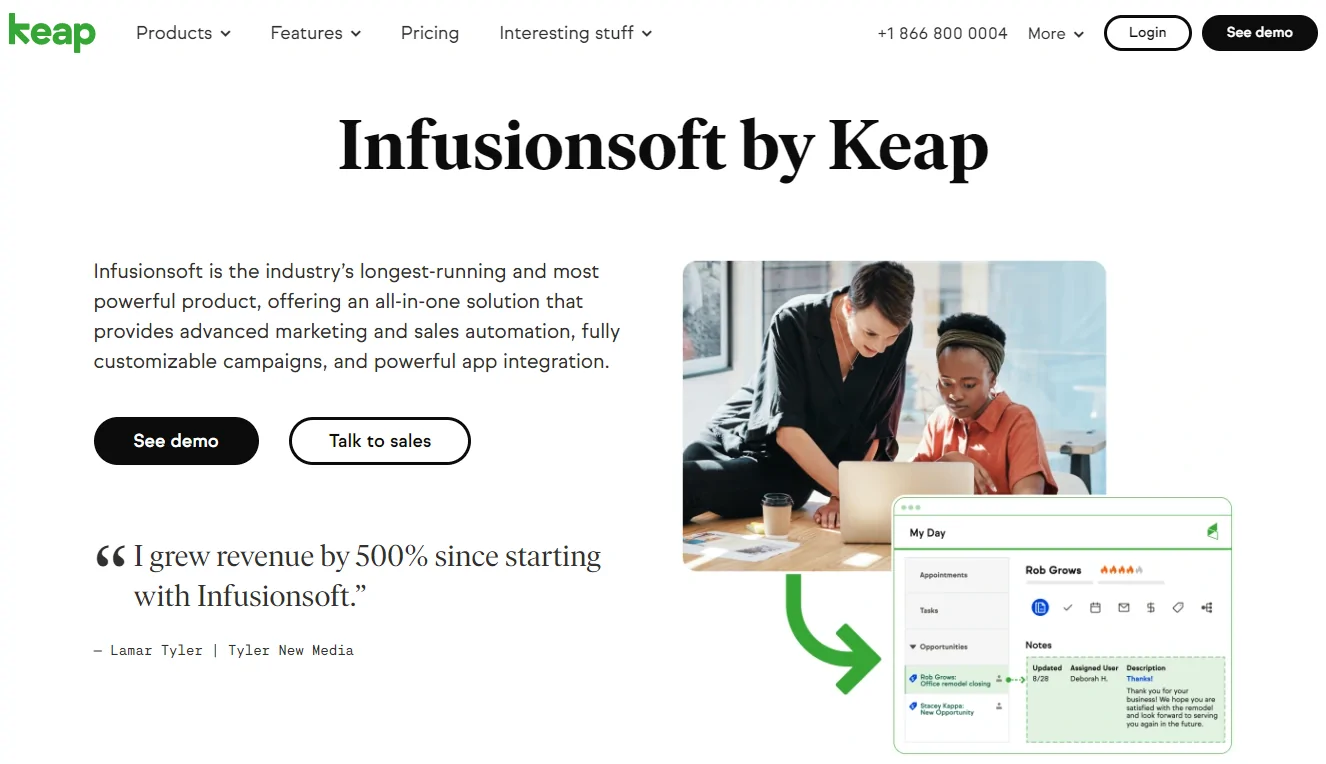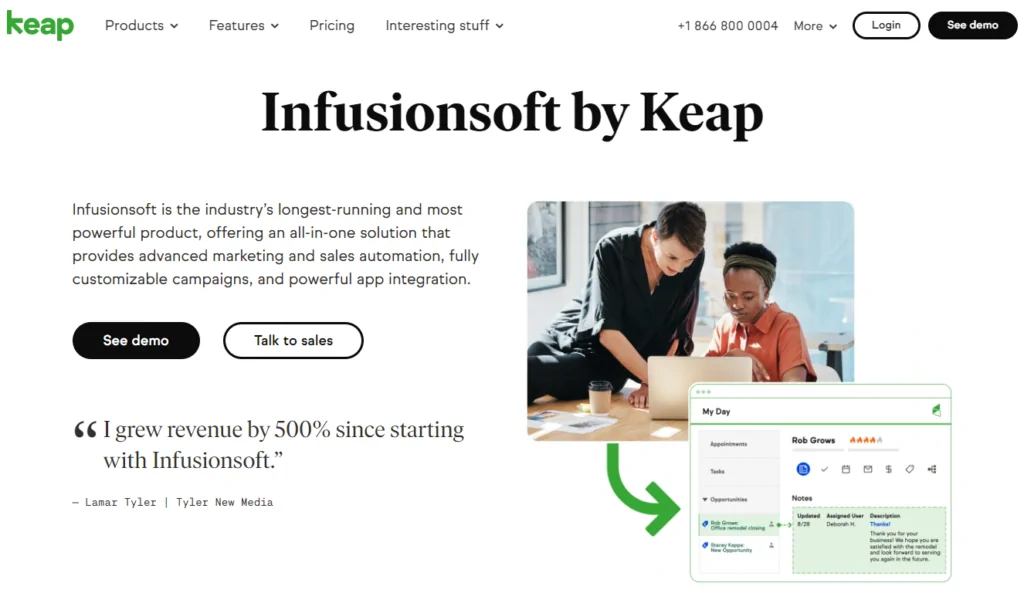 Keap is a great sales and marketing automation tool for mortgage professionals. 
Keap lets brokerages capture leads and organize them in a central location. It can help agents segment leads based on various factors and send targeted campaigns. 
Sales teams can automatically move leads through the sales pipeline. All the tools required by lenders, like calendar booking, payments, invoicing, and customer information, are consolidated into one platform. 
Keap also lets professionals choose from over 2,500 integrations. These include Paypal, Stripe, Zapier, Google calendar, and WordPress. 
With a mobile application for Android and iOS, lenders can manage their contacts and respond to customer queries on the go. Keap also lets brokers upsell and cross-sell their products or services efficiently. 
Keap offers detailed reports, insightful analytics, and a customizable dashboard to help mortgage lenders keep an eye on performance and sales. 
Pricing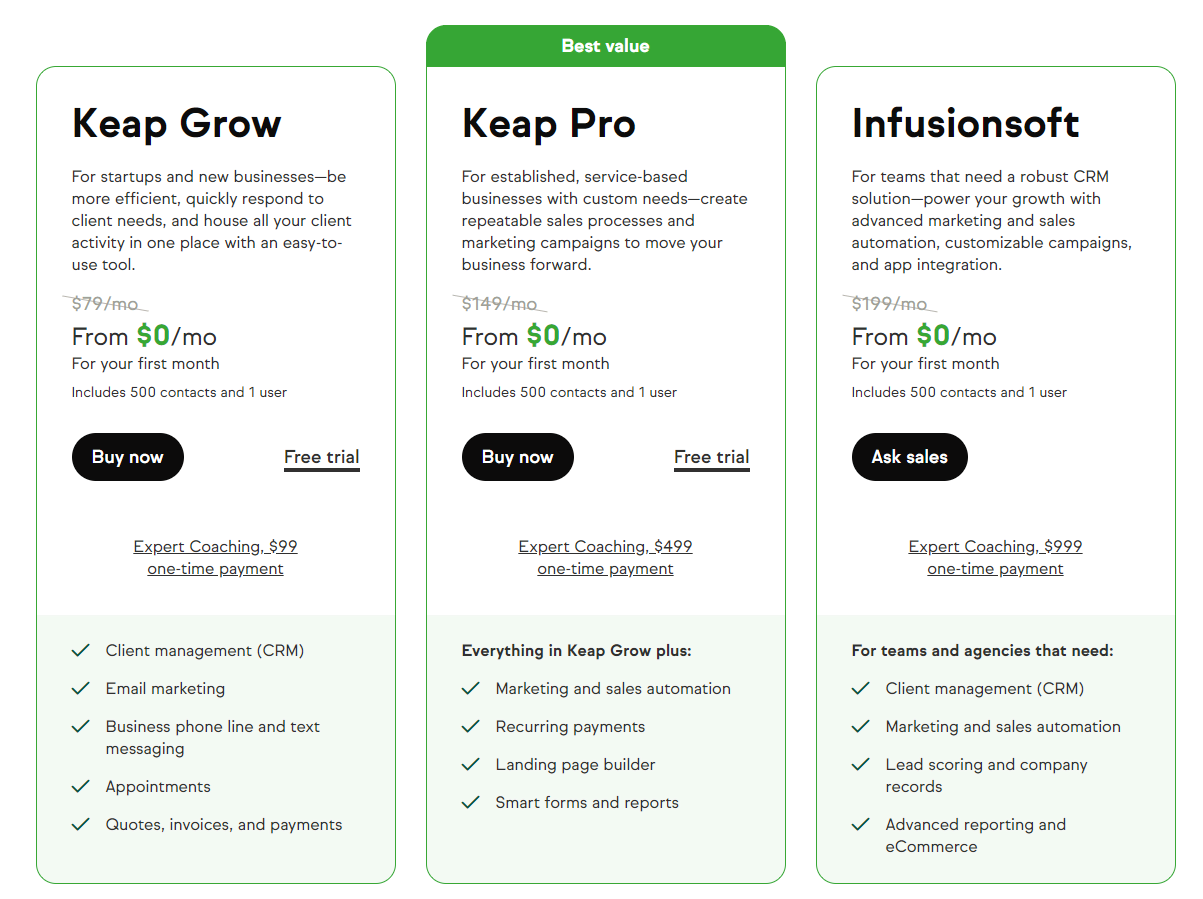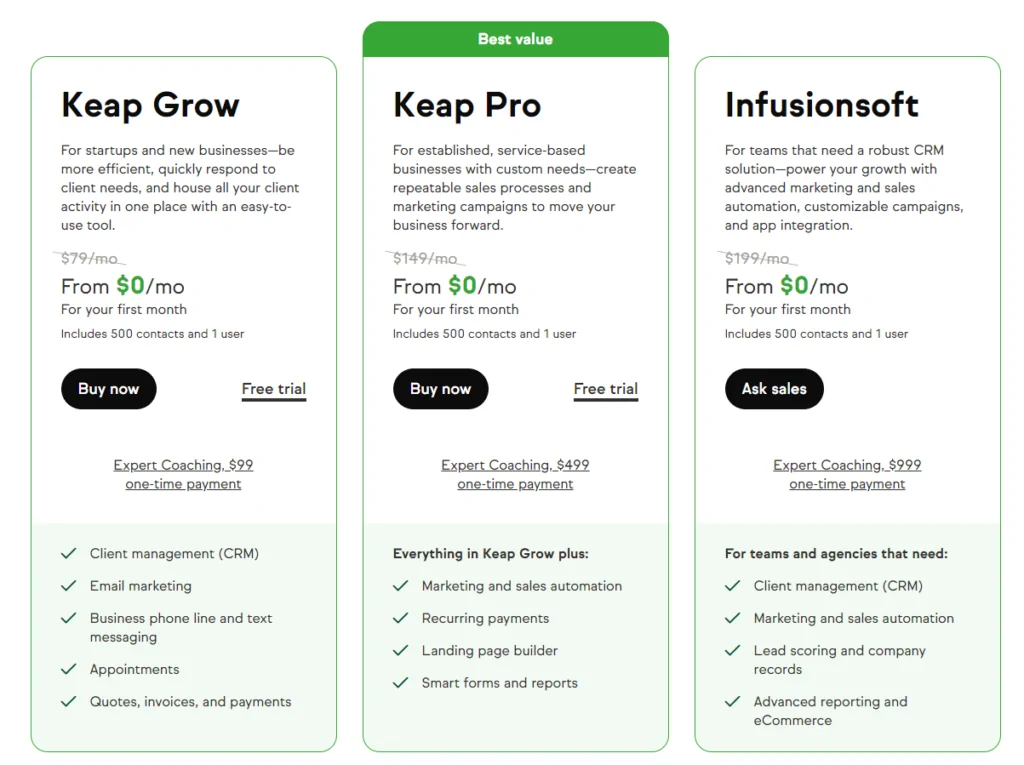 Lite plan

: The Lite plan starts at $79 a month and offers a core CRM dashboard, automation tools, B2B management, and 2-way email sync. The plan works only for 500 contacts and one user. 

Pro plan

: This plan starts at $159 per month and offers a landing page builder, sales pipelines, A/B email testing, and 500 contacts. 

Max plan

: The Max plan starts at $199 per month for 500 contacts and offers lead scoring, Shopify integration, automated text messaging, and much more. If you have up to 10,000 contacts, you'll pay $399 per month for one user, and $30 for every additional user.
Keap also offers a customizable Max Classic plan for large establishments. 
4. Insightly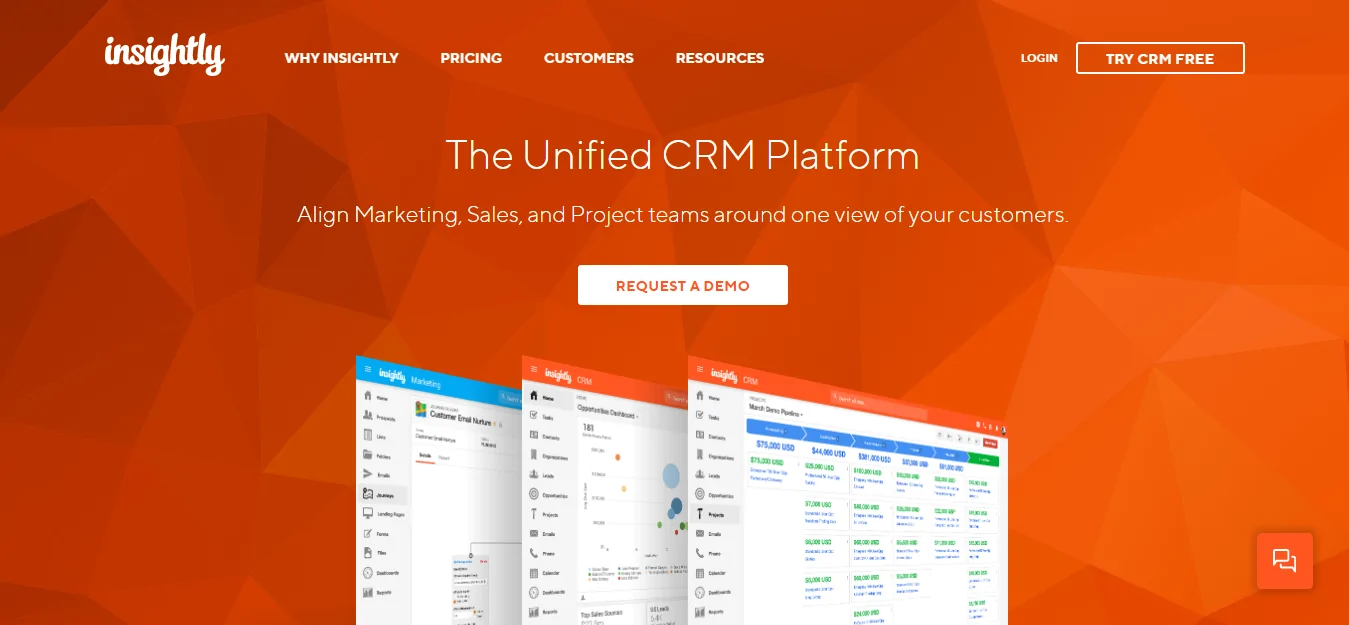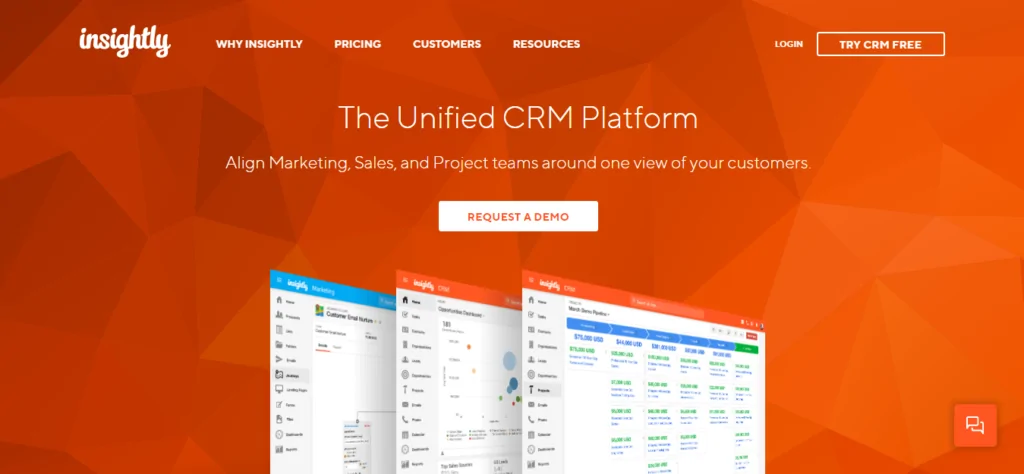 Insightly is a unified marketing, sales, and project management software that can benefit mortgage businesses. Insightly lets you capture and manage customer information through Insightly's unified CRM platform. 
Insightly's marketing campaign tools are great for loan officers to capture new customers and nurture existing ones. Insightly's journey builder can help marketers build and launch campaigns within minutes. How cool is that?
With advanced reporting tools and analytics, brokers can get performance data in real-time. 
For the success of any mortgage firm, trust is an important factor. With Insightly CRM, users can provide excellent customer service through relationship linking. 
Lenders and firms can also build powerful custom applications in minutes with advanced workflow automation, dashboards, and complex validation rules. Once completed, the application can be launched for mobile use so that on-field agents can carry it wherever they go. 
Pricing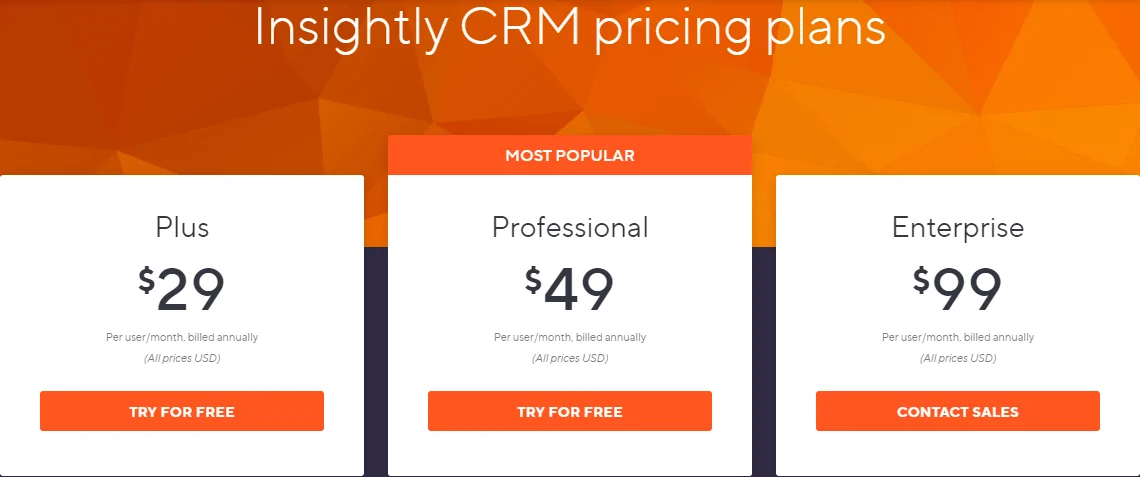 Plus plan

: The Plus plan starts at

$29

a month and gives you access to lead management, calendar sync, up to 10 hosted landing pages, dynamic list segmentation, and project management. 

Professional plan

: This plan starts at

$49

a month and includes lead assignment and routing, 50 hosted forms, business intelligence dashboards, and configurable reports. 

Enterprise plan

: The Enterprise plan starts at

$99

a month and gives access to advanced tools like custom apps, up to 20 analytics tracking domains, single sign-on, real-time insight cards, and unlimited roles.
5. LeadSquared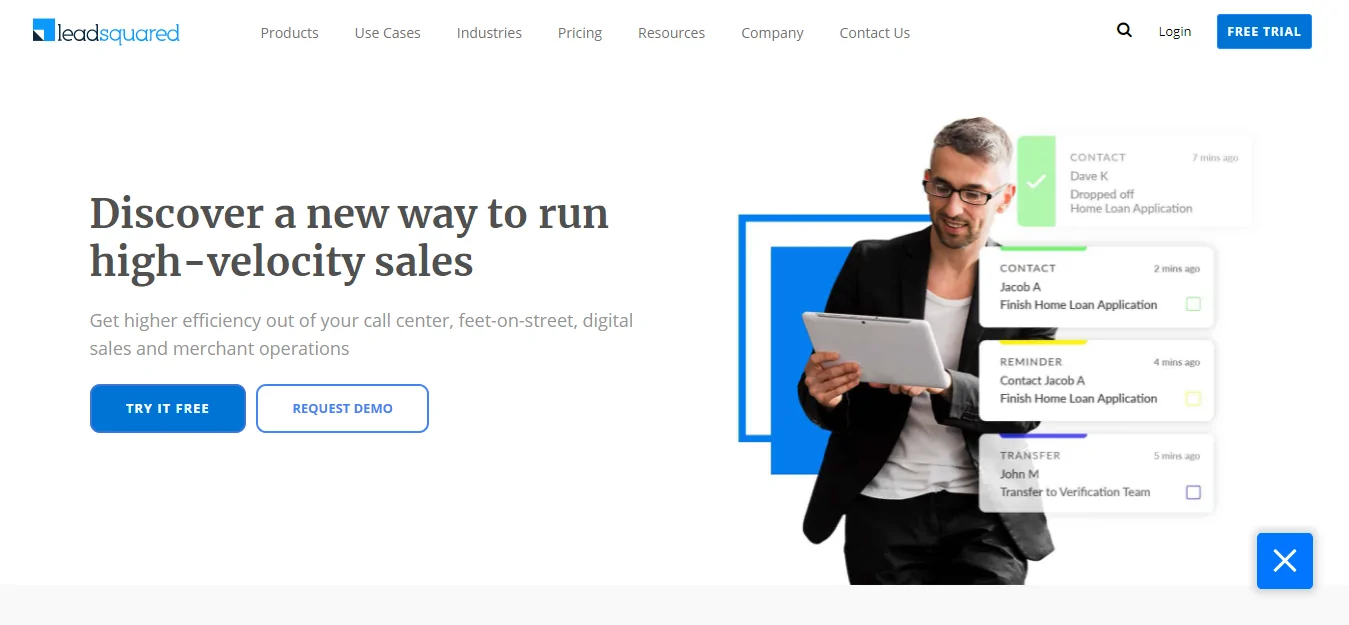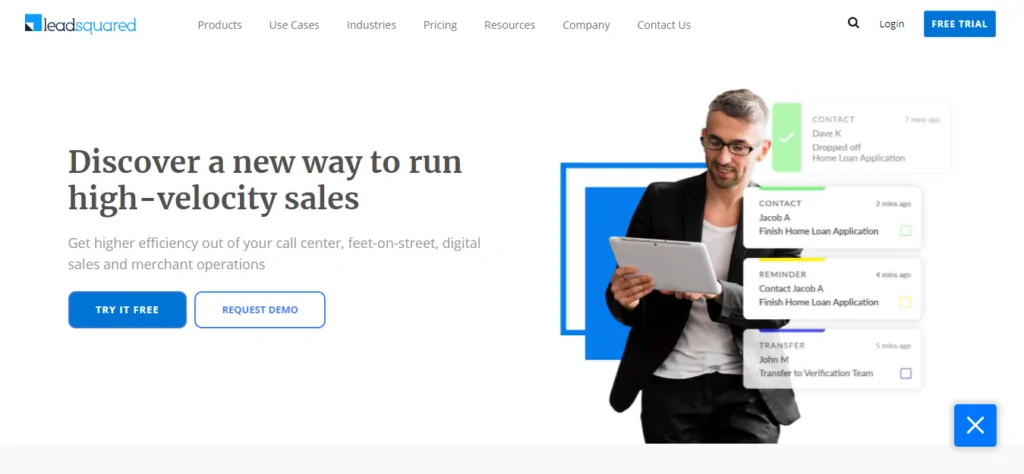 LeadSquared is a marketing, sales, and field force automation software designed specifically for the lending, insurance, and banking industry. 
LeadSquared is an excellent B2C platform, thus helping lenders convert prospects to customers easily. The platform lets users automate lead qualification, prioritize leads based on activity, and assign them to the relevant agents. 
Using triggers and action trackers, lenders can analyze user behavior and send relevant content at the right time. 
LeadSquared also offers re-engagement tools and campaign features to revive dead leads. 
LeadSquared's field force automation is a boon for on-field agents. The software offers geo-tracking to keep track of every agent's location, offline tools to keep going even during low connectivity, and multi-lingual support for local agents. 
Pricing
LeadSquared offers separate packages for the sales CRM, field force automation, and marketing platforms. 
Here's the annual pricing for the sales execution CRM: 
Lite plan

: This plan starts at $25 per month and offers lead tracking, lead scoring, geo-tracking, smart views, and custom fields. 

Pro plan: The pro plan starts at $50 a month and offers lead distribution, sales notifications, account management, and email personalization. 
Super plan: The Super plan starts at $100 a month and offers sales automation, customer portal, zip code-based distribution, and field-level security. 
LeadSquared also offers the Ultimate plan for large enterprises requiring custom packages.
Bottom Line
Using a CRM software can do wonders for your mortgage business. 
In this post, we've seen how a good mortgage CRM solution can help you or your team capture leads, streamline your workflow process, gather and consolidate all customer information in one place, and keep your buyers happy. 
Firms using CRM software have increased their sales by 29%!
It's time to choose one for your business. 
Any one of the five mortgage CRM automation software discussed here will take your sales figures to the next level.
That said, most mortgage and lending firms can't afford expensive and dedicated software that costs hundreds (or even thousands) of dollars every month. 
EngageBay offers a highly affordable and comprehensive all-in-one CRM software. 
Interested? Check out EngageBay's comprehensive product demo in the video here: