Are you a real estate agent? How do you determine which property is best for your client?
Generally, real estate agents use factors such as budget and location to decide the best property for their clients.
It's equally important for realtors to do the right real estate marketing using the right content for maximum conversions.
By creating targeted real estate landing pages, you can reach out to your target audience at the right time.
In this article, we have shared eight excellent real estate landing pages that can inspire you to create yours and generate more leads.
Before we look at those awesome real estate landing pages, let's talk about creating a landing page in detail.
What are Real Estate Landing Pages?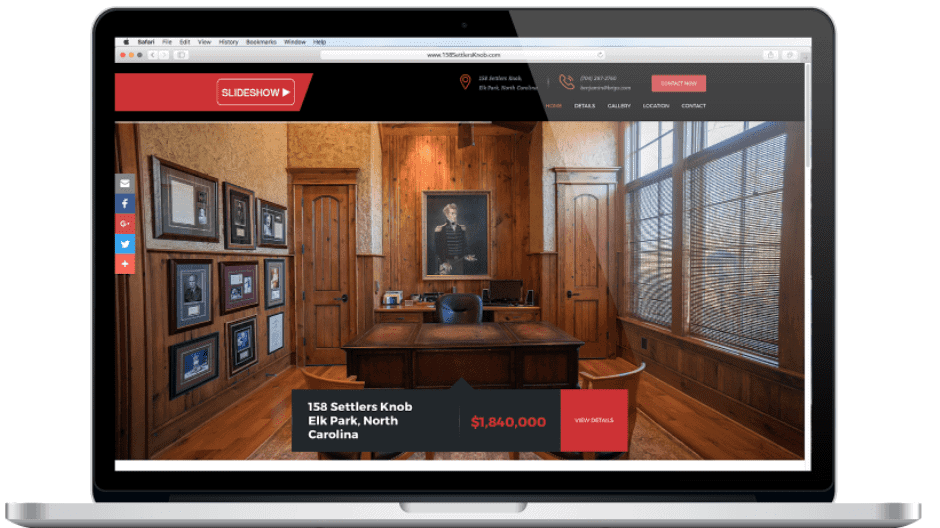 A real estate landing page is a standalone web page that's designed specifically for the purpose of converting website visitors into leads.
It typically features a unique, eye-catching headline, as well as persuasive images and/or video, and contains a form where visitors can input their contact information in exchange for something valuable — like a downloadable eBook or report, or an exclusive home buyer's guide, or even quotes for particular properties.
Real estate landing pages are designed to be simple and straightforward, without any distractions.
The sole purpose of a real estate landing page is to get the visitor to take action — in this case, to fill out the form and become a lead.
Once that is accomplished, the real estate business owner or the real estate agents can follow up with the potential buyer and see if the prospect's needs match the real estate listings they have.
If the prospect ticks off all the right boxes (budget, location, etc.), you have a deal!
Read more: Product Landing Pages Guide — Everything You Need to Know
Benefits of Creating a Targeted Real Estate Landing Page
A targeted real estate landing page can be a powerful marketing tool. By creating a page that is specifically designed to appeal to a certain type of potential client, you can increase the chances of getting leads that convert into sales.
There are several benefits to creating a targeted real estate landing page. Let's look at the key ones.
#1. Maximizes the Impact on the Target Audience
The first benefit is that it maximizes the impact of your marketing message on the target audience.
When you create a targeted real estate landing page, you are able to carefully select images, colors, and wording that will appeal specifically to your target market.
This can result in a much higher conversion rate than if you were to use a generic Facebook Ad or Google Ad.
#2. Builds Your Mailing List with Qualified Leads
Using a real-estate landing page, you can build your mailing list without having to worry about unqualified leads.
With a simple lead generation form and lucrative offers, you can gather the contact information of real estate investors. This will make it easier for you to send follow-up emails or make calls to nurture and convert these potential customers.
#3. Showcases Real Estate Properties in Detail
With landing pages, you can give the buyers or tenants a great preview of what the property actually looks like.
Landing pages help to highlight the key aspects of your properties, rental units, and real estate services.
This helps to focus on things that are most relevant to your clients.
#4. Helps Measure Marketing Campaign Results
Undoubtedly, a dedicated landing page can help you maximize conversions by creating targeted content.
But, it also helps you get the desired results by helping you evaluate your marketing campaign performance.
By understanding where the traffic on your website is coming from, the average time spent on your website, and the percentage of conversions, you can create more effective landing pages.
What Does a Landing Page Look Like?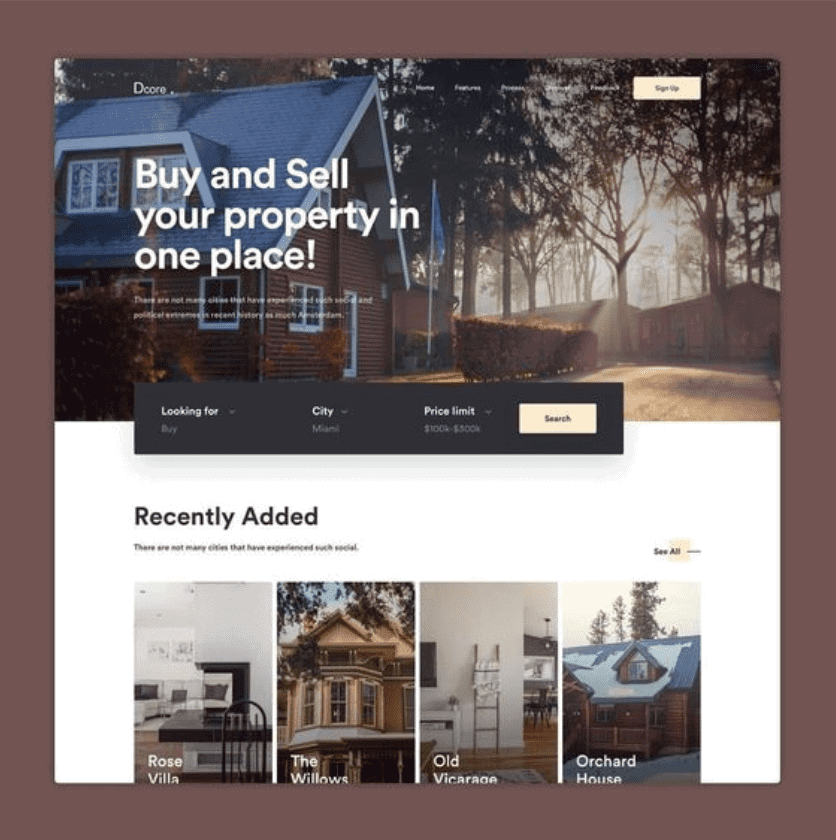 If you are new to the real estate industry, you could be tempted to just download a landing page template from the web and use it as your own.
However, you should never rely on a free landing page template you found online.
There are certain aspects that have to be customized and only you can do that for your brand and customer needs. To customize landing page templates and make them stand out, pay attention to the elements we've mentioned in this section.
#1. Call to Action
One of the key features of a good landing page is a Call to Action (CTA) button.
A CTA directs visitors on what to do next after they have browsed through your web page.
This could be something simple like booking an appointment, sharing their basic contact information, or placing a query about the property.
Pro tip: Always use actionable verbs like Call Now, Contact Us, Book Now, and so on in your CTA.
#2. High-Quality Visuals
Too much text on your real estate landing page can make your website appear boring.
If you have a lot of text on your landing page, make changes and add high-quality visuals now.
Try to keep the text as minimum as possible. Have only necessary information and some short, catchy message that can grasp the website visitor's attention.
Pro tip: Use high-quality visuals on your landing page. Use free online tools like TinyPNG to compress image size without losing quality.
Read more: How to Become a Top Contractor in 2022: 10 Proven Strategies
#3. Clear And Concise Language
A good landing page has language that is simple and easy to understand.
By using clear and concise language, you can keep things simple. That's what most people like.
A few good examples of such phrases would be, "A 4BHK flat with a mesmerizing river view," "Two-storey bungalow with minimalistic design," and so on.
Pro tip: Avoid using jargon. Find the simplest words to describe what you're selling and use those on your landing page.
#4. Testimonials
An important part of an effective landing page is the testimonial section.
The testimonial section consists of feedback and reviews from clients who have purchased from your real estate business.
Testimonials help prove that your business is genuine. People find it hard to buy from strangers, so it is always a good idea to showcase how happy your existing clients are.
Pro tip: Always include the name, location, and a photo of the client sharing the testimonial.
#5. Frequently Asked Questions
To optimize real estate landing pages, you can also add a Frequently Asked Questions (FAQs) section.
This section can be added at the end of the landing page to address a few common queries that your real estate business gets.
Alternatively, websites can also include a Live Chat feature, which can help potential buyers get their questions answered instantly..
Read also: 15 Real Estate Email Marketing Templates [Ready to Send]
8 Best Real Estate Landing Page Examples
Now, let us look at some beautiful landing pages that can inspire you to put in that extra effort and make yours stand out.
Remember, if it doesn't attract you, it won't attract any potential clients.
Create something that looks like this and watch the conversion rates shoot up!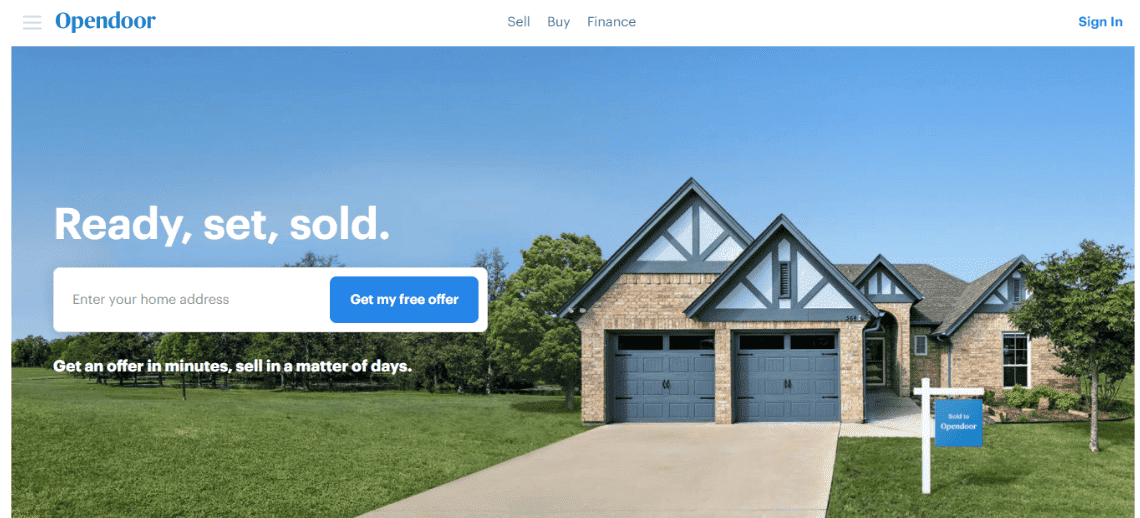 Opendoor is an American digital platform dedicated to buying and selling residential real estate properties. Using Opendoor, you can view, purchase, and sell a property from the comfort of your smartphone.
Its real estate website is an excellent example of what a landing page should look like.
With minimum text and a high-quality image, it is easy on the eyes of website visitors.
Moreover, the landing page includes a CTA that's bold and attractive.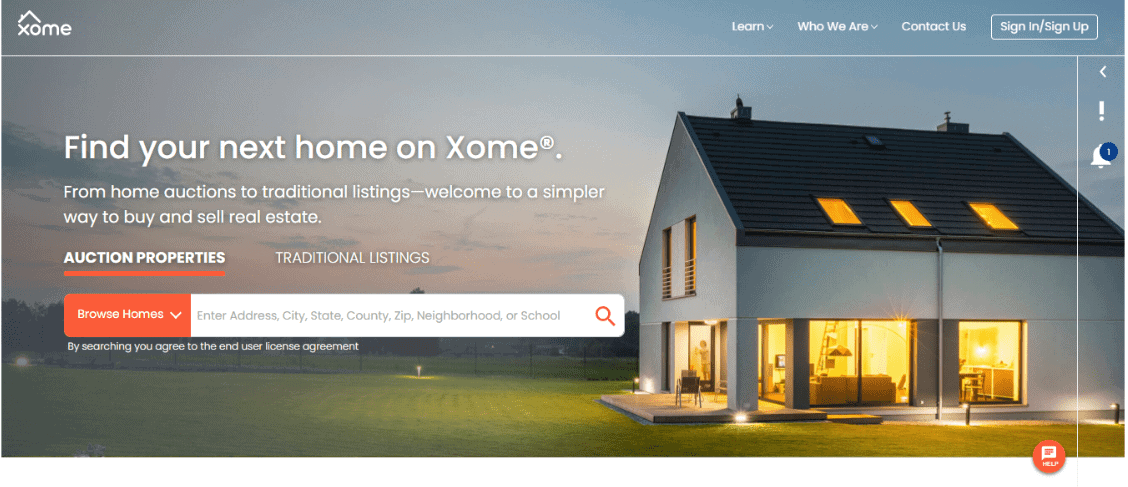 Xome is a US-based real estate business that helps buy, sell, and auction properties.
Its landing page catches your attention right with the heading 'Find your next home on Xome.'
You can select either 'Auction Properties' or 'Traditional Listings' and enter the desired location where you want to search properties.
Its above-the-fold section has enough information for the website visitors.
Furthermore, when you scroll down, you can get an idea of the other services offered by Xome. The landing page also shows testimonials and how many sales have been made.
What's more, users can also access Xome through its mobile app, links for which are provided at the bottom of the landing page.
Read also: 14 Real Estate Lead Generation Tips That Will Have Your Phone Ringing
up2Date RealEstate.com is a real estate firm that buys and sells homes for cash.
The website has a simple outlay, with a good-quality background, and simple text that explains what the company does.
On scrolling down, the landing page visitor can see why they are better than their competitors, and some blog links on how to buy and sell different types of homes.
The lead generation form on this landing page is below the fold, and only asks for basic contact information instead of many details. That is one effective way of getting leads.
👉Get ahead with your outreach efforts using our proven real estate email marketing templates. Personalize and send them out to your client email lists today!🏅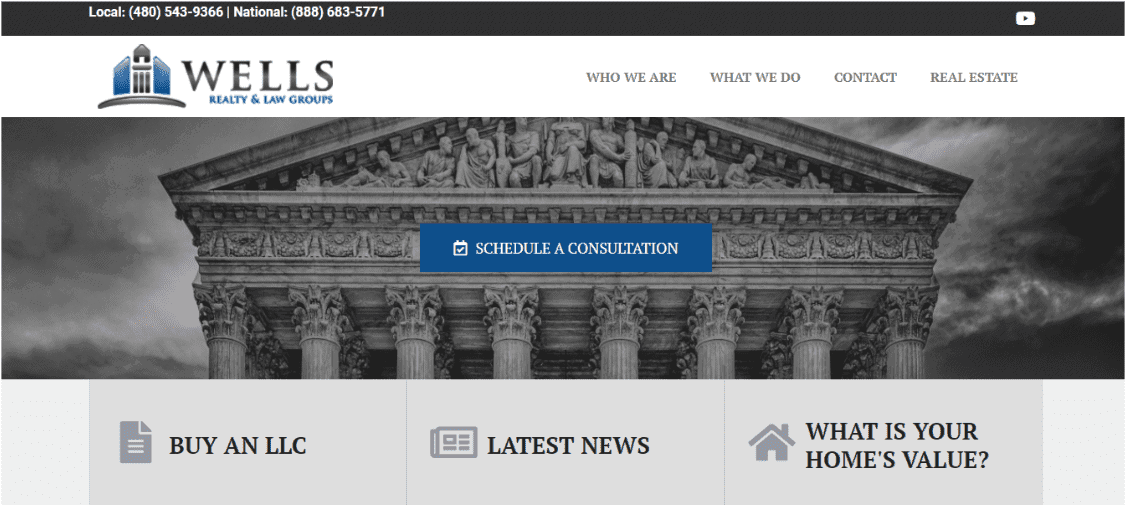 Wells Realty & Law Groups is a real estate agency based in Arizona, USA.
On their landing page, you can see a CTA, asking potential buyers to schedule a consultation.
What makes the landing page stand apart, though, is that it offers instant home valuation and the latest news on the real estate market.
In addition, the landing page showcases client testimonials, the range of services offered by Wells Realty & Law Groups, and a brief description of their team.
For more queries, visitors can provide basic contact details under the 'Contact Us' section, given at the end of the page.
Read also: What is a CRM in Real Estate? Cheat Sheet for Realtors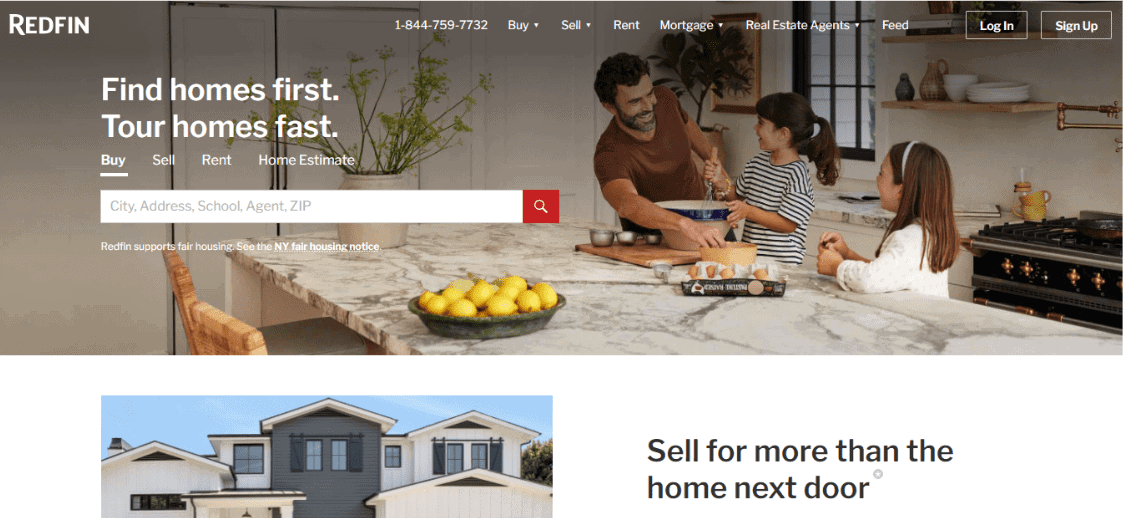 RedFin is a Seattle-based full-service real estate brokerage firm.
The landing page of its website conveys a sense of comfort and ease for families looking to buy or sell a house. The use of a clickbait catchphrase 'Sell for more than the home next door' appeals to human nature — don't we all want a better deal than our neighbors got?
That's also keying in on the basic driver of the real estate market: everybody wants a better price for their property compared to average market rates.
Note also that this landing page offers different options to real estate investors — buy, sell, rent, or just get an estimate. Select any option, punch in the location, and the search button will take you to the right page.
People are willing to invest money. Not many are willing to invest time in finding their way around a website though.
The lesson here is to keep things simple and easy for the potential clients so that they can just get what they want in a couple of clicks.
Read also: 9 Real Estate Landing Pages Sure to Inspire and Convert (+ Expert Tips)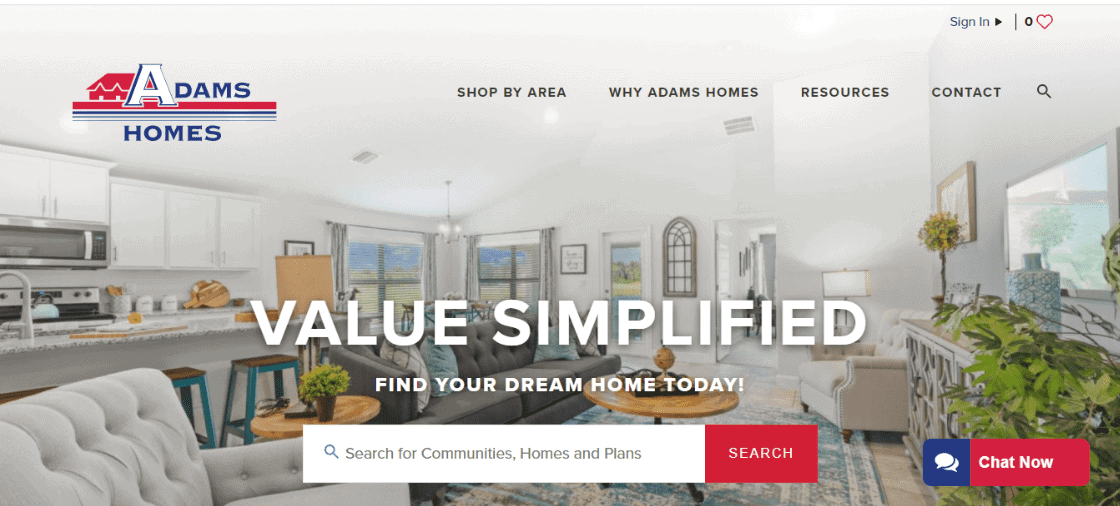 Adams Homes is a real-estate dealer that provides services in the southeastern part of the US.
Their home page is an excellent example of a real-estate landing page. The home page has bright and high-quality visuals and helps buyers with an easy search bar that can look for communities, homes, and plans.
Alternatively, visitors can also click on the name of the cities to look for available properties.
Furthermore, clients can get their queries answered via the Live Chat and get more information about Adams Homes by clicking on the links at the top of the page.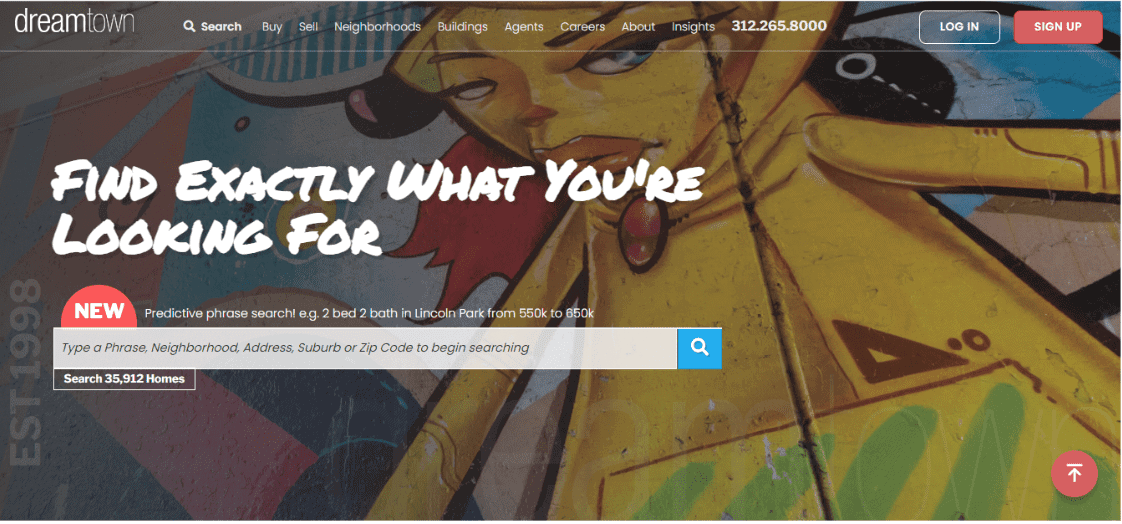 Dreamtown is a Chicago-based real-estate listing company.
While the landing page's background visual may not reflect the properties on offer, it shows the popular neighborhoods around Chicago, giving you an idea of what the city looks like.
A unique feature of Dreamtown's landing page is its CTA button.
Unlike most real-estate landing pages requiring you to enter a zipcode or location, Dreamtown offers the predictive phrase search feature.
With this feature, your search can be more specific in terms of the number of rooms or baths you want, the budget you have, and the location you prefer — all in one search phrase!
And if you are unsure, you can click on the photos of major neighborhoods and suburbs around Chicago to find your ideal property.
That is an amazing level of making things simple and easy for potential clients.
Read also: 15 Easy Steps to Start Real Estate Email Marketing Like a Pro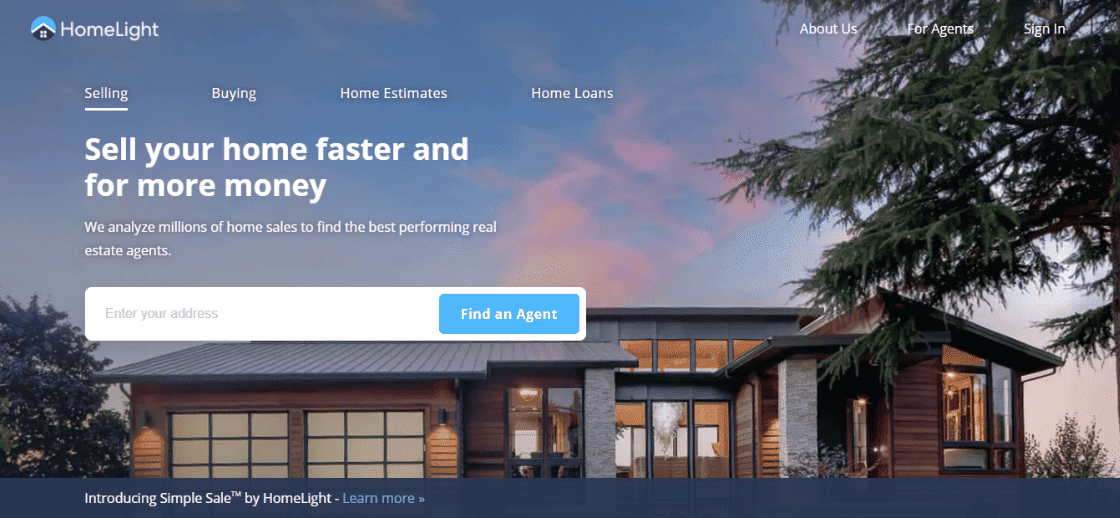 HomeLight is a US-based real estate business that helps you buy, sell, and get instant property valuation and home loans.
Since the company operates across multiple cities, potential buyers can type their address in the search bar and find an agent in their town or city.
The landing page also offers estimates of the selling price and tips for closing deals, which is an excellent way of pulling in more web traffic.
What's more, you can find social proof in the form of client testimonials and Google reviews about HomeLight on this landing page.
Read also: 23 Apartment Marketing Ideas For Today's Real Estate Market
Conclusion
Real-estate landing pages help your business generate more leads.
They accomplish this goal by including features like CTA buttons, visually appealing graphics, minimal and succinct text, and client testimonials.
Great landing pages also have clickable ads, which direct users to the main website, helping increase conversions and sales.
Did you find this article useful? With EngageBay, you can get free real estate landing page templates. There's also a drag-and-drop builder to customize every element of your real estate landing page. If you're a pro, you can even code your own landing pages in EngageBay.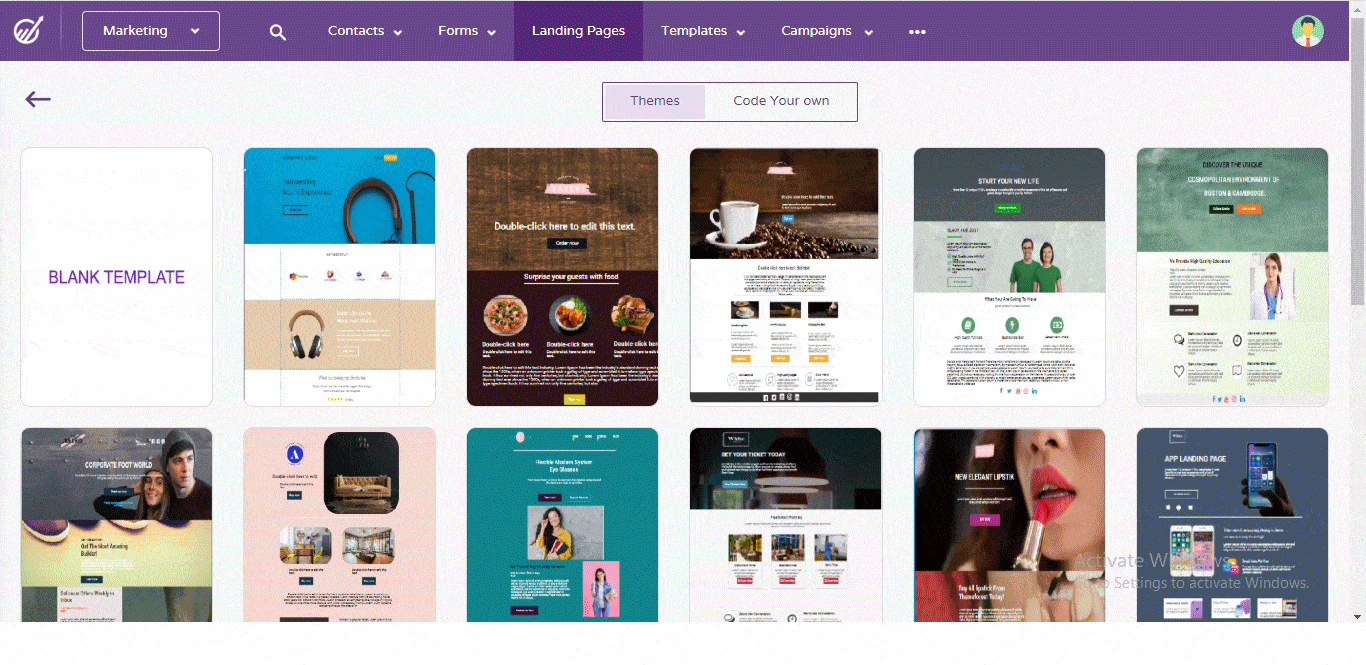 To know more, just sign up for free and you'll hear from us!
Ready to create a winning sales page? Uncover the best examples in our extensive guide for inspiration!