Pipedrive vs Monday — that's the talk of the town!
Monday's recent entry into the CRM market was met with mixed reactions. Some call it a "glorified spreadsheet," while other companies manage their entire sales pipeline and run automations on it.
It's not for every type of business. As we'll see, it's more of a simple CRM platform where you can carry out key functions like contact management, simple automations, and pipeline management.
Pipedrive, on the other hand, has been in the CRM market for 12 years. It's a fully-fledged sales-oriented CRM with key features you need to get started immediately. But is it pocket friendly?
Choosing the wrong CRM software is worse than no software.
Imagine choosing a CRM software with very niche features other CRMs don't have, but it lacks the most basic features. The adoption rate by your sales team would be minimal and you'd waste time and money looking for a replacement.
In fact, Capterra found that 73% of small business leaders who influence software purchases in their organizations found their purchases had not met their expectations.
In other words, four out of five small business leaders were not content with their purchases.
But by the end of this article, you'd be comfortable and equipped enough to decide between the highly customizable Monday CRM or the industry-leading Pipedrive.
You'll learn about:
The key difference between Pipedrive and Monday sales CRM

The key factors to consider when choosing between the two

An evaluation of how each tool compares to the other

A cost-effective and feature-packed alternative CRM
The Key Difference Between Pipedrive and Monday
So what's unique in Pipedrive? Monday? Why choose one over the other?
We'll answer all these questions (and more) in this section.
Pipedrive – sales-oriented CRM
Pipedrive's main vision is to help salespeople manage their sales pipeline without drowning in customer data (unlike other CRM platforms). It's optimized for salespeople to perform better by visualizing their sales process in a single pane of glass.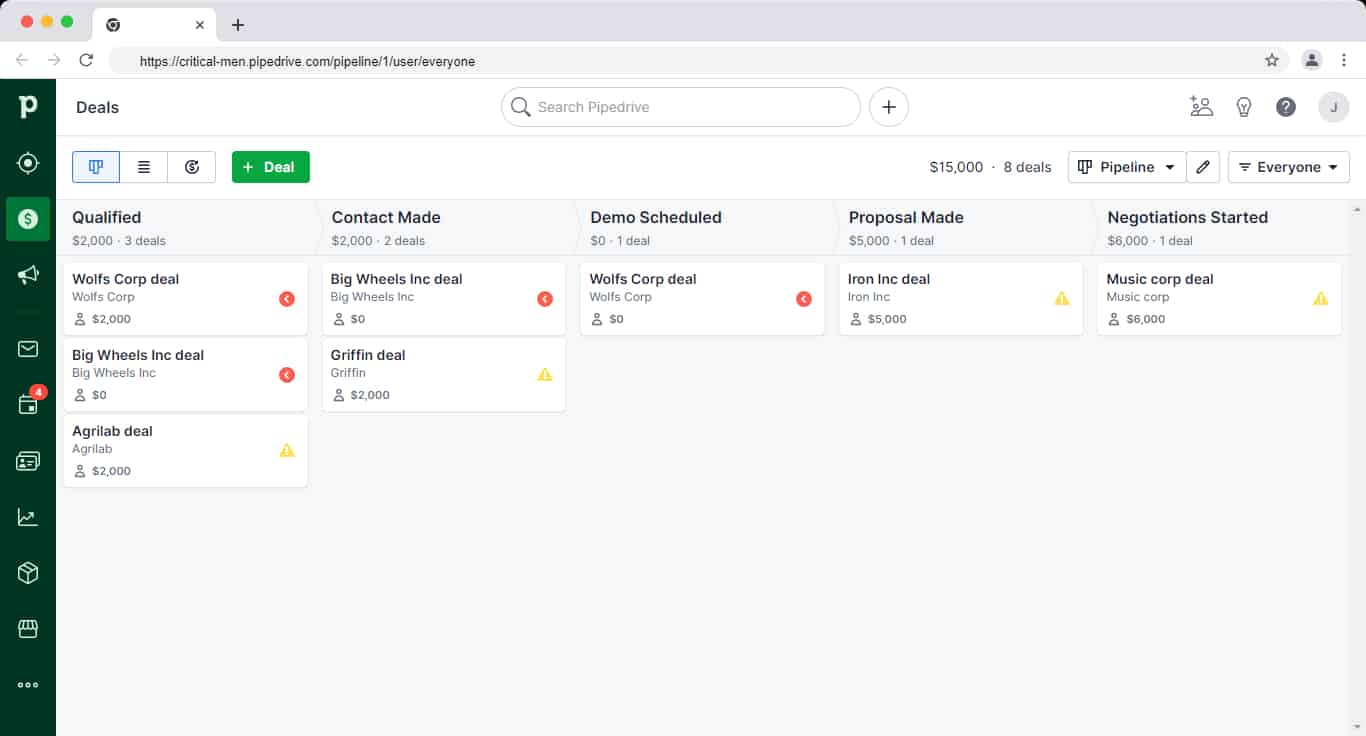 But apart from managing your sales process, Pipedrive also has the vision of covering the entire customer journey. That includes helping marketers find leads, salespeople close deals, and customer success build relationships.
So, as your business grows, you'll have complete sales CRM software ready to scale with you. For example:
The lead booster will help you find and manage leads

The email marketing software will help you nurture relationships with customers and leads

The powerful sales automation will enable your sales team to sell faster and efficiently
Monday – Customizable simple CRM with core functions
Monday CRM is built on Monday's no-code framework. This means the CRM packs the flexibility and customizability that's in their entire product suite.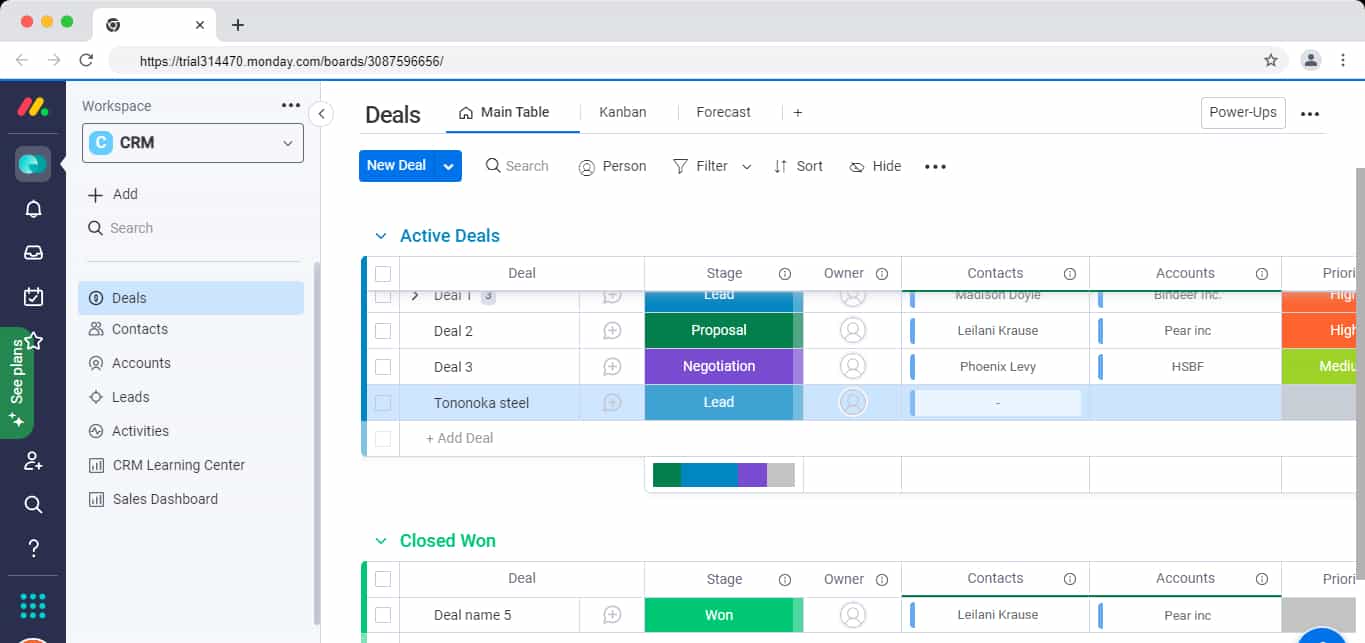 It's not a native sales CRM like Pipedrive, but you can put together a CRM dashboard either from the list of pre-built templates or build it from scratch. You can also create new custom sales automations or use its inbuilt automation workflow. Monday sales CRM packs core functions (which are also included in Pipedrive), such as:
Lead management: Have access to all leads in one place. You can qualify, follow up and send emails to leads directly from the dashboard.
Contact management: Get a complete overview of the interactions you've had with a contact all in one place.
Deal management: Get a visual of your pipeline in one dashboard and customize the deals dashboard according to your needs.
Takeaway: Pipedrive aims to develop a product suite that will cover the entire customer journey. They recently came up with their marketing and campaign features, so expect to get product updates in line with their vision. If you're looking for a native sales CRM that will scale with your business, Pipedrive packs the essential and advanced features.
Monday is best for you if you are looking for a more general CRM that is highly customizable to your needs. It's also convenient if you're already using one of their products, like the project management software.
Read also: Pipedrive Pricing, Features, and Affordable All-in-One Alternatives
This is a long, detailed piece of writing. If you don't have the time, watch our video instead:
Choosing Between Pipedrive and Monday
Now that you've seen the unique features of both Monday and Pipedrive, it's time to answer the burning question: Which one should you ultimately choose?
Key factors to consider
Here are the key factors to consider before choosing one over the other:
Ease of use
Pricing
Customization & pipeline management
Marketing and campaign management
Integrations
Sales automation
Reporting
Lead management
Ease of use
The easier it is to use the software, the faster your team will adopt it and be more productive and efficient. So when evaluating the two platforms:
Sign up for the free trials and experience the tools firsthand

Evaluate how difficult it is to configure the CRM to your needs

Test their customer support on the free trials to see if they are fast enough to respond to issues

Create automations and play with their features to see if they fit your needs
Pricing
The pricing of these tools depends on your budget, the features you need, and the number of users using the CRM.
And the pricing of both tools differs based on the feature list in each plan and the number of users. So compare the features in each plan and for both tools to get a clear pick based on your budget and needs.
Customization & pipeline management
Both tools offer pipeline management and are customizable, but their pipeline management functionality differs. The user interface of both platforms is also different. You can sign up for the free trials and have a feel for each layout.
Evaluate how each tool:
Helps you find leads. Evaluate if they have lead capture forms or other lead capturing tools

Automates the qualification of leads

Presents leads and deals
Marketing & campaign management
Marketing automation helps you nurture leads through drip campaigns and target prospects based on several attributes. Most CRMs combine sales functionality with marketing automation.
Both Pipedrive and Monday have some form of marketing & campaign management, but they differ in complexity. If you are using a standalone marketing automation software like ActiveCampaign, then check if both CRMs integrate with that software.
Integrations
No software is an island. For any CRM platform you choose, it has to integrate with the software you currently use.
According to BetterCloud, the average number of SaaS applications used in an organization is 80. So when you purchase software that doesn't integrate with your current tech stack, it would limit your team's functionality and, in the long run, be more expensive to manage.
So look out for the number of integrations each software has and whether they connect natively or through automation tools like Zapier or Integromat.
Sales automation
Sales automation doesn't replace sales reps. It helps them be more efficient by focusing on relationship building and closing more deals. Sales automation in a CRM automates manual tasks like activity logging, lead research, and data entry.
Both Pipedrive and Monday have a vast number of automations. So when looking out for the type of automation a CRM has:
Note down the type of automations you would need based on your needs

Compare the automations you would need with the type of automations currently available in the tools
They are both flexible and customizable, so you can also create your own automations. But also look at how easy it is to create your workflow automation.
Reporting
CRM reporting helps you know what's happening across your sales process and how each member of your team is performing.
Here are some details you can look out for:
How easy it is to create reports and dashboards

The type of reports available

How presentable and easy to understand the reports are
Lead management
Most CRMs offer lead management features. Both Pipedrive and Monday are no exceptions. But each platform offers unique add-ons that help your sales team efficiently find more leads and turn prospects into customers.
Evaluate how each platform will help you:
Capture leads

Score leads based on blueprints of your ideal customer

Nurture leads to deals or customers
Read also: 6 Perfect Pipedrive Alternatives With Better Tools (Features, Pricing)
Comparing Pipedrive and Monday
I signed up for the free trials of both Pipedrive and Monday CRM to test the key factors to consider. Here's what I found out:
Pipedrive vs Monday: Ease of use
Having an easy-to-use CRM shortens the onboarding and adjustment period. The faster your team acclimates to the software, the quicker you can see the returns on your CRM investment.
Pipedrive
Pipedrive was born out of the realization that the then-existing CRM platforms only focused on meeting the needs of executives, ignoring the needs of the sales team.
So the founders created a product with the sales team's perspective in mind. And this is clear with their app layout even today.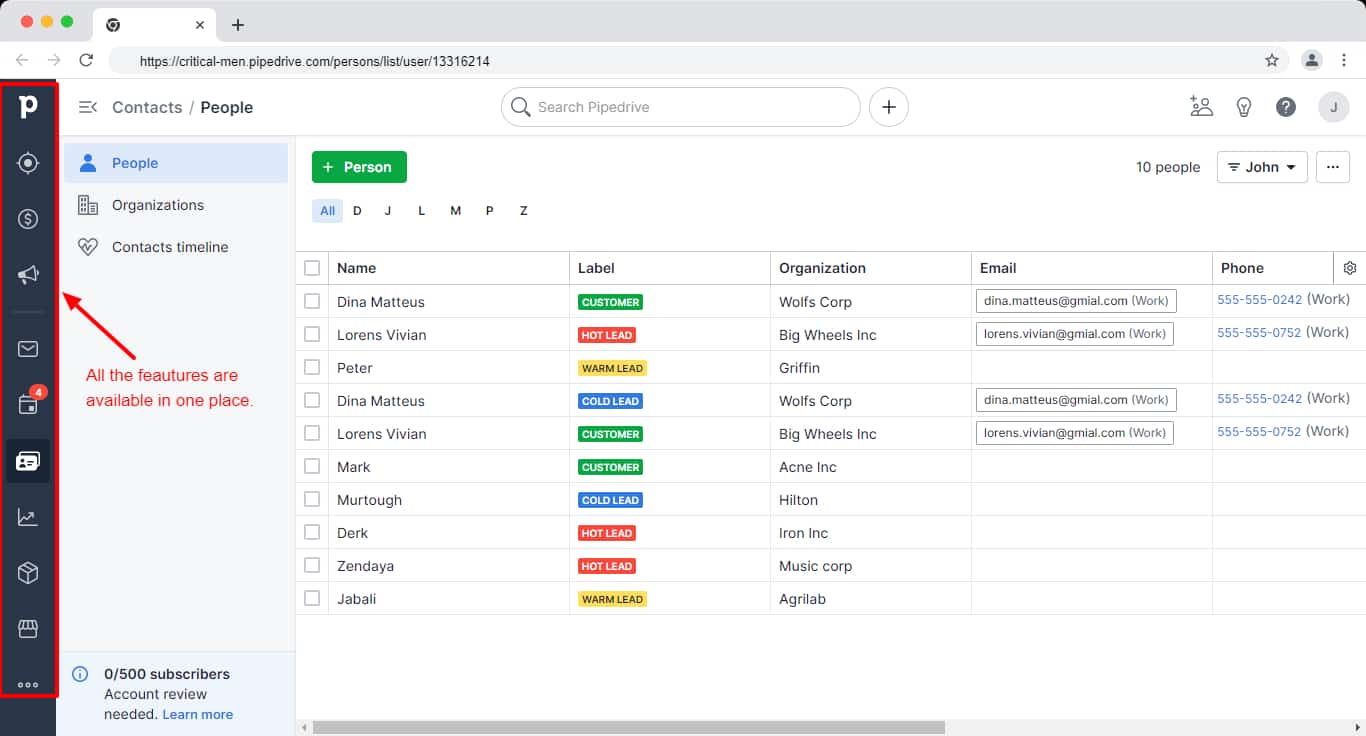 Whatever features your sales team might want to use, it's just a click away. You waste no time clicking multiple times just to get to your contacts or automations. Everything is laid out, and it takes just minutes to get up and running with Pipedrive. As a result, its adoption rate is much faster compared to other CRMs.
As Eric J, head of sales, reviewed on G2:
"Adoption is a huge problem Pipedrive solves because it's so easy to use and there's no reason not to use it."
It also has an AI sales assistant. This makes it easy for your sales team to perform much better by notifying them of high-value deals they should focus more on, suggesting ways to boost their performance, and sending contracts.
Pipedrive also has a dedicated academy with in-depth tutorials of specific features and an in-app customer support widget which, according to them, replies within minutes.
Monday CRM
Monday is highly customizable, so whichever industry you are in, you can create a CRM dashboard that would work for you.
Its CRM is based on the no-code architecture, so you can build your own dashboard from scratch or use a template. Automations, too, are pre-defined, so it's a matter of choosing which automation you need and going with it.
One aspect that most customers love is the color coding of the boards. You can click on a drop-down field with multiple options, each color-coded to set them apart.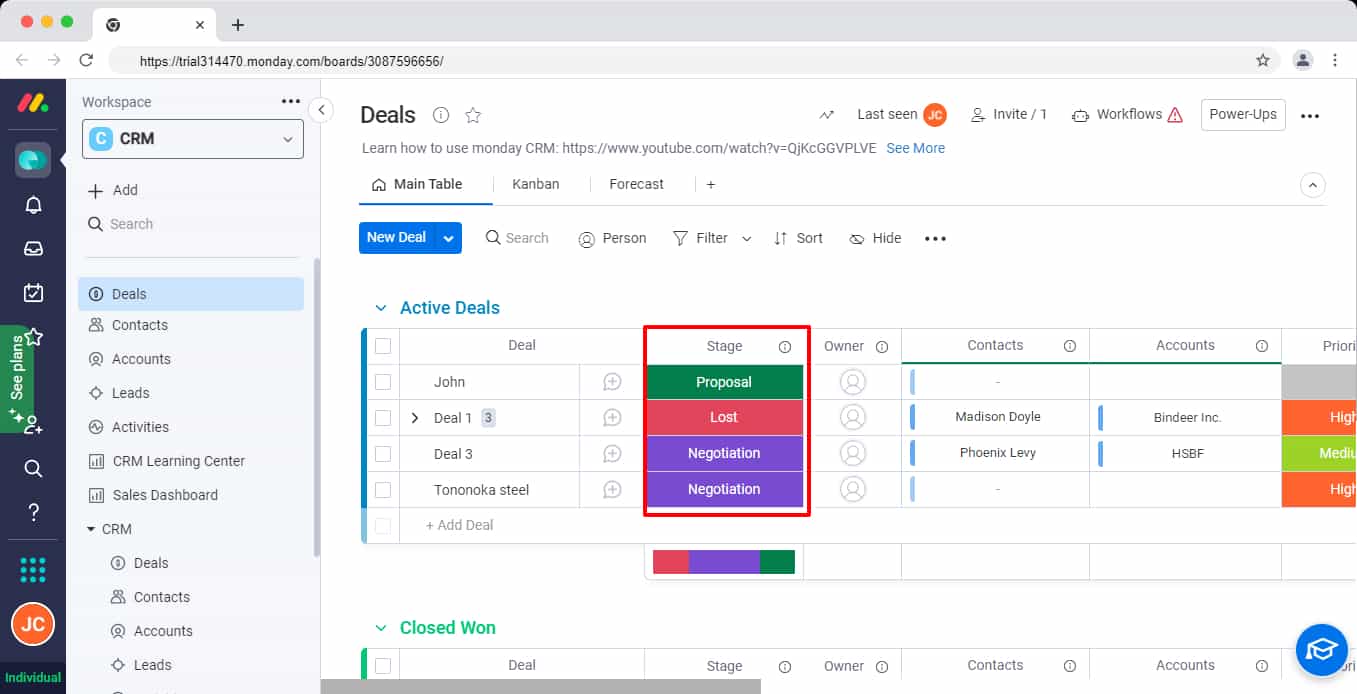 As Jade G, an intake coordinator, reviewed on G2:
"I think the best part of Monday is the fact that everything is so easy. It is so user-friendly and there are so many features that make the platform so easy to utilize. I really enjoy how you can download the boards, and colour code and make everything simple and effective."
Verdict: Pipedrive is more organized, straightforward, and easy to implement/set up. Compared to Pipedrive, Monday seems a bit more cluttered.
Read also: Pipedrive Vs Close Comparison: Which CRM Is Right For You?
Pipedrive vs Monday: Pricing
Pricing makes or breaks the bank — it's a deal breaker when choosing a CRM (for any business).
How much does Pipedrive cost?
Pipedrive has four pricing plans:
Essential—$11.90 per user/ per month
In this plan, you can manage your deals and leads and access simple insights on performance.
Advanced—$24.90 per user/ per month
This plan includes email features such as sending emails directly in Pipedrive, tracking emails, and also accessing the workflow automation feature.
Professional—$49.90 per user/ per month
This plan includes calling features, document management capabilities, forecasting, and advanced reporting features.
Enterprise—$74.90 per user/ per month
This plan includes phone support, heightened security features, and custom onboarding from their team for your Pipedrive setup.
Want to find a Pipedrive alternative that's better suited to your needs? Check out our article on the top Pipedrive alternatives.
How much does Monday cost?
Monday's pricing is based on two variables:
The featured plan you choose

The number of seats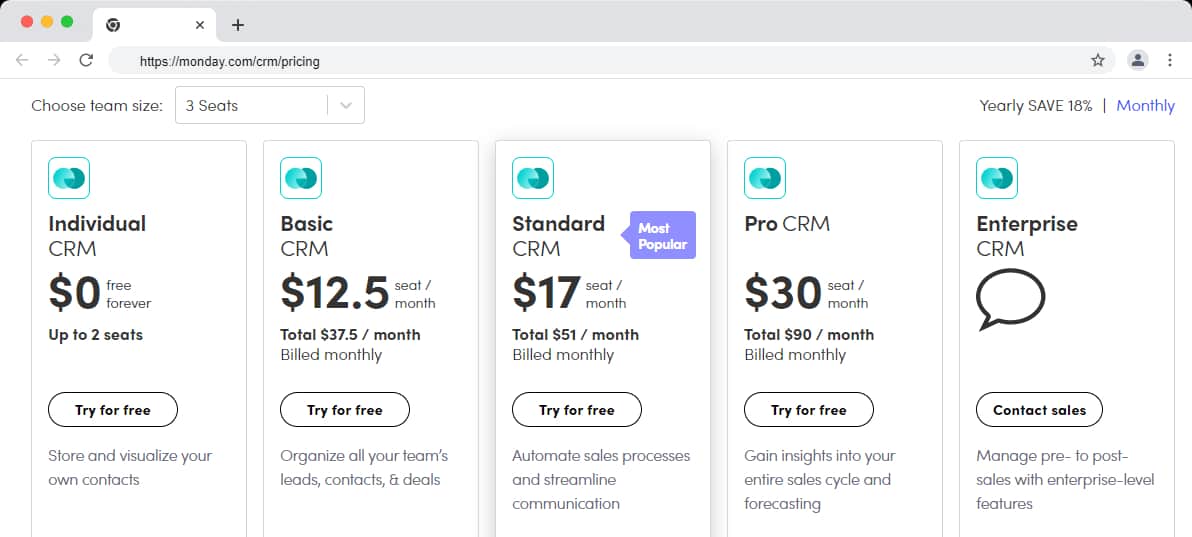 Their pricing can get out of hand pretty quickly. Here's what Tim L, a software consultant had to say about their pricing:
"It is more expensive than other similar platforms, and their pricing tiers tend to force users and businesses to the higher priced tiers. Even though they charge 'per user', they jump from 5 users to 10 users. Which makes a small business with 6 users pay double the price as if they had 5 users."
Verdict: Pipedrive has more favorable pricing and a powerful feature list compared to Monday sales CRM.
Read also: The Definitive Pipedrive vs Salesmate Review: Which is The Best CRM Solution?
Pipedrive vs Monday: Customization & pipeline management
Some businesses need customizations to make the platform run in a specific way, which makes customizations important. Plus, pipeline management is an indispensable feature required by all businesses.
So which one is the best? Monday or Pipedrive? Let's find out.
Pipedrive
A pipeline is the basic block of a sales CRM platform. Pipedrive's user interface and app layout make it easy to manage your sales pipeline. The main Pipedrive dashboard is the visualization of your sales pipeline.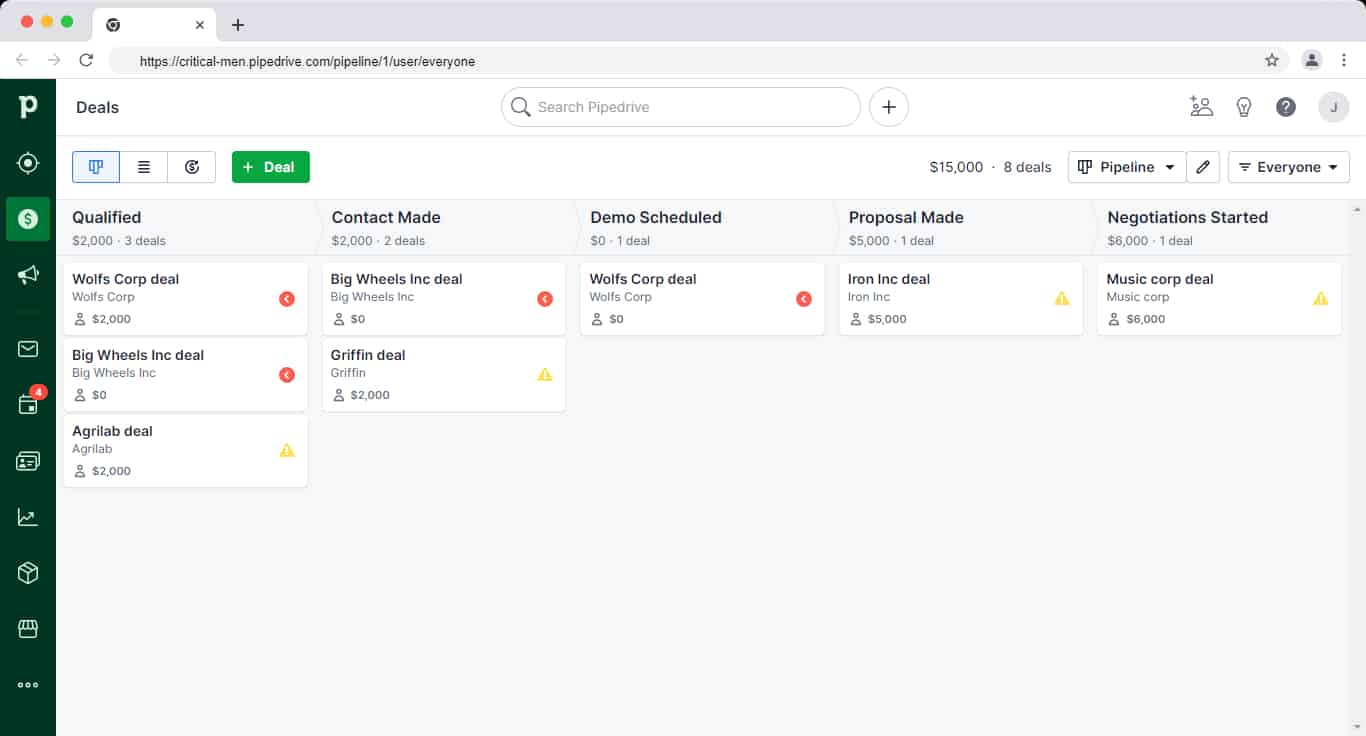 Its pipeline is fully customizable. You can tailor it according to your unique sales process, add as many activities, and drag and drop to the 'won' column.
You also have total visibility of all the deals among your sales team. So you can monitor the stats or progress of your sales process and tweak it as needed.
Monday
Monday's pipeline management functionality is also intuitive. It gives you visibility of your deal stages and insights into your lead generation and sales process.
Monday uses status columns to represent each step of your sales process. This differs from the drag-and-drop layout on Pipedrive, but the concept is still the same–you can manage your sales pipeline by changing the status of the stage column.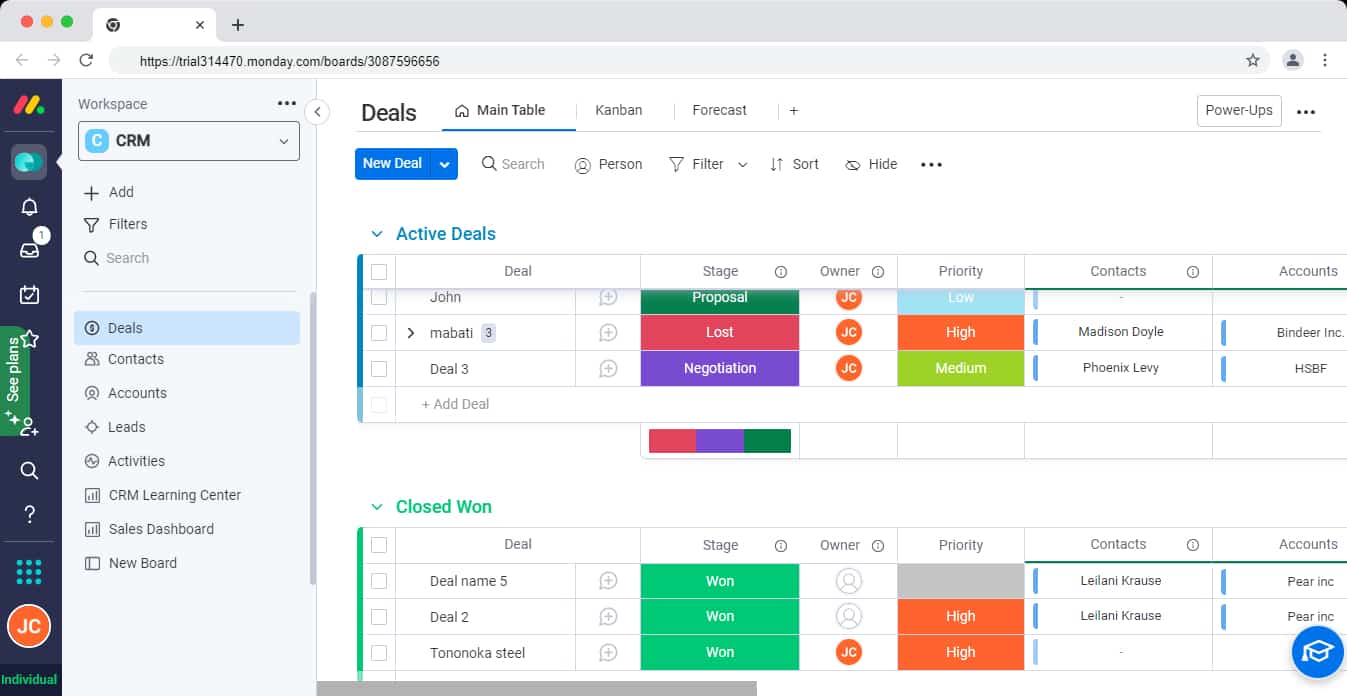 Verdict: A tie. They both have key pipeline management features.
Pipedrive vs Monday: Marketing & campaign management
Capturing, nurturing, and engaging with your audience is crucial as it's important to hand over qualified leads to your sales team.
Pipedrive
Pipedrive lets you manage all your sales and marketing data all in one place by allowing you to create email campaigns and engage with your customers directly in Pipedrive.
You can find all the email campaigns sent to customers in the campaign dashboard but also under the 'detail' view of each contact. You'll see which emails the recipient got and when they engaged with them.
Its email builder lets you build beautiful customizable layouts or you can choose from the list of pre-built templates.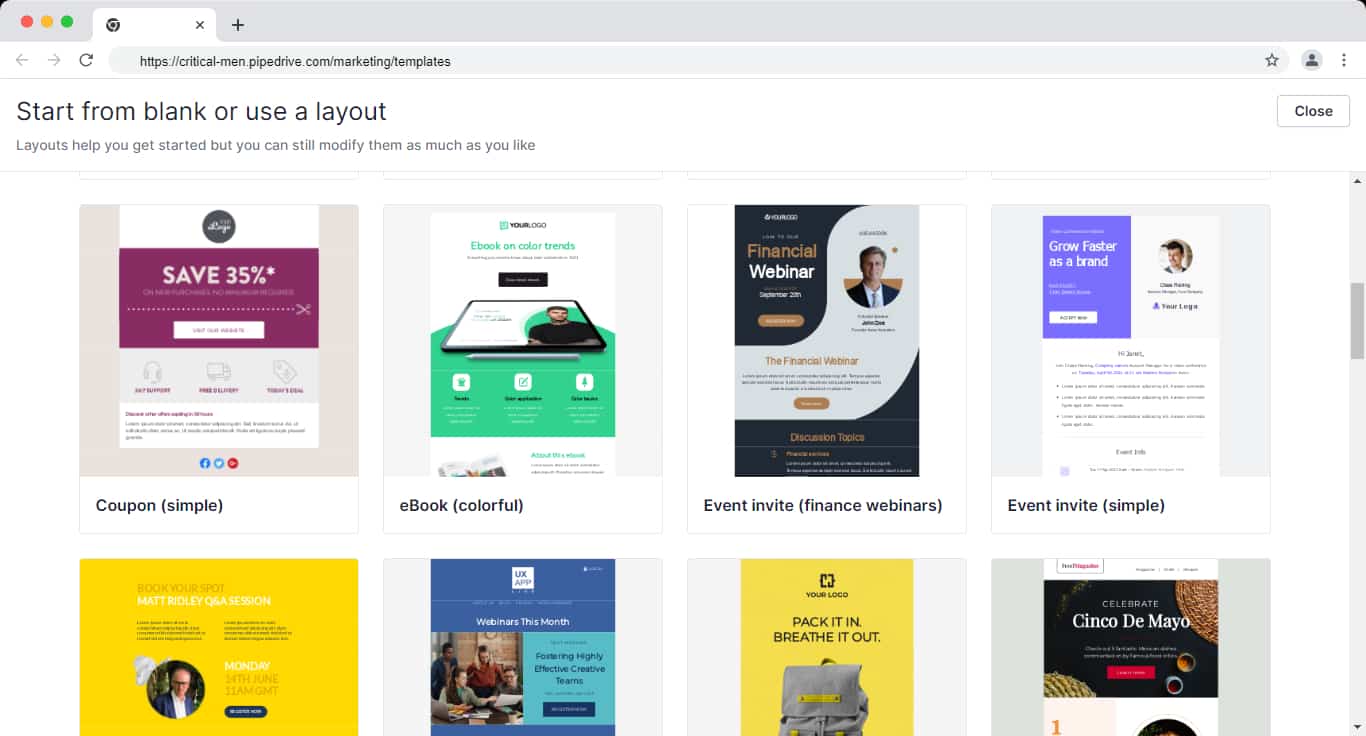 Monday
Monday lacks a dedicated campaign widget, but it has some basic email functionality. You can send emails and run automations by opening the details of your contacts and navigating to the email and activities dashboard. You can also track emails and save repetitive emails as templates.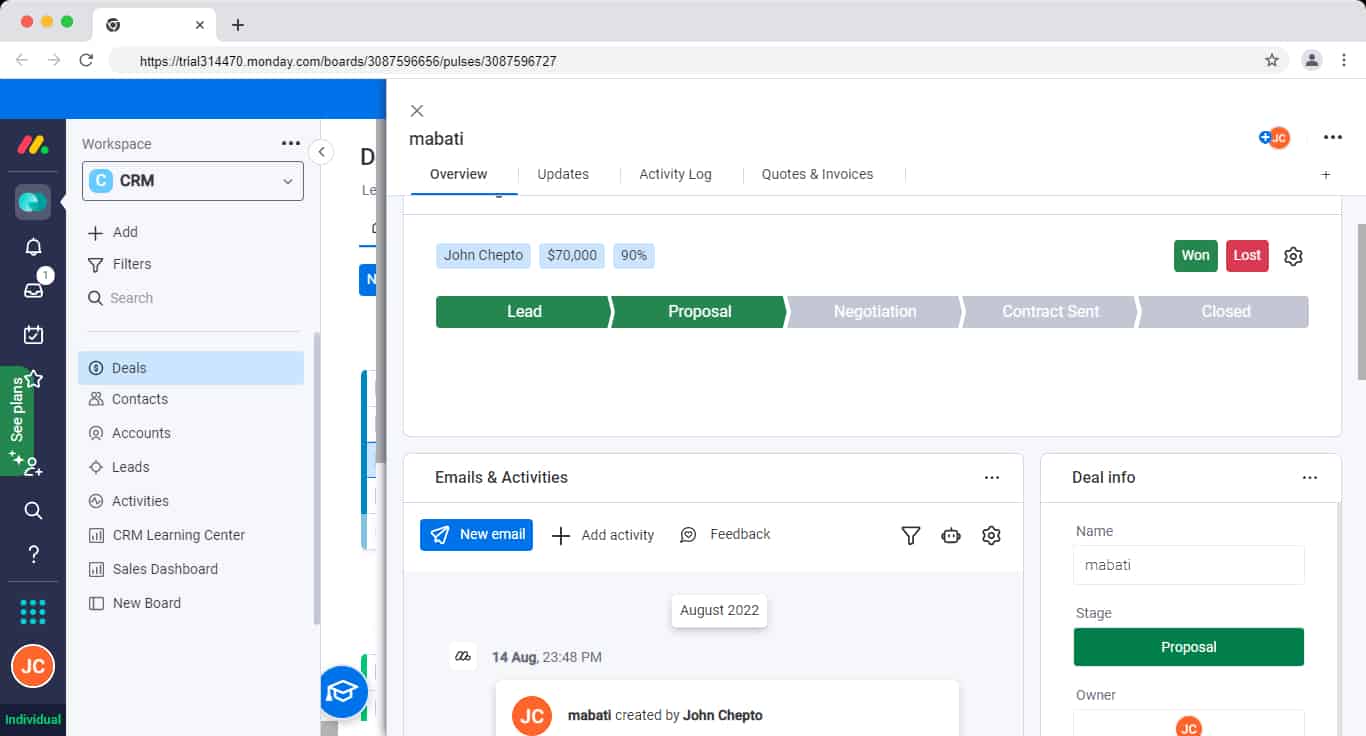 Verdict: Pipedrive has a slightly better campaign management functionality compared to Monday. But it too lacks marketing automation features.
Read also: An In-Depth Look At HubSpot vs Pipedrive
Integrations
Integrations improve the capability of a CRM platform and allow you to connect with your favorite applications. I have the verdict on this for you:
Pipedrive
Pipedrive integrates with over 300 solutions in different categories, such as accounting, email marketing, phone solutions, customer support, video calls, etc.
It's impossible not to find integration with the tools you currently use, but if you do, you can build integration using their open API.
Monday
Monday also has a vast category of integrations. For example, there are some popular integrations such as Twilio, Aircall, Slack, Gmail, Zendesk, etc.
You can also build your own integrations using their open API.
Verdict: Tie. They both have a vast selection of integrations. They have out-of-the-box integration but can also connect through integration software like Zapier.
Pipedrive vs Monday: Sales automation
Sales automation helps shorten the sales cycle, manage tasks, streamline appointments, and improve the quality of Sales Qualified Leads (SQLs). So which one wins here?
Pipedrive
Pipedrive has a dedicated workflow automation widget where you can automate any repetitive sales task. For example, you can schedule an email to be sent when you move a deal through the different stages or automatically send a message to your rep when a deal is created.
There are templated automations, but you can also create your own workflow automations.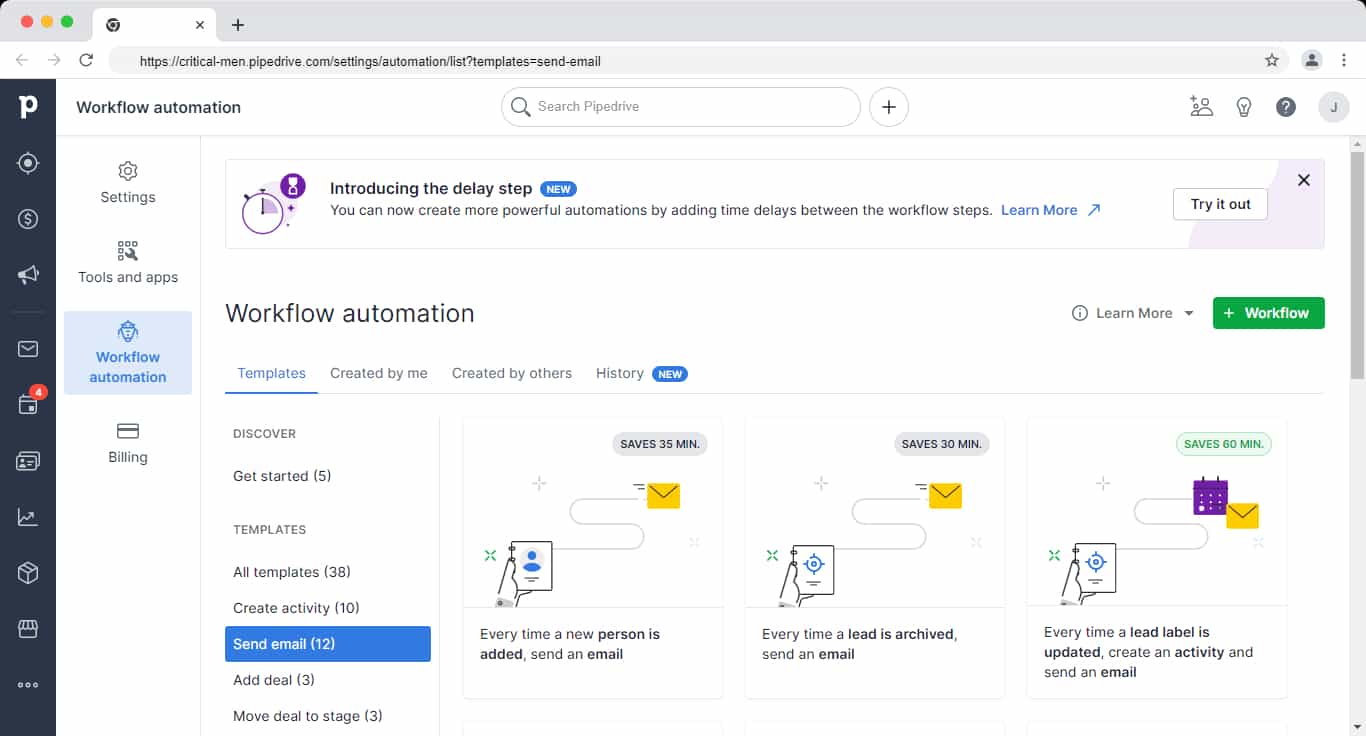 The AI sales assistant also sends your team insights and tips that help the team win more deals. It also reads your activity therefore, it can suggest features you might not know that could help you.
Monday
Monday's framework is based on boards that have status columns. So its automation is customizable depending on the items in the columns.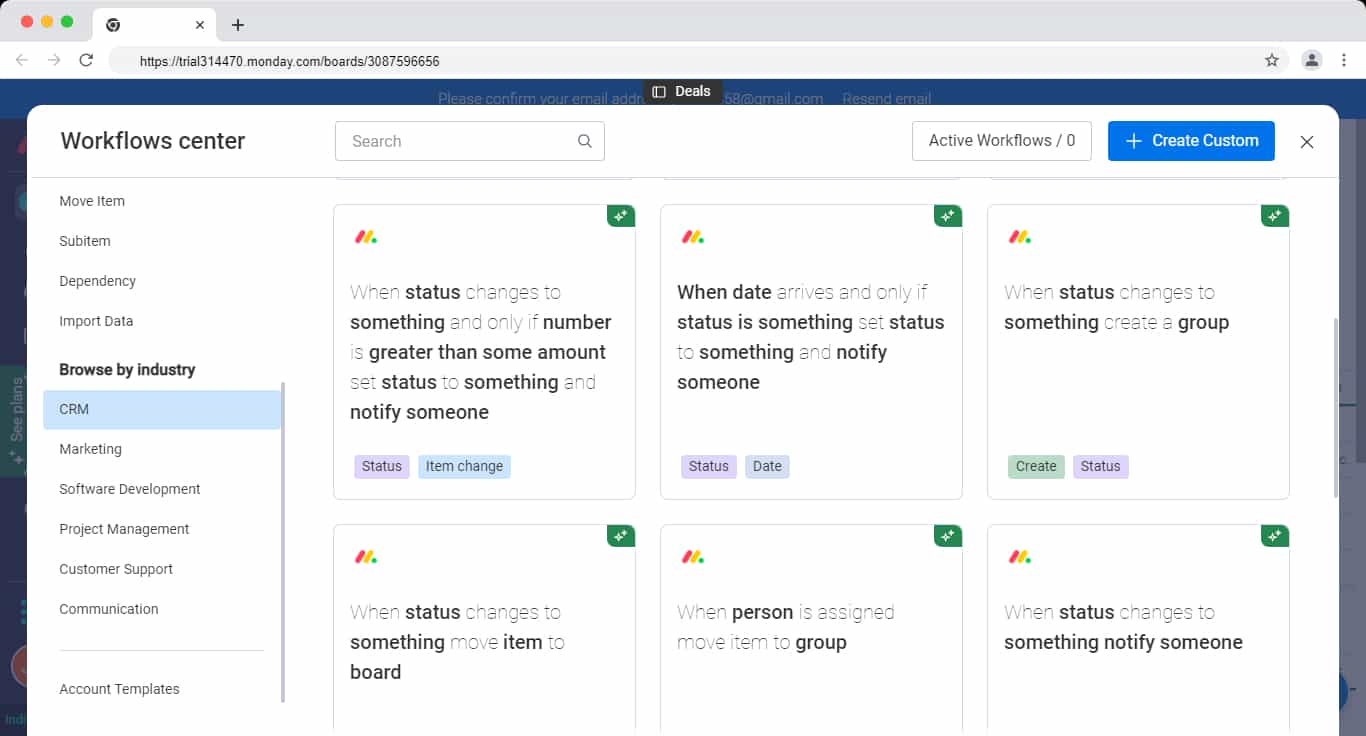 Based on how you've customized your pipeline dashboard, you can pick a templated automation or create your own automation. But unlike Pipedrive, which is an automation tree, Monday's custom automation is still based on the status columns. So it's difficult to get its full potential because it's not a sales-oriented CRM with pre-defined sales automation.
Verdict: Tie. They both have powerful sales automation configurations. But Pipedrive has a slight edge because it has sales-oriented automations. So it becomes easy to get started. As for Monday, you'd have to execute automation based on how you've customized your boards.
Pipedrive vs Monday: Reporting
Everyone hates cluttered and useless charts. Some CRM platforms output insightful and visually appealing reports — while others don't.
Let's dive in.
Pipedrive
Pipedrive has a powerful reporting dashboard. You can easily identify your top performers and understand key details through beautiful charts and graphs.
Instead of digging through data to find insights, Pipedrive lets you apply custom filters to show relevant data within seconds and also identify how each rep is performing.
Key features include:
Individual dashboards for reps

Deal reports which you can identify trends among clients

Team reporting where you can measure reps' performance against key KPIs

Forecast revenue

Customizable reports
Monday
Monday reporting function is also powerful. You can view basic reports such as the performance of individual reps, the average value of won deals, revenue forecasting, and an overview of your sales pipeline.
Its downside is the lack of customizable reports.
Verdict: Pipedrive. Pipedrive's reporting is more robust and you can build your own customizable reports.
Lead management
Though I've saved this for the last, lead management is one of the first things you need to check before choosing a CRM. Here's the verdict:
Pipedrive
Pipedrive's lead management feature helps capture leads, qualify them, and prioritize based on your needs.
Key features include:
The lead inbox helps you store leads and add activities until your team is ready to qualify them

The chatbot functionality helps you interact with prospects and attract leads

Web forms that help you attract prospects that visit your website

The smart contact data helps you import information about your lead from the web instead of manually researching your lead one by one
Monday
Monday too has some lead management features. You get a dedicated layout where you can manually add your leads, move them to contacts, and engage with them through email.
The only lead-capturing feature available is the web form, which can be embedded on your website to capture prospects. But with its powerful automation, you can distribute incoming leads to different reps without manually assigning leads to reps.
While Monday lacks some crucial customer touchpoints like website behaviour, social media, or live chat, its lead visualization and automation are quite powerful.
Verdict: Pipedrive. Pipedrive has better features compared to Monday. It covers the entire lead management process, from capturing leads to nurturing them with email marketing.
Read also: Pipedrive vs HubSpot vs EngageBay: Which CRM Is Smarter & Better?
EngageBay: A More Affordable & Powerful Alternative
EngageBay is an all-in-one CRM for your sales, marketing, and support teams. It's feature packed and ideal for businesses that are scaling in operations and also those that need a cost-effective sales CRM.
Its free forever plan comes with most features you might find on Pipedrive's essential plan ($11.90 per user/per month) and Monday's standard plan ($42 per month).
EngageBay outperforms both Monday and Pipedrive when it comes to lead generation. Monday lacks lead generation features while Pipedrive's lead booster add-on costs $39 per month.
While EngageBay's lead generation features like web pop-ups, embedded forms, social suite, and live chat are available on the free plan.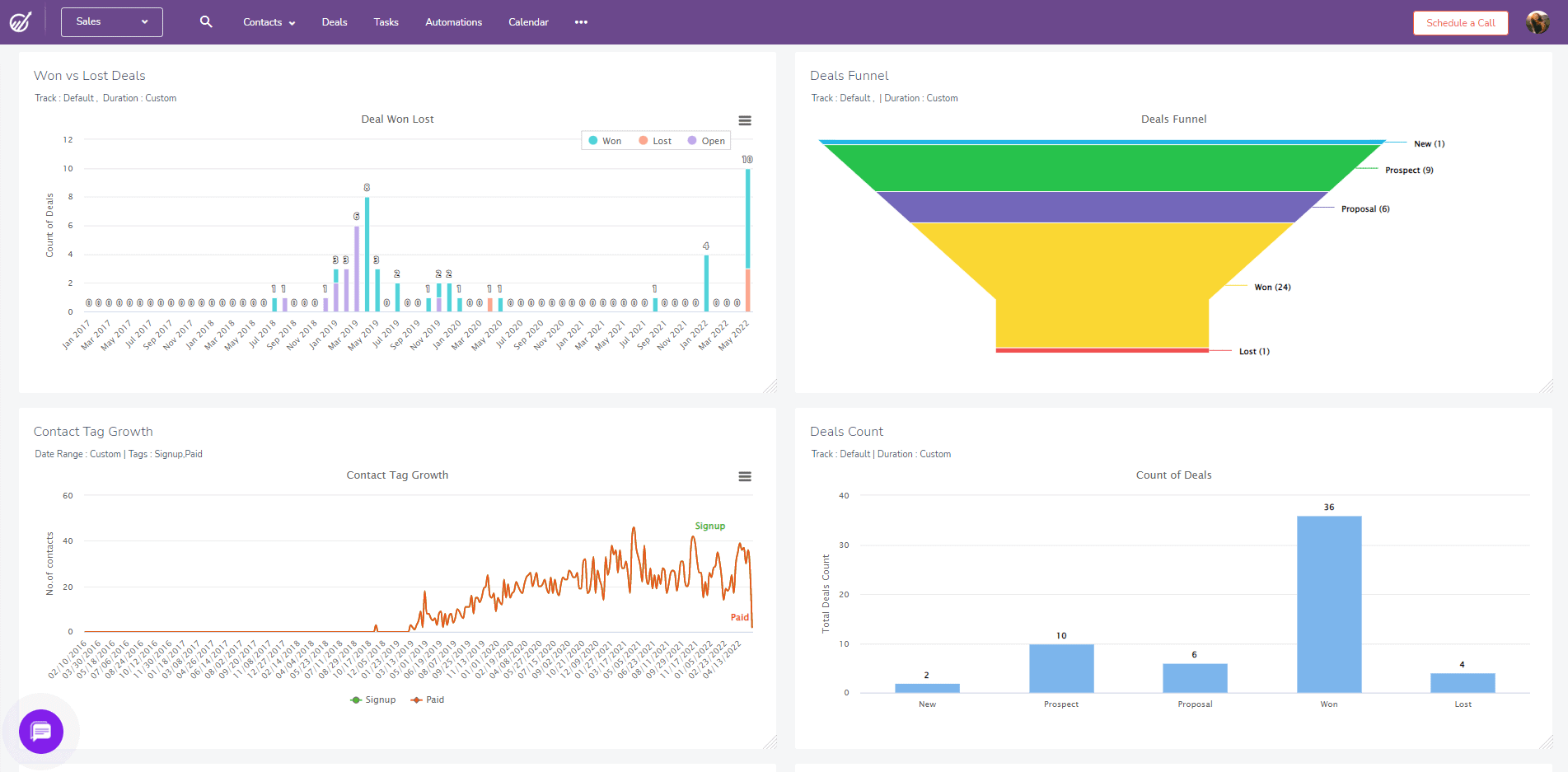 Compared to both Pipedrive and Monday, EngageBay is more powerful and costs much less. And the icing on the cake is that EngageBay tracks the entire customer journey touchpoints from emails, social media, tickets, and other information which informs follow-up activities.
Lauraine M loves EngageBay — here's a sweet testimonial about her experience with the affordable platform:
Thousands of users love EngageBay for its ease of use, affordability, and lead management features:
Wrapping Up
Pipedrive is a powerful sales-oriented CRM that's tailored to help salespeople work on important activities and close deals faster. Monday, on the other hand, is more of a general CRM built on a no-code structure that allows you to customize the boards and fields based on your needs.
EngageBay is the perfect alternative for Pipedrive and Monday, especially for businesses that need a cost-effective sales CRM that packs the features you would need when you scale your operations.