Do you spend a copious amount of time poring through contact lists?
According to studies, more than 40% of sales reps find sales prospecting the most challenging part of their job. After all, it is not an easy task to find people who are interested in your products and would make a purchase.
Fortunately, there are sales prospecting tools to make your job easier. A sales prospecting tool helps identify customers who would be a good fit for your brand.
It also helps you and your sales teams collect client information faster and engage them in a meaningful way to close more deals.
In other words, a good sales prospecting tool accelerates your sales pipeline while making it easier to finalize deals.
But aren't sales prospecting tools expensive?
If you are on a tight budget, we've got you covered. Several affordable tools will help boost your revenue in no time.
Here is a list of some of the best, cost-friendly sales prospecting tool options that will help grow your business.
Best Sales Prospecting Tools That Will Not Cost a Bomb
There are plenty of sales tools out there, but we've filtered them for cost so that a small business owner need not have to waste time in that research.
Take a look here at the best sales tools for prospecting that come with excellent value for every penny spent on them.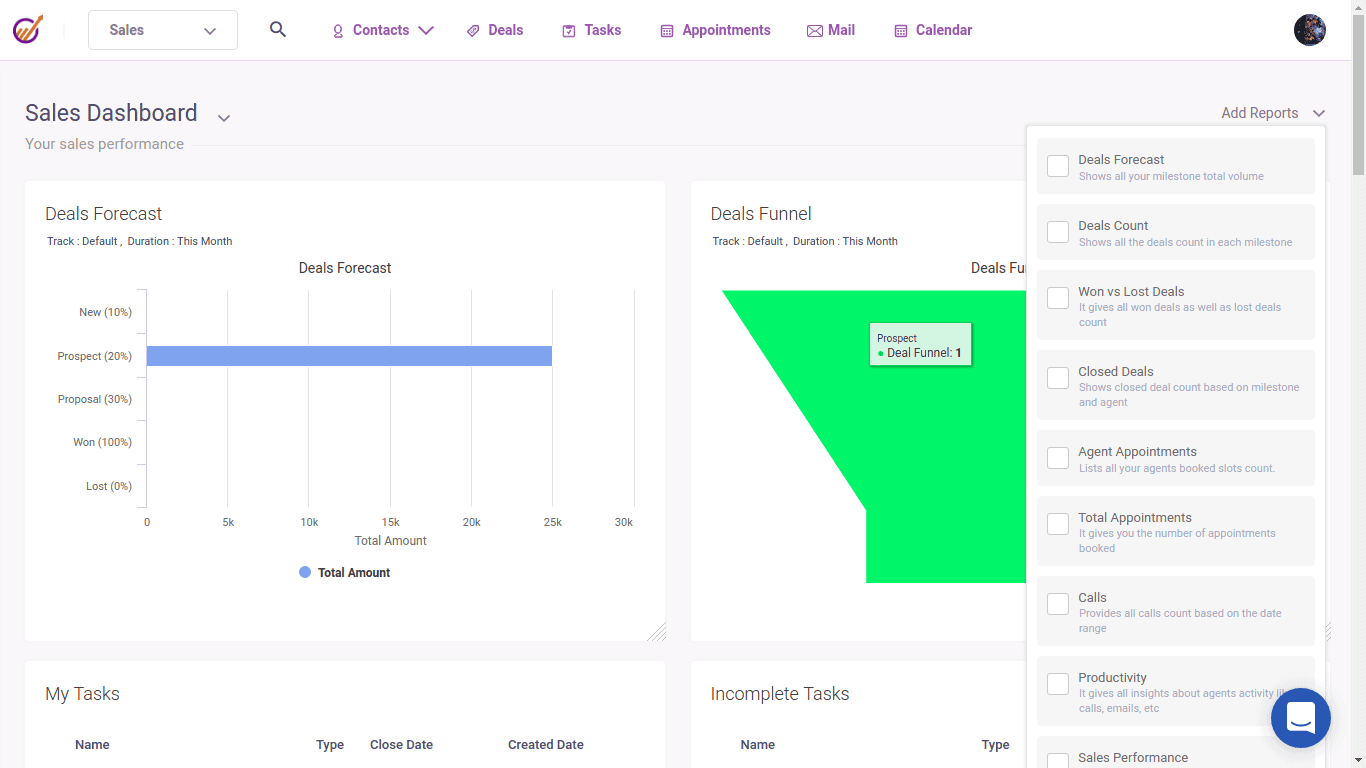 At the top of the list of sales prospecting tools is our very own – EngageBay. This free prospecting tool provides an all-in-one solution for all your sales and marketing needs.
Free for up to 15 users, its sales CRM tool helps you identify and score leads in no time.
Moreover, you can stay updated on all the data relevant to your clients with its tracking tool. Not only do you have access to your customers' basic contact details but also their addresses and any social media handles.
It offers some excellent features like predictive lead scoring and determining where each lead came from. If you have reached out to your leads in the past, EngageBay provides all information related to the conversations, including when they took place and their context.
What's more, EngageBay helps you customize your sales pitch based on client information.
If your prospects have mentioned details including any hobbies and interests and other personal information, it provides better clarity about your target audience, helping you design your sales strategies accordingly.
Pros
Provides a deep understanding target audience

Helps import data from other systems

Built-in landing page templates

Clear sales pipeline visualization

Simple and easy to use for beginners
Cons
Can add more templates for emails and landing pages

Can add more integrations
Pricing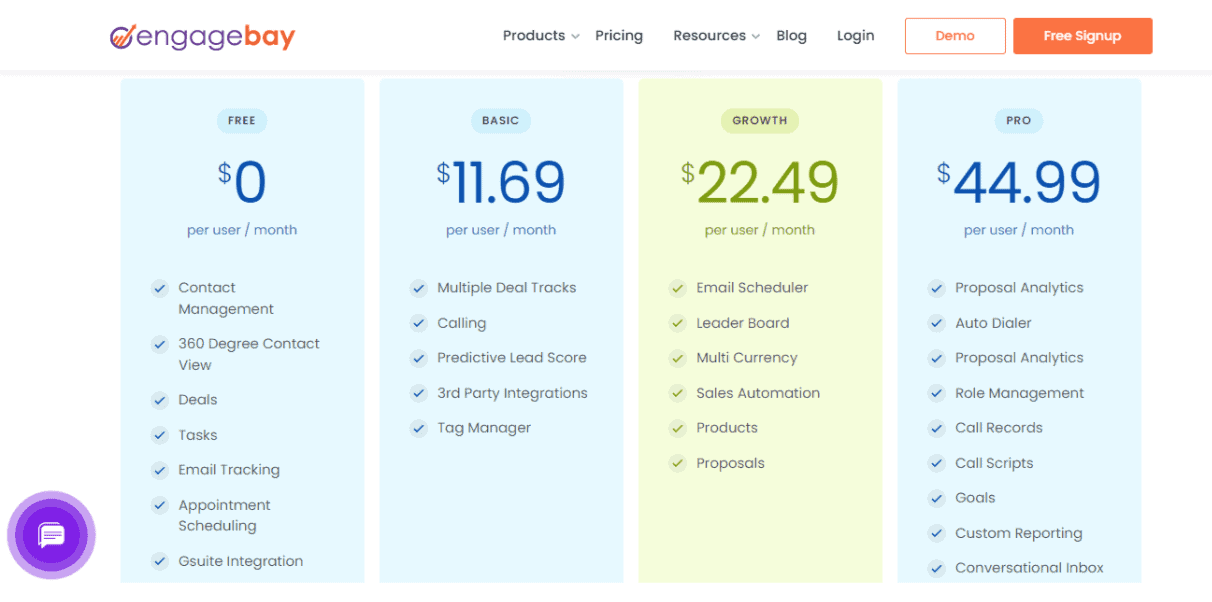 EngageBay has plans to cater to both small and large enterprises.
With its Free plan, you can easily get access to features like email tracking, appointment scheduling, and G Suite integration, to name a few.
And if you want to expand to multiple deal tracking or predictive lead scoring, you can get it all for $11.69 per user per month only.
For more advanced functionalities like email sequencing, workflow automation, call reports, and email scheduling, upgrade to its Growth plan for $22.49 per user per month.
And for businesses that want a dedicated account manager, call records and scripts, and a conversational inbox, the Pro plan works best. This plan costs $44.99 per user per month.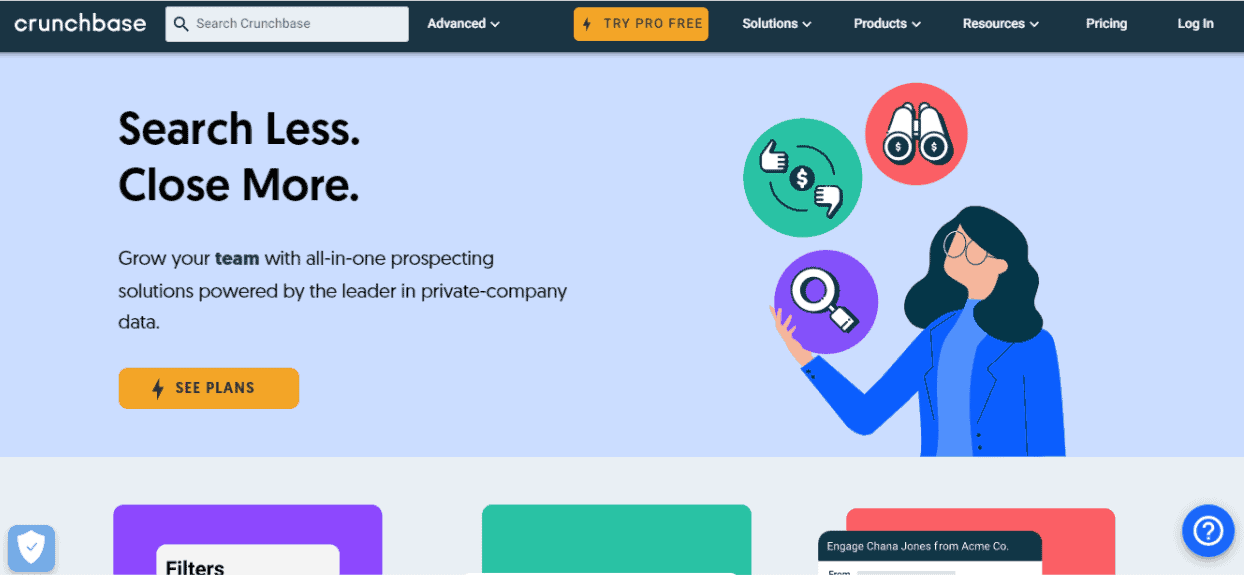 CrunchBase is an all-in-one sales prospecting tool that helps you quickly identify your ideal customer, helping you close more deals in less time.
It comes with a live data feature that helps you find new leads and accordingly, design your lead generation strategy. It even tracks buying signals and any trigger events to help you close deals faster.
What's more, CrunchBase can help you narrow down and segment your list of prospects, depending upon their job title, industry, and company.
Pros
Provides information about companies based on their funding, investment stage, industry, and size

Provides easy access to LinkedIn profiles of clients
Cons
At times, the client information is incorrect or outdated

UX interface for the mobile version requires improvement
Pricing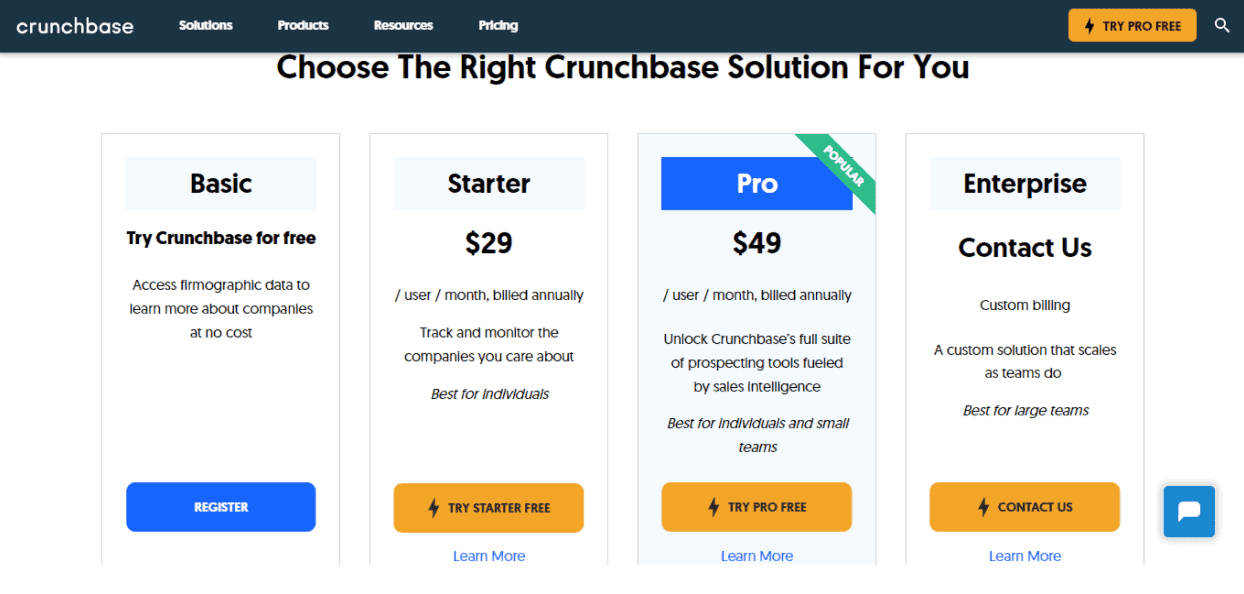 Crunchbase's free Basic plan is for those individuals or businesses looking to access only a company's basic information, including industry type, firmographic details, location, and description.
With only $29 per user per month, you can get more detailed information about a company's funding and investor data. You can also import company lists to find prospects faster.
But if you want to upgrade your service lists like verified contact details, live chat, and export data, it might get a bit expensive. You will need to opt for its Pro plan priced at $49 per user per month. Under this plan, you can push information from Crunchbase to Salesforce and Outreach.
For a growing sales team, opt for the Enterprise plan. You get premium features like real-time updates on your prospects, API access, bulk exporting of large datasets, unlimited access to customer contact data, and unlimited customer success support.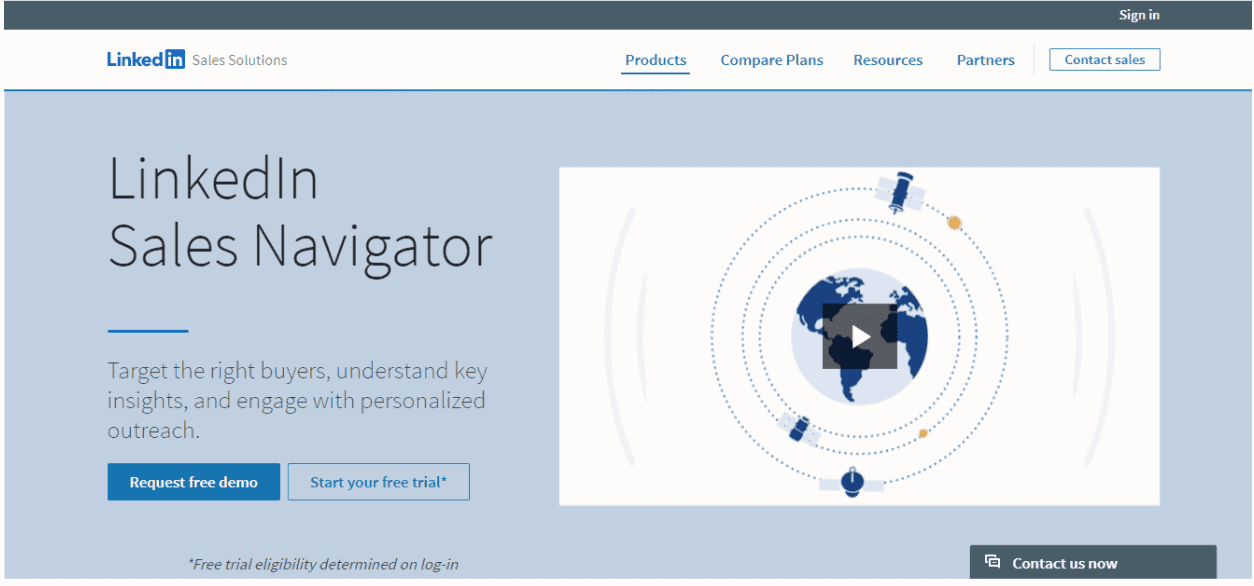 The LinkedIn Sales Navigator comes with a range of features, making it one of the best sales prospecting tools currently.
With its Advanced Lead and Company Search feature, you can find the most relevant prospects along with customized lead recommendations.
The tool boasts of CRM integration that saves all the information regarding prospective leads and accounts with a single click. This helps you access and log all customer information on a single platform.
What's more, using the LinkedIn Sales Navigator, you can real-time sales updates to your client database, segment them according to various tags, and reach out to more than 500 million LinkedIn members with the InMail feature.
Pros
Helps create customized sales presentations and track people who have viewed it

Helps perform deep dives into customer profiles using multiple filters
Cons
Customer information can sometimes be hard to find, particularly when many keywords are required

Prospect lists cannot be saved on CSV files
Pricing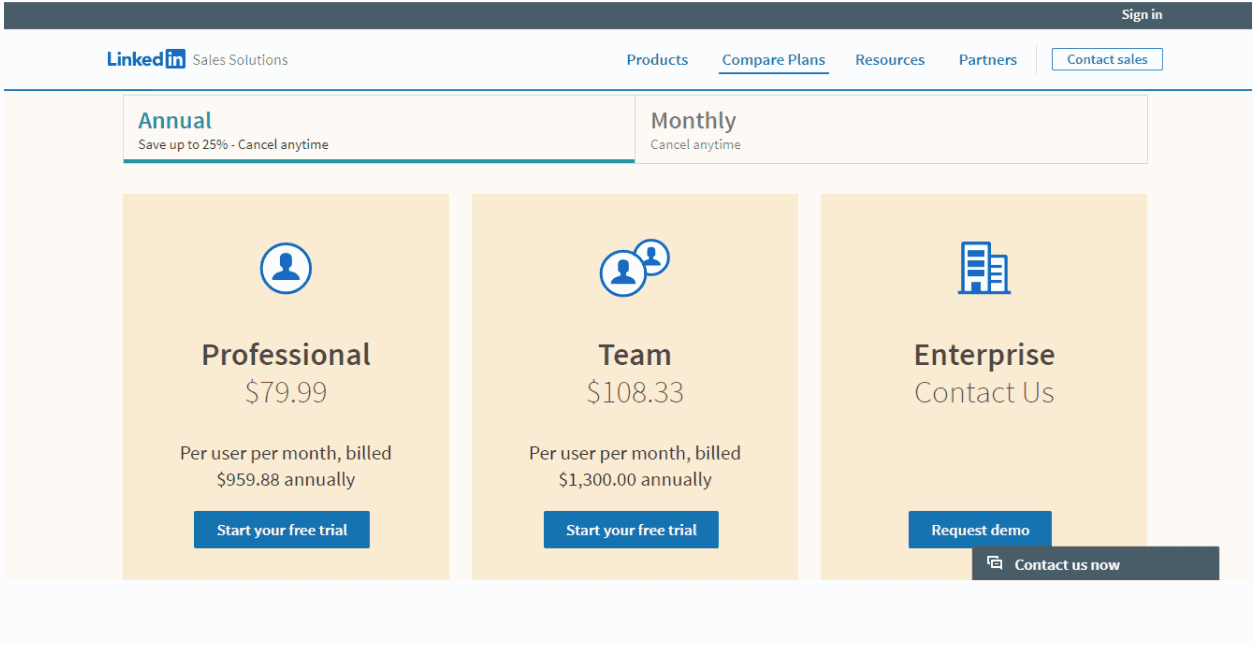 LinkedIn Sales Navigator has three types of plans: Professional, Team, and Enterprise.
The most basic plan is the Professional plan which starts at $79.99 per user per month. It accompanies features such as custom list creation, access to LinkedIn subscriptions, unlimited network access, client recommendations, and lead tracking.
For those seeking advanced outreach and engagement services, the Team plan is best. It includes account usage reporting, centralized contract billing, and CRM syncing. It is priced at $108.33 per user per month.
Businesses that want advanced integration features and employee data integration, go for the Enterprise plan. Here, you can reach out to contacts beyond your network. To avail of this plan, companies can contact LinkedIn's sales team directly.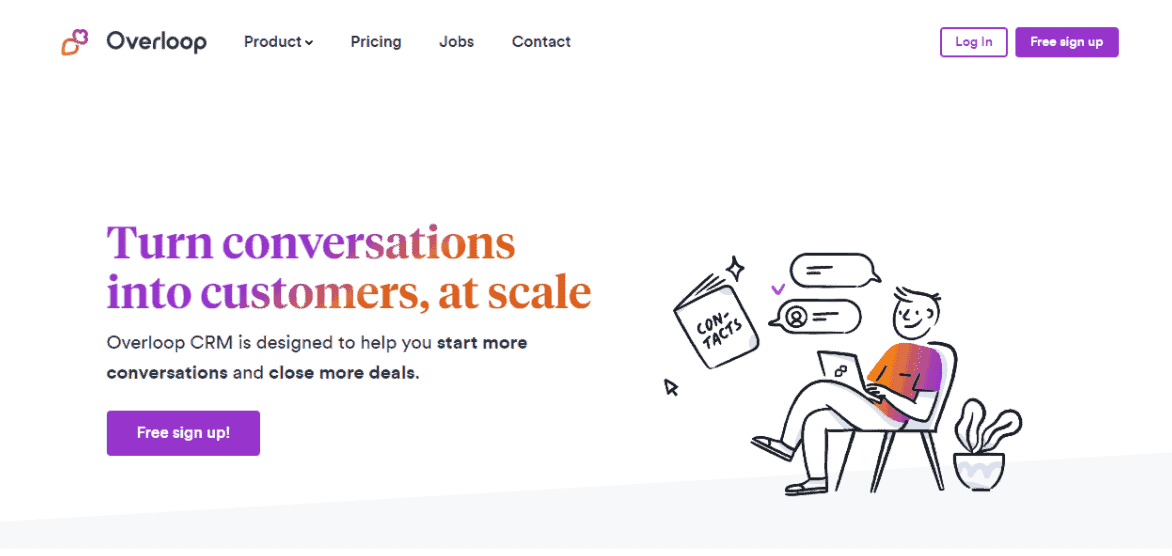 Overloop's sales prospecting tool aims to help you seal the deal with better and more personalized conversations.
Using Overloop, you can manage your sales pipeline more efficiently through its drag and drop feature. You can also visualize your entire sales prospecting process, helping you track your performance and execute better sales strategies.
Furthermore, it helps you automate your workflow and helps track all inbound and outbound conversations with its CRM tool.
Pros
Seamless integration with many third-party apps

Helps scan contact information thanks to its Chrome extension
Cons
The software can malfunction at times

Data visualization should be more centered to give a better view of key metrics
Pricing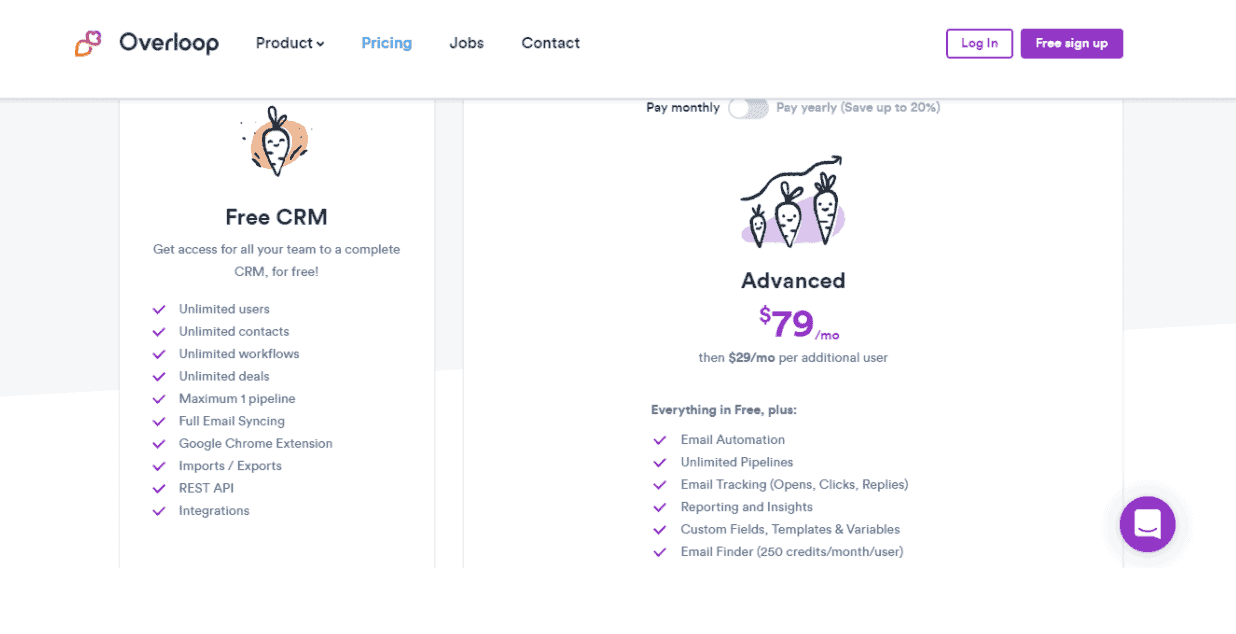 Overloop offers two plans, a Free CRM version and an Advanced CRM version.
Under the Free CRM plan, you can get access to an unlimited number of contacts, workflows, and deals. It comes with a single sales pipeline, free Google Chrome extension, and full email syncing.
The Advanced CRM plan costs $79 per user per month. It can get costly, but it offers enticing services, including unlimited sales pipelines, email automation, email tracking, sales reporting and insights, and in-built email templates.
Read also: How to Upsell with Email Marketing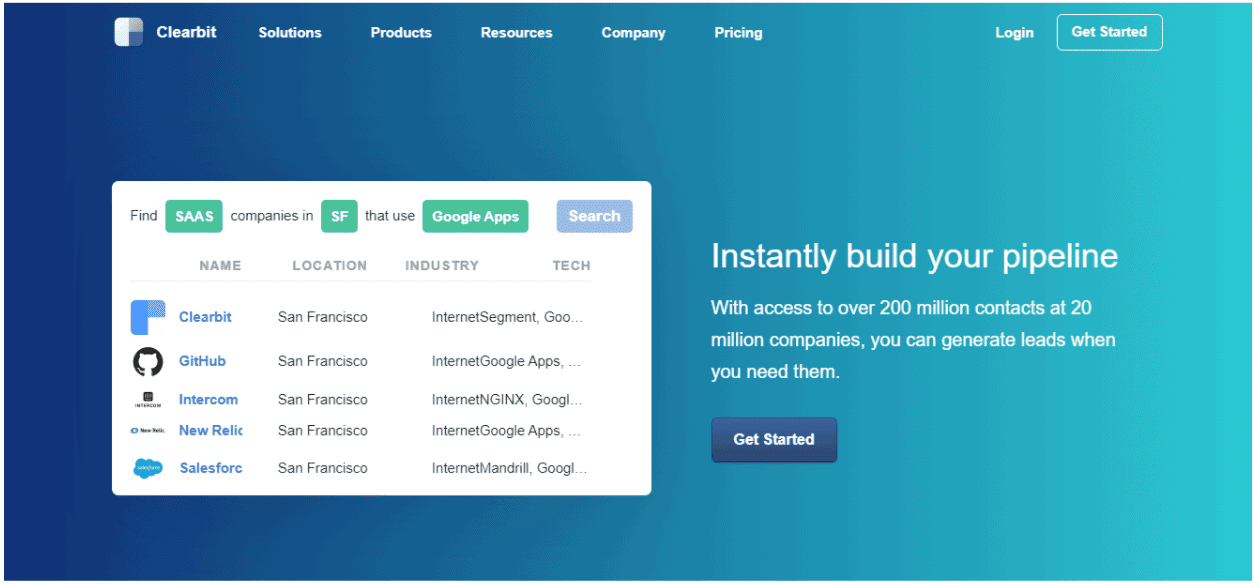 Clearbit helps you generate highly targeted accounts and lead lists within a matter of seconds. It provides access to over 200 million contacts, helping you gain insights into buyer persona and your target market in no time.
With Clearbit, you can filter your list of prospects based on categories like industry type, job designation, and company name. You can also get in touch with organizations based on funding type, investment stage, and accordingly, create a list of target accounts.
Seamless integration with Salesforce helps segment and create targeted lists with just a few clicks so that you can focus more on qualified leads and eliminate bad fits.
Pros
Simple and easy to use

Contact details can be found within a matter of seconds
Cons
Customer job titles can sometimes be inaccurate

At times, incomplete client information is exported to Salesforce
Pricing
To avail of Clearbit's services, businesses and individuals can contact its sales team directly.
Read also: 10 Great Organization Tools [And How You Can Use Them]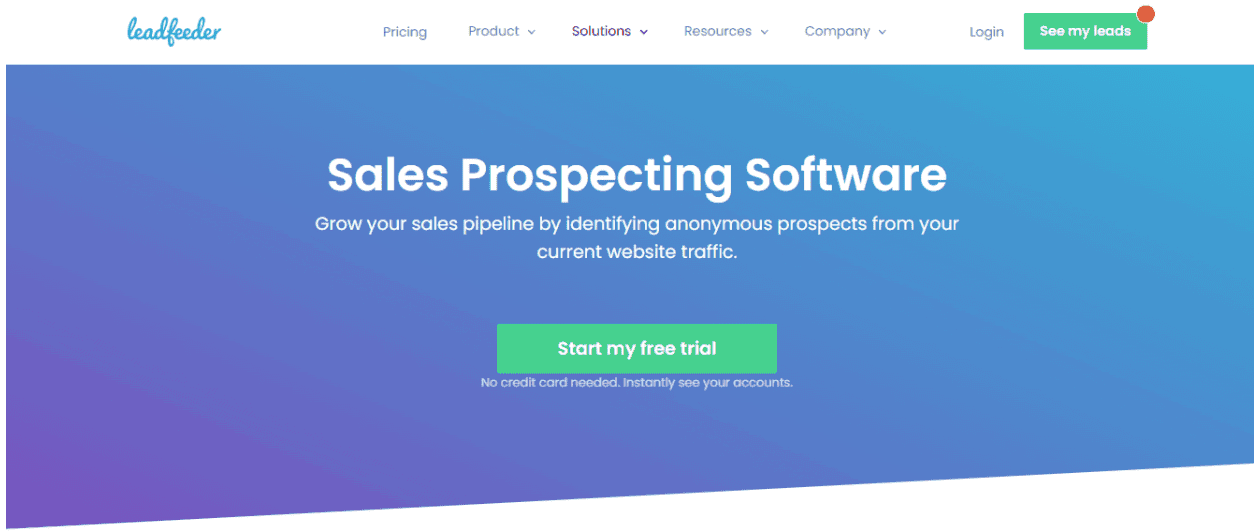 Leadfeeder's sales prospecting tool helps you expand your sales pipeline by discovering anonymous leads through website traffic.
With Leadfeeder, you can not only identify known prospects but also anonymous website visitors and convert them into actual company names.
You can find more information about the website traffic by gaining insights into what content is viewed the most and the marketing channels driving traffic.
Leadfeeder also enables you to find contact details of your prospects, and filter them according to job title, location, and seniority.
In addition, you don't need to allocate prospects to your sales team members manually, as Leadfeeder takes care of that.
With this tool, you can create feeds for your sales reps by sending prospect lists through the CRM platform. It also provides real-time notifications via email or Slack as and when someone visits your company's website.
Pros
Simplifies the process of company tracking

Not only provides information on who visited your website, but which pages they interacted with
Cons
Industry fields are not always accurate

Pricing models should be more transparent
Pricing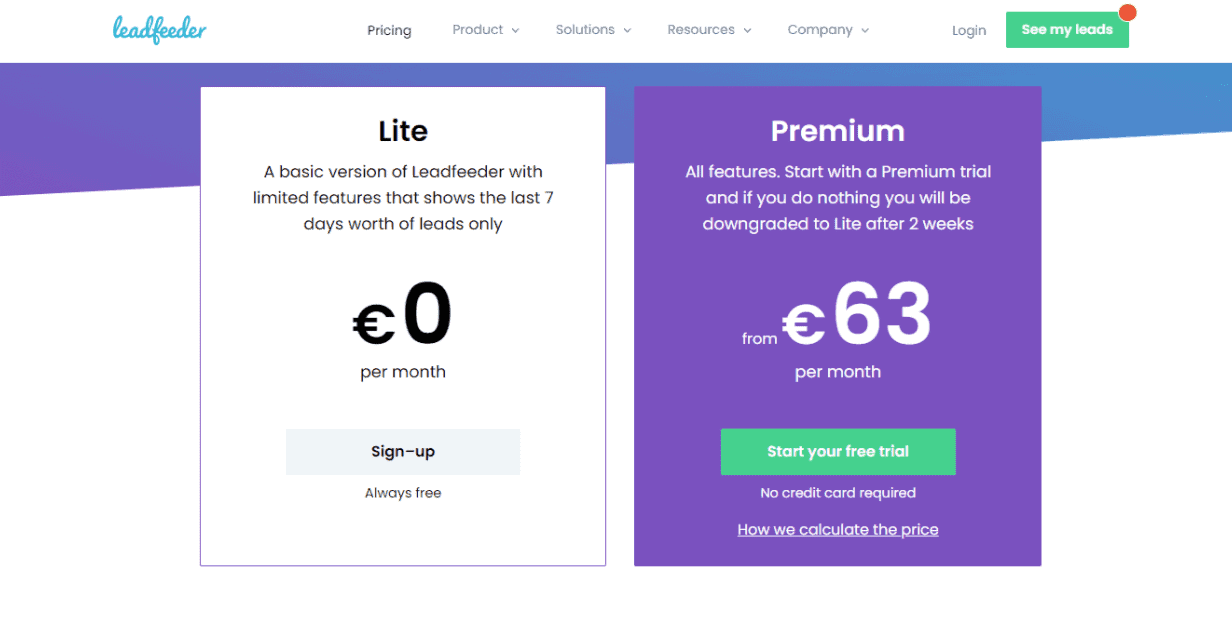 Leadfeeder offers two categories of plans: Lite and Premium.
The Lite plan is Leadfeeder's free version. It provides three features, including unlimited user access, data retention of the past seven days, and lead tracking of up to 100 people.
With the Premium plan, you can get unlimited lead tracking along with additional services such as contact database, company information, CRM integration, visitor details, collaboration tools, and data importing. It costs $71.58 per month.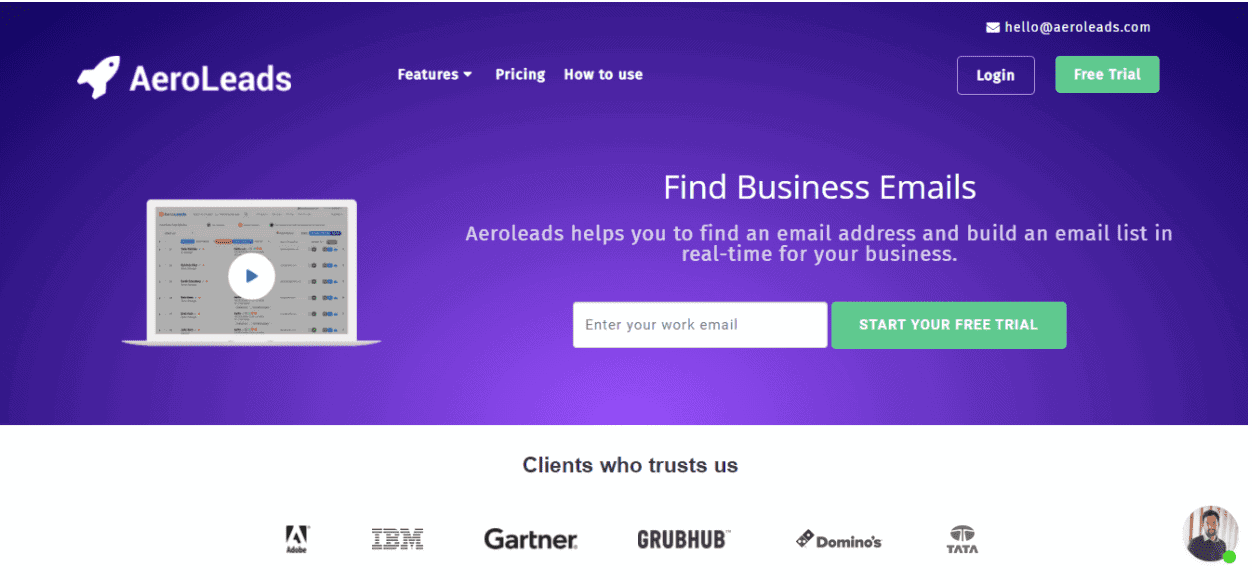 AeroLeads helps organizations find the email addresses of potential customers and create a list of prospects in real-time.
Using AeroLeads' free Chrome extension, you can search for potential clients and add them to your list of prospects. AeroLeads will then add further contact information, including company name, company URL, location, job designation, and so on.
This prospecting tool also helps you export the customer database to a CSV file or transfer it to third-party integrations like Salesforce, HubSpot, Zoho CRM, Zapier, and FreshSales, with a single click.
Pros
Offers free sales automation tools at a reasonable cost

Provides an easy and quick way of lead generation
Cons
Pricing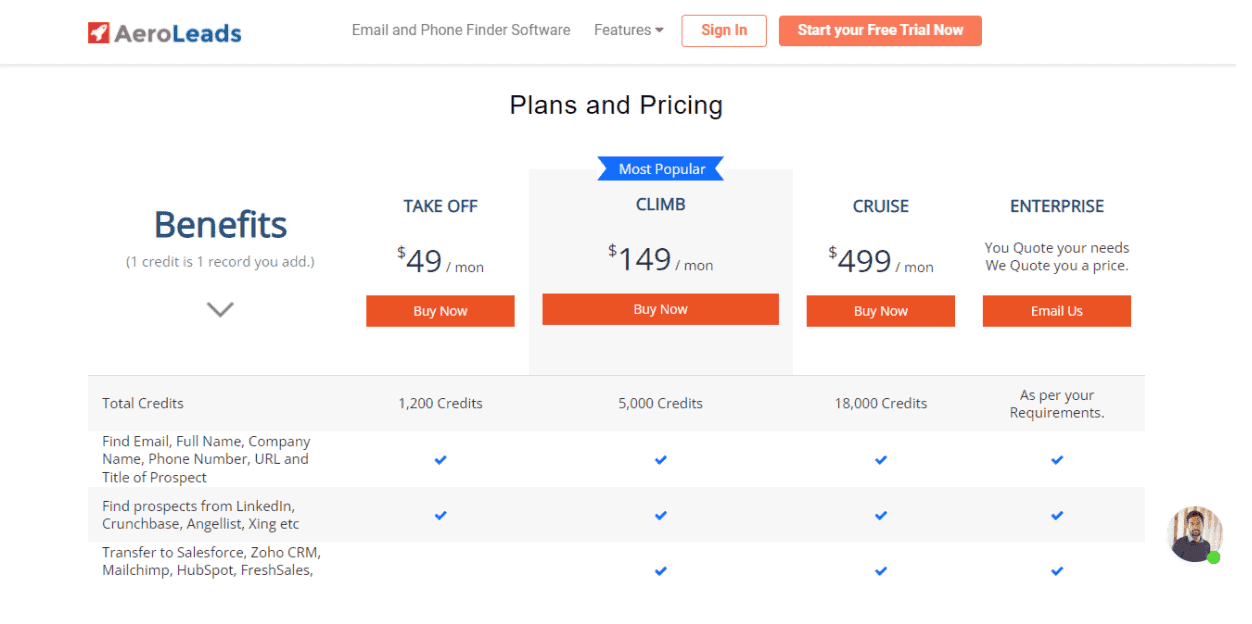 The most basic plan of AeroLeads, Take Off, costs $49 per month for a single user. However, it comes loaded with features, starting with 1,200 credits and offering tools for finding client details like email address, company name, phone number, prospect title, and company URL.
These details can be extracted from LinkedIn, CrunchBase, Xing, and Angellist.
If you want to upgrade to 5,000 credits along with the facility to import and export data to CSV, the Climb plan is ideal. Priced at $149 per month, you also get chat and email support and the ability to transfer the list of prospects to Salesforce, Mailchimp, HubSpot, Zoho CRM, and Zapier.
You can of course increase credit limits by upgrading to its premium plans – Cruise (18,000 credits for $499 per month) and Enterprise (unlimited credits for custom pricing). These are more suitable plans for large enterprises.
Read also: Sales Planning Tips and Downloadable Templates for Beginners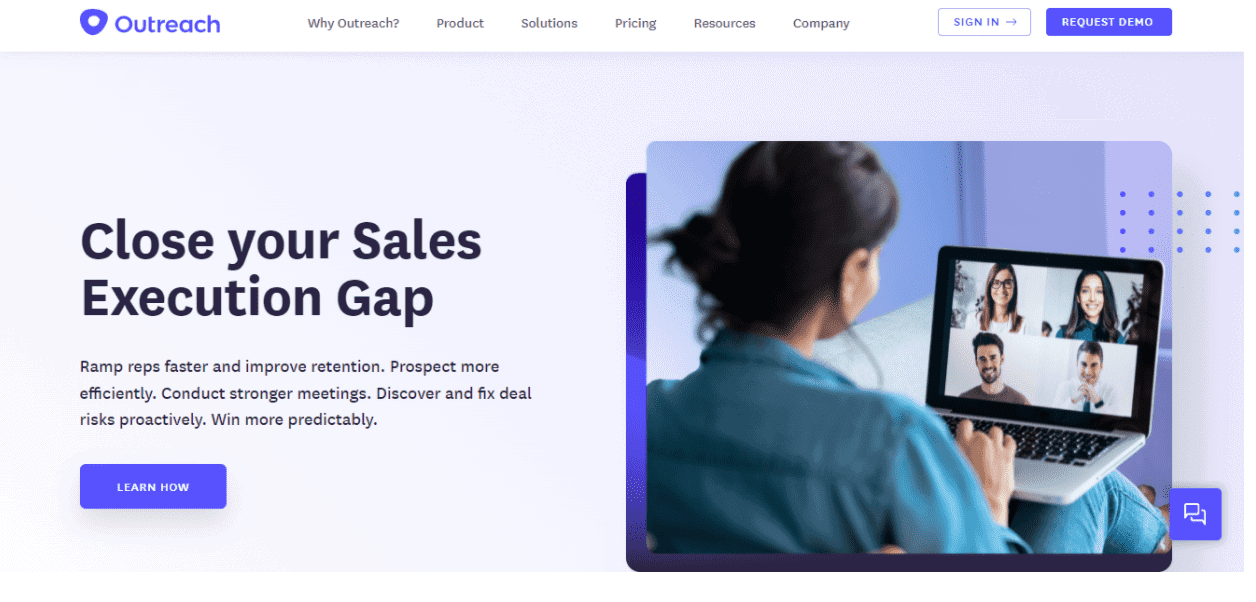 Outreach is a sales engagement and intelligence platform that helps you scout the right prospects in no time.
With Outreach, your sales team can get deeper insights into buyer persona and understand consumer behavior using the Buyer Sentiment Analysis tool.
This platform accelerates your sales pipeline and guides your sales professionals with real-time relevant content they need to convert leads to customers.
What's more, Outreach automatically adds prospects to your list along with their contact details. It also sends automated follow-up emails and reminders to your prospects, so that you don't lose out on your customers.
Pros
Sales teams can easily assign tasks for prospects for effective organizing and follow-up

Integrations are smooth and boost sales productivity
Cons
Lack of customer service

Outreach syncing with CRM needs to be improved
Pricing
To purchase Outreach's services, businesses can contact their sales team directly.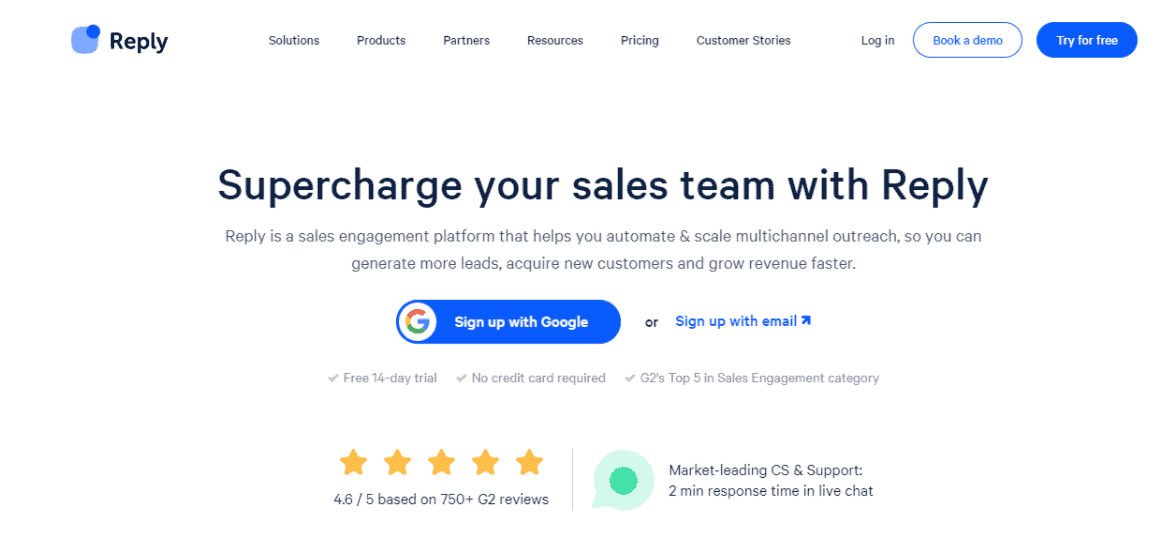 Reply is a sales outreach and lead generation software. Using its email finder tool, you can find contact details of new leads within seconds.
In collaboration with LinkedIn Email Finder and Outreach, you can search for numerous email addresses, automate your search, and outreach in no time.
With Reply, you can also reach out to your leads directly by sending automated messages on LinkedIn or through emails.
What's more, this prospecting tool helps identify sales-ready leads and schedules meetings on Zoom, resulting in a better understanding of your customers in a more personalized way.
Pros
Simple and easy to use

Provides all relevant customer data within a matter of seconds
Cons
At times, the LinkedIn extension can take a lot of time to find leads

Lack of social media tracking feature
Pricing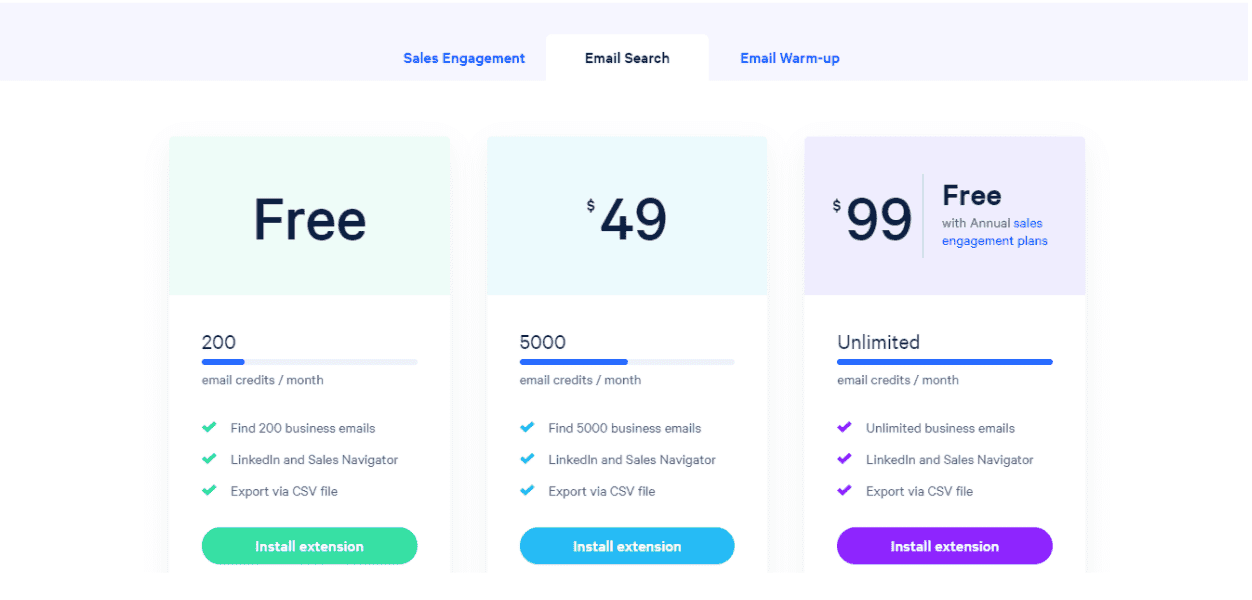 Reply offers three affordable pricing plans. With the Free plan, you can get up to 200 email credits every month, CSV file export, and a LinkedIn extension.
The next plan costs $49 per month and provides up to 5,000 email credits monthly. And the $99 Plan comes with unlimited email credits.
A few tools that are shared by all the plans include cloud calls and task flow, sending messages via WhatsApp, semi-automation of tasks through LinkedIn Outreach, and enriched contact lists from Salesforce, HubSpot, and Copper CRM.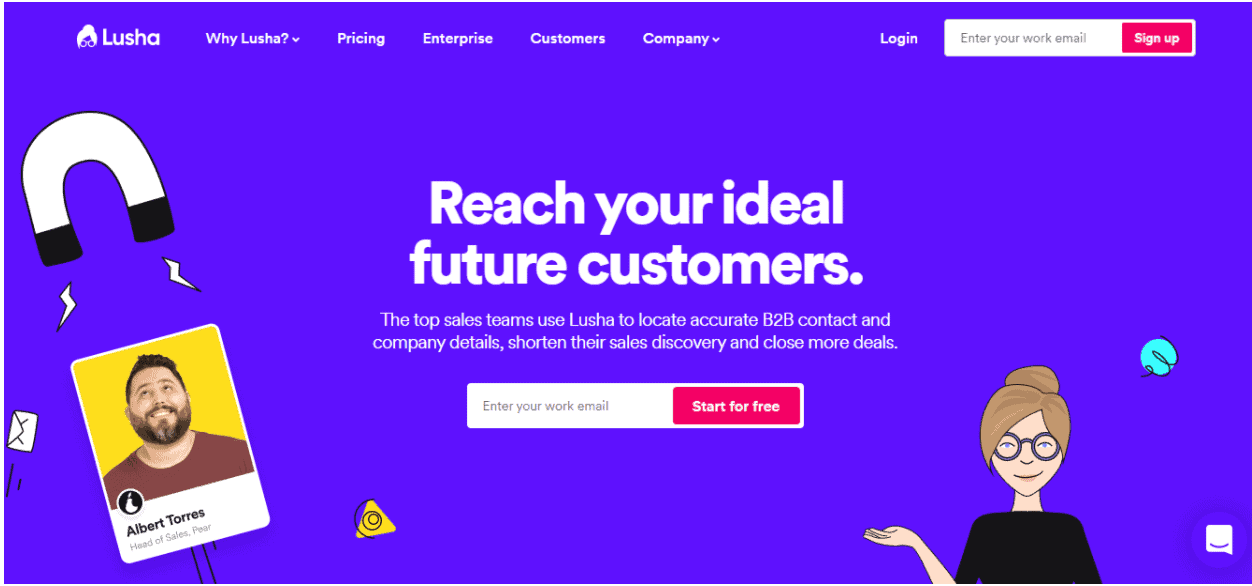 Lusha is a B2B sales prospecting tool that aims to shorten your sales cycle and close more deals in less time.
With Lusha, you can convert prospects into customers faster using its laser-targeted search feature. Moreover, its free Chrome extension helps connect with people on LinkedIn and various social media websites.
You can also enrich your contact database on Lusha and save it in bulk on your CRM tool.
The best part of Lusha is that it provides you with five free contacts every month, irrespective of your chosen plan.
Pros
Syncing with LinkedIn provides instant access to prospect's information

Quick customer support
Cons
At times, the contact information may be incomplete or incorrect

The user interface needs improvement
Pricing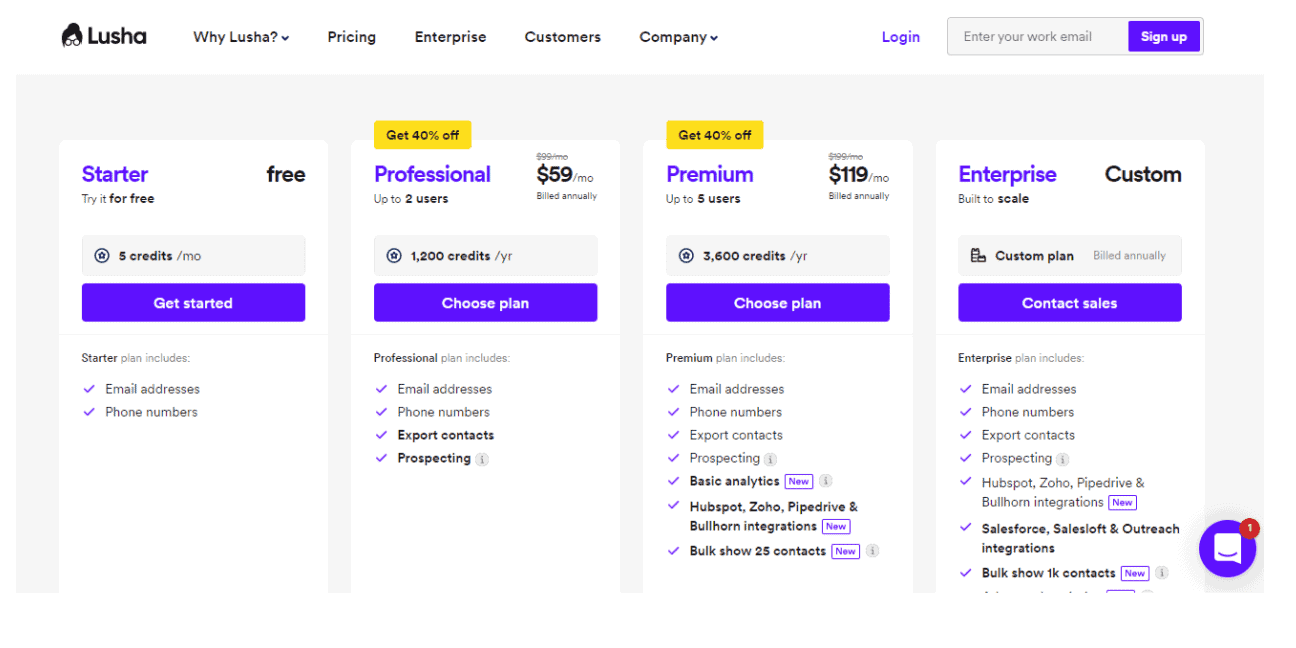 Lusha has four kinds of plans: Starter, Professional, Premium, and Enterprise.
The Starter plan is Lusha's free version. It comes with 5 monthly credits and unlimited email addresses and phone numbers.
For those who want additional tools like contact exporting and contacting, the Professional plan is most suitable. This plan costs $59 per month and provides 1,200 credits annually.
If you want CRM integrations, the Premium plan works best. It provides integration with HubSpot, Zoho, Pipedrive, and Bullhorn. The plan starts from $119 per month.
Lastly, its Enterprise plan provides tools like a dedicated success manager, API access, team management, and advanced analytics. Its pricing is determined by add-on services purchased by companies and individuals.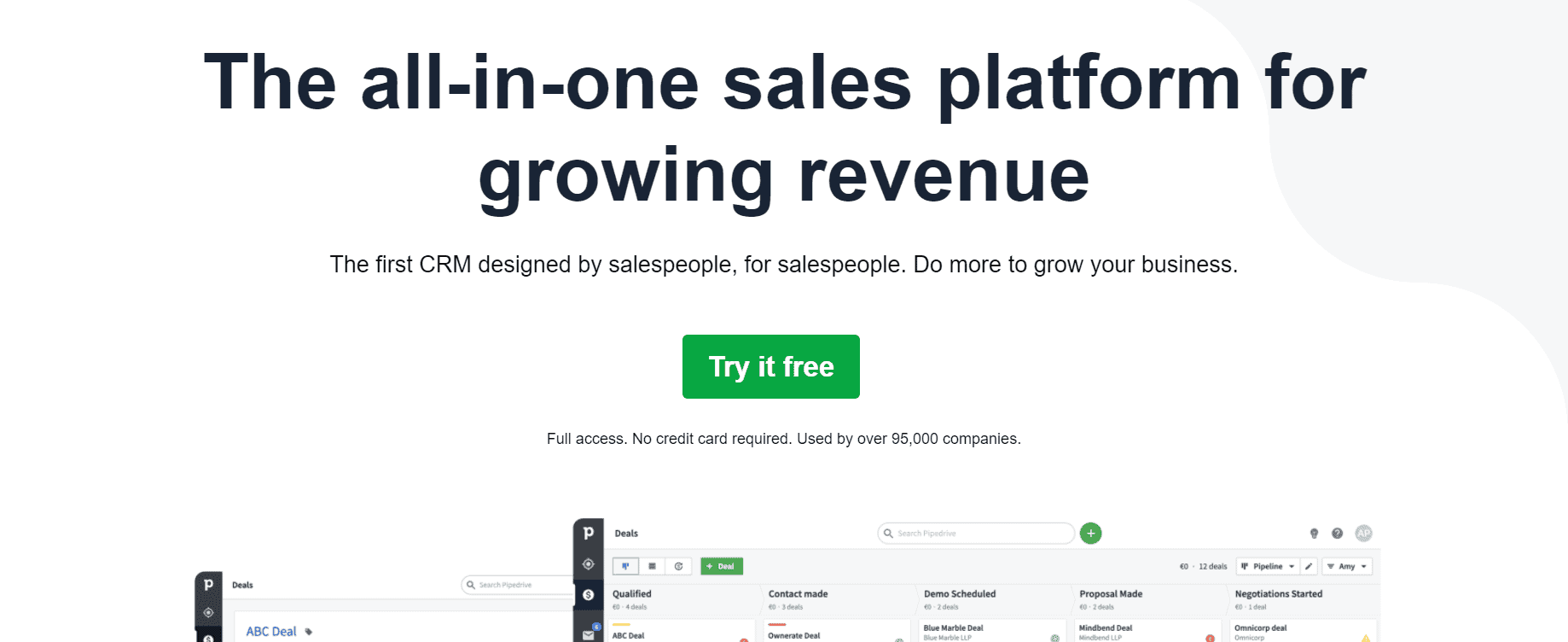 Pipedrive is a prospecting software that is also an all-in-one solution for revenue generation.
It enables you to make your sales efficient by helping you automate lead identification. Using this sales prospecting tool, you can add an unlimited number of prospects, calculate their win probability, and track them at various stages of the sales pipeline.
You can also keep a track of your conversations with prospects and filter them as per requirements.
Pros
User-friendly interface

Highly responsive customer support
Cons
Bugs slow down platform functionality

At times, the drag and drop feature does not work smoothly
Pricing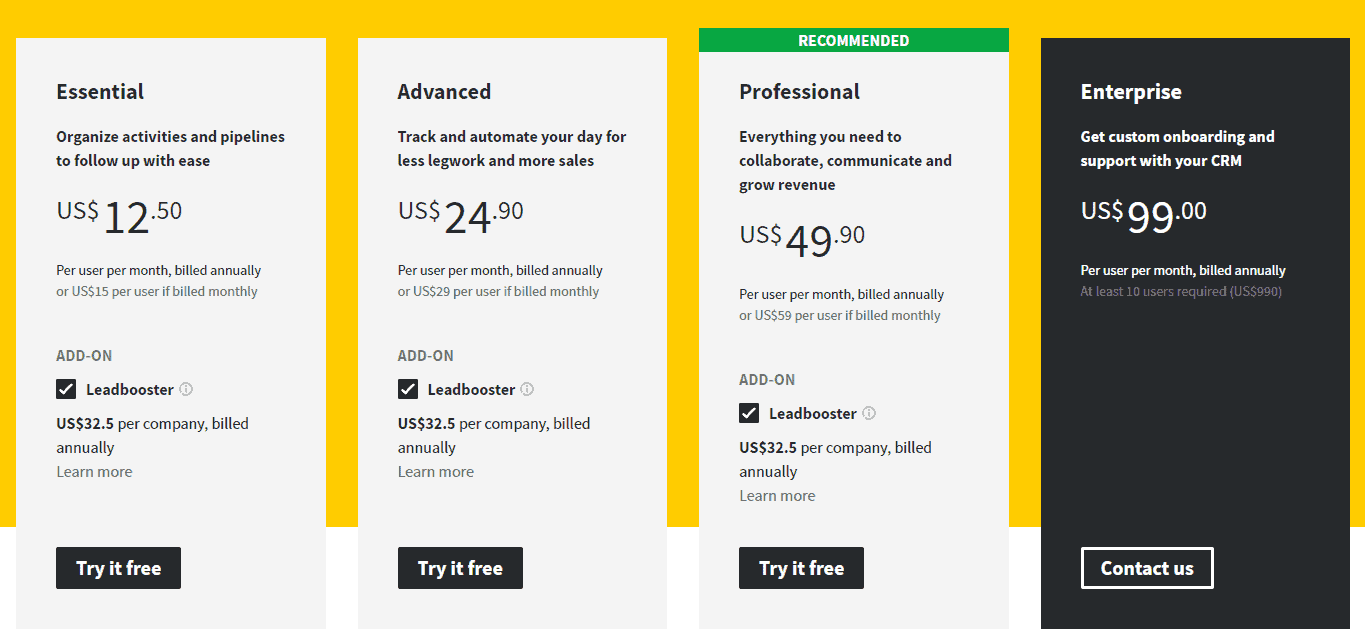 Pipedrive has a lot to offer for $12.50 per user per month. Rightly named Essential, it offers tools that help with lead and deal management, calendar management, data import, and 24*7 customer support.
For upgrading to as low as $24.90 per user per month, you can get additional services, including complete email sync with built-in templates and scheduling, group emailing, workflow automation, and over 275 integrations.
The Professional plan is the most popular plan of Pipedrive, which costs $49.90 per user per month. Slightly expensive, it comes equipped with a single click calling and tracking tool, revenue projection and forecasting, and digitally signed documents features.
Lastly, the Enterprise plan gives you unlimited user permissions, phone support, and additional security preferences.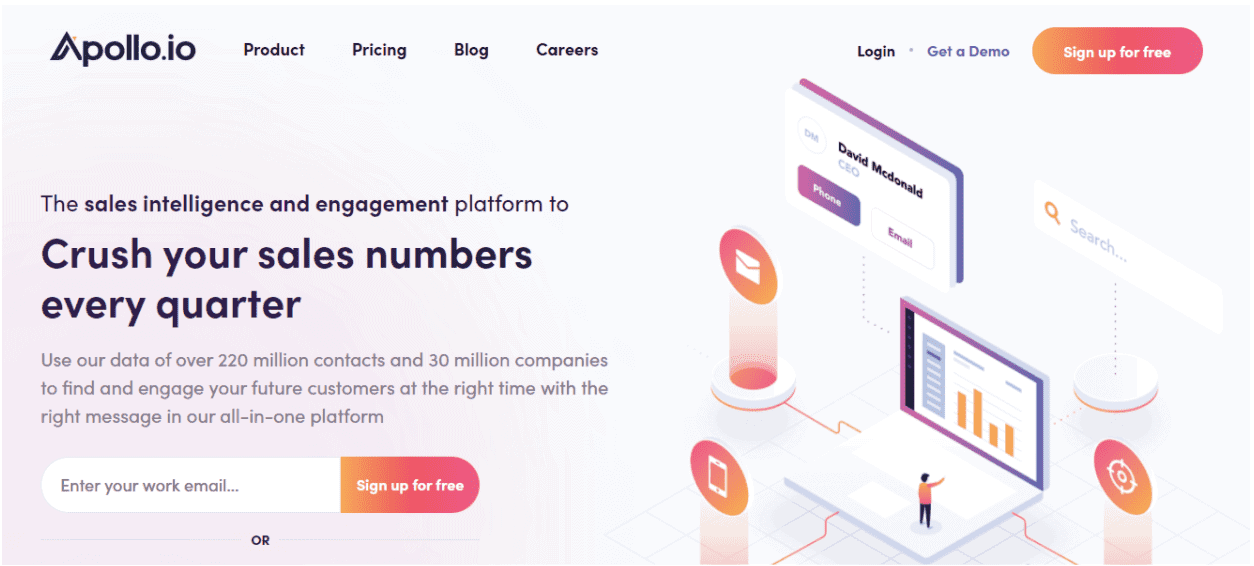 Apollo is a sales engagement and intelligence platform that helps you find your ideal customers within a short time.
Its lead generation tool helps you create your ideal customer database by helping you identify the right contacts. Its multiple filters also help you segment your clients, enabling you to target them more effectively.
Its integration with LinkedIn makes it even easier to find prospects, as you have access to over 500 million contacts and company information.
Pros
Filters help identify and segregate contacts easily

Reduces the time spent generating leads
Cons
At times, emails sent to prospects is not received

Response time of LinkedIn extension needs improvement
Pricing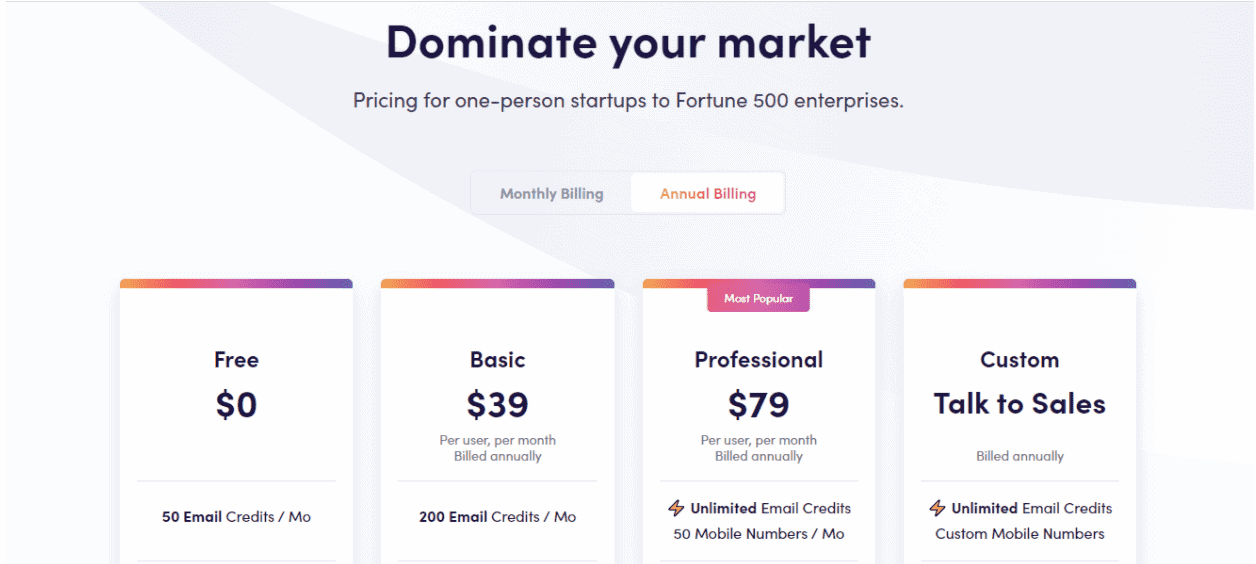 Apollo's sales engagement platform provides four plan categories: Free, Basic, Professional, and Custom.
With the Free plan, you can get up to 50 email credits every month. You can send up to 250 emails daily, get a Gmail and LinkedIn extension, limited API access, and basic email sequence automation.
With just $39 per user per month, you can get added services in the Basic plan like advanced filters, advanced reporting and dashboards, integration with all email providers, and integration with Salesforce and HubSpot.
To avail of features such as call recording, A/B testing, dialer, and manual task automation, choose the Professional plan. This plan begins at $79 per user per month.
To enrich your customer database, get advanced API access, an onboarding and success manager, and unlimited permission profiles, businesses should purchase the Custom Plan.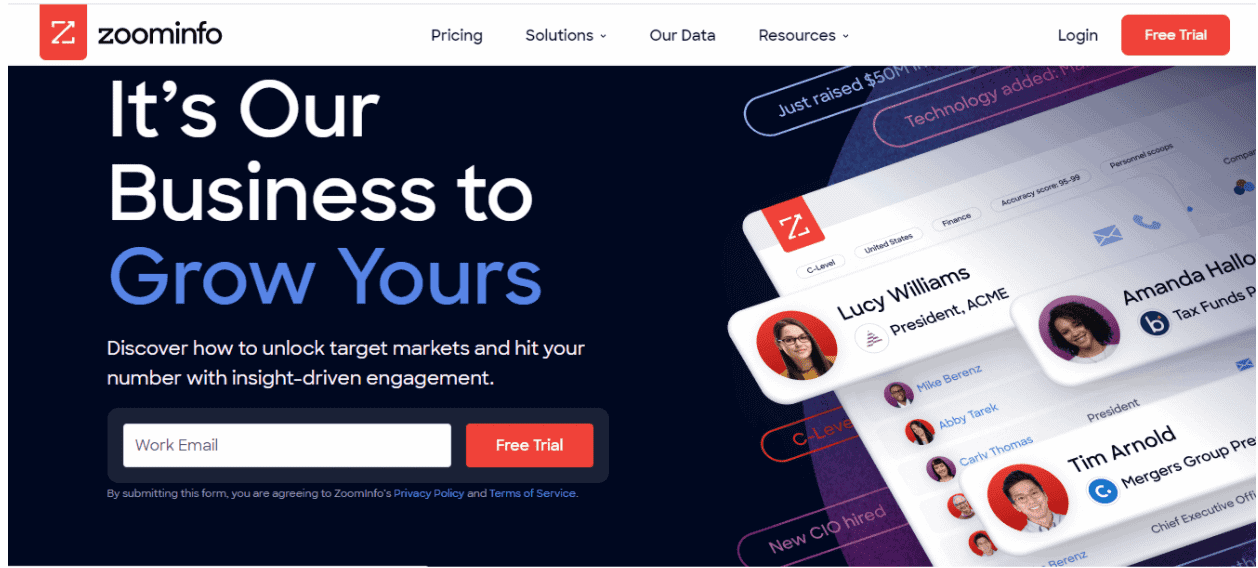 ZoomInfo is a B2B database tool that also aims to improve sales engagement and automation.
With ZoomInfo, you can cross-reference more than 300 attributes with professional and company profiles. You can also get insights into consumer behavior, analyze client conversations, and improve visibility into each interaction.
The best part of ZoomInfo, however, is that it helps you tailor your campaigns according to customer attitudes through customizable digital marketing strategies.
Pros
Excellent software for outbound prospecting

Provides accurate customer contact information
Cons
Only a limited number of contacts can be exported

More expensive as compared to other sales prospecting tools
Pricing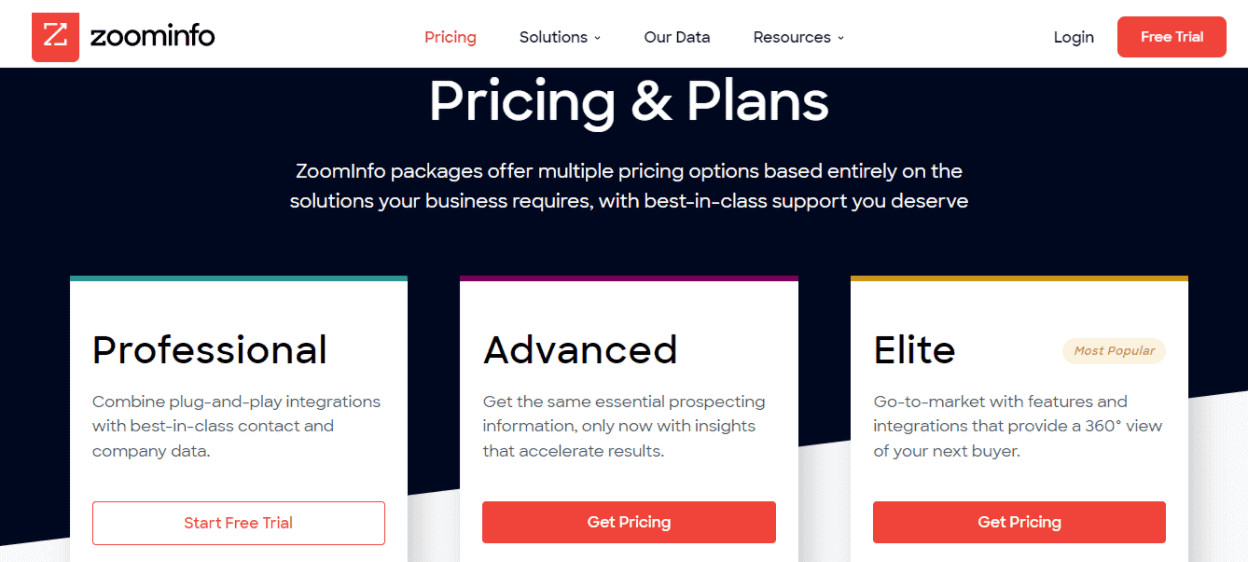 Under ZoomInfo, there are three types of plans: Professional, Advanced, and Elite.
The Professional plan is the most basic plan. It boasts features like access to comprehensive company and professional profiles, tailor-made prospect lists, and verified email addresses and phone numbers.
With the Advanced plan, get added services such as location and corporate hierarchy data, personal email addresses, and department organization charts.
If you choose to buy the Elite plan, you can get access to dynamic data-driven workflows, purchasing intent data, and company-wise attributes.
To get quotes for each plan, users should contact ZoomInfo's sales team directly.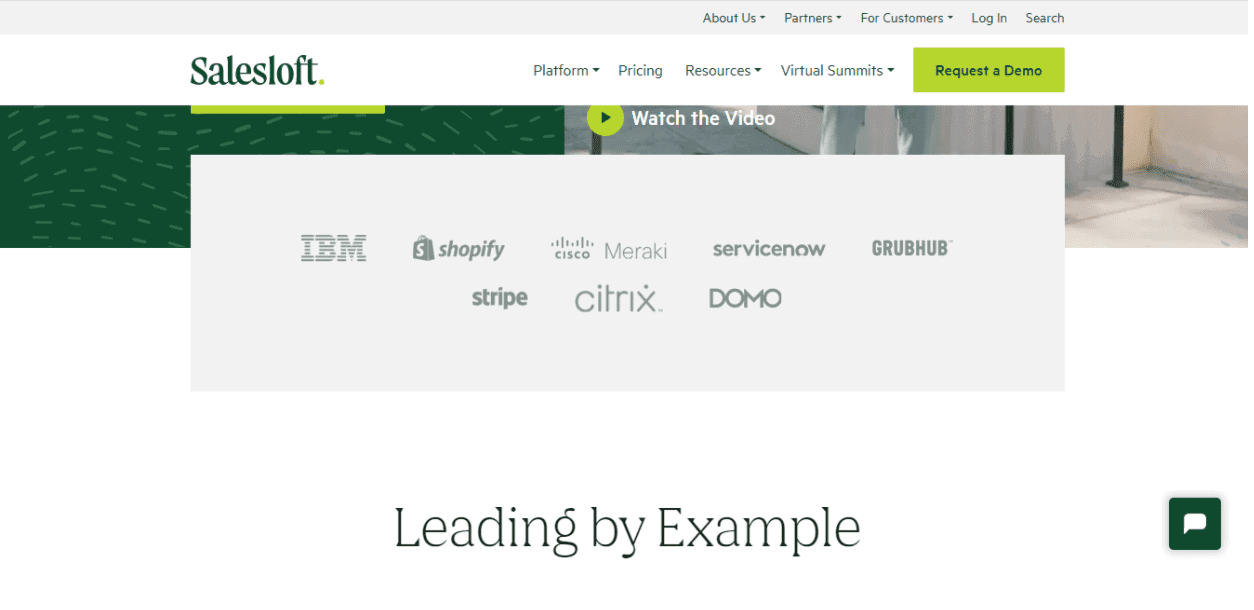 Salesloft is an all-in-one sales software, with lead generation as one of its key features.
With its sales prospecting tool, you can get services such as sales cadence, workflow automation, and sales analytics and reporting.
These services help you identify and distinguish between hot and cold leads, and execute your sales strategies accordingly.
Salesloft's sales prospecting feature also comes with a dialer and messenger to help you reach out to your potential clients within the platform itself.
Pros
Automates the process of reaching out to prospective clients with its sales cadence feature

Provides a high degree of personalization using multiple filters
Cons
Does not provide deep insights into buyer persona

Customer timezones need to be changed manually
Pricing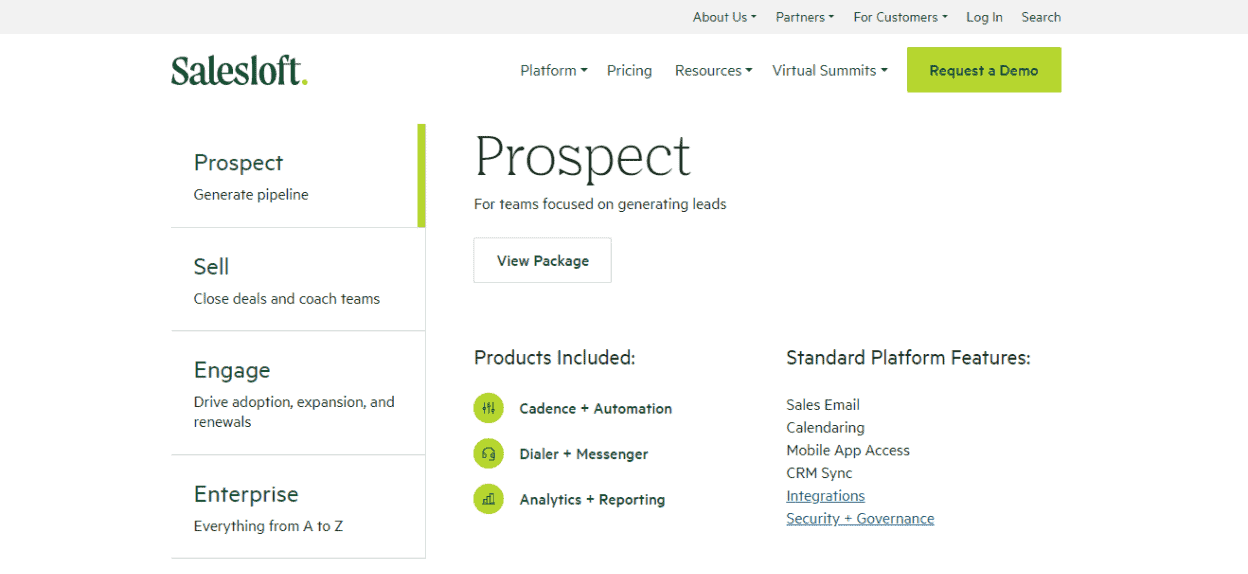 For teams focused on lead generation, the Prospect plan works best. It comes with key features like sales cadence and automation, sales reporting and analytics, and a dialer and messenger.
You can also avail of services such as calendar syncing, CRM sync, mobile app access, and added security permissions.
To get quotes, businesses can get in touch with Salesloft's sales team directly.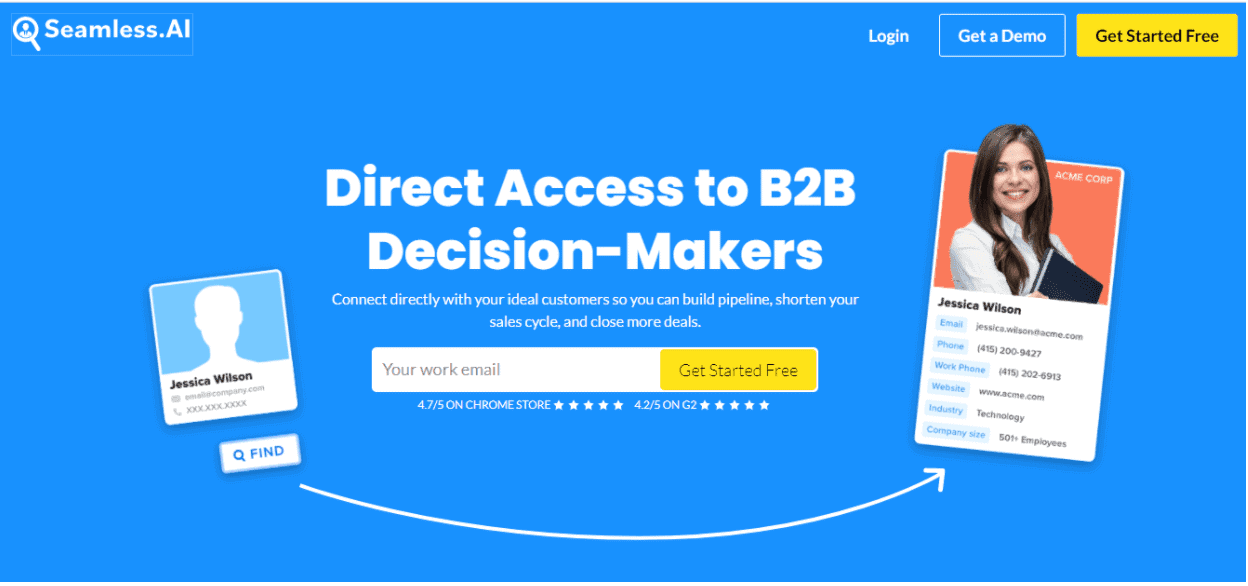 Seamless is a B2B sales prospecting platform that helps you connect directly with your target market.
Seamless not only helps identify the right contacts but also verifies all contact details in real-time. You can also find contacts from anywhere on the Internet, thanks to its free Chrome extension.
Furthermore, you can organize your database into multiple lists by applying numerous filters. This enables you to target customers more effectively and efficiently.
Pros
Helps streamline the lead generation process

Eliminates the need for manual data entry to the CRM platform
Cons
Slow customer service

Platform slows down while creating large customer lists
Pricing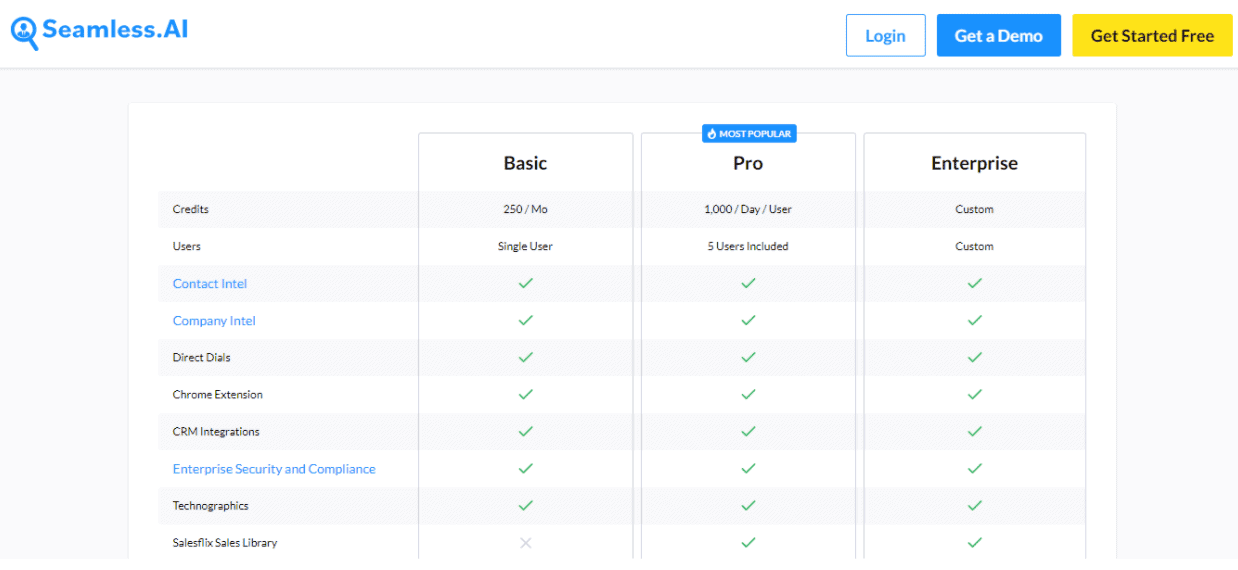 Seamless has three plans to offer: Basic, Pro, and Enterprise.
While they all come equipped with similar features like contact intel, CRM integrations, direct dials, company intel, and more, it vastly varies in the number of users and credit limits.
The Basic plan provides 250 credits per month for a single user.
The Pro plan enables 1,000 credits per day per user for up to five users. And, the Enterprise plan has a custom plan for both credits and users.
To buy any of the above plans, you can contact the Seamless team directly.
Read also: 7 Awesome Sales Automation Tools to Supercharge Your Revenue
Conclusion
The right sales prospecting tools not only help you discover your ideal customers but also help increase sales productivity.
They make sales prospecting more efficient by automating manual tasks, segmenting your audience, and in turn, helping you create better sales strategies.
This list of affordably priced prospecting tools will help individuals and small businesses expand their customer base with ease.

If you want to know how EngageBay can help your sales team, just sign up and we'll give you a call and a free demo!
Supercharge your sales process with these 12 cutting-edge database tools and their standout features!