Today, we have a compilation of the best Ted Rubin quotes about social media, brand growth, and personal development.
Ted Rubin is a social marketing strategist, speaker, advisor, and author. He was featured as one of the top Social Media Power Influencers by Forbes and is the most followed CMO on Twitter according to Social Media Marketing Magazine.
Ted is a social marketing and engagement advisor to top companies like Brand Innovators, Dynamic signals, Photofy, SheSpeaks, and Spaceback.
Some of his popular books include Retail Relevancy, The Age of Influence, and Return on Relationship.
Let's begin!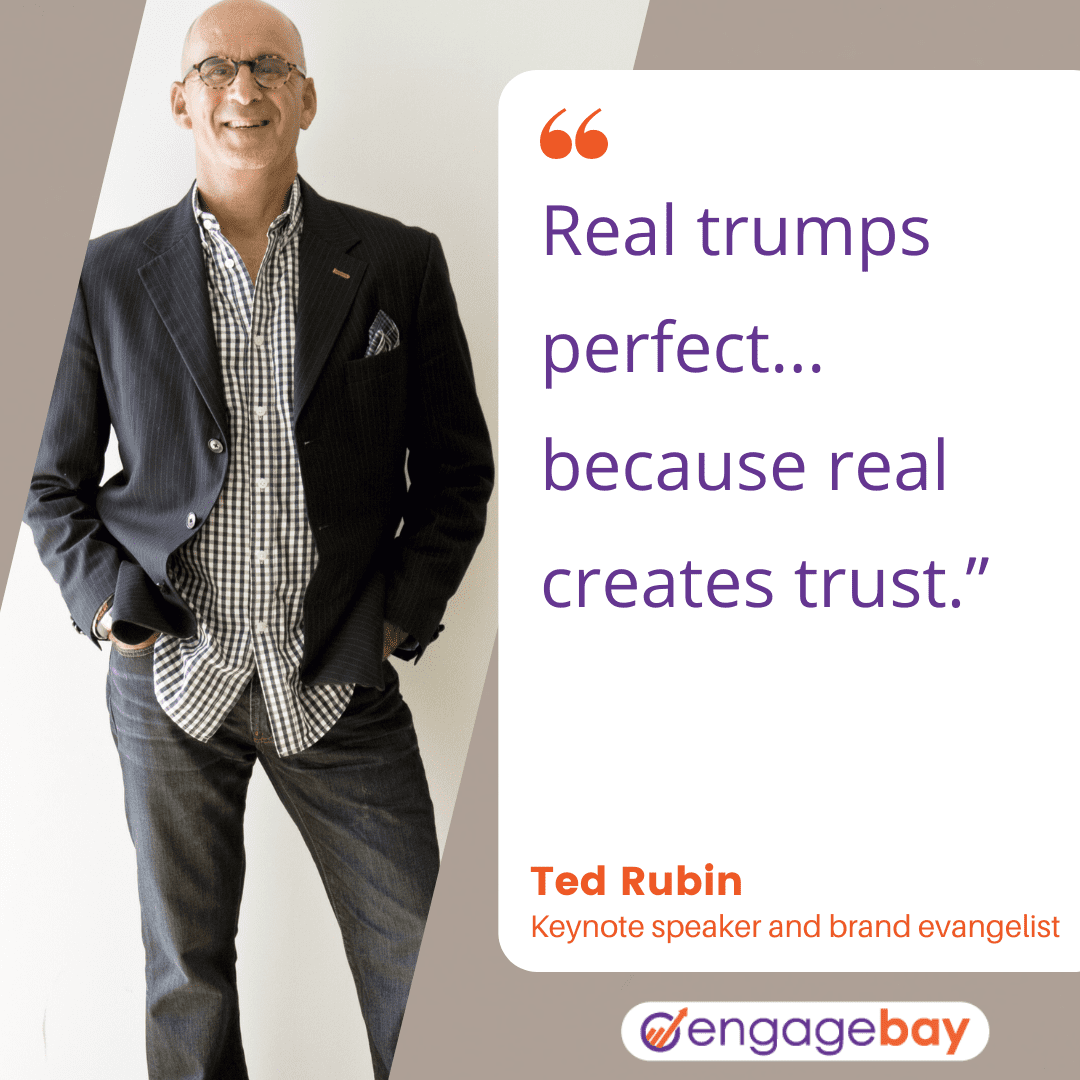 "A 'Brand' is what a business/person does and a 'Reputation' is what people remember and share."
"It's about 'Moments', not Milestones."
"Look at your own behaviors and ask yourself, 'Would I want to be my friend?'"
"Stories can help people relate to Brand's various & myriad products. Tell your story in a Way People Will Care."
"The best content is content that helps you achieve the result you are looking to achieve."
"The immediate and always present serendipity of Twitter puts a smile on my face & consistently adds value to my life."
"Welcome to the 'Age of Influence', where anyone can build an audience and effect change, advocate brands, build relationships, and make a difference."
"When used most effectively and to the best advantage at retail… mobile should be the conduit between online and in-store."
"Your Brand/Business is what you do; your Reputation is what people Remember and Share."
"Your value doesn't decrease based on someone's inability to see your worth."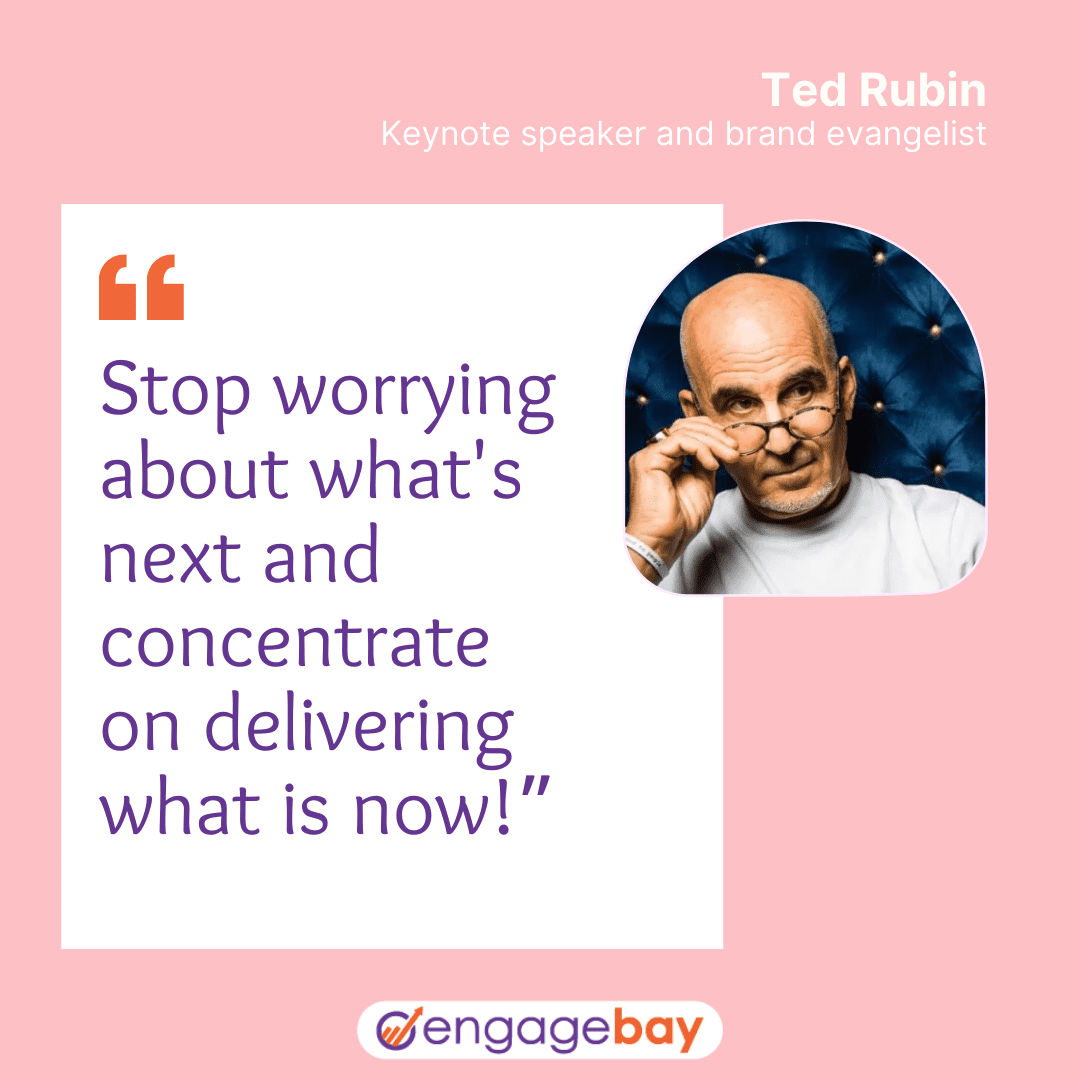 "Content is King, Content is Queen, and Content completed the family!
"Conversation is the Best Content."
"Keep in mind that hashtags on Instagram play a very important role in gaining visibility! Make sure you use them."
"Life is not about waiting for the storm to pass… it's about learning to dance in the rain."
"Start thinking about a consumer's 'Path to Purpose' along her 'Path to Purchase'."
"The most powerful way to increase the feeling of happiness is to perform random acts of kindness."
"Those who danced were thought to be quite insane by those who could not hear the music."
Read also: Unlock Your Potential: 50+ Quotes for Business Owners and Entrepreneurs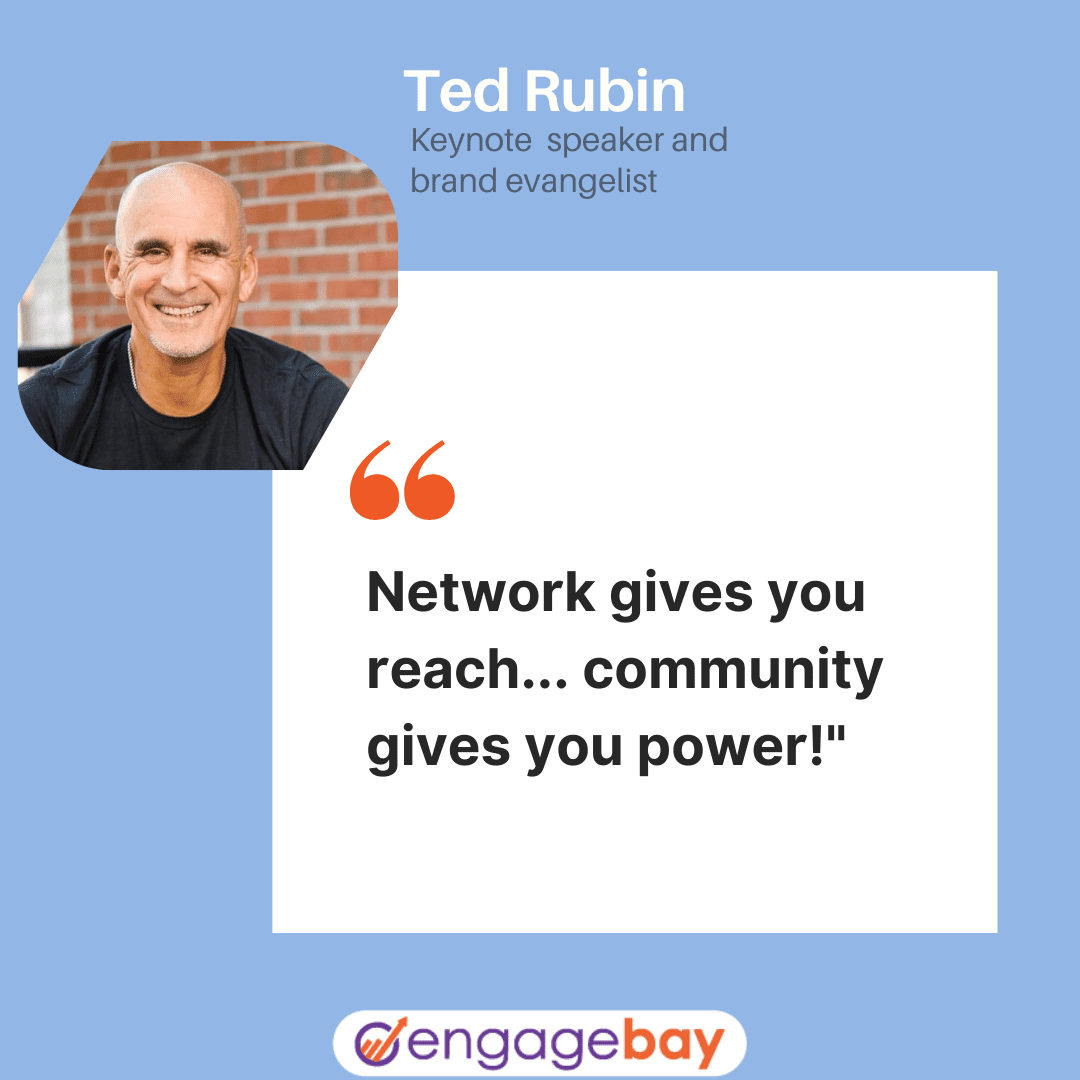 "Followers/Advocates are attracted to REAL, and can sniff out fake in a heartbeat."
"Networks Connect… Communities Care!"
"RETAIL RELEVANCY is all about SIMPLICITY… you make her life easier, she will buy from you again, and again, and again."
"Simplicity IS the new EDLP (everyday low price)!"
"Twitter's not just about who u reach here, but who ur followers reach behind Twitter."
"Vital to the future of your company in today's fast-paced/social world… embrace failure & encourage experimentation."
"We must all be ready to constantly throw aside previous assumptions and make new ones as we evolve."
Empower your CRM strategy with the wisdom of industry experts – learn from the best quotes on customer relationship management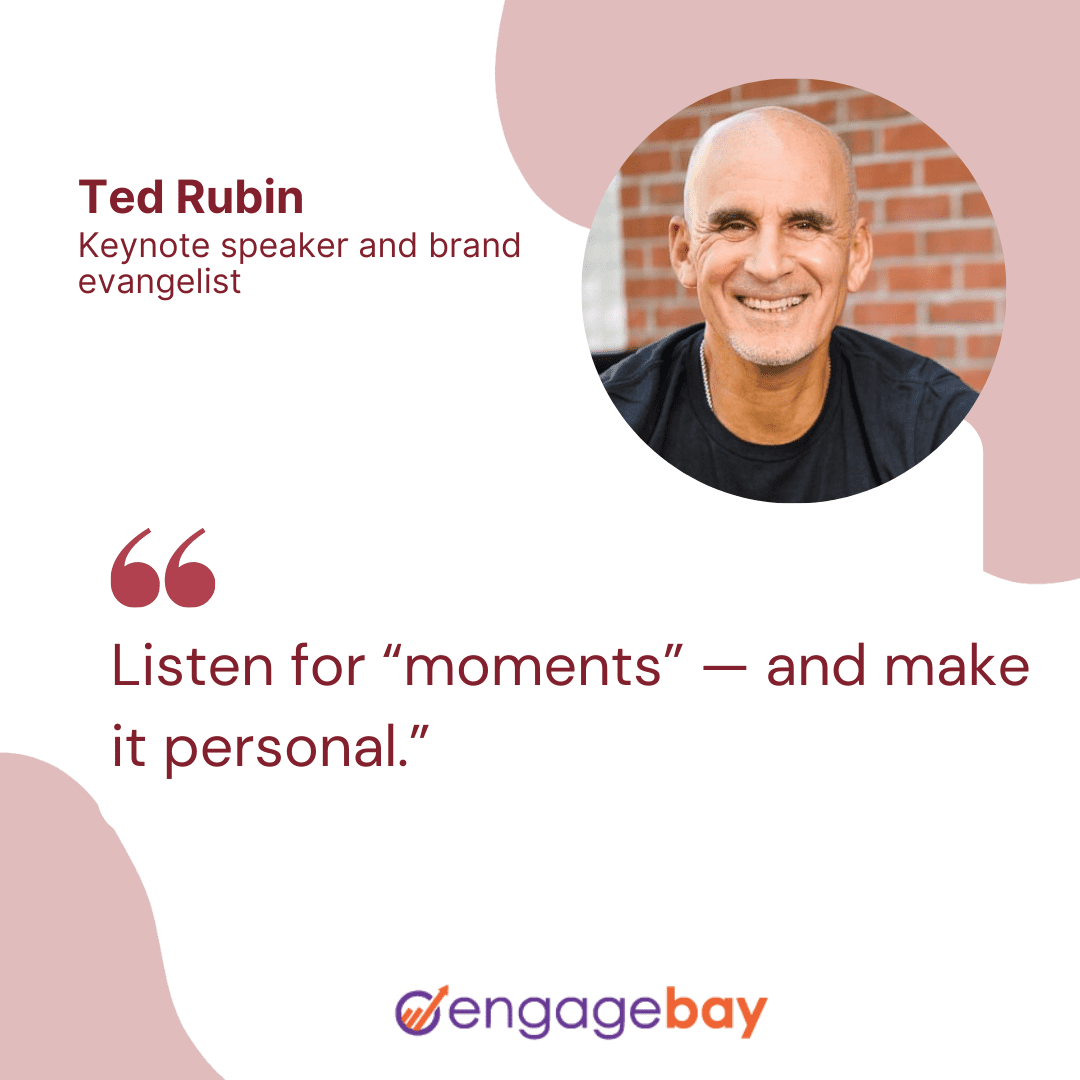 "If you are only focused on the Money… You risk completely overlooking the People."
"If you don't plan to listen to/hear the answers, don't bother asking the questions. It's that simple."
"Make investing in your brand part of your DNA… forsake the agency model that says if u can't bill it, u can't do it."
"Make it a special day… smile at everyone and see the sunshine you will add."
"Old Marketing was dictation… new marketing is communication. Change from Convince & Convert to Converse & Convert!"
"People who Care about their Health, Share about their Health.
Read also: 50+ Motivational Quotes to Ignite Your Inner Drive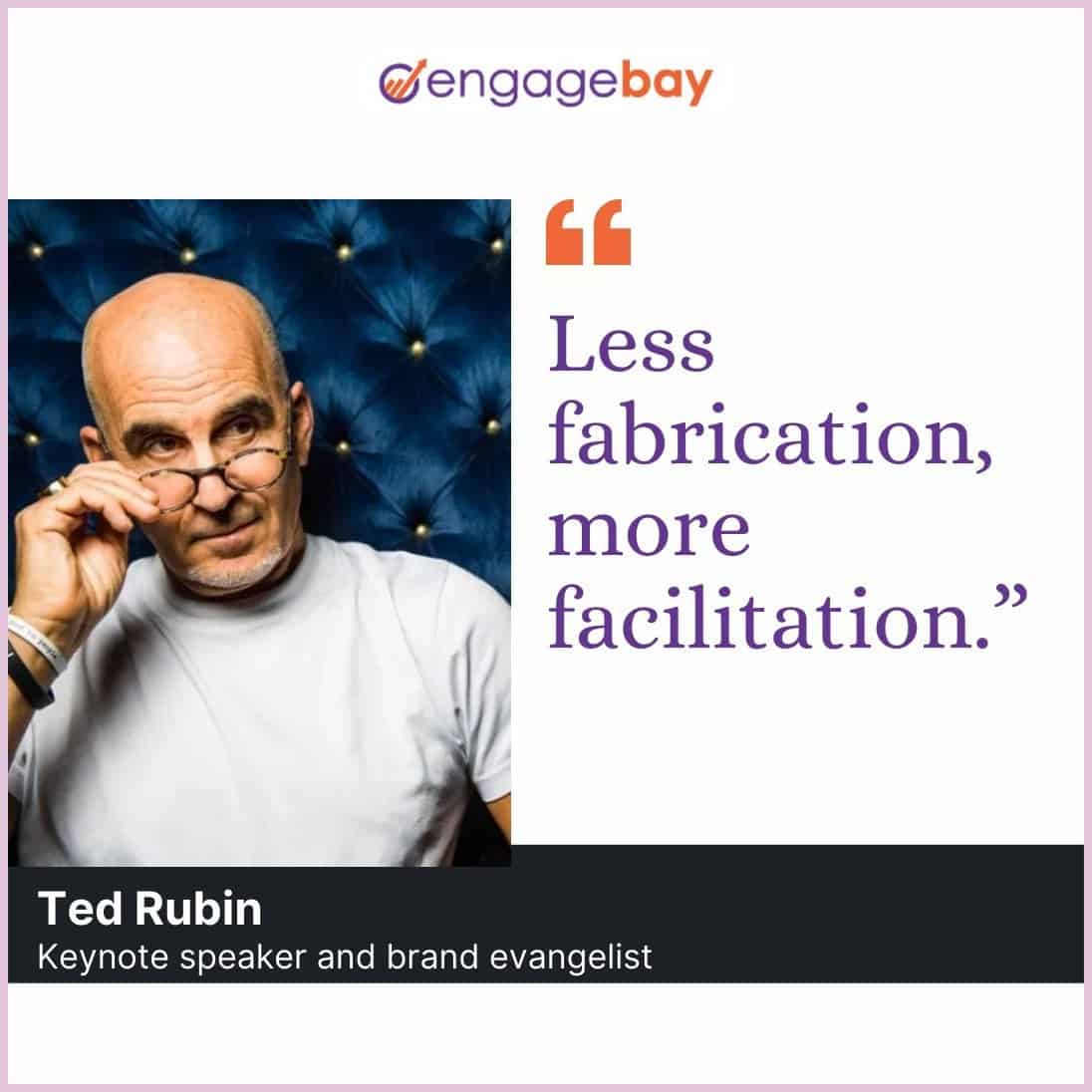 Read also: 50+ Inspiring Small Business Quotes: Fuel Your Entrepreneurial Fire!
Wrap Up
Did you like any of these enough to share them on social media? Here's one of our favorite Ted Rubin quotes:
"Relationships are like muscle tissue. The more they're engaged, the stronger they become. The ability to build relationships and flex that emotional connection muscle is what makes social so valuable."
If you want to take a look at more collections of quotes like this, here are some recent ones:
Let us know which of these you liked best, and tag us when you share them 🙂