Even though it isn't every day that I get the opportunity to write a blog for EngageBay, but when I do, it's fortunately about sharing the good news.
And thankfully, it is happening quite frequently, so I am happy to be getting used to this.
So what exactly happened?
Over the very few years that we have been offering our integrated solution including marketing, sales, and support software and a free CRM to boot, we have consistently been recognized by numerous aggregating and reviewing authorities and have been awarded for being right at the top for most of our solutions.
And, you guessed it right, we received yet another award, and this time, it is from GetApp.
We have pleasure in sharing with you the fact that we have been now recognized as one of the top 3 marketing automation solutions available at the moment, with a whopping score of 98/100, and this has been validated by GetApp.
Not to take any credit away from the other two solutions that made it to the top 3, Omnisend, and Remarkety are the other two that are among the top three marketing automation tools in 2020.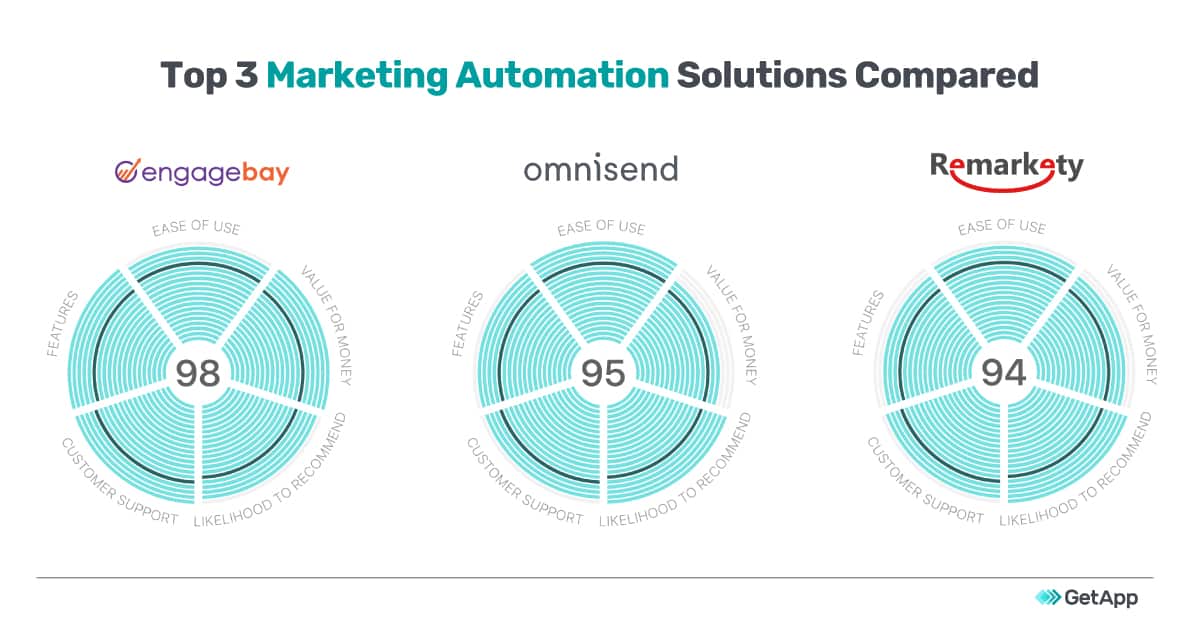 Read the full article about marketing automation and this year's winners by GetApp here.
The category leaders are selected by GetApp's team of researchers using thousands of ratings from real users to identify five key areas: ease of use, value for money, functionality, customer support, and likelihood to recommend.
Each year, GetApp ranks the leading business apps inside its most popular categories to help you tackle software selection.
View unbiased, data-driven rankings
Get a breakdown of key factors
Quickly compare apps
App scores are determined by 5 factors, worth 20 points each, for a possible total of 100.
"To create each Category Leaders ranking, our research team typically evaluates hundreds of products in any one category. The 10-15 with the highest scores become Category Leaders." according to GetApp.
You can review the detailed selection methodology here.
What is most heartening is the fact that all three of the top-ranked marketing automation solutions of 2020 rank above some other very serious contenders.
EngageBay, on the other hand, has been working tirelessly to provide world-class software for growing businesses at affordable price points, empowering small businesses and startups to seamlessly organize and automate their marketing, sales, and support processes without breaking the bank.
Some of the testimonials shared by EngageBay users on GetApp include:
A great tool for marketing automation for small companies

EngageBay is a great tool for marketing automation for small companies (finally!) and for a reasonable price. You can customize all views and see the data you want to. You can take a bulk action on multiple contacts – this makes work easier and faster….

I've tried it, but now it's our official automation platform..

I have tried other platforms, also spending a lot of money on assesment (hubspot, sharpspring, active campaign, etc…). Some of them have too high prices, others don't seem to listen to the request for new features, still others the support is slow to respond. In all the cases I tried something was missing: for EngageBay nothing is missing and the costs are very affordable (it also includes a free version to let my customers try the product).
Obviously, as usual, we are humbled to be recognized as yet another Category Leader by GetApp and by the fact that so many of our customers share such kind words about us!
About GetApp
GetApp is a premier online resource for businesses exploring software as a service (SaaS) products. Buyers easily compare software products side-by-side with GetApp's free interactive tools and detailed product data. GetApp features research, insights, trends, and validated user reviews, giving buyers the tools they need to make informed decisions for their organization. GetApp is a Gartner company. For more information, visit www.getapp.com.
About EngageBay
We are a fast-growing company and we strongly value our customers and partners. It has always been part of our vision to build strong and long-lasting relationships with our clients, and provide them with the best tools they need to scale and grow their businesses.