The use of marketing automation has increased across various industries, giving businesses the tools to engage with customers, nurture leads and increase revenue effectively.
In addition, marketing automation reduces the sales cycle and increases qualified lead generation by 451%.
These are some reasons marketing automation has become an indispensable marketing strategy for many businesses and is projected to reach a market size of 25.1 billion dollars in 2023.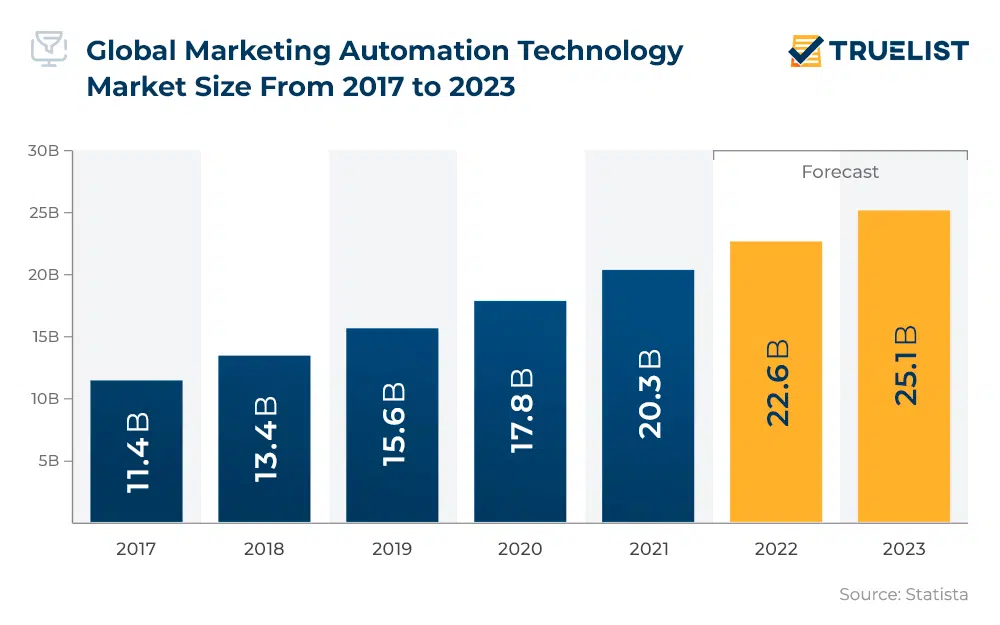 In this blog post, we cover:
All the key marketing automation use cases (practical applications)
Factors to consider when choosing a marketing automation platform
Examples of marketing automation by top brands
Let's begin!
Marketing Automation 101
Marketing automation is the use of software to automate routine marketing processes and streamline workflows. It enhances marketing effectiveness, customer interactions and helps deliver pertinent content to the right people at the right time.
Here is Jon Miller's definition of marketing automation:
"Marketing automation is a technology that propels your business into a new era of relationship-based marketing with quantifiable results. When powerful technology meets effective implementation and internal process management, your company will soon find itself on a journey that leads to new heights of business success."
Think about it this way, when you eliminate repetitive tasks such as sending emails, lead scoring, or ad retargeting from your marketing strategy, you're not only becoming more efficient or productive, but you're also creating a personalized experience for your clients, which increases the likelihood of making sales by 80%: marketing automation is what makes it possible.
Here are some marketing automation statistics every business owner should know.
6-in-10

marketers use marketing automation to generate more leads.

Through lead scoring, marketing automation drives a 28% increase in sales productivity and 33% higher revenue growth.

Automation contributes to a

12.2%

drop in marketing expenses.

80%

of marketers say marketing automation is the number one contributor to their success.

Marketers ' top three automation techniques are email automation, profiling and targeting, and personalization using dynamic content. (GetResponse)

Revenue growth (85%) and sales productivity (69%) are the top reasons why organizations must implement lead nurturing automation.

(Moosend

)

56%

of businesses currently use marketing automation, with more planning to do so. (

Email Monday

)
Benefits Of Marketing Automation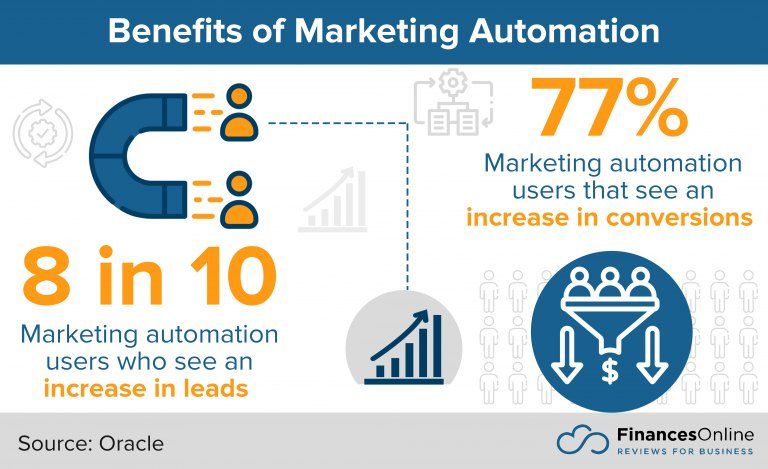 There are several benefits to using marketing automation asides from increased efficiency or saving time.
For instance, marketing automation keeps your brand message consistent across multiple touchpoints, improving customer interaction and engagement.
Additionally, in the case of cart abandonments, you can automatically send trigger emails to potential customers who have added products to their cart but are yet to complete the transaction.
By reminding them of the cart's content and providing incentives or discounts, you entice them to finish the purchase.
In addition, research on the main benefits of marketing automation from users showed that improved targeting messages, customer experience, better quality of leads, more leads, and improved marketing ROI and efficiency were the top benefits recorded.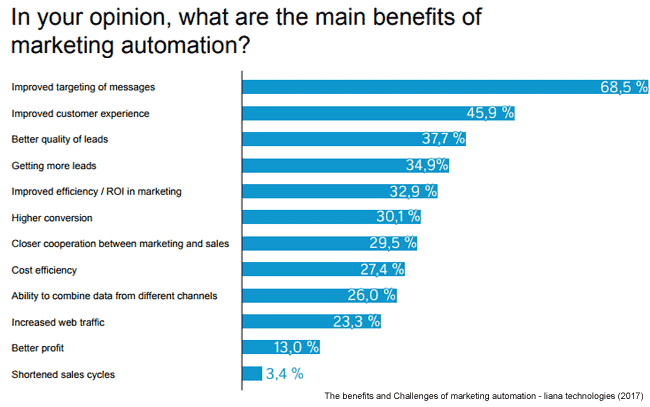 This aligns with the research on the top reasons for implementing marketing automation that showed streamlining marketing efforts, improving customer engagement and experience, minimizing manual tasks, and increasing the number of leads.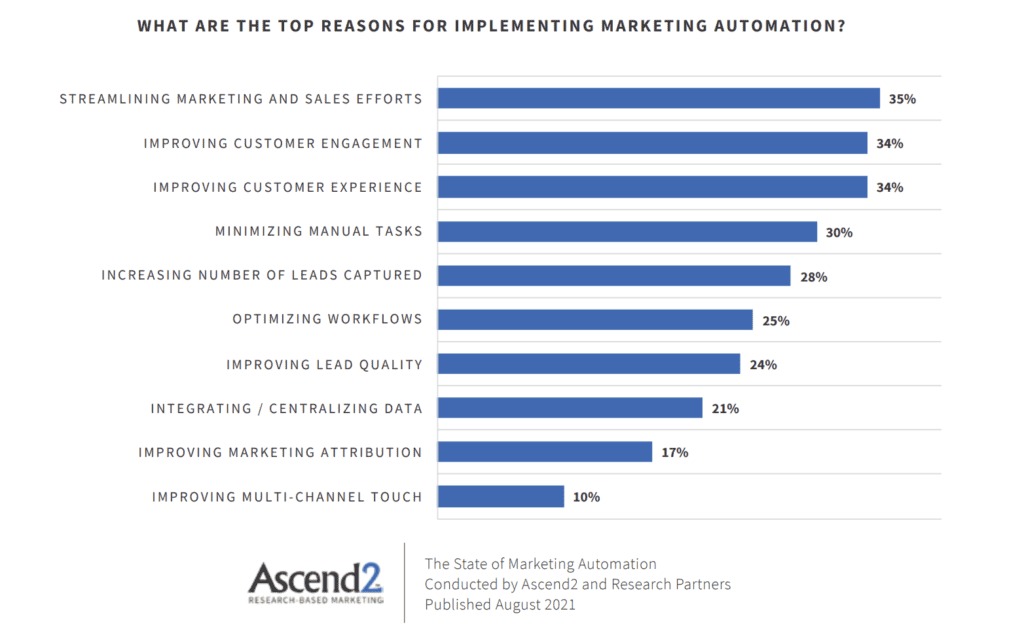 This further proves the efficiency of automation tools in achieving business goals and its benefits for business owners.
Read also: The Beginner's Marketing Automation Checklist [101]
Marketing Automation Use Cases
Let us look at the following use cases to illustrate the benefits of marketing automation.
Lead generation and nurturing

Personalization at scale

Customer retention and loyalty programs

Social media marketing

Email campaign management

Analytics and reporting
1. Lead generation and nurturing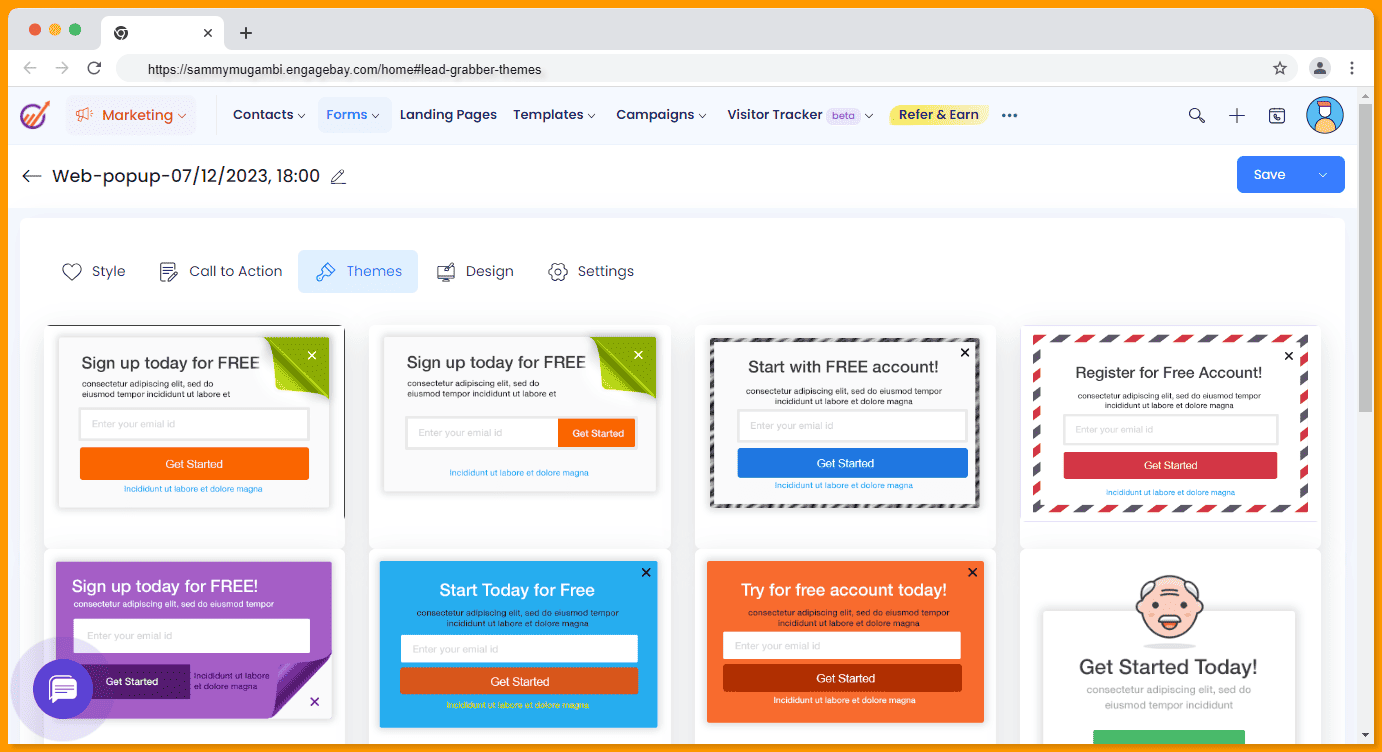 A lead is a potential customer. So, lead generation is simply the process of getting a pool of potential customers interested in your products and services.
On the other hand, lead nurturing is cultivating solid relationships with leads to convert them into devoted, paying customers at every stage of their customer journey, mainly through tailored messaging.
Only some leads will convert into paying customers, and the brick-and-mortar way of generating leads without marketing automation leads to a pool of unqualified leads.
For instance, in a pool of 1,000 leads randomly gotten, only 20 may be qualified (seems like a waste of effort, right?).
But with the right marketing automation software, you can identify potential leads by leveraging data insights and then implement targeted campaigns that resonate, increasing the likelihood of sales conversion by 80%.
These automated lead nurturing workflows deliver personalized content, guiding prospects through the sales funnel. The result is increased conversions and a more efficient sales process.
Lead generation and nurturing can be divided into three processes: lead capturing, segmentation, and nurturing.
Lead capturing
Marketing automation helps capture leads through various channels, including:
Landing pages

Web forms

Social media adverts

Chat boxes
These leads are then added to the marketing automation platform's database.
Segmentation process
Once leads are collected, automation allows you to segment them based on specific criteria like demographics, behavior, or interests. This segmentation enables personalized and targeted content delivery.
Lead nurturing
This is the third step in this loop. Marketing automation allows you to send customized content using segmented lists to nurture leads at various points in the sales funnel.
Drip campaigns are also called automated emails, newsletters, or lifecycle emails (a sequence of emails automatically delivered to those performing a particular activity on your website).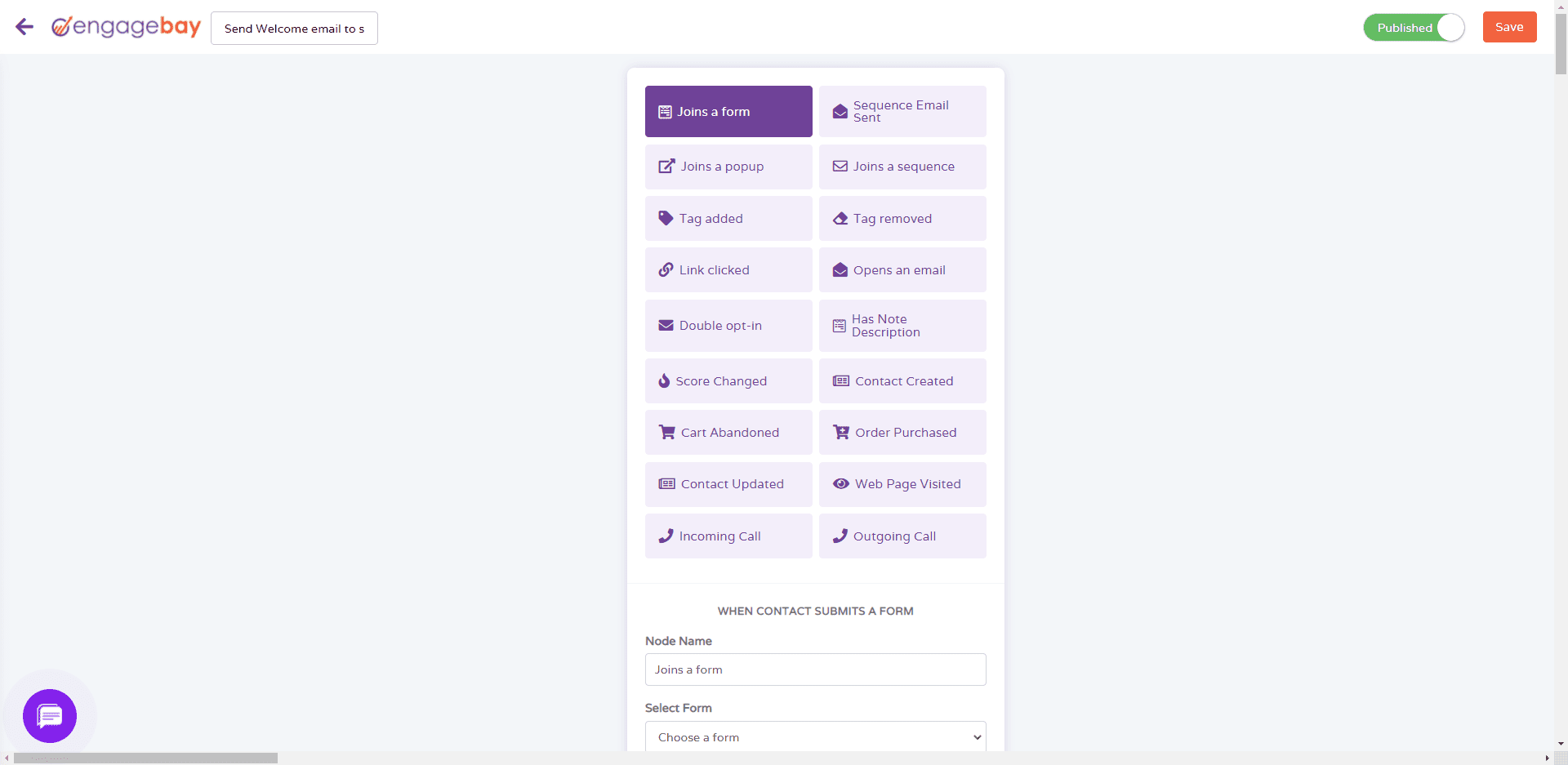 Thousands of business owners and eCommerce merchants use EngageBay's marketing automation software to efficiently carry out the above processes (lead capture, segmentation, and nurturing), craft multiple campaigns, publish them across multiple channels, and analyze results leading to higher ROI and marketing efficiency.
Read also: Marketing Automation Best Practices for the Non-Technical Marketer
2. Personalization at scale
'Personalization' and 'at scale' sound counterintuitive when placed in the same sentence. However, marketing automation is the glue that holds them together.
With personalization, you significantly improve consumer experiences through personalized messages, suggestions, and offers based on user choices and behavior.
Customers who receive personalized offers are more likely to purchase and have higher retention rates. A survey by Salesforce with over 13,000 consumer and business buyers shows increased consumer expectations towards personalization from 2020 to 2022.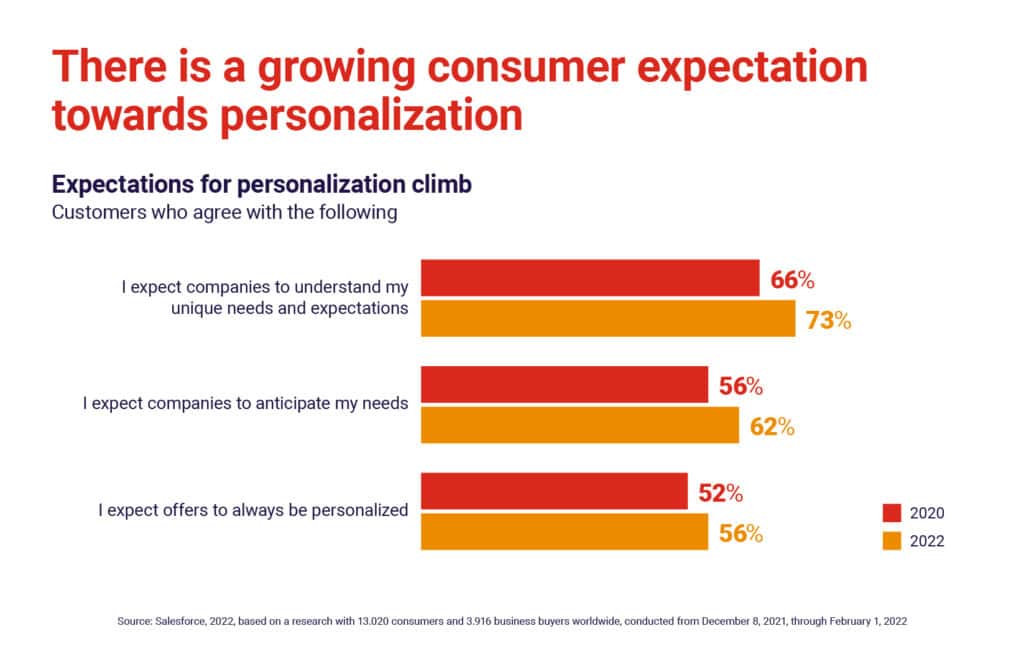 This shows the growing need for personalization at scale and its importance in customer retention.
So, with marketing automation, businesses can scale their personalization strategies to a vast consumer base while preserving relevance and unique experiences. This helps improve brand loyalty and general customer happiness. Thereby increasing customer retention rates.
Personalization at scale through marketing automation is accomplished in the following ways:
Data gathering and segmentation
Marketing automation tools like EngageBay capture useful data from numerous touch points like website visits, email exchanges, social media participation, and form submissions.
Clients are segmented using this data based on their demographics, behaviors, preferences, and interests.
Dynamic content
Using segmented data, marketing automation enables the development of dynamic content that changes depending on the characteristics of each consumer. This entails customizing website content, landing pages, and emails to provide each consumer with information and offers that are pertinent to them.
Live chatbots
This marketing automation strategy enables personalized communications with new or existing customers on your website. When combined with CRM software, live chatbots become a powerful strategy for delivering personalized messages.
They can pick up on previous communications from customer interactions and deliver tailored responses, which helps to save time.
Email triggers
Marketing automation creates automatic workflows triggered by particular events or set periods. The system automates replies with personalized messages, follow-ups, or suggested products or services as clients interact with materials or take specific actions.
Lead nurturing
Research shows that businesses that use marketing automation to nurture prospects experience a 451% increase in qualified leads.
Customers in each stage of the buyer's journey receive targeted content through automated lead nurturing efforts. This keeps them interested, informs them about the company, and directs them toward making a purchase.
Real-time tracking
Real-time tracking of consumer behavior by marketing automation enables it to adapt to shifting preferences quickly. For instance, if a consumer expresses interest in a particular product, the system automatically offers similar content or recommendations.
Data and insights
The in-depth data and insights marketing automation tools offer on engagement, conversion rates, and content effectiveness helps you continuously enhance and optimize your personalization tactics.
Read also: The Beginner's Guide to eCommerce Marketing Automation
3. Customer retention and loyalty programs
Typically, losing a customer costs a business $243. Additionally, selling to existing customers is easier than acquiring or making sales from new customers. These are some reasons every business that wants to grow sustainably focuses on not just customer acquisition but also on customer retention strategies.
On average, SaaS businesses experience an annual churn rate of 32 – 50% annually. Making improving customer loyalty and retention doubly important for SaaS business owners.
Improving customer loyalty and retention through marketing automation is made possible in the following ways:
Automated loyalty programs
Marketing automation simplifies designing and administering loyalty programs. Through automated processes, you can keep track of customers' purchases, reward points, or levels earned and send them individualized communications about their loyalty status and benefits.
Tailor-made offers and rewards
Automation enables companies to provide rewards and incentives for each customer's preferences and behavior. This customization encourages customers to remain loyal to your brand.
Delivery of relevant content
A top reason customers churn is inconsistent or generic messaging that doesn't cut it.
With the right automation software, you can deliver relevant content to the right segment at the right time, detect inactive or uninterested clients and launch re-engagement initiatives by giving exciting offers, such as exclusive discounts or special promotions, encouraging customers to return and purchase more.
Win-back campaigns
Automation enables the execution of win-back campaigns for clients who have churned in the past or have shown indicators of doing so. These campaigns are used to pique customers' interest in your brand.
Read also: Essential Marketing Automation Interview Questions [101]
4. Social media marketing
Companies are paying attention to digital marketing strategies such as social media marketing to expand their clientele and boost revenues. Marketing automation makes social media marketing more efficient in the following ways:
Multi-platform engagement
Imagine maximizing the same messaging across multiple platforms and automating some client interactions on each platform. With marketing automation, it no longer has to be an imagination but a reality.
You can integrate your customer relationship management (CRM) software with your social media platforms and manage it from a single dashboard. You no longer need to log into each platform separately to schedule posts, streamlining the procedure and saving time.
Effective scheduling
Marketing automation lets you plan your social media updates to ensure that information reaches your audience at the best moment for engagement. This function is beneficial for maintaining a constant posting schedule, even during non-working hours or holidays.
Campaigns and the content calendar planning
With automation, you can easily create a content calendar to plan and arrange social media postings for particular campaigns or events. This guarantees a comprehensive and well-planned social media campaign.
Automated publishing
By using this hands-off strategy, marketing automation automatically publishes planned posts at the assigned times, allowing you to devote more time to other crucial duties.
Read also: 7 Marketing Automation Flowchart Examples [Workflow Guide]
Social listening and engagement
Some marketing automation platforms provide social listening tools that enable companies to keep track of mentions, feedback, and conversations involving their brand. This makes it easier to respond quickly to questions or comments from customers.
Performance tracking
Without robust analytics, social media marketing can seem like a silo with no insight into the effectiveness of your campaigns.
Tools for marketing automation offer in-depth insight into social media performance, allowing you to track the effectiveness of your social media marketing campaigns by tracking metrics, including reach, engagement, clicks, and conversions.
A/B Test social campaigns
A/B testing, commonly called split testing, is a marketing experiment where you divide your audience to test different campaign versions and see which works better. Put another way: you can present version A of marketing content to half of your audience and version B to the other and see which works best.
With automation software like EngageBay, social media posts can be automated for A/B testing to see which messaging or content is most effective. Future posts can be optimized for more remarkable outcomes using this data-driven approach.
Read also: 17 Marketing Automation Workflows for Amazing Results
5. Management of email campaigns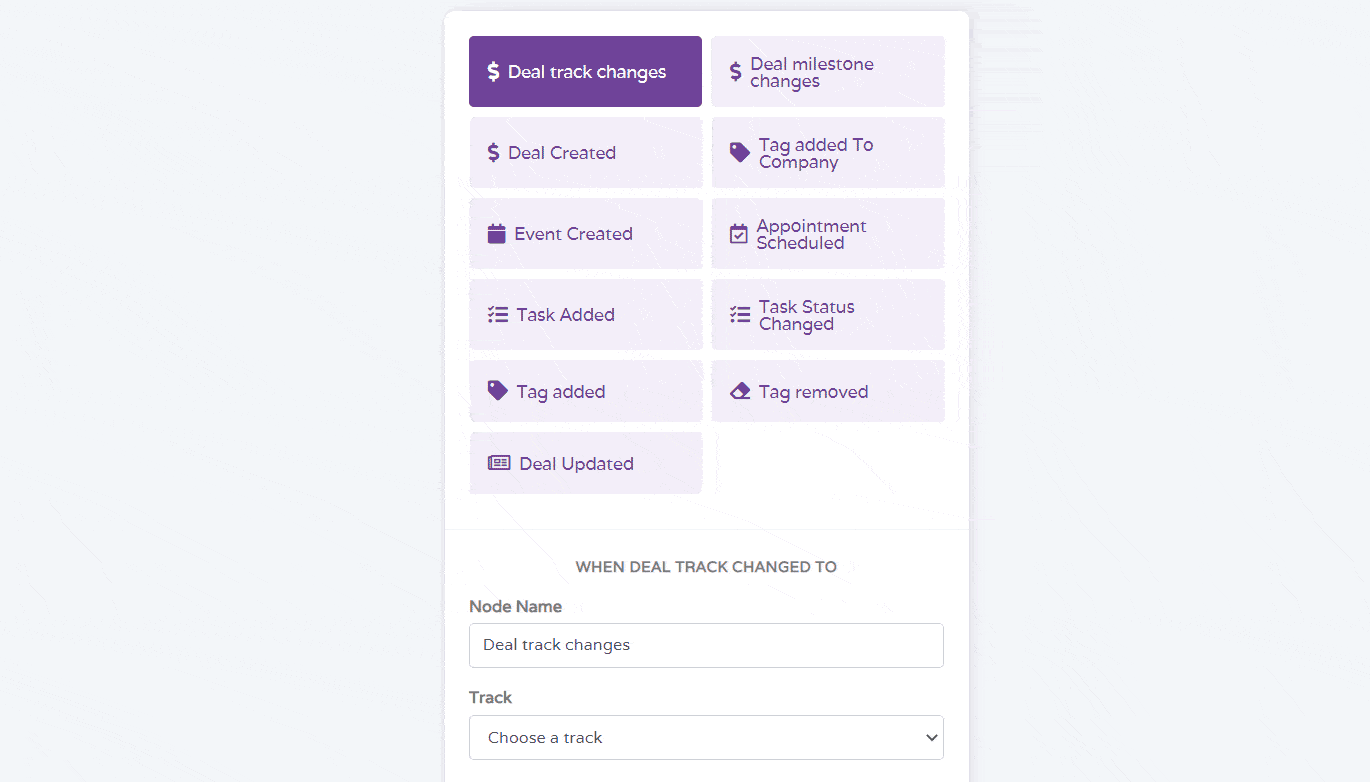 For customer communication, email marketing remains one of the most cost-effective methods.
Through audience segmentation, targeted message triggering, and follow-up messaging, marketing automation improves email campaigns' effectiveness and deliverability. Increased opens, click-throughs, and conversion rates are the end outcome.
Here are a few practical ways marketing automation improves email campaign results.
Automatic email sequences
Marketing automation lets you set up drip campaigns or automatic email sequences based on consumer behavior or triggers. This guarantees subscribers receive timely and important emails that nurture leads and guides them through the customer journey.
List management
Marketing automation allows automatically adding new subscribers, updating contact details, or deleting inactive members.
This guarantees that your email list is constantly current and keeps deliverability and engagement rates high.
Segmentation and personalization
As discussed earlier, marketing automation tools let you divide your email list into subgroups based on demographics, interests, or previous interactions. Using segmentation, you can adapt email content to appeal to each group more effectively, boosting engagement and conversion rates.
Email triggers
You can configure automatic email triggers depending on particular deeds or occurrences, such as a new subscriber joining the list, a cart abandonment, or a recent purchase. You can use these triggers to deliver customers personalized communications relevant to their behavior or interests.
Optimized send times
Automation enables you to examine past data to determine the ideal times to send emails to increase open rates and engagement. With this function's help, you can ensure that your emails are sent to subscribers' inboxes at the ideal time for reading.
A/B testing
With marketing automation solutions, you can test several aspects of your emails, such as the subject line, the body copy, and the call-to-actions (CTAs). Your performance will increase when you use this data-driven strategy to find the most productive email variations.
Read also: B2C Marketing Automation: From Basics to Brilliance
6. Analytics and reporting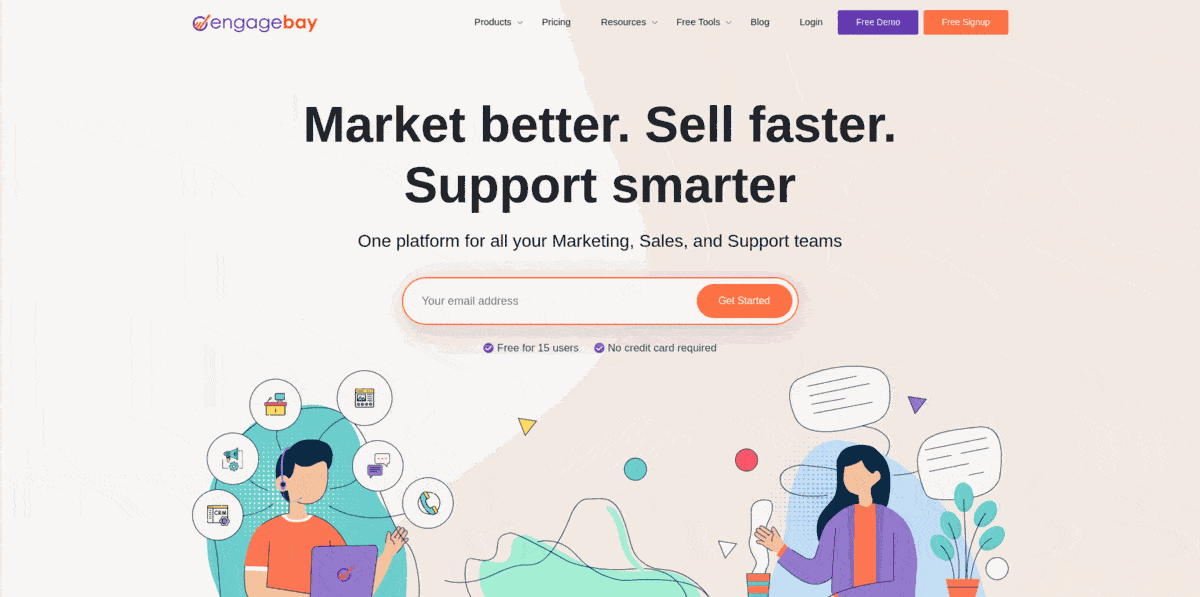 Making wise marketing decisions requires accurate data analysis. You can design email marketing campaigns, produce successful pipelines, and gain insightful data about your ROI with the help of marketing automation software in the following ways:
Tracking of campaign performance metrics
With marketing automation, you can track your KPIs (key performance indicators), including engagement levels, open rates, click-through rates, and conversion rates. With this, you can determine which campaigns must be optimized and which are functioning effectively.
Lead tracking and scoring
Marketing automation tools can monitor the actions and interactions of specific leads throughout the buying process based on their engagement and activities, which show their readiness to purchase. Then, leads are given values via lead scoring.
This aids sales teams in sorting through leads and concentrating on the most promising ones.
ROI measurement
Marketing professionals can use automation solutions to monitor each marketing channel's return on investment (ROI). Businesses can evaluate the success of their marketing initiatives by examining the revenue generated from particular campaigns and comparing it to the cost of conducting those campaigns.
Real-time tracking
Several marketing automation tools include real-time tracking, enabling you to keep tabs on campaign performance as they occur. Because of the immediate feedback they receive, they can react rapidly to shifting trends or clientele.
Customizable reports
Most automation platforms provide customizable reports and dashboards, enabling business owners to access data that best meets their requirements and preferences.
Focusing on the most pertinent information for decision-making is made simpler with customizable reports. These insights are crucial for finding opportunities, enhancing consumer experiences, and fostering overall business success.
Read also: Why Companies Need B2B Marketing Automation Today
Inspiring Examples of Marketing Automation From Global Brands
Marketing automation is necessary for a business owner wanting to scale. Here are a few companies that have effectively used marketing automation in various fields for success.
1. Amazon
Amazon is a great example of a company that employs marketing automation to give its customers tailored recommendations. They monitor user activity and purchase history to provide product recommendations for individual preferences.
Conversion rates rose by 30% as a result, and customer satisfaction significantly increased.
Read also: Marketing Automation For Manufacturing: Beginner's Guide
2. Airbnb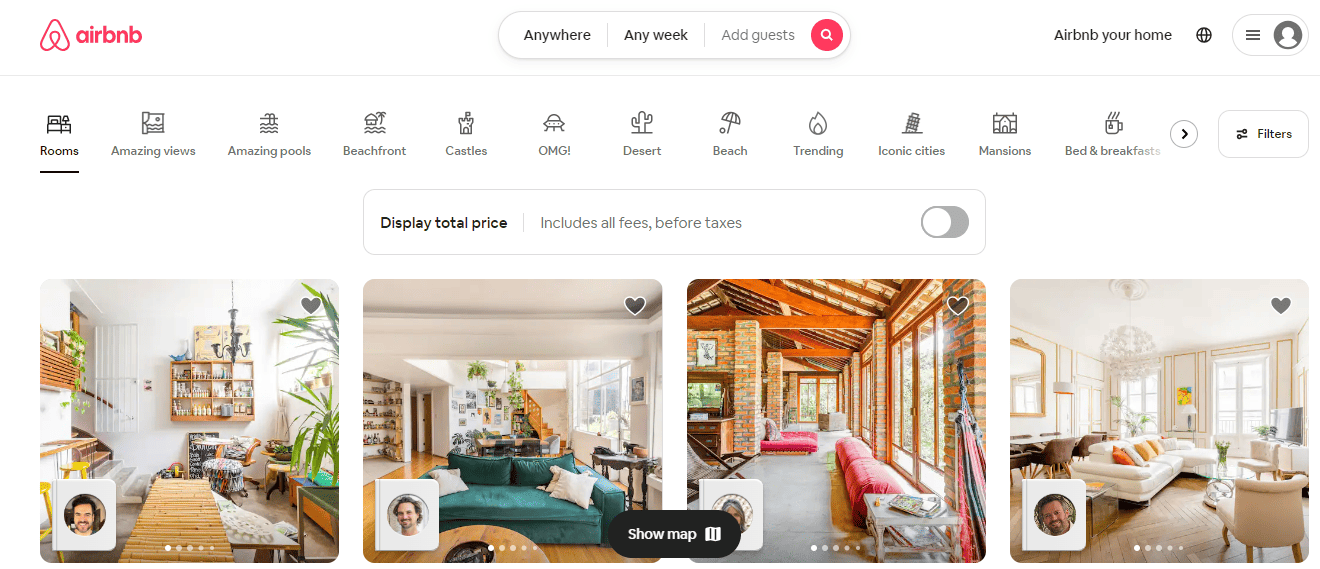 Airbnb uses marketing automation to send customized emails based on consumers' past searches and bookings. Users who have expressed interest in particular locations or types of lodgings are targeted using behavioral triggers, and they are urged to make reservations or return to the website.
As a result of this and other digital marketing strategies, Airbnb went from 0 to a billion bookings in less than a decade.
Read also: Account-Based Marketing vs Marketing Automation: A Guide
3. Netflix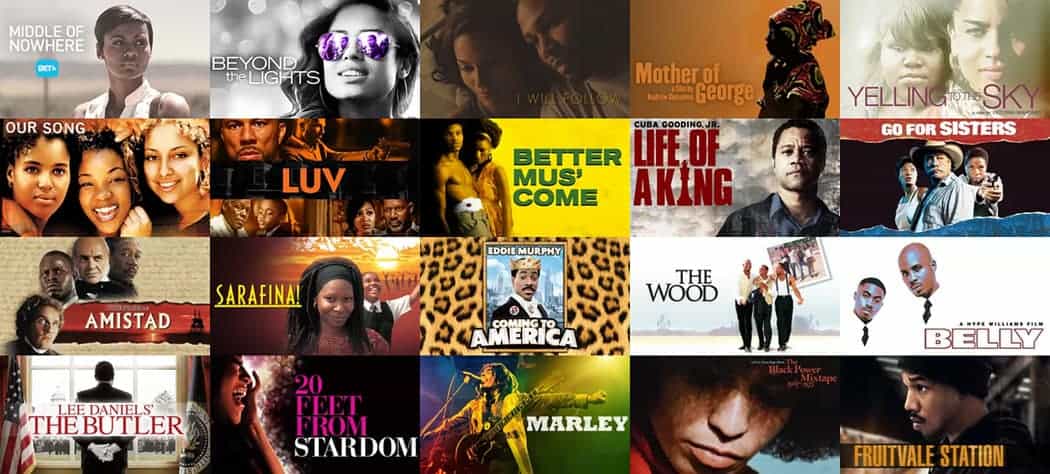 To provide its viewers with tailored content recommendations and increase user engagement and streaming hours, Netflix, a top streaming service, uses marketing automation.
The platform monitors user viewing patterns and engagement levels to recommend movies and TV shows that suit specific likes. And yes, they achieved their goals of increased user engagement and streaming hours.
Netflix co-founder Mitch Lowe, when discussing analytics in an interview, said:
"…I always thought you needed a clear answer before you made a decision, and the thing that he taught me was [that] you've got to use analytics directionally…and never worry whether they are 100% sure. Just try to get them to point you in the right direction."
Netflix heavy reliance on data and automation helped them become more efficient and become the HBO of internet TV in record time. Simply put, it prevented them from 'taking shots in the dark.'
Read also: Marketing Automation Landscape: A Guide To Scaling Your Business
4. eBay

eBay reduced its ad spend, which is the price of attracting users through paid advertising with the help of automated email marketing campaigns by sending out individualized product recommendations and promotions based on browsing and purchase history.
eBay also uses automated marketing strategies to remind users of things they have left in their shopping carts or that they have expressed interest in. They have also used automation to engage with customers on their social platforms actively.
These implementations significantly increased their revenue from $2,129 million in Quarter 1 of 2020 to $3,023 million in the Q1 of 2021. The game changed thanks to marketing automation.
Read also: Data-Driven Marketing Automation For Maximum Impact
5. Sephora
Cosmetics brand Sephora successfully implemented marketing automation into its loyalty program. This helps them inform their loyalty program members about reward points, special offers, and personalized product recommendations based on their prior purchases and preferences.
These real-world examples show how marketing automation can be used by companies of all sizes and in various sectors to improve customer experiences and, in turn, customer satisfaction and business revenue.
Read also: How To Build a Killer Marketing Automation Strategy
How To Pick Your Marketing Automation Platform
Before deciding on automation software, it is important to know the automation goals you want to achieve to increase the chances of efficiency post-purchase.
The first rule of any technology used in a business is that automation applied to an efficient operation will magnify its efficiency. The second is that automation applied to an inefficient operation will magnify the inefficiency. ~ Bill Gates
According to a survey by Funnel Overload, the top three goals business owners have for using marketing automation are to improve:
Your goal may be to streamline marketing and sales automation on a single platform for increased sales conversion. Whatever it is, after identifying it, you can then check out these seven factors and decide on the automation tool that fits.
Feature set
List the essential features you require, such as analytics, A/B testing, social media management, CRM integration, email marketing, and lead nurturing. Then prioritize platforms that provide the most pertinent functions to your business objectives.
Pricing

The trick here isn't to consider just the most affordable automation tool. Instead, compare your top choices' prices with the features they offer. That way, you are sure to get value for your money.
Additionally, suppose you're new to marketing automation. In that case, it is advisable to avoid the bells and whistles and stick to pricing tiers or platforms that offer the features you need to achieve your marketing automation goals.
Read also: Paving A New Path: How To Become A Marketing Automation Specialist
Scalability
Ensure the platform supports your company's expansion and changing marketing requirements. This way, you prevent having to switch platforms frequently.
Integrations
Verify that the platform can integrate with your current systems, such as CRM, eCommerce, and analytics tools, without requiring much effort. This improves overall efficiency and streamlines data flow.
EngageBay offers easy integration with most business software.
Ease of use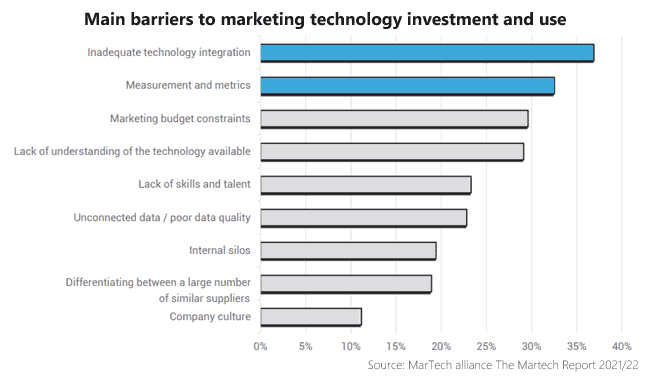 Surveys show that a lack of understanding of the technology available is one of the main barriers to marketing automation implementation. So, it's essential to consider the platform's usability and the ease with which your team can use its features.
An intricate interface could cause inefficiencies and call for extensive training. Additionally, check for support and training available on the platform. Examine the quality of the platform's customer service.
Your team can maximize the platform's potential with reliable support and training materials.
Reporting and analytics
Regular performance tracking is crucial for adjusting marketing strategy. Therefore, select a platform that offers thorough reporting and analytics to keep track of important indicators.
Also, check if the platform supports mobile access and administration, enabling you and your team to keep in touch and provide timely service even when you're on the go.
Read also: 11 Examples of Marketing Automation to Implement Today
Check out user reviews
You can get user reviews on platforms like Capterra, G2, and Getapp to get real insights from users on the pros and cons of each product. Then analyze these user feedbacks and rankings and ratings.
This gives you a snapshot of users' general perceptions of the automation tool you are considering.

When you finally narrow your choices to two or three tools, it's time to request a demo. With this, you get a practical feel of what each product does, its customer service, and other relevant insight.
Additionally, you can sign up for a free trial (if available).
Read also: SaaS Marketing Automation Explained (+ Top 5 Tools)
Conclusion
Marketing automation is a sure way to scale your business, eliminate repetitive tasks that saps time, money, and productivity and put your sales and marketing efforts on autopilot.
The marketing automation use cases discussed in this article illustrate the effectiveness of marketing automation in streamlining your marketing efforts and improving your results.
To get the best results from your marketing automation efforts, define your primary objectives and decide on a platform that suits your needs best.
Thousands of business owners trust EngageBay's marketing automation software to streamline their sales and marketing automation on a single platform.
You can book a demo or sign up for free to get started today!