Although direct marketing is considered a rather straightforward form of marketing, employing it correctly is not always so cut and dried, especially for startups or small businesses.
In today's guide article, we'll explain what direct marketing is and why it's an effective means of closing sales.
We'll also share more than a dozen direct marketing approaches, so you know exactly what to do.
What Is Direct Marketing? Does It Work?
Direct marketing is a means of directly communicating with leads and customers to make sales. Under this form of marketing, you'd avoid any third parties like mass media or publications.
To engage your audience, you'd use various forms of communication, which would also be the platform for your sales pitch. They can include SMS campaigns or social media, among others.
As you would when launching any marketing campaign, direct marketing requires you to segment your audience.
Your marketing campaign also includes a call to action to entice on-the-fence leads or customers to take action.
Of course, a marketing campaign of any sort is only as successful as its results dictate, and that's no different for direct marketing.
You'll do more than track your rate of sales once your campaign goes live (although it is important to do that as well). You'll also review the rate of responses you get.
These metrics will help you fine-tune your next campaign for even more effectiveness!
Read also: Waterfall Marketing — The Definitive Guide (8 Phases Explained)
What Are the Benefits of Direct Marketing?
Direct marketing is especially advantageous for startups, small businesses, and other companies on a budget that still wants successful marketing campaigns and more sales.
Here are the perks of this form of marketing.
Spend less money than in traditional marketing campaigns
Does direct marketing require more of your hands-on involvement versus other forms of marketing? It does, indeed.
However, since you're doing more of the work yourself and cutting out third parties in the interim, you're saving money.
For a small business or startup, that's huge!
You only have so much money to go around, and while you recognize the value of marketing campaigns for growth, your campaigns only have a limited reach because of your budget.
Direct marketing allows you to market more like those bigger companies you so emulate without spending the big bucks.
You can reach your leads and customers quickly
Marketing can sometimes entail playing the long game. It can be weeks if not months between the time you plan and launch a marketing campaign and then more time still before your intended audience ever sees your content.
That's not so with a direct marketing campaign. As the name implies, this is indeed a more direct way to market to your audience, as you can send your message out in a matter of hours and begin tracking results immediately.
You have more customization potential
Tailoring a marketing campaign to your target audience's needs is one of the best ways to ensure they're more receptive to your message.
With direct marketing, you have a variety of customization options at your disposal to make a more personalized and resonant campaign.
Read also: All the Basics of Omnichannel Marketing (+ Examples)
Build brand loyalty and engagement
Communicating directly with your customers is advantageous in more ways than speedy message delivery.
You're also building engagement by nurturing your audience, including leads and customers alike.
Through direct marketing, you might be able to increase the loyalty of your audience.
Tracking results is easy
As we said before, it's critical that you track the metrics driving your marketing campaign to ensure its effectiveness.
Since there are fewer cooks in the kitchen, so to speak, through the omission of extraneous third parties, it's a lot easier to get your hands on the KPIs that matter.
Read also: What Is a Vertical Marketing System? Definition, Types, Benefits
13 Ways To Try Direct Marketing
Are you ready to launch your first direct marketing campaign?
To help you feel surefooted as you start, here are some proven ways to try direct marketing.
1. SMS marketing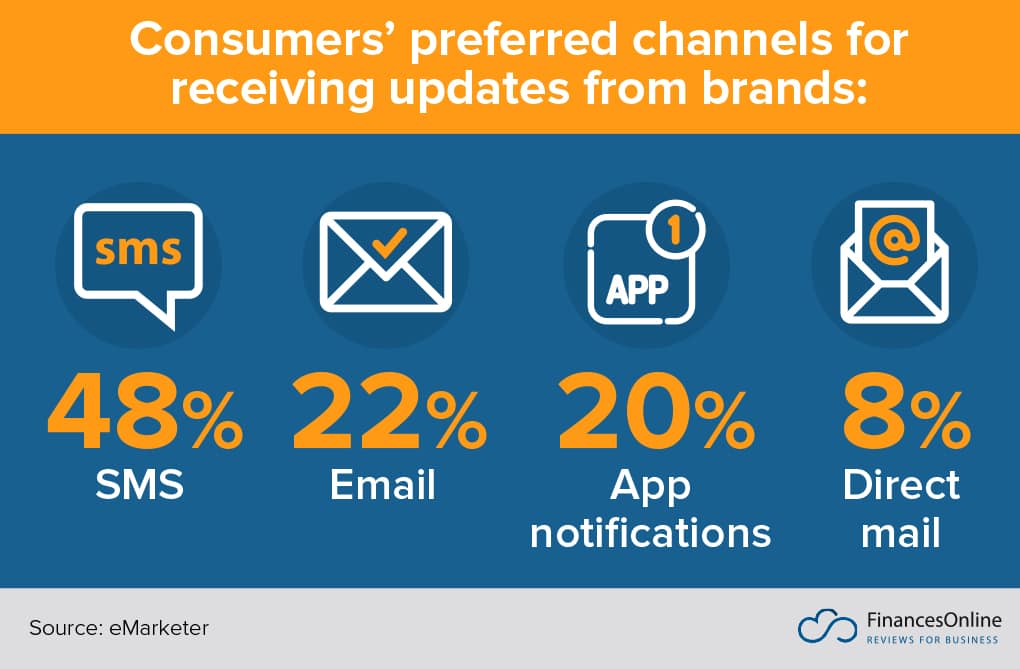 The first direct marketing example is text message or SMS marketing.
Although this might seem like a more outdated means of marketing, it's actually anything but!
According to 2022 stats from SimpleTexting, a text message marketing resource, 70 percent of people are subscribed to SMS marketing in 2022.
You can text your audience your latest deals and sales, inform them of new products and services, and offer exclusive discounts via text message.
Here are two pointers for you.
First, remember to keep your messages at 160 characters or under so your message isn't sent as two separate texts.
Second, use emojis sparingly!
2. Email marketing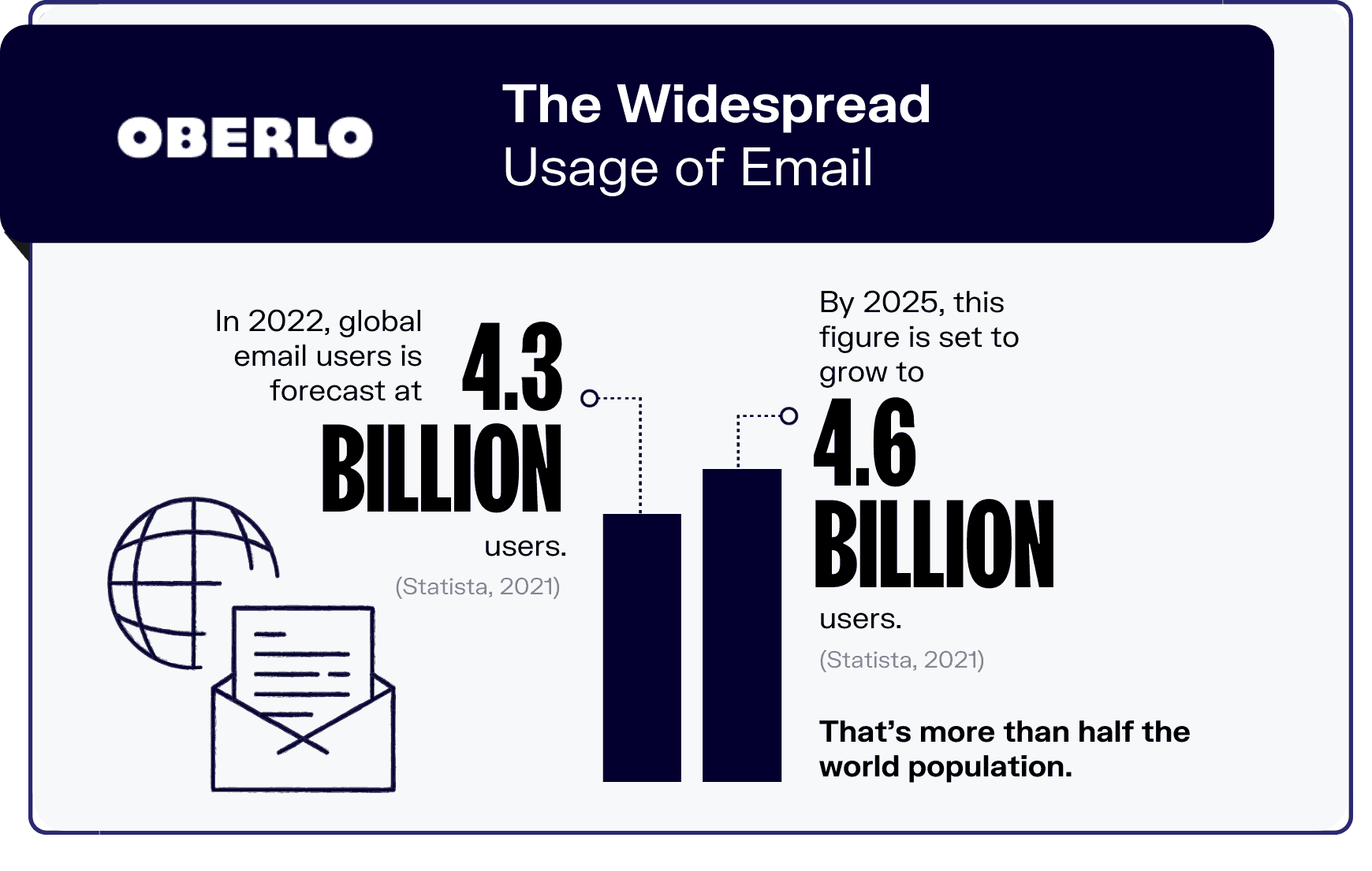 One of the most classic forms of marketing is technically direct marketing, and that's email marketing.
With email marketing, you build an email list using lead magnets and opt-in forms.
You can then engage with your email list the same way you would with SMS direct marketing, informing customers of new products and services as well as discounts.
Since you're afforded far more characters in an email and can add photos and other graphics, you want your emails to sing.
We'd also recommend periodically sending a newsletter to engage and build further trust with your audience.
Read also: Mid-Funnel Marketing: A Succinct Guide [Definition, Strategies]
3. Postcard marketing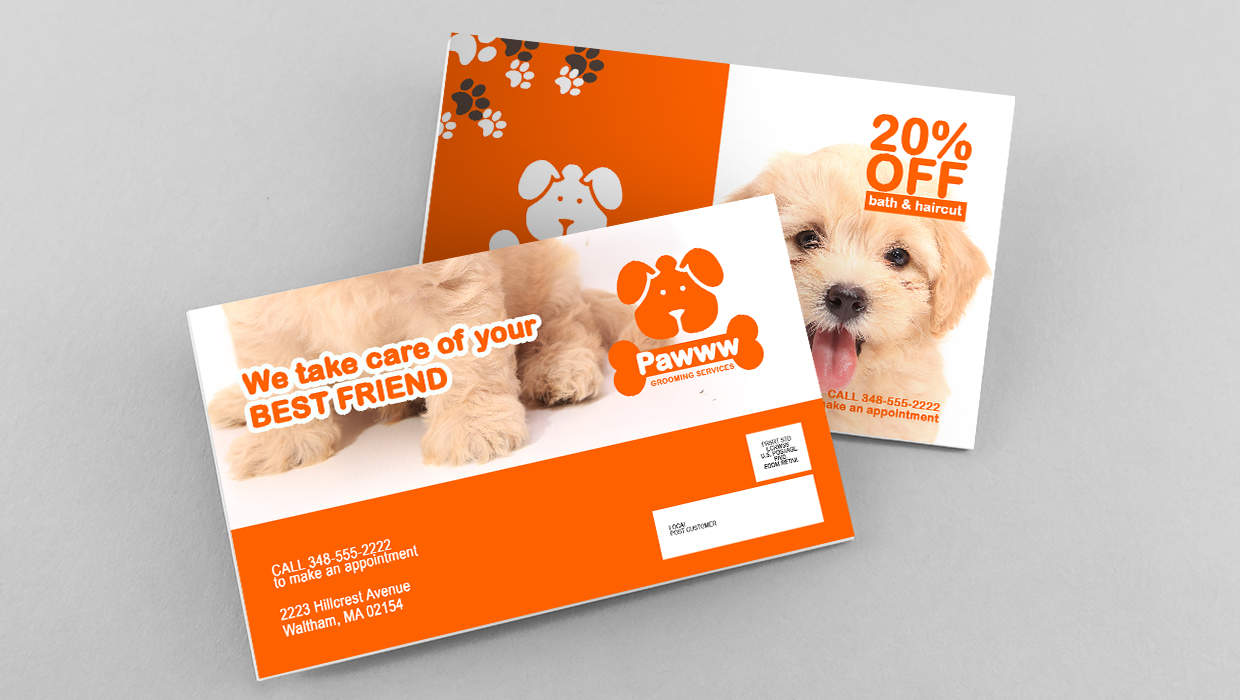 Direct marketing embraces all forms of direct mail, postcard marketing among them.
With postcard marketing, you create a physical advertisement in postcard form and then mail it to your customers.
This does require you to have the mailing address of your audience. That shouldn't be an issue if you've shipped goods to your customers before but reaching leads can be harder with this form of marketing.
It's also more difficult to track the success of postcard marketing. You'll have no means of knowing whether the postcard ever reached its intended destination or if it was upended along the way.
There's also the very real possibility that your recipient can throw the postcard into the recycling bin.
Read also: Top Retail Marketing Strategies To Boost Customer Loyalty (Trends and Tips)
4. Push notification marketing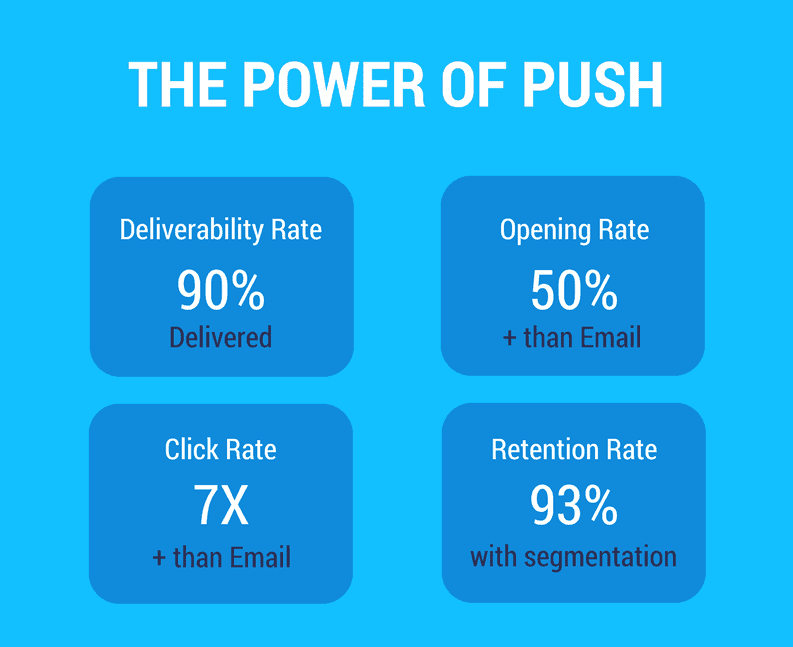 We get dozens, if not hundreds, of push notifications every single day, inspiring us to check out an app or read an article or take any other type of action.
With push notification marketing, you do more than merely send messages. You also trigger the recipient's push notifications to go off.
This will hopefully cause your lead or customer to drop what they're doing and check out your message immediately.
Read also: 7 Secret Dealership Marketing Tactics By The Top Guys
5. Catalogs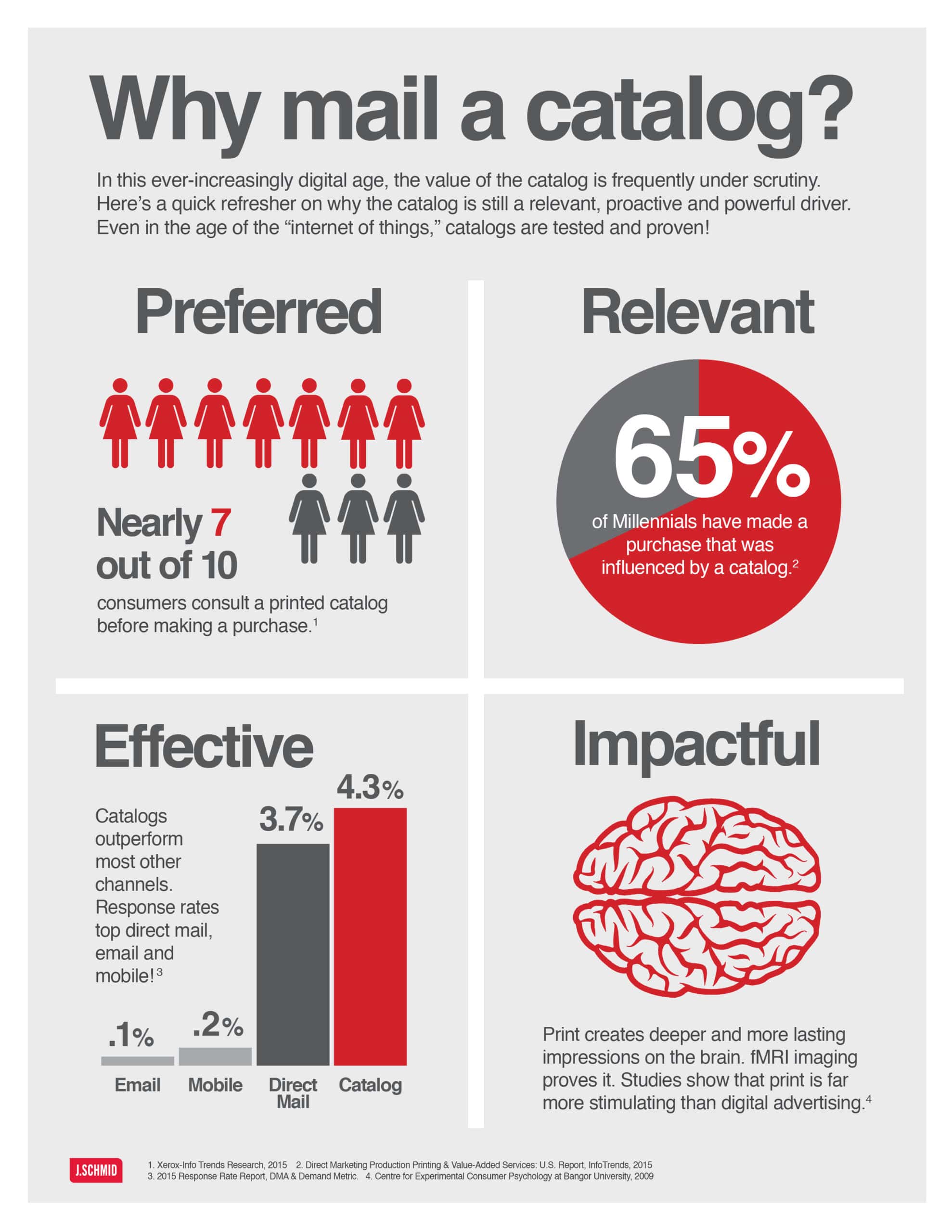 Another form of direct mail that you can consider is the catalog.
Much more in-depth than a postcard, a catalog is a great chance to showcase your products on glossy page after glossy page.
While a catalog will surely wow leads and customers alike, this marketing option does have its downsides.
For instance, catalogs can be expensive to mass-produce. Direct marketing is supposed to be low-cost so it's startup-friendly, but this direct marketing example is not.
The same pitfalls as with other direct mail also apply to catalogs, i.e., you have no way of tracking the success of the catalog once you send it out.
Read also: The Benefits of Influencer Marketing
6. Social media marketing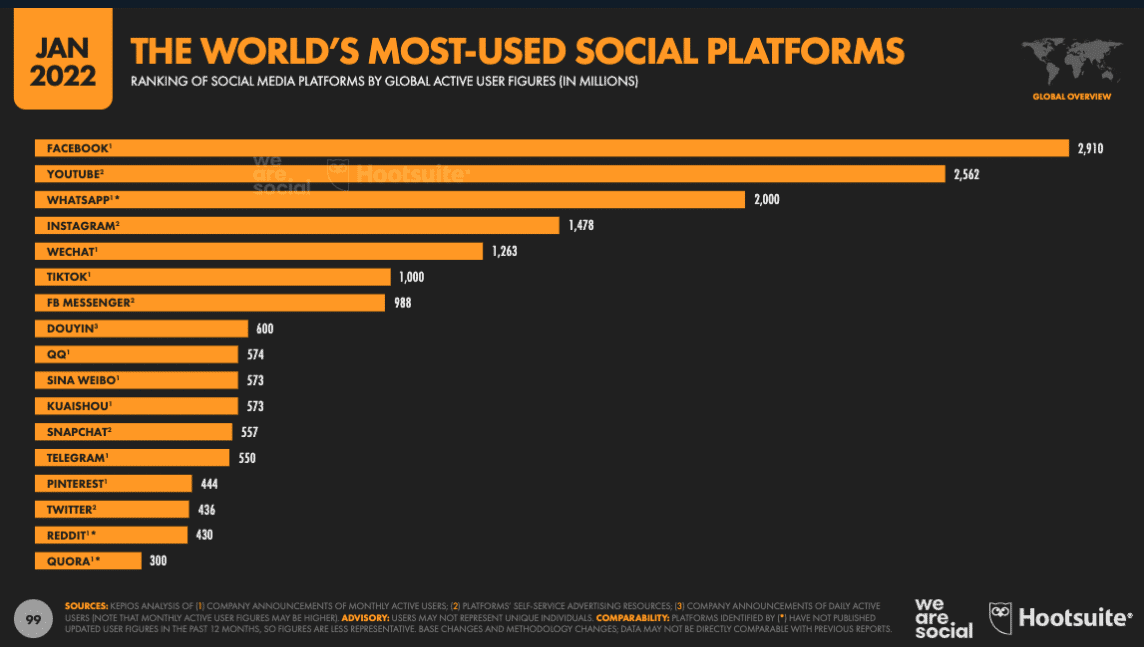 One of the more familiar forms of marketing on this list is social media marketing.
Your small business can harness the power of social media to promote your products and services directly to those who will buy them.
While your audience cannot purchase items through social media, you can cross-link them back to your website to make checkout smooth and easy.
Uncover the secrets of successful marketing with our in-depth guide to the best powerful strategies!
7. Leaflet marketing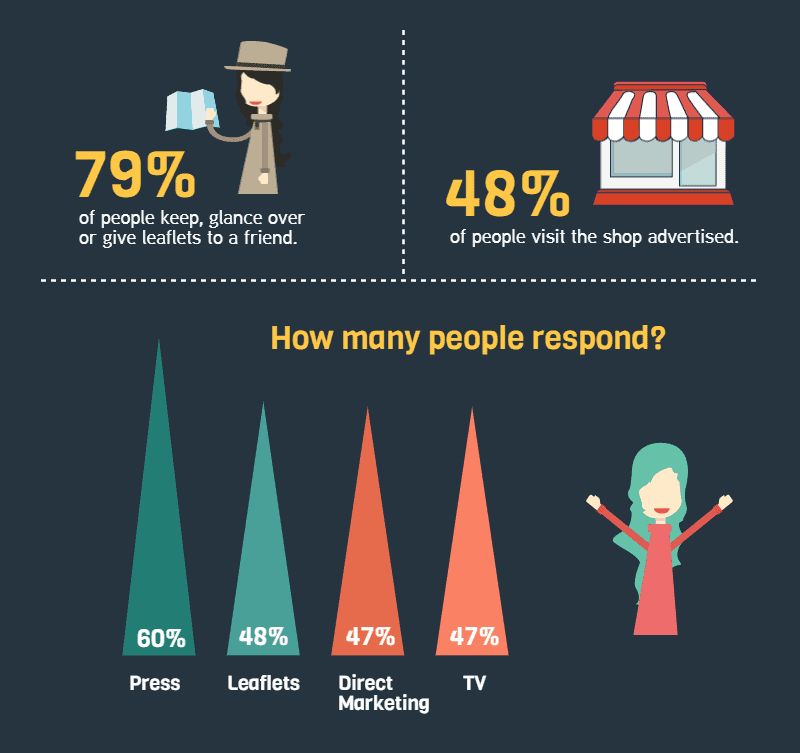 Flyer or leaflet marketing is a little different than the other forms of direct mail marketing that we've investigated to this point.
In this direct marketing example, you or a representative of your startup or small business will venture to a crowded place and hand out leaflets.
For instance, you might visit a bustling downtown or even a marketing event.
Your small business contact information should be printed on the leaflets. Then you can track how many phone calls or emails you get after spending a day handing out the leaflets.
Read also: The Tricks of Trade Marketing: 7 Strategies That Work
8. Phone marketing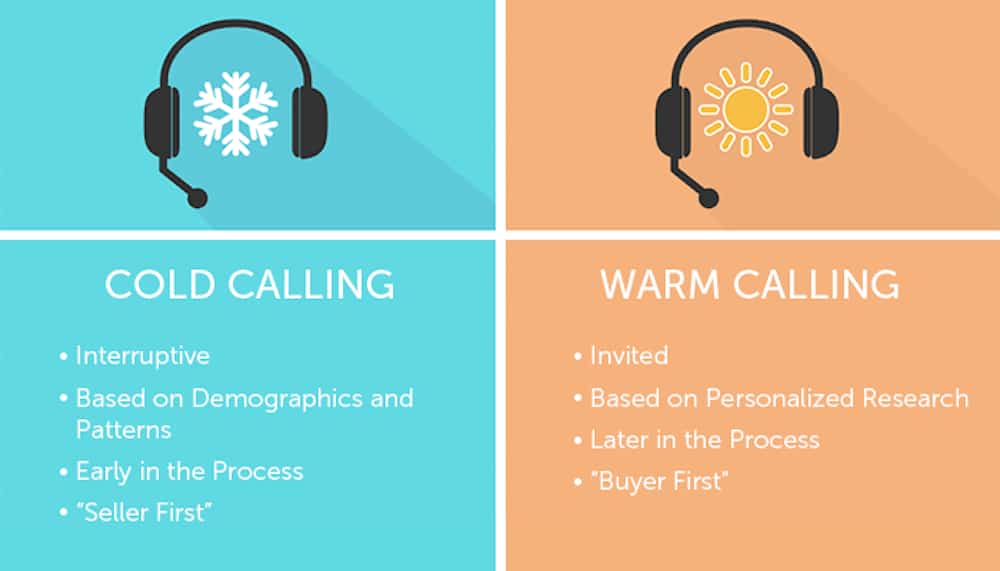 Picking up the phone and selling directly to your customers is another form of direct marketing, a rather divisive one.
Cold calling may be a part of a salesperson's repertoire, but it's not their favorite part by far. It can be successful though and thus shouldn't be ruled out.
9. Online advertisements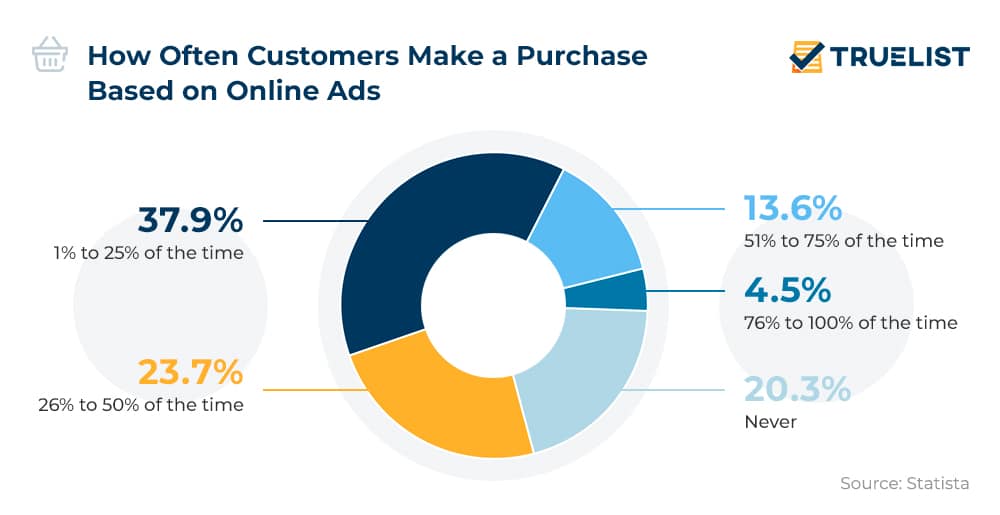 Online advertisements are another way to directly reach your targeted audience.
Whether those are display ads or social media ads, online advertising can drive more of your direct marketing goals.
However, do be careful to manage your budget. Advertising can get expensive rather fast, and you don't want to bleed your pockets dry as a small business owner!
Read also: Behavioral Targeting — The Future of Digital Marketing
10. Magazine advertisements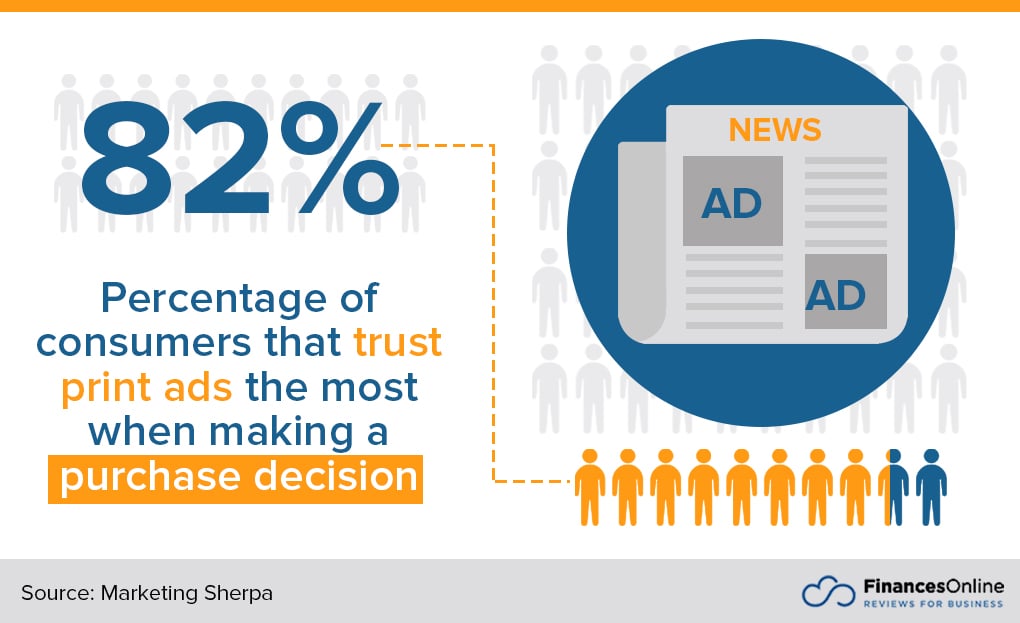 Through research, you know what kinds of publications your audience reads.
You can then target those magazines by taking out half-page or full-page advertisements sure to grab the attention of leads and customers.
Magazine adverts can be costly, but newspaper ads are marginally more affordable if you're looking for an alternative.
It's tough to track the success of this avenue. While you can assume that everyone who bought the magazine saw your ad, you can't guarantee that.
Read also: It Is Glam 'O Clock! 7 New Marketing Strategies For Cosmetics Companies
11. Website marketing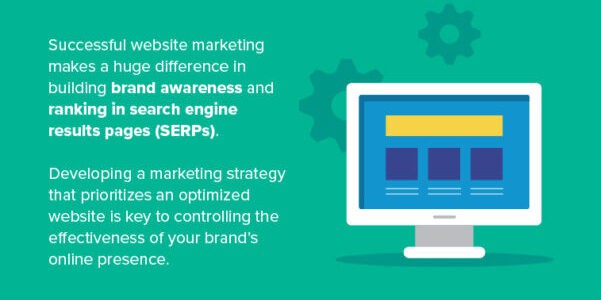 Your website is one of the best marketing tools in your arsenal, so use it to the fullest!
If you haven't revamped your website in a while, now is a good time to. We'd suggest setting aside a chunk of your marketing budget to hire a graphic designer and a web designer.
Your small business website will not stand out by using free, cookie-cutter templates.
You also want to ensure all pages are functional, your site has CTA buttons above and below the fold, and that timed opt-in forms are ready to pop up.
12. Coupon marketing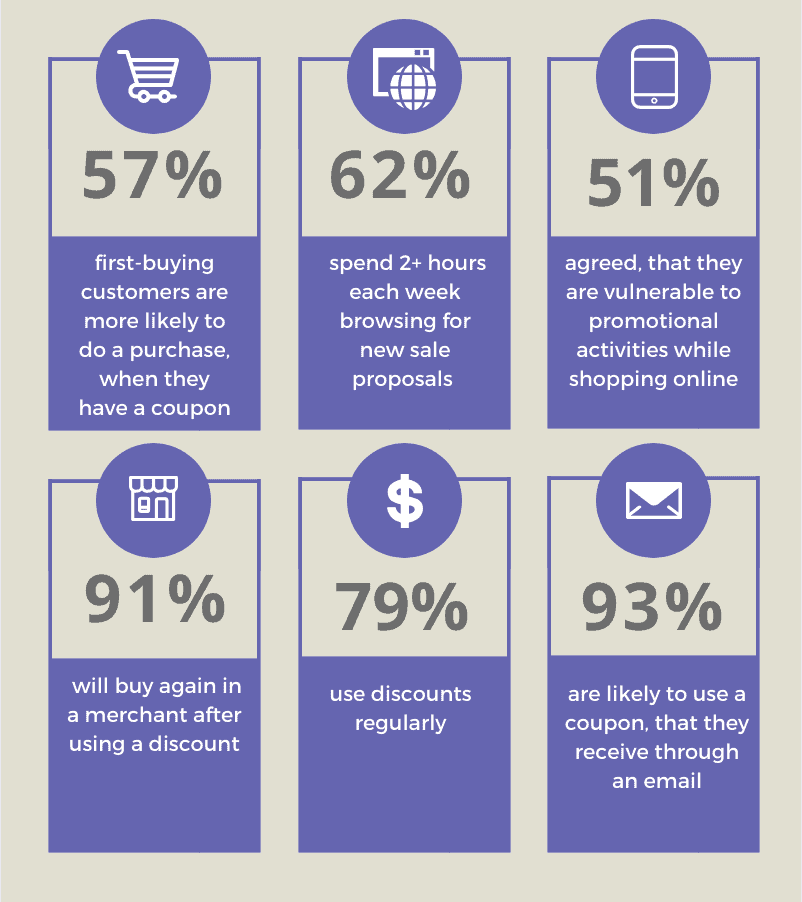 Sometimes to sell something, you must knock off the price a bit. Coupon marketing is the way to do that.
With coupon marketing, you'll discount select products or services for a limited time to inspire a purchasing decision.
Read also: The 'Bread and Butter' of Complementary Products [+Examples]
13. Out-of-home advertising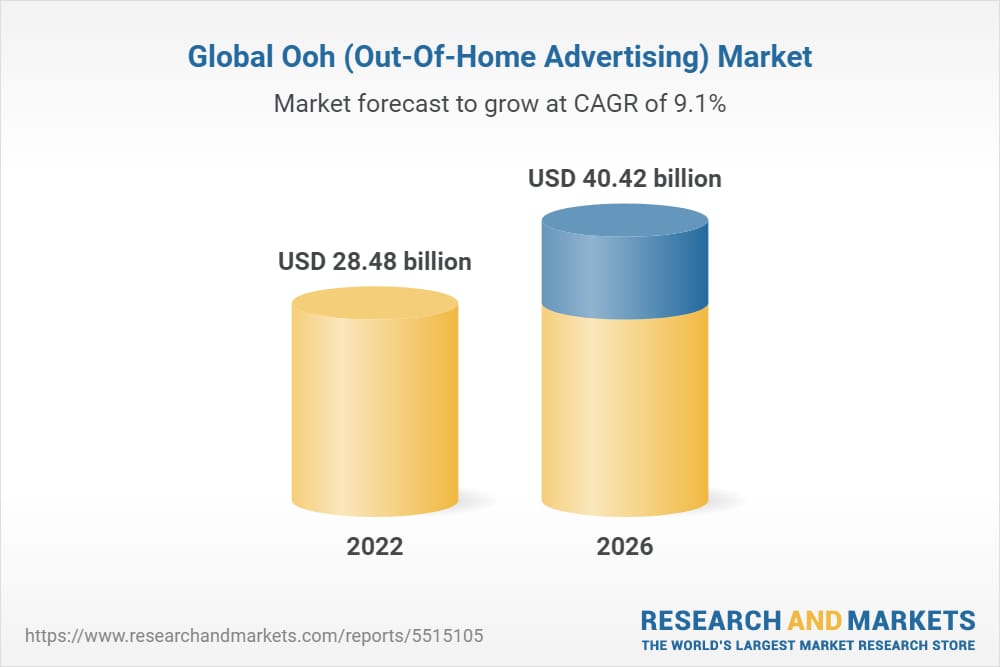 The last direct marketing example we have for you is out-of-home advertising, which encompasses public transportation posters and ads, digital billboards, and printed billboards.
Out-of-home advertising is among the hardest form of direct marketing to track the results of, as you can never say how many people viewed your billboard or poster.
It can also be expensive, but it's a big way to make an impact!
Read also: How To Build a Killer Marketing Automation Strategy
Conclusion
There you have it, more than a dozen direct marketing examples to guide your next campaign.
We recommend selecting the types that resonate the most with you and using one or two for your first direct marketing campaign.
Note: For any help with your marketing automation, you can try EngageBay for free!