Let's face it – mastering the art of eCommerce promotional email is like finding the Holy Grail. But once you learn how to craft irresistible messages, you can make shoppers click that "Buy Now" button faster than you can say "discount."
When you walk past your favorite store and see a jaw-dropping sale sign, it's hard to resist not going inside. eCommerce promotional emails work the same way. Whether it's that 25% off coupon or the "buy one, get one free" deal, we all are just a click away from retail therapy.
In this blog post, we are diving deep into the world of eCommerce promotional emails, with some cool examples from my inbox, and a few industry best practices. I've got you covered if you have an eCommerce business and want to learn how to nail your promotional email marketing.
What Are eCommerce Promotional Emails?
eCommerce promotional emails are like the virtual salespeople of your store, delivering enticing offers, exclusive discounts, and product highlights directly to your customers' inboxes.
It is often referred to as a powerhouse in the world of online retail – 59% of customers surveyed said that marketing emails influence their purchase decisions. And over 50% buy from marketing emails at least once a month.
These promotional emails are designed to drive sales, build brand loyalty, and keep your audience engaged. Let's look at different types of promotional emails that you can run for your eCommerce business.
Different Types of eCommerce Promotional Emails (With Examples)
eCommerce promotional emails come in various forms, each serving a specific purpose in your email marketing strategy.
1. Product promotions
Product promotion email campaigns showcase specific products or product categories, often with compelling visuals and persuasive copy. The aim is to grab the recipient's attention and entice them to make a purchase.
Always include detailed information about the products. For instance, in a weekly newsletter, a fashion brand can showcase different categories of clothes and add style tips on completing the look to increase the chance of conversion.
Promotional email example: Indya
Look at how Indya – a contemporary ethnic fashion brand, does it. Indya uses this promotional email to focus on only one item – Pearl. However, it promotes the various categories related to pearl items.
See that headline? "Add classic pearl jewellery to your treasure trove today!" It's simple and clearly tells you what to expect from this email.
Besides, it contains high-quality visuals of pearl products under different categories, enticing users to click and browse more products. Eye-catching, isn't it?
2. Discount and coupon emails
Everyone loves a good deal. Offering discounts, coupon codes, or special promotions can be a powerful way to drive sales. Sending promotional emails about your upcoming or current sales is a great opportunity to convert them.
This creates a sense of urgency and motivates recipients to shop for items they have been thinking about. Such sales promotional emails often include a clear call-to-action (CTA) and highlight offers to entice customers.
Promotional email example: ONLY
This is an excellent eCommerce promotional email example from ONLY, a fashion brand that deals in women's apparel and accessories. It's simple and appealing to the eyes. It highlights their collection with a GIF followed by the offer in bold so that it doesn't go missing.
It also ensures that the customers know the offer is valid only for the weekend with those simple keywords – 'Super Weekend.'
Essentially, they have got the elements right – clear text and CTA.
Read also: How To Write Discount Emails Like A Boss [+Templates, Examples]
3. Flash sale emails
Flash sales are time-limited promotions that create a sense of urgency and trigger FOMO (fear of missing out) that entices consumers to make a quick decision. These eCommerce promotional emails notify subscribers of a short-term sale with limited quantities or timeframes to boost excitement and encourage quick purchases.
The best element of a flash sale promotional email is to ensure that the offer is clear and highlights the benefits. It should contain minimal text and focus more on the image and the sale offer.
Promotional email example: Amazon Prime
Amazon Prime is a membership program where subscribers get access to Amazon's one-day delivery, exclusive offers, popular shows and movies, and more.
The above email is an example of a flash sale promotional email by Amazon Prime that has followed all the best practices. To begin with, it uses less text and simple design elements and clearly mentions that it's a limited-time offer.
The benefit 'Get ₹150 Amazon Pay cashback' is highlighted, and the white CTA button 'Join Prime Now' also stands out amidst the dark background.
Now, the question: How many sales promotional emails should you send to your list? Naturally, you may want to keep bombarding your subscribers with constant sales email campaigns. But it can frustrate your customers.
So, what is the ideal way? Take a cue from Fix My Curls – it finds a good way to follow up on their sales with this amazing subject line.
The email simply informs you that the offer is only for today. So grab your favorites before the sale runs out. For seasonal sales or limited-time offer sales, you can use an excuse to send them a reminder promotional email.
However, do not try to perform this stunt for every other discount or deal offer; it might lead them to unsubscribe from your email.
4. New arrivals email
Your subscribers might not be browsing your website or app daily. To ensure that they get to know about your latest launch, it's important to send them an email and promote your product.
Besides, it can generate excitement among your audience and encourage them to explore the latest offerings.
Promotional email example: Lenskart
Let's take a look at this eCommerce example by Lenskart.
Lenskart, a company that sells eyewear products, announces new shades launched from Hustlr. What really intrigued me here was that they focused only on 'one color, one design – Jade green.'
Even though it has multiple colors and multiple shade designs to match different personalities, the brand pushed for one particular design that stands out while also highlighting its feature – "Ultra-light, ultra comfy and frosted matte finish."
It narrows down the choices for the audience and boosts their confidence about the latest trends in the market.
Read also: 5 eCommerce Email Personalization Strategies [+ Examples]
5. Abandoned cart emails
When a shopper adds items to their cart but doesn't complete the purchase, abandoned cart emails are triggered. These emails remind customers of the items in their cart and often include incentives or personalized product recommendations to encourage completion.
Such promotional emails are a great way to recover lost sales and increase revenue.
Promotional email example: Debenhams
Here's a classic cart abandonment email example from Debenhams – a platform to buy homeware, electronics, clothes, etc. See how the email talks to you – 'Checking me out?'
Clearly, you had your eye on those items, and you do not want to miss out on them. Besides, they add a bit of incentive to make it more enticing – free one-day delivery and easy returns.
6. Cross-selling and upselling emails
eCommerce promotional emails can suggest related or complementary products to what a customer has already purchased. This is a useful tactic that helps increase the average order value and provides added value to the customer.
Promotional email example: Amazon

In this example, Amazon adds product recommendations based on my purchase with the order confirmation email. This is an order confirmation for a Macbook, and it lists out all relevant related items with a clear heading –'Customers Who Bought Items in Your Order Also Bought …'
Cross-sell and upsell emails aren't about sending automated emails with ongoing offers. It only works if you send personalized emails to segmented audiences recommending a relevant product.
Read also: Mastering the eCommerce Abandoned Cart Email
7. Review requests email
It's a nice practice to collect reviews and ratings for products they have purchased. It helps build a rapport with them by showing how you care about their experience.
Besides, positive reviews can build trust with potential buyers and improve your store's credibility.
Promotional email example: Apple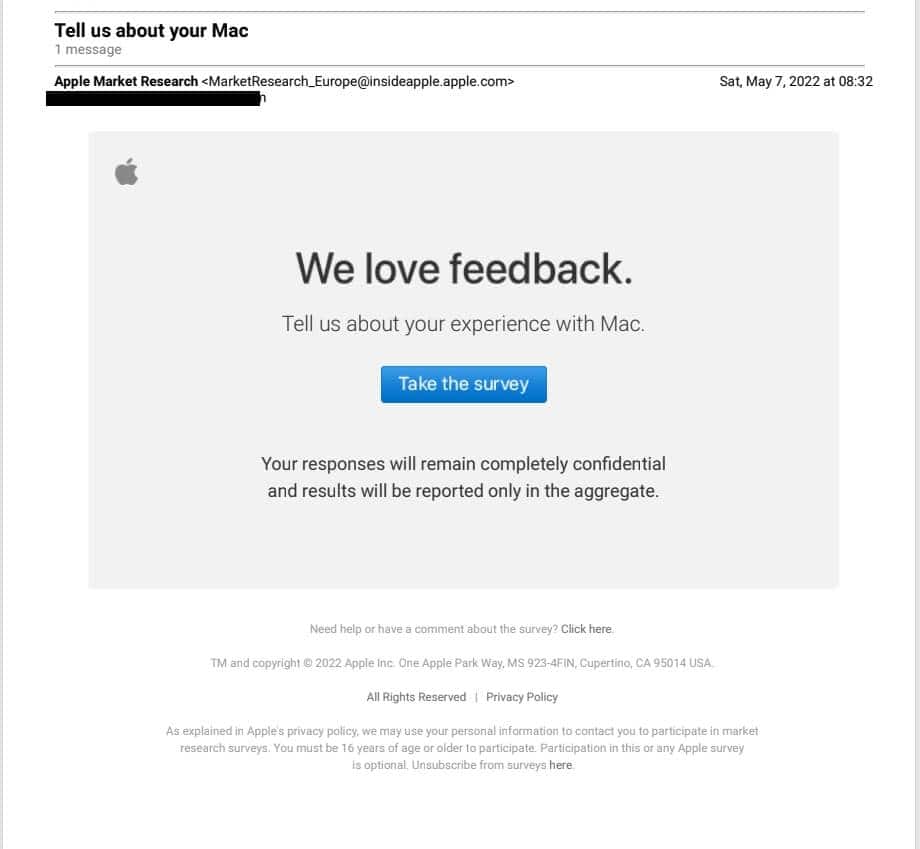 One great product review request email example is from Apple. Here, Apple sends out a small and simple 'Take a survey' email with a clear CTA to describe your experience with the product.
You can't even ignore its subject line – 'Tell us about your Mac.' It clearly tells you what you can expect from this email. Besides, the brand ensures that their responses will be completely confidential.
8. Anniversary and birthday emails
Sending birthday and anniversary emails is a great way to keep your customers engaged. Besides, it makes them feel valued and appreciated.
As an eCommerce brand, send them a special offer on their birthday with a limited-time offer. This also instills a sense of urgency to act within the mentioned period. Nobody wants to let go of a bonus offer.
Promotional email example: H&M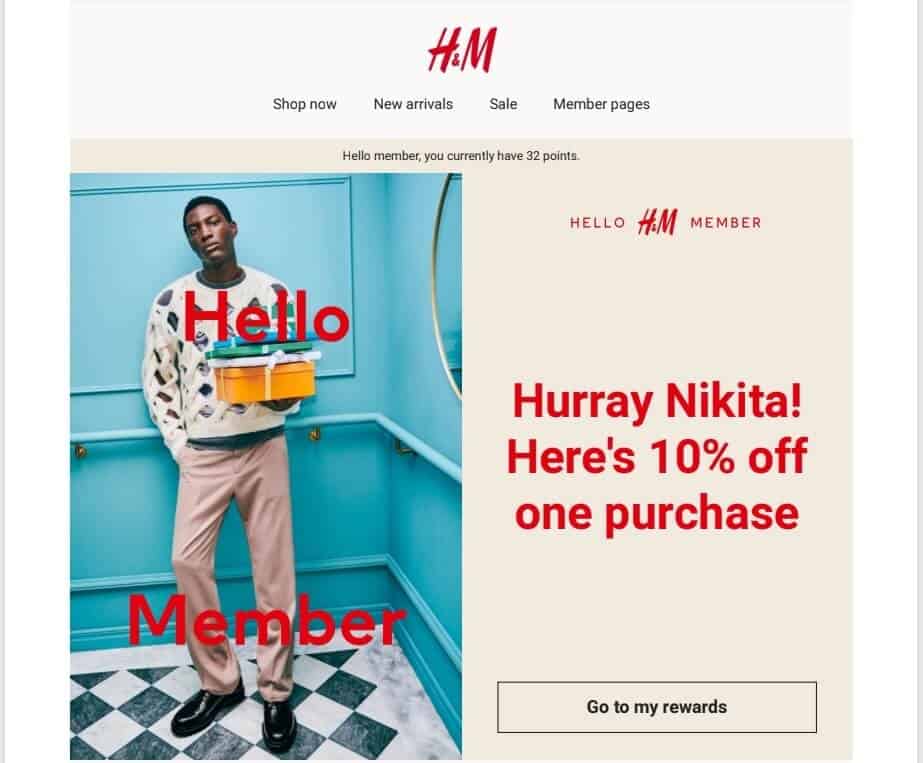 Take inspiration from H&M. Every year on my bday, the brand sends me a discount voucher that can be redeemed within a month. Notice how there's hardly any text; it simply highlights the bday offer. That should do the trick for you as well.
And not just your customers' birthdays, you can even add your company's anniversary to your eCommerce email marketing. Invite your customers to be a part of your celebration and offer them discounts for being loyal customers.
Here's how an educational platform, AMI, does it.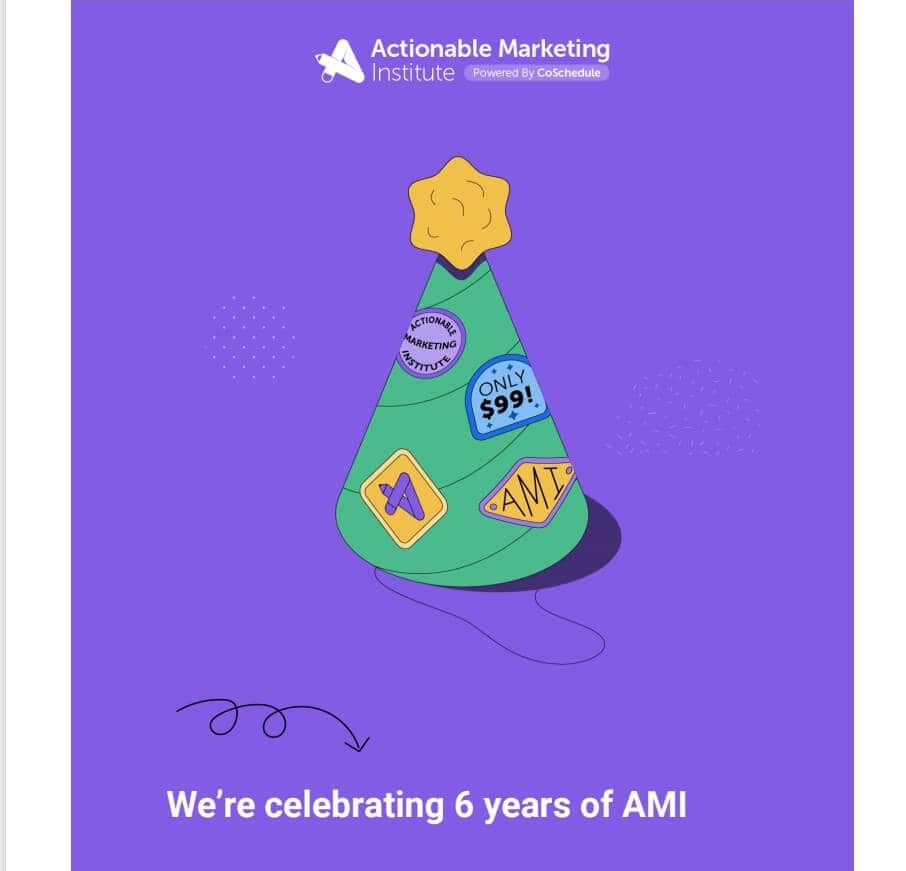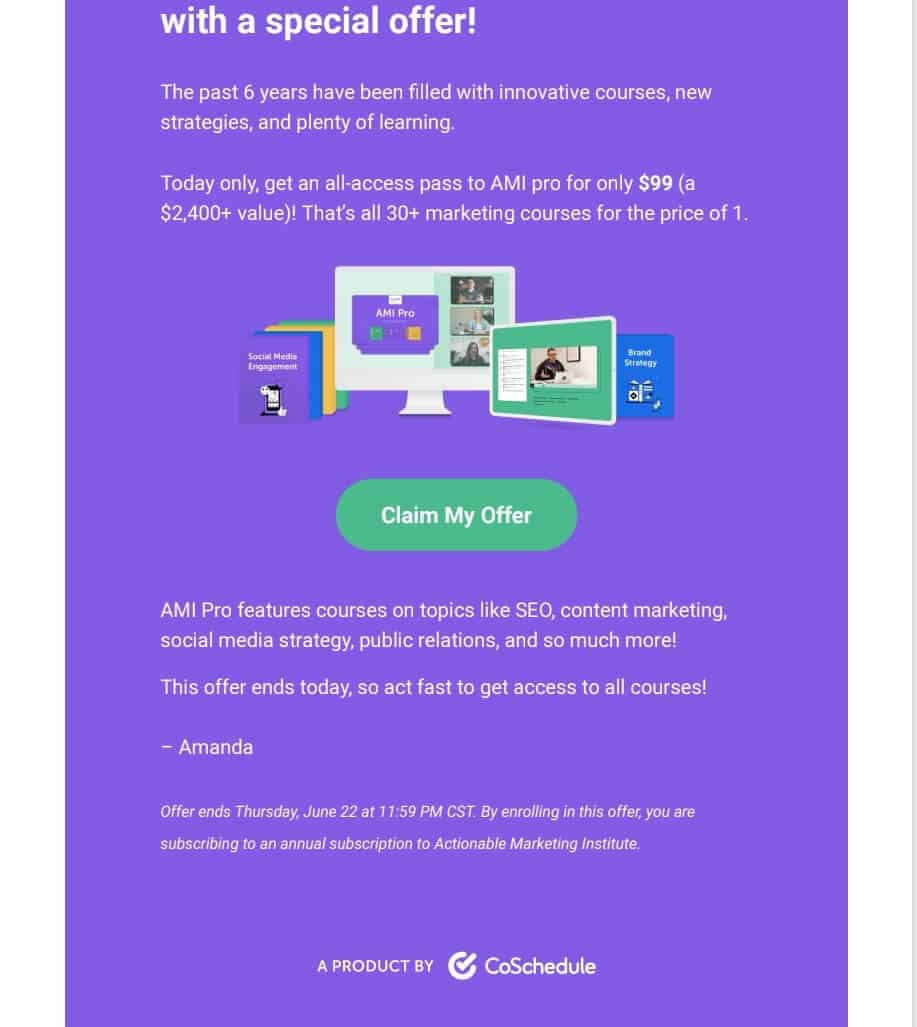 They call it their birthday and give out a special offer – courses at a discounted price. They even have a nice CTA text that entices users to take action.
However, the email failed to highlight the offer. You need to read through a lot of text to find out what the offer really is. But you get my point, right? Don't make the same mistake.
Read also: eCommerce Welcome Emails: Dazzle, Delight, Convert
9. Educational and content emails
Educational emails are not directly promotional, but they act as a soft sell. Use this opportunity to educate your audience about your products and how they can be valuable to them.
These emails provide valuable content such as how-to guides, tips, or blog articles related to your products or industry. It shows them you are not just about selling but care about the value you want to provide to your customers. This helps nurture your customers and build trust and authority.
Promotional email example: Bigbasket
Bigbasket is an online megastore that brings 20,000+ products with more than 1,000 brands. I personally find their email campaigns quite interesting. They keep sharing food recipes, contests, and more that keep the audience engaged.
In this particular eCommerce email example, Bigbasket shares the benefits of eating eggs, and they do it in a fun way. Do you see how witty they get with their content?
Besides, the email subject line is also something to look at. It instantly conveys what you can expect inside the email – all while being creative as well!
Scrolling further down the email, they subtly promoted 'Fresho eggs.' Brilliant, isn't it? Killing two birds with one stone!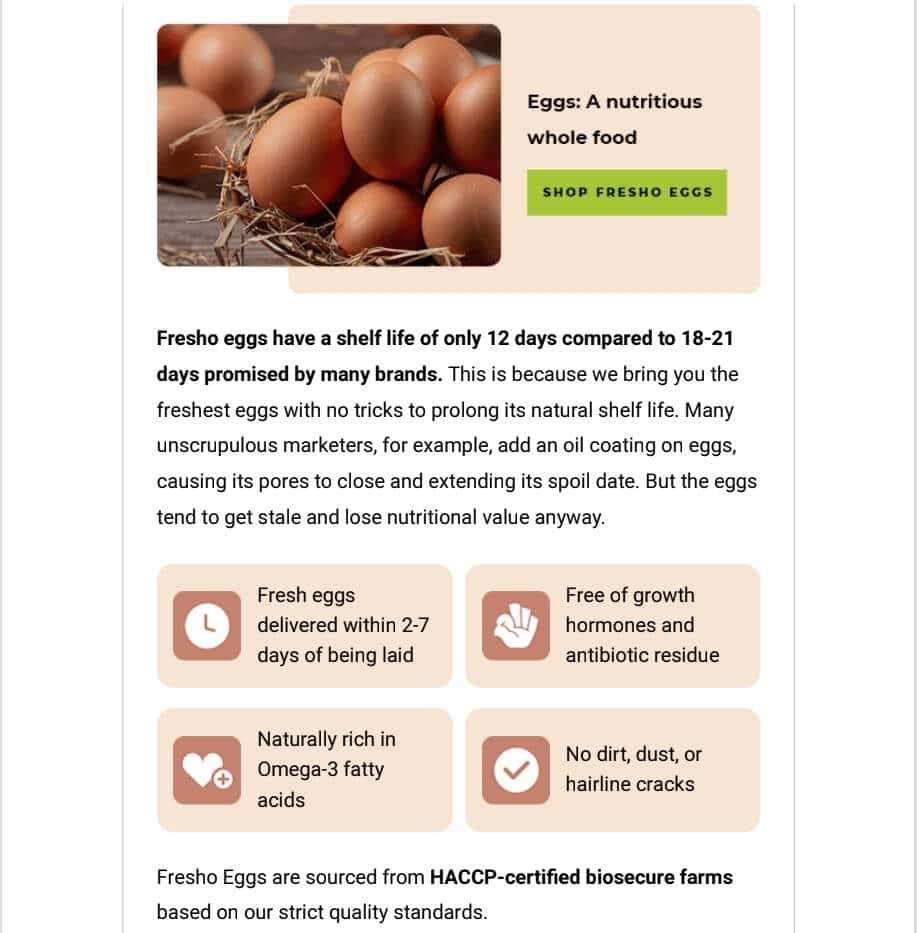 While the email is quite long, they also have something for people who do not like eggs.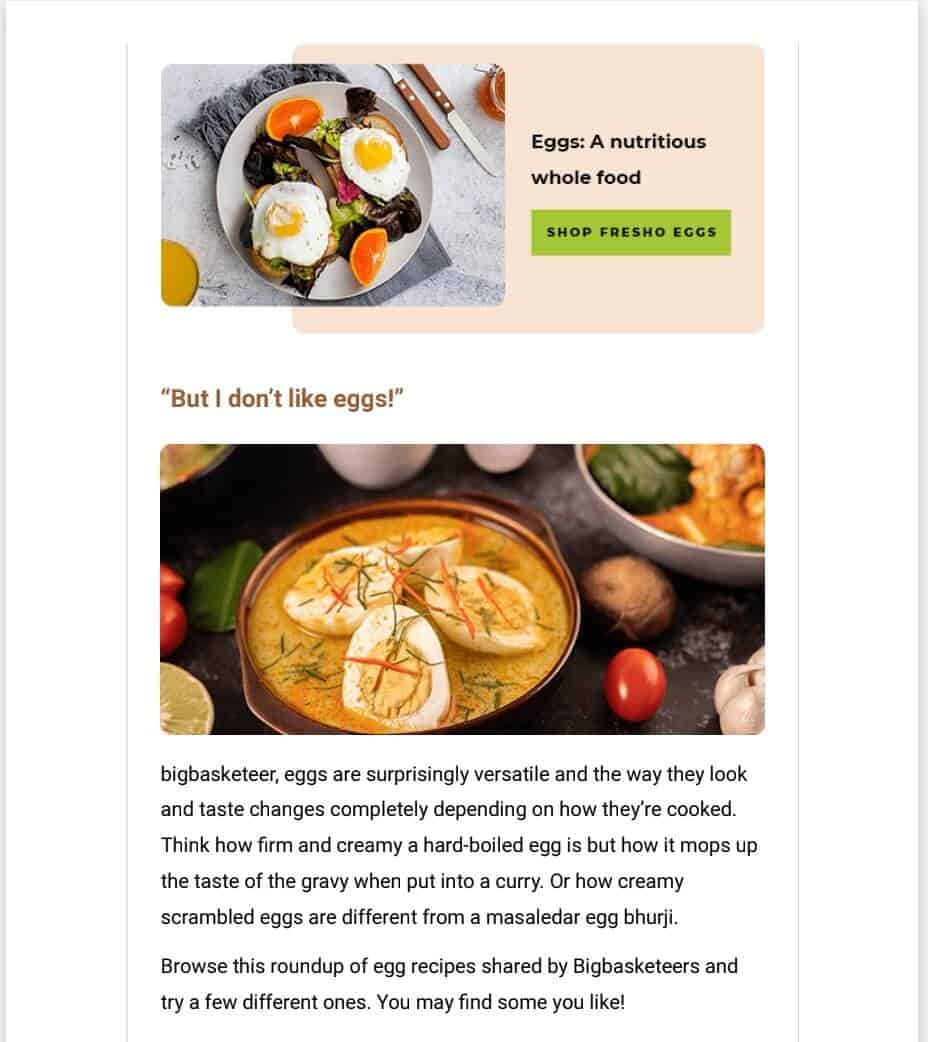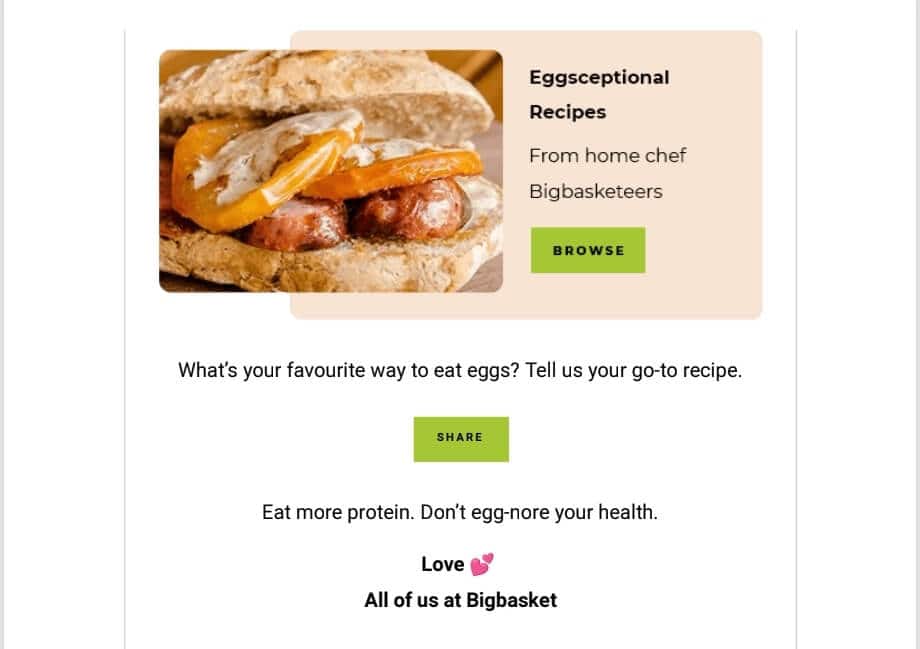 "But I don't like eggs!"
No problem, they still got you covered.
10. Replenishment emails
An eCommerce brand that sells products consumed or used over time (e.g., skin care products, office supplies) should send reminders to customers to replenish their stock.
These emails need to be specific to the products they have purchased from you. Based on how long it typically lasts, create a schedule and send replenishment emails to your customers.
Promotional email example: Purplle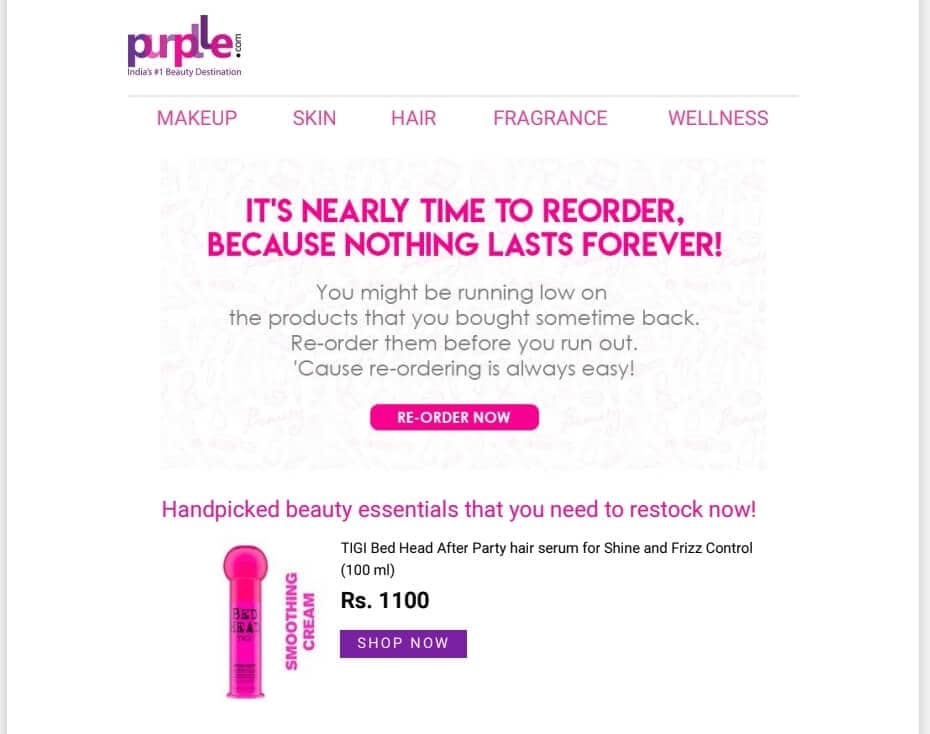 Take a cue from Purplle, an eCommerce platform that deals in skincare and beauty products. Based on my purchase history, the brand keeps sending me a timely refill of your stock email.
It starts with a small text followed by the product image that needs to be restocked. It's a brilliant strategy to incorporate into your eCommerce email marketing campaign if you want to increase repeat orders.
Read also: The Art of eCommerce Post-Purchase Emails [A Guide]
How To Write Effective eCommerce Promotional Emails
Now that we have looked at some real-life eCommerce promotional email examples, let me break down the key takeaways from those emails.
Let's look at some common elements found in successful eCommerce promotional emails.
Attractive email subject lines
Effective emails start with attention-grabbing subject lines.
They should be concise, intriguing, and relevant to the content of the email.


Do you see what I'm talking about? It should give hints to the recipient as to what they can expect.
A couple more subject line examples that you can use – "Don't Miss Out on 50% Off!" or "New Arrivals Just In!"
Clear and compelling CTAs
Even if the email open rate is high, you will see brands struggle to get a good click-through rate (CTR). Do you know why? Their emails lack a clear and action-oriented call-to-action (CTA).
If you want your customers to take action, use action verbs like "Shop Now," "Buy Now," or "Get Started" to guide recipients toward the desired action.
At the same time, the CTA button should stand out.

Engaging visuals
Have you ever wondered what makes eCommerce emails successful? It's safe to say high-quality images and visually appealing design elements, amongst other things.
Product images should be clear and well-lit, and showcase the item from multiple angles, especially for an eCommerce brand. Use images that resonate with your brand's style and message and make it look attractive to your consumers' eyes.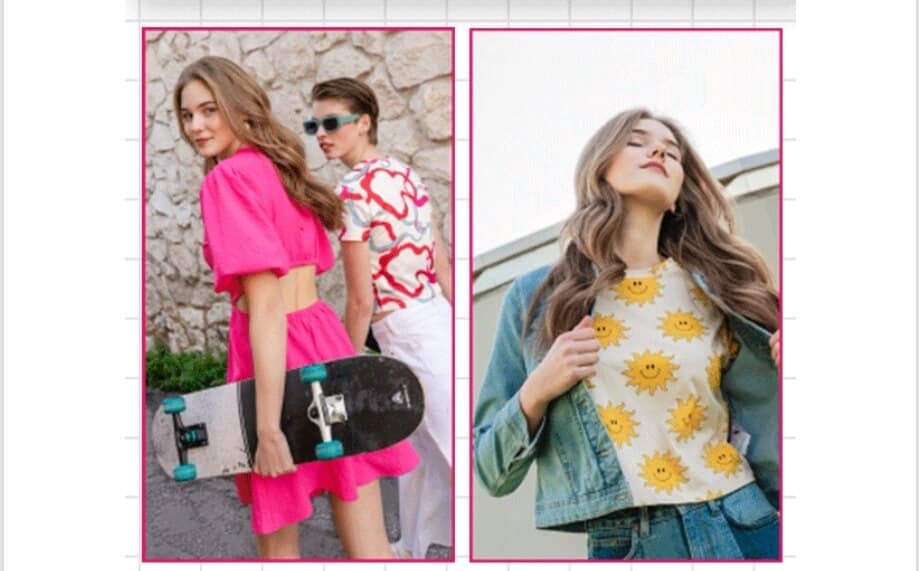 Compelling copy
Craft persuasive and concise copy highlighting your products' benefits, unique selling points, and why they are a must-have. Use storytelling techniques to connect with the reader on an emotional level.
Not sure where to start? Well, check out a list of promotional email templates – simply copy-paste and customize them to fit your product.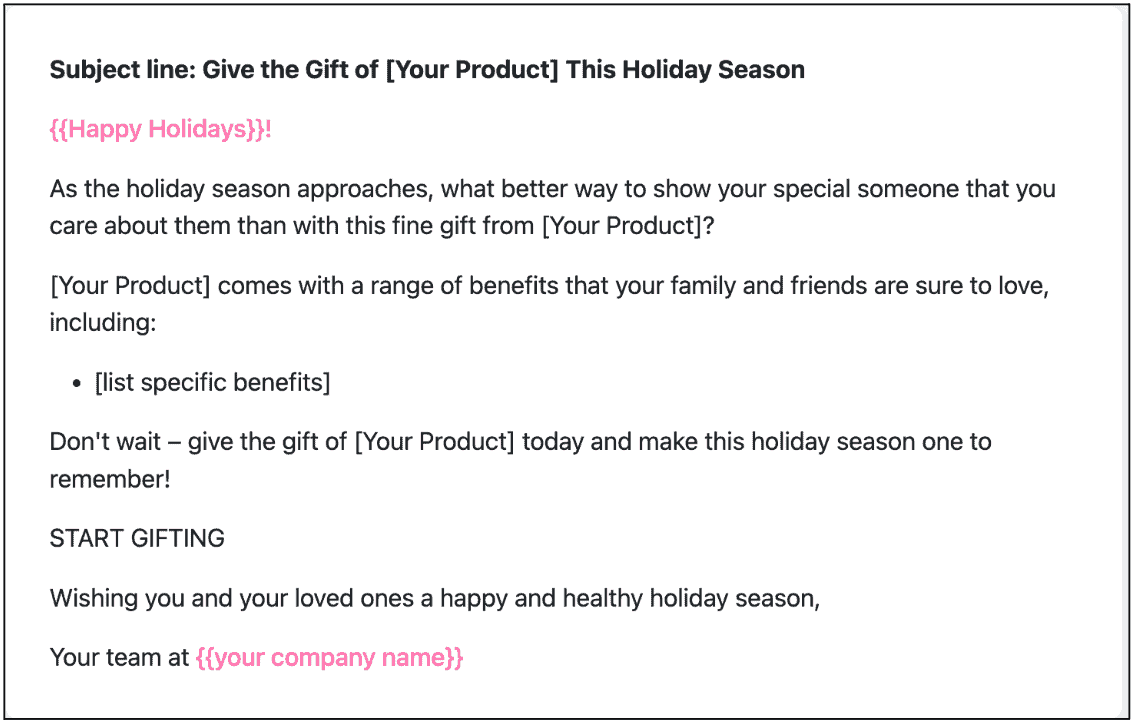 Segmentation and personalization
The next important thing to look out for is segmentation. Despite including all the essential elements, your email campaign might not yield results. If that's the case, take a look at segmentation and personalization.
An email marketing experiment revealed that a segmented email campaign had a 94% open rate and a 38% CTR, compared to a 42% open rate and a 4.5% CTR in a non-segmented email campaign. What does that tell you?
Send targeted emails to specific segments to increase relevance and engagement. You can segment your email list based on customer behavior, demographics, or purchase history.
Personalization has the same impact. A study by Experian found that personalized emails deliver 6x higher transaction rates.
Personalizing emails with the recipients' names and tailored product recommendations based on their past purchases or browsing behavior can significantly increase engagement and conversions.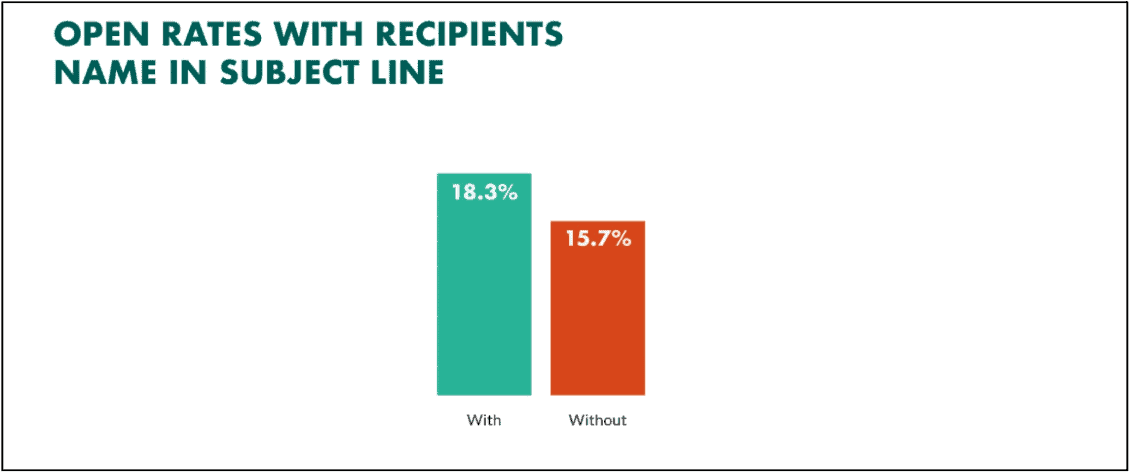 Mobile optimization
Here's the hard truth: About 72% of people will delete an email that isn't optimized for their mobile device. Are you willing to take that chance?
A whopping 63% of emails are now opened on a mobile device. If you don't want your audience to opt out of your email list, adapt!
Ensure that your emails are mobile-responsive and display well on small screens. Test your emails on various devices to ensure a seamless experience.
Unsubscribe and contact information
Every promotional email you send should include a clear and visible "unsubscribe" or "opt-out" link. This link lets recipients easily and quickly stop receiving emails from your mailing list.
In addition, your eCommerce promotional emails should also include clear and accurate contact information for your business. It allows them to reach out if they have questions or concerns, or want to update their preferences.
Read also: How AI is Revolutionizing eCommerce Email Marketing
Wrapping Up
With so many email marketing software in the market, you can easily automate and streamline your entire promotional marketing campaign.
By adopting industry best practices – from crafting compelling subject lines to creating personalized, visually appealing email content, you can establish a connection with your customers that goes beyond the transactional.
Build trust, offer value, and ultimately watch your sales skyrocket.
For email marketing at super affordable rates, EngageBay is your best bet. It's free for up to 15 users. Contact us to get a demo.