Just like the warm and respectful Indian tradition of 'Namastey,' a perfectly crafted welcome email can set the tone for a delightful relationship between your brand and your customers.
And let's be real, in the world of eCommerce, first impressions are like virtual handshakes – you want them to be firm, friendly, and memorable.
Did you know that a well-crafted welcome email has a 4x higher open rate than regular promotional emails?
Whether you're an eCommerce newbie or a seasoned pro looking to spruce up your email game, this guide is your golden ticket to crafting eCommerce welcome emails that dazzle, delight, and convert like a charm.
From examples that make you go, "Why didn't I think of that?" to templates that are as easy to customize, you get it all. Let's dive in.
Why Should You Care About Welcome Emails in eCommerce?
Imagine walking into a physical store, and no one acknowledges your presence – it's a bit off-putting, right? Well, the same goes for eCommerce stores.
eCommerce welcome emails are like the friendly people in a nice store that greet you and set the stage for a warm interaction, making customers feel valued and acknowledged. Three out of four email subscribers expect a welcome email after subscribing.
Let me elaborate on why welcome emails are so important in eCommerce.
Strike while the iron is hot
When a customer signs up or makes a purchase, their interest in your brand is at its peak. It's like them saying, "Hey, I'm interested in what you have to offer!"
A welcome email is your chance to strike while the iron is hot. Sending a timely and personalized welcome email capitalizes on this enthusiasm. It nudges them towards taking the next step – whether it's exploring your products, making another purchase, or even referring a friend.
First impressions stick
Brands can leave an impression on their prospects or customers even in the virtual world.
A well-crafted welcome email shows that you are among the good eCommerce brands, one that cares about delivering value and building a connection.
First impressions can leave a lasting impression – a positive one, we hope!
Trust building 101
With so many cyber scams reported daily, trust is a rare commodity.
Your welcome email reassures customers that your eCommerce brand is alive and kicking. It provides an opportunity to reiterate your brand's identity, values, and even showcase customer testimonials or awards.
When customers see that you are legit and transparent, they are more likely to feel confident about doing business with you, especially online.
The alignment of expectations
eCommerce welcome emails are a chance to set expectations. Will you be sending exclusive discounts, informative guides on how to use your products, weekly updates about new launches, or all of these?
When customers know what's coming, they are less likely to unsubscribe.
Engagement and conversions win
Customers who receive welcome emails show 33% more long-term engagement with a brand.
And when customers engage with your emails, they are more likely to explore your products and make purchases. All the more reason to work hard on your eCommerce marketing automation, right?
Note: Welcome emails are sometimes confused with transactional emails. Don't make that mistake. Keep your welcome emails in your marketing sequence, and make your transactional emails entirely separate.
10 Cool Examples of Welcome Emails From My Inbox
I've collated a list of the best welcome email examples lying in my inbox. Some of these are from eCommerce, while others are from software and other industries. Check them out and see what inspires you.
For my first example, I have deliberately chosen an elaborate welcome email.
Creately is a SaaS visual collaboration tool designed to help users effectively get their work done on a single platform.
While this email was long, it still held my attention. It includes all the essential elements of a welcome email – what Creately does, a 2-min video guide, features descriptions, and links to various help centers to explore the platform further. What more do you need?
Besides, I would credit their designer for making sure the email doesn't look text-heavy, even though it does have a lot of text. Something to inspire your eCommerce welcome emails, eh?
Reddit is a discussion forum where people of similar interests form a community and talk about their interests, hobbies, and passions.
Their welcome email is as witty as their 'Karma' points that you earn for making meaningful contributions to the community. 'The more you give, the more you get.'
With just a few words, they have hit the bull's eye explaining how best to use Reddit. Besides, the visuals are so cool.

H&M is a popular shopping destination for fashion, beauty, home, kids' clothes, and more. The brand runs a newsletter where they give out all the latest fashion news, inspiration, and style tips along with access to exclusive offers.
When I subscribed to their newsletter, I received a welcome email.
This welcome email contained three sections – images of their latest fashion collection, a welcome note with more details on what I can expect from this newsletter subscription, and a 25% online discount coupon.
I found it crisp and helpful. Besides, the black and gray aesthetic makes the email look really attractive. When you craft your eCommerce welcome emails, do invest time in coming up with cool themes like this.
Read also: eCommerce Product Recommendation Emails You'll Love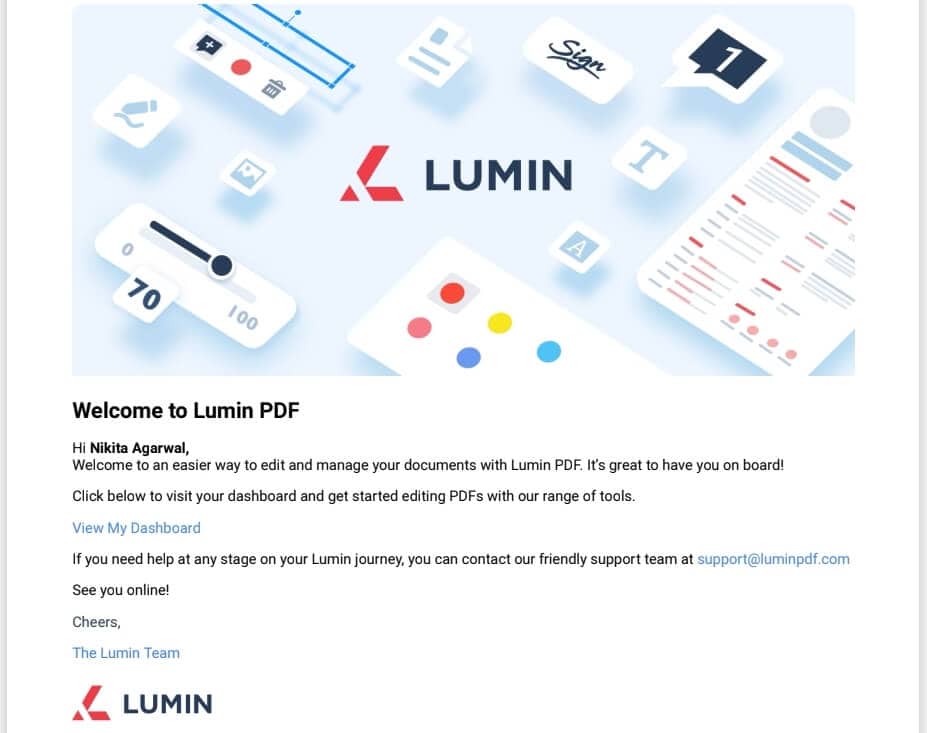 LuminPDF is a document-sharing platform that makes it easy to store, access, and edit in real-time with your teammates and increases productivity.
In this welcome email example, LuminPDF summarizes its tool functionalities in one line – 'Welcome to an easier way to edit and manage your documents with Lumin PDF. It's great to have you on board!'
The CTA 'View My Dashboard' directly takes you to the platform where you can start managing and editing documents without wasting any time.
And, if you need any further help with the tool, they also subtly mention the support email ID to reach out to them.
Lastly, their smart use of white space makes it easy to scan and read.
Notion offers organizational tools that help with task management, note-taking, bookmarking, project tracking, etc.
In its welcome email, Notion opens with a personalized note that feels like it is talking directly to you. It goes on to add an image of how their dashboard looks like.
Further down, they have explained how you can use it for workspace as well as your private use. I personally liked their email signature, 'Thanks for being here' – it's unique and different.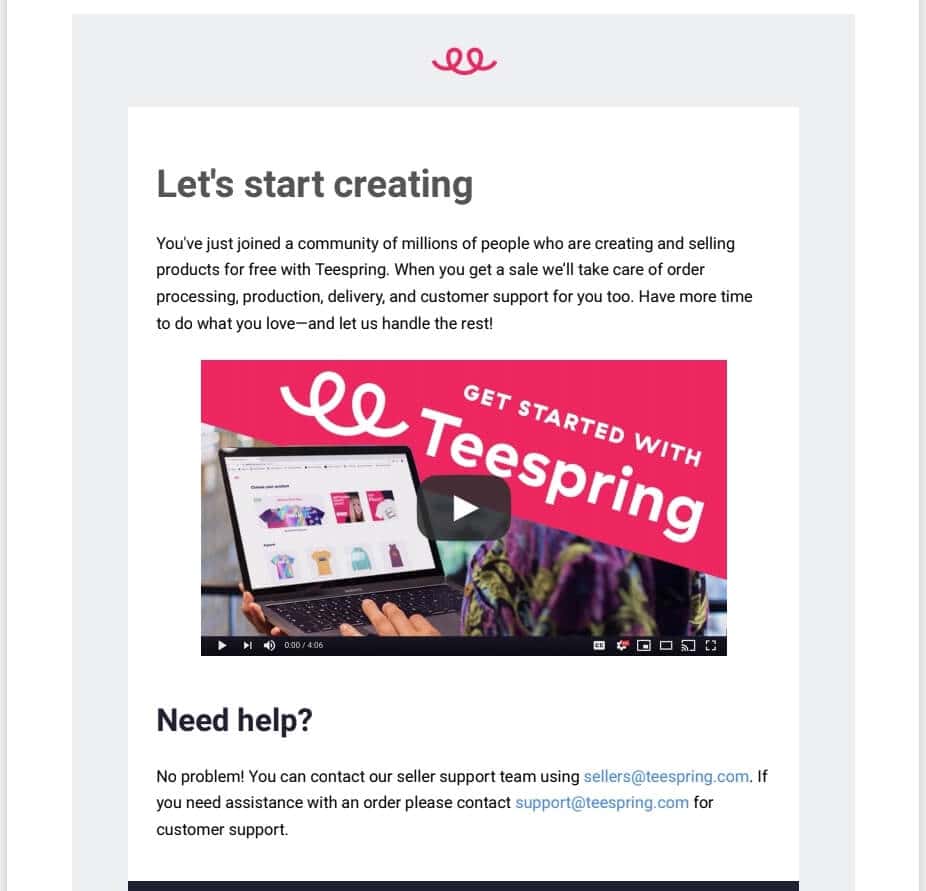 Teespring is a social commerce platform that allows you to create and sell custom products, eliminating the need to build a website.
This welcome email example from Teespring does an excellent job of explaining what you can expect from the company. It adds a guide video to the email, which is 5-min long, that will tell you everything you need to know to get started.
Also, they have shared their customer support details if you need any kind of assistance. That's something you should really keep in mind when you craft welcome emails for your eCommerce subscribers.
Krewe is a lifestyle brand that sells luxury sunglasses and eyewear products.
In this welcome email, Krewe invites me to their Holiday event, where I can get access to discounts of up to 70% on their frames.
Krewe plays well with FOMO too, telling online shoppers that such events happen only once a year, so you don't want to miss out. Besides, they added a gif that reveals their latest collection – tempting enough to drive email subscribers to their website!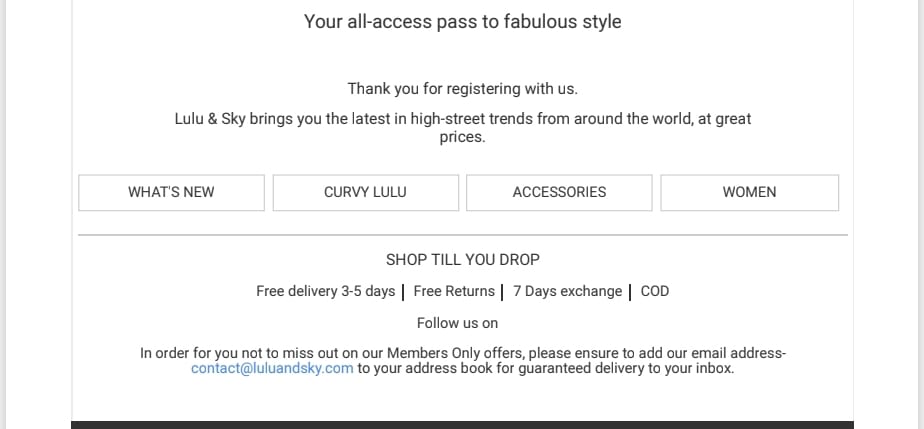 Lulu & Sky is another fashion destination spot for people where they can access a wide range of fashion products, including clothes, accessories, etc.
Lulu & Sky places multiple CTAs that lead to different categories of their products. Besides, they highlight their USPs, including free delivery, free returns, exchange policy, and COD available.
It sure is a smart move to entice shoppers to click on a CTA button and start adding items to their carts. So much inspiration for your eCommerce emails 😄
Snapdeal is one of the largest eCommerce platforms in India that deals in top-quality fashion, home and kitchen products, and more, with very competitive prices.
Snapdeal opens its welcome email with three important CTA links – Daily Deals, Snapdeal Gold, and App link.
Further down, after congratulating you for registering with them, it displays important information and connects you to the relevant page in case you want to know more.
Note the aesthetics in the email colors and how on-brand they are. The email has a simple color theme but it makes a lasting impression.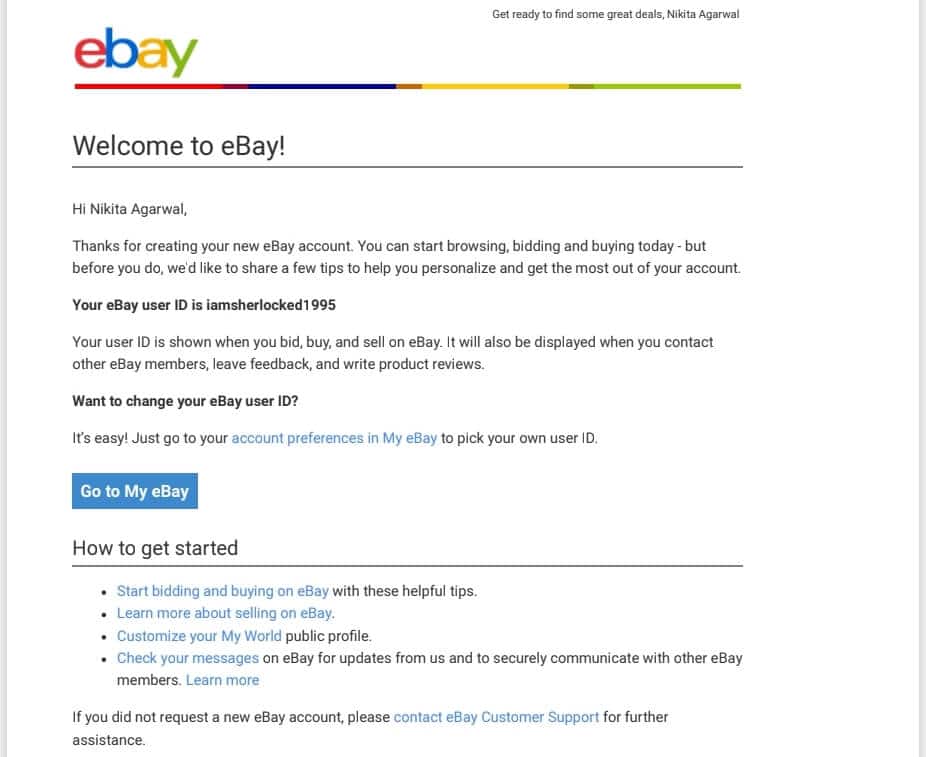 Headquartered in San Jose, California, eBay is a multinational eCommerce company that facilitates C2C and B2C sales through its website. It connects millions of sellers and buyers around the globe.
In this eCommerce welcome email, eBay greets you warmly, followed by a short intro on how to use eBay. If you have ever used eBay, you would know that you need to create an ID name to be able to bid, buy, and sell on eBay.
As you can see, eBay's welcome email shares information about the new subscriber's eBay ID (yes, I was a Sherlock fan🕵️) and links it to various pages to help you get started quickly.
If you have multiple pages on your eCommerce site, this welcome email should serve as inspiration.
Read also: How to Write an Effective Welcome Email
eCommerce Welcome Email Templates to Use Right Away
In this section, I will share a few welcome email templates that you can copy and rewrite to get started.
Subject lines for eCommerce welcome emails
What good is your welcome email if it doesn't compel your audience to open it? Crafting a compelling welcome email subject line is an art that requires curiosity, relevance, and a pinch of pizzazz.
It gives you an opportunity to make an unforgettable first impression that leaves subscribers eagerly clicking that inbox door.
Whether you are looking for a quirky or straightforward style, here's a list of subject line templates to spark your creativity and guide your journey into welcome email excellence.
"Welcome to [Your Brand], [Subscriber's Name]!👋"
"Hello, [Subscriber's Name]! Let's Get Started."
"It's Official: You're Part of the [Your Brand] Family!"
"Welcome, [Subscriber's Name]! Let's Get to Know Each Other"
"Welcome to the Membership – An Amazing Offer Awaits!🎉"
"Get Ready for Exclusive Offers and Insights!🎁"
"Surprise Inside, [Subscriber's Name]! Open to Reveal Your Welcome Gift 🎉"
"Welcome [Subscriber's Name] – Spin the Wheel, get a SURPRISE!"
Text templates for eCommerce welcome emails
By sending a welcome email, you get a chance to step right into the heart of your subscriber's inbox.
Think of an email body as a canvas where you can paint a picture of your brand's personality, values, and the benefits of being part of your community.
After looking at some great eCommerce welcome email examples, I've created a list of templates that you can use for various purposes. Simply copy-paste it, and you are good to go!
Welcome email template #1: Offering a warm greeting
Whenever a user subscribes to your newsletter, they expect a confirmation email.
Send this welcome email to confirm their subscription and set your expectations on what they can expect from your newsletter.
Subject line:
Congratulations – you're now a subscriber to [Brand's Newsletter Name]!
Hi [Subscriber's Name],
Welcome to [Your Brand]! We're absolutely thrilled to have you on board. 🎉
At [Your Brand], we're all about [Your Unique Selling Point]. Get ready to embark on a journey of [X, Y, Z] as we share [Industry Insights, Product Tips, Exclusive Deals], and more.
[CTA to your website]
Here's to an exciting partnership ahead. Let's make every email count!
Warm regards,
[Your Name]
[Your Title]
Welcome email template #2: Inviting to a private event
When launching a new product or organizing an event like a special collection launch or sale, you can send this welcome email to your subscribers.
Subject line:
Up to X% off? Welcome to the [Event Name]
<Insert a visually appealing image/gif>
Thank you for registering for the event. You get exclusive access to our collection and enjoy many other benefits.
[Shop the Event]
🎁Here's your code for an extra discount: ABCDEF
Come Say Hi!
Free Shipping | Easy Returns
Warm regards,
[Your Name]
[Your Title]
Welcome email template #3: Sending guides to new users
If you are a SaaS brand or service platform, this welcome email template is really useful. It enables you to attach guide links that help with your new customer onboarding process.
Simply copy and paste it and personalize it to your own requirements.
Subject line: Welcome, [Subscriber's Name]! Your [Your Brand] Starter Pack 📦
Hi [Subscriber's Name],
We're thrilled to have you on board. [Describe how your product/service can help in one line].
To get the most out of [Brand Name], be sure to check out our short getting started guides.
If you need any further assistance, just email us at [Support Email ID]

Warm regards,
[Your Name]
[Your Title]
Welcome email template #4: Building a connection
This welcome email template is useful when a subscriber signs up on your website to explore more about your brand.
It's especially useful for an eCommerce brand with a unique story behind its creation.
Subject Line:
Our Story Begins Now, [Subscriber's Name]! 📚
Hello [Subscriber's Name],
Welcome to [Your Brand] – where stories come to life and dreams take shape. Our tale started in [Year] when a small idea blossomed into [Your Brand's Origins]. With a passion for [Your Brand's Passion], we've journeyed far and wide, handcrafting [Your Products/Services] that embody our essence.
As you step into our world, you'll find that each piece we offer carries a piece of our heart. We invite you to explore our [Your Products/Services], learn about our craftsmanship, and become a part of our narrative. Together, we're creating a story that's as unique as you are.
Thank you for joining our journey!
Warm regards,
[Your Name]
[Your Title]
Welcome email template #5: Helping set up a new account
Once a customer creates an account with you, the next step is to send them a welcome email with a quick guide on how to get started.
Here's a welcome email template you can use and tweak based on your website.
Subject Line:
[Subscriber's Name] + [Brand's Name]
Hello [Subscriber's Name],
Welcome to the [Your Brand] family! Let's get you started!
My name is [Your Name], and I'm here to ensure your account setup is off to a good start.
Step 1: Dive into Discovery 🌟
Get ready to explore a world of [Your Brand] wonders! Our collection is carefully curated to bring you the latest and trendy products in your favorite categories.
Step 2: Choose Your Favorites 🛍️
Found something that caught your eye? Add your favorite items to your cart. As a special welcome treat, enjoy X% off your first purchase. Just use the code: WELCOME[X] at checkout!
Step 3: Seamless Checkout & Delivery 🚚
Once you've made your selections, the rest is a breeze. Head to our secure checkout to review and place the final order.
[Start Shopping]
If you need any assistance, reach out to our friendly customer support team at [Support Email/Phone Number].
Happy shopping!
Warm regards,
[Your Name]
[Your Title]
Read also: How to Write a Winning Introduction Email
Important Elements of a Well-Crafted eCommerce Welcome Email
Have you ever wondered what exactly goes into crafting an eCommerce welcome email that not only says "hello" but also leaves subscribers eagerly anticipating what's next?
Let's break it down into the must-have elements of a welcome email that will help you leave an impression.
1. Showcase your value proposition
Shine a spotlight on what makes your eCommerce business unique. This is a chance to remind your subscribers of the exciting reasons they have joined your community.
Showcase what sets your brand apart. For instance, if you are a fashion brand focusing on sustainability, here's your chance to highlight your brand mission in your welcome email.
2. Infuse a personal touch
The key rule of personalization is to address your recipient by their first name. However, it's crucial to use a conversational style so that the audiences feel connected.
Remember how Notion, in the example shared above, did it. This small gesture goes a long way in forging a genuine connection and making them feel like a valued individual, not just another email address.
3. Set clear expectations
Transparency builds trust. It's a good practice to inform subscribers about the type and frequency of emails they can anticipate from you.
Whether it's special promotions, informative content, or product updates, giving them clarity from the start will reduce the chance of them unsubscribing to your newsletter.
4. Write a compelling subject line and use a custom domain
Having a catchy subject line can draw your recipient's attention and make them curious about your brand.
Your subject line should tell them what they can expect from the email. For instance – Welcome to [Brand Name], [First Name] – Here's your Starter Guide!
Besides, using your personal email address might look suspicious and not trust your brand. Using a custom domain name enhances credibility, ensuring your email lands safely in their inbox without getting lost in the digital abyss.
5. Resourceful additions
Welcome emails should not be just promotional emails; they should provide true value. Go beyond selling; help your new subscribers by sharing tailored resources that help them understand how best to navigate your eCommerce products.
Once the email subscribers read your welcome emails, they shouldn't need to contact customer support.
Consider linking to user guides, video tutorials, FAQs, or blog posts that introduce your brand's offerings or provide useful tips related to your industry.
Here's how Loom, a free screen recording software, does it.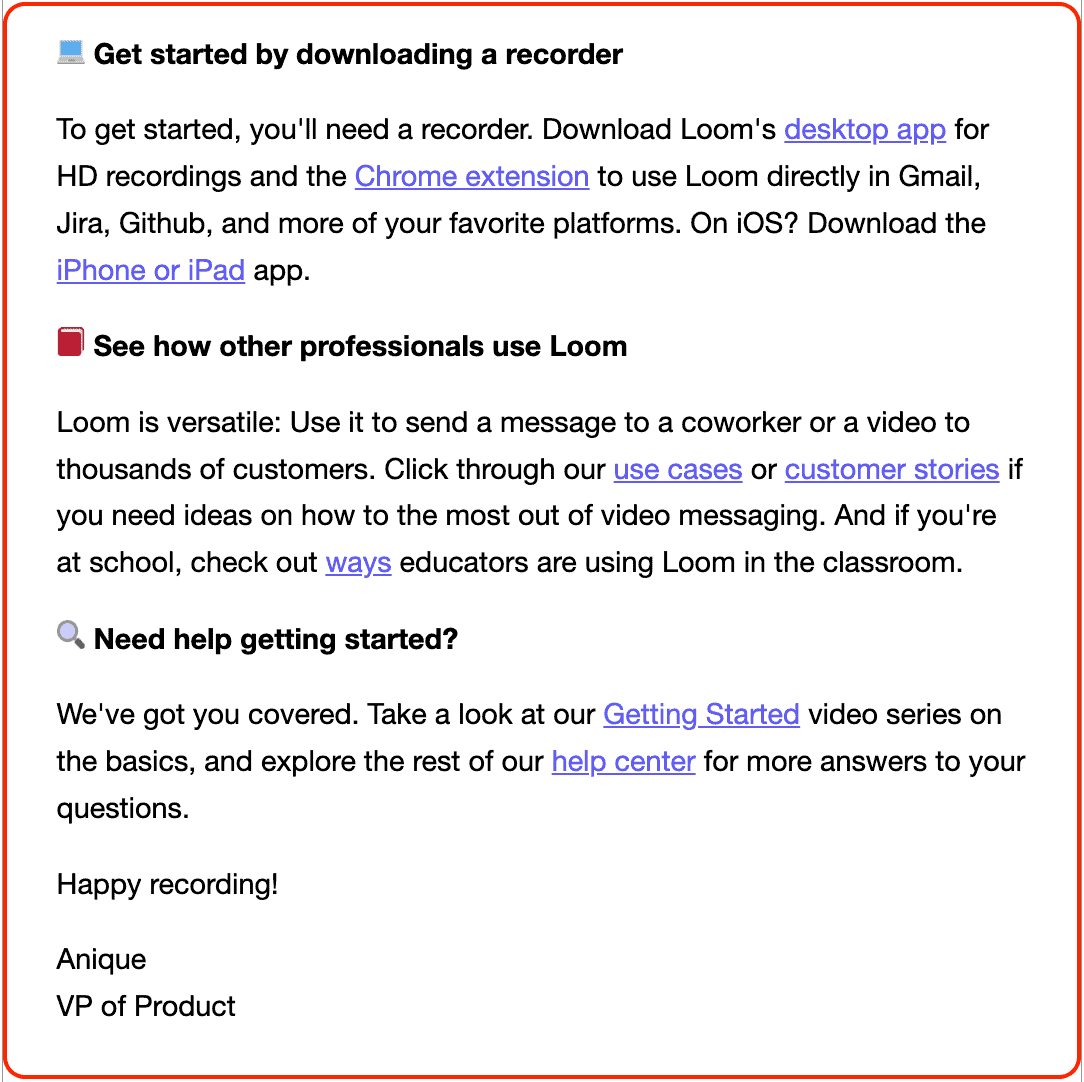 Loom has added links to not just one but various resourceful guides that will be useful to a new user. It enables a new user to easily navigate through the platform without any hassle and get started!
6. Include customer support details
You might include a helpful guide link, but it still might not be able to solve their problem, or a few might not be willing to go through it.
Make it easy for subscribers to seek assistance by including customer service contact information. Let your subscribers know you are there for them. This instills confidence in your brand's commitment to excellent customer support.
Here's an example of how you can do it: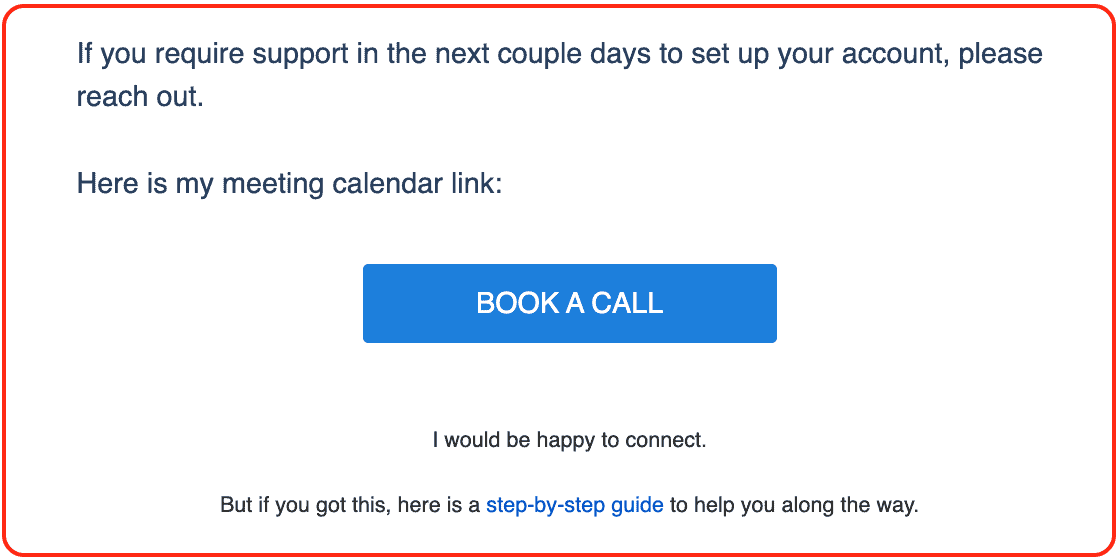 7. Nudge with a call-to-action
Wrap up your email with a compelling call to action that invites subscribers to take a specific action.
Whether it's encouraging them to explore your latest collection, redeem their exclusive offer, or simply reply with feedback, a well-placed CTA keeps the engagement flowing.
Here's how Asana, a work management platform, did it: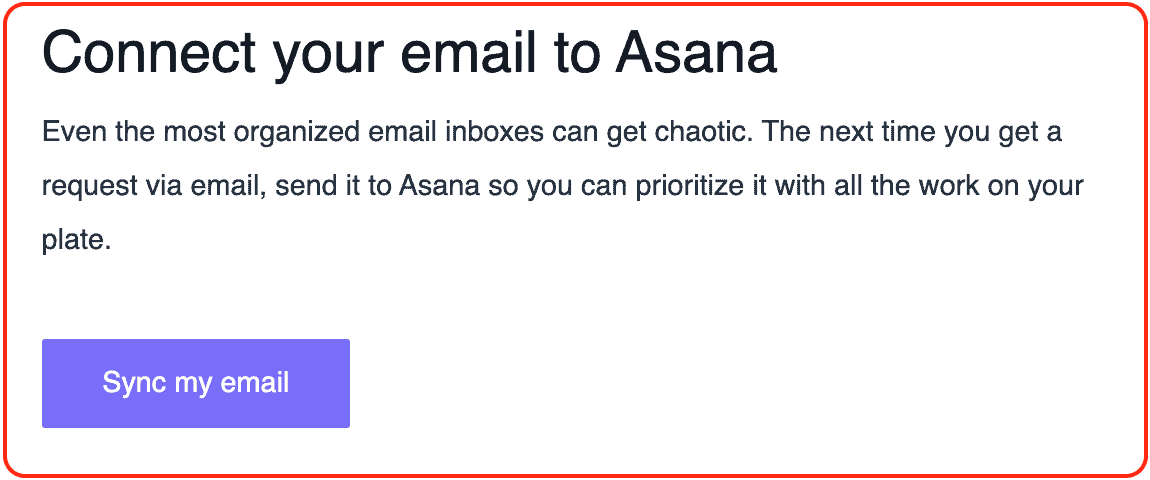 8. Harness readymade templates
There's really no need to reinvent the wheel. Templates provide a foundation for creativity while ensuring you cover all the essential elements and automate your welcome series.
Leverage welcome email templates tailored to your industry and customize them to align with your brand's voice.
Read also: 5 eCommerce Email Personalization Strategies [+ Examples]
How To Run an Effective Welcome Email Marketing Campaign
eCommerce welcome emails do not have to be standalone emails. In fact, a good welcome email comes as part of a welcome email series that may include a warm welcome followed by product recommendations and exclusive discounts, customer success stories, endorsement from influencers, and more.
With the right email automation tool, you can set up and automate welcome email sequences that enable you to send emails at regular intervals or predefined event triggers. It's a great way to engage, nurture, and convert your subscribers.
Here's a step-by-step guide on how to automate an effective welcome email sequence.
Step #1: Choose your automation tool
The first step is to select a reliable email marketing platform with robust automation capabilities. Popular choices include Mailchimp, HubSpot, ConvertKit, and ActiveCampaign.
However, if you are looking for an affordable option, consider EngageBay. It offers a wide range of functionalities to automate your marketing emails, schedule campaigns effortlessly, and drive up your ROI — especially since it comes with a free CRM suite and customer support tools.
Here's a video on how to create email marketing sequences using EngageBay.
Step #2: Segment your audience
The next step is to segment your email list based on their interests, behavior, or demographics.
This allows you to tailor your welcome sequence to different groups for maximum relevance.
Step #3: Draft your eCommerce welcome email
Next, you need to create a series of email drafts that provide value, build trust, and guide subscribers through their first interactions with your brand. You can save those emails as a template so you don't have to create a welcome email from scratch all the time.
In fact, EngageBay offers a wide range of welcome email templates that you can easily copy-paste and customize .as per your requirements.
Step #4: Set up triggers and delays
Use automation rules to trigger each email based on subscriber actions or a specific timeframe. For example, you can set a delay of one day between the first and second emails to avoid overwhelming subscribers.
Step #5: Track the results
Keep a close eye on the performance of your welcome email sequence. Monitor open rates, click-through rates, and conversions. Use this data to refine your content and timing and improve performance.
With the power of automation tools, you can easily incorporate welcome email sequences into your eCommerce email marketing strategy. This will help you introduce your brand, build rapport, and guide subscribers toward building loyal customers.
Don't forget to balance marketing automation and personalization for a truly impactful email marketing strategy.
Read also: How AI is Revolutionizing eCommerce Email Marketing
Wrap Up
An eCommerce welcome email isn't just an introduction; it's the gateway to a lasting relationship. By combining all the crucial components, you are setting the stage for engaged and satisfied customers.
It makes them feel like more than just subscribers – they feel part of your brand's story. Don't hesitate to infuse your brand's personality, creativity, and value as you draft your welcome emails.
It's your chance to set the brand tone, tell your story, and inspire your subscribers to become lifelong advocates of your brand.