When it comes to eCommerce, email integration matters more than ever.
Whether your eCommerce business is on Shopify or Amazon, or any other platform, you need email integration. So, in this blog post, we'll show you the best email tools for eCommerce integration.
But first, let us take a look at the features you'd need for eCommerce email platform integration.
Email Marketing Features for eCommerce
How do you choose the right eCommerce email platform for your small business needs? Here are the features to prioritize.
Email automation
As your business grows, you won't always have a spare second to hit the send button in real-time. Your audience might reside globally, so time zones would force you to stay up all night.
Not only that, but you might have so many audience segments you can't keep up with them all manually.
You don't have to. Email automation allows you to create entire email campaigns and automate when messages go out to which audience members. Your small business will look like you have four times the staff than you do.
An email marketing tool should allow you to build email automation workflows, and the easier, the better. Drag-and-drop workflows make it foolproof to place all the elements where you need them to go and tweak your workflow once it goes live (if needed).
Templates
Email marketing can build your brand, but you must cohesively display that brand in your email correspondence just as you do on social media and your website. Customizable email templates allow you to put your personal stamp on an existing template.
You'll save time, as you don't have to do all the work of building a template from scratch. Your emails will look unique enough that you don't have to worry about a visual overlap between you and the competition.
Better yet, many eCommerce email marketing tools don't require you to know complicated coding languages to build a custom template. You can often rely on drag-and-drop features to set up your email, then save the template for future use.
Integrations
Email marketing is a small part of what your small business does, so you surely have many other tools in your marketing and sales workflow. Your new email marketing platform must play nicely with those other tools, integrating easily to increase the efficiency of both.
Good email deliverability
Creating nice emails is only half the battle. Deliverability is the other half. After all, no matter how good your emails look, it doesn't matter if no one receives them to read them. It's a classic "if a tree falls in the woods" scenario.
Email marketing tools should have deliverability available based on a score. The higher the score, the greater the rate of deliverability. The service should make clear the parameters they used to conduct their test, such as sending 100 emails to their longest-term customers using three email platforms.
Stay far from services with low email deliverability rates, as you will only end up disappointed.
CRM integration
Customer relationship management, or CRM helps you understand your leads and customers more deeply. A CRM tool gathers past communication records, pain points, and other audience data so your sales and marketing team can work seamlessly on the same lead or customer without overlaps.
Email marketing and CRM go hand in hand, as you need customer data to segment your audience and send them tailored content. Select a software solution that has a robust CRM integration.
Personalization
Personalization is key in any successful eCommerce email marketing campaign. While email templates put you on the right path, you can customize communications with customers more deeply, and a good platform makes it easy.
For example, an email marketing tool might recommend subject lines or write email bodies with the power of AI. Automation makes sending emails for every little occasion easy so your customers know you care.
Read also: eCommerce Email Automation: Practical Email Flows + Expert Opinions
Audience segmentation
A segmented audience is at the core of email marketing, as you must separate your audience into groups to personalize their email correspondence.
An email marketing service can segment your audience based on your selected criteria or do it automatically after establishing a segmentation workflow.
Analytics and reporting
You don't want to guess about the status of your campaign, and continuing to send emails when no one opens or clicks through them wastes your time and marketing dollars. The software you select must have a strong reporting component.
The analytics should begin generating soon after signing up for software, and within a week or several, you should have useful KPIs you can use to determine the health of your email campaign.
Read also: 25 Top eCommerce Marketing Tools to Boost Sales
Top Email Tools for eCommerce Integration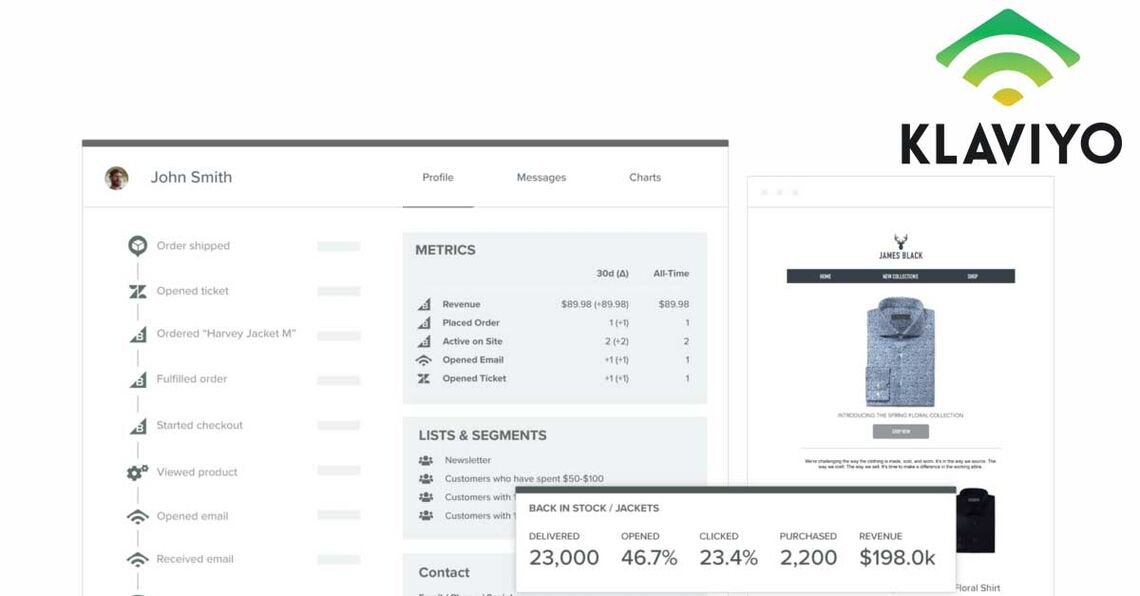 Difficulty: Intermediate
Price: $0 a month for the Free plan, $45 per month for the Email plan, and $60 per month for the Email and SMS plan
Why It's Unique: Features benchmarks for comparing your KPIs against your peers and offers improvement recommendations.
Rating on G2: 4.5 stars (990 reviews)
Klaviyo calls itself an "intelligent marketing automation" tool that uses customer data. It has several products: email, SMS, mobile push notifications, and reviews.
Klaviyo makes it easy to:
Segment your audience by establishing as many rules for segmentation as necessary.
Connect with other tools in your workflow with Klaviyo's more than 200 integrations and APIs.
Review your historical data to gain insights into what the future of your business might look like.
Customize the 100+ email templates Klaviyo offers to represent your brand.
Automate your marketing tasks, like email list segmentation.
Write email subject lines with an AI-driven subject line assistant.
Build custom forms, including multi-step forms and pop-ups, and embed them into your emails or website.
Manage and personalize your campaign so it has more flavor and flair.
Learn more about your email marketing campaigns with multi-channel data visualization, pre-built templates, and scheduled reports.
Customer Review: "I absolutely love Klaviyo for its sophisticated targeting and segmentation capabilities. Having used it to manage the marketing efforts of my jewelry business, I can speak from experience when recommending this platform – not only does Klaviyo make creating an advertising strategy a breeze by allowing you to effortlessly connect your Shopify store and Facebook Business Manager, it also allows for powerful personalization through targeted messaging tailored specifically to each customer's needs! In a competitive world, Klaviyo is the gold standard when it comes to customer service and marketing." – G2 review
Read also: Top Klaviyo Alternatives: Propel Your eCommerce Business Growth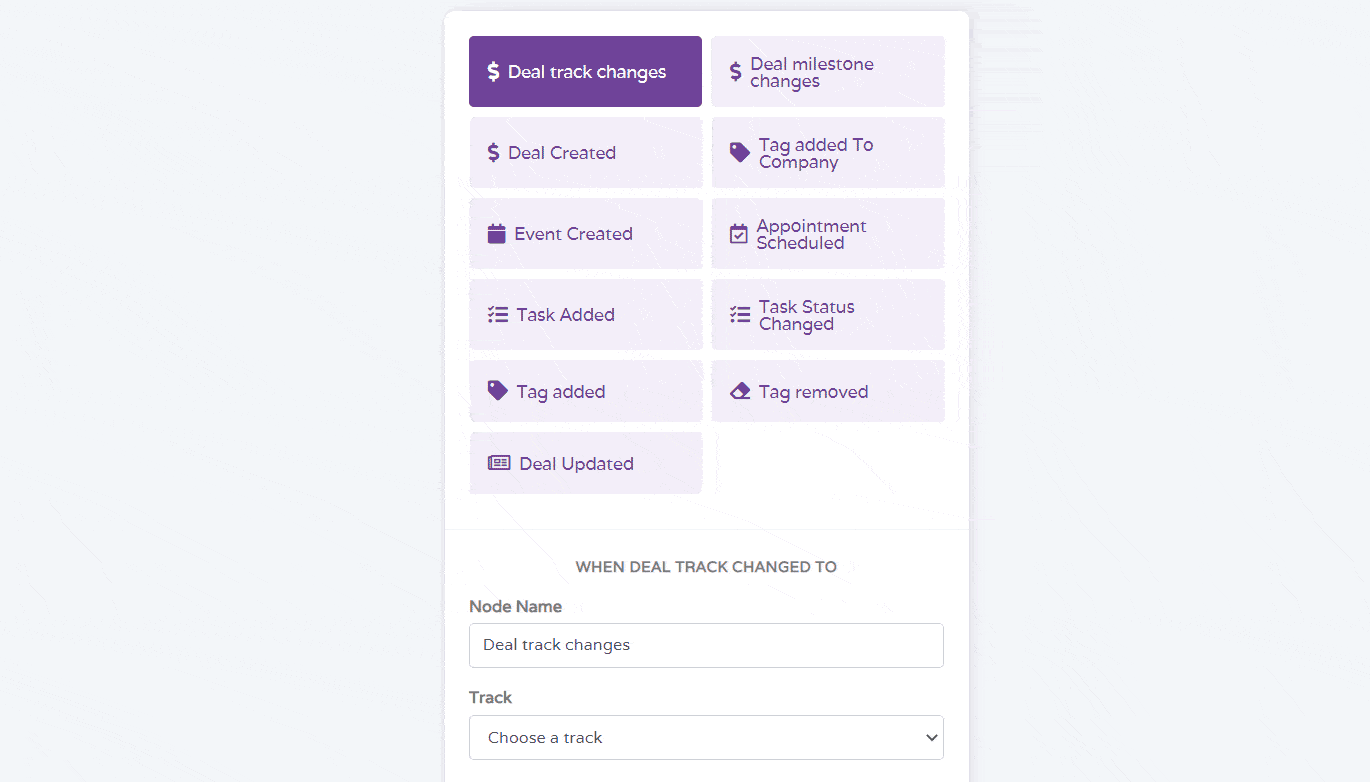 Difficulty: Easy
Price: Free for $0 per user per month, Basic for $11.95 per user per month, Growth for $45.99 per user per month, and Pro for $73.59 per user per month (with annual billing)
Why It's Unique: An all-in-one marketing, sales, and service software with free features to help you supercharge your small business.
Rating on G2: 4.6 stars (204 reviews)
The next email marketing software to put at the top of your shortlist is EngageBay. This small business solution has tools for marketers, servicepeople, and salespeople. The Marketing Bay is the home of its marketing services, including email marketing software.
Build email sequences using hundreds of clean, appealing templates. These predesigned templates simplify your email marketing. You can use them as is (and will be seriously tempted to since they're very attractive) or alter them to suit your marketing message.
Using a drag-and-drop workflow builder, you can also automate your emails within EngageBay (and other parts of your campaign). It couldn't be easier.
Customer Review: "I love that you can create unlimited contacts and you could send 50,000 emails per month. But I could purchase additional emailing credits if I want to send even more emails. That is just one part of the All-in-one suite subscription. There are different modules that you can do a lot in, Marketing, Sales, Service, Livechat. Each module has a myriad number of features that you can implement in your own way that will meet your company's needs." – G2 review
Read also: The Top 13 EngageBay Alternatives of 2023 [With Pricing]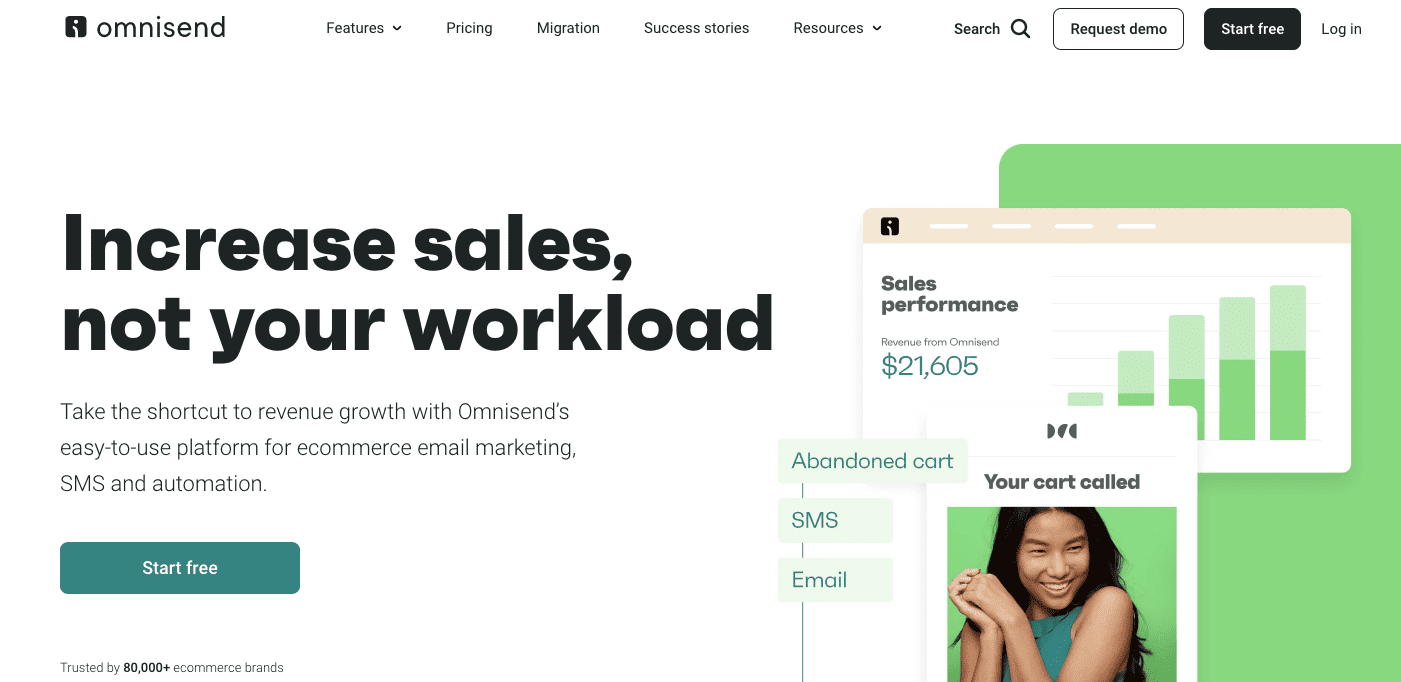 Difficulty: Easy
Price: Free for $0 a month, Standard for $16 a month, and Pro for $59 a month
Why It's Unique: Offers campaign boosters to increase the chances of recipients opening your emails by 2x
Rating on G2: 4.5 stars (826 reviews)
Omnisend is an email marketing and SMS tool that seeks to simplify your eCommerce email marketing. The service says you can launch a campaign in three steps.
The email marketing features you can use include drag-and-drop email building, editable email templates, a drag-and-drop automation builder, pre-built eCommerce workflows, and dynamic discount codes for emails.
You can adjust the offers to find the one your audience most enjoys, from free shipping to a fixed amount discount or a cart percentage discount.
Customer Review: "I like Omnisend because it's quite simple, but all best practices for e-commerce are available there. The prices are reasonable, the integration with Shopify works great, and the customer support works excellent. I am especially grateful to Maria from customer support, she helps me to find the best solutions in a moment 🙂 Maria, thank you so much. I like the built-in email editor, the main automations include all best practices. I see that the team improve the product. For example, the reports were updated a bit ago and new ones are better that the previous version. Good job, Omnisend! Strongly recommend." – G2 review
Read also: 14 Omnisend Alternatives For Smart Email Marketing & More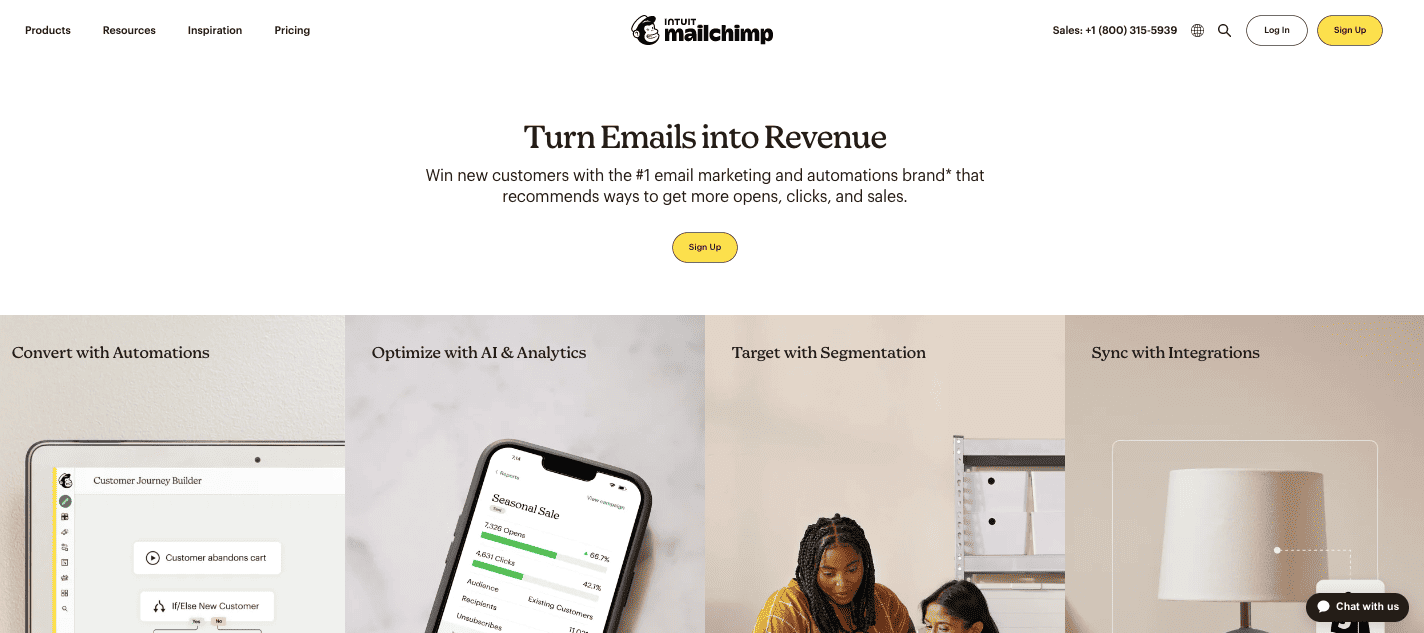 Difficulty: Easy
Price: Free for $0 per month, Essentials for $13 per month, Standard for $20 per month, and Premium for $350 per month
Why It's Unique: Promises a 39x ROI by using its software.
Rating on G2: 4.3 stars (12,358 reviews)
No list of eCommerce email marketing tools would be complete without discussing Mailchimp. A top-rated automation and email marketing brand, here are the trademarks of Mailchimp:
Beginner-friendly: Mailchimp is simple to pick up and go, even if you've never used an email marketing platform before. As you gain more marketing chops, you can continue using it.
Integrations: With more than 300 integrations in its library, Mailchimp should work with the tools you rely on to get things done.
AI: Mailchimp's AI feature can generate email content from subject lines to email bodies, so you don't have to.
Reporting: Mailchimp has advanced reporting and analytics tools to make sense of your campaigns and discover what to improve for next time.
Customer Review: "I like how easy it is to use Intuit Mailchimp. I've used the platform for several years, not only for my own personal newsletter but for several organizations as well. Any time I'm asked to create a newsletter for clients, I always use Mailchimp. Not only do they have a free level for beginning users, but some of the functions that are available to free users are more than even some paid systems have. I also use the paid level for a couple other clients and appreciate the added functionality there as well." – G2 review
Read also: How Does Mailchimp's Pricing Compare To Its Competitors?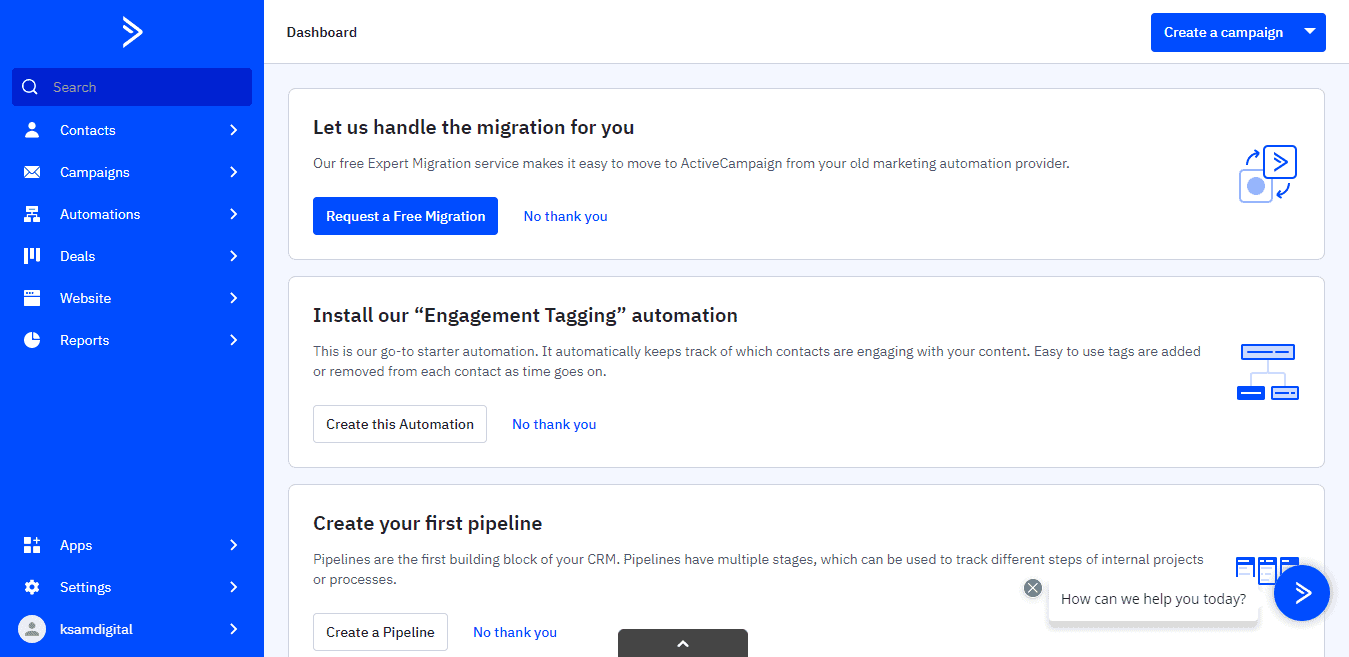 Difficulty: Moderate
Price: Plus for $49 a month for three users, Professional for $149 a month for five users, and Enterprise for a custom price
Why It's Unique: Allows you to customize the email types you send, including targeted, triggered, broadcast, transactional, and scheduled emails.
Rating on G2: 4.5 stars (10,299 reviews)
Combining CRM with automation and email marketing, ActiveCampaign has sales and marketing tools geared toward growth. Use its drag-and-drop email builder to create a custom email that matches your campaign, then automate email sending and follow-ups according to your rules.
ActiveCampaign has a suite of free tools to assist you with emails, including free templates, outreach emails, and a subject line generator.
Customer Review: "ActiveCampaign for Marketing connects every tool and channel you use in your business to engage customers at every state of the customer lifecycle. Harness data from email marketing, social media, digital advertising, and your website, to tailor personalized touchpoints with your contacts – ensuring your marketing is effective, engaging, and memorable without costing you time. We put automation to work for you so you can focus on the personal touches that set your business apart, and ensure that you haven't missed a step with any of your customers." – G2 review
Read also: 11 of the Best ActiveCampaign Alternatives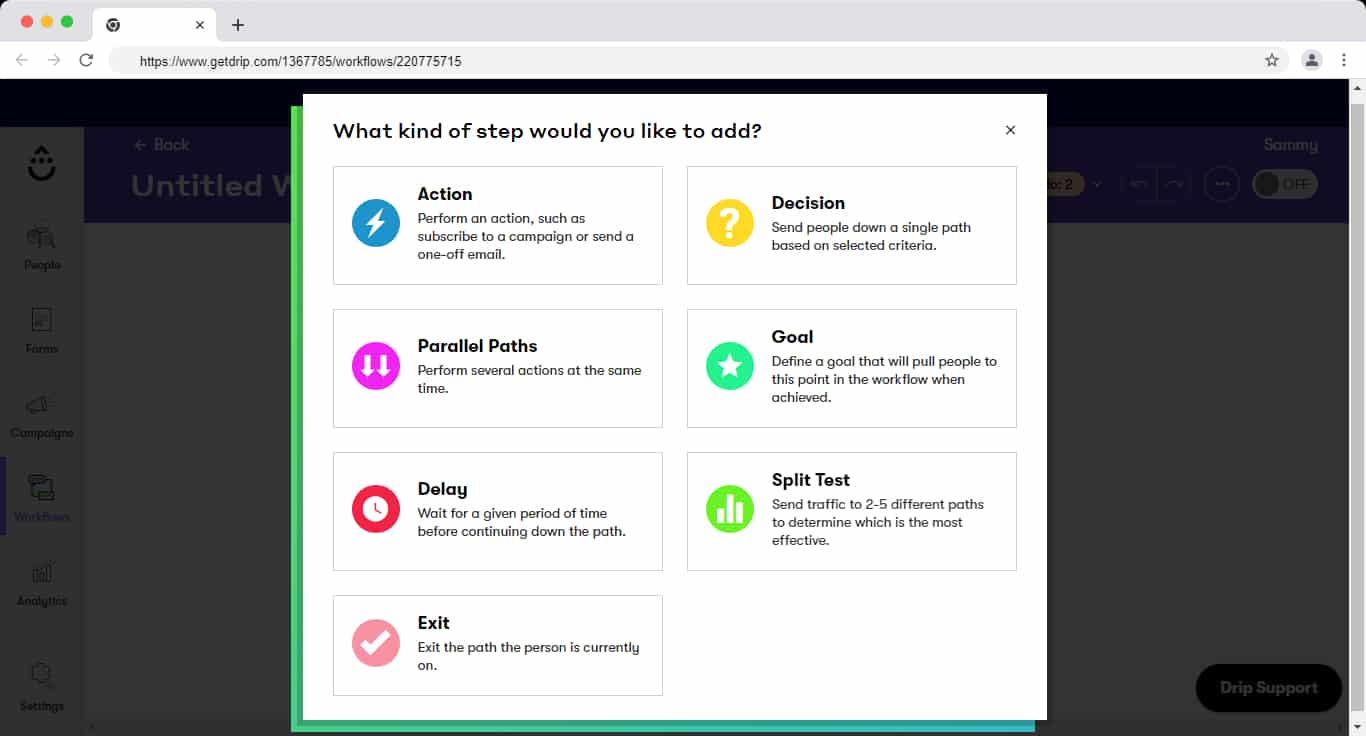 Difficulty: Moderate
Price: $39 a month for 2,500 contacts
Why It's Unique: Offers free migration services so you can easily switch.
Rating on G2: 4.4 stars (453 reviews)
Drip is another email marketing service to consider. With its many integrations and myriad marketing features, you can rely on Drip to:
Divide your audience using smart segmentation and customer data from email, Onsite, integrations, and your store.
Automate your email campaigns with a custom workflow builder (behavior-based automation is also available).
Create emails using a visual email builder, adding branding elements for recognizability.
Split-test your emails before you send them to determine which ones will get the most opens.
Use Onsite to build customized forms in formats like sidebar, embedded, slide-in, and sticky bar.
Gain insights into your ongoing campaigns using performance snapshots and other relevant data.
Customer Review: "Drip is a highly intuitive and user-friendly email marketing automation tool that offers a wide range of features and capabilities. From analytics to comprehensive email campaigns, the versatility and functionality are truly impressive. Moreover, their customer support team is incredible for its responsiveness and expertise, providing clients with valuable assistance and guidance whenever needed." – G2 review
Read also: 11 of the Best Drip Alternatives (Features, Pricing, Pros and Cons)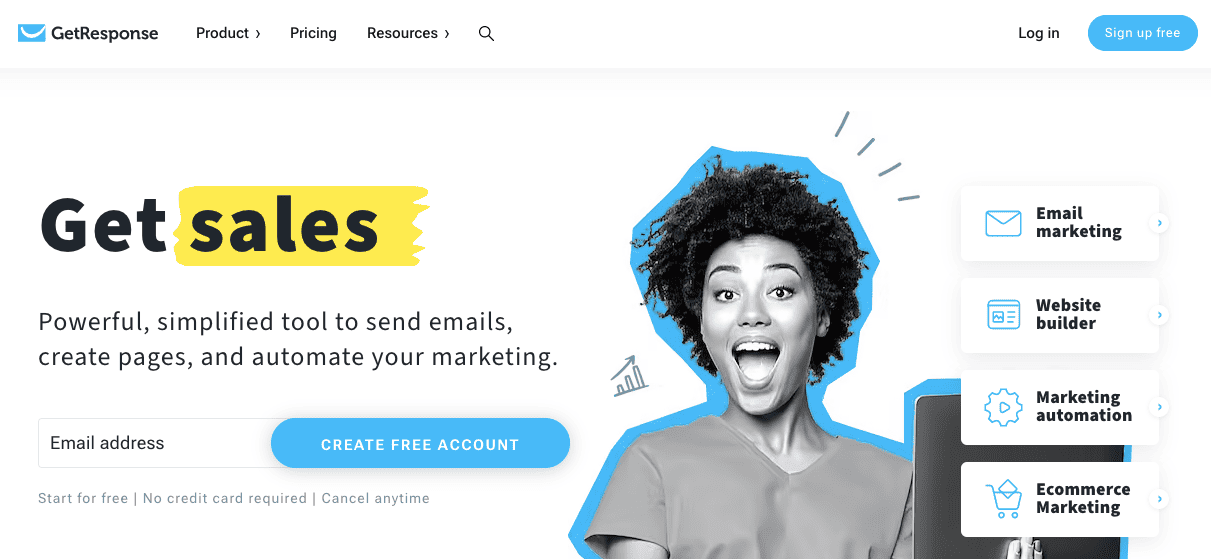 Difficulty: Easy
Price: Free for $0 per month, Email Marketing plan for $15.58 a month at 1,000 contacts, Marketing Automation plan for $48.38 per month at 1,000 contacts, and eCommerce Marketing plan for $97.58 a month at 1,000 contacts.
Why It's Unique: You can broadcast newsletters for free.
Rating on G2: 4.2 stars (888 reviews)
GetResponse is a handy email marketing service for businesses of all sizes. This software makes it easy to:
Send autoresponders or automated email sequences to engage with and build your audience.
Create automation workflows based on behaviors, actions, or triggers so your emails go out at ideal times.
Build an automated blog digest email to direct users to your blog.
Use Time Travel and Perfect Timing tools to nail delivery times.
Send transactional emails (as a paid add-on) with reminders and receipts.
Customer Review: "Get Response was the easiest to get started for a newbie. I have tried many, many other products. GetResponse is for a new beginner to a very well-educated individual in Email Marketing. If you have questions, they are there for you. They have uploaded many step-by-step videos for you to watch to make this a very satisfying experience. If you come to a roadblock, email the GetResponse team, who will help you figure everything out." – G2 review
Read also: 15 of the Best GetResponse Alternatives (Features, Pricing)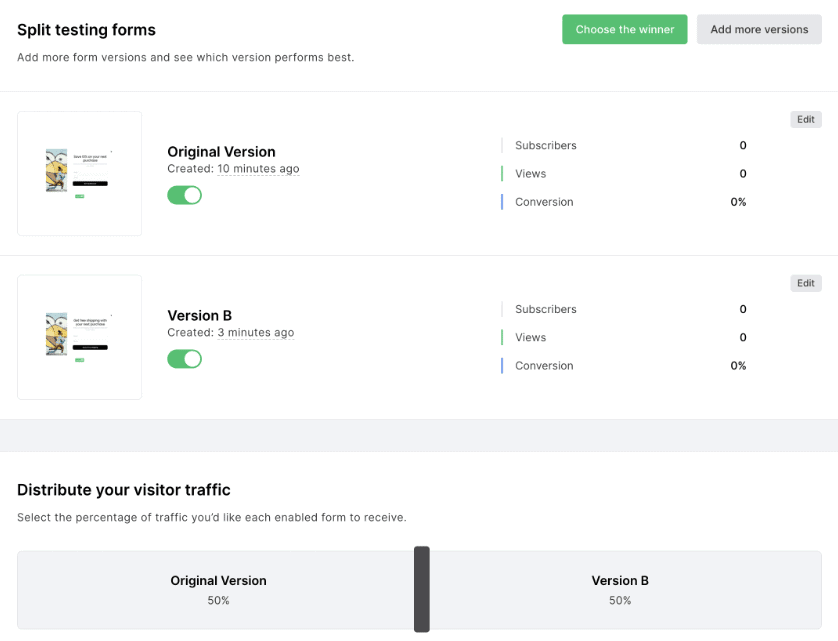 Difficulty: Easy
Price: Free for $0 for up to 1,000 subscribers, Growing Business for $9.99 a month for up to 500 subscribers, Advanced for $18 a month for up to 500 subscribers, and Enterprise for a custom fee
Why It's Unique: Features a newsletter editor to create engaging newsletters that enmesh with the rest of your campaign.
Rating on G2: 4.7 stars (784 reviews)
With simple, beginner-friendly services, MailerLite is a solid marketing software option. Automate your email efforts to save time and ensure your messages go out when intended. You can also send transactional emails using MailerLite's SMTP or API server without having to code.
Edit emails using custom HTML, a rich-text editor, or an easier drag-and-drop editor. With a free image library and templates, you can create custom emails conveniently and send them to your audience.
Customer Review: "MailerLite provides strong automation functions which help streamline and optimize email marketing workflows. Customers can make automated email sequences, like welcome series, abandoned cart reminders, or birthday greetings, to interact with subscribers at different phases of the customer journey. The platform's automation resources save time and effort by offering targeted and personalized mail messages to the proper target audience, leading to greater efficiency and improved customer engagement." – G2 review
👉 Discover the most effective eCommerce marketing automation techniques in our detailed article!
Read also: What is MailerLite? Reviews, Pricing, Pros and Cons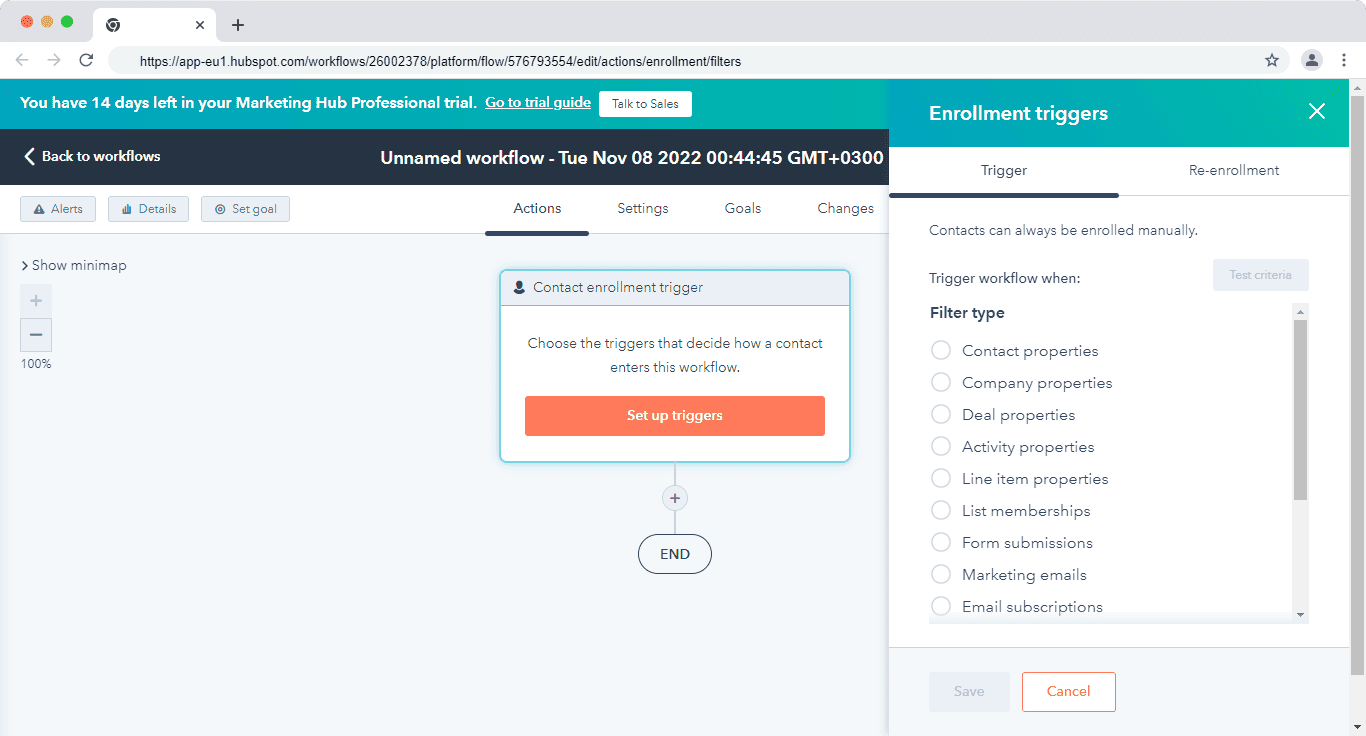 Difficulty: Moderate
Price: Professional for $800 a month and Enterprise for $3,600 a month
Why It's Unique: You can use free email marketing features.
Rating on G2: 4.4 stars (10,001 reviews)
HubSpot's Marketing Hub includes a suite of marketing tools, email marketing among them. Browse goal-based email templates, including free templates, then edit with drag-and-drop features to adjust the layout and introduce your branding.
Personalize your emails before they go out by feeding HubSpot customer data. It will recommend CTAs, attachments, links, and subject lines. You can also A/B test your emails, write emails with AI, and review email performance with analytics when your campaign goes live.
Customer Review: "Hubspot Marketing Hub is perfect if you want to be able to track the impact of campaigns without needing additional support or set up – everything works really simply and seamlessly. Detailed automation capabilities are probably my favourite part. Specifically, we are able to nurture leads and convert them or qualify them through workflows, conditional splits etc – so it's automating a lot of the time-consuming work our sales teams used to do." – G2 review
Read also: Is HubSpot Worth It? In-depth Review for Small Businesses
Difficulty: Easy
Price: Free for $0 per month, Starter for $25 per month, Business for $65 per month, and BrevoPlus for a custom price
Why It's Unique: Doesn't limit you on contacts for any of the free or paid plans.
Rating on G2: 4.5 stars (618 reviews)
You might recognize Brevo by its former name, Sendinblue. It's still the same trusted email marketing service, just with a facelift. You can use its email marketing tools to:
Increase your email list with customized signup and landing pages.
Build custom emails by selecting from Brevo's library of templates or editing your own.
Segment your audience according to the criteria of your choosing.
Understand the sources of your successes and failures through analytics.
Customer Review: "Brevo is a powerful marketing tool that I have had the pleasure of using. Its user-friendly interface and smooth functionality greatly enhance the overall experience. Compared to other similar tools, Brevo stands out with its exceptional performance and efficient features, making it a valuable asset for any marketing professional." – G2 review
Read also: 11 of the Best Sendinblue (Brevo) Alternatives (Pricing, Advantages)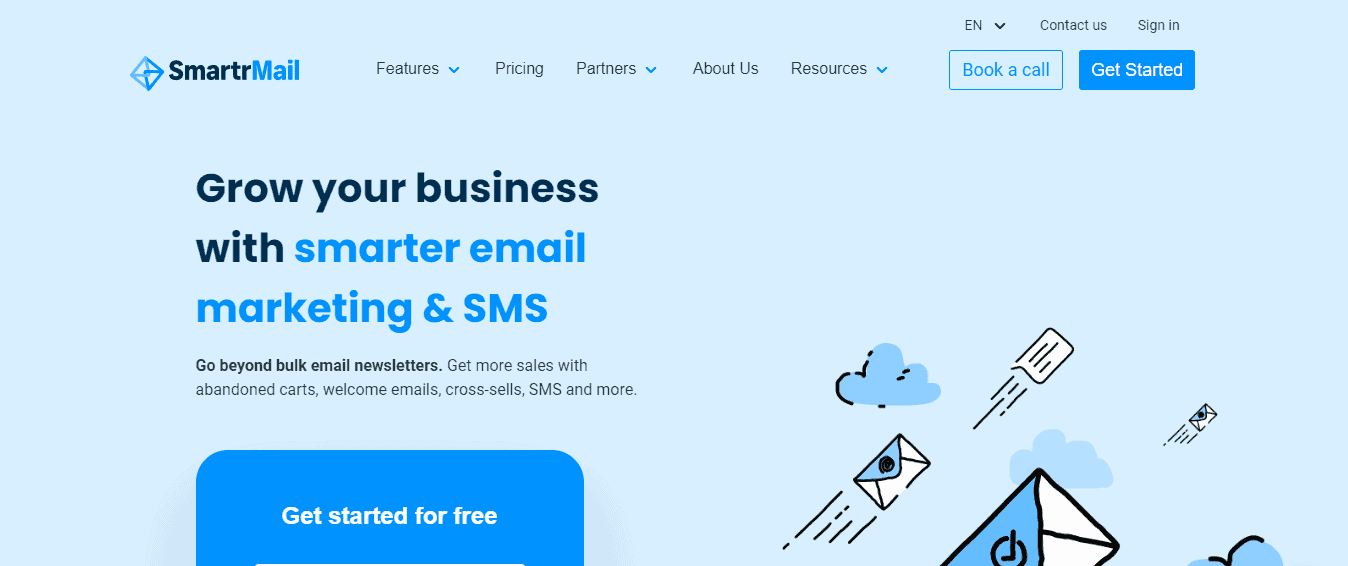 Difficulty: Moderate
Price: Standard for $19 a month and Unlimited for $99 a month with 1,000 contacts
Why It's Unique: An eCommerce-specific solution that uses machine learning and automation workflows.
Rating on G2: 4.8 stars (19 reviews)
SmartrMail says you can "become an email marketing expert" if you join its userbase that's earned more than $409 million in sales by using its software.
The email marketing features include:
Abandoned cart and triggered emails to grab your audience at the precise moment of the sales funnel.
Store integrations to generate more data that can take your email marketing campaigns further.
Automated product recommendation emails to increase your small business sales.
Mobile, responsive emails that look as good when viewed on a phone as on a desktop computer.
Single-click email templates you can edit and send quickly.
Customer Review: "SmartrMail offers a turn-key solution for email marketing as well as automation that integrates perfectly with Shopify. It is very easy to prepare emails, include the appropriate hotlinks, and track the results. The automated list maintenance features keep our lists clean and allow us to segregate them as needed to get the correct message to the correct customer segment." – G2 review
Read also: 7 Powerful eCommerce Marketing Automation Strategies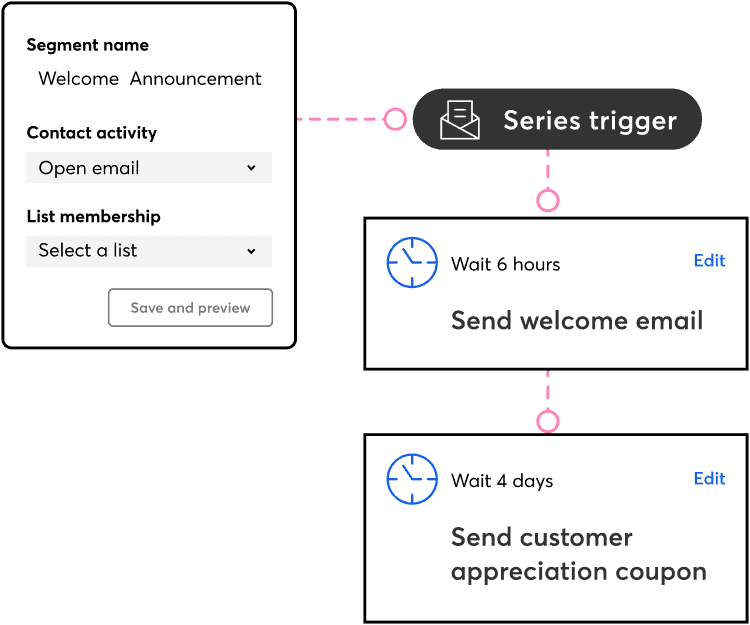 Difficulty: Easy
Price: Lite for $12 per month, Standard for $35 per month, and Premium for $80 per month, depending on your number of contacts
Why It's Unique: Helps its users earn more revenue through email marketing, including editable tools.
Rating on G2: 4 stars (5,620 reviews)
Constant Contact combines the power of automation with an AI Content Generator to speed up the email creation and sending processes. You can also use this email marketing tool to reach leads and customers through SMS and social media to expand your campaigns.
Build emails with a drag-and-drop editor that allows you to add blocks like buttons, images, text, and social sharing. Format your email to perfection, then use the Constant Contact mobile app or software to track your campaign metrics, including email shares, open rates, and click-through rates.
Customer Review: "One of the best things about Constant Contact is its phone customer support. I always appreciate getting dedicated care when I need it. I once was with a competitor that I thought I was satisfied with. I was trying out Constant Contact just to do my due diligence and was won over by the phone customer service (which Mailchimp does not offer). As well as the user-friendliness and ease of the platform. Additionally, being an administrator that's always on the go, having an app that can power my campaign when I'm mobile is a breakthrough win! I have the power of CC in my pocket, on my tablet, and of course on my laptop." – G2 review
Read also: How AI Is Revolutionizing ECommerce Email Marketing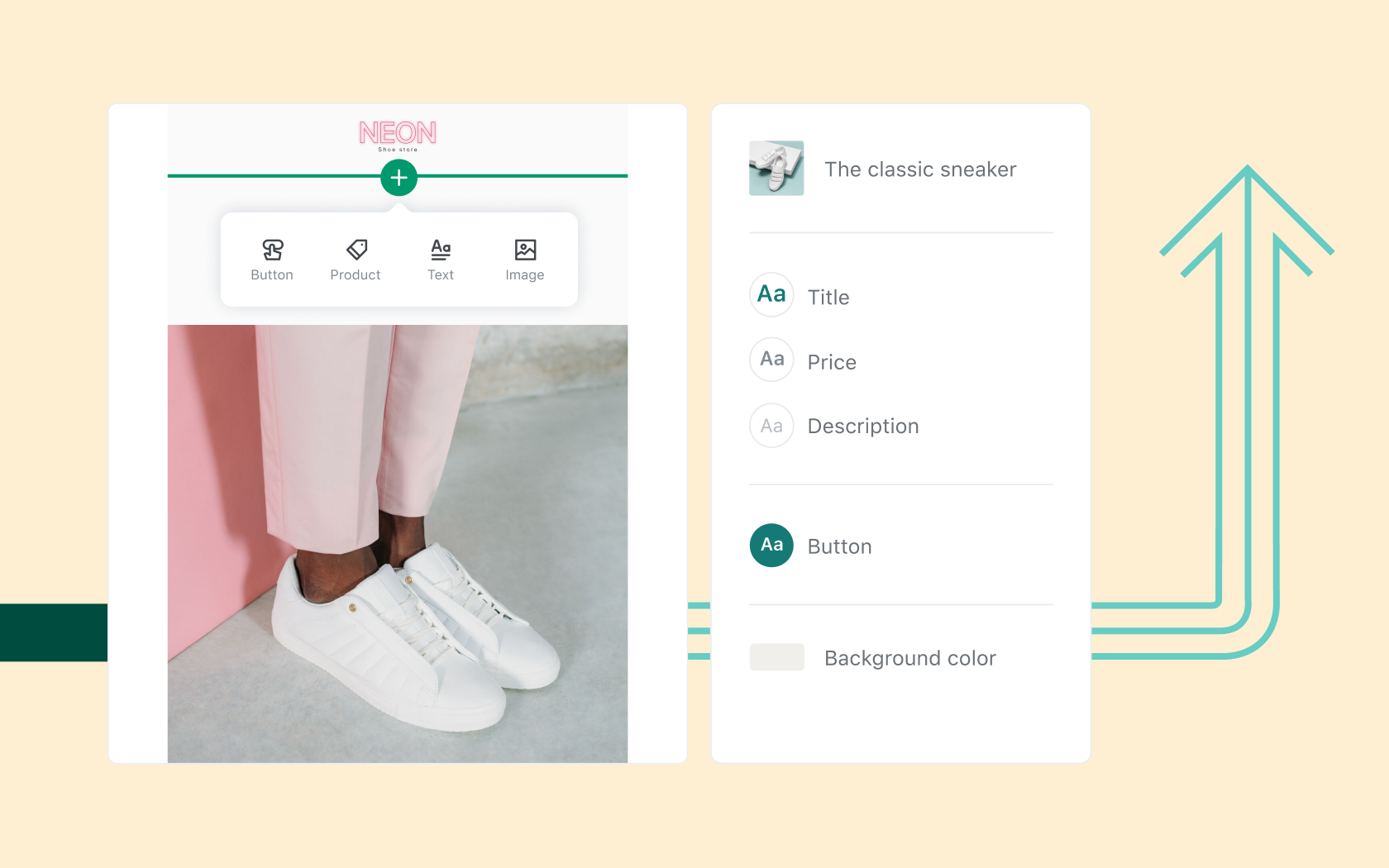 Difficulty: Moderate
Price: N/A
Why It's Unique: It's an app-based tool for tracking your email marketing on the go with the backing of Shopify.
Rating on App Store: 3.9 (976 reviews)
Shopify Email is a phone app that's not only for Shopify store owners. You can also use this tool to create emails using the drag-and-drop editor or by selecting professional templates with features like checkout links and product pricing.
You can automate within Shopify Email, relying on this feature for audience segmentation and email sending. Track your campaigns and expand your sales.
Customer Review: "It's a pretty good app. Although it doesn't have extremely good customization options, it's still decent enough to build really good email campaigns at a fantastic price. We love using this app for email automations and have never ran into issues. Also, now you can upload high-quality imagery without the image becoming blurry which is a huge plus. 10/10." – App store review
Read also: 16 Powerful Shopify Marketing Strategies To Stand Out
Bottom Line
The integration of email marketing software and your eCommerce store can grow your small business as you expand your email list, reduce instances of abandoned carts, use email templates to send professional-looking messages, and test your results to improve your campaigns.
While we looked at 13 fantastic email platforms for eCommerce integration, EngageBay is the best tool for achieving your eCommerce email marketing goals. It's startup-centric, has a rich feature set for free, and is renowned for its ease of use.
Sign up for a free trial of EngageBay today!