Business success solely depends on customer satisfaction. As most of the business today has converted into online trading, staying in the limelight is essential for overall business growth. Hence, irrespective of its size; enterprises look forward to incorporating software that builds meaningful customer relationships. Marketing Automation Software is a significant platform that helps online businesses streamline their sales process and team efficiency. Small and medium scale businesses can send automated messages to target leads across emails, SMS, and various social channels. Maximum utilization of marketing automated software escalates revenue, engages and nurtures leads, delivers better customer service and moderates human error.
About EngageBay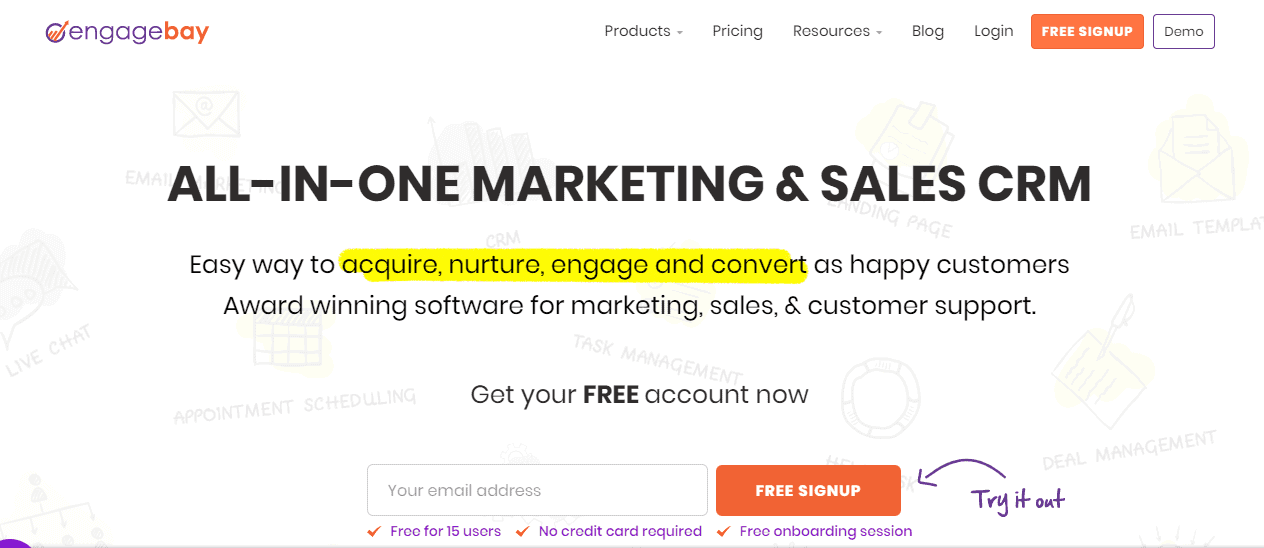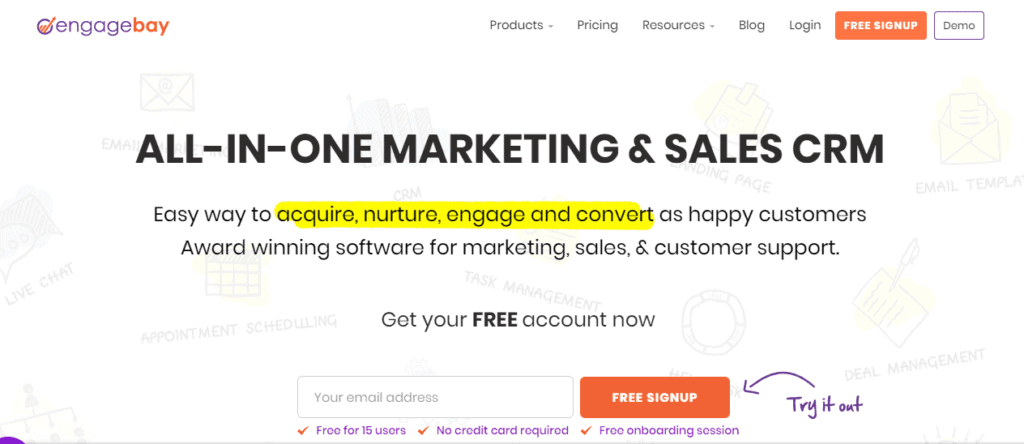 "All-in-one stack of tools for Business Marketing Automation"
EngageBay is an affordable, comprehensive, and strong marketing automation tool that provides software support to growing enterprises and start-ups. This robust platform is specially designed to aid the sales and marketing team by elevating productivity through lead generation and business automation. Otherwise known as a web-based complete solution, EngageBay advances campaigns, lead scores programs besides proposing a single place for optimization, seamless access to data and easy management. With simple to use, a unique visual builder tool is the automation tool that offers an intelligent way to design sales and marketing workflow. Trusted by more than 12000 customers, this significant software improves business efficiency by syncing data between systems, tracking events, subscribing customers, and automates manual tasks. 
Benefits of Implementing EngageBay
Single platform with power-packed tool
EngageBay features a complete set of tools that backs lead management, funnel management, free CRM to effectively reach out to potential clients. From building marketing campaigns to attracting consumers, converting leads, and cultivating customer relationships; one can find everything in a centralized place.
360-degree customer view
EngageBay delivers synchronized engagement metrics to its clients that give them a 360-degree tour of customer involvement and their demands. The software gathers all the data derived from email marketing, customer behavior, social marketing channels and other places for an easy catch-up.
Ease of Use
Marketing and Sales management are a complicated yet important facet of any business. With its seamless tools and ease of use features, EngageBay makes it extremely easy for the management with the product. Working staff requires no extensive knowledge or technical experience in utilizing this mind-blowing marketing software.
Manage social media like a pro
EngageBay is not about automated email marketing only. This all-in-one platform effortlessly schedules and manages social media posts, tracks your channel management level, and monitors mention over various social media platforms like Twitter, Instagram, and Facebook. It ensures that your business is always on the top of audience engagement.
Why SoftwareWorld selected Engagebay as Top Marketing Automation Software?
A product is distinctive with its easy to use features and workability. EngageBay satisfactorily fulfills all the requirements of being one of the best marketing automation software in the market. The product is affordable and offers a set of rich features that are required to acquire, engage, nurture and convert visitors to customers. EngageBay is a dynamic platform that offers customizable templates and web forms that are simple to create style and attract visitors. According to SoftwareWorld, a marketing automation tool triggers action through a series of emails sequence and automatically keeping the audience interested in the products and services. EngageBay stands tall on all the criteria of being potential software that can easily pull down the visitors into the marketing funnel until they are engaged with the business in a healthy relationship.
About SoftwareWorld
SoftwareWorld helps millions of people find the best business software. With their comprehensive information on software, ratings, review, and the comprehensive list of top software, they boost productivity for business. They assist their customers with free guidance to choose the best business software available in the market. SoftwareWorld is an inevitable SaaS product review site that believes in boosting efficiency by providing best service.
OTHER ENGAGEBAY AWARDS: