Despite EngageBay powering over 46,000 businesses, it might not be the perfect fit for every company. That's why you are looking for EngageBay alternatives. Different businesses have different needs.
That said, our goal has always been to provide small businesses with the best-fit CRM, which is cost-effective, feature-rich, and offers exceptional support.
As Jim Pellerin, owner of Street Rock Group said:

But if EngageBay hasn't met your needs, we would still like to save you time looking for a replacement by identifying some of the best CRMs for you and offering a detailed review and comparison of eight EngageBay alternatives.
In this article, you'll learn:
The strengths and weaknesses of each software

The key features of each platform

The ease of use of each software
Let's get started!
The Top 8 EngageBay Alternatives
I looked into the top-performing CRMs packed with all the essential features that you'd expect to find on a CRM platform. I signed up for each tool and identified eight EngageBay Alternatives that we'll explore:
HubSpot

ActiveCampaign

Zoho CRM Plus

Pipedrive

Freshsales Suite

Keap (Infusionsoft)

Insightly

Agile CRM
Factors to consider
How would you know which EngageBay alternative is the best for you? Here are three factors we'll look at in each CRM:
Product capabilities and key features
Some CRMs might have more features than you need and hamper reps' productivity, while others may just have the essential features but be expensive. We'll review each CRMs key features and pricing so you can pick the best fit CRM that you can scale with.
Ease of use
The easier a CRM is to use, the higher the adoption rate among your team and the more productive they'll be. The ease of use is determined by the UI of the platform, the support available, and the complexity of the software as this will affect users' learning curve.
Pricing
CRMs can get expensive pretty fast. Some tie you to an annual plan, while others charge you for expensive add-ons. The price will depend on the number of users and the features your team would need to function efficiently.
1. HubSpot
HubSpot first began as a lead generation tool, but over the years they've grown into an industry-leading CRM platform. It brings together your marketing, sales, and customer support teams by having an all-in-one platform that includes:
The Marketing Hub

–This includes all the marketing tools that'll help you attract and convert customers

The Sales Hub

–This includes all the sales tools that'll help you close more deals and manage your pipeline

The Service Hub

–This includes an all-in-one customer support platform that will help you interact with customers faster and meet their expectations
Product capabilities
Its CRM is the focal point for storing your entire customer data. So all the tools from the marketing hub to the sales hub have access to the same data. As a result, marketing and the sales department can collaborate to make informed decisions on leads and sales pipeline.
Its Marketing Hub solves the problem of having standalone marketing platforms like landing page builders, marketing automation software, and an email marketing solution by consolidating all of them into one software.
You can also track your marketing campaigns directly from HubSpot. It allows you to link data from Facebook and Google ads while showing your inbound marketing efforts all in one place.
The Sales Hub's key features include sales automation, pipeline management, and lead management functionality. Once the marketing team attracts and nurtures leads, they feed the data into the sales CRM. The sales team can then automate their sales outreach efforts by using the email software and HubSpot's telephony integrations to close deals which you can manage in the intuitive pipeline management interface.
The CRM also connects to The Service Hub, which displays all the interactions a customer has had with the company–from tickets to emails to website visits. There's also a shared inbox and helpdesk automation which will help customer service reps solve customer issues much faster.
So if you are looking for an all-around CRM like EngageBay, HubSpot fits the bill.

Ease of use
HubSpot has a simple user interface. The navigation bar at the top makes it easy to access all the tools with just one click and, as a result, it is easy to implement everything and onboard your team within minutes. It also has native integration with over 100 platforms, which makes it easier for you to connect seamlessly it with your tech stack.
HubSpot also has the HubSpot academy where they have detailed steps on how to get different things done and the videos are easy to follow.
Pricing
Here's an overview of HubSpot's CRM suite pricing plans: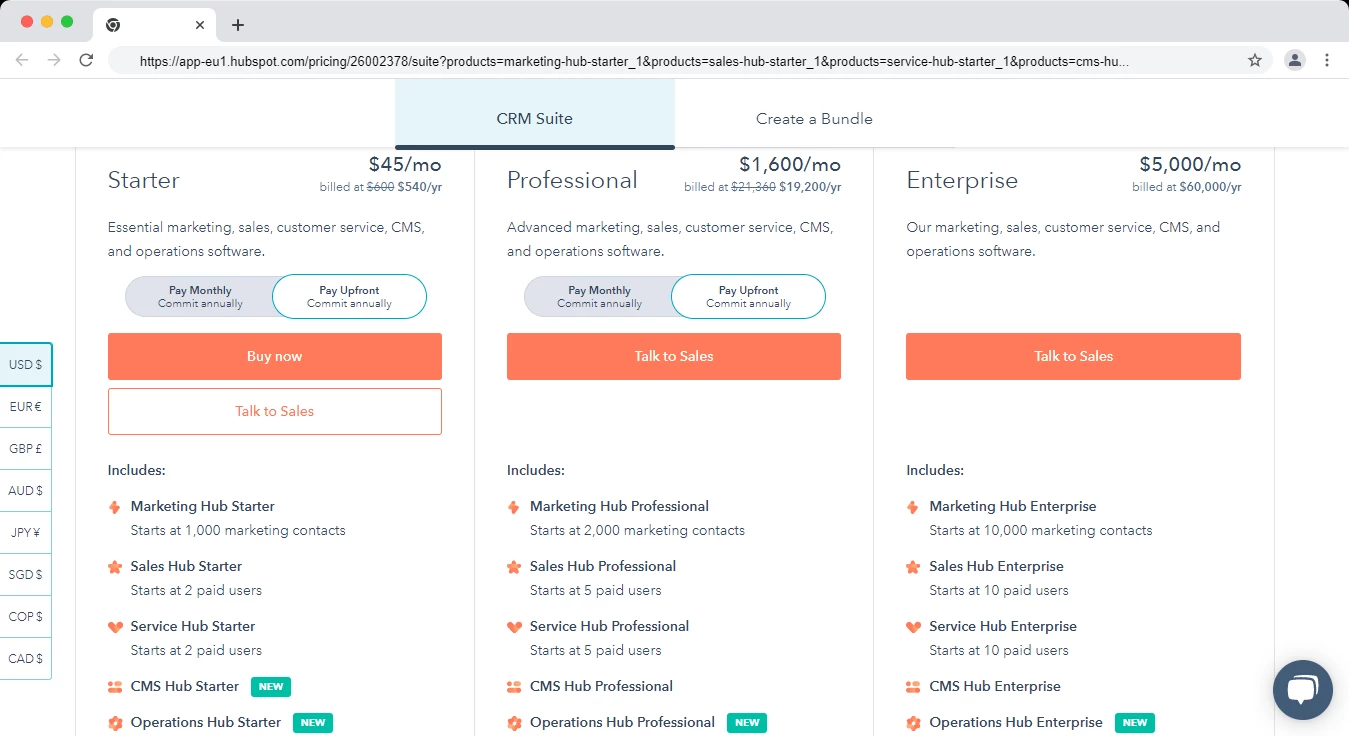 While HubSpot has some of the best features, its pricing isn't suited for companies that are scaling and would need additional features. It gets expensive pretty fast. Here are a few things that quickly become apparent from their pricing structure:
The steep price jump from the starter plan to the professional plan–$50/month to $1,780/month–makes it hard to upgrade when you only need one feature which isn't in the starter plan

you have a 12-month commitment plan whether you pay monthly or annually. This locks you into paying for the software for the whole year

The starter plan by default starts with 2 users, the professional plan 5 users and the enterprise plan starts with 10 users

If you want to add additional users, the starter plan costs $25/month/user, the pro plan $100/month/user, and the enterprise plan at $120/month/user
HubSpot vs EngageBay
Both HubSpot and EngageBay pack all the essential marketing, sales, and customer service features. The main difference between the two, however, is the pricing. Here are the main differences you should look out for:
HubSpot ties you to a 1-year commitment term. So when you want to cancel your subscription after 3 months, you'll continue to be charged until the end of your 12-month commitment term. EngageBay on the other hand has no mandatory annual commitment terms. You can cancel your subscription at any time.

HubSpot includes a mandatory onboarding fee for both their pro and enterprise plans. For the CRM suite, the fee for the pro plan is $4,500 while for the enterprise plan it's $12,000. EngageBay, on the other hand, offers free onboarding starting from the Growth plan.

The main difference between the two is the feature gap in the plans. HubSpot lacks the essential features in the starter plan which are included in the pro plan. But the cost of upgrading is expensive given the steep price jump. EngageBay gradually includes key features with each plan so it's easier if you want to use certain features as you grow.
2. ActiveCampaign
ActiveCampaign is a marketing automation tool that also offers CRM capabilities. But the majority of its users use it for email marketing and automations.
Product capabilities
ActiveCampaign helps businesses attract, nurture, and convert leads into customers. It does this by providing these four key functionalities that help you engage with customers throughout their customer journey touchpoints:
Email marketing
ActiveCampaign makes it easy to create subscription forms that'll help you collect leads on your website. You can then track website visits which will help you run automations based on user actions and send curated content right when they need it.
Marketing automation
Its automation feature saves you time engaging with customers throughout the customer journey. You can automate the welcome emails for new leads, assign tags automatically depending on user behavior, and automatically send qualified leads to the sales pipeline. To save the sales team time, you can then automate assigning tasks to the sales team like making calls and sending outreach emails. There are also a couple of preset automation templates you can choose from to start with.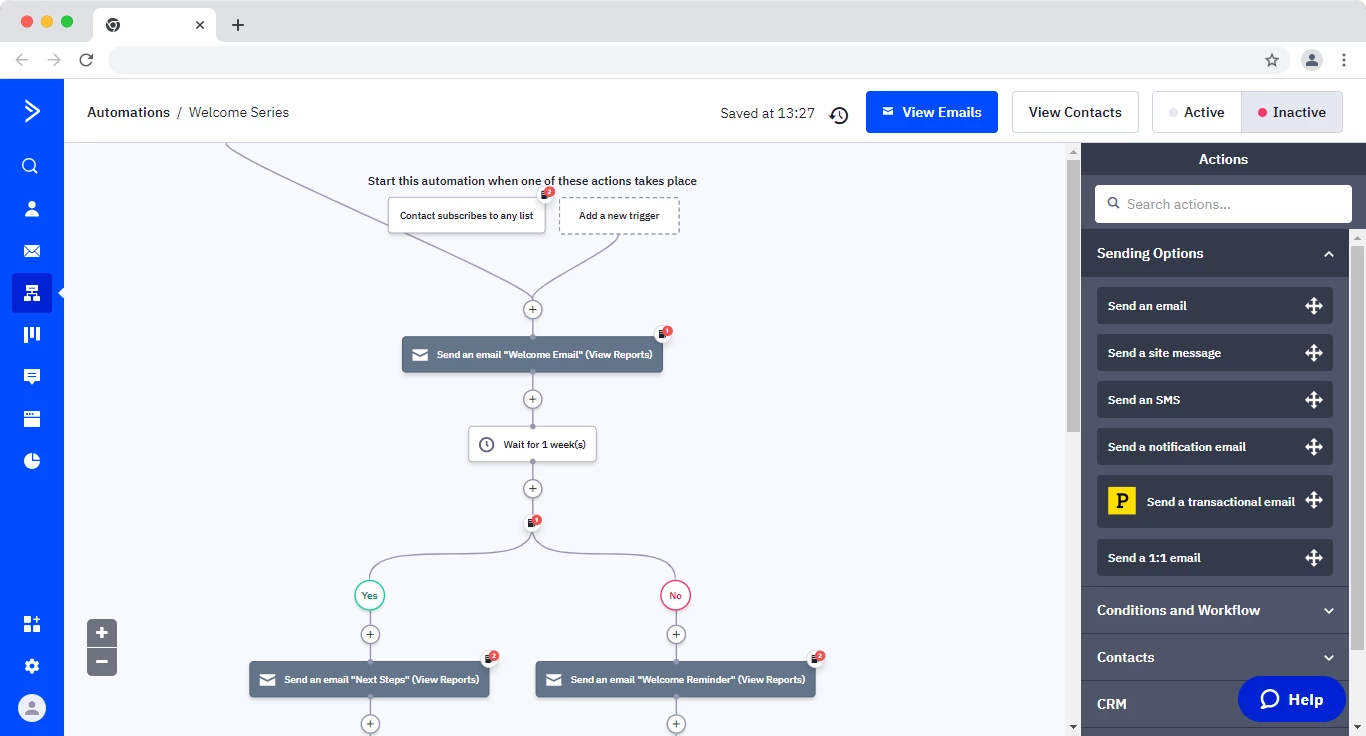 CRM & sales automation
Its sales automation CRM helps you streamline your entire sales process, automate mundane tasks and improve your reps' productivity. You can create an automation to notify your team once an MQL turns into an SQL and update deals based on qualification criteria. You can also view the entire interactions a customer or lead has had with your company in one dashboard and manage your sales pipeline in the intuitive pipeline management functionality.
But it lacks one of the most critical features you'd expect to find in all CRMs–sales reports. There isn't any sales reporting on ActiveCampaign.
Service & support
While it has some support features like chatbot automation and automated tasks, it lacks key customer support features such as ticketing automation, ticket management, service automation, and routing, which are all on EngageBay.
ActiveCampaign could be an EngageBay alternative, but it's more geared towards customer engagement rather than revenue generation.
Ease of use
ActiveCampaign is easy to implement for tech-savvy users. But they also make it easy for anyone to use their platform by providing a getting started checklist, a free course that'll take you through the platform, and also a free 30-minute one-on-one call with an ActiveCampaign expert.
ActiveCampaign displays all the essential features in one place, so everything is only a click away. They also provide in-app guidance prompts to guide users in each feature.
Pricing
Here's an overview of ActiveCampaigns pricing plans per month:

Here are a few key things to note with their pricing:
There is no CRM functionality in the lite plan. It's only available starting from the plus plan

Landing pages are only available starting from the plus plan

1-1 onboarding support is only available starting from the professional plan

There's no free plan. You only get a 14-day free trial

The lite plan includes only 1 user, the plus plan 3 users, the pro plan 5 users, and the enterprise plan 10 users. To add additional users, the cost per user per month is $19 for the lite plan, $19 for the plus plan, $49 for the pro plan, and $99 for the enterprise plan
ActiveCampaign vs EngageBay
If you are looking for a marketing automation platform with only pipeline management functionality and sales automation, ActiveCampaign could be an EngageBay alternative. But for those looking for an all-in-one CRM, then EngageBay ticks most boxes.
Compared to EngageBay, ActiveCampaign is also riddled with bugs and is painfully slow, according to most reviewers. It also lacks basic reporting functionality, which means you won't have any insights into how reps are performing, the progress towards sales goals, or even a visual of any kind of reporting.
As Rebecca Heidgerd, owner of MacGyver Marketing, says:
"Reporting is embarrassing. It's painfully slow (see reviews everywhere on this), and not up to enterprise standards. Expect to review all your data in tables- very little visualization, no ability to create dashboards to monitor deliverability, etc."

3. Zoho CRM Plus
Zoho CRM Plus differs from Zoho CRM.
Zoho CRM is a standalone product that only offers CRM capabilities while Zoho CRM Plus is a combination of nine products that include Campaigns, Desk, CRM, Sales IQ, SalesInbox, Social, Survey, Projects, and Analytics.
I signed up to test the CRM plus because it's more of an all-in-one CRM like EngageBay and could be an EngageBay alternative.
Product capabilities
Zoho CRM plus makes it easy for your marketing, sales, and support teams to serve customers throughout the customer lifecycle by breaking down data silos and providing enhanced data visibility to each team. It does this by bundling 9 key products into one unified platform which every team collaborates on.

Here are the main features and benefits of some of these tools:
CRM
It allows your sales team to keep track of all interactions with a contact, from emails to phone calls. It also has basic CRM functionality, like pipeline management, lead management, sales reporting, and analytics.
Sales IQ
It provides you with installation codes to be added to your website. This code will track users and provide live chat features to engage with customers. Reps will have access to a dashboard that displays the contact's info, conversations, and all activities.
Desk
Desk enables customer support teams to manage all interactions a customer has had with the company and provide contextual support to customers. You can manage support tickets, emails, phone calls, tickets, live chat, and socials directly on the Desk platform.
Campaign
This is a simple email marketing platform. It provides forms to embed on your site, email automation templates, and a dashboard to monitor the performance of your email marketing campaigns.
Social
This brings all your company's social channels into one dashboard. Your team can schedule posts and offer contextual support to customers directly in Zoho, whether the customer is using Facebook, Twitter, or any other social channel.
Ease of use
The UI of the platform is well thought out. Each platform looks like a standalone app with its own dashboard and in-app guides. This makes it easy to get started and implement the software. They also have simple getting started guides for new users but lack detailed troubleshooting guides.
Pricing
Zoho CRM plus only has one pricing plan:

Along with this plan, there's a 30-day free trial. This is a great deal given the impressive feature set, but it lacks a varied pricing tier which you can choose depending on your needs.
Zoho CRM Plus vs EngageBay
Compared to Zoho, EngageBay has the same feature set and costs less. Our Live Chat platform is equivalent to Zoho's Sales IQ feature. You can engage with website visitors depending on which pages they've visited, integrate with CRM for better data visibility, and create chatbots to engage with customers and handle FAQs.
You can also attract and convert leads to customers directly on EngageBay. It offers marketing features such as forms, landing pages, and automations to attract and nurture leads. Sales features such as sales automations, workflows, and deal management help the sales team close deals. You can also engage and foster customer relationships through the service platform and handle customer complaints on social media using the social suite functionality.
EngageBay has a more favorable pricing plan for growing businesses since you can choose a pricing tier depending on your needs while Zoho CRM Plus only has one pricing plan.
4. Pipedrive
Pipedrive is a sales-oriented CRM. It might not be the perfect all-round EngageBay alternative like Hubspot, but it still has some powerful sales-focused features and marketing features that are in the works.
Product capabilities
Pipedrive first began, and it still is designed for salespeople. So expect to find the basic functionality in a sales CRM. Its feature set is designed to improve reps' productivity, help them close deals faster, and optimize the sales process.
Here are some of Pipedrive's features:
Sales CRM
You can customize the pipeline based on your specific sales process, manage leads, and automate the mundane tasks
Campaigns add-on
This is basically their email marketing feature. You can build emails from the templates and segment your list to email the right customers with the right message. But that's basically it. There's no email automation to set up drip campaigns or site messaging to engage web visitors much like in EngageBay
LeadBooster add-on
It includes features that'll help you engage website visitors and nurture them into leads. Such features include Chatbot, Live Chat, Prospector, and web forms
Web Visitors add-on
This helps you identify leads engaging with your content and visiting your website. This will help you move your leads down the sales funnel depending on their activities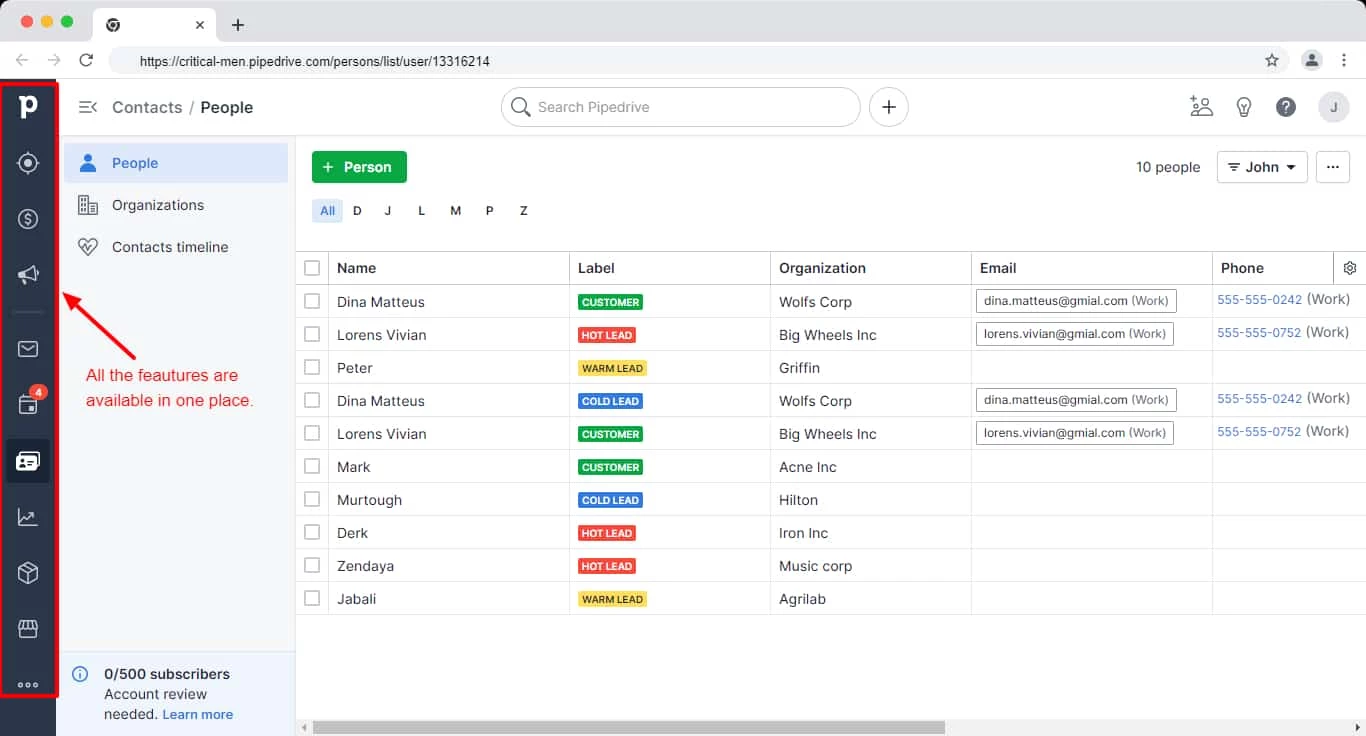 Ease of use
Its UI is pretty clean and since it doesn't have multiple products like EngageBay or Hubspot it's easy to get started. They also have a detailed knowledge base and a learning center to help you with implementation.
Pricing
Here's an overview of Pipedrive's pricing plan:

Here are a few things to note about their pricing:
LeadBooster add-on—$39 per company per month, billed monthly

Web Visitors add-on—$49 per company per month, billed monthly

Campaigns add-on—

$16 per company per month, billed monthly

Smart Docs add-on—

$39 per company per month, billed monthly if added to an Essential or Advanced subscription. It is free when you subscribe to a pro or enterprise plan.
Pipedrive vs EngageBay
EngageBay is more powerful compared to Pipedrive. Pipedrive is great if you're looking for a simple sales CRM platform that's geared at improving reps' productivity and your sales process.
Compared to EngageBay, Pipedrive lacks a comprehensive marketing platform with advanced automations, a social suite, web rules, site messaging, and web analytics. It also lacks dedicated helpdesk software to help your team engage and foster customer relationships.
Pipedrive also charges separately for add-ons with features such as live chat, web forms, and Docs. These features are part of EngageBay's pricing, which is cheaper compared to Pipedrive.
5. Freshsales Suite
Freshsales suite is an all-in-one CRM that helps sales and marketing teams close deals faster with a robust sales CRM and nurture customer relationships with email campaigns.
Product
capabilities
This differs from Freshsales. Freshsales is just a sales CRM without marketing features.
Freshsales Suite combines marketing and sales features. You can improve your sales team productivity by using workflows and the sales sequence capability. It has pre-set workflow templates to choose from.
It also has customer journey templates for common tasks. You don't have to nurture your customers by building a journey map from scratch.

You can customize the pipeline management interface according to your sales process and also create multiple sales pipelines where you can manage multiple sales teams. As you might expect, this is paired with sales forecasting and goal-setting capabilities.
Its reporting function is also flexible to visually present reports that fit your needs. You can build reports from scratch or use the built-in reports for common metrics.
Ease of use
Freshsale Suite's UI is clean, well-designed, and easy to navigate. If you need help, support is included in all the pricing plans. According to the chat widget, they typically reply within 2 minutes. You can also view help documents directly from the chat widget without leaving the dashboard.
Pricing
Here's an overview of its pricing plans:

Freshsales Suite vs EngageBay
The main difference between these two platforms is the lack of some customer engagement features. Freshsales Suite lacks helpdesk software, site messaging, and a social suite to engage and build relationships with customers.
You'd have to purchase Freshdesk as a standalone app. With EngageBay, the helpdesk is included in the plan so support teams can provide support with the full context of a customer's issue. It also lacks integrations with common help desk software like Zendesk.
Freshsales Suite also lacks native integrations for some key apps like Shopify, DocuSign, BigCommerce, and Twilio.
6. Keap (Infusionsoft)
Keap is an all-in-one sales and marketing platform for small businesses. It's designed for both growing and established businesses that require advanced features. But as we'll see, the pricing isn't favorable for small businesses.
Product capabilities
The main differential feature is the ability to invoice and sell your products using Keap. Its billing software is integrated with the CRM, so it makes it easier to track customer data and even promote repeat purchases with upsells.
It has some pretty basic sales automation functions like follow-up automation and leads capture. With its marketing automation, you could create sequence campaigns to nurture leads and move them to the sales pipeline once they meet your lead scoring criteria.
Ease of use
Keap is not so easy to use or implement. According to G2, It scores a mere 7.2 for ease of use when the industry average is 8.6 while 6.6 for ease of setup when the industry average is 8.4.
Here's how Zach sums it up:
"It is not very user-friendly, it feels outdated and the automations are very difficult and clunky to understand. The learning curve for new employees [has] been very slow."
Pricing
Here's an overview of Keap's pricing plans:

One thing to note about their cancellation policy is that you'll have to verbally speak to a Keap representative and the cancellation request must be received at least 10 days prior to your billing date.

Keap vs EngageBay
The main difference between these two platforms is the pricing and feature set. Keap has a very basic sales and marketing automation functionality compared to EngageBay.

It also lacks helpdesk software with live chat, a ticketing system, and all the essential features you'd need to strengthen customer relationships and handle support issues with ease.
Infusionsoft also lacks key native integrations with Shopify, Calendly, Xero, Stripe, DocuSign, and many more apps.
7. Insightly
Insightly is a unified CRM with marketing, sales, and support features designed to help you grow your business. But is it cost-effective and does it do what it says it does?
Product capabilities
Its marketing automation features help you automate the customer's journey through the intuitive automation builder. You can design it based on customer activities and take full control of when to send follow-up emails.
You can also route leads to the best performing rep and design workflows to move deals across the pipeline. One of its best features is its record-linking feature, where reps get a customer's interaction history with the company by linking records to a contact.
Its service features are basic and ideal for small businesses encountering minimal customer issues. Macros can help service reps' productivity by using pre-written templates when handling tickets.

Ease of use
Although it has an old UI, it's workable in its basic design. Its user interface is straightforward and displays all the necessary features.
Pricing
While it tags itself as a unified CRM, the CRM, marketing platform, and service software are priced as standalone apps.
CRM Pricing:

Marketing pricing:

Service pricing:

Only the CRM has a free trial. You'll have to contact sales to test the service and marketing automation features.
Insightly vs EngageBay
Insightly prices its apps as standalone as compared to EngageBay, which has an all-in-one plan that costs less.
For context, you can get most of Insightly's CRM features on the plus plan for free on EngageBay's free plan. This free plan also includes marketing and service features which you'd have to purchase separately when buying Insightly.
EngageBay also has more advanced marketing and sales automation to help you attract leads, nurture them, and close deals at the right time.
8. Agile CRM
Agile CRM is an all-in-one CRM software with sales, marketing, and support features. But is it just in the name or does it actually have all these features?
Product capabilities
This is one of the best EngageBay alternatives on this list. You can customize the sales pipeline according to your sales process, run sales automations to nurture and send follow-up emails, and get a complete view of a customer's interaction with a single click. Just like EngageBay, you can also capture leads directly from LinkedIn with the Lead Prospector.
Its marketing features are as powerful as EngageBay's. You can use landing pages, web forms, and pop-ups to attract leads. Its marketing automation will score and nurture your leads.
If you have service reps or handle a lot of customer issues, its ticketing system and service workflow will improve your team's productivity by reducing the time to solve issues.
Ease of use
It's easy to set up and customize. You can add custom fields and link a deal to a contact with just a click. But one thing that most of its users find hard to understand is its automation tool. It has an old design and if you haven't used such an interface before, you might find it hard to use.
Pricing
Here's an overview of its pricing plans:
Free plan for 10 users

Starter plan–$14.99/user/month

Regular plan–$49.99/user/month

Enterprise plan–$79.99/user/month
Agile CRM vs EngageBay
One of the main advantages EngageBay has over Agile CRM is you can purchase the modules separately. So you pay for what you need as your business grows.
EngageBay's UI is also clean, modern, and easy to understand. This transcends to the use of the features as well. EngageBay's workflow builder and other features are easy to find and use.
Which CRM Software is the Best EngageBay Alternative?
As we've seen, EngageBay is a lot cheaper and more powerful as compared to most of the CRMs on this list. Also, the cost of switching to new software makes the learning curve for employees even steeper.
But that said, Zoho CRM Plus is a great EngageBay alternative for growing companies that need a one-package deal. But you could find all its features on EngageBay. If you need help, you can contact our support, and we'll get back to you as soon as possible.