The use of CRM, or customer relationship management systems, has penetrated almost every industry, including the design and architecture space.
CRM tools help in growing your business by optimizing and unifying all data and tasks related to your clients.
In the context of architecture firms, companies can keep a solid track of their potential and existing clients and effectively manage all their projects, contracts, and gigs to foster good relationships.
Moreover, CRM software aids in other activities like following up with the leads, keeping track of client retention and satisfaction, managing the sales pipelines, and capturing essential customer data.
In this article, we will discuss the top (nine) CRM tools for architectural firms that should be on your shortlist.
Benefits Of CRM Software for Architecture Firms
First, let's look at the key benefits of CRM software for architecture firms.
#1. Helps You Know Your Customers Better
Using CRM tools, businesses can gain valuable insights about their clients.
They can track their progress as they move through the different stages of the sales pipeline.
Moreover, CRM platforms help capture relevant data such as purchase patterns and consumer preferences to understand their target audience better.
#2. Improved Communication
With CRM software, architecture firms can use omnichannel marketing to communicate with their customers.
This implies contacting customers through multiple platforms, including email, phone calls, video calls, live chat, and social media, all from your CRM dashboard.
What's more, many CRM platforms have a mobile application, helping you stay in touch with clients anywhere and anytime.
#3. Increased Sales
Architects can experience an increase in revenue using CRM software.
It is because CRM platforms help identify and target qualified leads, customize sales strategies according to their needs, and address any issues they face in the sales pipeline, immediately.
Moreover, CRM tools help architects contact customers through different platforms, helping them improve client experience.
Read also: 10 Easy To Use CRM Tools (Features, User Reviews, Pricing)
Best CRM Tools for Architecture Firms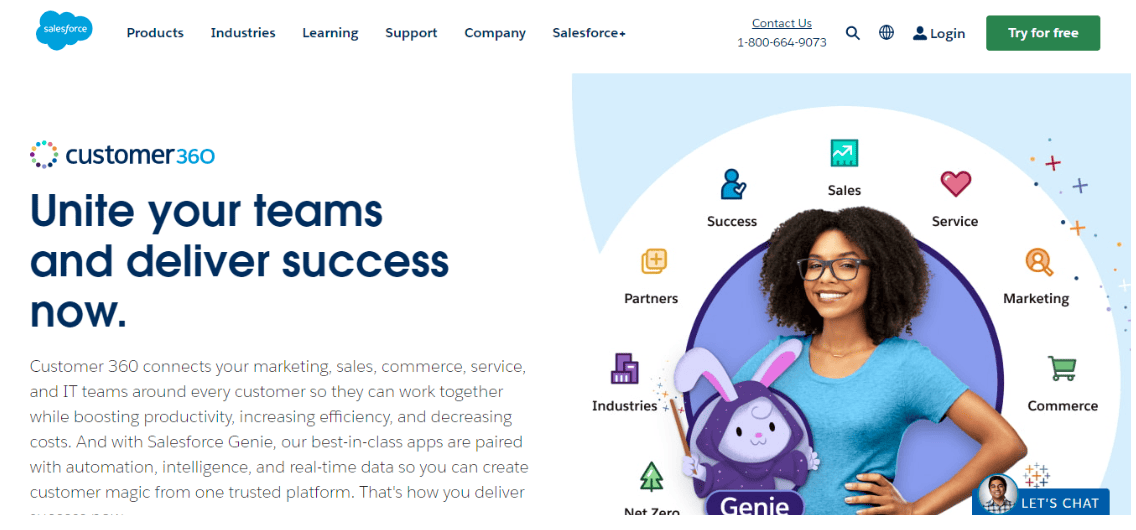 Salesforce's CRM software, known as Customer360 is a cloud-based CRM platform that is ideal for all types of teams. It also provides customized CRM tools based on the industry your business is based in.
Features
Genie:

It is one of Salesforce's key tools that provides users with a 360-degree view of customer data. Using Genie, you can get real-time information on your clients as they move through the different stages of the sales pipeline, automate your operations, and customize your dashboard.

Digital HQ:

Salesforce is integrated with multiple collaboration tools such as Slack to help you connect with your teams and clients on a single platform. Known as Digital HQ, it allows you to share ideas, documents, and files, and communicate with others in real-time, from a single dashboard.

Self-Service: Includes a live chatbot and knowledge forum that consists of blogs to help customers find answers to their issues without having to get in touch with customer service agents.
Case Management:

This tool helps direct the right case to the right agent, track the status of every project, and provide a detailed list of the steps teams need to follow to complete a task.
Pricing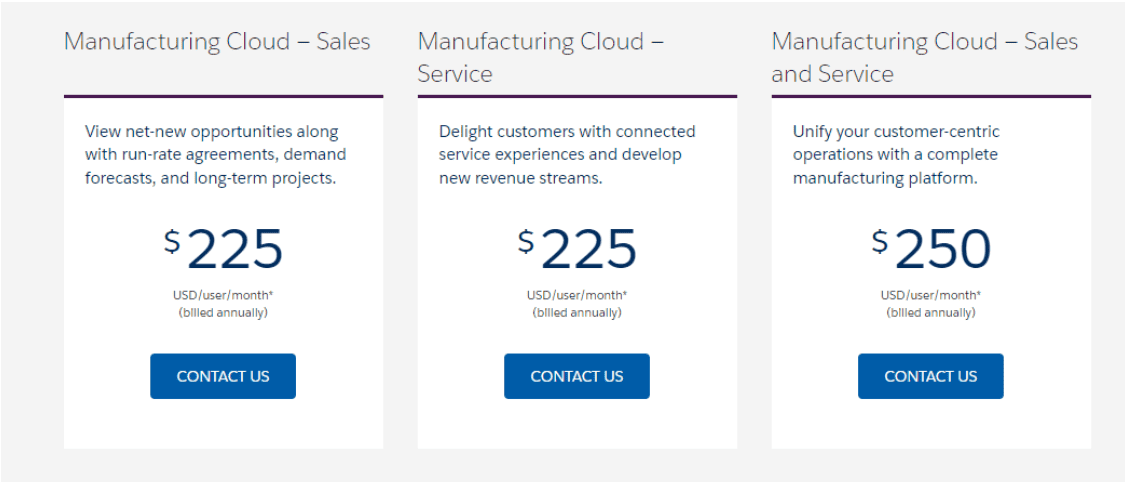 Salesforce provides three pricing plans for architects, Manufacturing Cloud—Sales, Manufacturing Cloud—Service, and Manufacturing Cloud—Sales and Service.
The Manufacturing Cloud—Sales Plan starts at $225 per user per month. Some of its key features include sales cloud functionality, enterprise account forecasting and sales agreements, and a manufacturing data model.
With the Manufacturing Cloud—Service Plan, you can avail of additional features like service cloud functionality, service forecasting framework, and digital processing automation, for $225 per user per month.
Under the Manufacturing Cloud—Sales and Service Plan, businesses can get more tools like embedded analytics and rebate management, for $250 per user per month.
Pros

One of the best features of the Salesforce CRM tool is that it has a short learning curve, making it easy for customers to navigate the platform with a few simple clicks.
Cons

Despite its advantages, Salesforce has an expensive pricing model, making it costly for small and growing businesses.
Read also: Top 9 Salesforce Competitors And Alternatives [Comparison Tables]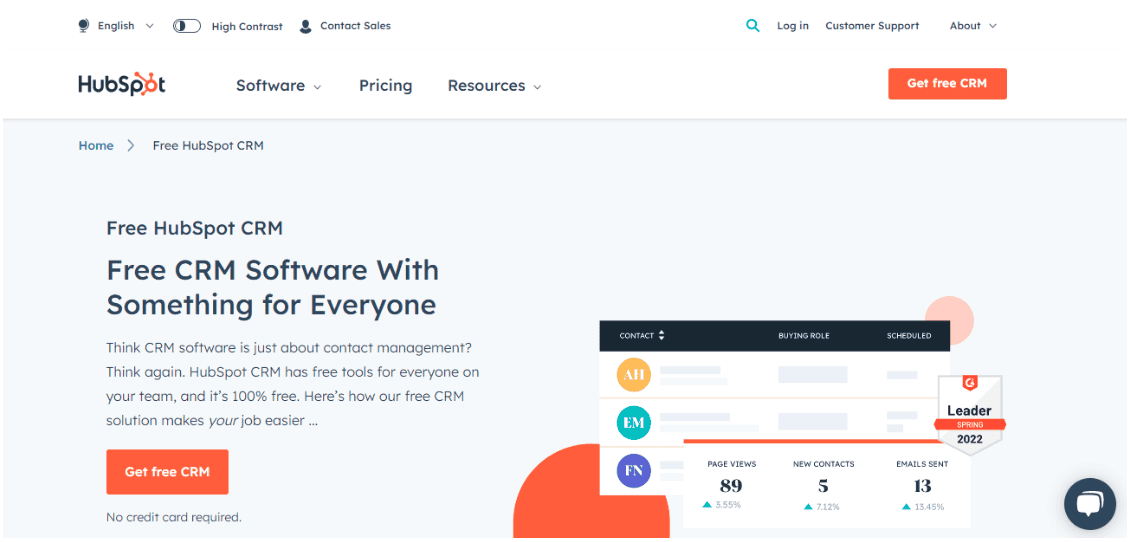 HubSpot is a free CRM platform that provides tools across multiple functionalities. An architect can take care of different aspects of their business, including marketing, sales, content management, operations, and customer service – from a single platform.
Features
Call Tracking:

This feature helps you make, record, and automatically log calls on your CRM dashboard. It also enables you to prioritize the client calls you need to make.

Payments:

It helps you create a secure payment gateway for customers to pay in multiple currencies. You can build relationships overseas and expand your business.

Sales Analytics and Reporting: Provides complete visibility into your sales pipeline to identify any bottlenecks and generates customized sales reports within minutes.
Mobile CRM:

Allows you to access your dashboard remotely and contact your clients from anywhere.
Pricing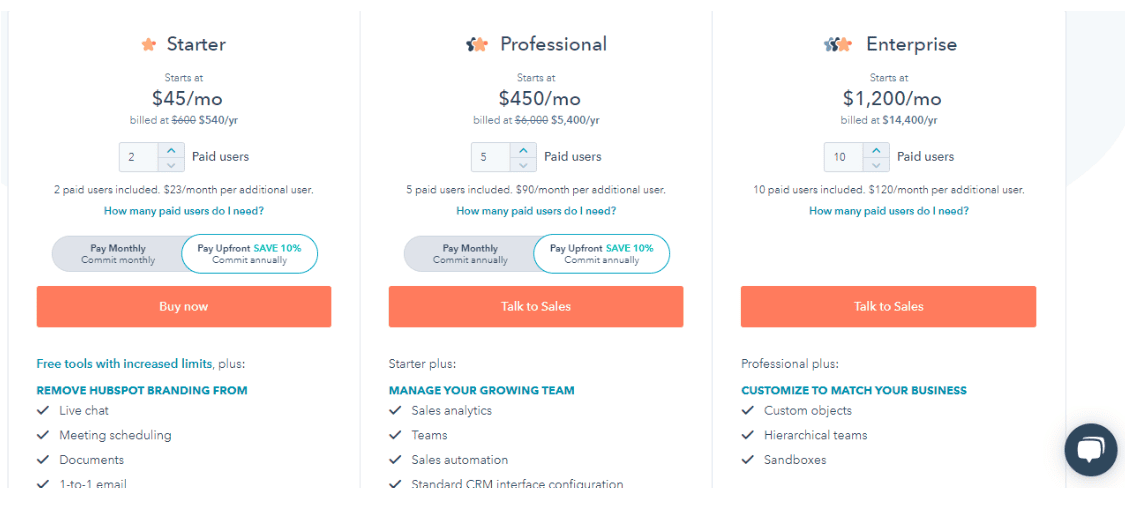 HubSpot boasts three pricing plans, Starter, Professional, and Enterprise.
The Starter Plan starts at $45 per month and comes with features such as live chat, meeting scheduling, document sharing and creation, and conversation routing.
With the Professional Plan, you can avail of additional tools such as sales analytics, automation, one-on-one video messaging, eSignature, and custom reporting, for $450 per month.
The Enterprise Plan costs $1,200 per month and includes advanced features like conversation intelligence, predictive lead scoring, and advanced permissions.
Pros

HubSpot's Sales Hub is known for its user-friendly interface, making it easy for customers to adapt to it.
Cons

Due to its expensive pricing model, it can be difficult for businesses to scale up or purchase additional contacts.
Read also: 8 HubSpot Competitors That Cost a Lot Less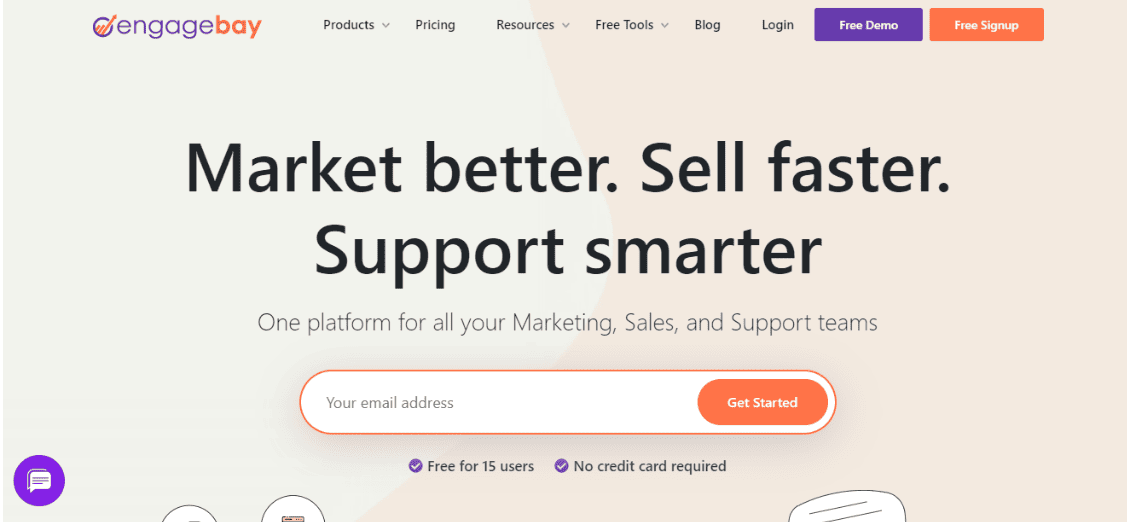 EngageBay is an award-winning platform for managing your sales, marketing, and customer service activities. It offers a robust yet affordable solution for any architectural firm, allowing them to streamline their business and grow their revenue with ease.
Features
Contact Management: Using contact management, companies can use multiple tools to contact their customers, including email sequencing, social media messaging, phone, and video calls. Moreover, they can access a range of built-in templates to improve their communication process.
Lead Scoring:

It helps you categorize leads based on their scores and identify which ones are likely to lead to sales.

Project Management:

This tool helps you create and assign tasks to your team members and track their status in real-time.

Appointment Scheduling: This helps you automatically create and schedule appointments and sends automated follow-up reminders with its integration with Google Calendar and Office 365.
Pricing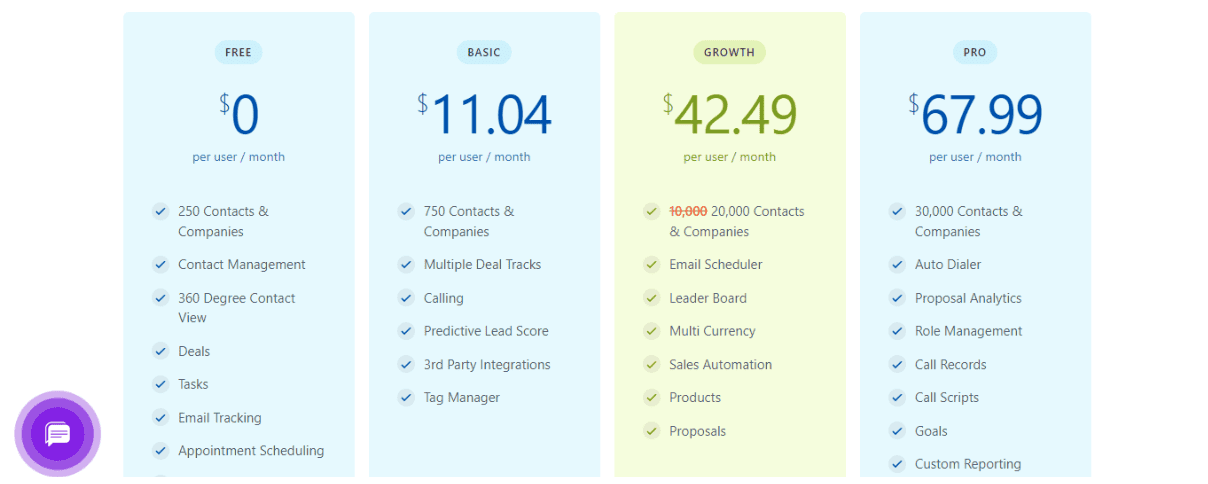 EngageBay offers four pricing plans, Free, Basic, Growth, and Pro.
The Free Plan is EngageBay's forever-free plan. It offers up to 250 contacts, a 360-degree customer view, email tracking, and appointment scheduling.
With the Basic Plan, you can avail of up to 750 contacts, predictive lead scoring, third-party integrations, and tag management, for $11.04 per user per month.
Under the Growth Plan, there are over 20,000 contacts, along with email scheduling, sales automation, and multi-currency payment options, for $42.49 per user per month.
For large enterprises, the Pro Plan works best. Here, users can get up to 30,000 contacts, autodialer, proposal analytics, role management, and call recording, for $67.99 per user per month.
Pros

EngageBay is considered the ideal choice for small and growing businesses, owing to its fully automated functionality and easy navigation.
Cons

At times, the mobile app can be difficult to use due to a few missing features, including responding to emails or calling customers.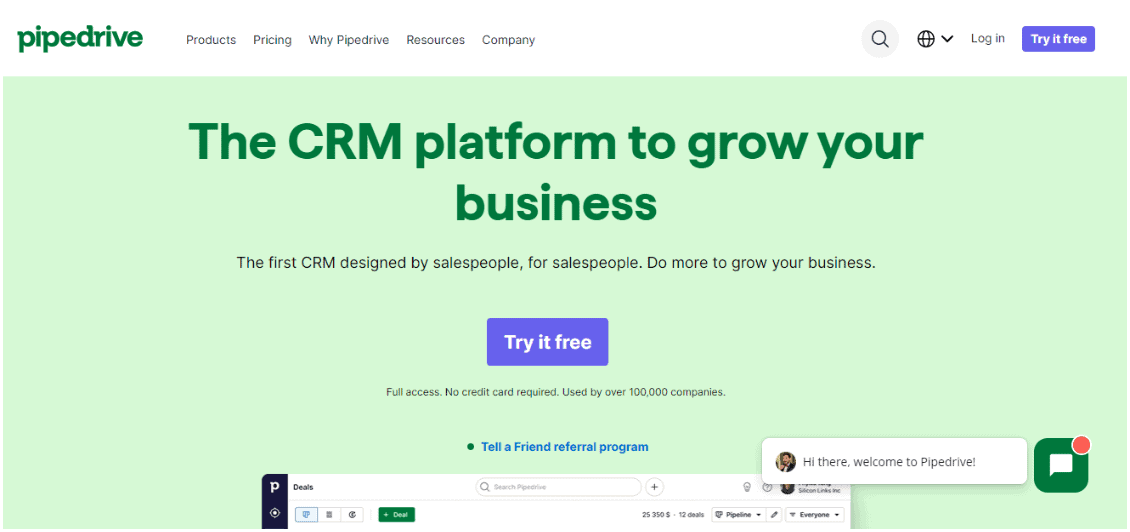 Pipedrive CRM is one of the best CRM for architectural firms that are looking to onboard new clients into their business. It provides clear visibility into your sales pipeline, ensuring that no leads get lost.
Features
Visual Sales Pipeline:

It helps you visualize your sales pipeline and track the progress of your prospects. Moreover, you can update your deals by dragging and dropping them.

Web Forms: Allows you to gather information about your leads by creating online forms using built-in templates.
Revenue Forecasting:

This helps you predict sales volume and revenue according to the progress of your sales pipeline.

Team Collaboration:

This feature enables you to collaborate on deals and activities with team members in real-time by sharing notes and documents with each other.
Pricing

Pipedrive comes with four pricing models, Essential, Advanced, Professional, and Enterprise.
The Essential Plan starts from $9.90 per user per month and includes lead, deal, and pipeline management, simple data import, and over 300+ integrations.
With the Advanced Plan, you can get group emailing, workflow builder with triggered automation, and complete email sync, at $19.90 per user per month.
The Professional Plan is Pipedrive's most popular plan and costs $39.90 per user per month. It includes additional features such as eSign documents and contracts, enhanced custom reporting, and revenue projections.
Under the Enterprise Plan, users can avail of unlimited user permissions, advanced security permissions, and phone support, for $59.90 per user per month.
Pros

Pipedrive's main advantage is its straightforward and easy-to-use platform, making it quick to implement and onboard employees.
Cons

Limited third-party integrations and frequent software glitches affect the functionality of the Pipedrive dashboard.
Read also: 6 Perfect Pipedrive Alternatives With Better Tools (Features, Pricing)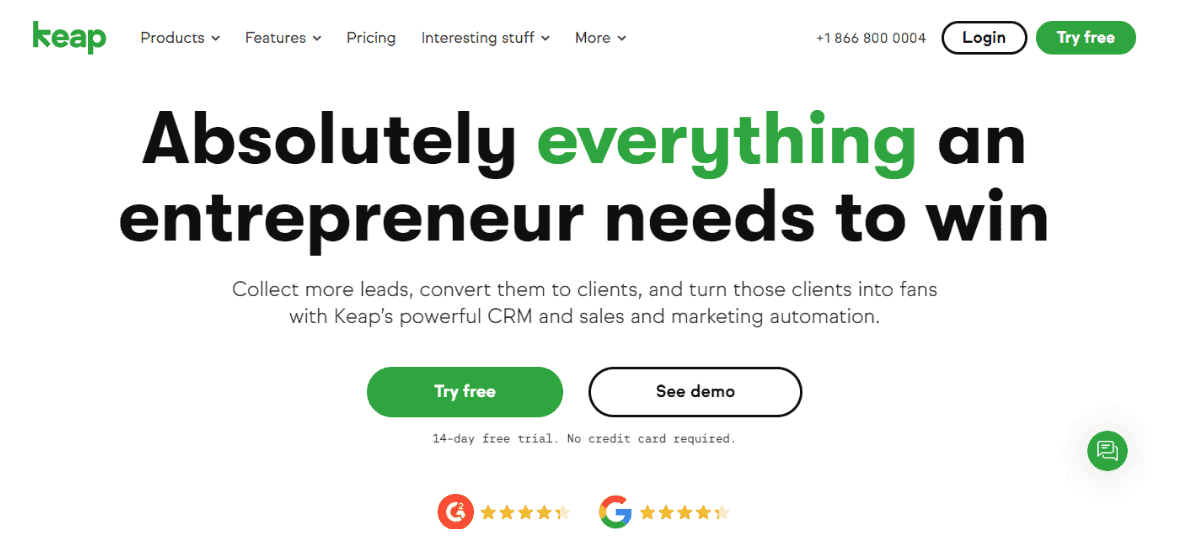 Keap, as a CRM tool for architects and designers, is very much efficient as it aids in capturing and generating lead information. In other words, it helps businesses to expand their customer base while streamlining and optimizing all their daily operational activities.
Features
Automated Lead Capture: Helps you organize your contacts automatically using custom lead forms, social media, and landing pages.
Segmentation:

Helps you tag and segregate contacts that trigger automation personalized to client data and activities.

Centralized Database:

Allows you to access client data and activity logs from a single dashboard, either through a desktop or mobile app.

Integrations:

Keap is integrated with several well-known tools, including PayPal, Gmail, Quickbooks, and so on.
Pricing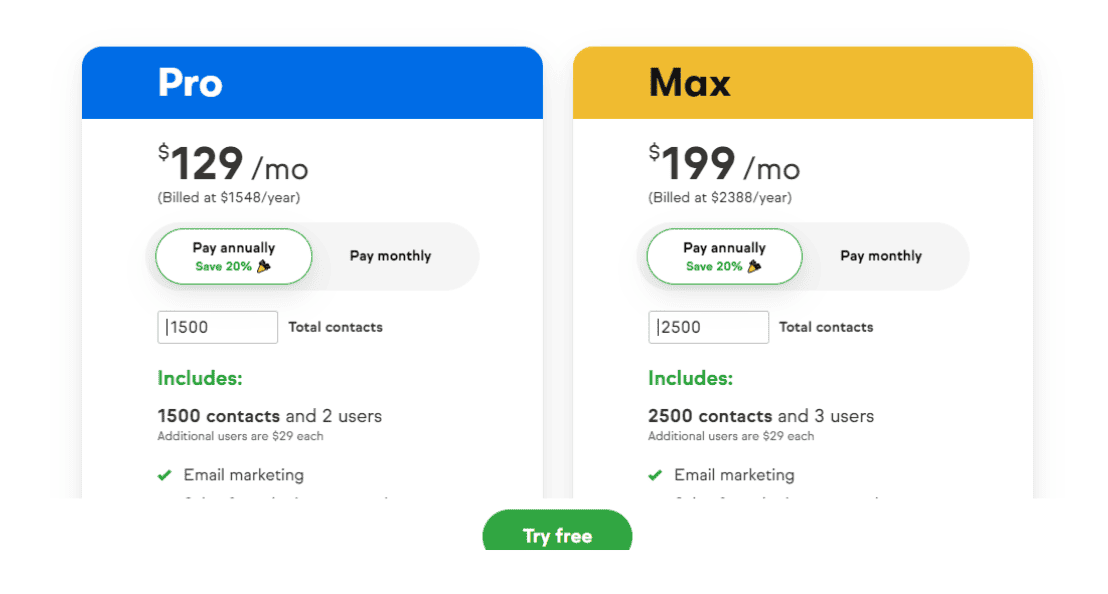 Keap offers two pricing plans, Pro and Max.
The Pro Plan starts at $129 per month and includes up to 1500 contacts. Some of its key features include email marketing, sales and marketing automation, automated lead capturing, text marketing, and sales pipeline management.
The Max Plan costs $199 per month and provides up to 2,500 contacts. Here, you can get email marketing, a dedicated phone line, built-in landing pages, web forms, and appointment scheduling, as some of the additional features.
Pros

One of the best features of Keap is that it helps users extract relevant information about their clients through multiple platforms, including social media, email, and so on.
Cons

In terms of Keap's interface, some users found it difficult to customize and navigate it.
Read also: Keap Pricing & Comparison with EngageBay — 12X More Affordable Alternative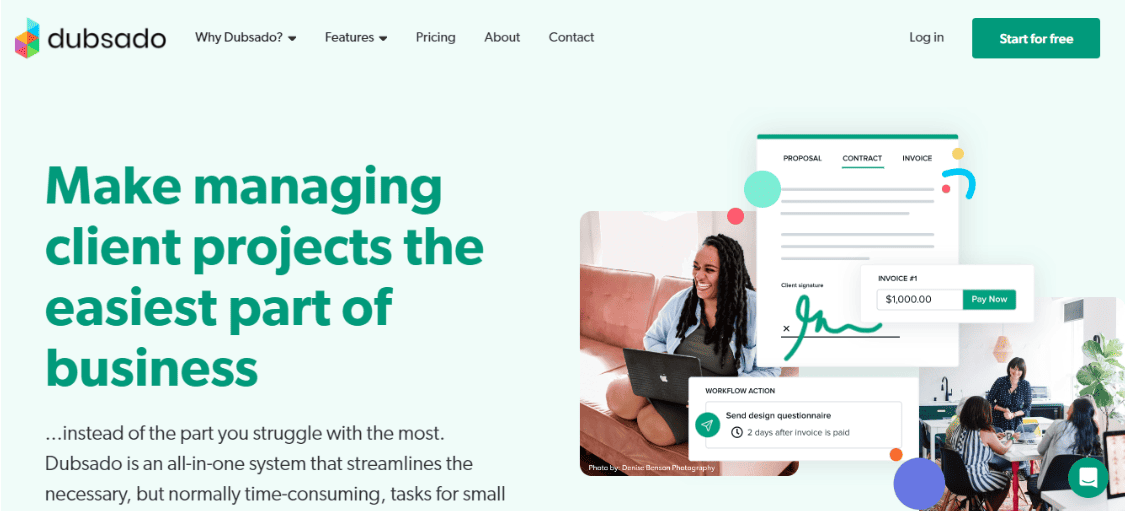 If you are struggling to manage your projects, Dubsado might be the best CRM solution for your firm.
Features
Built-In Templates:

Dubsado helps you capture important information about your clients using in-built web forms, questionnaires, contracts, and proposals. You can also choose to customize the templates as per your needs.

Online Invoicing:

This tool enables you to create online invoices in multiple currencies and automatically send them to clients, along with follow-up reminders.

Interactive Client Portals:

Using Dubsado, clients can track the status of their projects, payments, and invoices in real-time.

Built-In Scheduler:

It helps your clients track and schedule appointments right from your website over sending emails or making phone calls.
Pricing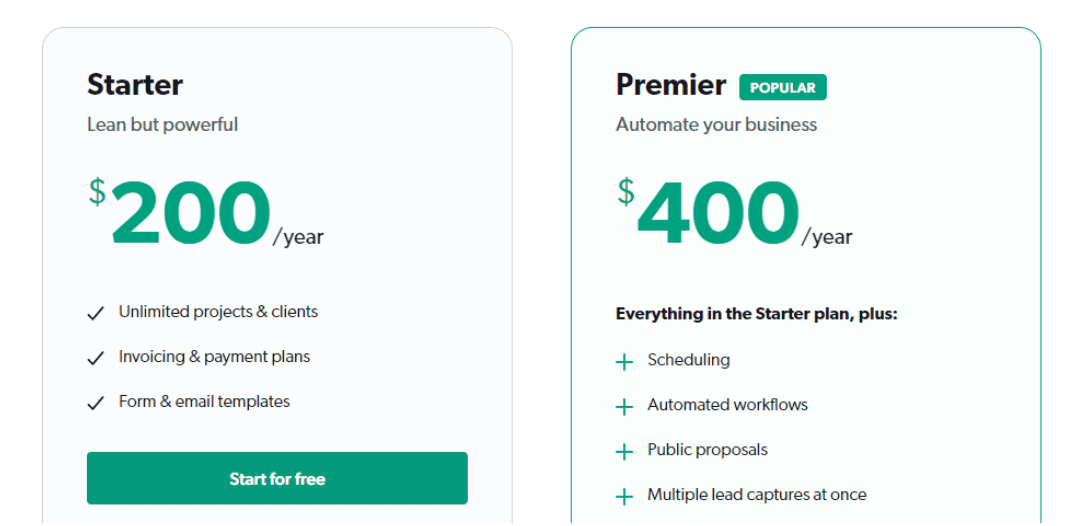 Dubsado has two types of plans, Starter and Premier.
The Starter Plan costs $200 per year and boasts unlimited projects and clients, invoicing and payment plans, and built-in forms and email templates.
With the Premier Plan, users can avail of appointment scheduling, automated workflows, project proposals, and multiple lead capturing, for $400 a year.
Pros

Dubsado boasts a range of in-built templates, making it easy for users to send emails in bulk at once.
Cons

Companies that have large teams or multiple clients find it difficult to optimize their services using Dubsado.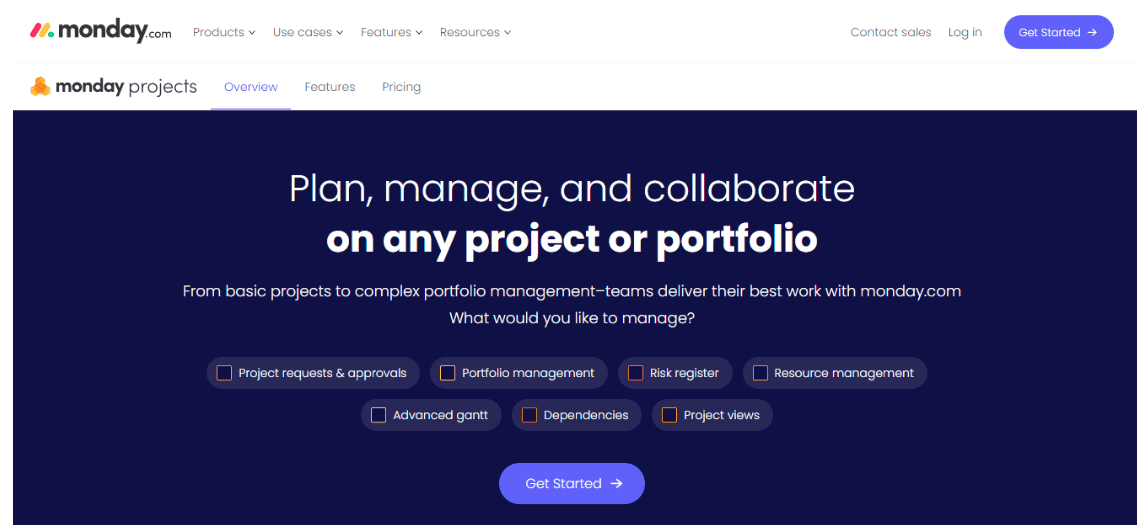 Monday is another CRM that is ideal for architects and construction companies managing several projects at a time.
Features
Gantt Chart:

It allows you to keep a track of the status of your project, including milestones, dependencies, and key metrics.

Project Dashboards:

This tool enables you to visualize and access real-time data for budgets, goals, and resources.

Project Templates:

This provides you with a variety of built-in project templates that can be customized later.

Workload View:

The feature helps you track the projects assigned to each team member, and their status, and adapt to changing priorities.
Pricing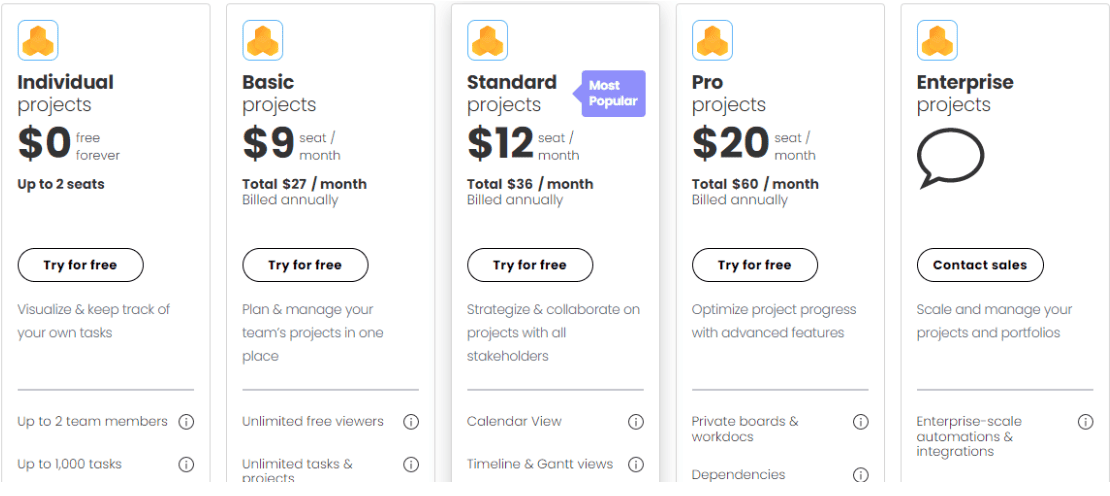 Monday has five plans on offer, Individual, Basic, Standard, Pro, and Enterprise.
The Individual Plan is a forever-free plan and can be used by 2 team members. It includes up to 1000 tasks and brainstorming initiatives.
With the Basic Plan, you can avail of unlimited free viewers, unlimited projects, centralized project communication, and a customized dashboard, for $9 per user per month.
Under the Standard Plan, users can get a calendar view, timeline and Gantt views, guest access, milestone tracking, and task rollup, for $12 per user per month.
The Pro Plan comes with private boards and work docs, resource allocation, and dependencies, for $20 per user per month.
For large companies, the Enterprise Plan works best. It is a customizable plan that boasts advanced features like multi-level permissions, advanced reporting and analytics, portfolio management, and project life cycle management. To buy this plan, businesses can contact Monday's sales team directly.
Pros

One of the best features of Monday is its highly intuitive dashboard that helps first-time users easily navigate the platform.
Cons

More features could be added to certain tools such as the calendar.
Read also: Pipedrive vs Monday — Which Is Better? A Side-By-Side Review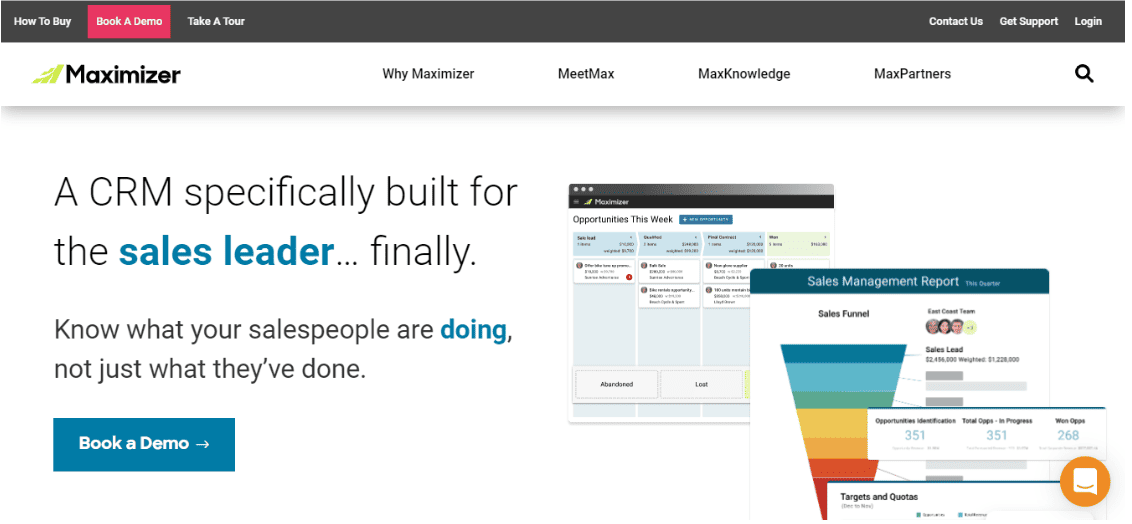 Maximizer is an excellent CRM for architects that helps them close sales faster.
Features
Sales Management: It provides you with a range of tools to make your sales process more efficient. These tools can be customized as well.
Full Visibility:

This helps you track your customers and the sales pipeline in real-time, helping you visualize and identify any bottlenecks.

Productivity Tools: Maximizer boasts a range of productivity tools, including automated email integration, task management, quota tracking, and built-in templates.
Analysis Capabilities:

This enables you to track renewal opportunities in your database to increase your chances to cross-sell, up-sell, and expand base revenues.
Pricing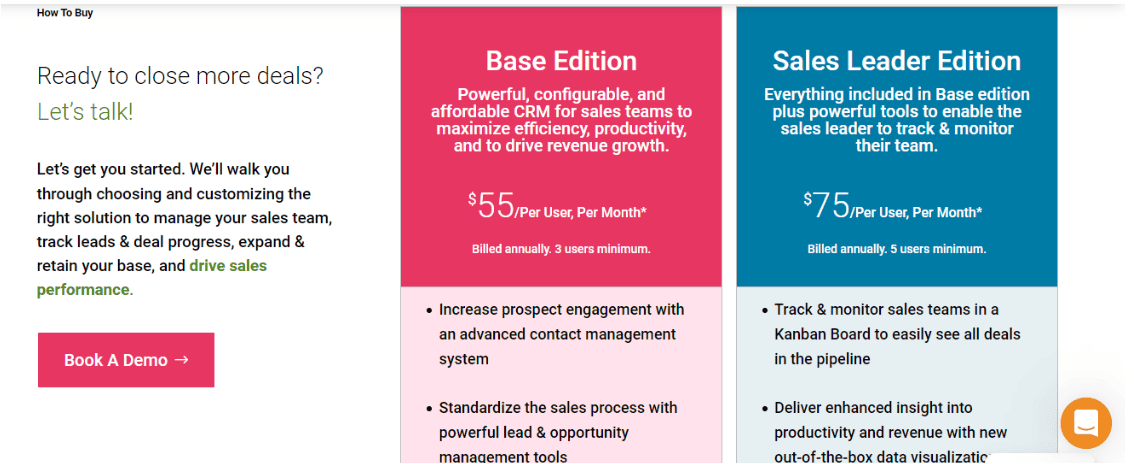 Maximizer offers two types of plans, Base Edition and Sales Leader Edition.
The Base Edition Plan starts from $55 per user per month. It has features such as an advanced contact management system, opportunity management, data visualization, and up to 10,000 contacts.
With the Sales Leader Edition Plan, you can track and monitor sales teams on Kanban boards, forecast sales, and get valuable insights into revenue, for $75 per user per month.
Pros

A key advantage of Maximizer is that it automatically logs any phone calls that can be tracked later.
Cons

More webinars could help reduce the learning curve for new and first-time users.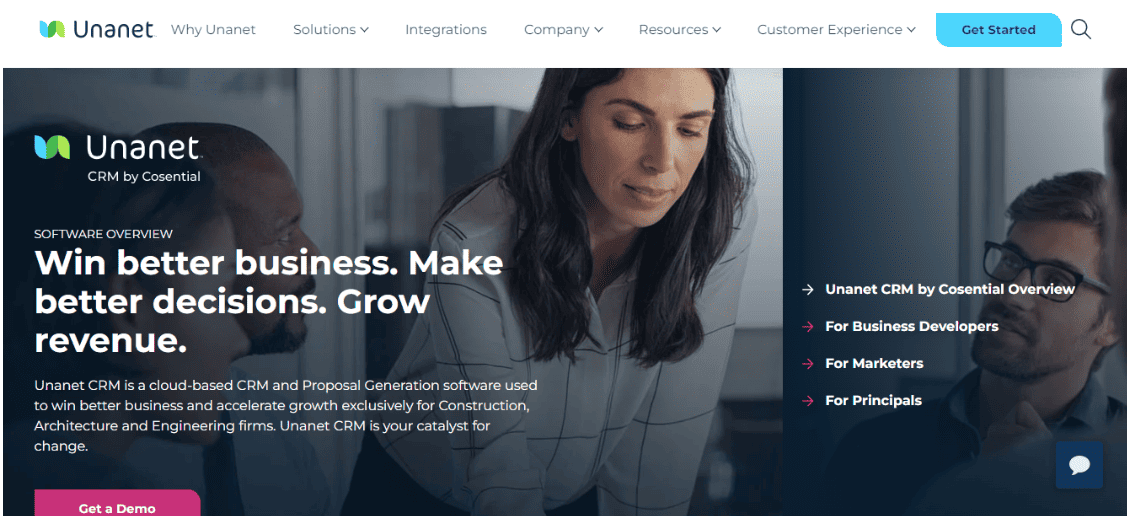 Unanet is CRM software provided by Cosential. If you are searching for a CRM platform designed specifically for architects, then this is best suited for you.
Features
Proposal Management:

It allows you to assess your firm's sustainability certifications to understand its capabilities and get future projects.

Reporting:

This provides real-time updates on the performance of your business as well as any specific details.

Business Development:

The feature enables you to access company data from anywhere, be it your desktop or mobile app, and generate data and reports within minutes.

ERP:

It helps firms drive success by providing accurate, real-time data on current and upcoming projects.
Pricing
Unanet offers bespoke solutions to its customers. You need to contact their sales team to get a quote.
Pros

Unanet has a large and centralized database that allows users to record all types of information including projects, clients, any new opportunities, and so on.
Cons

Unanet's search platform is quite old, implying that it is slow to load and not very user-friendly.
Read also: The Best CRM Tools for Small Business Owners
Wrap Up
An architect has to manage a lot of tasks, including designing projects to generate leads, managing contracts, and more.
Having a CRM system that is specifically designed to cater to the architecture and design industry can further enhance their business efficiency.
These top CRM tools for architects come equipped with pre-built templates that are industry oriented and are easily customizable to add your brand feel and look.
EngageBay makes for one of the best choices for an architectural firm as it comes with a wide range of functionalities in a single platform.
What's unique about it is that it is free for up to 15 users, making it a perfect choice for a small architectural firm.
Furthermore, you can identify and target the right clients, track ongoing projects, bids, and contracts, and communicate with customers through multiple channels.
If you aren't sure about where to begin, sign up for our demo today.
👉Discover the top travel agency CRM software that will transform your business in our in-depth article! 📈