You're comparing some heavy hitters for your small business software solution.
HubSpot is one such tool that you're considering and Mailchimp is another.
A colleague recommended EngageBay, which is designed for small businesses and startups like yours.
That leaves you with three viable options for driving your small business success.
You have to narrow down your choices, but how?
In this article, we'll help with your dilemma.
First, we'll go over HubSpot, Mailchimp, and EngageBay individually before comparing the features of each respective software.
Finally, we'll discuss pricing so you can choose the best tool for the money!
What Is HubSpot?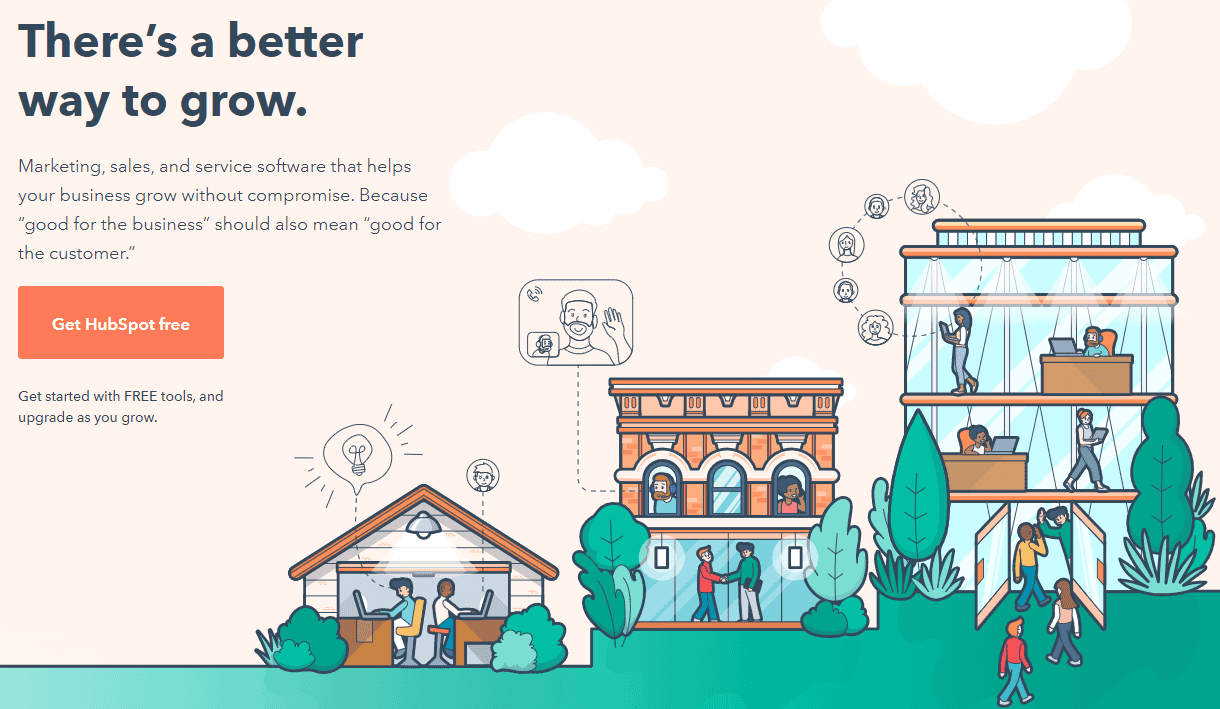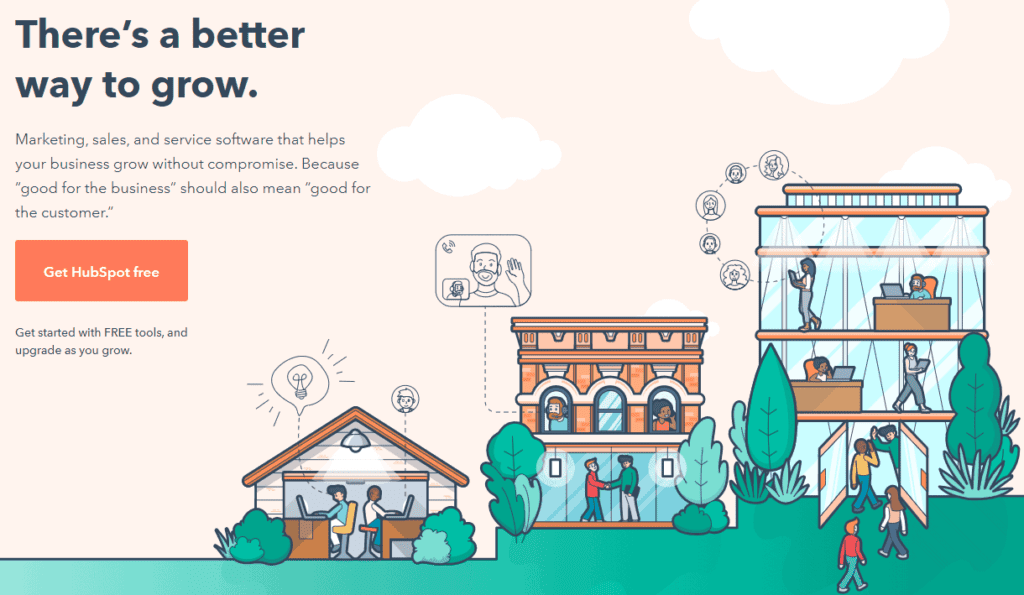 HubSpot is a premier inbound marketing software with service and sales features.
Their products include a CMS (content management system) Hub, Service Hub for customer service software, Sales Hub with CRM, and Marketing Hub with automation.
Their CRM is available for free.
Here is a closer look at what's in the Marketing Hub:
Analytics dashboard with conversion and traffic analytics
Content creation tools, including for a blog
Social ads and other tools
Live chat
Video management and hosting
Contact management
Automation
Email marketing
The services available from HubSpot are for businesses of all sizes, including startups and small companies.
What Is Mailchimp?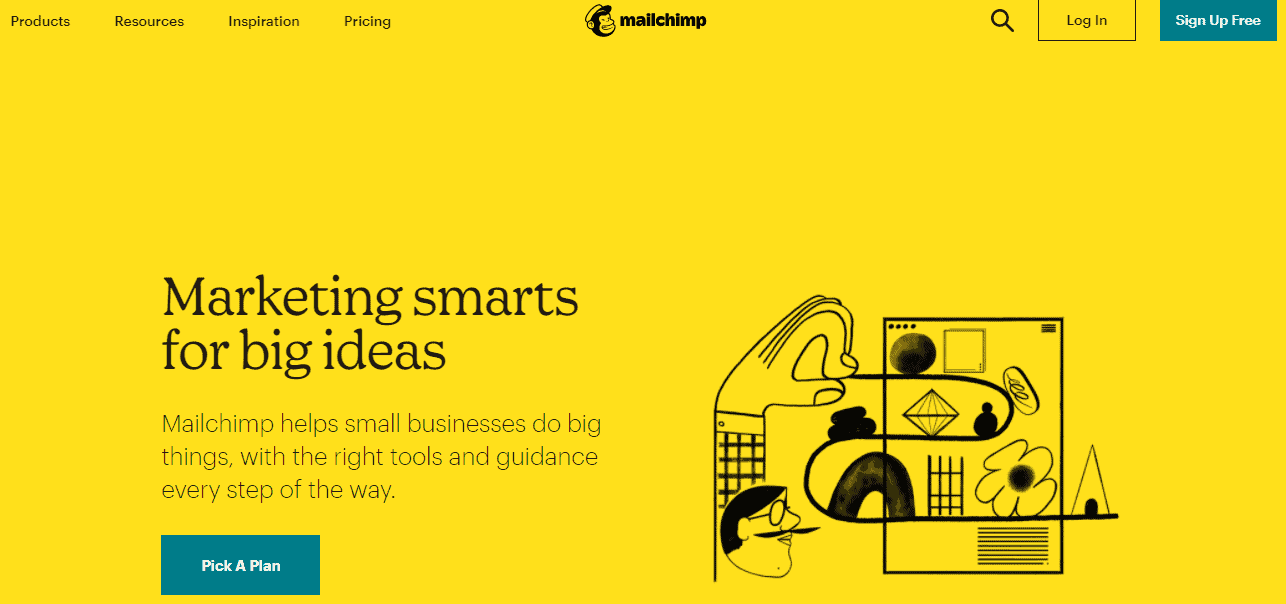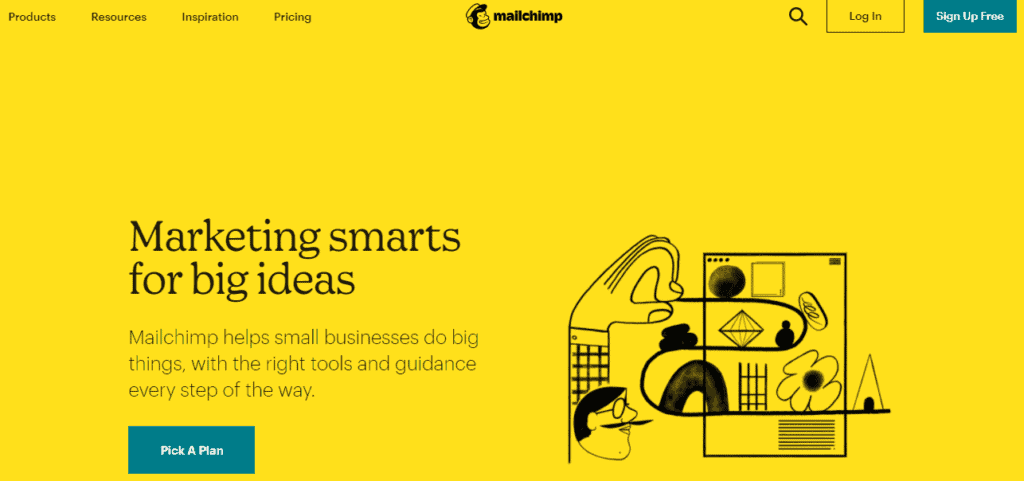 Since 2001, integrated marketing platform Mailchimp has been a trusted choice for creating winning email marketing campaigns.
Their platform includes services like audience management with lead segmenting, behavioral targeting, CRM, and signup forms.
Mailchimp's creative tools are campaign templates, subject line assistance, dynamic content, and their AI-driven Creative Assistant.
You can also expect marketing automation and analytics through Mailchimp.
👉Uncover the landscape of HubSpot competitors with our comprehensive guide. Get detailed insights on pros, cons, and pricing.💰
What Is EngageBay?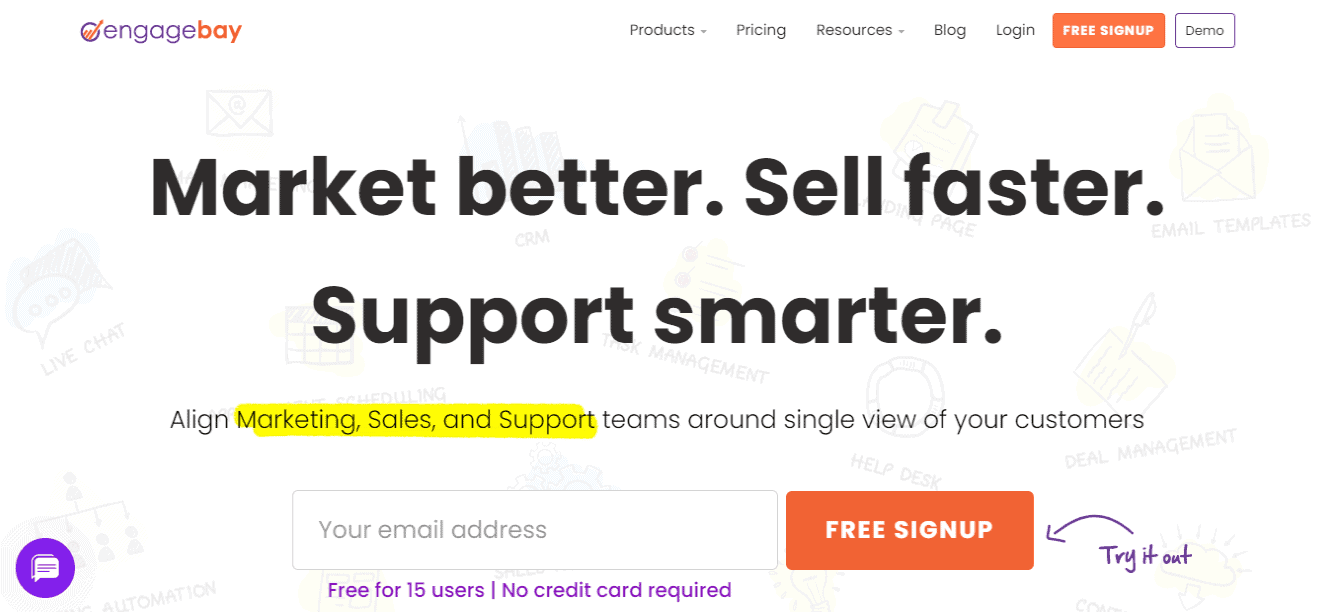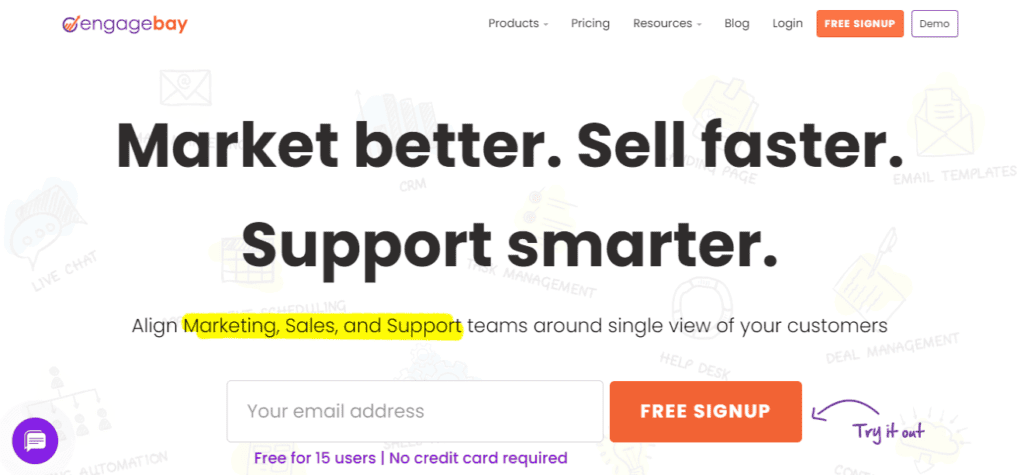 Founded as a more affordable solution to HubSpot, EngageBay is an all-in-one support, sales, and marketing software that too has CRM.
They offer four products in the same vein as HubSpot: the Service Bay with custom tickets and helpdesk, the CRM & Sales Bay with lead scoring and sales CRM, the Marketing Bay (which we'll discuss in just a moment), and the All-in-One Suite, which has a mix of the above services.
So which features are included in EngageBay's Marketing Bay?
Here's a quick overview:
Bulk SMS marketing
Email templates
Contact segmentation
Push notifications
Site messaging
Inbound marketing
SMS marketing
Webforms
Landing pages
Email sequences
Email marketing
Marketing automation
Here is a full product demo for EngageBay that we recommend you check out!
HubSpot vs. Mailchimp vs. EngageBay: How Do They Differ?
With those introductions out of the way, we next want to home in on certain features among the three marketing tools.
These features include email templates, form builders, automation, CRM, and integrations.
Let's talk about where HubSpot, Mailchimp, and EngageBay excel so you can start to get a clearer idea of which tool your small business will use.
Email Templates
HubSpot includes a free email template builder as part of their software, but these emails are more sales-based than marketing-minded.
You can also select from more than 80 business templates, but these aren't emails.
Instead, the included areas are project management, receipts and invoices, reports, CRM, and branding, among others.
That will leave you mostly with HubSpot's free email template builder for sales emails.
According to HubSpot, you can send these emails from within your HubSpot inbox.
If you find a template you like, it's usable in Gmail and Microsoft Office 365 as well as Outlook.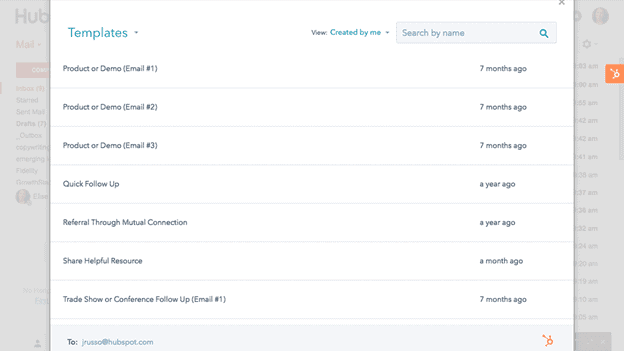 HubSpot has metrics within their software that indicate how well your email templates perform.
When you find a winning template, you can easily send it among key members within your sales and/or marketing teams.
Mailchimp outdoes HubSpot in the templates department, as they give you 100 different templates to choose from.
Their templates include education messages, follow-ups, newsletters, announcements, and product sales emails.
With drag and drop editing, Mailchimp's email templates come together in minutes.
You can select the size of the templates, with some examples included in the image below.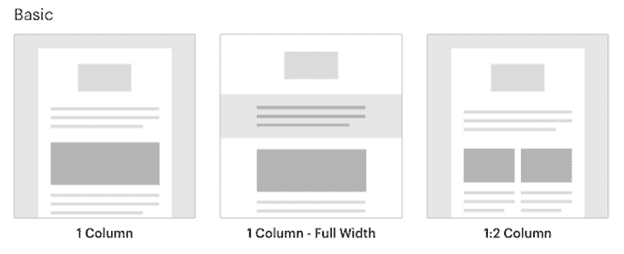 Mailchimp has dozens upon dozens of email template themes you can work with too.
Some of these are stationary, photography, events, featured, and holidays.
If you'd rather, you can also code your own email templates from scratch in Mailchimp.
EngageBay's Marketing Bay is home to their email templates.
Many template themes are available, all of which have rich designs that are sure to appeal to your various audience segments.
Like Mailchimp gives you the option to code your own email templates from scratch, you can do the same in EngageBay should you want to.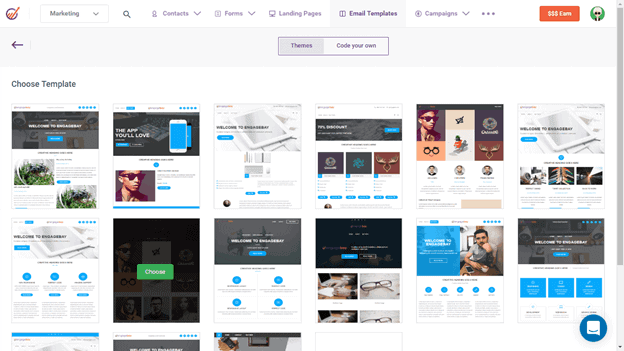 Landing Page and Form Builders
HubSpot's form builder is free to use.
According to their website, it takes mere seconds to create the kinds of forms your small business needs to excel.
You can make custom forms as well if that's more up your alley.
Since HubSpot's form builder relies on drag and drop features, even those who don't want to custom-build a form should be able to figure out how to make their own form.
Their landing page builder works in much the same way with drag and drop features.
HubSpot offers landing page templates, each mobile-optimized.
A/B test your landing page before it goes live, then analyze its performance within HubSpot's platform.
On its own, Mailchimp doesn't have any landing page or form builders, but the apps or tools they integrate with might.
EngageBay's landing page and form builders are very simple to use.
You can insert elements one by one with drag and drop, including images, copy, social media links, CTA buttons, and more.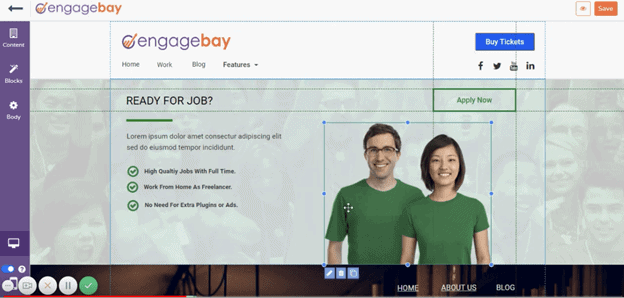 EngageBay's lead capture forms include pop-ups.
You determine when the pop-up appears so you can generate lead interest at just the right moment, possibly even changing a customer's mind so they don't abandon their cart!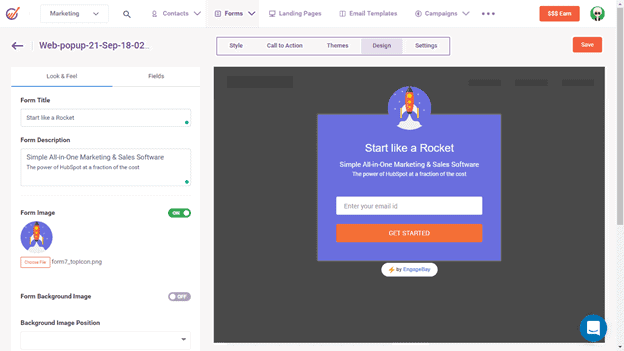 Automation
HubSpot's sales automation tools include some marketing features as well.
You can automate the following areas:
Email follow-ups
Email personalization
Predictive lead scoring
Sales call queues
Meetings
Email scheduling
Email sequences
Where Mailchimp didn't have much in the landing page or form-building departments, they more than make up for that in automation.
Their automation services take into account customer journeys and send-time optimization.
Here's how you can use Mailchimp's automation:
Email personalization
Email scheduling
Email follow-ups
Custom triggers
You can also choose from automation types in Mailchimp, including date-based automation or behavior-based automation.
EngageBay's automation features are nothing to sleep on either.
Like HubSpot, EngageBay has a mix of sales and marketing automation workflows to select from.
Here's what you can automate:
Email personalization
Customer segmentation
Lead scoring
Email sequences
Trigger events
Email sending
Email follow-ups
Sales reporting
Lead prioritization
Missed call reassignment
Team manager notifications
Automated tasks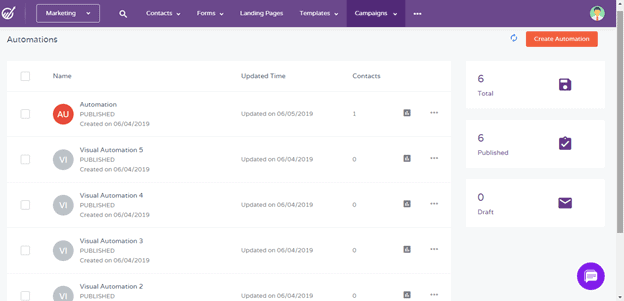 Here is a guide on how you use EngageBay's automation workflows.
CRM
HubSpot's CRM is one of their only free features, so it naturally earns the company a lot of acclaims.
Within HubSpot's CRM, you can do the following:
Live chat
Schedule meetings
Track prospects and deals
Receive email notifications
Pipeline management
Review a reporting dashboard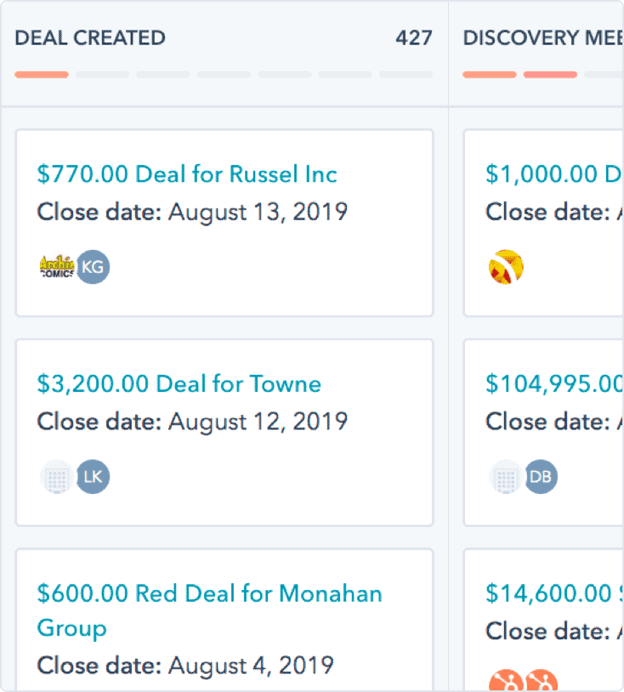 Mailchimp's CRM is centered around marketing.
Here are the features:
Mobile app connectivity
Personalization
Behavioral targeting
Contact profiles
Reports, including revenue, engagement, and growth reports
Segmentation
Audience dashboard insights
EngageBay's sales and marketing CRM is also free forever like HubSpot's (Mailchimp's CRM is not free).
This is what you get:
Custom reporting
Sales gamification
Analytics
Automation
CRM Telephony
Appointment scheduling
Lead nurturing
Contact management
Lead scoring
Email CRM integration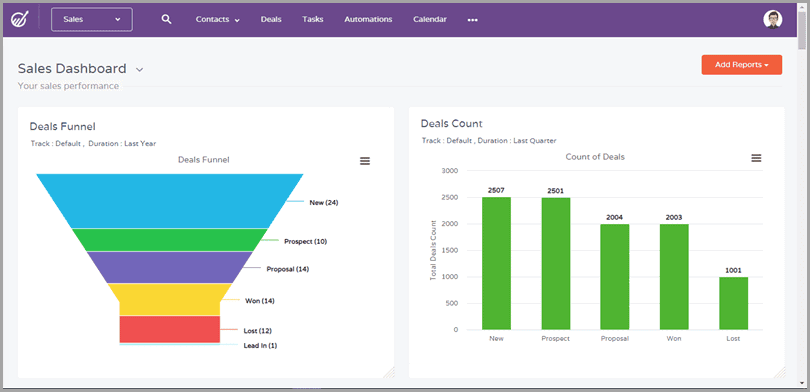 Integrations
The HubSpot Marketplace is a comprehensive view into the full extent of their integrations.
With hundreds and hundreds of options available in areas like finance, customer service, productivity, sales, and marketing, we'll list a few such integrations here.
Gmail
HubSpot for WordPress
Zapier
Facebook Ads
Outlook
Google Ads
Zoom
Mailchimp
Slack
LinkedIn
Twitter
PieSync
Calendly
Instagram
SurveyMonkey
WooCommerce
Typeform
Shopify
Eventbrite
PandaDoc
Salesforce
Canva
Stripe
MailChimp has nearly as many integrations, including the following:
Vimeo
Patreon
LinkedIn
Calendly
Eventbrite
OpenTable
Hootsuite
Twitter
Facebook
Google Analytics
Adobe Photoshop
Canva
WooCommerce
Stripe
LiveChat
We also must compare EngageBay's Integration Library, which is quickly becoming just as robust as HubSpot's or Mailchimp's with these options:
Pabbly
PieSync
JotForm
LinkedIn
reCAPTCHA
DocuSign
BulkSMS
Plivio
Gupshup
VivaConnect
Exotel
Twilio
JustCall
RingCentral
MightyCall
QuickBooks
Stripe
Amazon SES
Shopify
Xero
Mandrill
Mailgun
SendGrid
Zapier
Read also: HubSpot vs GetResponse: A Comprehensive Review and Analysis
Comparing HubSpot, Mailchimp, and EngageBay Pricing
Now that you have a much clearer idea of which services are included among HubSpot, Mailchimp, and EngageBay as well as the ways in which these three software platforms differ, it's time to discuss the pricing for each.
Here is where you'll really make the choice on which tool gels with your small business.
HubSpot Pricing
We talked about HubSpot's free CRM earlier, but that's all from this sales and marketing company that is free.
Their marketing software includes three plans.
The Starter plan is $45 a month when you pay upfront; you get up to 1,000 contacts.
For $800 per month, the Professional plan adds on 2,000 marketing contacts.
The Enterprise plan is $3,200 a month with 10,000 marketing contacts.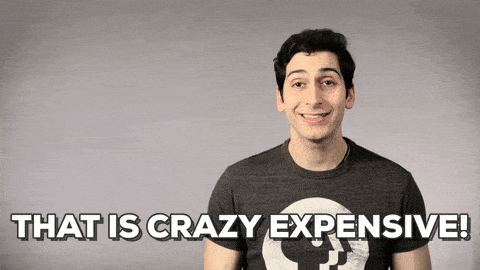 Here are some features of the Starter plan:
Form follow-up emails
Ad retargeting
Email marketing
Email health insights
List segmentation
Forms
Conversation bots
Live chat
Ad management
The Professional plan adds these extra features:
Custom reporting
Calculated properties
Web traffic analytics
Video management and hosting
Ad optimization
A/B testing
Social media and SEO
Company and contact scoring
Smart reporting and content
Marketing automation
The Enterprise plan has everything above plus:
Predictive lead scoring
Behavioral event triggers
Programmable chatbots
Webhooks
Adaptive testing
Field-level permissions
Hierarchal teams
Partitioning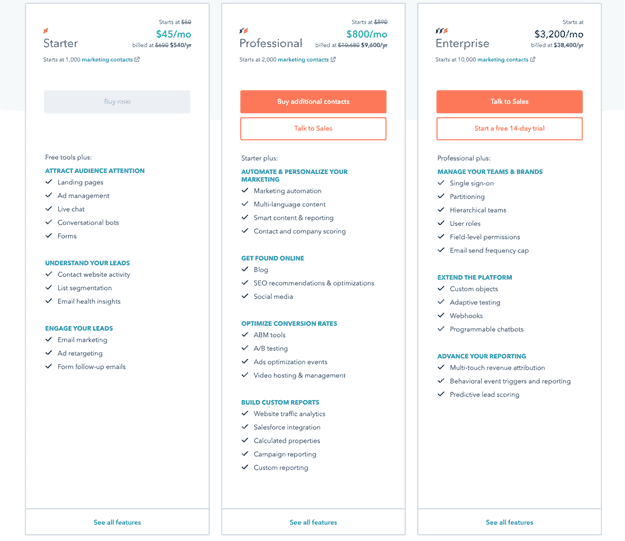 Want to find a more affordable solution to HubSpot? Our article on the top HubSpot alternatives will help you make the right choice.
Mailchimp Pricing
Mailchimp does offer a Free plan that's always $0.
Their three paid plans include the Essentials plan at $9.99 a month, the Standard plan for $14.99 a month, and the Premium plan for $299 a month.
Each plan includes 500 contacts to start and costs more as you increase your contacts.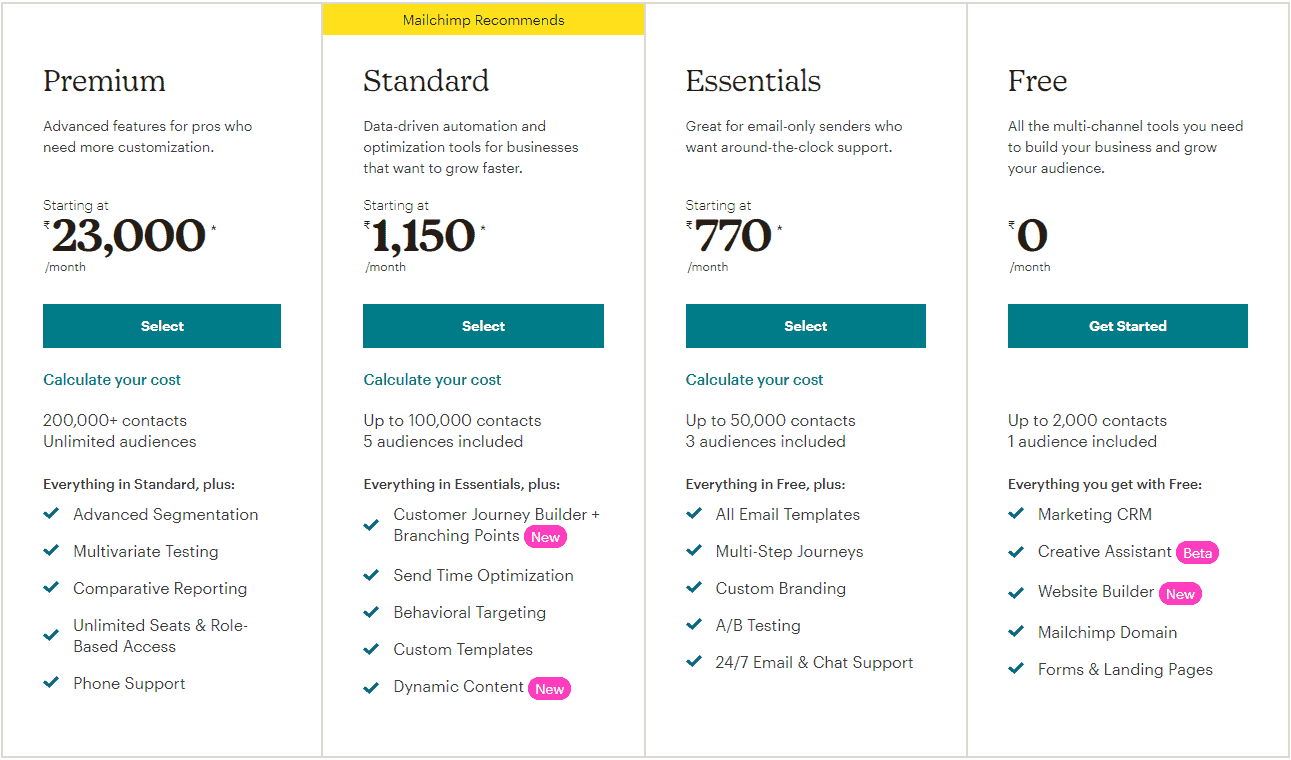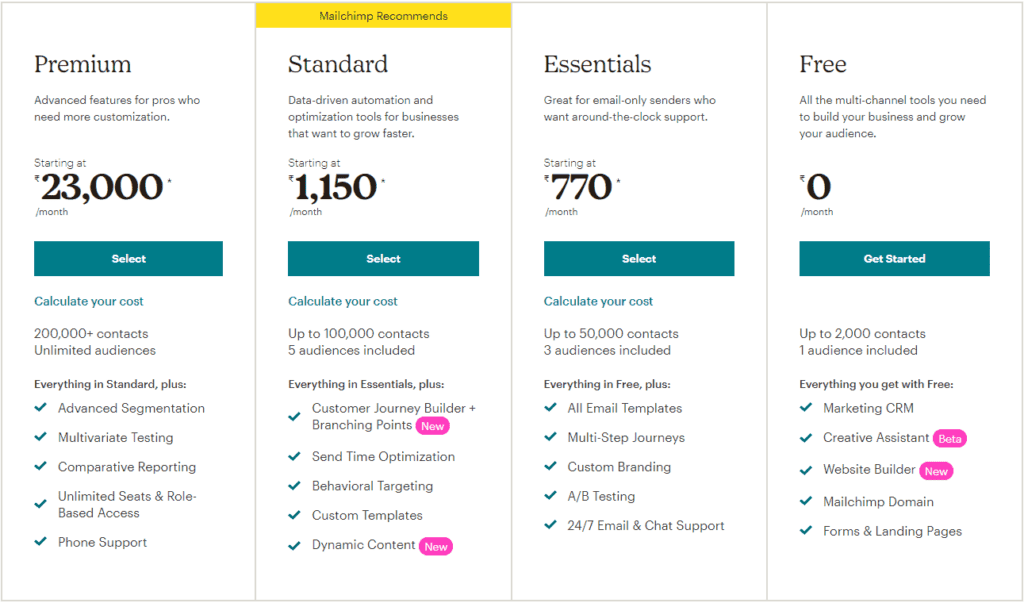 The Free plan comes with features such as:
Landing pages and forms
Mailchimp website domain
Website builder
Creative Assistant
Marketing CRM features
The Essentials plan adds:
24/7 chat and email support
A/B testing
Custom branding
Multi-step journeys
Email templates
With the Standard plan, you can use the above features and these:
Dynamic content
Custom templates
Behavioral targeting
Send time optimization
Customer Journey Builder
The Premium plan includes everything from Mailchimp, such as:
Phone support
Unlimited seating
Comparative reporting
Multivariate testing
Advanced segmentation
👉Not happy with Mailchimp's pricing? See our top picks for the best Mailchimp alternatives in our comprehensive article.👌
EngageBay Pricing
EngageBay's Marketing Bay has four plans to choose from, including one Free plan.
The other three plans are the Basic for $12.99 a month per user, the Growth plan for $24.99 a month per user, and the Pro plan for $49.99 a month per user.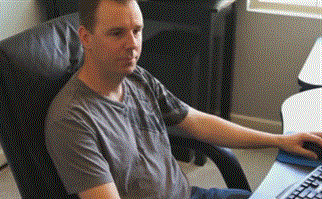 The Free plan boasts:
Live chat
Custom fields
Email templates
Lead grabbers
Email broadcasts
Video marketing
Autoresponders
Landing pages
Sequences
With the Basic plan, you can add on these features:
Tag management
SMS marketing
Landing page builder
All integrations
Lead scoring
The Growth plan includes everything above as well as:
Marketing automation
Landing page A/B testing
Email broadcast A/B testing
Custom domain
Landing page custom coding
Site messages
The Pro plan is the most comprehensive from EngageBay, with the above features and:
Phone support
Dedicated account manager
SSO
Uptime SLA
Custom reports
Web analytics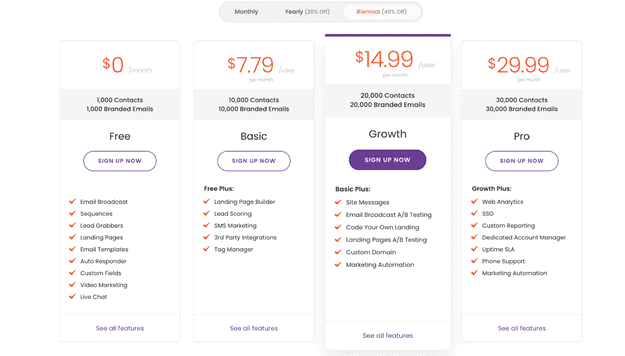 HubSpot vs. Mailchimp vs. EngageBay: How to Choose
The time has come to select which marketing tool is worth the money: HubSpot, Mailchimp, or EngageBay.
As a small business, you don't exactly have a lot of funds to go around, at least not yet.
You need to make a careful, conscientious decision about your software and many other elements of your business.
That means HubSpot is out, as their software is simply too expensive for startups on a budget.
Mailchimp seems affordable until you realize you only get 500 contacts for what you're paying.
Is that such a big deal at the beginning of your small business journey?
No, but it will be sooner than later.
EngageBay offers affordable prices and features that are competitive to both HubSpot and Mailchimp.
They're made for small businesses and startups and it shows in their pricing.
For what you get for the money, EngageBay is absolutely worth it!
Checkout our latest articles:
Pipedrive vs. HubSpot vs. EngageBay: Which CRM Is Smarter & Better?
Insightly vs Hubspot vs EngageBay: Find Out Which CRM Is Best For You