If you are looking for an email marketing tool with a high deliverability rate, Mailgun must be on your mind.
But how does it compare to other email tools, such as SendGrid?
Although Mailgun is particularly famous among developers thanks to its powerful APIs, it also helps businesses of all sizes optimize their email strategy for maximum impact.
In this post, we will compare Mailgun vs SendGrid and four other email marketing tools to help you make a decision.
Let's dive in.
Mailgun vs SendGrid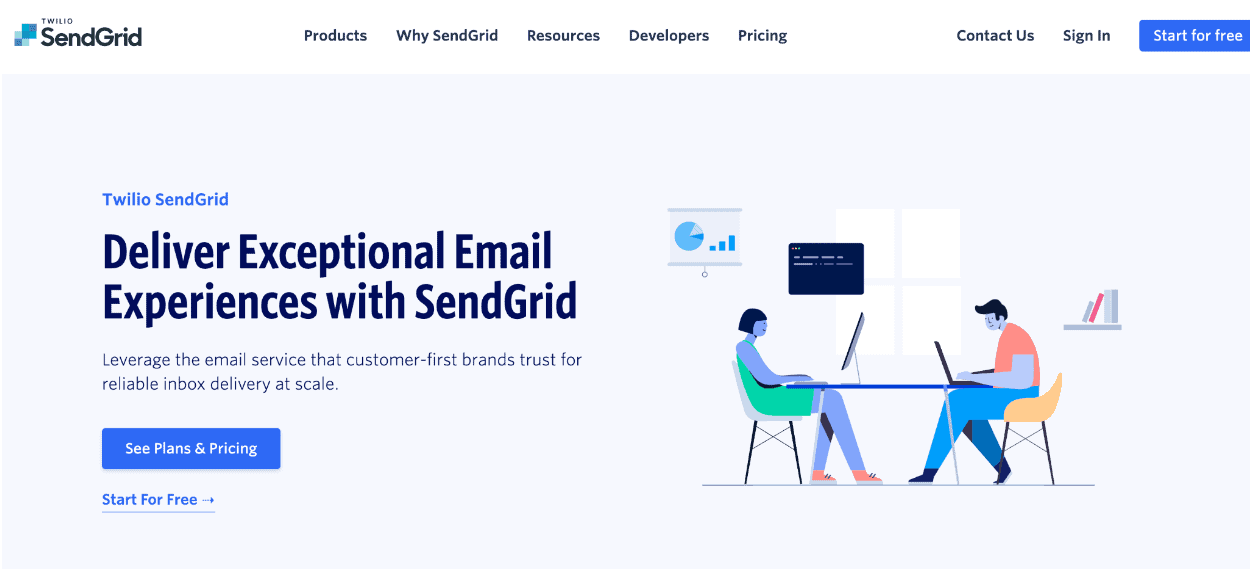 Companies like Uber, Airbnb, and Yelp use SendGrid to run email marketing campaigns.
Just like Mailgun, SendGrid is a developer-friendly tool and gives you access to libraries in multiple languages, including Javascript, PHP, Java, Go, Python, and Ruby.
But compared to Mailgun, SendGrid validation product for preventing delivery issues is still in its early stage. Mailgun's email verification process keeps your data clean and helps identify any email typos that can affect your deliverability rate.
What's more, SendGrid offers a great set of templates to choose from. Besides, its drag-and-drop editor or HTML makes designing layouts easy. It's noteworthy that SendGrid lets you set up complex automation based on your desired flow.
Key Features of SendGrid
Email Analytics:

Gathers actionable insights to help improve your future campaigns

Personalized Support:

Offers the best support to keep your email program up and running

Signup Forms: Provides sign-up forms to capture new leads and adds them directly to the mailing lists
Security Level:

Gives you control over account access with Teammate Permissions, API keys, 2FA, and IP access management

Purpose-built MTA:

It allows you to deliver over 100 billion emails per month with ease
SendGrid reviews: Here's what users are saying about SendGrid

Users find SendGrid a reliable email delivery platform and would even consider recommending it to other businesses.
Its user interface and email deliverability make it stand out from its competitors.

But at the same time, the user feels that its reporting and analytics feature is limited to basic insights, such as open rates and click-through rates.
They should enable options for customizing and analyzing data for a better understanding of their marketing campaign performances.
Want to find a SendGrid alternative that's better suited to your needs? Check out our article on the top SendGrid alternatives.
Answered: 10 Questions About SendGrid Pricing
Mailgun vs SendGrid: Pricing

If you are looking for a developer-friendly email tool, the main difference between Mailgun and SendGrid is their price.
Unlike Mailgun, SendGrid offers a free plan that enables you to store up to 2,000 contacts and send up to 6,000 emails per month. Its Free plan gives you access to most of its features, including analytics, API support, template editor, and others, except for dedicated IPs and personalized support.
Mailgun doesn't offer a free plan, but it has a trial plan that lets you send 5,000 free emails for a one-month period. And it will cost $1.00 for every 1,000 emails beyond that point.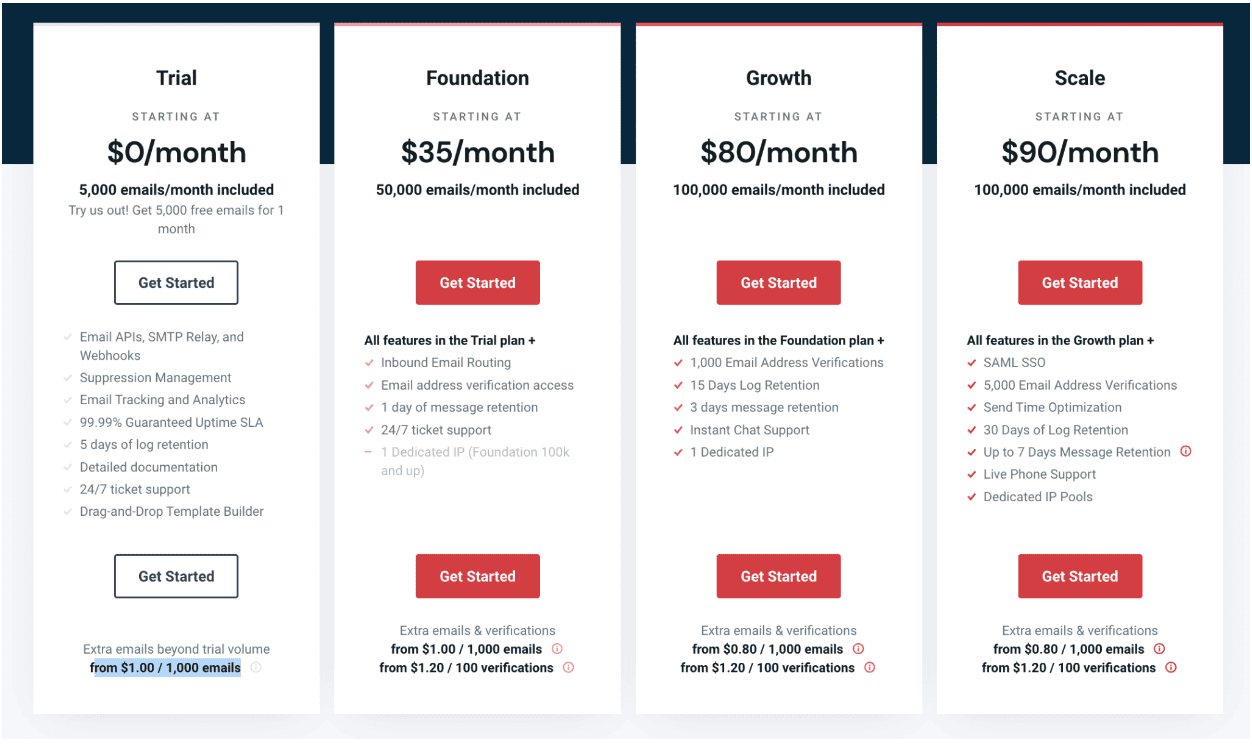 SendGrid's Basic plan starts at $15 per month and lets you send 15,000 emails per month. You get access to content personalization, email category comparison, deliverability tools, marketing campaign APIs, and more.
If you want more advanced features, it starts at $60 per month. Some of its additional functionalities include 1,000 teammate permission, ticket, live chat, & phone support, dedicated IP addresses, and much more.
Mailchimp vs Constant Contact: Which Email Tool is Best For You?
Mailgun vs Mailchimp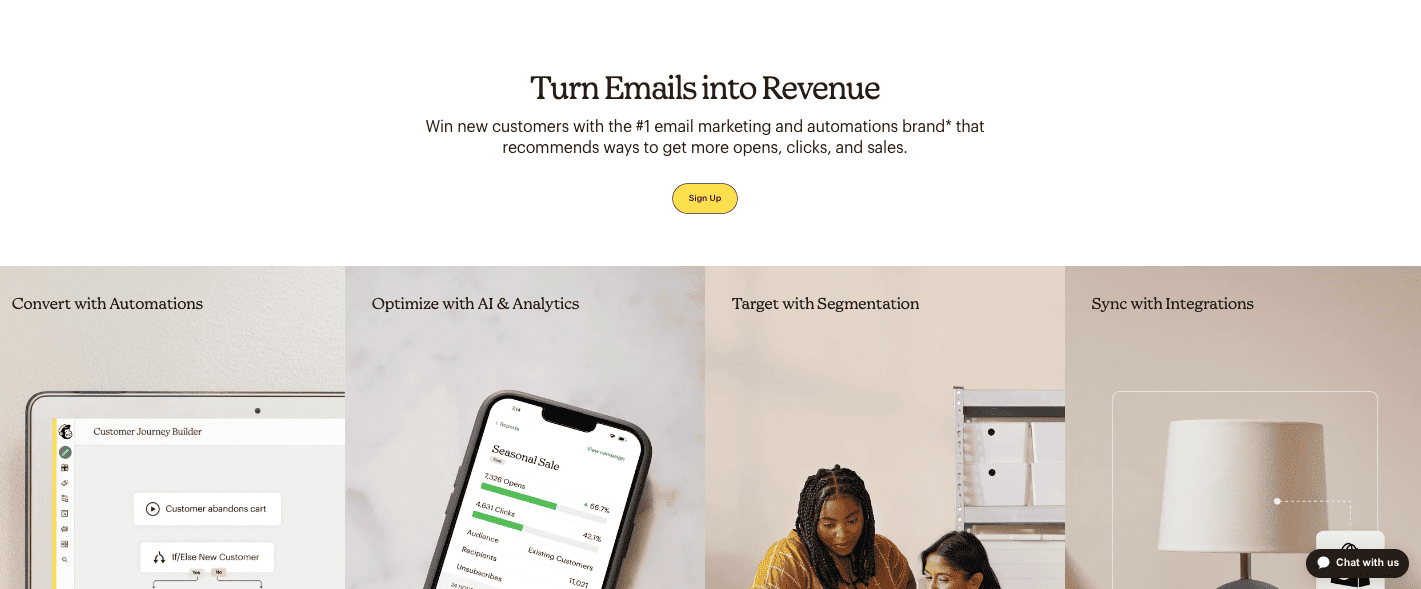 Mailchimp, as a Mailgun alternative, is a go-to email marketing tool for brands looking to send newsletters and build relationships with their subscribers. It makes it easy to integrate with social media platforms or any full-fledged marketing platforms and engage with your audience.
In the case of Mailgun, it is a set of powerful APIs that enables you to send, receive, and track emails effortlessly. Besides, it uses Simple Mail Transfer Protocol (SMTP) to handle transactional emails, and its flexible pricing model makes it more likable.
Key Features of Mailchimp
Smart Recommendations: Gives out personalized suggestions based on email best practices to help yield maximum results
Audience Segmentation:

This allows you to create contact lists based on multiple filters, such as age, gender, location, buying history, etc. It helps by sending personalized, targeted emails to your audiences

Dynamic Content:

Allows you to

send a single email to different clients while personalizing each message, saving time and effort

Customer Journey Builder:

Gives recommendations on how to engage with your audience better using pre-built automation strategies
Mailchimp reviews: Here's what customers are saying about Mailchimp

Mailchimp is quite popular amongst campaign managers as they find the platform easy to set up and run their campaigns.
Furthermore, users feel the platform is highly customizable and can fit their brand's unique requirements.

But if you are an individual or small business with a large number of subscribers, Mailchimp can get expensive.
Their advanced plans are costly and suitable for only large enterprises.
13 Mailchimp Alternatives Compared [Pricing, Features]
Mailgun vs Mailchimp: Pricing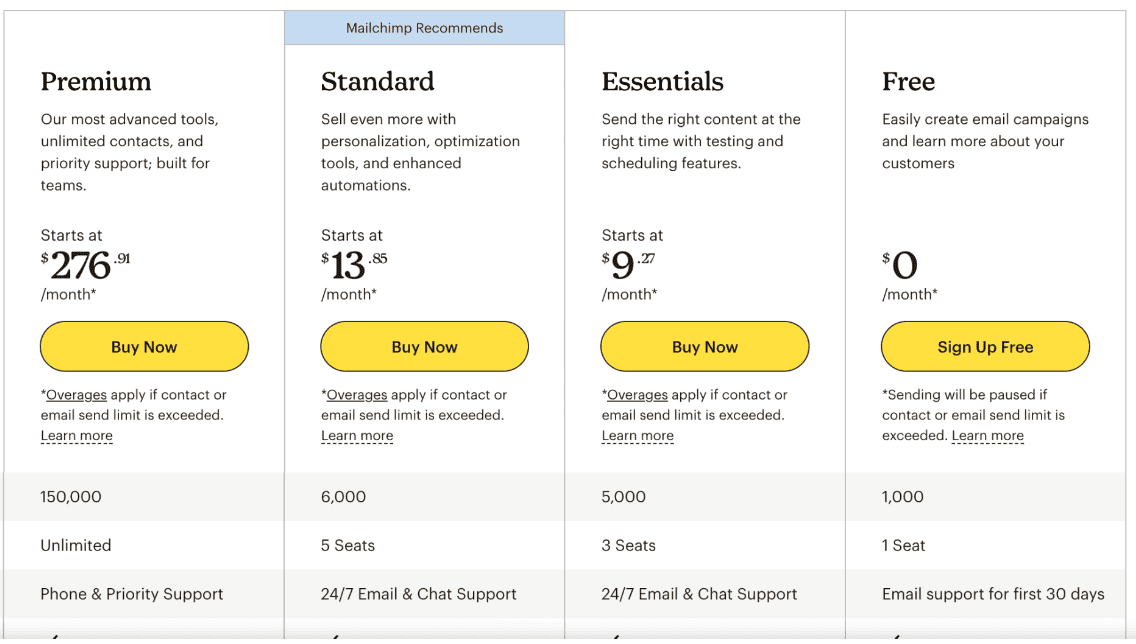 Unlike Mailgun, Mailchimp has a Free plan that allows you to send 1,000 emails per month and also get access to tools like a creative assistant, basic reporting and analytics, landing pages, and more. It is ideal for individuals, small businesses, and those who are new to email marketing.
Other than the free plan, Mailchimp also has three paid plans – Essentials, Standard, and Premium. The pricing of each plan depends upon the number of contacts you want, starting from 500 to 250,000 or more.
The Essentials plan starts at $9.42 per month and boasts additional tools such as 24/7 email and chat support, 5000 monthly email sends, role-based access, A/B testing, and email scheduling.
With the Standard plan, users can get enhanced customer journey tracking, custom-coded templates, send time optimization, and dynamic content personalization for $14.08 per month.
The Premium plan is suitable for large and growing businesses and costs $281.52 per month. It includes advanced features like multivariate testing, comparative reporting, advanced segmentation, and assisted onboarding.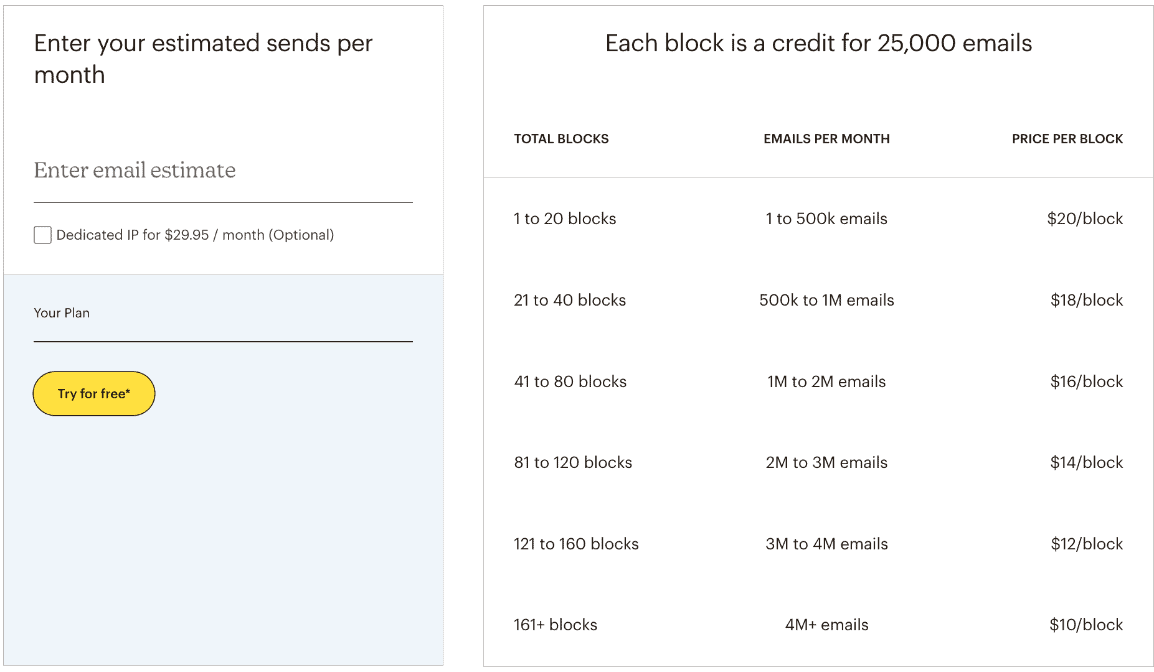 It's imperative to note that both offer flexible pricing when it comes to sending transactional emails. In Mailchimp, you need to purchase blocks for sending transactional emails to your customers or users.
Every block equals a credit for 25,000 emails. As the number of blocks you purchase increases, the cost per block reduces.
How Does Mailchimp Pricing Compare With Competitors?
Mailjet vs Mailgun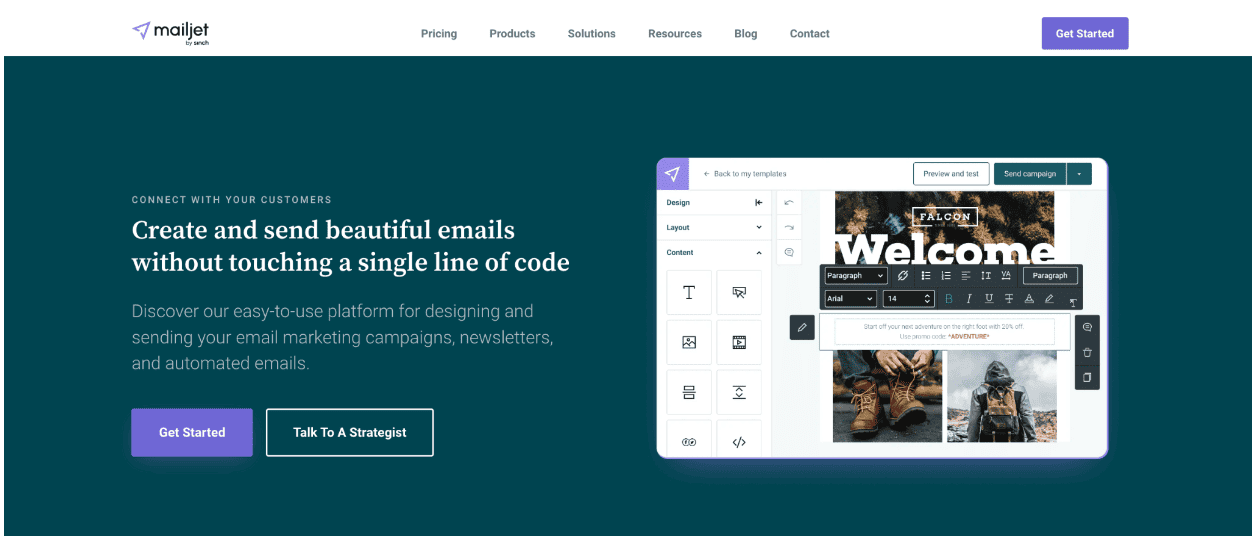 Both Mailjet and Mailgun are market leaders in their categories. While Mailgun specializes in offering high-volume transactional emails, Mailjet offers advanced email marketing features.
Mailjet is popular amongst marketers for its advanced email builders, template gallery, and other relevant functionalities. Mailgun, on the other hand, comes with the best deliverability tools, such as email validation API, inbound email routing, and more.
Over 40,000 companies, including American Express, Wikipedia, and more, are building great apps and email programs with Mailjet. Mailjet is one of the best Mailgun alternatives, serving over 100 countries and offering customer support in English, French, German, and Spanish.
Key Features of Mailjet
Intuitive Email Editor:

With its drag-and-drop email editor, you can easily customize its pre-built templates.

Collaboration Tool:

It allows you to review, comment, and make changes to email templates seamlessly in real-time.

Templates Library: Get access to professionally designed email templates and make your campaign stand out.
Segmentation:

Group your subscribers based on their behaviors, interests, and filters and send targeted emails for maximum impact.
The Marketer's Guide To The Top 10 SendGrid Alternatives
Mailjet reviews: Here's what customers are saying about Mailjet

Mailjet makes it easy for the entire team to collaborate and work on a single campaign.
It syncs all changes in real-time and allows the admin to set up permission-based access to hide sensitive information from your team members.
Besides, it's equally popular for its seamless integration capabilities with eCommerce platforms.

One thing that Mailjet can do is improve its template library.
They need to add more designs and also start supporting the AMP templates.
Mailjet vs Mailgun: Pricing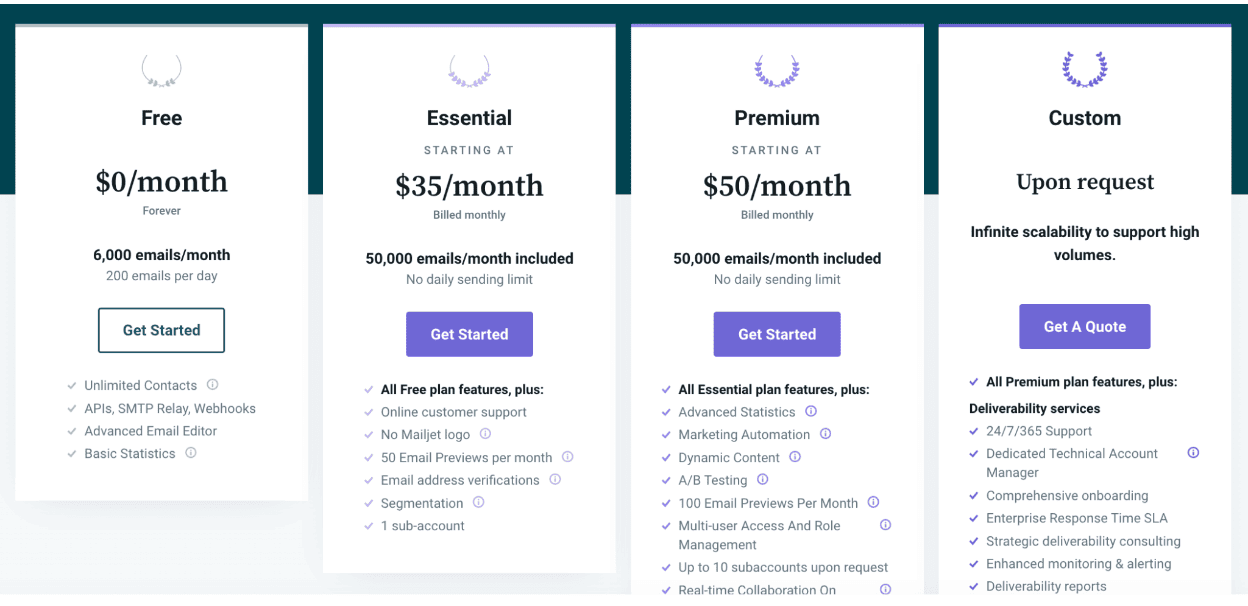 Mailjet and Mailgun have more or less the same pricing. Both platforms cost $35 per month to send 50,000 emails. However, if you want to send fewer emails, you can easily get Mailjet for $15 per month (Essential Plan).
Mailjet even has a Free plan that lets you send 6,000 emails per month with unlimited contact, APIs, SMTP Relay, advanced email editor, and more.
When you upgrade to paid plans, Mailjet has three options – Essential, Premium, and Custom.
With the Essential plan, you get everything in the free plan, one sub-account, an email address verification tool, online customer support, and much more. The pricing will vary based on the number of emails you choose to send.
If you need access to advanced statistics and marketing automation tools, Premium would be the ideal choice. It starts at $50 per month for 50,000 emails and offers tools like dynamic content, A/B testing, multi-user access and role management, real-time collaboration, and more.
Lastly is its Custom plan, specifically for brands or large enterprises looking to send emails in bulk. It offers 24/7/365 support and gives you a dedicated technical account manager, enterprise response time SLA, strategic deliverability consulting, and so much more. It's a full package for email marketing campaigns.
Aweber vs Mailchimp and Other Email Tools
Mailgun vs Postmark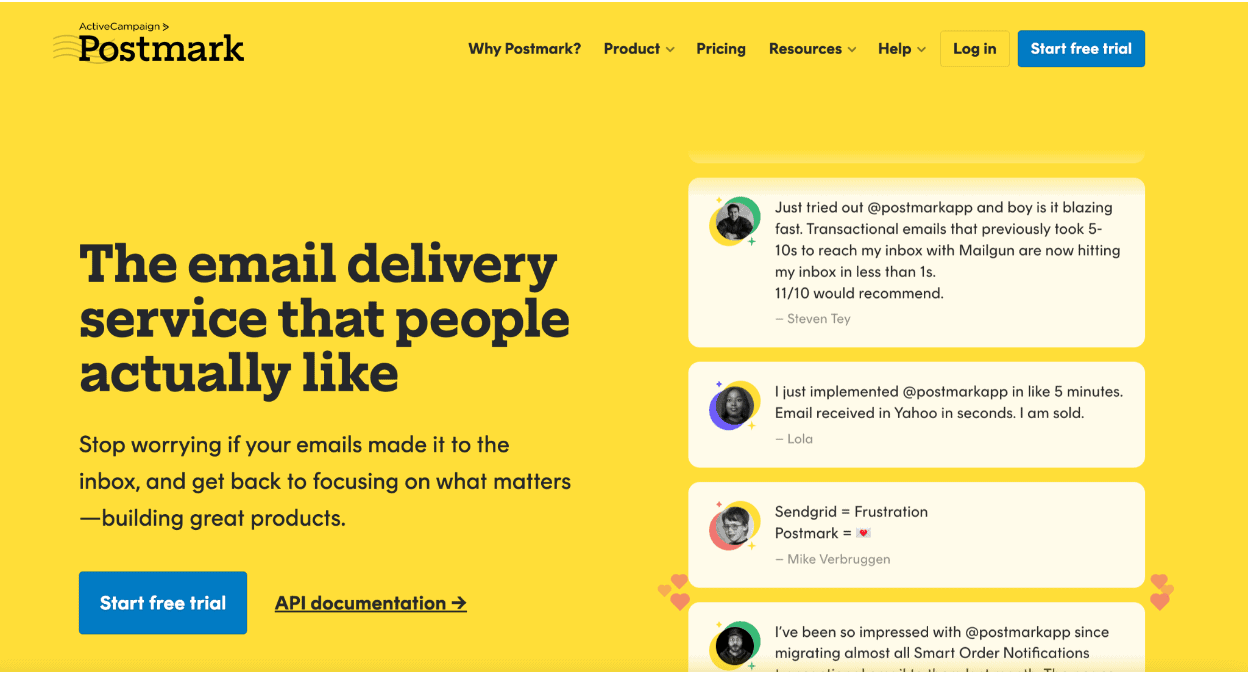 Postmark is an alternative to Mailgun that offers more or less the same features as Mailgun. Postmark is also a developer-friendly email tool that allows you to enjoy great deliverability, track down lost emails, and much more.
In the case of Mailgun, users need to upgrade to a dedicated IP and pay extra for better deliverability. But at Postmark, they ensure great deliverability without charging anything extra. Whether you send thousands of emails or millions, you will see high deliverability rates. Besides, they can even help set up a dedicated IP address if need be.
Besides, if you need access to live chat or phone support, you need to upgrade to Mailgun's premium plan. But Postmark again outdoes Mailgun by offering great support with all its plans – email, live chat (during business hours), call support or even schedule time.
Key Features of Postmark
Analytics:

Get detailed insights into every single email – bounce time, delivery success, etc.

Email Templates:

You can choose to customize the prebuilt templates or code your own

Integrations:

Offers seamless integration across all major third-party platforms, including Stripe, WordPress, Typeform, etc.

Powerful APIs:

Enables you to send, receive, and track transactional as well as bulk emails with ease
Postmark reviews: Here's what customers are saying about Postmark

Postmark has a robust analytics feature that allows you to easily track your campaign performance.
You can keep track of the entire campaign performance or just filter it down to one email.
It will give you detailed insights into the delivery success, the reason why it got bounced, and more.

As for its drawback, users only find its pricing a bit on the higher side. However, they still understand that it compensates for the value it has to offer and the platform they are delivering.
Mailgun vs Postmark: Pricing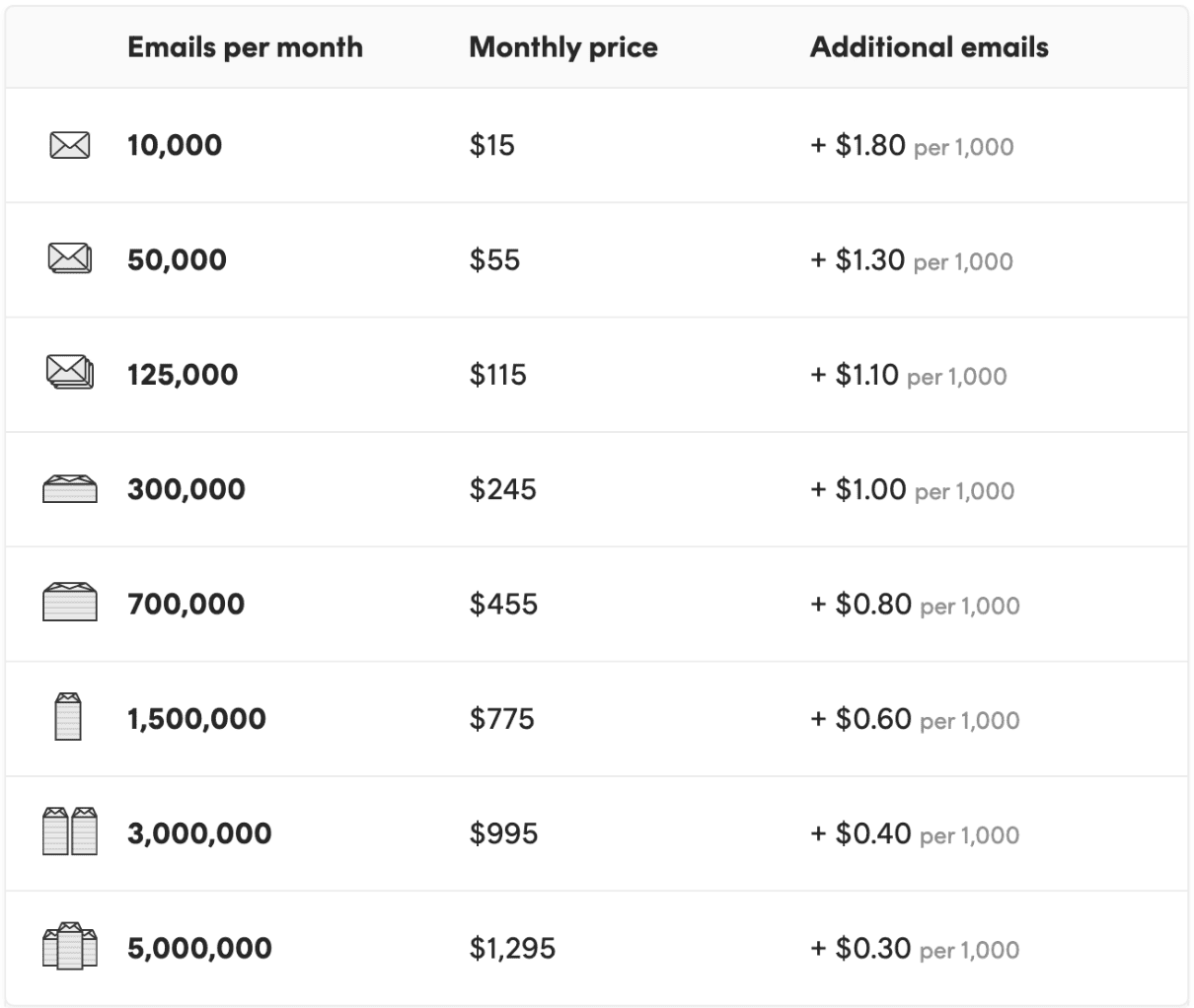 Both Mailgun and Postmark offer flexible pricing plans.
Postmark has a free trial for an unlimited period. If you need to send 10,000 emails a month, you will have to pay $15 per month.
They have set a dedicated monthly price for a certain number of email limits, and if you want to send more than the prescribed monthly emails, you will have to pay extra for every 1,000 emails.
Is HubSpot Worth It? An In-depth HubSpot Review for Small Businesses
Gmail vs Mailgun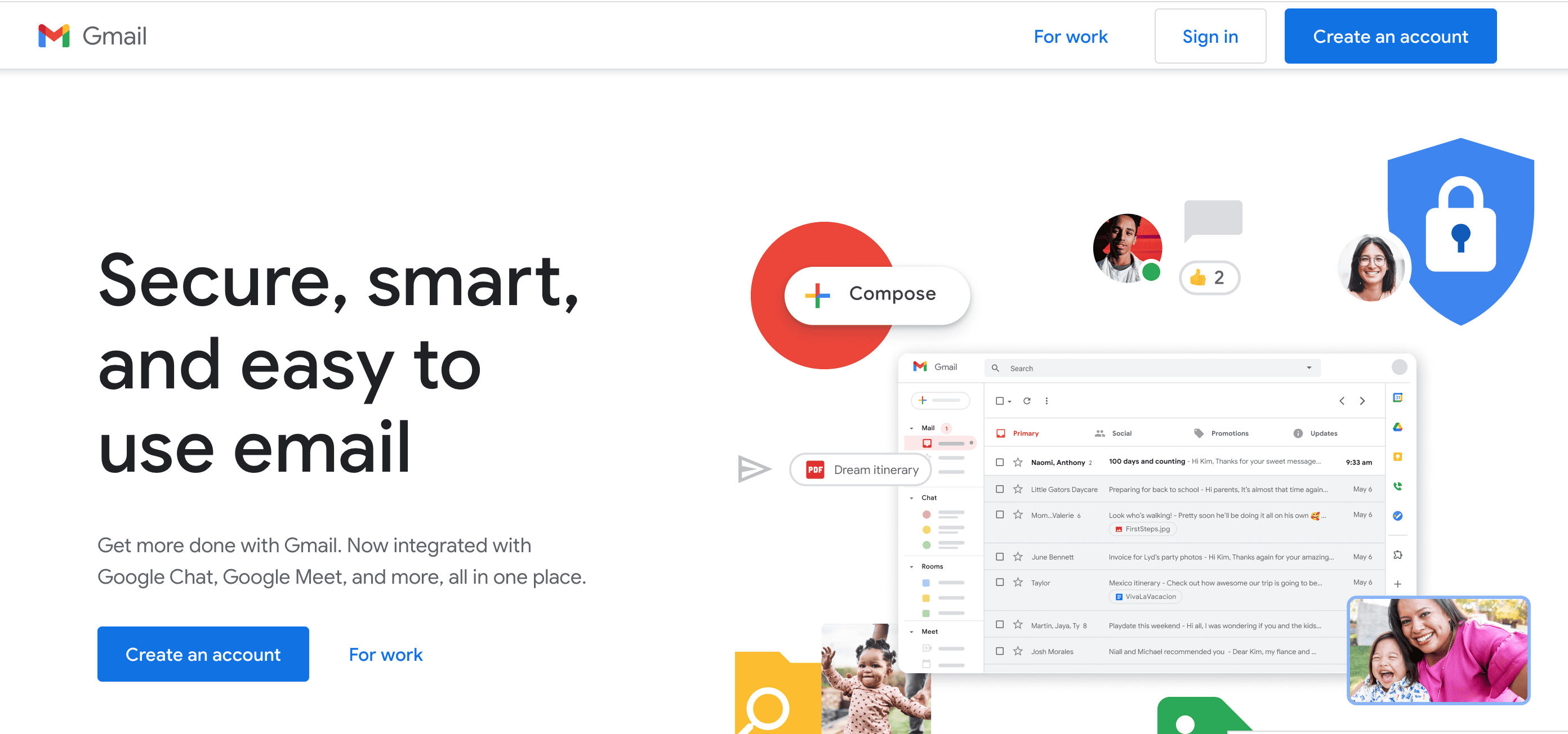 Gmail is a free alternative to Mailgun. Gmail (now branded as Google Workspace) makes it easy to send and receive emails at no cost. You can sort your emails into customizable tabs and even add labels for easy discovery.
However, Mailgun offers much more than Gmail. This powerful email marketing tool offers a complete suite of features that enables you to send, receive, and track emails.
Key Features of Gmail
Security:

Users can access Gmail as secure webmail as well as via POP3 or IMAP4

Translation:

Translates both inbound and outbound emails within the application itself

Sorting:

Enables you to star important emails or add custom color labels to organize your emails neatly

Applications:

It offers tools for instant messages or video calling for up to 15 users at once
Gmail reviews: Here's what customers are saying about Gmail

Gmail is one of the oldest and most preferred email service tools. The best part is that it makes it easy to keep all your emails organized and ensures that no important messages get lost in your inbox.

Users have complained about the lack of support and how sometimes, even after setting up automated replies, it doesn't work.
Gmail Pricing
Gmail is free to use. However, if you want to access other features along with its email tools, such as video conferencing tools, or if you need more storage space, you can subscribe to a Google Workplace Plan (previously called G-Suite) and pay according to what you need.
14 Key Email Marketing KPIs Every Marketer Should Master
Mailgun vs Mailchimp vs SendGrid
Let's take a look at these three tools with a chart, so everything's easily compared in one place.
| | | | |
| --- | --- | --- | --- |
| | Mailgun | Mailchimp | SendGrid |
| Free Plan | X | ✓ | ✓ |
| Dedicated IPs | Available only with its Growth and Scale plan | Available only with its Standard and Premium plan (Additional charges apply) | Available only with its Advanced Plan |
| Send Time Optimization | ✓ | ✓ | X |
| Transactional Emails | Available with all plans | Only on paid plans | Available with all plans |
| Email Scheduling | Available with all plans | Only on paid plans | Available with all plans |
| Mobile App | Need to use Mailgun plug-in in Appery.io to develop a mobile app | Available | Not available |
| Dynamic Content | Available only with its Growth and Scale Plans | Available only with its Standard and Premium plans | Available only on its Advanced plan |
| A/B Testing | Not Available | Only on paid plans | Available |
| Customizable email templates | Not Available | Available only with its Standard and Premium plans | Available |
| Automation | Not Available | Available | Available only with its Free and Advanced plans |
| Email Signup Forms | X | ✓ | ✓ |
Want to know more details about Mailgun pricing? Check out our article on Mailgun pricing.
ConvertKit vs Mailchimp And Other Email Tools
Wrap Up
So Mailgun vs SendGrid: which one is better? Try answering a few questions like:
Are you looking to send just transactional emails or run full-fledged campaigns?

What is your budget?

How many emails do you need to send in a month?
This can help you decide whether Mailgun or any of its alternatives mentioned here suit your business.
If, instead, you'd like to try a powerful CRM solution that comes with marketing automation, try EngageBay. It's loved by thousands of small companies and is super affordable.