Whether you are trying to nurture your leads or send an order confirmation message to your customers, emails are the most preferred channel of communication.
A study revealed that ​​46% of smartphone users prefer emails to receive any communication from businesses.
Mailgun is among the best email service providers that ensure a high deliverability rate for transactional or bulk emails. Mailgun pricing starts at $35 per month, and goes up to $90 per month.
But how does it compare to its competitors? Is Mailgun pricing good value for small business owners?
To understand that, I have laid out a detailed explanation of what Mailgun has to offer, analyzed its different price plans, and even compared it to some of its best alternatives available in the market.
Mailgun – An Overview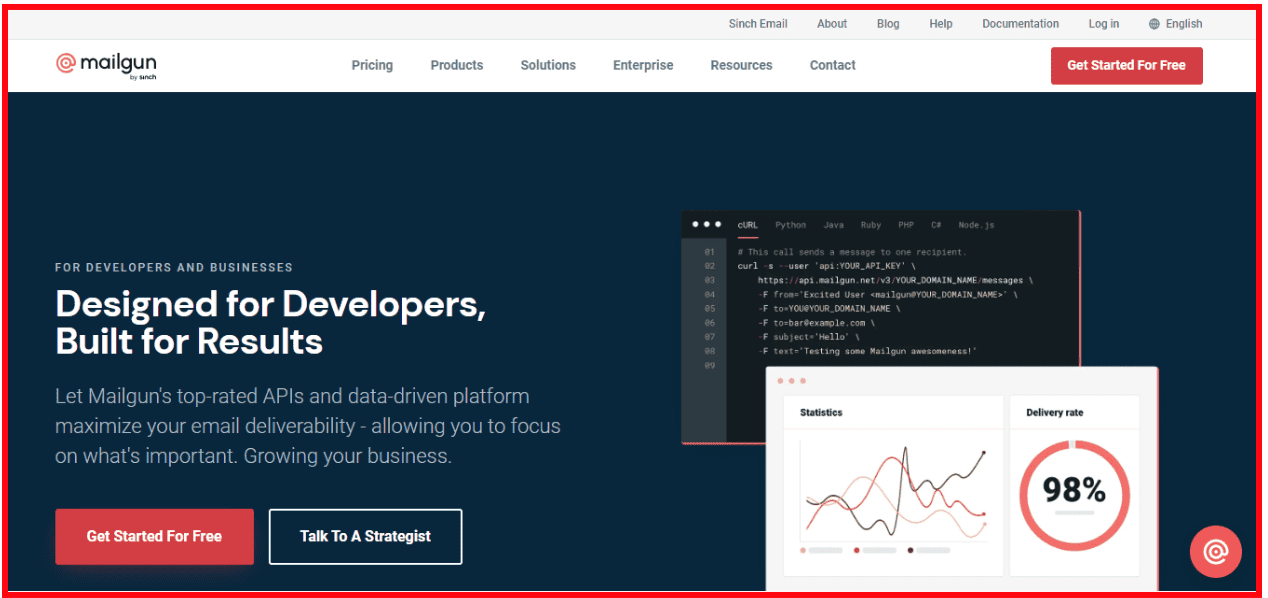 Mailgun is an email marketing platform that primarily acts as a transactional email API service for developers. However, it has expanded its functionalities to help its users run promotional campaigns. It embeds Mailjet's Email Editor to help users design beautiful templates for their marketing campaigns.
Broadly speaking, Mailgun's product can be categorized into three sections – sending and receiving emails, success measurement, and email deliverability.
Send and receive email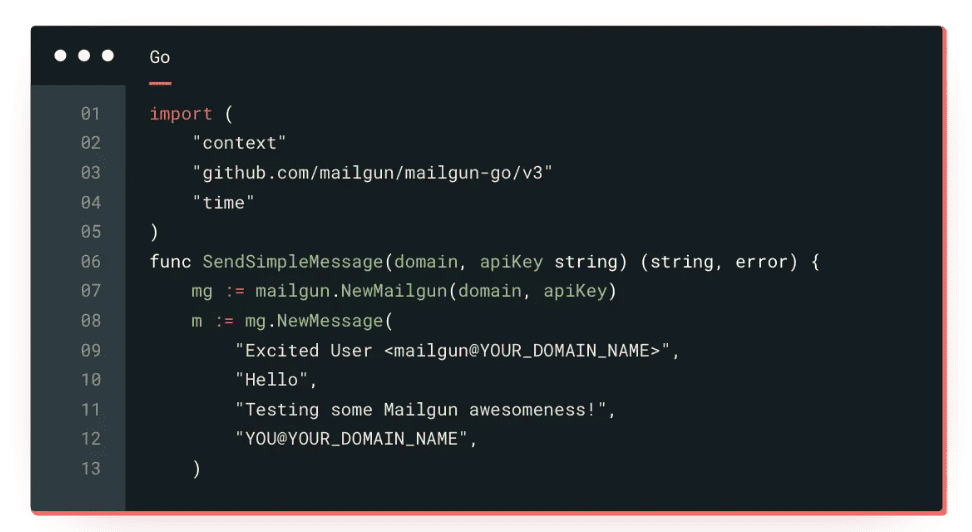 Under the Send and Receive Email category, Mailgun provides a range of tools that enable you to send mass emails simultaneously. It includes Email API and SMTP relay service that ensures authentication protocols are in place to prevent spammers from copying your brand and improves your email deliverability.
Besides, its Send Time Optimization (STO) feature ensures that your email messages are delivered to your recipients at the exact time they view their inbox. This increases the chance of open, and they also claim that campaigns sent with STO perform much better than the ones without STO every time.
Furthermore, Inbound Routes simplify your incoming emails by only extracting information relevant to you. It uses automation to identify key parts of an email. It then extracts data, funnel messages relevant to your business, and groups all auto-replies to the same URL endpoint, so they can be tracked in a CRM tool.
Tools to measure success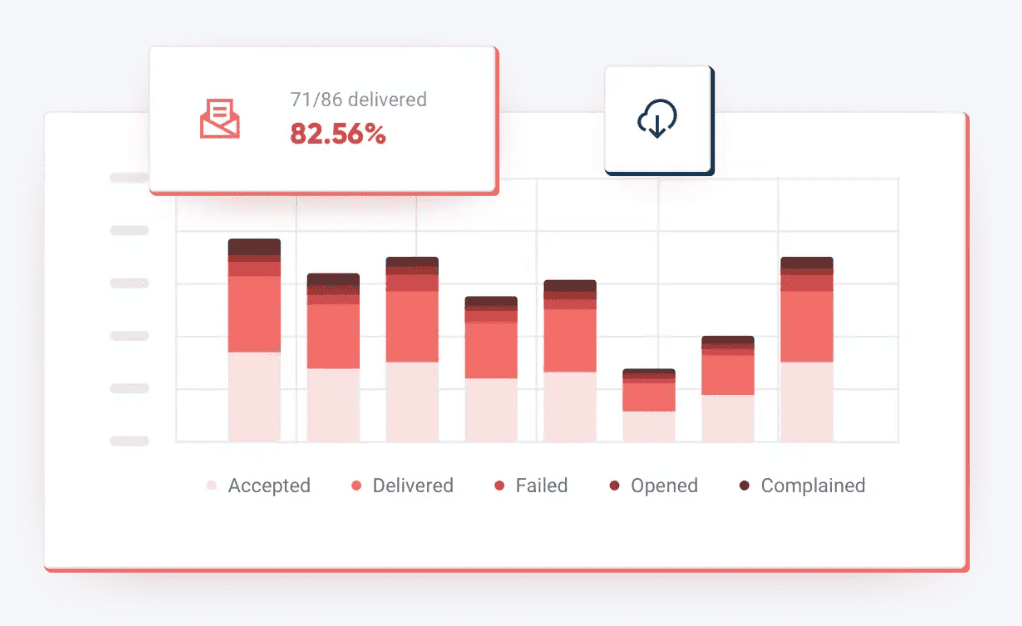 Success measurement provides advanced email analytics tools that enable users to track the performance of their email marketing campaigns. Here, you can view engagement metrics, detect deliverability issues across your email logs, and address them immediately.
With Email Analytics, you can visualize the performance of your email marketing campaigns, either on an overall level or for specific metrics. The tool also helps you track the top-performing email content, explore user data to evaluate consumer behavior, and improve A/B testing.
With Email Logs, you can detect patterns and irregularities across your emails. It helps understand the irregularities in your email deliverability and what influences them.
Read also: Say Goodbye to Agile CRM: 11 Alternatives to Consider
Email deliverability tools
Email deliverability or landing in the inbox helps you increase the ROI of your email marketing campaigns by providing relevant insights.
These insights can include email verification and reputation monitoring to help boost email deliverability and engagement. In addition, the Deliverability Services tool creates a customized email strategy depending on your business's needs to increase ROI and conversions.
Besides, the InboxReady tool helps you remove invalid email addresses, predict email deliverability issues, monitor IP addresses to prevent blocking, and preview your email look on different devices.
Here Is Your To-Do List For High Email Deliverability
Mailgun reviews — What users are saying

Mailgun's key advantage is that it assists users in sending a large number of automated emails at a time. Users found that using a unique IP address by Mailgun ensures that the emails don't land in the spam folder.

Mailgun users also like the fact that it seamlessly integrates with their existing tools.

But Mailgun, like any other tool, also comes with its drawbacks.
For starters, the users found that the pricing can be a bit high for early-stage startups who do not have to send a large number of emails.
And it only offers a free trial for 30 days, after which you need to upgrade to its paid plans.
Moreover, the additional tools provided with every upgraded plan are limited, making the platform costly for new and growing businesses, particularly when fewer users are needed.
How Does Mailchimp Pricing Compare With Competitors?
Mailgun Pricing Plans Explained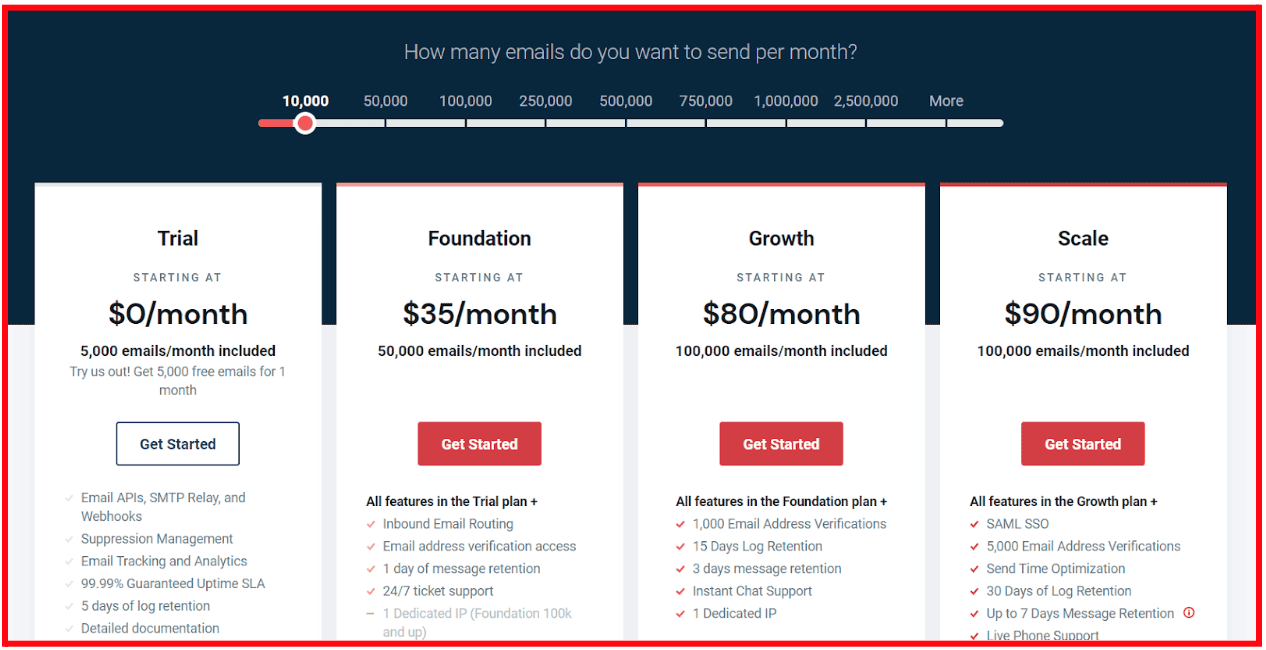 We have a fair idea of what Mailgun entails. Let's now analyze its different pricing plans and understand if they would fit your business requirements.
Mailgun offers four pricing plans – Trial, Foundation, Growth, and Scale.
Each plan is priced based on the number of emails you can send per month. It starts from 10,000 emails per month and can go up to 2,500,000 or more.
Let's start with Trial.
Trial
The Trial Plan is Mailgun's free plan and offers up to 5,000 monthly email sends.
It is designed for individuals and businesses that don't need to send a large number of emails regularly.
Some of its key features include:
Email APIs, SMTP, and Webhooks

Suppression management

Email tracking and analytics

Detailed documentation

24/7 customer support

Drag-and-drop template builder
A drawback of this plan is that it does not allow you to test email deliverability using tools such as A/B testing and only has a 5-day log retention period.
Moreover, the free plan is only available for 30 days. Once the trial period ends, users will automatically be upgraded to the Foundation Plan priced, at $35 per month.
For businesses that do not require to send 50,000 emails per month, the Foundation plan can seem costly.
Read also: The Marketer's Guide To The Top 10 SendGrid Alternatives
Foundation
For those who need to send a large number of emails daily, the Foundation Plan works best.
Under the Foundation Plan, users can avail of up to 50,000 emails per month for $35, with additional tools such as:
Inbound email routing

Email address verification

A dedicated IP address

24/7 ticket support
One of the key advantages of this plan is that it verifies the email IDs of the senders, protecting your brand from fake and duplicate emails. It automatically results in a high deliverability rate.
However, it lacks the email scheduling feature, which is crucial for sending bulk emails to ensure high open and clickthrough rates.
Further, if you want to retain messages for longer or get access to instant customer chat support, you will need to upgrade to the Growth Plan.
Read also: Mailgun vs Sendgrid and Other Email Tools
Growth
The Growth Plan starts from $80 per month and is suitable for businesses that are trying to scale.
With the Growth Plan, you can get up to 100,000 monthly email sends along with a host of other features.
Some of these features include:
1,000 email address verification

Instant chat support

15 days of log retention

3 days of message retention

A dedicated IP address
Upon comparison, the Growth Plan does not seem to be offering more advanced tools than the Foundation Plan.
Except for more number logs, message retention days, and quick customer support, the Growth Plan is quite expensive for the features offered.
Hence, if you are a large or expanding organization, it would be better to choose the Scale Plan.
Answered: 10 Questions About SendGrid Pricing
Scale
The Scale Plan starts from $90 per month and comes with up to 100,000 email sends per month.
Some of the advanced tools that it offers include:
5,000 email address verifications

SAML SSO

Send time optimization

Live phone support

Dedicated IP pools

30-day log retention

Message retention for seven days
Despite the advanced tools offered under this plan, it does not offer additional emails even if the number of contacts is increased.
Moreover, unlike many email marketing platforms, the pricing is not customizable. As a result, you will need to pay $90 every month even if you send fewer emails in a given period.
Flexible Pricing
Mailgun compensates for its pricing by offering flexibility in all its plans.
If you exceed the prescribed number of emails in every plan, you can get more emails for a small amount of pricing.
For instance, in the Foundation plan, you need to pay $1.00 for every 1,000 emails you send extra.
The price goes down as you upgrade to their premium plans.
Read also: 11 Wishpond Alternatives to Catapult Your Business Growth [+Pricing]
Better Options Than Mailgun
After the detailed analysis of Mailgun pricing and features, it's time to see how Mailgun compares with some of its competitors.
There are a few Mailgun alternatives with better pricing and similar tools for your email marketing campaigns, so let's take a look.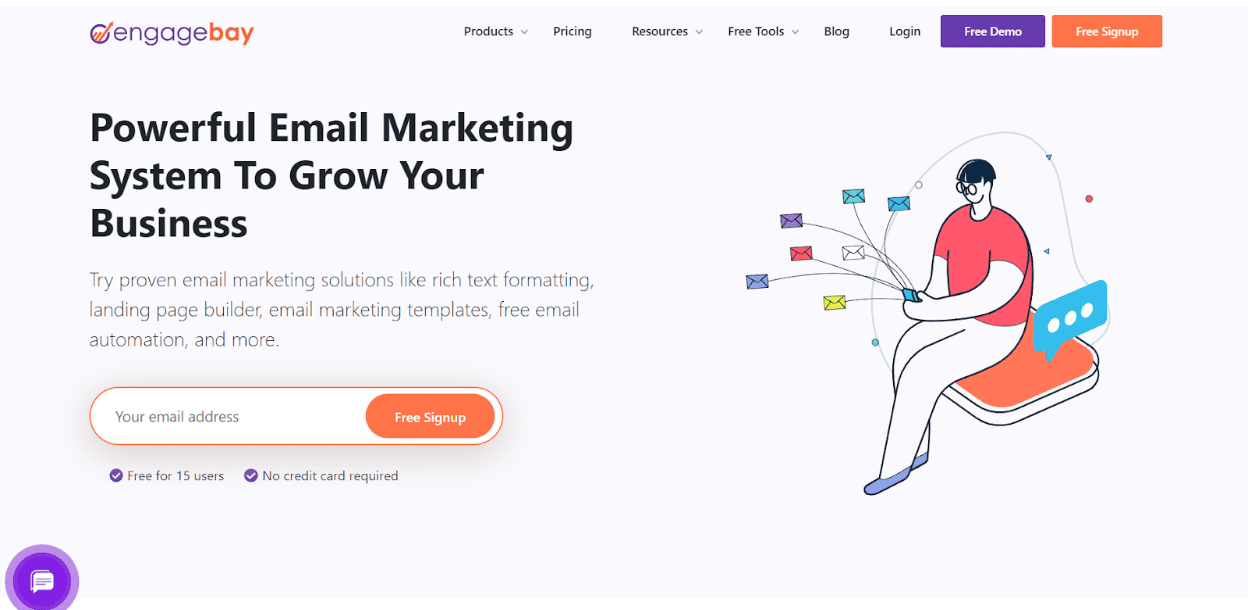 The first on the list is EngageBay which provides a full-fledged marketing platform in case you want to do more than just send emails.
And the best part is that it is free for up to 250 contacts, and you get access to email broadcasts, autoresponders, and much more.
Unique Features of EngageBay
Built-in Templates: EngageBay has a wide range of pre-built email templates that can be customized using the drag-and-drop interface, design elements, and text editor.
Segmentation:

It helps you create a subset of your customer base by filtering them using location, age, gender, income, job profile, buying preferences, etc. This helps you send personalized emails that are relevant to your clients' needs.

Campaign Tracking:

With campaign tracking, you can track the relevant metrics for your email marketing campaign, helping you frame your email content to drive conversions.

Email Personalization:

Using EngageBay, you can personalize email content by adding your contacts' first and last names, and email addresses, which can be filled automatically from your customer database.
Pricing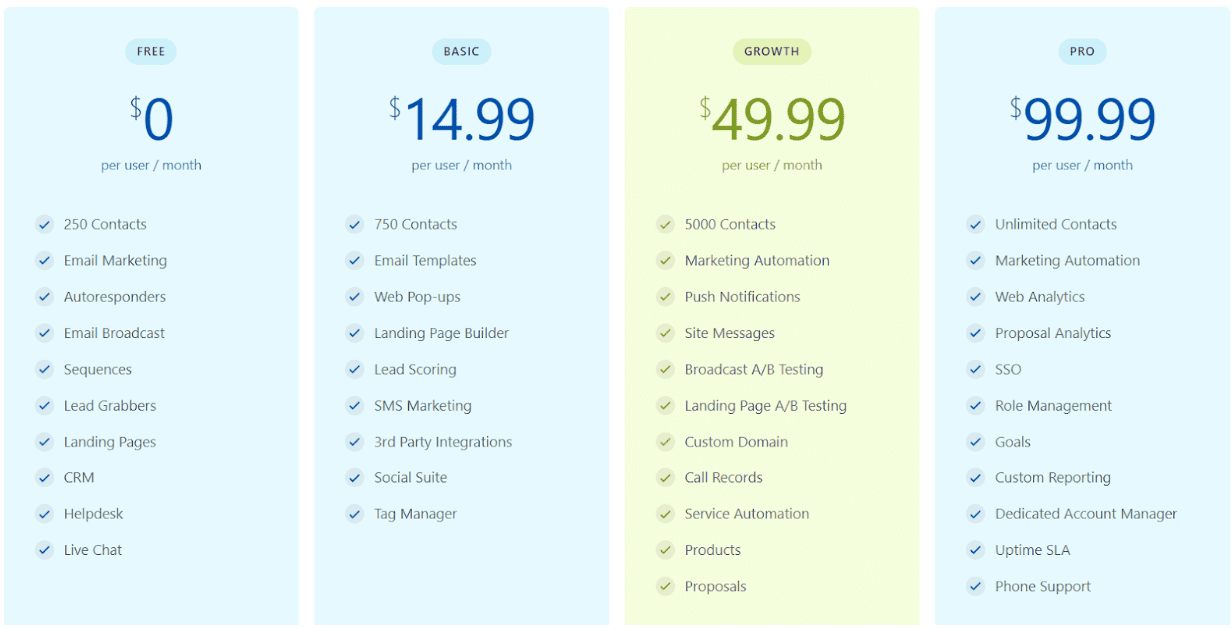 EngageBay offers four pricing models – Free, Basic, Growth, and Pro.
The Free Plan offers up to 250 contacts along with tools such as email marketing, autoresponders, email broadcasting, landing page templates, email sequences, live chat, and helpdesk.
Compared to the Foundation Plan of Mailgun, the Basic Plan offers more than just email marketing tools for $14.99 per month. You can avail of up to 750 contacts, built-in email templates, lead scoring, SMS marketing, third-party integrations, social suite, and tag management.
With the Growth Plan, users can get up to 5,000 contacts, including marketing automation, push notifications, site messaging, A/B testing, custom domain, call recording, and service automation, for $49.99 per month.
The Pro Plan is for large businesses and starts from $99.99 per month. Some exclusive features offered under this plan include unlimited contacts, custom reporting, web analytics, proposal analytics, SSO, and role management.
Pros

EngageBay's ease of use, flexibility, and affordable pricing make it a favorite among small companies. Moreover, the live chat feature helps businesses get their queries resolved instantly.
Cons

EngageBay's web forms can have more options for customization, and the devs are working on it.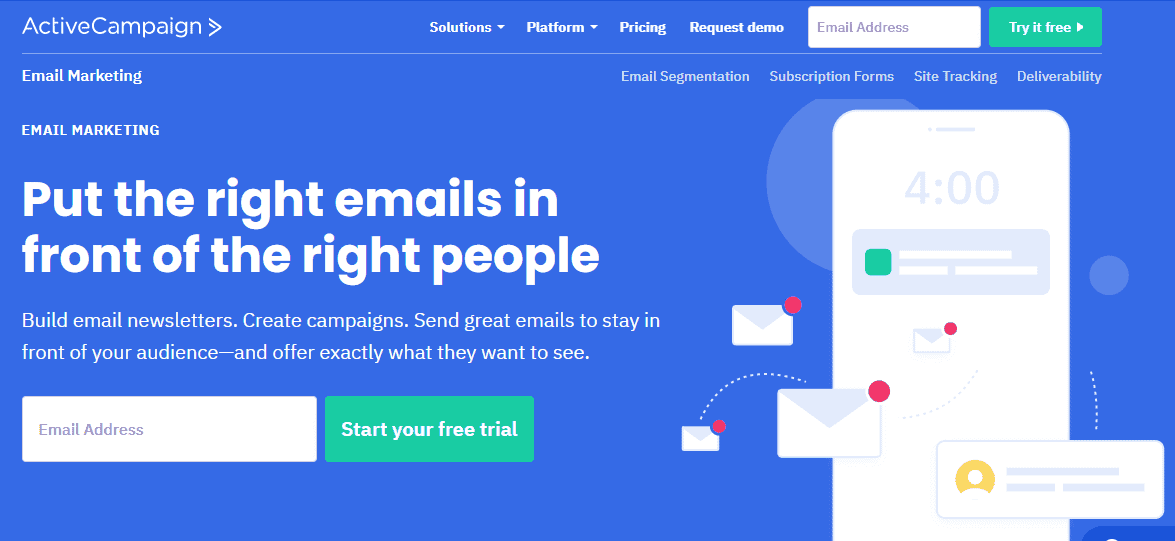 Another alternative to Mailgun is ActiveCampaign. It is a marketing, automation, and CRM software that helps you build effective email marketing campaigns with just a few clicks.
Unique Features of ActiveCampaign
Content Personalization:

It helps you send dynamic and highly personalized email content to targeted users, depending on their buying history and other characteristics.

Split Testing: The split testing and reporting enables you to identify which email subject lines and content lead to higher open rates, clickthroughs, and sales.
Pre-Built Templates:

ActiveCampaign provides over 250+ free built-in email templates that use HTML and are B2B and B2C friendly.

Multi-User Editing:

This feature helps you collaborate and edit your email marketing campaigns in real-time with your team.
Pricing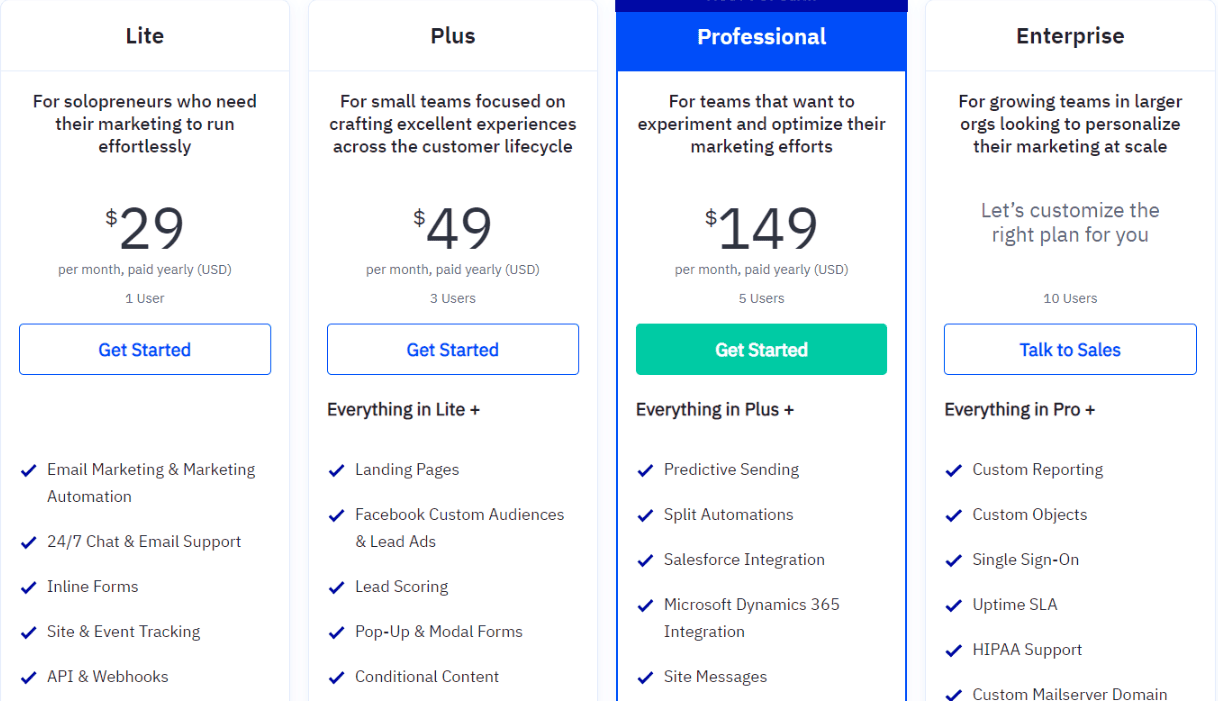 ActiveCampaign offers four types of plans – Lite, Plus, Professional, and Enterprise.
The Lite Plan starts at $29 per month and is ideal for individuals. Some of the key features under this plan are email marketing and automation, 24/7 email and chat support, inline forms, site and event tracking, and API and Webhooks.
With the Plus Plan, you can have more tools, including landing page templates, lead scoring, conditional content, Facebook Custom Audiences, and integrations with Shopify, WooCommerce, and BigCommerce. The plan starts at $49 per month.
For growing businesses, the Professional Plan works best. It comes with predictive scoring, split automation, site messaging, conversions, and attribution reporting for $19 per month.
Under the Enterprise Plan, there are advanced tools such as custom reporting, SSO, uptime SLA, unlimited email testing, and a custom mail server domain. To buy this plan, businesses can contact ActiveCampaign's sales team directly.
Pros

ActiveCampaign has a wide range of integrations and automation tools, so it is among the best platforms for beginners to create effective email marketing campaigns.
Cons

The platform can sometimes be slow since campaigns take time to load. Also, ActiveCampaign can add more tools for reporting.
See why EngageBay is the best alternative to ActiveCampaign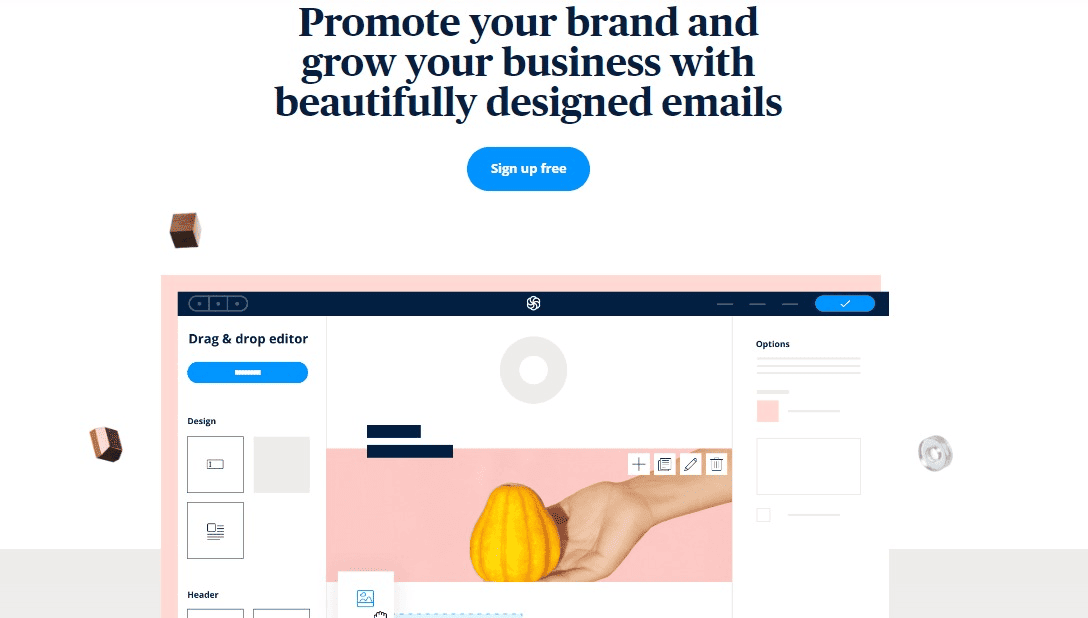 If you are searching for a platform that offers both email and digital marketing tools, look no further than Sendinblue (Brevo).
It provides all the marketing tools you need to grow your business and reach the right clients.
Unique Features
Content Personalization:

This feature allows you to customize the content as per your users' needs and schedule sending at the right time.

Shared Inbox:

It helps you keep your teams organized and track conversation history with your customers in one place.

Transactional Email:

It improves email deliverability by ensuring they don't land in the spam folder.

CRM:

This tool lets you maintain all your contacts on a single dashboard and update them automatically.
Pricing

Sendinblue (Brevo) has four pricing categories – Free, Starter, Business, and Enterprise.
The Free Plan provides up to 300 emails daily, customizable email templates, a drag-and-drop editor, transactional emails, and SMS and WhatsApp campaigns.
The Starter Plan costs $25 per month and comes with unlimited contacts, 20,000 emails per month, basic reporting and analytics, and email support.
With the Business Plan, you can avail of marketing automation, A/B testing, advanced statistics, multi-user access, send time optimization, 20,000 monthly email sends, and unlimited contacts for $65 per month.
To buy customizable plans, the Enterprise Plan works best. It boasts advanced tools such as sub-account management, tailored onboarding, personalized support, and enterprise-grade security. You can contact Sendinblue's (Brevo) sales team directly for the pricing in this plan.
Pros

With its large number of customizations, user-friendly interface, and tools, Sendinblue (Brevo) is considered one of the best email marketing platforms for businesses.
Cons

Features such as drip marketing campaigns and email subscriber base need improvement.
Read also: 5 of the Best Sendinblue (Brevo) Alternatives (Pricing, Advantages)
Mailgun vs EngageBay vs ActiveCampaign vs Sendinblue (Brevo): Which Is The Best Email Marketing Platform?
Among the various Mailgun alternatives, which one of them is the best?
Below are two tables, one with Mailgun pricing versus its competitors and another that compares their features.
Mailgun Alternatives
No. of Contacts (pricing/user/month)
500
10,000
50,000
100,000
Mailgun

$35

$35

$35

$75

EngageBay

$14.99

$67.99

$67.99

$84.99

ActiveCampaign

$29

$49

$149

Contact the sales team directly

Sendinblue (Brevo)

Free

$25

$65

Contact the sales team directly
Compared to Mailgun, its alternatives appear to be more affordably priced.
Although some platforms, such as EngageBay, don't provide free plans, they offer more features when compared to Mailgun.
Further, Sendinblue (Brevo) offers unlimited contacts across all four plans.
What's more, the customizable pricing option provided by ActiveCampaign and Sendinblue (Brevo) makes them more attractive to large teams and businesses, which Mailgun lacks.
Here is another table that compares the key features of Mailgun to its competitors.
| | | | | |
| --- | --- | --- | --- | --- |
| | Mailgun | EngageBay | ActiveCampaign | Sendinblue (Brevo) |
| Free Plans | Provides a 30-day trial plan | Available | Not available | Available |
| Email Tracking and Reporting | Available for all plans | Available for all plans | Available for all plans | Available only for the Business and Enterprise plans |
| Split Testing | Only available for the paid plans | Only available for the Growth and Pro plans | Only available for the Professional and Enterprise plans | Only available for the Business and Enterprise plans |
| Unlimited Contacts | Not available | Only available for the Pro Plan | Available for all plans | Available for all plans |
| Email Scheduling | Only available for the Scale Plan | Available for all plans | Only available for the Professional and Enterprise plans | Only available for the Business and Enterprise plans |
| SMS Marketing | Not available | Available for all plans | Only available for the Plus, Professional, and Enterprise plans | Available for all plans |
| Mobile App | Not available | Available | Available | Available |
The table shows Mailgun is missing many essential features, and some are limited to only the highest-tier plan.
By contrast, email marketing software like EngageBay and ActiveCampaign have advanced features even in their free and basic plans, while Sendinblue (Brevo) has unlimited contacts across all its plans.
Moreover, Mailgun does not have a mobile app, while other platforms do, making them more attractive to businesses and individuals who are always on the go.
So which one are you going to choose for your business? If you want to learn more about EngageBay, feel free to contact us.