All companies rely on sales figures to see how they are performing. That said, looking at the revenue generated cannot help pinpoint what's working (or not).
Without metrics to guide you, it's hard to make educated and data-driven decisions that will benefit your company now and in the future. This is where sales analysis comes in.
In this blog post, we show you the importance of sales analysis, its types, and how to implement it into your workflows.
We'll also show you how to 'read between the lines' of sales analysis reports and help you draw powerful conclusions and insights.
What Is Sales Analysis?
Sales analysis assesses, analyzes, and monitors a business's sales efforts. Sales analysis may include capturing, filtering, and analyzing sales data to evaluate past sales performance and predict future sales figures. Sales analysis aids in making strategic business decisions and developing effective sales tactics and strategies.
Sales analysis often includes the following:
Sales trend analysis: Sales trend analysis is the process of studying sales data of a business over a specified period to determine and identify patterns, fluctuations, and trends. Trend analysis also involves the analysis of seasonal sales trends, market trend analysis, growth rates, sales forecast analysis, and performance comparisons with previous periods.
Product performance: This sales analysis reveals the products/services that are performing well and the products/services that are not – and helps focus or redirect efforts more effectively.
Customer behavior: This analysis helps understand your customers better, including their purchasing behavior, and helps businesses tailor their offerings to suit the customers' needs.
Sales channel performance: Channel analysis evaluates how effective various sales channels are – this may include direct, online, physical retail, or even social media.
Sales force performance: Sales force analysis evaluates the performance of sales teams, regions, departments, and even individuals.
Market comparison: This involves comparing a business's sales performance and figures with competitors and industry benchmarks and can provide valuable insights.
Sales analysis leverages various analytical and marketing tools to help visualize complex data and monitor a business's sales performance. This can then be used to formulate a plan of action. AI and machine learning have revolutionized sales analysis, including advanced sales forecasting, predictive analytics, and more.
It is important to note that sales analysis shouldn't be dull numbers or dry paragraphs. You can visualize it in the form of bar graphs and charts.
Take a look at this example to see what a sample report might look like: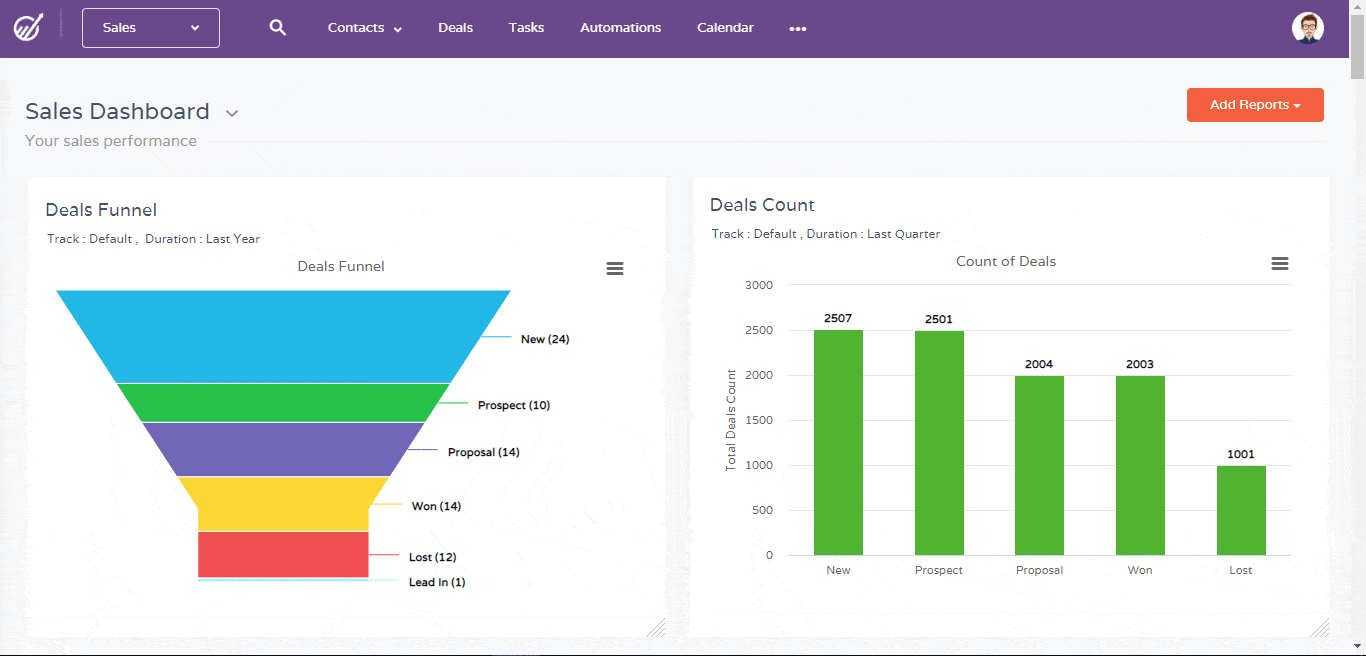 The above sample sales report shows a handful of metrics your company may begin tracking for your sales reps and sales team going forward.
Here are some other KPIs you need to consider:
Regional sales

Average purchase value

Sales per rep

Quote-to-close

Cannibalization rate

Sell-through rate

Lead conversion rate

Product performance

Sales to date

Sales opportunities

Sales targets

Sales growth
Read Also: 10 Top Sales Analysis Software for Small Business Owners
What Are The Different Types of Sales Analysis?
Now that you have a clearer understanding of sales analytics, let's talk more about the different types of analysis you can perform to get valuable insight metrics.
Market Research
The first type of sales analysis we're discussing is quite important.
It's known as market research or market analysis, where sales professionals and sales managers survey leads and potential customers to gain insights about their behavior and affinity towards your products.
You can do this in person or through online surveys — depending on your business type.
👉Get inspired by the best sales page examples to create high-converting pages – explore our comprehensive guide now! 🌟
Prescriptive Analysis
With prescriptive analytics, you use predictive information to learn more about your potential customers.
This tells you which deals are worth chasing and which are better left behind. Also, for the deals your sales team or sales manager does decide to pursue, they'll have a good approach ready to make the lead or prospect more receptive to the sale.

Diagnostic Analytics
Using diagnostic analytics, you can better review your company's current and past sales data to understand less-than-stellar emerging issues.
For example, maybe your new product didn't sell as well because it came out right before the pandemic. This sales data analysis can help you ideate better ways to reach customers and prospects.
👉Winning at sales isn't just about closing deals. It's about managing your leads effectively. Discover how in our comprehensive guide on sales lead management.
Sales Effectiveness Analytics
Who are your most effective sales representatives? Sales data analysis can help you pinpoint your best sales rep/sales reps (and those struggling), and can give valuable information during sales coaching.
As this dictates your company's ability to win deals, you can use this sales data to optimize your workforce and key tasks.
Read more: Sales Blitz Definition, Example, and Sales Strategy
Product Sales Analytics
The success of your products depends on the actionable insights you gain through product sales analysis. You must conduct sales analyses for all the products you sell regularly.
If certain products have gone beyond their useful life and have underperformed for a while, you might use sales metrics here to decide whether or not to continue the said product.
Sales Pipeline Analytics
If you only had one choice, you'd have to choose this one. That's how important sales pipeline analytics is.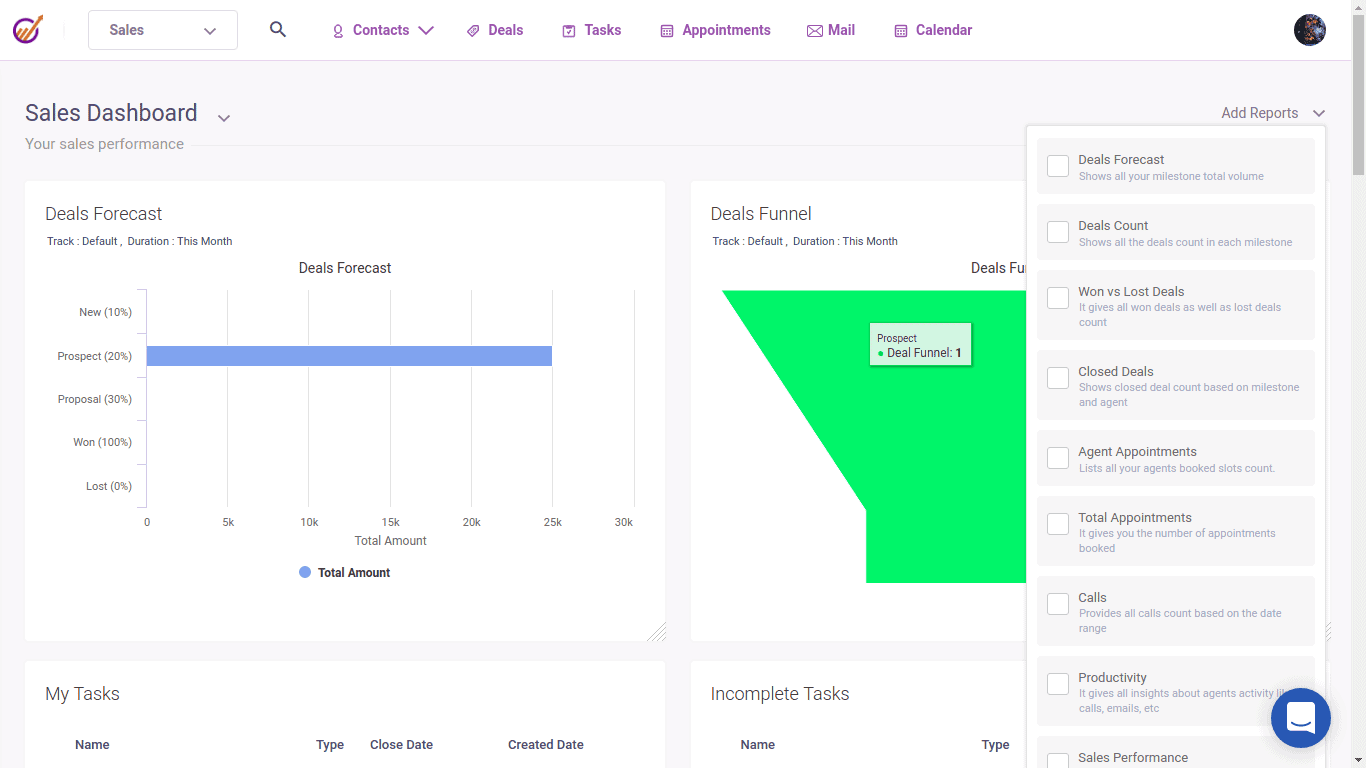 By studying analytics related to your sales pipeline, you can see how many leads convert to customers, how long they remain customers, who your most qualified leads are, what their money-making potential is, and which sales team member is assigned to work with them.
Use a sales analytics software like EngageBay to streamline your sales pipelines.
Read also: 12 Powerful Sales Growth Strategies (+ Calculations)
Predictive Sales Analytics
If you're not entirely pleased with the accuracy of your sales pipeline analysis, you may want to supplement the information with predictive sales.
These sales data analytics are automated, so your sales forecasting can give you an accurate glimpse into the future. It's almost like having a crystal ball!
Predictive sales pipeline analysis is super helpful for companies of any size, from small businesses to Fortune 500s and anything in between.
Read also: Sales Report Template — How and Why to Create One
The Importance of Sales Analysis
Let's look at what all good sales analysis can do for your business.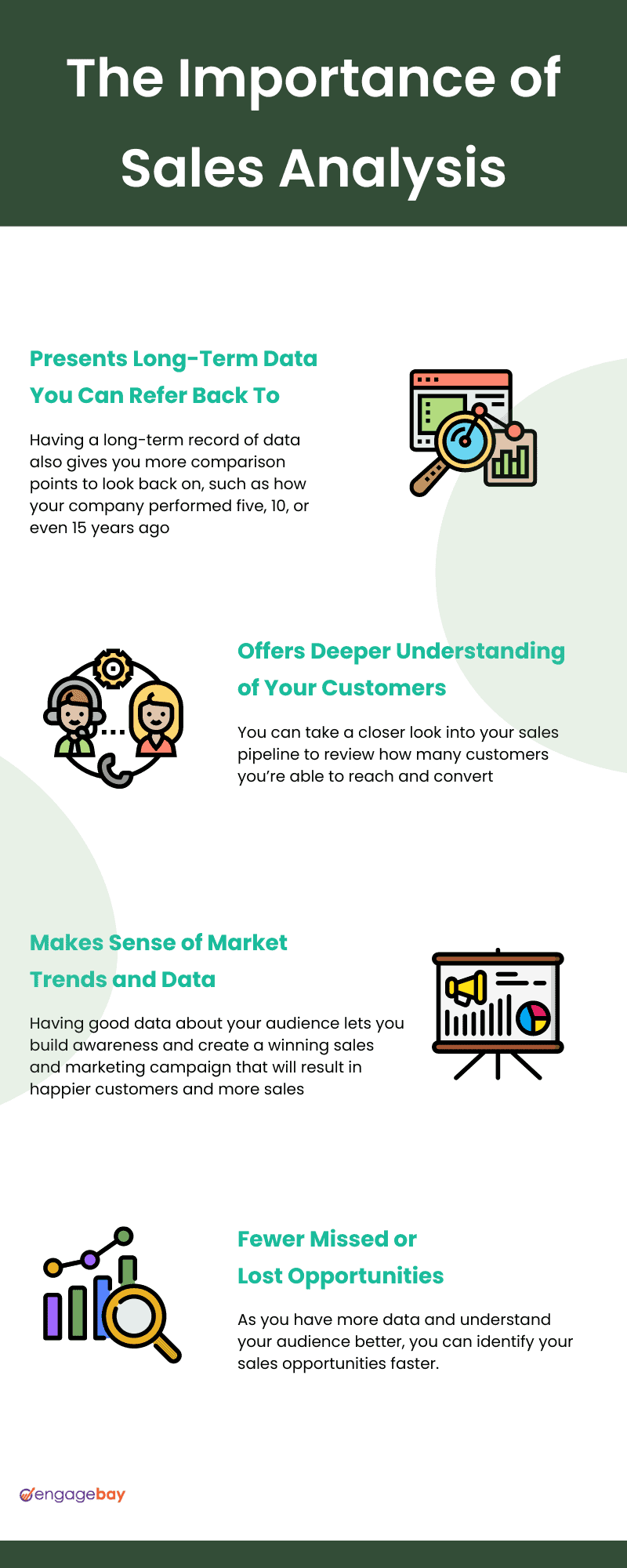 Presents Long-Term Data You Can Refer Back To
For new businesses, sales analytics is indispensable.
As you begin to experience growth in the years ahead, you can express it in specifics — with numbers and stats to back you up — instead of using general terms.
Even if your company has been around for a few years, it's never too late to start tracking your sales analytics. Having a long-term sales data record also gives you more comparison points to consider, such as how your company performed five, 10, or even 15 years ago.
Related blog: How to Build the Perfect Sales Enablement Strategy?
Offers Deeper Understanding of Your Customers
Does sales data analysis sound too dry to you? Well, what if we refer to it as 'Customer Analytics?'
You can see which products and services your customers like, as these will be the ones that sell the best. You can also take a closer look into your sales pipeline to review how many prospects and customers you can reach and convert.
Having a pulse on what makes your prospects and customers tick is one of the greatest tasks of any company. If you understand your audience inside and out, you'll have more conversions and greater sales — and you can retain customers better.
Read also: Breaking the Rules — The Art of Guerrilla Marketing and Why It Works
Makes Sense of Market Trends and Data
In the last section, we mentioned market research as one of the top sales trend analysis methods.
Having good data about your audience lets you craft sales deals that become useful for your company in many ways. For example, before unveiling a new product or service, you can refer to your sales target market data to gauge receptiveness.
This lets you build awareness and create a winning sales and marketing campaign that will result in happier customers and more sales.

Fewer Missed or Lost Opportunities
Why take shots in the dark when you have sales analysis?
Without sales performance analysis, we can guarantee you're missing out on opportunities — even if your sales team works tirelessly.
As the saying goes: ''Work smarter, not harder.'' Each lost or missed opportunity is money your company loses.
Market research is crucial in reclaiming these lost opportunities. When you know your audience better, you can identify sales opportunities that weren't otherwise apparent.
Read also: The Sales Analyst Job Description at 25 Top Companies
How to Perform a Sales Analysis Using CRM Tools
To understand your customers, continue selling goods they care about, and predict future market trends, analyze sales forecasts, your company must begin gathering sales data.
Using a customer relationship management (CRM) software like EngageBay, you can perform sales analysis without needing an expensive sales force software.
The sales process involves three simple steps:
Step 1: Determine Which Sales Data Will Go into the Report and Gather the Data
Using the metrics and types of sales analyses covered in this article, determine which sales data is most important to your company at this stage — a crucial stage of the sales process. Metrics can be anything from competitive analysis, net sales, product sale data, revenue, and even Google Analytics data to help you make informed decisions.
Ask yourself some questions during this early yet critical stage of formulating your own sales analysis report based on sales activity:
Which of your products sells the most?

Does one product have anything in common with the other? If so, what, and can you replicate it?

Who are your repeat customers?

What characteristics or traits do they have in common?

How much time do you put into your company's sales training?
Yes, those are a lot of questions you need to answer, but you must take the time to go through them one by one and come up with accurate, data-driven responses.
You don't necessarily have to do this by yourself, so involve other key stakeholders in your company and your sales and marketing teams.
Once you can answer those all-important questions, you need to determine what your most relevant variables are to meet your sales goals.
Read also: What Is Sales Volume? 8 Strategies to Boost Your Revenue
Step 2: Use a CRM Tool for Evaluating Your Sales Data
Whether your CRM software requires you to manually input your information or import it over, get all the sales data loaded into the program.
You can then draw up an overview of your company's sales (present and past sales).
Boost your sales success with the ultimate lead management techniques – dive into our in-depth guide today!
Step 3: Send the Report to People Who Matter
Once you get the reports, you can let your marketing, sales, and customer service teams take a look. This can help them tremendously as it offers a roadmap to improve their sales processes.
Read also: 10 Data-driven Marketing Trends You Can't Ignore
How Do You Analyze Sales Reports?
How do you analyze a sales report? Here are some tips for making sense of all the information in front of you.
Determine a Relevant Range
Keep the time range in mind when creating your analysis report, so you're not left to scale a seemingly endless mountain of numbers. Depending on what you need, you can look at quarterly data, or sales data from a year or two back to compare with current benchmarks.
Even if you went overboard in your sales reporting, you can clip the sales data range and present only the dates you want displayed, as this is most relevant to what's happening in your company now.
👉Want to take your sales game to the next level? Understand the real meaning of strategic selling from our comprehensive guide.
Focus on Certain Sales Metrics
With a dozen or so sales metrics you can track to determine the success of your sales team, it's easy to feel a little overwhelmed.
Again, there's no need to present every single sales metric if your stakeholders are only interested in lead conversions or product cannibalization info.
Cherry-picking metrics is all well and good and sometimes even preferable. However, ensure you don't fall into the trap of only pulling the sales metrics that make your company look great and sweeping the bad metrics under the rug — successful sales leaders warn against doing this.
Failing to paint the whole picture of a poor sales period can cause you to lose business partners, which is almost as bad as losing customers. It's certainly just as costly.
Read also: Why are Startups Losing Money (& What to Do About It)?
Conclusion
Now that you know the importance of sales analysis for your business, it's time to implement it.
A sales analysis tool shows both sides of the coin: On the one hand, you get to know the best-performing sales agents, segment hot leads, set up your sales goal, and identify the campaigns that bring in customers in hordes.
On the other hand, you can weed out cold leads, train struggling agents, and tweak or improve failed products or campaigns.
There are a few great CRM software in the market today. For small businesses that need a comprehensive yet affordable sales analysis software, EngageBay is an excellent choice.
Watch this testimonial from Lauraine M., a small business owner:
It's more than a sales analysis tool, though.
You get hundreds of marketing, sales, and customer service features — all packed into affordable plans. You get all your reports in neatly organized dashboards. Oh, and you can create custom ones, too.
Sign up now, or book a 30-minute demo with our experts — we are here to help you grow your business.