It's 2022, and sales processes at the best and largest of organizations are increasingly getting streamlined with sales automation software, giving their sales reps more time to sell.
On the other hand, most sales teams still spend around 50% of their time on sales tasks that can be automated.
Sales automation is already beginning to play a major role in the sales process as it automates many manual tasks that are currently carried out by salespeople.
A recent study found that over 80% of business leaders are looking into sales automation solutions because they realize how important it is for them to streamline their sales management processes. Are you among them? Great!
Sales automation will help you close more deals by freeing up all the time spent on routine tasks so you can spend it on high-value activities that drive revenue.
And with powerful tools like automated email campaigns, automated follow-up emails, a visual sales pipeline, and automated segmenting and assigning of leads, it'll be easy as pie!
In this blog post, we will tell you exactly how sales automation works and how you can start automating your sales process today.
What Is Sales Automation?
Customer relationship management (CRM) and sales automation software refer to the technology designed to streamline sales organizations by automating sales tasks and workflows.
Sales automation facilitates the sales process across sales teams, partners, distribution channels, and customers, enabling salespeople to focus more on closing deals with high-value prospects while maintaining relationships with existing customers.
Sales automation enables sales professionals to save time by taking care of administrative tasks like updating contact information, managing calendars, and processing opportunities without having to manually enter data into their CRM system.
With the assistance of pre-built applications that are integrated into their software suite, sales professionals can manage their sales pipeline in real-time, proactively follow up with leads instead of waiting for them to contact them first, record touchpoints with customers, and close sales faster.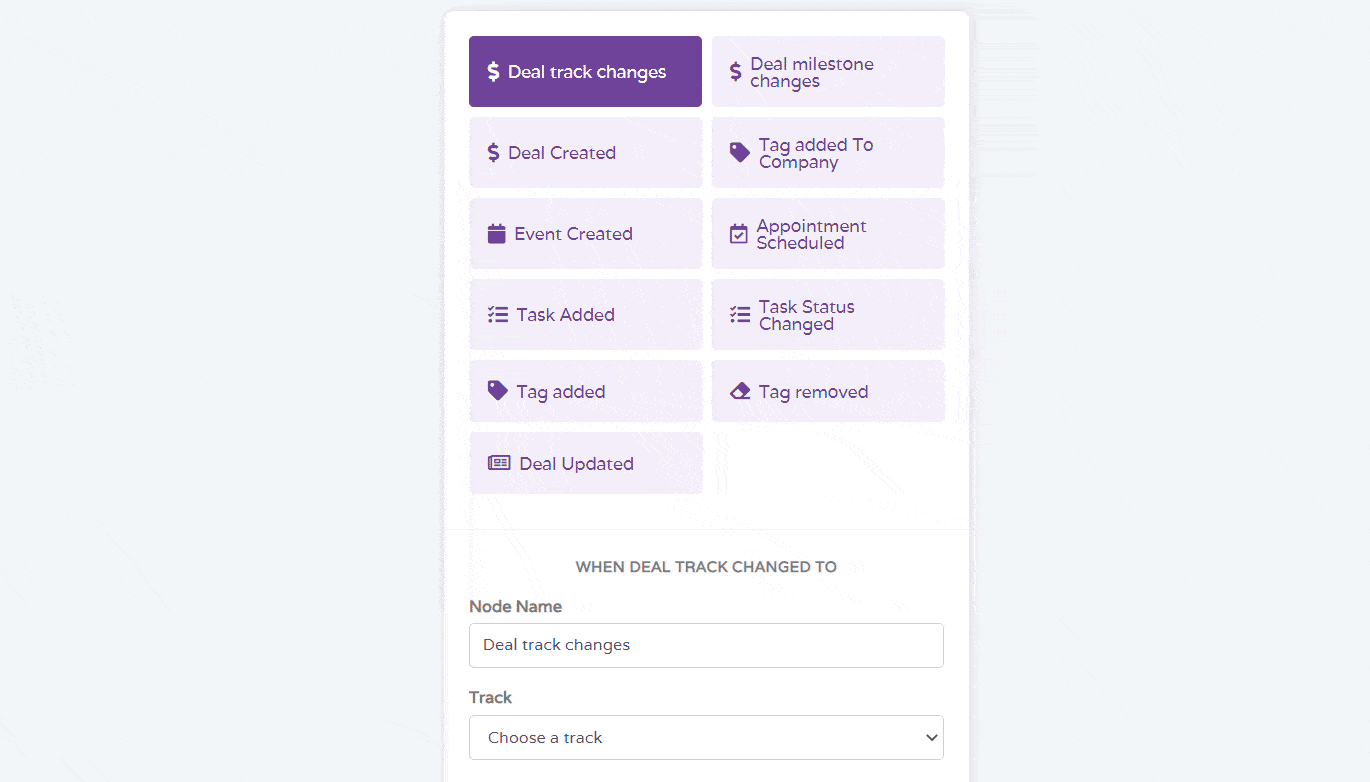 Most sales organizations use sales automation software to build sales funnels that map out each prospect's journey from the moment they are first identified until they become a customer.
The sales funnel includes activities like identifying relevant prospects (prospecting), finding contact information for those prospects (lead generation), following up with leads, moving qualified leads forward in the sales process through lead nurturing, converting these leads into opportunities, and closing deals.
Sales teams can automate repetitive tasks associated with each stage in their sales pipeline by embedding them in their CRM platform or linking them to their sales data so that every member of their sales team has access to accurate information.
Related blog: What is Sales Velocity and How Do You Measure this Metric?
How Does Sales Automation Work?
There are seven steps in the sales automation process:
Automated guidance
Lead management automation
Communication automation
Automated data entry
Automated research
Automated activity logging
Automated record creation
Let's get into the details.
Automated guidance
With this form of automation, the sales teams receive reminders and notes from the sales automation software. This keeps the reps on-task and prevents them from missing important prospects who could be converted into paying customers.
Lead management automation
Speaking of converting prospects into customers, there's lead management automation.
With this step of automation, the sales executive can use rules and filters that allow them to create a more curated list of leads.
Based on lead characteristics and behavior, including email opens, click-through rates, and social searches, your sales automation software can easily segment and score your leads and divide them into neat lists or 'buckets' to work on.
Communication automation
From sales email automation to automated voicemails, appointment scheduling tools, and personal email sequences, communication automation matters a lot.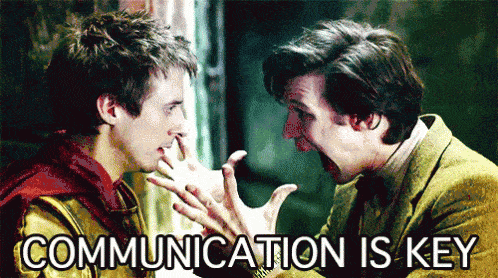 Automated data entry
Data entry can be incredibly tedious and time-consuming, but it's also a duty that's unavoidable. Well, that was before the proliferation of sales automation tools.
By auto-filling sales data like prices, product details, and contact details for leads and customers, the sales automation software streamlines contact management and saves valuable hours for your sales reps every day.
Automated research
Sales automation software goes beyond the sales team's human ability to shake down the web and social media for key information on prospects and customers.
It uses that information to create and update lead profiles, score leads on their win probability, and identify hot sales opportunities.
This helps the sales reps incredibly because it saves them time and ensures that they are constantly up to date on the latest information about their contacts and prospects.
All this knowledge is stored in a central repository so it can be easily accessed by all members of the sales team.
Read more: Sales Blitz Definition, Example, and Strategy
Automated activity logging
Sales emails, phone calls, in-person visits: all this needs to get logged in real-time, so other reps know how far one rep has gotten with a prospective customer.
Automated activity logging does all that for the agent, once again saving them a lot of time to focus more on lead generation and closing deals.
Automated record creation
When your sales teams scan business cards or receive newsletter opt-in confirmations, they can simply let the sales automation software create the new records and profiles.
As record creation is automated, the sales reps are relieved of a major time-wasting task. They can instead focus on closing deals with hot leads that the software identifies for them.
The 4 Stages in Automating the Sales Process
You know that you want to automate your sales processes, but you may not yet know how to do so. In this section, we will walk you through the four stages of sales automation.
Your sales process automation must follow a pattern that looks something like this:
Awareness

Interest

Decision

Action
Here goes:
Awareness
Your potential customers may find your business through a Google search, a paid advertisement on a website or social media, or even from a guest post on a blog.
The lead knows nothing much about your company yet.
At this stage, it's best to make some great sales offers for a limited period. Email and SMS marketing, are perfect for direct channels for this. You can engage with the leads and evoke more interest.
Interest
If the lead takes interest in your products, you move on to the next step.
To reach this stage, the lead must have had some form of interaction with a sales rep from your company, such as opting in for an email newsletter or calling for a price quote.
Now that you have their interest, you must maintain it, and that means peppering the lead with information about why they need your products or services.
To that end, whitepapers, eBooks, and blog content can help.
You can automate sending a sequence of welcome emails. You can also set automation for reminders to be sent to your sales reps to call the leads if the leads click through the emails.
This stage is all about capturing and building on interest, and automation can save plenty of time here.
Decision
Now, your lead moves on to the third phase, or the decision stage.
Here, you want to save time and use automation to keep in touch with them, share key information about your products, and even send across some confidential information that can include product documentation, pricing contracts, invoice details, and so on.
Sales automation tools can help you automate the entire process of storing, updating, and sharing all these documents with no or little effort from your sales reps.
Action
The last step of course would be payment and confirmation of the same, sending across the product to the new customers or getting them started with your company's services, and so on.
As you'd know, this step in the sales funnel can take up a lot of man-hours, and that keeps you from contacting new hot leads.
Sales automation software can do the job of tracking all new deals, payments, and customer details. Your software can tell you exactly how many deals have been made, and who's yet to make their payment or receive their products.
Deploying an automated billing system also reduces administrative effort, improves your cash flow, and makes subscription management easy in general.
This way, you get to track revenue by the types of products or services, for monthly, weekly, quarterly, or any other custom time frame you like.
Related blog: Ace the Sales Process — 9 Strategies Nobody Ever Follows
The Difference Between Sales Automation and Marketing Automation
The difference between sales automation and marketing automation can be subtle.
It can depend on the extent to which your organization has matured in assigning separate tasks to the sales and the marketing teams.
Largely, marketing tasks are related to attracting leads, qualifying them based on their behavior, and passing the qualified leads on to the sales team.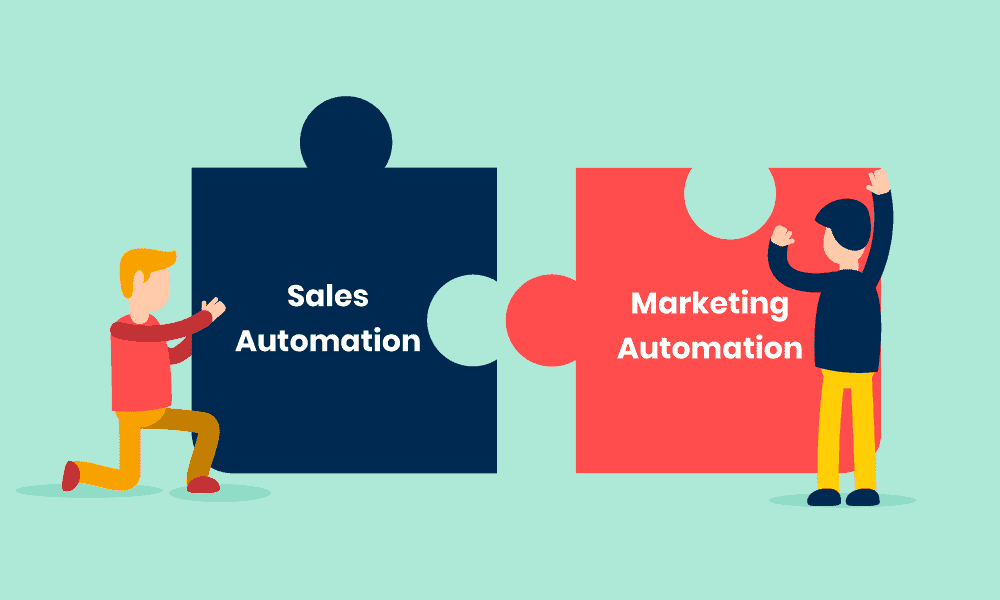 Sales reps have the responsibility of converting qualified leads into paying, repeat customers. This can involve a lot of tasks, some of which we've covered in detail.
To keep it simple, just think of marketing automation as saving time in finding and qualifying new leads, and sales automation as saving time in the whole process of converting leads into customers and keeping them engaged with the brand.
Till now, businesses had to rely on plenty of different software to automate these tasks, but now there are some powerful CRM systems that can do both marketing and sales automation.
Related blog: Sales Force Automation — An Easy Guide for Beginners
How EngageBay Can Help with Sales Automation
Let's get one thing out of the way: HubSpot is the big daddy in this space.
However, if you do just a little homework, you'll realize that HubSpot is super expensive, and not really made for small businesses.
EngageBay was launched in 2017 to help small businesses and startups that need an all-in-one marketing and sales automation software on par with HubSpot, with similar features but without the crazy prices.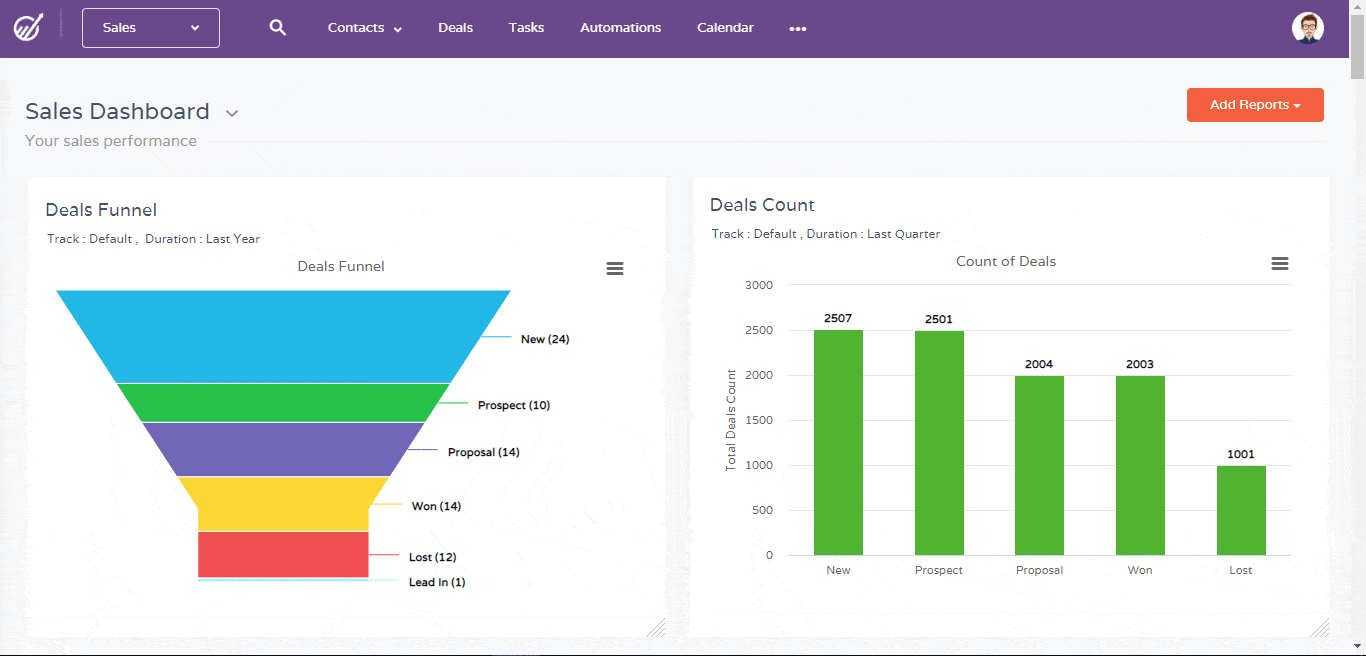 Thanks to its powerful, smooth automation tools, EngageBay can help you with:
Reaching out to customers' phone numbers via phone from the

online CRM

.

Call recording and logging call data in real-time, so you never misplace any communication records.

Appointment scheduling with calendar links inserted right into the signature of your emails.

Email tracking to predict what your leads and prospects might do next, such as opening emails and clicking through; you can then establish an automated workflow to strike while the iron is hot.

Studying sales analytics for default and custom metrics.

Establishing multiple visual deal pipelines, so you can track the progress of hundreds or thousands of leads in the sales funnel.

Reviewing data like past customer communications, updated customer information, and other interactions to get a 360-degree view of the customer's needs. This allows you to achieve greater customer satisfaction.
To be a bit more specific, let's look at what you can do in sales automation with EngageBay:
Create web forms with setup rules that ensure the message appears when you want it, such as an exit pop-up that can retain a potential customer and drive them back to make a buying decision.

Personalize emails to build a bond between your company and the customer.

Segment your audience based on their persona, email response, online behavior, and the corresponding lead score (win probability).

Automate drip email campaigns and email sequences.

Automate the workflow of interacting with the customers from the first contact to the payment point.
Related blog: How Does a Sales Dashboard Help Improve Revenue?
Conclusion
In summary, sales automation refers to using cloud-based sales software to streamline sales processes and enables salespeople to automate repetitive sales tasks.
Sales automation frees up time for salespeople by eliminating many of the manual activities they'd have to do in a CRM system, such as changing contact information, scheduling meetings, and resolving potential sales.
If you're looking for the right CRM and sales automation software to take care of all this for your business, try EngageBay — it is loved by more than 30,000 business owners around the world! (Read some 5-star reviews here).
Dan A goes into detail about how he used EngageBay to solve his business problems. Here's a sneak peek:
EngageBay can help you automate sales tasks, track your sales funnel and sales activities, manage your sales pipeline, manage leads, and close more deals. Sign up for the free plan today!
Want a sneak peek first? We have a comprehensive demo of our product in this video:
Sign up now, or book a 30-minute demo with our experts — we are here to help you grow your business.