In the battle of ActiveCampaign vs. GetResponse vs. EngageBay, you have three heavy hitters.
The decision isn't easy to make.
You'll need lots of information to guide you in the right direction.
We're sure that you're a bit familiar with ActiveCampaign, GetResponse, and EngageBay.
So, in this blog, we'll dive right in and talk about what truly matters to your small business.
ActiveCampaign vs. GetResponse vs. EngageBay: Feature Comparison
Automation
ActiveCampaign
In ActiveCampaign, you can automate both your sales and marketing campaigns.
Building functional automation workflows is easy; all you have to do is drag and drop.
Even if you know nothing about automation, you'll feel like a pro with ActiveCampaign.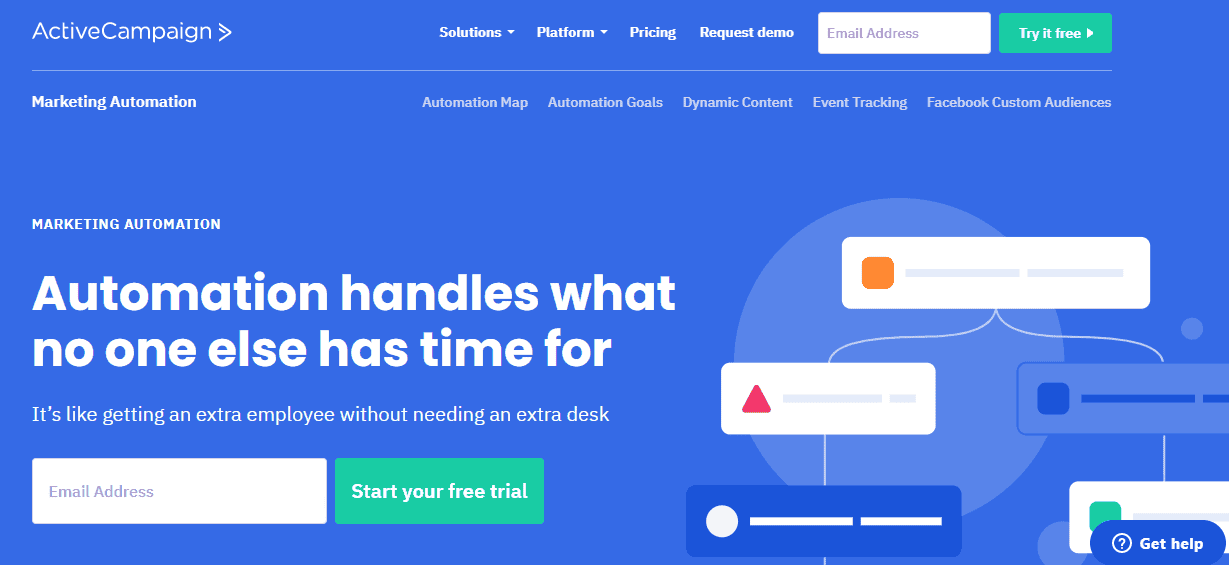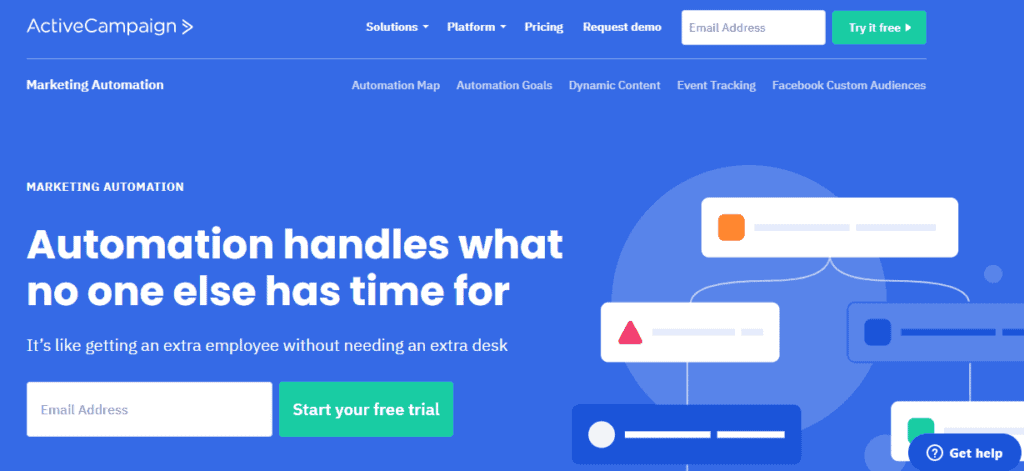 What can you use ActiveCampaign's marketing automation for?
Here is the full list:
Sending notification emails
Scoring leads
A/B testing
Customer attribution
Custom reporting
Tracking goals
Making sign-up forms
Website tracking
And these are the sales and CRM tasks you can automate in ActiveCampaign:
Creating notes
Assigning tasks
Updating deals
Sending notifications
Segmenting leads
Tracking win probability
Sales reporting
GetResponse
GetResponse has automation as well.
Like ActiveCampaign, you can create automated workflows within the software using basic drag-and-drop features.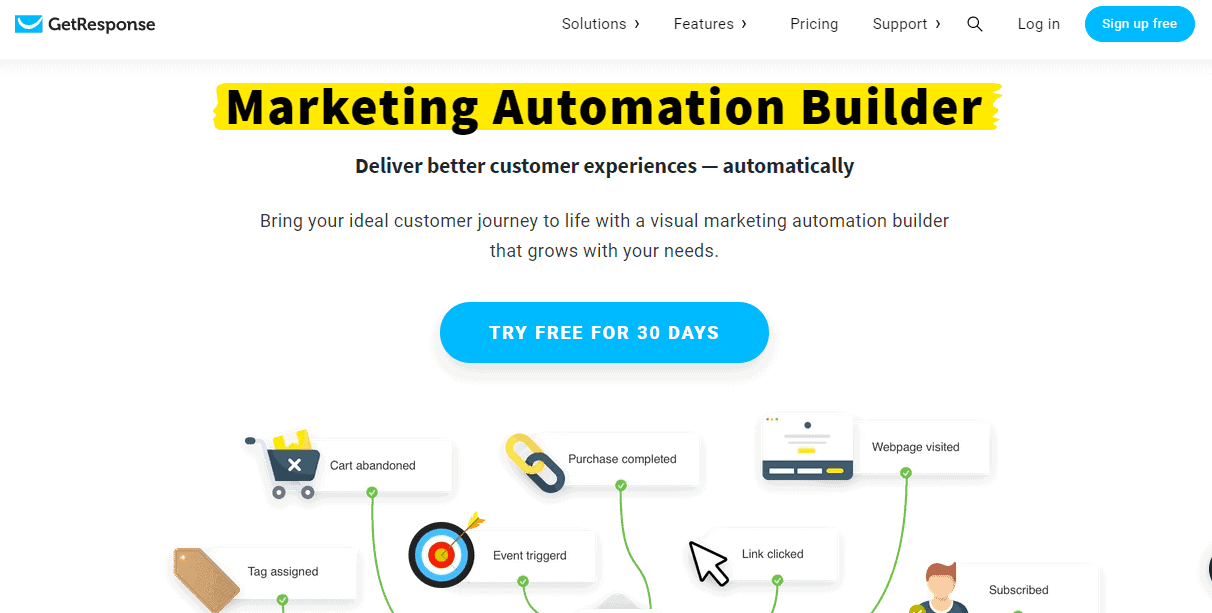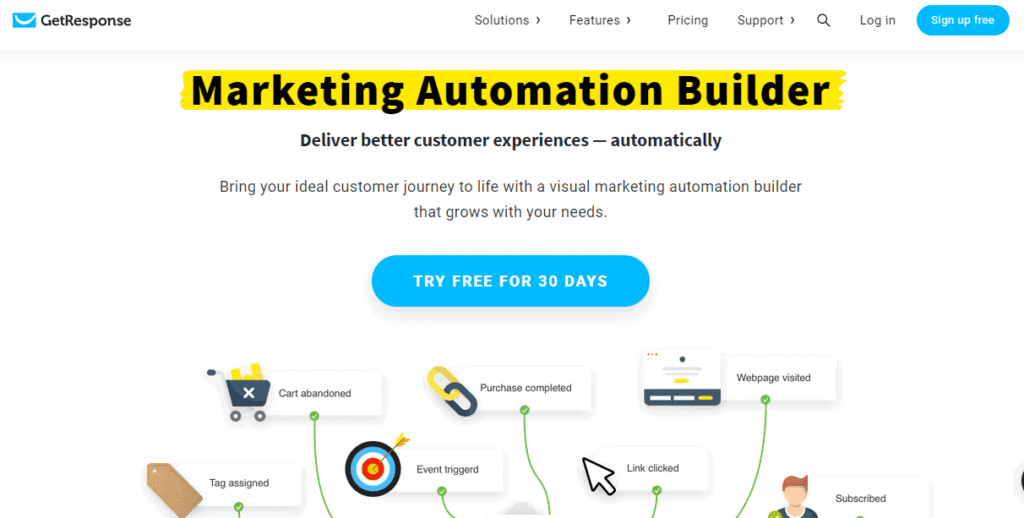 You can also score your leads and create tags to keep your contacts organized.
You can also track all your ongoing sales, your email open rates and click-through rates, and many other metrics in the tool.
EngageBay
Marketing and sales tasks are easily automated with EngageBay, and the software allows automation of customer service tasks too.
As with ActiveCampaign and GetResponse, drag-and-drop features in EngageBay let you build awesome automated workflows.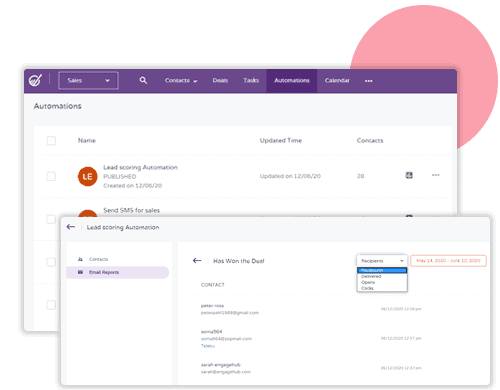 Their visual builder tool has no learning curve, so even those who have never made an automation workflow before can figure it out in minutes.
Save more of your time by automating the marketing and service tasks that matter most.
Using EngageBay, you can automate:
Making web forms
Tracking prospects
Personalizing emails
Segmenting leads
Scoring leads
Creating drip email campaigns
Assigning service tickets
Creating tasks
Help Desk responses
CRM
ActiveCampaign
ActiveCampaign understands that your job as a salesperson or marketer can take you all over the country, even the world.
That's why they've created a Deals CRM app for iOS users.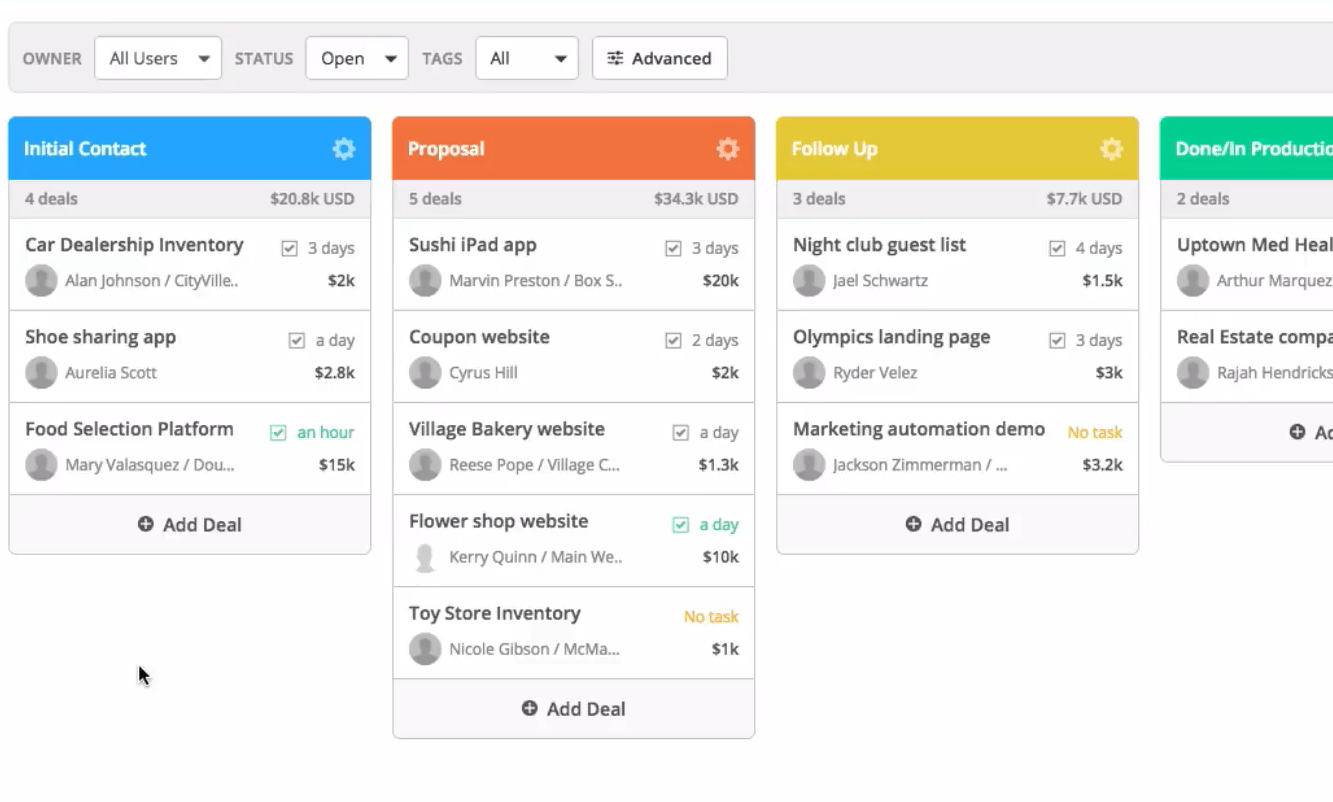 With this app, you can contact your leads or customers, track deals and tasks, update and close deals, and add lead or customer contact information on the go.
Gone will be the days of collecting business cards and hoping they don't get lost on the flight back home.
You can maximize your earnings potential by reaching out to more prospects with a streamlined CRM.
EngageBay
How often do you come across a comprehensive CRM that's also free?
Almost never!
Yet EngageBay's CRM software is free to use forever.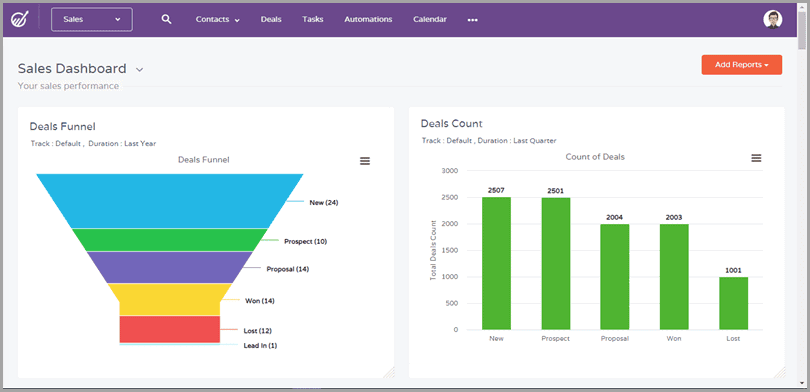 You don't even have to be a subscriber (though we bet you'll want to be) to use their CRM.
Automation is just the tip of the iceberg for EngageBay's full-fledged CRM.
Here are the other features:
CRM Telephony, which creates a backup copy of your phone records so you can continue building complete customer profiles.
Lead scoring.
CRM email integration.
Gamification and leaderboards for sales team motivation.
Visualized sales reporting with appealing, easily digestible graphs and charts.
Complete customer logs, including past phone calls, emails, meetings, and notes.
Meeting scheduling.
Email Marketing
ActiveCampaign
According to Statista, the world sends 319.6 billion emails per day as of 2021.
Next year, we're expected to send 333.2 billion.
You need a tool that can help you harness the power of email marketing.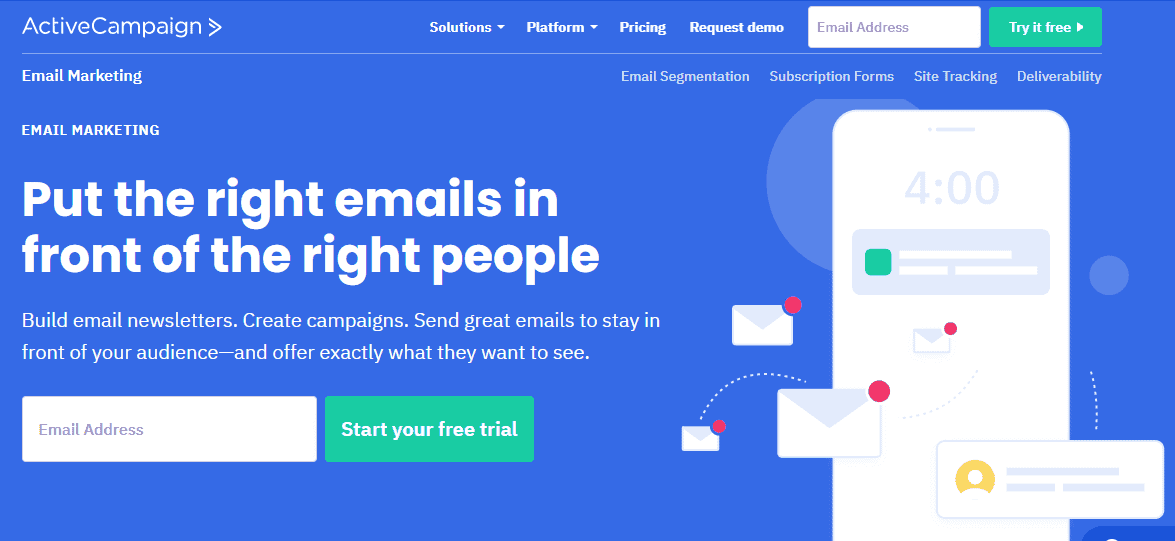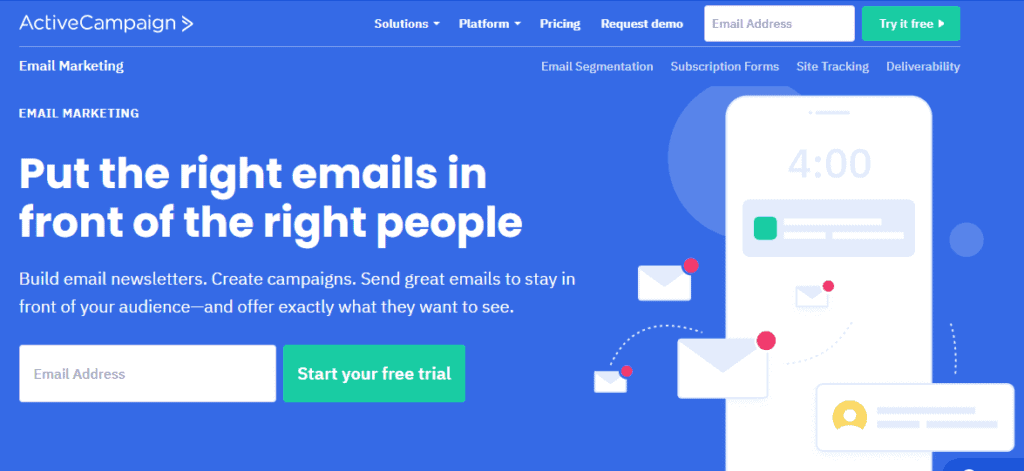 Could that be ActiveCampaign?
Whether you want to send autoresponders, start an email broadcast, or send out email drip campaigns, you can rely on this software to do it all.
Like you set up workflows in ActiveCampaign using drag-and-drop features, you can build email campaigns and automations the same way.
ActiveCampaign will feed your contact information to you so you can personalize your emails in a more hands-off manner.
Before your emails go out, you can test all the elements.
ActiveCampaign will do that with split-testing that lets you determine which of your messages can get the most views and conversions.
GetResponse
GetResponse lets you send a variety of emails, including transactional emails, blog digests, autoresponders, newsletters, and more.
You can build appealing emails from scratch using their drag-and-drop email builder.
In the email builder, you have access to stock photos and GIFs (for free, might we add) as well as premade layouts.
You can also preview your emails for both mobile and desktop views.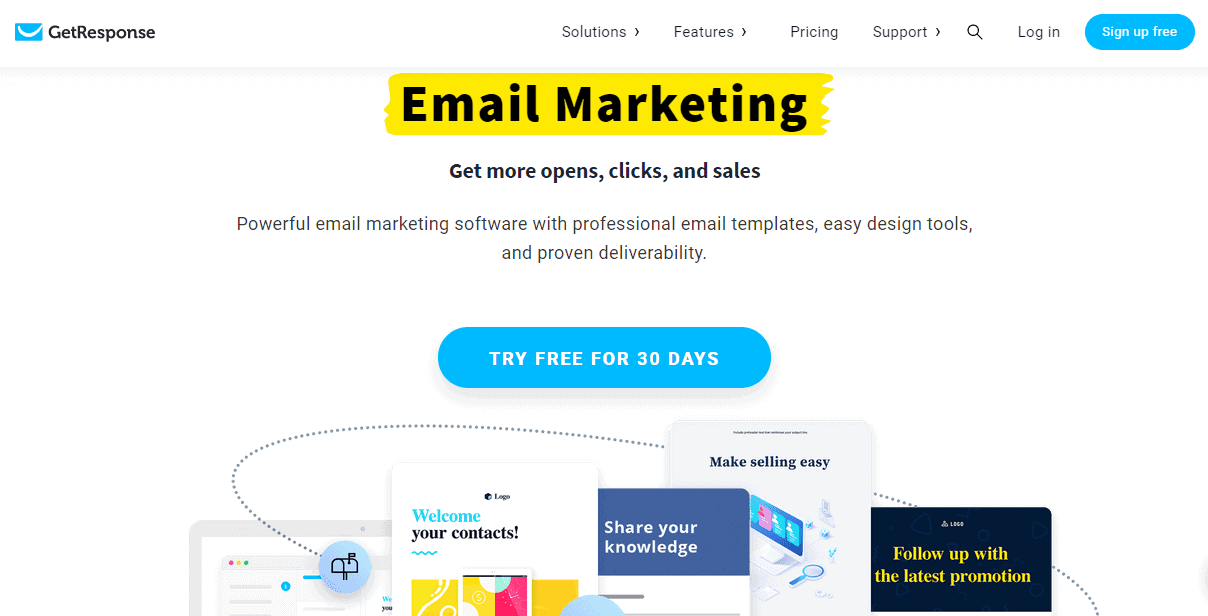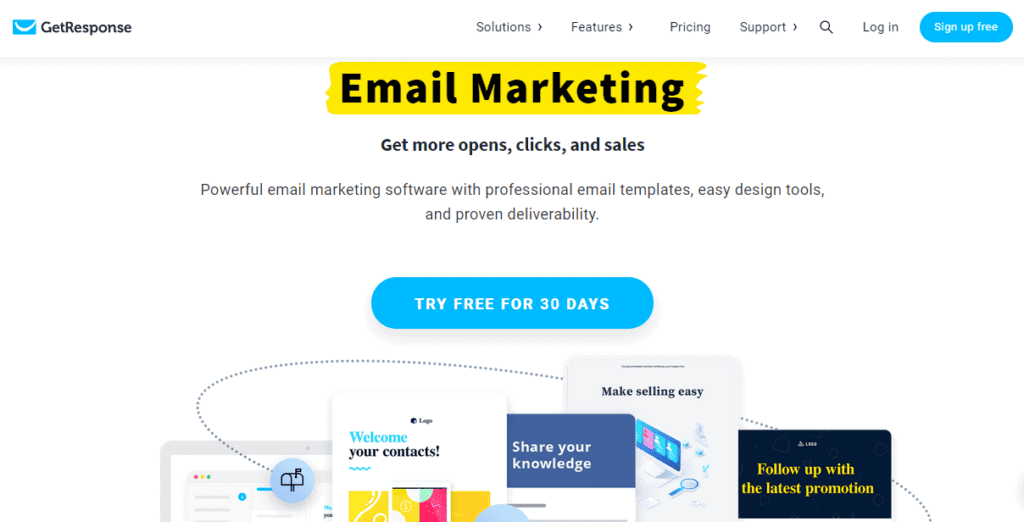 When it comes to segmenting your audience, GetResponse puts you in the driver's seat.
GetResponse even has a tool that can tell you the ideal time to send emails.
Your emails can promote your products easily when you integrate GetResponse with your online store.
The tool will also generate regular email analytics reports for you to understand the response rates.
EngageBay
EngageBay's email marketing services are a bit more holistic.
You can customize everything in your emails from the headings to the HTML tags, buttons, images, videos, RSS feed, and social links.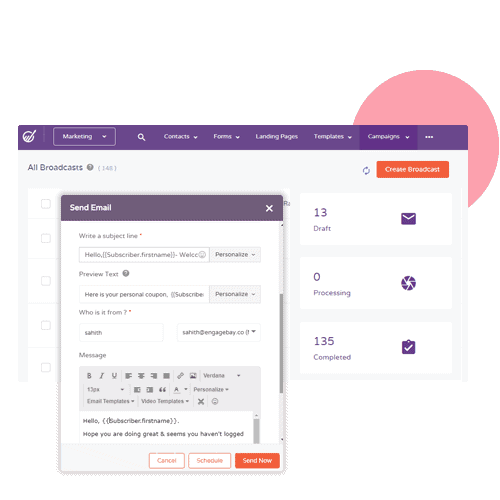 Their rich formatting makes your emails look better than the boring regular formats.
EngageBay automates segmentation too, or you can segment your leads manually using the software.
Just select a filter that best matches your message intent and only that subset of your audience will receive the email.
Their personalization features are exhaustive too.
You can pick what to personalize and the tool will pick up the right information (such as names, company, location) to include in the email.
From the beginning of your email campaign to the end, EngageBay tracks everything, providing you with live metrics along the way.
You'll be able to see how many active email drafts you have, who's received your emails, who's opened them, and who's clicked through.
Templates
ActiveCampaign
If you'd rather save time and skip the dragging and dropping to build custom emails, you can always use email templates.
ActiveCampaign has more than 125 of these templates.
They're editable with HTML and are intended for B2B and B2C communication both.
You can access them in the free trial too.
GetResponse
You don't have to pay for GetResponse either to begin using their email templates.
GetResponse offers more than twice the templates that ActiveCampaign offers.
EngageBay
As with ActiveCampaign and GetResponse, EngageBay's email templates are available to use without a paid subscription.
You can choose from a huge variety of themed templates or create your own templates from scratch.
Creating your own templates includes both coding and creating templates without any coding at all.
The benefit of making a personalized template is that it's uniquely yours.
You won't have to worry about the competition sending out the kind of emails that you use.
You can delight your audience in a one-of-a-kind fashion with EngageBay!
Signup Forms
GetResponse
These forms are free with a 30-day trial in GetResponse.
Choose from signup form templates or create your own; no HTML required.
You just drag and drop the features of your form where you want them.
You can embed your signup forms on pages within your website or on your blog.
Choose from scroll forms, pop-ups, opt-ins, and more.
GetResponse will even host your popup forms for you if your website is still getting off the ground.
By adding custom fields, your forms can include the criteria that are important to your small business audience.
Split-test your forms and mobile optimize them as well.
GetResponse ensures that all their forms follow GDPR compliance.
If you're a bit computer-savvy, you can use HTML coding to create signup forms completely from scratch with GetResponse.
You can still create custom forms with HTML, and you get to include your favorite CSS styles as well.
EngageBay
The ease of use that makes EngageBay such a winning software choice extends to their online web form builder as well.
Your forms can be more context-rich with features such as radio buttons and input boxes.
These features are all addable through drag and drop.
Customizing the elements of your web form couldn't be easier in EngageBay.
All you have to do is click on an element to select its text label, font, placement, color, and more!
Integrations
ActiveCampaign
If you're using other tools for your small business, you can integrate them easily with ActiveCampaign.
Their library of supported apps and software is ginormous.
Here are some familiar names that ActiveCampaign integrates with:
Pipedrive
Unbounce
WooCommerce
ClickFunnels
Box
Shopify
Google Analytics
Instagram
Zapier
WordPress
Dropbox
Facebook
Salesforce
Big Cartel
LinkedIn
Google Calendar
Freshsales
OptinMonster
Twitter
Kissmetrics
GetResponse
GetResponse has an integrations library that rivals ActiveCampaign.
Here are some of your options:
Twitter
Shopify
WordPress
Facebook
Gmail
LinkedIn
PayPal
YouTube
Instagram
Microsoft Dynamics 365
Magento
WooCommerce
Google Ads
Zapier
Salesforce
Google Analytics
Amazon Payments
Evernote
Stripe
Etsy
Eventbrite
EngageBay
EngageBay's integrations library is growing all the time.
Some of the tools are:
Zapier
SendGrid
Integromat
Pabbly
PieSync
BulkSMS
JotForm
LinkedIn
reCAPTCHA
DocuSign
Gushup
Exotel
Twilio
MightyCall
QuickBooks
Stripe
Amazon SES
Active Campaign vs. GetResponse vs. EngageBay: Pricing Comparison
We hope that the blog has helped you understand the tools and options the three software are popular for.
You can see that each of them offers a good package.
However, the package is no good if it costs too much, right?
ActiveCampaign Pricing
You can select from four plans that are priced based on the number of contacts you have.

At 500 contacts, the Lite plan starts at $15 a month, the Plus plan is $70 a month, the Professional plan costs $159 per month, and the Enterprise plan would be $279 a month.
By the time you work your way up to 5,000 contacts, the Lite plan charges $99 a month, the Plus plan costs $169 a month, the Professional plan would be $239 a month, and the Enterprise plan costs a whopping $449 a month.
GetResponse Pricing
GetResponse has four pricing plans as well, and they also bill you more depending on how many contacts you have.
Yet you get more contacts to start with: 1,000 vs ActiveCampaign's 500.
For 1,000 contacts, the Basic plan costs $15 per month, the Plus plan is $49 a month, the Professional plan costs $99 a month, and the Max plan has custom pricing.
If your small business has 5,000 contacts, the Basic plan starts at $45 a month, the Plus plan costs $79 a month, the Professional plan costs $139 a month. The Max plan has custom pricing.
GetResponse is certainly more affordable than ActiveCampaign, but not by a great margin.
EngageBay Pricing
EngageBay's pricing is split for four products: Marketing Bay, CRM & Sales Bay, Service Bay, and the All-in-One Suite.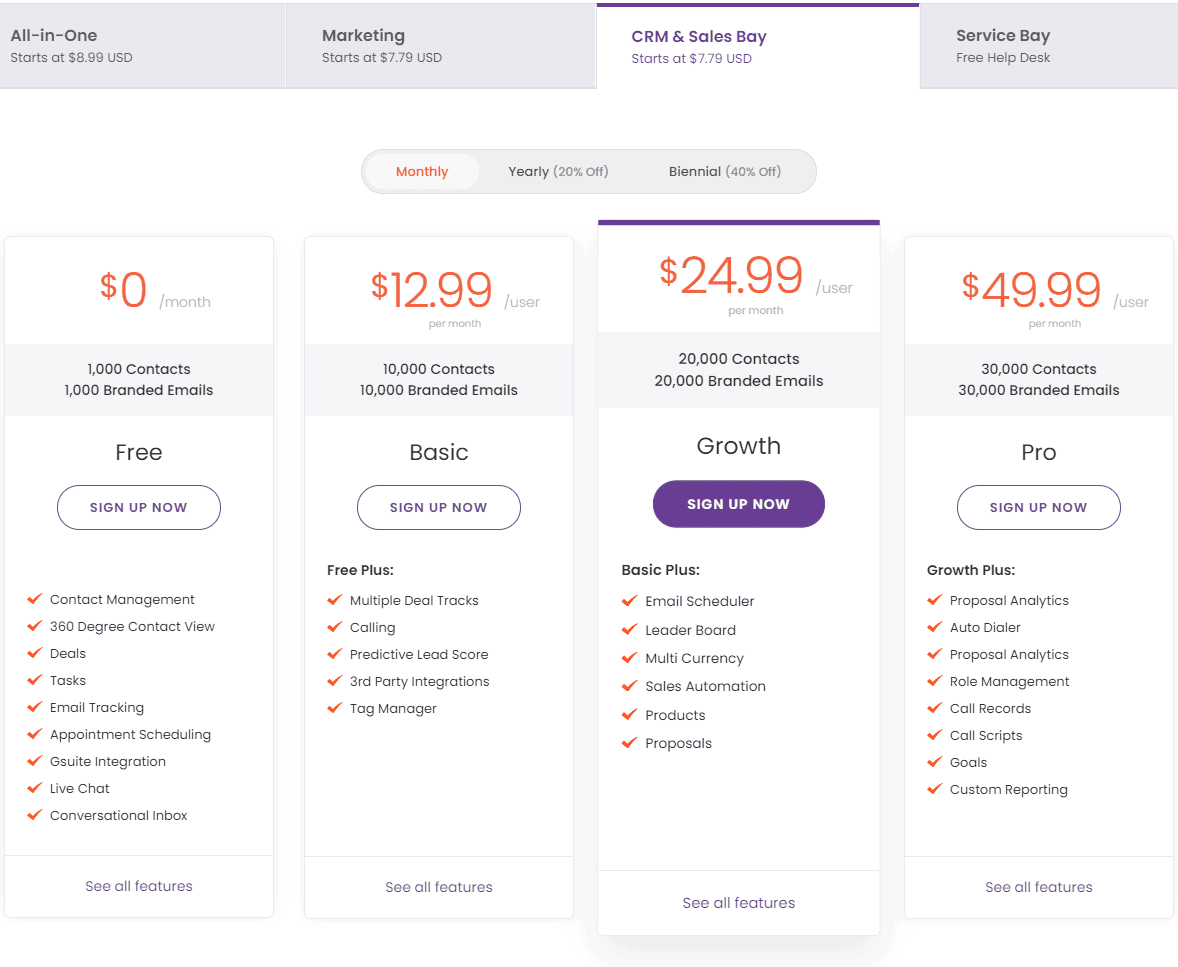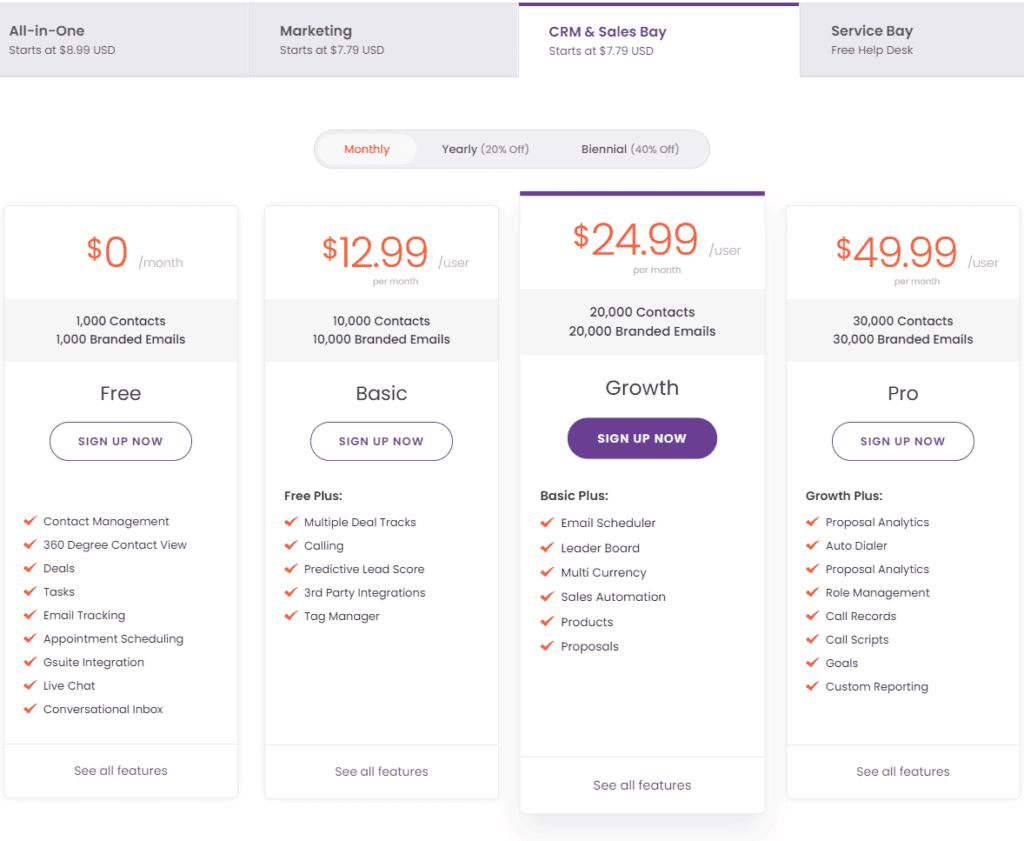 The features in the Service Bay are always free.
The All-in-One Suite, CRM & Sales Bay, and Marketing Bay all have a Free plan that's $0 a month every month.
You get 1,000 contacts on this plan.
Yes, that's right, EngageBay gives you 1,000 contacts for free.
You don't see that from GetResponse and certainly not from ActiveCampaign!
The Basic plan starts at $12.99 a month per user in the CRM & Sales Bay and the Marketing Bay.
For the All-in-One Suite, the Basic plan is $14.99 a month.
You get up to 15,000 contacts here.
The Growth plan is $24.99 a month per user for the CRM & Sales Bay and Marketing Bay, and $49.99 a month per user for the All-in-One Suite.
The Pro plan is $79.99 a month per user for the All-in-One Suite, and $49.99 a month per user for the CRM & Sales Bay and Marketing Bay.
With Pro plan, you'd have access to more than 20,000 contacts.
Which Tool Wins?
Small businesses might not have a lot of contacts now, but time and growth will change that.
You need a software solution that's ready to scale with you as your revenue streams become more consistent.
EngageBay is the clear winner when you compare the overall value for money for ActiveCampaign vs. GetResponse vs. EngageBay.
EngageBay's Free plan has an incredible wealth of features.
When you decide to upgrade and buy a package, you'll get access to every feature you need, and you'll still be paying a fraction of the price for ActiveCampaign or GetResponse!