Are you looking for the perfect email marketing platform for your growing business? Maybe you're tired of expensive software that don't offer a comprehensive set of tools.
GetResponse — though an excellent email marketing platform — does not contain LiveChat and helpdesk tools.
Think about that for a minute.
According to HubSpot, 93% of customers are likely to make repeat purchases with companies that offer excellent customer service.
Fortunately, some of the best GetResponse alternatives offer a complete suite of marketing, sales, and customer support tools, which eliminates the need for multiple systems. This, in turn, reduces data inconsistencies.
Here are the GetResponse alternatives you'll read about in this blog post:
EngageBay
ActiveCampaign
ConvertKit
Sendinblue
AWeber
Let's dive in!
An Overview of GetResponse
GetResponse email marketing software is a great marketing automation platform that offers a myriad of tools to help businesses create and automate content, enhance sales figures, and drive web traffic.
Brands and businesses of all shapes and sizes use GetResponse for their marketing and sales needs.

GetResponse has powerful features, including landing page builders, customer relationship management (CRM) software, email marketing integration, and much more. These are indispensable tools for launching and managing effective marketing campaigns.
With this suite of tools, you can interact with your prospects, leads, and clients in a personalized way, thus building strong customer relationships.
Read also: 10 Free Marketing Tools Every Freelancer Will Love
GetResponse Pricing
The platform has four plans: Free, Basic, Plus, and Professional.
The Basic plan starts at $19 a month, with features such as sales funnels, email marketing, and autoresponders.

The Plus plan is the most popular at $59 a month for 1,000 contacts.
The Professional plan costs $119 a month for 1,000 contacts.
GetResponse also offers two more plans for larger establishments: MAX and MAX². We won't get into the details of these plans here.
Why Do You Need an Alternative Platform for Email Marketing Automation?
GetResponse is not without its shortcomings.
The basic plan has limited email marketing features that might not suit all businesses.
There are other hiccups, too.
GetResponse's forms aren't very responsive, and their templates look outdated.
Many users also faced issues while importing lists:

But the biggest disadvantage of GetResponse is that it does not offer LiveChat and helpdesk tools — without which you cannot offer support for your customers.
Read also: GetResponse Pricing — A Comparison with More Inexpensive Alternatives
5 Top GetResponse Alternatives
That's why we've compiled five of the best GetResponse alternatives, ranging from the most affordable to the most feature-packed: EngageBay, ActiveCampaign, ConvertKit, Sendinblue, and AWeber.
All these GetResponse competitors offer excellent value. Take a look at their pricing and features, and see what suits you best.
The first pick from our list of GetResponse alternatives is EngageBay.
EngageBay is the best GetResponse alternative for small businesses and startups looking for an affordable yet comprehensive marketing and sales package.

EngageBay offers four services: the All-in-One Suite, the CRM & Sales Bay, the Marketing Bay, and the Service Bay.
EngageBay's Best Features
With EngageBay's marketing tool, you can boost your revenue by 3x.
Here are some fantastic features of EngageBay:
Marketing automation: You can completely automate your SMS or email marketing campaigns using email sequences, scheduling, follow-up emails, and even automatic welcome emails in EngageBay. EngageBay also offers omnichannel marketing: you can engage with your audience through email, phone, SMS, social media, landing pages, and web push notifications.
Video templates: With EngageBay's powerful video marketing templates, attract your customer's attention by creating customized video thumbnails. Embedding custom thumbnails into your emails has never been easier.
Sales Bay: With state-of-the-art CRM Telephony software, target personalized offers to your leads by tracking both the context and content of your conversations. EngageBay's appointment scheduling tool increases efficiency and brand perception by allowing your clients to choose suitable meeting times.
Service Bay: The Service bay allows you to provide customer support tickets, track problems, and solve queries. You can also automate the ticketing system, generate canned responses, and create support groups.
LiveChat Bay: With this feature, you can interact in real-time with your customers. You can also pre-design live solutions to FAQs, thus improving efficiency.
Read also: 7 CRM Automation Functions to Generate More Revenue
EngageBay Pricing Structure
Let's talk about pricing.
EngageBay has one of the most tailored pricing structures of all the alternatives.
With its modular and tiered pricing structure, businesses can choose a product that perfectly fits their needs.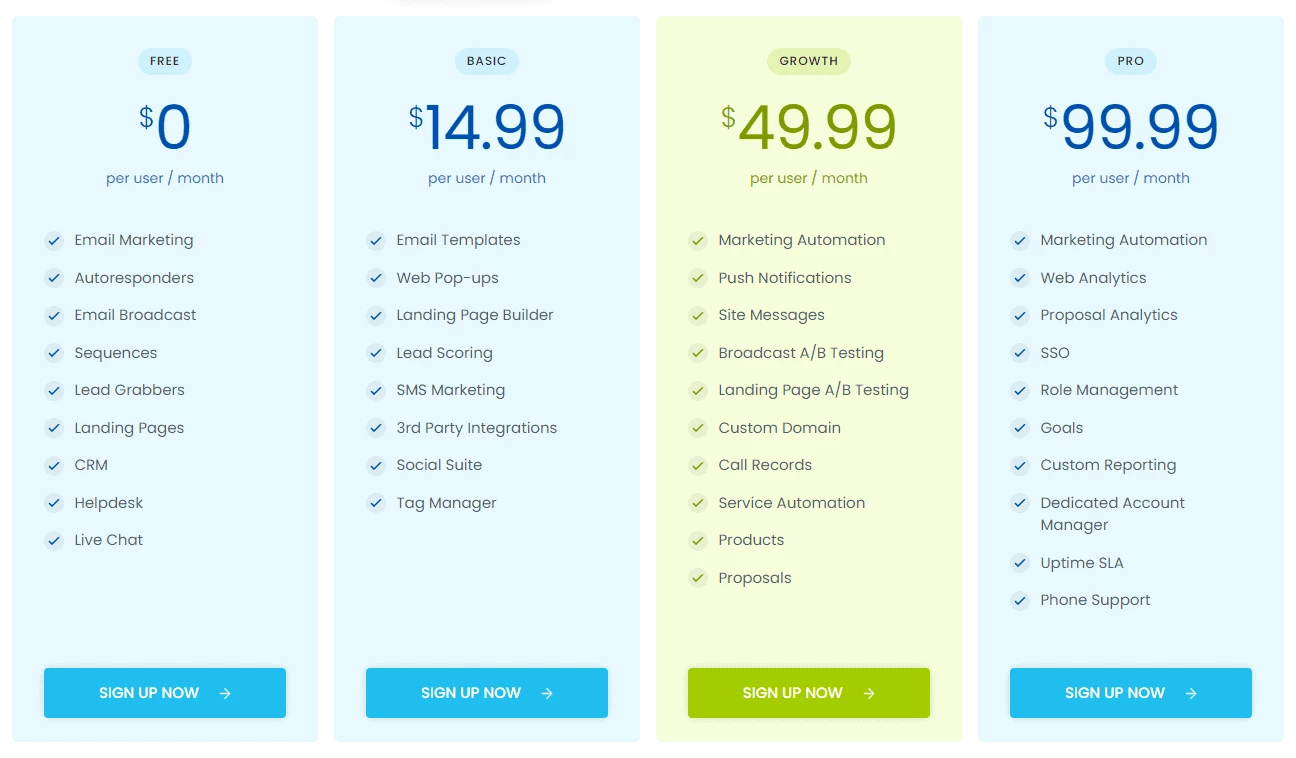 Pricing for the All-in-One Suite is as follows:
Free plan: You can store up to 500 contacts and send 1,000 emails a month with this plan. You get features like helpdesk, CRM, sequences, social media management, autoresponders, email marketing, and live chat.
Basic plan: You can have up to 1,000 contacts and send 3,000 emails a month. You get all the Free plan features plus email templates, a social suite, lead scoring, and a conversational inbox. Pricing starts at $14.99 a month per user.
Growth plan: You can store 10,000 contacts and send 25,000 emails per month in this plan. In addition to the Basic plan features, you get A/B testing, push notifications, proposals, and custom domain. The Growth plan costs $49.99 a month per user.
Pro plan: With the Pro plan, you can have unlimited contacts and send up to 50,000 emails. This is the most comprehensive and feature-rich package, with tools like uptime SLA, SSO, custom reporting, and so much more. The plan starts at $99.99 a month per user.
Here's an explainer video:
EngageBay Pros and Cons
Pros
EngageBay offers the best value for your money as an all-in-one solution.
Carefully designed and neatly categorized sections provide seamless movement between all the features.
Integrated software eliminates the need to purchase additional software.
Free CRM, onboarding sessions, and migration.

Cons
Fewer third-party integrations, but EngageBay is rapidly closing the gap.
Could add more templates.
Read also: What is Sales Velocity and How Do You Measure this Metric?
ActiveCampaign is a marketing automation tool that includes CRM and email marketing.
With a vast customer base, ActiveCampaign is recognized for quality sales, marketing, and service tools.

The platform has advanced features and even machine learning that caters to complex automation.
ActiveCampaign's Best Features
Machine learning: Machine Learning is one of the most touted features of this platform. You can boost sales by using machine learning to predict your customer's preferences and send emails at the right time. This can also help boost click-throughs and reduce bounce rates.
Messaging features: This includes SMS marketing, personalized email marketing, and Facebook audiences.
Marketing automation: With ActiveCampaign's marketing automation tools, you can track goals, automate forms, track sites and traffic, and automate email follow-ups.
Sales and CRM tools: ActiveCampaign has decent sales management to manage leads and prospects. Additionally, you can sync with Gmail and other calendars, thus providing an integrated environment for easy scheduling of events and appointments. The platform even includes automated segmentation and customer attribution to find the right leads.
Email marketing: The platform has many tools like email scheduling, automated funneling, autoresponders, email broadcasts, and much more.
Read also: ActiveCampaign vs Mailchimp vs EngageBay For Email Marketing
ActiveCampaign Pricing Structure
ActiveCampaign has a four-tiered pricing plan: Lite, Plus, Professional, and Enterprise:

Lite plan: This plan includes the basics – marketing automation, email marketing, segmentation, site tracking, and so on. From the sales side, the Lite plan provides autoresponders, reporting, and lead capture. The plan's pricing starts at $15 a month for 500 contacts.
Plus plan: With the Plus plan, you get landing pages, custom facebook audiences, SMS marketing, and much more, in addition to the Lite plan features. This plan starts at $70 a month for 500 contacts.
Professional plan: With the Professional plan, you get a slew of features, including predictive lead analysis, marketing attributions, win probabilities, and many others, in addition to the features provided by the Plus plan. The pricing is $187 a month for 500 contacts.
Enterprise plan: With this all-in-one plan, you get features including custom reporting and domain, data and contact enrichment, unlimited users, and all the features of the Professional plan at $323 a month for 500 contacts.
ActiveCampaign Pros and Cons
Weigh these pros and cons before buying ActiveCampaign:
Pros
The highly affordable Lite plan is suitable for most small businesses.
A vast collection of built-in marketing and sales tools to help your business succeed.
WooCommerce integration – you can track and manage customers that have purchased your products.
Cons
Steep learning curve due to a vast number of features.
Slower load times and clunky interface.
Higher-end plans are quite expensive, especially for a larger number of contacts.
The third GetResponse alternative is ConvertKit, an email marketing service for online creators.

With an easy-to-use interface and newer design, ConvertKit boasts quality tools such as automation, subscriber tagging, customizable fonts, and so much more.
ConvertKit's Best Features
Segmentation: ConvertKit offers customized audience segmentation to make the most out of your marketing and sales. With additional features such as sequences and broadcasts, you can target segregated audiences through automation.
Integrations: ConvertKit provides a slew of integrations with third-party tools such as Shopify and Stripe. This opens up a new world of features, productivity, and integrations.
Email marketing: With ConvertKit, you can automate emails by setting rules and conditions in advance.
Powerful tools: Visual builder allows you to build advanced automation sequences easily. With ConvertKit's auto-resending feature, you can re-send your emails and other broadcasts to people who haven't opened your campaigns yet.
Tagging: With a tag-based subscription system, you can add flexibility while segmenting your customers, thus creating highly personalized campaigns.
Read also: Relationship Marketing Definition and 10 Proven Strategies for Customer Happiness
ConvertKit Pricing
Now, the pricing.
ConvertKit has a three-tiered plan: Free, Creator, and Creator Pro.

Free plan: With this forever-free plan, you can access subscriber tagging, email broadcasting, growth reporting, and much more. You can also manage up to 1,000 subscribers.
Creator plan: This plan includes premium support, direct integrations and APIs, tagging, email sequence automation, and advanced broadcasting features. Pricing depends on the number of subscribers. For example, it's $29 a month for 1,000 subscribers, $49 a month for 3,000 subscribers, and so on.
Creator Pro plan: This plan includes a newsletter referral system, subscriber scoring, and advanced reporting. Like the Creator plan, the Pro plan pricing varies depending on the number of subscribers. The Pro plan starts at $59 a month for 1,000 subscribers and goes upwards as subscribers increase.
ConvertKit Pros and Cons
Let's skim through the pros and cons of ConvertKit before you make a decision.
Pros
Offers 90+ integrations with other third-party applications.
Dynamic email allows for powerful email marketing campaign personalization.
You are charged only for unique subscribers – duplicate subscribers won't affect your quota.

Cons
Drag-and-drop features are not available – making it hard to work with ConvertKit.
Smaller customization options for templates may force you to use HTML to change designs.
Fewer customizations for inactive subscribers tag, making it hard to design campaigns for this particular segment.
Read also: ConvertKit Alternatives: Find Cheaper & Better Competitors
Another alternative to GetResponse is Sendinblue.
This platform has many tools, including SMS marketing, Facebook chat, CRM, and email marketing.

Sendinblue is an established email marketing software and has served the needs of many businesses for more than 10 years.
With a myriad of features and a pleasant user interface, Sendinblue is one reliable marketing and sales tool.
Sendinblue's Best Features
SMS marketing: With this tool, you can directly send text-based promotional messages to your customers and let them know about important events, offers, and products. Sendinblue also has an API for transactional SMS marketing. Additionally, you can segment your customers and target them using personalized and dynamic messages.
Email marketing: With Sendinblue's email templates, you can use drag-and-drop features to set up your campaigns. You can also add personalized content using dynamic emails and create segmented lists. Sendinblue allows A/B testing for your campaigns, too, so you can figure out what works.
CRM: Organize your contacts based on lists and tags, making segmentation and personalized targeting more efficient.
Analytics: With KPIs and live statistics using heat maps, you can get a holistic view of your campaigns.
Read also: Sales Enablement Guide for Small Business Owners (Glossary, Strategies)
Sendinblue Pricing
Sendinblue has four pricing plans: Free, Lite, Premium, and Enterprise: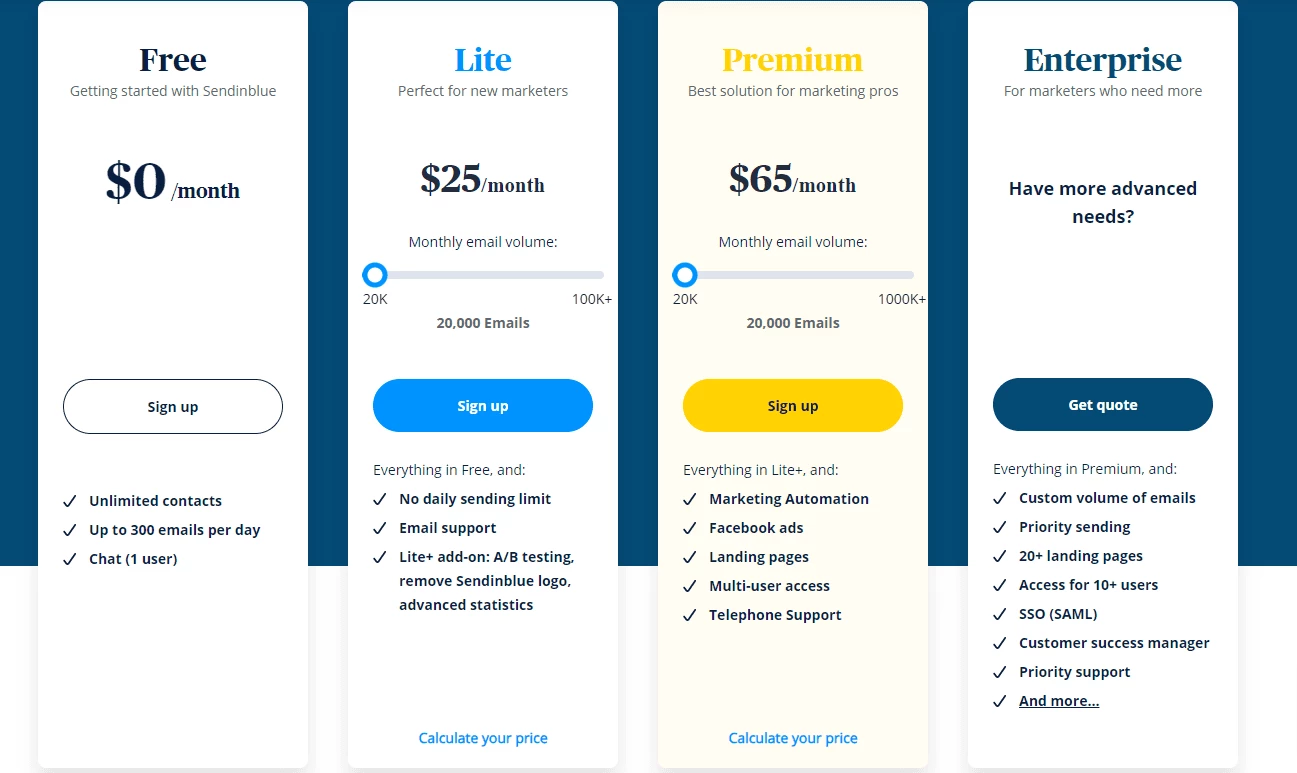 Free plan: The Free plan allows you to send up to 300 emails per day and provides several features, including page tracking, advanced segmentation, email templates and designer, and real-time reporting.
Lite plan: With this plan, you can send 100,000 emails and use advanced statistics and A/B testing in addition to all the Free plan features. The pricing starts at $25 a month.
Premium plan: This popular plan is marketed as the best solution for 'pro' marketers. You get everything from the Lite plan plus access to tools like Facebook ads, multi-user access, marketing automation, and up to 1 million emails. The Premium plan starts at $65 a month.
Enterprise plan: This tier is custom-priced. With this plan, you can access advanced tools including Single Sign-On (SSO) technology, customized number of emails, heat maps, and advanced email analytics, in addition to everything from the Premium plan.
Sendinblue Pros and Cons
Finally, the pros and cons. Here we go.
Pros
Easy email and landing page builder uses templates and drag-and-drop features.
Lower-end plans are suitably affordable for most small businesses.
Optimized email scheduling for increased customer engagement.
Cons
Additional cost for essential features such as A/B testing.
Setting up is not beginner-friendly.
The premium plan is quite pricey for small businesses.
Read also: 5 Top Sendinblue Alternatives
Our final alternative platform is AWeber, a simple yet powerful email marketing tool for small businesses and startups.
Its primary target is email marketing and landing pages, so it does not offer a complete marketing suite.

Let's look at AWeber's features and pricing and its pros and cons.
AWeber's Best Features
Integrations: AWeber features a comprehensive list of third-party integrations, including CRM, video, social media, and e-commerce. You can fulfill every business need with AWeber's 500+ marketing integrations.
Mobile application: AWeber provides a host of mobile applications for your marketing requirements. You can use AWeber Atom for building lists, AWeber Curate for creating and publishing newsletters, and AWeber Stats to get real-time insights on your campaigns.
A/B testing: With this critical feature, you can split-test your campaigns with live user data before publishing, thus enabling you to choose the best version of your emails.
Segmentation: You can create personalized and tailored content for your customers using AWeber's built-in segmentation and listing feature.
Landing page: With AWeber, you can create unlimited landing pages using templates and even stock images. You can even design responsive sign-up forms to attract more subscribers.
Free migration: AWeber provides free migration services to import existing contacts to their platform.
Read also: 9 Best Sales CRM Tools for Tracking Lots of Leads
AWeber Pricing
AWeber has a two-tiered pricing structure.

Free plan: With the Free plan, you have a 500-subscriber quota and a maximum of 3,000 emails per month. Features include integrations, e-commerce solutions, sign-up forms, subscriber tagging, landing pages, analytics, free customer support, email automation, and more. This plan is free forever, but there are caps on the number of subscribers and emails.
Pro plan: The Pro plan pricing depends upon the number of contacts. The Pro plan starts at $19 a month for 500 contacts and goes all the way up to $149 a month for 25,000 contacts. With the Pro plan, you get all the Free plan features plus sales and webpage tracking, advanced messaging analytics, email segmentation purchase tracking, and behavioral automation.
AWeber Pros and Cons
Let's check out AWeber's pros and cons.
Pros
AWeber is one of the few platforms to offer a comprehensive set of mobile applications for on-the-go needs.
Intuitive and easy-to-use platform.
500+ integrations to help your business connect and grow.
Cons
The free version is capped at only 500 contacts.
AWeber's pricing plan has only two tiers, making it hard for different businesses to get a tailored plan.
Quite pricey for plans above 10,000 subscribers.
Read also: AWeber Alternatives: Which One Should You Choose?
Conclusion
Though GetResponse is a solid email marketing automation platform, it isn't the best one out there. To get more value and features for the price you are paying, you must try out the platforms mentioned in this blog.
You can choose the platform that fits your budget and business needs.
For small businesses and startups looking for a comprehensive all-in-one marketing, sales, and customer support software with affordable pricing, EngageBay is the way to go.
Why?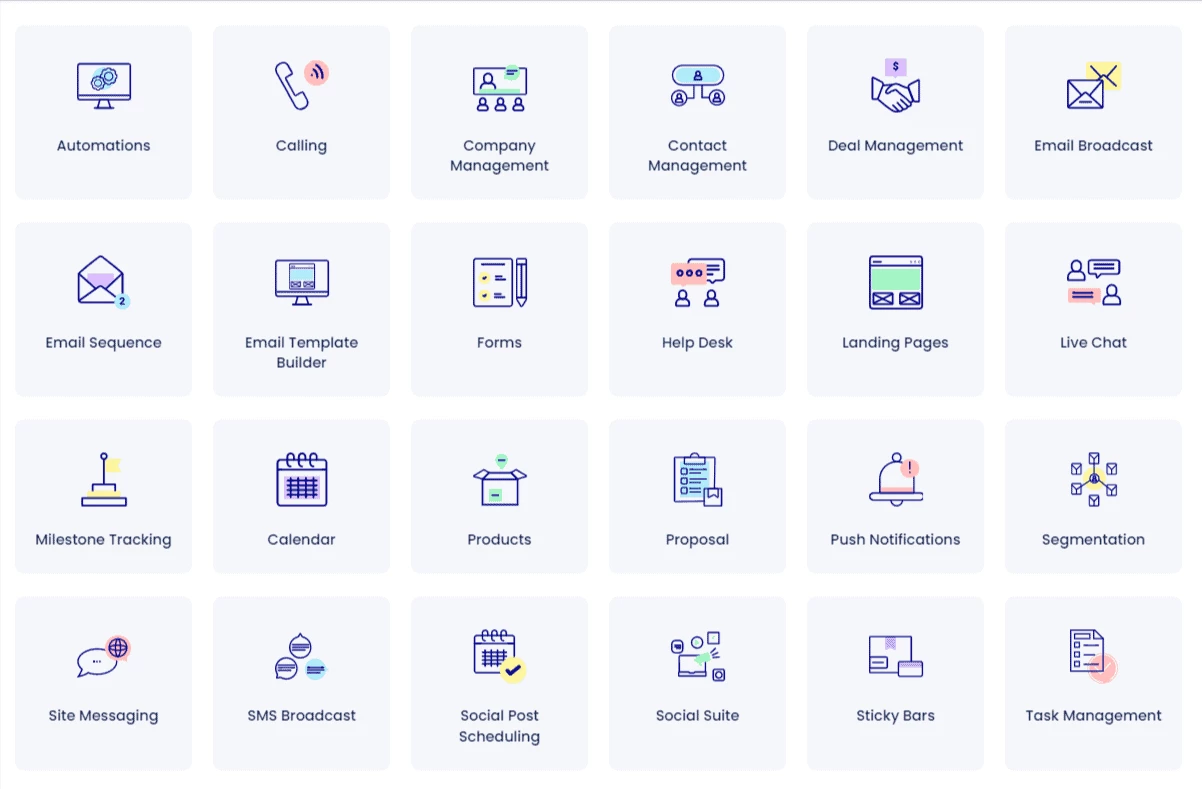 Firstly, EngageBay offers more features compared to GetResponse. While GetResponse does not offer helpdesk, LiveChat, and appointment scheduling features in any of its plans, EngageBay has it even in the free-forever plan.
Secondly, EngageBay is one of the least expensive software on this list, especially when the higher-end plans are compared.
For example, EngageBay offers unlimited contacts in the Pro for under $100, while ActiveCampaign's Professional plan costs a whopping $686 a month for just 25,000 contacts. This makes EngageBay an excellent ActiveCampaign alternative, too.
Finally, EngageBay's uniquely categorized Bays offer a seamless and efficient workflow – something that other platforms lack.
Here's what Lauraine M, founder and director of her own financial services company, has to say about EngageBay:
We hope this article was helpful for you. If you need to check out our software, you can book a 30-minute demo with our experts at a time of your convenience, and our experts will help you out!