By now, you know the CRM market has dozens of different software, all promising the best.
But how often does a platform cater to the needs of small and medium businesses? Small businesses have small marketing budgets, and you need a versatile all-in-one CRM solution for your business.
With so many out there, it can be pretty hard to choose the right one. That's why we've compared the three best CRM software in this blog post: Zoho vs HubSpot vs EngageBay.
We've compared their pricing, pitted their CRM functionalities against one another, and measured their relevance to your business.
Zoho is great for small businesses looking for a simpler solution, while EngageBay is the best platform for SMBs looking for an affordable yet complete marketing, sales, and customer service solution.
This makes EngageBay an excellent Zoho alternative.
HubSpot is expensive and is geared towards larger businesses with deep pockets.
Keep reading to know more!
Zoho vs HubSpot vs EngageBay: Pricing
Pricing matters for small businesses. That's why we've broken down the pricing for each platform — and determined the winner.
Let's take a look.
Zoho Pricing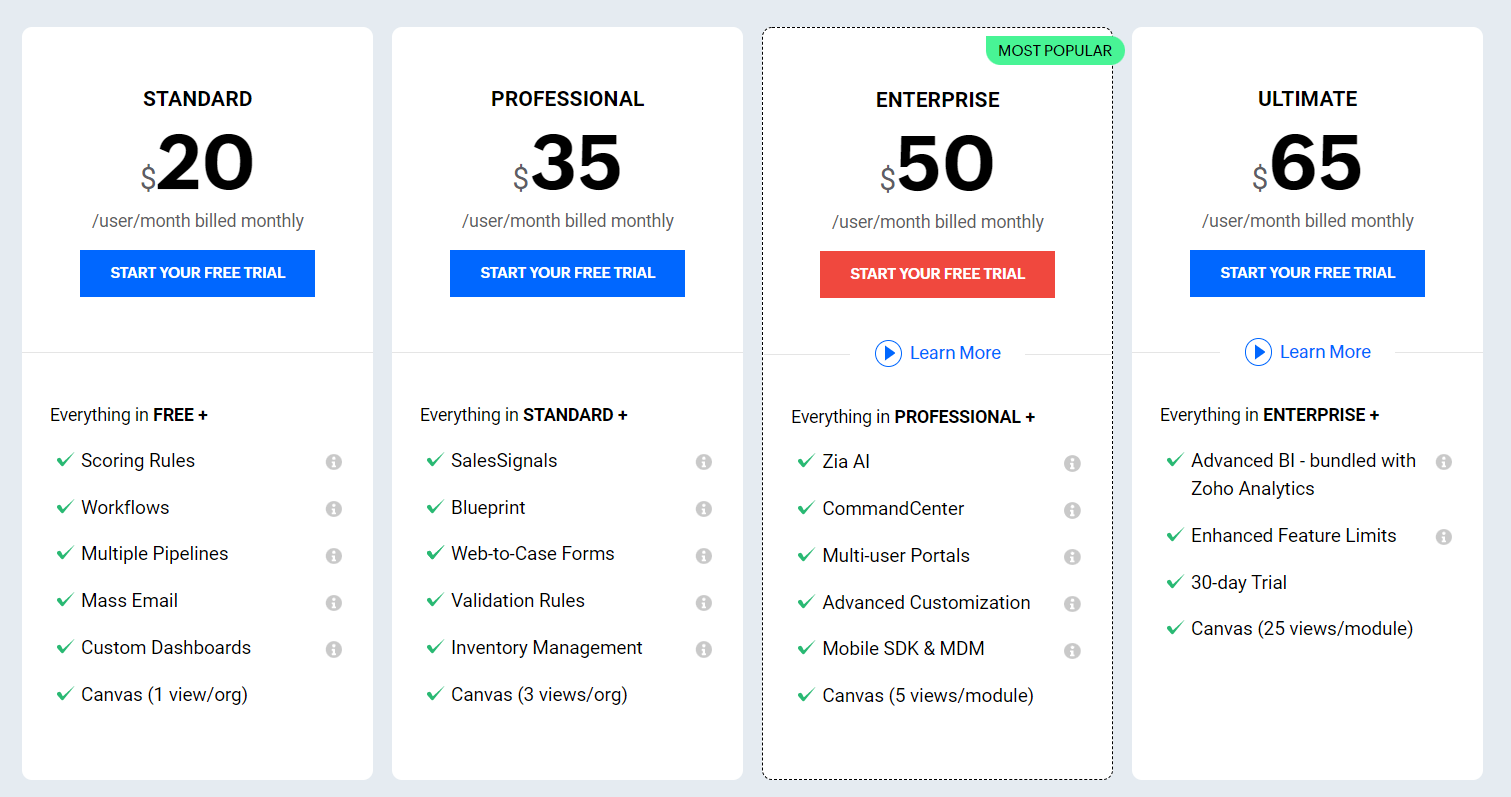 Let's start with Zoho.
Zoho offers four pricing plans: Standard, Professional, Enterprise, and Ultimate.
The Standard plan starts at $20 per user and offers account deals, customer relationship management views, and tasks.
The Professional and Enterprise plans cost $35 and $50, respectively. While the Professional plan offers sales forecasting, email insights, and macros, the Enterprise plan adds custom signals, wizards, and picklist history tracking.
The ultimate plan costs $65 per user per month and gives you a handful of advanced tools, including unlimited custom list views, 100 active blueprints, and enhanced feature limits.
What's more, Zoho offers a free plan, too. You can set up the software for up to three users, and it is perfect for home business owners.
Want to find a Zoho alternative that's better suited to your needs? Check out our article on the top Zoho alternatives.
HubSpot Pricing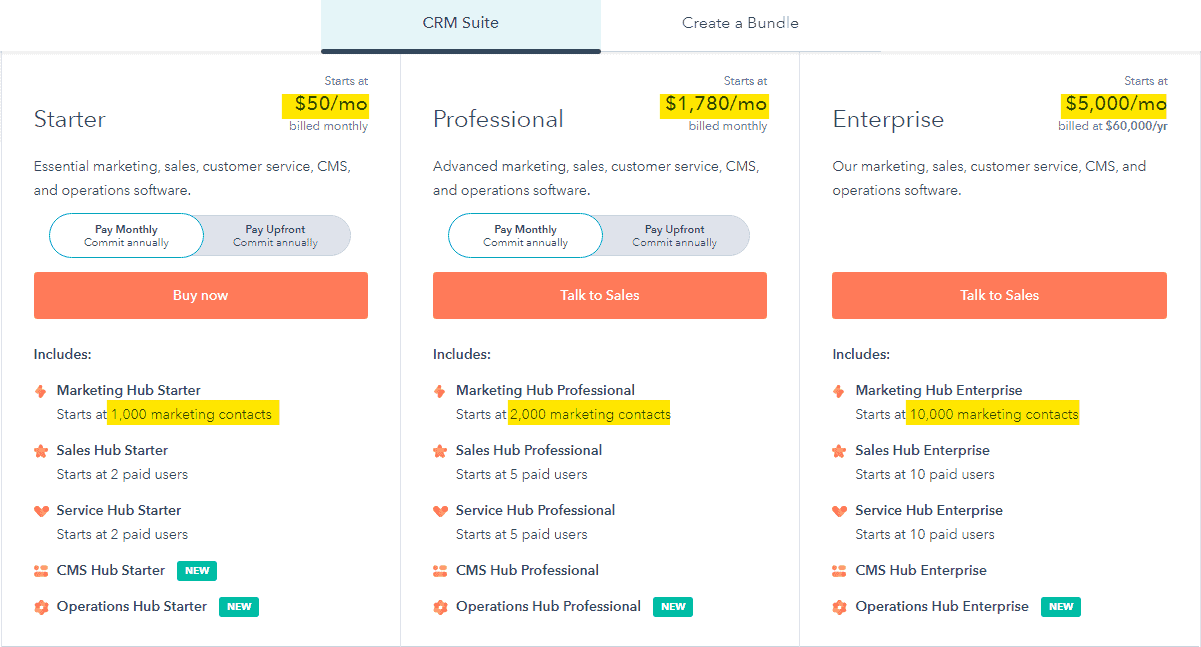 With HubSpot, you get three CRM Suite Bundles: It's aptly named Starter, Professional, and Enterprise.
The Starter plan offers a plethora of features for small businesses. You get 1,000 marketing contacts, email marketing, list segmentation, Live Chat, email marketing, and shared inboxes.
When paid annually, this plan costs $50 a month. If you have 5,000 contacts, you have to pay $88.
A fair price for the features it offers, right?
But what happens when you scale your business? Let's take a look.
The Professional plan costs $1,780 for just 2,000 contacts.
If you go for the Enterprise plan, you have to dish out $5,000 for 10,000 marketing contacts. For an annual subscription, you pay out a mind-boggling amount of $60,000 a year! Plus, you have to pay a mandatory one-time onboarding fee of $12,000, bringing the cost to…
…seventy grand a year!
That's a crazy figure — especially when you factor in the initial amount you had to pay: $50/month.
8 Surprisingly Awesome HubSpot Alternatives
EngageBay Pricing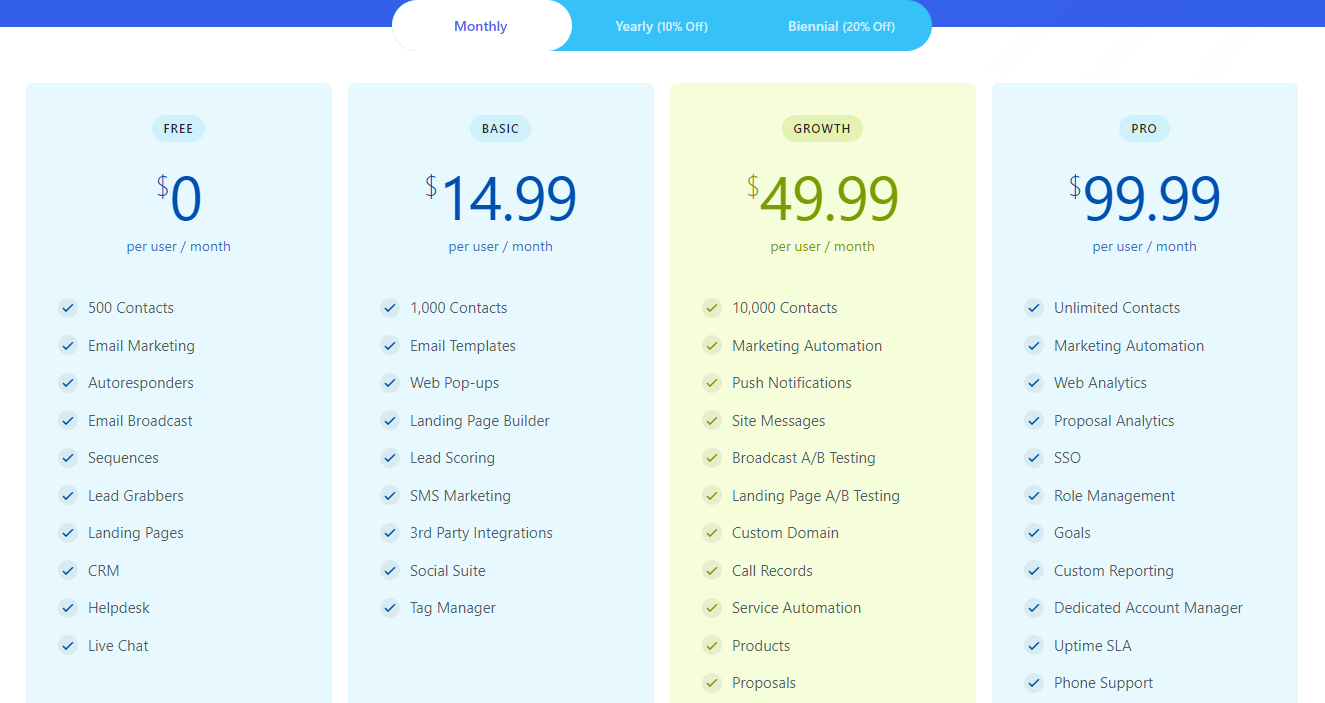 How does EngageBay stand against Zoho vs HubSpot?
EngageBay offers four different plans for its All-in-One Suite: Free, Basic, Growth, and Pro.
The Free plan is free forever and offers 500 contacts and 1,000 branded emails. You also get many features, including:
List segmentation

Email broadcasts and sequences

Drag-and-drop builder

Predictive lead scoring

360-degree customer view

Live Chat

Social Suite

Tag management

Appointment scheduling
This free plan is great for businesses that have just set up and need a simple yet comprehensive all-in-one CRM solution.
Once your business grows, you can easily upgrade to a paid plan.
The Basic plan costs $14.99 a month and offers 3,000 branded emails, 1,000 contacts, custom deal milestones, ticket macros, canned responses, and all the features of the free plan.
The Growth plan offers the best bang for your buck at $49.99 a month for startups and growing businesses. You get 50,000 contacts, 25,000 branded emails, advanced marketing automation, custom deal tracks and landing pages, and more.
For larger companies with a bigger customer base, the Pro plan offers the best choice, with unlimited contacts and 50,000 branded emails.
And the price tag? A mere $99.99!
You also get web analytics, custom reporting, a dedicated account manager, APIs, and phone support.
Get EngageBay at 20% discount now
Pricing: Winner
EngageBay wins here by a mile!
Though EngageBay and Zoho have similar pricing, EngageBay offers a lot more tools for its Pro plan. EngageBay's free plan lets you add up to 15 users, while Zoho only offers up to 3 users.
Both Zoho and EngageBay are great for small and medium businesses, though the intuitive interface and clean software give EngageBay a clear advantage over Zoho.
HubSpot, on the other hand, is geared towards larger establishments with bigger marketing funds. As you can see, the pricing becomes pretty expensive quickly, with just the onboarding fee for its highest plan priced at $12K.
With this amount, you can buy EngageBay's annual Pro subscription and still have money left!
That's why EngageBay is a fantastic HubSpot alternative.
👉Explore the most potent HubSpot competitors in our insightful blog post. Understand their strengths, weaknesses, and pricing. Dive in today!🚀
Zoho vs HubSpot vs EngageBay: CRM Functionality
Having a great pricing plan is useless if the platform does not offer the functionalities you need. You need a solution that fits your budget and gives you the tools needed to scale your business.
Let's find out which platform wins this category, shall we?
Zoho CRM Functionalities
Again, let's dig into Zoho CRM functionality.
Zoho has a great drag-and-drop email template builder and a decent collection of templates.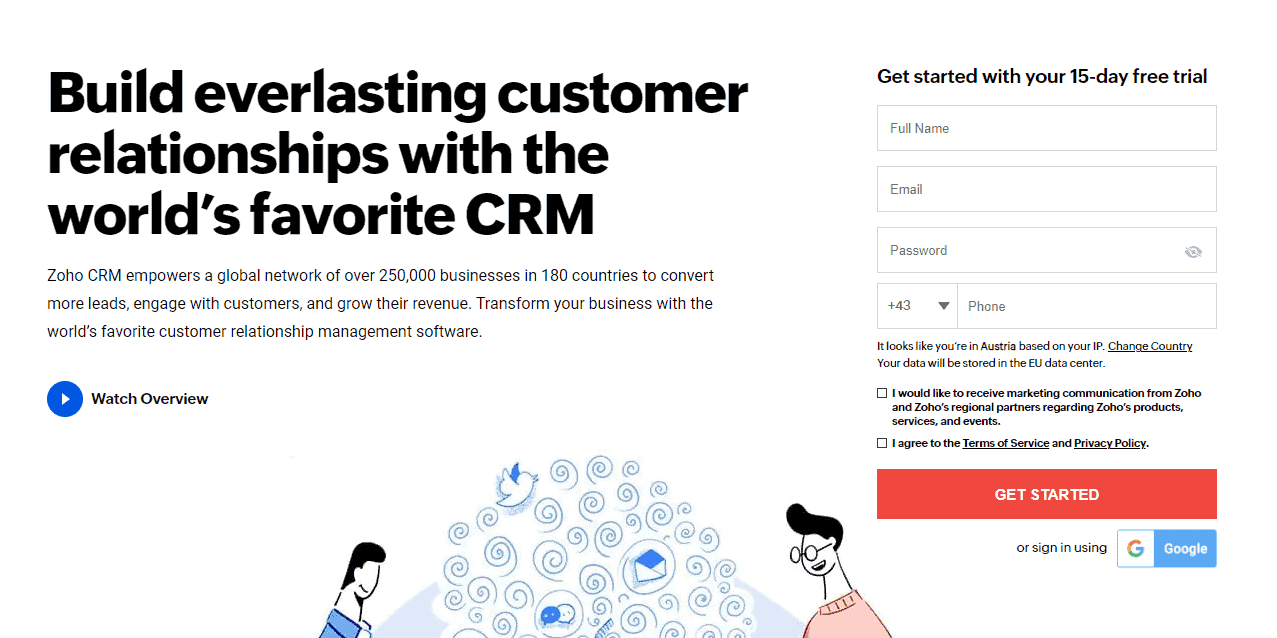 Zoho's customization feature is both a boon and bane. While the customizations give you more control and flexibility, it comes with a steeper learning curve, making Zoho more complicated than HubSpot vs EngageBay.
Though Zoho had a clunky and old-fashioned user interface, it has had a face-lift and sports a more subtle and minimal UI. That's great news for would-be Zoho subscribers!
Zoho also lets you manage your leads easily, with lead identification, ROI measurement, lead nurturing and engagement, and analysis. Zoho even offers smart web forms for lead capture.
Zoho makes it easy for you to engage with your social audience, with tools to connect Twitter, LinkedIn, and Facebook with your CRM so that you can track and manage everything without ever leaving your CRM software.
Also, Zoho's 'Zia' lead enrichment functionality helps you acquire more information about each lead, thus enriching lead nurturing.
Zoho works with a myriad of applications, including GSuite, Slack, Shopify, and Facebook Ads.
HubSpot CRM Functionalities
What about HubSpot CRM functionality? Let's see how HubSpot compares against Zoho vs EngageBay.
HubSpot's drag-and-drop landing page builder lets you build stunning landing pages quickly. By connecting the landing page with CRM, you can also offer a personalized touch and targeted CTAs — thus improving your conversion rate while also reducing bounces.
Through HubSpot's A/B testing, you can tweak and test your landing pages and publish the ones that offer the best results.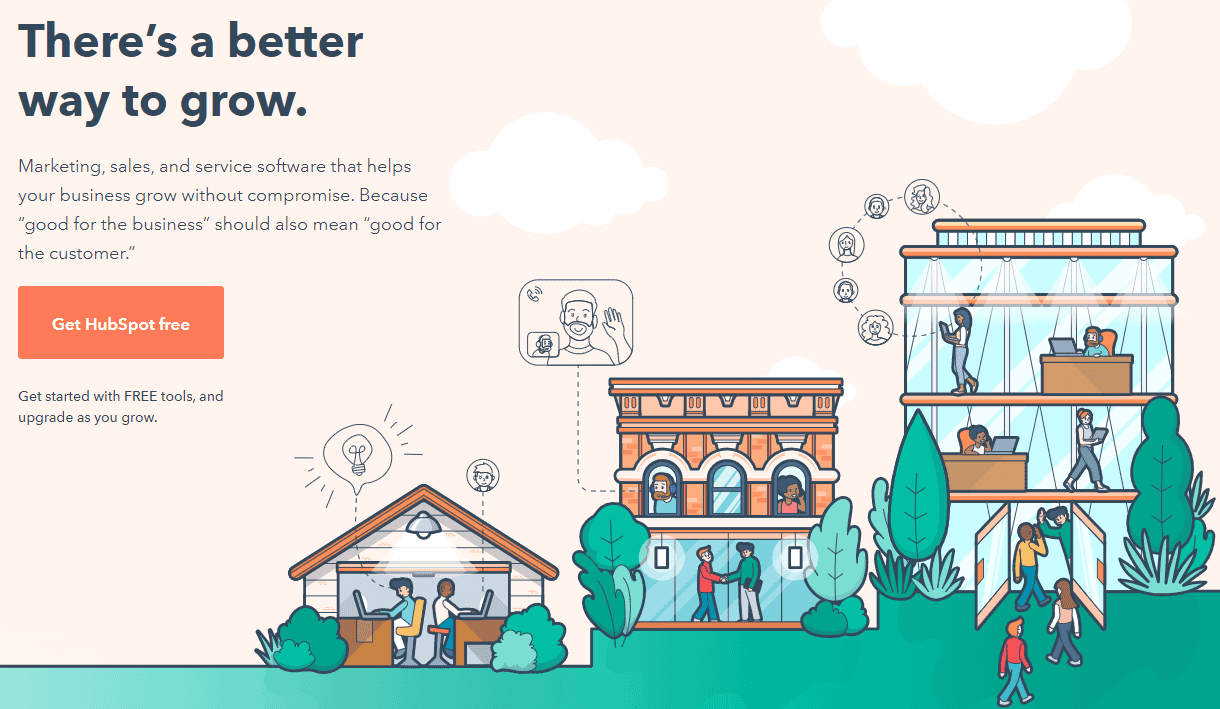 Similar to Zoho, HubSpot has excellent email marketing tools. Tools like email tracking, email health reporting, contact management, email campaigns, and A/B testing helps you put out the best email marketing campaign and bring in leads. Oh, and you get search marketing, too.
HubSpot's dashboards let you track various metrics. These include open and bounce rates, subscribers, clickthroughs, and even insights on a page-to-page basis. What's more, HubSpot's lead management is one of the best in the market today, with tools to track, nurture, and convert them.
Plus, you get access to hundreds of integrations, including Zapier, Mailchimp, Zoom, and Google Ads.
Compare HubSpot with EngageBay
EngageBay CRM Functionalities
How does EngageBay CRM functionality fare against HubSpot vs Zoho? Let's take a look.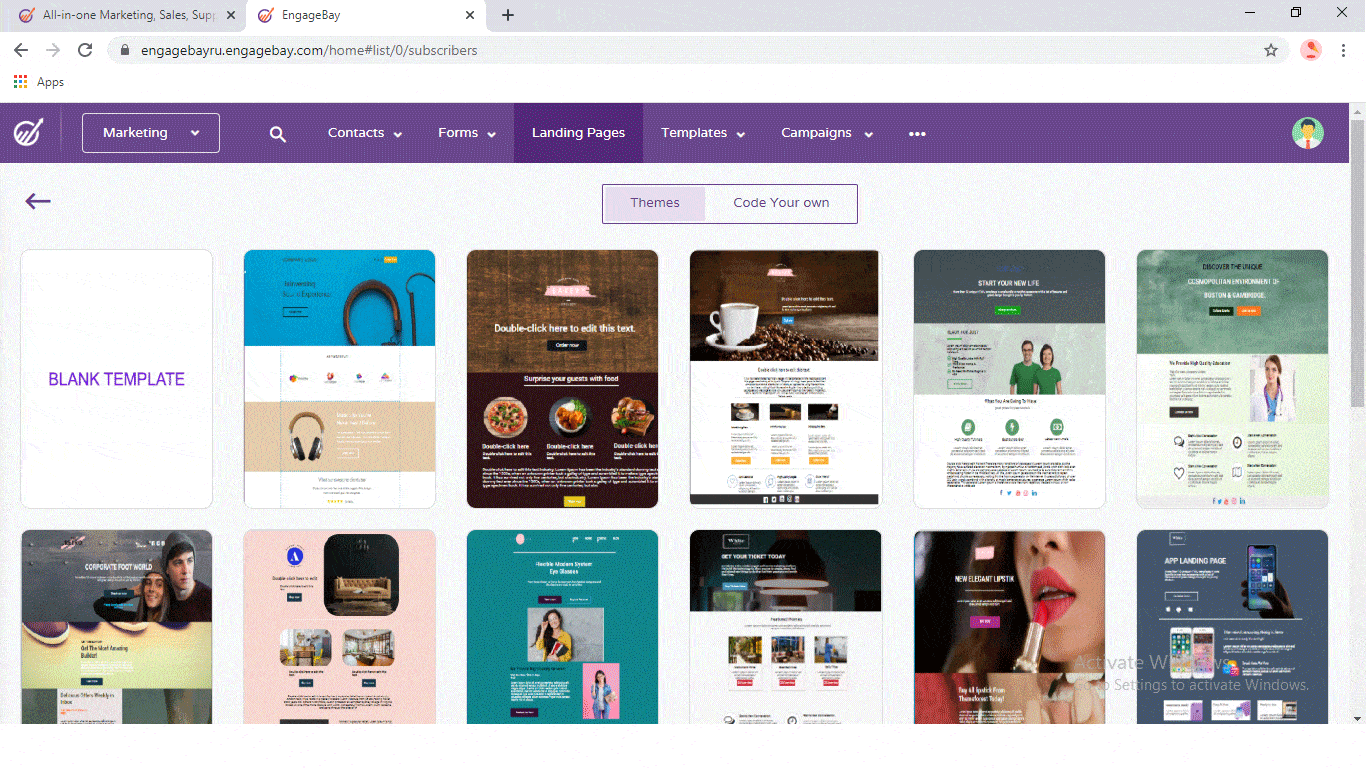 Just like HubSpot, EngageBay's drag-and-drop functionality lets you build landing pages and email forms with ease. You also get access to a plethora of templates for quick creation; you can tweak them according to your needs. It also connects with the CRM, meaning you can populate it with personalized content.
For complete customization, you can also import code and use rich text formatting. How cool is that!
But above all, it's EngageBay's automation tools that stand out.
You can send out event details, newsletters, upcoming promotions, and renewal reminders through EngageBay's email sequencing tool with just a few steps.
Need to send out automatic emails? You don't have to fret anymore, as autoresponders can do just that. Automated birthday wishes, subscription reminders, and even welcome messages can make your customers' day and positively impact brand perception.
You can also send out one-time messages through the email broadcast feature.
EngageBay's customer-centric approach means you get a complete view of each customer. Plus, the visual workflow automation builder is an incredible tool, allowing you to set up various actions and controls to automate deal pipelines, lead scoring, task management, and customer support.
All the CRM functions EngageBay offers are neatly segmented into four different sections, called 'Bays.' This makes using the CRM platform super easy. Each bay has a dashboard with various reports and metrics — offering you a bird's eye view of your team's performance.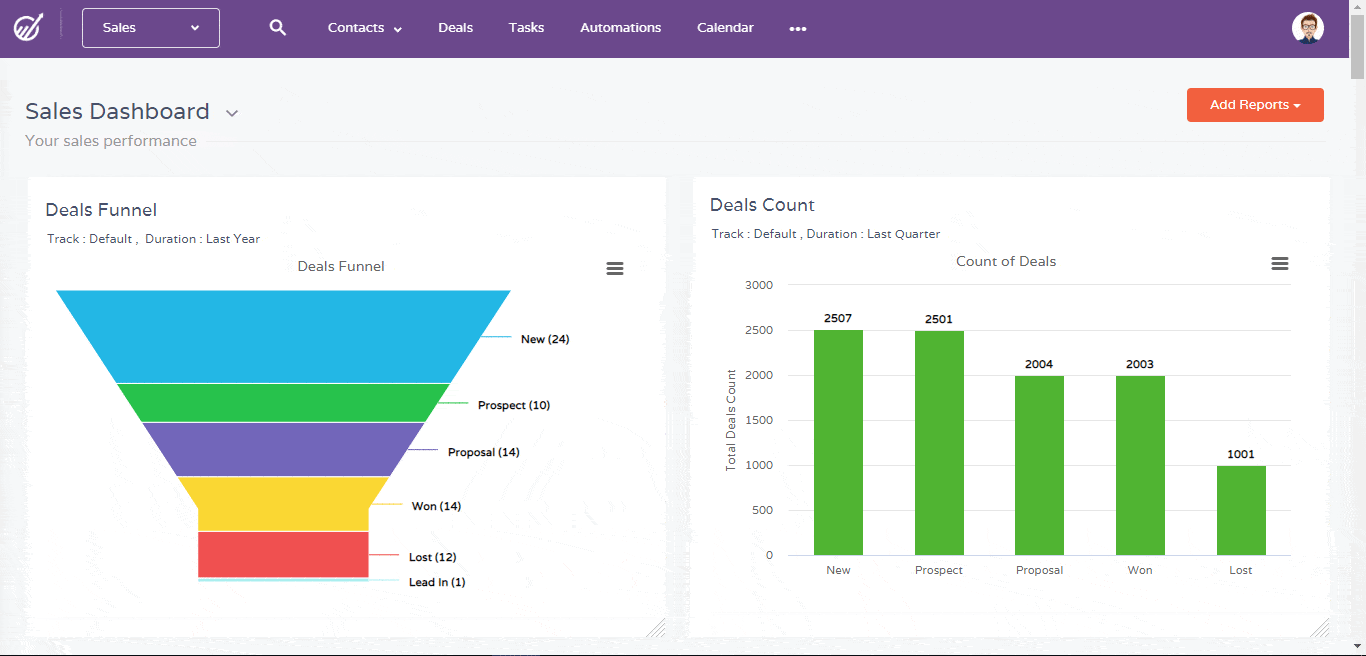 The game-changing 'Social Suite' CRM functionality lets you keep track of all your social media accounts — Twitter, Facebook, Instagram, Twitter — and even engage in social listening to enhance audience understanding.
Finally, EngageBay has a great collection of integrations. You get Zapier, Exotel, Twilio, DocuSign, CallHippo, and so much more.
SharpSpring vs Hubspot vs EngageBay: Which CRM Software is the Best?
CRM Functionality: Winner
When it comes to the number of CRM features, HubSpot takes the crown. But for small businesses, HubSpot's pricing may be too high.
EngageBay offers similar tools at a fairly reasonable price. In fact, EngageBay is so good that top influencers and award websites have recommended EngageBay as their favorites.
EngageBay doesn't burn a hole in your pocket, and it doesn't skimp on features. What more do you need?
Read also: HubSpot vs GetResponse: A Comprehensive Review and Analysis
Zoho vs HubSpot vs EngageBay: Customer Support
Having great customer support and onboarding is indispensable — the vendor that offers the best cares the most about their customers.
Zoho Customer Support
We've seen the pricing and the main features of CRM. Now let's check out how Zoho supports its users.
Zoho has outdone itself here. The knowledge base offers hundreds of articles on all of its tools. Through the Zoho Academy, you can learn the basics of marketing, launching a business, and even scaling your current venture.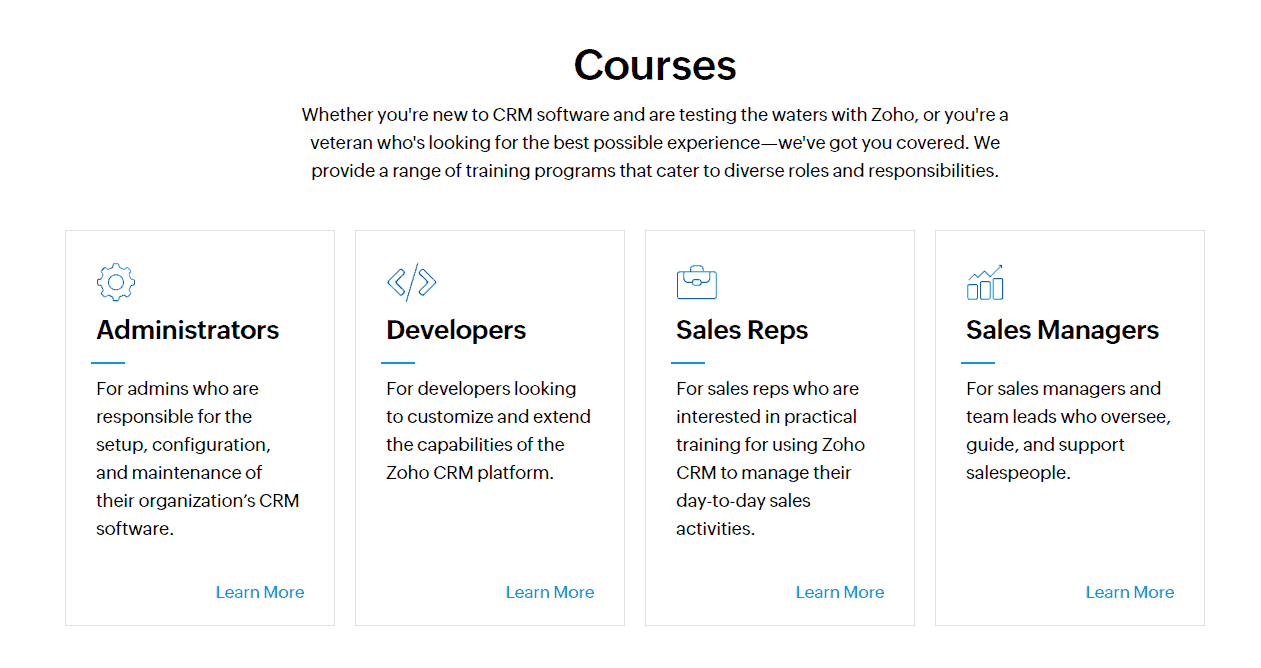 Zoho also has a fairly decent community with over 100,000 members where you can discuss queries and post thoughts.
Through 'Zoho Cares,' you get various support plans based on your company's needs.
Basic Support is available for all plans, while the Classic plan is available from the Standard plan. If you need more robust support, you can go for the Premium and Enterprise paid support packages.
HubSpot Customer Support
How does HubSpot compare against Zoho and EngageBay? Let's find out.
No cons here! HubSpot offers great customer support. You get how-to articles for sales, customer service, marketing, and CRM through its knowledge base. You also get step-by-step solutions for getting the software ready.
HubSpot also has an amazing onboarding service. That said, it is pretty expensive. The mandatory onboarding fee for the Enterprise plan costs an unbelievable $12,000!
You also get an active community where you can discuss your problems with a panel of experts and interact with other users. For developers, HubSpot does offer detailed documentation.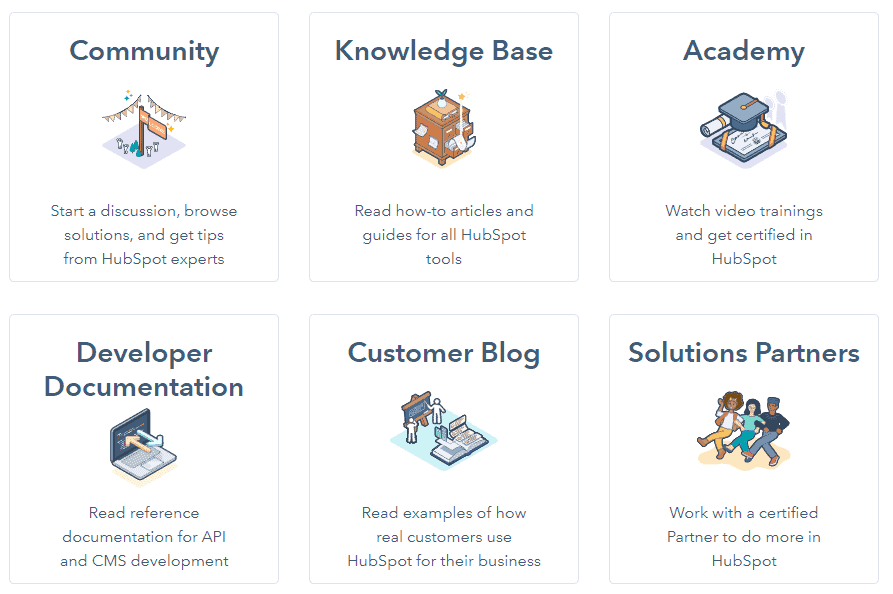 You can also get yourself and your team certified through HubSpot's academy.
If you go for HubSpot's paid plans, you have chat and email support. For phone support, you need to be subscribed to either the Professional or the Enterprise plans.
EngageBay Customer Support
How does EngageBay look against the other two?
EngageBay has a good knowledge base with step-by-step solutions for all its features. You can also watch demos on setting up and using the tools through the official YouTube channel.
What's more, the website is populated with blog posts and how-to resources written by experts and developers.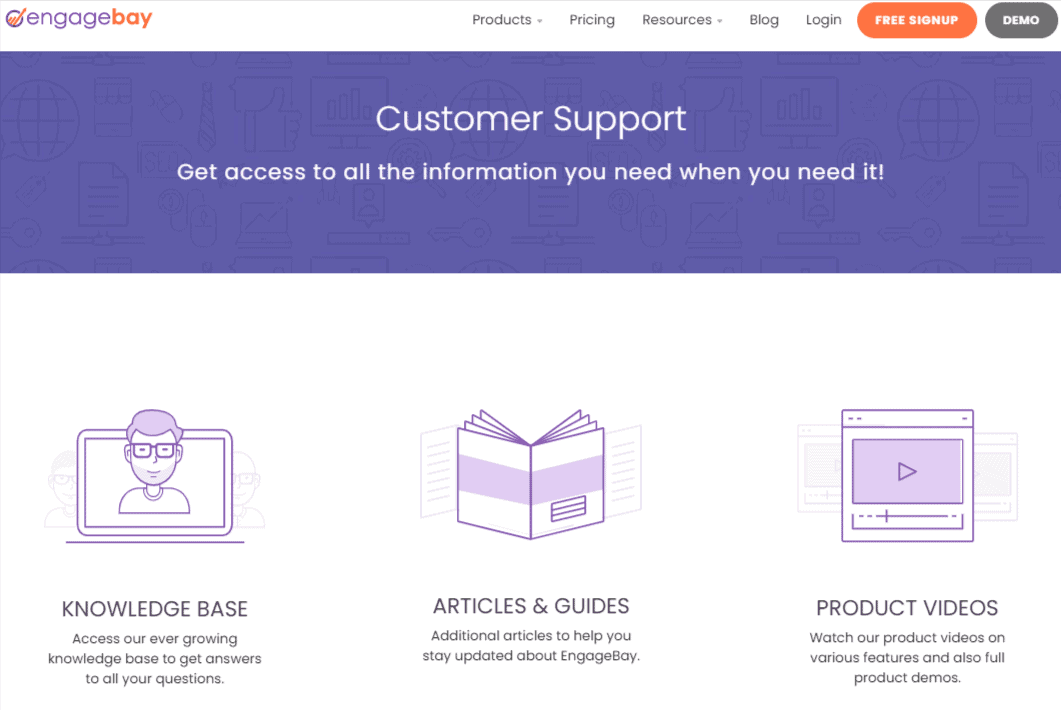 All plans offer 24/5 chat and email support. The Growth plan adds a dedicated account manager and onboarding services, while the Pro plan unlocks phone support.
Before subscribing, you can have a 30-minute demo with your developers to assess the product.
Customer Support: Winner
All three offer great customer support.
That said, EngageBay's customer support comes free, but you have to pay a hefty amount to avail of advanced customer support packages for HubSpot and Zoho.
Also, many users have complained about Zoho's customer support.
Zoho vs HubSpot vs EngageBay: User Reviews
User reviews don't lie: they show the true face of any software.
Let's see what customers have to say about each platform.
Zoho User Reviews
Pros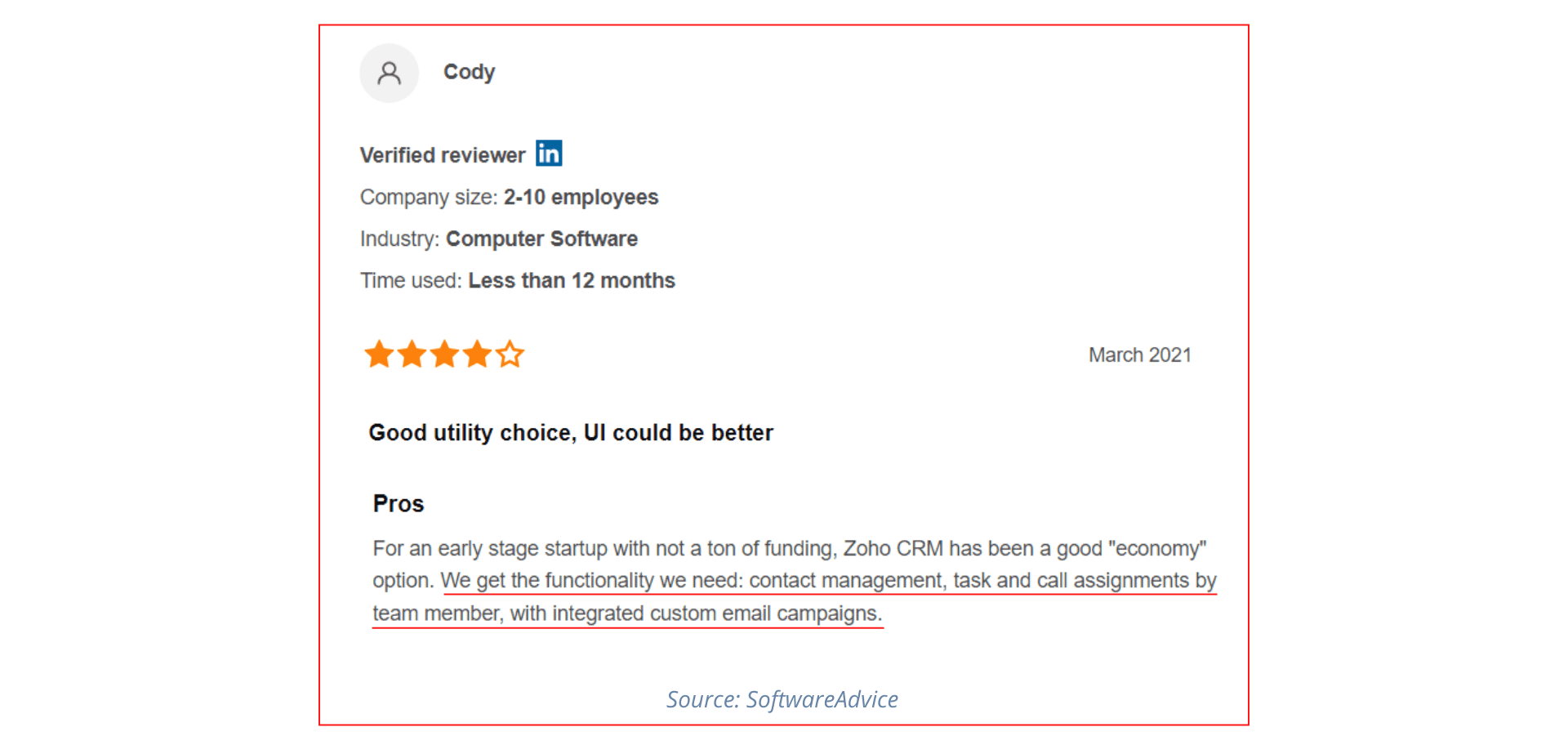 Cons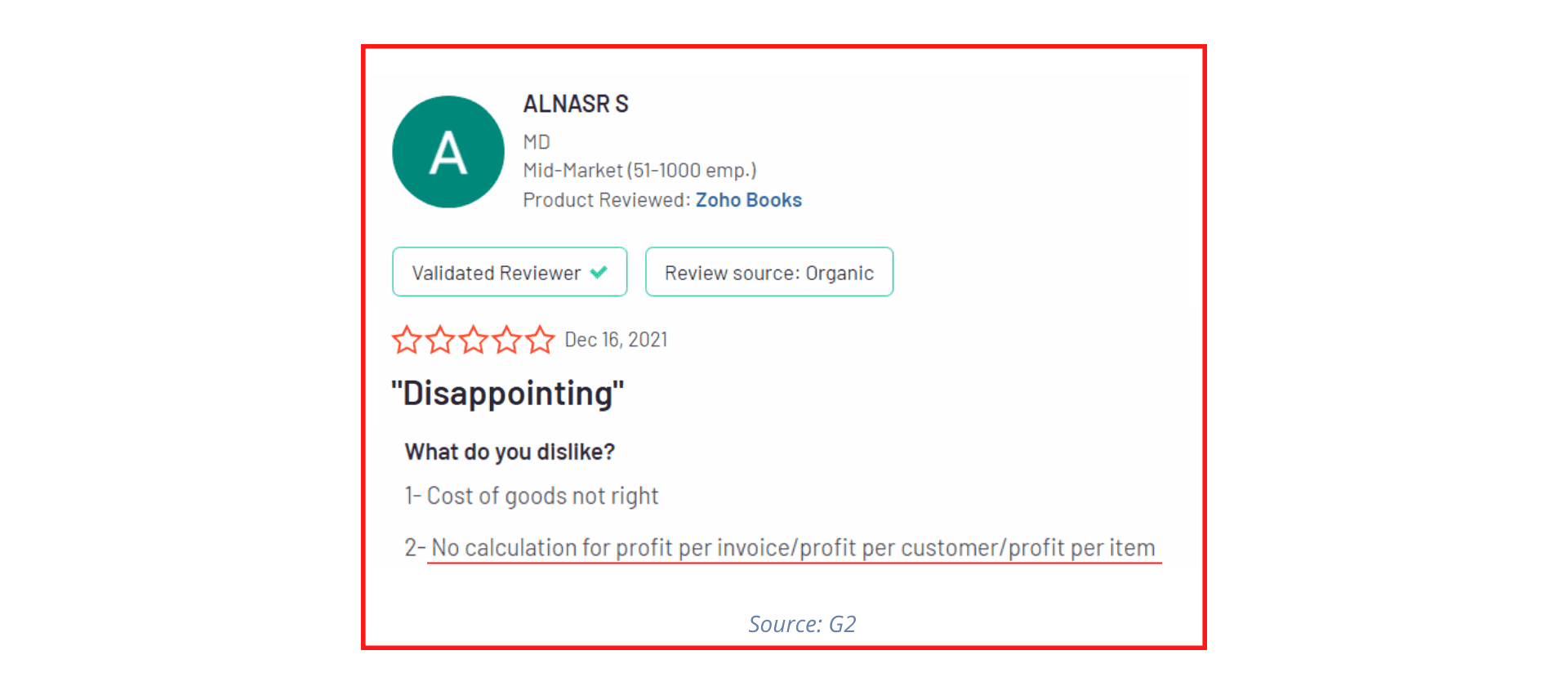 HubSpot User Reviews
Pros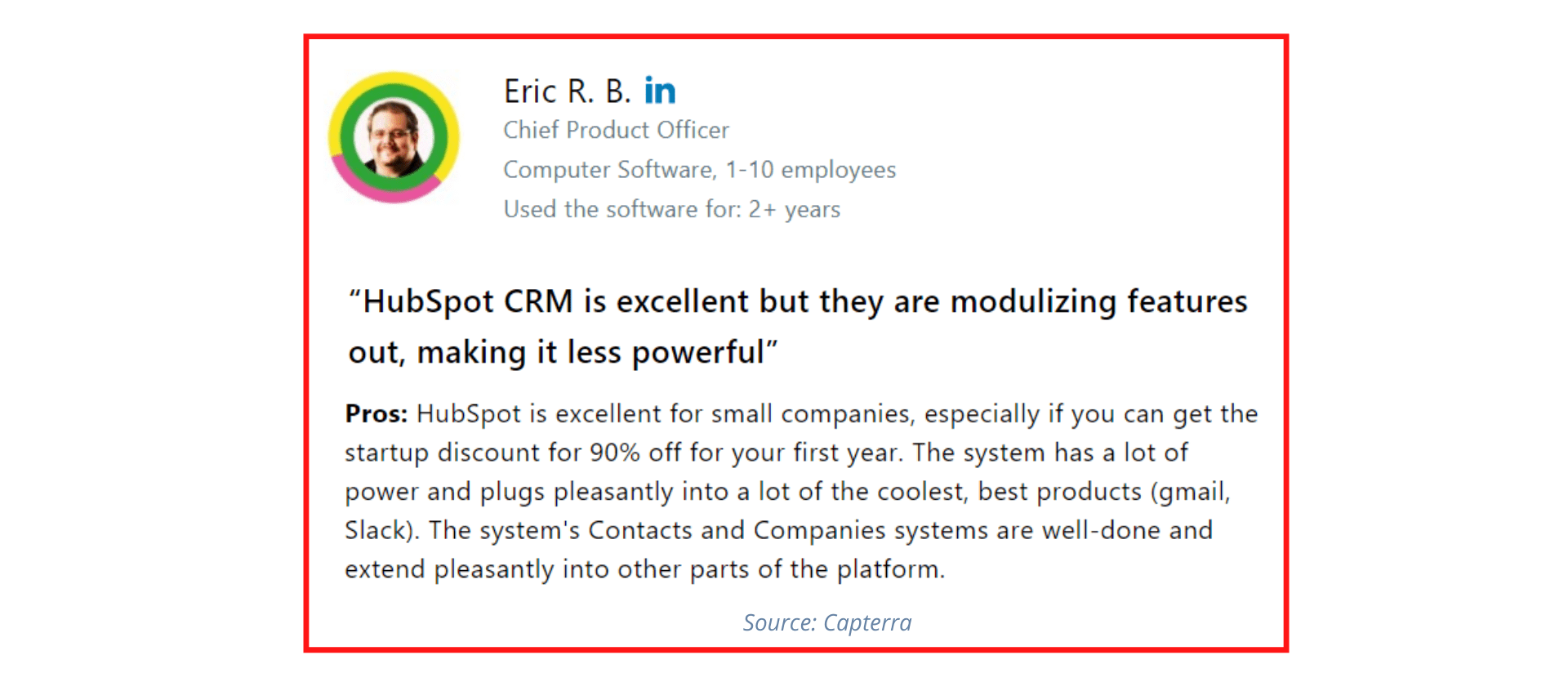 Cons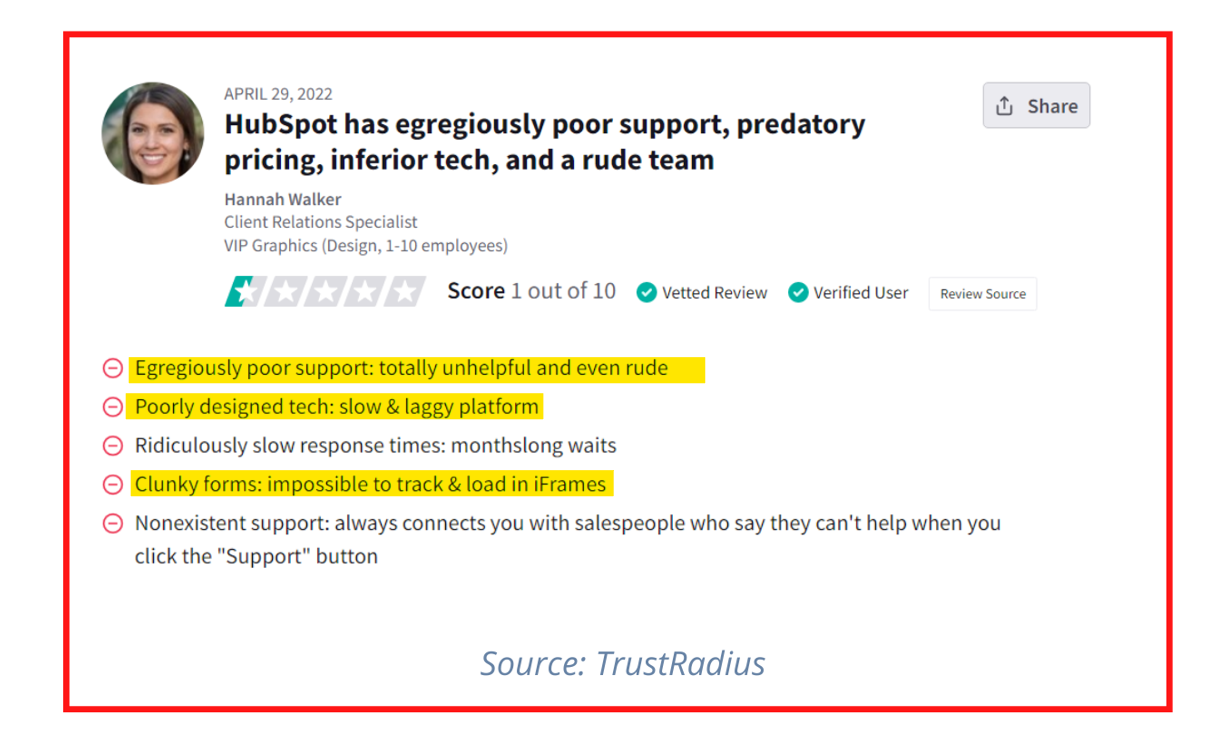 EngageBay User Reviews
Pros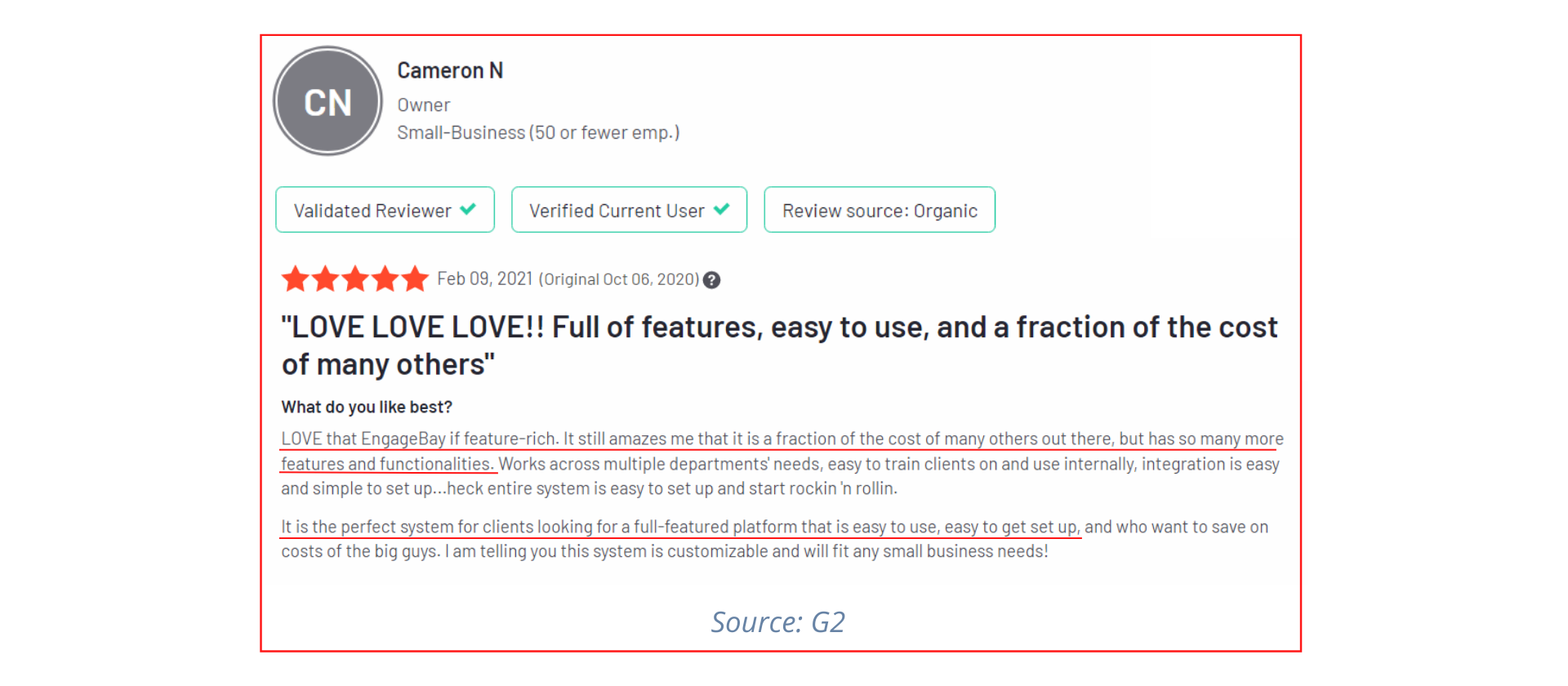 Cons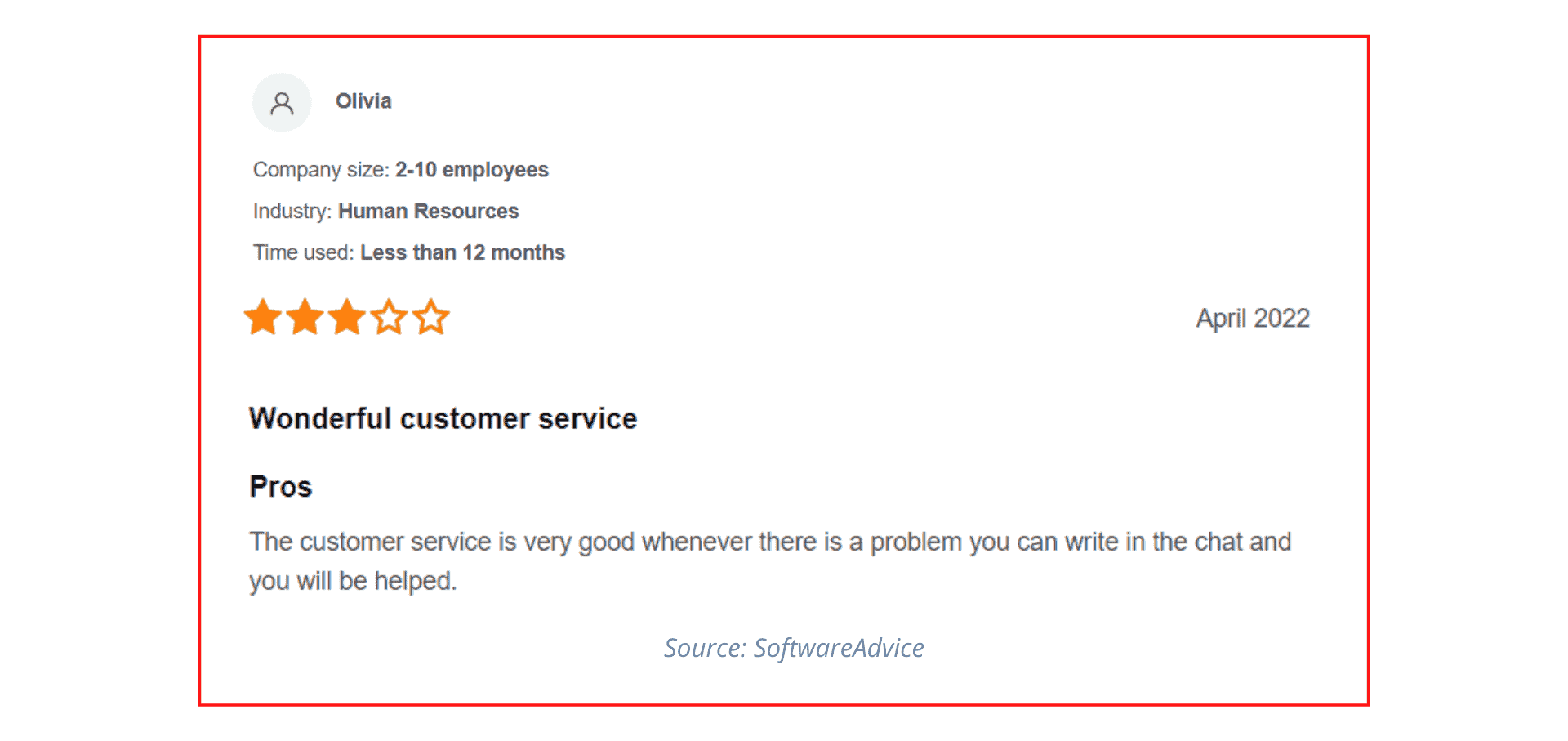 Zoho vs HubSpot vs EngageBay: Business Relevance
Though both Zoho and EngageBay are geared towards SMBs and startups, EngageBay is the best choice. That's because EngageBay lets you scale easily and offers a host of features and incredible customer support. Oh, and it's pretty easy to use — while Zoho has a steeper learning curve.
On the other hand, HubSpot is the best choice for large companies looking for highly advanced features.
What makes EngageBay the best CRM for small businesses?
Zoho vs HubSpot vs EngageBay: Ultimate Winner
We've compared Zoho vs HubSpot vs EngageBay, and figured out the winners in each segment: pricing, CRM functionality, customer support, and business relevance.
It's time to choose one.
All three of them are fantastic CRM solutions for your business needs.
Choosing any one of them will help your business grow and aid you in the marketing, sales, and customer service processes. However, it's smart to pick one that offers all the features you need and is still priced well within your budget.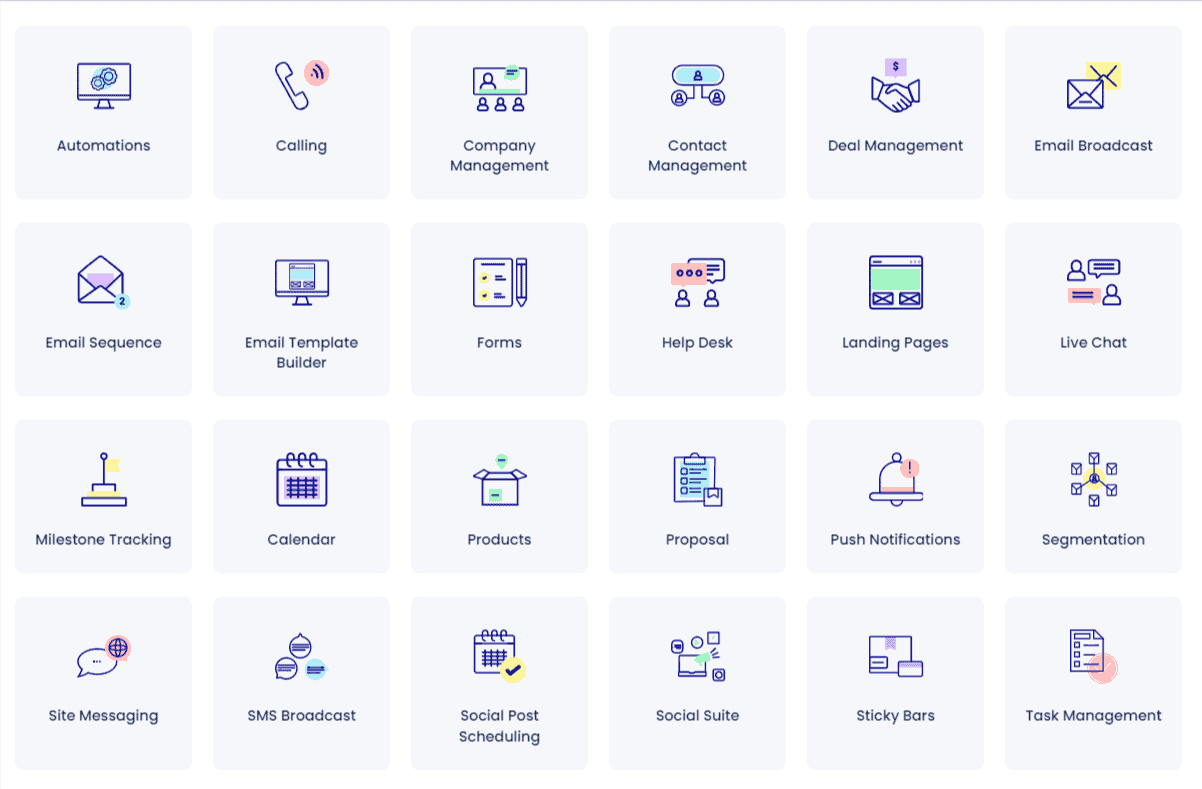 If you are a small business, EngageBay is the best choice for you. That's because EngageBay does it all, offers a free-forever plan, and has transparent, fixed pricing.
That's incredible, ain't it?
In fact, it's so great that we are loved by over 45,000 small and medium businesses globally — take a look at some of our 5-star reviews 🙂
Sign up now and take your business to new heights!
Here's a demo of the product for you: