Keap offers a cost-effective alternative to HubSpot, with similar all-in-one capabilities and key marketing features that many CRMs lack.
HubSpot has everything you need to manage your customer relationships in one place. The product suite includes CRM, marketing, sales, and customer service software. The products work seamlessly together to keep track of customer data across all departments. This allows your teams to share a unified understanding of the entire customer journey, making it easier for them to help customers achieve their goals.
Keap (Infusionsoft) is a CRM software for small businesses. It offers a variety of features that help you manage customer data, including contact management, lead management, email marketing, and marketing automation.
It's cheaper than HubSpot and has all the essential features but it's easier to outgrow the tool since it provides features only tailored to small businesses.
In this detailed HubSpot vs Keap comparison guide, you'll learn about:
HubSpot vs Keap differences

What makes the two platforms different and similar in different categories

The pricing difference between HubSpot and Keap

A more affordable and better alternative
What's the Difference Between HubSpot and Keap?
HubSpot is known for its CRM and marketing features, while Keap is known for its automation features. They both offer a wide range of features, including marketing automation, lead management, and email marketing. However, HubSpot is considered to be more feature-rich, while Keap is considered to be more intuitive.
HubSpot – An all-in-one CRM
With everything you need in one place, you'll be able to get started with the CRM right away, and as your company grows, the tools will continue to meet your needs. You might only need a CRM for now, but the Marketing Hub might come in handy when you need to convert website visitors into customers later on.
This suite of products brings together the marketing, sales, and support teams into one platform. It includes:
The Marketing Hub: It helps you attract an audience and convert them into customers. Some of the features include a landing page builder, marketing automation, email marketing, and social media management.
The Sales Hub: It helps your sales team engage with customers and prospects and close more deals. Some of the features in this hub include email tracking, sales automation, document management, live chat, and pipeline management.
The Service Hub: It helps your service team work efficiently by bringing customer service tools and data from multiple sources into one app. Some of the features in this hub include a knowledge base, shared inbox, customer feedback surveys, and integration with the CRM.
The CMS Hub:

This hub helps you create web pages directly on HubSpot. It replaces CMS like WordPress and Wix. Some of the features include website themes and integration with the HubSpot CRM.

The Operations Hub:

This hub connects your apps, syncs your customer data, and automates business processes. It ensures all your data mirrors each other across the different connected tools.
Keap – A Cheaper HubSpot Alternative
It lets you attract leads with its email marketing platform, nurture the leads with marketing automation, and manage your customers with the intuitive CRM.
Apart from the table-stake CRM features like lead management, one of Keap's most popular features is the automations especially considering its price point compared to HubSpot. You can convert leads who've filled out a form by sending them automated follow-up emails, scheduling appointments with clients, and following up with clients once they make a purchase.
Its email marketing feature lets you automatically tag and segment new leads when they fill out a form or a landing page. You can also choose an email template from its vast catalog and A/B test email campaigns.
Overall verdict
HubSpot suits you if you need an all-in-one tool to replace your email marketing, customer support, sales CRM, and even content management platforms. It has great customer support and a vibrant community and ecosystem. But it comes at an expensive price and it also targets enterprise customers now.
Keap suits small businesses. It has the basic email marketing and sales CRM features a small business needs to grow. Compared to HubSpot it's cheaper and gets you going. But outside of HubSpot, there are some cheaper and more powerful Keap alternatives like EngageBay, Freshsales suite, or Zoho CRM Plus.
Read also: The Perfect Keap Alternative
Comparing HubSpot vs Keap ( Infusionsoft)
We'll take a look at the key differences between the two platforms and review them based on eight key factors. Then, we'll give you an in-depth experience of how each platform performs.
Ease of use
Your team will be more productive and efficient if they can get started with the software faster and with ease. So when comparing HubSpot vs Keap:
Evaluate how difficult it is to configure the CRM to your needs

Test their customer support on the free trials to see if they are fast enough to respond to issues

Create automations and play with their features to see if they fit your needs
HubSpot
HubSpot's user interface is intuitive and user-friendly. You can easily access each hub with a single click through the navigation bar.
For example, when you hover over the service hub button, the drop-down menu includes tickets, feedback surveys, a knowledge base, and a customer portal. This makes it easy to jump to specific features.
HubSpot has a resourceful help center to get you started and help you with day-to-day issues. It includes:
Step-by-step guides to each feature

Live chat with customer support

Tickets

Instant answers from the community page
Here's how Stephanie Gemmen, a partnership development rep sums up HubSpot's ease of use:
"Hubspot Sales Hub is very user-friendly and easy to learn. As a former teacher, I thought it would be much more difficult, but the training videos and ease of use all came very quickly!"
Keap
Keap's user interface resembles Pipedrive's UI. It looks modern with all the key features lined up on the navigation menu on the left panel.
It has a 'getting started' page on the navigation menu to guide you on how to start using Keap. This page includes an onboarding checklist with instruction videos on activities such as importing contacts, connecting third-party apps, and organizing your contacts with tags.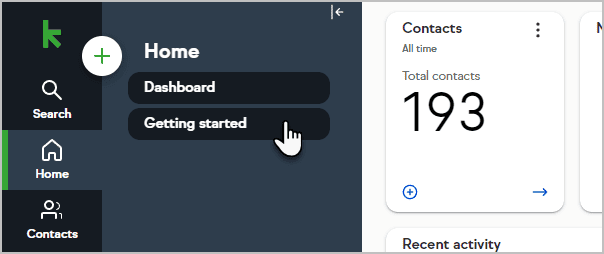 Keap also includes phone support, 24/7 live chat, and dedicated customer support in all their paid plans. This makes it easy to get instant help when you're configuring the app.
The average rating among CRMs for ease of use is 8.6 while for ease of setup is 8.5. However, Keap's ratings are far below at 7.2 for ease of use and 6.6 for ease of setup. This means that most users have a hard time setting things up for the first time.
Ease of use verdict
Tie. Both platforms provide enough support to help you configure everything according to your needs.
Read also: The Best HubSpot Alternative
Pricing
HubSpot has a bundled pricing plan and individual pricing for each hub while Keap has a tier-based pricing plan namely the Pro, Max, and Max classic plans.
How much does HubSpot cost?
Here's HubSpot's CRM suite pricing plan:
Starter–$50 per month
This plan includes the marketing, sales, service, CMS, and operations hub starter packages which have the essential marketing, sales, and service features for your team.
Professional–$1,780 per month
This plan includes all the hub's professional packages which you can use to personalize your outreach and optimize campaign conversion.
Enterprise–$5,000 per month (billed at $60,000/year)
This plan includes all the hub's enterprise packages which you can use to create advanced marketing reports and use AI to get insights into your team's sales calls.
Here are a few things that quickly become clear from their pricing structure:
The steep price jump from the starter plan to the professional plan–$50/month to $1,780/month–makes it hard to upgrade when you only need one feature which isn't in the starter plan

you have a 12-month commitment plan whether you pay monthly or annually. This locks you into paying for the software for the whole year

The starter plan by default starts with 2 users, the professional plan 5 users and the enterprise plan starts with 10 users

If you want to add additional users, the starter plan costs $25/month/user, the pro plan $100/month/user, and the enterprise plan at $120/month/user
HubSpot's pricing gets expensive very fast and lacks some key features on some plans.
Not happy with HubSpot's pricing? See our top picks for the best HubSpot alternatives in our comprehensive article.
Here's how James Craddock a COO sums up HubSpot's pricing:
"The biggest downfall is the price point when adding contact lists that exceed the initial pricing range of 1000. The price increase for 1-2k contacts creates a drastic price increase that becomes prohibitively expensive for smaller companies."
Read also: HubSpot Pricing and Comparison with Affordable Alternatives
How much does Keap cost?
Keap has three pricing plans. For the Max Classic plan, you'd have to talk to sales to get the pricing.
Pro plan–$169/month
Features in this plan include:
1,500 contacts and 2 users ( additional users at $29 each)

Email marketing

Sales and marketing automation

Dedicated phone line for US and Canadian users

Automated lead capture and follow up

Appointments

Custom fields–100

Quotes, invoices, and payments

Landing pages
Max plan–$249/month
Features in this plan include:
All pro plan features

2,500 contacts and 3 users ( additional users at $29 each)

Promo codes and upsells

Marketing Analytics

Lead scoring

Subscription management

Custom fields–150
Pricing verdict
Keap has a better pricing structure compared to HubSpot. It includes all the essential sales and marketing features you might need to grow your business. But when compared to other all-in-one CRMs like EngageBay, Keap is expensive.
Read Also: Keap Pricing & Comparison with EngageBay
Customization and pipeline management
You can run basic customization with both HubSpot and Keap. And when you need further tweaking, you can hire a certified expert from their marketplaces. Their pipeline management is also table stakes. You can move deals along the sales cycle and run quick automations.
HubSpot
You can personalize every aspect of your account – deals, contacts, quotes, and products. You can also customize reports and forecasting to get a better understanding of your business. And if the pre-built reports don't fit your business, you can create your own using the report builder.
As Alison Bekolay, a BDR at Casetext puts it:
"You're able to customize fields, easily drop down different sections, and create a view that makes sense for you – all without having information overload."
However, If you need to custom create an object specific to your business needs, you'll have to upgrade to the enterprise plan which costs $5,000 per month (billed at $60,000/year).
Its pipeline management could be improved. Its bad UX, for example, makes it hard to progress a 'deal' to a 'customer'.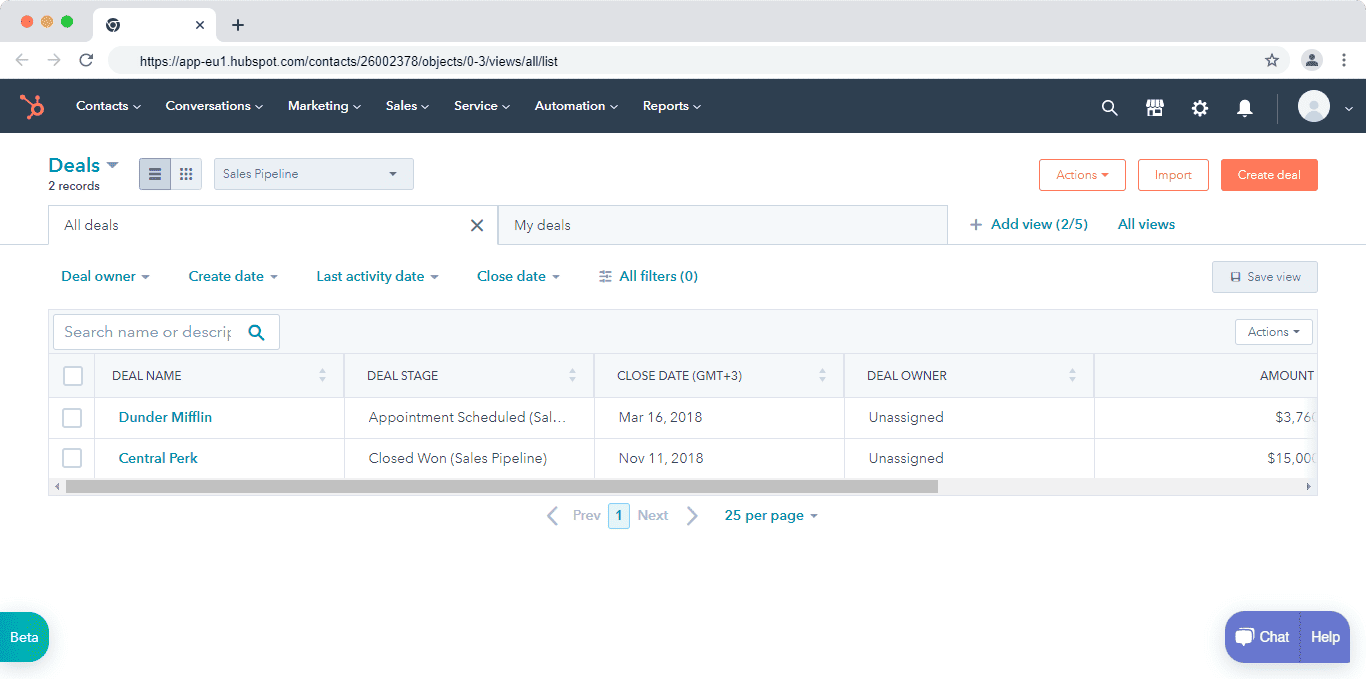 Keap
Keap lets you create custom fields only for your contacts and company records. When you need to add more information about your contacts, you can create a new custom field specific to your business needs.
Its pipeline management is clean and easy to use compared to HubSpot. You can drag and drop deals along the sales process and view your entire deals on a kanban board. One nifty feature is the immediate access to automations right from the deal card.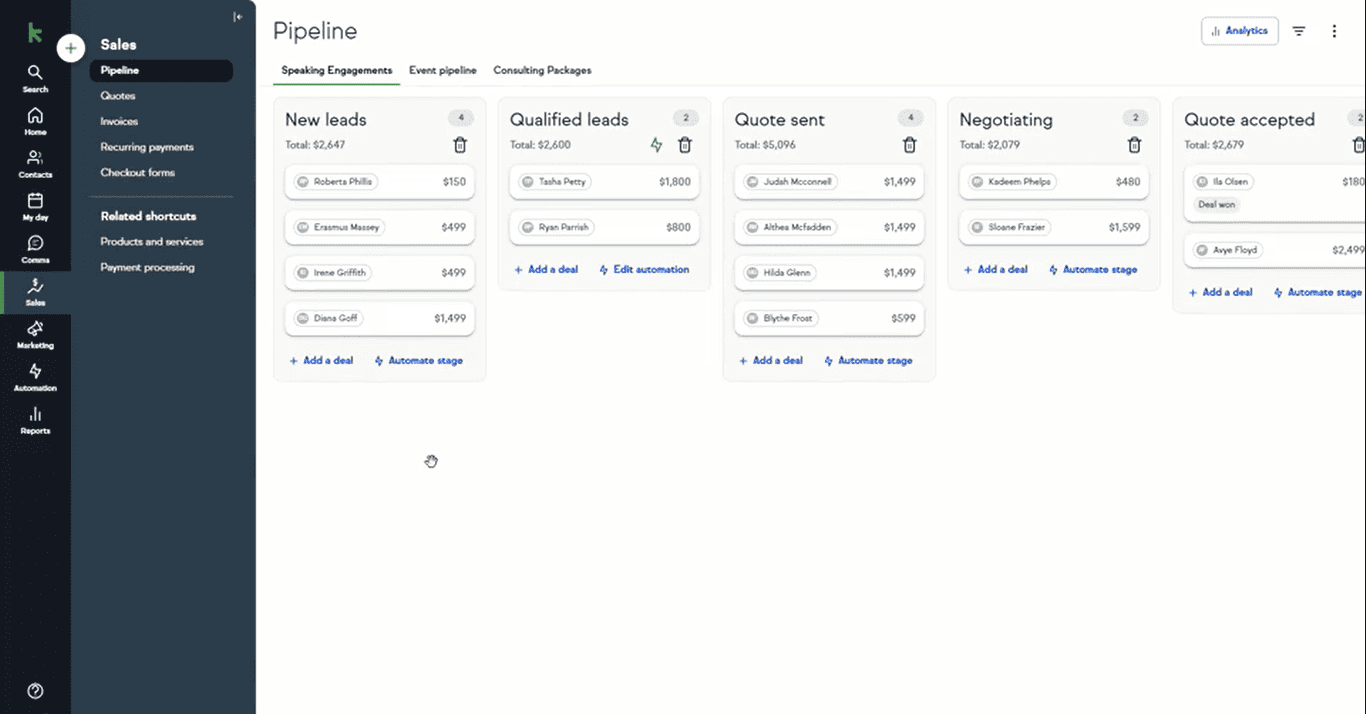 Customization and pipeline management verdict
HubSpot has better customization compared to Keap. Keap on the other hand has better pipeline management compared to HubSpot.
Read also: HubSpot Pros And Cons — A Candid Assessment
Marketing and campaign management
Both platforms have marketing features but the main difference is that HubSpot has a dedicated marketing and campaign management platform with more tools.
HubSpot
The marketing hub has all the tools you need to take your marketing campaigns to the next level. With its comprehensive features, it's easy to get everything you need in one place. Here are some marketing activities you can perform with HubSpot:
Create blog posts

Track your ads

Manage social media accounts

Build landing pages

A/B test emails

Run marketing automation
With the campaign feature, you can put all of your marketing resources towards a single goal. You determine the budget, and then track KPIs to see how your campaign is performing. You can also access assets such as ads, emails, and workflows that were created in connection with the campaign.
If you are looking to create a successful Black Friday campaign, you can use blogs, ads, landing pages, and emails to help you reach your goals for that campaign.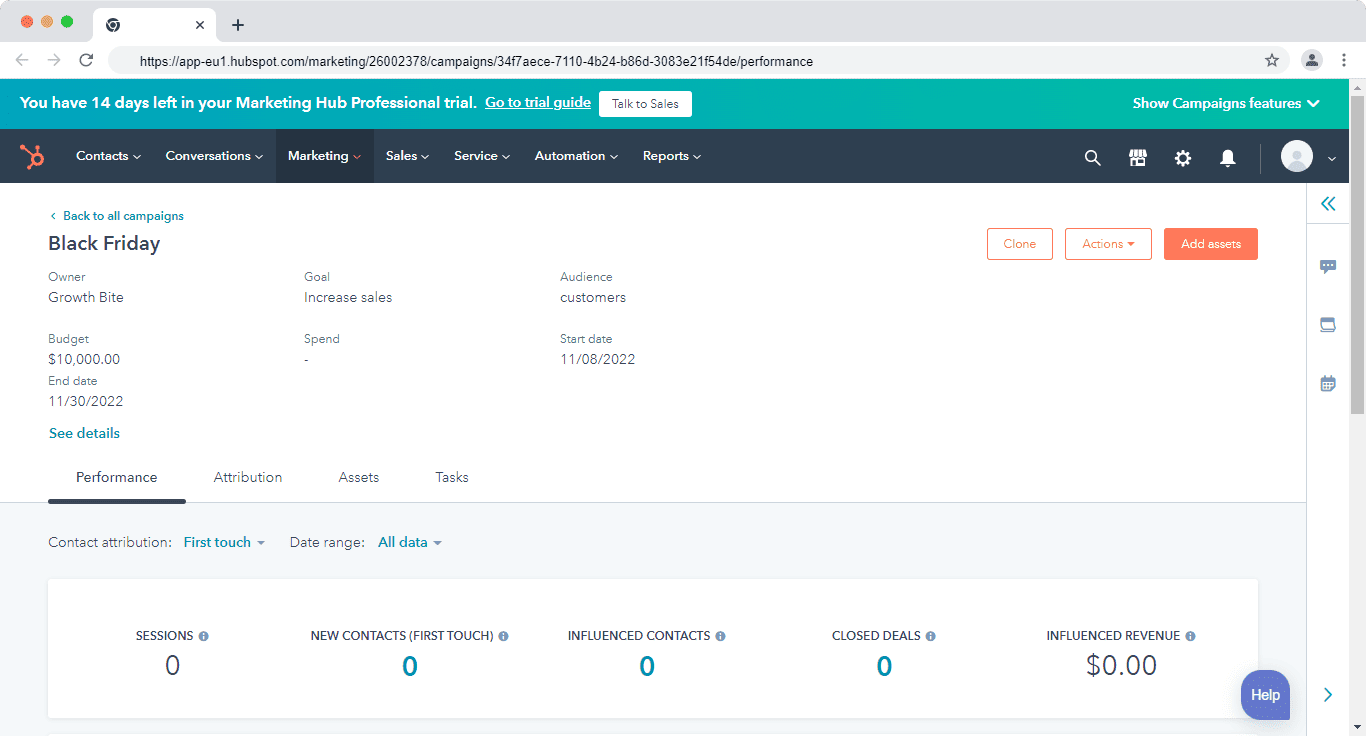 Here's how Joshua Lewin summed up HubSpot's marketing capabilities:
"Hubspot has useful tools for creating drip campaigns, automating email outreach, and it allows you to track your campaigns' success. If you have a marketing-driven approach to sales it can be effective."
Keap
Keap only has three marketing features:
Forms

Landing pages

Email broadcasts
Forms help you collect leads with an embedded form on your website. Unfortunately, it lacks customization capabilities. You can only add custom fields, display your logo, set page background color, button background color, button color, and its alignment. You can also automate follow-up emails with each form you create.
Its landing page builder lets you pick a template and customize it according to your needs. You can also add your Google Analytics Tracking ID and Facebook Pixel ID to track traffic.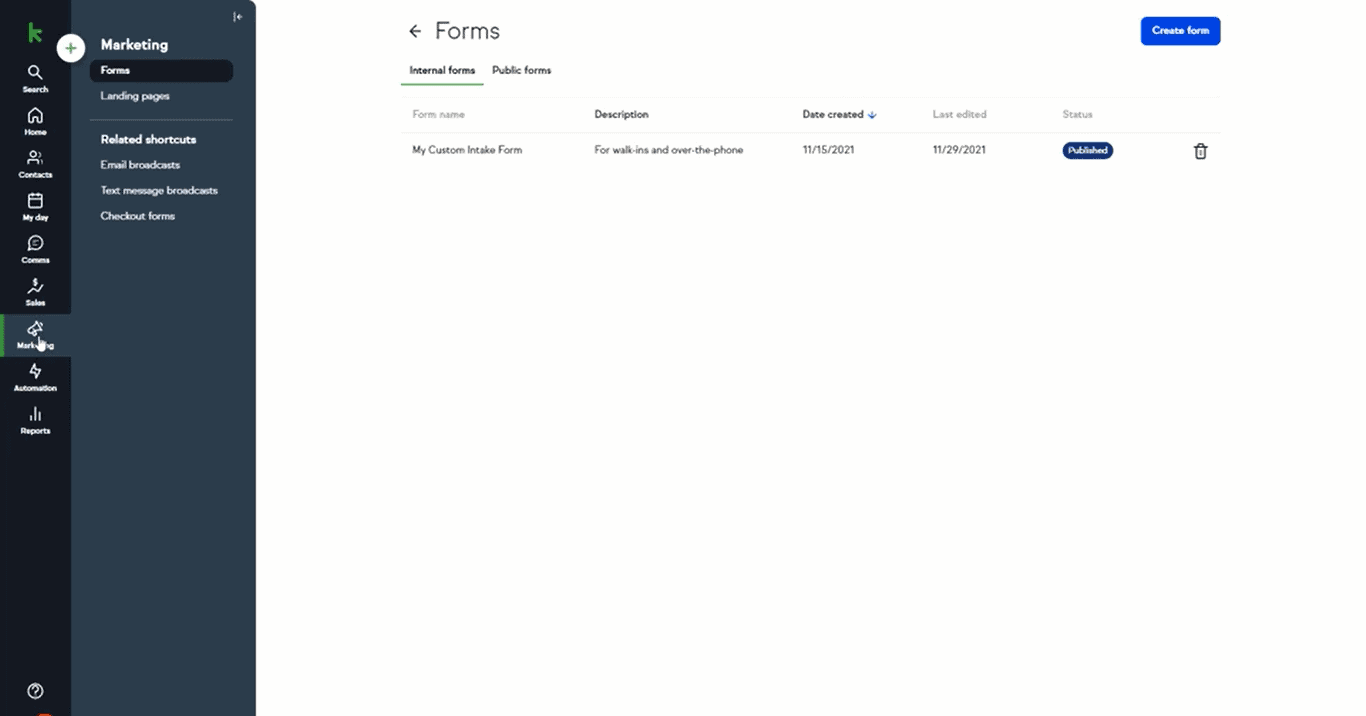 Keap lets you create both text and email broadcasts. You pick an email or text template to use and if it's an email, you can edit the visuals before sending. It also lets you select which users will receive the broadcast.
Marketing and campaign management verdict
HubSpot has better marketing and campaign management features. You can run email marketing campaigns, attract leads with landing pages and web forms, and nurture them with marketing automation.
Read Also: 9 Amazing Marketing Automation CRM Software [Comparison Table]
Integrations
Integrating a CRM with your current tech stack gives you a complete picture of your business without working in silos.
HubSpot
HubSpot has over 1,000 integrations in categories like:
Customer service

Sales enablement

Scheduling

Project management

and many more.
It even offers integration with other CRMs like Pipedrive, Copper, Insightly, and Salesforce.
Looking for any HubSpot competitors? Our detailed analysis introduces nine strong alternatives. Check it out now!
Keap
It has a limited number of integrations. While it has integrations in categories like landing pages, reporting, eCommerce, and others, it only has a total of 29 integrations.
For example, it lacks key integrations with popular apps like Zoom, Calendly, Shopify, Twilio, and Calendly.
Integration verdict
HubSpot has more integrations with popular apps compared to Keap.
Sales automation
Automations and workflows improve your team's productivity by eliminating manual work and repetitive tasks.
HubSpot
HubSpot automation can be broken down into two parts: sequences and workflows. A sequence is a set of steps you take to complete a task, while a workflow is the process by which these steps are executed.
Sequences ensure no deal falls through the crack. You could for example:
Create a series of timed emails to nurture leads and follow up with deals.

Personalize the sequence emails using contact and company data from HubSpot CRM and Salesforce.
Workflows automate manual and time-consuming activities. Some tasks you could automate include:
Nurturing leads

Updating leads' lifecycle stages

Handing leads off to sales
HubSpot also has seven types of triggers that start a workflow–contact-based trigger, company-based, deal-based, ticket-based, quote-based, conversation-based, and feedback-submission based.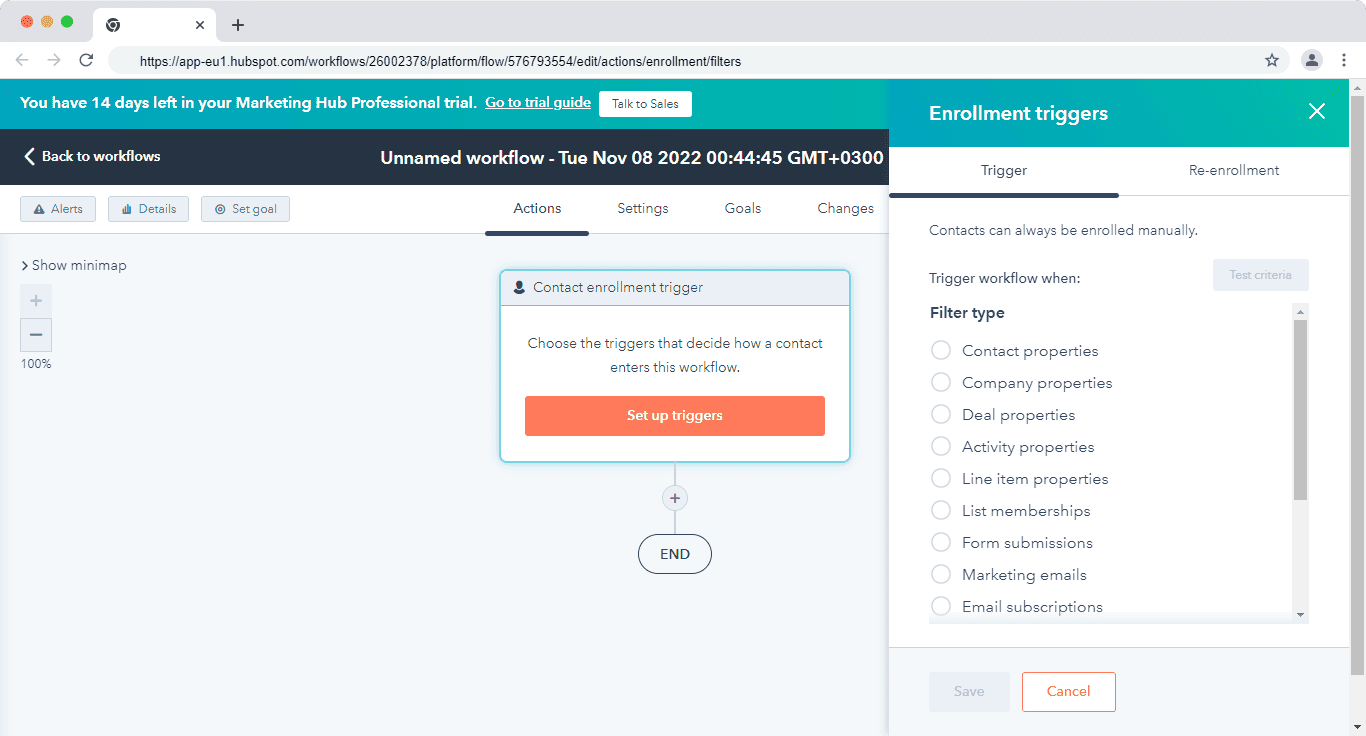 The automation options available to you are limitless, and you can pick from a pre-built list of automation tasks that will help streamline your work. From converting leads to sharing meeting details to promoting anything.
Keap
It has two modes of automation:
Easy automations

Advanced automations
Easy automations are triggered when "when" conditions are met. One of the following options can trigger your automation:
An invoice is paid

An invoice is sent

A product is purchased

A deal enters a stage

A quote is accepted

A tag is added to a contact
When the automation is triggered you can set one of the following events to happen depending on the trigger:
Create a deal

Create a task for the contact

Send an email

And many more events
You can build these automations from scratch using the automation builder and also choose from the list of automation templates.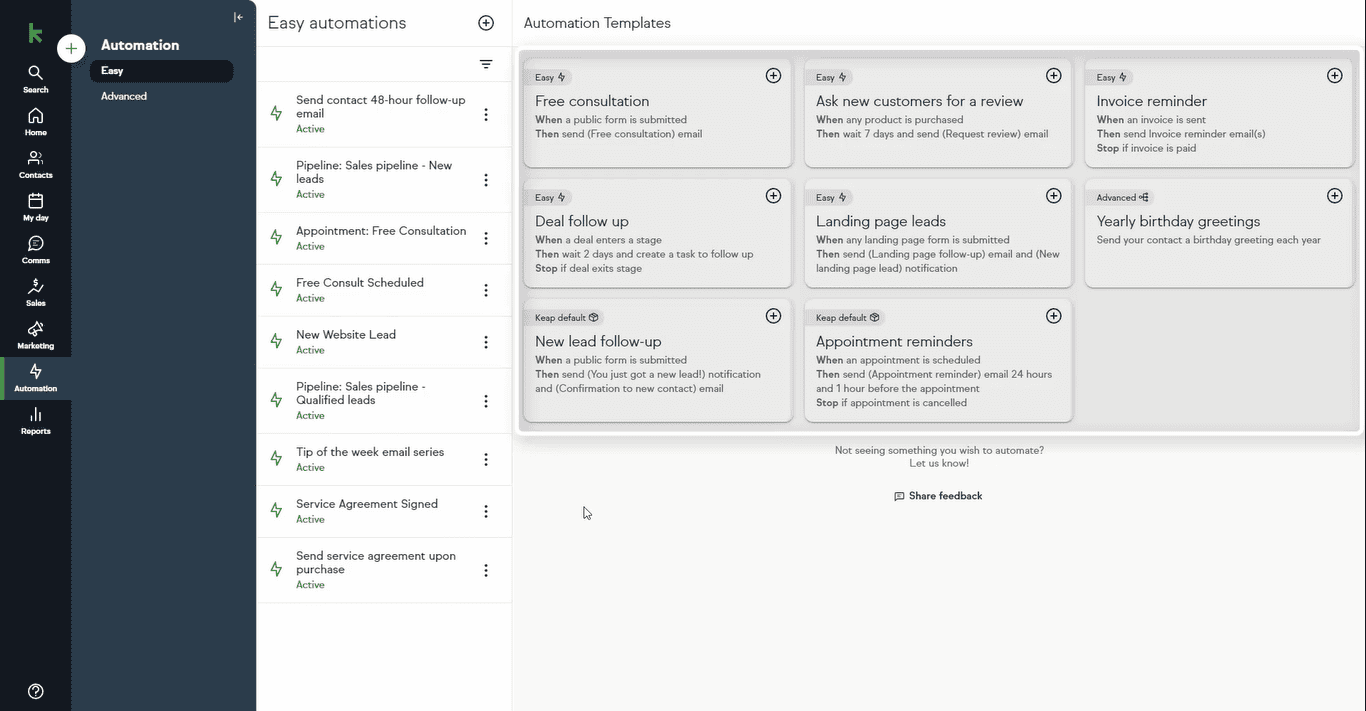 Advanced automation lets you create automations when a link in an email is clicked, an email is opened, a form is submitted, a pipeline stage is moved, a task is completed, and many more conditions.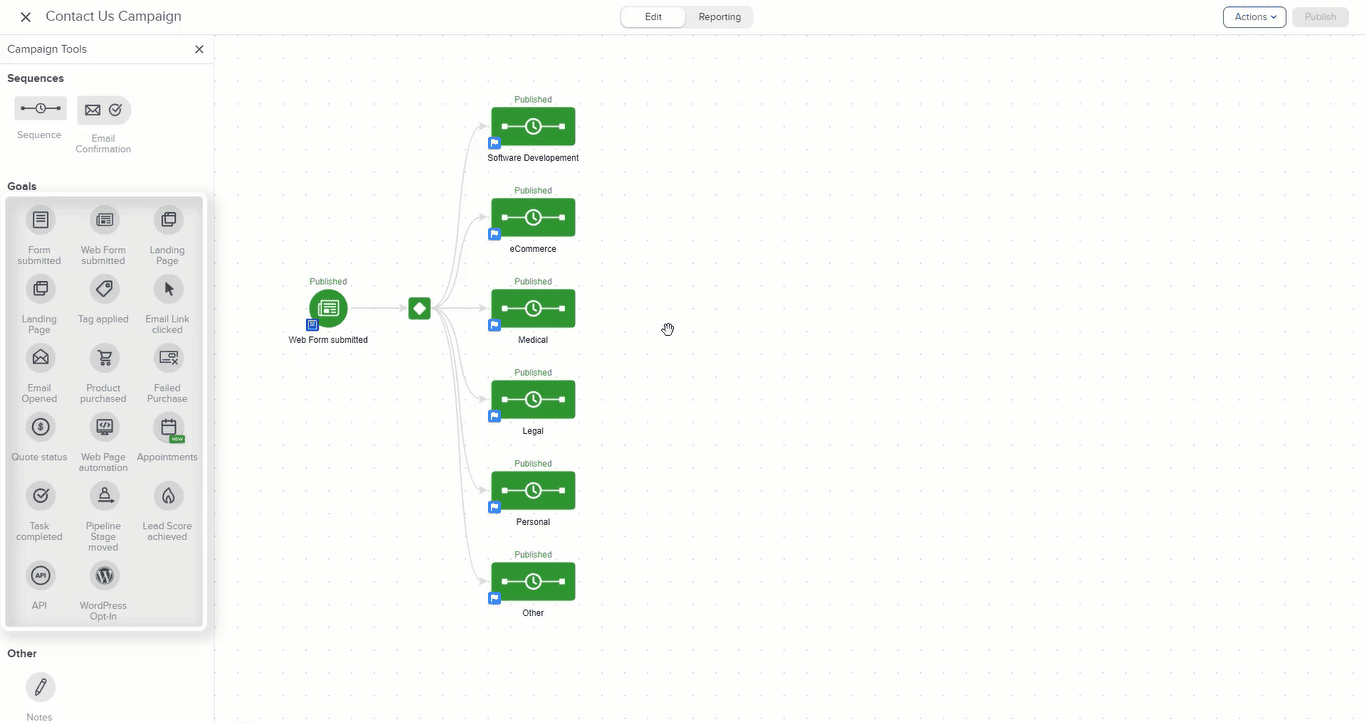 Sales automation verdict
HubSpot has slightly more automation features compared to Keap, but Keap has a more user-friendly UI.
Read also: EngageBay vs HubSpot — Market Leader or Emerging Powerhouse?
Reporting
CRM reporting helps you know what's happening across your sales process and how each team member is performing.
Here are some details you can look out for:
How easy it is to create reports and dashboards

The type of reports available

How presentable and easy to understand the reports are
HubSpot
With its reports and dashboards, you can get insights into your pipeline, forecast revenue, and coach your team using data from the CRM and marketing hub.
HubSpot has a list of 90+ pre-built reports built into dashboards. For example, the sales manager dashboard has 8 pre-built reports. Here are some of the reports:
The deal closed total vs goal

Deal leaderboard – all-time amount closed by rep

Activity leaderboard by a rep with type breakdown

Deals open by the close date of this month

And many others
By viewing the funnel reports, you can gain insights into how deals and contacts are progressing through their various life cycle stages. You can also build custom reports to get insights based on your specific needs and help in presenting them to stakeholders.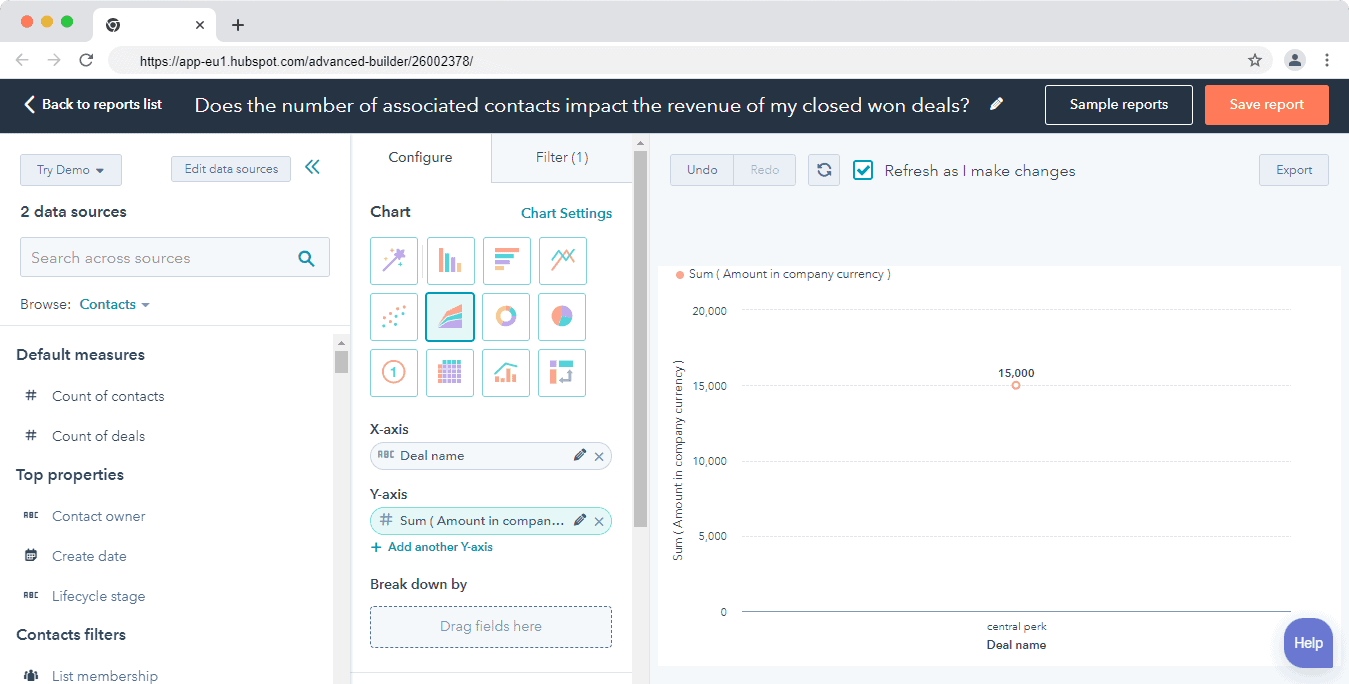 Keap
Keap's reporting function is basic. The pipeline report lets you view a chart that shows how your deals have performed over time and highlight how your reps are performing.
Its reports are categorized into sales reports, email reports, campaign reports, and web form report. The sales report also lets you view your data in graphs. Apart from that, the reports are not customizable as HubSpot and don't include a comprehensive sales report that a small to medium business might need.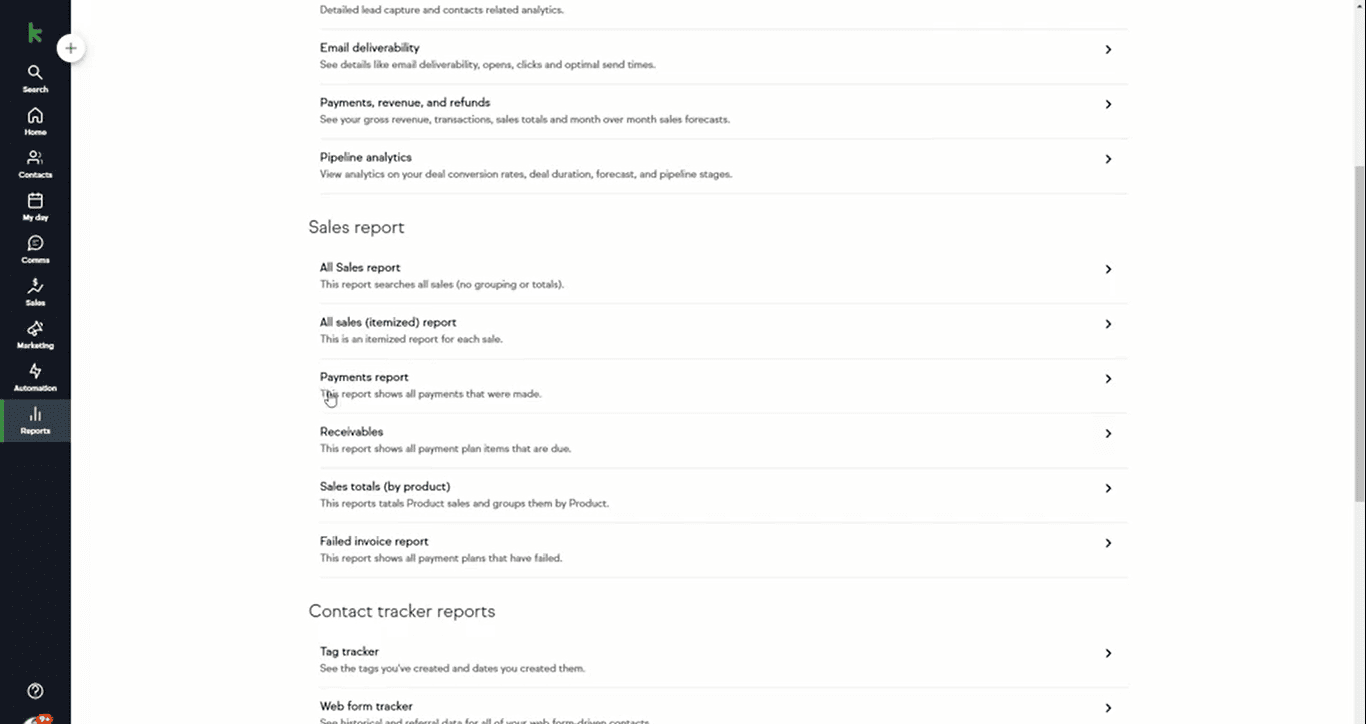 Reporting verdict
HubSpot has better reporting functionality compared to Keap.
Lead management
Both HubSpot and Keap have lead management features. Here's my review of each platform's capabilities.
HubSpot
Using its lead management software, you can manage all of the following activities in one place:
View communication history

Manage leads

Prioritize your leads

Score leads
With HubSpot's contact database, you can track every detail about a lead from their profile, including conversations and touchpoints with the company. This information lets you understand and serve your customers better and with context.
Forms, live chat, automation, and chatbots help you attract and nurture your leads. The universal conversation inbox keeps everyone informed of the latest conversations with customers, so the team can provide the best possible experience.
Keap
Its lead management functionality lets you attract leads through web forms and landing pages. You can then segment them with tags and view all your interactions with a lead from the contact management dashboard.
You can also segment leads based on the source they came from. This helps you know where your most valuable customers come from. Although this feature is only available in the Max classic plan.
Keap also lets you score leads, set appointments with leads, and track leads across the pipeline.
Lead management verdict
HubSpot has more lead management features compared to Keap. It covers the entire customer journey and includes sales-focused automations.
EngageBay: A More Affordable and Powerful Alternative
EngageBay is an all-in CRM powering sales, marketing, and support teams. It's ideal for small businesses that are starting out or those that are scaling.
HubSpot packs advanced features and replaces standalone apps like marketing automation software, but it's expensive. Keap is a cheaper alternative to HubSpot. It includes key marketing and sales features tailored for small businesses but when compared to other CRMs in the market, it's more expensive.
EngageBay packs the best of both worlds. It's cheaper than Keap and has advanced marketing, sales, and support features like HubSpot.
Here's how Zoran Bencak, head of IT, summed up EngageBay:
"With [an] all-in-one suite, you have an overview of all company segments. From marketing to sales team. When you correctly set up your account, your work becomes very easy and fast. With a new design, dashboards are even more user-friendly. We have different integrations, and everything works smoothly."
You can create multiple deal pipelines for different products, run automations with multiple triggers, and get deeper customer insights with a bird's-eye view of the entire customer journey touchpoints.
The marketing automation platform lets you run drip campaigns, build forms and landing pages, automate lead scoring, and segment customers based on their activities and behavior.
The free help desk and live chat software allow you to engage with customers and provide contextual support. You get to run ticket automations, assign tasks to reps and view customer interactions with the company in one dashboard.
Read also: 5 of the Best Keap Alternatives (Features, Pricing)
Wrapping Up
Keap suits you if you are a small business owner with few sales reps or staff. Its marketing automations and pipeline management functionality are easy to use and geared towards small businesses.
HubSpot is great for you if you are in a big or growing business. Its suite of products can replace your email marketing, scheduling, customer support, and sales platforms. But the downside of it is that it's expensive.
That's why EngageBay is a better alternative. It's cheaper, has the same functionality as HubSpot, and has better customer support.