Why should businesses look for Insightly alternatives?
Insightly is a popular Customer Relationship Management (CRM) tool many businesses use to organize workflows and manage leads, sales pipelines, and projects online.
Although a popular product, Insightly has some significant drawbacks, such as high onboarding fees (high fees in general), no phone support, a clunky user interface, and poor visual data reporting, which makes it unsuitable for some businesses.
This blog post covers 12 incredible alternatives to Insightly for small businesses, their unique features, drawbacks, pricing, and customer reviews to help you make the best choice for your business.
Here's a list of 12 Insightly alternatives:
EngageBay
Zoho
Freshsales
HubSpot
Capsule CRM
Bitrix24 CRM
Nutshell
Salesforce
Keap
Pipedrive
Agile CRM
Copper
Let us begin with an overview of Insightly and why you may need to consider an alternative.
The Drawbacks of Insightly
Despite the great features Insightly offers, achieving your business's desired goal is difficult if you're on a confined budget. For example, guided onboarding on Insightly costs $1,500. In addition, to get a customized dashboard and workflow automation, you need to upgrade from Plus to the Professional plan, which costs $49 billed annually.
And there's more!
Defective reporting (according to user reviews)
Poor data linkage
Limited customer support
Workflow automation is only available in the Pro plan
Limited features in the free plan
Defects in reporting
Data visualization is a crucial aspect of any business's success. Yet, Insightly data reporting is painfully limited for businesses that require extensive data reporting.
Here's a customer review regarding Insighly's deficiency in data visual reporting:
"You have to download reports from a link sent in an email. It would be better if the report were simply attached."
Another customer said,
"Unlike a couple of other CRM software that I've tested, Insightly does not offer many of the graphical views that the others do. Being someone who has an easier time seeing data in the visual realm, this was a feature that I wished Insightly would add."
Poor data linkage between all databases among teams
Tracking customer experience across teams is difficult due to the need for more data linkage across all databases. This leads to misinformation and difficulty nurturing leads effectively or targeting prospects with the right offers.
Limited customer support
Unlike EngageBay, with 24/7, award-winning customer support, Insighthly only offers priority email or phone support to customers who purchase a customer care support plan (exclusive of the main CRM pricing plan).
This customer care support plan ranges from $1,500 to $10,000 annually or a fraction of your total annual subscription.
Insightly's limited customer support is a significant drawback for upcoming businesses that are new to the use of CRM software and need reliable support to answer any questions or confusion they may have navigating the tool.
Workflow automation is limited only to the pro plan
Insightly workflow automation, although designed to help businesses overcome repetitive tasks in sales, marketing, and general operations, is only available in the Pro plan, which costs $49/month.
Basic features in the free plan
Insightly has a forever-free plan. However, you would need to upgrade to higher plans to access the competitive features required to allow your business to thrive, quickly raising the price for small business owners.
For example, you'll need to upgrade to a paid plan to schedule emails and manage leads.
Insightly also offers Insightly Marketing and Insightly All-in-One, and these plans are far more expensive.
Insightly Pricing Plans
Insightly has four pricing plans:
Free:

$0 (Free for up to 2 users).

Plus: Costs $29/user/month (billed annually). This plan gives you access to lead management, web-to-lead capture, email templates, and automated emails.
Professional:

Costs $49/user/month (billed annually). In addition to the features in the Plus plan, you get access to features like lead assignment and routing, scheduled outbound emails, customizable real-time insight cards, and custom queues.

Enterprise:

Costs $99/user/month (billed annually). This plan gives you unlimited, customizable real-time insight cards, comprehensive audit logging, and better automation processes in addition to the features of the professional plan.
Customer Reviews of Insightly
Take a look at what some Insightly users have to say.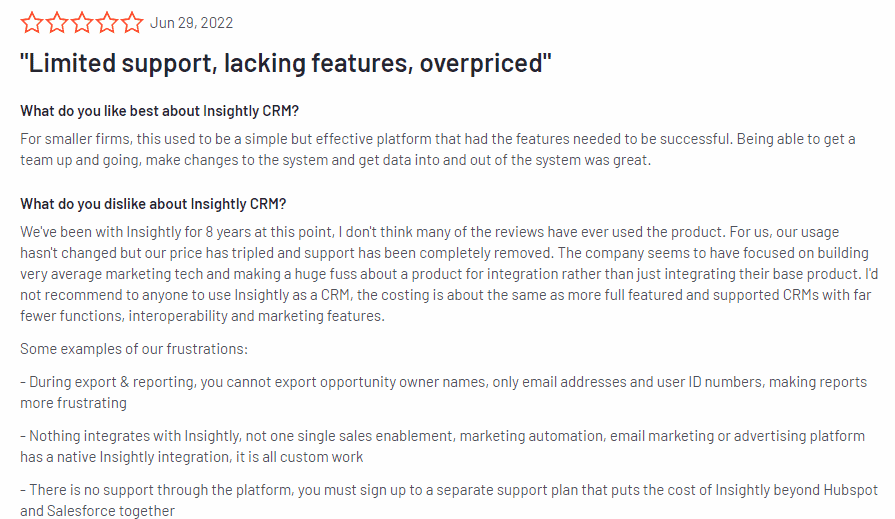 Review Source: G2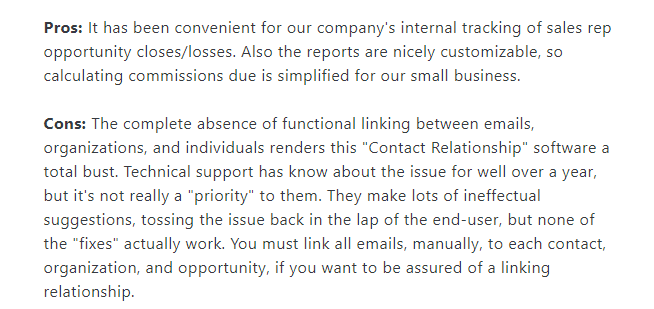 Review Source: Capterra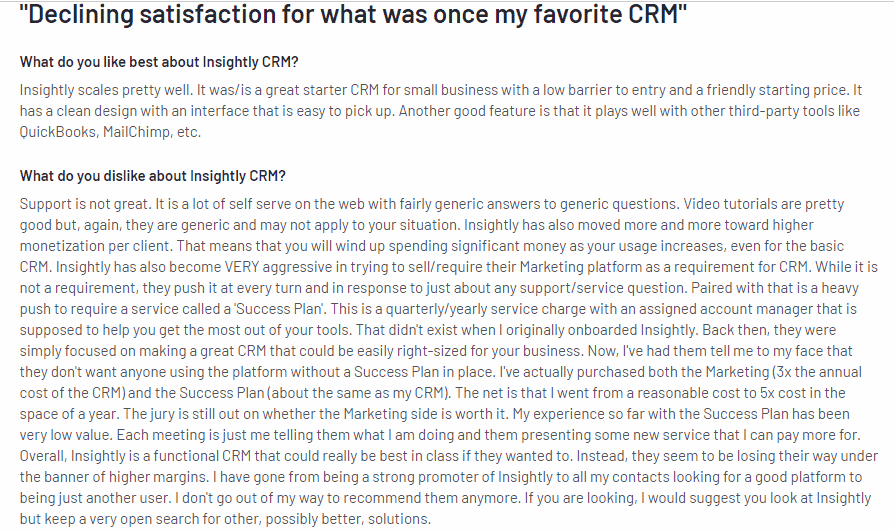 Review Source: G2
Our Top 12 Insightly Alternatives for Small Businesses
We've curated the top Insightly alternatives for small businesses to make your decision process easy.
The table below is a snapshot of their cons, pros, pricing, and overall rating to give you an informed overview, after which we discuss each in detail.
CRM
Pros
Cons
Best For
Free Plan
Starting Price

Overall Rating out of 5 (G2)

Insightly

Powerful sales pipeline

Lacks customer support and high pricing

Mid to large-sized businesses with a deep pocket

Yes (limited)

$29/user/month

4.2

EngageBay

Fully integrated CRM, predictive lead scoring, free live chat, and telephony integration

Training manuals can be improved

Small businesses and teams on a finite budget

Yes (

forever free plan

)

$12.99/month

4.6

Zoho

Advanced analytics and reporting

Poor customer service and limited storage capacity

Startups and small businesses

Yes

(limited free plan)

$18/month per user

4

Freshsales

Easy-to-use interface and lead capturing

Limited 3rd party integration

Startups and growing teams

Yes

$18/month per user

4.6

HubSpot

One in all CRM, Prospecting tools and detailed analytics and reporting.

A steep learning curve, high costs, and limited functionality in lower pricing tiers

Large companies and enterprises with unlimited budget

Yes

(limited free plan)

$50/month per user ($18/month for new users)

4.4

Capsule CRM

Comprehensive sales pipeline and mobile app CRM

No help desk or live chat, limited 3rd party integration and lacks advanced features

Small teams and startups on a budget

Yes

$18/month

4.3

Bitrix24 CRM

Allows multiple users per pricing plan, excellent communication tools

Steep learning curve and no direct access to integration

Advanced teams and professionals

Yes

$61/month for 5 users

4.1

Nutshell

Excellent post-sales support and customer contact management

Manual contact segmentation and slow data reporting

Small business and sales teams

No

$19/month/user

4.2

Salesforce

Large scale customization and CRM mobile app

Expensive and complex initial set up and customization

Large businesses and enterprises

No

$25/month/user

4.3

Keap

Robust integrations, complete lead profiles and history tracking

Costly pricing plans, limited contacts in each pricing plan

Small businesses with a big budget

No (14 days free trial)

$189 per month for 2 users

4.2

Pipedrive

Visual sales pipeline and customizable sales process

Limited data reporting and poor customer support

Small and medium-sized businesses

No

$11.90/month per user

4.2

Agile CRM

Multichannel communication and real-time customer tracking

Challenging cancellation process and steep learning curve

Startups and small teams

Yes

$8.99/month per user

4

Copper

Integration with Google Work Space and deal tracking

Lack of advanced features and limited integrations

Small businesses with basic CRM solution

No

$29/month/user

4.5
Let's look at them in detail.
1. EngageBay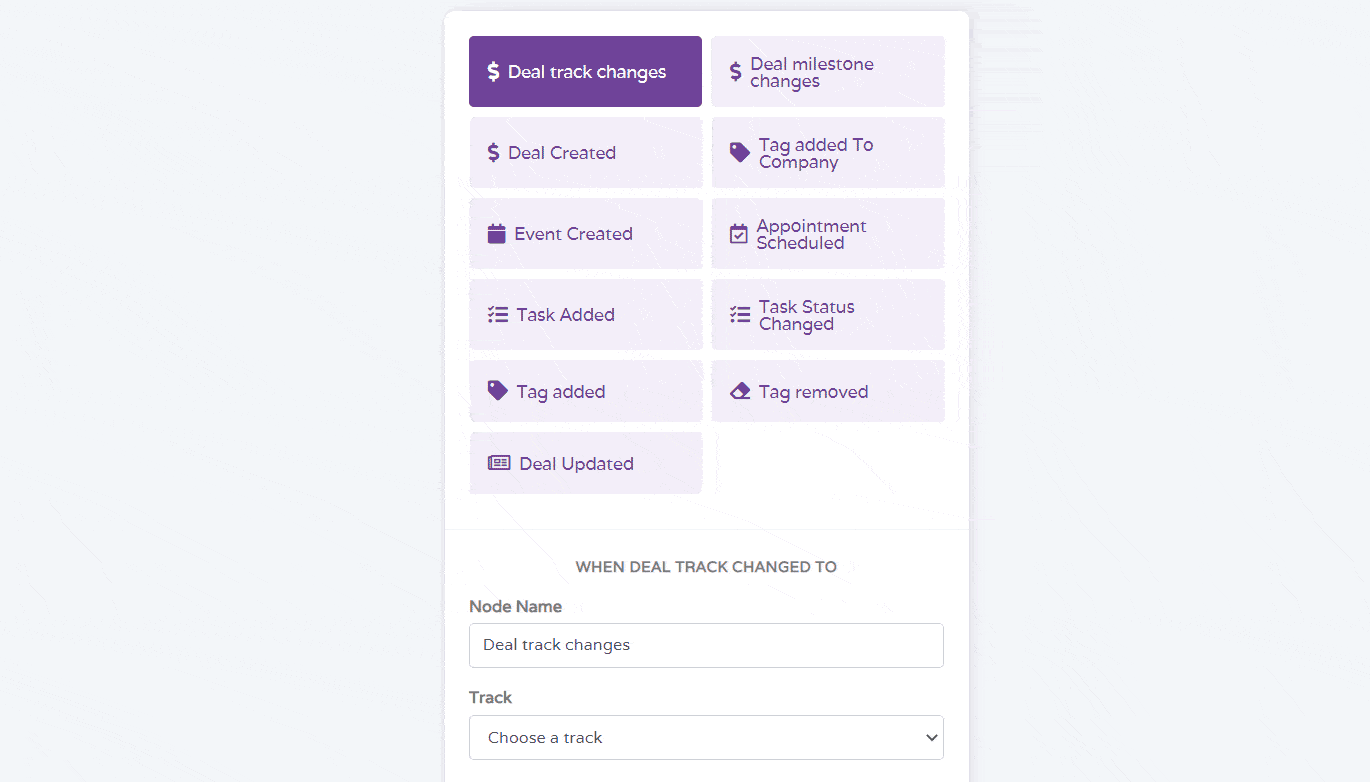 When it comes to the best Insightly alternatives, EngageBay is one of the top solutions.
As discussed earlier in this guide, our CRM services are always available for free, even if that's all you use from EngageBay.
EngageBay was founded as an alternative to pricy CRM software. You get an all-in-one marketing, sales, and customer support software that eliminates the need for multiple standalone systems.
EngageBay's lower prices and free features have won the product many praises.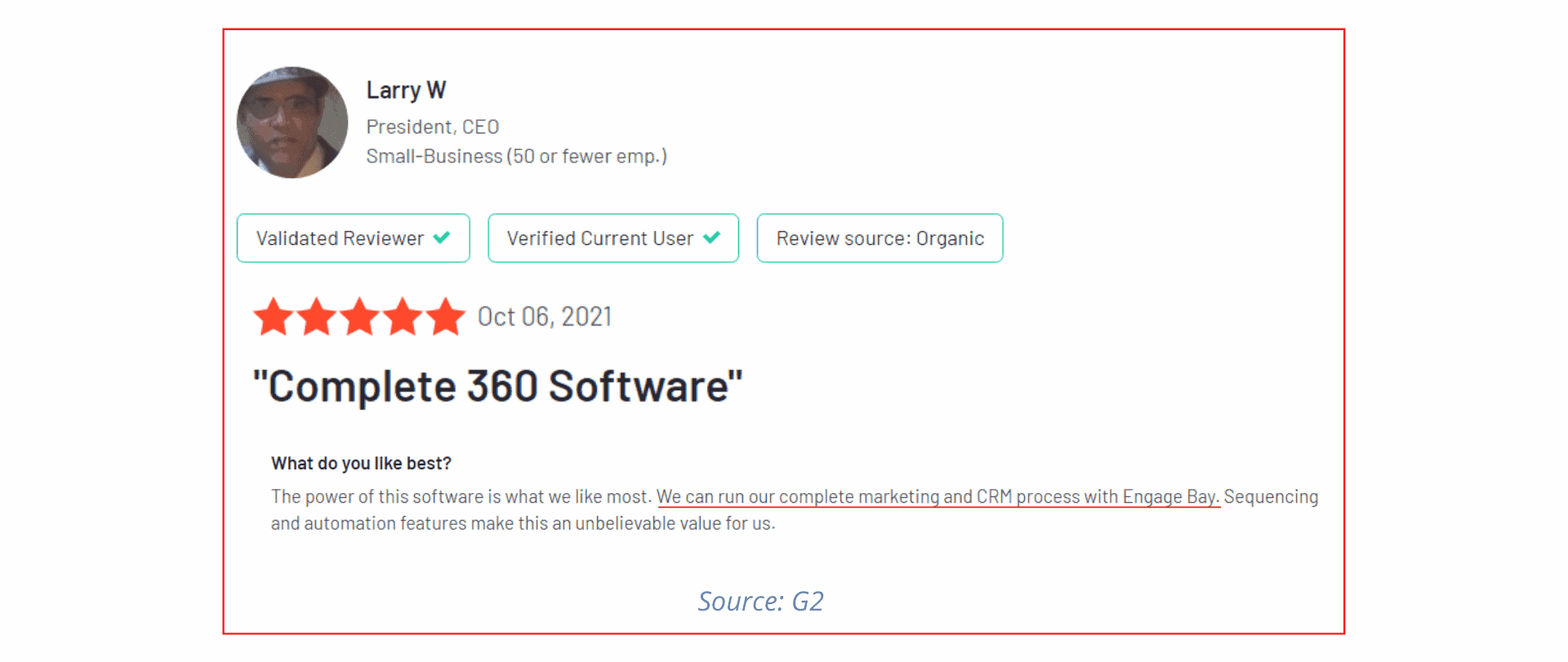 Besides the features we discussed before, EngageBay's free CRM also features call integration, a lead scoring system, CRM, and email syncing.
You also get sales team gamification and leaderboards, sales automation, easily accessible contact lists, automated data entry, task creation and assignment, meeting scheduling, and a visible sales pipeline.
With multichannel marketing, you can engage with your customers via email, phone, SMS, social media, and the web. The centralized CRM collects information about each interaction and displays it in the form of a timeline.
EngageBay's Social Suite lets you manage your social media accounts — Facebook, Instagram, Twitter, and LinkedIn — from a single window. You can also schedule posts and use social listening to discover what your customers are saying about your company.
You also get a host of third-party integrations, including BigCommerce, CallHippo, Amazon Web Services, Zapier, JotForm, and Plivo.
To make it easy for small businesses, EngageBay onboards all users for free. You also get free email migration services, phone support, and more.
Pricing
EngageBay offers four plans: Free, Basic, Growth, and Pro.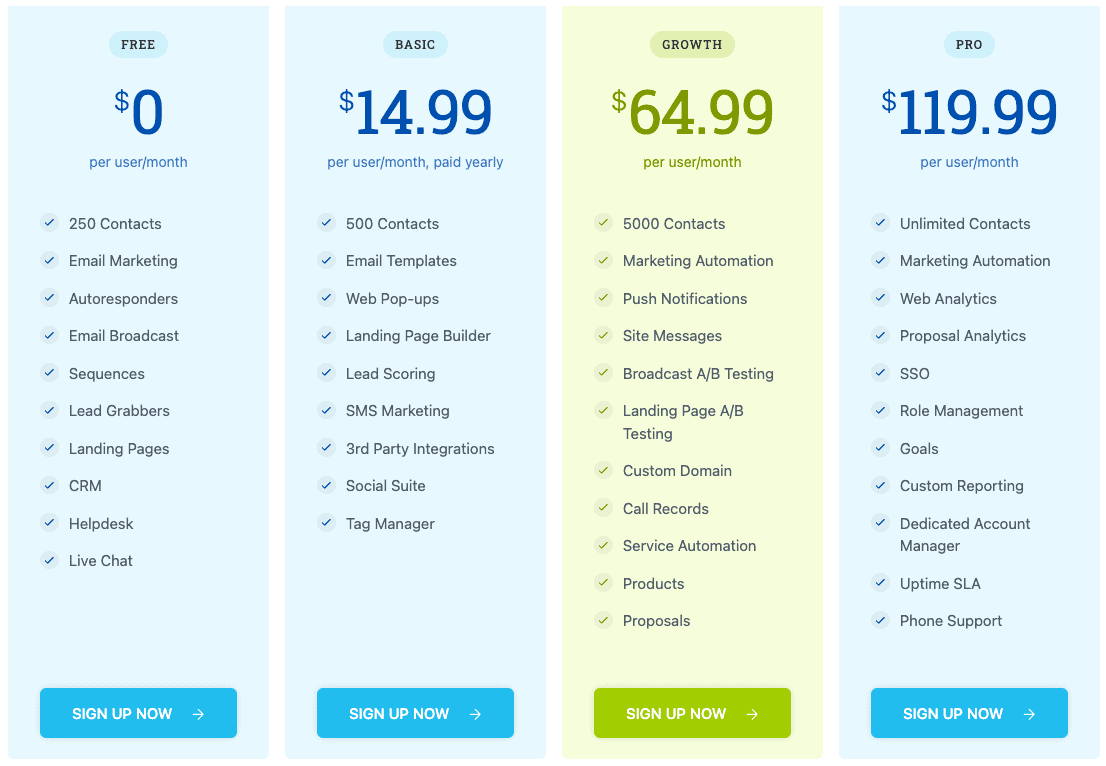 Free: This plan is truly free forever and is ideal for businesses just starting out. You get email marketing, autoresponders, email broadcast, drip campaigns, landing pages, helpdesk, and live chat making EngageBay the best Insightly CRM alternative for SMBs.
Basic: This plan starts at $14.99/month and offers 1,000 contacts, 3,000 emails, 1 GB of file storage, custom deal milestones, canned responses, group management, and more.
Growth: This is the most popular plan and costs $64.99/month for 10,000 contacts and 25,000 emails. Features include advanced marketing automation, email broadcast and landing page A/B testing, timezone-based email delivery, proposals, leaderboards, and so much more.
Pro: For just $119.99/month, you get a host of pro-level tools, including role management, call scripts, account-based marketing, custom reports, team hierarchy, APIs, and phone support.
EngageBay also offers an 8% discount on annual plans and a 15% discount on biennial plans.
---
Learn more about EngageBay:
Create my free EngageBay account now
---
2. HubSpot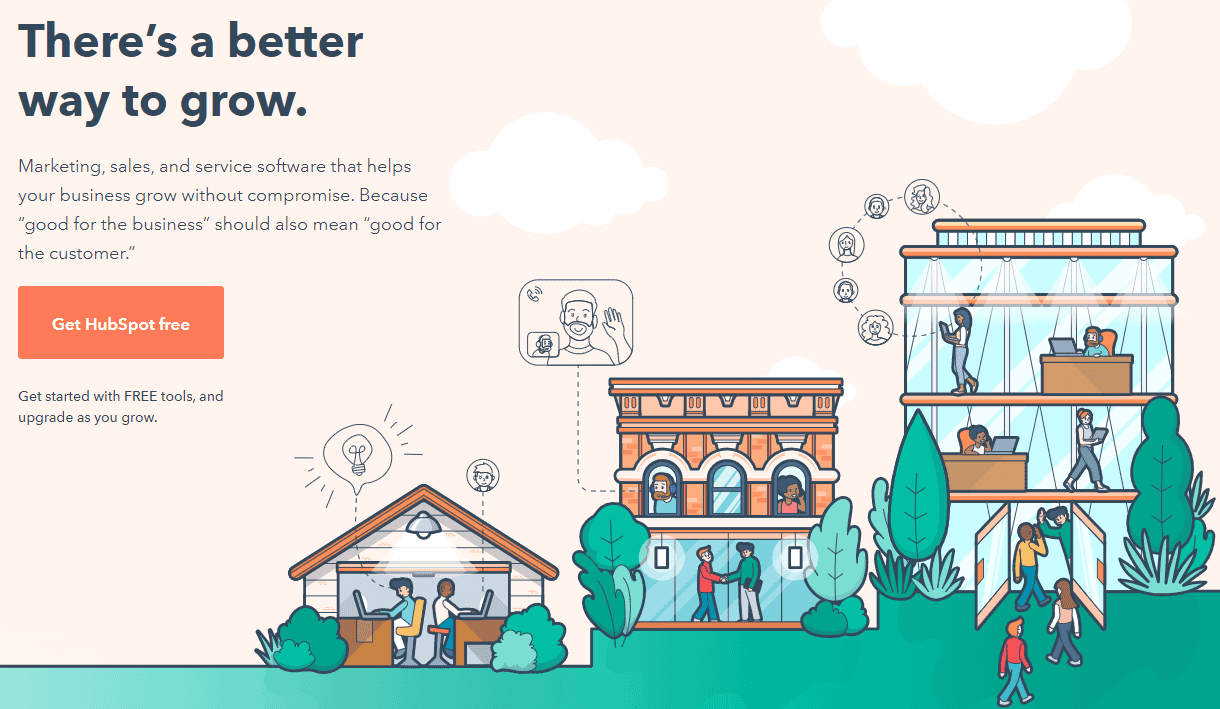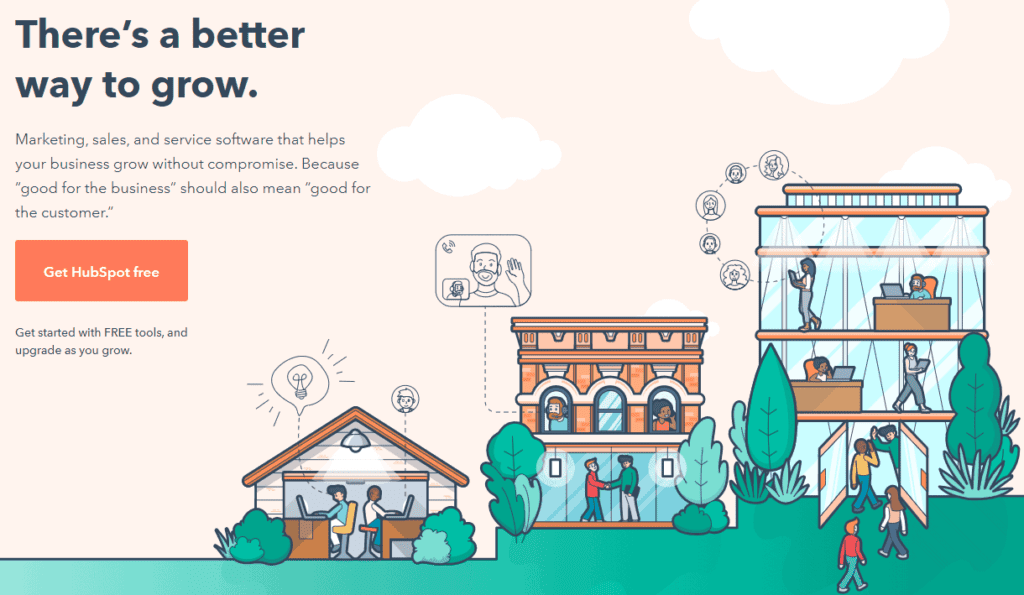 While HubSpot's high prices make its services tough to recommend, its CRM is available for free.
Designed for salespeople and marketers, you get live chat (something Insightly doesn't have), meeting scheduling, prospect tracking, email tracking, and click-to-call.
HubSpot also offers email templates, contact management and lists, pipeline management, deal tracking, company insights, and a reporting dashboard.
HubSpot offers various plan types, including HubSpot Marketing Hub, Sales Hub, Service Hub, and the CRM Suite. HubSpot CRM doesn't try to restrict how many contacts you can add, with the cap currently set at a million. All this unlimited data for free CRM is quite impressive, making HubSpot a viable option for businesses just starting out.
HubSpot's paid plans are one of the best in the industry, and many well-to-do establishments choose HubSpot CRM over other Insightly alternatives. That said, HubSpot is one of the most expensive CRM software — just the onboarding fees alone cost a whopping $12,000!
Looking for any HubSpot competitors? Our detailed analysis introduces nine strong alternatives. Check it out now!
Pricing

HubSpot offers three paid plans: Starter, Professional, and Enterprise.
Starter: Costs $50/month ($18/month for new users) and offers landing pages, a shared inbox, list segmentation, live chat, reporting dashboard, email scheduling, and more.
Professional: Costs $1,600/month and adds email marketing, ad management, ABM tools and workflow automation, A/B testing, multi-channel marketing workflows, and more.
Enterprise: This is the most expensive plan, starting at $5,000/month. You get a host of pro features, including custom properties, email health insights, content strategy, SEO recommendation, website traffic analytics, campaign management, and more.
Let's take a look at a user's standpoint: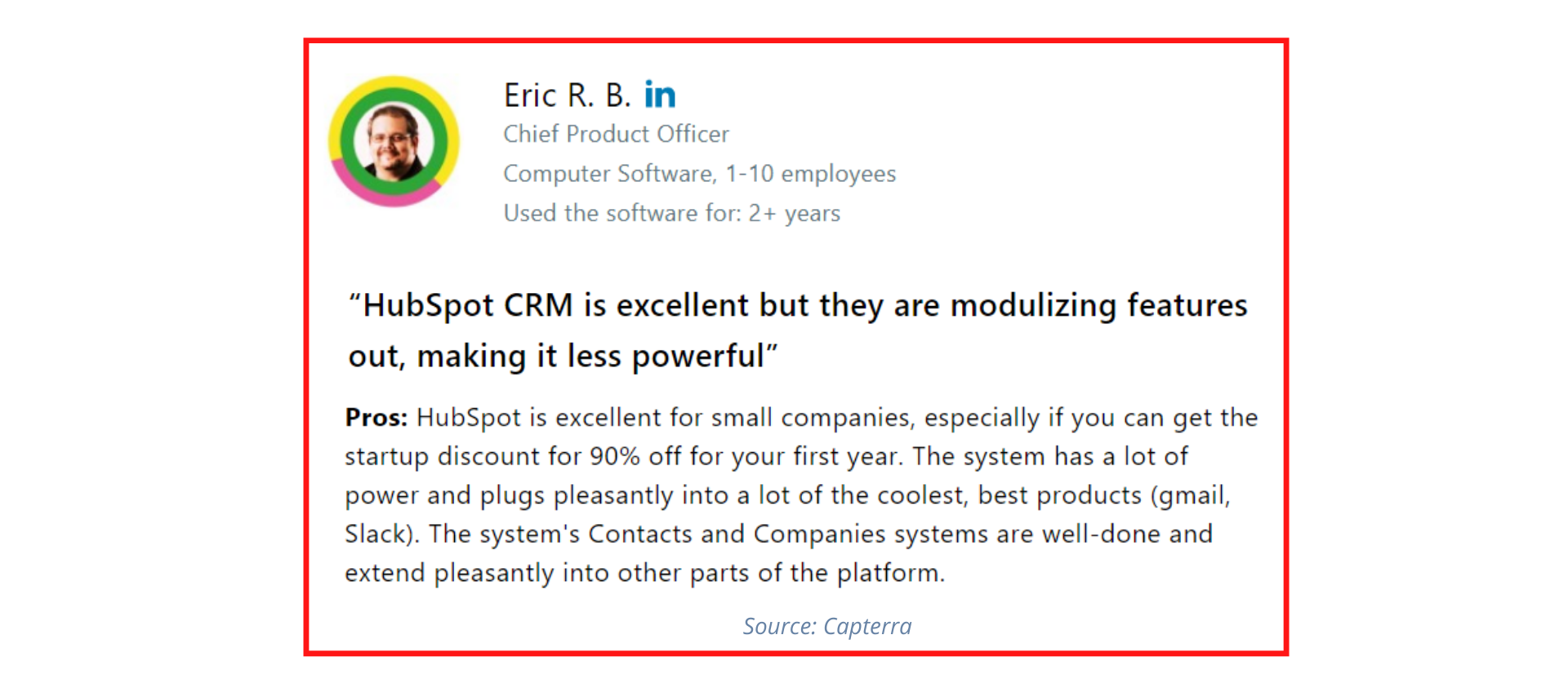 Read also: HubSpot Pricing and Comparison with Other Alternatives
3. Keap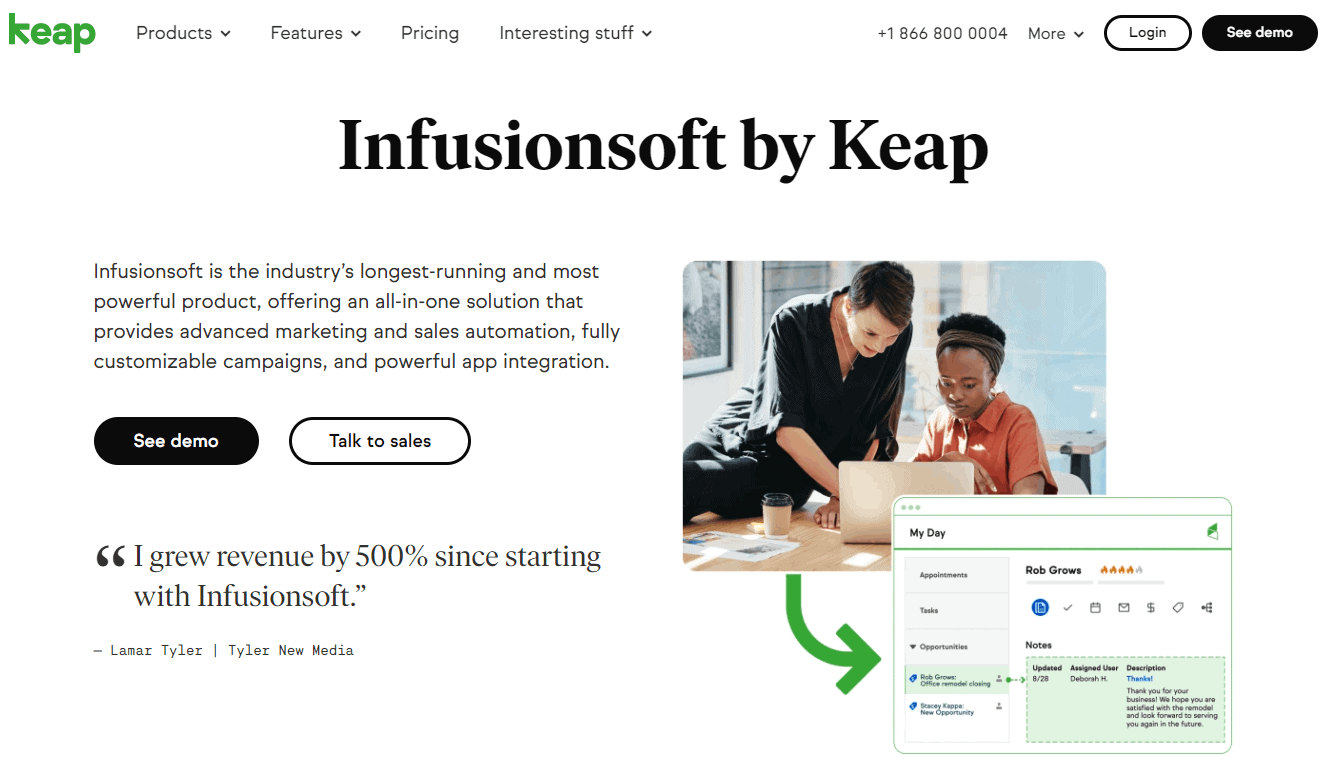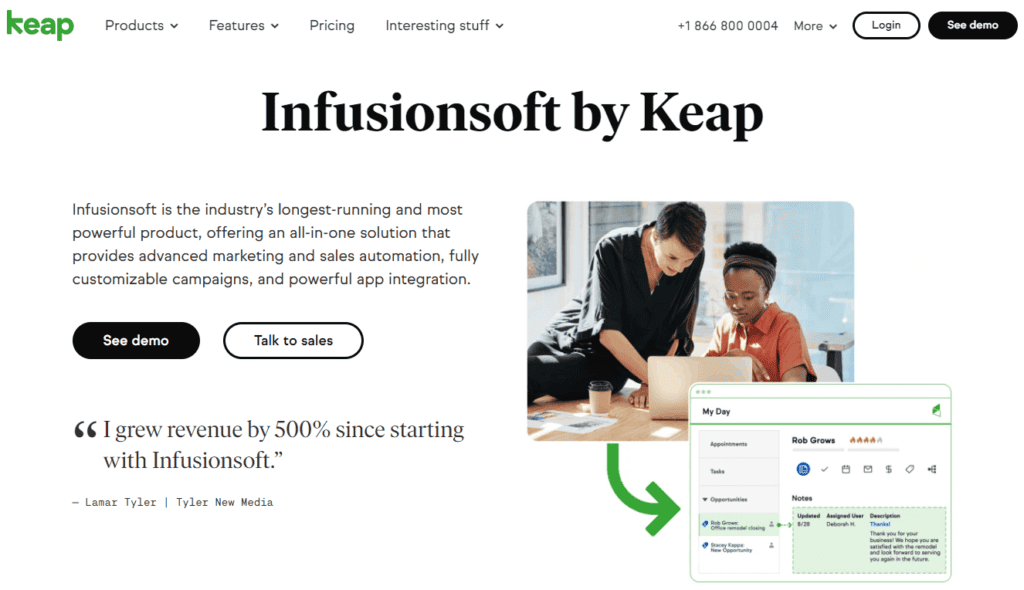 Formerly known as Infusionsoft, Keap may be the company's new name, but its same great features have not changed.
For example, Keap still offers CRM with Smart Forms, message personalization, client contact lists, email templates, email scheduling, Outlook and Gmail syncing, and automation.
Keap's client management tools let you manage everyday customer experiences through automated lead capture, triggered personalized follow-ups, and centralized data access.
Keap also offers more than 2,500 integrations powered natively and through Zapier — Paypal, Gmail, WordPress, Outlook, and more.
Pricing
Unlike HubSpot and EngageBay, Keap does not offer a free plan.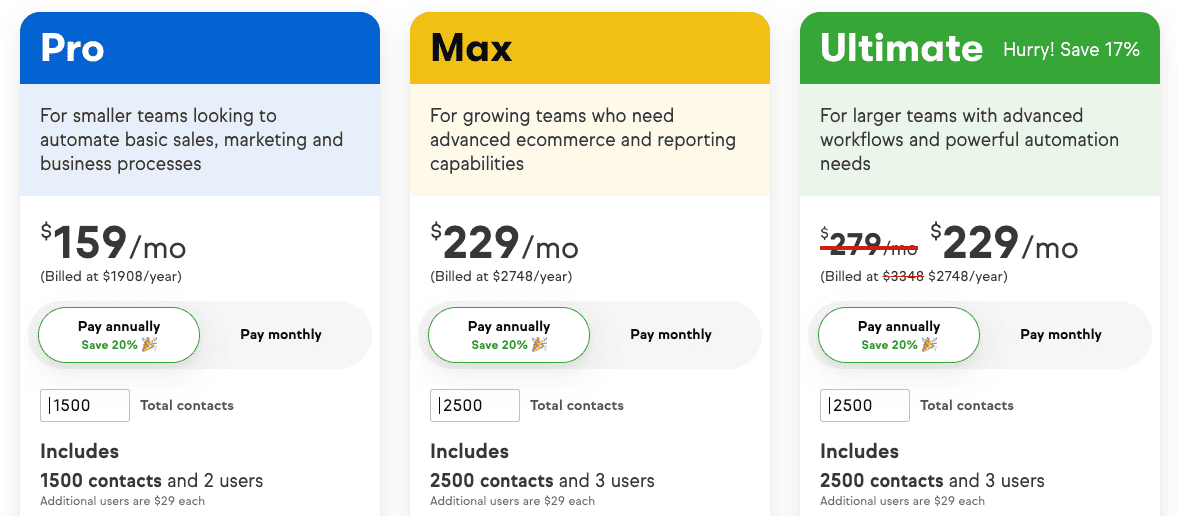 Keap offers three paid plans: Pro, Max, and Ultimate.
Pro: The Pro plan costs $159/month and offers automated lead capture and follow-up, email marketing, payments and invoicing, and appointments.
Max: Costs $229/month and adds landing pages, sales pipeline, advanced automation, and text marketing.
Ultimate: Costs $229/month and adds lead scoring, sales funnels, Shopify integration, one-click upsell and cross-sell, and analytics.
Here's what a user said about Keap: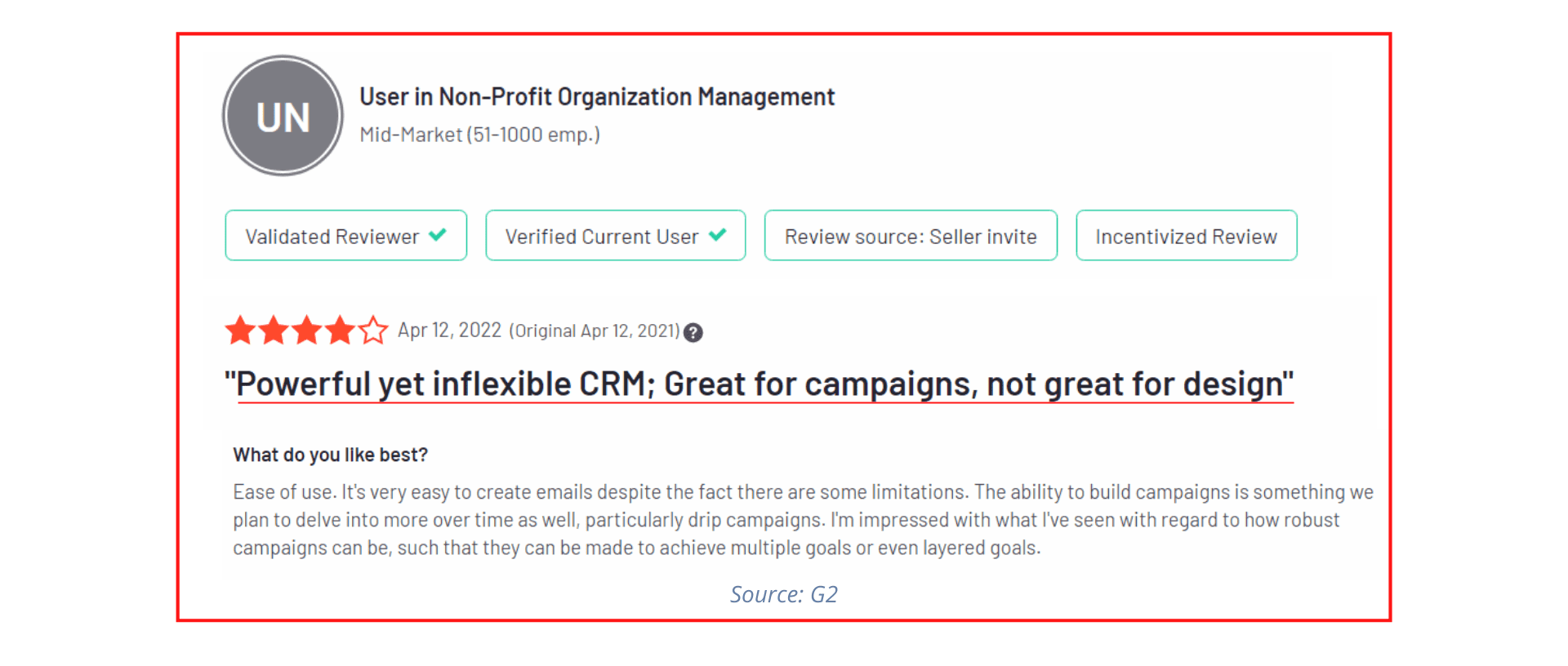 4. Zoho
Zoho is an affordable customer relationship management tool that helps businesses manage contacts, track and nurture leads. Its features cover email management, meeting management, advanced AI, customization tools, and lead management.
Zoho CRM features
Here are some features Zoho CRM comes with.
Mobile CRM app
This unique feature allows business owners to manage their sales and customer support on the go. Also, it has a scanning feature that allows you to import details quickly into your CRM platform.
3rd party Integrations
With a wide range of 3rd party integrations, you can bring all your notifications into one place, streamlining your workflow and increasing productivity. Examples of Zoho 3rd party integrations include Asana, Trello, and Zapier.
Advanced analytics and reporting
With Zoho, you can filter down and target the most important metrics you want. Also, with built-in reports, you can easily visualize your business data and make informed decisions to scale your business.
Advanced AI
Zia, Zoho's AI tool, makes predictive analyses that help your business grow. It helps forecast revenue and checks customers' behavior to show you what you should automate to speed up things.
Drawbacks
Although Zoho has some great features like those listed above, it has some drawbacks including the following.
Limited features on the free plan
The free plan allows up to 3 users, but the features are pretty limiting. For example, sales forecasting and calendar management are unavailable on the free plan.
Limited storage capacity
Zoho CRM offers limited storage capacity for its users, and additional storage can be expensive.
Slow customer service
A top complaint Zoho's common to Zoho CRM users is "bad customer support."
Here is what a customer has to say in that regard.
"Dismal customer support infrastructure. Have had meetings canceled and delayed because their conference call and screen-sharing platforms did not work – how do you not test such things before getting on calls with clients? Agents are often rude and, quite frankly, slow. Everyone around the office knows having to call Zoho customer support is like a death sentence."
Steep learning curve
Due to new iterations added to Zoho CRM, it has a steep learning curve.
Pricing
Zoho has four pricing plans; Standard, Professional, Enterprise, and Premium.
Standard: Starts at $18/month per user. It includes sales force automation features like multiple pipelines, sales forecasting, email insight, and advanced filters. It also includes automation and process management tools and reporting and analytic tools.
Professional:

Starts at $30/month per user. In addition to the features in the standard plan, it includes webhooks, custom functions, Google Ads, custom reports, and many more features.

Enterprise:

Starts at $45/month per user. It includes features like contact segmentation, autoresponders, multiple scoring, custom reports, and web form analytics in addition to the features in the professional plan.

Ultimate:

Starts at $55/month per user. Audit logs and Zoho analytics are some additional features in the ultimate plan.
User review
Here's what a Zoho user has to say.

Review Source: G2
5. Freshsales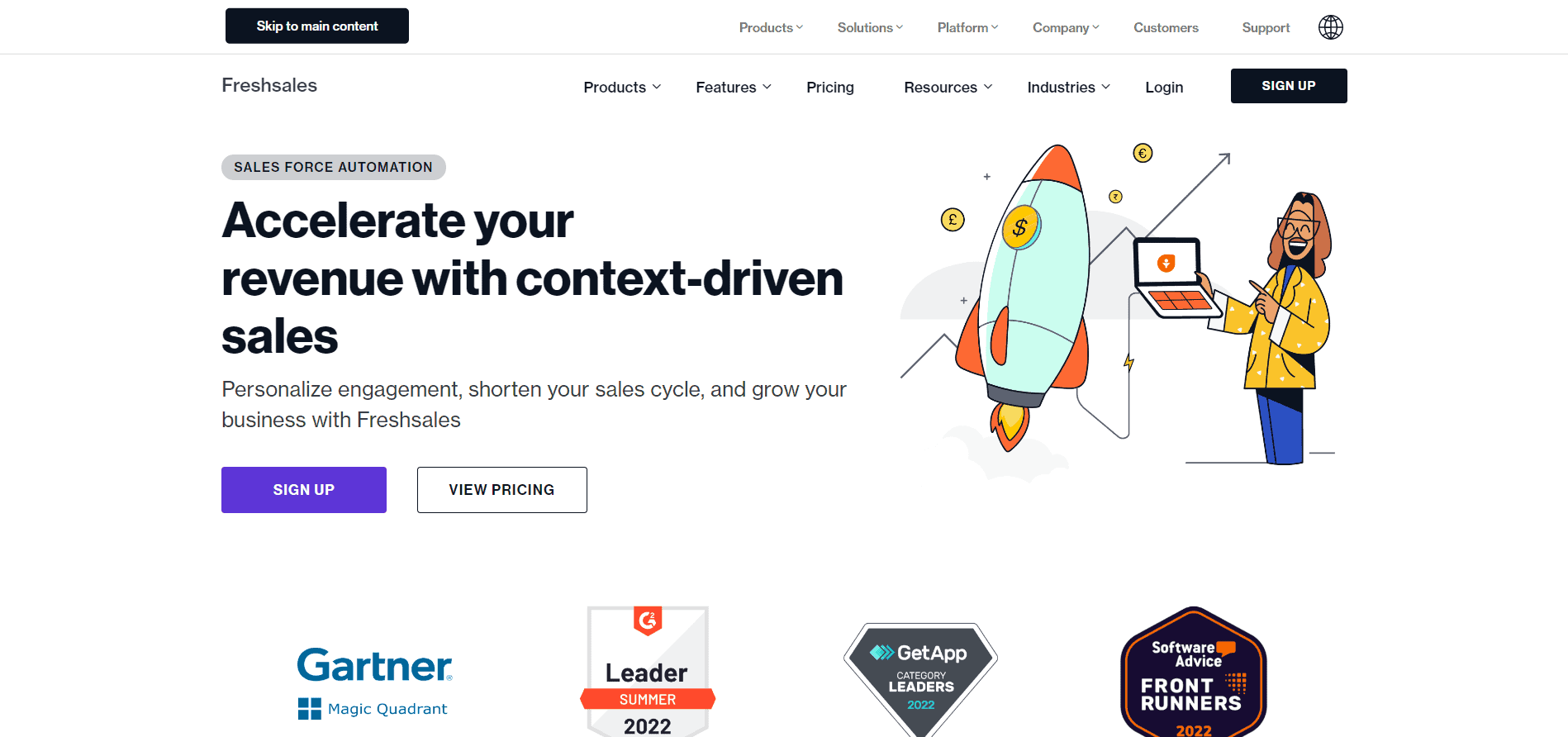 Freshsales is an efficient all-in-one CRM for small teams and startups, and is part of the Freshworks CRM suite. It helps businesses generate qualified leads and accelerate sales while maintaining good customer relationships.
It offers workflow automation, a wide range of in-built communication (including email chats, live chat, SMS), contact management, and WhatsApp integration.
Freshsales features
Here are some unique features Freshsales CRM comes with.
Lead capturing
One of the exciting features of Freshsales is its efficiency in lead capturing. First, it offers lead forms to help your business gain new customers. Then it converts emails to contacts automatically.
It also keeps contact activity and social profiles on your customers. This means getting customers becomes easier as Freshsales lead scoring features predict the best time to contact your customers for better conversion.
Easy to use and WhatsApp integration
Freshsales also has an easy-to-use interface, making it easy to use their available tools. It also integrates with WhatsApp as part of its communication platform, giving you access to customers while on the go, making Freshsales one of the best CRM software.
Contact segmentation
This helps you capture and segment leads based on their interaction with your website.
Drawbacks
Common drawbacks highlighted by Freshsales CRM users include the following:
Limited monthly marketing emails

Slow customer support

Limited 3rd party integration

Limited reporting features
Freshsales pricing
Freshsales has four major pricing plans; including the following: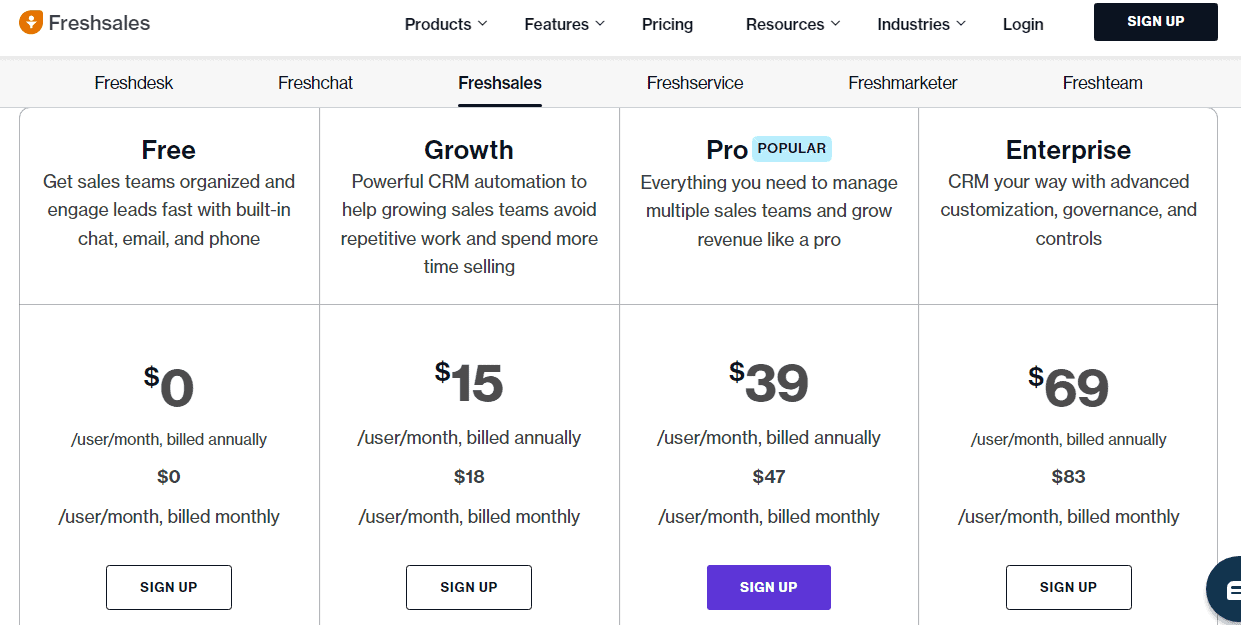 Free plan:

Forever free plan with limited features.

Growth plan:

The Growth plan has built-in chat features, AI contact-powered scoring, contact, account, and deal management. It goes for $15/month.

Pro plan: The Pro offers multiple sales pipelines, sales teams, and territory management, time-based workflows in addition to the features in the growth plan. It's priced at $39/per month per user.
Enterprise plan:

This provides everything in the Pro plan plus AI-based forecasting insights, call audits, and a dedicated account manager. It costs $69/month per user.
User review
Take a look at what a user has to say about Freshsales CRM.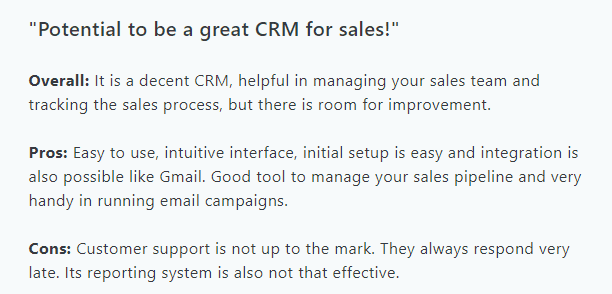 Review Source: Capterra
6. Capsule CRM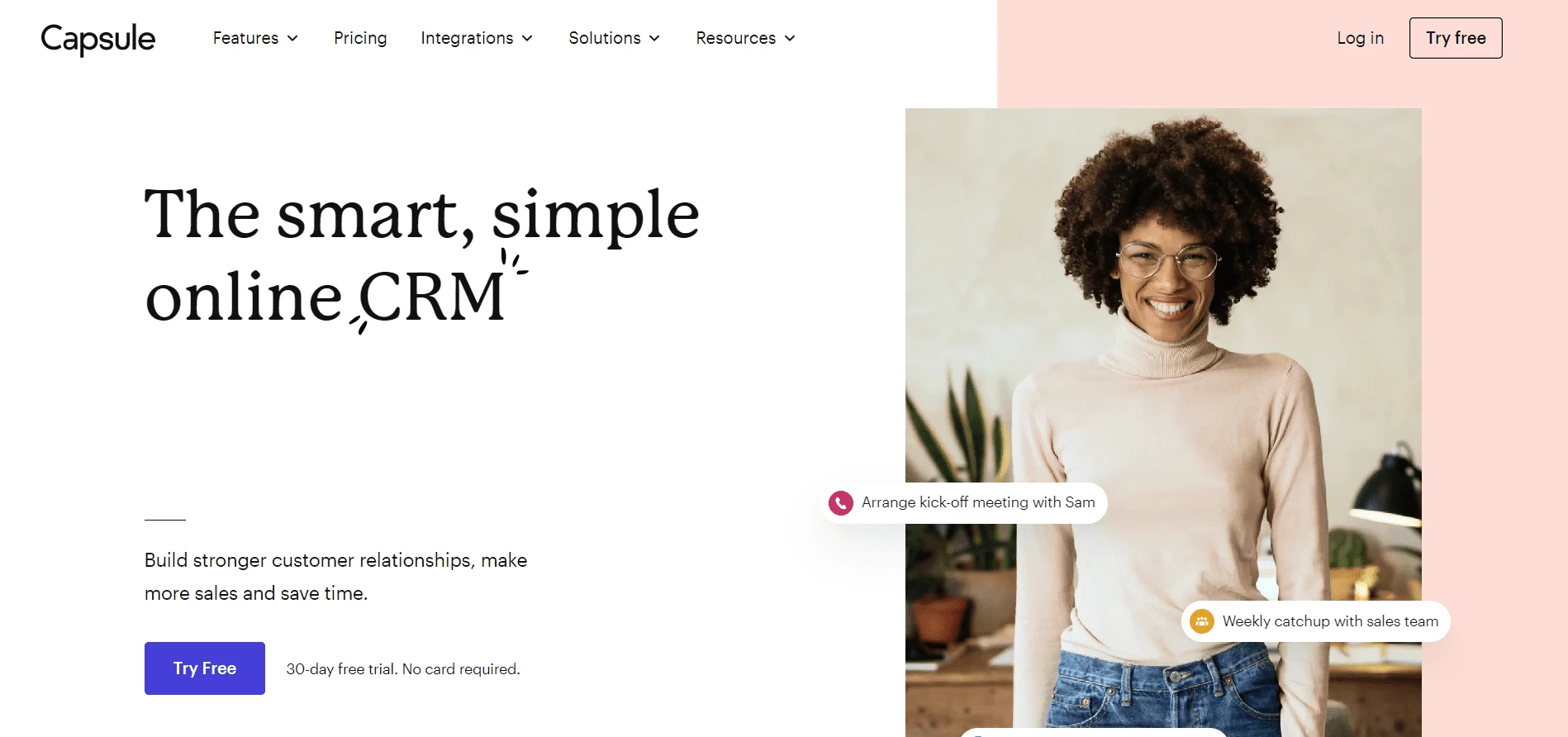 This software-as-a-service and mobile app CRM tool was founded in 2009.
Capsule is another excellent alternative to Insightly. It offers sales management, contact management, sales pipeline management, data reporting, and customization.
Capsule CRM features
Take a look at some Capsule CRM features.
Sales pipeline management
Capsule CRM has a visual sales pipeline that tracks every sale and helps you customize and streamline your sales process. It also makes a detailed report of everything on one page, so you can understand the sales pipeline and what is working and what isn't.
Advanced reporting feature
It provides in-depth report filtering based on time intervals, users, or teams for a clearer picture.
Email integration
With Capsule email integration, you can manage all email communication in one place, leading to increased efficiency.
Advanced customization
Allows you to customize fields, tags, and milestones.
Excellent task management system
Enables you to keep tabs on progress across multiple teams for more productivity.
Drawbacks
Capsule CRM users frequently cite the following as drawbacks they encounter while using the software.
Limited 3rd party integration

Limited features in the free plan

Poor user interface

Absence of live chat or help desk
Capsule CRM pricing
It has five pricing plans that you can decide from: Free, Growth, Advanced, and Ultimate.
Free:

Gives your business access to 250 contacts with a small space of 50 MB.

Starter plan: This includes 30,000 contacts with 10 GB space, a sales pipeline, project management tools, activity reporting, and key integrations with other apps, including Microsoft 365, Google, Xero, and Zapier. It goes for $18 per month.
Growth team:

This costs $36 monthly per user with 60,000 contacts and 20 GB of storage. It also includes workflow automation, multiple project board, and advanced sales reporting.

Advanced:

This costs $54 monthly per user with 120,000 contacts, 40 GB storage, 500 email templates, priority support, and custom training.

Ultimate: This plan costs $72 monthly and offers 240,000 contacts, 100 sales pipelines, 100 project boards, unlimited custom fields, and more.
User review
Here's a review from a user.

Review Source: TrustRadius
7. Bitrix24 CRM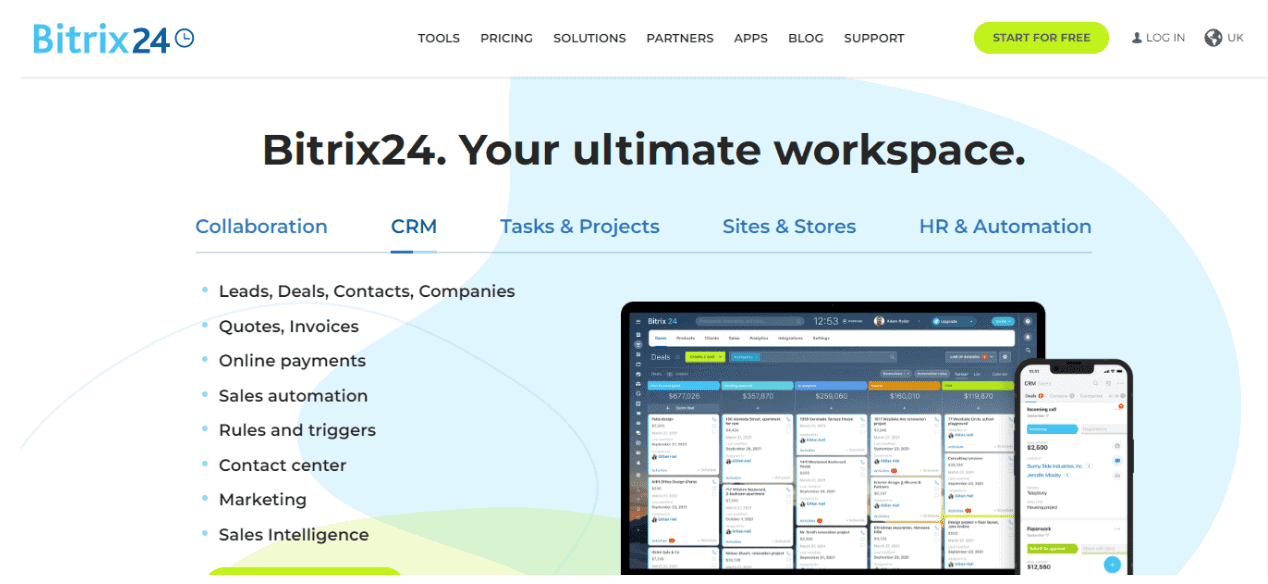 This is an excellent collaboration and communication tool suite. One of the most significant advantages of Bitrix24 is that it allows for multiple users per pricing plan.
In addition, It offers task automation, client management, and sales management tools. Due to its advanced user interface, it best fits advanced users and professional sales and marketing teams.
Bitrix24 CRM features
Here are some features that make Bitrix24 an excellent Insightly alternative.
Omnichannel marketing
Bitrix24 CRM helps to reach customers via existing channels. It uses free web CRM to scan for customers via free web leads and then proceeds to use customer activity tracking and scoring to help your business maximize sales.
Excellent communication tools
A top feature Bitrix24 CRM offers is its excellent communication tools, from live chats to web forms and VoIP telephony. This enables you to maintain communication with customers seamlessly.
Free administration tools
With these free administration tools, you integrate and append your contacts with their social media profile.
Mobile CRM
This feature allows you to manage your clients right out of your pocket from anywhere in the world.
Project management tool
Bitrix24 has a comprehensive solution for project management that effortlessly integrates all teams for more efficiency and productivity.
Drawbacks
Here are a few drawbacks highlighted by Bitrix24 CRM users.
It doesn't give access to direct integration with apps like Shopify

Difficulty navigating the interface

Steep learning curve
Pricing
Bitrix24 has five pricing plans: Free, Basic, Standard, Professional, and Enterprise.
Free plan:

It comes with unlimited users and is completely free. This plan includes collaboration tools like HD video calls, chat, calendar, and company workspace. It also has a limited contact center, website builder, tasks, and project features.

Basic plan:

Starts at $61 for five users. In addition to the features in the free plan, you get an online store builder and access to customer support.

Standard plan:

It costs $124 per month for 50 users. In addition to the features in the basic plan, you get access to marketing, online documentation, and account administrators.

Professional plan: Starts at $249 per month for 100 users. Additional features are sales intelligence, automation, and HR services.
Enterprise:

Starts at $499 per month for 500 users. Additional features include unlimited branch accounts, scalability features like complete data isolation, and a dedicated application server.
User review
This is what a user has to say.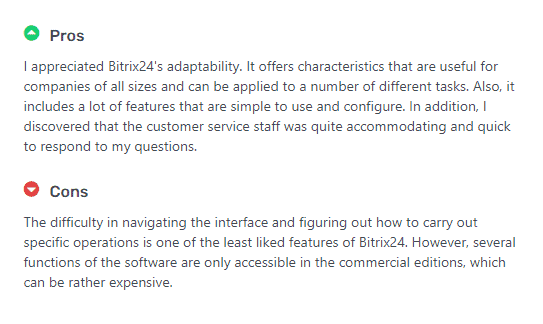 Review Source: GetApp
Read also: Bitrix24 Alternatives — Transform Your Customer Engagement and Drive Sales
8. Nutshell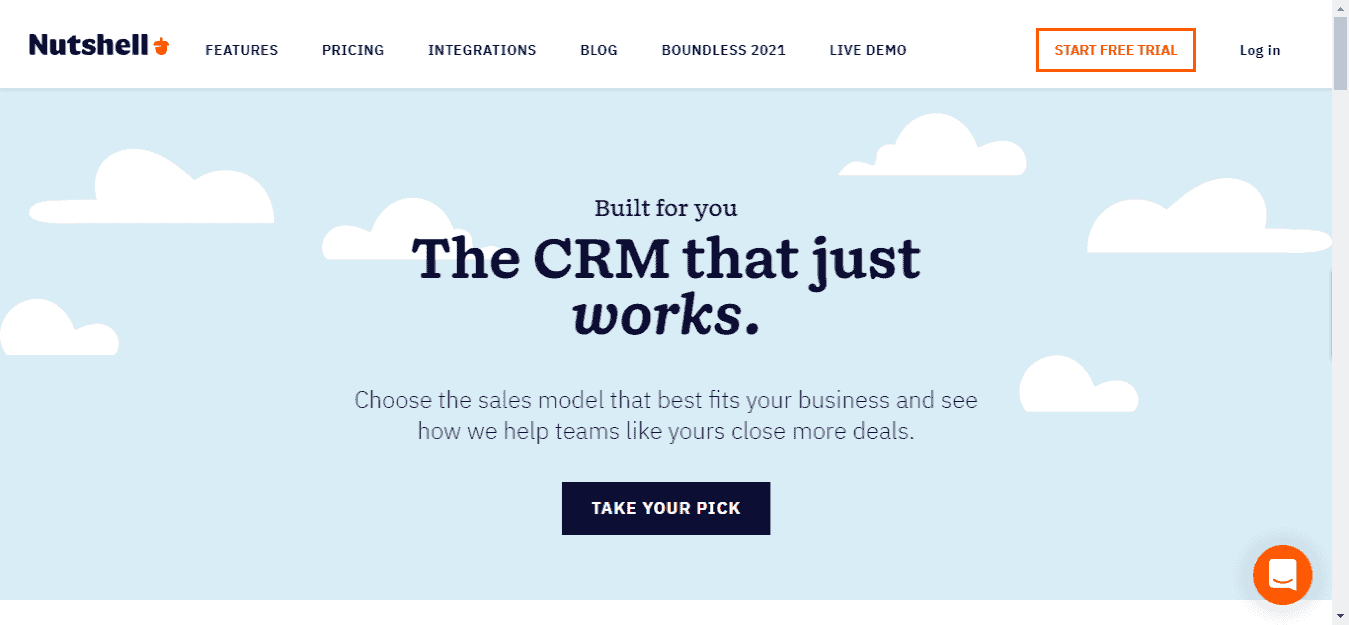 This web and mobile customer relationship management tool was founded in 2009. Nutshell's unique features include customer contract management, pipeline, and contact management.
Nutshell features
Nutshell comes with the following features.
Pipeline management
This flexible sales tracking feature helps you score and prioritize leads for better conversion.
Team collaboration
Nutshell CRM allows your team to work effectively by providing collaboration, communication, and task management tools.
Sales automation
With its automatic lead assignment and task reminder tools, you save time and achieve more sales.
Reporting and Analytics
This feature lets you see what's working and what can be improved for business growth.
Drawbacks
Here's a list of common challenges Nutshell users face while using the platform.
Manual contact segmentation

Slow data reporting

Poor user interface
Pricing
Nutshell offers four pricing plans.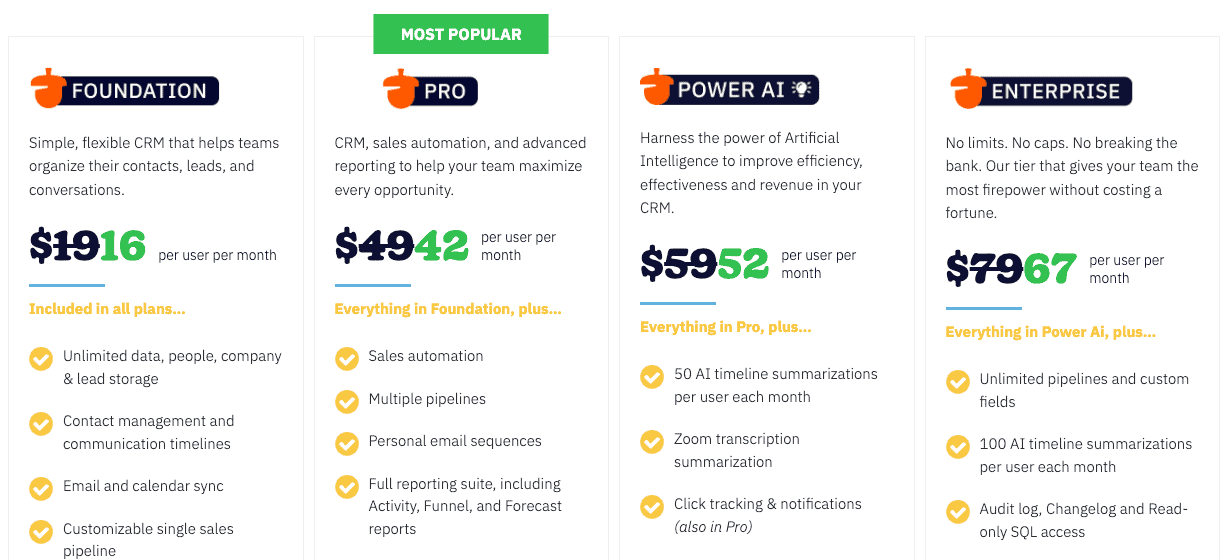 Foundation plan:

Starts at $19 per monthly user. Features include a customizable single sales pipeline, embeddable web forms, activity reminders, contact management, and a communication timeline.

Nutshell Pro: Starts at $49 per monthly user and gives access to additional features like sales automation, unlimited in-app phone call and dialing, unlimited pipelines, and sales quota.
NutShell Power AI: Starts at $59/month and offers 50 AI timeline summarization, Zoom transcriptions, and more.
Nutshell Enterprise: Starts at $79/month and offers unlimited pipelines, custom fields, audit log, changelog, multiple currencies, API support, and a dedicated success strategist.
User review
Here's what a Nutshell user has to say.

Review Source: G2
9. Salesforce

This is a popular analytical CRM used to push and propel sales. Companies of all sizes can use it. Salesforce has the unique effect of making all team members see customers' progress. Also, with Salesforce, you don't need to criticize team members for not following duties or being carried along; everyone sees what happens and will be plunged in for greater efficiency.
Salesforce features
Here are some of Salesforce CRM's basic features.
Contact management
Salesforce CRM offers one of the best contact management tools, enabling you to track and manage customer data based on customer preferences, demographics, and interactions with your website.
Sales forecasting
This robust feature allows you to make accurate sales projections based on where customers are in the sales pipeline.
Marketing automation
This allows you to eliminate repetitive marketing tasks for better efficiency and conversion.
Mobile app
Enables easy access to all your business information, like data reporting and task notifications while on the go.
Large-scale customization
Salesforce also goes to the depth of providing a large scale of customization tools. You can customize things about your business to the tiniest level (though this comes at a high price).
Drawbacks
Despite its many great features, Salesforce has several challenges recorded by its users.
Salesforce is costly to maintain and sometimes gives wrong data when exporting data.

The user interface is also confusing, possibly due to many customization tools.

Complex initial setup and customization.
Pricing
With four pricing plans, you are at liberty to make a choice based on the features you need and your budget.
Essential plan:

Comes at $25/month per user, and its features include mass email, lead management, account management, a customizable sales process, a mobile App, customizable reports, and a dashboard.

Professional plan:

Besides the features above, you get collaborative sales forecasting and forecasting mobile App. It costs $75/month per user.

Enterprise plan:

Comes with the features above but with an addition of web services API. It costs $150/month per user.

Unlimited plan:

Costs $300/month per user and gives you access to advanced reporting, sales pipeline inspection, predictive forecasting, and more.
User review
Here's what a Salesforce CRM user has to say about the software.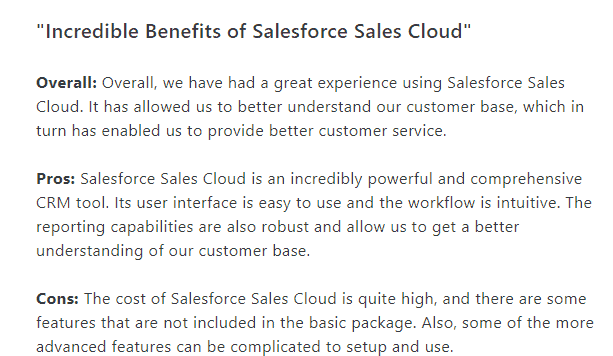 Review Source: Capterra
10. Pipedrive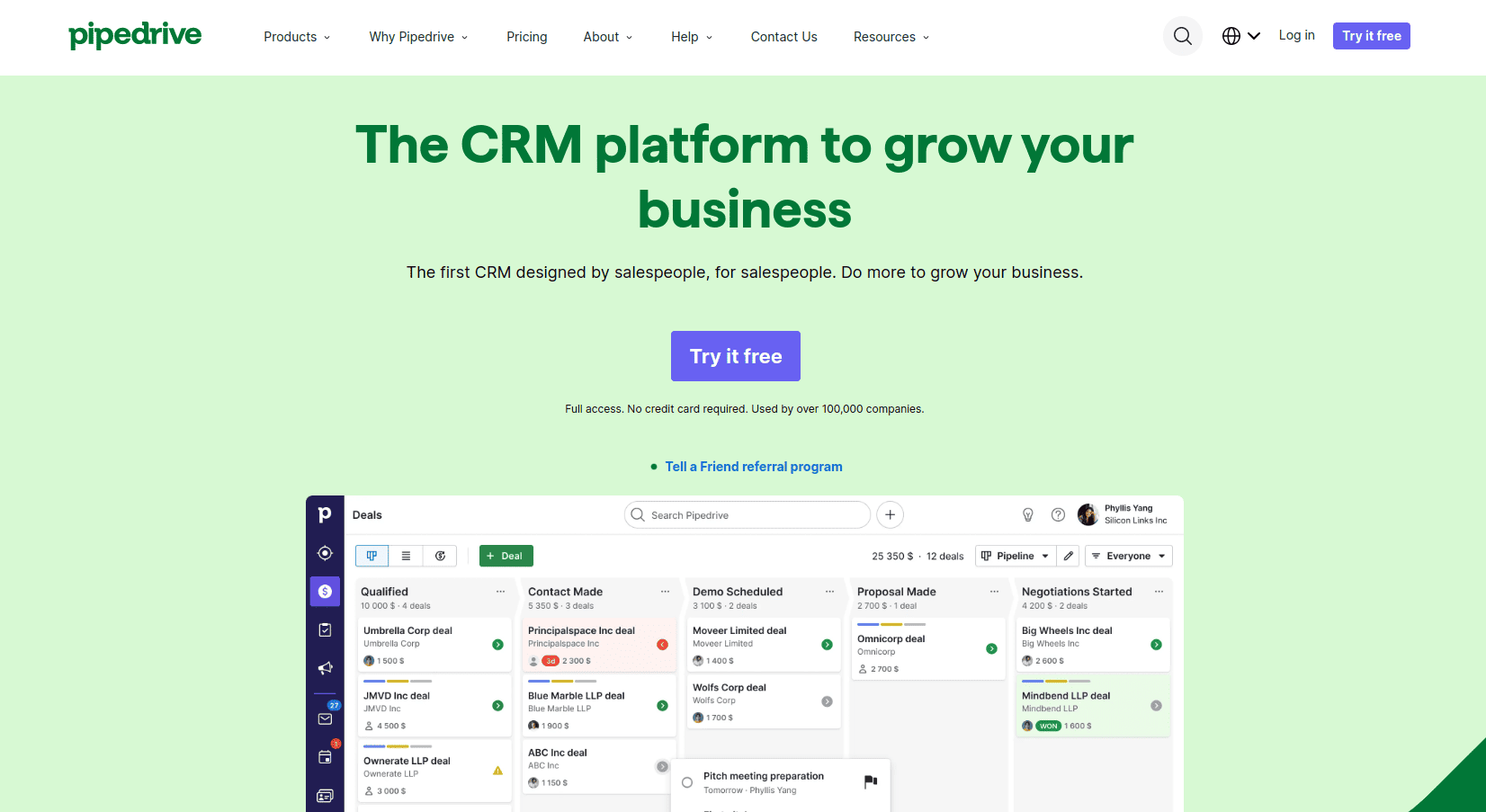 Pipedrive is a sales customer relationship management tool that integrates with over 350 apps.
Pipedrive features
Pipedrive has unique features, like the following.
Visual sales pipeline
Pipedrive sales CRM lets you see your entire sale process at a glance, just like Capsule CRM. It also has good prospector tools that help in outbound marketing. In simple terms, it helps you look for customers.
Activity reminders
Pipe drive helps in proper scheduling, giving insights and milestones on the work progress of the goals set for your business. It also has a high-security level.
Customizable sales process
Pipedrive CRM's customizable sales process feature allows you to customize your sales process to meet your needs. It lets you identify your sales stages, deal fields, and workflows for enhanced sales efficiency.
Drawbacks
Common challenges Pipedrive users face while using the CRM include:
Poor customer support

Limited filters and poorly placed personalization features

Limited data reporting capabilities
Pricing
Pipedrive, like Salesforce and Nutshell, offers no free plans, but it has five paid pricing plans you can decide from.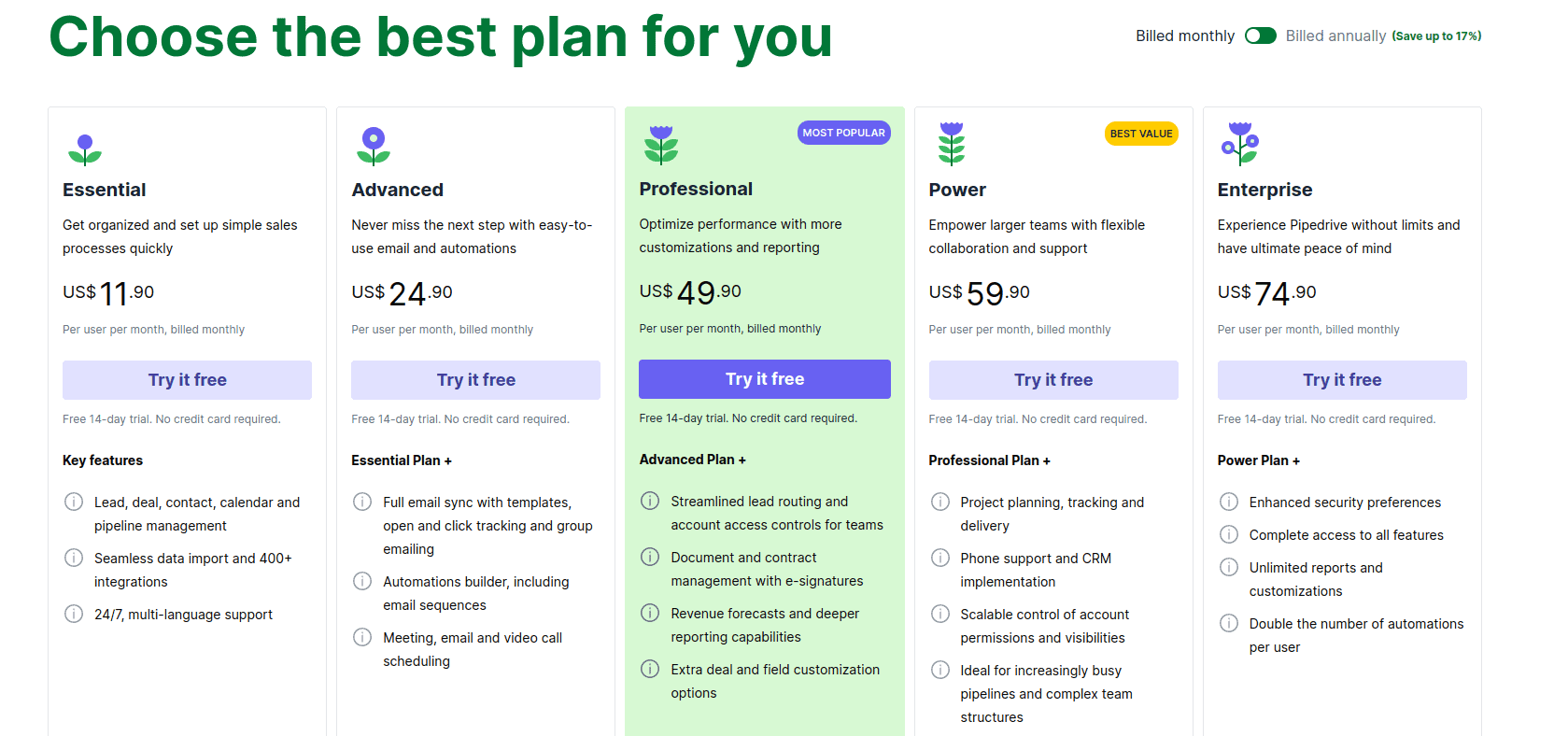 Essential:

Starts at $11.90/month per user.

Advanced:

Starts at $24.90/month per user.

Professional:

Starts at 49.90/month per user.

Power: Starts at $59.90/month per user.
Enterprise:

Starts at 74.90/month per user.
User review
Take a look at a review from a Pipedrive user.

Review Source: G2
11. Agile CRM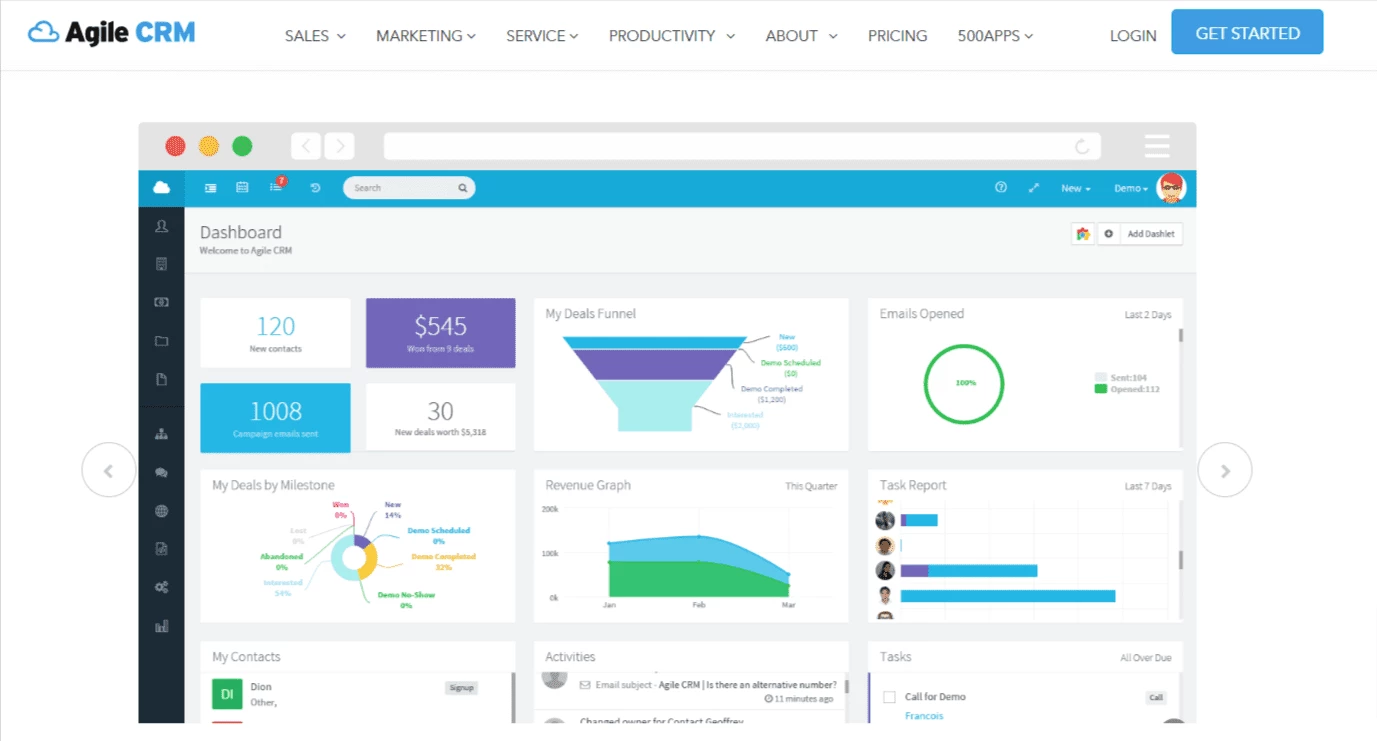 Agile CRM is a fully integrated CRM with telephony, sales tracking, contact management, and 2-way email features.
Agile CRM features
Let's take a look at some key features of Agile CRM.
Multichannel communication
Allows you to maintain effective communication with prospects and customers across multiple touchpoints.
Data visualization
This gives easy visualization of your funnels and lets you see your achievements towards set goals.
Real-time tracking
Allows you to monitor customers' activity closely and in real-time.
Customer database
Stores customer details and interaction across teams in a single database.
Seamless integration
Agile CRM integrates with several apps, such as Facebook, ensuring greater outreach. It also has very advanced tools and features for the growth of the business.
Drawbacks
Agile CRM drawbacks highlighted by some users include:
Challenging cancellation process.

Some features require a steep learning curve.
Pricing
Agile CRM has four pricing plans, giving you the required flexibility to make a choice that fits your budget.
Free: For up to 10 users and offers 50,000 contacts and companies, lead scoring, two-way telephony, custom deal milestone, and appointment scheduling.
Starter pack: It goes for $8.99. It includes features in the free plan and marketing features like email campaigns, marketing automation, web-to-lead, and social monitoring.
Regular:

This plan is $29.99 and includes service features like activities, reports, and a help desk.

Enterprise:

Starts at $47.99 and includes 50+ integrations and plugins, email reports, chrome extension, phone, and email support in addition to the features in the regular plan.
User review
Here's a review from a user.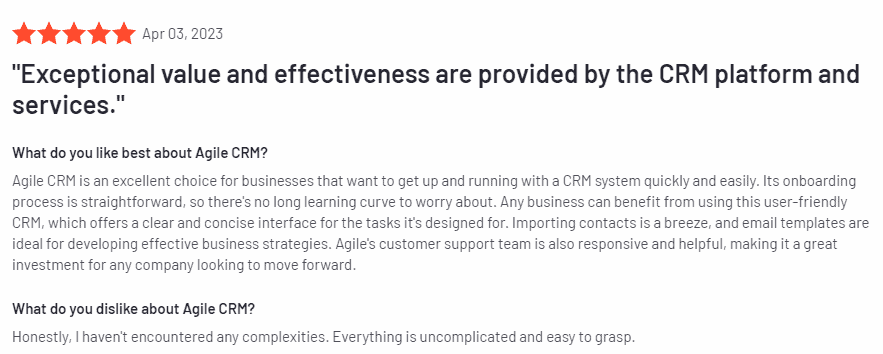 Review source: G2
12. Copper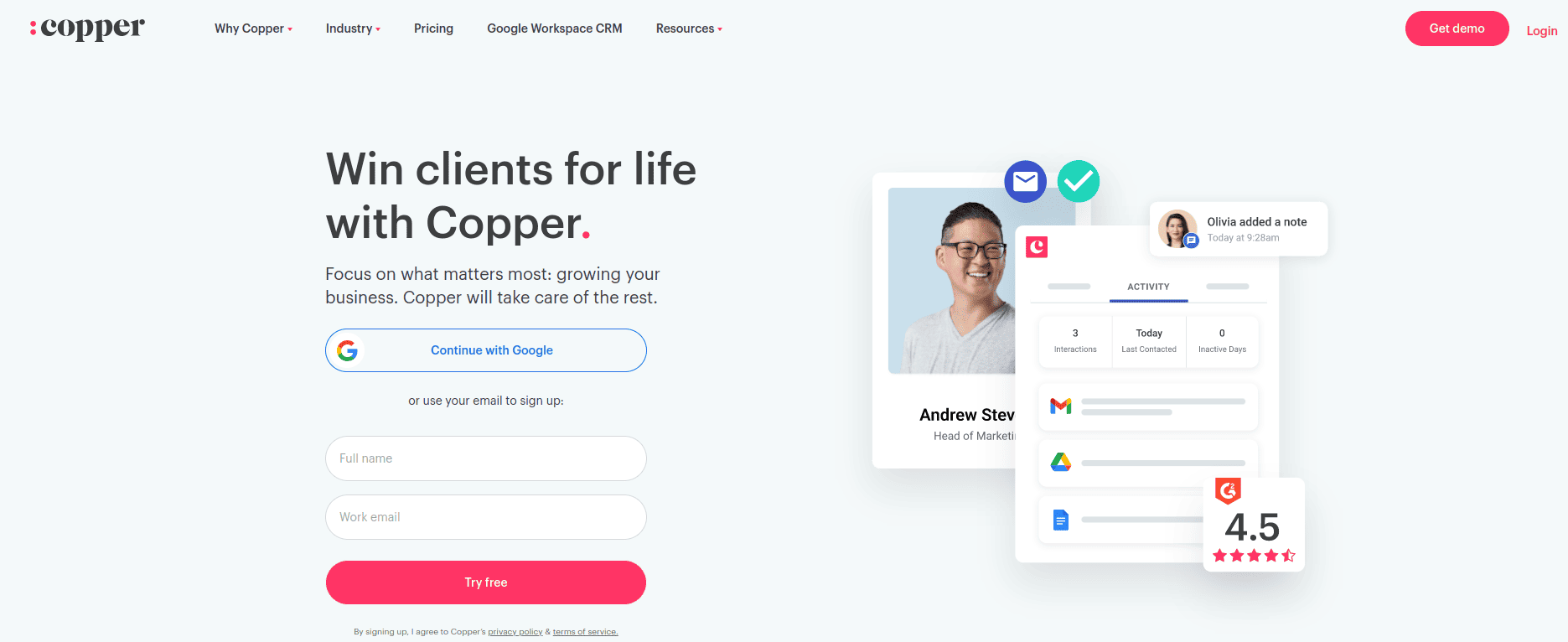 Founded in 2011, it is popular for its perfect integration with Google Workspace.
Copper CRM features
Copper CRM features include:
Mobile app
Copper's CRM mobile app allows users to track important business activities on the go.
Deal tracking
Advanced pipelines that allow you to keep track of deals and customer journeys.
Contact management
Keeps all customer details in a single database.
Drawbacks
Common challenges cited by Copper CRM users include:
Limited integration with other third-party apps.

Limited features and tools.

Bland UI/UX design.
Pricing
Copper has three pricing plans you can choose from.
Basic:

It costs $29/per month per user. It covers 2,500 contact limits, Google space integration, sales pipelines, team collaboration, and contact enrichment tools.

Professional:

The plan costs $69/per month per user. It covers a 15,000 contact limit, workflow automation, reporting and bulk emails and templates, and the basic plan features.

Business: It goes for $139/month per user. It covers unlimited contacts, website tracking, lead scoring, LinkedIn integration email sequences, and drip campaign tools.
User review
Here are two reviews from Copper CRM users.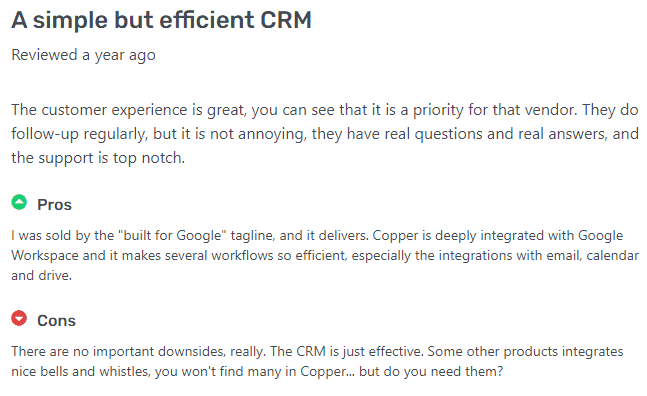 Review source: GetApp
Conclusion
We've looked at 12 incredible Insightly alternatives you can choose from.
Pricing, available features, and scalability should be the top factors on your mind when deciding on an Insightly alternative.
That said, if you're looking for a one-stop, fully integrated Insightly alternative that's affordable (save up to 90%), scalable, and provides excellent features required for your business growth—try EngageBay. It was made with love for small and mid-sized businesses.
Book a demo with one of our experts and get started for free.