We live in an age where technology, apps, programs, and software abound, giving us more options than we could possibly ever use.
This also opens up our freedom, allowing us to treat software like trying on clothes in a dressing room.
Just like those clothes, if a software doesn't fit, which can you can discover through the free trial, then you don't keep it.
Time may have revealed to you that you need to upgrade your customer relationship management or CRM software.
Perhaps the current software you're using is clunky and runs slowly on your newer computer with an updated operating system.
Maybe you've added more staff members and the costs of using the same CRM have just grown to be too high.
You could even use Insightly and discover that this CRM is missing a lot of features you need.
Yes, that's right; while Insightly might seem like a suitable CRM on the surface, once you begin digging deeper, you'll see that it has its problems.
In this informative post, we will walk you through the troublesome areas and missing features with your Insightly subscription as well as recommend more efficient CRM systems such as EngageBay's.
The Drawbacks of Insightly
Insightly was founded in 2009 in Australia and deals mainly in CRM software as well as project management tools.
Their audience is small businesses and mid-sized companies.
Insightly last made a major overhaul to their CRM in 2017, when their Suite upgraded to include integration with Microsoft Outlook as a starring feature.
Insightly's might be a passable CRM, but is passable all you really want for your company?
More than likely, you want one of the most renowned CRM systems out there with the propensity to handle all the daily tasks that you, your marketers, and salespeople undertake.
For the rest of this section, we'll prove why Insightly's CRM is not the software to choose for the above, as the sheer cost of using some of its features is so high.
That is, if it has all the features you'd find with other CRM software like EngageBay, which you'll soon realize it doesn't.
Expensive Marketing Module
In 2019, Insightly announced its new Insightly Marketing, an engine that includes automation and other marketing features.
The company promised a "unified platform" that allows for more integration between marketing and CRM as well as an improved user interface, admin page assignments, and more marketing user licenses.
While this in and of itself is not bad, what isn't so appealing about the Insightly Marketing module is the pricing.
Insightly is already a costly CRM to use, with their least expensive plan starting at $29 per month per user.
However, most people who sign up for Insightly will want more features, which means choosing the Professional plan at $49 a month per user.
Under the Professional plan, you get such features as company-wide collaborations, Insightly's business intelligence platform, project delivery, the freedom to use any device, Insightly Voice, productive selling features, and lead management.
Still, you're missing several features, which may mean shelling out $99 a month per user for the Enterprise plan.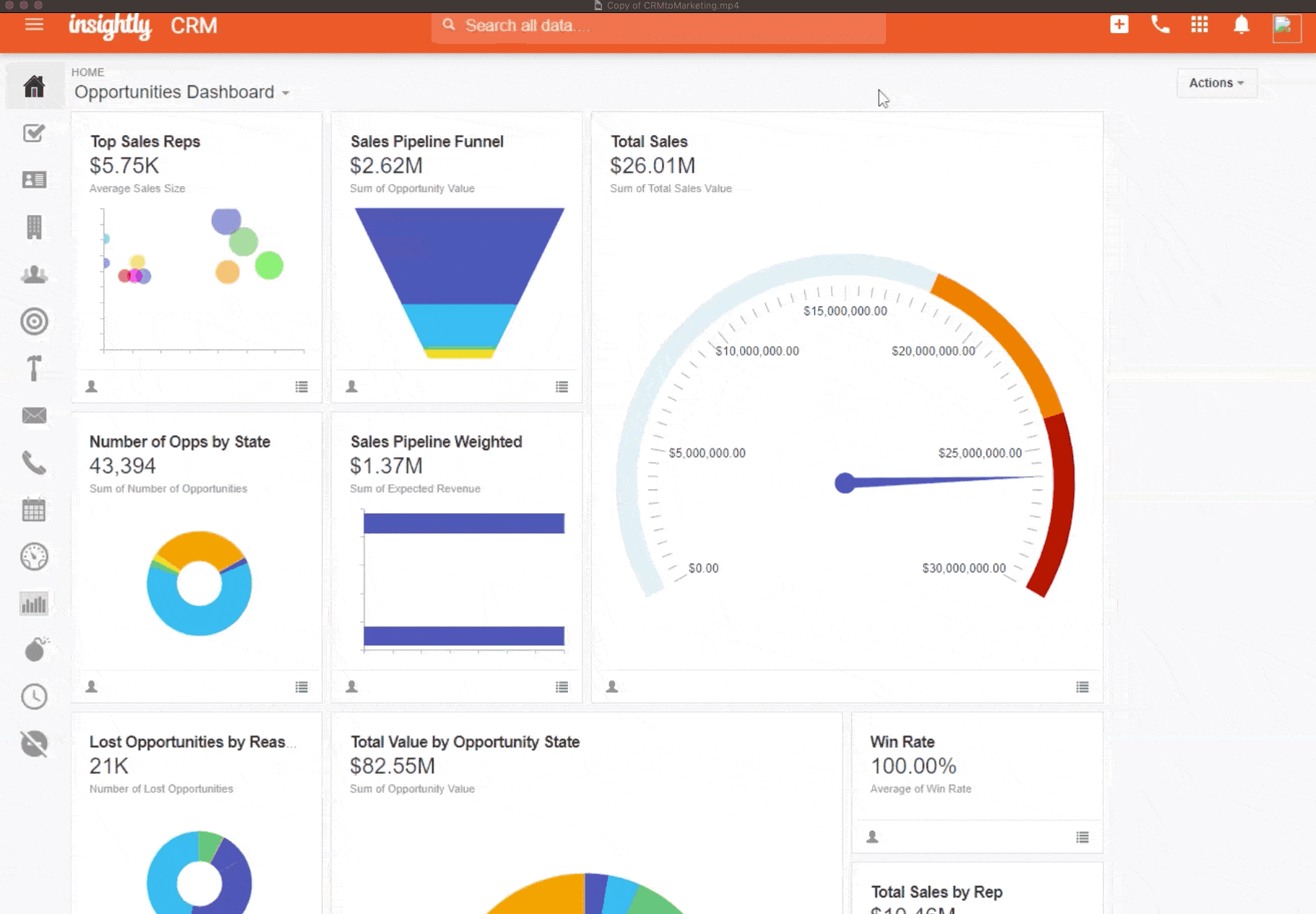 Source: Insightly Blog
EngageBay's CRM is always free, even if you don't use any of the other great sales and marketing features EngageBay offers (although you'll surely want to).
As we'll continue to explain in this guide, you also get more features within EngageBay's CRM than you do with Insightly's.
With added features plus greater money savings as well, if you're debating leaving Insightly, you now have a great alternative in EngageBay.
No Team Hierarchy
Team hierarchy is a feature that is not guaranteed in all CRM software; Agile CRM lacks it, as does Insightly.
This is a major oversight when you learn more about what team hierarchy features can do for your company.
For one, there's the security aspect of these, as the team hierarchy features allow you to assign access to members of your team according to their role within the company.
For example, your company manager might have the most access, followed by a sales team and marketing team and maybe customer service reps with slightly fewer accesses.
However you want to frame the access of important, personal company documents, you can with team hierarchy in your CRM.
Further, you can use a hierarchy for data visualization, almost as a sort of organizational chart.
Now, you can sort each of your employees into a structure based on their role or title within the company.
This not only neatens company organization, but it again makes it so much easier to pass documents or data to only the intended employee or staff member.
As we wrote about in our comparison of Agile CRM with EngageBay, you will find team hierarchy features within EngageBay's CRM.
This pairs especially nicely with EngageBay's sales dashboard, which lets you track sales performance, task reports, your deals, funnel progress, which deals you've won and lost, how many active deals you have, and so much more.
Lack of Powerful Reporting
The above data or metrics are part of how your company gauges its success, especially when the metrics are presented as part of a report.
You cannot assume your company is doing well or not, but you need real, tangible information that proves as much.
Not only does this allow your business to continue on the right track (provided you're on that track), but it also satisfies investors and other partners you may have affiliated with your company.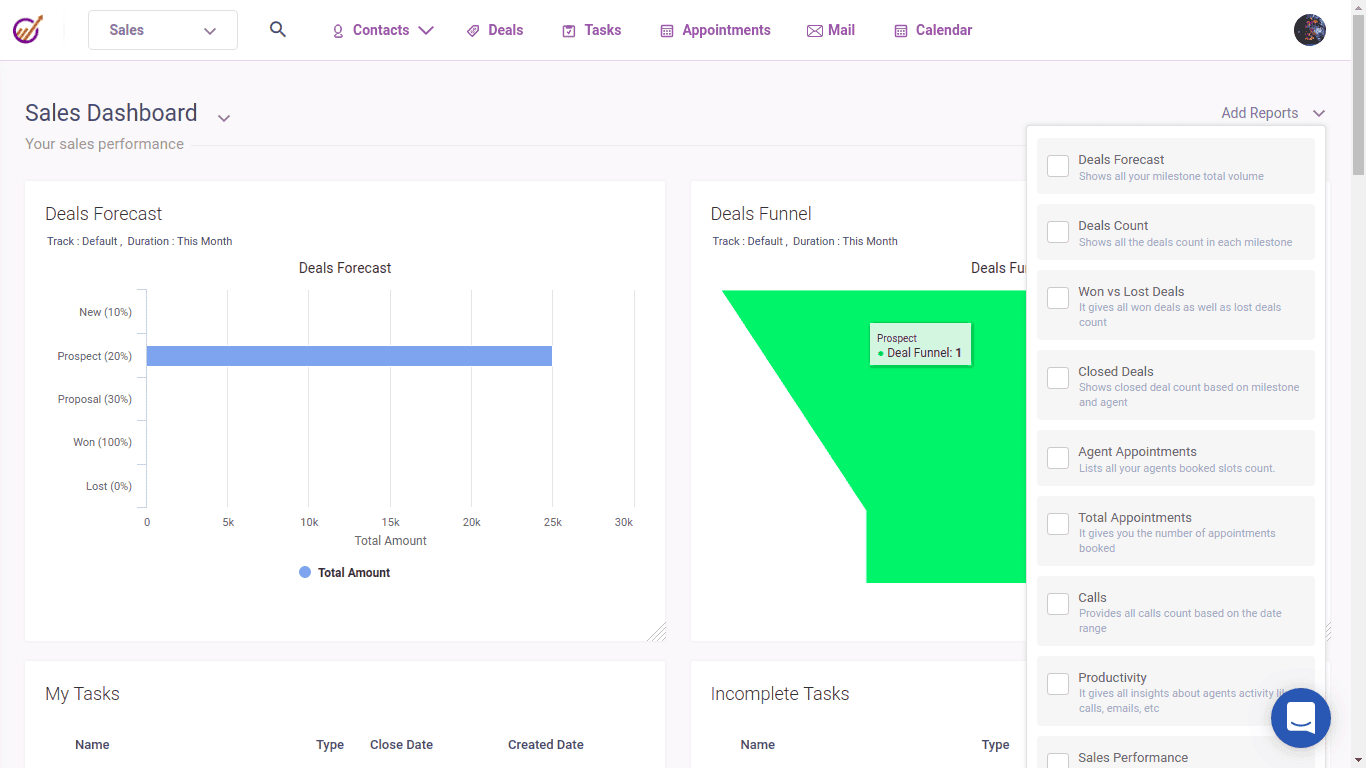 Reports, whether generated monthly, bi-monthly, or even quarterly, let you hone in on the most valuable parties within your company, such as your sales team, your marketers, or even both.
If, of course, missteps happen–which is natural with any company–then having reports telling you where you may have made mistakes allows you to rectify these so you don't continue the downward trajectory for the next month or quarter.
The longer your company produces reports via your CRM software, the more valuable this data becomes.
Eventually, you can compare monthly or quarterly data over several years to see if any emergent trends may help you predict your future path.
It's a wonder then that any CRM would lack this integral yet basic feature, yet you won't get the kind of powerful reporting you need to inform your business decisions if you continue using Insightly's CRM.
That's not the case with EngageBay.
The CRM reporting offered here lets you track every desirable metric, plus you can automate the delivery of your reports so they're always here when you need them.
This also saves your team valuable time in having to generate detailed reports themselves, reducing the rate of human error as an added benefit.
No Helpdesk
It doesn't matter what kind of business you run, your customers are going to come to you eventually with questions and/or concerns.
This becomes especially more likely when rolling out a new system or feature, as there will be a bit of a learning curve.
Helpdesk is the perfect solution for addressing and answering these questions.
Through the helpdesk, your audience can get in touch with your company's customer service representatives in a way that's convenient for them, be that instant message, phone, or email.
You may have a general helpdesk for all questions about your company's products and services or you could even have an IT helpdesk for tech issues with using the above products/services.
Helpdesks these days are often digital rather than physical, although they can be both. With your CRM software through EngageBay, you can set up a helpdesk today that customers can flock to when they need answers right away.
If you continue using Insightly as your company's primary CRM, you'll quickly find you're without a helpdesk.
This means that each time a customer has questions, they're either ringing your phone off the hook, emailing you all the time, or sending several messages across social media until they get an answer.
The longer the customer goes without their issue being resolved or even addressed, the worse they can feel about your company.
Supporting that is 2019 data from Finances Online that mentions how 33 percent of customers prioritize "getting my issue resolved in a single interaction."
Without a helpdesk, there's no promise of that single interaction assistance, which should hopefully have you rethinking whether you want to continue to use Insightly for your CRM needs.
No Live Chat
As if it wasn't already bad enough that Insightly makes its customers go without a helpdesk if using their CRM, there's also no live chat features to be found.
While your company can potentially get away with either a helpdesk or a live chat and not necessarily both, if you have the option to use the two features, you might as well take advantage of it.
After all, live chat can fill in a lot of gaps when using helpdesk at your company.
For example, your employees can't be staffed 24/7 to answer questions, but what if a customer reaches out in the middle of the night or on a weekend?
With a live chat, which is often fronted by a chatbot, the customer can at least get a response so they know they're being acknowledged.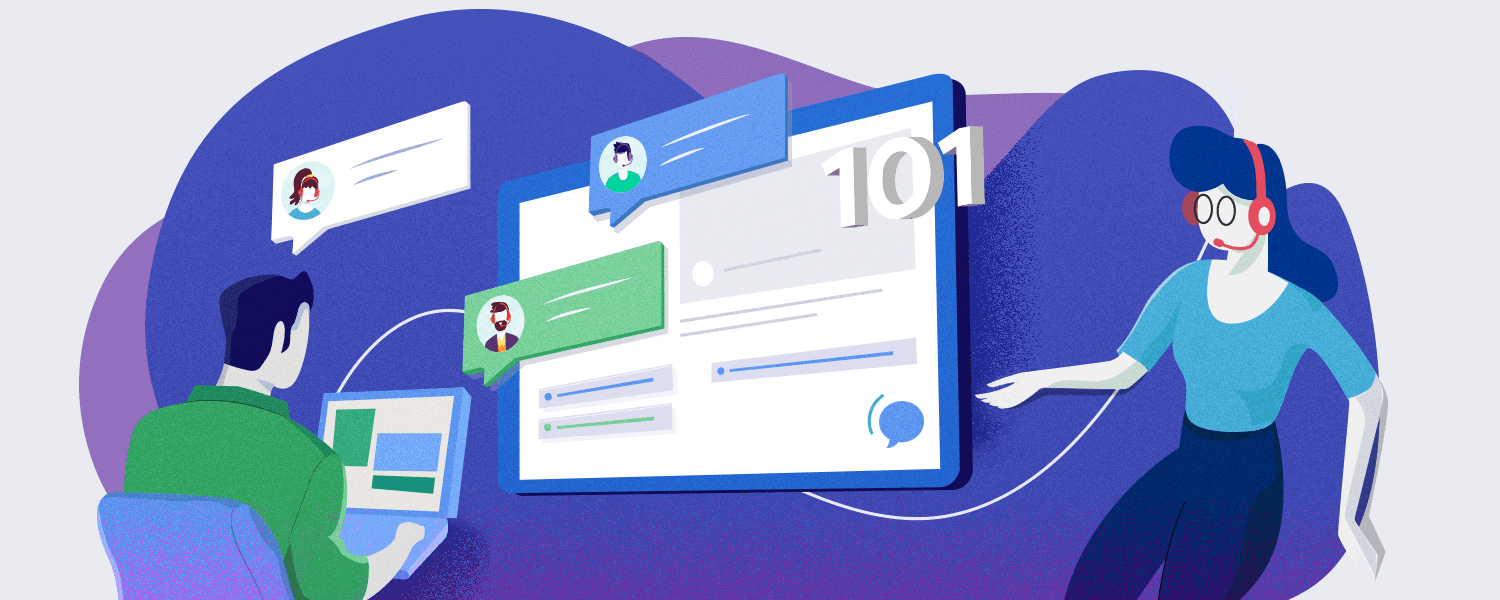 Source: Freshdesk Blog
Maybe the customer needs to wait until the next business day to get their issue dealt with by a real person, but in plenty of cases, a chatbot can guide a customer through their problem sufficiently.
Even during business hours, a chatbot can prove incredibly useful, as they free up the time of customer service reps and sales reps.
Now, these integral staff members can focus on new and existing customers, promoting conversions and increasing your company's revenue.
3 Ideal Insightly Alternatives
Your mind is made up and you've decided that you'd like to look into some Insightly alternatives.
We have three picks that we'd call the best alternatives to Insightly: EngageBay, HubSpot, and Keap, so let's talk more about them now.
EngageBay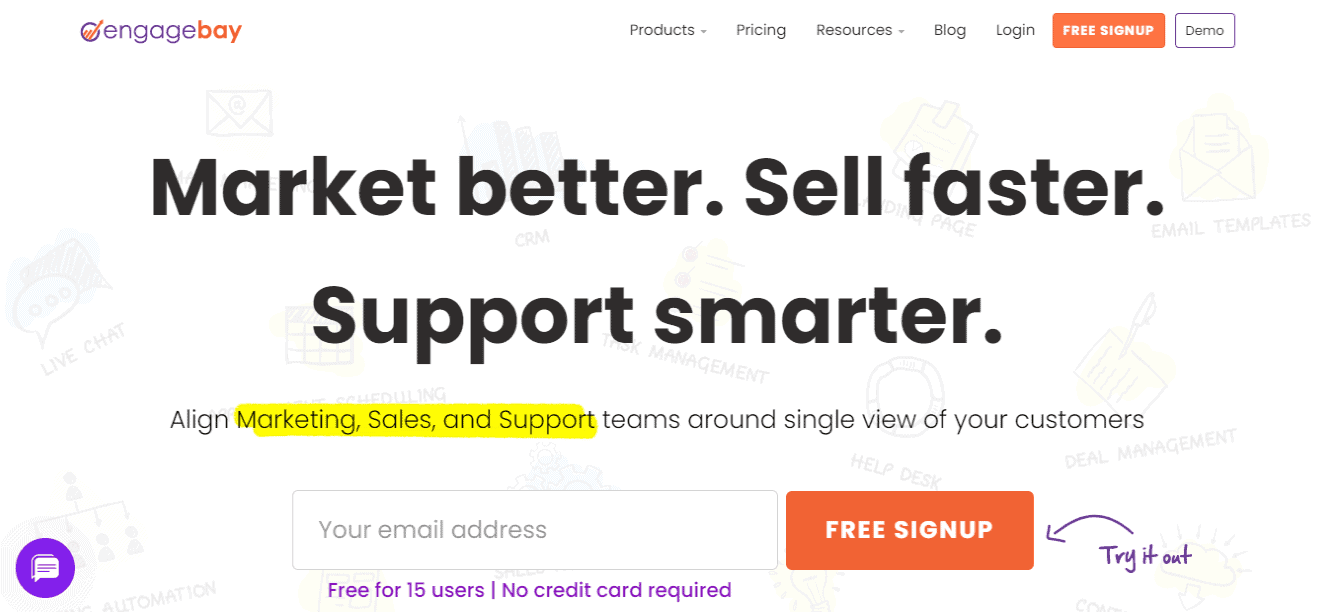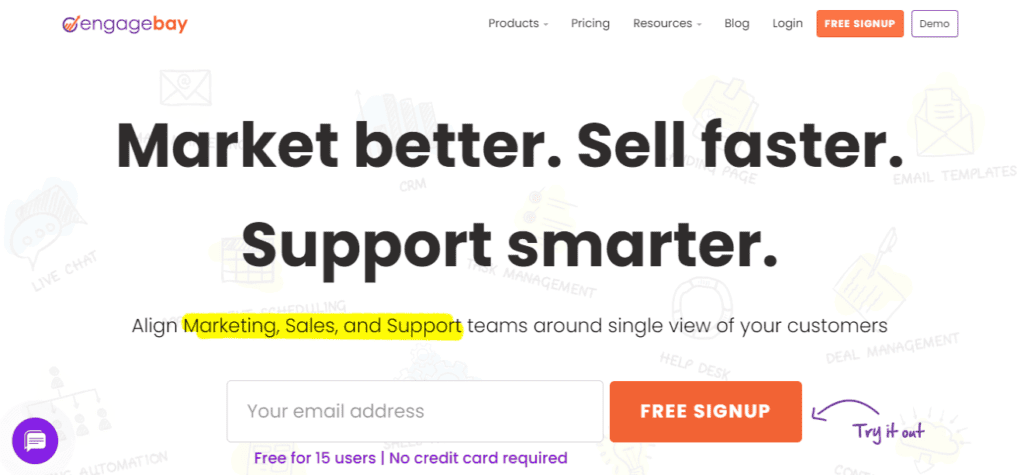 When it comes to Insightly alternatives, EngageBay is one of the top ones out there.
As we talked about earlier in this guide, their CRM services are always available for free, even if that's all you use from EngageBay.
With their all-in-one suite of products, including the Service Bay and Marketing Bay, you'll find many of their services align with the goals of your company.
A newer business that has caught on quick, EngageBay was founded as an alternative to pricy sales and marketing software.
Their lower prices and free features have won the company major acclaim.
Besides the features we discussed before, EngageBay's free CRM also features call integration, a lead scoring system, CRM and email syncing, sales team gamification and leaderboards, easily accessible contact lists, automated data entry, task creation and assignment, meeting scheduling, and a visible sales pipeline.
HubSpot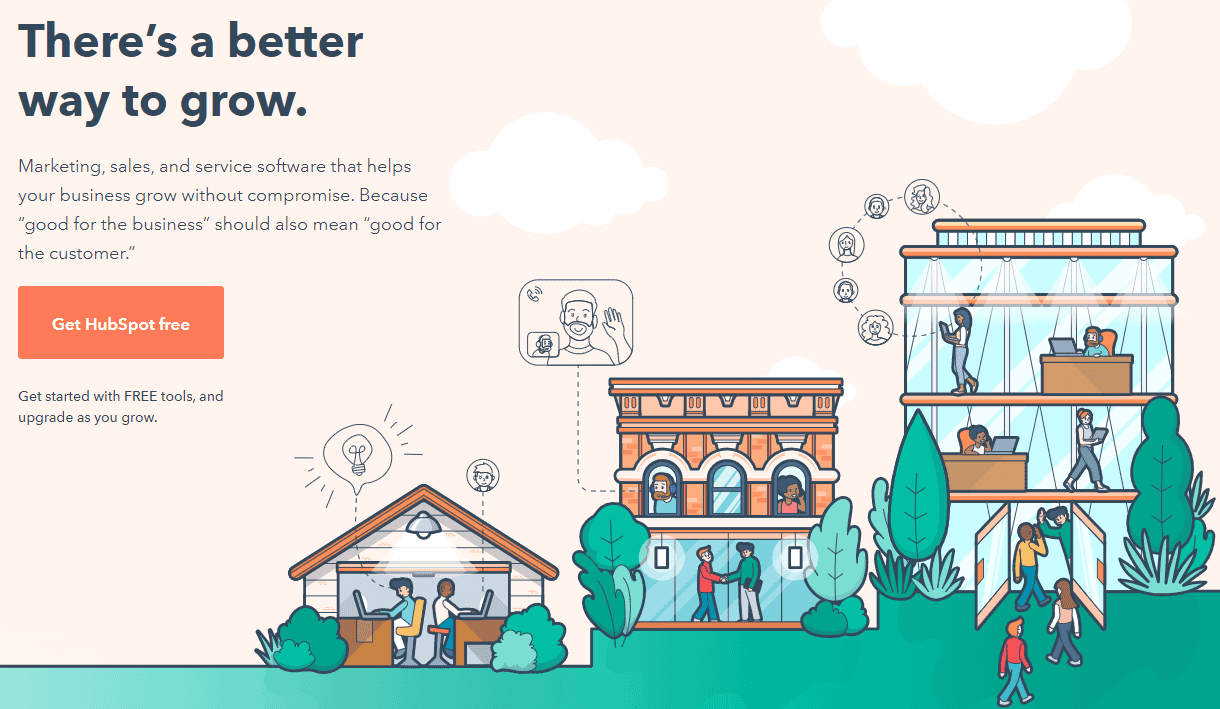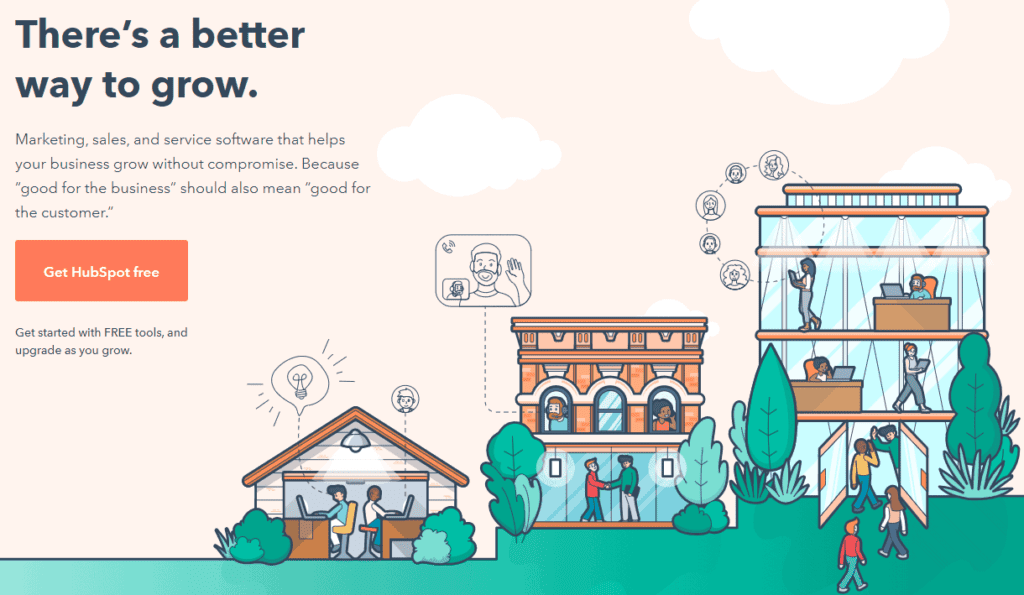 While HubSpot's high prices make their other services tough to recommend, the company's CRM is available for free.
Designed for salespeople and marketers, you can use such features as live chatting (again, something Insightly doesn't have), meeting scheduling, prospect tracking, email tracking, click-to-call, email templates, contact lists, pipeline management, deal tracking, company insights, and a reporting dashboard.
HubSpot doesn't try to restrict how many contacts you can add, with the cap currently set at a million.
All this unlimited data for free CRM is quite impressive, making HubSpot a viable option.
Keap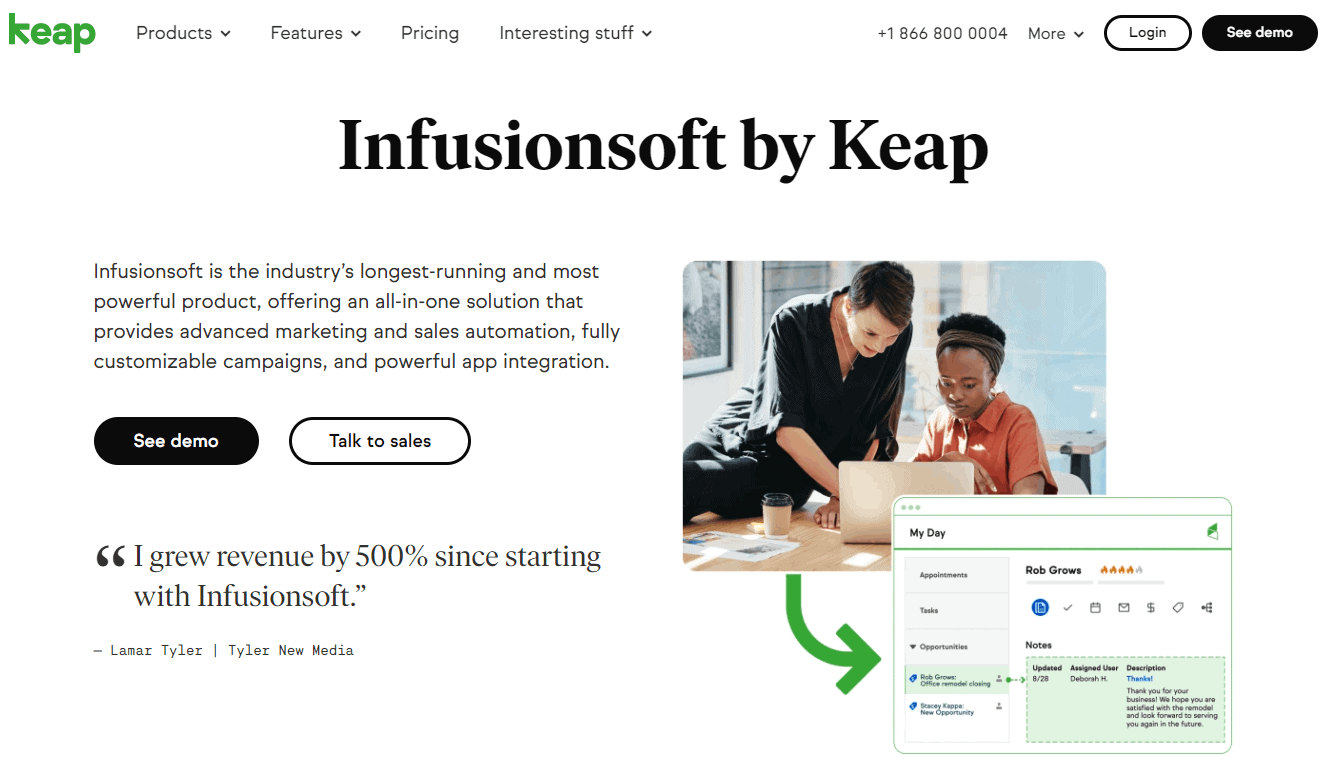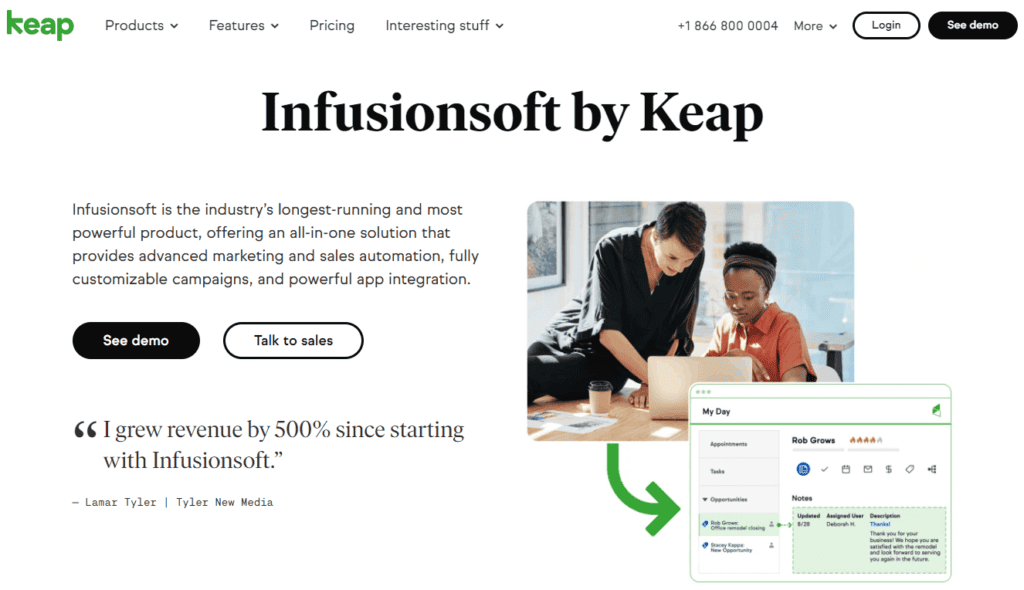 Formerly known as Infusionsoft, Keap may be the company's new name, but its same great features have not changed.
For example, Keap still offers CRM with Smart Forms, message personalization, client contact lists, email templates, email scheduling, and automation, Outlook and Gmail syncing, and automation in areas like communications and even invoicing.
Unlike HubSpot and EngageBay's respective CRMs, Keap is not free.
The price of their CRM seems to be bundled into Keap's services overall, with three plans available.
These are the Keap Grow plan for $79 a month per user, the Keap Pro plan for $149 a month per user, and the Infusionsoft plan for $199 a month per user. Know more about Infusionsoft (Keap) pricing.
Conclusion
While Insightly may be a leading CRM solution for many companies, it might not be one you decide to continue using having read this guide.
Not only are some of the features in this CRM quite expensive, but there's also a lot that's missing. For example, Insightly users are deprived of helpdesks, live chat, and detailed reporting.
EngageBay, which is one of the top Insightly competitors, not only doesn't make you go without the features you need most in your CRM, but their CRM is always free.
That makes the decision exceedingly clear when it comes to choosing your next CRM!
Read more about: Aweber vs Getresponse vs EngageBay