Keap is an excellent software with a good selection of features for mid-sized companies and businesses.
But the problem lies with its pricing: Keap is quite expensive for small businesses.
In fact, you can save more than 90% of your marketing costs by simply switching to a more affordable alternative.
In today's post, we will explore Keap pricing, features, and several downsides of using Keap. We'll also recommend a CRM alternative that might better suit your budget as a small business.
Let's begin!
What Is Keap (fka Infusionsoft)?
Keap is an all-in-one CRM, marketing, sales automation, and payments software — all integrated into one single software.

It offers a huge range of features for SMBs and large organizations, including appointments, reporting, analytics, sales pipelines, text marketing, landing pages, and more.
Keap offers three plans: Pro, Max, and Max Classic. Let's explore all three of these Keap products in more detail now.
Keap Pro
For small businesses that want to keep the cost to a minimum, Keap Pro is the best solution. This is, after all, the least expensive of the three products.
Keap Pro includes the following services:
Insights and reports: Gain access and insights into company operations with administrative reports, billing and order reports, sales reports, and marketing reports.
Payments and invoices: Maintain control over your money with Stripe, WePay, or PayPal.
Proposals and quotes: Keep the sales pipeline moving as planned with pro quotes, proposals, and estimates.
Marketing automation: Automate marketing duties, including email sequences.
Sales pipeline: Create and manage your sales pipeline using automation.
Appointments: Have leads and customers schedule appointments that sync with your Google Calendar and Outlook when booked.
CRM: Use Smart Forms, message personalization, client interaction history, and email automation as part of Keap's CRM.
Integrations: Integrate with a slew of services, among them WordPress, ThriveCart, Typeform, QuickBooks, OptinMonster, Leadpages, Outlook, Gmail, Instapage, and Zapier.
Keap Max
For the bigger businesses that need more features, Keap Max is right up your alley. Here's an overview of the features included in this product:
Lead capture: Generate more leads and then use Smart Lists for lead management.
Recurring payments: Instead of having to track down invoices, recurring payments ensure you have a reliable cash flow.
Smart Forms: Akin to Smart Lists, Smart Forms lets you add new leads to your CRM.
Sales pipeline: Keap Max also includes a sales automation pipeline for customer management.
Automation: Automate everything from workflows to email marketing, campaigns, and more.
Keap Max Classic
The third product in the Keap family is known as Max Classic. This is the most inclusive product of the three.
Let's take a look at what's included:
Automation for sales and business growth: This plan can help you grow a scalable online business and make your sales process more simplified.
Lead conversion: Keap also states that most of its users saw a boost in conversion rates through services like the Campaign Builder, customized messaging, automation, and lead segmentation.
More leads: You may also have more leads through automation, a landing page designer, lead segmenting, and scoring.
Read also: 11 Best Marketing Automation Tools for Small Businesses
How Much Does Keap (Infusionsoft) Cost?
Let's break down the pricing so that you can find out which plan is right for your business.
You can use any of the Keap products on a trial basis before you make a decision. Keap operates on a sliding-scale model, so you need to take into account your company's future growth.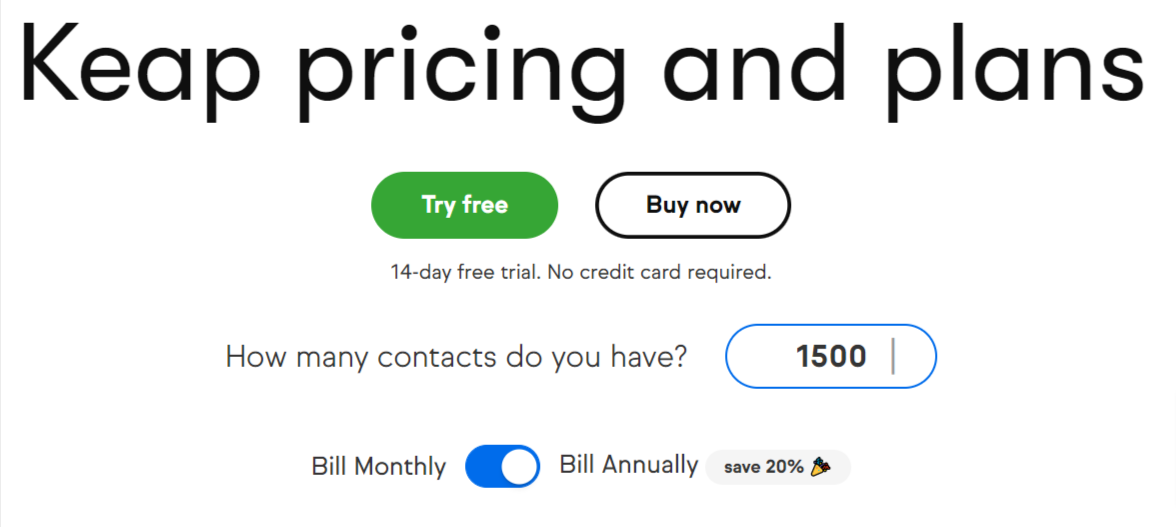 Keap Pro Pricing
Keap Pro gives you access to 500 contacts a month for one user. As a recap, you can also send invoices and quotes, schedule appointments, use business text messaging and a phone line, and utilize Keap's email marketing tools.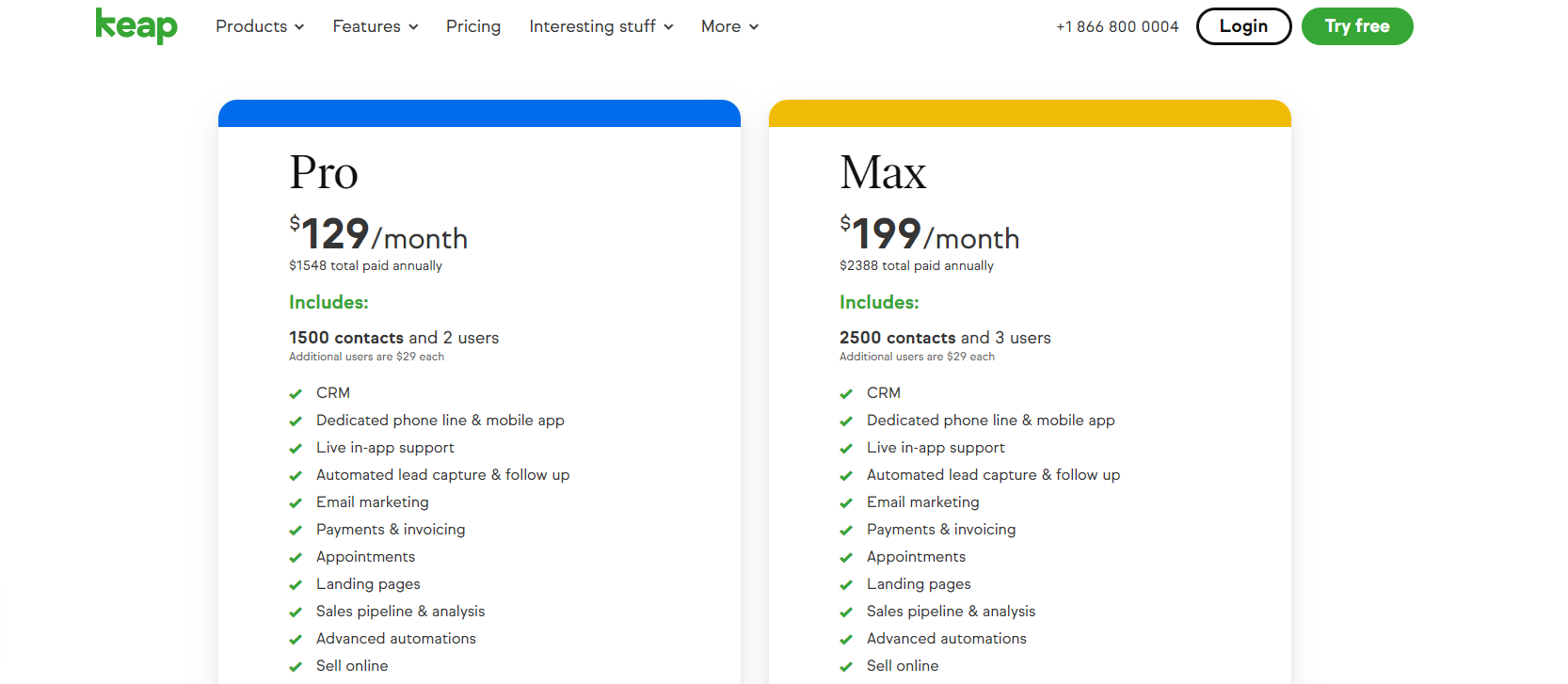 Keap Pro starts at $129/month for 1,500 contacts and 2 users.
This is how the pricing increases as your contact base increases:
1,500 contacts: $129/month
2,000 contacts: $153/month
5,000 contacts: $229/month
10,000 contacts: $289/month
20,000 contacts: $409/month
Keap Max Pricing
Similar to Keep Pro, Keap Max pricing is based on a sliding scale, too. Keap Max offers more features, including smart reports and forms, a landing page builder, recurring payment, and automation for sales and marketing.
Besides, you're not stuck with that plan forever. Like with the Keap Pro plan, you can also customize your Keap Max services…for a fee.
Here's the pricing breakdown:
1,500 contacts: $199/month
5,000 contacts: $254/month
10,000 contacts: $359/month
20,000 contacts: $479/month
Max Classic (formerly Infusionsoft) Pricing
The third plan for Keap is Max Classic. This includes everything you get in Keap Pro and Keap Max as well as eCommerce and advanced reporting, company records, lead scoring, automation, and CRM.

This plan is geared toward marketing and sales teams and has custom pricing.
Expert coaching, the mandatory onboarding program of Keap, costs $499.
Looking for a more flexible solution to Keap? Our article on the top Keap alternatives will help you find the perfect fit.
Read also: 7 Awesome Sales Automation Tools to Supercharge Your Revenue
The Downsides to Using Keap For Small Businesses
That's our overview of Keap pricing as well as what you get for your money. If you're still debating whether Keap is the right CRM solution for your business, check out this list of downsides.
Few Advantages from One Pricing Plan to Another
You'd expect to get more features by paying extra, and Keap does deliver in that regard. Usually, though, a CRM software lets you add more contacts and users per month as you go higher up on the pricing tier list.
That's not the case with Keap.
Keap starts at 1,500 contacts and 2 users, irrespective of the plan tier.
That's only because you can then turn around and shell out even more money to double up on your contacts or users. Keap won't give you that option for free because it means losing out on money for them.
The Cheapest Plan Leaves You Wanting for Features
The Keap Pro plan may be aimed at companies looking to grow, but it does not have all the features needed by businesses.
You only get basic web forms with the Keap Pro plan. You're also missing landing page design, lead scoring, a customizable dashboard, A/B email testing, recurring payments, checkout pages, and order forms.
If you want to automate campaign building, you must pay for Keap Max. The same is true if you want to automate your sales pipeline or generate reports.
Can your company operate without some of those features in your CRM? Maybe at the very beginning, but as you grow, you'll find the answer is no.
Read also: 6 Marketing Workflow Software: What's the Best One? (Brief Reviews)
Onboarding Fees Are Expensive
Let's take a moment to discuss the 'Expert Coaching' training Keap offers its new customers.
Keap charges a flat rate of $499/month for the onboarding service. Granted, this is a nice option to have for businesses to help smoothen the transition. Keap offers a lot through their onboarding service, including setting up integrations, pipelines, and coaching sessions.

The problem is that you already pay a hefty price for their products: having more than 10,000 contacts means you need to dish out thousands of dollars a year. With this price tag, Keap should have offered free onboarding for small businesses, or at least have a lower-priced service for the Pro plan.
User Reviews of Keap
Let's look at Keap from the eyes of real-life users who've implemented the platform in their businesses. These reviews highlight some of the recurring issues: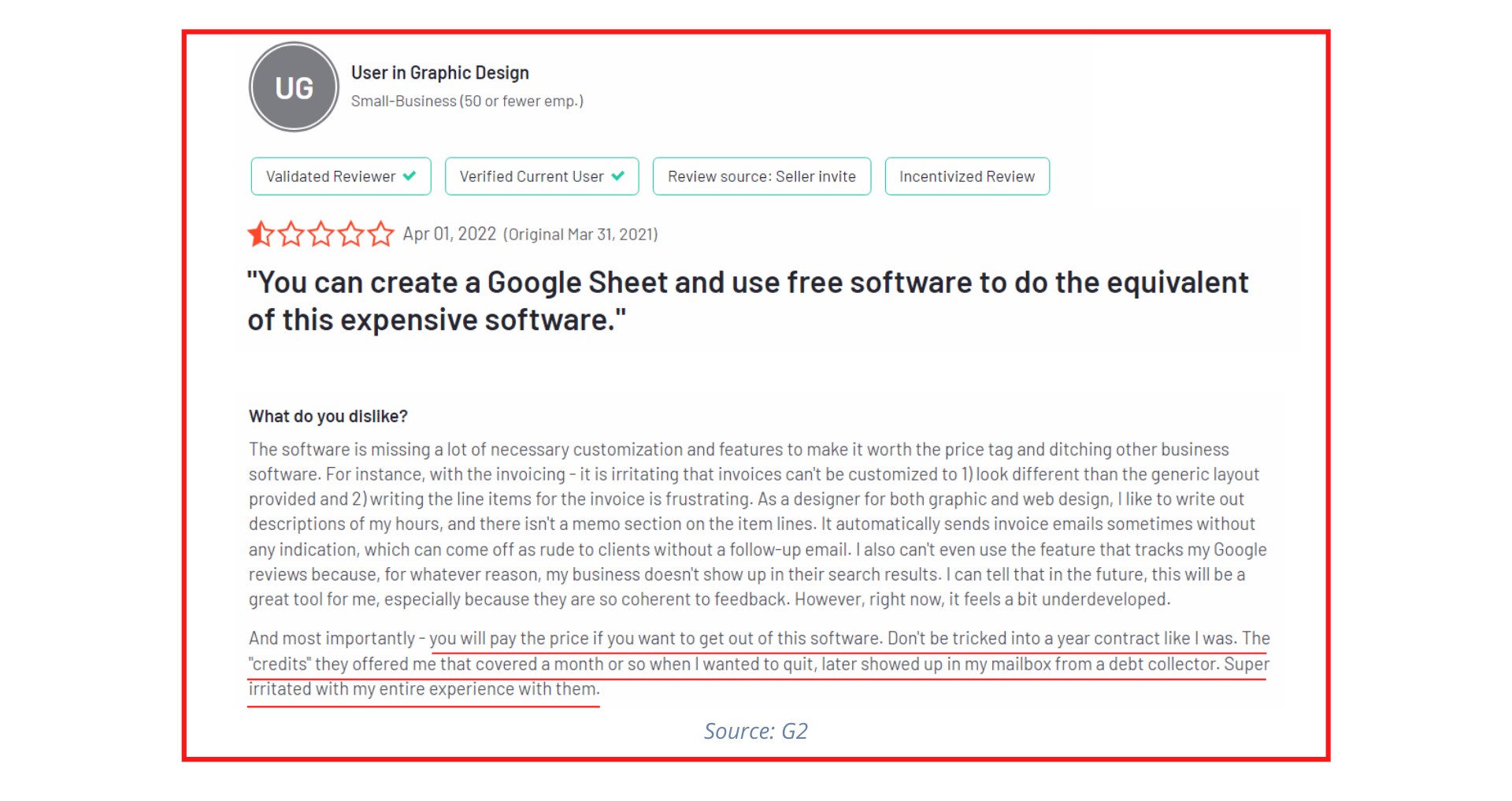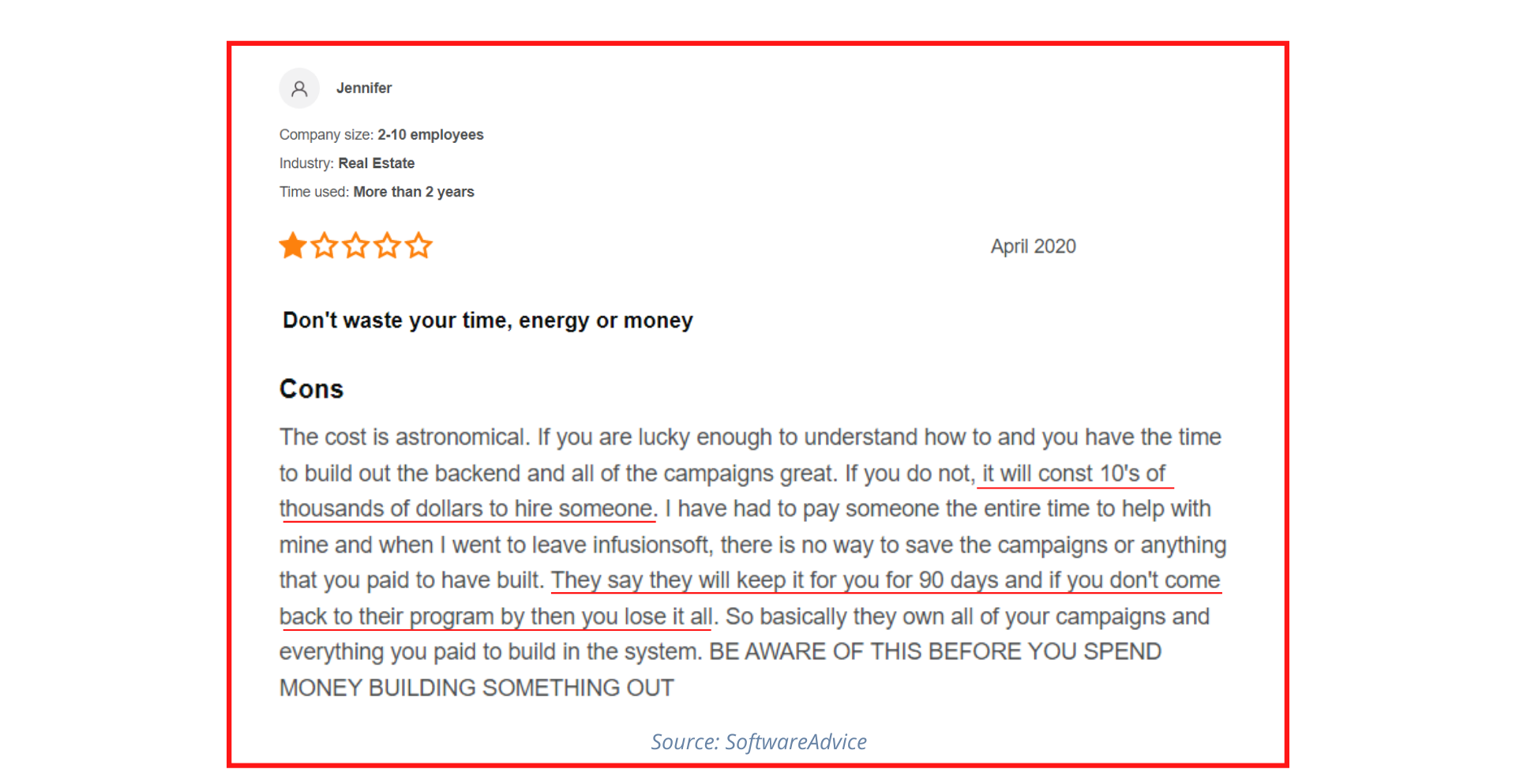 While Keap is an excellent tool for some businesses, it may not be the perfect fit for everyone. Small businesses, especially, are better off choosing a more affordable Keap alternative with similar (or even better) features.
Read also: HubSpot vs Keap: Is HubSpot Really a Better Product?
Which Infusionsoft Alternative Should You Consider?
If Keap or Infusionsoft pricing has you feeling uncertain about proceeding in that direction, keep in mind you can look into other Infusionsoft competitors instead.
Now that you know the disadvantages of using Keap, it's time to look elsewhere.
For small businesses that need a comprehensive software without the huge price tag, EngageBay is the way to go.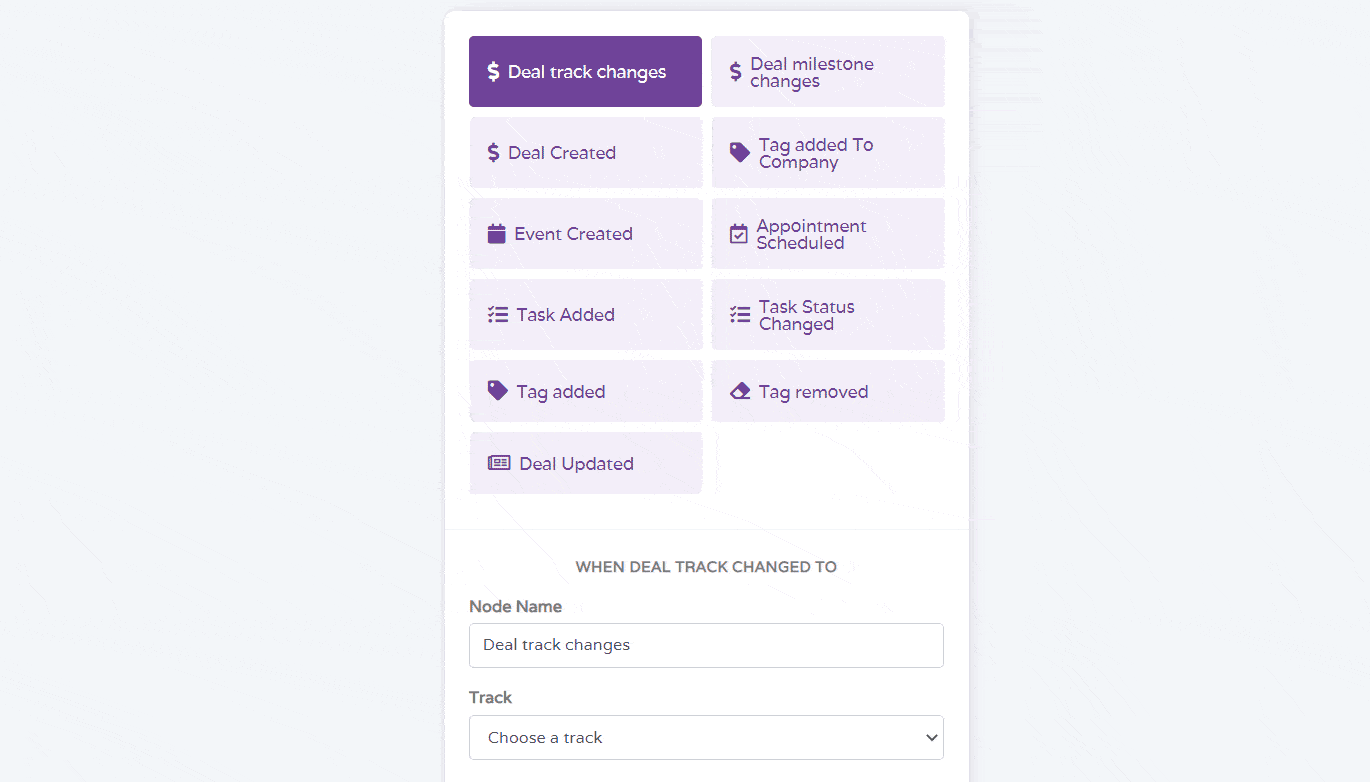 At EngageBay, we consider our service one of the top Infusionsoft or Keap competitors. Take a look at this chart to see how we stack up to Keap.
EngageBay has many unique features you won't find with any Keap or Infusionsoft pricing plan, among them:
Social media suite
Live chat
Helpdesk software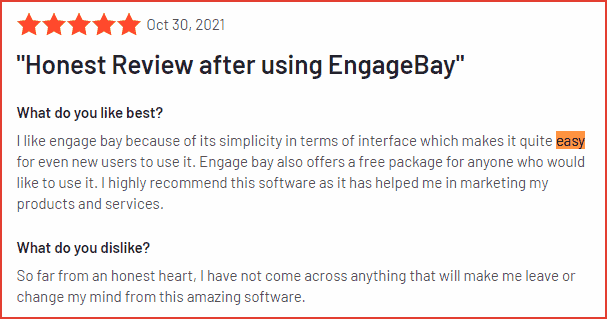 You can only get those services with EngageBay, making it a viable competitor to Keap.
The best part?
EngageBay offers all these and more at an unbelievable price. In addition, you get free onboarding and migration services.
Read also: SharpSpring Pricing, Features, and Top 3 Alternatives for Small Businesses
EngageBay Pricing
EngageBay offers four plans: Free, Basic, Growth, and Pro.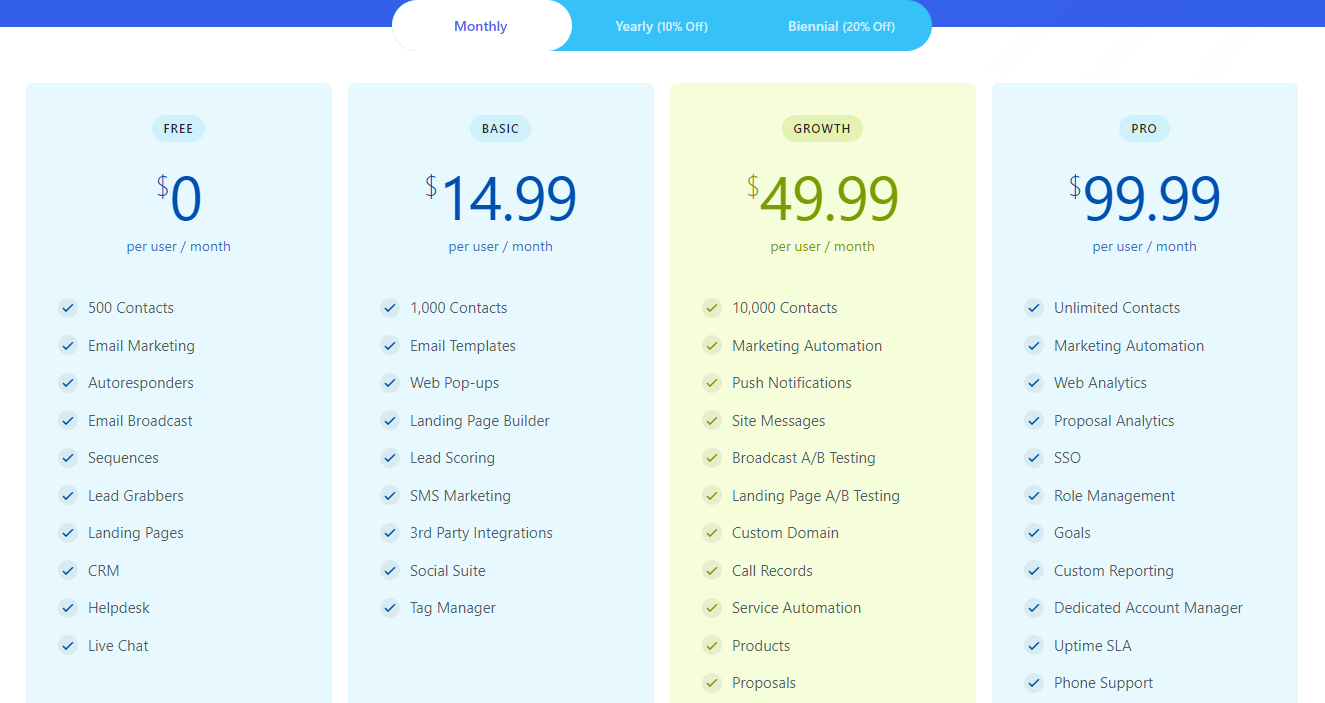 Free: The free-forever plan costs $0 (duh!) and offers 500 contacts, 1,000 emails/month, email marketing, autoresponders, email broadcasts, landing pages, CRM, helpdesk, live chat, and so much more.
Basic: The Basic plan costs $14.99/month for 1,000 contacts, 3,000 emails, email templates, landing page builder, SMS marketing, Social Suite, tag manager, lead scoring, and 5 landing pages.
Growth: This is the most popular plan and costs $49.99/month. You get a suite of useful tools, including marketing automation, email and landing page A/B testing, call records, service automation, 10,000 contacts, and 25,000 emails.
Pro: The Pro plan offers enterprise-level features for businesses requiring advanced tools at an affordable price. You get unlimited contacts, web analytics, SSO, a dedicated account manager, uptime SLA, and priority phone support — all for just $99.99/month.
In addition, you get a 10% discount on annual subscriptions and a 20% discount on biennial subscriptions.
Quick Comparison of Keap & its Top Alternative
---
Let's make a quick comparison:
EngageBay 'Growth'
Keap 'Max'

25,000 contacts

25,000 contacts

1,100%

↑

$50/month

$599/month

In costs compared with EngageBay
As you can see, for about 25,000 contacts, you'd end up paying 11X more for Keap. Why do that?
---
See detailed comparison of Keap and EngageBay
Conclusion
Keap (Infusionsoft) is a well-known sales and marketing solution with CRM. The problem lies with the pricing, which is high.
You also don't get a free version.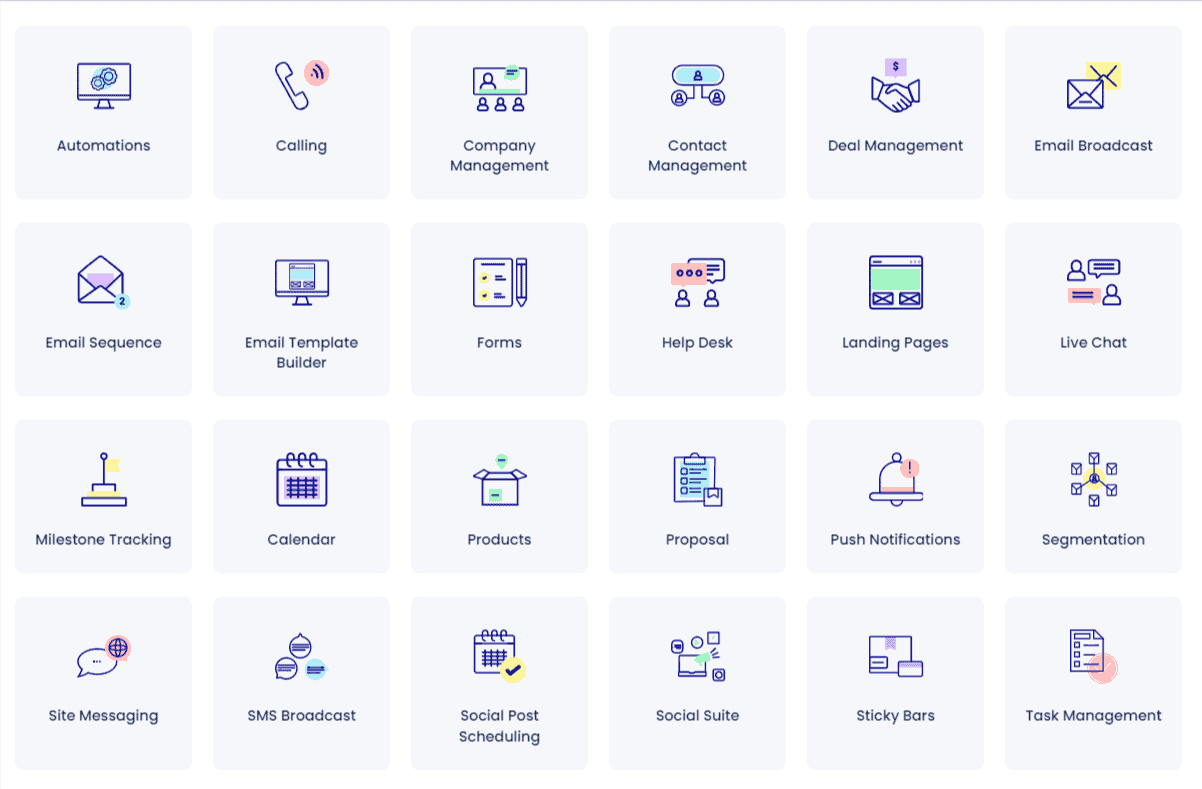 EngageBay, on the other hand, is a much more affordable Keap alternative with a free CRM that grants you 500 contacts a month.
The biggest issue with Keap is that it does not offer an integrated all-in-one platform, without which you cannot get a 360-degree view of your customers.
With EngageBay, you get all these and more — at a better price.
EngageBay's CRM could be just what your small business is looking for! Sign up for free, or book a 30-minute demo with our experts.