Since we've had things to remember, reminders have become indispensable tools. Whether it's the beep of an app or a twine wrapped around the finger, everyone needs a reminder to help offload the need to remember everything all the time and, most importantly, to ensure they show up when needed.
For business meetings, this is double true.
So, to avoid the costs of time and productivity lost from no-shows and meeting cancellations, we've put together tips, templates, and examples on how to write the best meeting reminder emails.
What is a Meeting Reminder?
A meeting reminder is an appointment notification sent to registered attendees or participants of a scheduled meeting, highlighting crucial meeting details, such as the meeting's date, time, location, and agenda, to increase attendance and ensure that the meeting runs smoothly.
Typically, it aims to ensure all meeting participants are aware of meeting details and prepared to participate. Meeting reminders are usually sent via text message using a business VoIP service or email.
Email reminders fall into two categories:
Emails sent before an event. For example, a cordial reminder for a scheduled meeting.

A follow-up email after something has failed to happen. For example, a notification that an employer didn't pay a bill before the deadline.
Read also: Practical Onboarding Email Templates for New Clients, Employees, and Affiliates
Why are reminder emails important?
Reminder emails are essential for several reasons.
They serve as a means to increase participation. For example, sending a reminder message helps individuals remember the occasion so they will remember to show up.

They are crucial for meeting information updates. Meeting details such as location or time are subject to change. You can always notify and remind participants of relevant changes with reminder emails.

They help keep communication lines open. Remaining in touch helps to increase the event's buzz. In addition, for every occasion, it is vital to have open communication channels so the relevant parties can ask questions and learn more about the planned meeting.
Let's explore tips to write awesome reminder emails for any meeting.
12 Email Invoice Templates to Customize and Click Send
How To Write a 'Bestseller' Meeting Reminder Email
For meeting reminder emails, quality supersedes quantity. Here are a few tips on how to write the best reminder emails for any meeting.
1. Be creative with your subject line
Like a book's covers, emails are judged by their subject lines. Unfortunately, a lot of emails get ignored from the subject line alone. The reason for that isn't farfetched "bland subject lines."
Furthermore, 64% of email recipients open an email based on the quality of the subject lines. So, you'll want to use a subject line that grabs their attention at first sight and conveys value at the same time.
The reminder email subject line should be short and specific, indicating the purpose of the email. This will help the recipients quickly identify the email and prioritize it accordingly.
Suppose you are a SaaS brand; here are a few subject line ideas you can start with.
SaaS Brand Meeting Today: Here's What You Need to Know

Get Set [First Name]: SaaS Brand Meeting in [X] Hours

[Product/Service signature] demo: What you can expect tomorrow

[First Name], ready for your sales demo tomorrow?
15 Introduction Email Templates That Work Like A Charm
2. Personalize your reminder emails as much as possible
Making your reminder email personal is an excellent way to make a great impression.
Tips for personalizing your email reminder include:
Use the recipient's name: Instead of using a generic salutation like "Dear customer" or "Dear sir/madam," address the message recipient by name.

Employ their language and tone: To make the email feel more natural and familiar, use the same language and tone as the receiver.

Acknowledge their unique circumstances: Create an email tailored to the recipient's situation. For instance, if a recipient has had a question or cited a personal concern, ensure you address it in the emails.

Refer to prior encounters: To add a personal touch to your email, reference prior interactions you may have had with the receiver to consolidate the email.
You can easily personalize and automate your reminder emails with an integrated CRM and email software like EngageBay that keeps track of your customer data.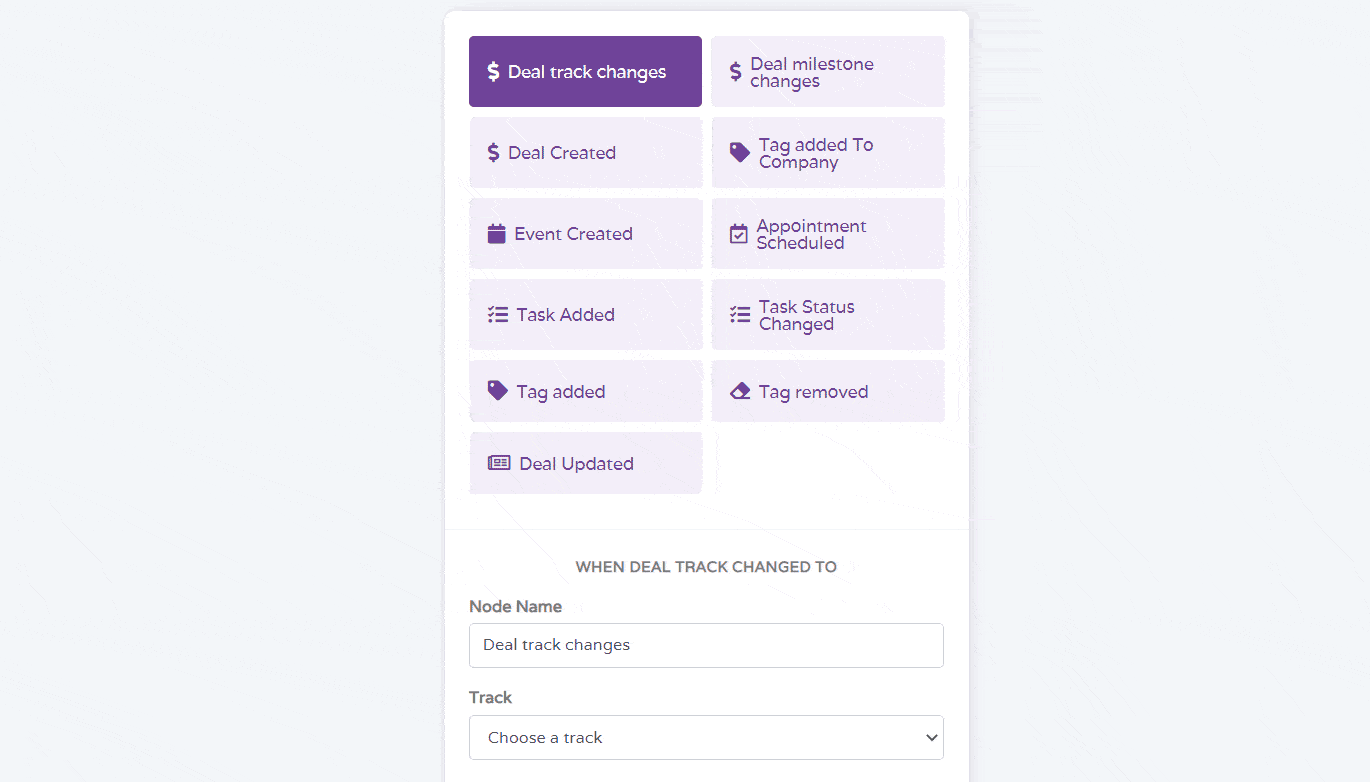 Email Automation Basics, Tips, and Examples
3. Embrace a warm but professional tone
Maintaining a warm tone in a reminder email creates a positive atmosphere that motivates the receiver to act.
An impersonal and unapproachable tone might make a reminder email appear formal or stern, preventing the receiver from performing the required action.
The recipient is likelier to read the email carefully and interact with the message if the tone is warm and conversational.
However, strike a balance between warmth and professionalism.
Here's a great example from Jobber.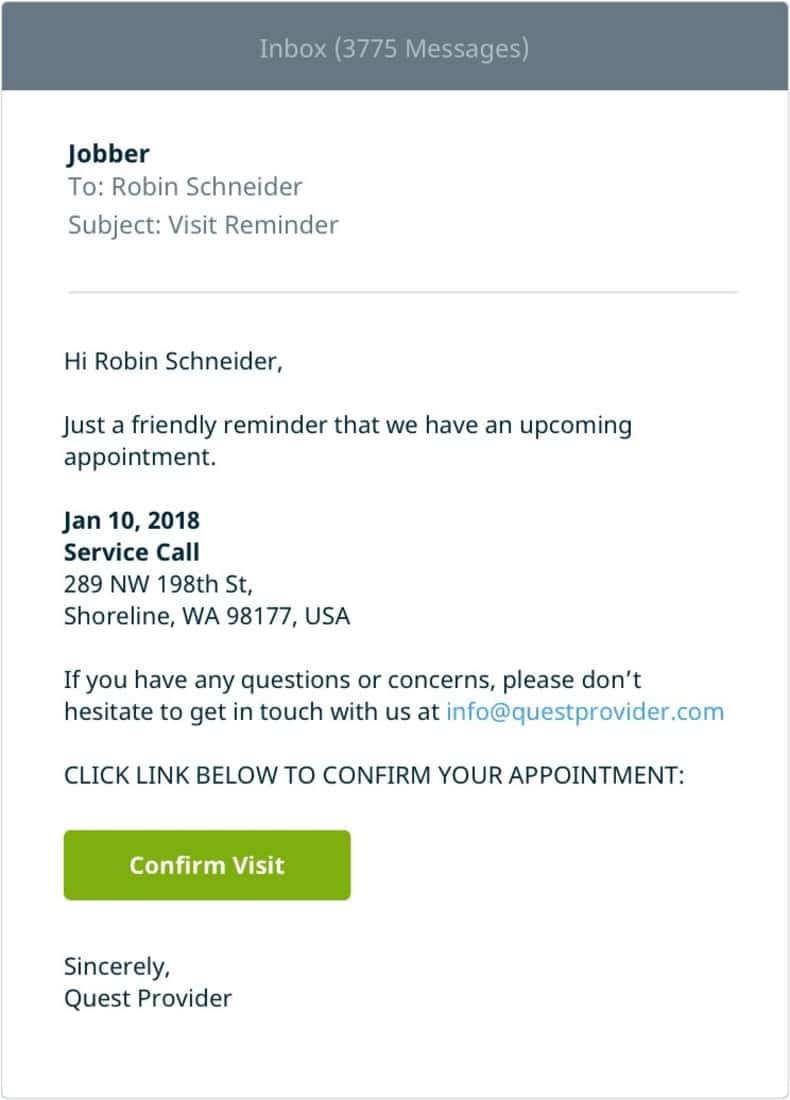 4. Start with the vital information
It would be ineffective to begin a reminder email with details that are not important; this would make the recipient quickly lose track of the purpose of the email or lose interest in reading the email.
Starting a reminder email with essential details is crucial to grab the recipient's attention and deliver the most vital information. It also ensures the recipient is aware of the email's goal from the outset, increasing the likelihood that they will take the necessary action.
20 Real Estate Email Marketing Templates [Ready to Send]
5. Keep it crisp and concise
Human attention span is 8.25 seconds on average. The recipient may have difficulty comprehending the action to be taken if the email is lengthy or ambiguous.
In a reminder email, being concise and unambiguous will help the receiver understand what action to take, when, and why.
Also, a concise, easy-to-read reminder email is more likely to be read and responded to, even if the recipient is preoccupied or previously distracted. Here's a great example of a crisp and concise email reminder from Web Summit.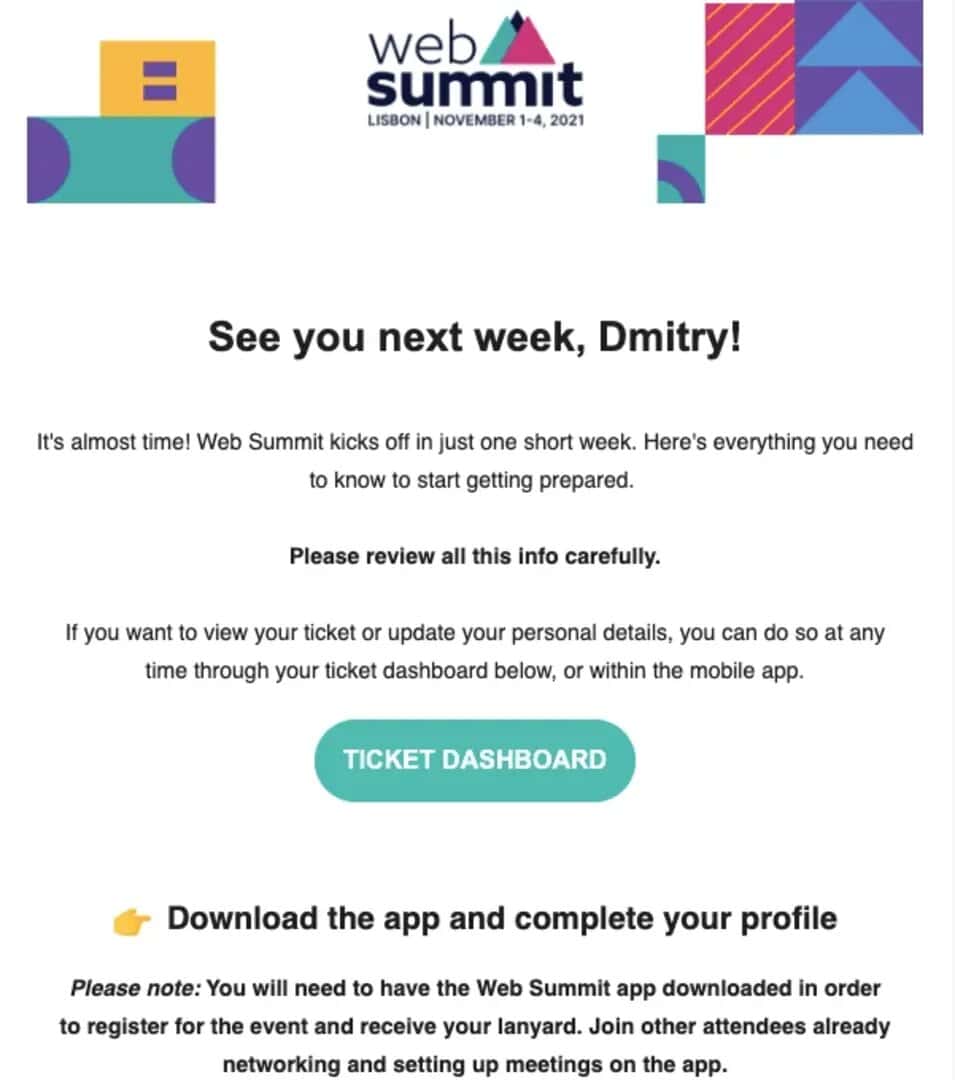 27 Confirmation Email Examples (& Templates) For Customer Delight
6. Don't forget to include the meeting details
Aside from reminding the participants of the meeting itself, it is crucial to provide the specifics of the meeting, such as the time, date, and place of an in-person meeting and the procedure for joining a virtual meeting are all appropriate meeting specifics.
By giving precise meeting information, you help the meeting participants prepare adequately.
For instance, if you provide the correct meeting time, attendees can arrive on time, thereby not missing crucial aspects of the meeting.
Similarly, if you give attendees the proper virtual meeting link, they can easily get into the meeting and get all the essential information. Here's a great example by Mailcon.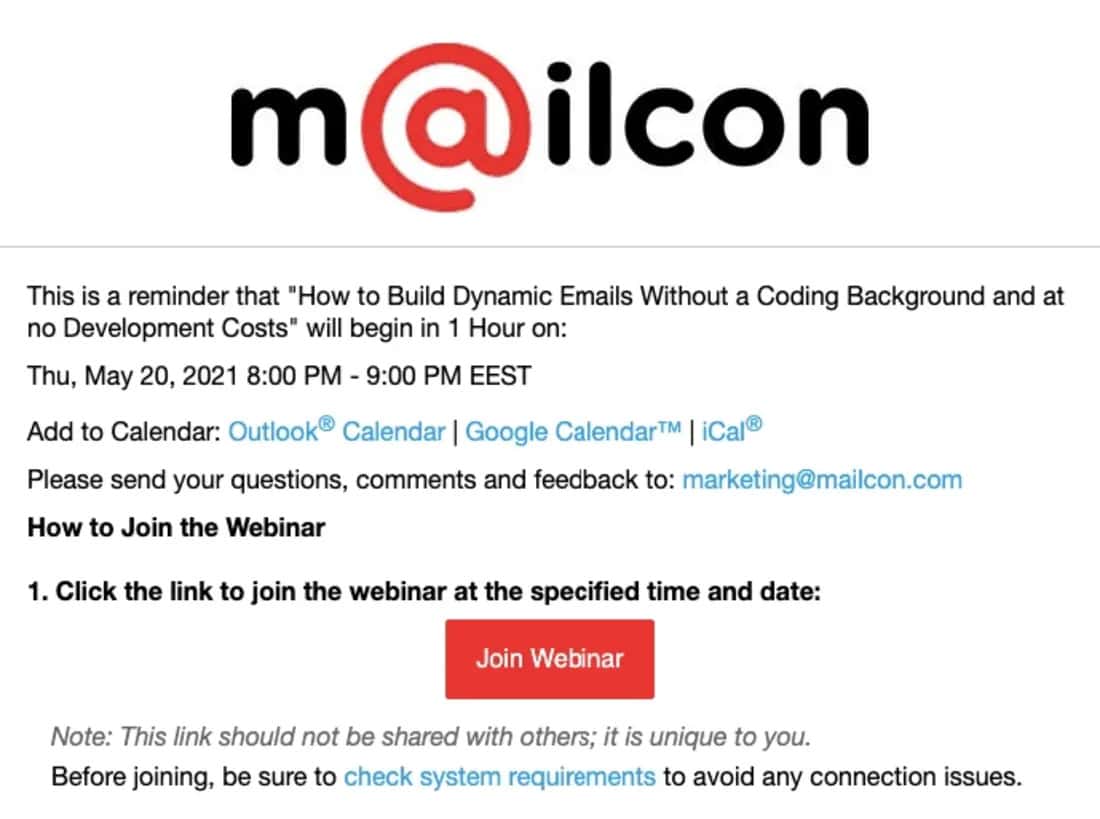 How to Write PS in Email: A Guide For Good Writing
Copy That: Meeting Reminder Email Templates
We've curated a few meeting reminder email templates to get you started.
1. 'Save the date' reminder email
A save-the-date reminder email is typically sent to guests or participants to remind them to reserve a particular date for an upcoming event. The email usually includes the date, time, and location of the event, as well as any other pertinent details.
People are inundated with news and tasks; they often fail to remember some meetings. To ensure full attendance and, ultimately, the success of your meeting, send a save-the-date reminder.
Here's a 'save-the-date' reminder email template to draw inspiration from.
Subject line: Marked your calendar yet for [Event name]?
Dear [Name of meeting participant],
I hope this email finds you well.
Have you saved the date yet for our upcoming [event name], which will take place on [date] at [time] in [location]?
We are excited to announce that this year's event promises to be our most exciting and engaging event yet!
Our team has been working tirelessly to plan an unforgettable experience for our guests, including [event highlights or special features].
As the event draws closer, we will provide more information about the agenda, guest speakers, and other details. In the meantime, please mark your calendar and watch out for further updates.
Please don't hesitate to contact me directly with your concerns or questions. We look forward to seeing you at [event name] and making this a memorable experience.
Cheers,
[Your name and email signature]
👉In service recovery, how you say 'sorry for the inconvenience' matters. Discover the right way to express it in our insightful guide.
2. Reminder email for a sales demo meeting
You've got a new product that provides excellent benefits. Finding a way to ensure prospective clients see your product's benefits and patronize your business can be a hassle.
Moreso, compared to business organizers, sales representatives are more prone to suffer no-shows. But a sales demo reminder email will remind potential customers of a scheduled sales demonstration or presentation. It should be professional, engaging, and persuasive.
Here's a template to get you started.
Subject line: Get Set [First Name]: Demo meeting in [X] Hours
Dear [Name of lead],
Our scheduled sales demo for [product name], the innovative SaaS solution for [industry/field], is coming up on [date] at [time].
This demo will be an excellent opportunity to learn more about our product and how it can benefit your organization.
During the demo, we will cover the key features of [product name] and show you how our solution can help streamline your business operations, increase productivity, and drive revenue growth.
To get you ready for the demo presentation, I have attached some materials that provide an overview of our product and its benefits. Please take a moment to review these materials before the demo.
I look forward to speaking with you soon and showing you how [product name] can transform your business.
Best regards,
[Your name and brand signature]
10 Customer Service Email Templates for New CRM Users
3. The day before the meeting reminder
In typical everyday life, anything can change in less than 24 hours.
As an organizer, you definitely want to ensure the availability of all your attendees for your meeting.
To this end, sending an email reminder a day before the meeting to remind attendees of the meeting is imperative.
This email serves as a reminder to ensure that all attendees have the necessary information to prepare for the discussion and confirm that they will attend as scheduled.
Here's a template to draw inspiration from.
Subject line: [Participant name] Set for your [Meeting name] tomorrow?
Dear [Recipient Name],
We are excited to meet with you at [Time of the meeting] tomorrow [include the date for clarity]. The meeting will occur at [Location or Online Meeting Platform], and I want to re-confirm your availability at the scheduled time.
The agenda for the meeting includes [brief description of meeting agenda], and we look forward to discussing these topics with you.
I'll be excited to answer all your questions. Kindly reach out to me if there are any.
Also, if for any reason you will not be able to attend the meeting, please let me know as soon as possible so we can reschedule.
I appreciate your time and commitment to this meeting and look forward to speaking with you tomorrow
Sincerely,
[Email signature]
Read also: How To Write An Invoice Email And Get Paid Fast
4. The 'Same day' meeting reminder
A same-day online appointment reminder email is sent to remind meeting participants of an appointment scheduled for the same day.
It is sent to ensure the recipient remembers the scheduled appointment and is fully prepared to attend the meeting on time.
These kinds of meetings usually take place virtually via an online meeting platform. It is the final step in preventing a no-show or last-minute meeting appointment cancellations.
Here's a 'same day' meeting reminder template.
Subject line: Ready, Set, Go!
Hi [ Recipient name],
This is the final call for our meeting today to discuss the upcoming fashion awards event.
As a quick reminder, the purpose of this meeting is to finalize the event details, including [agenda topics].
We will also discuss the event's logistics, including the timeline, dress code, and other important information.
The meeting is scheduled for today at [time] on [online meeting platform\meeting link].
Thank you for your time and attention. We look forward to a productive and engaging meeting.
Talk soon,
[Email signature]
👉Email marketing can be a drag, right? Check out these 11 hilarious email memes and have some fun!
5. RSVP confirmation reminder email
RSVP reminder emails aim to remind the meeting invitees to respond with their attendance status before the deadline provided in the initial invitation. They are typically appointment confirmation emails.
For example, if you want to send an RSVP confirmation for a crowdfunding meeting, here's a template for you.
Subject line: [Number of days to go] confirm your spot now!
Hi [Recipient Name],
We are excited about the launch of this new initiative and hope you can join us for this special occasion [project name] on [date] at [time] in [location].
Your presence at this event is tied to the success of our crowdfunding campaign. Your support will help us reach our fundraising goal and bring our innovative project to life.
Do well to let us know if you will be able to attend the event by responding to this email by filling out the RSVP form provided in the link below:
[Insert a link to the RSVP form]
If you have any questions or concerns, I'll be delighted to answer them.
We look forward to seeing you at the event and making this a truly memorable occasion.
Best regards,
[Email signature]
Secrets And Templates For The Perfect Gentle Reminder Email
Conclusion
Reminder emails are powerful to avoid no-shows and the impact of meeting cancellations in terms of productivity and time lost.
Get on with creating email reminders that stand out in your recipient's inbox using the tips and templates listed in this article to prevent meeting cancellations or confirm meeting appointments.
Sign up here to access a wide range of customizable email templates and automate your reminder emails on EngageBay. Want to check out a review? Take a look at this video.
👉Want to stand out from the crowd? Use our guide "15 Introduction Email Templates That Work Like A Charm" to write compelling and effective introduction emails. 📈