Are you tired of managing your customers the old-fashioned way?
It's time to upgrade your customer management practices and streamline your processes for optimal growth. Say goodbye to phone calls, emails, and sticky notes, and embrace the power of a Small Business CRM (Customer Relationship Management) system.
With a Small Business CRM, you can revolutionize the way you communicate and interact with your customers.
No more scattered information and disconnected teams. Imagine your sales and marketing departments working in perfect harmony, aligned towards a common goal.
A CRM system brings all your customer data together in one central hub, allowing for seamless collaboration and improved efficiency for your business processes.
Gone are the days of manually tracking follow-ups and juggling multiple spreadsheets. A digital CRM provides a comprehensive view of each customer's journey, making it easy to prioritize tasks and ensure no opportunity slips through the cracks.
By leveraging automated reminders and notifications, you can stay on top of important interactions and ensure timely follow-ups, fostering stronger customer relationships.
In addition to streamlining communication, a CRM offers robust analytics and reporting capabilities. Say goodbye to manually compiling reports from scratch, wasting valuable hours or even days.
The average ROI for customer relationship management is $8.71 for every dollar spent.
With just a few clicks, you can generate insightful reports and gain valuable data-driven insights into your sales and marketing performance. Identify trends, measure campaign effectiveness, and make informed business decisions based on real-time analytics.
As your business starts to grow, the importance of a digital CRM becomes even more apparent. Keeping up with each customer without a structured system in place can be overwhelming and prone to errors.
Don't let disorganized processes hinder your growth potential. Invest in a CRM solution today and take control of your customer management with ease.
Ready to elevate your business to new heights? Embrace the power of a CRM and watch your productivity soar.
Say goodbye to the limitations of outdated methods and embrace a modern, streamlined approach to managing your customers.
What you need is a small business CRM (Customer Relationship Management) software.
But don't take our word for it: In this blog post, we'll show you real-world examples. Here's what you learn:
Why companies think they don't need one
Nine statistics that prove the importance of a CRM software
How to find the right CRM software for your business
Let's dive in!
Why Some Companies Think They Can Survive Without CRM
Sometimes misinformed companies genuinely believe they can go without a Customer Relationship Management Software. There are several reasons they may think like this.
Let's talk about these reasons briefly.
Companies Haven't Used CRM
If it isn't broken, don't fix it.
Some businesses, especially smaller ones, don't use a CRM software. They believe they can manage without one.
That's rarely the case. With time, as a company grows, so too does its customer base. To accommodate more customers, you need a CRM for small businesses.
Going without it can be troublesome in several ways.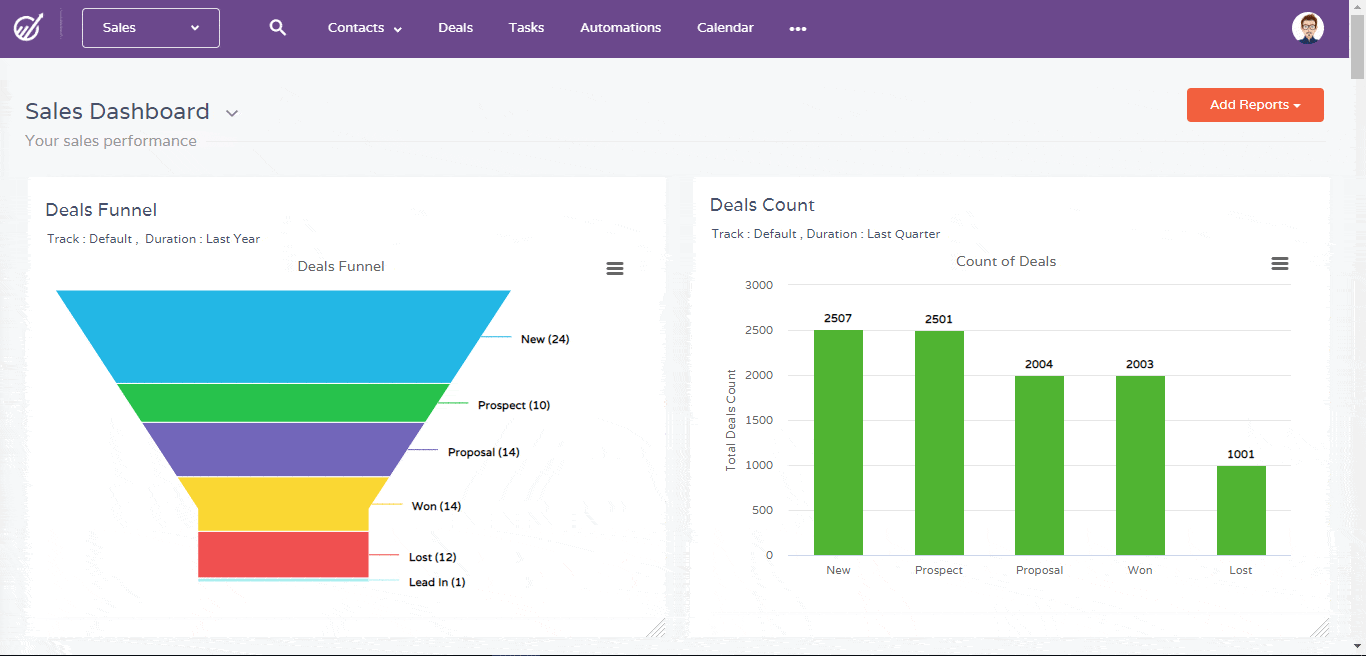 Doing most customer management work manually also increases the chances of your employees making mistakes.
If a customer or potential customer falls through the cracks, they can be lost forever. That means less business for the company.
This hurts the bottom line.
Read also: The Types of CRM Systems – A Comprehensive Guide
Companies Don't Understand CRM
Perhaps an employee at your business has tried CRM software before. They had no idea what they were doing and thus decided that the software was useless.
In reality, it's more likely this person failed to take the time to learn the ins and outs of the CRM software properly.
A CRM solution can have a bit of a learning curve, especially if you've never handled similar software before. If a business owner or sales rep doesn't know that, they could think it's just too hard to use the software and thus skip over it entirely.
Here's a short video describing three of the best small business CRM software:
Companies Think It's Redundant
Another reason your company might not use CRM has to do with redundancy. If you've already purchased several other pieces of software, you might think adding a CRM software is too much.
Surely these other CRM tools and software can fill in the gaps, right?
Wrong.
CRM software can create analytics based on the information you feed it, allow employees to share files, do email tracking, provide instant message access to employees, predict sales opportunities, take care of lead gen and lead management, and more.
If anything, a good CRM can make other software redundant.
Read Also: How to Increase Brand Awareness (Tips, Tricks, and Pointers)
9 Stats That Prove You Need a Small Business CRM Software
Still think you're okay without a CRM ?
Here are nine CRM stats that prove you can't do without CRM tools in this new age.
CRM Is Indispensable
Customer Retention Increases
Most Companies Use It
Companies Realize CRM's Impact
CRM Can Help in Many Areas of Business
Offers Personalization
Sales Team Productivity Improves
Cloud-Based CRM Is Preferred
Mobile CRM Use Skyrockets
1. CRM Is Indispensable
CRM won't go away if you ignore it hard enough. In fact, it's only going to become more prevalent.
A 2021 Marketing Research Report from Grand View Research predicts that, once 2025 arrives, companies will have achieved significant revenue from CRM software (somewhere in the ballpark of $80 billion).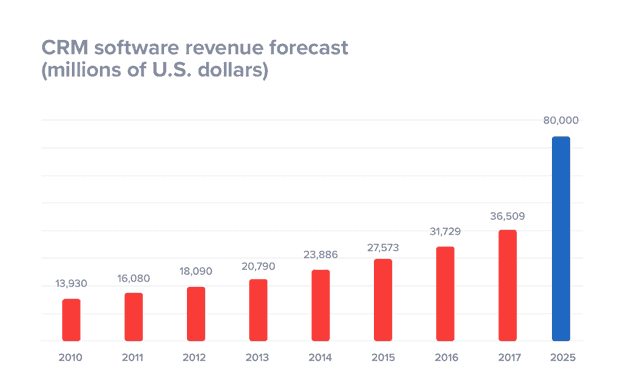 2. Customer Retention Increases
A study from Capterra found that most companies using CRM solutions had better customer retention rates.
Almost half of the respondents — 47% — said customers not only stuck around but were happier, too.
Don't you want the same for your business?
Read also: What Is Social CRM and How Can It Help Your B2B Efforts
3. Most Companies Use It
If you think most businesses don't use a CRM software, think again.
Data says otherwise.
A report by Buyer Zone discovered that most small businesses use CRM software.
In fact, 91% of businesses with more than 11 employees use a CRM software.
Is your company even smaller?
That's no reason not to use a CRM software.
According to this study, 50% of businesses with less than 10 employees use a CRM software.
4. Companies Realize CRM's Impact
In their annual sales report, LinkedIn shared that most companies that use CRM believe it makes a big difference in their businesses.
Using a CRM software for your small business can be quite impactful.
According to the LinkedIn annual sales report, most companies using a CRM software believe that it has caused a significant impact on their businesses.
How impactful, you ask?
When asked to rate how impactful CRM software can be, 64.2% of those surveyed called CRM platform usage "impactful" and even "very impactful."
Read also: 8 Best Sales CRM Tools for Tracking Lots of Leads
5. CRM Can Help in Many Areas of Business
In the years since CRM has come onto the scene, companies have accommodated it by increasing their spending.
Companies are now beginning to realize the true potential of using a CRM software.
You can improve conversions of new customers and keep your existing customers happy, too.
In fact, 47% of companies said they'd boost their customer service software spending budget, says Software Advice.com.
This shows just how effective a CRM software — especially a customer service CRM tool — can be in retaining customers.
This graph shows the distribution of investments that companies are making.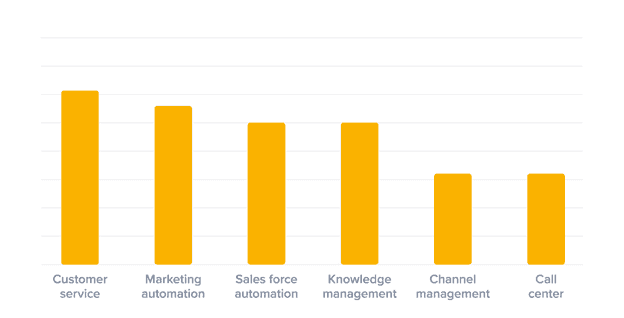 It's clear that companies are spending more every year not only because it's essential but because the revenue generated by using CRM systems has enabled businesses to do so.
6. Offers Personalization
Personalization is all the rage these days. Every company wants to offer the most tailored experience humanely possible.
Personalization improves customer relations, retains existing ones, and even converts potential customers into paying ones.
One way companies personalize advertisements, and customer service, is through email marketing.
Businesses in the United States have spent a whopping 350 million dollars in 2021 on email marketing.
A lot of the money goes into personalization.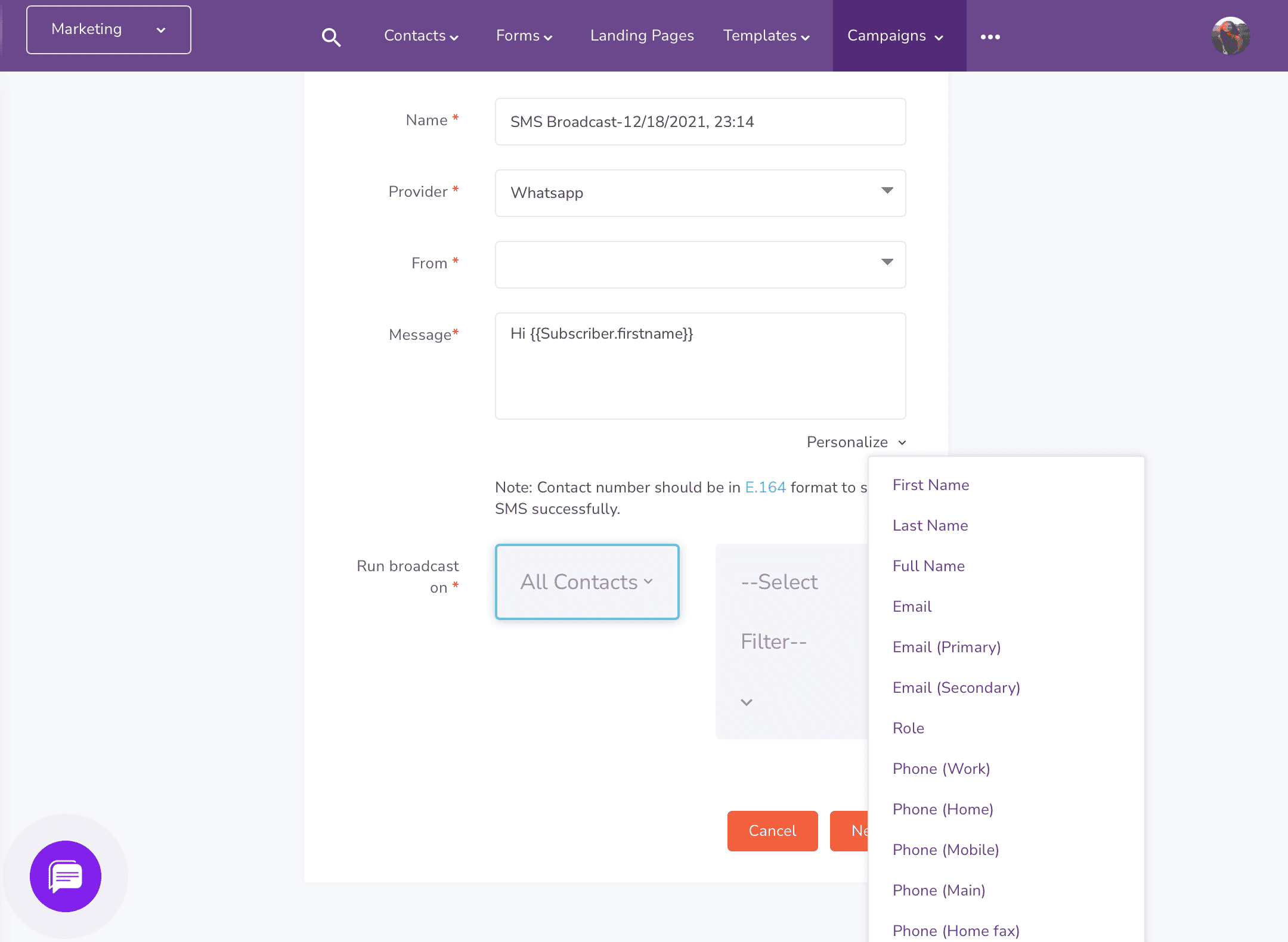 Read also: CRM Functionality: Top 3 Features and Why You Need Them
7. Sales Team Productivity Improves
Every business wants their sales team to be super-efficient, churning out deals after deals.
So, how do you make that possible?
By using a CRM (but you know that already!).
According to Nutshell, CRM software can improve the accuracy of sales forecasting by 42%.
What's more, businesses have seen productivity go up by 34% and overall sales by 29%.
Sounds good to us!
8. Cloud-Based CRM Is Preferred
CRM software is nothing new, but cloud-based usage is.
Back in the old days, CRM systems were locally installed. Sure, the software would be connected to the internet, but the software itself was stored on-premise.
In 2008, only 12% of CRM usage was cloud-based.
Fast forward more than a decade later, and the stats have reversed.
Only 13% of all CRM usage now is on-premise.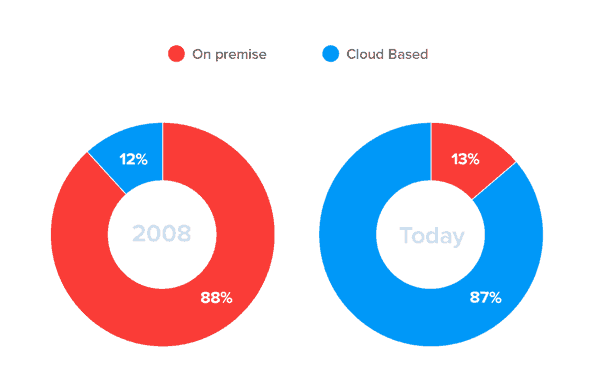 That's because cloud-based CRM software offers tremendous benefits over self-hosted ones. For one, you don't need a dedicated infrastructure.
You don't need to take care of the updates, maintenance, and security.
Plus, you get access to the software and the database anytime, anywhere.
This brings us to the next point.
Read also: Small Business Automation — 6 Things You Need to Know
9. Mobile CRM Use Skyrockets
Mobile CRM usage has skyrocketed, with more and more companies adopting portable technology to improve access and reach.
This is especially true in the post-pandemic world.
When employees can access customer data and other relevant info on their smartphones and tablets, they can prioritize customer satisfaction around the clock.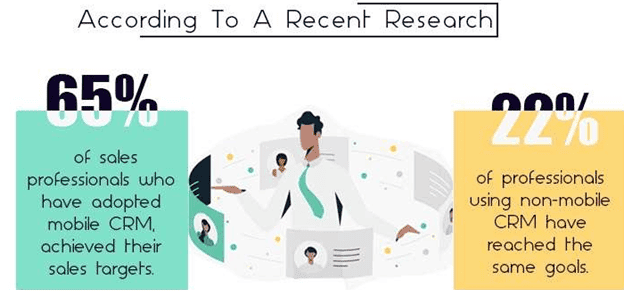 The above piece of an infographic from software company Algoworks shows the importance of mobile CRM.
Up to 65% of sales teams with access to mobile CRM have reached sales goals.
Compare that to those who don't use mobile CRM. Only 22% of salespeople could achieve those goals.
The best CRM in the market always offer mobile applications.
Read also: 8 Reasons Why Every Small Business Needs an Easy-to-Use CRM Software
Tips for Choosing the Right CRM Software
We hope the above stats have convinced you that your small business needs a CRM system in place.
Now comes the tricky part — choosing which one to use.
Here's a mini-guide to take you through the steps.
Ensure the Software Has Small Business Capabilities
Get GDPR Compliant
Make Sure You Can Use It
Consider Pricing
Accommodate for Implementation/Training
Ask about User Maximums and Minimums
Take It for a Test Drive
Ensure the Software Has Small Business Capabilities
If your company has 11–15 employees, you don't need a complex CRM like HubSpot where you might get lost in the many advanced level features.
You want to make sure the software you choose works for businesses like yours. As you browse vendors, pay special attention to information about their respective software.

Look at reviews and testimonials as well. Are these customers from bigger, Fortune 500 companies or smaller ones like yours? Is it a mix?
Does it have sales pipeline workflows? Do they offer contact management? How easy is it to store and segment customer information?
Read also: The 5 Best CRM for Startups in 2022 (Pricing, Features)
Check for GDPR Compliance
Recently, the European Union introduced the General Data Protection Regulation or GDPR.
While it primarily affects those in the EU, if you have clients or customers there, you're affected as well.
Most new CRM software have the GDPR feature built right in, but you should still check.
Make Sure You Can Use It
You need software that's usable, even if it requires a bit of training to figure it out (more on this shortly).
If you only understand certain features, you're not getting the full scope of your CRM solution. That's only hurting you and your business in the end.
Read also: CRM Functionality — 12 Growth Hacking Ideas a Small Business Needs
Consider Pricing
Of course, we couldn't talk about buying something new for your business without mentioning the cost.
Yes, the best CRM software can be expensive.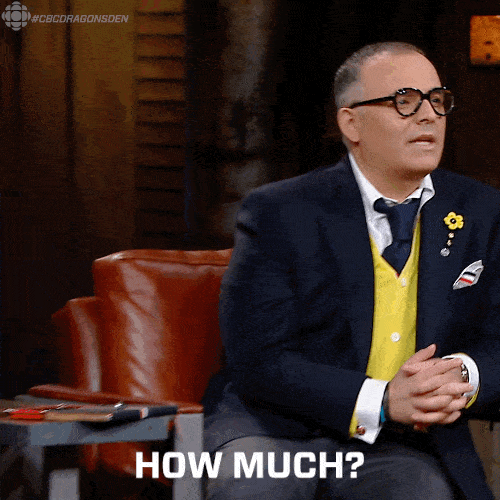 Some vendors may charge you monthly and others annually, so keep that in mind.
Also, you could possibly discontinue using some other software you have because an all-in-one CRM software can make many other business software redundant.
Need to optimize your CRM database? Uncover the top strategies and benefits in our extensive guide!
Check for Onboarding and Training
Once you buy the best small business CRM system for your business, you don't want to be left on your own.
Will the CRM vendor help with setup and implementation?
Some will, and some won't.
That's up to you to do your homework and choose an awesome CRM provider with great support services.
Do know that implementation can take a while, depending on your office setup. Ideally, it'd be good to get you set up in a few hours, but sometimes it may take a day or longer.
That's time you're losing. You also have to expect to lose time training your employees on using the software.
Both losses are essentially unavoidable. Don't try to skimp on either process, as you'll ultimately regret it.
Read also: Small Business Customer Service — A Comprehensive Guide
Take It for a Test Drive
You wouldn't buy a car without driving it first, right? Just like you wouldn't put down money on a house you haven't seen in person.
CRM is a major investment.
If the vendor you're thinking of working with offers a free trial, then, by all means, take advantage of it!
During this time, try as many features of the software as you can, even those you might not use often.
This benefits you in two ways.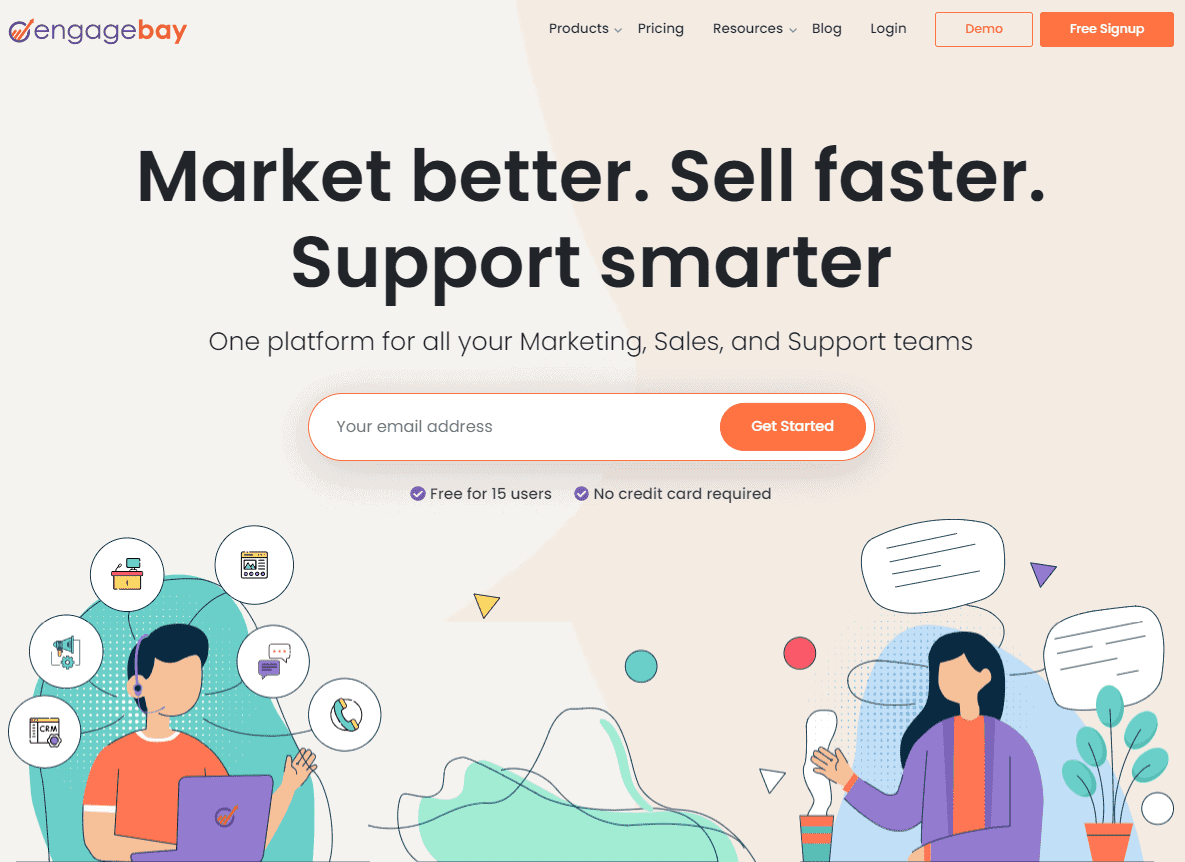 First, you get a feel for the software and how easily you can navigate it.
Second, you get to decide through firsthand experience if you want to work with this vendor or not.
Reviews and testimonials are beneficial as well. Be sure to augment what you've read with real-time usage of the product via your free trial before choosing the best CRM software for your small business.
Read also: GetApp Rates EngageBay Top Among Sales and Retail CRM Software
Conclusion
If you're a company going without a Customer Relationship Management solution and succeeding, know that you will hit a wall soon.
Don't wait until it's too late to realize the importance of a Customer Relationship Management (CRM) solution for your company.
The risks of managing without a CRM system are real and can have detrimental effects on your business.
Customers slipping through the cracks and declining sales numbers can lead to lost opportunities and revenue. But there's a solution at hand: investing in a CRM system for your small business.
By implementing a CRM system, you can avoid these pitfalls and propel your small business towards success. With the tips we've provided in this blog, you have a roadmap to finding the best CRM software specifically tailored for small businesses.
One such powerful option is EngageBay, an ideal choice for small businesses looking to optimize their customer management processes.
Why, you ask?
EngageBay offers a comprehensive suite of CRM features designed to meet the unique needs of small businesses. From contact management and lead tracking to email automation and sales analytics,
EngageBay provides a user-friendly and affordable solution that will take your customer management to the next level. By centralizing your customer data and enabling seamless collaboration across your sales and marketing teams,
EngageBay empowers you to deliver exceptional customer experiences, drive sales growth, and boost your bottom line.
Investing in a CRM system like EngageBay is an investment in the future success of your small business. Don't let the limitations of manual processes hold you back.
Embrace the power of automation, data-driven insights, and streamlined workflows. With EngageBay as your CRM partner, you can unlock the full potential of your small business and pave the way for sustainable growth and profitability.
Don't delay any further. Start your journey towards optimized customer management today by choosing EngageBay as your go-to CRM solution.
Experience the transformative impact it can have on your small business and stay ahead of the competition. Take control of your business's destiny and make the smart choice with EngageBay.
For small businesses, EngageBay is the best option.
EngageBay is an all-in-one marketing, sales, and customer support software with integrated CRM. It was built from the ground up with small businesses like yours in mind, which is why it is one of the most affordable options in the market today.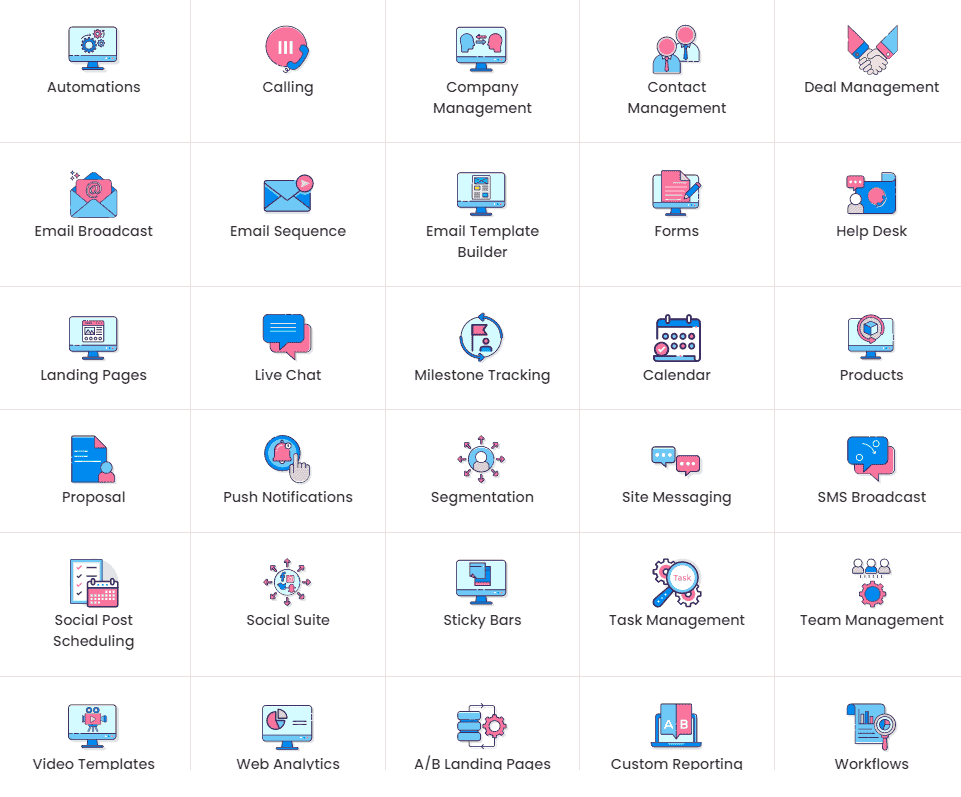 EngageBay offers a free CRM software for up to 15 users, with a host of free CRM features like email marketing, contact management, customer experience improvement tools, multichannel marketing campaigns, sales pipeline management, and more.
If you'd like a free demo, just book one!