We know you've come here to learn more about Pipedrive pricing, but bear with us — we plan to give you a lot more.
Every business, whether small or large, needs to excel in these three areas: marketing, sales, and customer support.
For that to happen, businesses need a Customer Relationship Management (CRM) solution. Specifically, one designed to offer all three – at a reasonable price.
Pipedrive is an excellent CRM platform, but is it the best solution for small businesses?
This blog post will answer these questions and more. We'll discuss Pipedrive pricing, features, and drawbacks, and then contrast it with some of the best alternatives.
Happy reading!
What Is Pipedrive?
Founded in 2010, Pipedrive is a sales platform "designed by salespeople, for salespeople." It offers a myriad of tools and features to help businesses grow and generate revenue.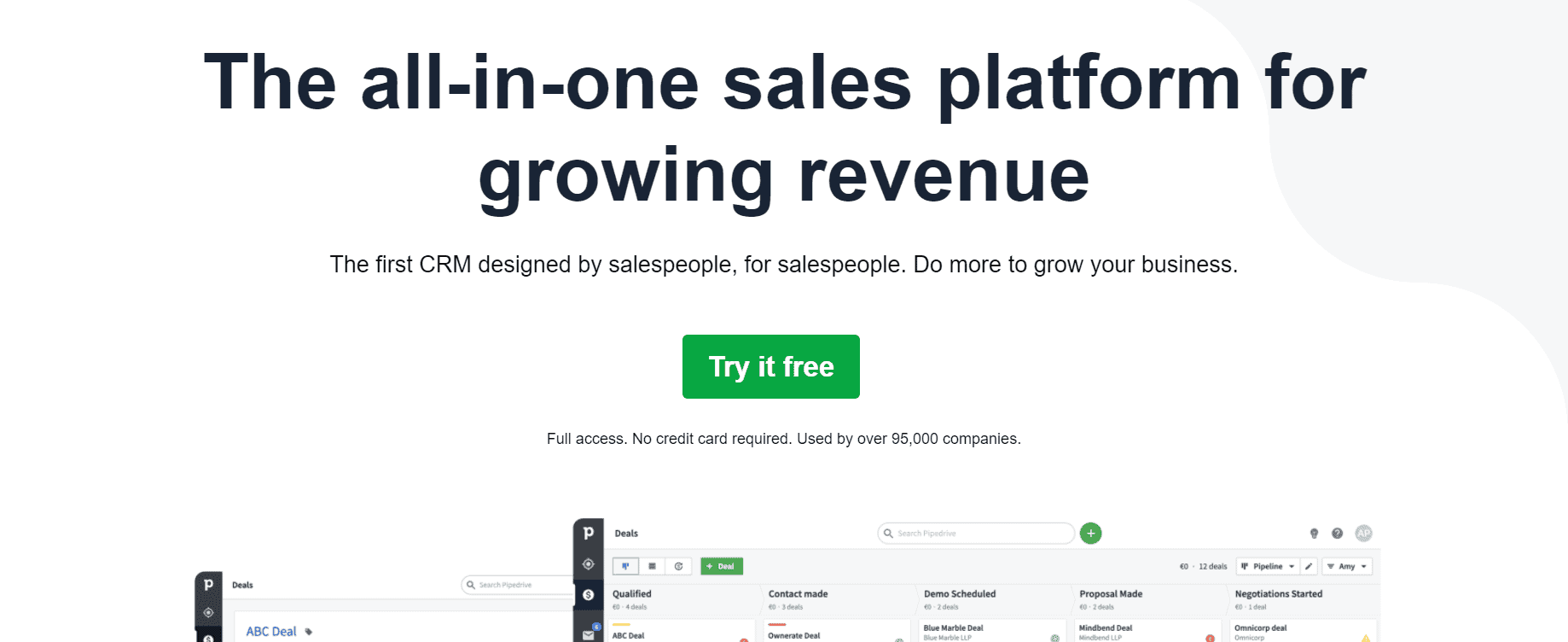 What Are the Key Features of Pipedrive?
Unlike other CRM software centered around marketing, Pipedrive can loosely be called a sales CRM. Let's take a look at some of the key features Pipedrive offers:
Drag-and-drop sales pipeline to help you streamline sales

Ability to take actionable steps and breakdown goals to help you focus on one step at a time

Tools to prioritize deals, predict revenue, and track performance
Read also: Is Salesforce a CRM? A Simple, In-Depth Guide
What Are the Benefits of Using Pipedrive?
According to Pipedrive, this is why many business owners use the tool:

Measurable results:

Pipedrive says its users close 28% more deals on average after one year of using the platform, mainly because of Pipedrive's powerful analytics.

Focus on the journey, not the end:

Pipedrive CRM lets you focus on the tasks that ultimately get you to the "finish line" by prioritizing the important ones.

Easy to use:

You can set up Pipedrive in minutes, start your sales process, and move closer to winning deals.
Who Is Pipedrive Best For?
Pipedrive is a perfect fit for sales teams, small to medium businesses, and any other organization focusing on sales.
Read also: The Definitive Pipedrive vs Salesmate Review: Which is The Best CRM Solution?
How Much Does Pipedrive Cost?
Pipedrive, being a sales CRM, does not charge based on how many contacts you have. Instead, they have different plans with deal limits and various features.
Let's talk about Pipedrive pricing plans and their features in detail.
What Features Do You Get in Each Pipedrive Plan?
We'll talk about Pipedrive pricing plans in the next section. For now, let's focus on how each Pipedrive plan differs from the others.
Pipedrive offers four plans:
Pipedrive Essential
This plan offers lead and deal management, customizable pipelines, leads inbox, deal rotting, and the ability to merge duplicate data

You also get communications tracking, mentions and comments, file attachments, and contact maps

Limits:

3,000 open deals

30 custom fields

15 reports per user

1 visual dashboard

0 automation workflows
Pipedrive Advanced
You get all the Pipedrive features from the Essential plan

Offers two-way email sync, customizable email templates, field merging, and email tracking

You also get smart contact data, important field marking, and recurring revenue reports

Limits:

10,000 open deals

100 custom fields

30 reports per user

1 visual dashboard

30 automation workflows
Pipedrive Professional
All Advanced plan features

Adds various communications tracking features, including Caller tool, contacts timeline, smart Docs, auto-filled templates, Google integrations, and document tracking

You also get better reporting tools, including custom reports and fields, team goals, and team management

Limits:

100,000 open deals

1000 custom fields

150 reports per user

Unlimited visual dashboards

60 automation workflows
Pipedrive Advanced
All Professional plan features

Advanced privacy and security features, including security alerts, security rules, and unlimited security dashboards

Better customer service, including an implementation program and phone support

Limits:

Unlimited open deals

Unlimited custom fields

Unlimited reports per user

Unlimited visual dashboards

100 automation workflows
Read also: 6 Perfect Pipedrive Alternatives With Better Tools (Features, Pricing)
Pipedrive Pricing: How Much Does Pipedrive Charge for Each Plan?
| | | |
| --- | --- | --- |
| Tier Name | Monthly Billing (per user) | Annual Billing (per user) |
| Pipedrive Essential | $11.90/month | $9.90/month |
| Pipedrive Advanced | $24.90/month | $19.90/month |
| Pipedrive Professional | $49.90/month | $39.90/month |
| Pipedrive Enterprise | $74.90/month | $59.90/month |
How Much Do You Have To Pay Annually?
You'll get a fuller picture of the costs only when you see how much you pay for a year. We'll show you how much you'll pay if you choose monthly vs. annual billing.
While you get a discount of up to 17% on annual billing, you must pay upfront for the whole year.
| | | |
| --- | --- | --- |
| Tier Name | Monthly Billing (per user) | Annual Billing (per user) |
| Pipedrive Essential | $143 | $119 |
| Pipedrive Advanced | $299 | $239 |
| Pipedrive Professional | $599 | $479 |
| Pipedrive Enterprise | $899 | $719 |
For clarity, we've rounded the amount to the nearest number.
While annual billing reduces the cost significantly, it minimizes the ability to switch to another CRM whenever you want (you can, but you'd be wasting money).
That's why we recommend going for the annual plan only when you're sure you'll be using Pipedrive for more than a year.
Read also: Keap Pricing & Comparison with EngageBay — 12X More Affordable Alternative
What Are the Drawbacks of Pipedrive?
Pipedrive is an excellent software for salespeople – there's no doubt about that.
But Pipedrive's motto says it all: for salespeople.

Not an All-in-One Software
Since Pipedrive is geared toward sales teams, it does not offer enough features for marketing — and no tools for customer support.
What does this mean?
There are numerous benefits to having an integrated all-in-one marketing, sales, and customer support software. If that topic interests you, take a look at our blog on sales and marketing alignment.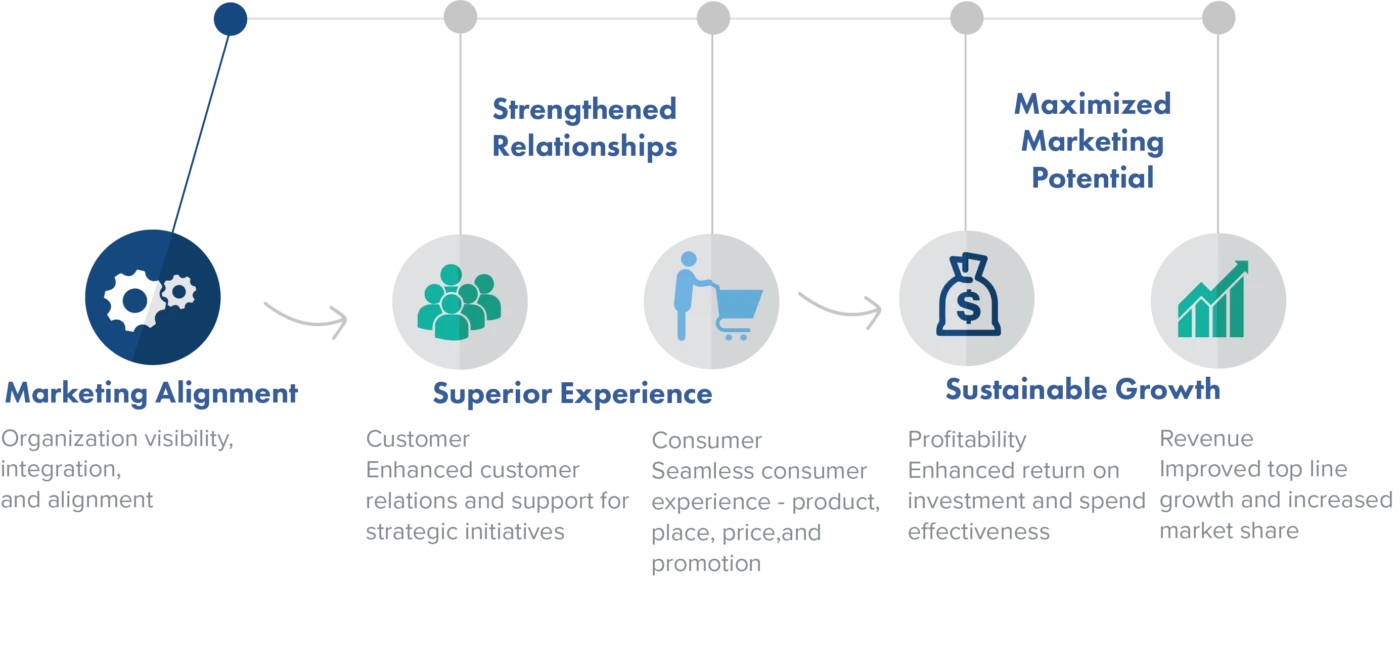 In a nutshell, you can't get a 360-degree view of your customers without having an integrated CRM solution. While Pipedrive integrates with other platforms, these problems persist:
You need to pay for the different platforms

Onboard your users for each platform

Your customer data might be fragmented and stored in silos
Not a pretty picture, is it?
Read also: An In-Depth Look At HubSpot vs Pipedrive
Expensive for Small Businesses
Remember when we talked about the benefits of Pipedrive, we never mentioned its pricing?
That's because Pipedrive's pricing may be quite high, depending on the plan, the number of users, and additional features.
Pipedrive offers various paid add-ons, which is how they keep their base pricing low. Here are some of the add-ons and their pricing.
LeadBooster add-on: $39 per month/company
Web Visitors add-on: $49 per month/company
Campaigns add-on: $16 per month/company
Breaking News: You need these add-ons to reap the full benefits of Pipedrive.
Let's say your company has 10 users, and you've opted for the Enterprise plan. Let's calculate how much you pay in a year (including add-ons).
| | | |
| --- | --- | --- |
| $8,988 | $1,248 | $10,236 |
| Enterprise plan cost (10 users/yr) | Add-ons cost (10 users/yr) | Total cost (per year) |
Even after paying this much, you still don't have proper marketing features and no customer support tools.
Food for thought: Is HubSpot CRM Truly Free? An Unbiased Guide (with User Reviews)
User Reviews of Pipedrive
User reviews don't lie; that's why we've included them. Let's take a look at a few reviews of Pipedrive.
See what we mean?
What Are the Best Pipedrive Alternatives?
Now that you know why you need a Pipedrive alternative, let's check out three of the best ones: EngageBay, HubSpot, and ActiveCampaign.
#1. EngageBay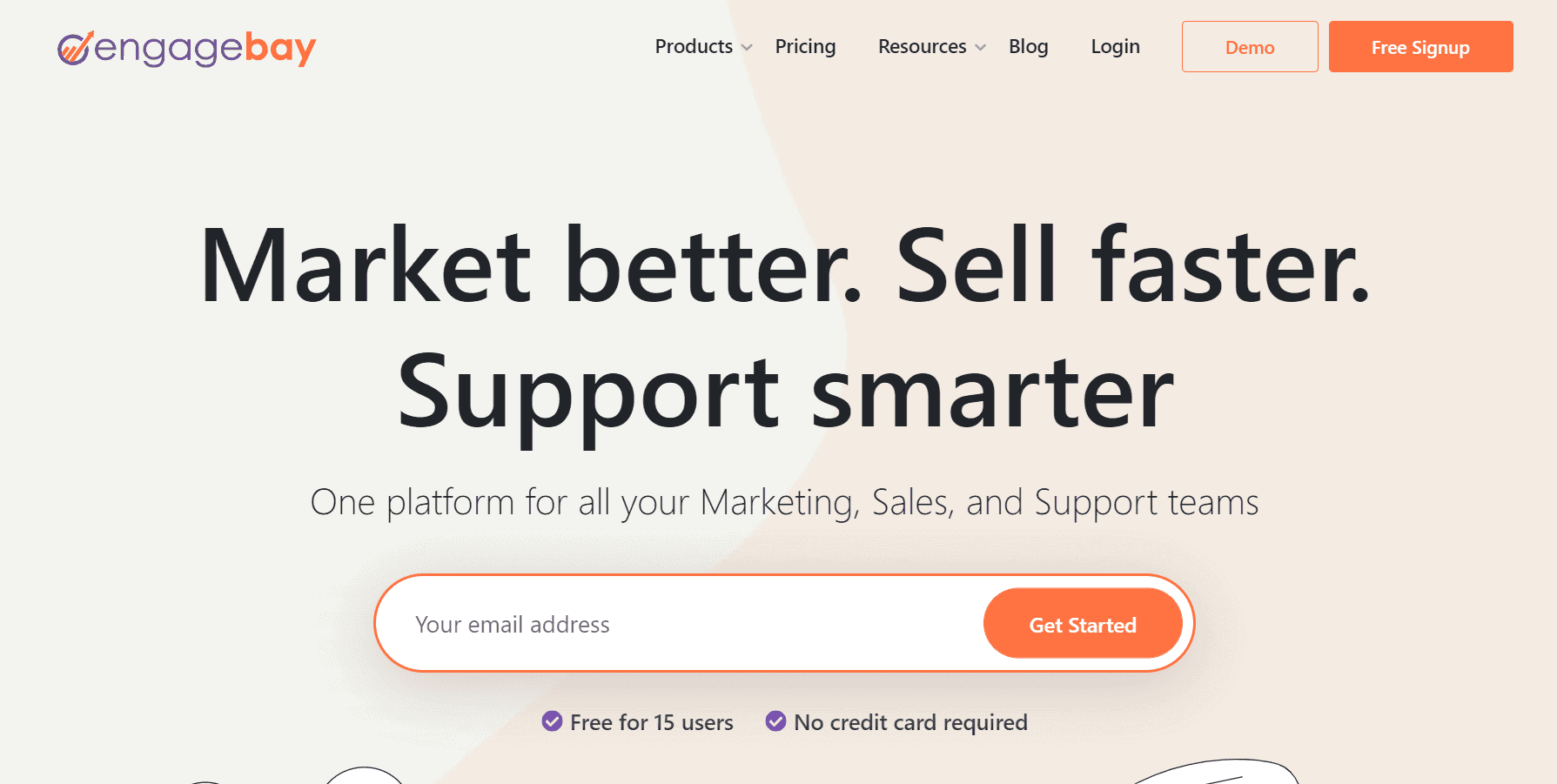 Guess what? EngageBay is the alternative you've been looking for.
It offers a unified all-in-one marketing, sales, and customer support software – at an affordable price.
Let's take a look at the features.
EngageBay Features
Email marketing: You can send one-time personalized emails to your customers using email broadcasts or nurture them over time using drip campaigns.
Social Suite

: Helps you manage all your social media posts, including Facebook, Instagram, Twitter, and LinkedIn – all from a single window. You can even schedule posts and utilize social listening.

A/B testing: A/B testing lets you test out two variants of the same page/blog by changing a single element. You can then quantitatively assess its impact and come up with a winner.
Sales pipeline

: EngageBay pipeline management and automation tools help you push your prospect further down the funnel and ultimately, close deals.

2-way calendar sync and in-CRM telephony: EngageBay lets you sync the built-in Calendar with Outlook and Google so you can view all your appointments in one place. In addition, built-in CRM telephony lets you take and place calls, record them, route them, use scripts, and save them.
Customer support tools: Engagebay offers a plethora of support tools to help you deliver exceptional service, including helpdesk, live chat, ticket prioritization, automation, routing, and canned responses. These features make EngageBay one of the best small business CRM.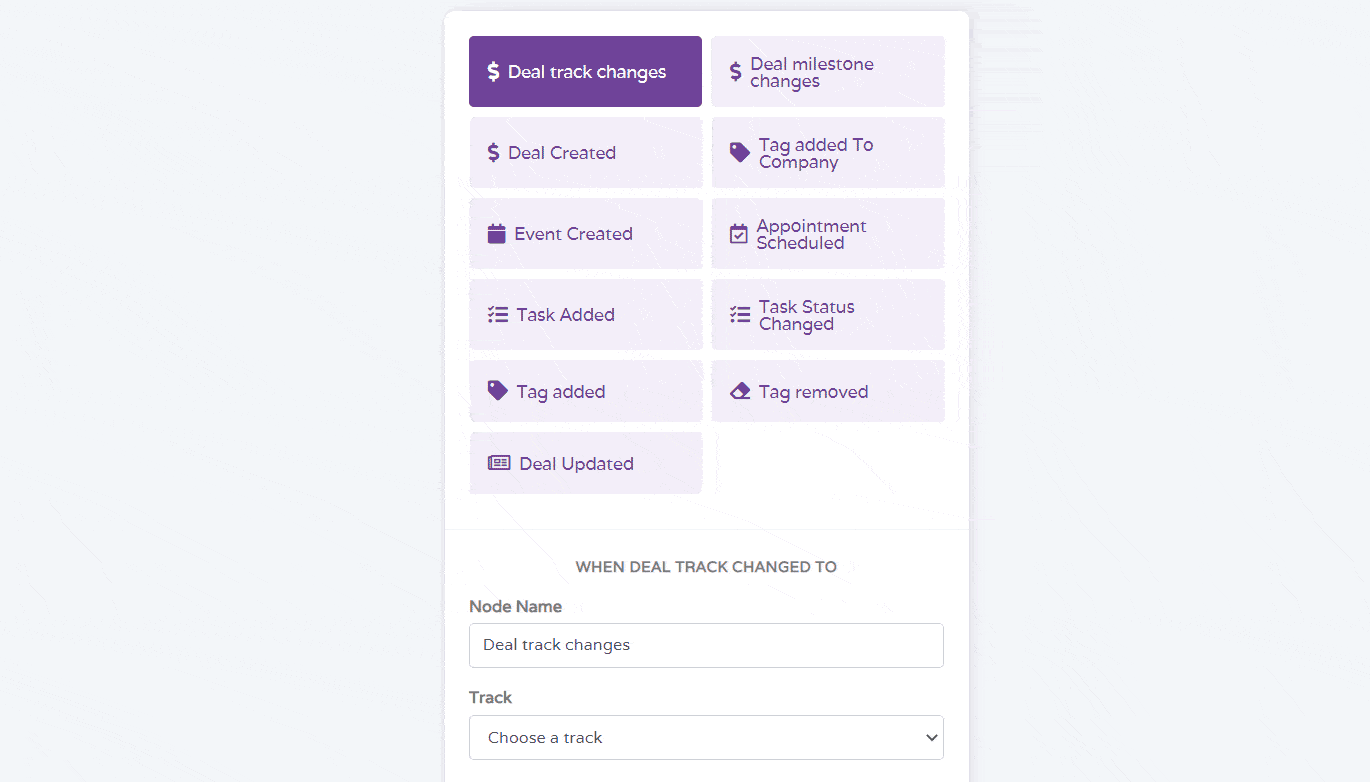 Pricing
Let's talk pricing.
EngageBay offers four plans:
Free
Costs

$0

Offers 500 contacts and 1,000 emails/month

Features include email marketing, autoresponders, email broadcasts, lead generation, project management, landing pages, CRM, helpdesk, and live chat
Basic
Costs

$14.99/month

Offers 1,000 contacts and 3,000 emails/month

Features include email templates, web pop-ups, landing page builder, lead scoring, marketing and sales activity dashboards, SMS marketing, and more
Growth
Costs

$49.99/month

Offers 10,000 contacts and 25,000 emails/month

Features include marketing automation, email broadcast A/B testing, call records, products, proposals, and timezone-based email delivery
Pro
Costs

$99.99/month

Offers unlimited contacts and 50,000 emails/month

Advanced features include web analytics, proposal analytics, SSO, goals, uptime SLA, a dedicated account manager, and account-based marketing

You also get free onboarding services, phone support, and migration services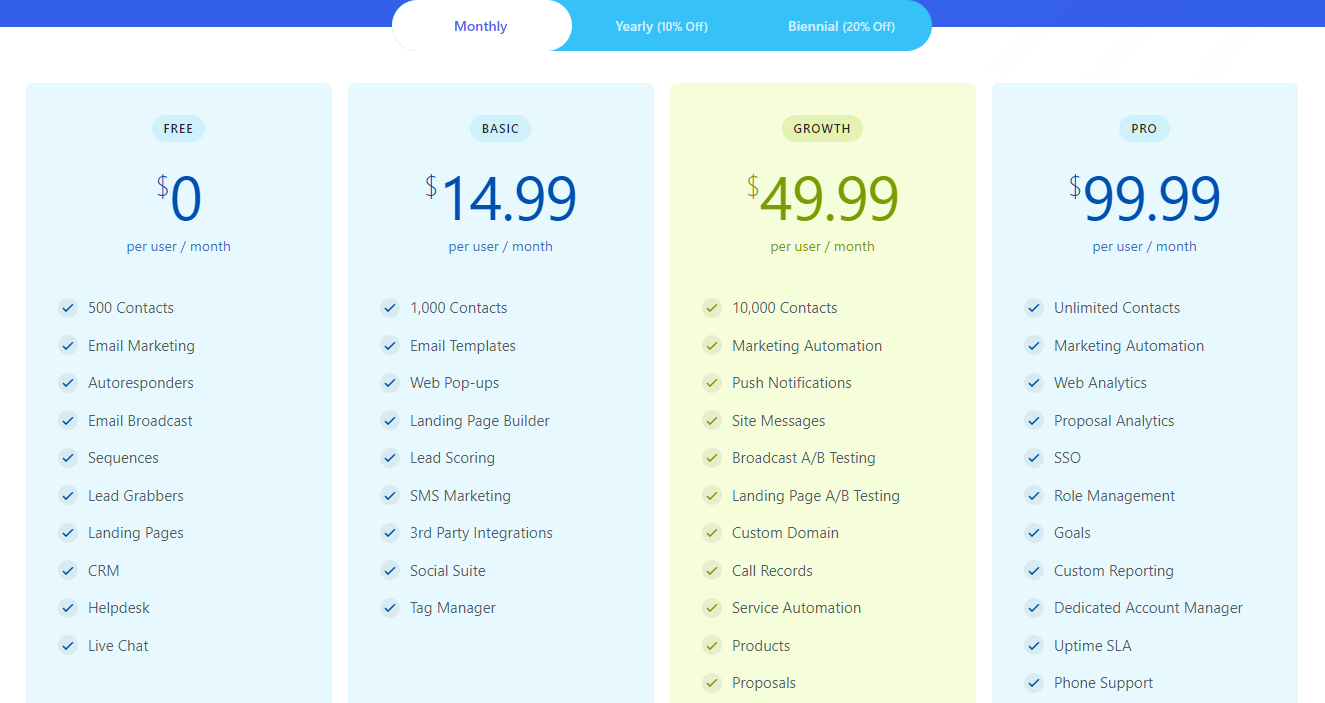 You also get a 10% discount on annual and a 20% discount on biennial plans.
Find Out How EngageBay Is the Best Pipedrive Alternative
#2. HubSpot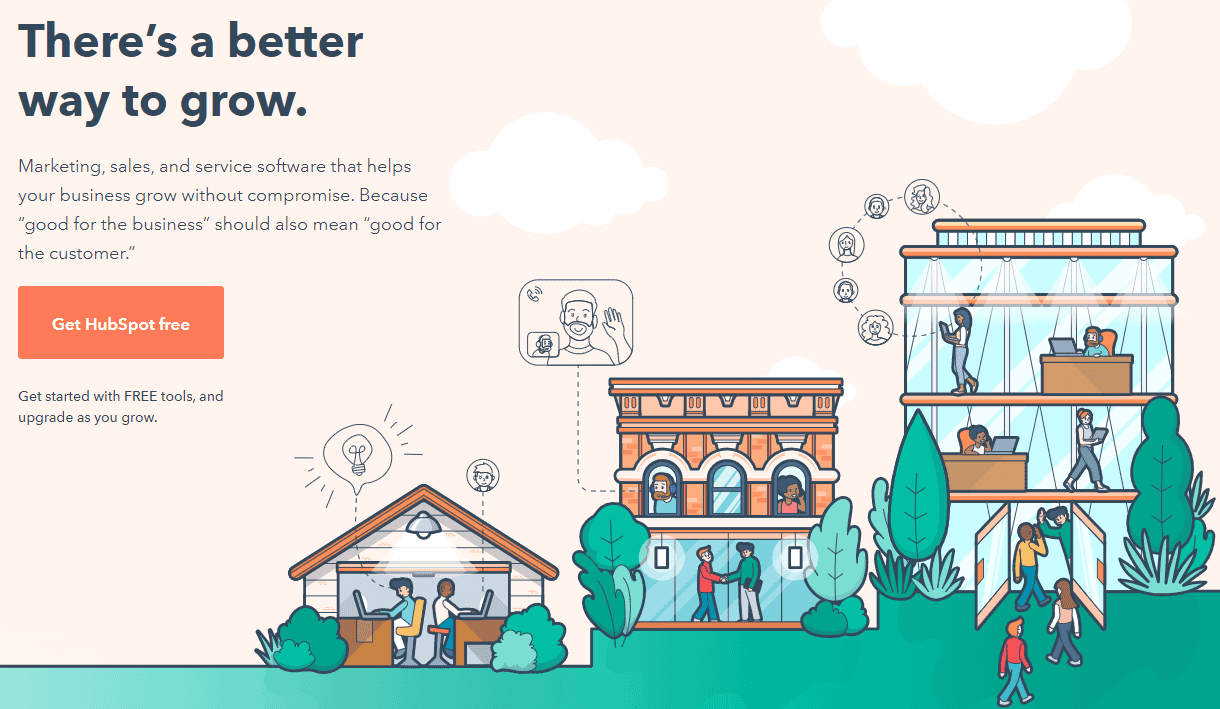 HubSpot is another excellent all-in-one software. Widely considered a pioneer in CRM and automation, HubSpot's fees are too high for small businesses.
That said, HubSpot has a fantastic Free plan with tools useful for businesses just starting out. The Starter plan is quite affordable, too.
HubSpot Features
HubSpot offers great features:
Content creation tools to attract customers:

Blog, SEO, Ad tracking, and social media management.

Tools to convert leads: Landing page and form builder, marketing automation, email marketing, lead tracking and management, and account-based marketing.
Reports for deeper insights:

Marketing analytics, custom objects, and salesforce integration.
Pricing
HubSpot offers four plans in total.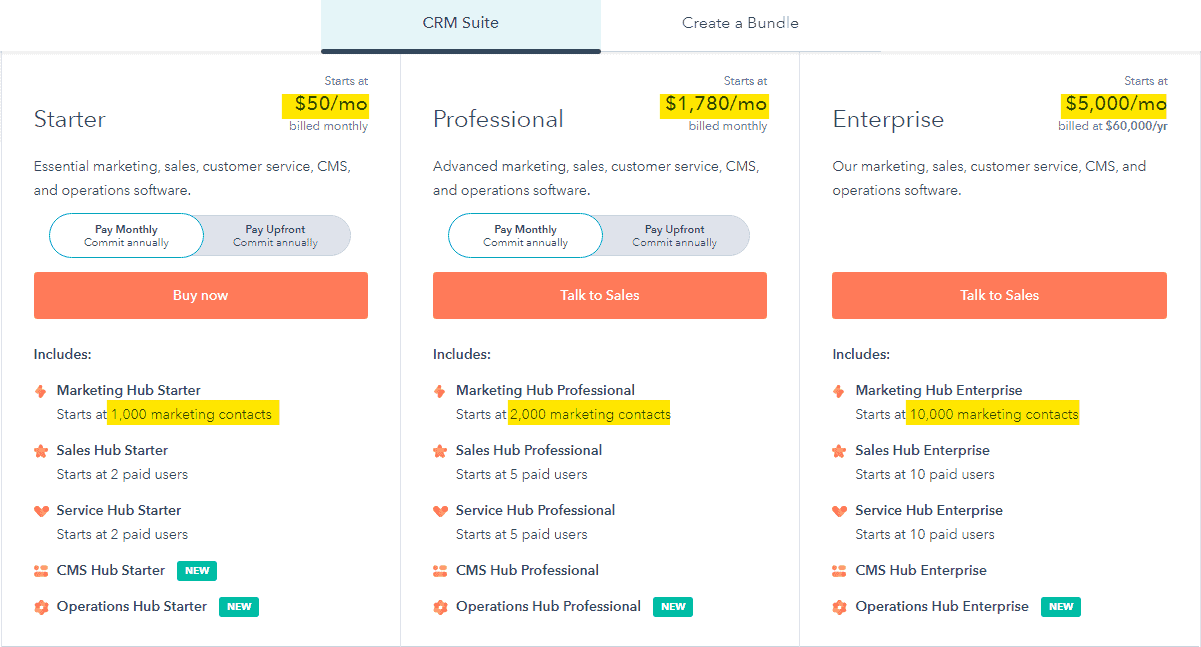 Free
Costs

$0

Basic marketing tools: Forms, email marketing, ad management, landing pages

Basic sales tools: Live chat, basic bots, team email, email scheduling

Basic service tools: Ticketing, shared inbox, basic bots
Starter
Starts at

$50/month

for 1,000 contacts

Form automation, email marketing, team email, reporting dashboard, custom properties and email health reporting
Professional
Starts at

$1,600/month

for 2,000 contacts

One-time onboarding fee: $3,750

SEO recommendations and optimizations, multiple currencies, blog, CTAs, ABM tools, marketing asset comparison reporting, and more
Enterprise
Starts at

$5,000/month

for 10,000 contacts

One-time onboarding fee: $12,000

SSO, sandboxes, field-level permissions, product library, calculated properties, deal and company scoring, duplicate management, webhooks, and payments
Read also: Pipedrive vs HubSpot vs EngageBay — Which CRM Is Smarter & Better?
#3. ActiveCampaign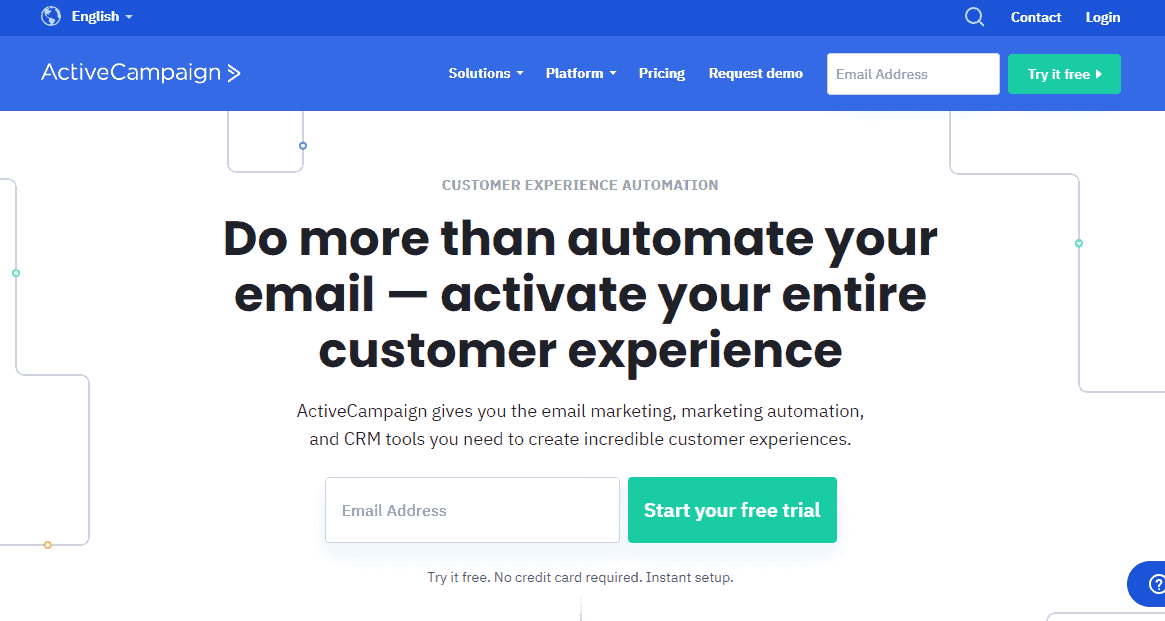 Another excellent marketing automation software: ActiveCampaign.
The platform offers customer experience automation to help you run a customer-centric business and drive growth.
ActiveCampaign Features
Reach: E-Commerce email marketing, segmentation, site tracking, and landing pages to help you reach out and find the right prospects.
Nurture

: Marketing automation, SMS marketing automation map, dynamic content, goals, and event tracking to help you nurture relationships.

Convert: Pipelines, split actions, win probability, attribution, sales engagement, and workflow automation to help you convert prospects into customers.
Grow

: Loyalty programs, site messaging, web personalization, conversions, and chat to delight your customers and keep them engaged.
ActiveCampaign Pricing
ActiveCampaign offers four plans.

Lite
Starts at

$29/month

for 1,000 contacts

Offers marketing automation, email marketing, sales emails, capture forms, and segmented outreach.
Plus
Starts at

$49/month

for 1,000 contacts

Offers landing pages, contact scoring, automations map, conditional content, SMS marketing, task reporting, and lead scoring
Professional
Starts at

$149/month

for 1,000 contacts

Website personalization, predictive sending, win probability, split automations, and conversion reporting
Enterprise
Custom-priced

Free design services, social data enrichment, custom domain, contact enrichment, HIPAA support, unlimited users, and more
Read also: 5 of the Best ActiveCampaign Alternatives (Features, Pricing)
Conclusion: Choosing the Right CRM for Your Business
Now you know precisely how much Pipedrive costs and the better alternatives for small businesses.
It's time to take action.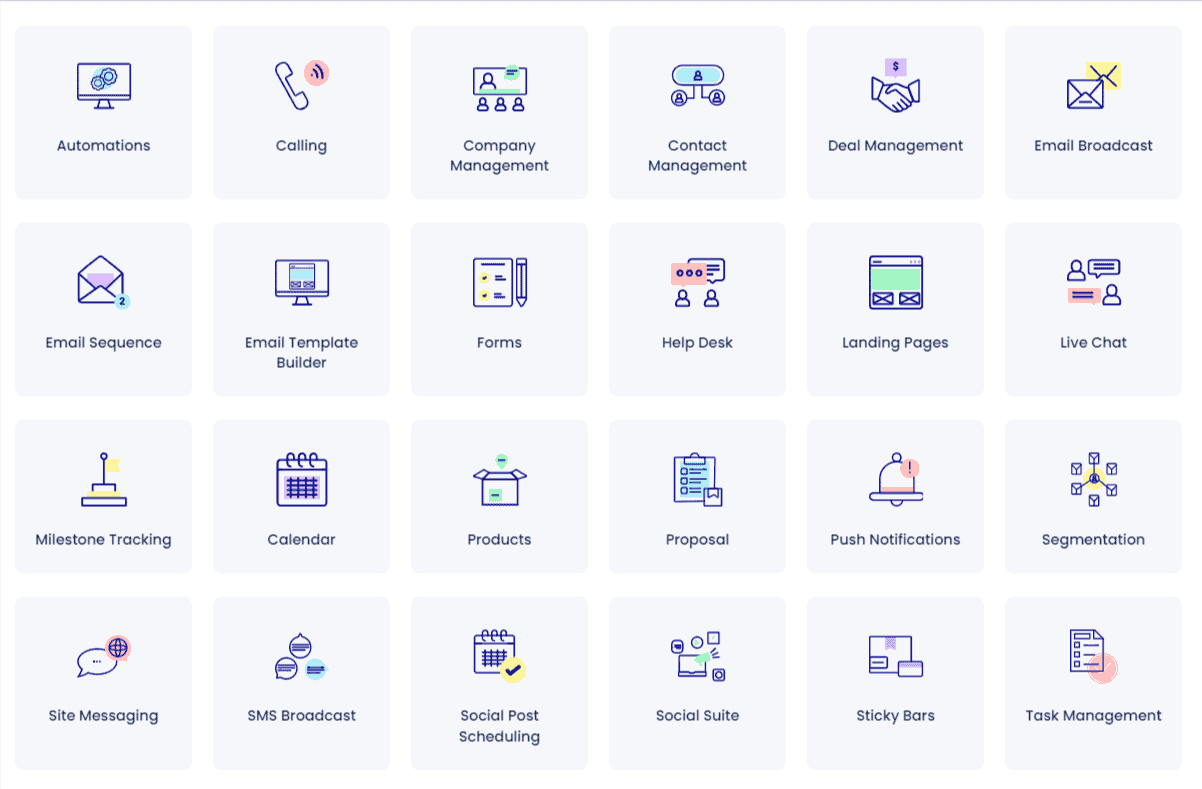 For small businesses, we recommend EngageBay simply because it offers an integrated platform with a highly affordable price tag.
For example, you can get EngageBay's Pro plan with unlimited contacts at half the price of Pipedrive's Enterprise plan (with add-ons):
| | |
| --- | --- |
| $99.99/month | $179.9/month |
| EngageBay pricing: Pro | Pipedrive pricing: Enterprise (with add-ons) |
Sign up now for the free version, or book a 30-minute demo with our experts at a time of your convenience.
Until next time 🙂