I probably don't need to remind you, but…real estate is a highly competitive game! 😅
How many of you have sacrificed those vacations and occasionally — sleep — to close out that one last deal for the month? On our worst days, we might end up looking a bit like William Dafoe here!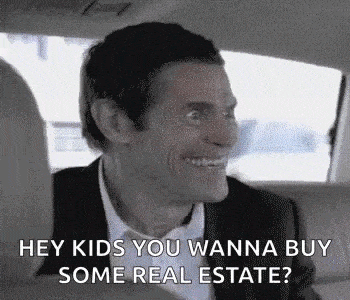 If you're looking to save time and keep capturing new, quality leads without working overtime, then real estate email marketing is going to be your new best friend.
To help realtors get better at email marketing for real estate, we've curated a simple yet effective real estate email marketing guide.
Just follow these 15 simple steps to have the edge of being a realtor who's also a pro at marketing.
Does Email Marketing Really Work for Real Estate?
The short answer? YES!
Here's how:
Basic Email Marketing Jargon that Every Realtor Should Know
Before getting to the meat of the matter, let's just break down some email marketing jargon that will help every realtor.
Click Through Rate (CTR): The percentage of people who clicked on your email after receiving it.
Email Deliverability: The rate at which your sent emails actually make it to the inbox of recipients.
Email Conversion Rate: The percentage of people who took action or interacted further after an email.
A/B Testing: This involves sending emails with one variable to different subsets of your contact list, to analyze performance metrics.
Multivariate Testing: This involves testing multiple variations of an email to find the best combination of variables.
That's all, folks! You're good to go with these basic terms of real estate email marketing. Yes, it really can be that simple sometimes.
Read also: What is a CRM in Real Estate? Cheat Sheet for Realtors
15 Easy Steps to Start Real Estate Email Marketing Like A Pro
Let's break down these easy-to-follow steps so that you can get started with your email marketing strategy ASAP.
If you're already sending out newsletters, skip to the 9th step for more advanced tips.
1. Create and upload a complete list of all your contacts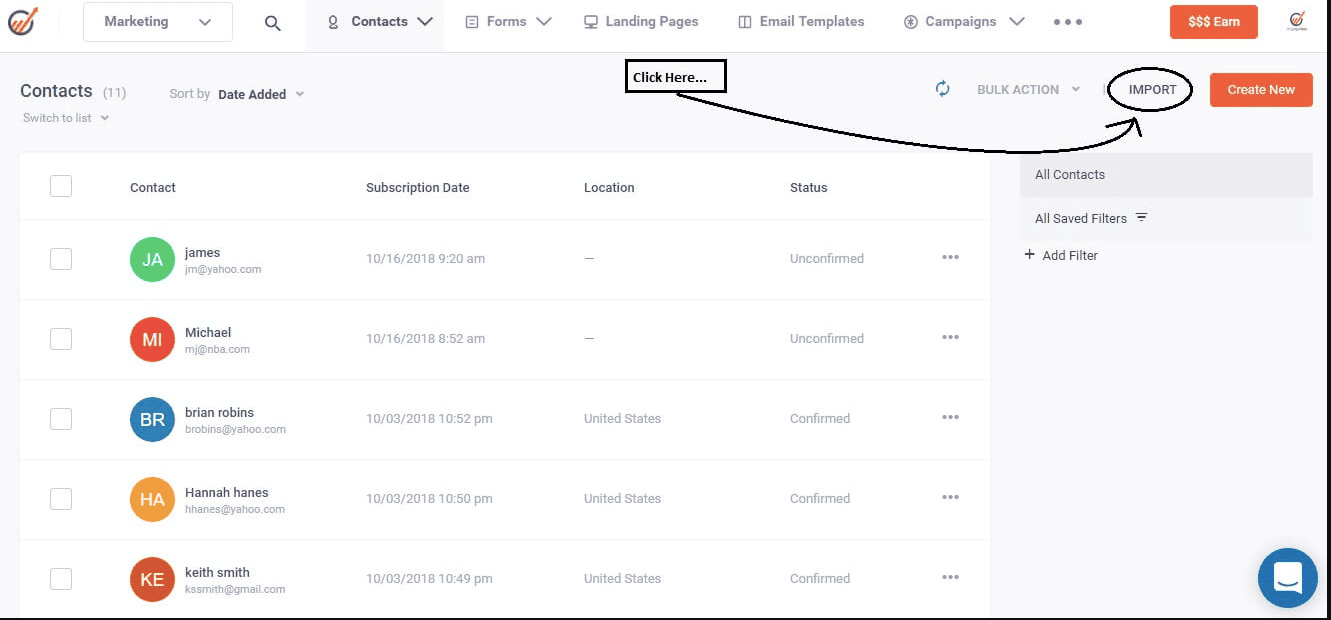 The very first step is for you to gather and upload all your contacts to a reliable Customer Relationship Management (CRM) software (usually as a .csv file), with the end goal of building a reliable email list.
Now, there are a huge variety of sources from which you can generate this list. This is where inbound leads and outbound leads can be segmented. Let me explain.
Inbound leads are those who have reached out to your agency by subscribing to your newsletter, after attending a real estate webinar, or after reading one of your blog posts. Essentially, inbound leads have already learned a little bit about your services/offers and reach out to you at their own convenience.
Outbound leads are generated after you reach out to people through pamphlets, billboards, email, text, or simply through cold calling. Here, you're the one reaching out. There's a higher risk of an outbound lead not converting to a customer. After all, nobody likes unnecessary emails or cold call interruptions on a busy work day.
A successful marketing strategy uses both inbound and outbound marketing strategies at the right time.
This brings us to our next most crucial step — having the perfect email marketing or CRM software based on your agency's needs.
Read more: 14 Real Estate Lead Generation Tips That Will Have Your Phone Ringing
2. Choose the right email marketing software for your firm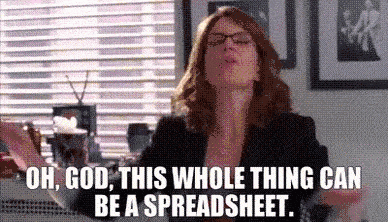 This is one of the most crucial steps in your journey to master email marketing for real estate. And, it has left many of us scratching our heads a little like Liz Lemon here.
Here's a list of important points to remember while choosing the perfect marketing software for your firm:
Number of contacts
This is important simply because a majority of the popular email marketing software in the market today will calculate your monthly fee based on the number of contacts in your list.
Some software companies also offer a pay-per-campaign or pay-as-you-go plan. If you have fewer contacts, then a pay-per-campaign payment plan would be best suited for you.
Ease of use
It's no secret that most realtors are not coders! There's literally no point investing in software if your team can't use it well. Depending on your team and their strengths, choose an email marketing software that most of your team will be able to work with pretty easily.
There will be basic training and onboarding offered by most CRM providers, and you should take advantage of this as well.
Read also: The Complete Real Estate Marketing Automation Guide (With Steps, Ideas, Examples)
Your marketing budget
This is a no-brainer. No matter what size your agency is, it's never wise to blow a gaping hole through your budget on software alone. Sit with the finance experts on your team, and figure out the right price range for your firm.
Features relevant to your firm
Ensure that your email marketing software can give you all the features you will require for the next few years. Look for features like email segmentation, A/B Testing, a large library of newsletter templates, etc.
Some features may not be relevant to your agency. For instance, sending an automated follow-up email for abandoned carts is unlikely to be a realtor's priority. So, ensure that the software will have features that will make your life easier. You'll thank us a couple of years down the line.
Integration with other apps
In the long run, your email marketing efforts cannot be divorced from your other marketing channels like social media. Ensure that your email marketing software makes it easy for you to run integrated campaigns.
A small example of this is enabling a share button on email infographics so that your customers can share it on social media if they wish to.
Read also: 8 Best Email Marketing Software for Real Estate in 2023
3. Segment your contacts and assign scores to leads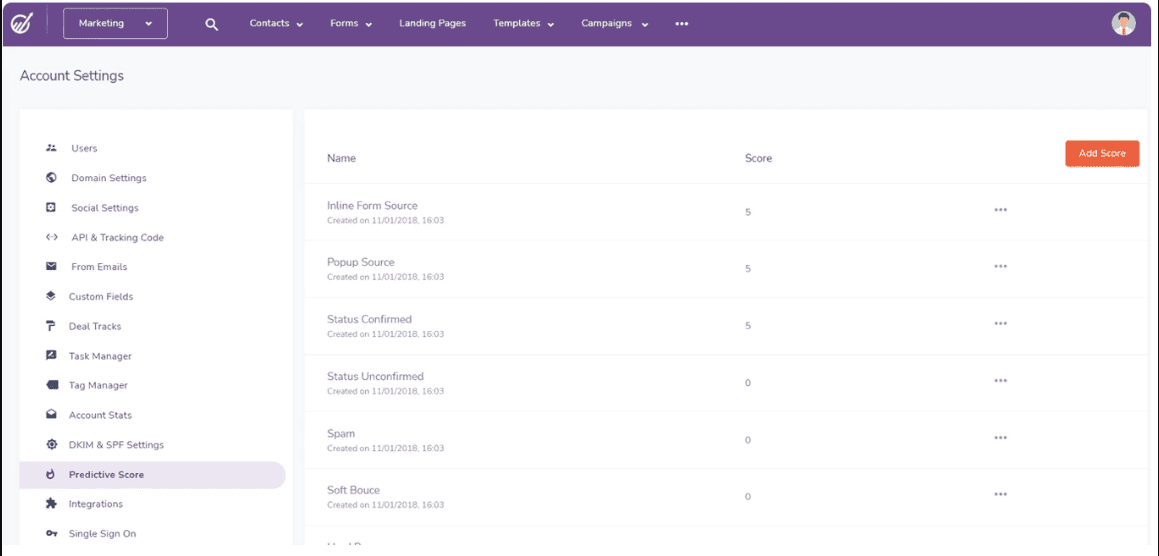 Lead vs Prospect: What's the difference?
Let's get clear on one thing — a lead is not the same as a prospect.
A lead is usually aware of your services, but they still want to take time to decide if you're the right fit for them. So, the lead has to be 'nurtured' and 'warmed up' before they can become a prospect.
You can nurture leads and warm them up to your services with newsletters, lead magnets, or targeted discounts and offers.
A prospect is more like a qualified lead. These are the people who are very likely to become your client in the future.
A good marketing strategy will convert more leads into prospects. And later on, convert that prospect into a paying client. The image below makes it clearer.
Each firm uses a scoring system that works best for their needs and varies widely.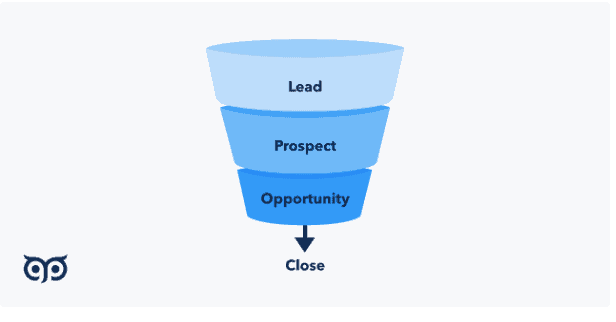 Create audience buckets to convert leads into paying clients
To do this, you have to segment your leads and assign lead scores to each of them based on a set of variables. You can segment your contacts into various 'buckets' — which is just marketing lingo for segments. These variables could be aspects of the customer like:
Gender
Annual income
Location
Interaction with your website
Occupation
Their stage in the sales funnel
Now, segmenting will help you convert the best prospects into clients. How?
Let's look at an example. You have two prospects who have shown interest in buying a property. Prospect A has already purchased a property in a similar price range about three years ago. They have also participated in your recent webinar, attended a couple of other open houses last month, and contacted you for help.
Prospect B has also reached out to you regarding the same property after attending the open house. However, their only other interaction with your company is subscribing to your newsletter a couple of months ago.
In this case, Prospect A is likely to have a higher lead score, and could be considered a 'hot lead'. A good marketing strategy would be to identify the pain points of Prospect A, find solutions that work for them, and close the deal on the property ASAP.
Lead Scoring will also help with marketing automation. For instance, based on the prospect's annual income, you can automate sending new listings to them via email. It helps you give customers what they actually want, based on their buyer personas.
Read also: 8 Best Email Marketing Software for Real Estate in 2023
4. Understand the six types of common email marketing campaigns
Now, as a realtor, you will need to use each of these six types of campaigns at different stages in the buyer journey. Using each campaign at the right time, with the right prospects can take your marketing game to the next level.
Let's break it down, shall we?
Targeted campaigns
Targeted email campaigns are used when you want to target a specific subset of your contact list with one end goal in mind. For example, you could send out a targeted promotion of a listing by automatically sending an email to all contacts who live in a particular area.
Or, you could send a targeted email campaign, offering discounts or other incentives to segments of your contact list.
Drip campaigns
A drip campaign is a series of automated emails that are triggered by certain customer behavior. These emails are sent out on a pre-planned schedule to ensure that the right email reaches the right prospect at the right time.
Drip campaigns typically aim to increase customer engagement, warm up leads, and increase your revenue in the long run.
For example, a drip campaign sequence can be triggered by customer actions like signing up for your newsletter, searching for properties on your listings, or even attending an open house.
Read more: The Surprisingly Easy Guide for Drip Email Campaigns
Cold campaigns
Cold campaigns are a little trickier to get right.
In cold email campaigns, you're basically sending out emails to probable leads who haven't heard of you or haven't reached out to you. This is an example of outbound marketing.
For example, you can set up a cold email campaign on expired FSBO (For Sale by Owner) listings. Here, you reach out to the owner/seller with a well-crafted email to try to convince them to use your services for selling the listing.
Follow-up campaigns after an open house
This is pretty self-explanatory. With marketing automation, you can trigger automatic emails to a segment of your contacts to follow up after any event. This could range from open houses to online webinars hosted by your firm.
You can trigger emails to ask for feedback on the open house, or simply to encourage prospects to take the next step and make an offer.
Explore the most impactful marketing strategies on the market in our comprehensive guide – revolutionize your campaigns now!
Testimonial/Referral request campaigns
Any successful realtor will tell you that referrals are a great source of finding new clients. People tend to trust you more when a close friend or family member has had a good experience with your firm or agency.
It's important that you periodically reach out to old clients to request testimonials or referrals. An occasional email requesting testimonials can actually work wonders, especially with happy clients.
Client milestone campaigns
A client milestone campaign involves sending out a well-timed email to your clients for their birthdays, anniversaries, and other similar milestones.
This shows that you are invested in the clients, and will nurture your relationship with them in the long run. You can use the marketing automation features on your CRM to automatically send out pre-written emails to clients on important occasions.
Now that you understand the basic types of email campaigns, it's time to look at the content and design of your email itself. But before you do that, make sure you are extremely clear on the goals for each campaign, as you design them.
Read more: Real Estate CRM — Everything You Need to Know
5. Curate email templates for each type of email marketing campaign in advance
Even if you run a thousand campaigns, they will not work unless you have great content and design in the emails. Nobody enjoys those wordy emails that have nothing to do with the contact's current situation.
Personalizing an email template will allow you to save time, and have great content at the same time. So, ensure that you have gathered a large number of email templates well in advance of your email campaign going live.
The email in the image above is a great example of an email template that you can use for drip email campaigns to warm up leads.
Read also: 12 Best Real Estate CRMs for Investors and Agents in 2023 (Free & Paid)
6. Brainstorm creative content ideas for emails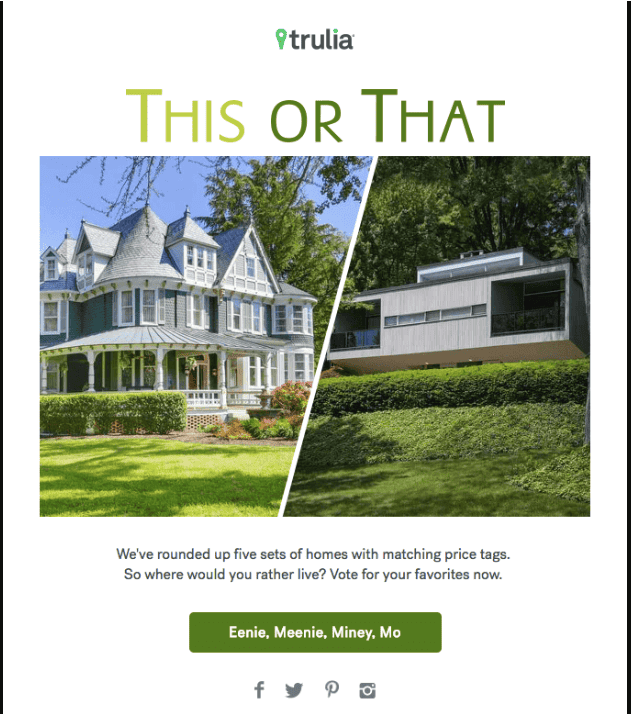 If you are serious about boosting engagement, you have to get serious about your content.
Try to think from the client's point of view. What kind of info would they appreciate? What would keep them engaged?
Here are some content ideas for real estate email campaigns to get you started:
Latest market data through interesting infographics
Conducting polls or contests
Tips on real estate and home improvement
New listings
Announcing open houses
Using funny real estate memes
Neighborhood roundup (like reviews of restaurants, parks, etc.)
Segments featuring happy clients in their new homes
Remember to keep your content professional, but light. Too many statistics can really bore people, so the key is to find a balanced, professional, yet engaging way to put your ideas across.
Read more: Email Copywriting 101 — Tips to Craft High-Converting Email Copy
7. Choose email designs that really tie in with your brand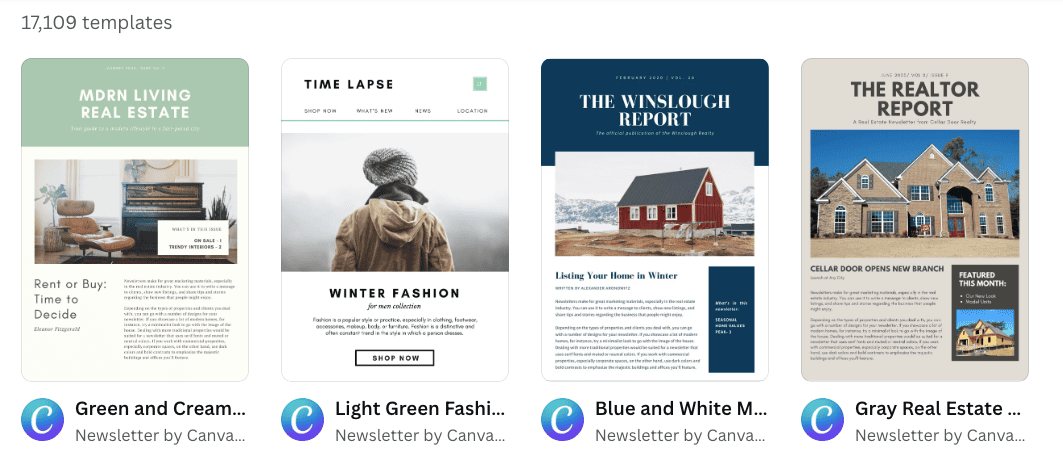 Ensure that you choose email designs that will highlight the unique selling points of your real estate firm. You probably already have your branding and brand colors in place. See how you can tie this in with your emails.
👉Enhance your client engagement with our selection of 20 customizable real estate email marketing templates. Make your marketing more effective today!👌
8. Launch a monthly real estate newsletter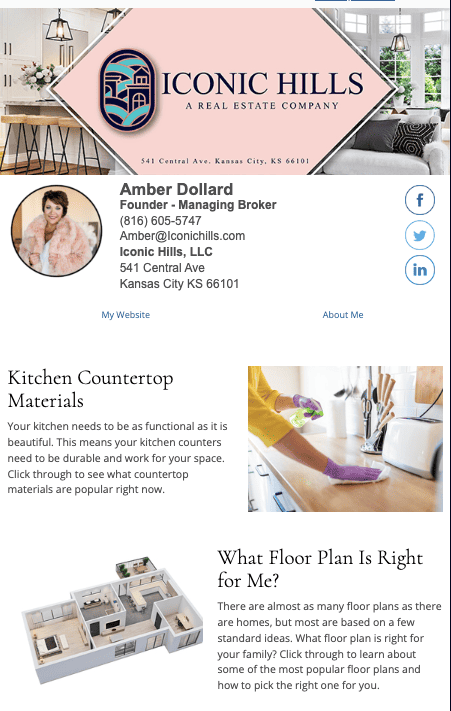 If you haven't already been doing this, you need to start today! Here are some key points to keep in mind for a successful real estate newsletter.
Prepare catchy, interesting subject lines for the email.
Use the 90/10 rule. This means 90% of content should be of interest, and only 10% should be promotional.
Use clear, high-quality images and videos.
Feature some loved members of the community.
Share what you enjoy. This could be seasonal recipes, seasonal home decor tips, etc.
Use SEO tools to talk about relevant, helpful topics.
Test multiple variations of the newsletter
Read also: Real Estate Landing Pages: 8 Beautiful Examples
9. Create free downloadables to generate more leads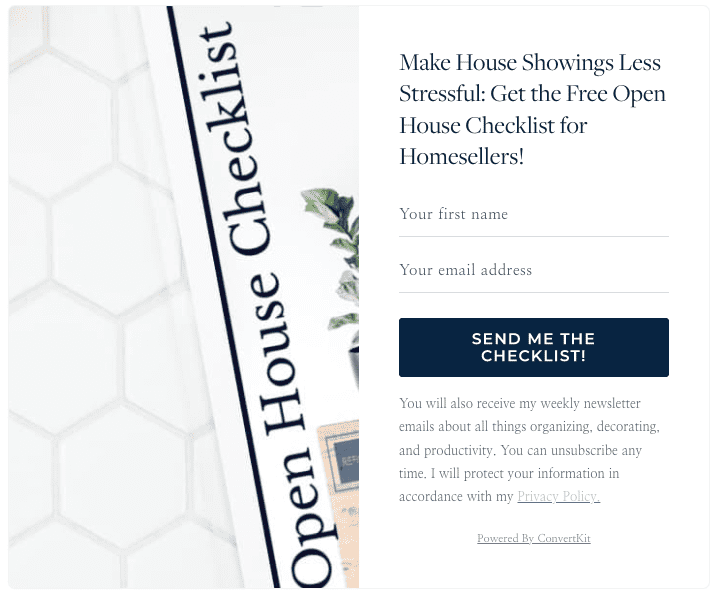 This is a good way to start generating new leads.
If I were to just ask you for your email ID, you'd be reluctant to give me the info, right? But, what if I tell you that I have this great checklist that will help you sell your house, and I need your email ID to be able to send it to you?
The second scenario is much more subtle, and it offers something valuable to the lead in return. This is known as a lead magnet. Here are some common downloadables you can offer new leads:
Free e-books, checklists, or white papers
Email courses
Exclusive videos
Free first consultation
Read also: 9 Real Estate Landing Pages Sure to Inspire and Convert (+ Expert Tips)
10. Set up automated workflows for email marketing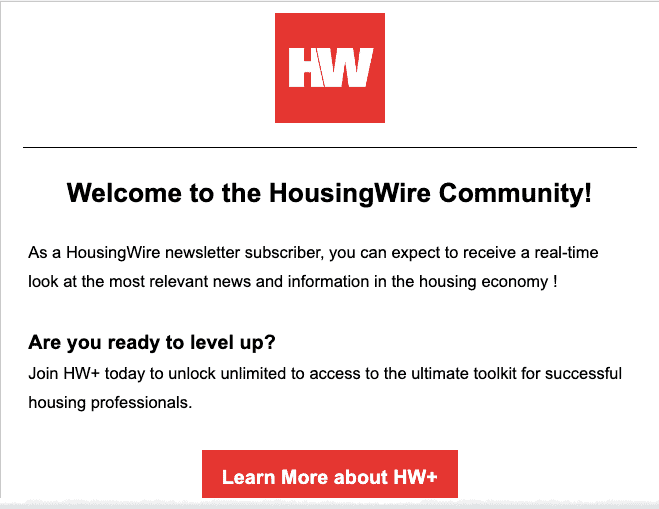 Now, marketing automation is a whole other ball game. It's different from your newsletters and email campaign.
With an automated marketing workflow, you're basically setting up a protocol where customer interaction triggers certain automated emails. This is done without any manual effort from your end.
Let's make it clearer with an example. Now, you can set up automation for whenever someone searches for listings on your website. Based on the location, you can send fresh listings to this lead. You can schedule this email for three days after their search.
Or, like the HousingWire example above, you can send out automated emails whenever someone subscribes to your newsletter. Some other automated workflows for real estate can include:
Announce new services/listings
Feedback emails after an open house
Exclusive access to early listings
Open-house promotion emails
Read more: Real Estate Marketing Automation — A Guide For Real Estate Agents
11. Run A/B Testing for all emails and newsletters
When it comes to email marketing, A/B Testing is the process where you tweak one variable of the same email, to test which one gets better traction with your contacts.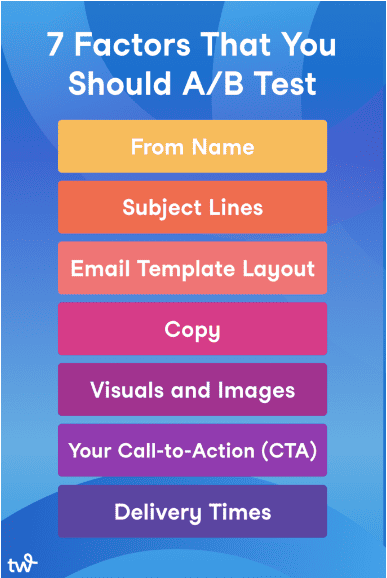 Let's say you've crafted a great email promoting a new open house in your area. Now, you can run an A/B test with two email subject line options to determine which one gets a higher click-through rate (CTR). You can use this data to streamline your future email campaigns as well.
12. Personalize your emails for higher chances of conversion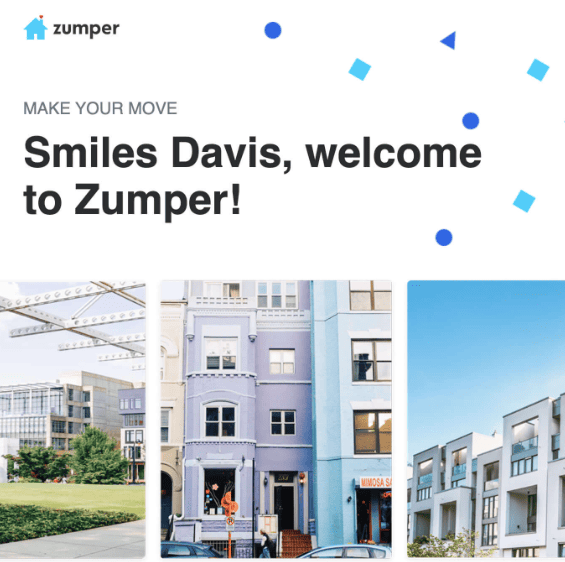 You can find the entire email at Really Good Emails.
By simply adding your contact's name to the email or the subject line, Constant Contact estimates that this can boost click-through rates by 41%! You can also personalize emails based on:
Customer behavior
Adding the lead's name in the body
Personalized subject lines
13. Combine other channels with email marketing
A good email marketing campaign should also tie in with other channels of marketing. For example, you've sent personalized emails for an open house in their neighborhood. You can follow this up with an automated SMS to the prospects, just a couple of hours before the open house.
Ensure that your leads can also share infographics and blogs on their social media channels to boost engagement. An integrated CRM system can help you accomplish this in no time.
Read more: What is a CRM in Real Estate? Cheat Sheet for Realtors
14. Get familiar with federal and state email laws to avoid penalties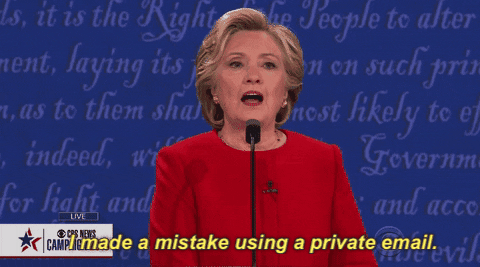 Most states in the US have enacted laws regarding commercial emails. If you're also targeting clients based internationally, you also need to get familiar with the laws there. For example, Canada has the CAN-SPAM Act (2003) which covers areas like:
Commercial emails and spam
Anti-solicitation Laws
Unlawful trade practices
Pornography
Cybercrime
15. Revise, re-work, and re-imagine strategies based on CRM data
Based on your analysis of the major KPIs, you'll have to continually re-work your real estate email marketing strategy. Here are some KPIs realtors will need to track:
Conversion rates
Organic search traffic
Cost per lead
Referral rate
Read more: 10 Emails Real Estate Agents Should Send to Every Lead
Wrapping Up
So, which of these points called out to you? What are your stories about email marketing at your firm? Let us know in the comments below!
As we take your leave, remember that a good realtor is also a good marketer who understands human psychology. This alone will give you a definite edge over your competitors.
We'll leave you with a quote from realtor Dori Warner. She says, "I am basically a full-time psychologist who shows houses every now and then". She does make a great point.
And if you're looking for email marketing tools that don't cost a bomb, try EngageBay. You'll get the goodness of HubSpot at the price of homemade coffee!