Today, 96% of SaaS companies believe their reseller partners can help them grow their revenue. Tech giants like Microsoft are earning $32 billion in annual revenue from their partners.
Clearly, there's a lot of business scope in joining a SaaS reseller program and making some money for yourself.
With around 30,000 SaaS companies in the world, global SaaS end-user spending is expected to reach $195.2 million in 2023. This highlights the importance of SaaS products and services, emphasizing the growth of SaaS reseller programs.
However, people struggle to find and choose the right SaaS reseller program for their audience.
This article delves into the basics of SaaS reseller programs, including their benefits and how to choose one. I have also compiled a list of the best SaaS reseller programs that you can consider signing up for.
What Is a SaaS Reseller Program?
A SaaS reseller program, also known as a SaaS partner program, involves a reseller buying products and services from a SaaS company at low prices and selling them to clients at a markup. In other words, SaaS resellers act as vendors between the company and the final consumer in making sales.
Typically, SaaS resellers take care of the entire sales process, including customer support, shipping, and billing. While most of them earn money through revenue share, the profit largely comes from selling the products at higher rates. Since resellers purchase the goods at wholesale prices, their earnings can be quite high.
At times, resellers can either customize the SaaS company's products and services and sell them under their own brand or retain exclusive rights to sell them to specific markets.
Why Should You Sign Up for a SaaS Reseller Program?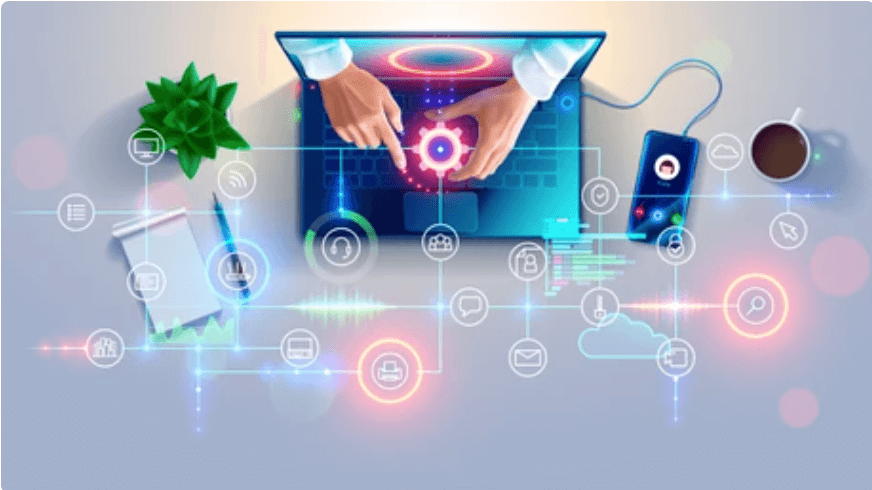 There are several reasons to opt for a SaaS reseller program. Here are the top ones:
Additional source of revenue
Joining a SaaS reseller program gives you the opportunity to earn additional income alongside your regular profession or business. Further, profit margins can be quite high since SaaS resellers typically purchase products and services at wholesale rates.
These are then sold in the retail market at a high markup price, making it easy for resellers to earn profits.
Low startup costs
Today, most SaaS reseller programs provide a wide range of resources and training to help you get started. These resources can either be free or minimally priced, allowing you to set up your business easily.
Besides, it doesn't require any upfront investments in terms of building a new product or solution or maintaining inventory, making it an attractive option for people looking to make money.
Work from anywhere
Being involved in SaaS reselling business allows you to work from anywhere and as your schedule permits. This business model allows you to create a second income stream while saving on the overhead costs for any office space.
Recurring revenue
Another benefit of joining a SaaS reseller program is that you can be sure of recurring revenue once you gain a customer. Here, you generate revenue through monthly or annual subscriptions, which helps create a consistent source of income.
Read also: 30 SaaS Affiliate Programs for a Great Side Hustle
What Type of Reseller Program Should You Target?
There are hundreds of SaaS reseller programs in the market. So how do you know which SaaS reseller program is best for you? Should you target big giants like Google and GoDaddy or go for small SaaS companies that haven't captured a good market share yet?
Here are some factors to consider while choosing a SaaS reseller program.
#1. Setup costs
While searching for a SaaS reseller program, make sure to find one with low set-up costs. If you are new to reselling, it is best to find a platform that provides training and onboarding support.
It will help you with an easy transition and start your business in less time. This way, you can focus on expanding your clientele faster and boost sales.
#2. Find companies with similar target audience
Try and partner with companies that have a similar target audience as your business. It saves time and helps you sell products faster since you know your customers and what they are looking for.
Moreover, it mutually benefits the partnership between you and the SaaS reselling platform.
#3. Check for customer demand
It's important to understand the market position of the SaaS product that you choose. Finding a prospect for a product that already has a well-established brand name in the market is easier than targeting one with little to no market share.
#4. Compensation structure
Another important factor to consider is the brand's compensation structure for its reseller program. Are they offering a flat fee or doing a commission system? How much are you going to earn if you successfully sell their product?
Compare it with other SaaS reseller programs to understand if you are getting paid well or not.
Read also: Affiliate Marketing: A Complete Guide for SaaS Businesses
SaaS Program vs Referral Program vs Affiliate Program
Now that you know how to choose the best reseller program, you must also understand the different partner programs a SaaS brand offers. Typically, you will come across terms like reseller, referral, and affiliate programs.
Let us understand how these programs differ from each other.
SaaS reseller programs involve individuals or companies buying products or services of one company, typically at wholesale prices, and selling them to final consumers at a markup price. Basically, resellers amplify the sales of the original vendor by bringing in bulk sales and earning profits. It also allows resellers to add their own brand name and sell it as their own.
In a referral program, the individual or company does not directly sell to customers. Instead, they refer potential customers to a business and earn a commission every time a purchase is made. It involves the referral partner sending leads to the company, who are then targeted by sales teams to close deals.
Affiliate marketing involves endorsing a third party's products or services on your platform or website and driving sales to the original seller's webpage. It does not involve the affiliate directly selling products to customers but simply promoting them on their social media accounts and other channels.
Affiliates earn commissions depending on the sales volume during a specific time period. Sometimes, a brand lets you earn a commission even if you are able to drive traffic to their website.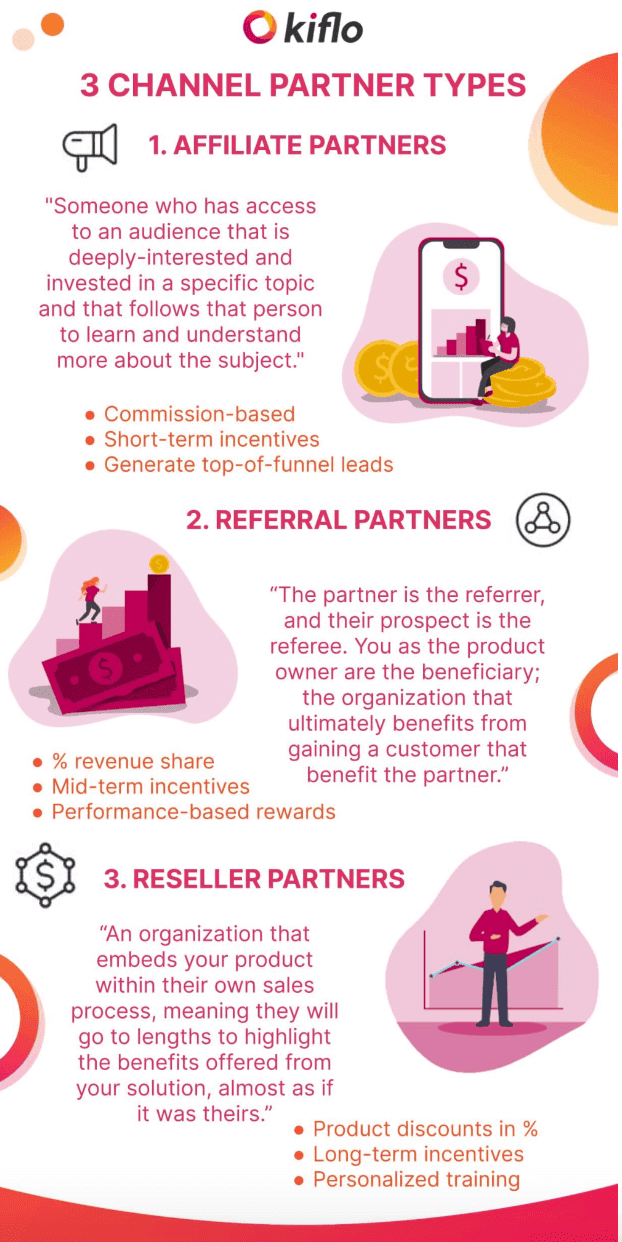 The 12 Best SaaS Reseller Programs In The Market Today [2023]
There are plenty of reseller programs out there, but you don't want to be trapped in a bad deal. Here's our curated list of the best SaaS reseller programs: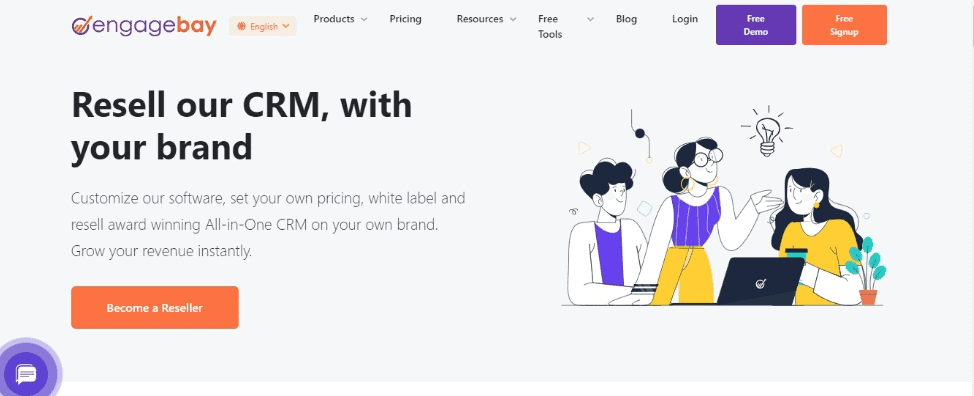 EngageBay's SaaS reseller program is ideal for those who want to customize and sell a cool marketing automation and CRM product under their own brand name. Its SaaS reseller program gives you white-label access, meaning you can remove the EngageBay branding and logo and sell the product suite as your own.
Compensation structure
EngageBay enables resellers to set their own margins and provide a commission for each resale.
Why choose EngageBay?
There are various reasons to choose EngageBay's SaaS reseller program:
It allows you to remove the EngageBay branding and use your own brand name, along with customizing the CRM software as per your needs

EngageBay lets you manage licenses from a single dashboard that can be increased as your business grows

EngageBay provides its agency partners with access to its wide range of marketing, sales, and service automation tools to make workflows more efficient
Read also: 43 SaaS Affiliate Programs for a Great Side Hustle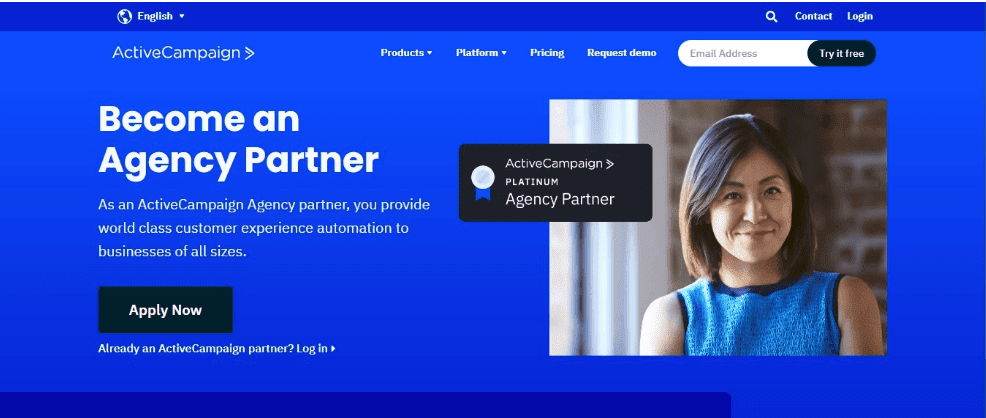 ActiveCampaign's SaaS reseller program is ideal for all types of businesses. Whether you are an individual reseller, a full-service agency, or a B2B solutions provider, ActiveCampaign has all the resources that you need to get started.
Compensation structure
ActiveCampaign provides complete autonomy to its partners in terms of compensation structures. However, reseller partners can avail of a discount between 25% to 55%, depending upon the number of accounts sold by them.
Here is what ActiveCampaign's discount model looks like:
2-24 accounts get a 25% discount

25-49 accounts receive a 35% discount

50-99 accounts get a 45% discount

100+ accounts receive a 55% discount
Why choose ActiveCampaign?
Here is why you should opt for ActiveCampaign's SaaS reseller program:
It provides a dedicated onboarding team to help you set up your reseller account quickly

Reseller partners can expect to earn anywhere between 25-30% in commissions

Agency partners can access product certification opportunities and other learning resources for a lifetime as soon as they create a reseller profile
Read also: 11 of the Best ActiveCampaign Alternatives (Features, Pricing)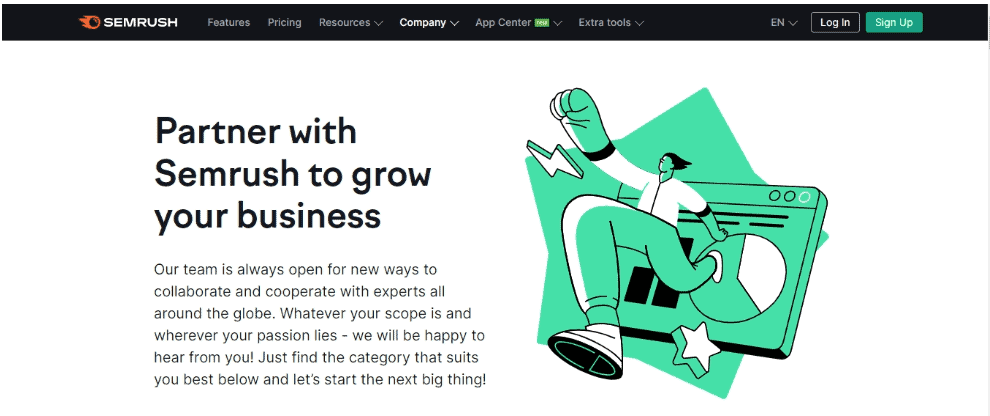 Semrush is another popular SaaS reseller program that helps you resell a variety of services, including content marketing, email marketing, lead generation, social media marketing, web designing, and public relations.
Using Semrush, you can either resell SaaS products over multiple regions or focus only on a single area.
Compensation structure
Semrush SaaS reselling commissions are based on the type of product or service that you sell. However, you can expect a minimum of 5% commission for each sale.
Why choose Semrush?
Below are a couple of reasons why you should consider Semrush's SaaS reseller program:
It provides SaaS resellers with the resources and guidance needed to scale their marketing and sales strategies either locally or across regions

Secure integration allows instant and easy access to Semrush's data and tools

The Oauth authorization protocol enables resellers to customize and incorporate only those metrics from Semrush that they require to track performance
Read also: ClickBank Pros & Cons for Affiliate Marketing: A Quick Guide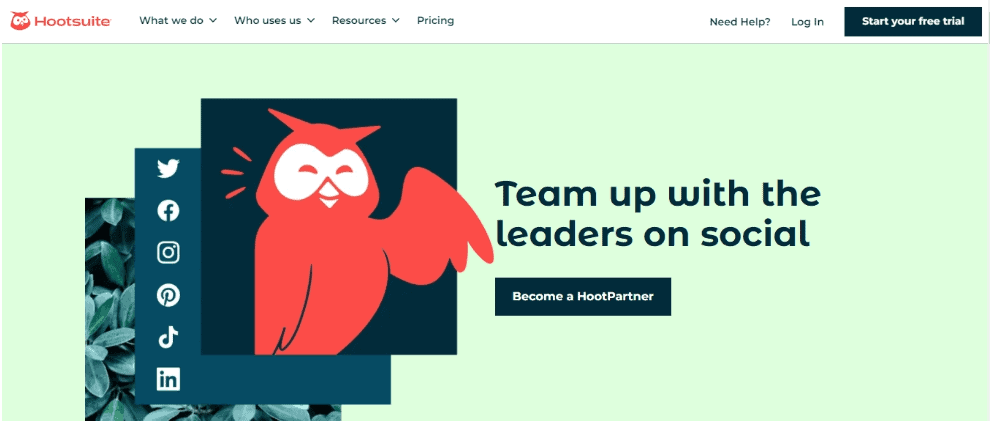 Hootsuite is a social media management platform that provides a SaaS reseller program known as HootPartner. Under this program, SaaS resellers can expand their clientele by getting a tailored business plan, sales and marketing materials, and real-time tracking of their results.
What's more, resellers can sell their own products and services alongside Hootsuite's products.
Compensation structure
At present, Hootsuite offers reseller programs a revenue share portion of the Services sold. Currently, it provides 20% of the customer revenue the solution partner sells.
Why choose Hootsuite?
Here is why you should choose Hootsuite's reseller program:
Provides a 30-day onboarding plan that involves getting a customized business plan, a crash course on Hootsuite, and sales materials

Helps resellers set sales targets, track their performance, and sell Hootsuite products faster
As resellers keep achieving sales targets, Hootsuite provides them with new discounts, more sales and marketing tools, and consulting support at every level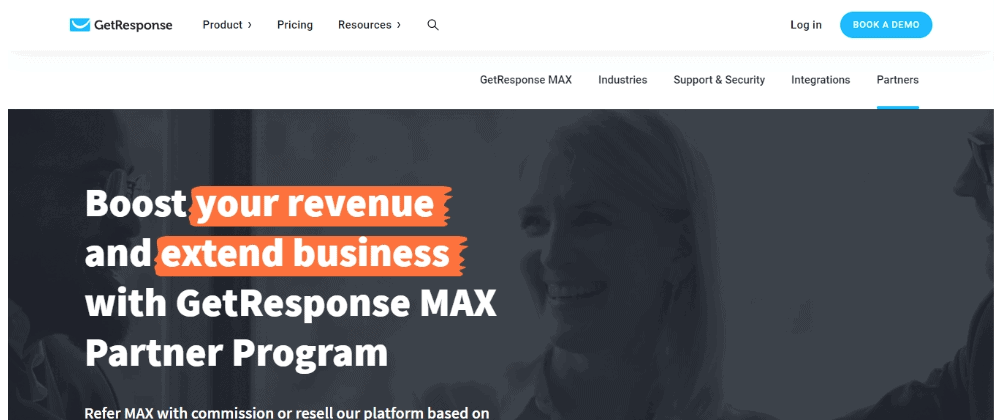 GetResponse's SaaS reseller program, known as MAX Partner Program, is ideal for those looking to resell a well-integrated solution under one roof.
It has a wide range of tools, such as advanced marketing automation tools, SMS marketing, and email marketing, that you can offer to your audience, increase your chance of sales, and boost revenue in no time.
Compensation structure
GetResponse has two reseller program categories: Silver and Gold.
The Silver program provides up to 40% commission, along with tools such as a dedicated partner and onboarding manager, sales training, and access to CRM.
Under the Gold program, you can get up to 50% commission and access to two co-financed events every year and three invites to the annual partner meeting.
Why choose GetResponse?
Below are a few reasons you should choose GetResponse:
Boasts over 100+ integrations, including Shopify, Magento, Microsoft Dynamics, Slack, and YouTube

Provides a wide range of marketing automation tools to streamline workflows

Commission rates are higher compared to other similar programs
Read also: 15 of the Best GetResponse Alternatives (Features, Pricing)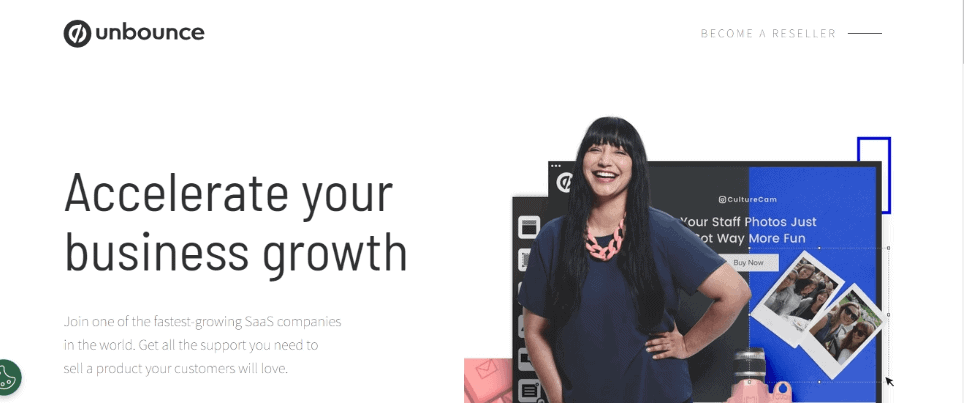 Unbounce SaaS reseller program is ideal for those looking to earn revenue without doing a whole side hustle. It offers recurring revenue for every new sale you make.
Besides, Unbounce is one of the fastest-growing SaaS companies in the world and provides all the support you need to grow your business. You can create your own landing page using Unbounce's pre-built templates to get more signups from visitors.
Compensation structure
Unbounce resellers earn a 20% recurring revenue for every sale.
Why choose Unbounce?
Here are a few reasons Unbounce's SaaS reseller program might be suited to your business:
It helps you earn a recurring commission every time you resell an Unbounce product or service

A dedicated partner manager will be available at all times to help you drive your business to success

Expert marketing support enables you to create effective marketing campaigns that boost conversions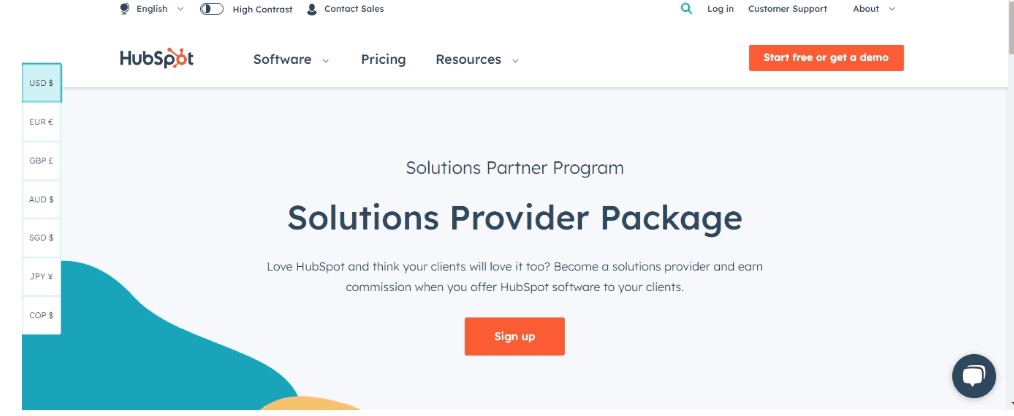 HubSpot's Solutions Partner Program is another SaaS reseller platform that you should consider. With HubSpot, you can access its sales and marketing automation tools by starting a low-cost partnership, which can then be promoted to a full solutions partner when you are ready.
Compensation structure
To become a HubSpot reseller, you can sign up for a low-cost partnership starting from $25 per month and earn up to 20% commission in the first year, which can increase depending upon the resale volume.
Why choose HubSpot?
Here is why you should opt for HubSpot's Solutions Partner Program:
Provides dedicated content from the HubSpot Academy and access to boot camp-style workshops to assist resellers in pricing their products

A dedicated account manager helps create and implement product and growth strategy

Provides the opportunity to earn additional benefits as your business expands
Read also: HubSpot Pros And Cons: A Candid Assessment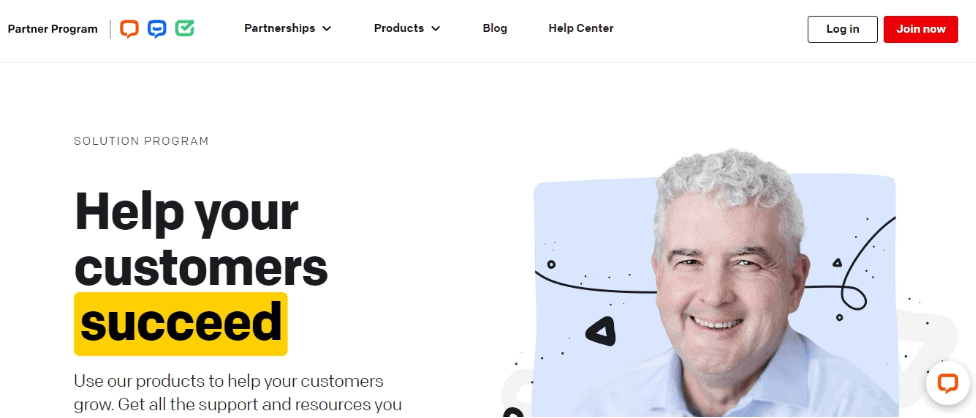 LiveChat's SaaS reseller program, known as the LiveChat Partner Program, helps you resell customized products and services by creating product licenses for your customers and taking charge of their experiences.
Compensation structure
LiveChat's reseller program gives you a 20% discount when you purchase their product. And then, based on your annual recurring revenue, you earn bronze, silver, and gold tiers.
Each tier gives you a different set of perks and allows you to grow your income.
Why choose LiveChat?
Let us look at why LiveChat's SaaS reseller program is a good option:
Provides personal onboarding to help you create effective marketing strategies

Co-marketing opportunities help you improve your digital presence and get clients faster

Access to demo accounts and educational resources allows you to upgrade and upskill
Read also: 13 Robust Intercom Alternatives To Transform Your CX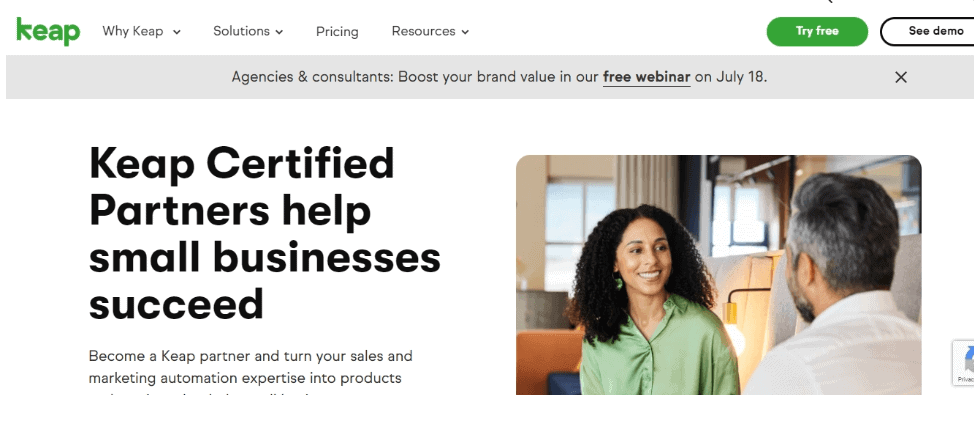 Keap's Certified Partners allows you to get certified and start selling Keap's products and services. Keap's Certified Partner program is best suited for business consultants, agencies, and other marketers and sellers looking to empower small businesses with a robust CRM system.
Compensation structure
Keap Certified Program lets you earn a 20% commission that increases based on your yearly sales production. This commission is based on the subscription fee, and you get it for the lifetime of the customer, as long as you are a partner.
And the best part is that you get 100% of the services revenue for any Kickstarts, implementation, or ongoing services you sell to your client directly.
Why choose Keap?
Here is why you should choose Keap over other SaaS reseller programs:
Helps you earn a commission for referrals who become clients

Provides lifetime access to software, training, coaching, and business experts to expand your business

Allows you to put your product offering into action as soon as you complete the sign-up process

The Wix Partner Program is ideal for digital agencies and freelancers who typically use Wix and Editor X to create websites for their clients. The program is completely free of cost and helps you earn points for every client you acquire.
Compensation structure
Wix allows its resellers to earn up to 50% revenue share on the yearly purchase of subscription plans and 20% on Premium Plans for websites created by them. Further, resellers can earn up to 100 points for every website they design for clients.
Why choose Wix?
Here's why you should consider Wix's Partner Program:
Provides access to experts who help you win more projects, convert qualified leads, and work better

Allows you to sell products under your brand name by removing the Wix logo and replacing it with your company name

Enables you to track progress and client workflow from a single dashboard
Read also: 17 Affiliate Marketing Programs For Bloggers in 2023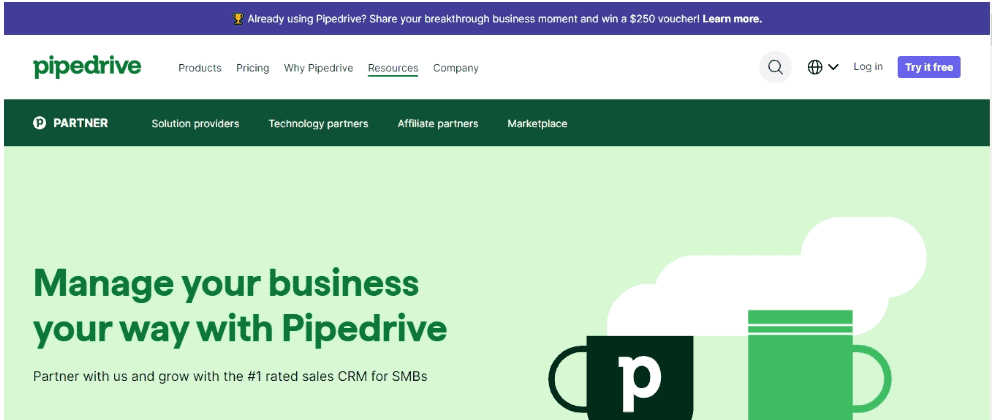 The Pipedrive Solution Providers Program is ideal for those who want to resell the company's products and services and fulfill their professional commitments, such as sales consulting, onboarding, and customization.
Compensation structure
Pipedrive has two compensation models: Elite Tier 1 and Premier Tier 2.
Under Elite Tier 1, users can get a discount on all plans along with the entire management of their account by an onboarding team.
Premier Tier 2 provides revenue share or commission to the resellers. It is ideal for those who don't want to give up ownership of their account but have sales consulting and onboarding experience.
Why choose Pipedrive?
Below are a few reasons to choose Pipedrive:
It provides all the resources you need to resell and get clients faster

It boasts royalty-free licenses

Allows you to list your brand's website on Pipedrive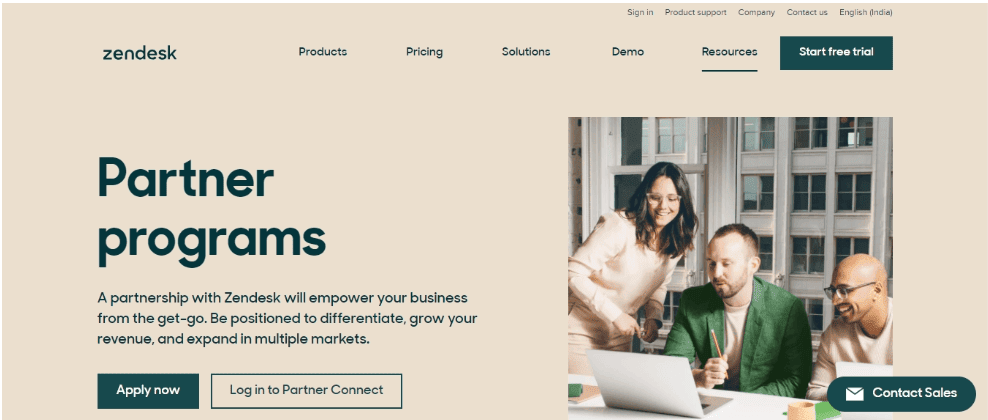 The Zendesk Partner Program is ideal for marketers and companies looking to expand their customer base into more than one market.
Whether you are a new or an experienced reseller, Zendesk provides you with the right support and resources at every step of the way.
Compensation structure
Zendesk's compensation structure can be customized by businesses as per their needs. However, resellers earn commissions on each referral.
Why choose Zendesk?
Here's why you should choose Zendesk:
It helps you set up your business quickly, with just a few simple clicks

Providers resellers with marketing initiatives and expert training to help drive sales

Allows you to either use existing third-party applications or create your own
Read also: 10 Competitors That Give Zendesk A Run For Its Money
Wrap Up
SaaS reseller programs allow both the brand and partners to boost their revenue. Joining a reseller program is not difficult, but finding the right reseller program that can help you earn your revenue target is.
Do your research, understand the different pay structures, and enroll for the one that aligns with your needs. With consistent marketing efforts, you will have a full-fledged business generating revenue in no time.