If you've landed on this article, chances are you've already heard of Customer Relationship Management (CRM) solutions for real estate and how they can help you be more productive.
But, with so many SaaS CRM solutions in the market today, it can get tricky to find the perfect CRM software to suit your particular needs. What works for your competitor down the street may not be right for you!
This guide article can help you make the important decision for your real estate brokerage or firm.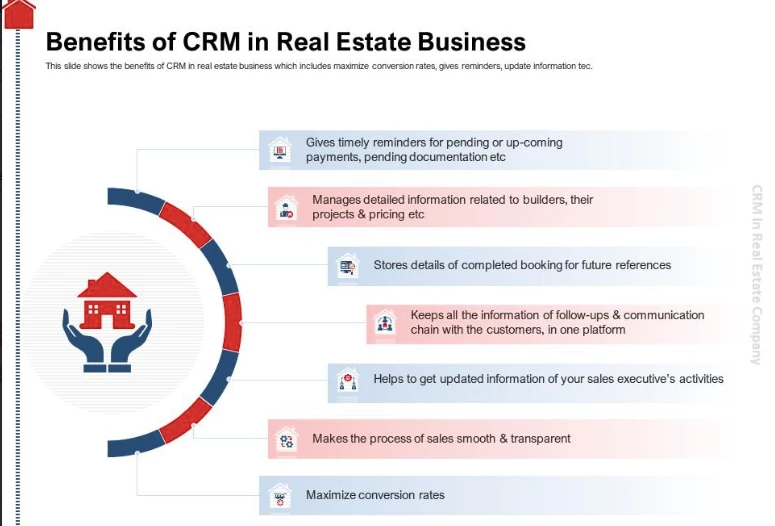 In this article, you'll find:
A pros and cons list for the top 12 real estate CRM software
Pricing comparison for real estate CRM solutions
Tips on choosing the right CRM for your needs
12 Best Real Estate CRMs for 2023
According to surveys by Saphyte, for every $1 invested by realtors in CRM, there's an average return of $8.71! That's pretty good by any industry standards. However, there's more to it than meets the eye, and we did a detailed analysis of how your ROI on a CRM solution should be calculated.
For now, let's look at the pros and cons of 12 leading CRM solutions for the real estate industry. The list includes both free and paid CRM solutions. So, even if you can't expand your marketing budget now, this list should be of help.
1. Wise Agent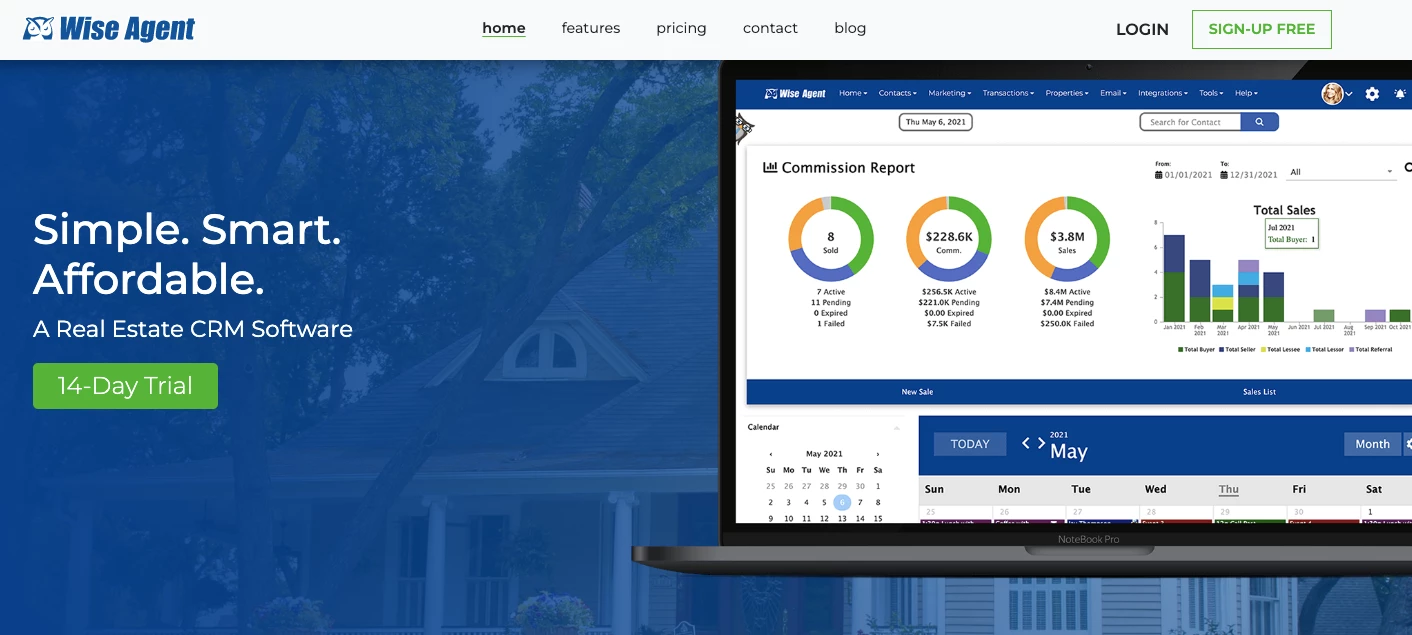 Wise Agent — founded in 2002 — began with a mission to create a cloud-based, all-in-one platform for realtors and real estate brokerages. It has emerged as a leader in the real estate CRM industry, and for good reason!
Let's deep dive into the pros and cons of using Wise Agent for your brokerage.
Wise Agent Pros
The landing page wizard is a great add-on to the usual CRM functionalities. It's intuitive and easy to learn and allows you to create multiple landing pages easily.
The software was designed with realtors and brokerages in mind, so the software caters to most of the functions that you'd need.
Wise Agent has over 70 direct integrations with third-party apps like DocuSign, Mojo Dialer, and more. Whether it's email, social media, or landing pages, this app has it all covered.
Wise Agent Cons
The transaction management in Wise Agent is good but less robust than dedicated transaction management software. This could pose a challenge if you need a lot of clarity around transaction management.
The user interface can have better graphics. While the UI is indeed functional, Wise Agent doesn't offer a mobile app. The website merely resizes to fit your mobile phone.
Read more: Real Estate CRM — Everything You Need to Know
2. HubSpot

Founded in the year 2006, HubSpot offers a comprehensive Marketing Hub and CRM solution for inbound marketing.
The Marketing Hub comes with tools for social media management, email marketing, landing page builder, content management, and search engine optimization (SEO).
But, what features make it useful for realtors? Let's break it down.
HubSpot Pros
HubSpot offers excellent pre-built workflow templates that can be used along with automation. Whether you're a solo real estate agent or a part of a brokerage, HubSpot allows you to automate key workflows across marketing channels.
There are excellent analytics and marketing reports that help you boost your inbound marketing processes. This helps with lead generating and nurturing 'cool' leads.
All your contact lists, customer information, and property information can be accessed from a single, easy-to-use dashboard. You can quickly pull up a history of communication with clients to give them a more personalized customer experience.
There are also great options for integrations with third-party apps like Zillow to ensure that all your marketing channels are available on the same dashboard.
Navigate through the top HubSpot competitors with our expert guide. Learn about each software's pros, cons, and pricing.
HubSpot Cons
Many alternatives to HubSpot offer similar functions at a fraction of the cost.
Focusing on the SalesHub or MarketingHub alone may not be the best option for realtors. HubSpot works best when you use the all-in-one platform, where sales, marketing, and customer service teams sync seamlessly. However, this may increase costs, especially as you scale up.
If you wish to cancel your HubSpot subscription, HubSpot does not send a refund for the rest of the subscription period. So, ensure you double-check all your must-have features before signing up.
Read also: HubSpot Pros And Cons — A Candid Assessment
3. EngageBay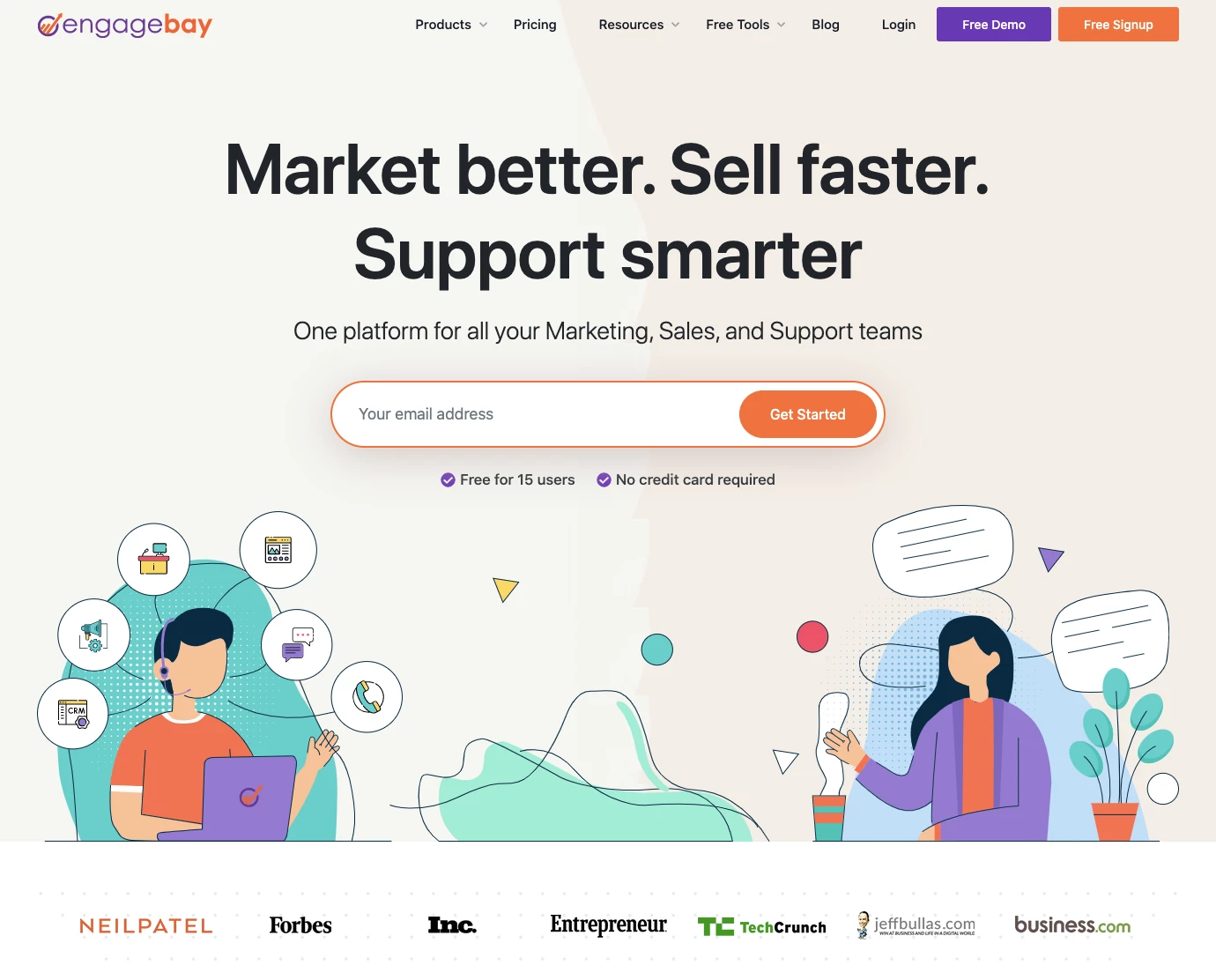 EngageBay is a simple yet powerful all-in-one platform for marketing, sales, and service automation that comes with a free CRM.
Launched in 2017, the platform has emerged as one of the leaders. Whether you need to set up a marketing campaign to nurture more leads or resolve customer complaints quickly, EngageBay's platform can help realtors do this and more.
Let's look at the pros and cons list for realtors and real estate brokers.
EngageBay Pros
With EngageBay, you can manage your sales, marketing, and customer service in one dashboard. The seamless integration between these areas ensures that realtors can save time and energy while improving accuracy.
There are powerful workflow optimization options that allow automation of important yet repetitive tasks. You can build your workflows and set up triggers for automated emails or push notifications.
While this platform can be useful for large enterprises, EngageBay is popular among SMBs looking for a comprehensive CRM and automation platform without breaking their bank account.
The user interface is intuitive and modern. There is a small learning curve, but it gets very easy once you've got the hang of working with this platform. The free onboarding process ensures minimal time spent on training and onboarding for your team.
You also have the option of A/B Testing your landing pages, emails, and social media posts. And, there are comprehensive analytics and reports for your marketing, sales, and customer service strategies.
EngageBay Cons
There are a limited number of templates for creating landing pages, which can be improved.
Read also: Selling Homes in Style: 29 Unique Real Estate Marketing Ideas
4. REI Blackbook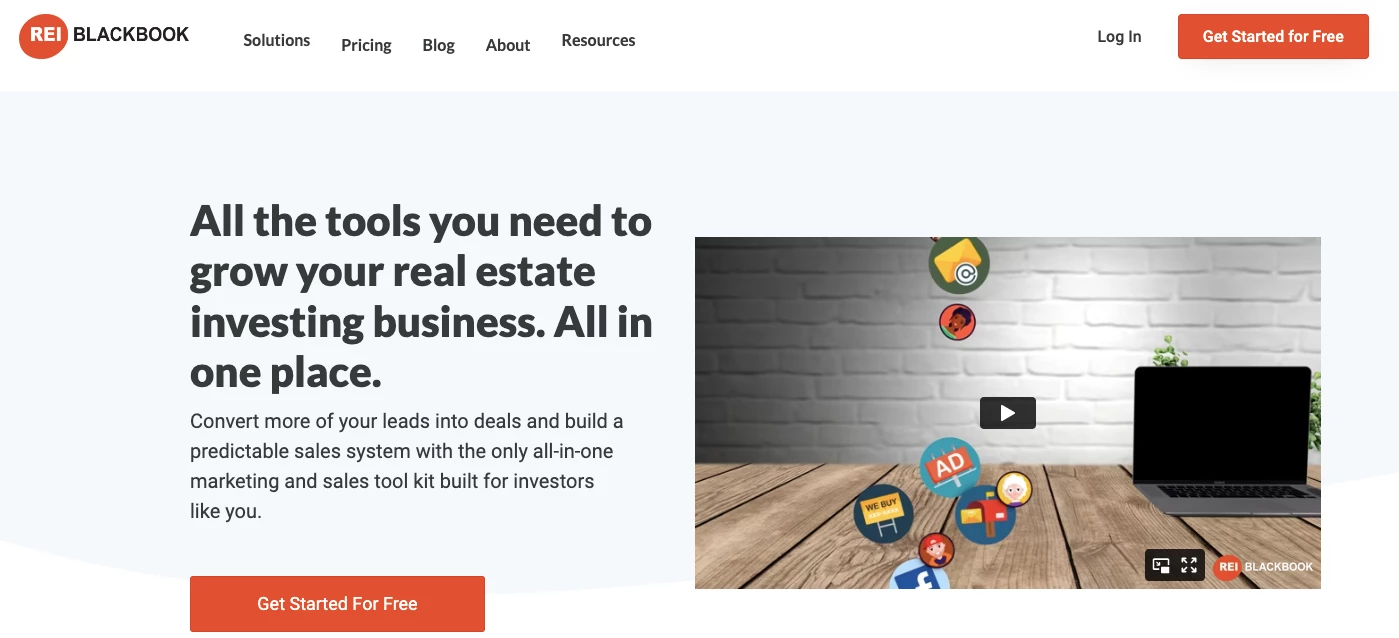 REI Blackbook is a cloud-based CRM and automation tool specifically designed for real estate agents, brokers, and investors. The platform helps realtors and investors grow their real estate portfolios.
For investors, REI Blackbook offers features like finding and following up with leads for property listings and steps to closing the deal on that property.
The CRM functionality works well for brokers and agents with its automation, workflow management, and lead generation features.
REI Blackbook Pros
One of the stand-out features of REI Blackbook is the property investment analysis tool. You have access to a property pipeline, where you can predict costs like repair costs or insurance charges and run comps to find out the final value of the property after all expenses. It makes it easier to calculate the profitability of any property deal.
You have integrated options for property marketing. That means, for each property you'd be able to create and manage landing pages, email templates, social media posts, text messaging, and ringless voicemail from the same dashboard.
There are several videos, and online modules to learn how to use REI Blackbook. It's not too difficult, which is also an advantage for realtors.
REI Blackbook Cons
As your company scales up, you may have to purchase add-ons. This may increase your monthly costs.
There is no mobile app.
Pricing Plans at a Glance
| | | | | |
| --- | --- | --- | --- | --- |
| | Wise Agent | HubSpot Marketing Hub | EngageBay all-in-one Platform | REI Blackbook |
| No. of Pricing Plans available | 3 (no free plan) | 4 (including free plan) | 4 (including free plan) | 3 (no free plan) |
| Starter Plan | $ 32/month | $50/month | $12.74/user/month | $97/month |
| Mid-Tier Plan | $ 326/year | $890/month | $42.49/user/month | $197/month |
| Premium Plan | Custom Pricing | $3,200/month | $84.99/user/month | $297/month |
| Free Trial | 14-Day Free Trial | 14-Day Free Trial | Lifetime Free Plan, no Trial | 14-Day Free Trial |
Read more: What is a CRM in Real Estate? Cheat Sheet for Realtors
5. IXACT Contact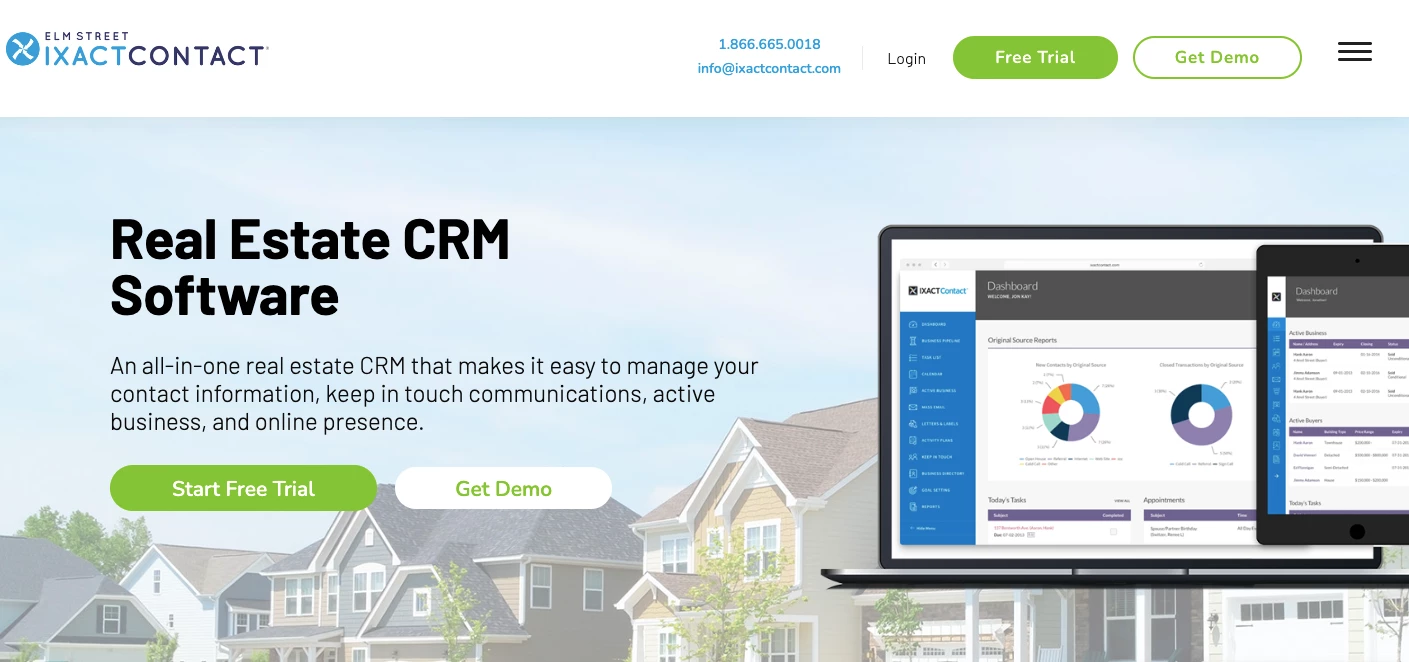 IXACT Contact is a great option, especially if you are a new realtor or agent. With IXACT Contact, realtors can access marketing and sales automation, landing page and website builder, and a lengthy trial period.
Let's take a look at the pros and cons in greater detail.
IXACT Contact Pros
It's especially useful for realtors who are just starting out. They offer a 'Rookie Agent' program, where you have access to personalized setup and onboarding support, extensive email and landing page templates, and a success guide. The success guide lists step-by-step guides for realtors to close more deals.
There are great advanced tools for tagging and segmenting your contact list, making it easier for you to send personalized messages to different customer segments.
You can upgrade to an Internet Data Exchange (IDX) website after an add-on payment. You can pay an additional $19/per month for a basic IDX website. This includes a website with a photo gallery, a search widget, and an IDX listing page. For an additional $39/month, you can set up a professional IDX website that includes all the features mentioned above, plus polygon search, map search, community pages, and sold/pending listings.
They offer hundreds of email templates that can come in handy for new realtors. You can set up automated email or drip campaigns using these templates.
IXACT Contact Cons
It currently has no features for commission calculation and tracking, which can be tricky for new realtors to manage.
It's a great tool to use, but it lacks extensive options for customizations. If you're looking for a real-estate-specific CRM with more customization options, then Wise Agent may work for you. But really, it depends on your marketing needs as a company.
Read also: 20 Real Estate Email Marketing Templates [Ready to Send]
6. Zillow Premier Agent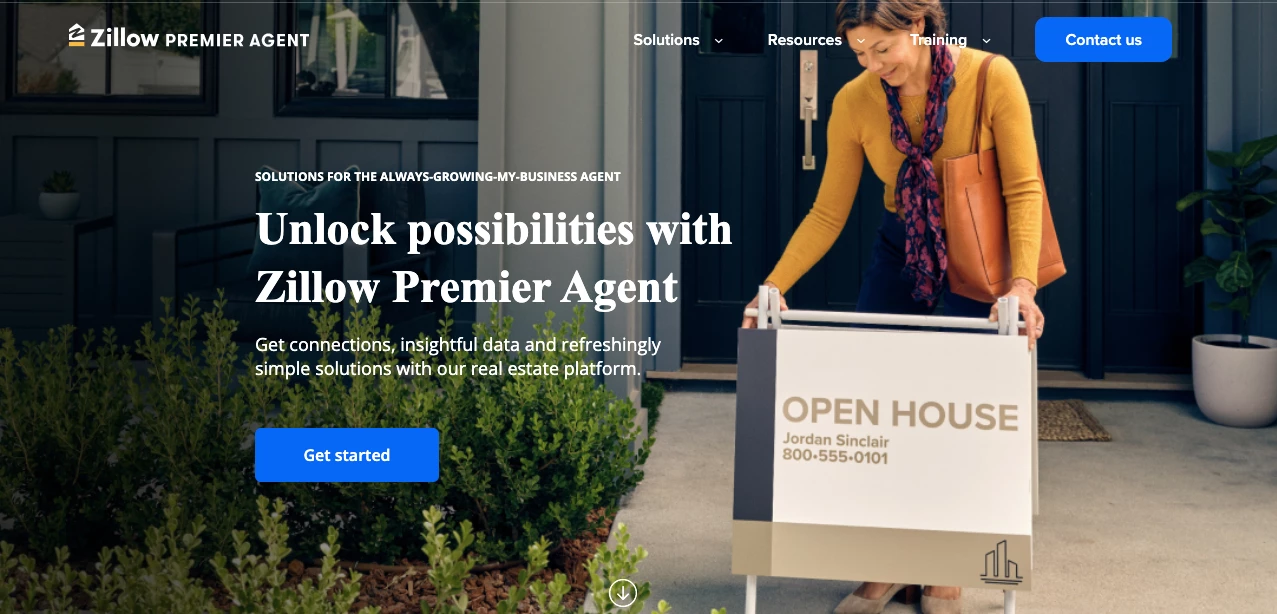 People hardly need an introduction to Zillow! Zillow Premier Agent is a great option, especially if you're a brokerage scaling up and looking to boost lead generation. But, Zillow Premier Agent works a bit differently than the rest.
Once you sign up for the Zillow Premier Agent CRM, your details appear whenever a prospect searches for a property listed by you.
But, the catch is that these leads will be able to view and contact all the agents listed for a particular property.
It's up to the prospect to choose their agent. Each lead is first verified by a Zillow representative. This makes sure that only serious buyers are transferred to you.
Let's break down some of the pros and cons.
Zillow Premier Agent Pros
Increased listing exposure to more than a million prospects. Not only that, there's a system that verifies the quality of each lead before they're transferred to you.
Each agent who signs up for Premier Agent gets access to create or re-build their website using WordPress.
As long as you purchase your place for each ZIP code, you will be advertised on Zillow without any manual effort from your end. You may be featured on the Agent Finder page, or your details will show up when a prospect views a listing.
👉Ready to elevate your real estate email marketing? Our blog post provides 20 templates waiting to be personalized and sent. Explore now!✌️
Zillow Premier Agent Cons
The pricing for Zillow Premier Agent is different for each ZIP Code. This means that bigger cities would have a higher cost for Zillow Premier Agent. And, some high-demand ZIP codes may not have spots for new realtors because the market is already saturated.
You'll pay all the advertising and membership costs upfront, whether or not you end up converting those leads.
Read also: Real Estate Landing Pages: 8 Beautiful Examples
7. Zoho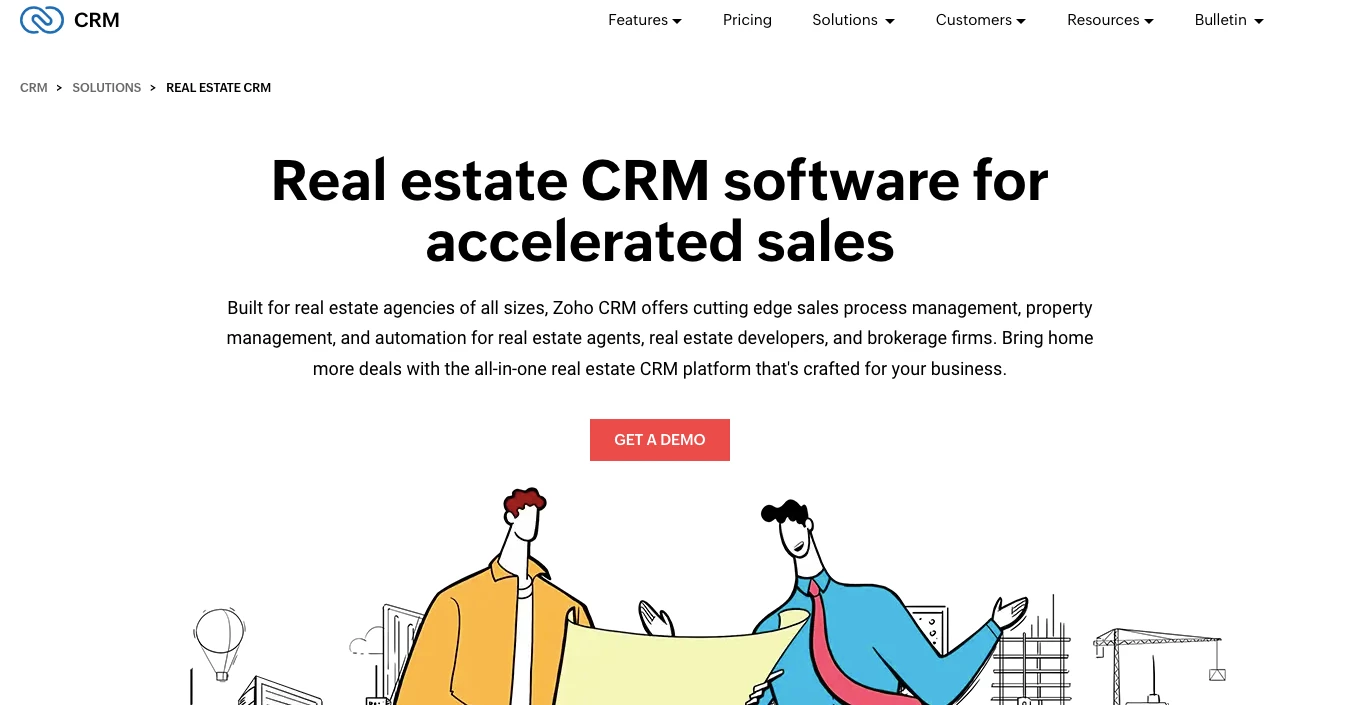 Zoho is one of the leaders when it comes to cloud-based CRM systems that won't burn a hole through your pocket. It's a unified platform for your marketing, sales, and customer service teams in one intuitive dashboard.
Let's break down the pros and cons of Zoho for realtors and brokerages.
Zoho Pros
It's easy to import your contact list from other databases. The user interface is intuitive and effective as well. Zoho's ease of use is one of its best features that makes it so easy to use.
Zoho offers easy integrations with over 500 third-party apps, which makes it easier for realtors to manage all their channels through the same dashboard.
The pipeline management feature is also quite intuitive and easy to learn. This makes segmenting your contact list and communicating with them much easier.
Zoho generally updates regularly, with better and more intuitive features that are added regularly. This is a plus, especially if you're looking for a CRM system that will scale as your brokerage grows.
Zoho Cons
The onboarding process is only available for the paid plans. If you choose the free plan, there won't be any vendor-led onboarding for your team.
They currently do not offer a chatbot feature for websites. So, if a chatbot is a non-negotiable for you, then you might have to keep searching.
Read also: Zoho Alternatives: CRM Solutions You Can't Avoid
8. Salesforce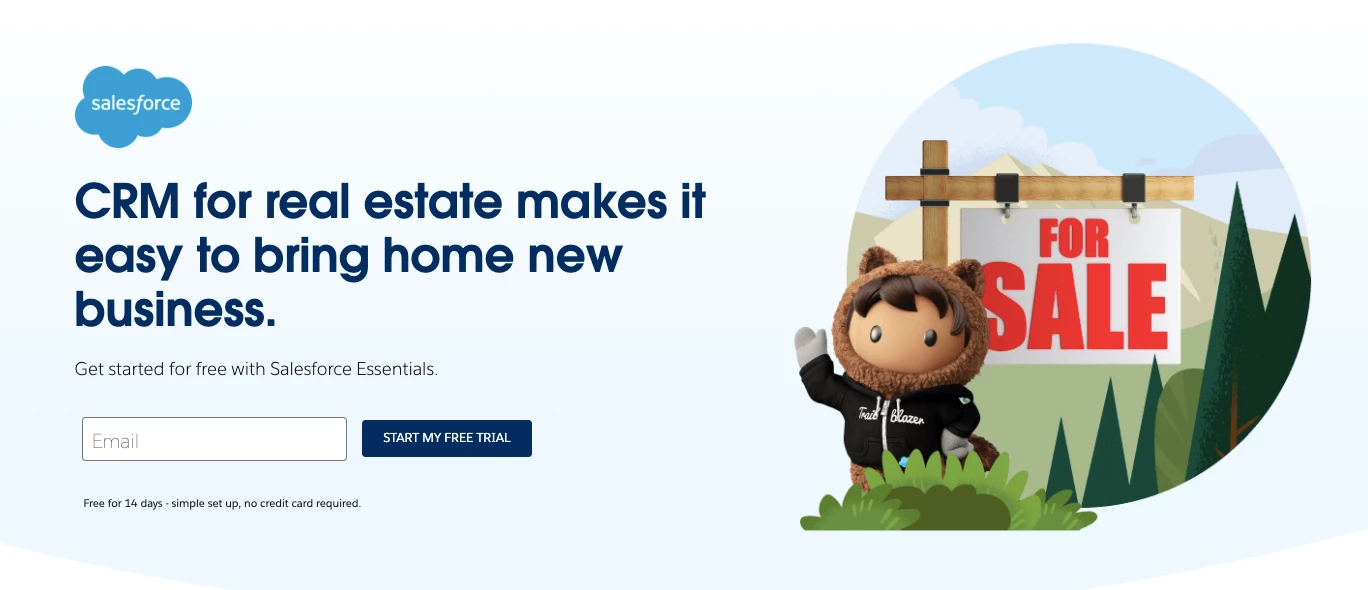 Salesforce is one of the pioneering CRM solutions launched way back in 1999. Big players like Google, McDonald's, and Adidas have been known to use Salesforce.
Let's break down the pros and cons to see if it would be the right fit for your needs.
Salesforce Pros
It's a tried and tested platform with over 20 years of experience in the growing CRM market. Online reviews consistently mention how reliable Salesforce is as a platform.
Salesforce is a great option for you if you're looking for powerful workflow automations and extensive live reporting on the status of your sales and marketing campaigns.
If you're a large brokerage or are scaling up rapidly, Salesforce is great for you. There are extensive customization options when it comes to workflows.
You have integrations with over 1,000 third-party apps that make it easier for you to manage multiple channels from one dashboard.
Salesforce Cons
Salesforce is one of the most expensive CRM solutions out there. You're likely to find similar features at a reduced price if you look for alternatives. Unless you're a large brokerage, Salesforce may not be the best choice for your needs.
Since you'll be entirely dependent on the Salesforce cloud server, there may be some downtime for maintenance purposes. And this may be entirely out of your hands.
There is a steeper learning curve to master Salesforce when compared with other CRM solutions.
Pricing Plans at a Glance
| | | | | |
| --- | --- | --- | --- | --- |
| | IXACT Contact | Zillow Premier Agent | Zoho | Salesforce |
| No. of Pricing Plans available | 3 (no free plan) | Variable Pricing Plan depending on ZIP Code. You'll have to contact the vendor for more information. | 5 (including free plan) | 4 (no free plan) |
| Starter Plan | $ 33/month | N/A | $12/user/month | $25/user/month |
| Mid-Tier Plan | $ 55/month | N/A | $20/user/month | $150/user/month |
| Premium Plan | $90/month | N/A | $35/user/month | $300/user/month |
| Free Trial | 5 Week Free Trial | No Free Trial | 30-Day Free Trial | 14-Day Free Trial |
Read more: 15 Easy Steps to Start Real Estate Email Marketing Like a Pro
9. Pipedrive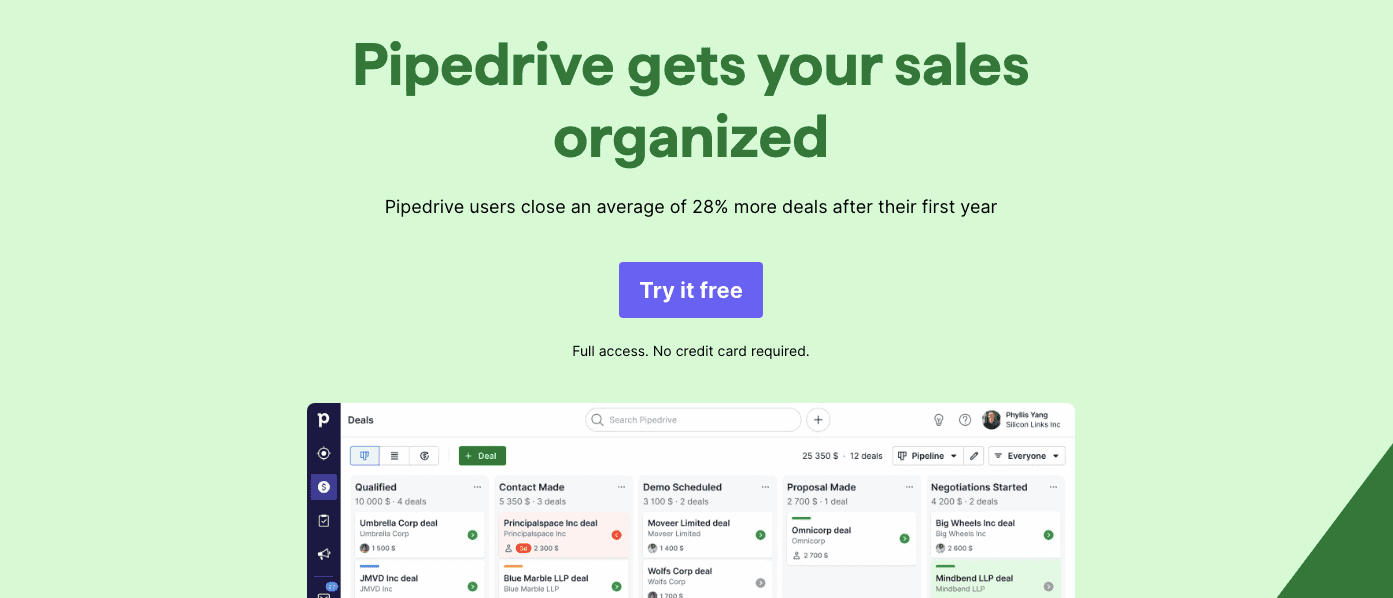 Pipedrive is a CRM platform that was created by people in sales for sales teams to maximize their performance.
Since its inception in 2010, Pipedrive has been one of the fast-growing CRM solutions in the market today. Pipedrive is known for its affordability and is particularly popular among small and growing businesses.
Pipedrive Pros
Pipedrive, as the name suggests, is known for its excellent sales pipeline visualizations and easy segmentation. You can add customized fields to personalize your sales pipeline on the go.
The live reporting and analytics feature is one that users swear by. Their accurate analytics helps sales and marketing teams make data-based decisions that are actionable.
You get a machine-learning-assisted sales assistant on even the lower-tier pricing plans. This can be of great help to team leads.
There is no free pricing plan, although it comes with affordable paid plans that won't blow a hole through your budget.
Pipedrive Cons
In terms of customer support, you can only support over the telephone in the premium plans.
Pipedrive doesn't have automatic email sync with your contact list unless you pay for the premium plan. If you need extensive email marketing campaigns, you may have to integrate with a third-party email marketing app.
Read also: 6 Perfect Pipedrive Alternatives With Better Tools
10. Propertybase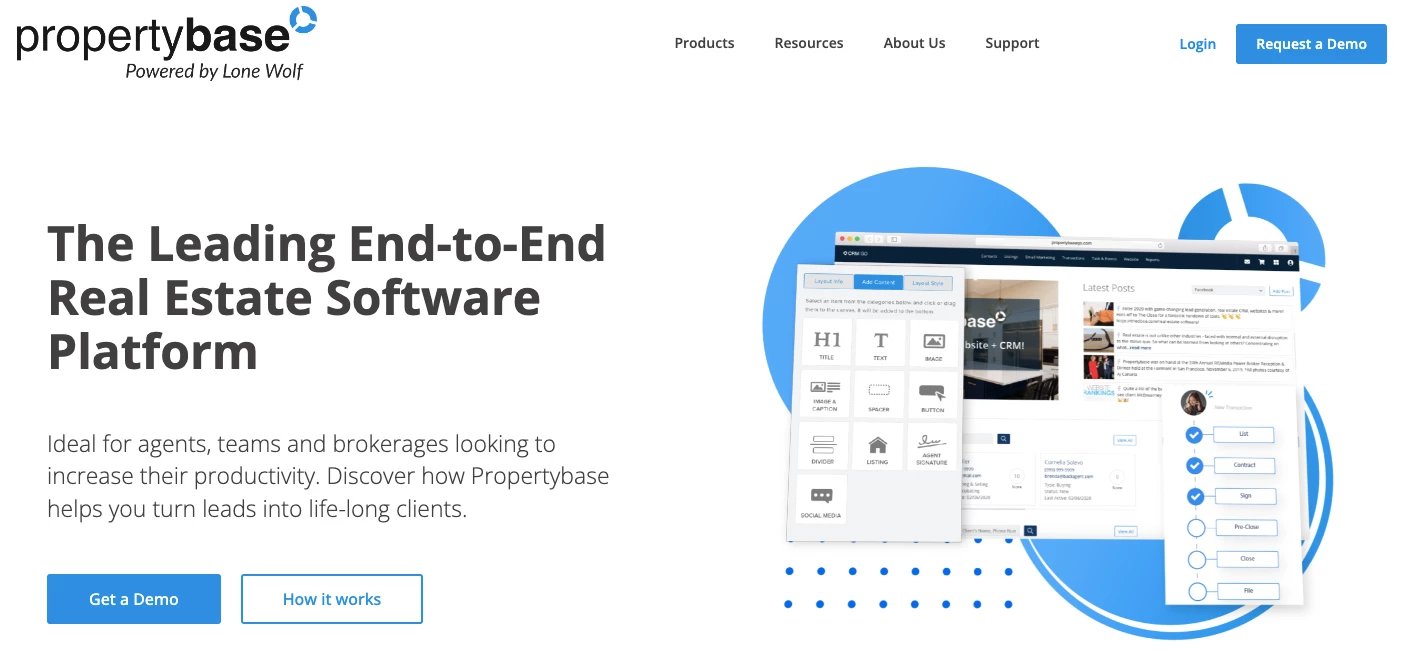 Propertybase is an all-in-one CRM platform. It has features that most real estate marketers would need.
This includes web design, lead generation and nurturing tools, marketing plugins, transaction management, workflow automations, and a customized Salesforce-based CRM.
Let's see if it could be the right fit for your brokerage or real estate firm.
Propertybase Pros
It offers MLS integrations for faster and more efficient property management. This is a huge pro for realtors and brokerages that are rapidly scaling up.
It offers pre-built website builders that make creating and maintaining your real estate website a piece of cake.
There are transaction management features like e-signatures and automated transaction management.
With Propertybase, you can easily sync your email contact lists to set up automated email marketing campaigns, including drip campaigns.
Propertybase Cons
It has a relatively expensive pricing plan compared to other CRM solutions offering similar features and integrations.
Some important transaction management and lead management features are only available in the premium plans.
There are minimal options for customization of your workflows and your dashboard.
Read more: Real Estate Marketing Automation — A Guide for Real Estate Agents
11. LeadSquared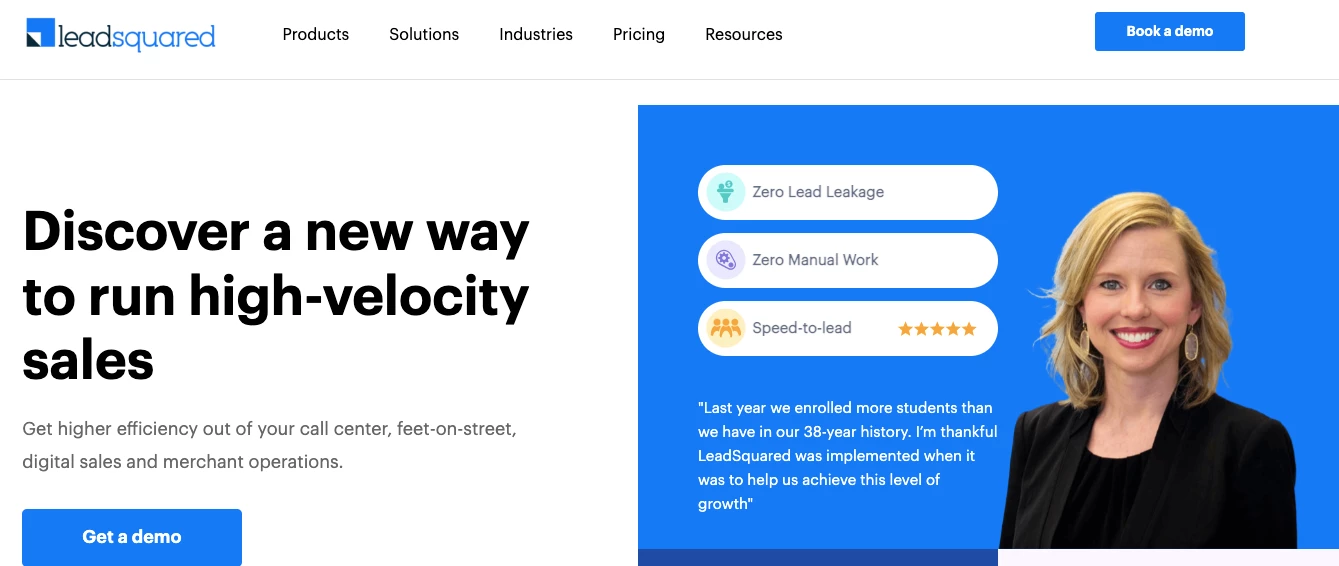 LeadSquared is one of the more popular end-to-end customer acquisition solutions. It's well-suited for small and medium enterprises. It combines the standard features of a CRM solution with automation capabilities.
But is it right for you? Let's find out.
LeadSquared Pros
LeadSquared has established itself as a leader when it comes to lead management. On the dashboard, you get a bird's eye view of the sales funnel, lead stages, and lifecycle stages. This ensures that fewer new leads slip through the cracks.
Creating and automating email marketing processes like drip campaigns become easier with LeadSquared. Most users report their email automation tools as excellent.
The user interface is very intuitive and easy to grasp. This means less effort and time is spent on training your team during the onboarding process.
LeadSquared features a developer-friendly API that makes it easier for you to connect your lead generation websites and existing systems to LeadSquared.
LeadSquared Cons
The reporting and analytics section can be improved. For example, scheduling reports in multiple formats like PDF, EXI, or CSV is not possible.
There's no option for you to run A/B Tests or Multivariate tests for emails or landing pages, even in the premium plans.
Read also: Real Estate Marketing Automation: A Guide For Real Estate Agents
12. Real Office 360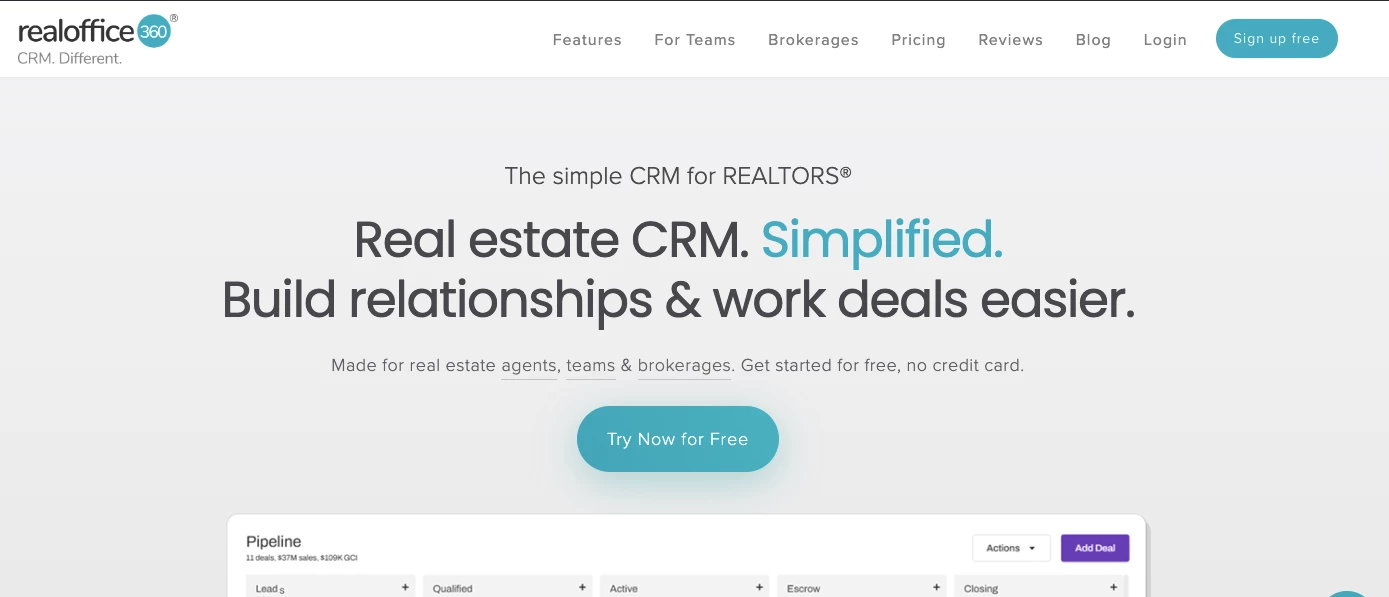 Real Office 360 is a cloud-based CRM solution developed with realtors and real estate brokerages in mind.
Some realtors report that CRM systems designed for other industries (like eCommerce) don't work as well in the real estate industry.
It also has pre-built templates and workflows that specifically cater to the real estate industry.
Real Office 360 Pros
It has a comprehensive lead management system that allows you to enter as many contacts as you need. Unlimited storage is a must when your firm is scaling up.
The sales pipeline visualization is versatile and intuitive. You can track each lead at every stage of the customer lifecycle.
The user interface is clean and very easy for rookies to master quickly. There's minimal training required during the onboarding process.
Surprisingly, Real Office 360 also offers one of the best website builders for real estate, with IDX and MLS integrations, premium design templates, and SEO tools.
Real Office 360 Cons
There are email integrations with third-party apps like Mailchimp. But, some users report glitches and problems with running drip campaigns.
Currently, you don't have the option to send out group emails without integration with third-party apps like Mailchimp. The company plans to add this feature shortly, so that's great. Although, you might want to wait until the launch if this is an important feature for you.
Pricing Plans at a Glance
| | | | | |
| --- | --- | --- | --- | --- |
| | Pipedrive | Propertybase | LeadSquared Sales & CRM Plans | Real Office 360 |
| No. of Pricing Plans available | 4 (no free plan) | Custom Pricing only | 3 (no free plan) | 4 (no free plan) |
| Starter Plan | $14.90/user/month | N/A | $25/user/month | $9/month for 1 user |
| Mid-Tier Plan | $24.90/user/month | N/A | $50/user/month | $40/month for 2 users |
| Premium Plan | $99/user/month | N/A | $100/user/month | $95/month for 5 users |
| Free Trial | 14-Day Free Trial | No Free Trial | No Free Trial | Yes, but no data is available on the duration of the trial period. |
Read more: 8 Best Email Marketing Software for Real Estate in 2023
Which CRM Solution Would Be Best For You?
If you see any article online that gives you a one-size-fits-all answer, they're probably just promoting themselves.
The truth is, every brokerage needs to assess its own needs first before choosing a real estate CRM solution that they actively benefit from. We can give you signposts and green flags to look out for, but we can't make this decision for you.
Remember to always go for the free trial if they offer one to ensure it works.
Here are some questions to help you decide.
What functions am I going to use the CRM solution for? Am I mainly interested in lead generation, or do I need powerful marketing automation? Make a list of your non-negotiable features.
How many contacts do I have? At what rate is my contact list expected to expand in the coming months? How many users from your team will be using the software? This is important because most CRM vendors calculate the monthly cost based on the number of contacts or users.
Do I want a cloud-based or an on-premise solution?
Which third-party integrations are important for me? And, what are possible additional costs for add-ons, integrations, or premium designs/templates?
What key KPIs (Key Performance Indicators) will you need to track? What features can help me save time with reports and analytics?
With these key considerations, you'll be able to make the right decision for your real estate brokerage or firm.
Let us know your experience using CRM in real estate in the comments below, and add to the conversation! We'd love that.