AWeber Pricing lies somewhere in the middle when compared with other email marketing tools – it's neither too high nor too low. Starting at $19.99 per month, it provides features that help small business owners grow their revenue and drive traffic by delivering personalized, professional, and targeted emails to their customers.
For over 20 years, the email marketing and automation software has been providing useful features like landing pages, email analytics, and customizable templates. These features – and many more – enable you to you connect with your customers across various channels.
Is AWeber the right option for you? Does it have the necessary features you need to increase your ROI? Are the pricing plans within your marketing budget?
This article answers these questions and helps you determine if AWeber is the perfect fit for your business (if it isn't, you may need to either step down to a lower tool or migrate to another platform with more advanced functionalities).
We cover AWeber pricing plans, the features you stand to gain, the good sides and drawbacks, and other alternatives with unique functionalities.
What is AWeber?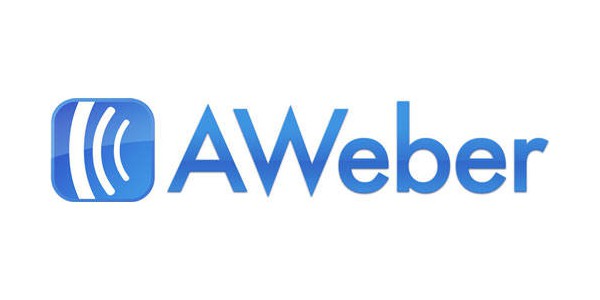 AWeber is a cloud-based digital marketing solution with well-built features that enable email marketers to connect with their subscribers and manage their email lists. It supports a wide range of functionalities for designing newsletters, creating sign-up forms, sending automated emails, and building landing (sales) pages for your eCommerce store.
The email service provider uses the data from your customer relationship management (CRM) software to personalize your marketing campaigns and help you send the right messages to the right recipients.
Founded in 1998, AWeber has helped over 100,000 small businesses including Marketplace SuperHeroes, GoEdison, Patriot Chimney, and Scribe Media
Moreover, the SaaS-based platform has a relatively affordable pricing model that makes it more suitable for small businesses and startups across various industries. It supports integrations with a wide range of third-party tools and applications.
Read also: Aweber vs Getresponse vs EngageBay — Which MA Tool is Best?
AWeber Pricing
How much does AWeber cost?
AWeber goes for as low as $19.99 per month. Although it has a free plan, the features are basic and they come with many limitations. The pricing lies somewhere in the middle of the email marketing tools spectrum.
AWeber has two major pricing plans – Free and Pro. It charges you based on the number of subscribers you have rather than the number of emails you send. But here's the catch – you still have to pay for contacts who unsubscribed from your list, as well as, contacts on multiple lists.
To avoid overages, you have to manually remove contacts who are still on your list, or else AWeber will charge you for keeping them.
AWeber doesn't have a free trial. If you want to try out the basic features, you can sign up for the free plan. You, however, have a limited number of subscribers and email sends – capped at 500 and 3,000 respectively. Whereas, the Pro plan supports unlimited email send and makes provisions for increased subscribers.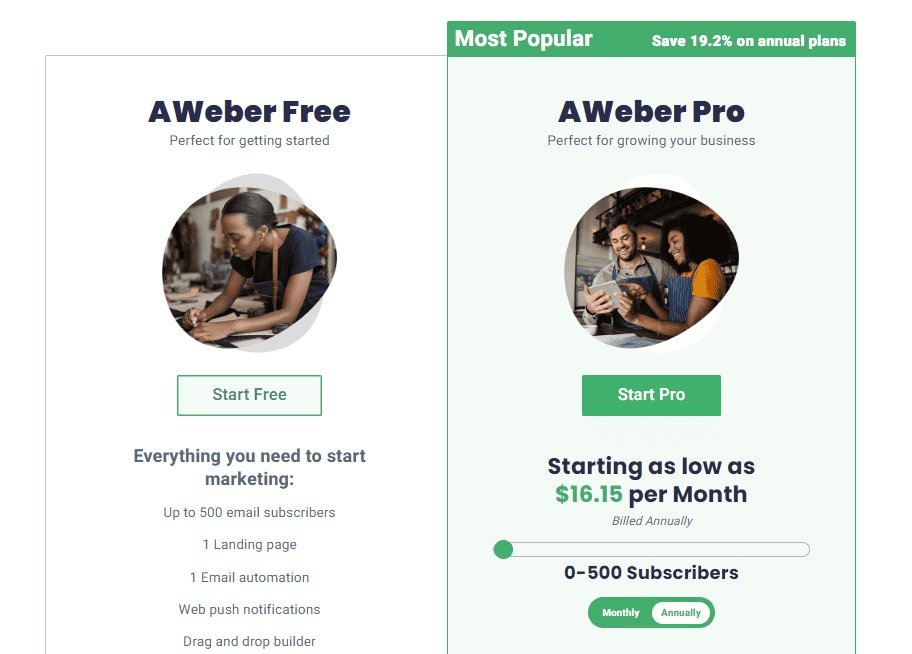 AWeber Free: $0
AWeber's free plan offers basic features with lots of limitations and as you scale, you may need to upgrade to the paid plan. It is suitable for most small business owners or eCommerce marketers who are either on a low budget or are new to email marketing.
AWeber Free supports a wide range of features such as mobile responsive email templates, dynamic content, a drag-and-drop editor, and free stock images. It also has robust eCommerce functionalities that allow you to create landing, sales, and checkout pages to promote and sell your product/services.
Since your customers may not always be on your platform, you can set up web push notifications that provide a direct engagement channel to reach your customers even when they are not using the tool – as long as they have their browsers open.
Like every other tool's free plan, AWeber Free comes with several limitations and restrictions that may reduce your chances of scaling.
It is capped at 500 subscribers and 3,000 monthly email sends.
Once you exceed this amount, you will have to upgrade to a paid plan for continued use. Other limitations include no split testing for emails and sign-up forms, no advanced analytics and tracking, 1 landing page, and 1 email automation.
Also, the free plan still bears AWeber branding, so your customers will see it whenever you send your emails.
Read also: What is MailerLite? Reviews, Pricing, Pros and Cons, Alternatives
AWeber Pro: $19.99
This is AWeber's advanced plan and it supports all features in AWeber Free, alongside other premium features.
It also removes all restrictions that come with the free plan and unlocks more advanced functionalities including unlimited email sends, landing pages, and email automation. AWeber Pro gives your emails a professional look by removing their branding.
Other top-tier features in the pro plan include advanced analytics, sales tracking, and email split testing. As your business grows, you will need to expand your functionalities with these advanced features.
Although it starts at $19.99, you get additional charges as your subscribers increase – Aweber charges you based on the number of contacts on your email list. It offers monthly, quarterly, and annual payments (you get discounts when you pay quarterly or annually). Students and non-profit organizations also get discounts, too.
Number of subscribers
Monthly billing (per month)
Annual billing (per month)
0-500
$19.99
$16.15
501-2,500
$29.99
$26.15
2,501-5,000
$49.99
$46.15
5,001-10,000
$69.99
$66.15
10,001-25,000
$149.99
$146.15
25,001 & above
Contact sales for a custom quote
You can start for as low as $19.99 per month for 500 contacts. But as your contacts increase, AWeber adds additional charges. Once you get to 25,000 contacts, the sales team will give you a custom quote and a dedicated account manager.
Both the free and paid plan support integrations with third-party applications like Facebook, PayPal, WooCommerce, Shopify, WordPress, etc.
Read also: AWeber vs Mailchimp and Other Email Tools
AWeber Free vs AWeber Pro Comparison
| | | |
| --- | --- | --- |
| | Aweber Free | Aweber Pro |
| Starting price | $0 | $19.99 |
| Subscribers | 500 | Unlimited |
| Email sends | 3,000/mo | Unlimited |
| Integrations | Yes | Yes |
| Advanced analytics and tracking | No | Yes |
| Landing pages | 1 | Unlimited |
| Split testing | No | Yes |
| Dynamic content | Yes | Yes |
| AWeber branding | Included | Removed |
Read also: Pardot Pricing, Features, Reviews, and Affordable Alternatives
AWeber Features: What is AWeber Used For?
AWeber is used as an email marketing software to help business owners connect and engage with their customers by delivering timely and targeted emails to subscribers. It has robust features that enable you to grow your email list and interact with your subscribers across various channels.
Starting at $19.99 per month, the features include:
Email marketing
Email automation
E-commerce
Web push notifications
Sign-up forms and landing pages builder
1. Email Marketing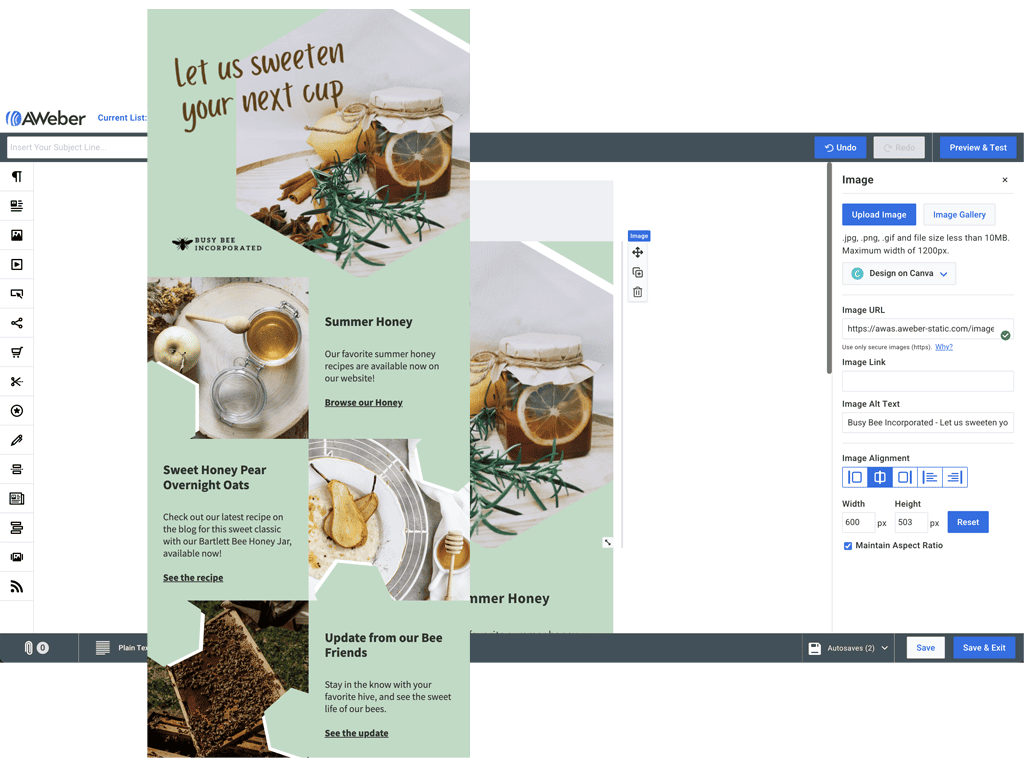 AWeber's email marketing tool helps you run successful email marketing campaigns, grow your email list, and improve your customer relationship. You can create beautiful emails in a few clicks with AWeber's pre-built email templates. It also integrates with Canva to help you design beautiful images and boost your engagement.
Moreover, you have a collection with thousands of free, high-quality stock images to make your emails more attractive. The drag-and-drop editor lets you build custom layouts to suit your business needs and design. And with dynamic content, you can send targeted messages to your customers based on their behavior and interests. With high email deliverability, AWeber ensures your emails get to your subscribers' inboxes, and not the spam folder.
Read also: 8 Best Email Marketing Software for eCommerce in 2023
2. Email automation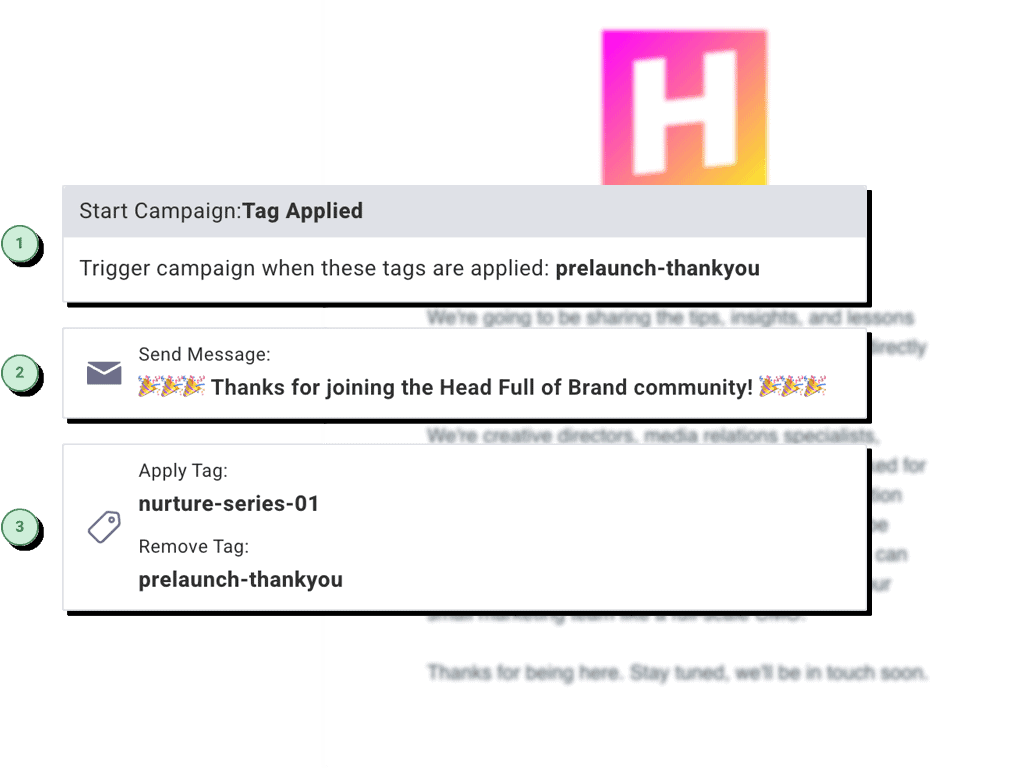 The email automation feature allows you to automate repetitive and mundane tasks, and as well, gives you more time to connect with your customers. The drag-and-drop editor, this time, helps you build automated sequences.
This, alongside proper segmentation and personalization, allows you to send triggered and targeted emails based on your subscribers' behavior and preferences.
A few examples of automated emails include:
Welcome emails
Thank you emails
Cart abandonment emails
Onboarding emails
Promotional emails, etc.
Also, there's the advanced reporting feature that lets you track your click-through and open rate, and as well, monitor your performance over time.
Read also: New Email Marketing Trends — Automation and More
3. E-commerce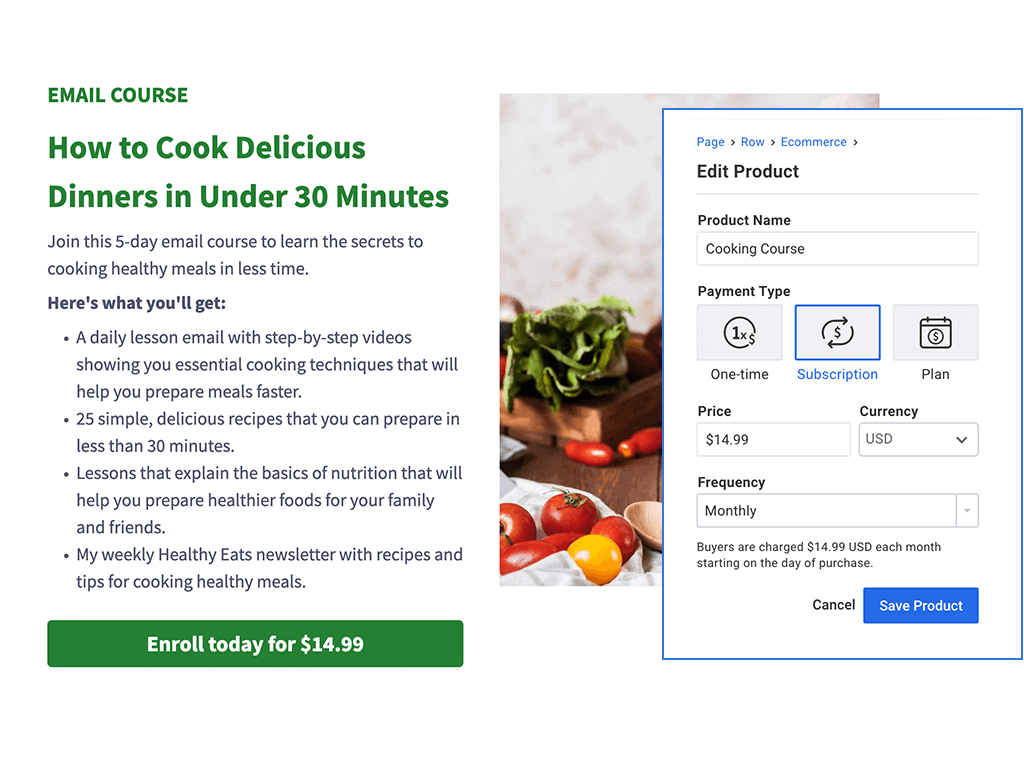 AWeber's eCommerce features let you sell your products, courses, services, training, eBooks, etc., to your customers, as well as, receive payments without jumping from one tool to another. With this feature, you can boost your revenue and increase your earnings by promoting your products and driving traffic to your pages.
The SaaS solution doubles as a mini eCommerce store that enables you to create sales pages for promoting new or old offers, as well as, checkout pages for completing online purchases. With email marketing and automation functionalities, you can boost your sales by sending promotional emails, cart abandonment emails, and offering cross-sells and upsells.
There are over 100 pre-built templates that save you hours by providing responsive sales and checkout pages in minutes.
AWeber has low transaction fees (about 0.6% per transaction) as opposed to other eCommerce platforms that are way higher than that. The platform also lets you set up custom payment plans ranging from one-time payments to monthly subscriptions, etc., to help your customers choose the most suitable plan that meets their needs.
It further supports payments in over 100 currencies and integrates perfectly with PayPal to help you receive your payments without hassles.
Read also: 9 Amazing Marketing Automation CRM Software [Comparison Table]
4. Web push notifications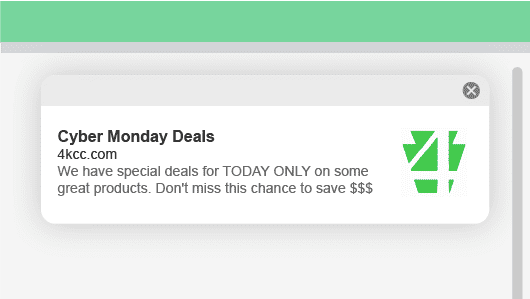 With web push notifications, you can engage and connect with your audience even when they are not using your software. The short, clickable notifications pop up on your subscribers' desktops whenever they open their browser, and immediately they click on it, they are automatically redirected to a landing page, sign-up form, blog post, sales page, etc.
Web push notifications let you send time-sensitive and instant messages to keep your customers updated about any recent changes. The messages expire after 24 hours, so your subscribers have to be online to see them.
Read also: Answered: 10 Questions About SendGrid Pricing
5. Sign-up form and landing page builder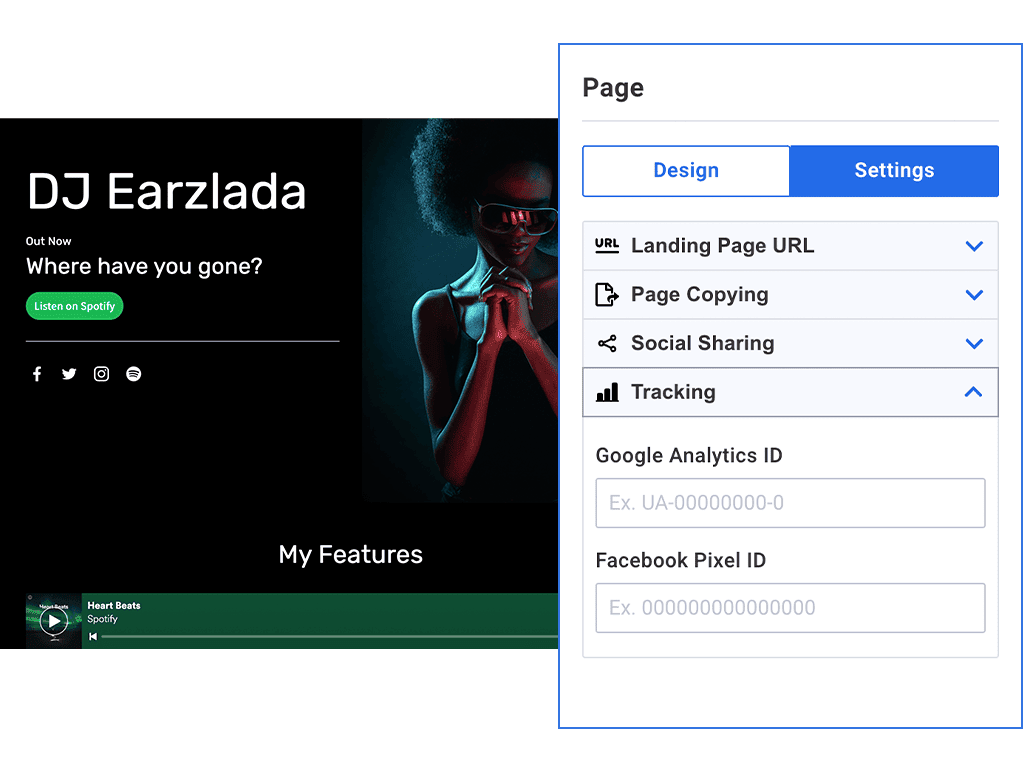 With the easy-to-use sign-up forms, you can increase your subscribers and grow your email lists. From a library of pre-built templates, AWeber lets you create attractive sign-forms that will help you collect the necessary details from your online visitors.
The A/B testing tool shows you the forms with the highest conversion rate, giving room for making improvements. If you need a custom sign-up form, you can get your hands dirty with code by adding the raw HTML version to any custom segment in the 'body' of the page.
Like the sign-up forms, you can also create professional landing pages to promote your products and services. AWeber has beautifully designed, pre-built templates that improve your lead conversion and helps you reach your audience across various channels (e.g., Facebook).
Read also: 14 Stunning eCommerce Landing Page Examples (With Expert Tips)
AWeber Pros and Cons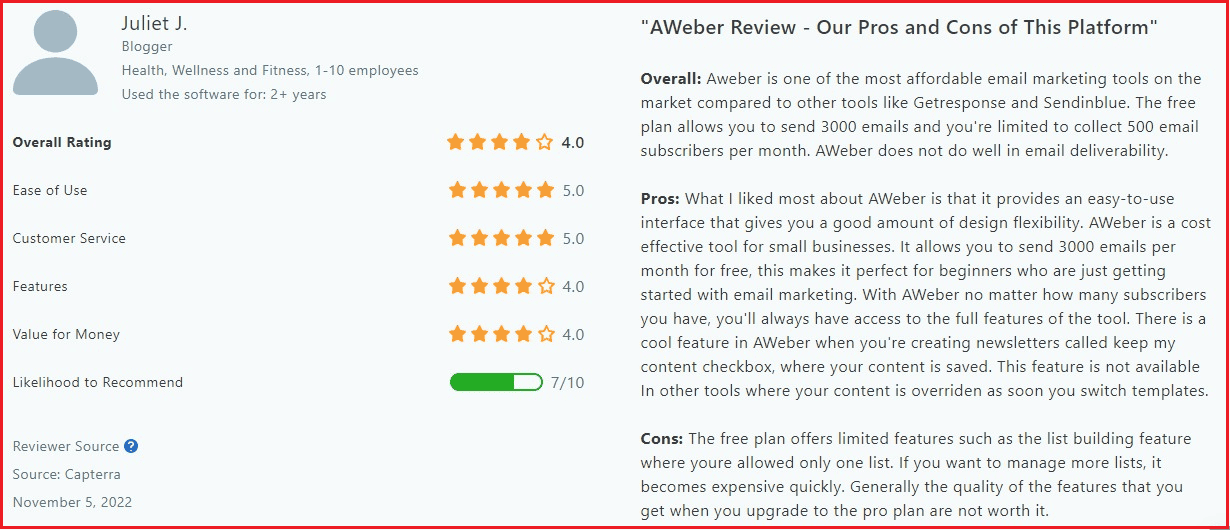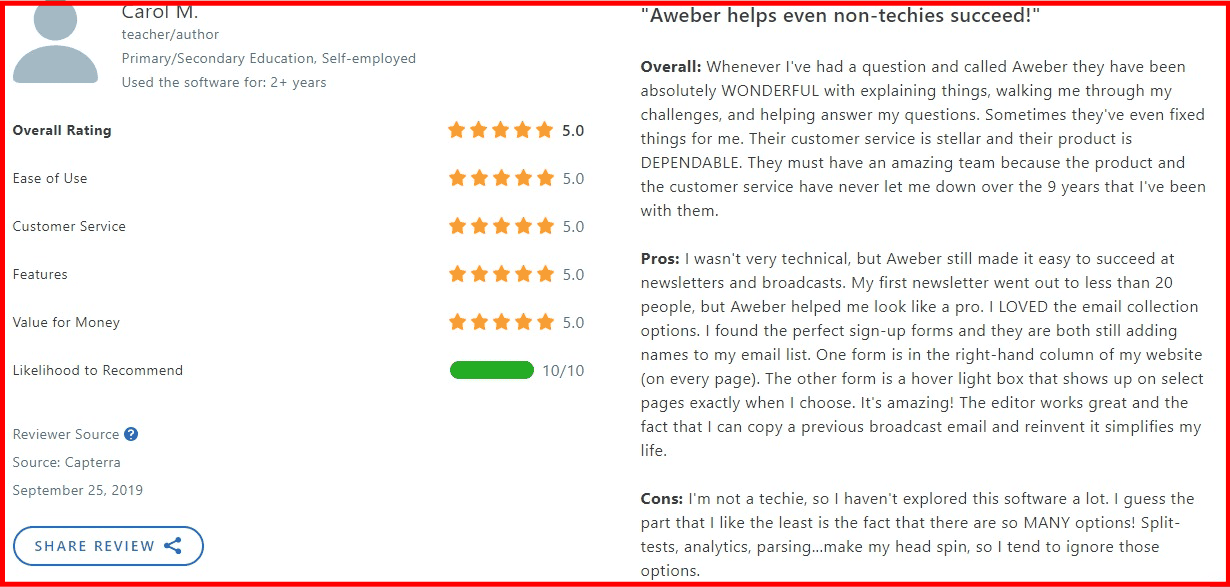 AWeber Pros
Great customer support
It has a high deliverability rate
You can send up to 3,000 emails for free
Great email list management and custom segment features
It is a user-friendly and intuitive platform
AWeber Cons
The marketing automation feature has limitations
No advanced analytics and split testing in the free plan
Email formatting needs improvement
Many functionalities are limited and need improvement
It charges you for contacts who appear in multiple lists
You have to always remove (manually) contacts who unsubscribed from your list, or else you will be charged for keeping them.
Read also: 8 Best Email Marketing Software for eCommerce in 2023
AWeber Alternatives With More Bang For The Buck
In this section, we'll do a quick overview of key alternatives to AWeber, why they're better, and if they suit your business more.
1. EngageBay

EngageBay is an all-in-one customer relationship management (CRM) software that not only supports email marketing and automation functionalities, but also has robust sales and support capabilities.
The email marketing feature supports workflow automation, analytics, text formatting, pre-built templates, and other functionalities that let you deliver targeted messages to your customers.
EngageBay marketing starts at $12.99 per month for up to 750 contacts and unlimited email sends. Other higher plans include the Growth and Pro plans, going for $49.99 and $79.99 respectively. It also has a free plan that supports 250 contacts and unlimited email sends.
Read also: 13 Mailchimp Alternatives With Pricing, Comparison Tables
2. Sendinblue (Brevo)

Sendinblue (Brevo) is also an email marketing tool with unique and great capabilities. Unlike AWeber and EngageBay, you can have unlimited contacts in your list with Sendinblue (Brevo) . Although it's a bit pricey, it provides unique features like email design, personalization, etc., that lets you engage and connect with your audience across various channels.
Starting at $25 per month, Sendinblue (Brevo) lets you send up to 20,000 emails every month.
Other plans include Business and Enterprise, going for $65 per month and $1,000 per month respectively. The free plan supports 300 emails per day for unlimited contacts.
Read also: 5 of the Best Sendinblue (Brevo) Alternatives (Pricing, Advantages)
3. MailerLite

MailerLite is a powerful email marketing and automation software that enables you to run effective marketing campaigns, sell digital products, track performance, and create attractive landing pages.
It is a more affordable option as it starts at $9 per month for up to 1,000 contacts and unlimited email send.
MailerLite supports more premium plans such as Advanced ($19 per month) and Enterprise (custom quote). It has a free plan that provides about 12,000 monthly emails for 1,000 subscribers.
➡️ Want to find a AWeber alternative that's better suited to your needs? Check out our article on the top AWeber alternatives.
Conclusion: Is AWeber an Affordable Option?
Yes, AWeber is a relatively affordable email marketing and automation software. But more than being 'affordable,' what are you getting in exchange for your money?
If your business needs more than an email marketing tool, it may not be the best alternative. However, it is still one of the popular email marketing tools that have helped small businesses drive traffic and increase sales.
If you need a platform with extra sales and support features, EngageBay is the perfect fit. It offers all-around functionalities to boost your team's productivity and increase your ROI. Sign up for free or book a demo to get started.