These days, CRM is used by 91% of businesses having more than 11 employees …
68% of your customers only want to buy from brands reputed for providing excellent customer support, says HubSpot Research …
All of these point to the importance of having a CRM software.
Let's admit it: no matter how efficient your team might be, it gets tough to keep track of clients and related data with conventional excel sheets. And if your team starts getting off-track, your customers won't stick around.
And you surely won't want that.
What if we say that you can use powerful software to manage customer relations tasks to stay efficient as a coach?
In this article, you will learn about the 6 best CRM for coaching businesses that are absolutely free to use.
So, let's dive in.
What Is CRM?
CRM, or Customer Relationship Management (CRM), is a process in which businesses manage and automate customer relationships through data, software, and strategies.
So, bid goodbye to your Excel sheets and lengthy documents and embrace these free CRM tools.
Best Free CRM for Coaching Businesses
Here are 6 of the best free CRM for coaching businesses to help you take your enterprise to the next level.
1. EngageBay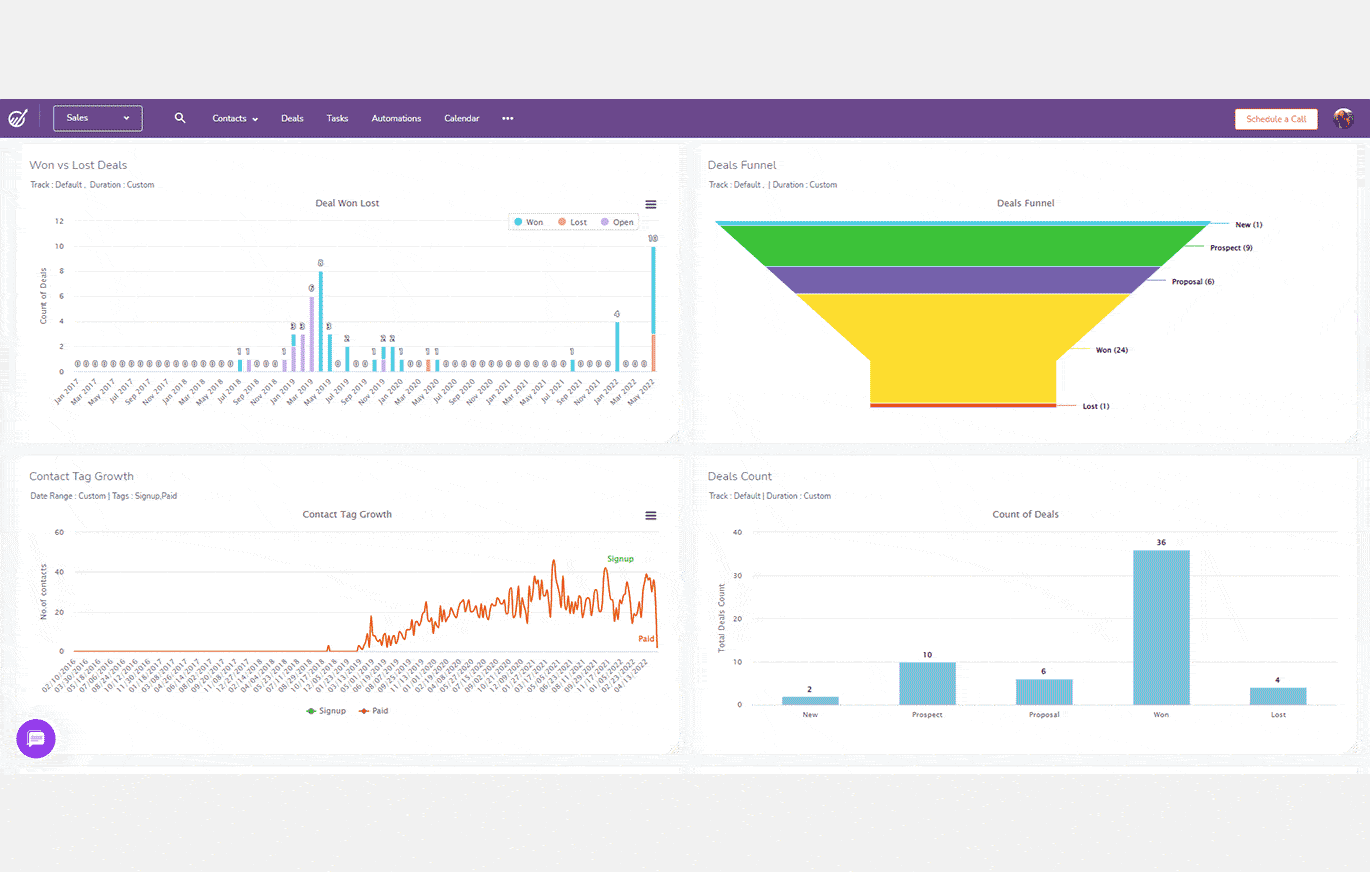 EngageBay's free software for small businesses is all you need to cover the crucial aspects of your business — client retention, marketing, and deals — fluently. What sets this CRM tool apart is that it can be set up with ease.
The software has SEO tools to take care of your website's SEO, features to track your customer behaviors, and also tools to design landing pages and forms. Further, this all-in-one marketing platform is super affordable for businesses of all sizes, and you can get started for absolutely free.
Let's dive into some of its best features.
Marketing automation software
With EngageBay, you can automate marketing tasks in a few clicks to get a higher ROI.
Building successful email campaigns is relatively easy — you can design your emails with cool templates and even analyze your results, making EngageBay your go-to campaign software.
As you make a robust campaign, the marketing software will send out those emails to your email list and will start showing you the status of your lead response on the dashboard too.
Another aspect that this software handles is email segmentation — segmenting your leads based on what they like. Based on your customer behaviors, you can easily segment your email lists and send targeted campaigns to your audience.
So you can rest assured that your emails are not landing in the mailbox of people who have zero interest in your product.
Contact management
As a coach, constantly staying in touch with your leads can be a hefty task. But with the excellent contact management feature of EngageBay CRM, you can easily handle online communication with leads and close more sales.
Sales automation features
This CRM also has many sales automation features to ensure increased customer satisfaction and retention. You can easily set up alerts for your team members and reassign missed calls from your leads so that you do not miss yet another important sales call. The sales automation feature also involves automated reports — task automation, sales performance, and even revenue target reports that are sent directly to your mail inbox.
Lead scoring
Lead scoring is a metric to measure how important a lead can be for your business. Not all leads would buy from you or take your consultation. And to best identify hot leads, you can leverage the lead-scoring feature of EngageBay.
This feature will help prioritize leads based on how valuable they are to your business—so that you can focus on the ones that have the potential to convert.
Multi-channel campaigns
You can automate posts, leverage tools to track customer behaviors, and even create powerful email campaigns with EngageBay's multi-campaign features. This CRM offers features that include the drag-and-drop email builder and tags that can easily help you send targeted emails to only some sections of your prospects.
Further, you can easily calculate the ROI of a marketing campaign within the CRM to analyze its performance on various social media platforms.
Read also: CRM Database: Enhancing Your Customer Relationships
2. Bitrix24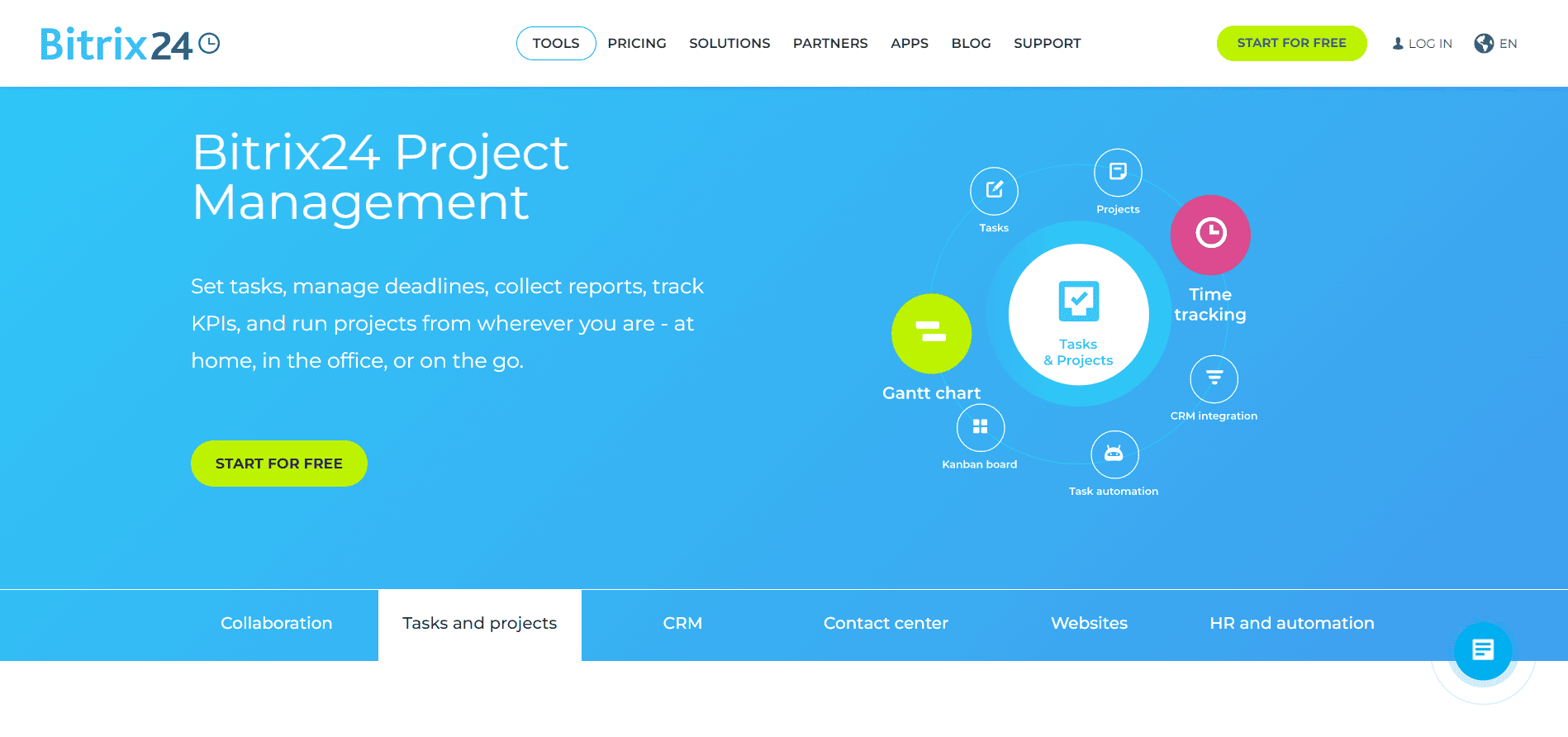 For all those looking to streamline the sales process for free, Bitrix24 is the one-stop solution. How? This software helps manage sales and help maintain a smooth customer experience. This CRM gives you access to 30+ tools to help you track your customer throughout the customer journey.
Lead management
Using this software, you can easily manage your client acquisition and turn leads into customers. To manage leads, this CRM has features like email marketing, sales automation, quotes, invoices, and an online call center software.
Stay in touch with your customers
Secure the best place in your customer's hearts with a great customer communication management feature. So you can make use of live chats, web forms, and even IP telephony or internet calls to improve your customer support service.
Documentation made easier
Bitrix has a My Drive feature with integrated Google docs and Office 365. So, this CRM tool also gives you awesome document management features like editing, sharing, and storage of 5 GB to unlimited.
Get more productive
A unique feature in this CRM is the online time clock to stay super productive. Yet other features for you to stay consistent in your customer relationship journey involve video conferencing features, project management features, etc.
Read also: Bitrix24 Alternatives: Transform Your Customer Engagement and Drive Sales
3. HubSpot CRM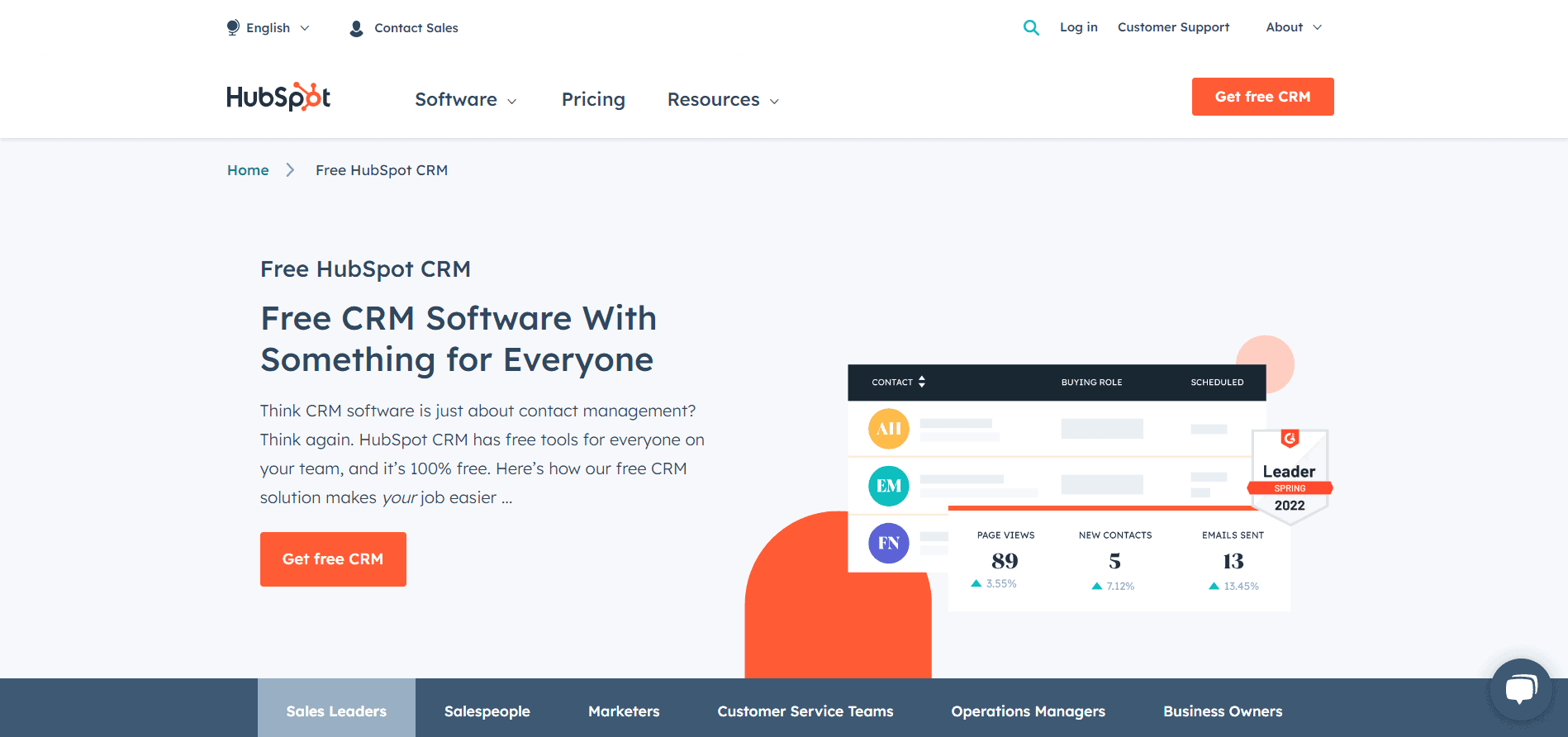 For all those who want to visualize their sales pipeline, HubSpot CRM is the solution. Using this CRM, you can get a full-fledged sales, productivity, and team performance report so that you have an automated system for tracking all your sales activity.
And the best part is, there's no limit to the number of users or data. This means you can focus on being more productive and expanding your business.
Dashboard with reports and useful business analytics
Did you know CRM software gives 42% more accurate reports? And with HubSpot's CRM, creating reports is easier than ever before. All your data is simply fetched from the CRM to create reports and custom dashboards that can answer your business growth-related queries easily.
Automate marketing approach based on lead preferences
Different leads prefer unique ways to buy from you. And with HubSpot's marketing automation feature, you can send out customized emails, sales offers, or even follow-ups based on customer behaviors. Now, you don't have to lose leads as you now have specific marketing approaches based on lead preferences.
Discover the strengths of the top HubSpot competitors in our detailed guide, and see what suits your business best.
Partitioning feature
Not all data is relevant to every department of your company. What data is accessible to which team of your business can now be easily decided using the unique partitioning feature of HubSpot. So there's zero confusion and less hassle while each department has access to only relevant data.
Rock your social media strategy
Customer satisfaction on all social channels is the key to your business growth. HubSpot's social media features like engagement tracking, post scheduling, and design features ensure that your customers have a great experience with you as a coach, not only in person but also on social channels.
Read also: How Much Does CRM Cost?
4. Salesforce CRM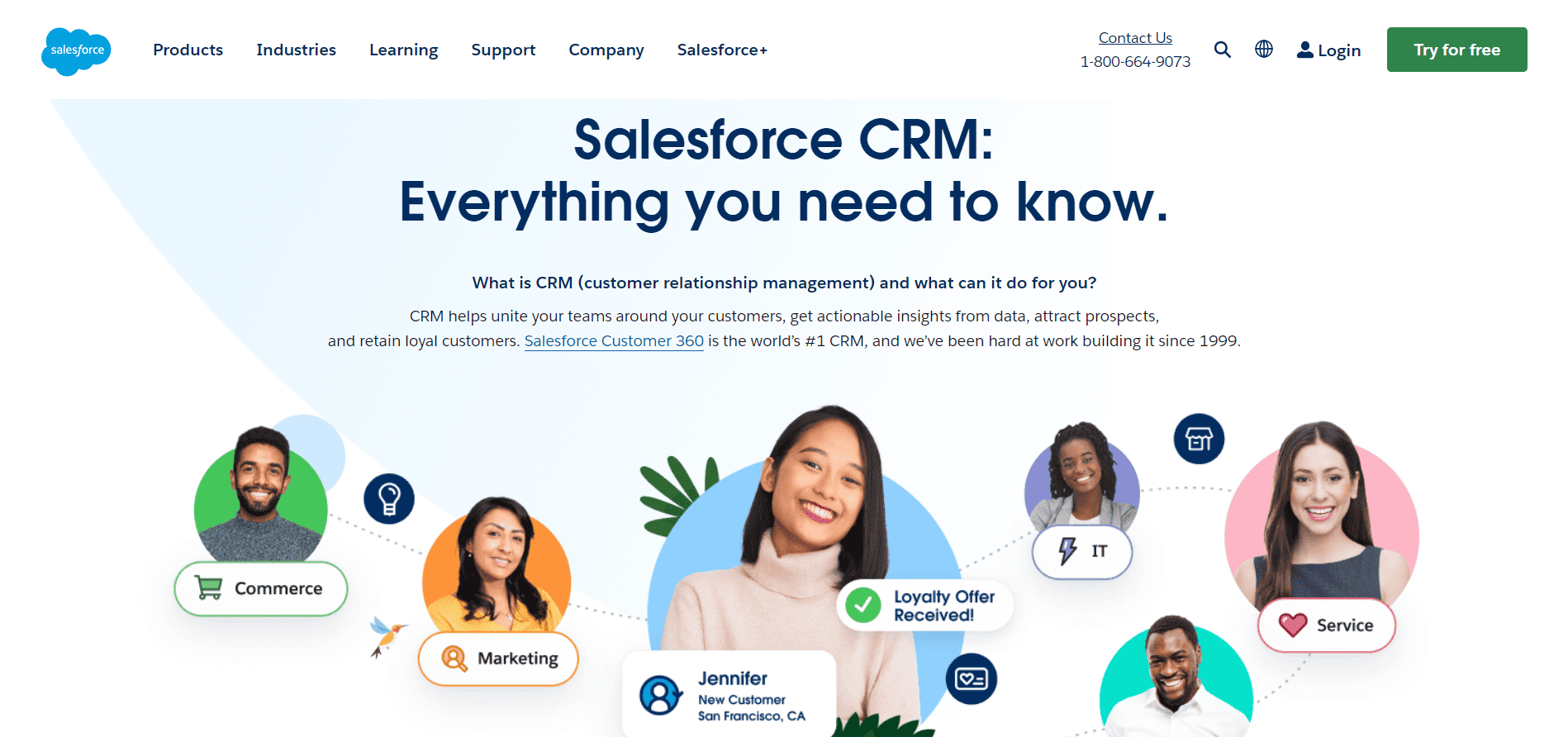 For businesses looking for a CRM tool that not only organizes client data but also has a mobile-friendly interface, Salesforce is also a good option. It offers various features like quote management, workflow management, setting automatic email alerts, and more.
Let's take a look.
Manage contact with customers
With the contact management facility, you can keep track of your customer's activity history, and interactions and even get real-time insights from social platforms like LinkedIn, Twitter, and Instagram.
Opportunity management
Now, this feature is unique to Salesforce CRM. Opportunity in Salesforce terms is an incomplete or pending sale. And to seal the deal, you need to have a strategy in place to help you close the deal in the future.
With this feature, you can understand where exactly your customers are in their sales journey and get timely updates and suggestions on the steps you need to convert leads into customers.
Workflow automation
Your sales pipeline can now be easily handled with sales automation software. A few tasks are so simple that it doesn't need human effort to accomplish. For such tasks, this CRM has the automation feature to assign tasks automatically and automate email alerts.
Read also: CRM Implementation Guide with Exact Steps
5. Insightly CRM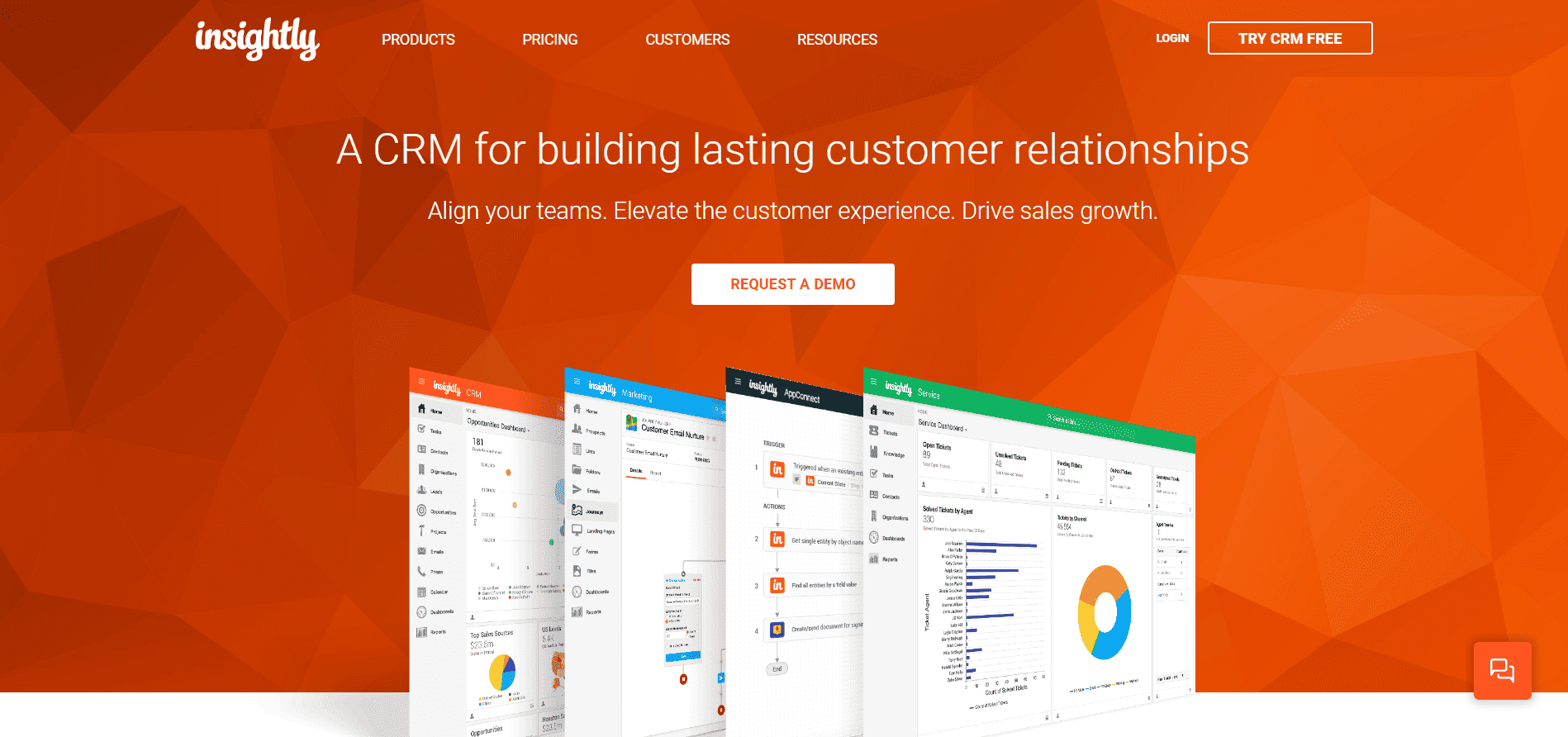 Personalization is the key to building great relationships with your customers. Insightly lets you do exactly that! With its smart lead routing and workflow automation features, you can easily approach your customers and give them a service that leaves a long-lasting impact on them and also on your business.
This CRM offers some excellent features to enhance customer satisfaction.
Here are the key features:
Relationship linking feature
This feature allows relationship tracking so that you get a clear picture of who knows who.
Build custom apps inside the CRM
Yet another interesting feature of this CRM is the custom app-building feature that allows you to build apps without writing complicated code. These custom apps can then be made accessible to your various team members based on who needs to use which tool.
Workflow automation feature
This CRM allows you to automate your business workflow to increase productivity and decrease the time spent on manual, monotonous tasks. Workflow automation is basically setting up the instructions for what action to take after a specific task is accomplished.
For instance, after sending a cold email to a new prospect, a new follow-up email will be automatically sent after a week.
Tasks like the above can be easily automated using the workflow automation feature.
Read also: The Best Free CRM Apps, By Category (with User Reviews)
6. Freshsales CRM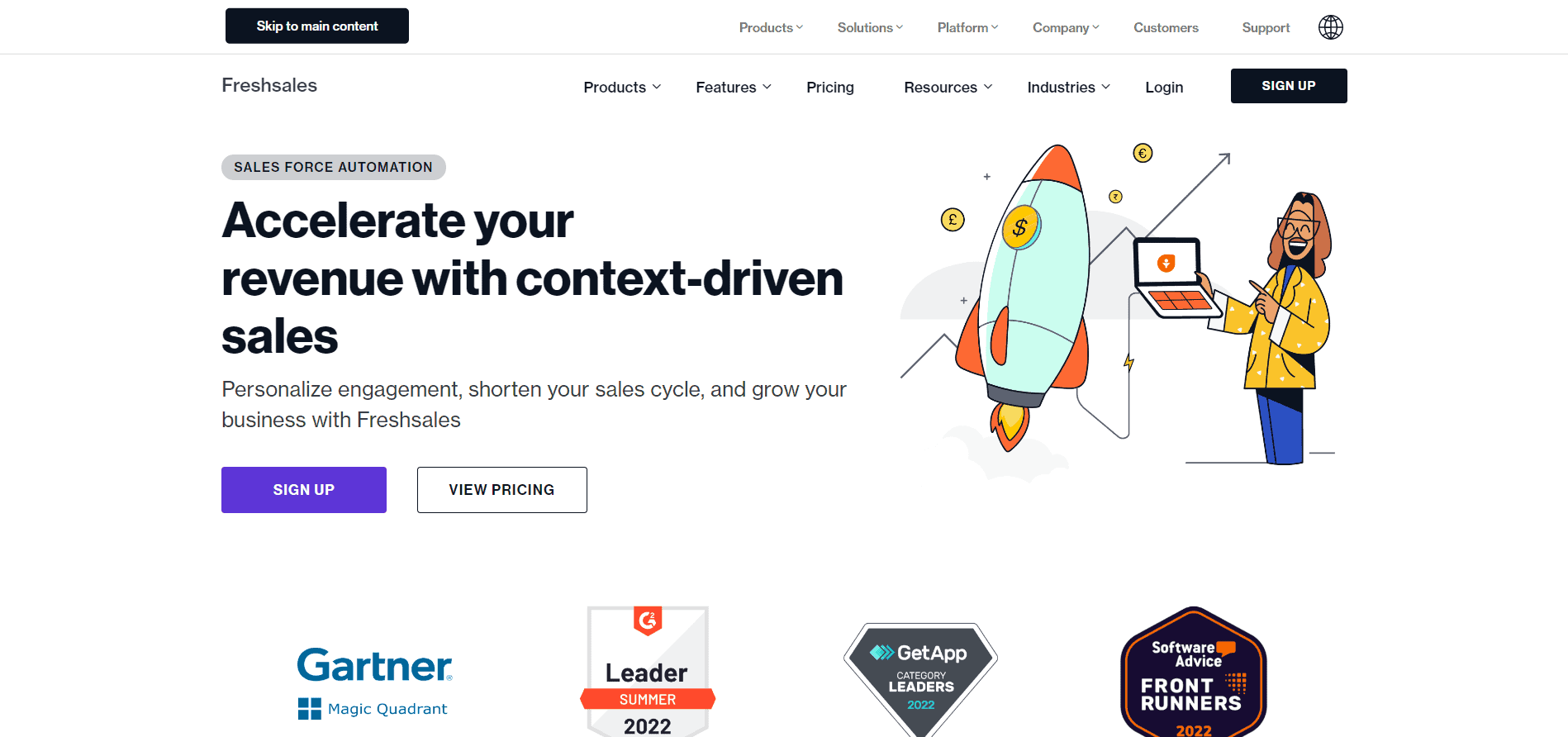 The Freshworks CRM, now called the Freshsales CRM specially designed to make the customer-related tasks of your sales and marketing teams a lot easier.
With some great features to automate mundane tasks that consume your valuable time as a business, Freshsales CRM gives easy-to-use, all-integrated CRM solutions for all types of coaches.
Let's get into the details of the features unique to this CRM.
CPQ feature
CPQ here means Configure, Price, and Quote. This means you can send quotes, invoices, and business contracts using the CRM app. The software also has a separate feature to maintain a product catalog that can be updated with your current consultation or product rates. Once you send an invoice, you can also track the activity status inside the CRM software.
Automated sales campaigns
Many times, sales sequences like email, phone calls, and even messages have to be scheduled to reach a group of customers to help you strike up a conversation with them. This software helps you build sales sequences and also track them to generate and nurture leads.
Track the status of your lead
To improve your chances of closing your deal with a prospect, Freshsales also gives you a visual picture of your lead status. By getting an idea of where exactly your prospect is in the customer journey, you can know about the leads that you need to focus more of your energy on.
Read also: What Nobody Tells You About CRM ROI: A Thought-Provoking Guide
Why Do Coaching Businesses Need CRM Software?
Being a coach, you have to work closely with people, and your work involves constant interactions with your clients even after your mind thinks your job is over. For the same purpose, you need a proper system in place to track all the client data so that you can maintain a good customer service relationship with them.
CRM replaces your traditional ways of client interactions in a technology-driven world—so a lot of human effort and time is saved.
And with the rough estimate by dynamic consultants, it is clear that CRM also had an incredible ROI—$30.48 for every dollar spent in the last year. This means that this groundbreaking innovation in the world of customer service management is surely worth your investment.
Why not inculcate this brilliant innovation in your business as a coach? Let's discuss the benefits of this CRM software for your coaching business.
Conclusion
CRM tools are the best way to be more productive and automate sales and customer service-related tasks as a coaching business. And with so many free alternatives discussed in this article, you can now use these powerful CRM tools to achieve results that were earlier difficult to achieve with manual efforts.
Also, you can make the best use of any of these tools to give your consumers an experience that would make them remember your business as the best customer service provider. Streamline your sales process with the best CRM for coaching business free of cost.
For small businesses, EngageBay is the best. Since EngageBay offers an all-in-one marketing, sales, and customer support software — you can manage all your business aspects without having data silos, and without the need for multiple subscriptions and tools.
Sign up for EngageBay now or book a 30-minute demo for a tour of our product with our experts.
Discover the top travel agency CRM software that will transform your business in our in-depth article!