Birix24 is a CRM with solutions for the sales and marketing teams. Its prices are affordable for businesses on a budget, which is why so many companies flock to it.
However, you have your doubts.
Well, you've come to the right place. This guide will present some incredible alternatives to Bitrix24 that far surpass this software in areas like CRM, sales and marketing tools, and more.
Here's a list of what to expect:
EngageBay
Salesforce
HubSpot
Trello
Slack
Monday
Freshsales
Microsoft Teams
…and plenty more!
What Is Bitrix24?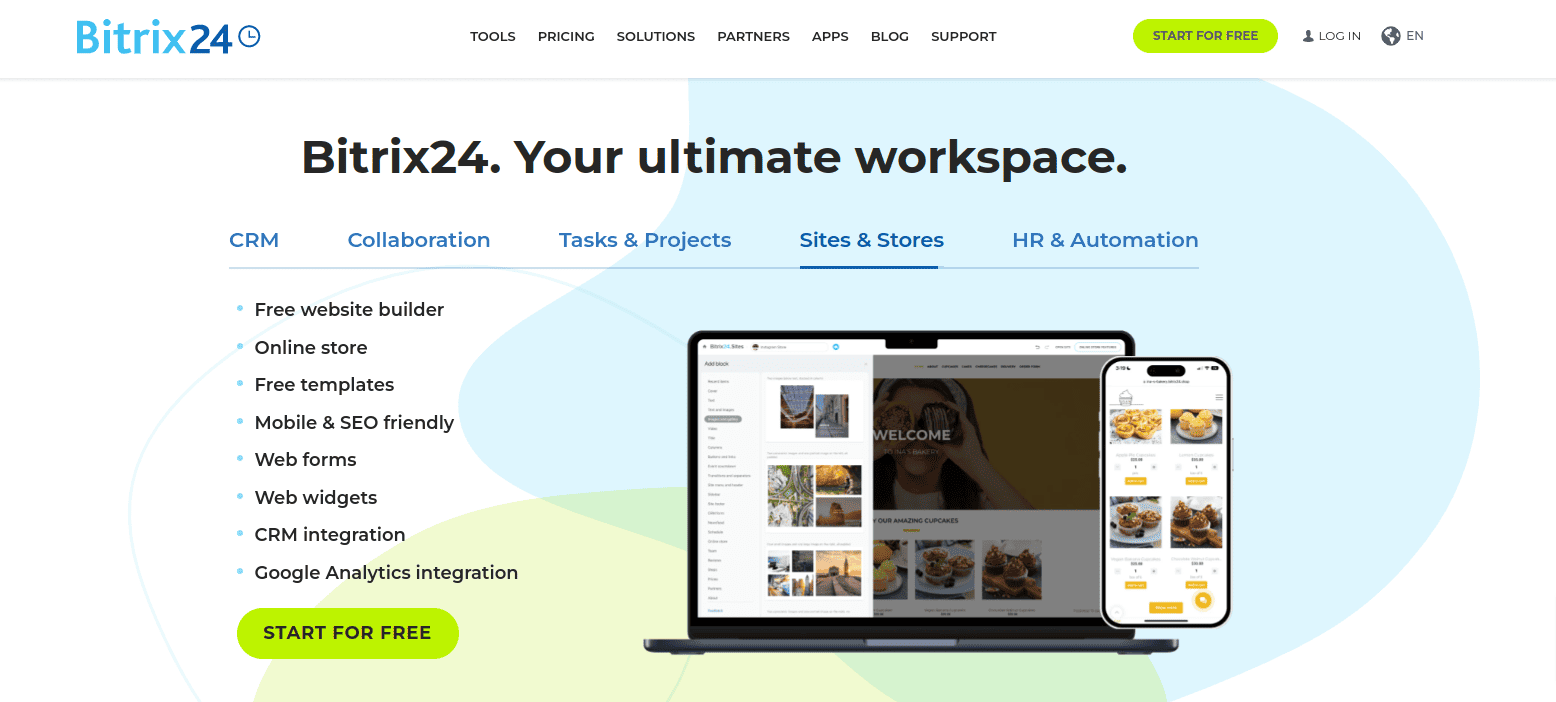 Birtix24 is a CRM software produced by Bitrix, Inc., first released in 2012. Its expansive range of tools includes HR, automation, website, contact center, and coloration solutions, but the real standout is the free CRM.
Bitrix24 Features
Let's take a deep dive into Bitrix24's features:
HD video conferences and calls: Connect with your team of up to 48 people. You can change your background, record calls, and talk for as long as you need. Bitrix24 imposes no limits!
Productivity tracker: Stay on top of tasks and finish more expediently using Bitrix24 and its built-in clock with starting, pausing, and stopping features.
Task management: Create new tasks, communicate about ongoing assignments, and close completed tasks with Bitrix24's handy task management tools.
CRM: Bitrix24's free CRM features sales management, client management, and team management tools. Drag and drop your leads into a visual sales funnel, launch and monitor online marketing campaigns, and use business automation to save time.
Mobile app: Take all the features of Bitrix24 with you anywhere with a free mobile app for the Google Play Store and the Apple App Store.
Bitrix24 Pricing
Bitrix24 has four pricing plans: Free, Basic, Standard, and Professional.
Let's explore each plan and its pricing with an annual subscription.
The Free plan is free forever and includes basic tools and features for getting started.
Expand on what Bitrix24 has to offer with the Basic plan for $49 per user per month. This plan includes great features like:
Five users
Basic CRM
Knowledge base
Calendar
Chat
The Standard plan for $99 includes everything above and more features:
Bitrix24's Professional plan costs $199 per month and adds:
100 users
1,024 gigs of storage
X5 CRM with advanced features
Bitrix24 User Reviews
Bitrix24 has fans and detractors both, which is understandable. If you're a pro at using tools like this, Bitrix24 can be a great solution. But for beginner-level users, it may not be the right platform.
Take a look at a couple of user reviews here:


Bitrix24 Alternatives for CRM Tools
One of the services that Bitrix24 is best known for is its comprehensive CRM. Here are six alternatives to Bitrix24 in the CRM space that you may like better.
1. EngageBay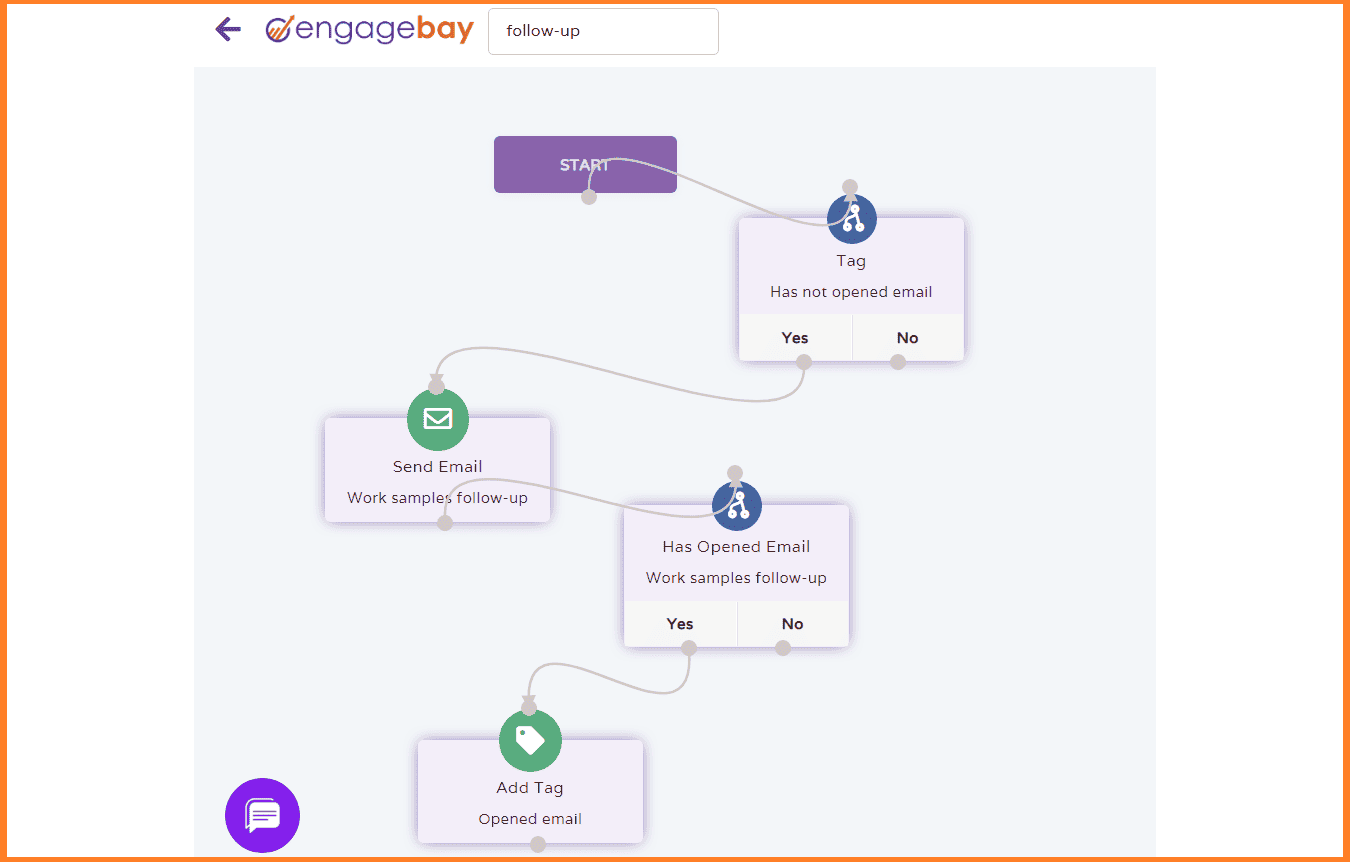 Among the best alternatives to Bitrix24 is EngageBay, which can do anything that Bitrix24 does, but better. It's a small business-focused business growth platform with free integrated CRM, marketing, and sales solutions, and customer service tools to boot!
EngageBay Features
Let's review the features included with EngageBay's free CRM.
Automation: Reduce your daily workflow with automation tools within EngageBay to take care of time-consuming sales and marketing tasks.
Contact management: EngageBay's all-in-one CRM simplifies contact management by organizing your contacts, presenting them on one centralized dashboard, and providing the kinds of insights you crave to make smart sales decisions.
Landing page builder: Convert more customers with professional-looking landing pages that inspire purchasing decisions.
Deal management: Better understand sales bottlenecks with EngageBay's deal management tool. You can track ongoing deals, close deals as they conclude, and deduce how to improve your closing rate.
Telephony: Sales reps can use EngageBay's smart CRM to make calls within the software with the customer's information pulled up right in front of them. Now that's how you close deals!
Gamification: Inspire the entire sales team to win at closing deals with gamification that makes friendly competition more enjoyable for all team members.
Custom reports: EngageBay produces CRM reports on the metrics that most matter to your small business. You can customize the reports to showcase the data that drives your company forward.
Pricing
EngageBay's CRM services are handily located in its CRM & Sales Bay. You can choose between four pricing plans to suit any budget.
The Free plan is free forever and includes these exceptional features:
Live chat
Appointment scheduler
Tasks
360-degree contact view
250 companies and contacts
Basic integrations
Email tracking
Deals
Contact management
For $11.04 per user per month on the biennial plan, the Basic plan builds on the Free plan, with features such as:
Tag manager
Predictive lead scoring
Multiple deal tracks
500 companies and contacts
Third-party integrations
Calling
The Growth plan costs $42.49 per user per month and adds more great features still, like:
Proposals
Sales automation
Leaderboard
20,000 companies and contacts
Products
Multiple currency support
Email scheduler
If you're ready to take your CRM to the next level, try the Pro plan for $67.99. Here are the features:
Conversational inbox
Goals
Call records
Proposal analytics
30,000 companies and contacts
Custom reporting
Call scripts
Role management
Auto dialer
Read also: The Top 8 EngageBay Alternatives of 2023 [Features, Pricing, Reviews]
2. Salesforce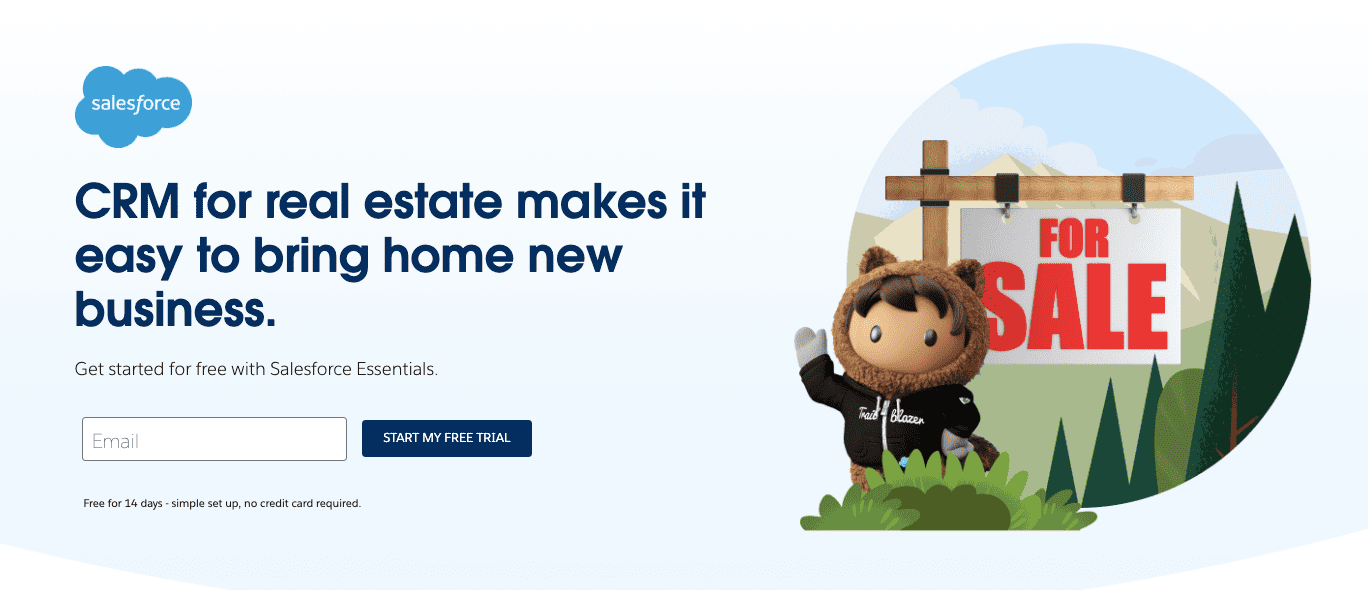 Another great option among Bitrix24 alternatives is Salesforce, which combines CRM tools with data analytics and AI for one inimitable combination of services.
Is it better than Bitrix24? To answer that question, let's take a deeper dive into what Salesforce offers.
Salesforce Features
Salesforce offers a wide net of applications, but we're looking only at the CRM package here.
Customer 360: Link all the separate teams across your company with Customer 360. This feature provides more insights into your customers to benefit everyone, from your service to your sales teams and marketers.
Data Cloud: The Data Cloud within Customer 360 is Salesforce's way of automating customer data. The intelligent data updates in real-time on a hyper-scale level for valuable metrics you can trust.
Slack integration: We'll talk later about Slack as yet another Bitrix24 alternative, but it plays nicely with Salesforce. The two tools integrate for more seamless communication across departments and even regional offices!
Pricing
Salesforce categorizes its pricing according to the product you select, such as sales, services, or a combination. There's also a small business category that includes Starter, Sales Professional, Service Professional, and Marketing Cloud Account Engagement plans.
The Starter plan costs $25 per user per month.
The Sales Professional plan is $75 per user per month.
You get everything above with the Service Professional plan for $75 per user per month.
The Marketing Cloud Account Engagement plan costs $1,250 per month and includes 10,000 contacts.
Read also: Is Salesforce a CRM? A Simple, In-Depth Guide
3. Pipedrive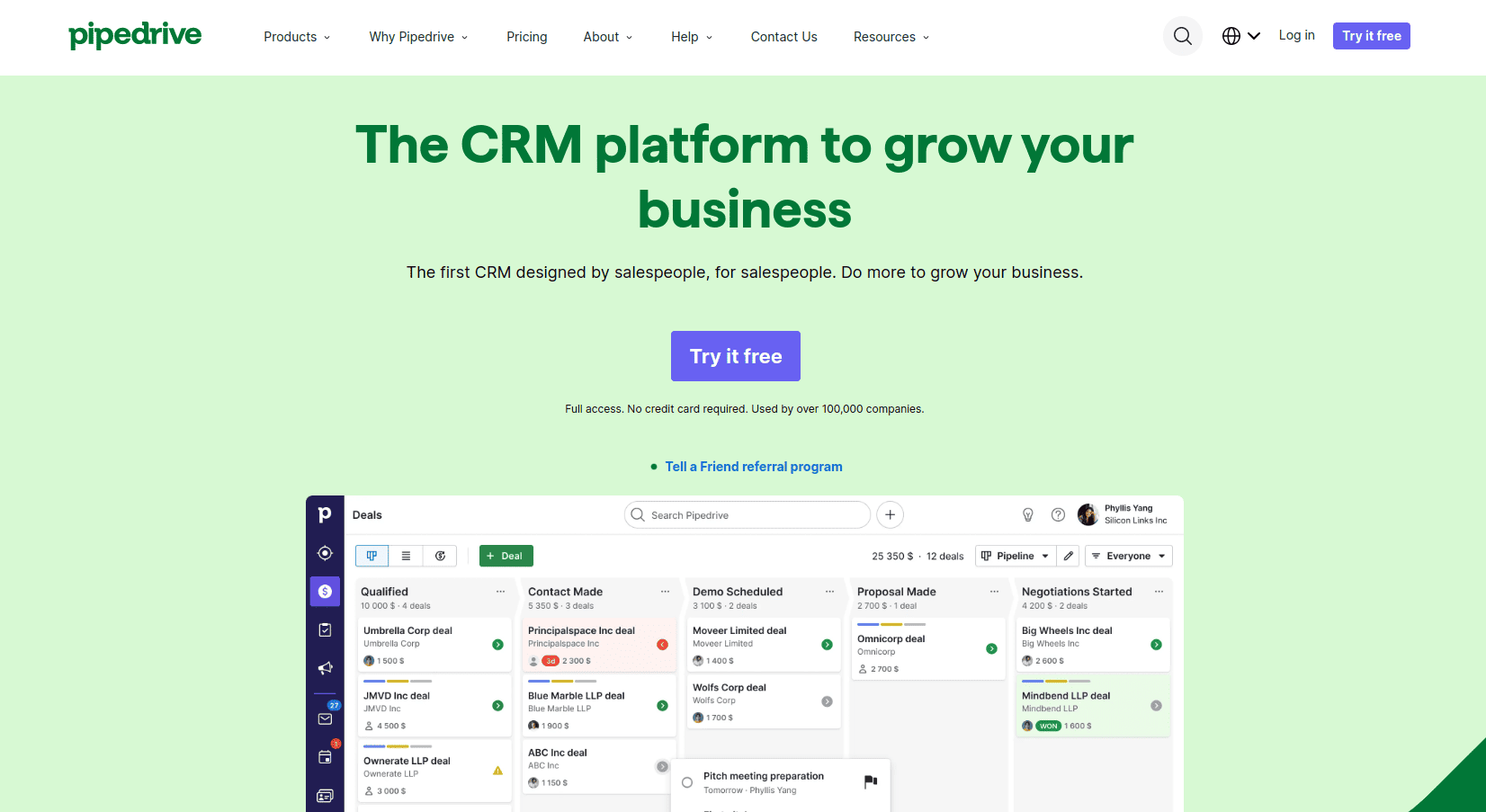 Pipedrive is among the most popular CRM platforms out there, and is hence a natural pick in the list of top alternatives to Bitrix24.
This sales automation software has high ratings on Software Advice and Capterra, so maybe it's just what you need.
Pipedrive Features
Let's take a deeper dive into the CRM features available in Pipedrive.
Sales automation: When busy work takes up too much time, your salespeople can't do what they're best at: selling! Pipedrive allows your teams to automate any and every task, keeping leads traveling through the sales funnel at a consistent pace and converting more readily.
Lead management: Pipedrive's lead management tool includes pipeline management, deal rotting notifications, a custom product catalog, deal and lead importation, lead and deal labels, and a dedicated leads inbox.
Email tracking: Do you want to better track the emails you send out to leads and customers? Pipedrive's CRM makes it possible. You can use features like contact management, file attachments, contact timeline, and a contacts map.
Analytics: The analytics component of Pipedrive makes it a favorite for businesspeople. You can produce conversion reports, performance reports, revenue forecast reports, and even custom reports!
Pricing
Pipedrive has four plans for users: Essential, Advanced, Professional, and Enterprise. Free trials are available for each.
The Essential plan costs $14.90 per user per month on the annual plan and includes:
More than 300 integrations
Calendar management
Customizations
Deal management
Data importation
Pipeline management
Lead management
24/7 support
For $24.90 per user per month, the Advanced plan lets you scale up operations with features like:
Automation builder
Click tracking for emails
Custom automations
Group emailing
Email scheduling
Full email syncing
The Professional plan is the most popular at $49.90 per user per month and comes with these features:
Advanced custom reports
Create and manage contracts
Create and manage documents
eSigning
Revenue projections
For everything Pipedrive has, the Enterprise plan for $99 per user per month offers:
No limits on features
Phone support
Heightened security preferences
Implementation program
Unlimited visibility settings
Unlimited user permissions
Read also: 13 Perfect Pipedrive Alternatives That Can Do More
4. Insightly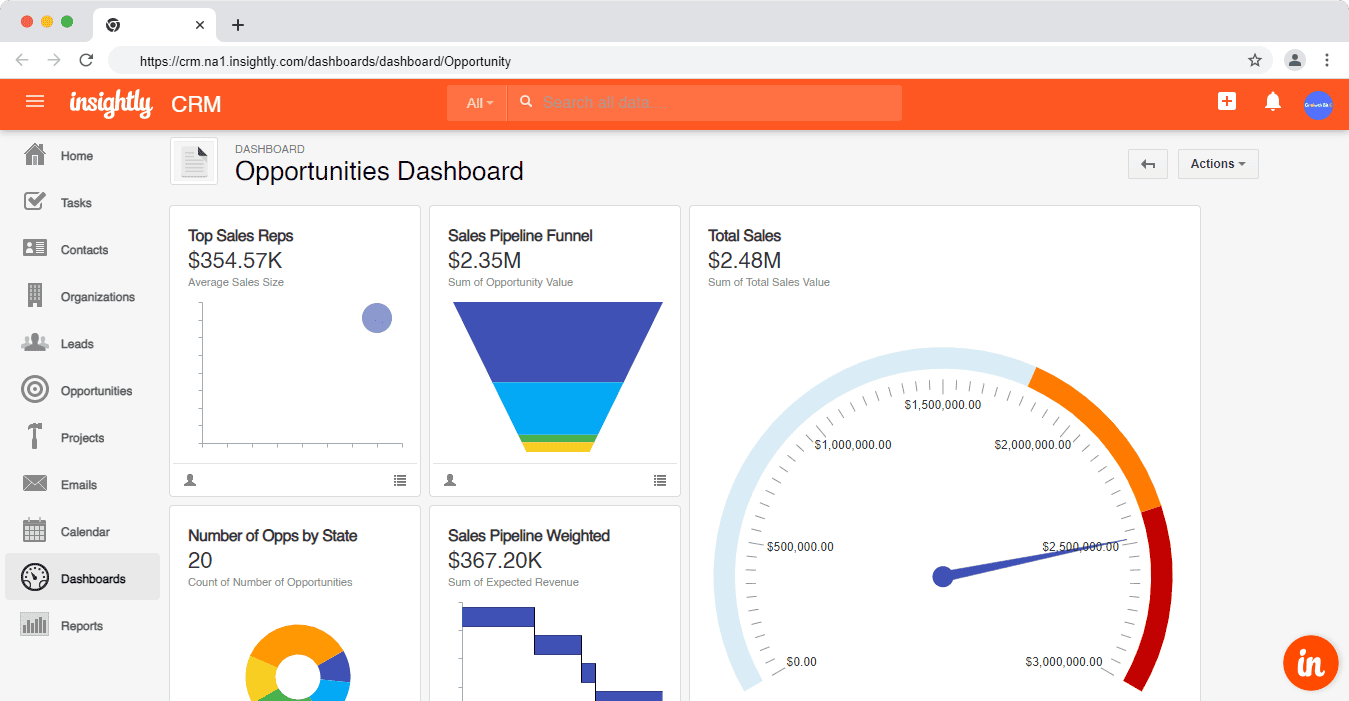 As you consider which CRM software makes for the best alternative to Bitrix24, Insightly could be the answer. It's a great software solution to have on your radar; the team-based, scalable CRM is designed for customer service, marketing, and sales pros.
Insightly Features
Let's investigate the features included with Insightly CRM.
Lead management: As your leads begin to grow, you might need some assistance managing them all. Insightly's lead management feature allows you to prioritize the most qualified leads so your salespeople and marketers can start with them.
Visual sales pipeline: Visualizing what the sales pipeline looks like makes project management far simpler to manage.
Opportunity management: Never miss an engaging opportunity when it arises again. You can create custom pipelines within Insightly to track ongoing opportunities and ensure they get the attention they deserve.
Business automation: Increase the efficiency and productivity of teams with business automation. You can automate nearly any time-consuming task with custom-built workflow-based automation.
Customization: You can customize almost every aspect of Insightly's CRM, making it suited to your small business and its unique needs.
Pricing
Insightly offers the following plans for its CRM software: Plus, Professional, and Enterprise.
The Plus plan costs $29 per user per month on the annual plan and offers these features:
Lead management
Custom, automated emails
Email templates
Task management
Insightly mobile app
Deemed the most popular, Insightly's Professional plan for $49 per user per month adds on these great CRM features:
Lead routing and assignment
Scheduled outbound emails
100 custom real-time insight cards
You can also try the Enterprise plan for $99 per user per month to use everything above, plus:
Unlimited insight cards
Unlimited role-based permissions
200 custom fields
Read also: 12 Incredible Insightly Alternatives for Small Businesses
5. Freshsales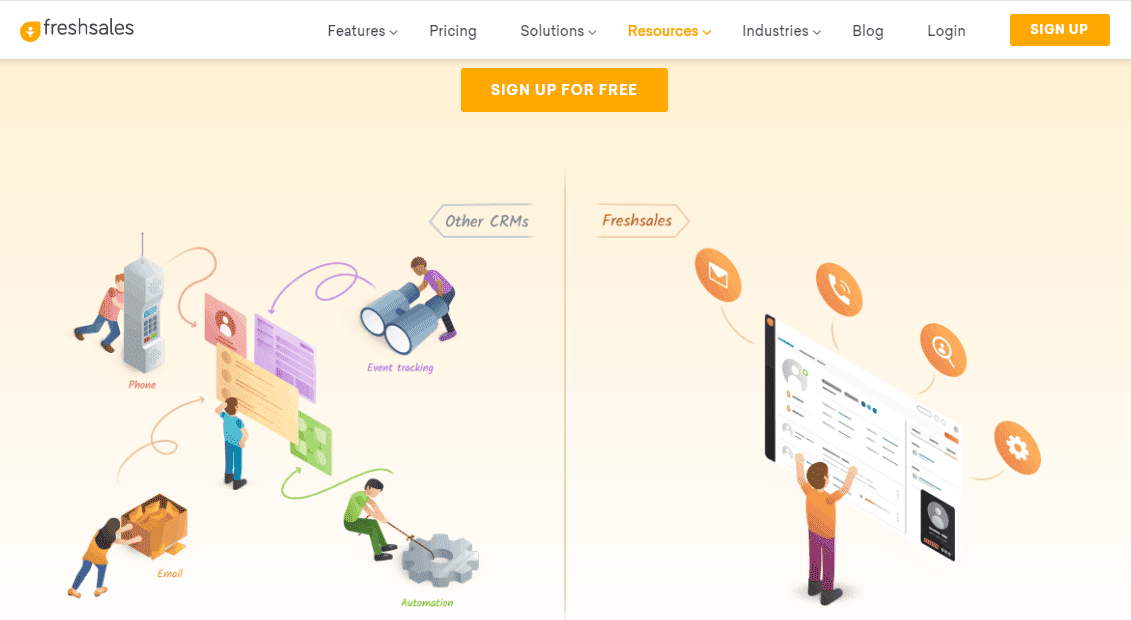 For a simple solution, there's Freshsales, which is also among the top alternatives to Bitrix24. This CRM solution is tailored toward IT, sales, and customer service.
Freshsales Features
If you choose Freshsales, what kinds of features can you take advantage of? Here's what you need to know.
360-degree view: Features like Kanban and table view, activity timelines, details sections, and highlight cards let you gather and organize customer information intuitively using Freshsales.
Email and chat campaigns: Select from various campaigns to reach your target audience, including personalized chat and email campaigns through Freshsales.
Automation: Use automation workflows with event-based or conditional triggers to save time and increase customer satisfaction.
Custom sales activities: If your company's sales activities don't fit into the above, you can customize ongoing sales activities within Freshsales.
Analytics: The sales dashboard paints a clear picture of your selling prowess. Review sales forecasts and predict your next step using Freshsales' AI, Freddy.
Pricing
Freshsales has three pricing plans, Growth, Pro, or Enterprise.
The Growth plan costs $15 per user per month with annual pricing and offers:
Access for up to three users
Sales sequences
2,000 sessions with Freddy per month
AI contact scoring
Contact management
For $49 per user per month, the Pro plan includes all these features:
3,000 sessions with Freddy per month
AI next best action and deal insights
Time-based workflows
Multiple sales pipelines
The Enterprise plan for $69 per user per month has the best of everything Freshsales offers, including:
Dedicated account manager
5,000 sessions with Freddy per month
Audit logs
AI forecasting insights
Custom modules
Read also: 15 Freshworks Alternatives for Great Customer Support
6. Agile CRM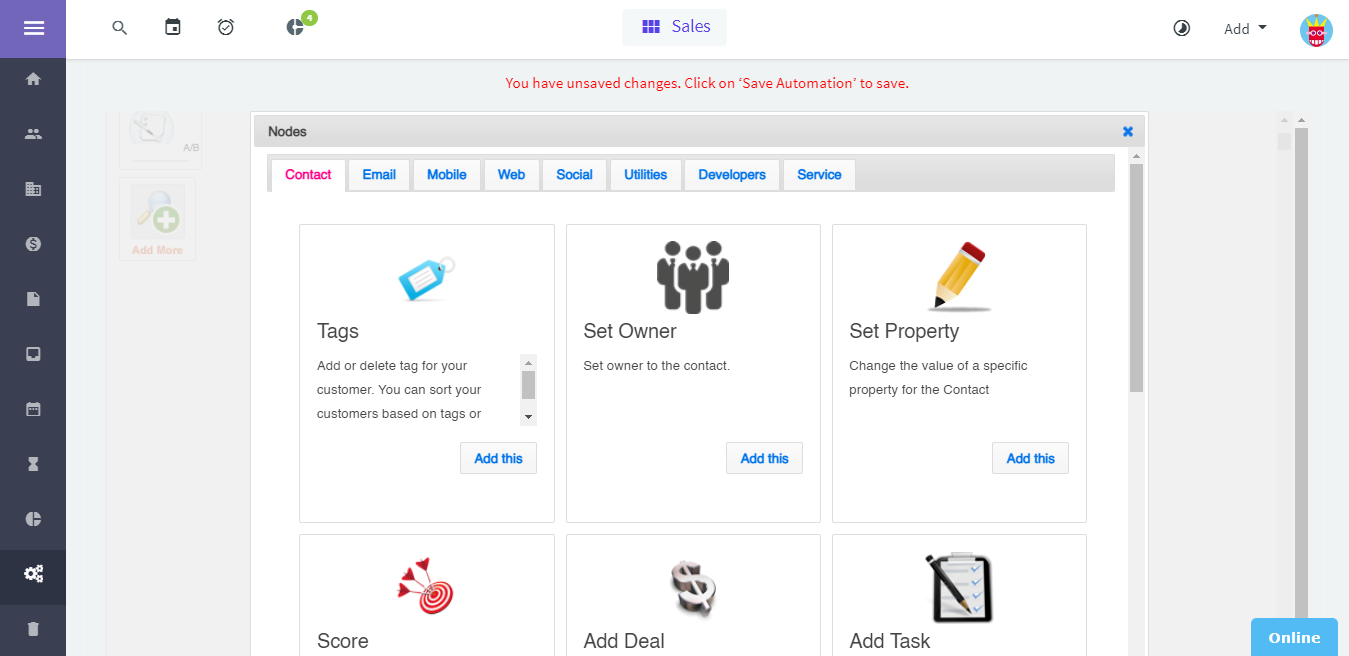 The last CRM solution we recommend among all the many Bitrix24 alternatives is Agile CRM. This platform too combines tools for marketers, salespeople, and customer support reps.
Agile CRM Features
Here's a deep dive into Agile CRM's features.
360-degree contact view: Better understand your audience with contact profiles and information sharing from team to team so whoever needs the customer data has it, stat.
Inbox sales CRM: Agile's inbox sales CRM includes handy features like email integrations for tracking email metrics, a full record of email communications with customers, mobile email accessibility, and third-party integrations with IMAP, Office 365, Microsoft Exchange, Gmail, and more.
Mobile CRM: Take your sales, marketing, and CRM insights on the go with Agile's free mobile CRM app available for the Google Play Store and Apple App Store. You can access a dashboard in real-time, manage your contacts, check tasks and events, oversee deals, and sync your calendar with Google Calendar.
Reporting: The highly-detailed analytics available through Agile CRM indicate what's working, how you're generating leads, and what you can do to make your next campaign an even bigger success.
Pricing
Agile CRM affords its users four pricing plans: Free, Starter, Regular, and Enterprise.
The Free plan supports 10 users and includes these features:
1,000 contacts
Lead scoring
Email tracking
Custom fields
Contact level analytics
For $8.99 a month, the Starter plan is affordable and has features like:
10,000 contacts
Two-way email integration
Social monitoring
The Regular plan is the most popular at $29.99 a month. It's jam-packed with features, including:
50,000 contacts
Two-way telephony
Custom deal tracking
Mobile marketing
The Enterprise plan costs $47.99 a month and has everything above, plus the following:
Unlimited contacts
Automated voicemails
Post-call automation
Read also: Say Goodbye to Agile CRM: 11 Alternatives to Consider
Bitrix24 Alternatives for Project Management
Do you need a project management software to replace Bitrix24? You have a myriad of options, so let's take a look.
1. Asana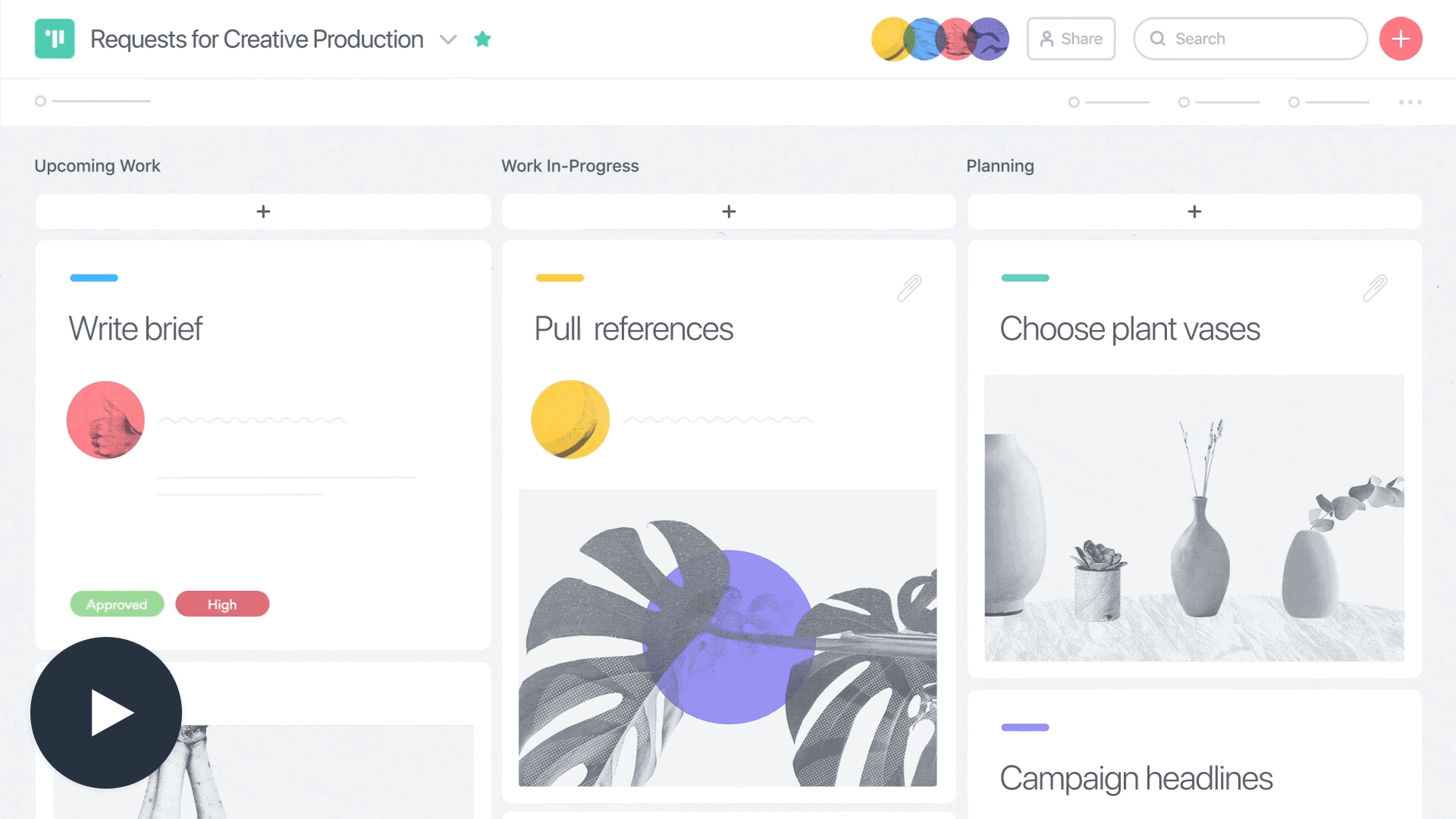 First on our list is Asana, a handy business tool where users can assign tasks, communicate about ongoing tasks, send reminders, and close completed tasks. It could be just what your business needs to remain productive, especially if you didn't like Bitrix24 for its project management tools.
Asana Features
Project management: Asana has tools like tasks and subtasks for goal management, custom fields, due dates, start times, and templates.
Views: Toggle between a variety of views in Asana, such as file view, calendars, workload, saved searches, lists, inboxes, and tasks.
Communication: Reaching your team is simple within Asana, as you can use project messages, team pages, and rich text.
Team management: Toggle team controls like data security, privacy controls, admin controls, and permissions so only the correct parties see what they're supposed to.
Integrations: To make Asana even easier to use, you can integrate it with tools like Google Drive, Microsoft Office 365 or Teams, Harvest, JIRA Cloud, Salesforce, and more.
Pricing
If you're considering Asana for project management, your options are the Basic, Premium, or Business plans.
The Basic plan costs $0 a month and is designed for teams or individuals who need basic project management. You can use these features:
Basic community support
SOC 2 Type II, Google SSO, and 2FA compliance
Basic reporting in CSV or PDF formats
Basic workflows
Free integrations with Slack, Google Workspace, Microsoft 365, and more
Three board views: Calendar, Board, and List views
Unlimited activity logs, comments, storage, tasks, and projects
The Premium plan for growing teams costs $10.99 per user per month on the monthly billing plan. The included features are:
Personalized community support
No limit on security, private projects, admin console, and unlimited free guests
More advanced reporting with milestones, advanced search, custom fields, and more
Automated workflows
Timeline view
If you want to expand your business even more, the Business plan for $24.99 per user per month comes with these great features:
Personalized customer success options
Advanced scaled security
Resource management, including critical paths and time tracking on tasks
The most advanced reporting with workloads, unlimited dashboards, and integrations with Salesforce, Power BI, and Tableau
Advanced automation workflows with custom templates and unlimited custom and dynamic rules
Goals, Portfolios, and four project views
Read also: The Best Free CRM Apps, By Category (with User Reviews)
2. Trello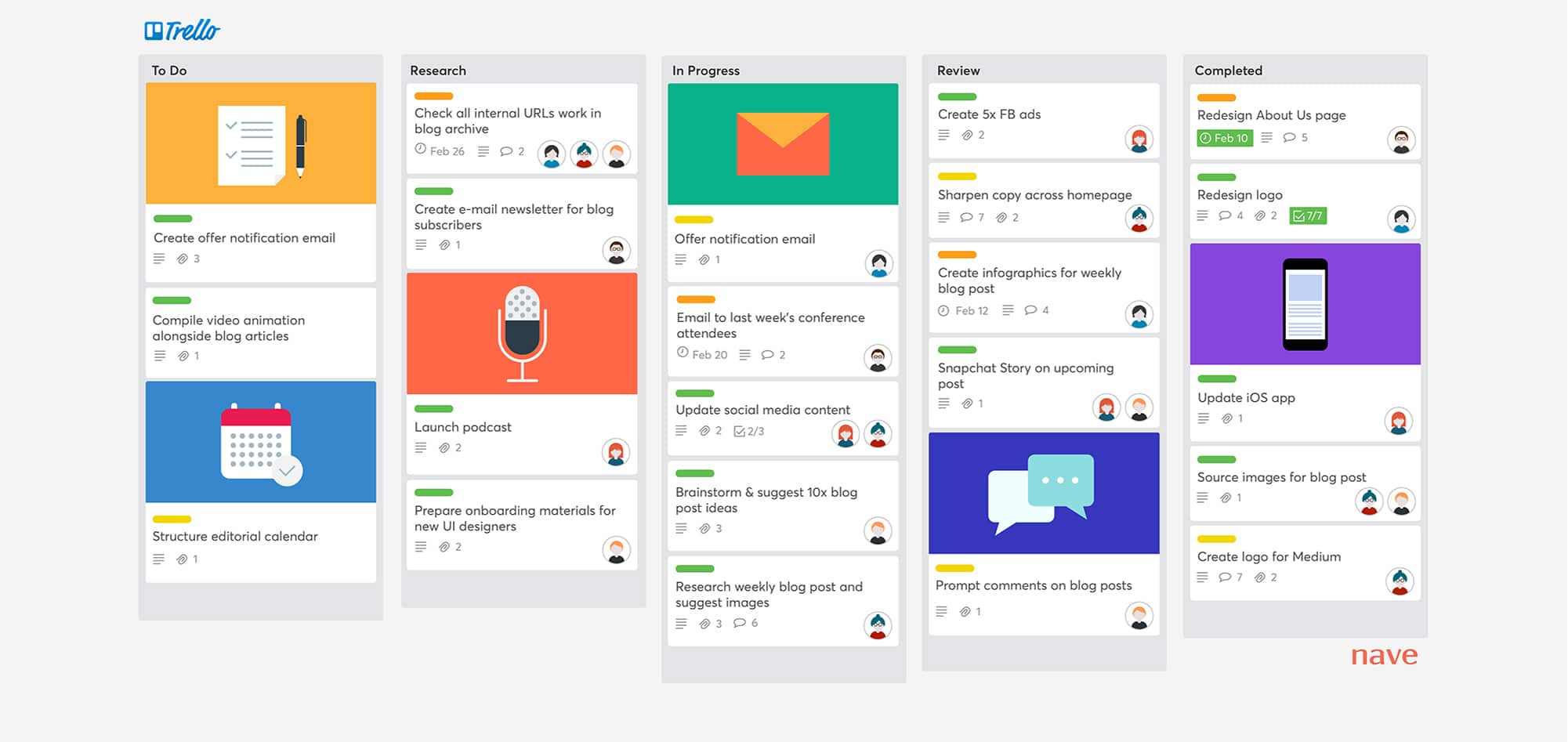 When tasks begin piling up on your plate, you can always count on Trello. This team-based project management tool is a trusted choice for more than two million users, including Google, John Deere, Coinbase, Grand Hyatt, and other big names.
Among all the alternatives to Bitrix24 in project management, Trello is a hot favorite.
Trello Features
So what makes Trello such a dependable choice for businesses of all sizes? Let's take a closer look.
Views: Choose from Workspace, Map, Dashboard, Calendar, Table, Timeline, and Board views based on what tasks you have to do.
Automation: Trello will help you automate those everyday tasks without the need to do any coding. You choose the commands, buttons, and rules for automating just about anything you can think of within Trello.
Templates: Create templates aplenty in categories like team management, support, sales, remote work, project management, product management, HR, marketing, design, business, and more.
Integrations: Trello connects to your favorite tools, including Miro, JIRA Cloud, Slack, Beeminder, Instabug, Hootsuite, Mailissa, and more.
Pricing
Here is the pricing information if you're considering Trello as your Bitrix24 alternative.
Your options are the Free, Standard, Premium, and Enterprise plans.
The Free plan costs $0 a month and comes with basic project organization features like:
Two-factor authentication
Mobile app
Unlimited activity log
10 boards per workspace
250 workspace command runs a month
Unlimited cards
For $5 per user per month on the annual pricing plan, the Standard plan is affordable and has great features:
Saved searches
Single board guests
1,000 workspace command runs a month
Advanced checklists
Unlimited boards
Custom fields
The Premium plan costs $10 per user per month and offers more features still, like:
Simple data exports
Workspace templates
Security and admin features
Unlimited workspace command runs
Calendar and Table views
If you want everything Trello offers, you need the Enterprise plan for $17.50 per user per month. Here's what's included:
Free SSO
Attachment permissions
Multi-board guests
Public board management
Unlimited workspaces
Read also: 5 Free Project Management Tools For Creative Agencies
3. Wrike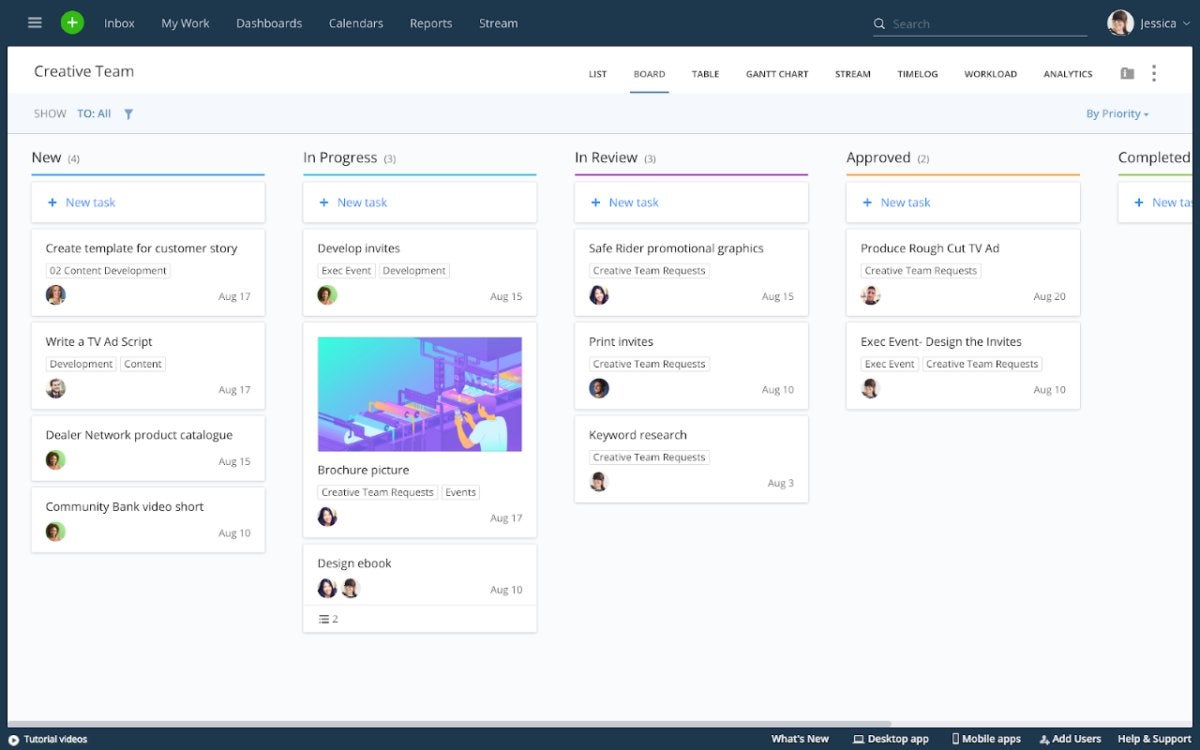 You might just find that Wrike's project management features outshine Bitrix24. Designed to streamline workflows, Wrike is a trusted choice by many major brands, from Ogilvy to Nickelodeon, Siemens, Lift, and Google.
Wrike Features
Why do so many businesses flock to Wrike? It has to do with the quality of the tool. Here's an overview.
Automation: The workflow automation capabilities Wrike offers are rule-based, so they're easy to use. The automation engine will automate recurring tasks, notify you so you never miss a golden opportunity, and reduce manual efforts.
Proofing: Wrike's helpful online proofing software will ensure only professional communications from your company moving forward. You can even collaborate with other teammates in real-time.
Mobile app: Take Wrike with you wherever you go with an iOS and Android-friendly app.
Integrations: Wrike integrates with everyday essential tools, including QuickBooks, Mailchimp, Salesforce, Google Sheets, WordPress, and more.
Pricing
There's a Wrike plan for you no matter your budget, as you have five plans to pick from: Free, Team, Business, Enterprise, and Pinnacle. Let's take a closer look.
The Free plan for new teams is free forever and stocked with basic features such as:
Table and Board views
Task and project management
Mobile and desktop apps
The Team plan for growing teams costs $9.80 per user per month and adds these features:
Calendar view
Custom workflows
50 automation actions per user per month
Interactive Gantt chart
Unlimited request forms, custom fields, tasks, subtasks, and projects
Up to 25 users
The most popular plan is the Business plan for $24.80 per user per month. Scale up your operations with features like:
User permissions and groups
Unlimited dashboards
200 automation actions per user per month
Custom items
Folder structure
Up to 200 users
The Enterprise plan has custom pricing. Designed for bigger teams, you can use the following:
1,000 automation actions per user per month
User audit reports
Custom user types
Custom access roles
Two-factor authentication
For the most enhancements, try the Pinnacle plan with:
1,500 automation actions per month per user
Billable hours and budgeting
Performance dashboard and team utilization
Advanced reporting
Read also: 10 Great Organization Tools [And How You Can Use Them]
4. Basecamp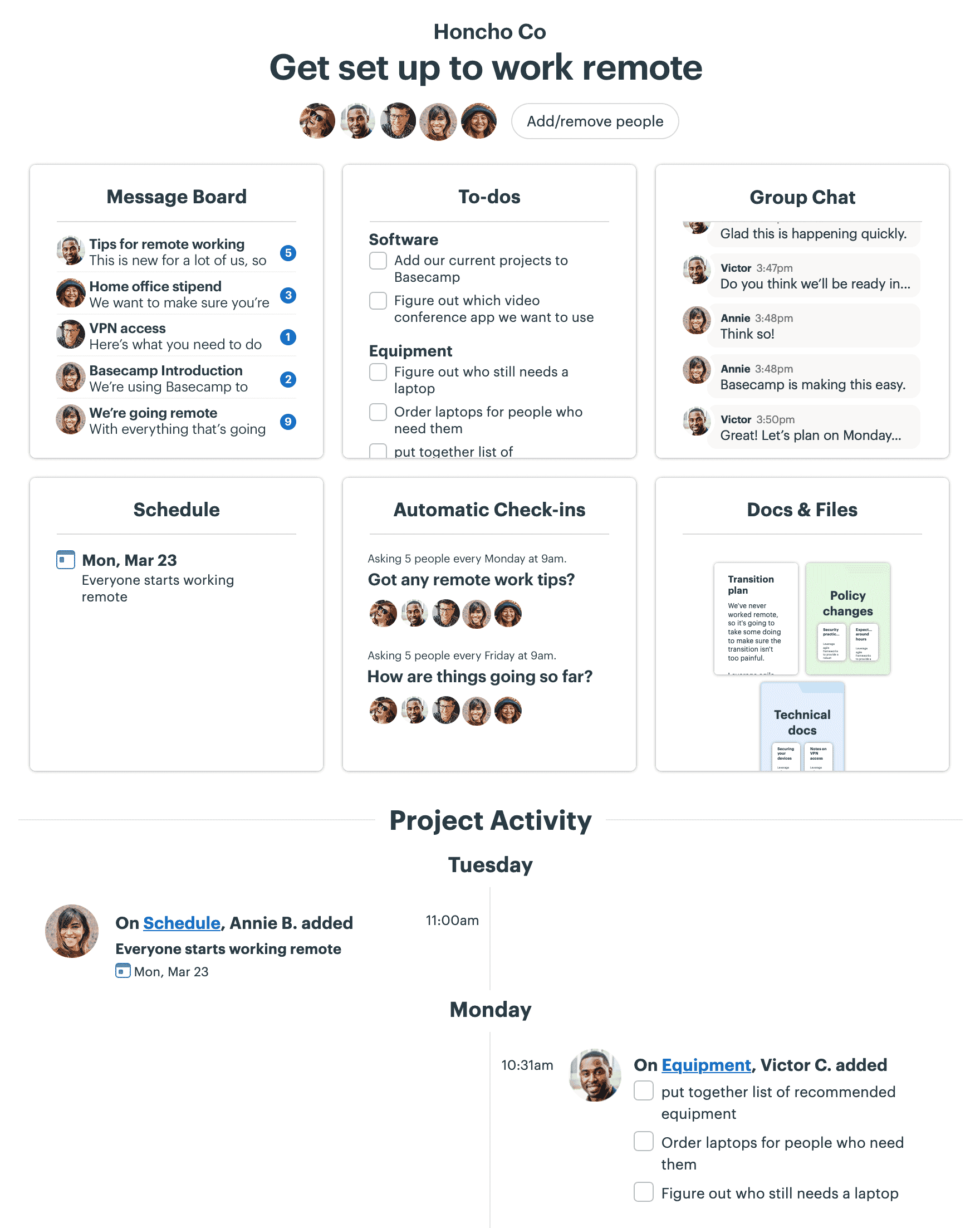 Next among the alternatives to Bitrix24 for project management, we have Basecamp, known for its "refreshingly simple project management." If you're frustrated with the user experience Bitrix24 offers, perhaps it's time to try Basecamp.
Basecamp Features
Let's go over the features of Basecamp, shall we?
Message board: Ping-ponging emails back and forth is so time-consuming, not to mention you can often lose important messages. Basecamp's message board centralizes all important communications.
To-do lists: Create tasks within Basecamp and choose which team members can see what.
Campfire: Basecamp's Campfire feature lets your team chat in a project view rather than have to sift through 10 channels.
Card table: Update cards in real-time with the card table.
Pricing
Basecamp offers two pricing plans, the starter Basecamp plan and Basecamp Pro Unlimited.
The Basecamp plan for small teams, startups, and freelancers costs $15 per user per month and includes the following:
Month-to-month pricing
500 gigabytes for documents and files
For $299 a month on an annual plan, you can use the Basecamp Pro Unlimited plan with these features:
Unlimited users
One-on-one onboarding tour
24/7 first-in-line priority support
5 TB of file storage
Check-ins
Documents
Schedules
Card table
To-do lists
Real-time chat
Messages
Read also: 25+ Brilliant Small Business Tools for the Internet Champion
5. Monday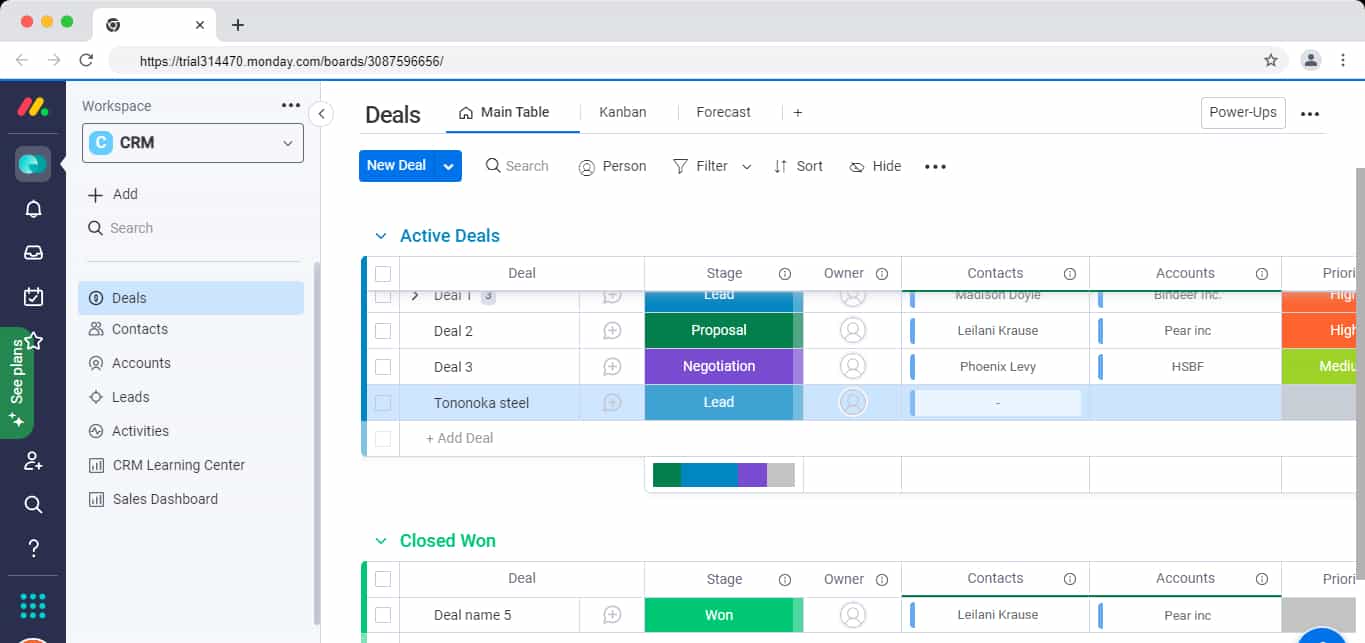 Monday could become your new favorite day of the week when you switch from Bitrix24 to Monday. With tools for CRM, software development, marketing, and HR, Monday has a lot to offer. We'll focus on its project management features here.
Monday Features
What exactly are those features? Let's talk about them.
Project management: Customize Monday dashboard views, selecting from more than 30 widgets, and create workflows for managing your workload, even on your busiest days.
Task management: Check off more to-dos with the task management tools from Monday. You can link over 200 integrations for even more efficiency and productivity!
Pricing
Monday offers five pricing plans. Here is the cost of each service with 10 seat members.
The Individual plan is free forever with two seats and comes with these features:
Three boards
Android and iOS apps
More than 20 columns
More than 200 templates
Unlimited documents
For $8 per seat per month, the Basic plan builds on features so you can get more done:
Prioritized customer support
5 GB of file storage
Unlimited items
Unlimited free viewers
The Standard plan is the most popular Monday pricing plan. It costs $10 per seat per month and adds more scalable features:
Dashboard with five boards
250 integration actions per month
250 automation actions per month
Guest access
Calendar view
Gantt and timeline views
For $16 per seat per month, the Pro plan expands upon Monday's offerings further, adding features like:
Dashboard with 10 boards
25,000 integration actions per month
25,000 automation actions per month
Dependency and formula columns
Time tracking
Chart view
Private documents and boards
The Enterprise plan with custom pricing includes everything in the above plans and:
Dashboard with 50 boards
Premium support
Tailored onboarding
Multi-level permissions
Advanced analytics
Enterprise-scale integrations and automations
Read also: Pipedrive VS Monday: Which Is Better? A Side-By-Side Review
6. ClickUp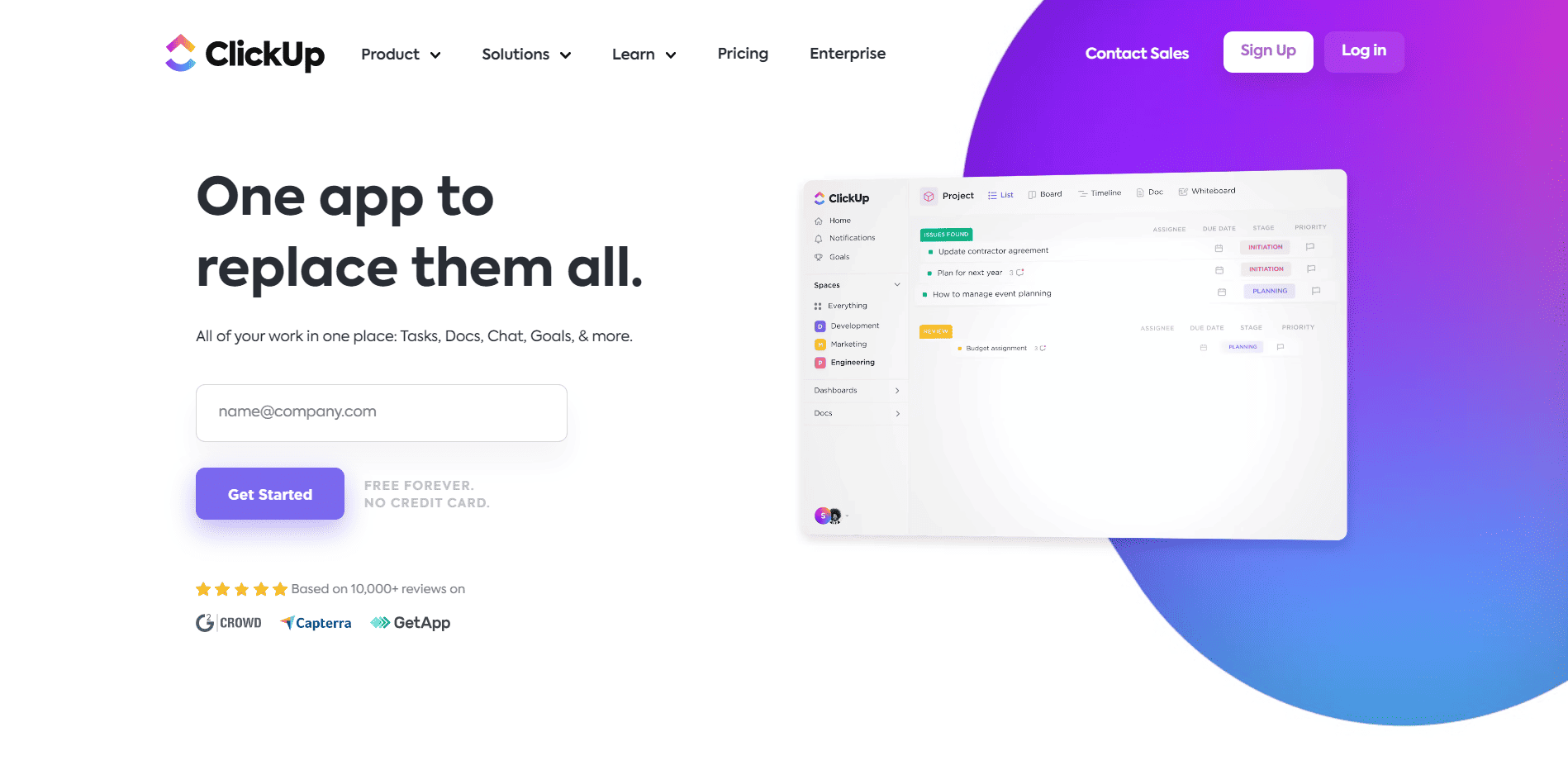 ClickUp is one of the premier names in project management, so that alone could be a good reason to consider it as one of the top Bitrix24 alternatives. With a blend of reporting, documenting, collaboration, customization, and other features into one platform, ClickUp could help your business organize your project workflow better.
ClickUp Features
Let's shine a spotlight on ClickUp's features.
Custom tasks: Use what ClickUp calls ClickApps to customize all your task management jobs, such as adding custom field data, assigning Sprint Points, and establishing task automation workflows.
Views: Select from more than 15 views.
Collaboration: Work as a team using real-time tasks within ClickUp.
Reporting: ClickUp's reporting dashboards include goals, milestones, and automatic activity in the Pulse category.
Pricing
Like most of the project management software options we've looked at, ClickUp has five pricing plans to choose from: Free, Unlimited, Business, Business Plus, and Enterprise.
The Free plan costs $0 a month and comes with all the features you need to get started, including:
In-app video recording
Calendar view
Real-time chat
Whiteboards
Collaborative docs
Two-factor authentication
Unlimited tasks
100 megs of storage
The Unlimited plan costs $5 per user per month and is recommended for small teams. You can use the Free features and:
Agile reporting
Resource management
Form view
User groups or teams
ClickUp emails
Unlimited custom fields, Gantt charts, dashboards, integrations, and storage
For $12 per user per month, the Business plan for mid-sized teams has all the above features and these:
Goal folders
Mind maps and timelines
Workload management
Granular time estimates
Advanced time tracking
Advanced dashboard features
Advanced automation workflows
Custom exporting
Unlimited teams
The Business Plus plan costs $19 per user per month and adds more features still, like:
Priority support
Admin training webinar
Increased automations
Custom permissions
Custom role creation
Team sharing
Subtasks in multiple lists
The Enterprise plan has custom pricing but is the most encompassing with features such as:
Managed services access
Dedicated success manager
Live onboarding training
Default personal views
Team sharing in spaces
Unlimited custom roles
Advanced permissions
Read also: 9 Best CRM Tools for Architecture Firms
7. Zoho Projects

You know and love Zoho for its CRM, but Zoho Projects is another service under the Zoho umbrella that could be a great alternative to Bitrix24.
Zoho Projects Features
Zoho Projects has many features, so let's dive right into them:
Task management: Between the Kanban boards and Gantt charts Zoho Projects offers, managing your latest tasks is no problem. You can create and edit tasks, introduce milestones, and use dependencies, or related tasks.
Task automation: Get more done with task automation from Zoho Projects. Zoho has a blueprint editor you can use to create automation workflows, including the rules for each workflow.
Time tracking: Zoho Projects has time tracking to make billing time less of a headache. The software will record the hours spent on tasks so there's no doubt about who worked on what and for how long.
Team collaboration: Bring the team together using Zoho Projects. The collaborative features include a real-time feed, chat, forums, team pages, and team documents.
Integrations: Zoho Projects integrates with existing Zoho tools and Google apps, Microsoft apps, JIRA, Dropbox, Slack, Zapier, and more.
Reporting: The reporting feature within Zoho Projects generates charts like resource utilization charts, Gantt charts, and more. You can also use the reporting for monitoring timesheets, work items, and project allocation.
Pricing
You can try any of Zoho Project's three plans for a free trial. After the 10 days, you'd begin paying.
The Free plan costs $0 a month and allows up to three users. Here are the features:
Mobile apps on iOS and Android
Basic issue reports and tasks
Forums and calendar
Project feeds
Gantt charts
Task management
Custom statuses
For $5 per user month, the Premium plan is Zoho Project's most affordable. You can use the above features and:
Business rules
Business weekends, holidays, and working hours
Advanced issue and task reports
Advanced tasks using Blueprint
Custom views
Project resource utilization
The Enterprise plan costs $10 per user per month and adds these must-have features:
Task layout rules
Task workflow rules
Custom domain, profiles, and roles
Global Gantt charts
Portfolio dashboard
Read also: Zoho Alternatives: 15 CRM Solutions For Smart Sales Teams
8. Smartsheet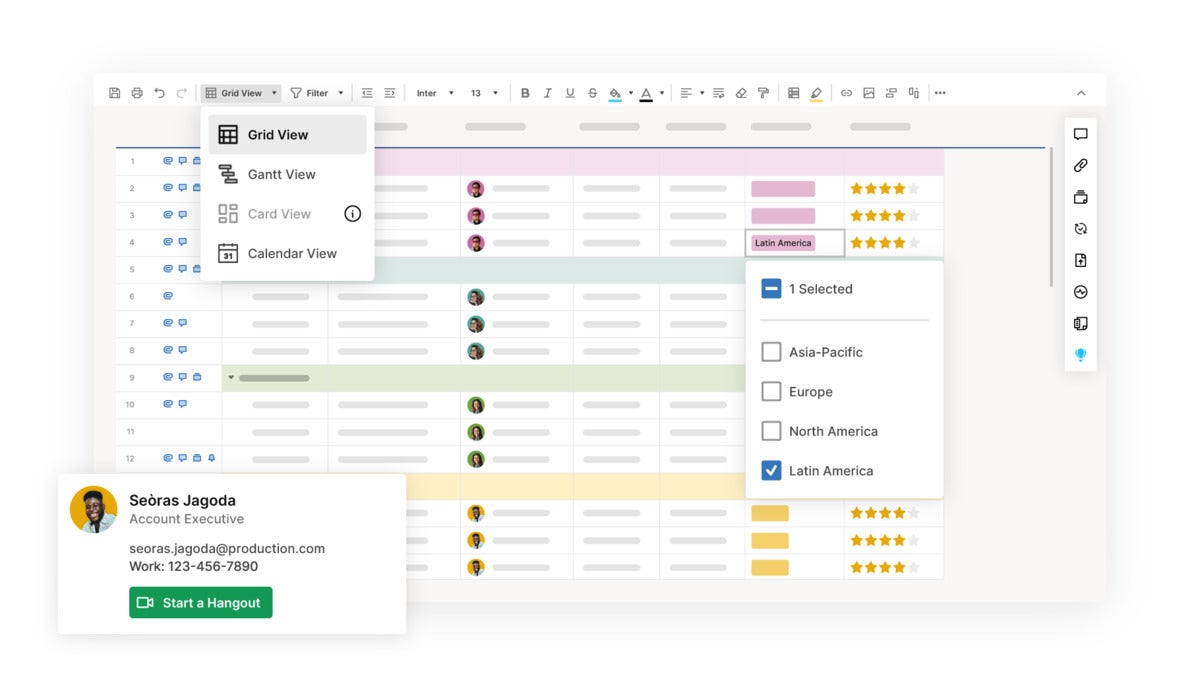 Smartsheet offers project management solutions without the need to code. The company's roster of customers includes heavy hitters like Whirlpool, Sodexo, Roche, Syngenta, McGraw Hill, and Cisco.
Smartsheet Features
Let's go over the project management features Smartsheet offers.
Real-time collaboration: Once you establish the team rules within Smartsheet, your entire team can begin working together and collaborating in real-time.
Customization: Customize the experience to make Smartsheet serve you better.
Integrations: Smartsheet integrates with tools from Slack to Salesforce, Microsoft, JIRA, Google, Webex by Cisco, Box, Tableau, Zoom, and others.
Pricing
So how much does Smartsheet cost? You have your pick among four pricing plans: Free, Pro, Business, and Enterprise.
The Free plan is free forever for two users and one editor. You can use these features:
Help & Learning Center
Community support
100 automation workflows a month
500 MB of attachment storage
Reports and dashboards
Calendar, Card, Grid, and Gantt views
Two sheets
The Pro plan at $7 per user per month on the annual plan caps you at 10 users. The plan includes features like:
Email support
User management
250 automation workflows a month
20 GB of attachment storage
Unlimited forms, reports, dashboards, free viewers, and sheets
10 editors (must have a paid license)
For $25 per user per month, the Business plan offers unlimited editors. You can use every feature above and these:
Professional and Standard support
Smartsheet University on-demand and instructor-led training
Proofing
Document builder
Activity log
Unlimited automations
1 TB of attachment storage
Publish dashboards, reports, and sheets
Unlimited free editors
The Enterprise plan has custom pricing and is recommended for organizations looking to scale to enterprise-grade controls and security. The plan includes the following:
Smartsheet Advance
Custom email domains
Domain validation
Integration with DocuSign
Chargeback reports
Unlimited attachment storage
WorkApps
Enterprise plan manager
Read also: 8 Best Call Center CRM Software Tested and Reviewed
9. Teamwork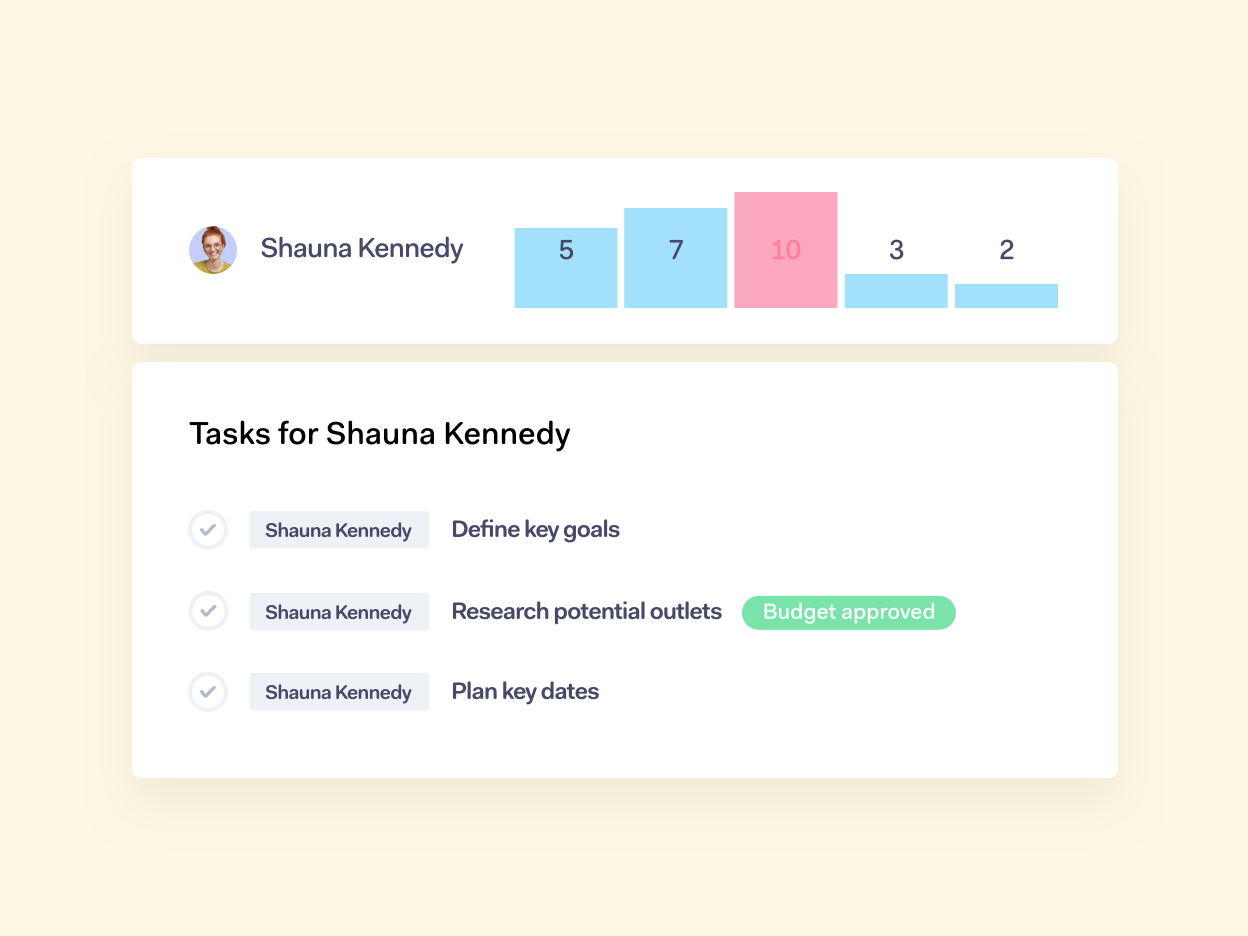 Teamwork is a platform designed for better team and project management, with some smart features that could make this the ideal alternative to Bitrix24.
Teamwork Features
Teamwork's features are as follows.
Time tracking: Teamwork's time tracking feature ensures your team gets jobs done on time and maximizes profit. Time reports allow you to see if your employees spend their time wisely.
Project management templates: The project management templates available in Teamwork are free. You can use SEO planning templates, website project plan templates, marketing plan templates, and more.
Resource workload management: Teamwork's resource workload management feature helps you better allocate employee resources to keep them at their most productive. Use tools like a workload planner, resource scheduler, and more.
Integrations: Teamwork integrates with the must-have tools in your workflow, like HubSpot, Slack, Microsoft Outlook, Usersnap, Stripe, Bybrand, Pabbly, Zapier, and others.
Pricing
Teamwork offers four pricing plans to allow you to scale up your services as needed: Free, Starter, Deliver, and Grow.
The Free plan is free forever and comes with handy essentials like:
Client work essentials
Integrations
Five users
The Starter plan for $5.99 per user per month on the annual plan builds on features with:
For $9.99 per user per month, the Deliver plan is full of great features, including:
Team management
Project status reports
Forms
Automation workflows
The Grow plan is Teamwork's most popular. Priced at $19.99 per user per month, you can use these great features:
Advanced reporting
Advanced budgeting
Capacity and workload management
Read also: The Eight Best CRM Software for Travel Agencies
10. Podio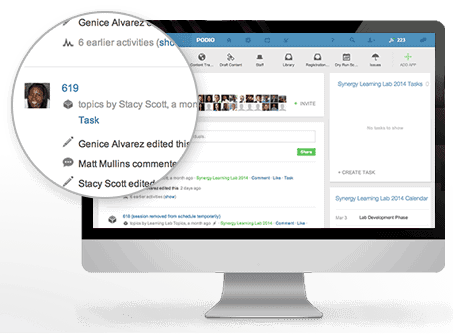 The last project management alternative to Bitrix24 we'll look at is Podio. A trusted choice of Sotheby's, Time Warner, Sony, Deloitte, Volvo, and NFL, Podio is designed for speedier team communication, custom structures, and simple administrative work.
Podio Features
What does Podio have to offer if you're contemplating switching from Bitrix24? Here are some of its most excellent project management features.
Task management: Podio makes it easy to assign tasks, comment on tasks, and upload files, so you don't have to keep sending emails and waiting for replies when trying to complete time-sensitive tasks.
Mobile: Podio has a free mobile app available on the Google Play Store and Apple App Store, so you can always communicate with your team.
Integrations: Podio integrates with everyday tools like GoToMeeting, Dropbox, Zapier, ShareFile, Google Drive, Excel, OneDrive, Google Calendar, Hightail, Zendesk, SugarSync, Campaign Monitor, Evernote, and Microsoft Exchange.
Pricing
Since we're sure you're curious, let's look at the pricing of Podio's services.
Podio offers Free, Plus, and Premium plans.
The Free plan for up to five employees costs $0 and includes the following:
Apps
Workspaces
Task management
The Plus plan costs $11.20 per month and adds features like:
Unlimited items
User management
Unlimited external users
Automated workflows
Read-only access
Podio's most popular plan is the Premium plan for $19.20 per month. It comes with these features:
Visual reports
Interactive sales dashboards
Advanced workflow automation
Cloud power dialer and phone system
Read also: 9 Best Sales CRM Tools for Tracking Lots of Leads
Bitrix24 Alternatives for Team Collaboration
If Bitrix24 isn't doing it for you anymore when it comes to team collaboration, this collection of tools should suit you much better.
1. Slack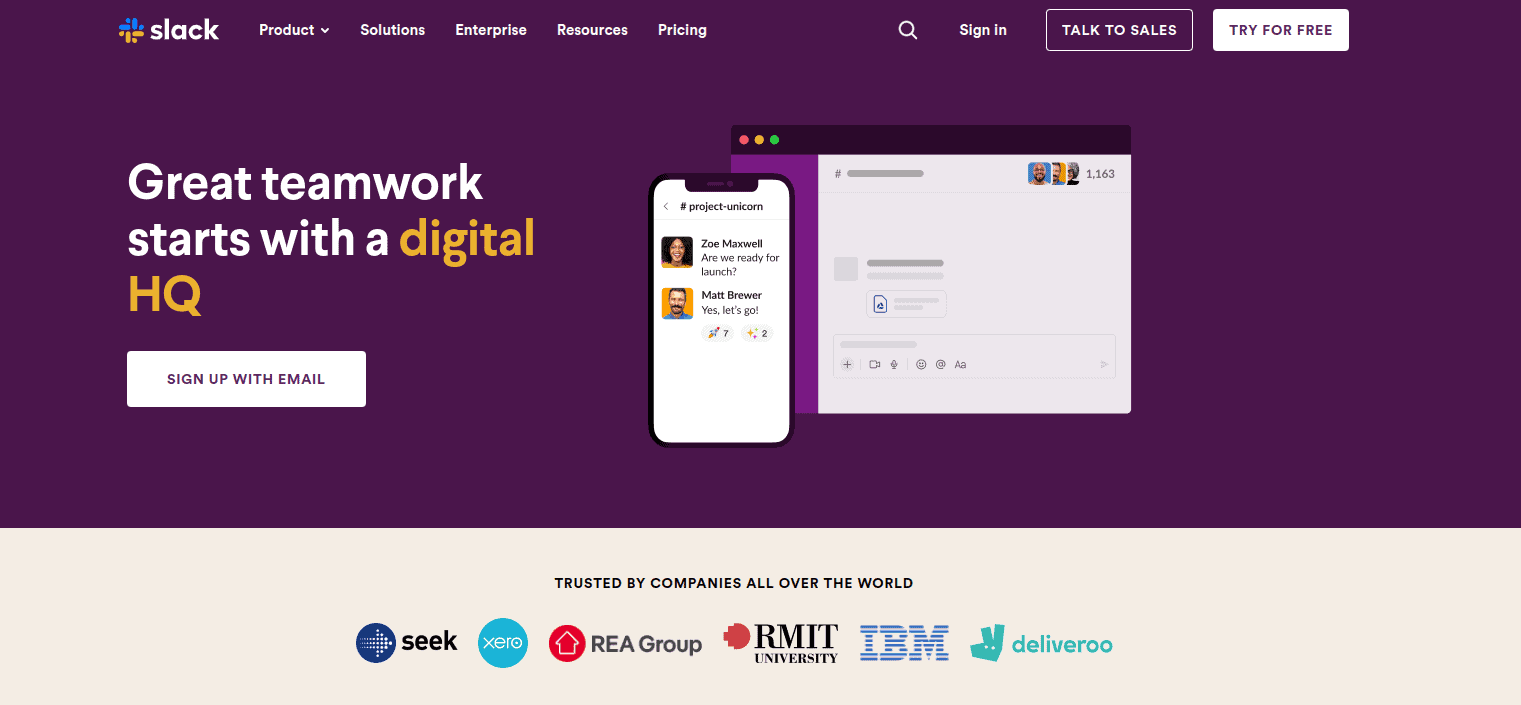 To start our list of Bitrix24 alternatives for team collaboration, we have Slack. A preferred choice by brands like Intuit, Sonos, One Medical, Uber, and Airbnb, Slack is designed to bring teams together and help them focus and collaborate on tasks.
Slack Features
Here's an overview of what Slack offers users.
Channels: Slack organizes its real-time chat with channels so you can keep projects, tools, and teams from spilling over.
Huddles: When you need to connect with other teammates on an urgent matter, use Huddles. You can co-create and collaborate in this virtual space.
Workflow builder: Slack's automation workflow builder saves time, so you can cross more projects off your to-do list.
Integrations: Slack links up with the other tools in your workflow for more seamless operations. Some available integrations are Twitter, Gmail, Box, Salesforce, and Google Drive.
Pricing
Which Slack plan is right for you?
The Pro plan costs $7.25 per user per month with annual billing and includes these features:
Unlimited voice-first, lightweight Huddles
Unlimited integrations
Unlimited apps
Unlimited message history
For $12.50 per user per month, the Business+ plan adds the following:
Data exports for messages
User de-provisioning or provisioning
The Enterprise Grid plan has custom pricing but all the features you want in Slack, such as:
HIPAA compliance with collaborations and messages
Data loss prevention support
Offline backup providers
Unlimited workspaces
Read also: 12 Tools to Boost Small Business Owners' Productivity!
2. Microsoft Teams

Bring the company together with Microsoft Teams. This is an especially viable solution if your small business workflow already centers around Microsoft products. The Teams solution fits in a lot better than Bitrix24, that's for certain!
Microsoft Teams Features
With Microsoft Teams, you can use the following features:
Collaboration: Link together files in apps like Excel, PowerPoint, and Word. You can also edit, share, and search for files among your team.
Meeting: When you have a meeting on the calendar, use Microsoft Teams. You can create your own virtual space by changing your background or blurring it out. Collaborate more efficiently by sharing your screen.
Calling: Microsoft Teams has a call feature with call transferring, voicemail, and group calling.
Pricing
To get started using Microsoft Teams, choose from three pricing plans.
The most popular is Microsoft Teams Essentials for $4 per user per month with an annual subscription. This plan includes the following:
Live captions in English during meetings
Data encryption for files, calls, chats, and meetings
Polling, tasks, and file sharing
Unlimited chats with customers and coworkers
Any time web and phone support
10 GB of cloud storage for each user
300 participants for each meeting
30 hours of unlimited group meetings
For $6 per user per month, the Microsoft 365 Business Basic plan adds more features you want. They include:
Microsoft 365 services and apps
Standard security
Business-class email
One terabyte of cloud storage for each user
Mobile and web versions of Microsoft 365 apps
Team meeting transcripts and recordings
Live captions during meetings in more than 30 languages
Collaborative annotations in Team meetings
Collaborative apps
Microsoft Whiteboard
The Microsoft 365 Business Standard plan for $12.50 per user per month includes everything above, and the following:
Customer appointment management
Reporting tools
Attendee registration
Webinar hosting
Microsoft 365 apps on desktop
Read also: Business Management Software And Why You Need Them
Conclusion
Navigating through the many Bitrix24 alternatives can be challenging, and that's because Bitrix24 offers a wide range of tools. In that sense, you can call it a jack of all trades and a master of none 😅
Just kidding! But if you would like to use a different solution, just decide what functionality you're most looking for, and pick one from the many we've recommended.
All these alternatives to Bitrix24 are proven, rated highly, and market leaders in one segment or another.
If you're looking for CRM and marketing automation, you need to look no further than EngageBay. This is HubSpot functionality at the pricing of Bitrix24 and less! Try it free today.