Whether you run a small or mid-sized business, there's a set of people you must please — your customers. Bad customer experiences can sink a brand regardless of its size and revenue. So let me ask, "Do you map out a decisive Customer Relationship Management (CRM) plan that turns your prospects into first-time clients and then to repeat customers?
A page from history will help us appreciate why CRM is now more important than ever. In 2010, the U.S had 27.9 million small businesses. Fast forward to 2021, and this number has risen to 31.7 million.
That's a 13.62% increase in small businesses, which signals rapid development. But it also means customers are now picky because many companies are striving for their attention. And do innovative companies allow customers to slip by because of the competition? Of course not. They delight their customers at every touchpoint and make a good profit, enabling them to survive for many years. According to the U.S. Bureau of Labor Statistics (BLS):
20% of new businesses fail during the first two years

45% fail within the first five years

25% of new companies make it to 15 years or more
You want to be among the 25%, and we know you can! This is why you need a robust customer relationship management strategy for acquiring and retaining customers.
In Sam Walton's words:

There's only one boss. The customers. And they can fire everybody in a company by spending their money somewhere else.
This (and more) is precisely what an effective CRM strategy prevents — losing customers.
In this post, you'll learn:
What a CRM strategy is

Why a CRM strategy is important

Pros and cons of implementing a CRM strategy

And how you can create an effective CRM strategy
Let's get started.
What is a CRM Strategy?
A CRM strategy is an organization-wide plan that involves the adherence to CRM best practices and the use of CRM software to boost your customer relationships.
Every CRM software has its pros and cons. Ours is EngageBay CRM. Others include HubSpot CRM, Agile CRM, Insightly, Drip, SharpSpring, ActiveCampaign, Keap, and a lot more.
Irrespective of the CRM software, they all perform a similar function. They gather customer insights from multiple channels, organize the data, and help you make accurate business decisions that impact your revenue growth.
Why is a CRM Strategy Important?
It's important to set up a CRM strategy with clear objectives because it will help you understand how the CRM functions within your company, what tasks are required of those who use it daily, and what metrics you can use to measure CRM success.
Although a CRM strategy may require some time and money, implementing a CRM solution will help you understand your customers better and create more growth opportunities.
You can quickly evaluate the acceptance and usefulness of CRM software by checking its historical usage data. According to Statista, CRM software revenue has been growing year on year since 2010. Plus, Grand View Research suggests that the global CRM market size will expand at a compound annual growth rate (CAGR) of 10.6% from 2021 to 2028.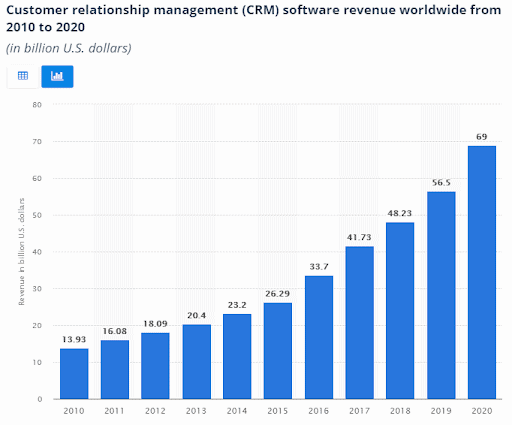 These stats imply that businesses are increasingly adopting CRMs in their business operations. But why? That's a good question. And one answer is – they want to improve customer retention and brand loyalty.
With businesses innovating and creating new products, consumers are always looking for the next shiny product. When this happens, many consumers quickly throw their loyalty out the window. This increases customer churn rate. Luckily, using CRM software and developing an effective strategy helps.
A CRM strategy aids you in identifying customer segments that want to churn. This allows you to put your sales, marketing, and other customer-facing teams on top gear so that they win customers before you lose them.
Aside from lowering your customer churn rate, a CRM strategy has many other benefits.
Pros and Cons of Implementing a CRM Strategy
Implementing a company-wide CRM strategy has many advantages. And the downsides? There are none, except that failing to have CRM software and a strategy could negatively impact your business.
Pros of Implementing a CRM Strategy
A CRM strategy keeps all customer interactions in one place. This enhances your customers' experience, makes the buying process easier, and enables

personalized

service for every client.

Well-executed CRM strategies foster cooperation among customer-facing teams. If your marketing, sales, support, IT, and finance teams worked in isolation, your CRM strategy brings them together to achieve organizational goals.

CRMs eliminate plenty of manual efforts, allowing teams to use their time better. Can we now halt data entering into numerous excel sheets, writing on post-it notes, and so on? That's a yes!

Adopted CRM strategies reduce delays in communicating with customers. Think live chat. Automated replies are a time-saver and give your brand a quality outlook.

CRM systems guide every decision that affects your customer, thanks to data.

Using a CRM strategy gives you a clearer view of your

sales pipeline

and enables you to know the stage of customers in your

marketing funnel

.

CRM adoption improves your organization's ability to have better

sales forecasts

.
Downsides of Not Implementing a CRM Strategy
Without a CRM strategy, businesses go through the hassle of manually managing customer data on excel sheets.

You could lose data that aren't entered into sheets. CRMs automate data entry.

You'll have to purchase multiple tools for live chat, email marketing, SMS, sales, and so on without a CRM. But

CRMs like EngageBay

are an all-in-one marketing tool that reduces your operational cost.

Deals

get lost easily without a CRM strategy. A post-it note doesn't cut it anymore.
Now that you know why a CRM strategy is essential, the next step is creating one that works for your organization.
👉Overcome CRM implementation challenges with our expert guide – explore the best strategies now! 🌟
How to Create an Effective CRM Strategy
1. Start with Your CRM Goals
Successful CRM strategies begin with clear goals. CRM goals not only impact company-wide CRM adoption but also make everyone committed to the CRM program.
To set your CRM goals, you need to identify everything you want to accomplish in your organization. Some companies have many employees and revenue; others are regular brick-and-mortar businesses, and some run online-only operations. Whatever your category is, set your goals accordingly.
An overarching goal of your CRM operation could be to reduce customer churn to 5%. This is admirable, but it isn't specific. You need to get granular and apply the SMART goals approach. The SMART goals approach helps you dig deep into the different departments in your organization and see how each helps realize your goals.
For example, if the overall CRM objective is to cut customer churn to 5%, the teams you'd need might include:
IT (for technical support issues)

Finance (for customer billing issues)

Sales (for follow-up on customers)

Helpdesk (for support tickets)
Next up, you want to ensure that each team has a shared responsibility. How do you do that? You could use an NPS (Net Promoter Score) survey to get feedback on your IT, finance, and helpdesk teams' performance.
By breaking your CRM goals into bits for every department, team members will grasp what you want and why they should act on your CRM KPIs. For instance, here's how the SMART approach could work in the NPS survey scenario:

Specific

– What we (the organization) want to achieve

We want to bring customer churn to about 5%

Measurable

(How we will assess our progress)

We'll use our CRM software to get NPS metrics based on our clients' attributes like location, industry, company size, business type, and revenue. These metrics enable us to know how well we satisfy every customer segment.

Achievable

(Proof that the CRM goal is realizable)

We did something similar some time ago. Plus, the average customer churn rate for our industry is 4%.

Relevant

(How this goal improves the business)

Decreased customer churn gets us more brand evangelists, increases customer lifetime value, and strengthens

customer loyalty

.

Time-bound

(When we want to achieve the goal and reevaluate our CRM strategy)

We aim to meet our goal at the end of Q3.
See how easy it is? Do this across every department of your business. This way, every team knows they have a role to play in your CRM success.
2. Identify Your Customer
I've never seen a plant grow from a rock. You can water the rock all day; still, nothing sprouts. It's the same with your customers. No matter how hard you try, some customer profiles will never be a fit for your business. So it's in your best interest to find and prune those that won't likely become clients. According to George Leopold, bad customer information costs businesses between 15%-25% of total revenue.
In his words:
The bigger the data, the better the chances much of it will be "bad" data.
This is why a CRM cleanup is necessary. Aside from sanitizing your CRM solution of bad data, identifying your ideal customers ensures you send quality MQLs and SQLs to your sales team. And knowing these customers isn't hard. It depends on many factors, including your product and its price.
For instance, if your organization offers a B2B product with a deal size that's upward of $5,000, you'd need to think hard about who you're targeting and how you target them.
A simple way to clean such a CRM system is to filter unqualified leads by:
Company size

Number of employees

Company location
What if your product or service isn't B2B or is priced for much less? All you'd need is to figure out who your customers are using their demographic, behavioral, and psychographic data.
| | |
| --- | --- |
| Demography | Age, sex, income, education level, job title, etc. |
| Behavior | Customer engagement, purchase history, product Usage, account age, etc. |
| Psychography | Lifestyle, goals, pains, values, habits, interests, etc. |
3. Map Your Customers' Journey
Identifying your ideal customers is an excellent step. But outlining their different touchpoints before and after they become customers is even better. Doing this gives you a broad view of how customers interact with your brand during their engagement, acquisition, and post-engagement phases.
For instance, the LANCOME brand experience map shows how customers move from onlookers to brand advocates. Yours can get deeper. It depends on your business and the number of touchpoints you have.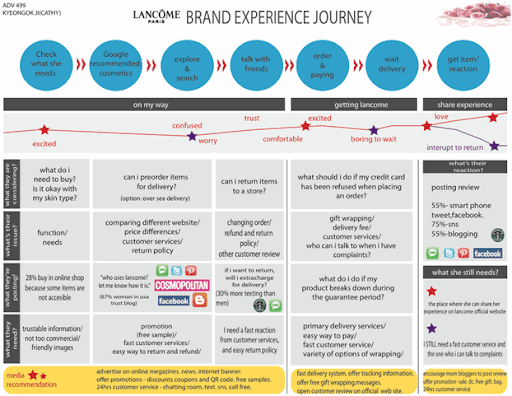 During the engagement phase, you'll need to account for many variables like:
What do our customers need?

How do we educate prospects about our solution to their challenge?

How do we stir prospects to buy?

What are the objections of our ideal customer?

How tough is the competition?

Does the competition do paid ads?

Do we need to meet our prospects one-on-one?

Is there any gap the competition isn't harnessing?

Are my product pricing and quality competitive?
These are a few questions you need to ask. You also need to consider your number of customer segments. The more customers profiles you have, the more customer journey maps you'd need.
Similarly, when you've acquired your customers, you need to answer questions about the use of your product or service and how it makes their lives better. All of these individual actions work together in creating a memorable brand experience that improves customer loyalty.
4. Use a Single Source of Truth
How do you manage your customer data? Excel sheets, outdated CRMs, post-its notes (and something else to insert here) are all time-consuming and inefficient. Moving all of your customer data to a cloud-based, unified CRM gets you a single source of truth that guides the customer experience strategy of your organization.
If you use an outdated CRM, you'll need to migrate your data to a better CRM. And it isn't hard. While you have to pay for migration services with some CRM solutions, at EngageBay, our CRM migration service is free. You can wave goodbye to the stress of importing your existing automation, contacts, forms, templates, and more.
But before deciding to use a CRM software that guides your customers' experience, you need to be sure of the CRM's capabilities. An excellent CRM must be able to handle everything about your customer in one place.
The CRM should have social, communication, and mobile capabilities. It must also be easy to use. These days, mobile CRM accessibility is non-negotiable for sales teams. Sales reps need to access their prospect's data regardless of their location. This allows them to monitor deals easily.
To discover the potential of a CRM, you can check G2.com customer reviews and online forums. You can even find out what your competitors use in managing their customer relationships.
Alternatively, you can check out some of the CRM software reviews we wrote.
Related Posts:
5. Marketing Automation
One of the core benefits of using a CRM system is the ability to automate repetitive tasks. Statistics show that automation is a huge driver of increased speed and efficiency of teams.
For instance:
61% of overperforming leaders use their CRM solution for automating parts of their

sales process

.

20% of marketers automate their

email marketing campaigns

.

Email automation

campaigns are among the top three tactics used by email marketers to improve performance.

And finally, 68% of businesses use automation in some way.
You can automate many processes in your CRM. A perfect example is follow-up emails by sales reps. You don't need to create these emails manually. Simply create an automated email sequence. Once a prospect doesn't open, reply or take action in their first email, they'll receive the follow-up email. This significantly increases your sales reps' productivity and allows them to focus on closing deals in your sales pipeline.
Another part of your sales process to automate is your customer inquiries via live chat. Customers regularly need technical support, billing support, and so on. Instead of replying to thousands of similar messages, get your customers' questions and create automated replies. The good news is, you can do this at zero cost with free live chat software. All of this helps in reducing the response time to customer complaints, improves your customers' experience, and strengthens brand loyalty.
6. CRM Training
One of the toughest challenges to CRM implementation is getting your team to adopt the CRM. It's possible to create an excellent CRM strategy, outline your CRM goals, and purchase excellent CRM software. However, if your front-line team (sales, marketing, and customer support) fails to use the CRM, every effort becomes futile.
It's not uncommon for a sales team (or other teams) members to give an excuse like, "I'm not a tech person. This CRM won't work for me." This is a dicey situation, and the way out is to train your team one step at a time. Don't rush the process. Breaking down your CRM training into small bits gives your team enough time to absorb the information and act on it. You also need to train your team on the impact of using your CRM system. If they don't see how their CRM usage fits into organizational goals, chances are they won't use it.
Another way of training your team to adopt the CRM is by getting your leadership team involved. Once your leadership executives use the CRM software to display growth forecast, explain some reports garnered from the CRM, it sends a clear message about the usefulness of the software. And this will largely improve the chances of your CRM success.
Read more: CRM Implementation Guide with Exact Steps
How to Track the Success of Your CRM Strategy
The right CRM solution will help you easily evaluate the successes and failures of your CRM strategy. To do this, you need to monitor CRM metrics or KPIs for every department of your customer-facing team. This helps prevent churn and informs you if your team is drifting away or getting closer to your overall CRM goal.
So, what are some of the CRM KPIs you should track?

1. Length of the sales cycle
The length of your sales cycle is the time it takes to move a lead from prospect to customer. Tracking this CRM metric helps to improve the efficiency of your sales reps. If your sales team spends much time on leads, that indicates your sales pipeline needs attention. In this case, you should find the sales pipeline stage causing the delay and figure out a way to optimize it.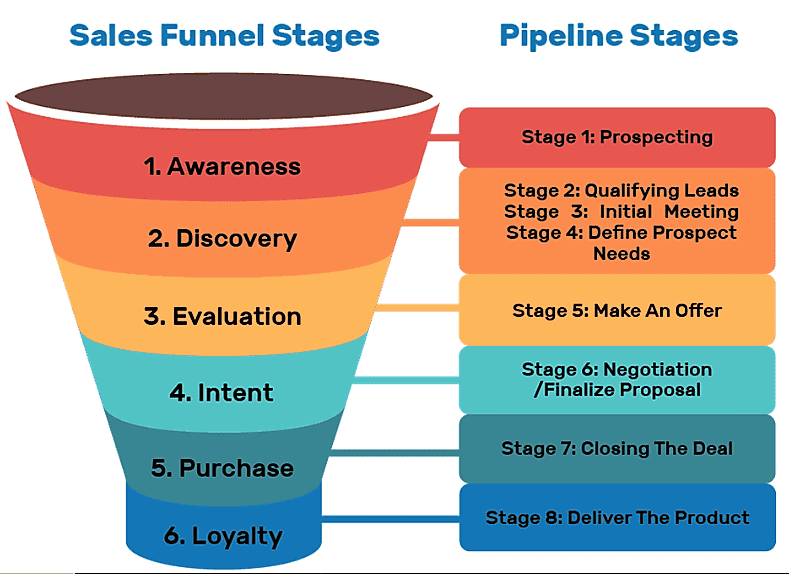 2. Customer satisfaction
Customers have many reasons why they churn. Did they create a support ticket that took forever to get a response? Did they churn because of a product feature your competitor has? Did they churn because your product isn't competitive on price and quality? All of these are customer retention challenges. And the solution is to conduct NPS surveys frequently. Getting feedback from your customers whenever they contact your team helps you quickly identify lapses that could lead to churn.
3. Conversion rate
Your conversion rate helps you keep a tab on the company revenue. This metric directly reflects the general outlook of your business and hence tells you how popular it is getting (or not) among your target audience.
Wrapping Up
Every quality CRM strategy puts the customer first. Why? Without customers, there's no business. And without business, your CRM software has no use. To get the full benefits of your CRM software, you need to take your customers' experience seriously. A quality customer experience is the vehicle that moves your organization to increased revenue.
To recap, here are the steps for creating an effective CRM strategy:
Start with your CRM goals

Identify your customers

Map your customers' journey

Automate your marketing workflow to cut on repetitive tasks

Train your team to make CRM software adoption easy

Use CRM software instead of multiple excel sheets, post-it notes, etc.
Need CRM software? You can try EngageBay for free (forever). 30,000+ customers couldn't be wrong.
Want testimonials first? You can read plenty of user reviews here.