CRM is CRM, right? You use it to keep track of leads and prospects. What else could CRM software do for you as a business owner?
Well, quite a lot!
CRM functionality has evolved significantly in recent years, with features that are perfect for growth hacking your way to success.
CRMs have come a long way from their roots of simple lead management software; today they offer an extensive range of tools and services that can help you grow your business exponentially — without spending more money on advertising or marketing campaigns!
In this article, we'll be looking at 12 CRM features that fuel growth hacking.
What is Growth Hacking?
Growth hacking is the "fast and furious" method of experimentation on various aspects of marketing, sales, and customer service. In a nutshell, growth hacking is the process of identifying the most efficient way to grow your business without emptying your coffers.
There are ways to boost your conversion rate without following the conventional and daunting methods. You can also find novel and effective ways to acquire new customers and test how much your products and services mean to your customers.
Small businesses like yours need growth hacking to get a competitive advantage over mammoth corporations with well-funded and highly streamlined processes. Traditional methods can take a lot of time and resources to reach certain goals. In some cases, they might even fail.
That's where growth hacking comes into play.
The trick is not to reinvent the wheel — you just have to experiment and tweak to find out what works the best for your company.
So, how do you growth-hack your way to success? By using the right CRM capability for each business task.
In this blog post, you'll find the best tips on how to use a customer relationship management software (CRM) to stay on top of the competition.
Here's a great video on growth hacking by Neil Patel:
12 CRM Features That Help In Growth Hacking
You can use your CRM application to implement most of these ideas. Of course, for that to happen, you'll need to use a powerful, operational CRM.
Some great CRM options you can consider are:
HubSpot CRM

Salesforce CRM

EngageBay CRM

Apptivo CRM

Insightly CRM
Read also: 8 Fantastic HubSpot Alternatives for Small Businesses
#1. Data-Driven Lead Management
Contact management is a common feature across CRM systems. What you're looking for is a step above contact management: we call it lead management.
An advanced CRM software will not only store contacts, it will also enable you to understand your leads better. Based on that customer data, you can create sales strategies to convert leads into paying customers.
A CRM system centered around your customers will help you compile crucial information, including their requirements, likes, behaviors, income, past customer interaction, and more.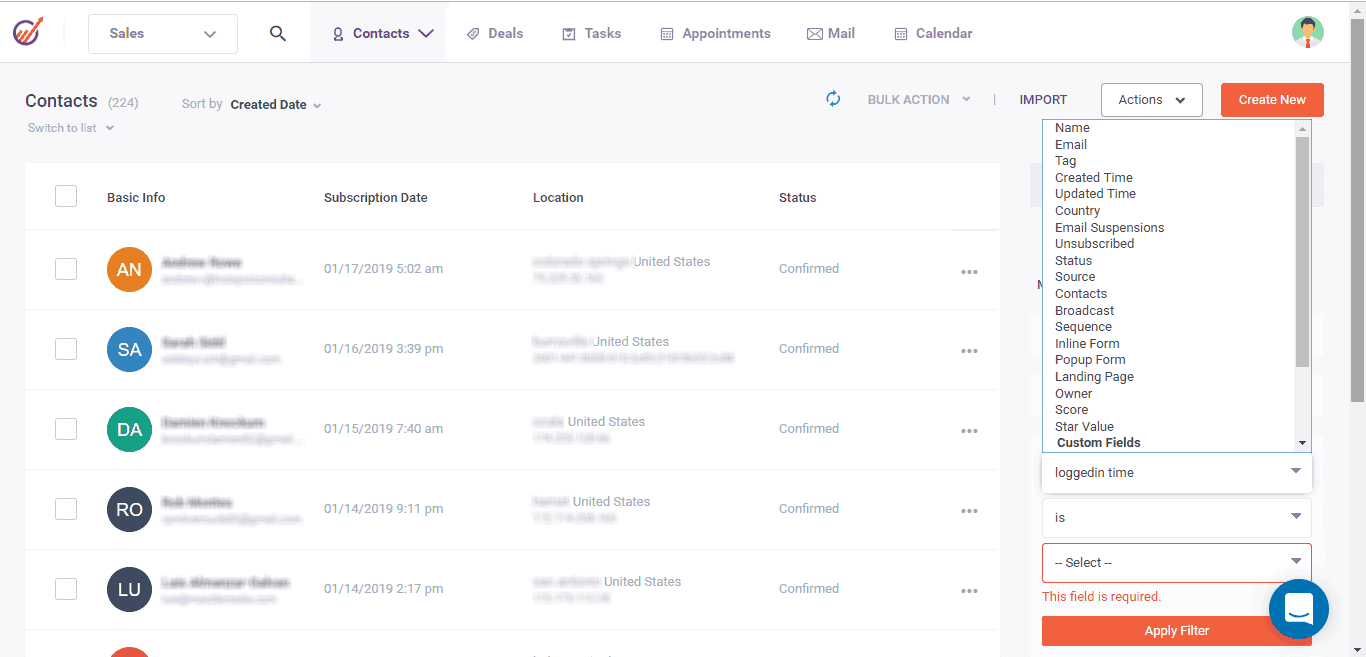 #2. Lead Scoring: Hot Leads vs Cold Leads
Not all leads are the same, and nor do they require the same manpower from your sales teams. Categorizing which leads to nurture is called lead scoring.
You can distinguish between your hot leads and cold ones using various filters and criteria and focus on the leads that have a greater chance of converting.
A CRM solution helps you automatically score your leads and create lists to target them through personalized marketing and even send them further down the sales funnel.
Conversely, you can segment cold leads for re-engagement campaigns.
Many businesses make the mistake of targeting only hot leads and ignoring cold ones.
Instead, lead scoring should only be used to gauge where the leads are in the sales funnel, and target them with personalized messaging for every stage.
#3. Omnichannel Communication
There are dozens of different modes of communication in today's world, and your customers may have certain preferences. Some leads respond better to an email, whereas some prefer calls.
That's why your business needs an omnichannel communication system. An integrated communication system will help your sales team provide a consistent customer experience across different channels.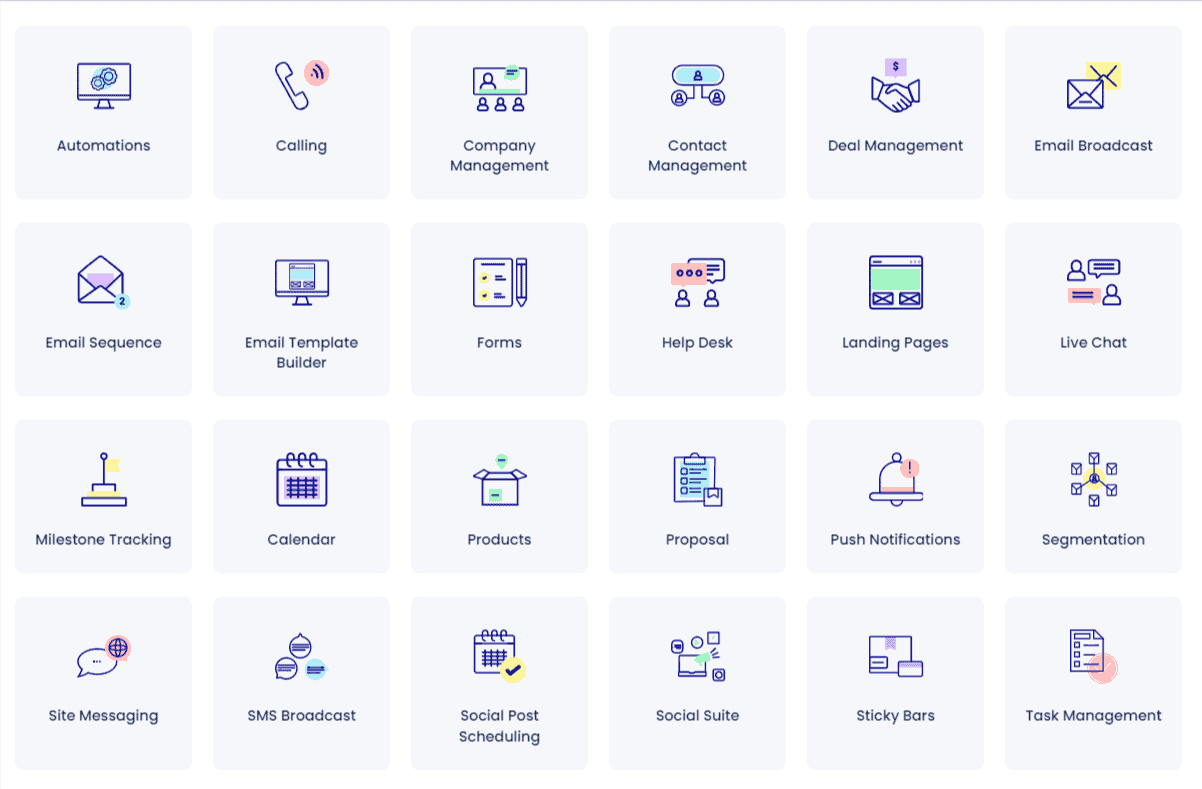 An advanced CRM software will help you integrate your customer connections — both online & offline.
Your sales rep will be able to keep track of all customer interactions across their journey with your business, and store all this crucial customer data in a central database for easy access.
👉Master the power of CRM databases with our comprehensive guide – explore the benefits and features now! 🌟
#4. Mobile CRM For Remote Access
If your sales teams work on-base or remotely, then you need a CRM tool that accommodates their requirements.
Cloud-based CRM systems have the added advantage of being portable. You can access various CRM functionalities as long as you have a good internet connection.
This has revolutionized how small companies conduct their businesses.
Having a portable CRM software like EngageBay lets you engage with your leads, schedule meetings, and even offer customer support on the go.
Read also: 7 CRM Automation Functions to Generate More Revenue
#5. Segmentation With Smart Lists
Audience segmentation is crucial if you want high conversions, deeper customer relationships, and more sales.
Your audience is not going to respond well to generic mass marketing and sales tactics. The element of personalization is crucial to making a sale.
Many CRM systems offer contact segmentation as a core feature.

With this CRM functionality, you can segment your leads into smart lists that automatically update based on certain criteria.
You can use audience segmentation to target users based on location, past interactions, lead score, purchase history, etc.
Once you get your audience segmented well, you can target them with relevant, personalized campaigns for better conversion.
Read also: What Is Audience Segmentation & What Is Its Impact on Marketing
#6. Social Proof & Testimonials
At the end of the day, people trust other people's words. Social proof, aka testimonials, is a powerful tool that can drive conversions.
If you have long-term users of your product or service, ask them for a review. You can leverage these testimonials through your social media, newsletters, website, etc., to build a strong brand image and nurture customer trust.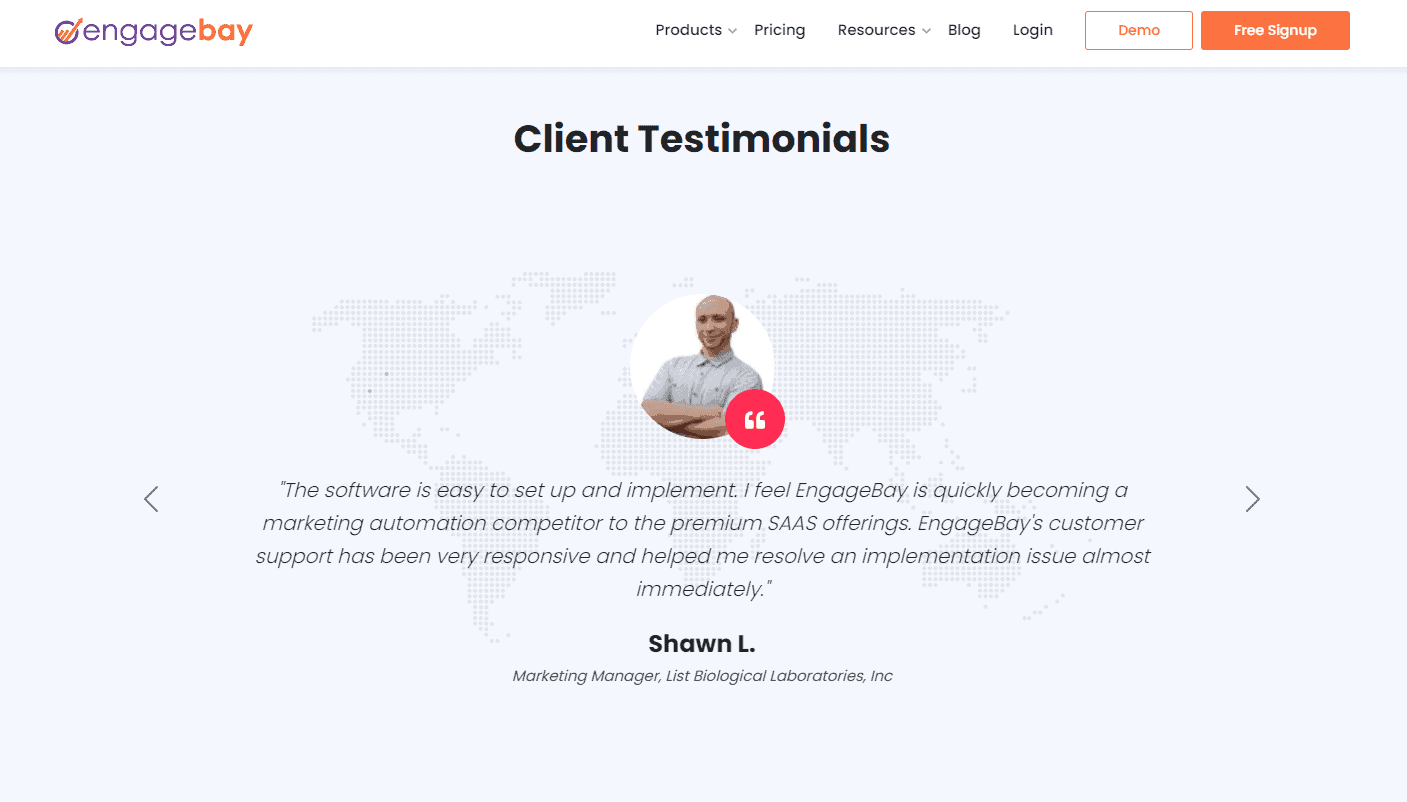 Companies tend to inflate how good their products are, and your customers know it.
Recommendations coming from people who have paid for and used your product will give a much-needed nudge to convert potential customers.
Read also: These CRM Modules Can Skyrocket Your Customer Loyalty
#7. Exit-Intent Popups
Have you ever wondered how websites aptly show a colorful and eye-catching dialogue box when your cursor leaves the page?
That's an exit-intent popup in action.
Simply put, an exit-intent popup shows up as the user is about to leave a webpage. This offers the brand another chance to convert its leads.
This is a great place to show your testimonials and USPs.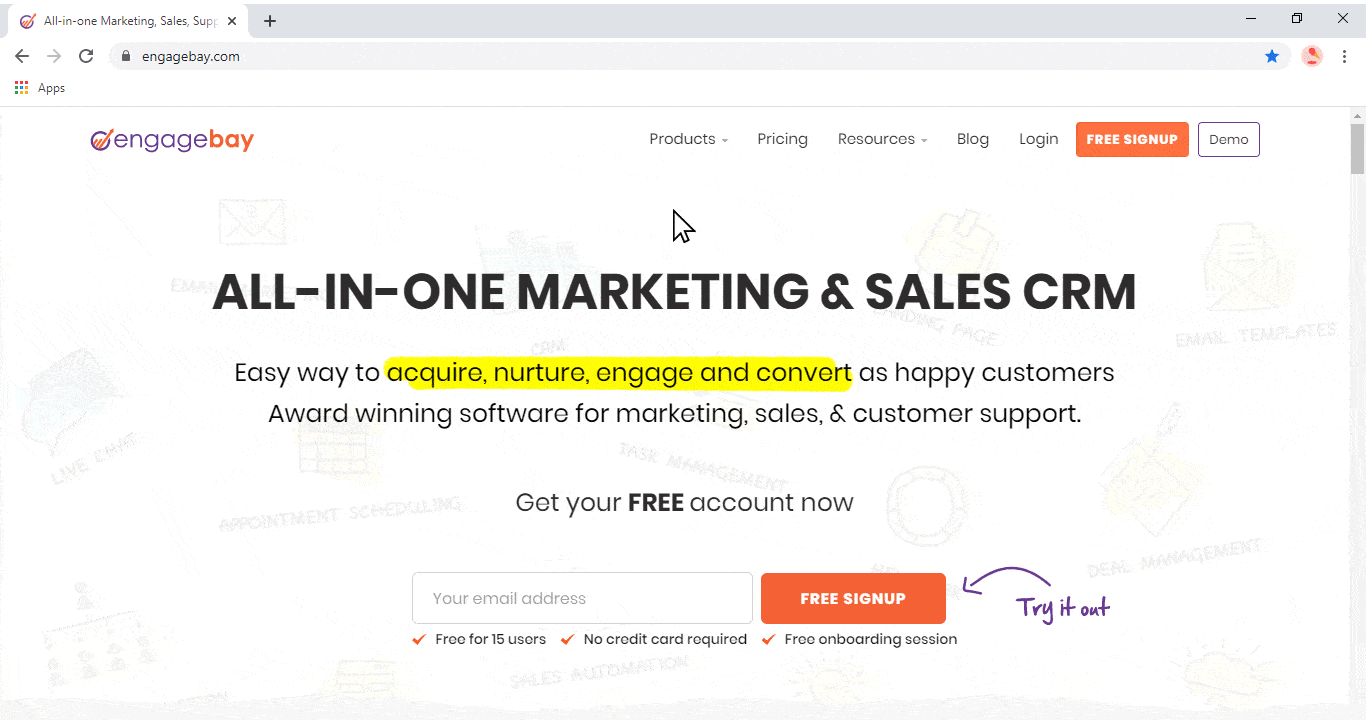 Some websites even invoke a sense of FOMO (the infamous Fear of Missing Out strategy) as a lead magnet by showing a countdown or displaying how many have joined a particular subscription.
Some companies also offer limited-time discounts to try to win back customers.
Read more: 15 Intelligent Ways Top Brands Use Exit-Intent Popups
#8. Customer Retargeting
Sometimes, your leads go cold for a variety of reasons. Your campaigns may not appeal to them, they might not need your services right now, and some may outright dislike your brand.
Knowing what went wrong and where can help you tweak your strategy to win your leads back.
Some CRM software offer a wide range of features to help you retarget your leads and nudge them further down the sales funnel.
Just because a potential customer does not purchase something on their first visit doesn't mean you have lost them forever. According to a report by Digital Strategy Consulting, an average visitor makes nine visits before making a purchase!
Google and customer retargeting works wonders, too. Make sure to include this in your advertisement strategy.
Interested in CRM automation software? Our guide outlines the best options in the market.
Read also: Marketing Automation vs CRM: Decoding the Difference
#9. Social Media Integration
Social media analytics is not a core CRM feature that many tools offer. However, newer software like EngageBay offer CRM features that include social media integration.
This means you can access your customer engagement across social channels on a common dashboard.
You can track engagement metrics, likes, shares, and new followers, and visualize what type of content appeals to your target audience.
You can also share your blog posts on social media for better reach. Add CTAs to them so that new visitors can subscribe to your newsletter — thus offering another channel to nurture and capture leads.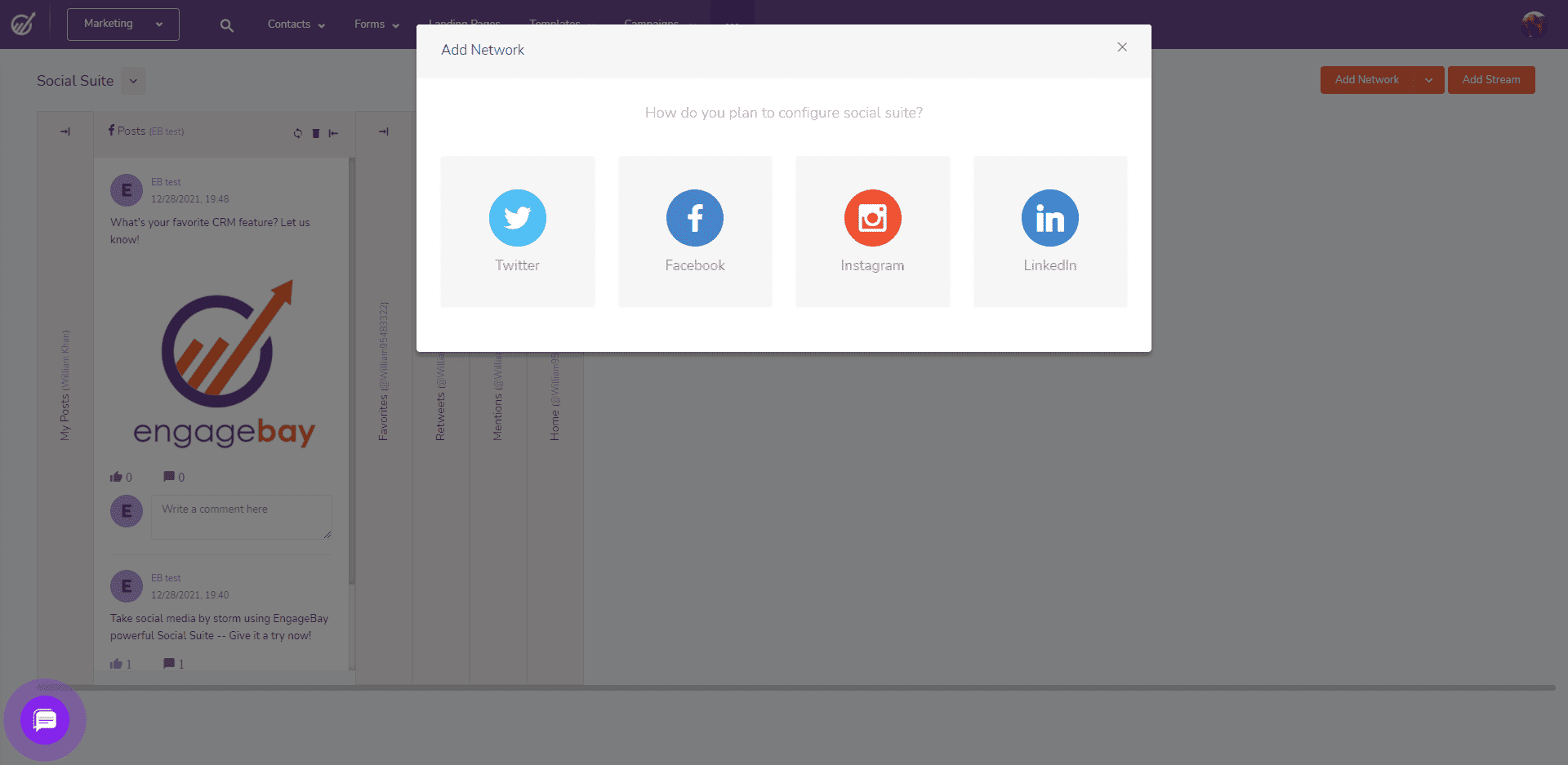 Another great way to growth hack your way to success is to write blog posts that rank on Google's first page for industry-related SEO keywords.
This will bring in more targeted traffic, thus significantly enhancing the chances of quality conversions.
Read also: Track These 15 Marketing Metrics to Grow Your Small Business
#10. Exceptional Customer Support
Offering quick and efficient responses to your customer's queries is a surefire way to enhance conversions. Your leads won't wait for you for days to get a reply; they'll simply move on to other vendors that offer better customer service.
That's why you need a CRM software that offers a complete customer support system. With tools like helpdesk and live chat, you can respond to queries swiftly and possibly retain customers.
Using autoresponders and other CRM software features can help reduce your agent's workload while simultaneously improving response times.
Read also: 6 No-nonsense Examples of Customer Relationship Management
#11. Planned Follow-ups
Many businesses, especially smaller ones engage with a lead once and then forget them altogether. In reality, multiple attempts are needed to garner a response from a potential lead.
Just because they don't respond on the first attempt does not mean they have gone 'cold.'
A CRM software helps you manage leads effectively by keeping track of your interactions with them and providing you with information about their purchase journey.
This way, you can plan your follow-ups accordingly and improve your chances of closing a deal.
CRM features like lead scoring and email automation can help take some of the manual work out of following up with leads and make the process more efficient.
#12. Upselling, Cross-selling, and post-sale promotions
Making a sale goes beyond just converting a customer. You must also have a post-sales process in place so that you don't lose repeat business.
This is the stage where you can upsell and cross-sell your products or services.
You can make use of features such as email broadcasts, multi-channel marketing automation, and email sequences to interact with your customers at regular intervals.
With email sequences and audience segmentation, you can regularly send out personalized, relevant emails, promotions, and newsletters to keep your brand name fresh in the minds of your customers.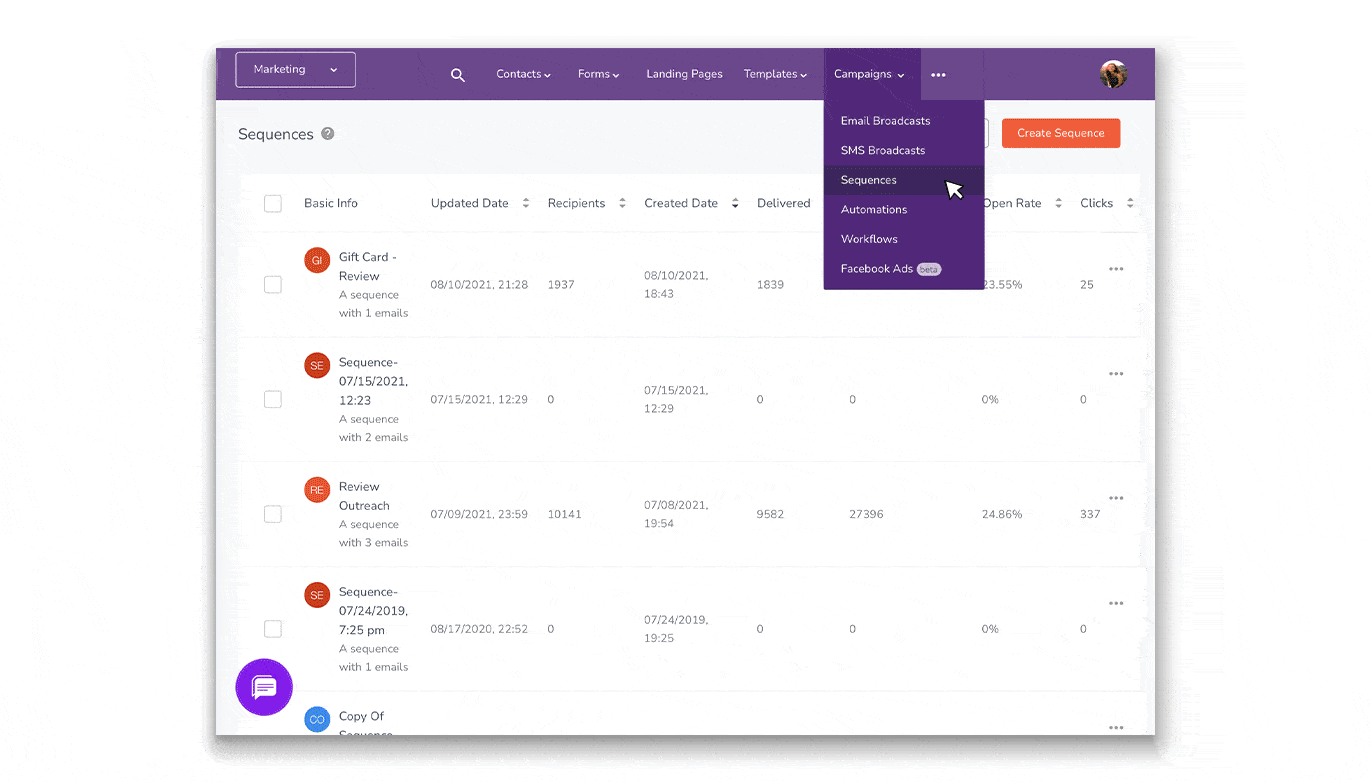 Many CRM software offer web analytics and user behavior tracking to help you analyze how your customers respond to your web pages and emails.
This will offer deep insight into your customers' desires and behavior — making it easier for you to convert leads to sales, upsell, and cross-sell.
These marketing automation features also help you deliver exceptional customer service experiences and improve customer satisfaction.
Read also: 6 Easy Ways to Spot (& Create) New Sales Opportunities Like a Boss
Conclusion
As a small business, you're working with a limited number of resources. Making the most of them is vital for continued success.
This brings us to the following question: How do you find the best marketing automation & CRM system for your small business?
There are dozens of excellent CRM software in the market today. Choosing any one of them can enhance conversions, boost your growth, and bring in more sales.
If you don't feel like combing through the several dozen options on the market, we suggest you give EngageBay a try.
With EngageBay, you get advanced segmentation, predictive lead scoring, intelligent reporting and analytics, autoresponders, pipeline management, sales forecasting, email sequences, omnichannel communication, integrated social media analytics, workflow automation, exit-intent popups — the list goes on.
The best part? There's a free plan with a myriad of features for businesses like yours.