The adoption of marketing automation tools is growing at an unprecedented rate. 
Whether you are planning to install a new one or re-evaluate your existing solution, you must have heard about Drip.
But before you make your final selection, you must evaluate Drip alternatives too. 
Even though Drip has gained its popularity amongst large enterprises for its power-packed functionality, the pricing might not be affordable for all types of businesses. 
Drip is a marketing automation software designed to help you build your ecommerce brand.
It has a range of tools to offer that helps right from attracting your prospects to nurturing leads and customer acquisitions. 
However, when you choose a marketing tool, a lot of factors come into consideration.
Does it have all the features you require? 
Is the interface intuitive enough to use the application with ease? 
Before you make your final decision, we would like you to first assess several Drip alternatives. 
Each of these Drip competitors offers similar services with variations in their features and pricing point.
Overview of Drip
Drip comes with a robust suite of functionalities that aims to help businesses grow their revenue.
It enables you to run and automate proven email and SMS marketing playbooks.
Some of its features include: 
Web forms
It provides lead ads and forms to convert visitors into leads and feed your segments. 
Segmentation and reports
Using Drip, you can segment your audience on various filters and effectively run your campaigns. Furthermore, you can generate reports to measure various KPIs. 
Email and SMS automation
Drip offers pre-built email templates that can be customized as per your need. 
No wonder Drip is trusted by some ecommerce companies, like Spice House, Craft, Haute Hijab, and much more.
But then, why should you consider Drip alternatives for your business? 
Why You Should Consider Drip Alternatives
Drip comes with some power-packed features.
However, it is not a one-size-fits-all solution.
When you implement a marketing automation solution, you expect to get value for money. 
But even with its basic plan, it can be on the expensive side for small businesses and wouldn't meet your business requirements. 
Besides, you may not need all of the advanced features that Drip has to offer.
You would want to check out cheaper alternatives.
5 Best Drip Alternatives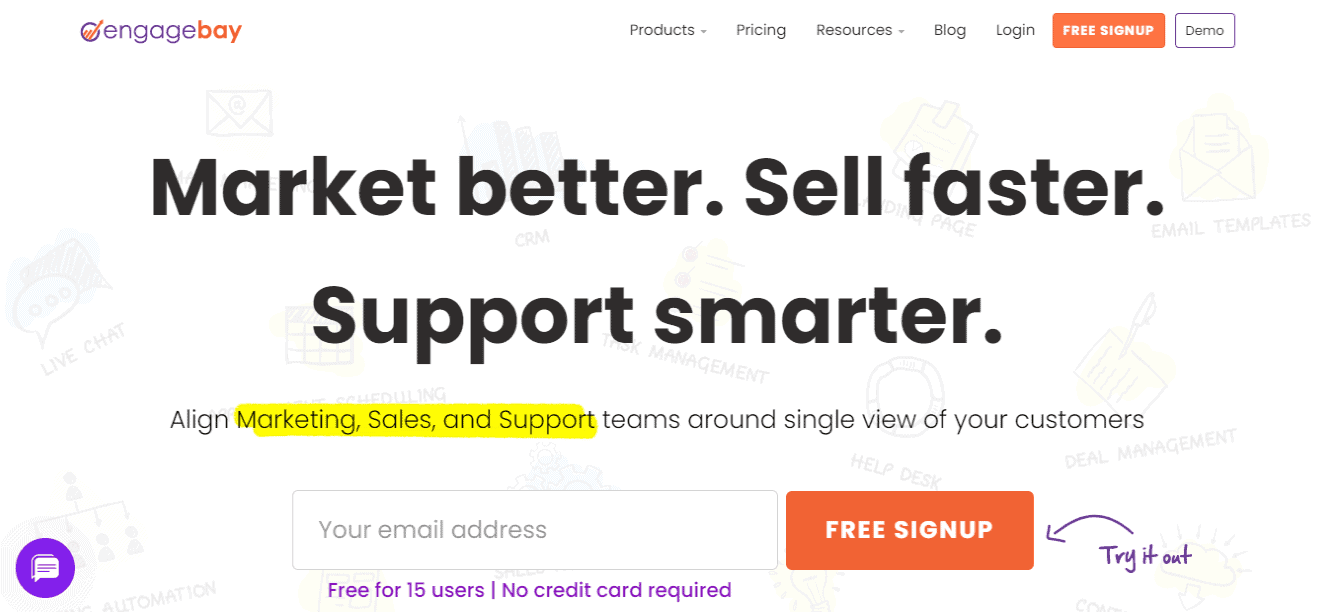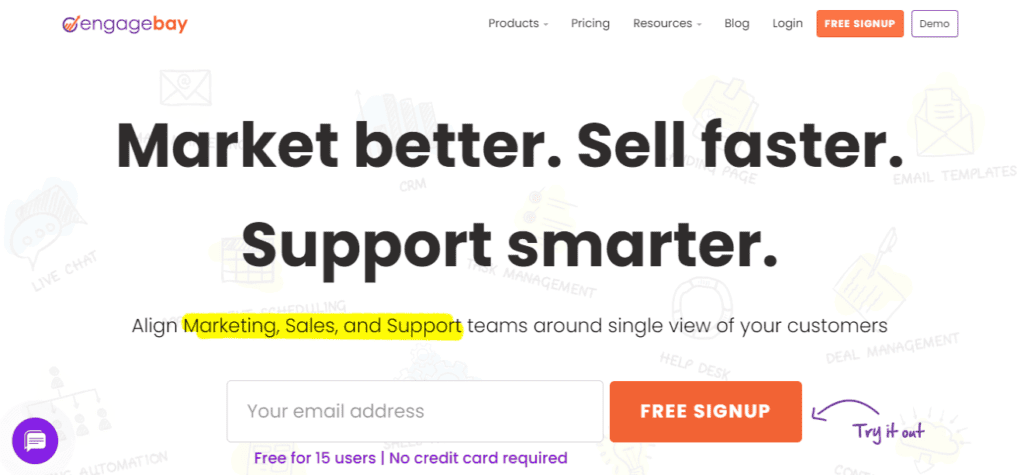 The first and foremost in our list of Drip alternatives is our own marketing automation tool — EngageBay. 
EngageBay offers an all-in-one marketing automation software that fits perfectly into the requirements of small businesses and startups.
It is trusted by over 29,500 customers, including top companies like Panama Equity Real Estate, Bitcointoyou, etc. 
Features
EngageBay has categorized all its marketing tools into three categories: Marketing Bay, CRM & Sales Bay, and Service Bay. 
Marketing Bay
EngageBay offers an integrated marketing platform that provides you with a unified platform for all your marketing leads.
From providing a complete 360-degree view of your customers' journey to sending engaging emails for nurturing leads and building beautiful landing pages to convert your leads into customers. 

While both EngageBay and Drip offer robust marketing automation functionality, EngageBay is much simpler to use.
Besides, it provides automation features at much affordable pricing. 
We laid down a detailed comparison for easy selection between the two.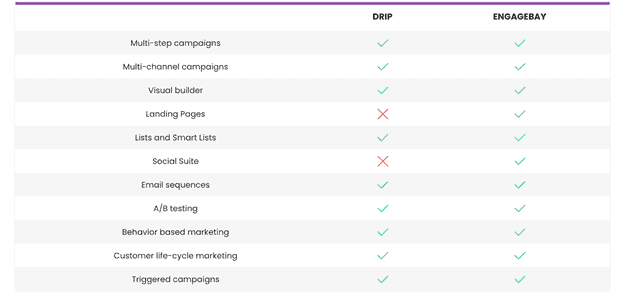 CRM and Sales Bay
EngageBay offers an advanced free and sales CRM that helps you streamline your sales processes and stay organized.
Setting up sales automation is pretty simple and doesn't require extensive training. 
With EngageBay's free CRM (or Customer Relationship Management), you can organize all your email contacts, track deals, and manage the sales pipeline to help grow your sales and develop a good rapport.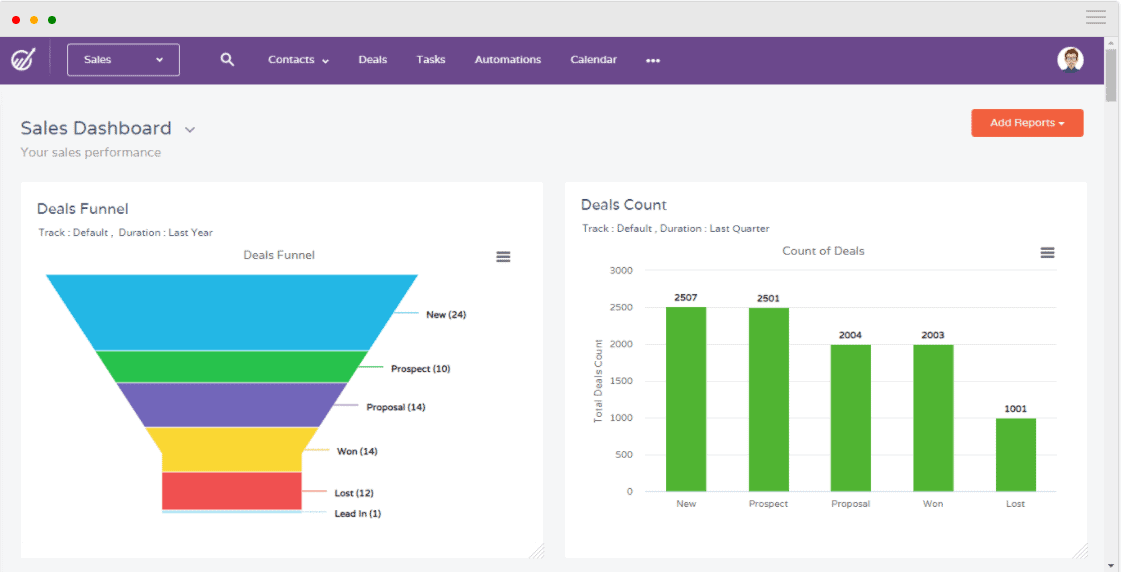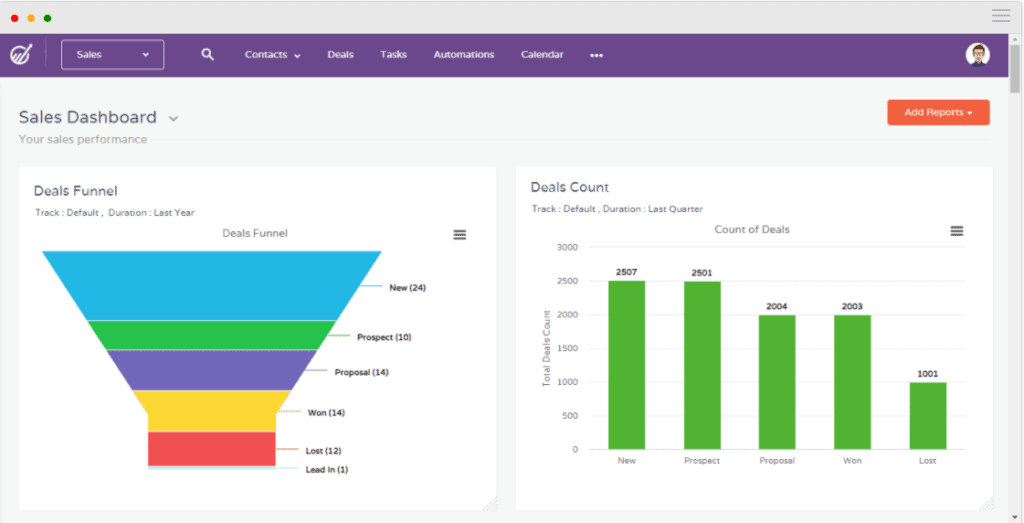 Whether you are a sales team of 1 or 1000, EngageBay has you covered. 
Furthermore, it offers an intuitive drag-and-drop functionality for the easy deal and task management.
Service Bay
EngageBay support modules offer world-class service tools — ranging from help desk software to live chat solution.
Besides, the live chat software is completely free! 
Whereas, Drip doesn't offer any support module, not even live chat functionality or a helpdesk system.
EngageBay's live chat software comes integrated with helpdesk software, making it one of the obvious choices for a Drip alternative.
Developer API
EngageBay's API is available in Rest, Java,.Net, Javascript, and PHP.
Reports
As compared to Drip, EngageBay offers a more holistic reporting module. It provides you with deep and meaningful insights that can help your business grow.
Furthermore, it provides data across all departments and various customer touchpoints. 
Pros
Easy to use and implement

Offers free CRM for small businesses

Free onboarding

Rich set of templates for emails, landing pages, and lead capture forms
Cons
Need to add more integrations 
Pricing
EngageBay has different pricing for all its tools.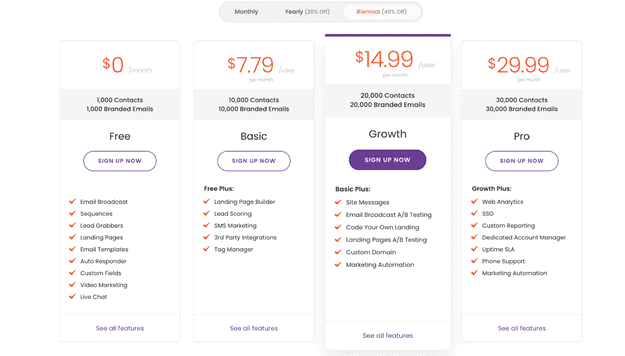 Marketing Bay­ has four pricing plans starting from $0 per month that comes with a restriction for 1000 contacts and 1000 branded emails.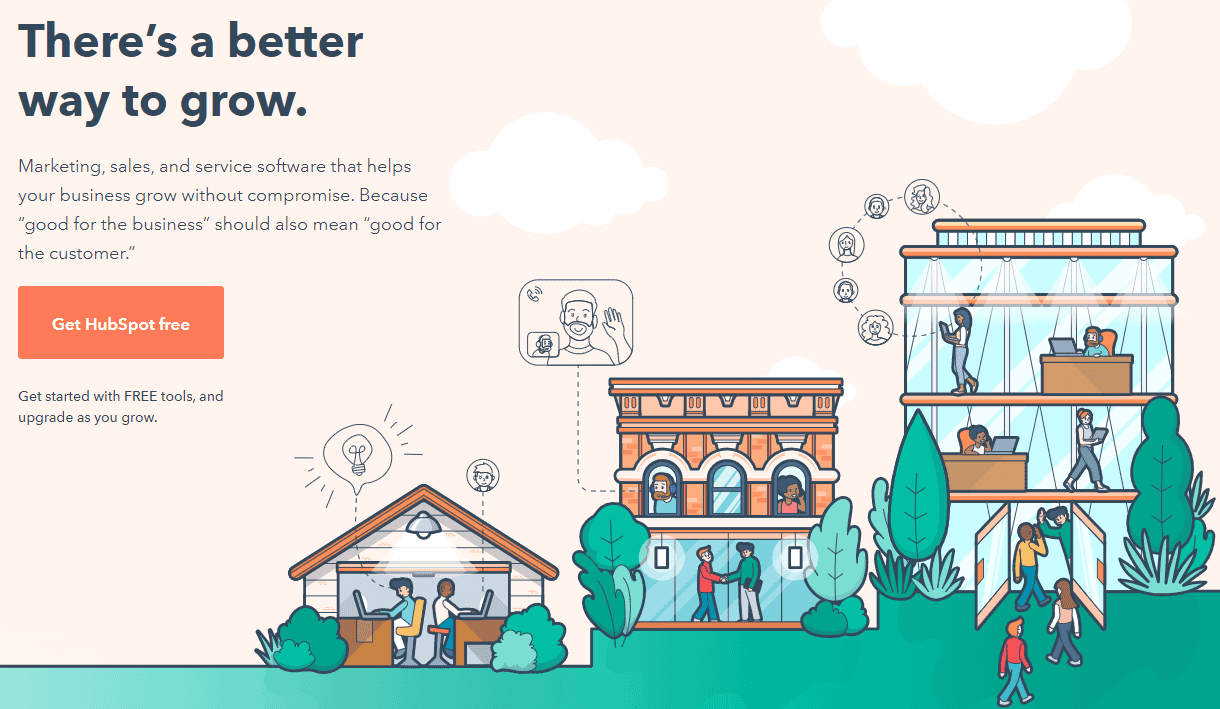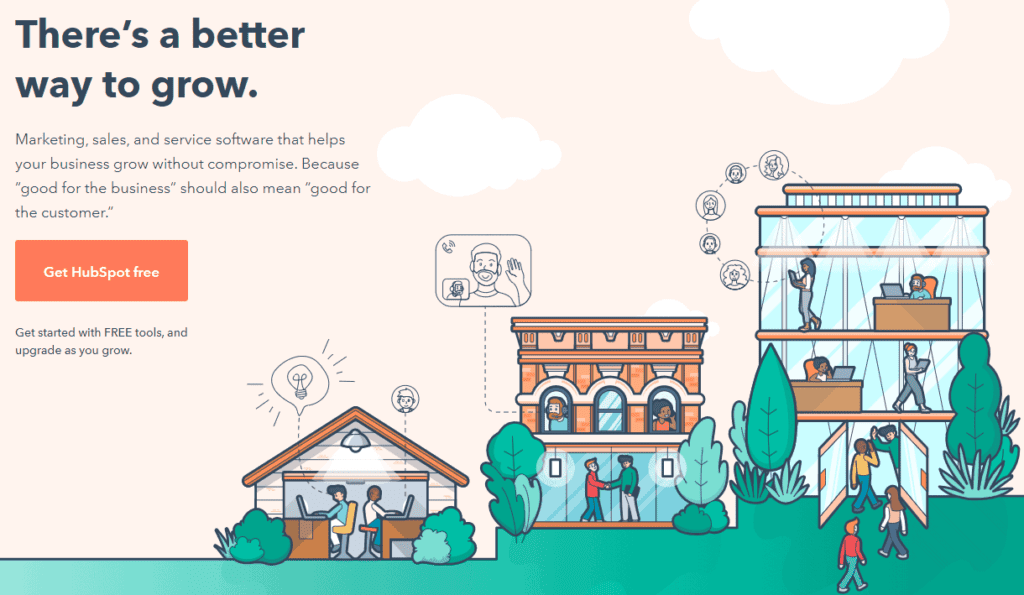 The next in our list of Drip alternatives is Hubspot, which was founded by two MIT students back in 2016.
Since then, it has grown to serve over 95,000 customers, making marketing tools available for more businesses. 
HubSpot offers a full-fledged marketing software that goes beyond only automating email marketing.
It aims to help you scale your business by standardizing your workflow and automating repetitive tasks. 
Features
All-in-one inbound marketing tools
Its all-in-one inbound marketing software comes with a comprehensive suite of tools.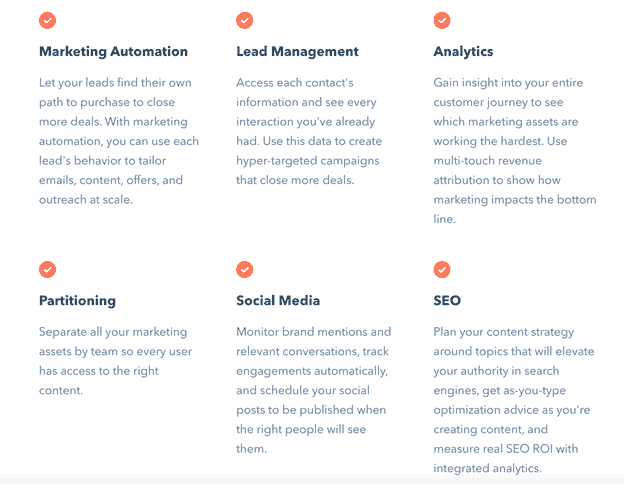 From blogging to creating landing pages, lead management, and analytics, it can take care of all. 
Automated email campaigns
HubSpot aims to help businesses generate and nurture more leads by automating their email marketing campaigns.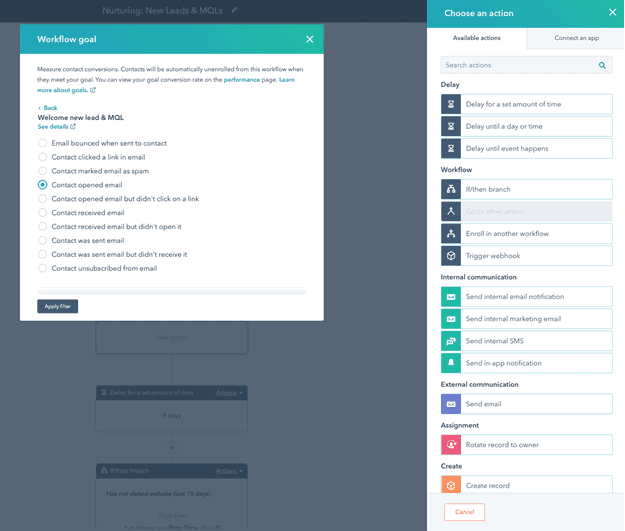 It allows you to choose dozens of triggers and actions, sending the right emails at the right time. 
Personalized workflows
Hubspot, with its marketing tool, enables you to create targeted workflows.
It has a visual editor using which you can create a simple follow up a campaign or a multi-stage journey drip campaigns.
Further, you can use advanced contact list segmentation to automatically detect and target your audience. 
Pros
Robust functionalities

In-depth training materials

Mobile interface

Rich dashboard
Cons
Pay for additional technical support
Pricing
HubSpot, as a Drip alternative, allows you to pay monthly or yearly (and save a little cash).
In fact, it also gets you the CRM for free, along with a few additional tools.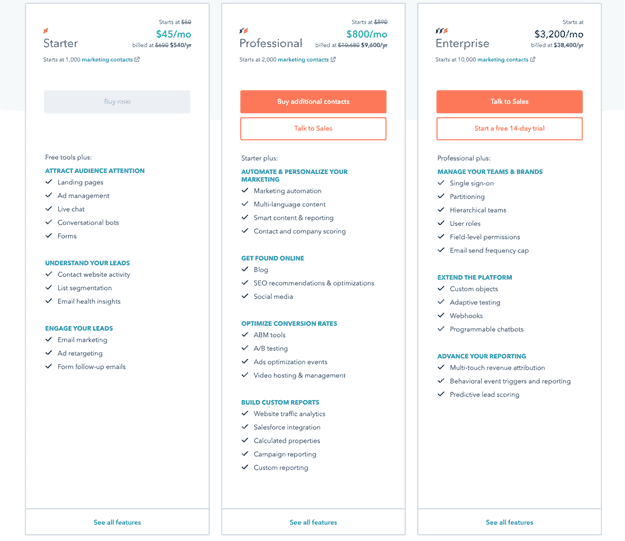 Its starter plan is just $45 per month. Again, you will get minimal features in its basic plan.
So in case, you need a whole bunch of functionalities, the price can get steep.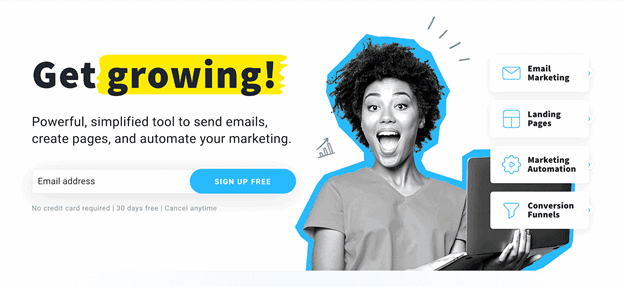 GetRespone is an email marketing tool, in particular, designed to simplify and automate email campaigns.
Besides, its marketing software includes tools that help with lead generation, customer engagement, and boosting online sales.
Let us look at some of its features. 
Features
Marketing automation
Its marketing automation helps you deliver a personalized and meaningful experience to your customers.
Based on customers' data, it sends out automated product recommendations based on customers' purchase history data.

Furthermore, it optimizes and automates the workflow combined with website visitor tracking. 
Email marketing
With GetResponse drag-and-drop email creator, you can easily design and send emails in just a few clicks.
You can even schedule your emails and set triggers to send emails automatically.
Before sending, you can preview designs on desktop as well as mobile devices. Easily add GIFs and free stock photos to your emails. 
Landing pages
You can easily create landing pages even without any prior coding language.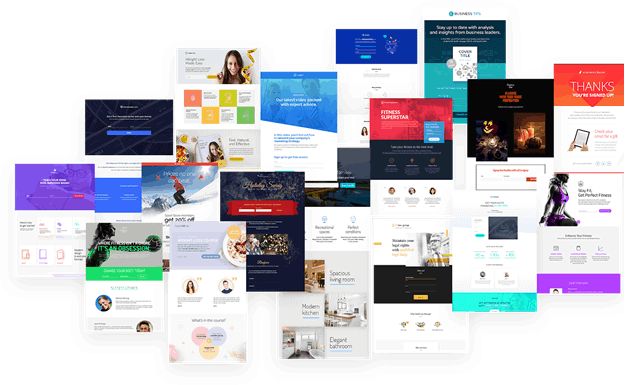 It comes with ready-made, mobile-responsive templates for you to choose from. With the built-in image editor, you can personalize the page as per your branding.
Paid ads
GetResponse helps you run targeted ad campaigns to grow your subscribers' list.
Using GetResponse, you can target your existing subscribers with paid ads or even help you locate people with similar interests to your existing contacts.
Webinars
It comes with an easy-to-use webinar builder and scheduling capability.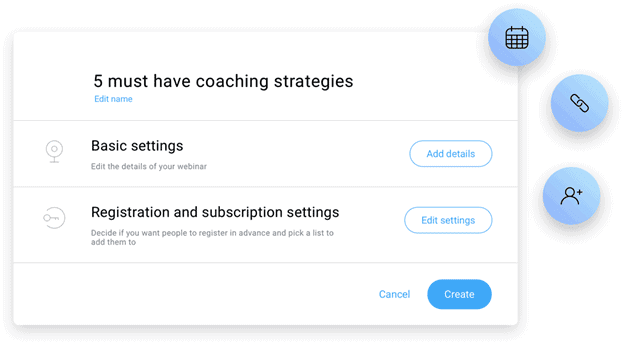 You can further customize your webinar URL and enable easy registration. 
Pros
User friendly

Comprehensive reporting feature

Integrates with Google Analytics

A/B testing
Cons
Pricing
GetResponse offers four pricing plans, including Basic, Plus, Professional, and Max. 
Its Basic plan starts with $15 per month that comes with limited functionality.
GetReposonse is a great Drip alternative if the Basic or Plus plan covers all your requirements.
Its Max plan can get a little expensive.
But you really get advanced features when it comes to marketing automation tools.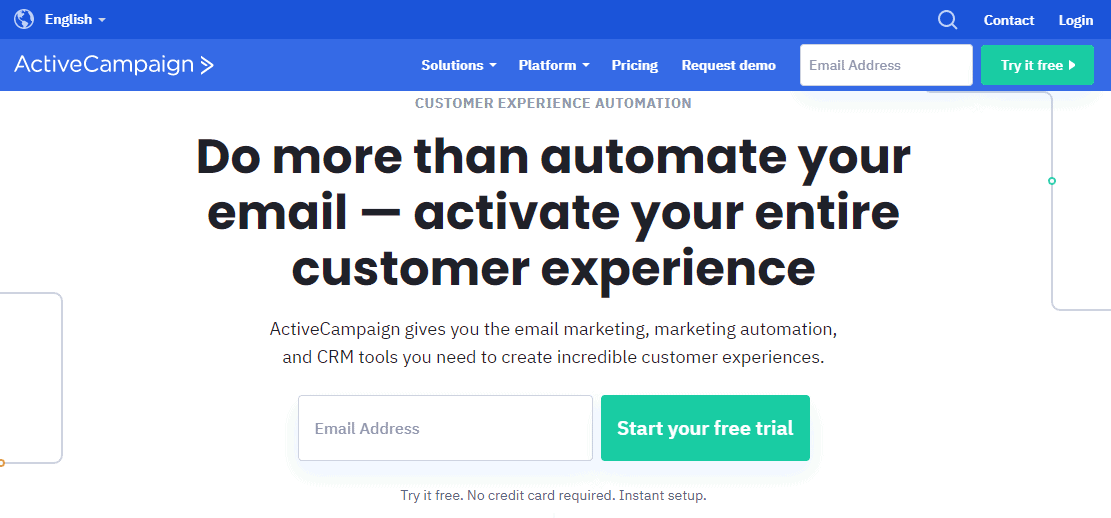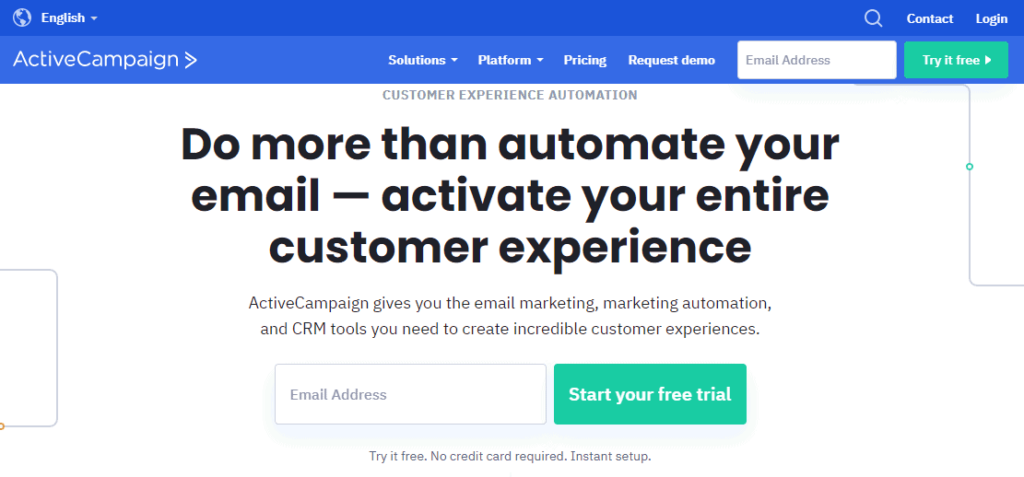 ActiveCampaign is another Drip alternative option that offers email marketing, marketing automation, and CRM tools.
It aims to help businesses enhance their customers' experience. ActiveCampaign can be used by ecommerce companies, B2B platforms, as well as digital companies. 
Features
Email marketing
ActiveCampaign allows you to send personalized emails to your prospects and leads.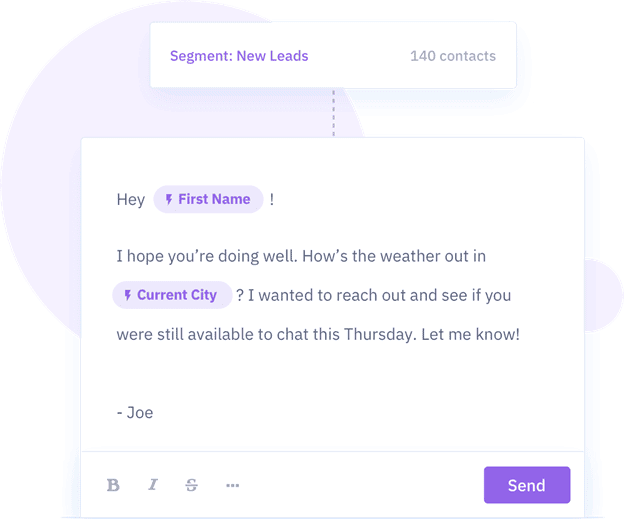 You can segment your email list based on various filters and send out dynamic messages to all your prospects. 
Marketing automation
ActiveCampaign offers a powerful marketing automation tool that comprises email marketing, contact management, automation of workflows, and segmentation.
You can easily set up a welcome series with email marketing automation or create an automated workflow without any hassle. 
Smart CRM
CRM keeps all the customer data organized in a single database.
This is where you can easily keep track of all your leads, update deals, and always follow up at the right time.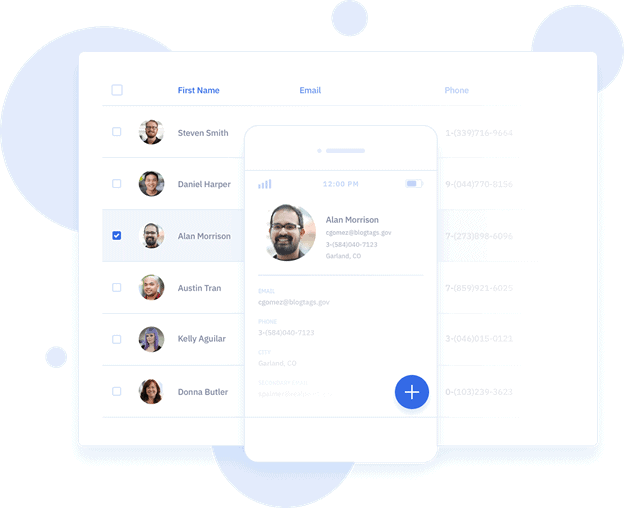 Using CRM, you can push your prospects further down the sales pipeline. It helps with lead scoring, task management, note creation, and much more. 
Website messaging
It offers customer messaging tools to help you reach out to your audiences across various platforms.
The purpose is to help businesses build meaningful connections with their customers.
Some of its features include engagement tracking, recommending products, answering questions, and asking for feedback. 
Pros
Reliable online support

Seamless third-party integration

Auto-responder options
Cons
Pricing
ActiveCampaign has four paid plans to choose from.
The basic plan 'Lite' starts from $9 per month for 500 contacts.
Similarly, the Plus Plan is available for $49 per month, the Professional Plan for $129 per month, and the Enterprise one for $229 a month.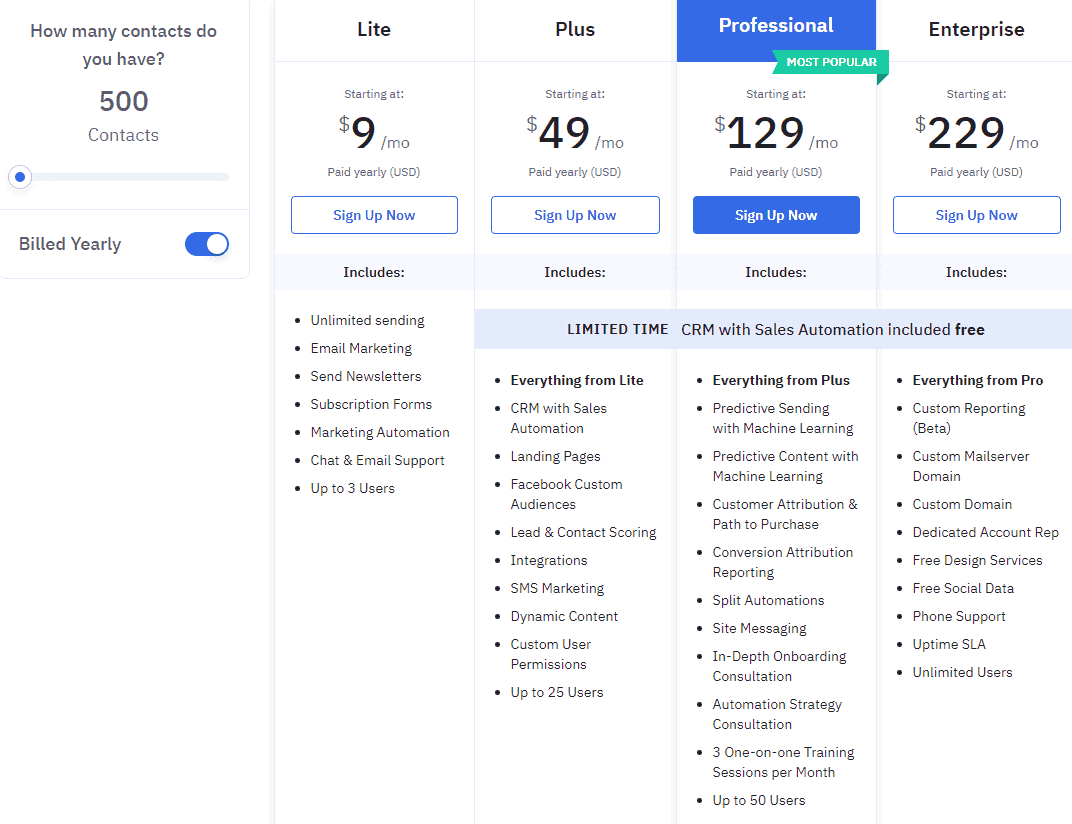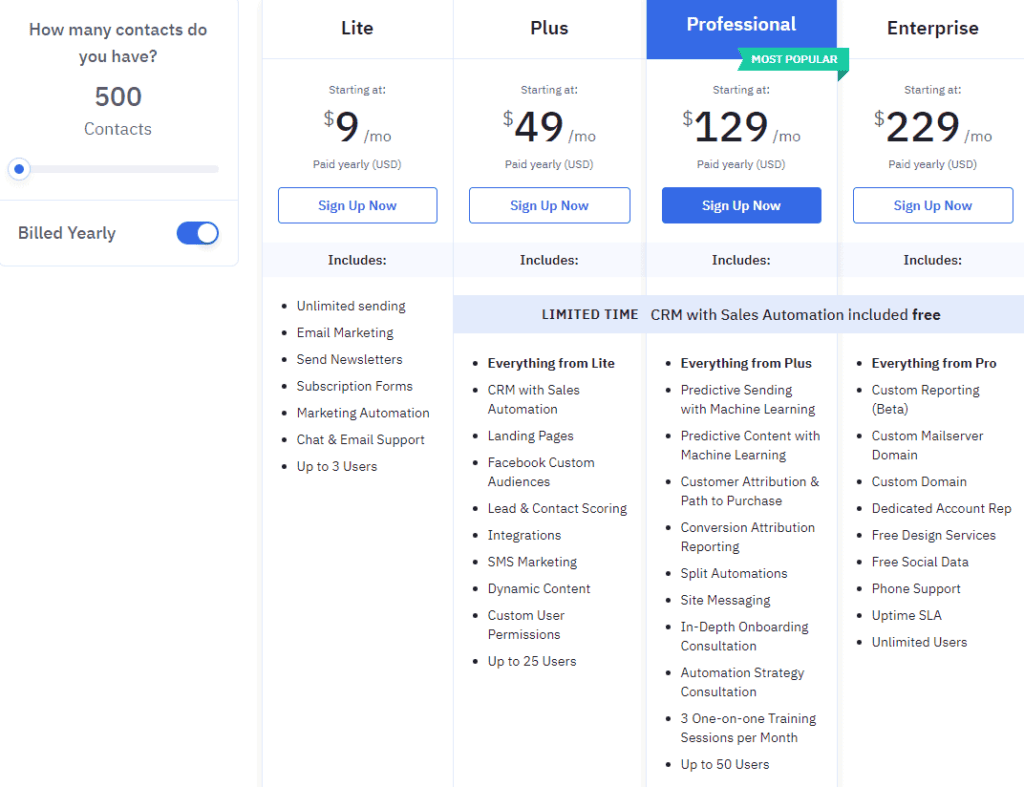 The Lite Plan offers you email and chat support, marketing automation, email marketing with unlimited emails, and newsletter.
However, once you get past the $49 Plus plan, this is where the other plans can quickly get pricey. 
It even has its features categorized based on different verticals, including digital business, B2B, and ecommerce.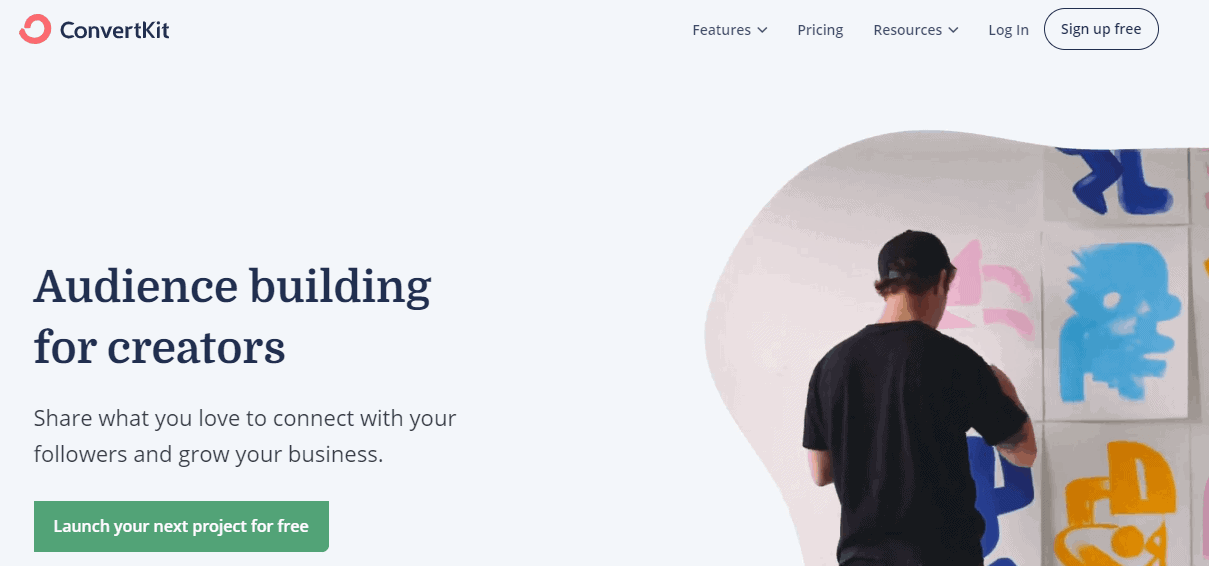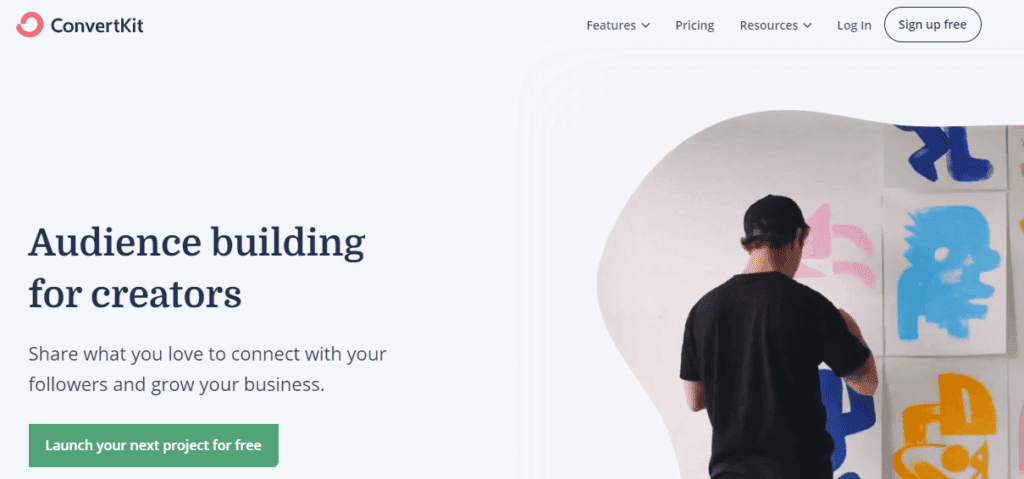 ConvertKit is an email marketing automation tool designed specifically for bloggers, creators, and book authors.
It aims to grow your relationships by understanding your audience through segmentation and increase conversions with automated emails. 
Features
Segmentation and tagging
Segmentation is the broad categorization of your subscribers.
Besides, its tagging feature lets you send hyper-targeted email newsletters and broadcasts. 
Email designer
ConvertKit offers email designers to help its customers focus more on the content of the email rather than the design.
Its email designer helps you create simple emails that deliver and convert.
Landing pages
ConvertKit lets you create landing pages with ease — no coding required.
However, it still offers custom CSS as an option for all code nerds.
The landing page templates are fully customizable and allow you to preview on different devices. 
Automation
ConvertKit's automation tool is quite easy to use.
You can schedule your email campaign and send out targeted content to your audiences.
It enables you to create a powerful automated funnel for higher conversions. 
Commerce
ConvertKit Commerce enables its users to start selling products digitally in just a few steps.
You don't have to create a complicated ecommerce website for selling.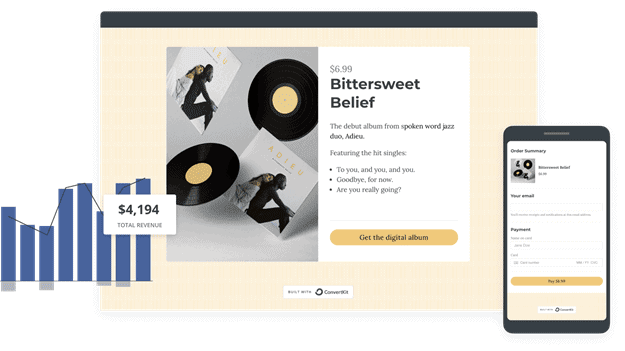 Besides, you can set up one-time purchases for products like an ebook.
There is no limit to the number of products you can sell. 
Pros
Ease of use

Easy WordPress integration

Visual automation builder

Live chat and email support
Cons
Pricing
ConvertKit prices its services into three plans: Free, Creator, and Creator Pro.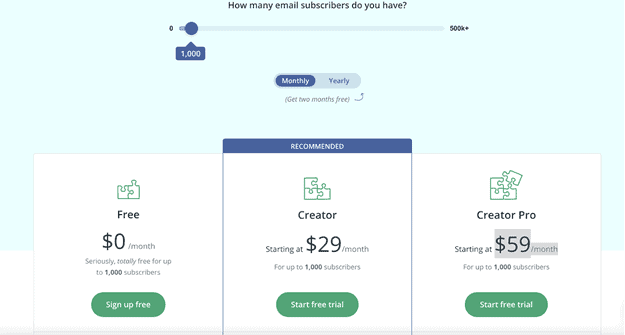 The Creator Plan starts at $29 per month for up to 1,000 subscribers, and Creator Pro Plan is for $59 per month (for up to 1,000 subscribers). 
Wrap Up
Drip is a powerful marketing automation software, but it isn't the only option available.
If you are looking for the best Drip alternative, these five options would be enough to choose from. 
Every software has its own pros and cons.
While EngageBay is pocket-friendly for small businesses with a robust suite of functionalities, ActiveCampaign can be an excellent choice for integration with other third-party applications. 
If you're looking for an option that lets you add more contacts without a substantial monthly fee, that's EngageBay.
Again, EngageBay free plan comes with no hidden cost. You can use those features for free for a lifetime. 
We hope that this article would help you make the right choice for your business.