As a sales rep, you must be familiar with how demanding the profession is.
From tracking leads to sending out offers, and following up, sales involve a great deal of legwork. And if you lose contact with your customers, you risk losing your sales.
Luckily, there are sales tools available to make your job easier.
Sales tool is an umbrella term encompassing applications like customer relationship management (CRM), sales analytics and reporting, lead prospecting, and sales automation.
A sales tool helps your sales team determine qualified leads, when to reach out to them, and automate administrative tasks.
But if you are a small business, it may not be feasible to invest in expensive sales software. Fortunately, there are many sales tools that offer limited functionalities free of cost.
In this post, we discuss some of the best free sales tools that will boost your sales productivity without burning a hole in your pocket.
10 Free Sales Tools That Your Sales Team Will Love
Our list of sales software is not comprehensive but has enough to get you started.
We have no ranking or order here.
Try the free versions or trials of these tools and you'll see which ones fit your business requirements best.
Ideal for small businesses, EngageBay offers a free sales CRM software that comes equipped with features like email tracking, sales automation, multiple sales pipeline management, and proposal analytics.
It also helps make calls directly and schedule appointments, so you don't have to set reminders to follow up with customers.
Besides, all the customer information appears on your screen while making a call. This helps you build better and more personalized relationships with your clients.
What's more, this free sales tool provides tracking of leads at various stages of a sales pipeline. You can get all the information about your previous customer interactions and gain relevant insights about clients.
It comes integrated with G Suite and Office 365.
Pros
Well designed and easy to use

Users can choose the CRM features they want to use and customize as per needs

Robust SMS marketing
Cons
Pop-up windows can be difficult to scroll through

Lack of project management feature
Pricing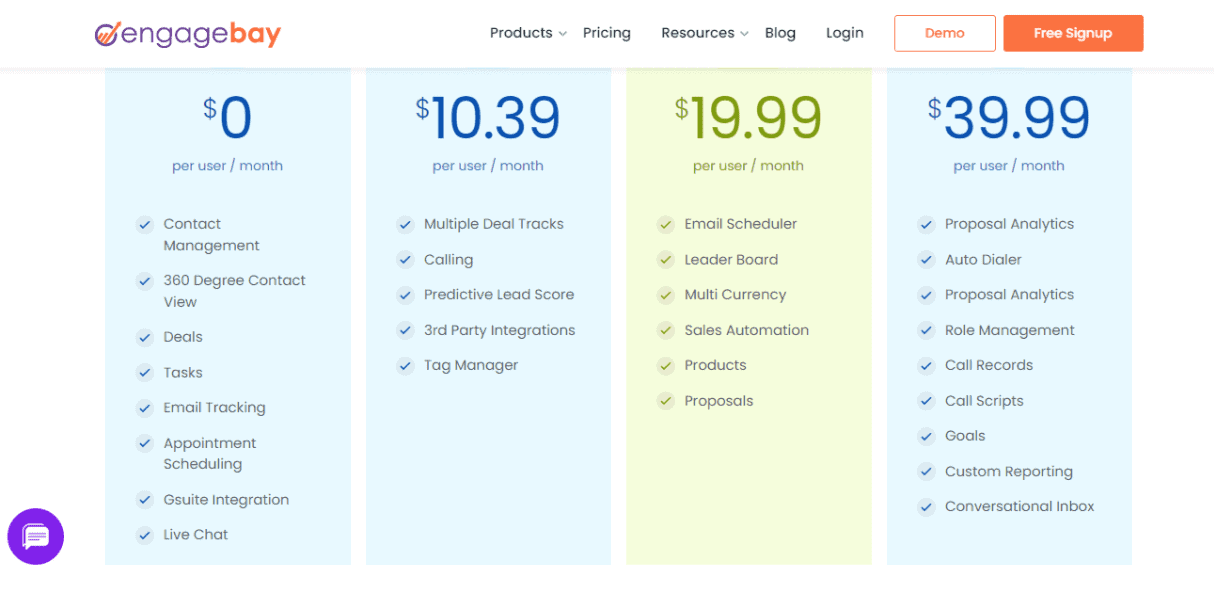 Along with the free version, EngageBay has three paid plans for added functionalities. These include Basic Plan, Growth Plan, and Pro Plan.
Its Free Plan is useful for those with limited resources or who want to try its CRM application first. Key services under this plan include contact management, email tracking, appointment scheduling, task management, and live chat.
But if you want to add features like predictive lead scoring for prioritizing your leads or creating workflow automation, you need to opt for its paid plans.
The Basic Plan is available for $10.39 per user per month with features like web pop-ups, form embedding, report dashboard, and custom deal milestones.
For those looking for features such as multi-currency, workflow automation, email scheduling, and leaderboard scoring, go for the Growth Plan ($19.99 per user per month).
With the Pro Plan, you can get timezone-based delivery, role management, call records and scripts, a conversational inbox, and account-based reporting. It starts at $39.99 per user per month.
Read also: ConvertKit vs MailChimp vs EngageBay — Which Tool is Best for Small Business?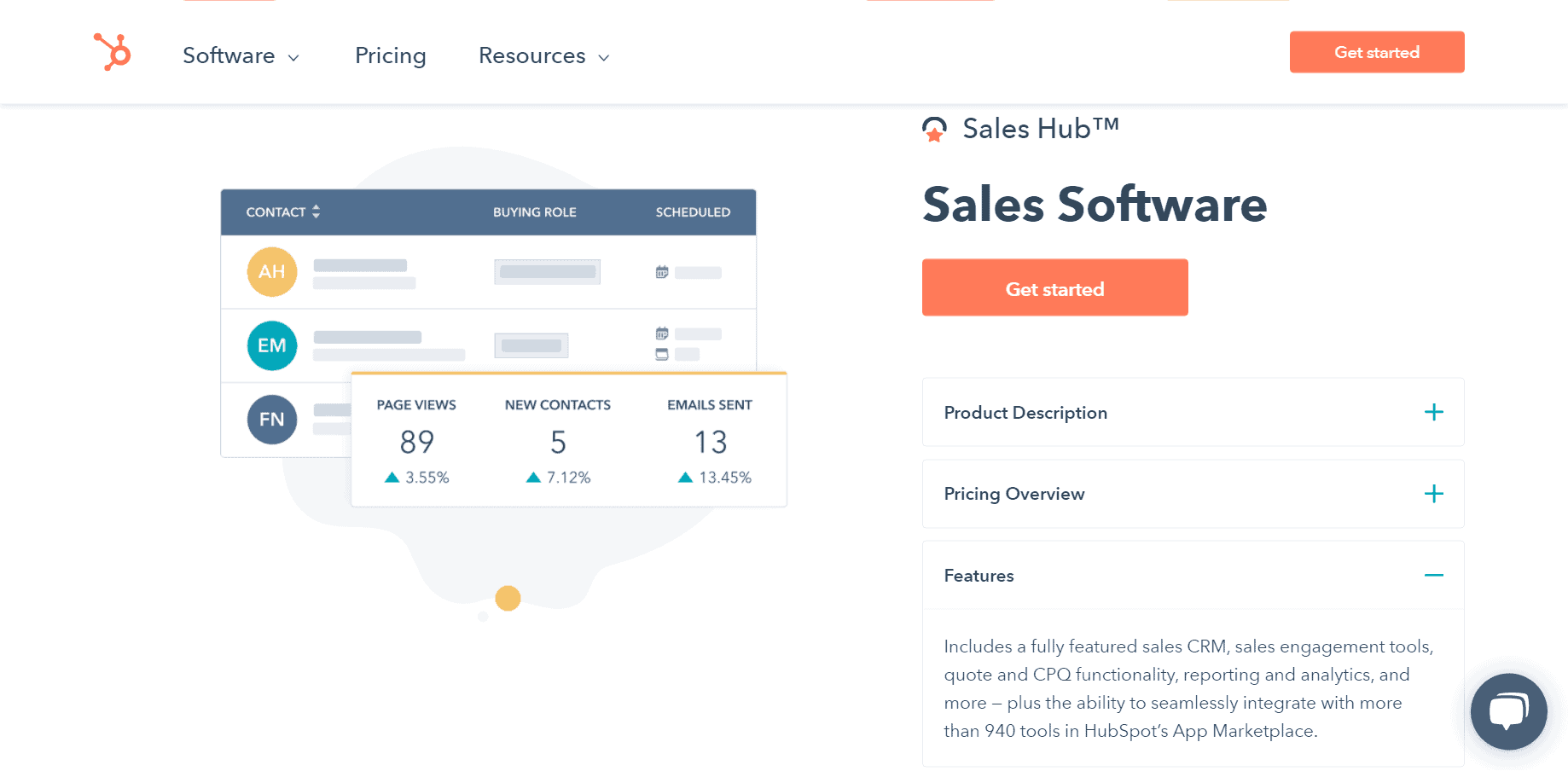 HubSpot's sales software is an all-in-one platform that helps you perform multiple functions with a single sales tool.
Some of the key features offered by HubSpot's software include email tracking, built-in email templates, document tracking and collaboration, pipeline management, and conversation intelligence.
The best part about HubSpot's sales tool is that it can be accessed through a mobile application, allowing you to connect with your customers from anywhere.
With HubSpot, you can also generate quotes in seconds and get full visibility of the sales process, enabling you to deliver faster and more efficient results.
Pros
A large variety of email templates

All-in-one platform with all sales and marketing features available in one place
Cons
Subject line cannot be changed in the email sequencing feature

Lack of SMS feature
Pricing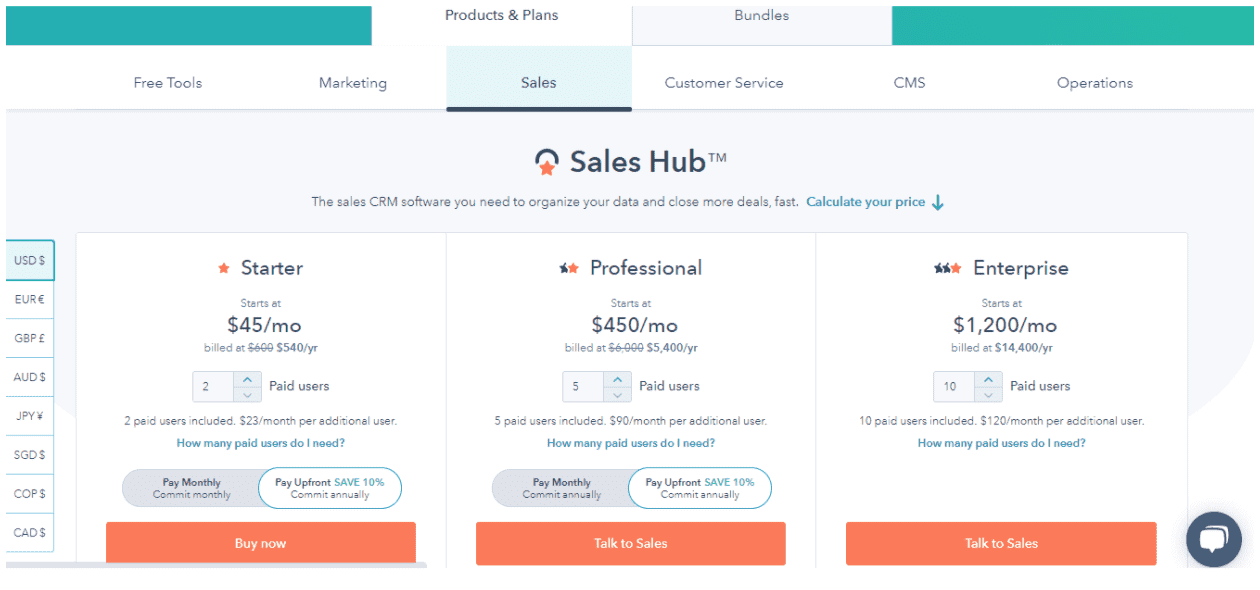 Along with a free version, HubSpot offers three paid plans with added functionalities: Starter, Professional, and Enterprise.
Those interested in a demo can opt for a free trial for 30 days. Some of the free tools available include live chat, basic bots, canned snippets, deal pipeline, and reporting dashboard.
The Starter Plan begins at $45 per month. For those looking for advanced features, the Professional Plan has services like customized reporting, sales sequencing, eSignature, and forecasting. It starts at $450 per month.
If you want features such as sales analytics, conversation intelligence, and predictive lead scoring, the Enterprise Plan works best. This plan has a price of $1,200 per month.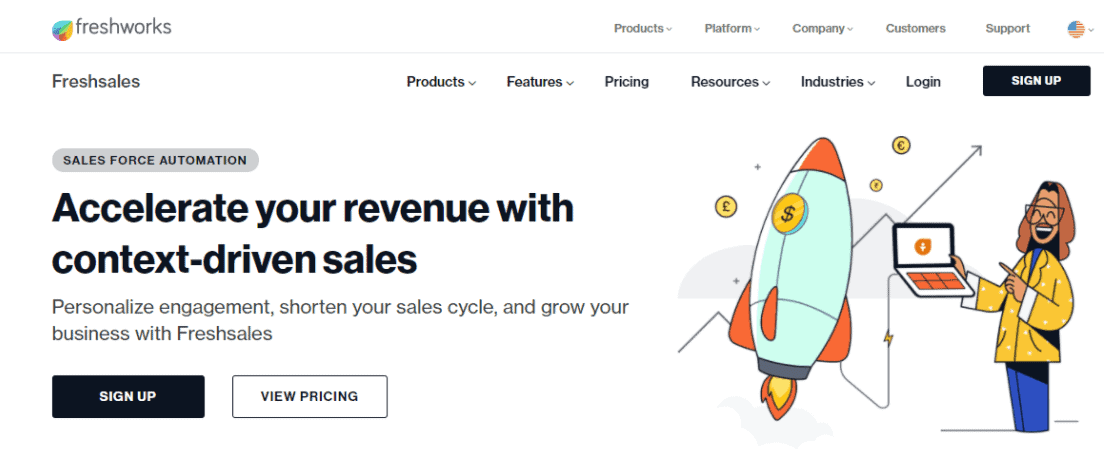 Freshsales is a sales tool offered by Freshworks. With Freshsales, you can expect to shorten your sales cycle and seal deals faster.
This sales automation tool helps you understand where your clients are in the different stages of the sales pipeline, provides seamless communication across multiple channels, and tracks page visits and actions on your website.
The contact scoring feature helps you better execute sales strategies by only focusing on the best opportunities. You can also get revenue forecasts, capture visitor information using web forms, and integrate sales and customer support under one roof.
Pros
Easy to use

Helps collaborate with different teams using Slack Integration

The AI-based feature helps close deals faster
Cons
More suited to small and medium enterprises than large organizations

Slow customer services
Pricing
Its free version has tools like contact and account management, in-built email, chat, and in-app calling.
If you want to expand your functionalities, it has three paid categories: Growth, Pro, and Enterprise.
For $13.19 per user per month (Growth), you get sales sequencing, product cataloging, custom reporting, and sales pipeline visualization.
The Pro Plan (available for $36.97 per user per month) offers time-based workflows, chat campaigns, and AI-based deal insight generation.
Lastly, its Enterprise Plan, better suited for large companies, can cost $66.02 per user per month. You get services such as auto-profile enhancement, custom modules, audit logs, and a dedicated account manager.
#4. Calendly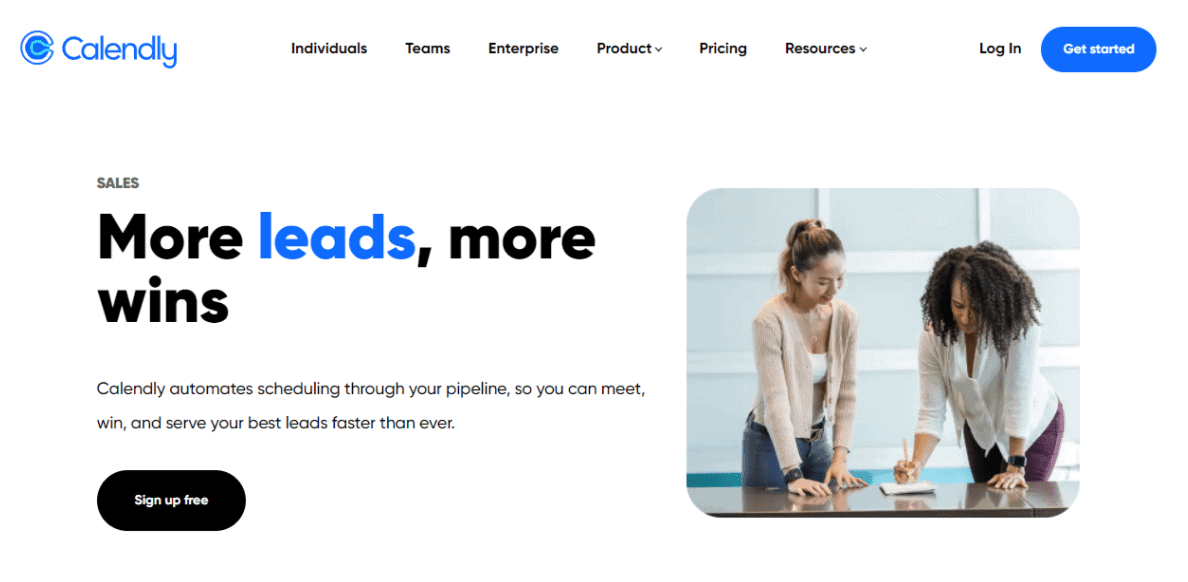 Calendly is a sales tool that quickens your sales cycle by helping you identify qualified leads. With Calendly, you can schedule the right prospects on your website, which are then routed to the respective sales team members.
This tool also helps you send regular emails with a simple scheduling link and reminders to clients on when you would be connecting with them. What's more, Calendly comes integrated with Salesforce, which helps you automatically add or update a lead or opportunity.
You can also get Calendly's free chrome extension that enables you to share meeting or appointment schedule links across a range of networking websites.
Pros
Easy to set up

Easy online calendar features
Cons
Very limited features available in the

free version

Meetings cannot be blocked on Calendly automatically, they need to be manually customized
Pricing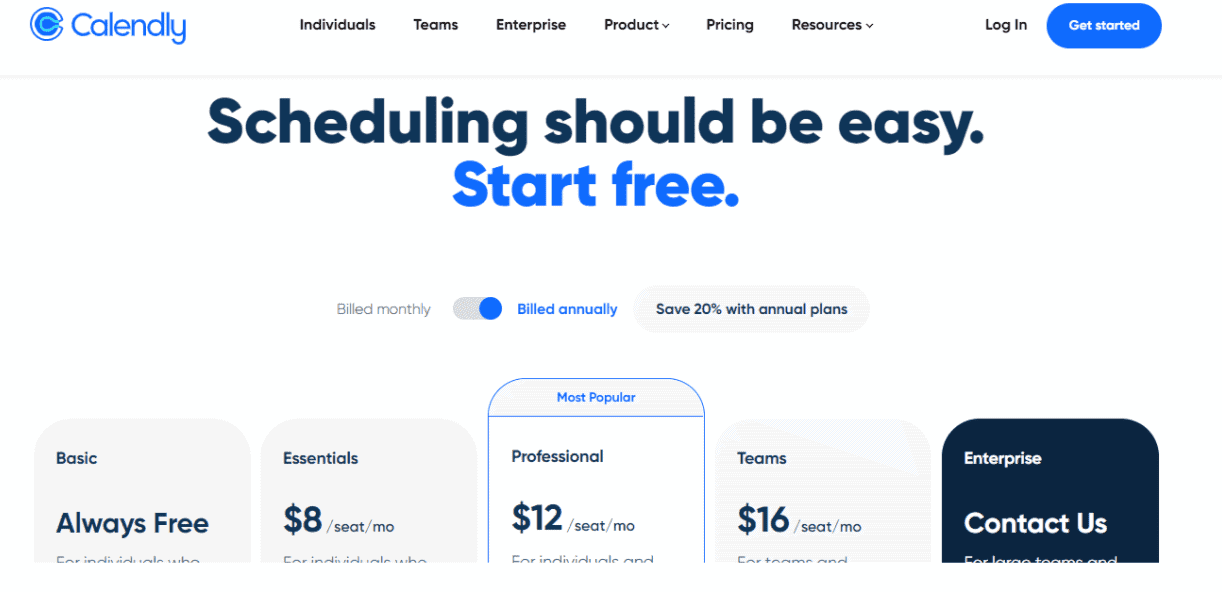 Calendly offers a free version for those who want to access the basic features. Some of the tools available under the free version include G Suite, Outlook, and iCloud integration, booking link customization, and automated event notifications.
The Essentials Plan costs $8 per month and accompanies one-on-one event creation, confirmation page addition, and key metrics reporting.
For small teams and those looking for more customizations and integrations, the Professional Plan works best. It starts at $12 per month and includes key features such as unlimited active event types, collective one-offs, invitee redirecting, and automated workflow creation.
The Teams Plan costs $16 per month and has all the features of the Professional Plan, along with six calendar connections per individual.
For bigger organizations and those requiring an advanced degree of support, the Enterprise Plan is ideal. Companies need to contact Calendly's sales team directly to receive quotations for the same.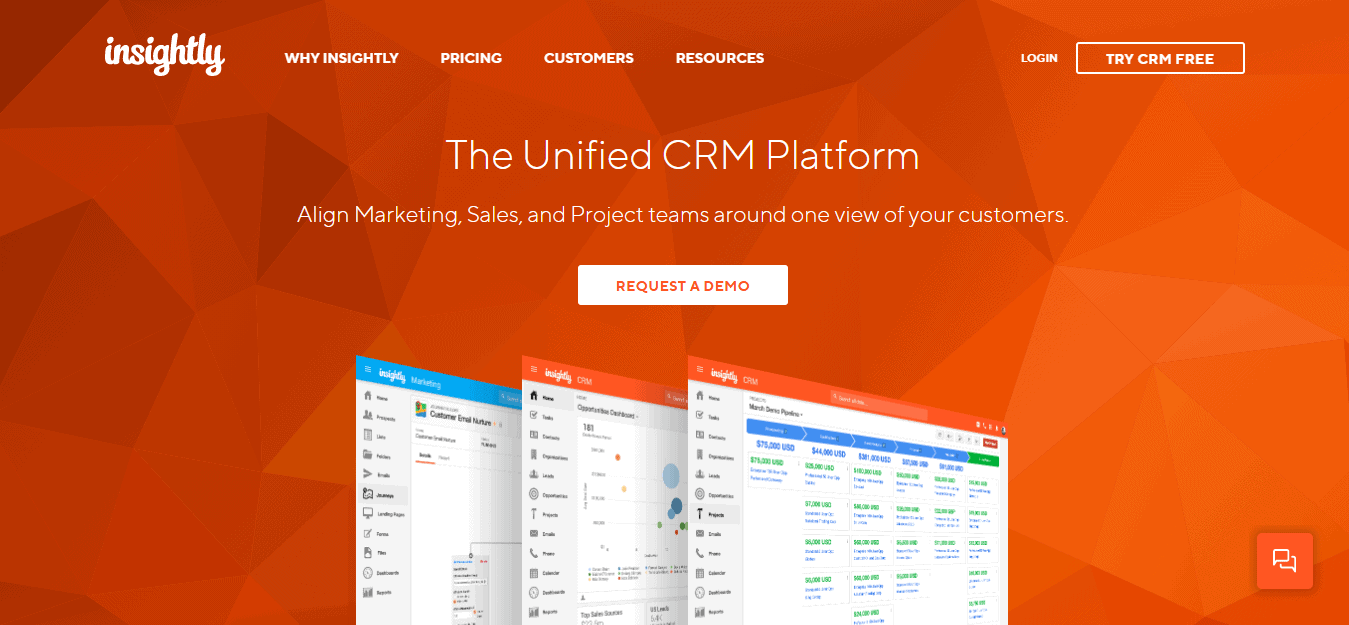 Insightly's free sales tool helps you unify customer data from multiple departments within a single platform.
It boasts of all the tools necessary to propel your sales strategy to new heights. This all-in-one platform offers marketing, sales, service, projects, and integration services.
All these features help you expand your sales pipeline, centralize the customer database, and convert new deals into loyal clients quickly.
The best part of Insightly is that it provides a variety of content design and testing tools. This helps create personalized branding campaigns and provides performance tracking and ROI, all in real-time.
Pros
Syncing helps access customer data from anywhere and on any device

User-friendly platform that centralizes customer data and task management
Cons
Emails cannot be sent to more than 50 contacts at a time

Email function does not allow for attaching pictures and other graphics
Pricing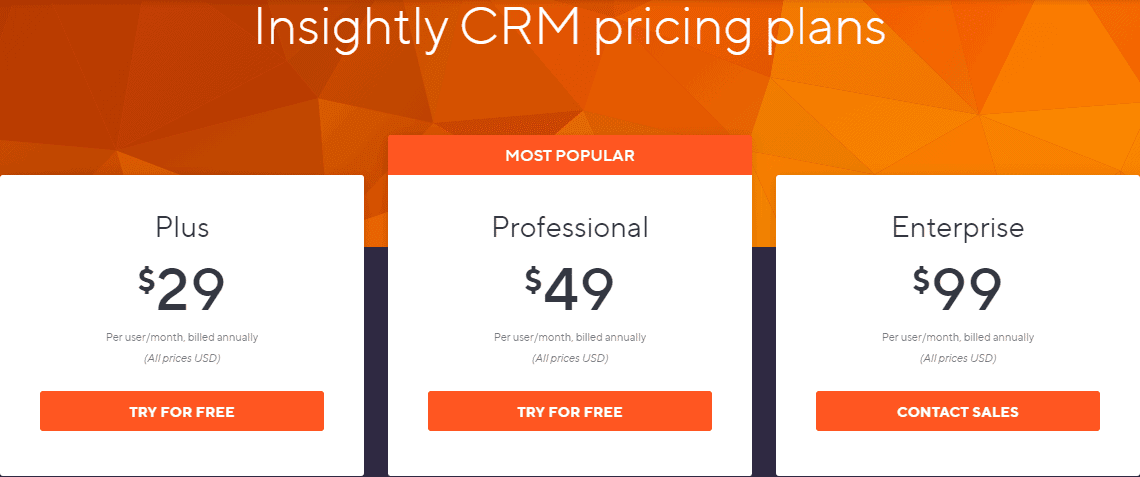 Insightly offers a free sales CRM tool for up to two users.
If you want to add more users, opt for its paid plans. The Plus Plan costs $29 per agent per month and offers features such as custom ticket automation, dashboard cards, customized role-based permissions, and service level agreement (SLA) management.
Under the Professional Plan ($49 per agent per month), you can get additional features like configurable page layouts, portal customization, field-level security, and keyword analysis.
For services like app customization, unlimited brands and portals, calculated fields, and dynamic page layouts, go for the Enterprise Plan (available at $99 per agent per month).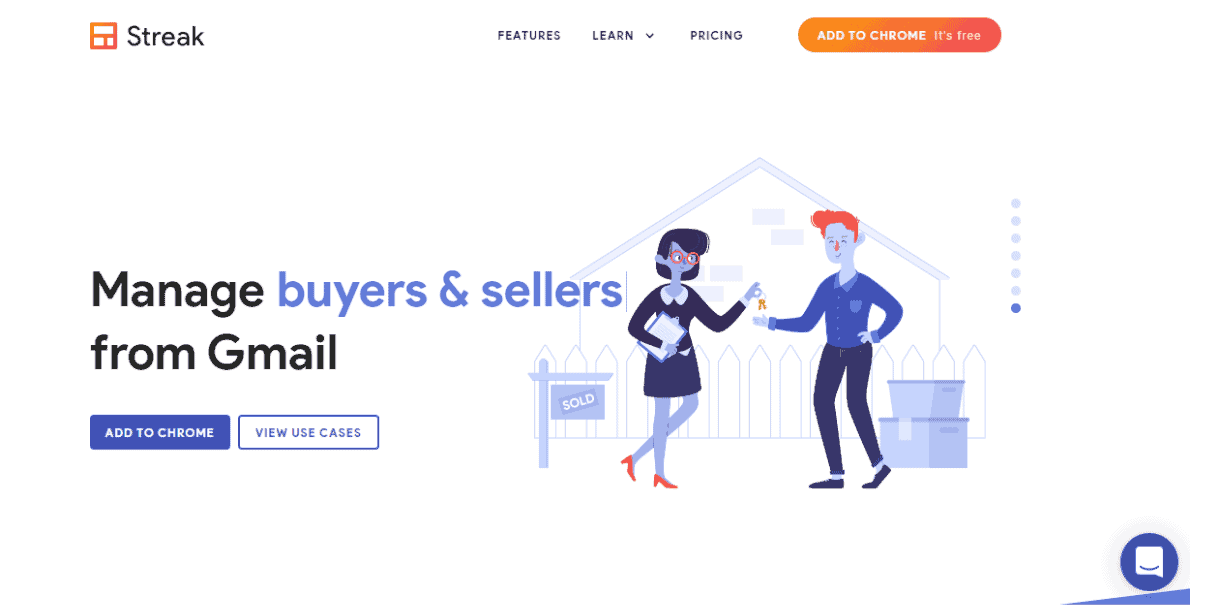 Streak is a CRM software that comes integrated with Gmail. As a result, you manage all customer data you have in your Gmail on Streak spreadsheets and documents that can be accessed from anywhere. It also makes real-time collaboration possible.
With Streak, you can keep your sales pipeline on autopilot, as the platform automatically captures and adds data from your contacts and inbox. Moreover, you receive notifications every time things progress or change in your pipeline.
Streak also helps you filter, sort, and group your data in any way you want, and identify any bottlenecks. You can get a free chrome extension of Streak, making your sales process more convenient and efficient.
Pros
Easy configuration

Integration with Gmail helps keep CRM and sales outreach tools in one place
Cons
Multiple pipelines can make the inbox cluttered

Interface needs improvement
Pricing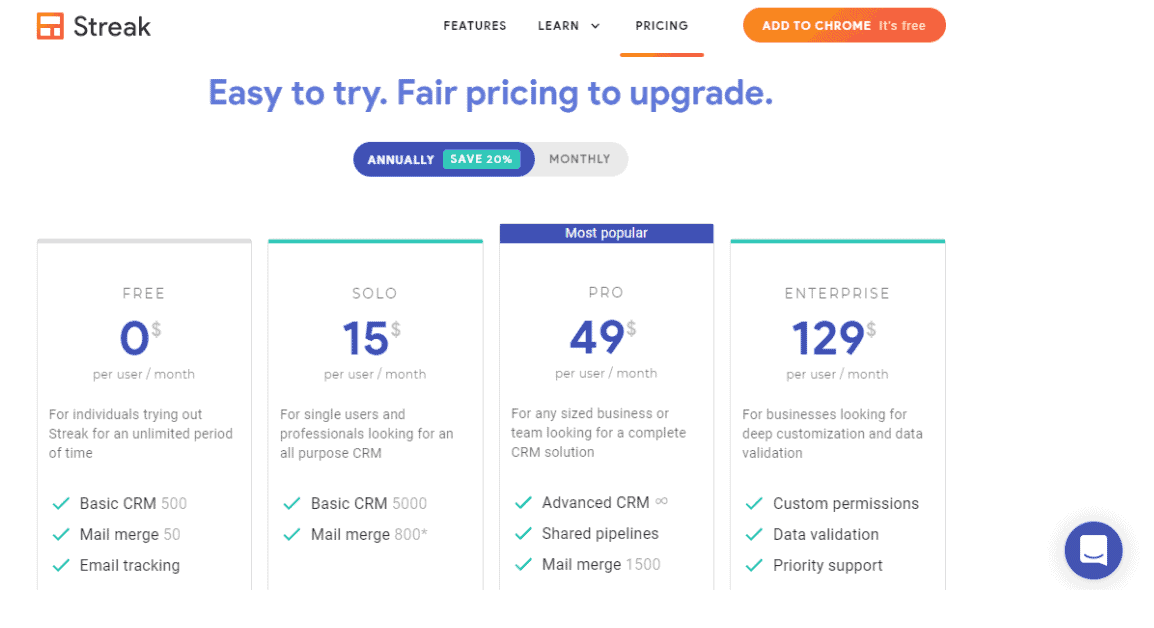 Streak offers four categories of plans: Free, Solo, Pro, and Enterprise.
The Free Plan is available for an unlimited period and has tools like email tracking, mail merge, and basic CRM features.
Under the Solo Plan, you can get private pipelines, 5,000 data rows, advanced CRM applications, basic access permissions, and onboarding and training services. This plan costs $15 per user per month.
The Pro Plan works best for medium-sized enterprises and those looking for a complete CRM solution. It starts at $49 per user per month and accompanies tools like live chat support, standard API, unlimited rows of data, and shared pipelines.
For more advanced functionalities like data validation and deep customization, the Enterprise Plan works best. It further includes customized permissions, priority support, advanced integrations, custom billing, and security questionnaires.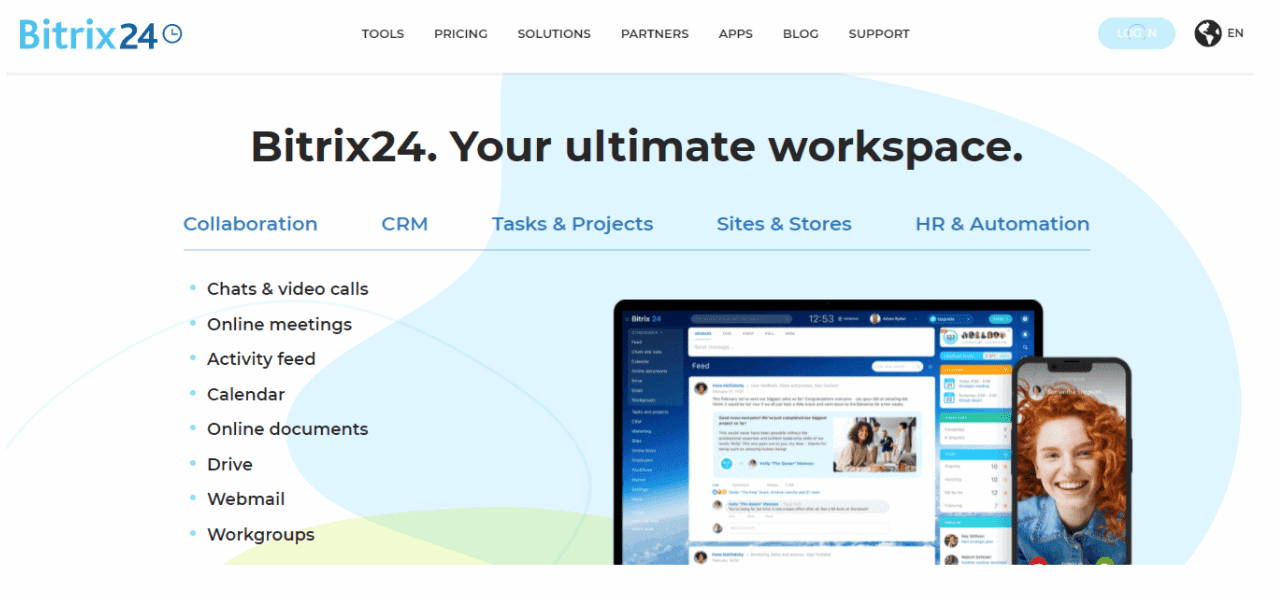 Bitrix24 is an all-in-one sales platform that offers multiple tools under a unified interface. With Bitrix24, you can get collaborative tools, CRM software, task and project management, and other automation tools, all in one place.
Bitrix24 is among the best sales tools, as it not only helps you generate sales but also helps create your online marketplace and website, with a range of built-in templates.
What's more, you can also maintain an employee directory, performance tracker, and a knowledge base for your company.
Pros
Helps perform all tasks on a single platform

Easy to implement
Cons
The site uses a lot of memory

Complex interface
Pricing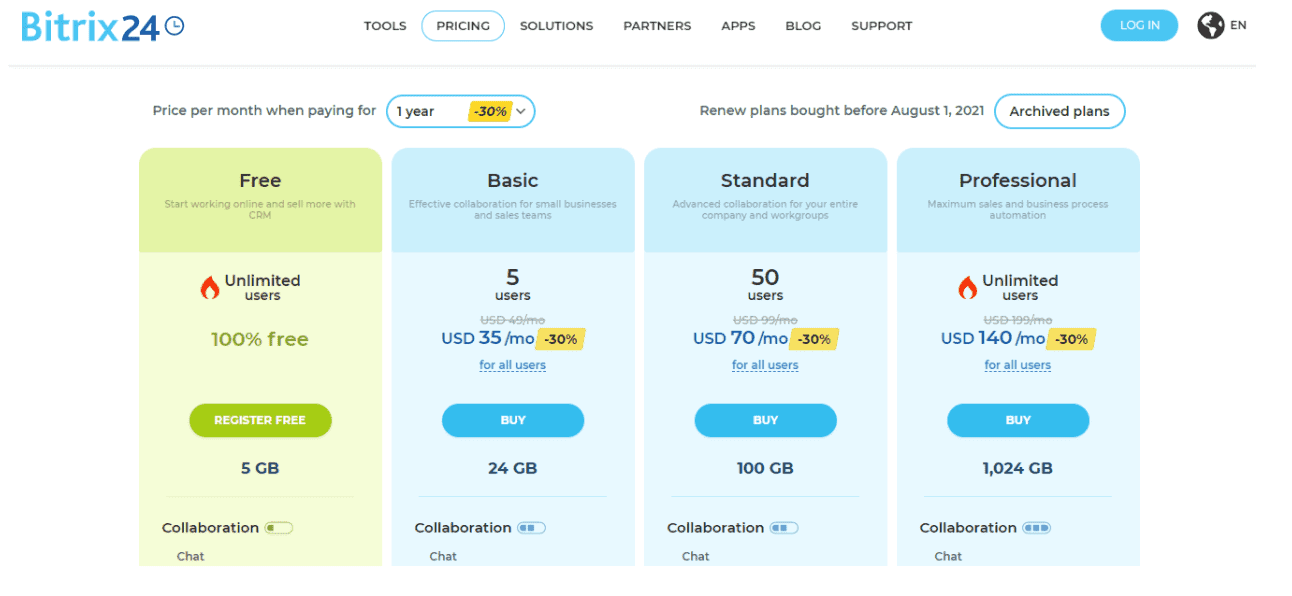 The best part is that you can use its Free Plan for an unlimited time period that provides various collaboration and task management tools. These features include company workspace, chat, HD video calls, CRM system, and website builder. It includes an unlimited number of users.
However, with The Basic Plan ($35 per month), you only get 5 users with additional services like customer support and online store creation.
For $70 per month, its Standard Plan offers administrative services, online document creation, and marketing campaign building.
The Professional Plan offers sales intelligence, business process automation, and HR management, all for $140 per month with unlimited users.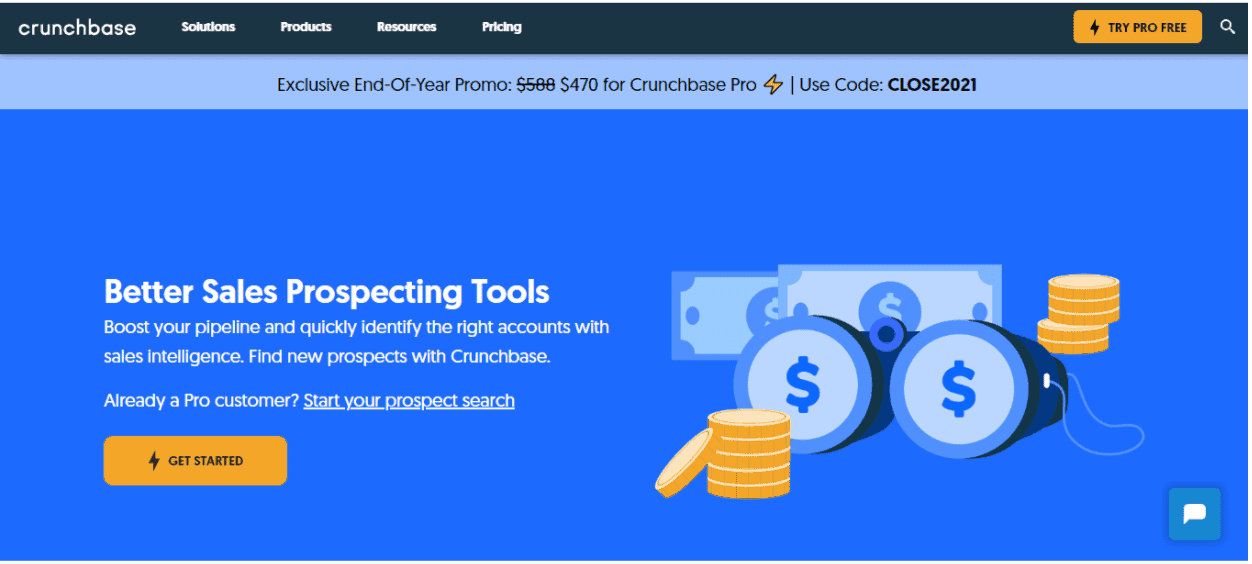 Crunchbase is a sales prospecting tool that helps you identify qualified leads using sales intelligence. With Crunchbase, you can narrow down your target audience within a particular headquarter location, industry type, or investment type.
You can also get company recommendations based on your selection criteria. This enables you to find clients in a quick and efficient way.
Furthermore, it helps close deals faster by tracking buying signals and trigger events, keeping you updated with the latest happenings in the market.
It comes integrated with Salesforce and Outreach that help push your contacts automatically into sales sequencing.
Pros
Useful resource for getting the latest news on companies

Helps in easy identification of target companies based on size, industry, and investment stage
Cons
UX interface for mobile version needs improvement

At times, the company information available is inaccurate and outdated
Pricing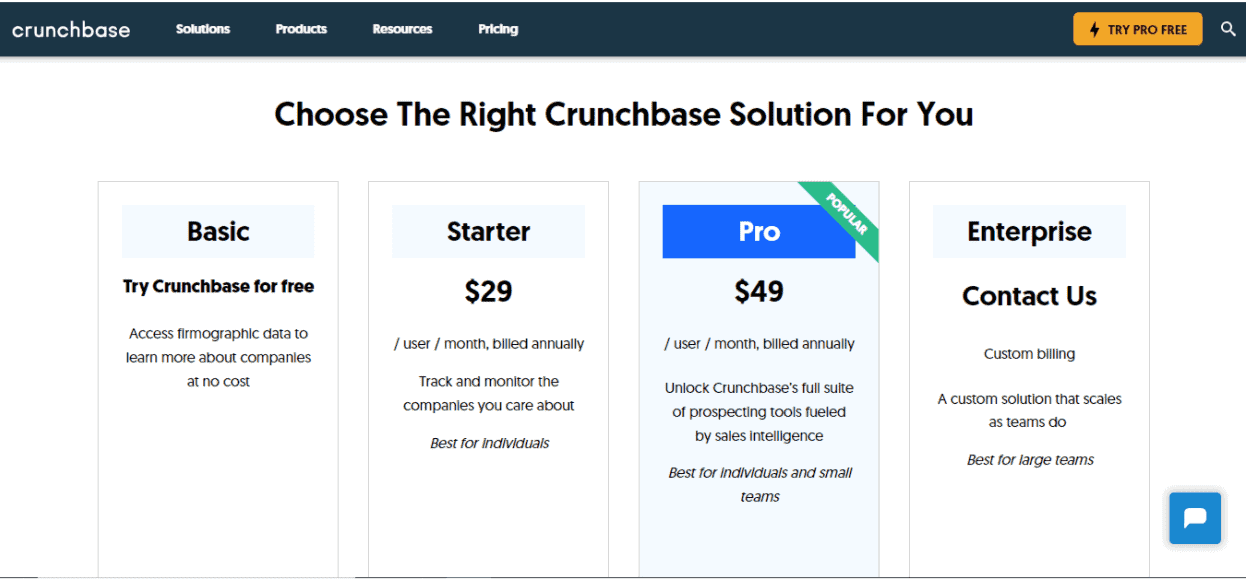 Crunchbase offers free tools like quick company profile search, firmographic information, saved lists and alerts, and unlimited search results.
If you want to add more functionalities to your list, you need to upgrade to its paid plan. It has three pricing plans: Starter, Pro, and Enterprise.
Under the Starter Plan, you can import company lists to find contacts automatically, receive account recommendations, and get Salesforce and Outreach integration. The plan costs $29 per user per month.
If you have a growing sales team, go for its most popular plan – Pro. It starts at $49 per user per month and you get 1,000 results per search along with a complete view of all company funding and investor data, team admin services, and an engagement suite.
The Enterprise Plan provides an unlimited contact database, a dedicated success manager, Salesforce enrichment, unlimited CSV files export, and API and bulk data features. To avail of the plan, users can contact Crunchbase's sales team directly.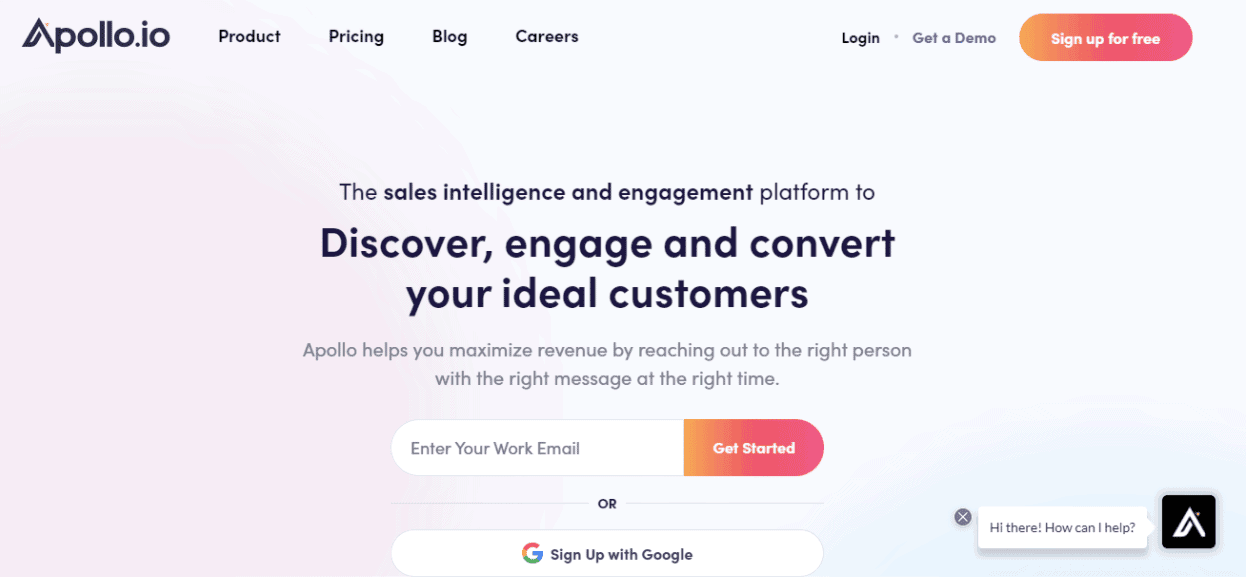 Apollo is a sales intelligence and engagement platform that helps you reach your target market with laser precision. This tool comes with targeting and filtering features that enable you to find the desired list of companies and leads without any delay.
Using Apollo, you can systemize your email marketing campaigns, create a range of touchpoints, record calls with a single click, and build hyper-targeted segmentation to improve response rates.
Apollo also helps you tweak and improve your sales campaign, and enrich your contact base using its AI-powered feature. It also helps you find sales prospects by reaching out directly on LinkedIn.
Pros
Easy to use and intuitive software

Helps create audience lists and campaign scheduling quickly
Cons
The software sometimes provides incorrect contact details

Lack of CSV file creation feature
Pricing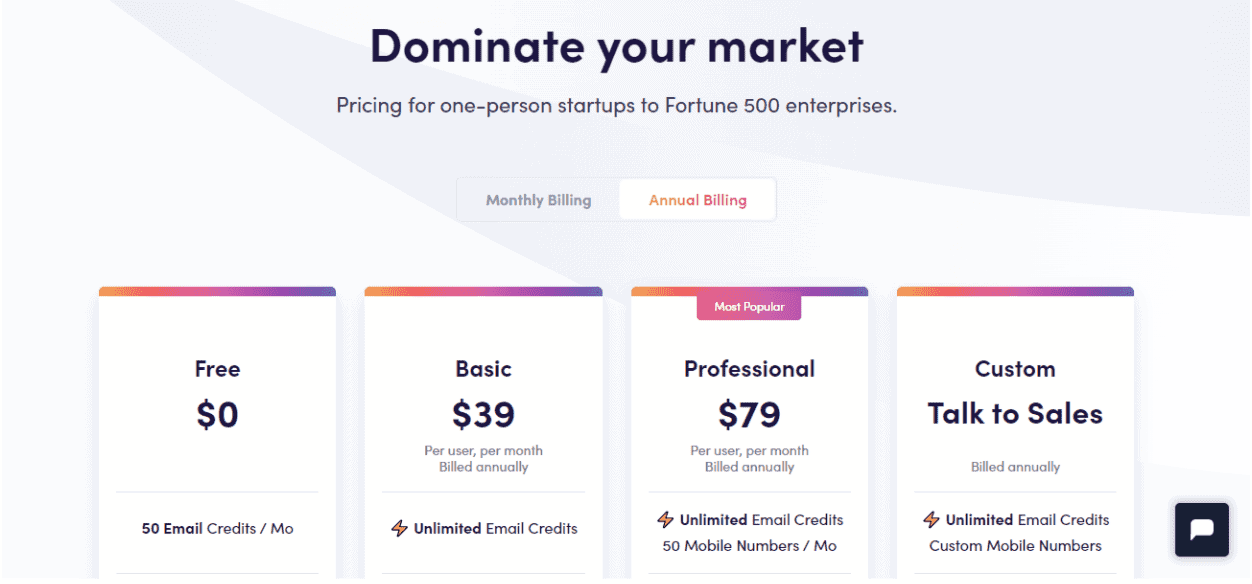 Apollo offers four types of plans: Free, Basic, Professional, and Custom.
The Free Plan offers features like basic sequence automation, Zapier integration, basic database filters, and email tracking.
The Basic Plan costs $39 per user per month and provides unlimited email credits. This plan comprises additional key features such as field customization, advanced reporting and dashboards, rules engine process builder, and integration with all email providers.
Under the Professional Plan, you can find A/B testing, call recording, pipeline stage customization, and unlimited sequencing, as some of the main features. The plan starts at $79 per user per month.
For users looking for unlimited emails and custom mobile numbers, the Custom Plan works best. Under this plan, you can avail of features like data enrichment and updating, permission profiles, advanced API access, report customization, and customer success onboarding and management.
To purchase the Custom Plan, users can contact Apollo's sales team directly.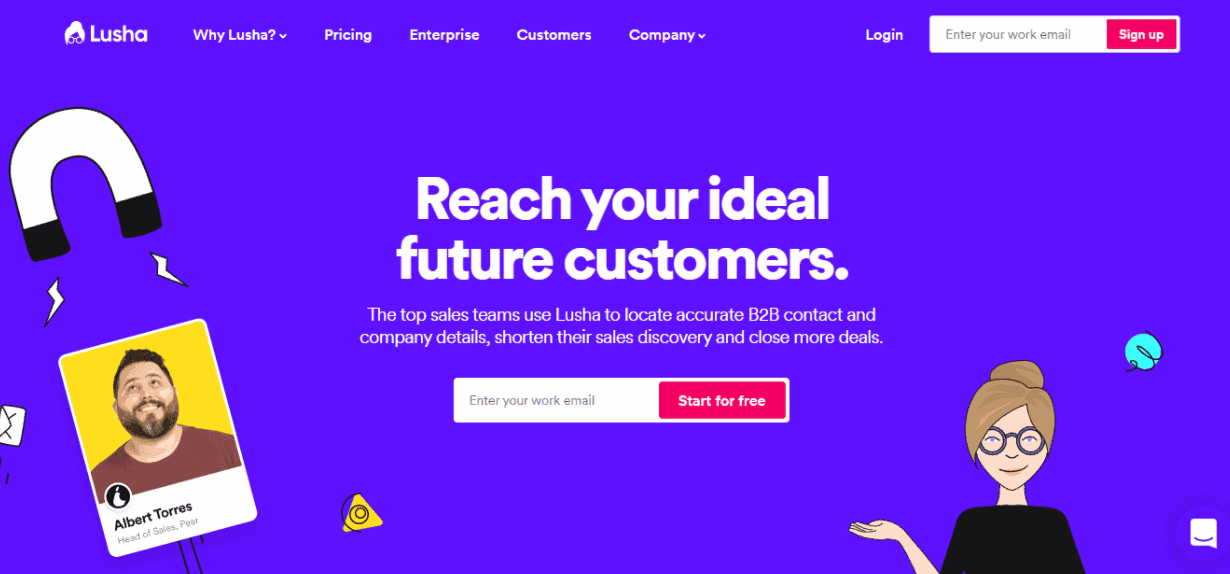 Lusha is a B2B database company. It provides you with 5 free contacts every month, irrespective of the plan you bought.
With Lusha, you can reach out to over 100 million prospects directly, convert prospects faster through its laser-targeted search feature, enrich your database without grouping, and get integrations across multiple CRM applications. These applications include Salesforce, Pipedrive, and HubSpot.
Lusha also helps automatically assign credits and credit limit usage among your team members. Lusha boasts of a success rate of 81%, the highest in the industry.
Pros
Syncing with LinkedIn saves time in terms of database building

Advanced filters help segregate between contacts on the basis of address, location, and job title
Cons
Database reach is limited

At times, the contact information available on LinkedIn does not match with the database information
Pricing
The Starter Plan, or the free version, can be used for an unlimited time period. It provides 5 credits a month and unlimited email addresses and phone numbers.
The Professional Plan costs $59 per month. It includes two users and provides 1,200 credits annually. Along with the features in the Starter Plan, this plan comes with contact exporting and prospecting.
If you are looking for a plan that includes CRM integrations, then buy the Premium Plan. This plan starts at $119 per month and provides 3,600 credits a year. It comes with services like basic usage analytics and integration with Zoho, Pipedrive, HubSpot, and Bullhorn.
For those looking for more advanced features, the Custom Plan works best. The Custom Plan includes additional integration with Salesforce, Salesloft, and Outreach, advanced usage analytics, API access, and a dedicated success manager.
Read also: 11 Sales Tools for Automation, Prospecting, and CRM Integration
Conclusion
Today, a good sales tool is crucial for any business. Good sales tools not only help automate manual tasks but also help your sales team design and execute effective strategies.
They save time and provide all the information you need about your contacts. They also improve sales forecasting and lead generation.
If you want to see how EngageBay can help you as your sales enablement platform, just sign up and we'll give you a call!