You may have heard of Intuit's acquisition of Mailchimp. This could change everything, including the features, pricing, and even the user interface.
If you aren't happy with this change and you'd like to move from Mailchimp, you are in the right place!
EngageBay makes more sense for small businesses, solopreneurs, agencies, and startups as it is much more affordable than Mailchimp.
For example, EngageBay offers more features than Mailchimp even on its Free plan. What's more, EngageBay's Pro plan costs $79 a month while Mailchimp's Premium plan costs a whopping $299 a month. You get unlimited contacts on EngageBay, while Mailchimp offers just 10,000 contacts.
You can see why people love EngageBay — it offers more at a much lower price. If you're considering moving to EngageBay, this guide explains it all.
You can seamlessly move from Mailchimp to EngageBay — it literally takes just a few easy steps.
In this guide, we'll show you:
How to move your contacts, companies, and deals to EngageBay
All the basic terminologies that can help you move from Mailchimp
How to set up the various tools when you move from Mailchimp to EngageBay
Powerful features of EngageBay that make your move from Mailchimp worthwhile
What the free version of EngageBay has in store for you
Let's get started!
Migrating from Mailchimp to EngageBay
With EngageBay, migrating your information from Mailchimp is easy. We'll show you — in simple, understandable steps — how you can import your contact data, companies, and deals.
Importing Contacts to EngageBay
So, let's begin with how to export your contacts from Mailchimp and import them to EngageBay.
Exporting Your Existing Subscribers From Your Mailchimp Account
Log in to your existing Mailchimp account.

Locate Audience >> View Contacts.
Select Export Audience.

You'll be mailed with a CSV file.
While exporting, you can also add filters to export only certain segments of your subscribers.
Here's a useful demo that shows how to export your contacts from Mailchimp:
Read also: Constant Contact vs. Mailchimp vs. EngageBay – Which Tool Is Better?
Importing Your Subscriber List to EngageBay
Now that you have your CSV file, login to EngageBay

Select Contacts from the navigation menu, and click on the Import button.

This will open a separate dialogue box and prompt you to upload your CSV file.

Upload your CSV file (with a maximum of 25,000 contacts at a time) and click on Upload.
Once you have uploaded, EngageBay will automatically show you a list of column matches. You can choose the required fields from the drop-down menu alongside each column's name. If you need new fields, you can choose the Avatar >> Account Settings >> Field Settings and add new ones.
See how easy it is to import contacts to EngageBay?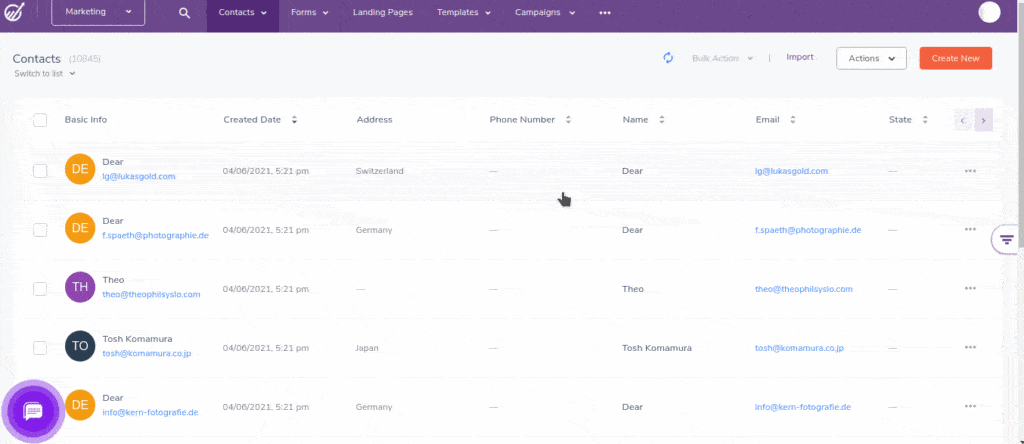 Importing Companies to EngageBay
With EngageBay, you can save the organizations and firms that you work with as a company record. You can create separate companies and add information, contacts, and records related to that company.
Here's how you import companies to EngageBay:
Log in to your existing EngageBay account and navigate to the Sales bay.

Select Contacts from the navigation bar and choose Companies.
Click on the Import button. This will open a new dialogue box.
Upload the required CSV company file and hit the Upload button.

EngageBay will then ask you to merge the different fields according to the information in them.

Once done, click on the Import button, and all the information will be uploaded.
Importing Deals to EngageBay
You can also import deals in the form of a CSV file.
Here's a step-by-step guide:
Go to the Sales Bay and select Deals from the navigation bar.
Click on Import on the top right area.
This will open a new dialogue box. Upload the CSV file and hit the Upload button.

Once all the fields are uploaded, you need to map the fields accordingly. Please note that you need to match the track names and the milestone names from the CSV exactly, including cases.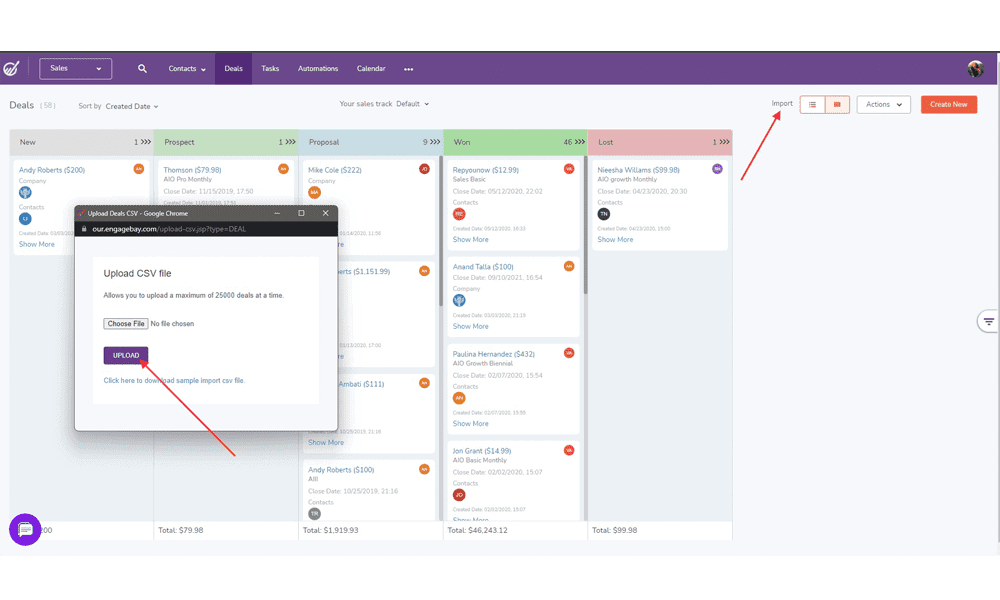 Read also: ActiveCampaign vs. Mailchimp vs. EngageBay For Email Marketing
Adding Integrations
Now that we've seen how you can take your customer data and move from Mailchimp to EngageBay, it is time to set up your integrations.
EngageBay has a library of powerful third-party integrations — all your favorite applications you've used in the Mailchimp account can now be used in EngageBay.
Here are some popular third-party integrations available on EngageBay:
Zapier

Mailgun

SendGrid

Shopify

Amazon Web Services

QuickBooks

Twilio

LinkedIn

CallHippo

WooCommerce
EngageBay is constantly adding new integrations to its already existing collection. You can see the complete list of connections in our integrations library.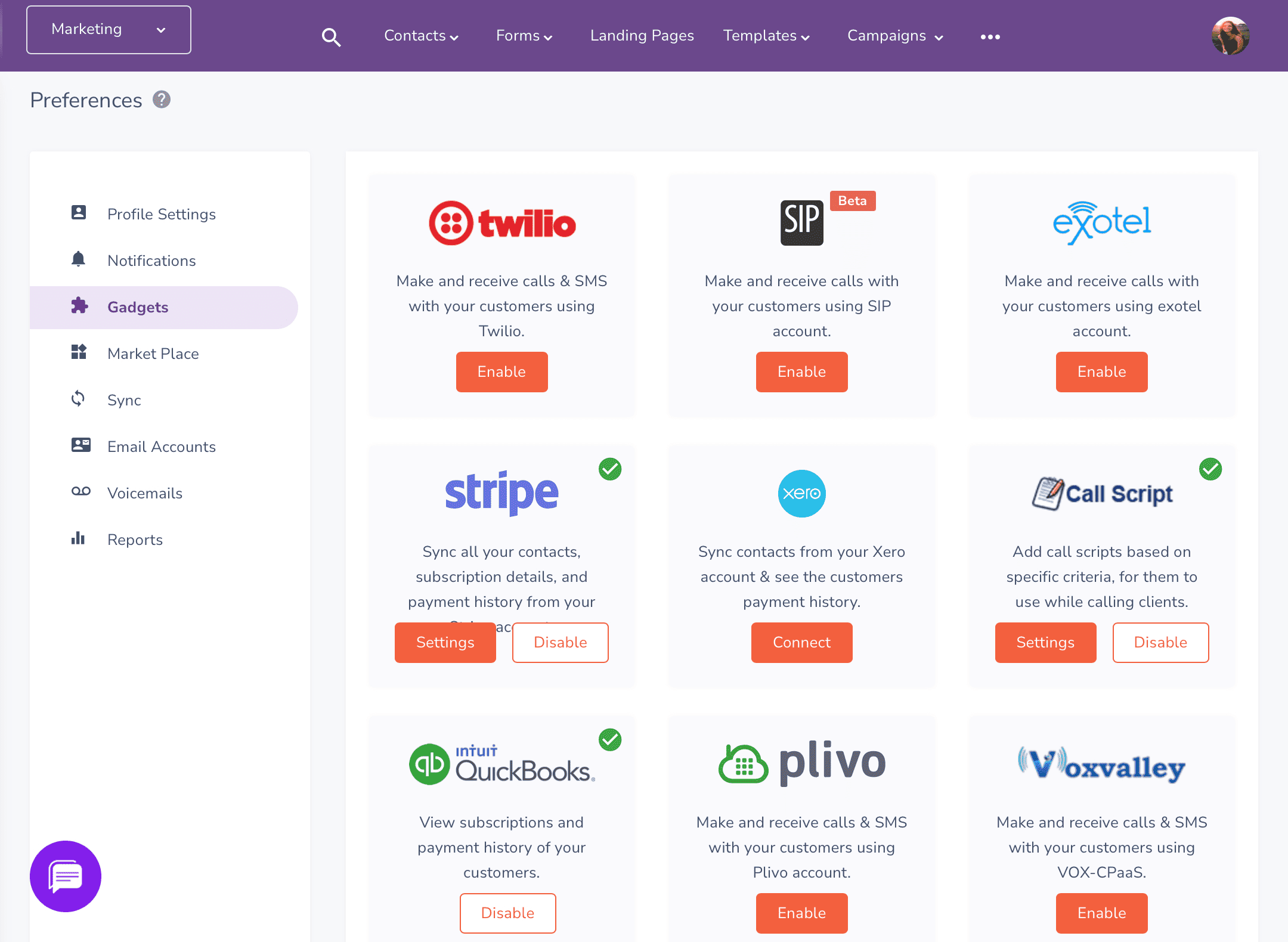 Read also: EngageBay Integrates with Leading Telephony Software CallHippo
How to add Integrations to EngageBay CRM Software
Third-party application connections are called 'Gadgets' in EngageBay. Here's a step-by-step guide to enable your favorite applications in EngageBay CRM software:
Click on your Account Avatar present in the upper right corner of the software.

Go to Preferences >> Gadgets.

Browse and select the Gadget you want to integrate into your CRM software.

Click on the Enable button.

Enter the credentials and provide the required permissions.
Voila! You're all set.
Once enabled, you can also go back to the same to disable integrations.
Read also: HubSpot vs MailChimp: A Complete Product Comparison
List of Similar Tools
Though the terminology may differ, you'll find similar tools that you've used in Mailchimp here. We've made this guide to make your move from Mailchimp that much easier.
You can migrate from Mailchimp to EngageBay without losing out on your favorite tools.
In this section, we'll show you all the similar tools and their specific terminologies.
Marketing Campaigns
In Mailchimp, one-time email send-outs are called Campaigns. At EngageBay, we call these Email broadcasts.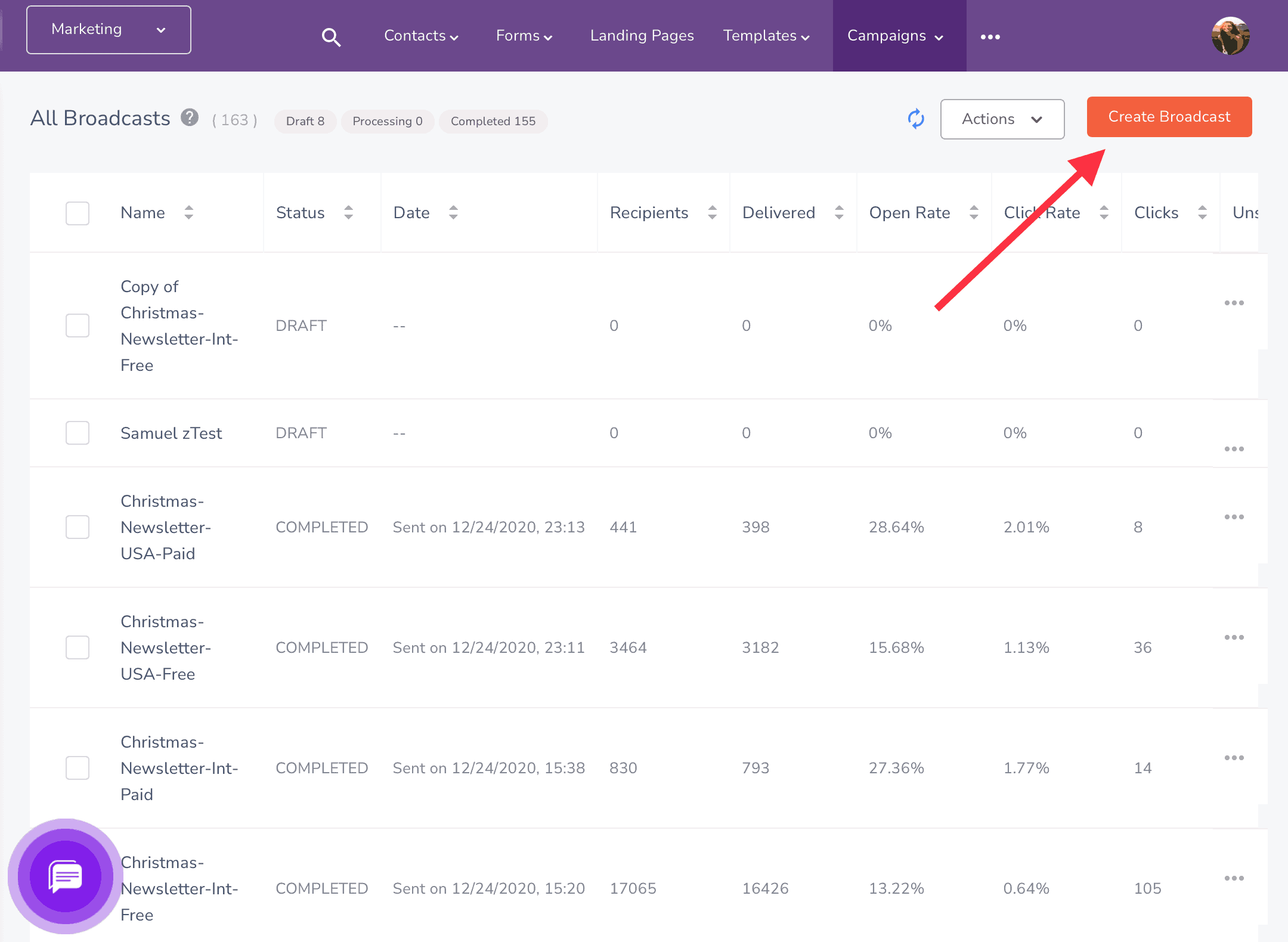 EngageBay lets you launch regular email broadcasts, A/B tested broadcasts, and SMS broadcasts. You can launch a new broadcast by selecting Campaigns and clicking on the 'Create Broadcast' button on the right side of the window.
Just like Mailchimp templates, EngageBay also lets you set up email templates to improve efficiency.
For more in-depth information, read this guide on how to create email broadcasts.
Lists
In Mailchimp, you may have seen contacts termed as subscribers. In EngageBay, we call them Contacts. You can find the Contacts section in the navigation bar at the top of the window.
You can manage all your contacts, including segmenting them into lists, adding new contacts, deleting existing ones, and more in this window.
Also, Mailchimp Audience is the same as Lists in Engagebay.
Read also: 9 Challenges of CRM Implementation & How to Dust Them Off
RSS to Email
In Mailchimp, you had RSS under Campaigns. At EngageBay, you can find the same by selecting Campaigns >> Email Broadcasts and then clicking on Create Broadcast.
This will open a dialogue box and you can choose the type of broadcast, including RSS to Email.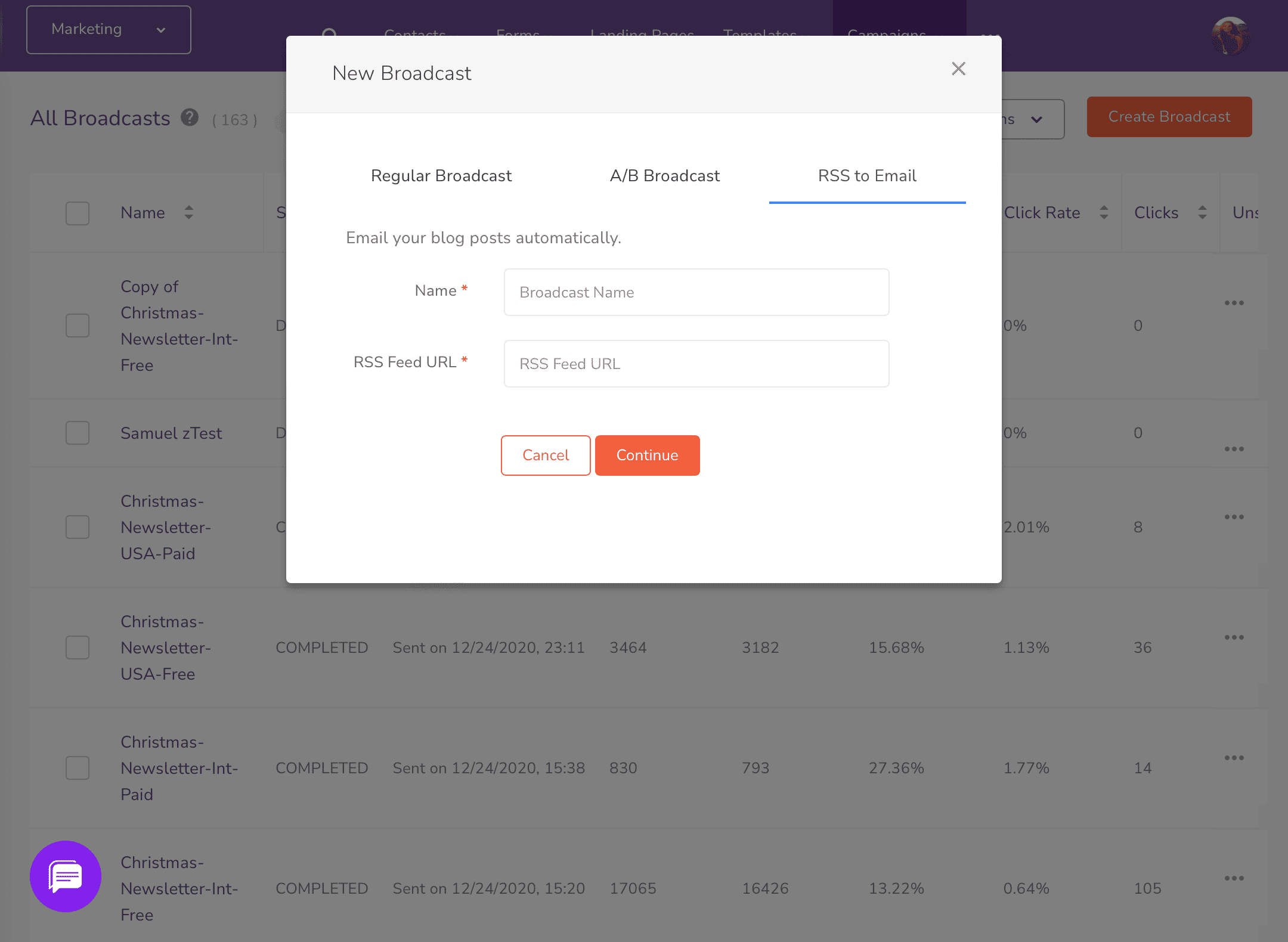 Workflow Automation
With Mailchimp, you had access to a plethora of simple automation tools. In EngageBay, however, you'll find a dedicated visual workflow builder with a host of conditions and actions to help you automate even the most complex workflows with ease.
Just head to Campaigns >> Workflows >> Create Workflow and choose from dozens of conditionals for contacts, CRM & Sales, ticket, and developers.
This guide will help you set up a workflow.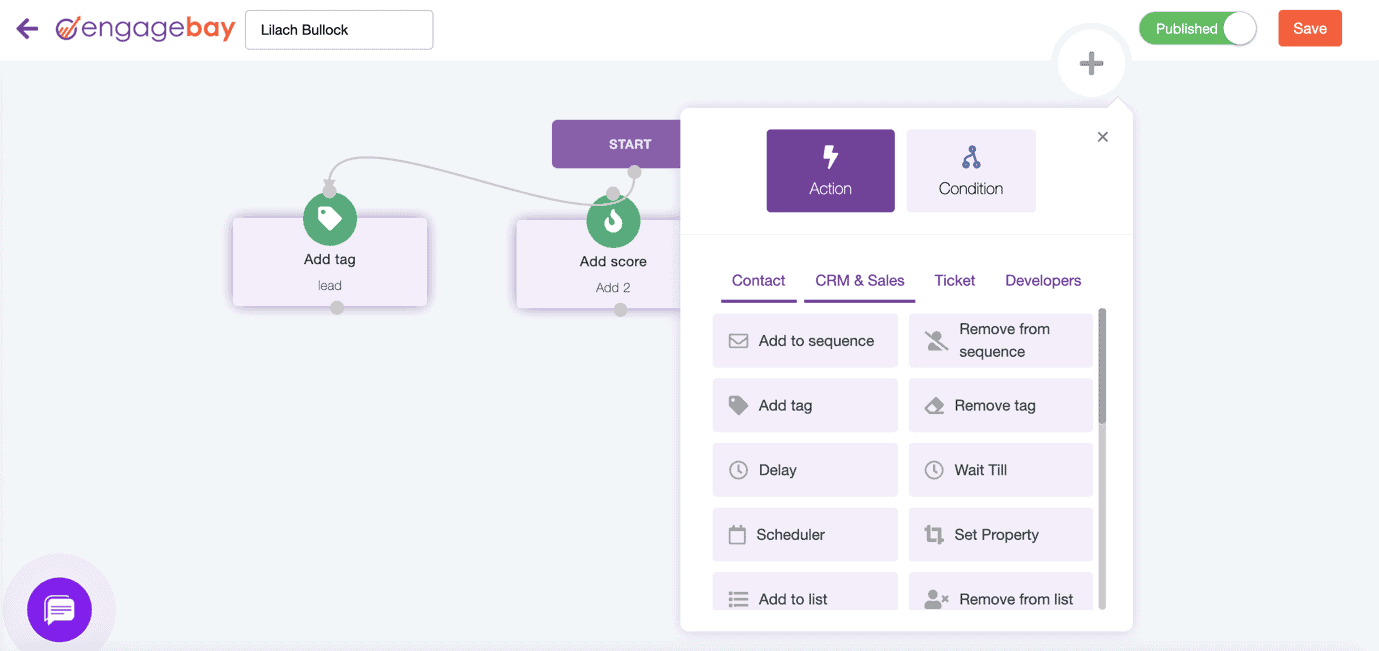 Reports
EngageBay has one of the most intuitive and powerful approaches to reporting. In Mailchimp, you get all your metrics under Reports. EngageBay, however, has dashboards with customizable reports to help you see all your important metrics from a single window.
You can add new reports, rearrange the widgets, and add custom filters to help you gauge your business's overall performance.
You also get Traffic Analytics on Engagebay to help you gauge your landing page metrics.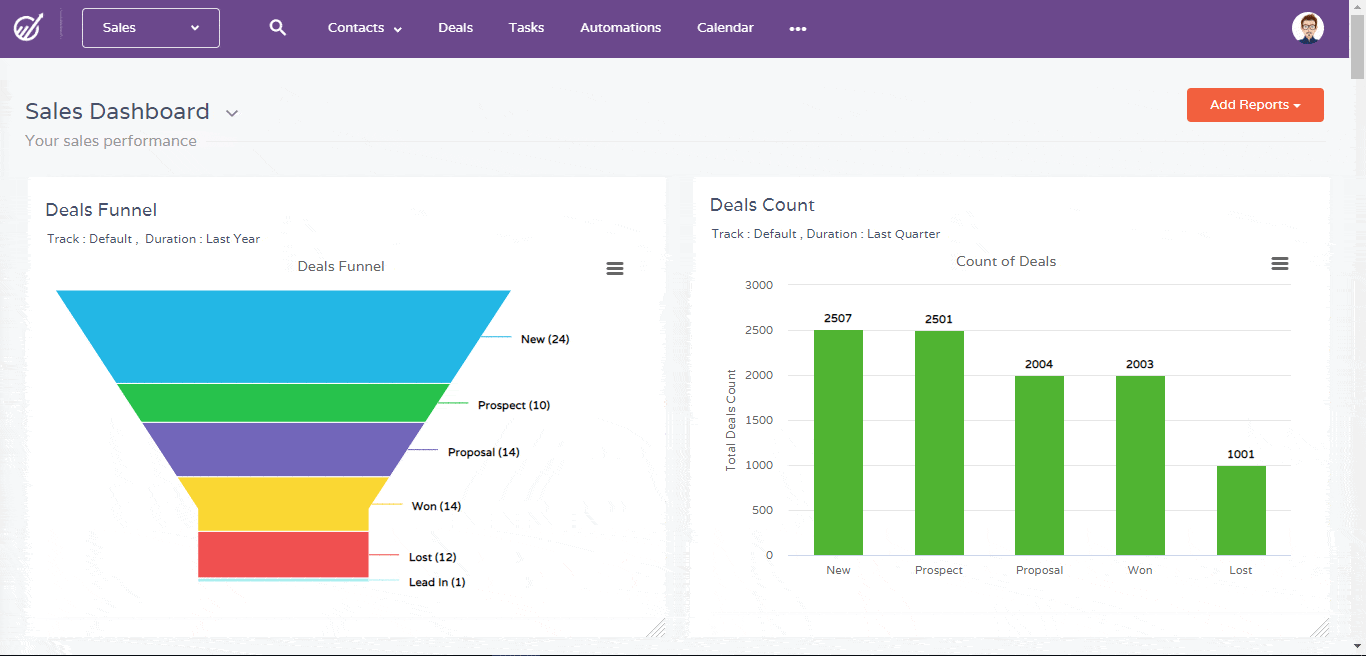 Forms
EngageBay, just like the Mailchimp forms, offers powerful tools that help you build visually stunning and functional email and landing page signup forms. You can build customized and mobile-friendly forms using the drag-and-drop builder — meaning you don't have to write a single line of code.
EngageBay also has a collection of pre-built templates to make life easier for you. You can increase your conversion rates with EngageBay's exit-intent pop-up forms.
To create a new one, click on Forms on the navigation menu and choose the type you want.
Read also: The 5 Best CRM for Startups in 2021 (Pricing, Features)
Users
Just like you have multiple users and access controls with Mailchimp, you can do the same with EngageBay.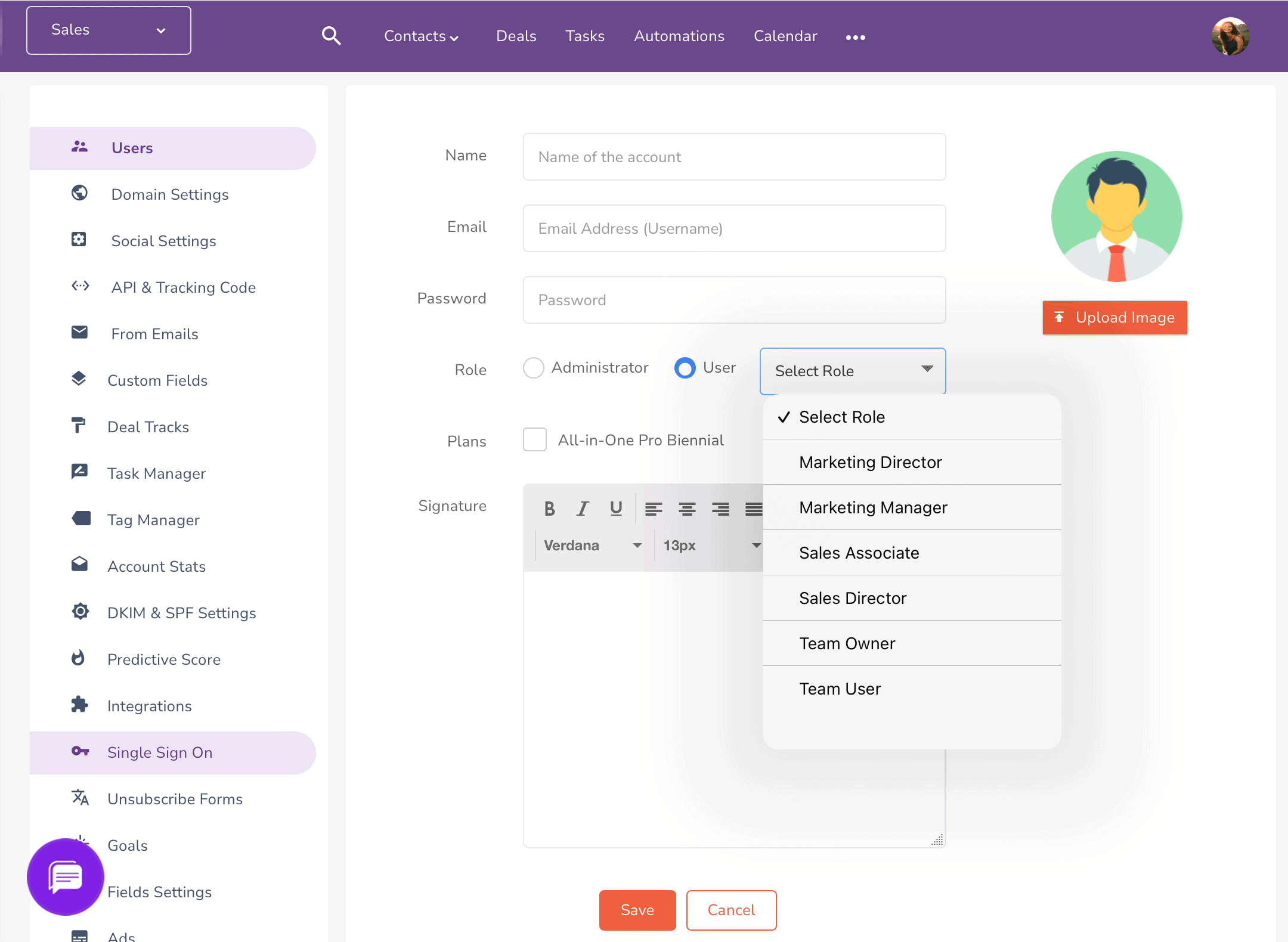 You can set everything up by clicking on the Account Avatar on the upper right corner of the software and choosing Account settings >> Users.
From this window, you can add or remove users, invite them, create teams, set up a team hierarchy, and assign roles to your users.
For more information, here's a detailed guide on all the terms and account modification details.
Read also: Mailchimp vs Constant Contact: What's Right for You?
Powerful Features of EngageBay
Engagebay is not just a marketing automation tool. In fact, it is a comprehensive all-in-one marketing, sales, and customer support solution for your business.
Here, we have highlighted the most important tools Engagebay offers that make the switch from Mailchimp to EngageBay worthwhile.
Read also: How Does Mailchimp's Pricing Compare To Its Competitors?
Visual Workflow Builder
EngageBay offers a visual workflow builder to help you build both simple and complex workflows without writing a single line of code. You also get dozens of pre-built actions and controls for you to drag, drop, and connect.
Here's a rundown of some of the popular ones:
Contact: Add to sequence, remove a tag, set property, add to list, star rating, and more.
CRM & Sales: Delay, Add new deals, update deal owners, send emails, add to workflow, and more.
Ticket: Set ticket priority, set ticket assignee, create a ticket, ticket response, and more.
Developers: Delay, scheduler, and JSON I/O.
Read also: Constant Contact Competitors: Features, Pricing, Pros and Cons [Tables]
Automation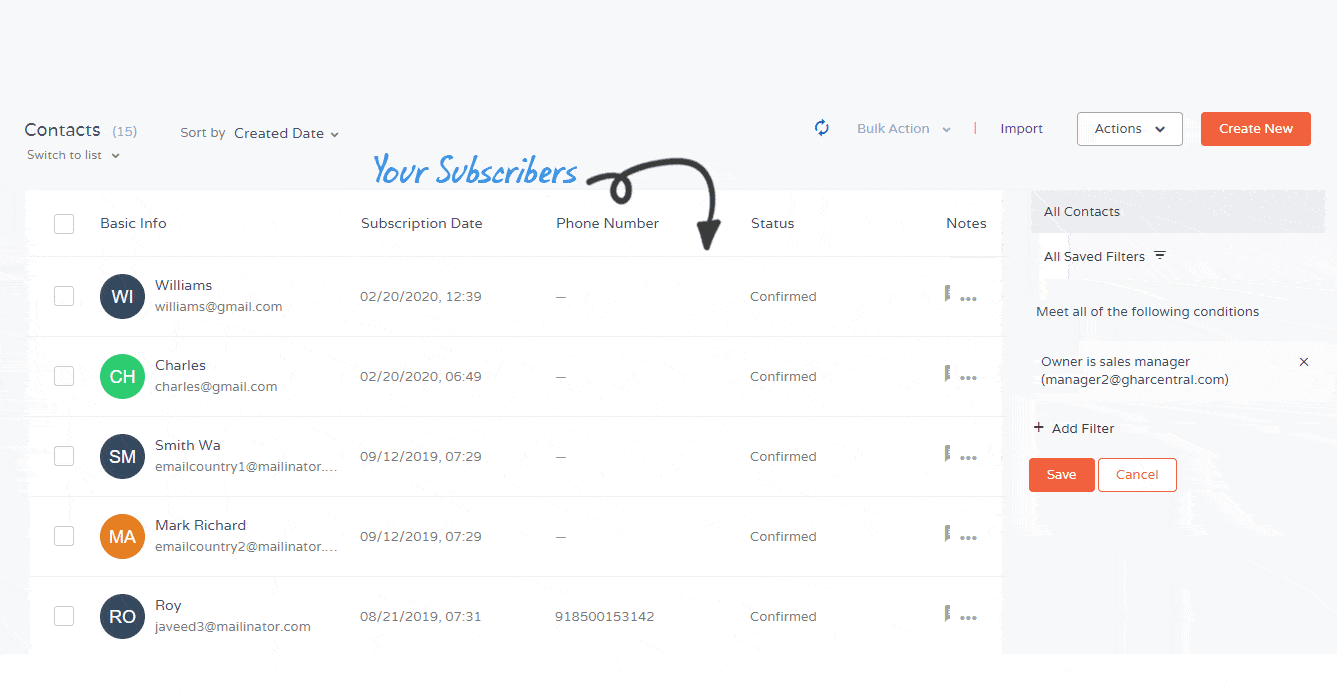 EngageBay lets you automate repetitive, mundane, and time-consuming tasks so that your team members can focus on doing more important tasks. EngageBay makes use of triggers to start the automation process.
We have an impressive selection of pre-built triggers to choose from:
Joins a form

Sequence email sent

Score changed

Contact created

Incoming and outgoing calls

Web page visited

Link clicked
And so much more!
Read also: Mailchimp vs Drip: Which Is the Best Email Marketing Platform?
Drag-and-Drop Builder
You can easily build visually appealing landing pages and email forms with our drag-and-drop builder. Start from scratch, choose a template, or even code your own pages and forms — the choice is yours.
EngageBay has a robust collection of blocks for banners, videos, content, CTAs, footers, testimonials, and social media. You can even add HTML blocks, embed videos, and add carousals.
If you wish, you can also make your pages and forms responsive with the click of a button.
Segmentation
EngageBay lets you segment your contacts into static and smart lists. With smart lists, you can automatically curate your contacts based on various rules, including name, predictive score, role, products, address, subscription status, and so much more.
Read also: The Definitive Pipedrive vs Salesmate Review: Which is The Best CRM Solution?
Sequences
EngageBay's sequences let you launch drip campaigns to nurture your leads through regularly spaced emails. You can personalize your emails by populating your content with customer data.
You also get timezone-based email delivery to get the most out of your international customers.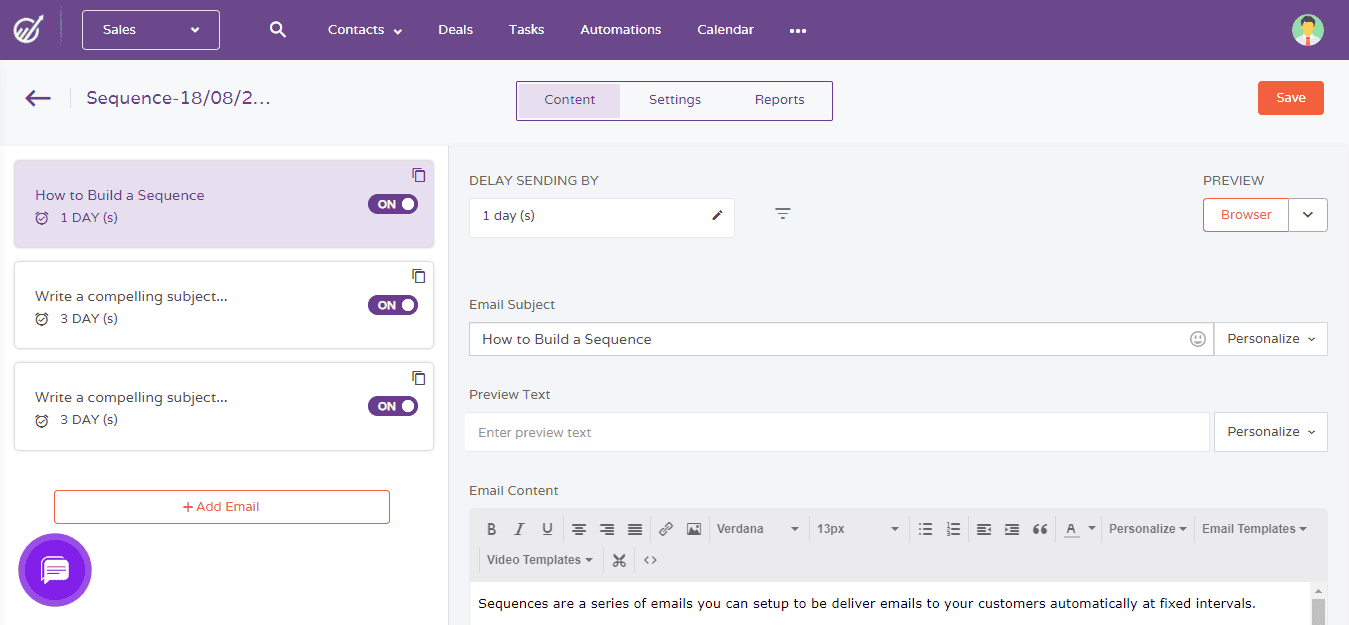 LiveChat
With LiveChat, you can interact with your customers in real-time. You get a 360-degree view of your customers and this can help you offer personalized responses.
EngageBay lets you add your chats to an unlimited number of websites, customize them to reflect your brand image, and even transfer chats to relevant team members.
Canned responses and autoresponders can also improve response times — thus improving customer satisfaction.
What the Free Version of EngageBay Has in Store for You
EngageBay offers a free-forever plan for up to 15 users. This is perfect for small businesses that are just starting out. You get these features — and more:
Email marketing

Autoresponders

Email broadcast

Sequences

Lead grabbers

CRM

Helpdesk

Live Chat

Custom fields

1,000 branded emails

Targeted Ads (Facebook)

500 contacts

500 MB storage
The paid plans start at $14.99 a month.
You also get a 20% discount on annual subscriptions and a 40% discount on biennial subscriptions. How cool is that!
Read also: MailerLite vs Mailchimp and Other Email Tools
Conclusion
Moving from Mailchimp to EngageBay is easy. This guide offers the most practical way to move your contacts and set up the CRM software.
EngageBay is loved by over 30,000 businesses globally, a testament to the value it offers. It was built right from the start with affordability in mind and thus is one of the best all-in-one CRM software for SMBs, solopreneurs, agencies, and startups.
This makes EngageBay one of the best Mailchimp alternatives.
We hope this guide has made the migration process from Mailchimp to EngageBay a seamless experience.