Growth platforms are the result of marketers' ever-changing goals. They're no different than CRM software tools or marketing automation tools.
All digital marketing tools serve one purpose: acquire and retain new customers.
In today's blog, we'll take a look at one such growth platform — SharpSpring. We'll discuss SharpSpring pricing, features & functionality, and how it helps small businesses.
We will also recommend three alternatives to SharpSpring for your consideration, just so you get a complete idea of the tools available in the market.
SharpSpring Overview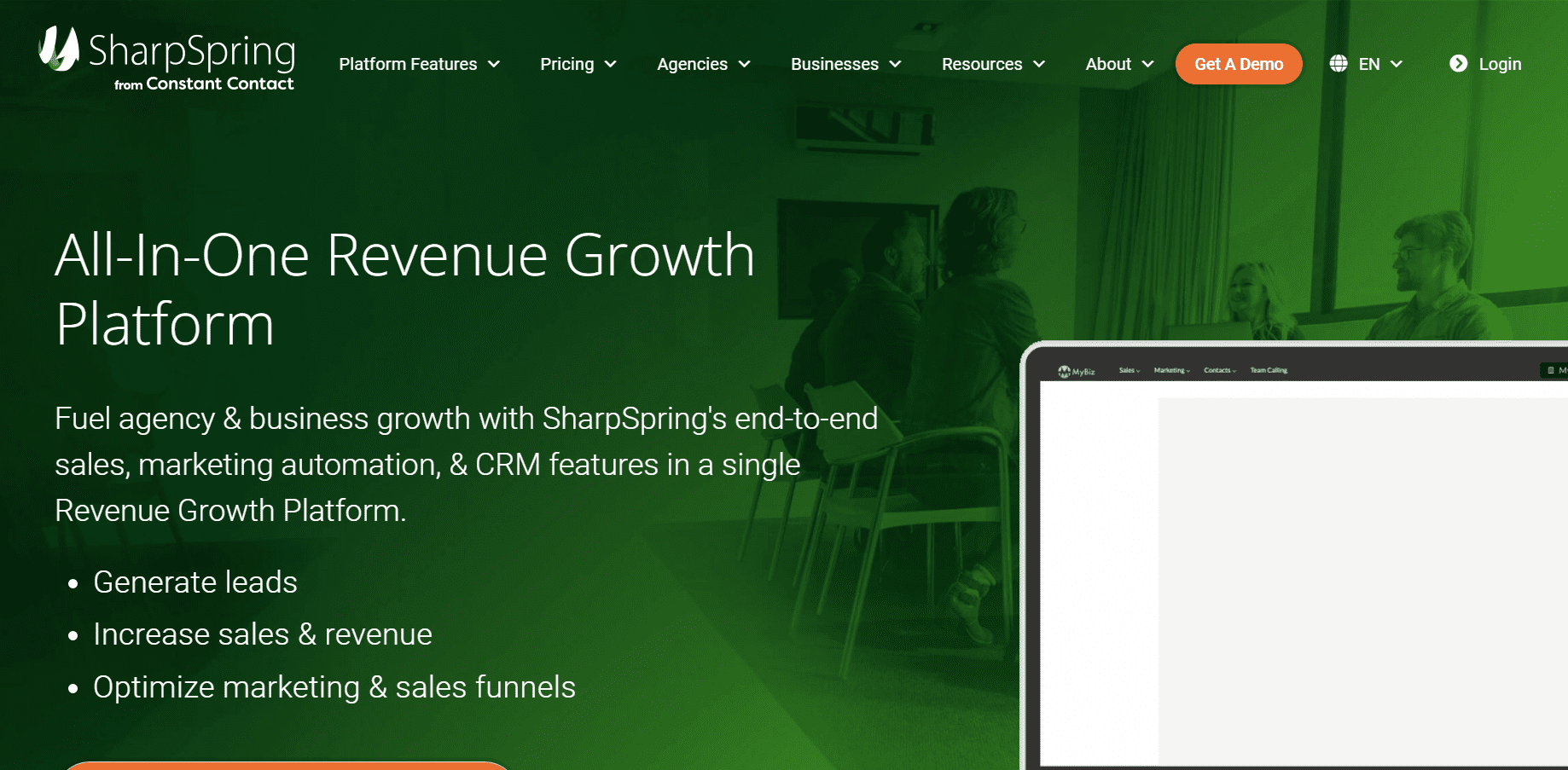 SharpSpring advertises itself as a revenue growth platform — meaning it offers all the tools necessary for small and medium businesses to effectively scale and grow their revenue.
The thing that sets SharpSpring apart from its competitors is its target audience: it's marketed as a platform for agencies and businesses. It targets three main pain points: lead generation, marketing strategy, and customer acquisition & conversion.
Since it offers marketing automation (which we'll discuss in detail later), SharpSpring's goal is to automate tasks wherever possible so that you can focus on growing revenue.
SharpSpring's major users are agencies. This is why the platform offers a lot of flexibility and customization because it recognizes that agencies have their specific requirements.
SharpSpring — Features & Functionality
As we mentioned, SharpSpring is a growth platform that offers tools for revenue and marketing success. Let's take a look at the features in detail below:
Email Marketing
Email marketing remains one of the most effective ways of connecting with your audience. With SharpSpring's marketing automation tools, it's relatively easy to create email broadcasts and sequences to send to your customers. You can build personalized emails, track deliverability, send outbound emails, and create automated email responders.
SharpSpring offers customizable email templates and dynamic content: you can create emails in multiple languages and personalize messages.
Landing Pages
Landing pages are a great way to get people to convert, but creating them from scratch can be time-consuming and difficult.
SharpSpring's landing page tool allows you to create pages and forms from scratch without entering a single line of code. The drag and drop builder makes it easy to customize every element on the page and improve conversion rates.
CRM Integration
SharpSpring enables customers to integrate their existing CRM system, making it easy to synchronize information between the two platforms.
You can also automatically trigger an email campaign, track incoming calls, and segment lists in SharpSpring when there's new data added in the CRM.
Read also: 8 Surprisingly Awesome HubSpot Alternatives
Lead Management
SharpSpring's lead management platform lets you effectively qualify and score your leads.
The platform tracks each visitor, giving sales teams an easy way to see which leads are ready for a call. Visitors can also be identified by demographics and engagement, making it possible to personalize content and stay up-to-date with what each lead is looking at.
Reporting & Analytics
SharpSpring offers advanced reporting and analytics so you can measure your campaigns' success in real-time. The marketing automation software allows you to easily track leads, conversions, and sales so you always know what's working.
With SharpSpring's comprehensive reporting dashboard, you can see the effectiveness of every aspect of your marketing campaign.
Segment audiences by gender or geographic location, track how many people are engaging with your landing pages or emails, and set up custom reports that show exactly what data matters to you most.
Social Media Management
SharpSpring also helps you manage your social media accounts.
It provides you with the tools to schedule posts, set up lead capture forms, analyze results, and see how well your posts are performing.
Read also: HubSpot vs SharpSpring: A Side-by-Side Comparison of Key Features
SharpSpring Pricing
Now that we've had a basic overview of the features offered, let's look at how much SharpSpring will cost you.
Understanding the difference between SharpSpring pricing and other tools' pricing can be a challenge for customers because other platforms also offer marketing automation services.
The good news is that we've broken down the details of each pricing model so you can make an informed decision depending on what your goals are as an organization.
SharpSpring has three pricing plans, as well as two other custom pricing options — Agency & Enterprise.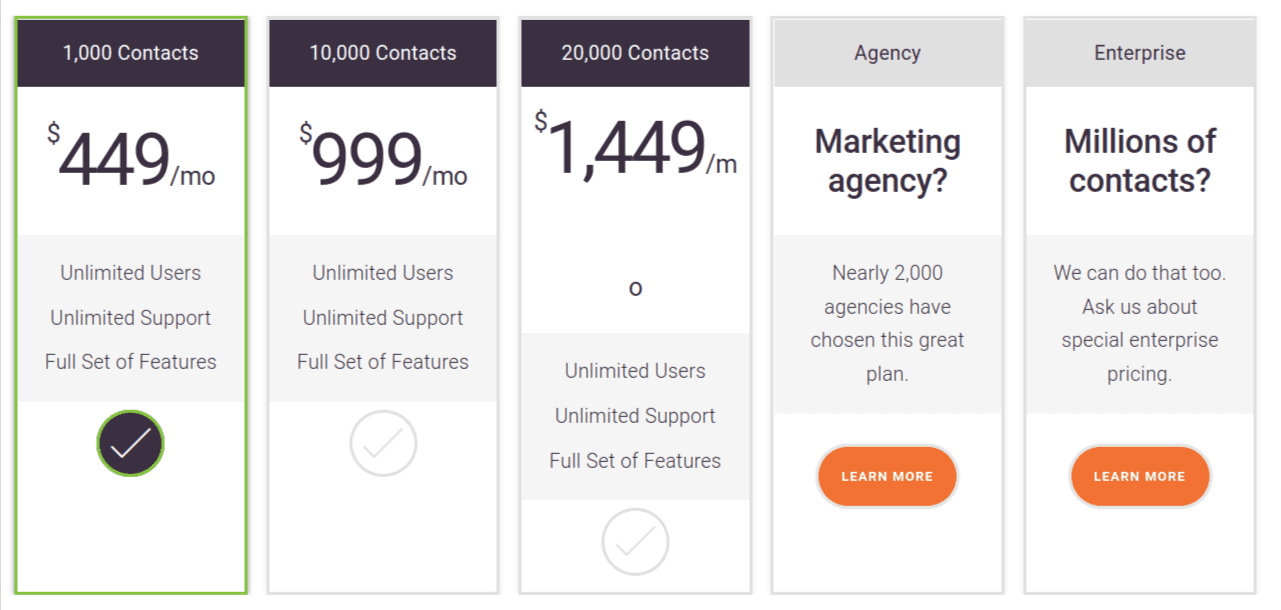 1,000 contacts: $449 per month.

10,000 contacts: $999 per month.

20,000 contacts: $1,449 per month.
All plans give you the option to add unlimited users, customer support, and a dedicated onboarding specialist.
The pricing plans don't end there, though. You also have the option of buying an extra onboarding plan at $2,399, in addition to your pricing package. You get training and support for the platform for the first 2 months. However, this is a one-time purchase.
SharpSpring Pricing For Agencies
The pricing plan above is for small to medium-sized businesses.
Like we mentioned above, SharpSpring is geared towards building a platform for agencies to manage their clients. Agencies can keep track of multiple clients from a common dashboard, and grant unlimited user access.
The SharpSpring agency package is meant to supplement the features that SharpSpring gives to small businesses with agent-specific management options.
The agency package offers another layer of account control which allows agencies to manage multiple clients' accounts, as well as manage multiple teams within their own accounts.
With the Agency Package, you can set alerts for certain activities, view detailed reports sorted by team member, automatically create leads from quote requests, and much
Agent-specific management features are available. They include the following:
API connectors

Full integration with third-party apps

Automated email templates and workflows

Call recording & monitoring tools

Built-in CRM functionality

Extensive customer support

Single log-in
There are no standard pricing plans for Agencies. You have to schedule a call with SharpSpring to get your custom pricing.
Another advantage to the Agency plan is that companies get to retain 75% of the revenue they earn, using SharpSpring's services.
Also read: SharpSpring Alternatives — EngageBay, ActiveCampaign, Drip & More
SharpSpring Pros & Cons
Now that we know the features and the pricing, let's summarize the functionalities and limitations of SharpSpring.
Pros
It is a nice marketing automation platform that provides a full suite of tools for small and medium businesses.

Integrates with all major digital tools for increased utility.

The features offered by the platform are optimized for small businesses and agencies.
Cons
The pricing plans can get expensive since they're charged for a particular number of contacts.

There's no free-forever plan or a trial period.

SharpSpring uses its own language and jargon, which can get confusing for new users.
Read more: SharpSpring vs Hubspot vs EngageBay — Which CRM Software is the Best?
Top 3 Alternatives to SharpSpring for Small Businesses
The world of CRM and marketing automation software is brimming, but the truth is not all are created equal. If you're not convinced that SharpSpring is the right tool for your business, you can find better alternatives.
Here, we'll describe three great SharpSpring alternatives that will give you similar marketing automation and other tools, without SharpSpring's cost.
1. EngageBay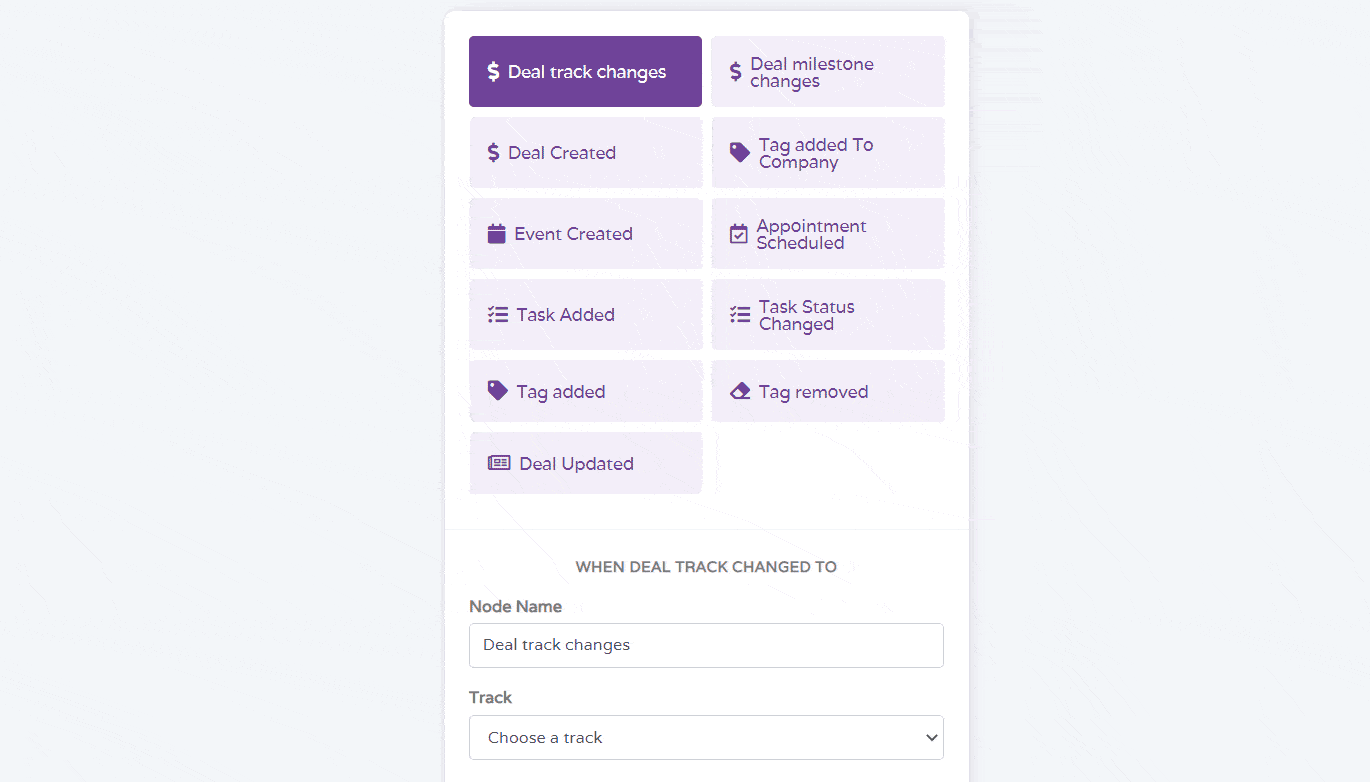 EngageBay is a cloud-based marketing automation software for small but growing businesses that want to streamline their marketing, sales, and customer support under one roof.
It is often the case that marketing teams, sales teams, and customer support teams work in silos, which of course becomes a pain in many ways, and keeps on adding new software costs for the business.
EngageBay was designed to end this problem, with a simple-to-use, all-in-one marketing automation platform that can seamlessly integrate and handle customer support and sales tasks too.
We're not looking to brag but this is actually the world's most affordable marketing automation software (feel free to check).
In addition to that, EngageBay comes with a free Customer Relationship Management (CRM) suite that allows businesses to handle all customer interactions and engagement.
With EngageBay, companies of all sizes can save time, money, and effort while maximizing their lead generation, conversion, and customer retention rates.
Features
Lead & deal management

Contact management

360-degree unified dashboard

Appointment scheduling

Lead tracking & scoring

CRM integration

Landing page templates and builder

Marketing & sales automation tools

Pipeline management

Live-chat & helpdesk

Social media marketing

Reporting & analytics
Pricing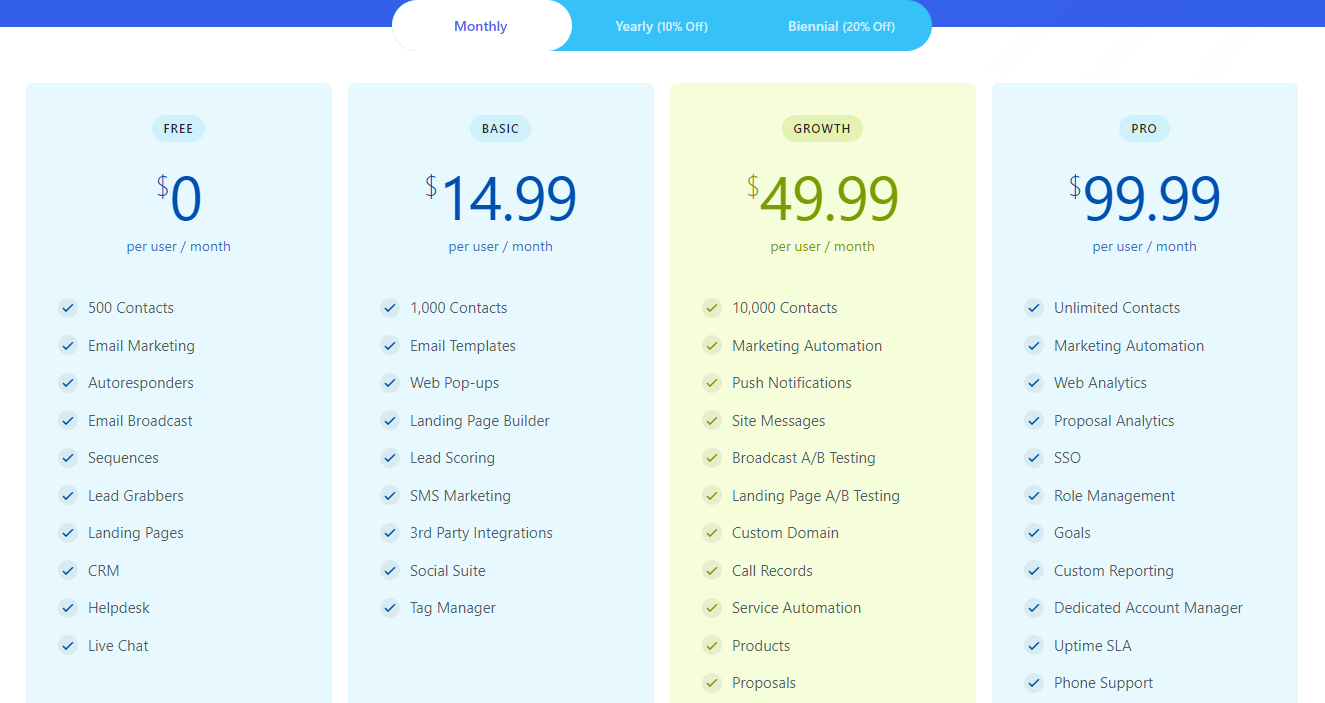 EngageBay's pricing differs quite a bit from SharpSpring pricing. EngageBay's pricing is divided into three parts: All-in-One Suite, Marketing Bay, and CRM & Sales Bay. You get customer support tools as a free package.
For now, we'll take a look at the pricing for the All-in-One suite. You can check out the other pricing plans by visiting EngageBay's pricing page.
The All-in-One package has four pricing plans:
This plan includes email marketing, landing pages, autoresponders, email broadcasts, CRM, email sequences, and lead grabbers.
Basic Plan — $14.99 per user/month
Includes all features of the free plan, plus email templates, lead scoring, SMS marketing, social media management, tag manager, and website popups.
Growth Plan — $49.99 per user/month
All features of Free & Basic plan, plus email automation, push notifications, A/B testing, custom domains, service automation, and call recording.
Pro Plan — $99.99 per user/month
Includes advanced features such as web analytics, SSO, role management, custom reporting, dedicated account manager, and goal tracking.
As you can see, EngageBay is a solid competitor to SharpSpring because it offers all SharpSpring features and more, at half the cost.
It's also individual and small-business friendly, since it was designed as a HubSpot alternative for agencies, solopreneurs, new companies, and small businesses.
The ultimate comparison of EngageBay with Sharpspring
2. GetResponse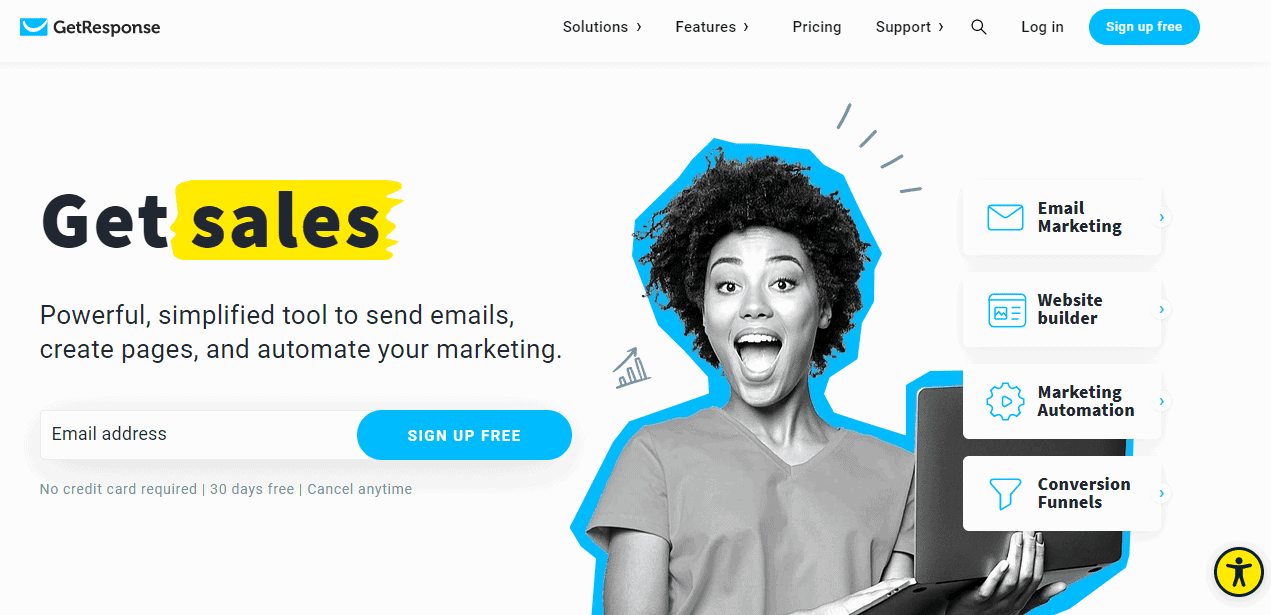 GetResponse is an email marketing tool platform that helps businesses to grow their audience list, engage with their customers, and boost online sales. The software also offers advanced features and integrations to create insight-based email campaigns.
Features
Marketing automation

Mailing lists

Email templates

Reporting & analytics

Autoresponders

Third-party integrations

Landing page builder

Webinars

Live chat

Website builder

Conversion funnels
Pricing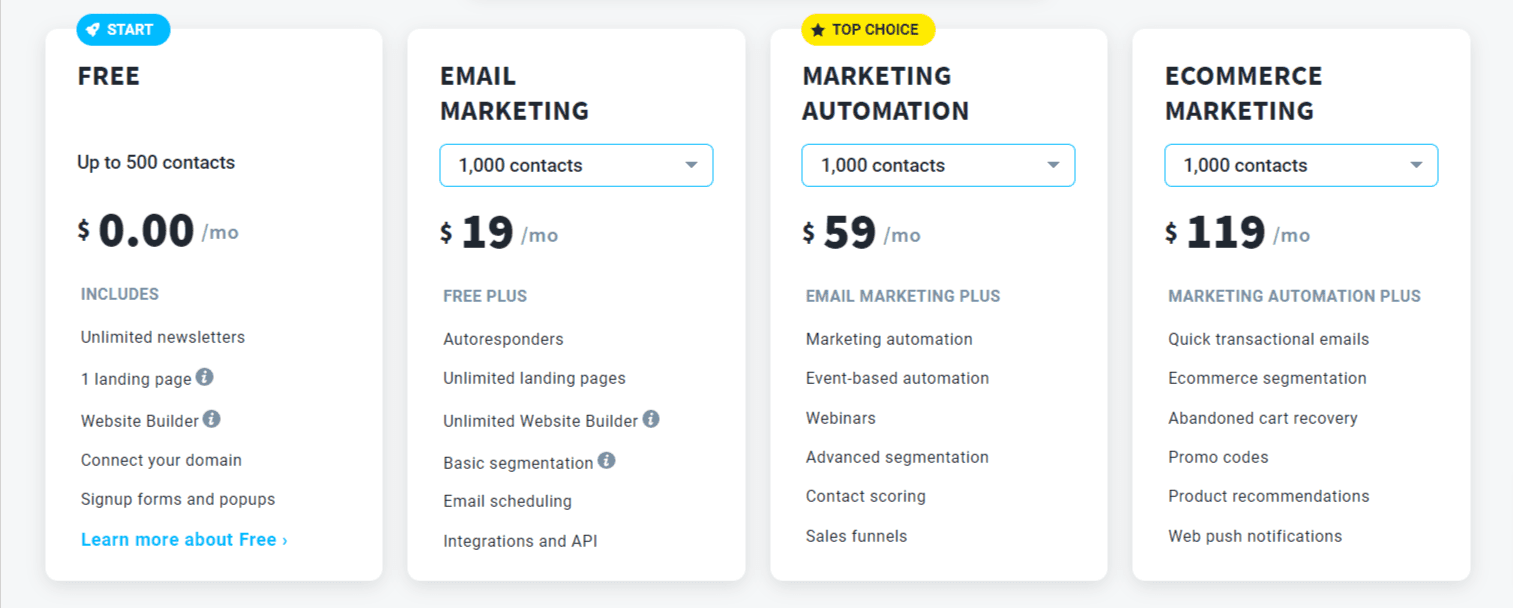 GetResponse offers a free forever plan with 500 contacts.
Much like SharpSpring pricing plans, GetResponse offers three paid tiers. The cost of these depends on your contact list size. Here's what you would pay monthly for 1,000 contacts.
Email Marketing plan

— $19 per month
Includes email marketing, website builder, signup forms, autoresponders, and landing pages.
Marketing Automation plan — $59 per month
Plus plan offers all features of Basic Plan, plus marketing automation, contact scoring & tagging, list segmentation, additional users, webinars, and unlimited sales funnels.
ECommerce Marketing plan — $119 per month
All features of Plus Plan, as well as web notifications, unlimited automated workflows, e-commerce features, and paid webinars.
GetResponse is a tool for you if all you're looking for is comprehensive email marketing in your SharpSpring alternative. It doesn't offer the same functionality for revenue growth, but if you're only looking to build an audience list, then this tool may work for you.
The cost is also affordable when compared to SharpSpring's pricing.
Read more: GetResponse Pricing — A Comparison with More Affordable Alternatives
3. ActiveCampaign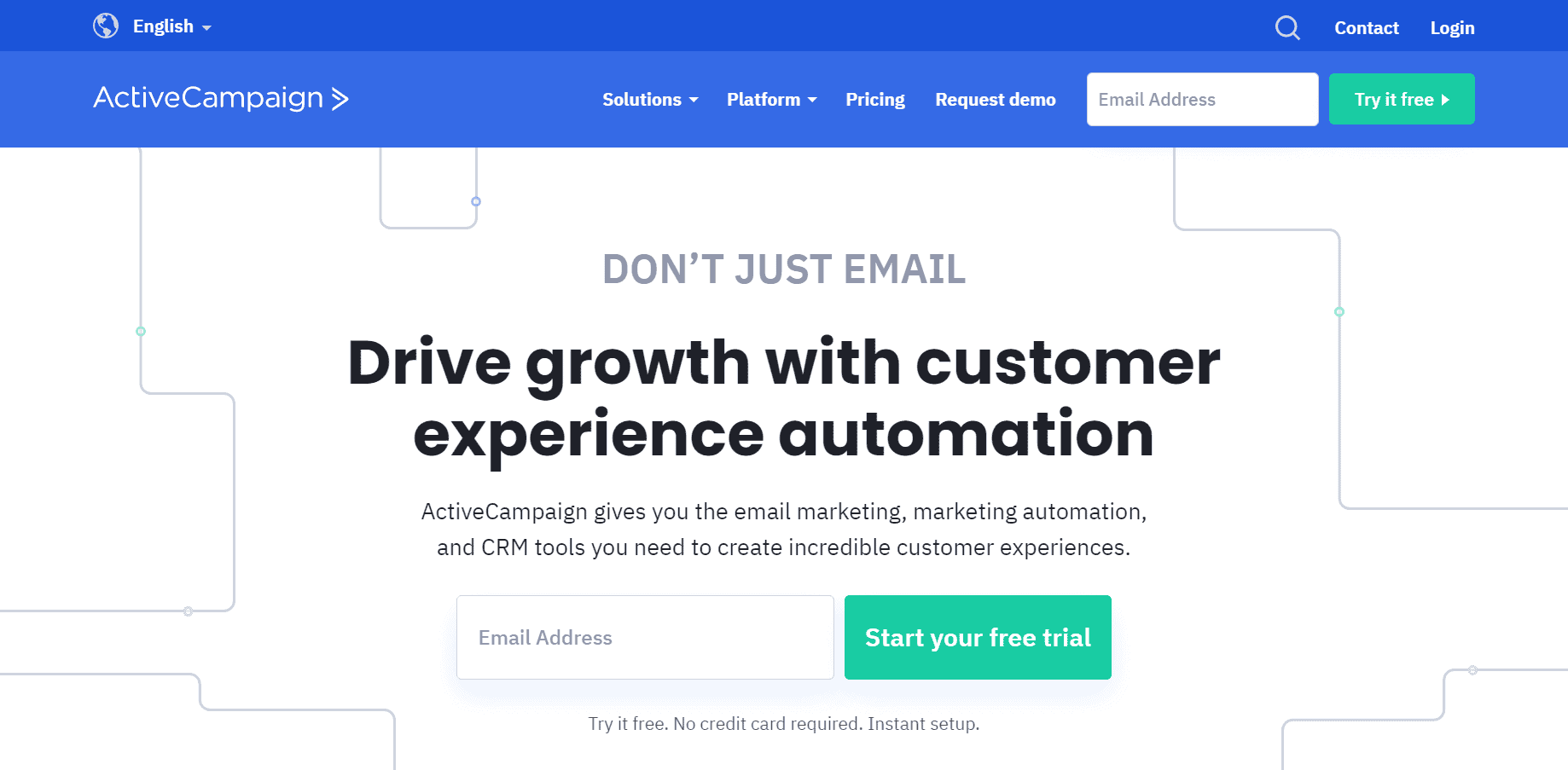 ActiveCampaign is an email marketing platform that allows you to automate your marketing campaigns. It is designed by combining the all-around abilities of marketing automation, email marketing, and CRM automation and is suitable for most businesses.
Users can easily create newsletters, build email lists, send emails, create auto-responders, manage contacts, track performance, create forms, and carry out inbound marketing campaigns.
Features
Email marketing

Landing pages and forms

Marketing automation

Dynamic content

Lead management

Audience segmentation

User behavior tracking

Lead nurturing

Web notifications

Mobile app
Pricing

ActiveCampaign offers four pricing plans — the cost of which depends on the number of contacts. This is what you would pay monthly for 1,000 contacts.
Lite Plan — $29 per month
Features include email templates, email broadcasting, segmentation, campaign reporting, sales outreach, and more.
Plus Plan — $49 per month
In this plan, you get all features of Lite plus custom branded forms and landing pages, advanced reporting, CRM with sales automation, lead scoring, mobile app, and account management.
Professional Plan — $149 per month
All features of Plus, as well as attribution reporting, site messages, split automation, predictive content, in-app messaging, and website personalization.
Enterprise Plan — Custom-priced
Includes advanced features such as contact enrichment, advanced reporting, unlimited users, custom domain, and customized branding.
ActiveCampaign also offers exceptional phone support, campaign tracking, and integrations that work well with e-commerce marketing.
Read also: 10 Easy To Use CRM Tools (Features, User Reviews, Pricing)
Wrap Up: Choosing the Best CRM Software
When it comes to choosing the right product for a small business, cost is a big factor. We have detailed SharpSpring pricing plans as well as the pricing for other tools.
Ultimately, the platform you choose will depend on your goals. If you're looking for absolute revenue growth while paying for an agency pricing model, then SharpSpring will work for you.
EngageBay comes as a blessing for any small business, offering an all-inclusive package with marketing automation, customer relationship management (CRM), and sales enablement.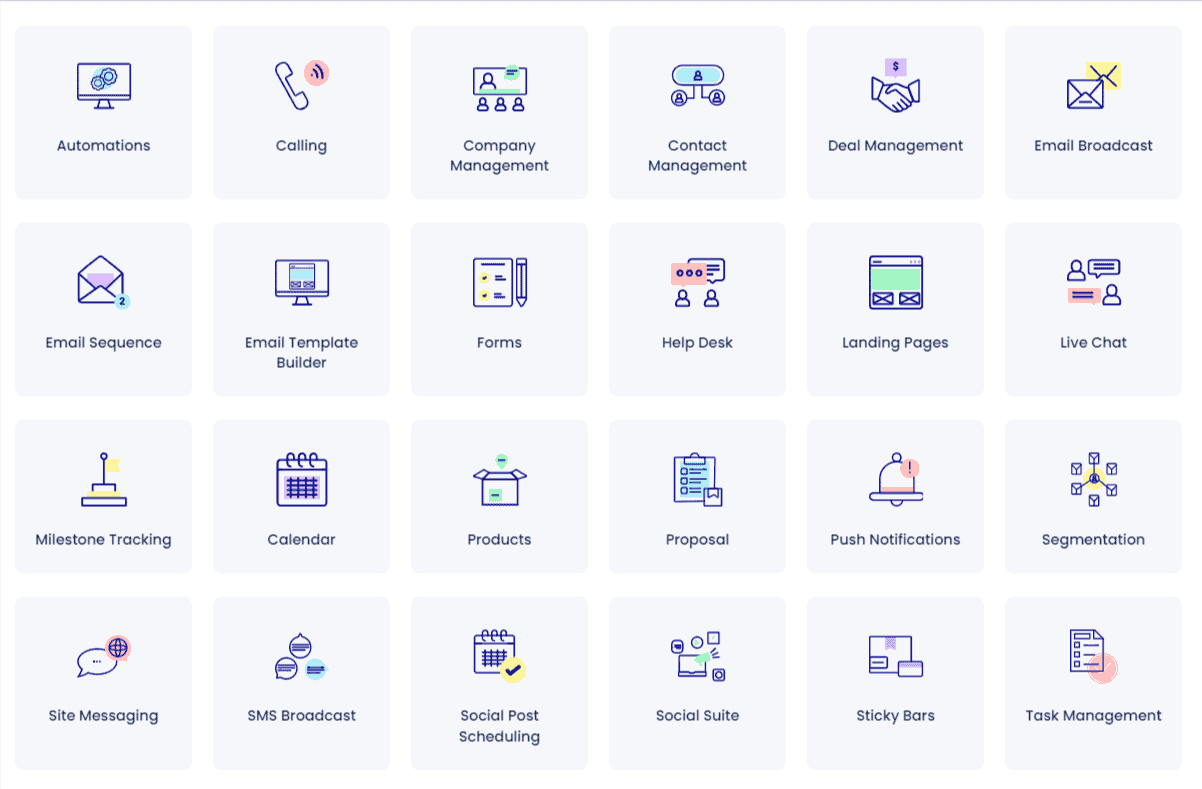 You can test the platform by signing up for a free plan — no trial period deadline — or reach out to us for a demo. All you have to do is sign up and we'll get in touch with you the soonest!