SharpSpring is a great sales and marketing automation software, but the $399 price tag for 1,000 contacts does not bode well for small businesses. If you have more than 10,000 thousand contacts, you'll be paying more than a thousand dollars a month!
That's out of reach for most small businesses.
So why choose SharpSpring when you have alternatives with better features at a much lower cost?
In this blog post, we'll compare the features and pricing of six of the best SharpSpring alternatives. You can choose the one that fits your needs perfectly:
EngageBay
HubSpot
Keap
ActiveCampaign
Drip
Sendinblue
Happy hunting!
What is SharpSpring?
SharpSpring is an all-in-one marketing automation software that offers automation, marketing, CRM, email, and sales tools.
It was founded in 1998 and has a positive reputation in the sales and marketing automation software market.

Features
These are the key features offered in SharpSpring paid plans:
Social media management: Maximize your social media potential with SharpSpring Social. You can create automated workflows, curate leads, and even track your ROI from social marketing campaigns.
Marketing reports: The customized reports allow you to focus on the most relevant metrics.
Blog: You can write and publish your posts through SharpSpring.
Landing pages creation: Your marketing campaign needs landing pages as well, and the landing page builder lets you do exactly that.
VisitorID: This is among SharpSpring's best features. It helps you track website visitors and lets you understand them better.
Marketing automation: Automate more of your everyday marketing processes with customizable workflows.
Integrations: SharpSpring integrates with plenty of other tools such as SugarCRM, Salesforce, Formstack, Weebly, Zoho, WordPress, Wufoo, and more.
Read also: SharpSpring Pricing, Features, and Top 3 Alternatives for Small Businesses
SharpSpring Pricing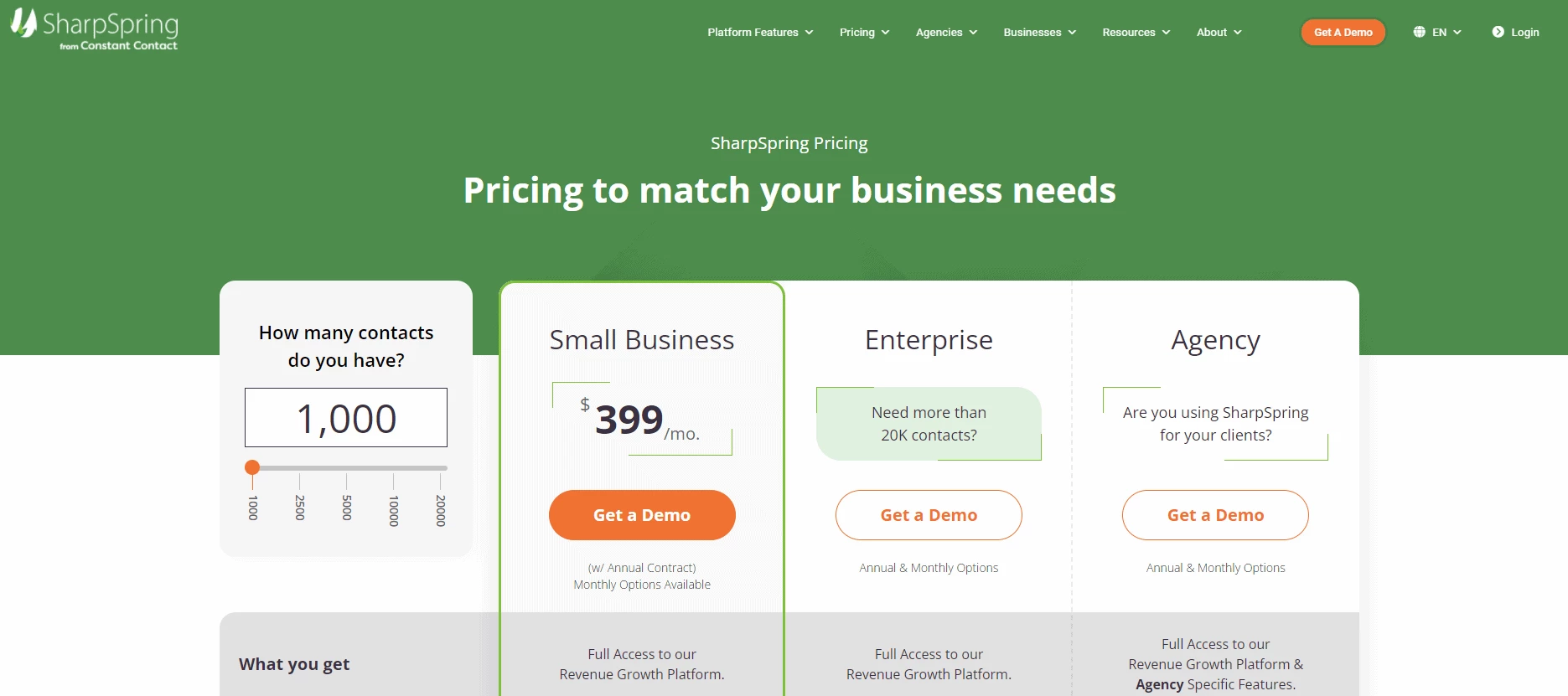 SharpSpring bases its costs on whether you're a small-to-medium business (SMB), an enterprise, or an agency.
SharpSpring's basic plan starts at $399 a month for 1,000 contacts. This plan includes unlimited support and as many users as your company requires, but it still seems steep.
When your company reaches 10,000 contacts, you're looking at a monthly bill of $899. For 20,000 contacts, SharpSpring costs at least $1,299 a month!
That's too much for a small business.
Also, note that all these prices are for annual bills. Monthly plans will cost more.
There are custom plans for enterprises and agencies, but you have to contact them for the prices.

Top 6 Cost-Effective SharpSpring Alternatives
The six SharpSpring competitors we're recommending are all much more cost-effective for small businesses:
EngageBay
HubSpot
Keap
ActiveCampaign
Drip
Sendinblue
Despite that, you're not losing out on software quality or features.
Let's dive right in!
#1. EngageBay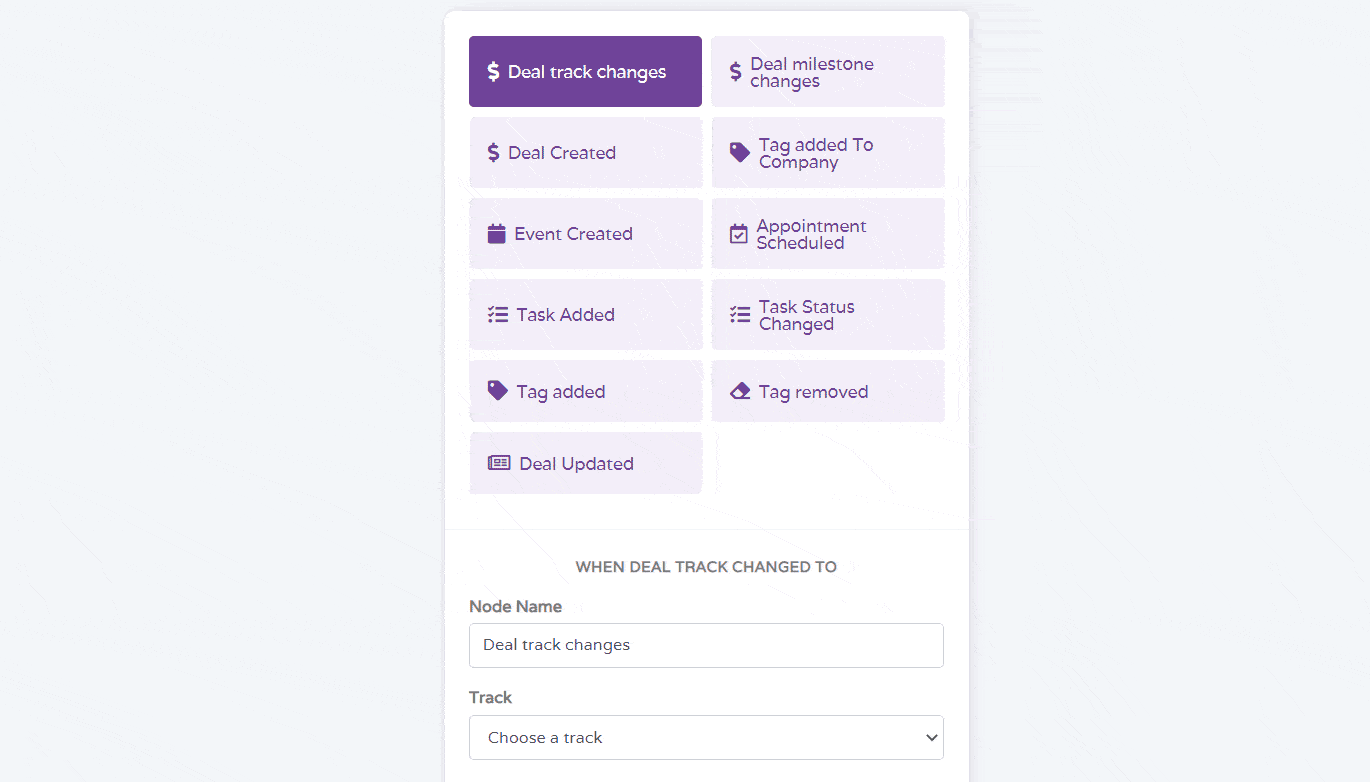 You're usually supposed to save the best for last, but we couldn't help starting this list with EngageBay.
This all-in-one sales, marketing, customer service, and CRM software was founded in 2017.
It was pricy marketing automation software like HubSpot and SharpSpring that inspired the launch of EngageBay.
The idea behind EngageBay is to help small businesses grow and scale, and not drain their marketing budget in the process.
EngageBay Features
EngageBay has four products, but we'll focus on the All-in-One Suite for comparison with SharpSpring.
With more than 230,000 customers and counting, EngageBay is loved for its rich feature set.
Let's explore what's offered in the All-in-One Suite.
Knowledge Base: Help your customers with a comprehensive knowledge base. This feature can help them search for the information they need from your brand, which can save them the need to contact you.
Helpdesk: If your customer has a concern that can't be addressed through the knowledge base, your help desk is here to step in.
Live Chat: Few companies are staffed 24/7. When your customers need you but you're closed, a live chatbot fills in the gaps, keeping your customers happy.
Invoice management: Real-time updates and notifications for perfect invoice management.
Proposals: As your sales and marketing proposals go live, you can record and manage each of them.
Email tracking: Track all key performance metrics of your email campaigns.
Automation: All EngageBay automation is programmable, from simple email follow-ups to complex workflows and everything in between.
Deal management: For busy salespeople who want to save time and close more deals.
360-degree customer view: Learn more about your audience than ever before.
Lead scoring: Predictive lead scoring help target audiences better, based on their behavior and win probability score.
Multichannel engagement: To streamline your customer support and marketing automation efforts across avenues.
Forms and pop-ups: Customizable templates and easy builder.
Landing page builder: Plenty of templates and a drag-and-drop tool to build beautiful landing pages.

Read also: SharpSpring vs Hubspot vs EngageBay — Which CRM Software is the Best?
EngageBay Pricing
EngageBay's All-in-One Suite has four different pricing plans designed to suit your startup's budget, whether you're a brand-new business or a more established one.
Here is more information on each plan and the pricing options.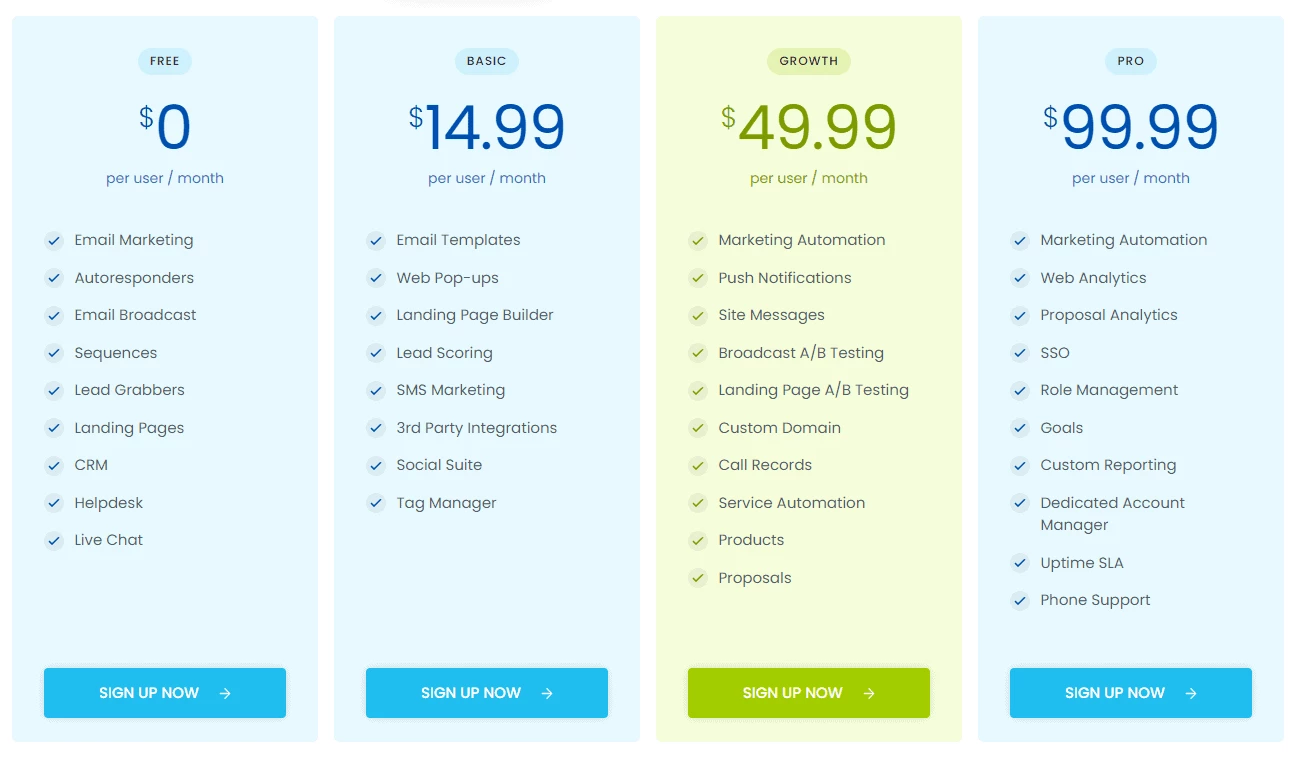 All-in-One Suite Free Pricing
EngageBay's Free plan is never a bait-and-switch. Rather, it's actually free forever.
For $0 a month, you can use these great sales automation and CRM features:
Detailed logging of data on companies and contacts
Predictive lead scoring
Deals pipeline management
Appointment scheduling
Email tracking with 2-way sync
Integration with Gmail, Outlook, and Office 365
Social suite
Tag management
Workflow automation
Employee productivity and task management
Sales and revenue tracking by project or product
Live Chat
You can also make the most out of these marketing automation features:
500 contacts
1,000 branded emails per month
1 GB of file storage
Contacts lists
Web pop-ups
Email templates and template builder
Custom fields
Lead management
Desktop notifications
Landing pages builder
Newsletters
Email sequences
Contacts segmentation
Embedded forms
Autoresponders
Facebook Ads
The Basic plan starts at $14.99 per month and adds many key features to help businesses grow, such as:
1,000 contacts
3,000 branded emails
Canned responses
Desktop notifications
Customer service ticket management
SSL-enabled landing pages.
The Growth plan offers:
10,000 branded emails
25,000 contacts
Sales automation
Custom automation and workflow nodes
Sales proposals
Call reports and scripts
Leaderboards and gamification
Custom deal tracks
Timezone-based email delivery
The Pro plan offers a suite of powerful and advanced tools for businesses that need more pizzaz.
The best part? It costs just under $100!
This plan offers:
Unlimited contacts
50,000 branded emails
Web analytics
A dedicated account manager
Custom reporting
Proposal analytics
SSO
Call recordings
Phone support
Read also: ActiveCampaign vs GetResponse vs EngageBay — Which is the Best CRM?
#2. HubSpot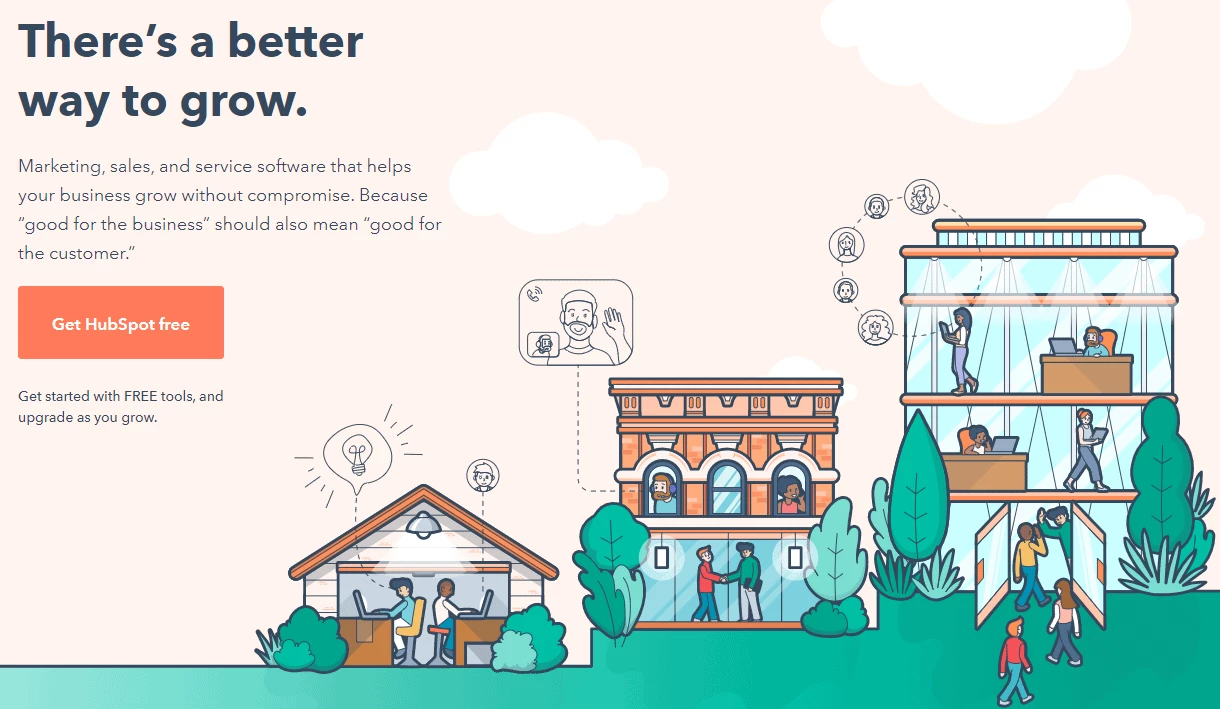 HubSpot is the go-to platform for larger establishments as it is one of the most trusted CRM software — several global conglomerates use HubSpot to automate their marketing, sales, and customer support tasks.
HubSpot also offers a free CRM to help you get started.
HubSpot Features
These are HubSpot's key features for marketers and sales teams:
Automation: HubSpot offers multilevel automation through its powerful visual workflow builder
Editing: With its drag-and-drop page editing and design tool, you can launch visually stunning landing pages and email campaigns. For more control, HubSpot also offers the option to add code.
All-in-one: HubSpot's all-in-one software eliminates the need for multiple standalone platforms, as it gives a 360-degree view of all your customers.
Segmentation: HubSpot lets you list contacts based on various factors. This helps you build personalized and customized campaigns for your leads.
HubSpot Pricing


HubSpot CRM offers three plans: Starter, Professional, and Enterprise.
The Starter plan costs $50/month for 1,000 contacts and includes:
Email marketing platform
Ad management
Landing pages
Team email
Email reply tracking
Custom user permissions
User management
The Professional plan starts at $1,600/month and offers:
Product library
Standard SSL certificate
A/B testing
Up to 10 teams
Website traffic analytics
The Enterprise plan costs $5,000/month for 10,000 contacts and adds:
Shared inboxes
Sandboxes
Quote-based workflows
Conversation intelligence
Admin notifications
Recurring revenue tracking
#3. Keap

Keap is an excellent Sharpspring alternative for entrepreneurs looking to "grow sales and save time with automation."
The platform offers a drag-and-drop interface, making it easy for you to scale business operations.
Keap Features
These are the best Keap features:
Easy-to-use: Keap's marketing and sales automation tools are intuitive and easy to use.
Contact management: Keap lets you import contacts from spreadsheets, business cards, and custom forms on web pages. It also offers powerful segmentation, custom views, filters, and tags.
Lead generation: This includes tools such as lead scoring, intelligent search, lead capture forms, and contact forms.
Engagement: Keap offers a suite of engagement features to help you nurture leads using sales funnels, automated drip campaign management, and A/B testing.
Advanced reporting: You get a plethora of reporting tools, ranging from email reports, dashboards, and KPIs.
Keap Pricing

Keap offers three plans: Lite, Pro, and Max.
The Lite plan starts at $59/month for 500 contacts and offers:
Contact management
Contact segmentation
Filters
Saved searches
Capture forms
Custom fields
The Pro plan starts at $129/month for 500 contacts and offers:
B2B management
Landing pages
Sales pipeline
A/B testing
The Max plan starts at $199/month for 500 contacts and includes:
Customizable dashboards
Analytics
Pipeline automation
One-click upsell and cross-sell
Sales funnels
Lead scoring
Read Also: Keap (Infusionsoft) Alternatives — The Top 5 CRM Options to Try
#4. ActiveCampaign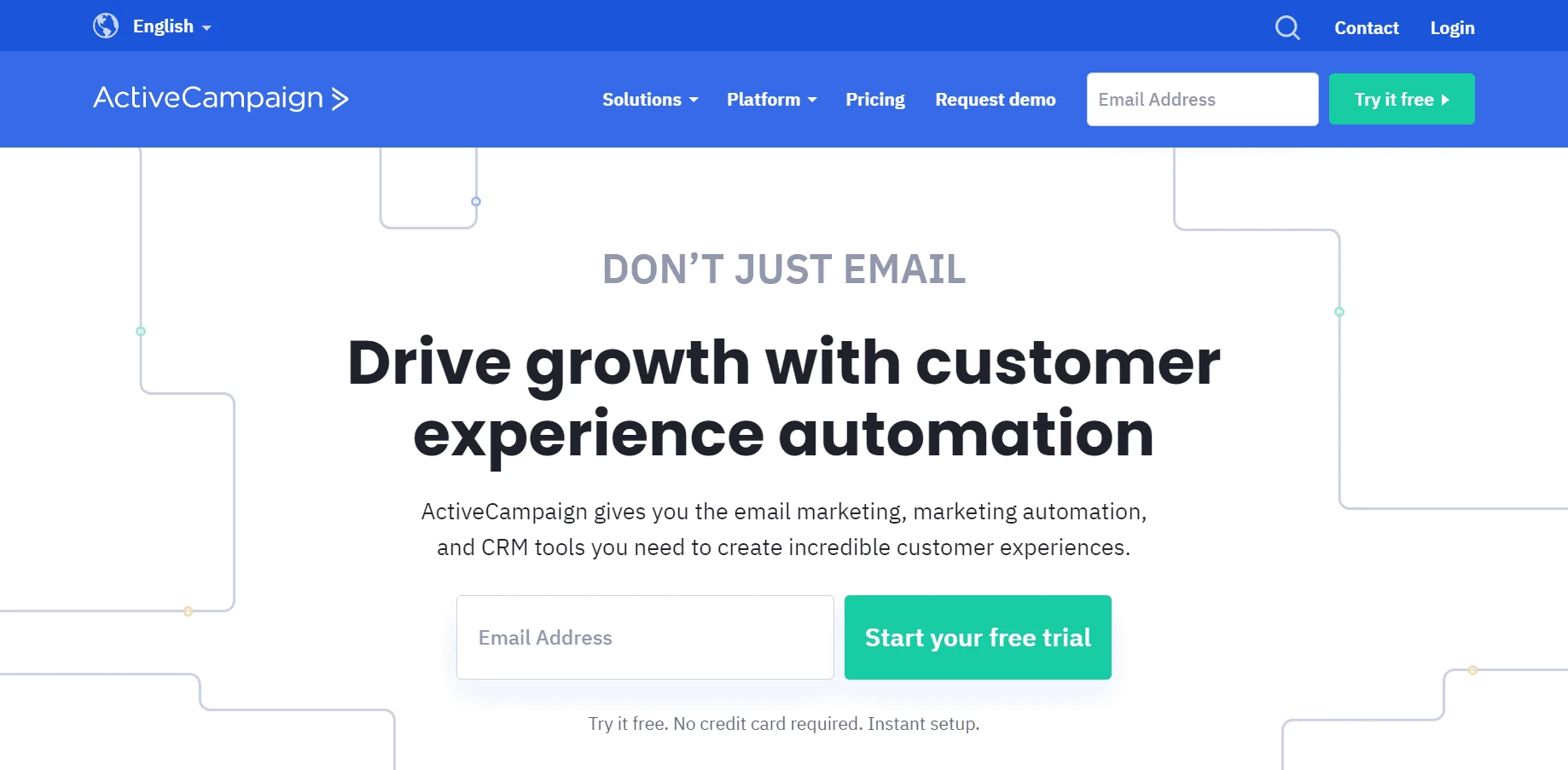 The marketing automation platform ActiveCampaign is another excellent SharpSpring alternative.
Founded in 2003, ActiveCampaign has a little bit of everything your small business needs in the areas of sales, marketing, and service.
ActiveCampaign Features
ActiveCampaign has these features that make it a better alternative to SharpSpring.
Contact management: Organize, sort, filter, and segment your contacts no matter where they come from.
Task assignment: ActiveCampaign's task management service lets you send tasks and assignments to your sales team based on the member's expertise and the task's relevancy.
Team notifications: You can notify your team members of new tasks, deals, and changes through notifications and emails.
Integrations: With more than 800 integrations and counting, ActiveCampaign connects with most sales and marketing automation tools your startup may already use.
Engagement tagging: On the marketing automation side, improve the conversion chances of a potential lead with engagement tagging.
Multichannel marketing: Reach out to your audience in novel new ways, including social media, email, customized landing pages, and text messages.
Custom pages and forms: ActiveCampaign lets you customize your landing pages and forms from the ground up so they appeal to your audience segments.

Read also: ActiveCampaign Alternatives — 5 Similar Tools You Should Use
ActiveCampaign Pricing
ActiveCampaign has four plans to select from, including Lite, Plus, Professional, and Enterprise plans.


ActiveCampaign Lite Pricing
With no free plans, ActiveCampaign's Lite plan is the least expensive.
The Lite plan starts at $9 a month for 500 contacts and comes packed with these features:
More than 850 integrations
Over 500 automation recipes
3 users
Customer analytics
Newsletters
Sales reporting
Email autoresponders
Segmented outreach
Lead capture forms
Automation and campaign reporting
Event and site tracking
Segmentation
Subscription forms
Email marketing
Marketing automation
At 1,000 contacts, the plan costs $29 a month, and at 10,000, the plan costs $139 a month.
The Plus plan starts at $49/month for 500 contacts and adds:
Customer user permissions
Advanced reporting
25 users
Customer health scoring
Account management
SMS follow-ups
The Professional plan costs $149/month for 500 contacts and comes with:
Three one-on-one training sessions per month
50 users
In-app messaging
Conversion reporting
Personalized product experiences
Site messages
Predictive content
The Enterprise plan costs $259/month for 500 contacts and offers:
Custom branding
Custom URL
Phone support
Your own account rep
Unlimited users
Contact enrichment
Custom reporting
Unlimited email tests
Read also: ActiveCampaign Pricing and Comparison with Other Alternatives
#5. Drip

The next SharpSpring alternative is Drip, which is an e-commerce marketing automation platform for both large and small businesses.
Drip Features
Drip offers decent features.
Optimization: With workflow split-testing, automatic revenue attribution, and an insights dashboard, optimizing your successes will come easy.
Multichannel marketing: Appeal to all your audience segments with multichannel marketing options like SMS, Instagram, and email.
Personalization: Make your communications feel tailor-made for your audience with behavior-based automation, personalized content, and deep lead segmentation.
Customer data: Leave no stone unturned when it comes to your customers. Drip includes customer data features like customer behavior tracking and engagement tagging.
Read also: How To Move From Mailchimp to EngageBay — An Exhaustive Guide
Drip Pricing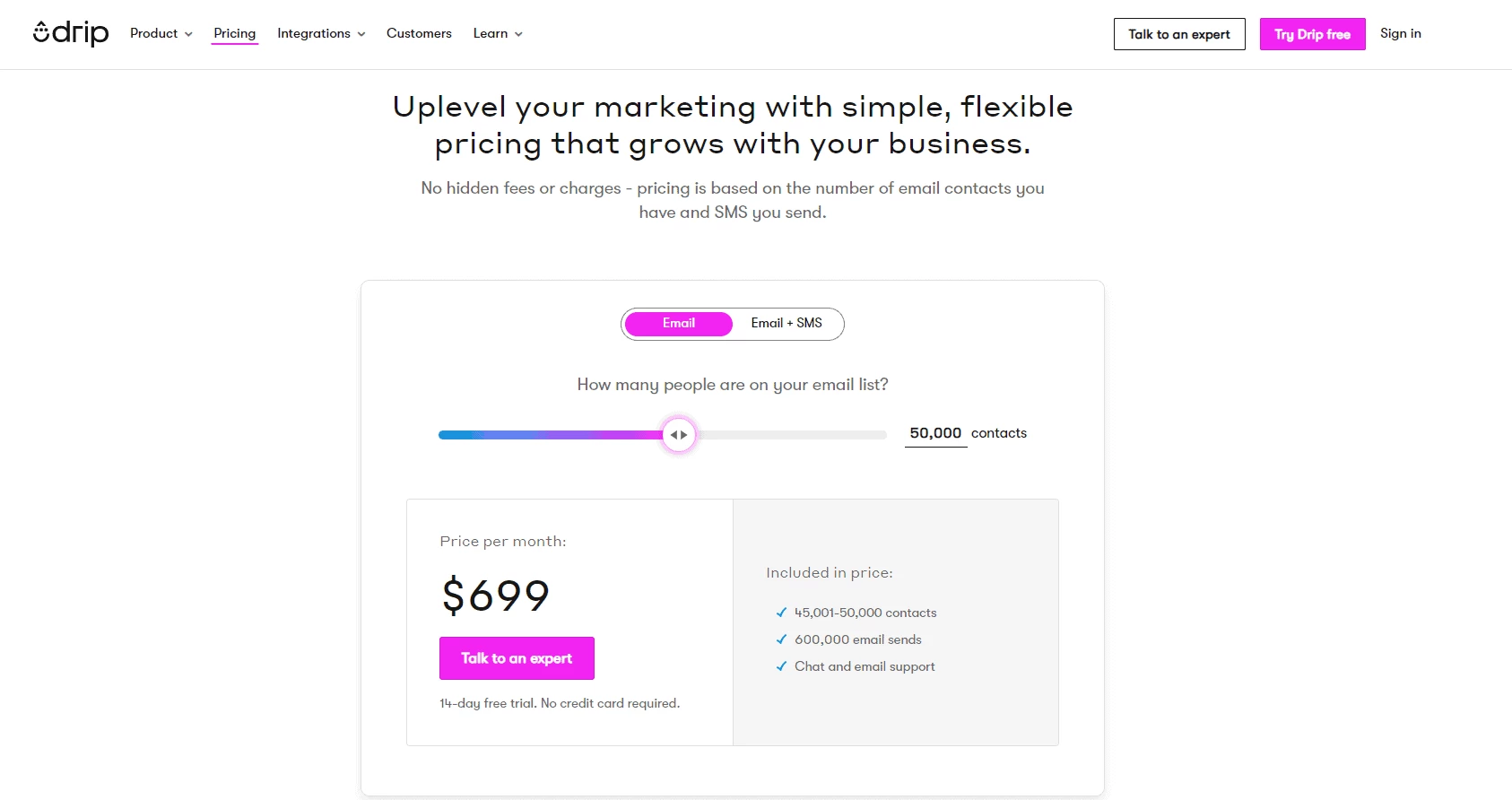 Drip doesn't have pricing plans.
Instead, as your contact list grows, your monthly costs go up:
Up to 500 contacts: $19 a month
Up to 2,000 contacts: $29 a month
Up to 5,000 contacts: $89 a month
Up to 10,000 contacts: $154 a month
Up to 20,000 contacts: $289 a month
Up to 50,000 contacts: $699 a month
For a quick comparison, note that EngageBay's all-in-one suite costs $99.99 per user per month for unlimited contacts.
Read also: Drip Alternatives — Which Marketing Automation Tool is Right for You?
#6. Sendinblue

Another amazing email marketing tool is Sendinblue, a SharpSpring alternative based in France that was founded in 2007.
A software-as-a-service or SaaS business with a focus on digital marketing automation tools, Sendinblue is also renowned for its automation features.
Sendinblue Features
Here's what you can do with your sales and marketing on the Sendinblue software.
Transactional emails: Customize your transactional emails and track their performance.
Marketing automation: Including both beginner and advanced level automation of workflows. You also get SMS and email marketing, signup forms, and more.
Retargeting: Get a second chance at those seemingly lost customers with retargeting display ads.
Facebook Ads: Sendinblue deploys and tracks your ads for metrics that matter.
Landing page: Sendinblue offers a builder and customizable templates to help you create visually appealing landing pages.
Read also: What Is CRM Automation? Learn the Basics Here (Guide Blog)
Sendinblue Pricing
Want to know how much it costs per month to use Sendinblue?
Here's what you need to know about the software.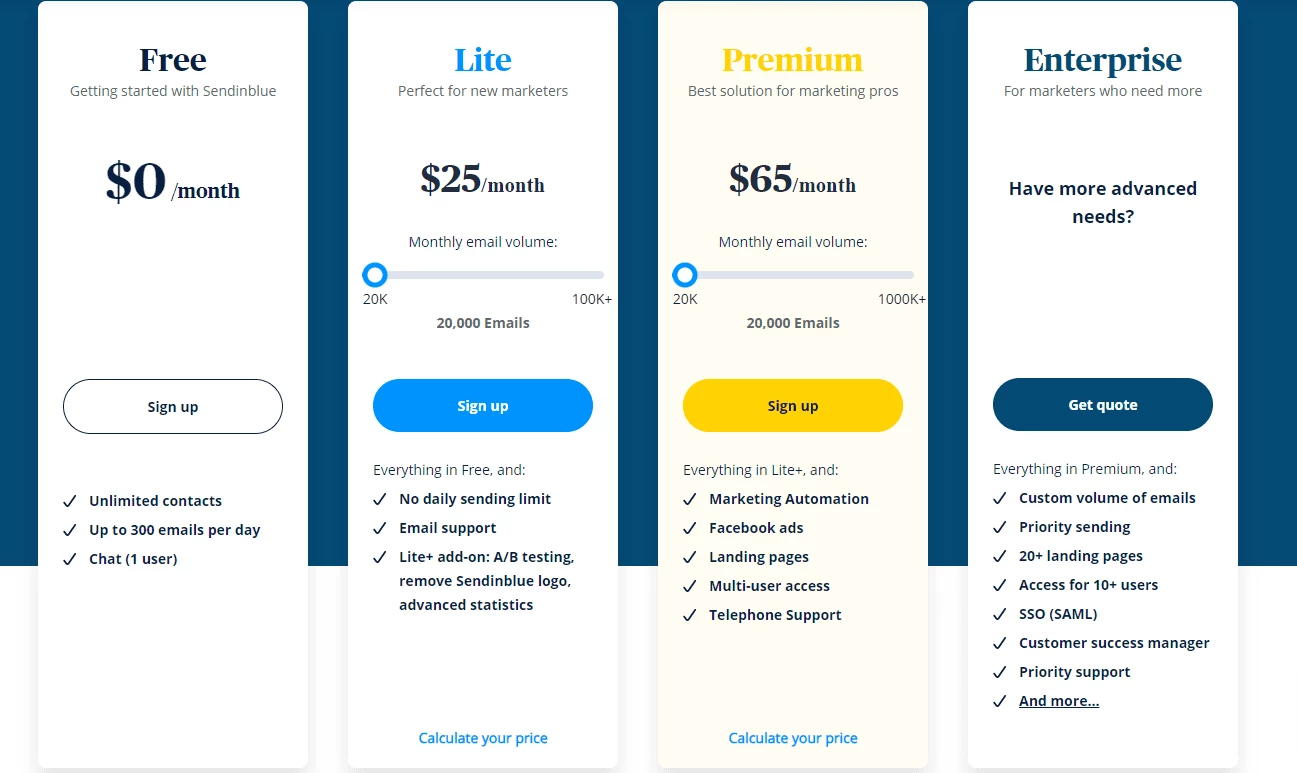 Sendinblue Free Plan
Yes, Sendinblue has a free plan just like EngageBay does, and offers these features:
Email campaigns
Mobile-friendly email designer
Email template library
SMS marketing
SMS and email personalization
Chat
Unlimited deals and contacts
Advanced lead segmentation
Custom sign-up forms
Sales CRM system
1 shared inbox
Transactional emails
Core API
Advanced templating language
Workflow editor
Page tracking
Marketing automation workflows for 2,000 contacts
Real-time reporting
Sendinblue Lite Pricing
You'll probably need a paid Sendinblue plan at some point, perhaps the Lite plan.
It has all the Free features above and adds these:
Optional A/B testing
No daily sending limit
Basic integrations
The Lite plan starts at $25 a month for 20,000 emails.
Sendinblue Premium Pricing
Of the four plans, Premium is Sendinblue's most popular.
Why? Well, it has these features:
A/B testing
Social media Ads
Retargeting ads
3 shared inboxes
Unlimited marketing automation workflows
3 users
The Premium plan starts at $65 a month for 20,000 contacts. This affordable pricing is what makes Sendinblue one of the most-affordable Sharpsring competitors.
The Enterprise plan has everything mentioned above and adds:
Unlimited landing pages
Unlimited shared inboxes
Dedicated IP
Real-time reporting
Geography & device reporting
Heat map reporting
Advanced email stats
SLA.
For Enterprise pricing, you'll need to contact Sendinblue.
Wrap Up
SharpSpring is a good marketing automation software, but it's not the only one, and it's certainly not priced for small businesses.
Drip, HubSpot, Keap, Sendinblue, and ActiveCampaign are all great SharpSpring alternatives. But for small businesses, it doesn't get better than EngageBay. See why:
SharpSpring charges you $399 a month for 1,000 contacts. Once your company grows and you have about 20,000 contacts, you'll need to dish out a whopping $1,299 a month!
In contrast, EngageBay costs $14 a month for 1,000 contacts. Need 25,000 contacts? You pay just $50 a month.
This means Shapspring costs 3,000% more (and gives you 5,000 contacts less still).
And the icing on top of your budget cake: you only have to pay $99 a month for the Pro plan, and you get unlimited contacts!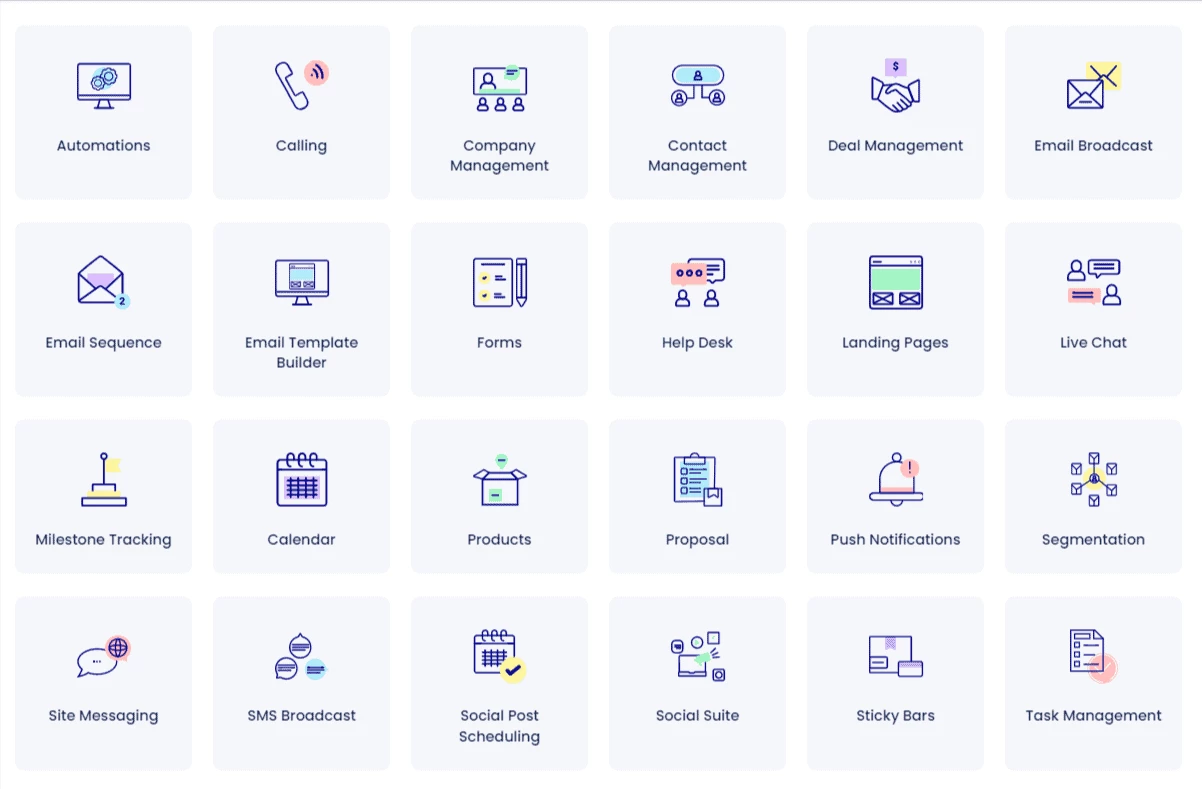 Sign up now and take your business to new heights!
You can also book a 30-minute demo with our experts at a time of your convenience.