Nowadays, all digital marketers must be social media video creators. However, unlike the biggest influencers in the social media sphere, you don't know the first thing about producing polished, high-quality videos.
It's all about choosing the right apps!
In this post, we'll introduce you to the top 11 social media video creator apps. Whether you're looking for a video maker, a video editor, or both, these apps run the gamut of free and paid options for various budgets.
The 11 Best Paid and Free Social Media Video Creator Apps
Without further ado, let's jump right in!
1. Adobe Premiere Rush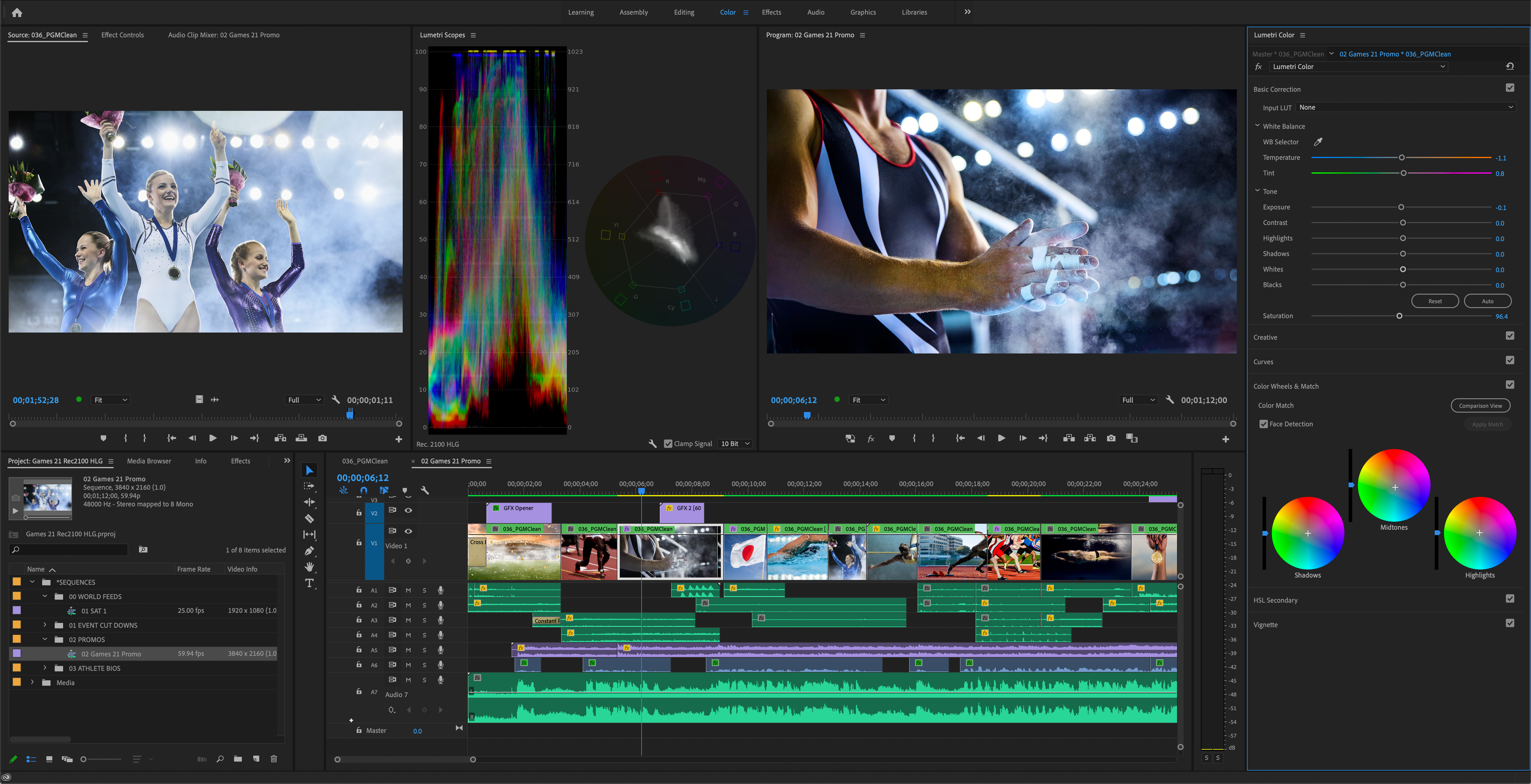 Starting our list is one of the most premier names in editing, Adobe. Their Premiere Rush desktop and mobile video app is for–as Adobe says – "fun, intuitive" video creation and editing.
Let's take a look at some of the features.
Motion graphics templates: Put a professional spin on whatever content you're creating with motion graphics templates included in the app. You can adjust the template size, color, and text for awesome customization.
Animated text: For that extra-special spin on your content, incorporate animated text such as captions and drop titles. You can do so using easy drag-and-drop features.
Audio suite: The array of audio options available at your fingertips when using the Adobe Premier Rush app will surely inspire. You can utilize features such as auto-ducking, noise muting, crossfades, and voiceovers.
Edit anywhere: If you have a smartphone with an Internet connection, you can use Premiere Rush. Now you don't have to let a busy schedule preclude you from posting timely social media content.
Finish later: Your Premiere Rush subscription includes 100 gigabytes of cloud storage. You can save your projects anytime and then return to the app later or pick up again on your desktop computer.
Pricing
Adobe Premiere Rush is available for free but with limited features.
For instance, you get a free library of soundtracks, customizable animated titles, effects, editing, and unlimited exports.
If you find you need more, you can upgrade to an Adobe Express plan for $9.99 a month.
That plan features 100 gigs of baseline cloud storage (you can pay to upgrade if you need more), all the features of Photoshop Express and Premiere Rush, and syncing between desktop and mobile.
17 Tips for Video Marketing Success (Updated)
2. Lumen5
The next social media video content tool we recommend is Lumen5. Preferred by companies such as Mitsubishi, Merck, KPMG, Siemens, Cisco, and Salesforce, Lumen5 has helped more than 10 million professionals make videos. Perhaps you could be next!
Here are some features you have to look forward to if you choose Lumen5.
Easy video creation and editing: With some clicking, dragging, and dropping, you're already well on your way to making professional-level videos from your smartphone. It's so easy!
Blog posts to videos: Do you have five-star blog content you wish you could translate to video? With Lumen5, you can! The app includes a smart AI feature that can take both Zoom recordings and blog posts and make them into videos.
Customizable templates: Lumen5 grants you access to hundreds of templates. You can customize any one of them to make them more unique.
Add visual overlays: Lend your content more professionalism with overlays, including cutting away to B-roll or callouts.
Auto captions: If making talking-head type of content for your social media accounts, Lumen5 automatically adds captions so you don't have to!
Transcript-based editing: Lumen5 also has transcript-based editing so you can select specific elements you wish to add visuals to, and quite easily at that.
According to one user on Capterra, "Lumen 5 is my favorite tool to create content and innovate design for social media."
Pricing
Lumen5 has five pricing plans to select from.
The Community plan "for casual video enthusiasts" is always free. You can upload clips in 720p, but only with a Lumen5 watermark. You can also make unlimited videos.
The Basic plan costs $19 a month when you pay annually. You get the above features without the Lumen5 branding and the addition of icons.
The Starter plan "for the individual content creator" costs $59 a month when you pay annually. Besides the above features, you can now save videos in 1080p, use custom styles and colors, and gain access to 50 million videos and stock photos.
The Professional plan is a popular choice for pro storytellers. You'll pay $149 a month when billed yearly.
Besides everything above, you'll also gain access to multiple brand kits, multiple saved templates, custom watermarks, and 500 million stock videos and images. You can even upload your own fonts!
The Enterprise plan "for marketing and communications teams" has custom pricing. You'll gain all the features in the Professional plan and enterprise-level security, collaboration and teams, customer success, bespoke branded templates, and a Lumen5 design team.
Creating The Perfect Social Media Handle For Your Business
3. Canva
Although many know Canva for its photo-editing features, it's also handy for video editing. Let's take a look at some of the features of this mobile-friendly app.
Video trimming: If you have an existing clip you want to cut down, upload it into Canva and you can trim it so it's just the right length for your social media audience.
Online screen recordings: The free online screen recorder makes it easy to capture footage from a desktop computer to save and use later.
Stock videos: Not quite sure how to illustrate a concept? Canva has tons of stock videos you can use for just that.
Video to MP4: Converting your videos to just the right format is easy when you have Canva. You can take video clips and convert them to MP4s.
Custom text and icons: Adding your own spin to your social media content is now easier than ever before. You can customize text animations, icons, and fonts so everything feels innovative and fresh.
Pricing
Canva has three pricing plans to select from: Free, Pro, and Teams.
The free plan includes whiteboards, photo editing, print designs, video, presentation, and social media. You also get these features:
5 gigs of cloud storage
Invitations to others to collaborate
More than a million free graphics and photos
Over 250,000 free templates
The Canva Pro plan for freelance designers, solopreneurs, and individuals costs $119.99 per user per year. Here are the features you'll have:
24/7 customer support
1 terabyte of cloud storage
Social media content scheduler over eight platforms
Background Remover
Magic Resize
Dedicated folders for more organized projects
100 Brand Kits with fonts, colors, and logos
More than 610,000 free and premium templates
Unlimited premium content, folders, and features
More than 100 million premium stock graphics, audio, videos, and photos
The third Canva pricing plan is Canva for Teams, which costs $149.90 a year for the first five people on your team.
The features you'll have access to include:
SSO
1 terabyte of cloud storage
Team insights and reports
Template locking or editable elements for teams
Branded templates based on presentations and designs
Dedicated folders for departments and projects
Brand controls
Unlimited premium content, folders, and features
More than 100 million graphics, audio, videos, and stock photos
Designing Social Media Business Cards That Get Noticed: Tips and Examples
4. Wave.video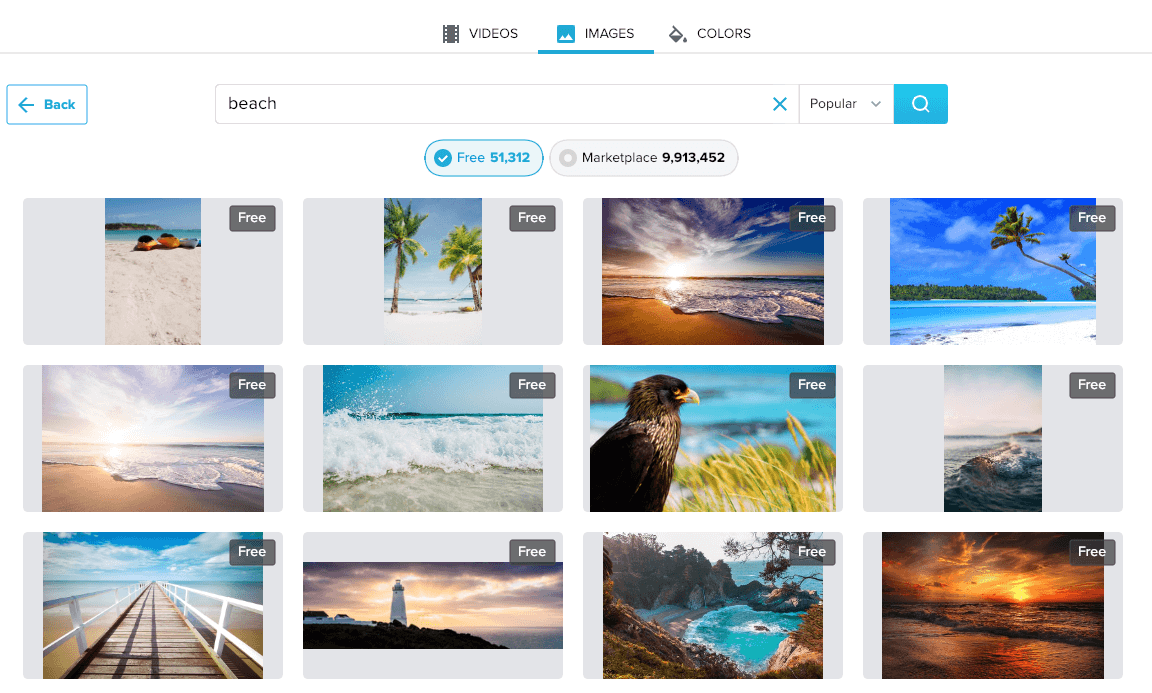 Next on our list of social media video editors for your consideration is Wave.video, an online multi-streaming audio and video editor.
Besides video creation and editing, you can also access stock footage, host videos, and make thumbnails, so Wave.video is all-inclusive.
Let's take a closer look at the features now.
Live streaming: Take your social media videos further with live streaming across several platforms. You can see comments as they go live and respond to them in real time to better engage with your audience.
Thumbnail maker: Create professional-looking thumbnails for your live videos with images, text, backgrounds, stickers, and gifs.
Overlay maker: Promote your brand and make your videos stand out with an overlay maker complete with graphics, layouts, and custom overlays.
Video recording: Recording videos in the Wave.video online Studio is fun and enjoyable. You can invite partners or guests to join in with you using several screenshares or cameras.
Free video templates: No matter what kind of season, holiday, or occasion you're celebrating, with free video templates from Wave.video, you can make your videos more festive.
Creative elements: From graphic elements to visual effects and stock libraries, you can add more elements so your footage pops!
Video hosting:video will host your videos for free. You can even brand and password-protect your videos or embed your videos in emails.
Video editing: Whatever you wish to do to your video, you can in Wave.video. That includes video trimming, cropping, resizing, merging, rotating, and watermarking.
Pricing
Wave.video has four pricing plans to select from.
The free-forever Free plan includes a basic video editor with a watermark, a thumbnail maker, and two million templates and assets in the stock library. You can also live-stream on two channels to six guests with a watermark and host videos with a watermark.
For $20 a month, the Streamer paid plan includes everything above plus gifs, more advanced video hosting, and live streaming with five channels and 10 guests in 1080p.
The Creator plan costs $30 a month and adds features like subtitles and captions, image background removal, and text-to-speech.
For the most that Wave.video has to offer, choose the Business plan for $60 a month. You get these features as part of your paid plan:
Video editor at 60 fps
Shared login
Advanced live streaming with 12 guests, 10 channels, 1080p, and 12 hours a stream
Pre-recorded or live streaming scenes
Video recording with pausing for 12 hours
Advanced streaming permissions
Advanced video hosting with 500 gigs a month of storage and 200 embeds
Top TikTok Challenges of All Time and New Ideas for 2023
5. Movavi Video Editor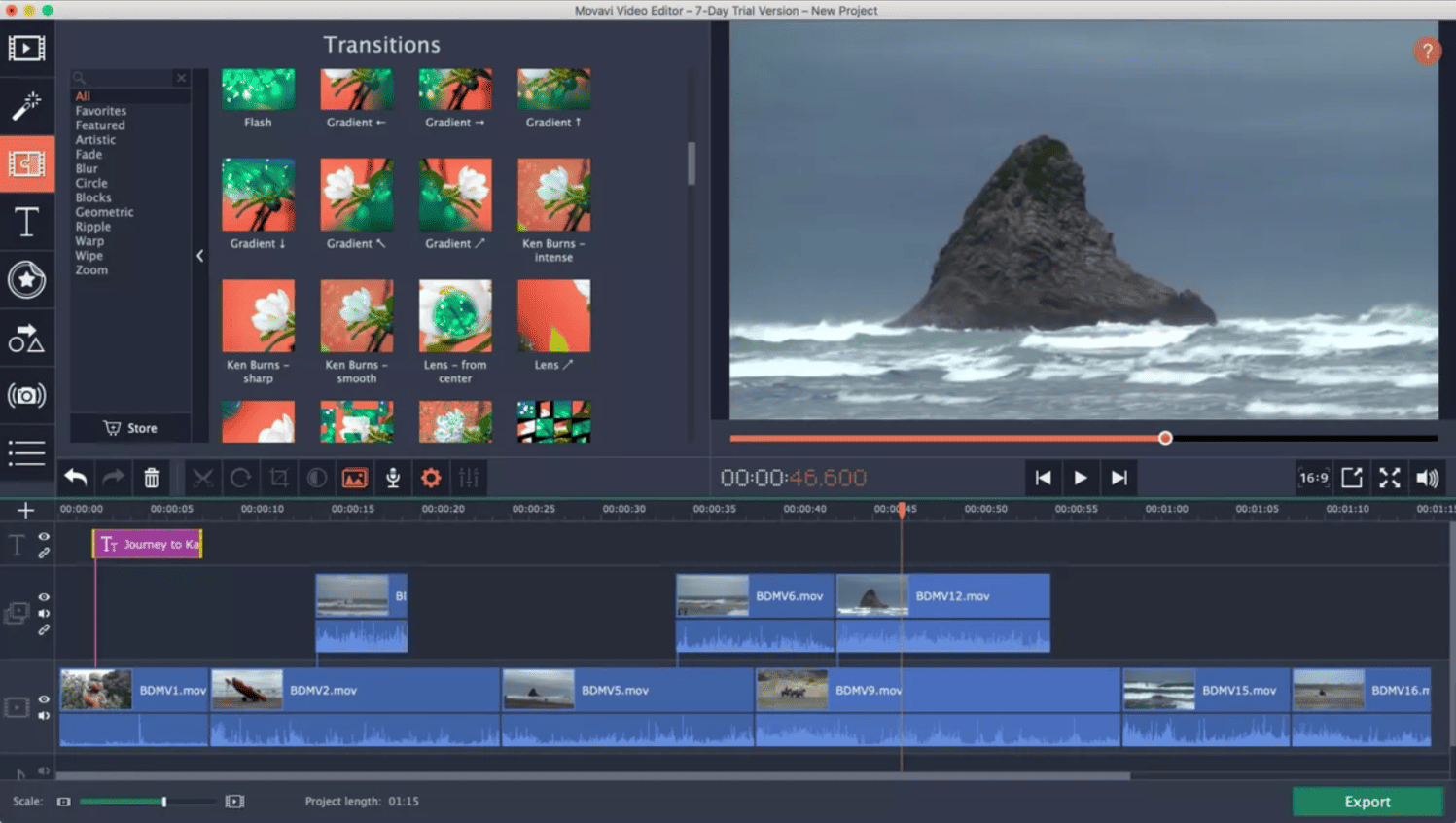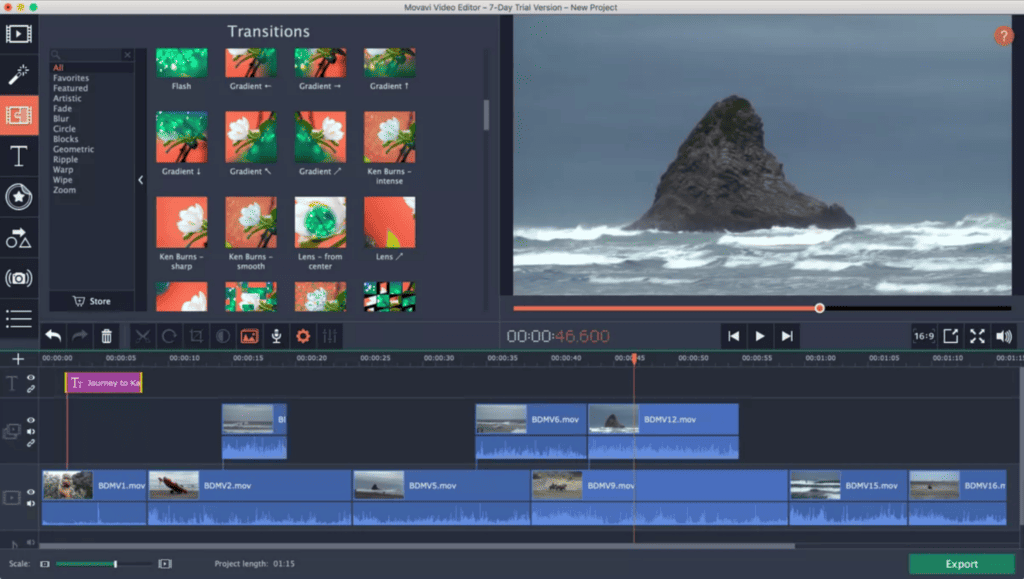 Moving on to another versatile video editing tool, we have Movavi Video Editor, a user-friendly choice for creating captivating social media videos. Whether you're a beginner or an experienced video creator, this tool presents a spectrum of capabilities to augment your content creation process.
Here's an in-depth look at what Movavi Video Editor brings to the table:
Intuitive interface:

This tool's simplicity makes it accessible to users of all levels, even those without prior editing skills. With the Montage Wizard, crafting videos becomes a breeze, as you can combine clips, apply effects, add transitions, titles, and music, all while exporting your projects within minutes.

Template options:

Combine the flexibility of template customization with an extensive library of pre-built templates tailored for various occasions and for easy customization.

Advanced AI tools:

Features like chroma key, video stabilization, and object detection in Movavi Video Editor allow you to infuse creativity and sophistication into your video content.

Text editing:

Elevate audience engagement by adding diverse fonts for text blocks, captions, and stylish titles, along with options for text overlays that add depth and personality to your videos.

Audio editing:

Fine-tune your video's audio with options to apply audio effects, including equalization, noise removal, and audio normalization, improving the overall sound quality. You can select from a vast collection of music clips within the software or upload your own audio files.

Flexible exporting:

Export your videos in multiple formats and resolutions to ensure they look stunning on different social media platforms.

Easy-to-follow tutorials

: The software provides helpful tutorials and guides to assist you in making the most of its features, even if you're new to video editing.
Here's a user on G2 user sharing their experience with this tool: "Movavi moves pretty quickly despite handling lots of big files. User interface is pretty straightforward and intuitive. I got from zero to multi-person music performance videos with slick transitions and effects within a few hours."
Pricing
Movavi Video Editor offers a range of pricing options to cater to your needs. Here's what you can choose from:
A 7-day free trial is available, where you can get a taste of the tool's capabilities, even though it comes with some limitations and watermarked exports.
A yearly subscription kicks off at $54.95, and if you choose a lifetime license, it begins at only $79.95. Included in these plans are features:
Cutting, trimming, joining

Effects and transitions

Automatic video creation

Keyframe animation

Timeline markers

Fast processing of 4K videos

AI background removal andAI noise removal
You can also enhance your editing experience with budget-friendly discounts from Video Editor and Effect packs, which starting just $79.95. These packs include the features mentioned above and Built-in media pack with:
Enticing gradients

Cinematic effects and dramatic LUTs

Vintage VHS effects
For the ultimate editing experience, Video Suite and Effect Packs encompass all the top-notch features available in Movavi Video Editor and more:
Media files conversion

Screen recording
Fun Social Media Engagement Posts: 6 Great Ideas
6. Ripl
Comparable to Canva is Ripl, a social video content creation tool for small businesses. With desktop or mobile use, professional stock media, and customizable brand settings, Ripl could be just what you're looking for.
Let's take a look at the included features.
Videos from photos: Ripl makes it easy to create awe-inspiring videos from static photos.
Branding: No matter which of Ripl's many templates you select, you can add your own font colors and logo, so your videos are unmistakably yours.
Social Media Calendar: The Social Media Calendar is where you'll find thousands of templates to inspire you.
Social sharing: When you're finished creating your masterpiece, you can share your Ripl videos on every active social account you have.
Social engagement tracking: It's easy to track your social engagements with Ripl. Now you can see how well your videos do!
Pricing
Ripl offers two pricing plans. Although neither is free, they're both inexpensive.
The Base plan costs $8.33 a month when you're billed annually at $99.99. Included with the plan are the following:
One-click sharing to social media
Video creation and sharing from any device
Professional stock music, videos, and images
One-click consistent branding
Content posting ideas
Professional template access
You can also try the Premium plan, which costs $13.75 a month when you're billed annually at $164.99. The features you get include everything above plus:
Live chat and customer support
Managing multiple businesses from one account
A Team account where you can invite teammates
Scheduled social posting
13 Key Marketing Trends for Small Business Owners
7. Animaker
How about another free social media video creator app? Animaker allows you to create animated videos on the cloud. This app has a great suite of features that will come in handy for all your video-making endeavors.
Let's go over them now.
Vmaker: Vmaker is a free video recording, webcam, and screen-sharing tool. You can make unlimited videos, add screen annotations, customize backgrounds, add a custom Cname, auto-generate captions, and collaborate and share in real-time.
ai: The intelligence of AI technology shines through with Animaker's Steve.ai, which can create videos using text prompts. For instance, you can convert voice to live video, blog posts to live video, or scripts to live video.
Subtitle Generator: Do you want to add subtitles to your social media videos but struggle with the time to get the job done? Subtitle Generator within Animaker is another AI-driven tool that's sure to be majorly helpful!
Here's what an Animaker user on G2 said about using the app: "Animaker is an easy tool to make animated videos. It only took me a couple of hours to learn how to make videos. Once you pay, you also have access to a lot more content for the videos."
Pricing
So let's talk pricing, shall we?
Animaker has four pricing plans: Basic, Starter, Pro, and Enterprise.
Beginning with the Basic plan at $10 a month (when billed annually), you gain access to such features as:
More than 500 Premium Music Tracks
10 Premium asset credits a month
150 minutes of Auto Subtitles a month
HD video quality
5 Premium Downloads a month
Video lengths of up to 5 minutes
The Starter plan costs $19 a month when billed annually and includes more great features, such as:
Over 1,000 Premium Music Tracks
20 Premium asset credits a month
250 minutes of Auto Subtitles a month
FHD video quality
10 Premium Downloads a month
Video lengths of up to 15 minutes
Next, the Pro plan for $49 a month when billed annually packs on yet more features still, among them:
More than 30,000 Premium Music Tracks
45 Premium asset credits a month
750 minutes of Auto Subtitles a month
2K video quality
30 Premium Downloads a month
Video lengths of up to 30 minutes
The Enterprise plan offers custom pricing and includes the best that Animaker has to offer, like:
75 Premium asset credits a month
1,500 minutes of Auto Subtitles a month
4K video quality
Unlimited Premium Downloads
Unlimited video lengths
10 Big Marketing Ideas for Small Budgets
8. Biteable
The premier choice for more than 10,000 companies–including Seat Geek, Amazon, and Shell Energy–Biteable can also help you create attention-grabbing social media video content. Whether you want to make something from scratch or use templates, you'll never fall behind on your social media objectives.
Let's take a closer look at the included features of this great app.
Templates: The professional library of Biteable templates allows you to create a video right now, not tomorrow or next week. Biteable even considers your company brand to make your video content more unique.
Recording tools: However you wish to record content when using Biteable, you can. Grab footage from that company meeting or elsewhere so you have it for later.
Video editing: Biteable has a suite of video editing tools to make your life and job easier. Use Script Mode for converting text to video, add pre-built scenes for pro-level editing, crop or trim your video, or insert included music accompaniment for that optimal soundtrack. You can also resize video, remove audio from video, and make your own watermark.
Pricing
If you're considering Biteable for your company, you can select from two pricing plans.
The first is Pro, which includes one company member by default. The plan costs $99 a month when billed annually.
Included in the Pro plan are these features:
24/7 customer support
Views by location
Video engagement
Video view count
Custom video thumbnails
CTA buttons
Commercial usage rights
Video hosting
Unlimited HD exports
Premium business soundtracks
Royalty-free music
Voice-over audio layer
Video feedback and comments from anyone
Personal folders
Unlimited screen and video recordings
Templates and scenes
Auto-applying branding to videos
Unlimited cloud storage
For growing companies, try the Teams plan, which has three team members by default with the option to add more for $33 a month each. This plan costs $199 a month when billed annually.
The Teams plan has everything in the Pro plan plus:
Custom onboarding program
Dedicated account manager
Smart editing mode
Collaborative editing
Shared Teams folder
Asset library for shared and personal media
Branded custom fonts
Multiple brands
10 Free Marketing Tools Every Freelancer Will Love
9. Lightworks
Making pro-level video content for social media needn't require complicated tools. You just need an app like Lightworks.
The latest version of Lightworks includes support for Linux, Mac, and Windows users and can import content at any frame rate file.
Let's take a look at some other exceptional features of Lightworks.
Instant autosave: When working in Lightworks, it auto-saves whenever you add or remove anything to your videos. This way, if you get interrupted and can't get back to your project for a while, you don't have to panic about whether you saved. The app did it for you!
Custom pre-built graphics: Does your social media video content need graphics but you're not handy at creating them yourself? No biggie! Lightworks has a library of hundreds of pre-built graphics. Even better, you can customize them all to your heart's content.
Shared content: Lightworks lets you share and edit video content from the cloud or give share access to others within your company.
Keyboard editing shortcuts: If you do the same types of edits with your video content, you can simplify routine tasks in Lightworks. The app lets you set up your own predefined keyboard shortcuts. You can also use some of Lightworks' shortcuts if you wish.
Great video editing tools: From backfill to trim in/out, fit-to-fill, replace, insert, multi-point, roll, ripple, and trim-slip, you'll find all the video editing features you want in Lightworks.
It's no wonder that one TrustRadius user reviewed Lightworks thusly: "We use Lightworks at our company a lot, especially when we have many videos that need to be done in a short period of time, and we have a group of 3 techs that specialize in Lightworks and always get the job done fast due to the easy and accessible editing tools."
Pricing
How much does a social media video creator app like Lightworks cost? That depends on which plan you choose.
The Create plan, which is "best for social media creators, corporate presenters and educators" starts at $9.99 per user per month. The plan includes features such as:
LUT support
Apple ProRes decoding
Braw project and media clip decoding
Advanced Motion Graphics and Tilting
Social Media Export Templates
High-res proxy files
High-res timeline rendering
High-res H.264/MP4 support
The Lightworks Pro for "Hollywood-level editing for broadcasters and filmmakers, or anyone who wants to be one" costs $23.99 per user per month.
Besides all the features above, you also unlock these tools:
Stereoscopic project and export output
RED R3D project decoding and media clip options
Advanced Scopes such as Split View, YCbCr, and CIE
4K Apple ProRes encoding
In-edit video QC
Advanced hardware support
Third-party hardware IO support
Advanced timeline rendering codec compression options
Advanced timeline rendering wrapper options
Advanced proxy file compression options
Importing from up to 5 cloud libraries
Exporting physical media file formats, media file formats, camera formats, and interchange formats with other apps
Advanced video effects like stabilize and enhance
NewBlue TotalFX plugin support, video effect plugin support, and audio effect plugin support
Advanced 10-bit export options
HQ constant/variable bitrate H.264/MP4 support
You can also try Lightworks for a free trial.
Emojis in Social Media Marketing: Some Useful Tips
10. Animoto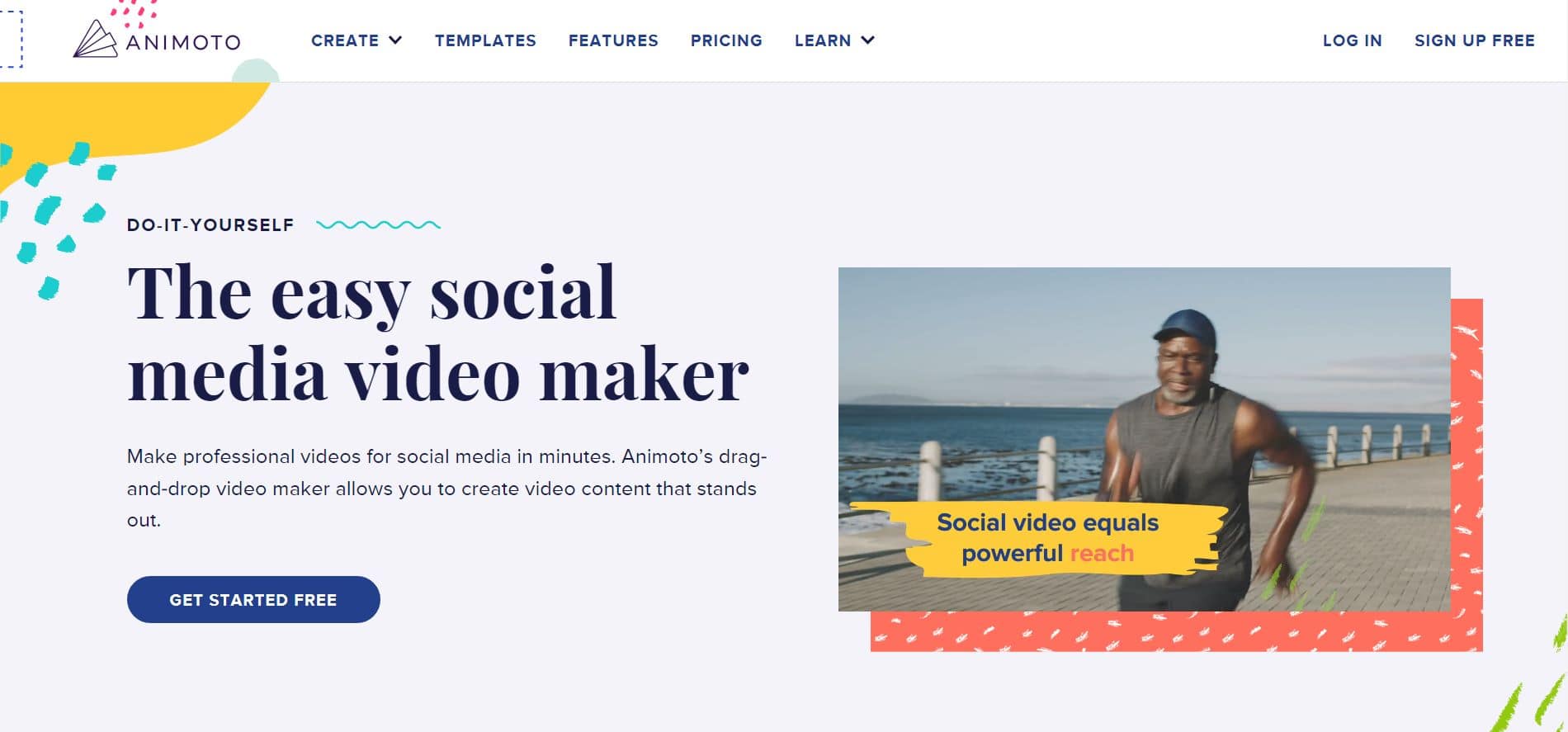 For content creators on a budget, Animoto is a free video maker to keep on your radar. The features designed just for making social media videos (and other types of video content) will simplify your processes.
Here's an overview of the features Animoto offers.
Music library: Animoto's rich licensed tracks library includes thousands of music tracks for creating just the right type of mood with your video content.
Cloud-based video editing: Whether you start a video project on an Internet browser or your regular computer, Animoto offers cloud-based video editing for picking up and continuing your projects wherever and whenever is most convenient.
Stock library: Don't spend on stock content when you don't have to! Animoto also lets you upload your own video clips and images as you see fit.
Video-editing tool suite: Trimming, cropping, and otherwise perfecting your video won't pose a challenge when you have so many great editing options at your fingertips using Animoto.
Branding: Upload your brand font, logo, and colors and then add them to any and every video you post on social media. You can even choose to display your brand logo as a watermark.
Video resizing: Need to get your video in the right aspect ratio fast? You can choose from three aspect ratios within Animoto: landscape, square, and vertical.
Pricing
You have your pick of pricing plans when using Animoto.
The Free plan is free forever but does include Animoto video branding.
The Basic plan costs $8 a month and has features such as unlimited downloads, 1080p HD video quality, and no Animoto branding.
The most popular plan, the Professional plan, costs $15 a month. Besides everything above, you also can use features like:
Saved branding (one brand)
40 professional fonts
3 saved templates
Webcam and screen recording
Voice-overs
More than a million licensed stock videos and photos
3,000 licensed music tracks
Add your own colors and logo
No Animoto branding
Finally, the Professional Plus plan for $39 a month introduces these exclusive features (in addition to everything else listed above):
30-minute video expert consultation
Time-stamped comments
25 saved templates
Multiple saved brands
Accounts for three users' max
11. Magisto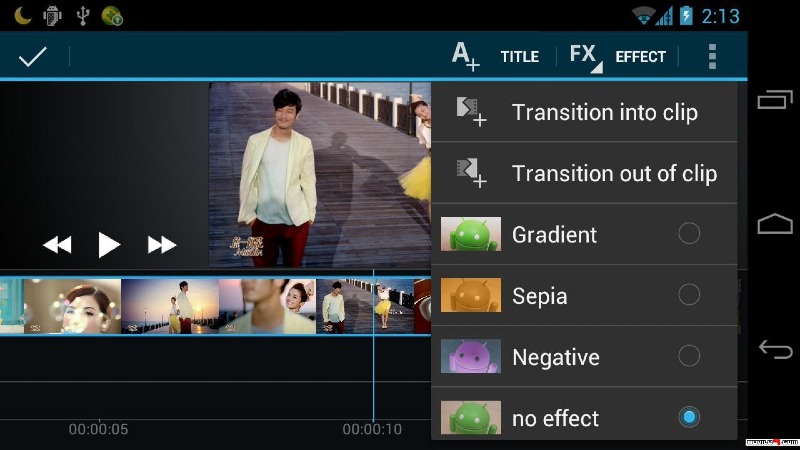 The last social media video creator app we recommend is Magisto. Completely powered by AI, Magisto is a video marketing platform designed for professional-level video creation.
Let's explore the included features.
Cross-channel video content distribution and hosting: Magisto has its own native video player that's optimized for video advertising, content marketing, email marketing, and social media platforms.
Templates: For the ultra-busy social media marketer, Magisto's range of templates will simplify your workflow and save you time.
Editing styles: Choose an editing style and pick content from a soundtrack library to give your video that extra oomph.
AI editing and analysis: Ensure your video is just the way you want it with Magisto's smart AI video editing and analysis.
Pricing
If you're thinking of selecting Magisto as your social media creator app of choice, you have four paid plans to pick from.
The first is the Starter plan for $9 per seat per month. You get 60 videos per seat per year, social analytics and engagement, video chaptering and SEO, basic video creation templates, screen recording, and password protection with this plan.
The Standard plan for $25 per seat per month offers 120 videos per seat per year, stock footage, premium video creation templates, custom forms for lead capture, custom end cards and CTAs, and video branding.
The Advanced plan includes everything above for $65 per seat per month and 240 videos per seat per year, marketing integrations, real-time stream health, branded reminder and invite emails, live chats and polls, and virtual webinars and events.
Magisto's Enterprise plan has custom pricing. You'll get the cream of the crop regarding features, including everything above and backup streams, live Q&A moderation, guaranteed uptime SLAs, SCIM and SSO, and custom permissions.
25+ Brilliant Small Business Tools for the Internet Champion
Conclusion
Social media video creator apps allow you to unlock your true potential without as much effort (and usually money) as you might assume it would take to assemble quality footage.
With one of these apps, you're now ready to take the world of social media by storm!
👉Craft the perfect bio with our compilation of the best ideas – dive into our in-depth guide today! 🚀